Good morning all. I'm so happy to be sharing this glorious wedding with you this morning.  It's one of those occasions that has really touched my heart.  Reading about Gabriel and Will's love story, how they met, seeing all those beautiful moment shots that capture the loving atmosphere of their wedding day.
Gabriel and Will tied the knot on 15 September last year at Divinity School, Bodleian Library, University of Oxford, Oxford.  Here is their love story…
"Will and I went to the same secondary school in Oxford (in fact, we also went to the same primary school for a year or so!), although he was in the year above and our school was very large so we did not actually meet until August 2006 when we were both living back in Oxford.  I was about to move to London to start my legal training and Will was about to start his masters at Oxford University.
We decided early on that we wanted a very "Oxford" wedding
given our academic backgrounds: Will (a research fellow at Cambridge
University) completed his masters and D.phil at Oxford University, where
his father is a senior academic, while my parents (also both academics)
met and were married while at Oxford University.  In addition, we had a
lot of friends and relatives coming over from north America and
Australia, so we wanted to give them a real Oxford University
experience.  We didn't realise initially that the Bodleian Library held
wedding ceremonies and receptions, but as soon as we found out and went
to visit, we were sold."
Love My Dress Wedding Blog – Photography Copyright (c) 2013, Joanna Gourley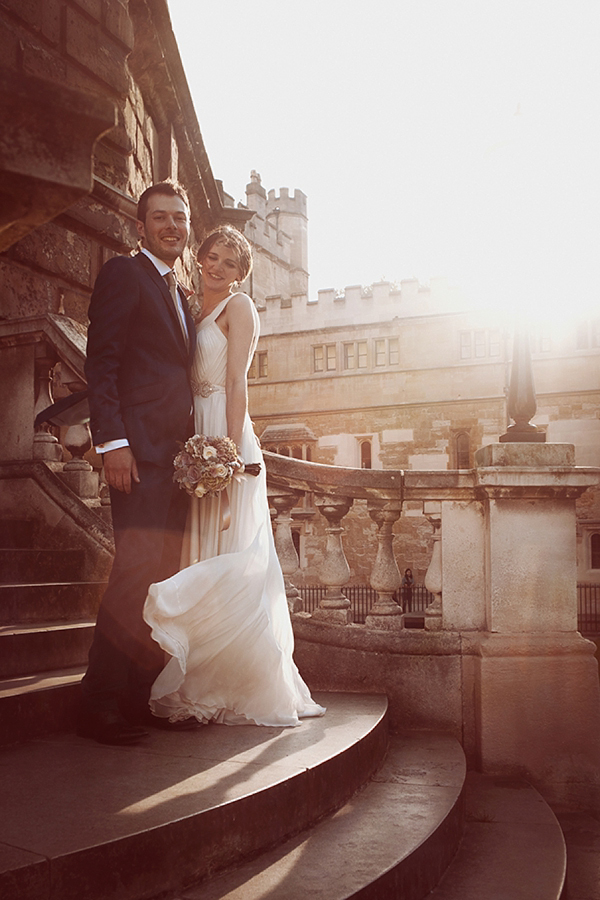 "The room where weddings are held is called the
Divinity School, and is an incredibly beautiful 15th century medieval
building with an elaborate lierne vaulted-style ceiling, and natural
light pouring through several tall windows.
The nature of the building
meant that anything modern would have looked very out of place, and
equally, too many "DIY" elements would have seemed odd in such an
elegant setting.  We therefore settled on a style best described as
early 20th century elegance, with a muted colour pallet and a nod to the
art deco era through our choice of wedding-day attire."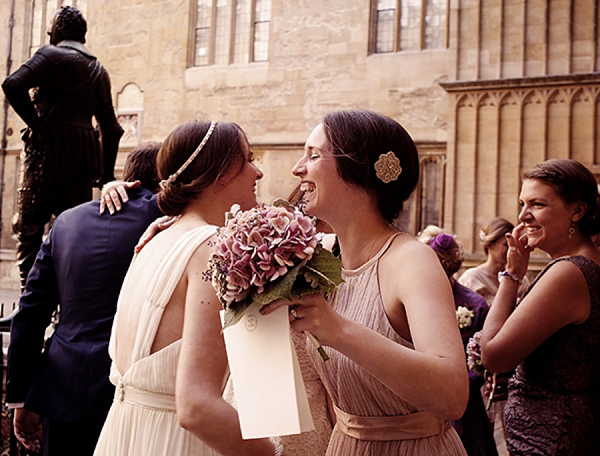 "My wedding dress was a customised version of the Jenny Packham's Marie Louise, purchased from Ebay as a shop
sample for a fraction of the retail cost, and then altered and adapted by my
friend's grandmother.
I knew early on that if
possible, I wanted to wear a Jenny Packham dress.  I scoured the
internet, and spent plenty of time perusing Love My Dress entries
featuring brides in Jenny Packahm dresses so I had a good idea of the
kind style I was after.  I tried on Marie Louise in a bridal boutique,
along with some other styles and although I loved it, I certainly didn't
feel like it was "the one". However I decided it was fate that I found
the dress on Ebay two days later, in my size and for a fraction of the
cost and given that I couldn't afford a new Jenny Packham dress, I went
for it."

"I wasn't completely happy with the design, however, and I asked
my friend's Grandmother, who used to make wedding dresses for a living,
if she could alter the front of the dress and make new straps.  She did
a brilliant job, and I was lucky enough to end up with a dress which
was both by a designer I love but which was also unique to me. 
Although I toyed with the idea of wearing
a veil, because we weren't having a church ceremony, and I wanted to
keep my bridal style relatively simple, I decided not to bother with
one.  With hindsight, perhaps it might have been a good addition, but I
don't regret my decision.
I wore a pearl necklace worn as a double strand bracelet (given to me as a child by a family friend) – my 'something old'.  Because
my dress had a lot of detail, which was reflected in my headband, I
decided not to wear much jewellery to keep the focus on the dress."
"We did a 'first look' before our wedding ceremony in the garden
of my parents' house and my childhood home because we wanted to get most
of our photos done beforehand.  It was such a special time to share
together before the main event and seeing Will looking so happy and
handsome as he strode towards me was by far my favourite moment of the
day…"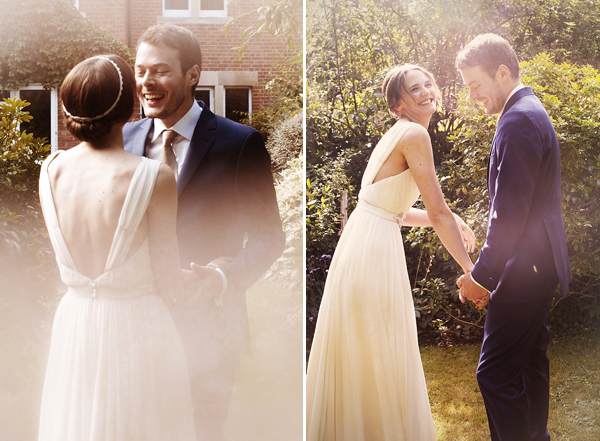 "Will and I visited the usual places looking for his suit,
including Reiss and Thomas Pink, and although we found a nice one in
Reiss, we weren't totally convinced.  We popped into Mark Marengo by
chance and were immediately impressed by the knowledgeable staff (who
figured out Will's size just by looking at him).  Will chose a two piece
in royal blue with a pale blue lining, which he paired with a shirt
from Thomas Pink and a tie from Mark Marengo."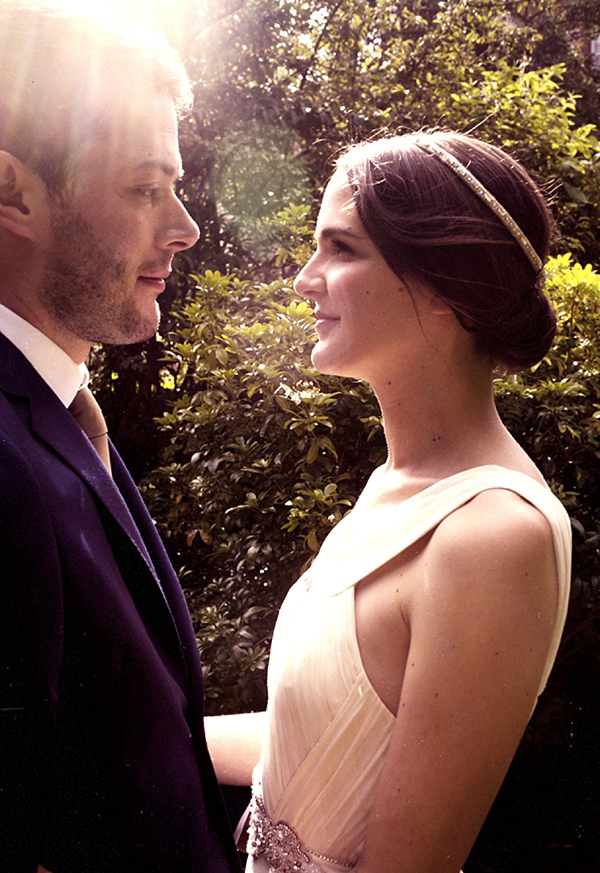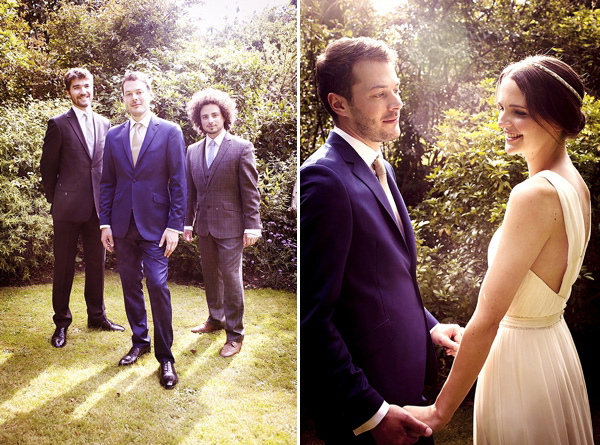 "I let the bridesmaids choose their own dresses as long as they were some variation on cream.  They came from Urban Outfitters, Coast, Anthropologie and Reiss…"
I bought each of my bridesmaids (my two best friends and my two sisters) a piece of jewellery from Etsy.  I also bought each of the girls an Anthropologie hair clip in different designs, but in similar styles."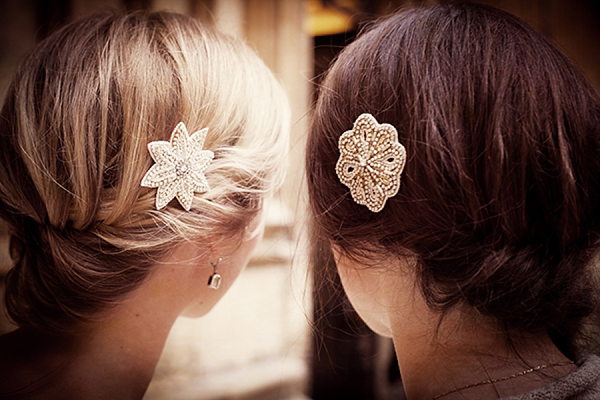 "My shoes were custom Emmy
'Leila' shoes in pale blue with gold trim – apparently I was the first
bride to have chosen this colour combination. My visits to the Emmy
boutique in Islington were a highlight of the wedding planning process.
I took along some of my friends, and we spent a lovely hour perusing
the shoe styles and colour swatches.  The team at Emmy are all so
friendly and made the decision-making process a lot easier with their
helpful suggestions.."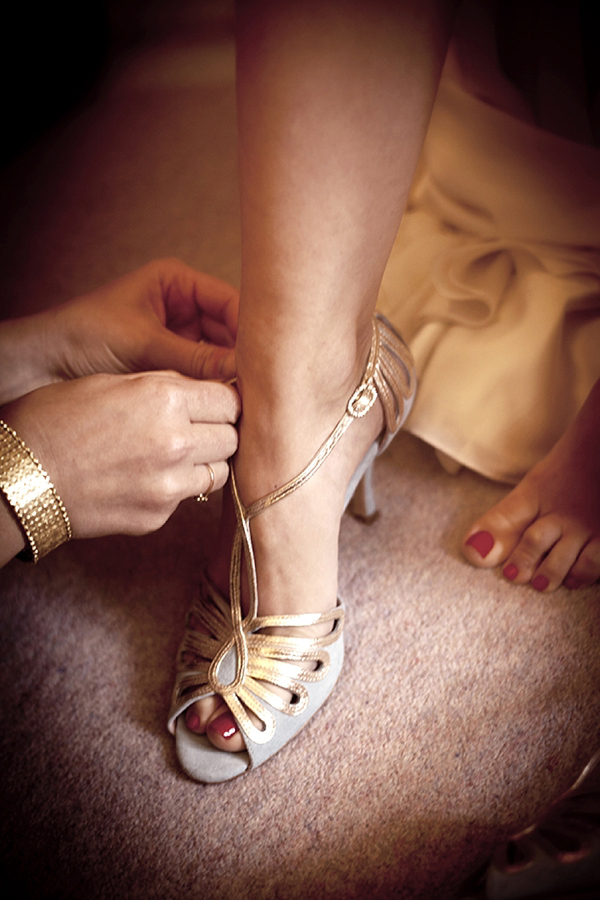 "I wore a custom Emmy head band, made into a circlet – a suggestion from the lovely Emmy
herself when I went in to the show room decide what to do about hair
accessories.  The head band is actually a belt, which they altered using
corsetry wire. The design was an almost perfect reflection of the belt
detail on my dress, but was understated enough that it did not compete
with it."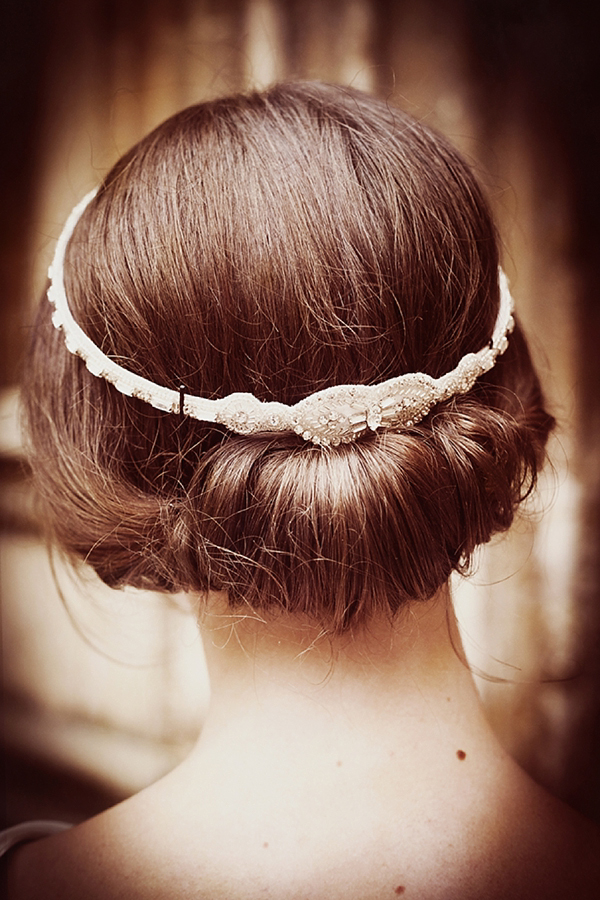 "My father bought my mother flowers every week for over 25 years from Daisies
flower shop when they lived in Oxford, and his one request in relation
to the wedding planning, was that he would help me choose the flowers.
His only stipulation was that we there must be no lilies (he has a
strong aversion to lilies), but beyond that was happy to let me take the
lead.  I didn't really know where to begin, beyond wanting a colour
pallet of muted pinks and ivory tones, to give a soft, vintage look on
the day and in our photos.
Daisies managed to figure out the floral
arrangements perfectly, despite my less than coherent explanations, and I
suspect this is because they knew my father so well.  The flowers were
incredibly beautiful and I was especially delighted with my bouquet of
antique pink roses and hydrangeas, and not a lily in sight!" 
"We wrote our own vows, which was a wonderful, if rather emotional,
process and there were lots of tears when we read them in the ceremony.  We chose four very different readings to reflect the different
elements of relationships and marriage.  The first focuses on the
passion and ecstasy of love, the second on the comfort and security love
brings, the third on the fluidity of love and relationships and the
fourth on companionship. We spent a long time choosing these readings
and so many of the guests commented on how lovely they were.
What I Have Lived For' by Bertrand Russell; 
 'I have sought love, first, because it brings ecstasy – ecstasy
so great that I would often have sacrificed all the rest of life for a
few hours of this joy. I have sought it, next, because it relieves
loneliness – that terrible loneliness in which one shivering
consciousness looks over the rim of the world into the cold unfathomable
lifeless abyss. I have sought it finally, because in the union of love I
have seen, in a mystic miniature, the prefiguring vision of the heaven
that saints and poets have imagined. This is what I sought, and though
it might seem too good for human life, this is what – at last – I have
found.'
 'The Last Good Time' by Richard Bausch; 
'There was a lovely time, long ago, too private to tell anyone,
or too ordinary. It had nothing to do with anything, really: it was
almost embarrassingly humble. One December night, unable to sleep, he
had glanced out the bedroom window to discover that it had snowed. He
woke his wife and made her come to the window, and the surprise of it
delighted her as it had delighted him.
They dressed and bundled the baby up and took a walk, and watched
the dawn arrive, and when they returned to the house, he took the day
off. They played with the baby, cooked dinner, and baked bread. They
listened to the baby playing in his playpen, and they talked idly about
anything that came into their minds, and that evening, late, they lay
whispering to each other about what a beautiful day it had been. 
 He thought about all this on his way down to the grocery store.
The memory of it came through him like a breath, and then he was
savouring it, basking in its warmth. And he thought that this is what
love really meant: this very ordinary memory. That love was easy and
plentiful as grass, and as still, as calm somehow.'
Gift From The Sea' by Anne Morrow Lindbergh;
'When
you love someone, you do not love them all the time, in exactly the
same way, from moment to moment. It is an impossibility. It is even a
lie to pretend to. And yet this is exactly what most of us demand. We
have so little faith in the ebb and flow of life, of love, of
relationships. We leap at the flow of the tide and resist in terror its
ebb. We are afraid it will never return. We insist on permanency, on
duration, on continuity; when the only continuity possible, in life as
in love, is in growth, in fluidity – in freedom, in the sense that the
dancers are free, barely touching as they pass, but partners in the same
pattern.
The only real security is not in owning or
possessing, not in demanding or expecting, not in hoping, even. Security
in a relationship lies neither in looking back to what was in
nostalgia, nor forward to what it might be in dread or anticipation, but
living in the present relationship and accepting it as it is now.
Relationships must be like islands, one must accept them for what they
are here and now, within their limits – islands, surrounded and
interrupted by the sea, and continually visited and abandoned by the
tides.'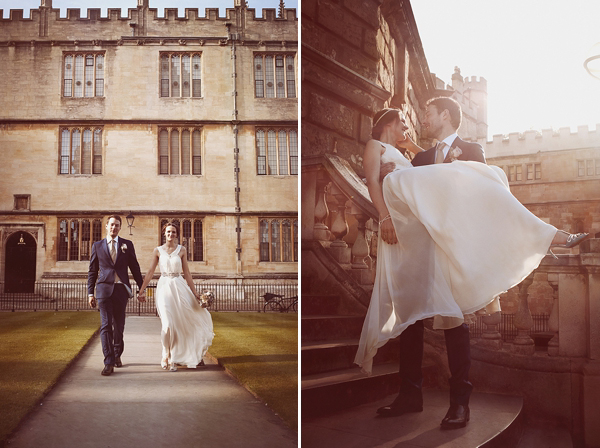 'Our Union' by Hafiz Shirazi; 
'Our union is like this:
You feel cold, so I reach for a blanket to cover our shivering feet.
A hunger comes into your body, so I run to my garden and start digging potatoes.

You ask for a few words of comfort and guidance, and I quickly kneel by your side offering you this, as a gift.

You
ache with loneliness one night so much you weep, and I say here is a
rope, tie it around me, I will be your companion for life.'
"Our wedding photographer was Joanna Gourley,
who we know through my husband's band (he plays guitar in the Sam Crowe
Group jazz band) as she had photographed some of the band's gigs.
Joanna is primarily a fashion and fine art photographer, but also does
music and wedding photography.  It was so lovely having her around on
the day, and her photos reflected the photographic style we were after
while also capturing the day's events beautifully."
"I met Sarah Virgo of Deco Dolls through one of my bridesmaids, Suze, who got married a
few months before us and had worked with Sarah before she moved into
hair and make-up.  Sarah has a vintage focus to her work and was full of
great ideas and inspiration for my hair and make-up.
She was endlessly
patient as I changed my mind for the third or fourth time, and was such
a calming presence while we were all getting ready on the day."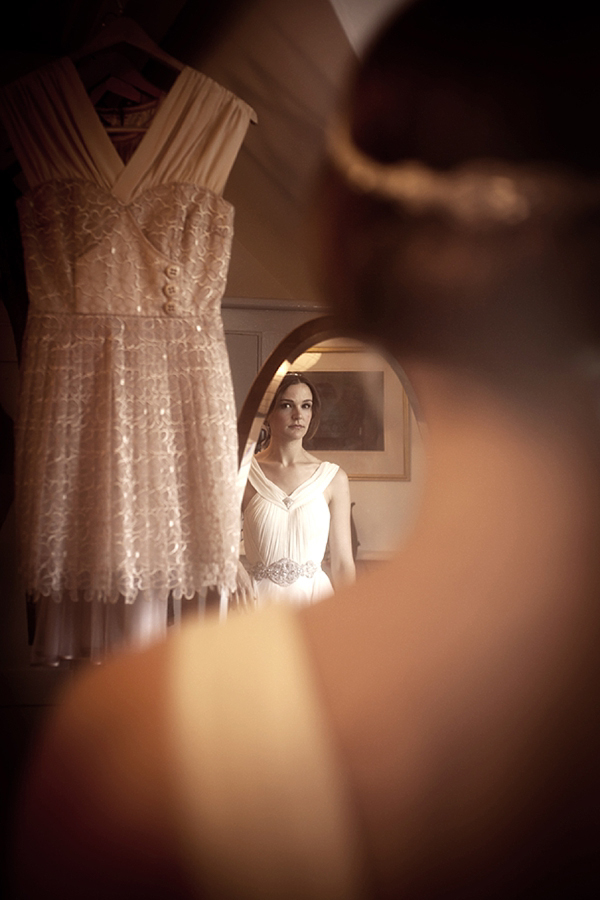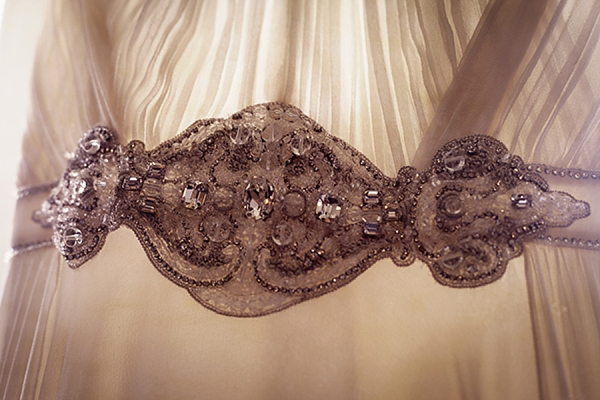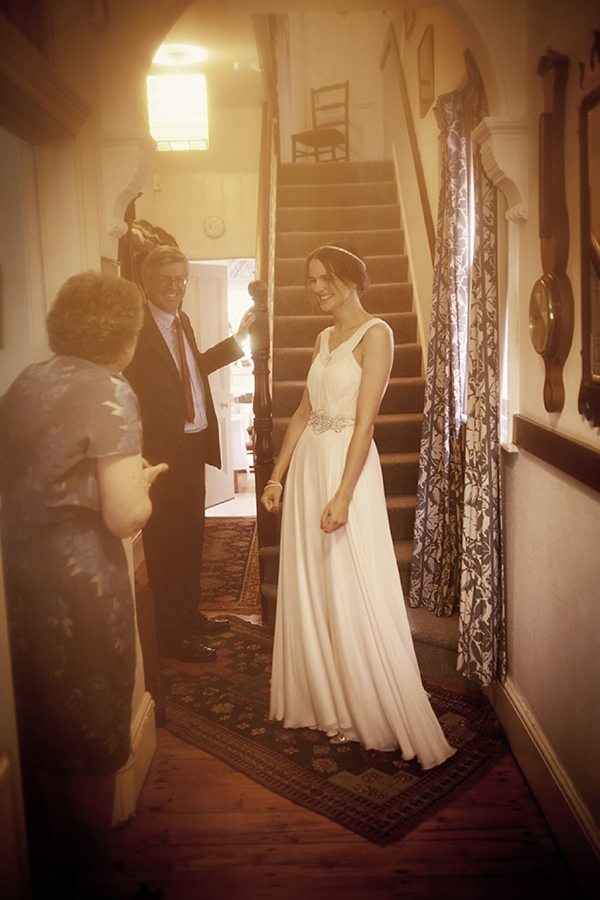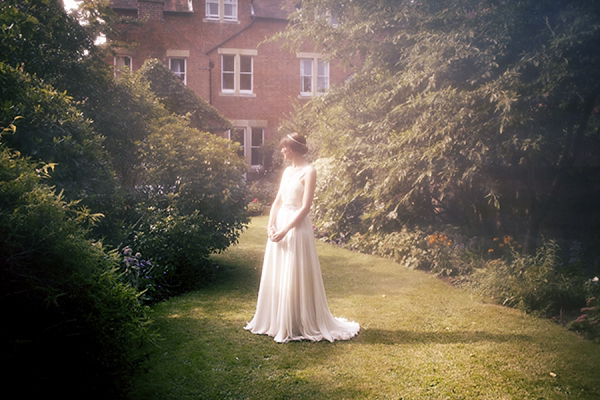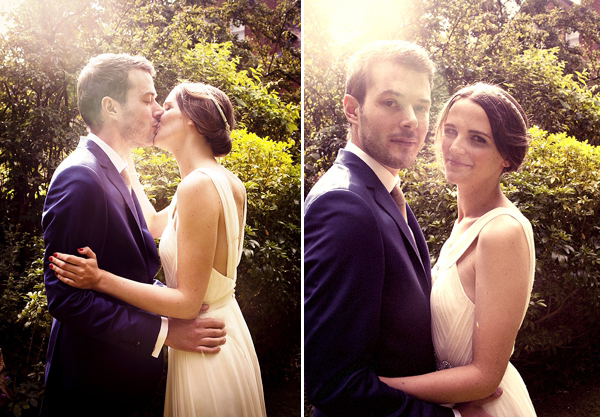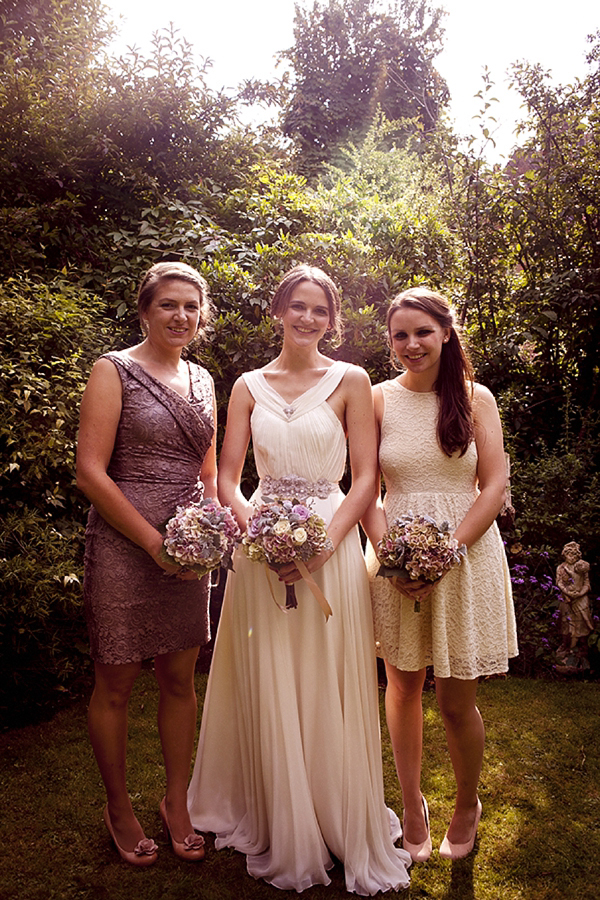 "My father walked me down the aisle.  He later gave his Father of
the Bride speech explaining his interpretation of the 18th century
philosopher David Hume's writings on pride, and the pride he felt for me
as his daughter.  It was a touching, and characteristically
intellectual speech, which was much appreciated by the many academics in
the room.
I walked down the aisle to a song
called 'W&G', written for our wedding, by one of Will's best men,
the MOBO award-winning jazz musician Adam Waldmann of Kairos 4tet.  Emilia Martensson and Sam Crowe performed the track along with the song 'Something in the Way She Moves' by James Taylor, later in the ceremony."
"We were introduced by mutual friends and had a wonderful five years
going back and forth between London and Oxford, before Will proposed
during a long weekend in Berlin on my 28th birthday in 2011. The
proposal didn't quite go as Will had planned as the weather was awful so
his much-researched idea to hire a rowing boat and propose with a
champagne picnic was replaced by a surprising and perfect moment in our
hotel room as we were getting ready to go out for dinner.
I was
presented with the most beautiful antique sapphire engagement ring,
which Will had chosen himself, along with a packet of band-aids to hold
it in place as he knew it would be too big but also knew I'd want to
wear it immediately."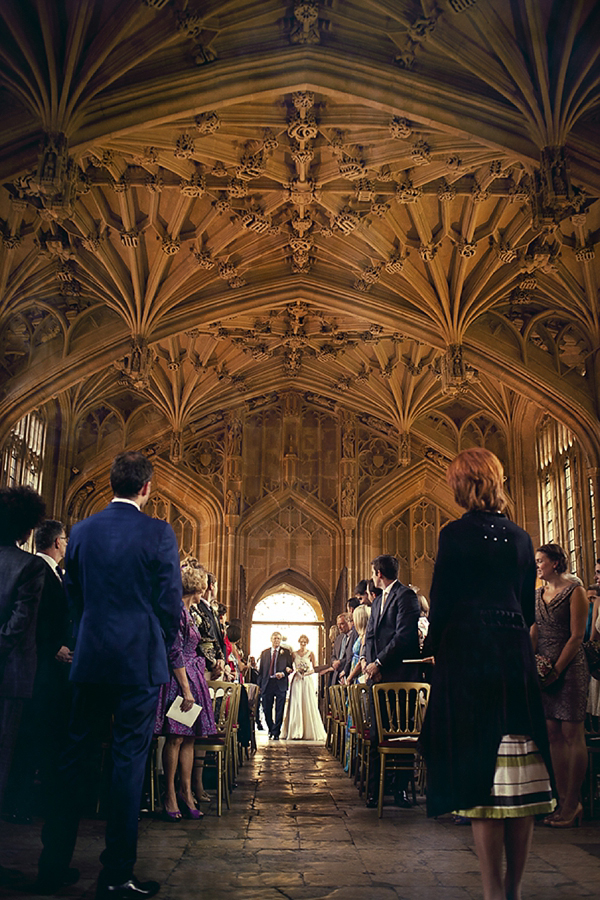 "We chose to have a humanist ceremony, which was the best decision
we made.  We found the wonderful Jacqui Dickinson through the British
Humanist Association whom we immediately
clicked with.  We worked with her to draft the ceremony, which resulted
in something which was happy, emotional and unique to us.  The humanist
element meant we didn't feel like we needed to be too formal or
restricted in any way and were able to focus on the things which
mattered most to us: a celebration of our relationship and sharing it
with those closest to us. We had our legal ceremony the day before our
wedding at the Oxfordshire Registry Office with just our immediate
families present, which was a perfect way to lead into the main event
and helped with our nerves on the day itself."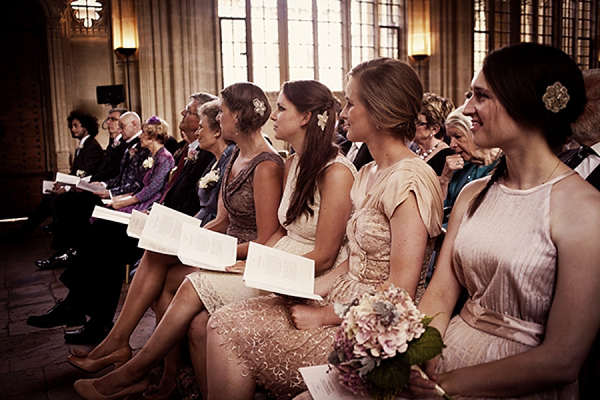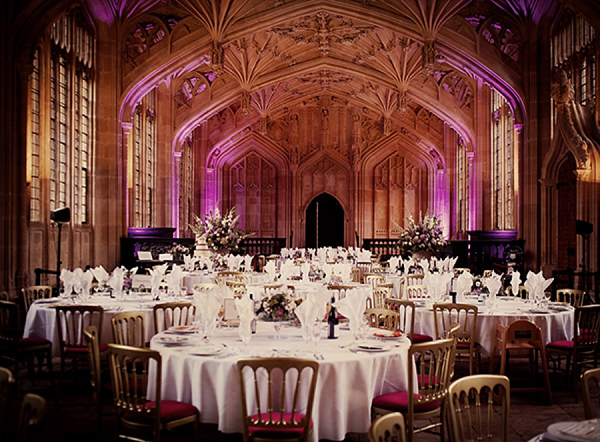 "We bought every guest a second hand book as a wedding favour, to
reflect the fact we were getting married in part of the University
library.  These were sourced from a variety of second hand bookshops and
from online sellers.
 One
of my bridesmaids, Eva, made our wedding cake.  We served it as dessert
and it was delicious!  It was a huge achievement given that it needed
to feed 120 people, and even more so since Eva's dog decided to sample
the entire top tier and half of the middle tier the evening before the
wedding.  Eva used to be a wedding planner for top hotels in LA and
London and is basically unflappable. With the help of my other
bridesmaid, Suze, they managed to remake the cake in the space of an
evening and didn't show any signs of tiredness or stress the next day."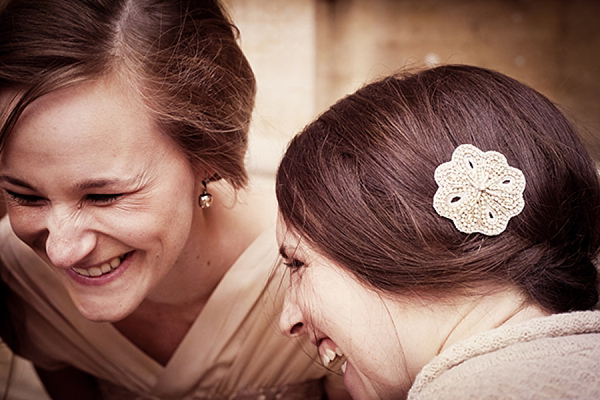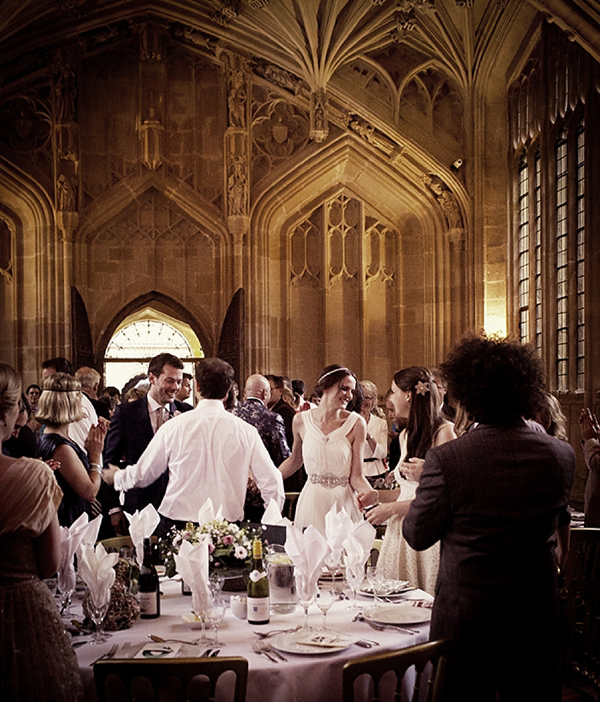 "We weren't sure if we were going to do a 'first dance', but
eventually figured that we should probably do one, if only to get people
up and dancing.  We chose 'I saw you blink' by an Oxford band,
Stornoway, whom we had followed from their early days in Oxford and whom
represent wonderful memories of weekends spent with Will's Balliol
college friends.  It wasn't the most elegant of first dances as we
mostly just spun each other around but it was lots of fun, if not
particularly graceful."
Words of Wedded Wisdom…
"Remember that the only thing which really matters is
that you celebrate your marriage in a way which makes you and your
husband-to-be happy.  Of course there are lots of people's feelings
which must be taken into account, but it's usually possible to do this
without compromising your on happiness.  We went through a lot of stress
at the beginning of the process but as soon as we decided on the key
things like the venue and the fact we were going to have a humanist
ceremony, all of the opinions of others seemed to change from telling us
what they thought we should do, to supporting our decisions. 
There are plenty of things we could have done differently, but
ultimately, everything worked out beautifully and we had an amazing
day.  For Eva's sake, I wish her dog hadn't decided to take on the role
of cake-tester the evening before the wedding, but even that turned out
to be an amusing anecdote and made us appreciate her even more than we
did already.
Love My Dress was my main go-to blog for wedding inspiration.
I love all elements of the blog, but in particular I enjoy the real
wedding features, which are varied in style yet always down to earth.  I
also enjoy the designers you feature, which were a great source of
inspiration to me and from whom I purchased several items, including my
hair decoration for our civil ceremony from Victoria Mary Vintage and my shoes
and hair decoration from Emmy."
How utterly beautiful is this love story?  i'd love to hear your thoughts about these beautiful photographs and that wonderful dress and that touching love story.
You can see more first looks right here.  You might also want to enjoy our other Jenny Packham brides.
Huge thanks to Gabriel and Will for so willingly sharing their beautiful wedding. I'd also like to thank photographer Joanna Gourley for allowing her imagery to be reproduced on Love My Dress.

Have a beautiful morning everyone,
With much love,
Annabel
Photographer – Joanna Gourley
Celebrant – Jacqui Dickinson through the British
Humanist Association
Venue – Divinity School, Bodleian Library, University of Oxford, Oxford
Wedding Dress – Jenny Packham (customised)
Brides' shoes – custom Emmy 'Leila' shoes
Bride's accessories – Custom Emmy head band
Groom's Attire – Mark Marengo
Bridesmaids – Urban Outfitters, Coast, Anthropologie and Reiss
Florist – Daisies, Oxford
Cake – Made by one fo the bridesmaids
Entertainment – Adam Waldmann of Kairos 4tet.  Emilia Martensson and Sam Crowe
Favours – vintage books
Catering Company – Truly Scrumptious, Oxford
Hair and make-up Artist – Sarah Virgo of Deco Dolls
Rings – Jana Reindhart