Afternoon lovelies.  Following on from this morning's Spring inspired wedding inspiration boards, this weddding celebrates that fabulous golden shade that is yellow – which has always been a popular colour choice with Love My Dress readers.
These photographs were sent in by photographer Lyndsey Goddard, who was present on 26th January 2013 to capture the wedding day photographs of Lex and Liam.  The couple tied the knot at the Petersham Hotel in Richmond upon Thames, Surrey, followed by a reception at 06 St Chad's Place at Kings Cross, with 1000 paper ducks!  I love that Lex and Liam's wedding spawned a brand new little business idea too! Having got married, they have gone on to establish How We Got Here – a business specialising in creating illustrated maps etc). But what about that dress…

"My David Fielden wedding dress felt timeless and elegant (and magically winetry!). I knew I
wanted some lace, but not all over. I loved the simplicity of the shape
and the skirt, but the intricacy of the lace top and back.  My veil and headpiece were by from Gillian Million.

Initially, we didn't want a 'theme'. Our wedding was about a
journey, from West, to East (Liam is from East London). This inspired us
to create a logo/stamp for the wedding stationery that we ended up
using everywhere!  The maps, the river and postcard/postage stamp
touches came from our mutual love of travelling, and planning a journey
together. We both love maps, and felt this would be a good way of
illustrating how we got together.
Love My Dress Wedding Blog – Photography Copyright (c) 2013, Lyndsey Goddard Photography
"We used maps for each table, depicting
special places we had been/where we came from – they were all Liam's
handiwork!
We opted for a simple colour scheme, yellow, white and green –
and wanted to use our favourite flowers, tulips and ranuculus (which
remind me of small budding peonies). Gypsophula was added for a wintery,
romantic touch. We used straight hurricane vases for the flowers which
looked lovely on our long tables, interspersed with pillar candles.
Since our wedding, we have set up a business producing illustrated maps for other couples due to be married!"
"I wore a vintage fur stole and necklace from The Grand Bazaar in Istanbul…"
"Our thousand paper ducks installation was inspired by the Japanese
tradition of creating a thousand paper cranes for your wedding day –
it's meant to bring luck and good fortune, and symbolises the patience
required to sustain a marriage. We chose to make ducks instead, as
Liam's nick-name is Duck (an old surfing related story!).
Lastly, we
knew we needed some colour, and we chose yellow to add some sunshine to
our winter wedding."
"Apart from the ducks, we kept it simple with flowers and candles – the venue was beautiful already!  My friend Dani made some bespoke pompom garlands for us to cheer up the outside of the venue, she sells them through Etsy." 
"I grew up in Richmond, and my mum re-married here 5 years ago –
so it's a sentimental place. It also has spectacular views of the River
Thames, a special London location for Liam and I.
We met through work, at a schools career fair in March 2012. It was
a whirlwind romance, and we were engaged within three months (Liam's
proposal even took him by surprise!). We had six months to plan our
wedding!  When you know, you  know! ☺  We got to know each
other during a 30 mile walk along the Thames when we first got together.
The ceremony was followed by a reception at 06 St Chad's Place,
Kings Cross, London. We chose the venue because it's close to where we
met (at work), and because the venue was cosy and intimate. The
management were also very laid-back, and happy to let us personalise the
space how we wanted."
"We designed and made all of the stationary ourselves. We used beautiful paper and envelopes from Inspire Me Papers."
Absolutely loving that pretty birdcage veil – an elegant design created by our sponsor Gillian Million, of London…

"Our cake was made by Liam's mum, Dorothy. It had fruit cake,
madeira, and lemon sponge layers. It was decorated simply with fresh
flowers.  We posted slices to our guests after the wedding, and took the
top tier away with us on honeymoon, so we could scoff away and remember
the big day over a cuppa every afternoon!"
"Our photogarpher was Lyndsey Goddard
– was amazing – from our first enquiry, right through to the
post-wedding service, she has been a pleasure to work with.
The photos
we have just got back from Lyndsey are beautiful, and exactly the type
of images we were hoping for. She has really captured the spirit of the
day, and we'll treasure our photos forever."
"We chose to tailor our vows, and while we'd like to keep them
private, they were very different. Mine were more traditional, and
Liam's more poetic. They certainly moved people though, there were lots
of tissues passed around!
My brother Ben read Sonnet Seventeen by Pablo Neruda which was
very moving. It's about loving without knowing how, or when, or from
where.  Liam's Dad, William, then read an extract of the letter written
by Stilicho (a Roman General) to his daughter on the eve of her wedding.
It likened both the bride and groom to leaves, and twigs, and how
neither are complete without the other."
"Our favourite part of the day was the actual wedding ceremony –
it was very emotional, and it's the most vivid part of the day in my
memory (the rest went by so quickly!). Reading our own vows, with the
sun on our faces, in front of our closest family is something I will
never forget. I also loved our first dance which my friend sang for us,
it was beautiful. Thanks Dee!"
"We hired two buskers who we had met in Broadway Market,
Hackney, to play on our wedding bus. Willie and Gwennie sang, and played
old London songs on the banjo and accordion to entertain our guests –
we provided song sheets and everyone got involved – brilliant fun!"
"We didn't provide favours, instead we gave our guests a creative
activity to keep them busy before dinner , which once bound, will serve
as our guestbook."

"We
hired The Ruby Tones for our evening reception music. We couldn't have a
full band, so used their accousic duo, John and Ruth, who were
brilliant. It was made even more special as my friend Deanne sang our
first dance, and a dedication to Liam from me. 
Our
DJ for the later evening was Gareth Walton from GJ's discos – we only
decided to hire a DJ at the last minute but he was brilliant. He has all
his tracks online so you can make requests and dedications well ahead
of the event. He had our guests on the dancefloor until the bitter end!"
"Our first dance was to 'God Only Knows' by the Beach Boys. The
words are so pertinent, and it's a very sweet track. Plus, we both love
the Beach Boys!"
Words of Wedded Wisdom…
"Try not to get too
stressed by the little details – on the day you'll find that you really
don't care that the flowers aren't quite the right yellow, or that the
wedding bus is 20 minutes late – smile, go with the flow, and nobody
else will know any different."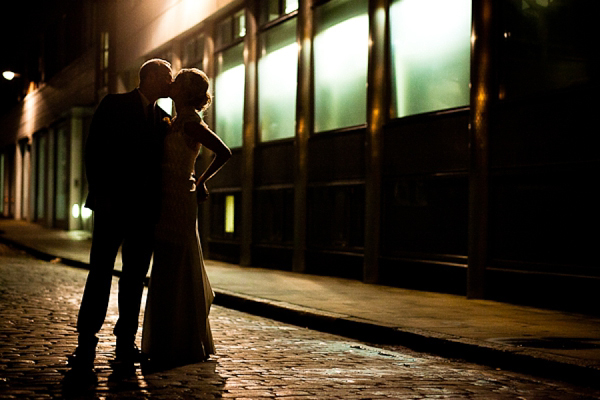 What a beuatifully glamorous day. LOVE a yellow wedding colour scheme and if you do too, you can see much more of that right here.
And that's two high fives for the fashionable bridal wear designer David Fielden this week – bravo Mr Fielden! 🙂

Huge thanks to Lyndsey Goddard Photography for choosing Love My Dress to submit these images too – and thank you so much too to Lex and Liam for sharing their gorgeous day.
Ahhh. It's Friday afternoon. About ruddy time eh? 🙂
With much love,
Annabel
Photographer – Lyndsey Goddard Photography
Venue – Petersham Hotel in Richmond upon Thames + reception at 06 St Chad's Place,
Kings Cross
Brides Dress - David Fielden
Brides Veil + Pearl Necklace – Gillian Million, London
Brides Shoes – Rainbow Club
Bridesmaids Accessories – Bracelet by Monica Vinader and earrings
from Accessorize
Grooms Suit – Joseph + shoes by Jones Bootmaker + Dress shirt by Christian Dior
Bridesmaids Dresses – Coast + Dune and Nine West shoes
Flowergirl Dresses – Stella McCartney Kids
Florist – Losely Flowers by Sarah More-Molyneux
Cake – Family
Transport – Wedding Taxi + Routemaster Hire (red bus)
Entertainment – Buskers + The Ruby Tones + Gareth Walton from GJ's discos
Hair and make-up Artist – Nicky at Beauty Call
Makeup Artist – Natalie Castro
1000 Ducks Installation & Illustrated Maps – How We Got Here (established by the bride & groom)