I felt it only right and proper that given that pale blue is one of
my favourite colours ever in the universe, that there needs to be a
little more of it occupying these blog pages – not that it has been a
neglected hue, we've got a whole load of pale blue wedding ideas already to
inspire you
This lovely wedding was sent in by the fabulous and award winning duo that is Cotton Candy Weddings, who were lucky enough to be the chosen photographers to shoot Vee and Rich's wedding in June last year at Boreham House in Chelmsford, Essex.
"The theme I wanted was 'vintage glamour' – I love vintage stores,
buying vintage clothes and also love the stars of the 50's and the old
fashioned romance of the era. I wanted to create a timeless feel to the
day and used powder blue as a colour theme throughout and used blue
ribbon throughout each element (the stationary, on the cake and in the
bridesmaids flowers)."
Love My Dress Wedding Blog – Photography Copyright (c) Cotton Candy Weddings
"Our Florist TJ from TJ Design Studio
was brilliant – She listened to all my ideas and had real vision
herself – we bounced off of each other and she created a beautiful look
for the day – exactly what I wanted.
She made my bouquet from ivory
roses and weaved in a lot of my old broaches and jewellery as well as
some off cuts from my dress. The bridesmaid flowers were beautiful
powder blue hydrangeas and the centre pieces were floating hydrangeas
with pearls. I'm so glad I used her."
Don't you just love these peachy colour bridesmaids dresses by Twobirds?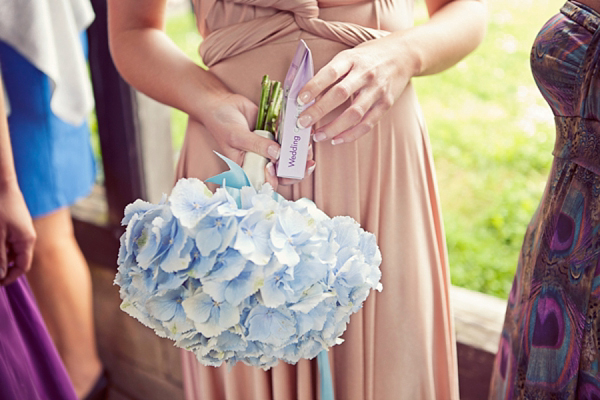 "My dress was by Royal Couturier Stewart Parvin and I purchased it from The Bespoke Wardrobe in Ingatestone, Essex.  It
was truly beautifully made – thick lace material and had a timeless look to
it.
It was the bolero and dress together that made me fall in love with
it.  I wore a bracelet Rich had bought me years before and also a
Pandora bracelet he gave me on the day and studded earrings borrowed
from my step-mum. The Bolero was bought as a sample from The Bespoke Wardrobe
and I hired the belt from The Bespoke wardrobe also. My mum also made
my garters belt – ivory and lace with a little blue bow."
"The bridesmaids all wore gifts I bought them which were a mix of old vintage and new pieces from the fabulous Glitzy Secrets."
"As a cliché we met in a nightclub in Essex!! Rich is very smug that I made the first move!  We
went to Paris for new years even two years into our relationship, and
we just fell in love with the city – I remember Rich telling me this is
where he would propose.
Five Years later we booked a last minute trip to
Paris for new years eve and he asked me on the Ponts de Arts bridge the
day before New Years Eve. We had been together for 8 years when I
walked down the aisle – about time!"
"The Wartime tribute singer Violet Rae sang during the day and The Sugar Shack band in the evening."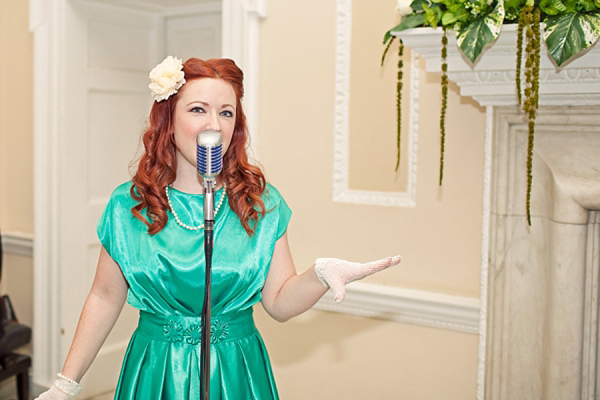 "One of my best friends organised my cake for me – she knew my
theme and it was a surprise for me on the day – I loved it a 4 tier
simple but elegant cake with the third tier made to look like lace and
tied with a blue ribbon with a vintage broach from my Mum…"
"Our photographers were Cotton Candy Weddings – we absolutely loved
them: having two photographers meant they captured both the time Rich
and I spent getting ready individually and the rest of the day too. They
captured a mixed look of old and new and made us feel so relaxed."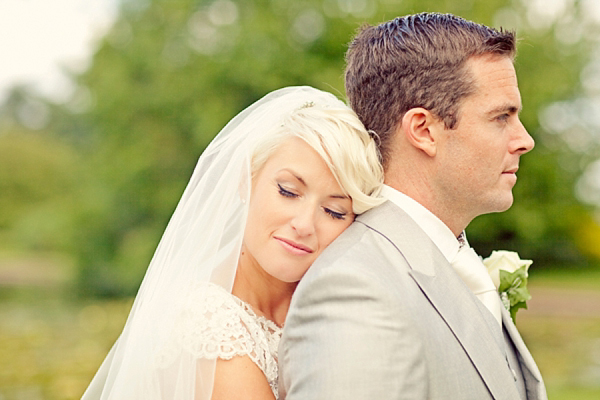 "We Loved the decadent feel to our venue, Boreham House,
and the fact that we could have the drinks pre the wedding breakfast
inside should it rain – had a beautiful large room, high ceilings and
large chandeliers."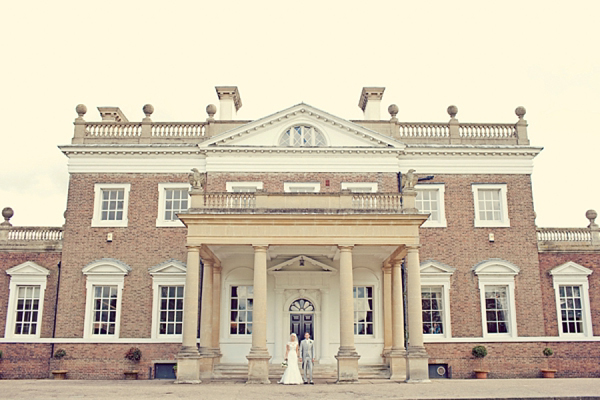 "With the exception of the Save the Date cards which were from
etsy.com I made all the stationary myself – With the help of my step
mum, bridesmaids and friends. This included the order of service, menus,
name cards, table names and invitations.
I made the table plan with my
husband's family. I bought a large piece of wood and some gorgeous wall
paper from B&Q which my father in law pasted on for me! And used a
collection of eclectic photo frames from new & second hand stores
and ebay for each table name and hung them on the make shift wall."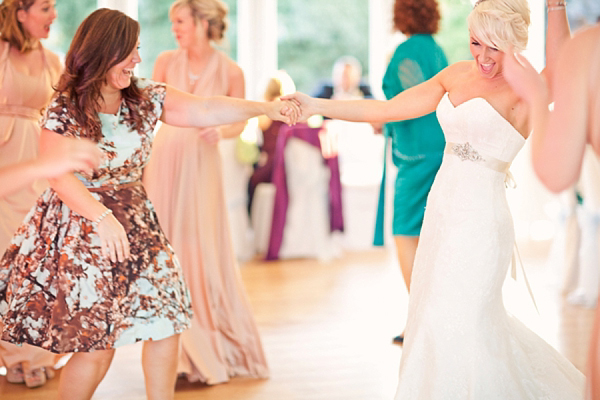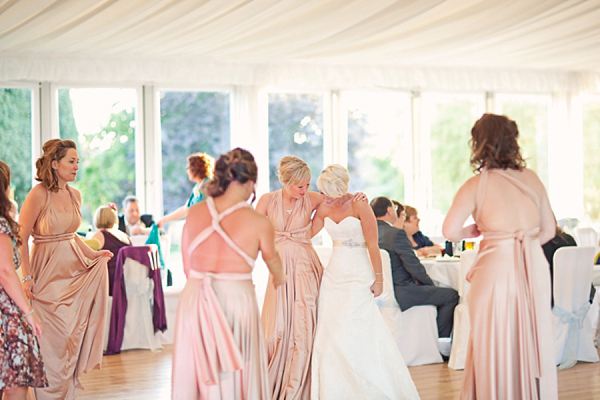 Words of Wedded Wisdom…
"Try and book the venue and the photographers asap – we were
surprised how far in advance they were booked– once that's done you have
enough time for everything else. Having a theme also helped me to stay
focused and make decisions more quickly. I would also say take help
where it's offered, especially if you are making things yourself.
Lastly, it's easy for me to say now but try not to get caught up with
the small detail as in the end nothing is ever perfect and you will have
an amazing day regardless.
"We can't pinpoint a favourite part of the day as we loved it all so much! But highlights include
getting ready in the morning, walking down the aisle and seeing Rich at
the end of it and the end of the night dancing to the band when all the
formalities were done and we could let our hair down.
Pale blue, peach and so very pretty and perfect, don't you think?  It's great to see a bride wearing Stewart Parvin too. Are there any more of you SP wedding dress fans out there?
Just a little reminder for you about our Lovely Favours £500 promotion that was launched this afternoon too!
With much love,
Annabel
Photographer – Cotton Candy Weddings
Venue – Boreham House in Chelmsford
Wedding Dress – Stewart Parvin via The Bespoke Wardrobe
Veil/Headpiece – The Bespoke Wardrobe
Brides Shoes – Online bargain – under £25
Bride's accessories – Vintage earrings
Grooms Suit – Anthony's in Billericay
Bridesmaids Dresses – Twobirds + shoes from Next + accessories from Glitzy Secrets
Flowers – TJ Design Studio
Cake – A friend
Entertainment – Violet Rae + The Sugar Shack band