Good morning lovely ones, I'm hoping you're reading this whilst sat comfortably with a nice cup of tea and looking forward to the week ahead.  And to give you a great start to the week, I've chosen the most beautiful wedding to share with you – this really is something special and I hope that it touches your heart as much as it has mine.
Ricky and Laura tied the knot 'Wed Fest' style on 23rd June last year at Cornish Tipis in Pendoggett, Cornwall.  There are so many things I am in total love with about this wedding, but I think what melted my heart from the start was Laura's divine wedding dress…
"I
think I always knew that I wanted an original vintage wedding dress. I
tried on lots of dresses and as a result, I loved pretty
much everything I tried on!  Because of this, I decided that I wasn't going to be one of those brides who had an 'I just knew' moment.  But then I went to The Vintage Wedding Dress Company!
Love My Dress Wedding Blog – Mike Kelly + Kim Appleby (via the venue, Cornish Tipis in Pendoggett, Cornwall)
"I selected some dresses to try on and
when I tried on the first one I had chosen I just knew!  I absolutely
loved it and I just knew that if anyone else bought it I would be
devastated. So we put down a deposit on it and from then on I didn't
look back.
I loved that my wedding dress was original vintage, I loved the lace
sleeves that came down to a point on my hand, I loved the detail on the
back and the fact that it was quite full while still being fitted in all
the right places and without being a meringue. Mostly I loved how it
made me feel – like a bride and a bride at exactly the type of wedding
that I was having."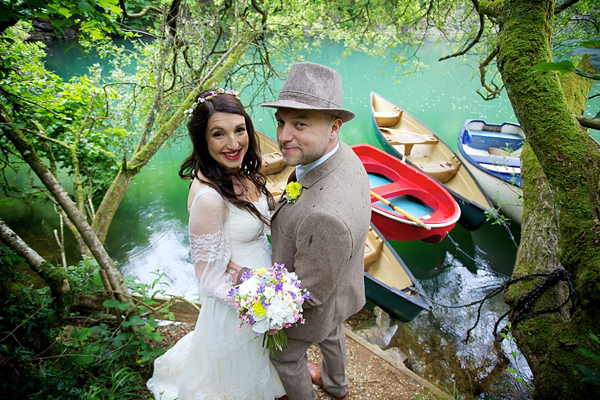 "We used Daisy Roots Florist
based in Truro because I felt like they really 'got' what we were
trying to achieve. My specification for the flowers was that I wanted
the bouquet to look like I had run through a field gathering flowers on
my way to the ceremony, which was exactly what it looked like! They used
local wild flowers and put together bouquets for me and the bridesmaids
and even the button holes were really individual and included local,
wild flowers which really suited the venue and the style of the day.  I
also bought lots of the flowers at a local wholesale flower market which
enabled us to make all the table decorations and the wedding pavilion
the day before.
Doing it this way saved so much money, although took a
good few man hours on the day before the wedding. They looked great
though and it's an easy way of saving some money if you've got people
that can help."
"I knew that I wanted to have flowers in my hair so I spoke to my
florist really early on to get some ideas of what she would be able to
do. I couldn't believe what she came up with, they were so perfect
really subtle, intricate and delicate and even had bits of 'lambs tail'
in it which was a plant I really associated with my childhood."
"We got married at Cornish Tipis in Pendoggett, Cornwall.
We decided that we wanted a wedding that was like a music festival
really early on in the planning stages so our venue choice needed to
reflect the theme. We wanted somewhere where all of our guests could
camp, somewhere where that reflected the spirit of the Glastonbury vibe
we were going for and somewhere where we could get married and have the
reception all in one place.
When we found Cornish Tipis, we just knew it
was the right place for us – we stood in the wedding pavilion in a glade
in the woods with a stream running past us and it just summed up
everything we wanted it to be."
"Glastonbury
is a big part of both of our lives, as well as something that brings
all our friends together once a year. The fact that it wasn't happening
in 2012 opened a window for everyone to spend that weekend at our
wedding instead.
We quickly decided that Glastonbury (and festivals in
general) would be the inspiration for our day and thus, Wedfest was
born!
My husband is a music promoter so it was easy for
us to find lots of bands and acts that would perform on the day.  In the
end we had two full bands and four singer songwriters perform during the
course of the day. As well as a music festival theme I really wanted
the day to have a casual, outdoor country fair type feel and so the
choices of dresses, suits, activities and overall style followed on from
that."
"I am a very optimistic person and I was adamant that it wasn't
going to rain, despite the forecasts consistently predicting rain. In
the end it only rained after our photos were taken and we were tucked
away in the marquee but it did mean that all the outdoor games we'd
hired went to waste (although having now watched the video there were
some brave souls bowling in the rain and they did get used the next day
when we had bacon sarnies all together in the sunshine!).
So therefore, I
guess I would say that as hard as it is, try not to get blindsided into
only planning for one weather type – we do live in England after all.
What was I thinking? Of course it was going to rain – I did want a
Glastonbury wedding after all!"
"I loved being walked down the aisle by my Dad. When we pulled up
at the venue and the music started I realised that I was going to start
crying. My bridesmaids and my page boy got out of the carriage and
started walking towards the pavilion and my Dad just looked at me and
said "it's ok to cry, just take your time" so we sat in the carriage for
a little while longer and then when I felt like I'd pulled myself
together we got out and walked towards the pavilion with all my friends
and family looking at me. I cried all the way, but having my Dad with me
and squeezing my hand was really beautiful. 
When I first met Ricky he introduced me to a musician called
Bright Eyes and there was a particular track that I had a real affinity
to. From the first time I heard 'First Day of my Life'
I knew it would be the track I'd walk down the aisle to and that was a
long time before I knew it would be Ricky that I was marrying. It's a
really meaningful song to me and to us as a couple so no wonder I found
it difficult to hold it together while I was walking towards my future
husband and all my friends and family!"
"We had an artist friend of ours design our wedding invitations in
the style of a Glastonbury ticket and along with the invitation we sent a
wedding booklet which we designed ourselves. We had a local
reprographics centre print them all out for us and we organised for the
front cover to be cut out which gave it a really festival-ly feel!
We had the front cover cut out in wood and made into the sign that welcomed people into the site. We also had an artist design a map for the whole site which we put up around the site so that people could find their way around."
"We both absolutely loved the ceremony. I've been to weddings before
where the ceremony feels like the bit that people want to get out of
the way so they can have a big party. I wanted it to be absolutely clear
that the reason that everyone was there to watch us get married and to
share the moment with us when we became husband and wife.
We worked really hard to make the ceremony personal to us, with lots of music, singing, readings, a handfasting ceremony and even a flash mob! The ceremony was incredibly emotional, I could cry now just thinking about it, but that's just because it meant such a lot to me."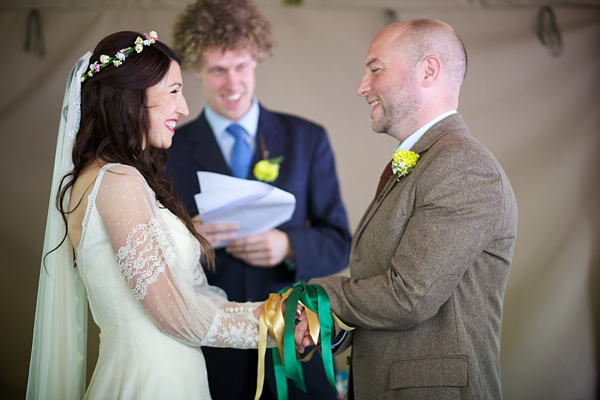 "I was living in Manchester in 2008 and I was looking
for a new flatmate. The girl I chose was called Paula and she introduced
me to Ricky who was one of her best friends and lived just round the
corner from us. We started seeing each other pretty much instantly and
then when we'd being going out for around a year Paula decided to move
out so it was an easy decision for Ricky to move in with me. A year
later and Ricky was taking me to New York to celebrate my 30th birthday.
On the actual day of my birthday Ricky took me to Central Park and we
had lunch at the restaurant on the lake and went on the carousel.
He then took me to poets walk and we took photos of Shakespeare
and the other poets statues. As we walked along Ricky was slowing down
and I couldn't figure out why as it was so cold! He then turned to me
and said "actually, I've written a poem for you". He then spoke out his
poem, the last line of which was "will you marry me?" and he got down on
one knee and proposed. I instantly started crying and said yes. We
decided to get married a year and a half later in June as it coincided
with the fallow year of Glastonbury so the idea of having a festival
wedding all tied in with the date as well."
'Whilst we didn't hire a wedding planner, we did have enormous amounts of help from my Mum and my amazing friends! "A couple of weeks before the wedding I invited lots of my most
creative friends over for bubbly and cake and we decorated hundreds of
jam jars with sequins, material and glitter glue. We also made flags for
people to wave at the ceremony which said things like 'yey', 'wohoo'
and 'yippee'!"
"I originally wanted my bridesmaids to wear different
dresses in a single colour theme, but finding dresses that are different
but the same colour is harder than you might think. Then I saw an
article about twobirds Bridesmaids on Love My Dress
so I wanted to take my bridesmaids along to the store to see whether
they'd like them. We all fell in love that day, the colour that we all
liked seemed to look good on each of them in different ways and they
each found a style and way of wearing the dress that they were happy
with."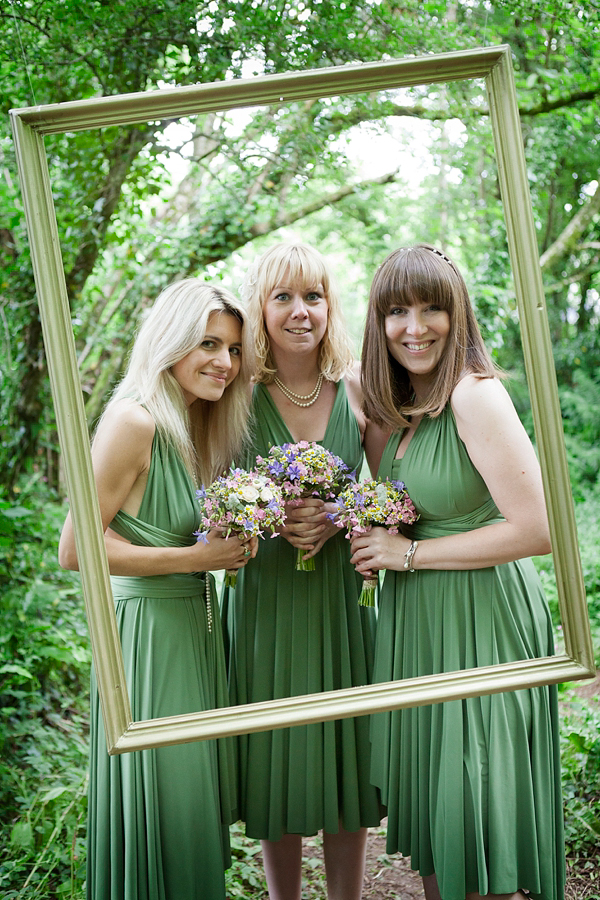 "The bridesmaids all chose their own shoes but there was a long
period of emailing suggestions between themselves. I wanted them all to
wear wedges and in the end they all chose something very similar.
As the presents to my bridesmaids on the morning of the
wedding I gave them each a vintage brooch to wear on the day. I had been
scouring vintage shops along Brick Lane in London for weeks before
until I found the perfect ones!"
"Since the whole day was outside and mostly on grass I figured that
wearing wedges was probably the best idea. However, finding wedges that
would match my dress and were the right height was particularly tricky.
Then I accidentally fell into Jimmy Choo
and there they were! I spent a little bit of time deciding whether I
could justify the money and pretty quickly realised that my wedding day
is the one day that I'm happy to spend money on!"
As it was a festival
wedding I thought I should probably also have some wellies and found and
ordered some Weddington Boots
online. Looking back I'm glad I did as the weather wasn't particularly
kind to us so I was really glad of them when I was dancing in the mud at
the late night party!"

"My veil was from Luellas Boudoir. I needed the veil to suit the dress and I went along to Louella's Boudoir where we looked at a range of materials, trims and lengths – they even arranged to have the veil dyed to match the colour of my dress. The veil we chose was absolutely perfect, matched the dress and the day in the best way possible."
"Ricky really wanted something with a vintage feel so we spent a lot
of time looking for a vintage suit, or at least vintage accessories! We
eventually were surprised to find the ideal suit in Top Man so we bought the jacket and trousers there and got a vintage waistcoat from Absolute Vintage and a gorgeous hat from Beyond Retro
(both in Shoreditch in London).
We also got Ricky's shoes from Topman
and as a wedding present I bought him a vintage pocket watch from a shop
on Brick Lane and had it engraved. It looked really great on his suit
on the day!"
"I was lucky enough to end up having two photographers which was amazing! The photographer we chose was a friend of ours, Mike Kelly, which lots of people said was a risk but for us it worked perfectly.  Ricky isn't a massive fan of having his photograph taken so having someone that we knew behind the camera was a really lovely addition to our day. Not to mention that he's also FANTASTIC and took so many beautiful photos that I love pouring over them again and again! 
Our second photographer Kim Appleby was provided by our wedding venue Cornish Tipis in Pendoggett.  It was amazing to have two photographers as it meant that while Mike was with us, Kim could be off photographing the guests and events that we missed! It also meant that the venue had some photos that they could use to publicise their site."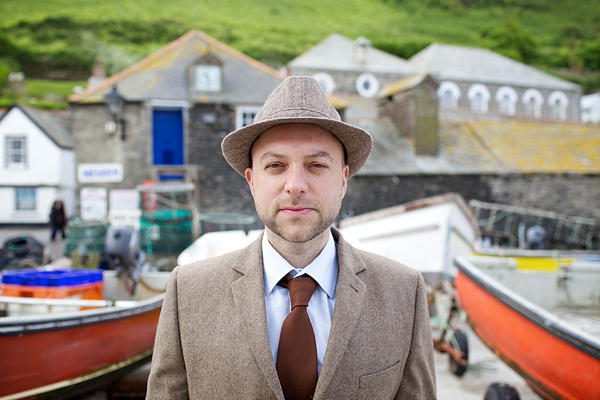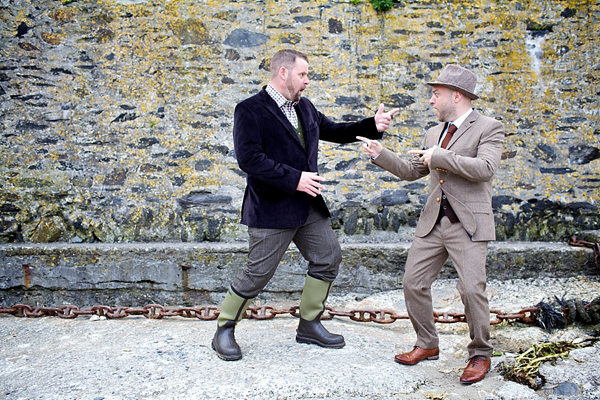 "My Mum and Step-Dad bought me a sapphire necklace for the
Christmas before the wedding which matched the sapphire in my engagement
ring. Then on the morning of our wedding I got sent a present from
Ricky and it was a pair of beautiful sapphire ear rings. So I was all in
sapphire and white gold on my wedding day."
"I had my hair done in a salon in Bodmin called Aruba Blue. I had
originally wanted someone to come to the house that we were staying at
in Pendoggett but it was actually quite nice to get out and about for a
bit on the morning of the wedding. They did such a lovely job so I'm
glad I went with them. I had a lovely girl called Sarah March to do my
make up. She came to the house and also did my Mum and my sister's
makeup on the day. It was an amazing coincidence as she lived near me in
London but was originally from Port Isaac, really near the venue.
So we
were able to trial runs in London but the venue was also convenient for
her so it was weirdly perfect! She was fantastic to work with and
really understood that I wanted a vintage but understated look for my
big day. She went with me on the red lipstick despite my Mum's protests
and I was really pleased with the final outcome."
"I
asked my nephew Asher if he'd like to be my page boy, he was 3 and a
half when we got married so we didn't want to spend a lot on his suit as
he'll probably only wear it once! We found a perfect little brown suit
in Marks & Spencer and he just looked amazing in it!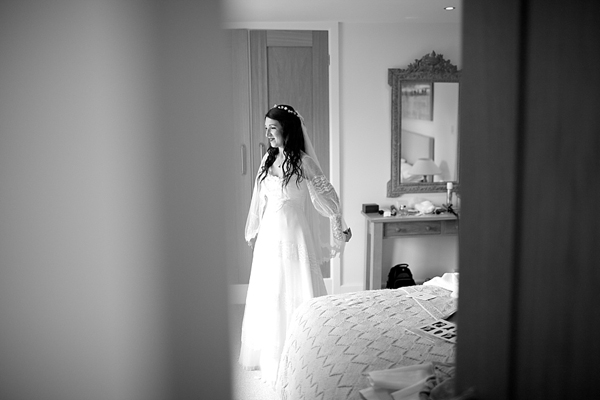 "The individual styling or our wedding really the crux of the day
for me. The venue site was really large so to tie it all together some
friends of mine made me 1km of bunting! It was everywhere – but it
really tied together the whole site which was what we wanted. At the
wedding pavilion some friends of mine made an archway which they covered
with ivy, flowers and little decorated jam jars with tea lights and
flowers in that I walked through as I entered the pavilion. On a tree by
the wedding pavilion we hung pictures of each member of Ricky and my
family on their wedding day – a family tree!I had bought
vintage frames and a friend of mine printed out the photos and hung
them on the tree the day before the wedding.
On the day it was a really
talking point and there's a fantastic photo of my Aunt showing her
grandsons a photo of her on her wedding day. Also, in the woods behind
the wedding pavilion we hung 3 empty frames at various heights so people
could pose behind them and have their photo taken. There are some
really fantastic photos from that area!"
"Between the area where we got married and the marquee where we had
the reception was quite a steep hill so I wanted people to have
something to stop and look at if they needed a rest! So I came up with
the idea of making a time line of our lives from birth to our
engagement.
Both our Mums put all the photos together and made the time
line. It was a real talking point and it was lovely to see how our lives
had led us to that point and what we looked like in the same year as we
grew up!"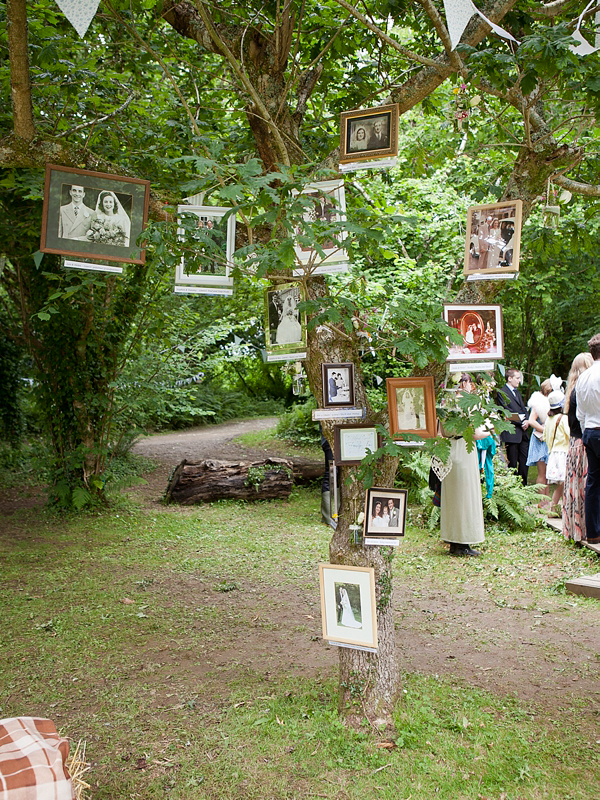 "The venue meant that whatever I pulled up in would be seen by all
of our guests and given that it was an outside venue in a really natural
environment I decided that it would only be appropriate to arrive by
horse and carriage! I had my Dad, my bridesmaids and my page boy with me
in the carriage which was really lovely. We played eye-spy in the
carriage on the way to the venue, it was a really lovely moment."
"We didn't alter the vows that the registrar married us with, but
just chose the version that we felt best represented us and our day.
However, we did opt to have a separate ceremony at the end of our
wedding where we did a handfasting ceremony. We wanted something that
was personal to us, that meant something to us and something that felt
more realistic than standard marriage vows can sound. The vows we used
were as follows:
To groom: Will you cause her pain?
Groom: I May
To groom: Is that your intention?
Groom: No
To bride: Will you cause him pain?
Bride: I may
To bride: Is that your intention?
Bride: No
To both: Will you both share each other's pain and seek to ease it?
Both: We will
To both: And so the binding is made. Join your hands.
The first cord is tied around the bride and grooms hands.
To bride: Will you share his laughter?
Bride: I will
To groom: Will you share her laughter?
Groom: I will
To both: Will both of you look for the brightness in life and the positive in each other?
Both: We will
To both: And so the binding is made.
The second chord is tied around the couple's hands.
To bride: Will you burden him?
Bride: I may.
To bride: Is that your intention?
Bride: No
To groom: Will you burden her?
Groom: I may
To groom: Is that your intention?
Groom: No.
To both: Will you both share the burdens of each so that your spirits may grow in this union?
Both: We will
To both: And so the binding is made.
A third chord is tied around the couple's hands.
To bride: Will you share his dreams?
Bride: I will
To groom: Will you share her dreams?
Groom: I will
To both: Will you both dream together to create new shared realities?
Both: We will
To both: And so the binding is made.
A fourth chord is tied around the couple's hands.
To groom: Will you cause her anger?
Groom: I may
To groom: Is that your intention?
Groom: No.
To bride: Will you cause him anger?
Bride: I may.
To bride: Is that your intention?
Bride: No.
To both: Will you both take the heat of anger and use it to temper the strength of this union?
Both: We will.
To Both: And so the binding is made.
A fifth chord is tied around the couple's hands.
To bride: Will you honour him?
Bride: I will
To groom: Will you honour her?
Groom: I will
To both: Will you both seek to never give cause to break that honour?
Both: We will
To both: And so the binding is made.
 
A sixth chord is tied around the couple's hands. The registrar holds all chords together while saying.
To
both: The knots of this binding are not formed by these chords but
instead by your vows. Either of you may drop the chords, for always you
will hold in your own hands the making or breaking of this union.  The chords are removed.
To
everyone: May Ricky and Laura know great love together, and may they
live in the desire to always support each other in positive and
uplifting ways. May they strengthen one another in sorrow, share with
one another in gladness, and be companions to each other in times of
silence. May their home be a haven, and wherever they are plagued by
changing fortune, may they be united not in word and outward form alone,
but by the presence in the hearts of each, of the deepening love they
share.
It felt really lovely to have a part of the
ceremony that was personal to us. I'd never been to a wedding that used
these vows before so it felt really special."
"We had three readings, my friend Chloe sand 'At Last'
by Eta James and instead of a hymn and we all sang 'Bridge Over Troubled
Water' by Simon and Garfunkel. I love communal singing and just because
we weren't getting married in a church I didn't want to miss out on a
bit of community spirit! It was lovely and very emotional! The readings
we had were Captain Corelli's Mandolin by Louis Bernieres, which goes like this;
'Love
is a temporary madness; it erupts like volcanoes and then subsides. And
when it subsides you have to make a decision. You have to work out
whether your roots have so entwined together that it is inconceivable
that you should ever part. Because this is what love is. Love
is not breathlessness, it is not excitement, it is not the promulgation
of eternal passion. That is just being in love, which any fool can do.
Love itself is what is left over when being in love has burned away, and
this is both an art and a fortunate accident. Those that truly love
have roots that grow towards each other underground, and when all the
pretty blossoms have fallen from their branches, they find that they are
one tree and not two.'
We
chose the extract from Captain Corelli's Mandolin because we both
really loved reading the book and when we were looking for readings we
came across this extract and we both felt very emotionally attached to
it! It fitted very well with how we feel about each other, how we feel
about love's longevity and how we feel about our relationship.
The
Elizabeth Barrett Browning poem is a favourite of mine from studying
Robert Browning at school and discovering the love of Elizabeth and
Robert, it's been an aspiration ever since to find a love like that! The
Pam Ayres poem was inspired by Ricky having met Pam Ayres when he was
about 5 when he won a poetry competition! Plus we thought after all that
emotion it might be good to lighten the mood!"
We also had 'Sonnet 43' by Elizabeth Barrett-Browning read at our ceremony;
"How do I love thee? Let me count the ways.
I love thee to the depth and breadth and height
My soul can reach, when feeling out of sight
For the ends of being and ideal grace.
I love thee to the level of every day's
Most quiet need, by sun and candle-light.
I love thee freely, as men strive for right.
I love thee purely, as they turn from praise.
I love thee with the passion put to use
In my old griefs, and with my childhood's faith.
I love thee with a love I seemed to lose
With my lost saints. I love thee with the breath,
Smiles, tears, of all my life; and, if God choose,
I shall but love thee better after death."
'He never leaves the seat up' by Pam Ayres
"He never leaves the seat up
Or wet towels upon the floor
The toothpaste has the lid on
And he always shuts the door!
She's very clean and tidy
Though she may sometimes delude
Leave your things out at your peril
In a second they'll have moved!
He's a very active person
As are all his next of kin
Where as she likes lazy days
He'll still drag her to the gym!
He romances her and dines her
Home cooked dinners and the like
He even knows her favourite food
And spoils her day and night!
She's thoughtful when he looks at her
A smile upon his face
Will he look that good in 50 years
When his dentures aren't in place?!
He says he loves her figure
And her mental prowess too
But when gravity takes her over
Will she charm with her IQ?
She says she loves his kindness
And his patience is a must
And of course she thinks he's handsome
Which in her eyes is a plus!
They're both not wholly perfect
But who are we to judge
He can be pig headed
Where as she won't even budge!
All that said and done
They love the time they spend together
And I hope as I'm sure you do
That this fine day will last forever.
He'll be more than just her husband
He'll also be her friend
And she'll be more than just his wife
She'll be his soul mate 'till the end."
"Shortly after we got engaged we moved to Birmingham so it seemed an
opportunity too good to miss to get out wedding (and my engagement
ring) in the Jewellery Quarter in Birmingham. I would strongly recommend
that everyone has a look there when trying to find engagement or
wedding rings. The choice is enormous and because there is so much
competition it drives down the price. We found my engagement ring at Wards Jewellers
and ended up getting the wedding ring at the same time as it fit
perfectly in the wishbone shape of the engagement ring. I had never
wanted a standard diamond solitaire and always fancied something a bit
different.
I'd intended on looking at antique and vintage rings but my
hands are so small that I never managed to find one that didn't look a
bit ridiculous on my hands. So we found the perfect engagement ring
together, with a sapphire as the central stone and diamonds along the
band and I really felt engaged when I finally got to put it on!
Ricky's
wedding ring was also found in the Jewellery Quarter in Birmingham. He
wanted something with a celtic feel to it and once we found the one we
wanted there was no turning back! We found it in Neweys Jewellers
and we tried to carry on looking after we'd found it to check that it
was definitely the right one but we realised that we were just looking
for the exact same ring!"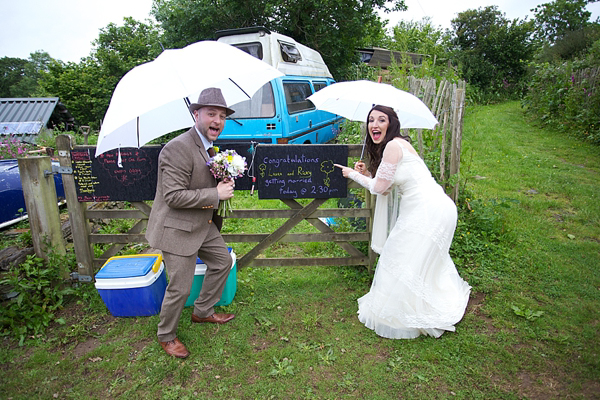 "Fee Turner catering was recommended to us by our venue and
she was absolutely fantastic. Fee really got involved in the feel of
the day, made fantastic use of all the vintage crockery I'd been
collecting for a year and happily helped us serve pimms and gin and
tonics out of giant tea pots into tea cups and saucers. She made
fantastic afternoon tea style canapés to go with the spirits and the
evening meal was the best wedding food I've ever had.
Cooking in a field
in the rain can't be easy but everything was done with amazing ease and
all the catering staff were laughing and dancing and singing along all
evening! Everyone was wowed by how good the food was so we were really
pleased. Fee even sourced local cheeses and Cornish pasties for our
evening food which went down an absolute treat!"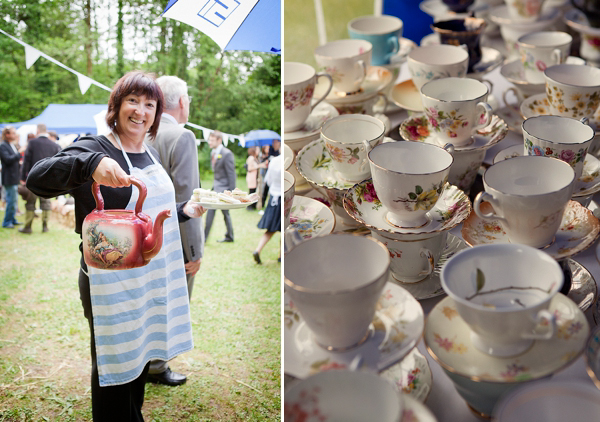 "Our bar was run by Shelly from Born Hectic Events
and they were absolutely fantastic. They set up a bar outside for next
to no money and we just had a pay bar so that's where they made their
money. They said they would serve until the last man standing and they
even put up another tent so that people could stand by the bar and not
get drenched!
They were also just so much fun, really chilled and just
lovely people to have at our wedding! I would recommend them every day
to anyone that asked!"
"In a tipi near the marquee we set up a vintage sweet stall on a
dresser that I bought on ebay and with lots of vintage style sweets in
jars. We also set up a dressing up box, a frame and a camera and people
got dressed up, posed in the frame and took photos of themselves."
"In the marquee we had still more bunting and I had found a
collection of vintage postcards that people signed instead of a guest
book. I decorated an old suitcase that I found in my Mum's attic for
people to put their cards in and had an old vintage typewriter that had
instructions on writing on the postcards. I had been collecting vintage
crockery for about a year before the wedding and so all the food was
served on and from the crockery that I'd bought. We also borrowed lots
of jugs from a friend and made our own flower arrangements.
Instead of having a favour on each person's place setting we put
together a collection of items in a pile that people could just choose
what they wanted. One of my bridesmaids made some chutneys, another
baking-friendly friend made cupcakes and another made little bags of
shortbread and brownies. It was lovely to have a little collection of
things that people could take, fantastic that our friends were able to
contribute to our big day and even better that we didn't have to pay for
them!"
"We had originally planned for our good friend Brian Brooke who is a
food stylist to make our cake for us as we wanted a cheesecake and he
makes the best cheese cakes I've ever eaten! However in the end he
wasn't able to do it due to other commitments so instead we went with
the  English Cheesecake Company.
They sent us some samples to try before we picked our final flavours
and the two flavours we fell in love with were the white chocolate and
champagne and the chocolate profiterole! So we had 3 tiers of cheesecake
in those two flavours. It was amazing."
"Our first dance was to 'Home' by Edward Sharp and the Magnetic Zeros.
Ricky had come across the track through his work and really loved it so
played it to me in the car one day and we decided that would be our
first dance. We didn't want anything soppy and we wanted something happy
and lively that everyone could join in with. We danced together alone
for about 30 seconds then got everyone else involved and then we
finished the dance together. Home really is wherever I'm with him!"
"As we were having a festival wedding a key part of the day was the
music. I've always had a bug bear about the bit in between the ceremony
and the reception being a bit dull so I filled it with gin and music to
keep everyone entertained, especially while we were off doing photos.
Ricky is a music promoter so we had access to some amazing bands. These
included: Martin Renshaw, Andrew Worthley, Tricia Kane, Benjamin Yellowitz, We Are Willow and Samson and Delilah
who we're our headlining act. It was so lovely having music to fill the
day and it broke the day up and helped us to remember each part of it
by thinking about which set was playing!
Instead of
having a DJ for the evening entertainment we decided to do our own
playlist which was so much fun! We started out with an hour of grunge
music (the music of Ricky's youth) followed by an hour of cheesy pop
(the music of my youth) followed by an hour of music you only dance to
at weddings followed by regular disco. It was so much fun and so
brilliant to literally be able to pick every song we danced to at our
wedding. Plus it means I can revisit the playlist even now and remember
every moment of the day."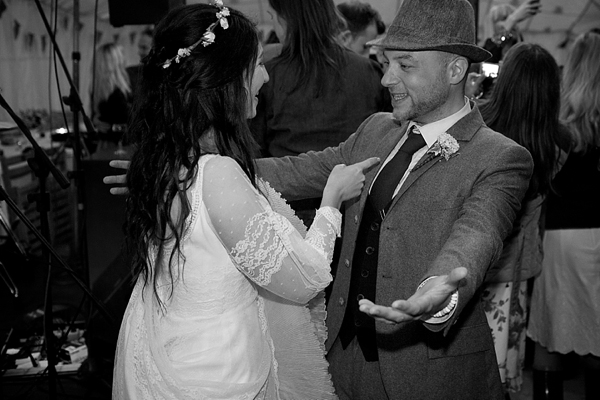 Words of Wedded Wisdom…
"I love Love My Dress
and I still read it now. It helped encourage me to do what I wanted
(not that I needed much encouragement) and gave me some great ideas
along the way. 
People go to lots of weddings so I think it's important to think
about how yours will be different when they look back. I wanted people
to have a fantastic time but in a way that best represented me and
Ricky. There were definitely some family members that questioned why we
wanted to get married in a field and why we didn't want to get married
in a church. But after the day there were no questions, everyone
understood exactly what we wanted and why.
I guess what I'm trying to
say is that you'll have an idea in your head of what you want your
wedding to look, feel and be like (especially if you read Love My Dress regularly!) and if you do, don't let anyone question you about it. You know what you want so don't let anyone dissuade you.
"The other thing I'd say is that people like to help so ask for
help! People love to be involved and even though it's hard to relinquish
control there's no better advice I could give than to give someone a
job and let them do it. It'll be so helpful to you to not have to do
everything on your own and if you're able to let go of a few tasks then
you'll have something to enjoy on the day that someone else has
contributed!
Finally  I'd like to say is that you can
get lulled into this place where the weather on your wedding day is all
important. People say to you for weeks before your wedding 'oooh I hope
the weather's kind to you' – like it's the only thing that matters. As
someone to whom the weather was categorically not kind, I cannot
emphasise enough how little it matters. I was dancing in the mud in my
wedding dress and I've never had more fun in my life. People were doing
mud slides in their pants outside the marquee and it really just brings
out the wildness in people. It makes it memorable and it means that you
all gather together in one place instead of being spread out. Rain is
brilliant, don't worry about the rain, just worry about having a good
time."
I'm completely smitten with everything about this wedding, absolutely everything and I really hope it inspires you as much as it has me.
Thank you so very much Laura and Ricky for sharing your beautiful wedding day with us all, I'm so very touched.  Huge thanks also to Cornish Tipis in Pendoggett, Cornwall for connecting me with Laura and being so very helpful – I'd like to encourage all brides reading this right now who are looking to have a similar style wedding to Laura and Ricky to visit
this site right now!
I'd love your thoughts and kind comments on this wedding and look forward to reading them.
Have a lovely day everyone,
Annabel
Photographer – Mike Kelly + Kim Appleby (via the venue, Cornish Tipis in Pendoggett, Cornwall)
Venue – Cornish Tipis in Pendoggett, Cornwall
Wedding Dress – Charlie Brear (formerly The Vintage Wedding Dress Company)
Brides Veil – Luellas Boudoir
Brides Shoes – Jimmy Choo + Weddington Boots
Groom – Top Man + Absolute Vintage + Beyond Retro
Bridesmaids Dresses – twobirds Bridesmaids
Page boy/young male assistants outfits – Marks & Spencer  
Florist – Daisy Roots
Cake – English Cheesecake Company
Entertainment = Martin Renshaw, Andrew Worthley, Tricia Kane, Benjamin Yellowitz, We Are Willow
Favours – Wrigh Little Baker + Baby Cakes
Catering – Fee Turner
Hair and make-up Artist – March Makeup
Bar – Born Hectic Events