Goodness me I have that Friday feeling today! Do you? Or maybe its the caffeine?  Who really cares. Today is a good day and I'm smiling – and feeling extra happy that I get to show-off one of the beautiful bridal wear designs from our sponsor, Belle and Bunty.
Richard and regular Love My Dress reader Joanne tied the knot on Saturday 6th October 2012 at Fawsley Hall in Daventry – photographer Sarah Vivienne was there to capture it all on camera.
I love that Joanne discovered her wedding dress designers on Love My Dress…
"My dress, 'Belle' was made by Belle and Bunty – a talented pair of lovely ladies from North London.   I
decided I was after a vintage style dress, with sleeves, as I thought
that would suit my shape and style the best.
I did try a few proper
vintage dresses, but I was a bit unsure about the feel of the fabric. I
spotted the Belle and Bunty bridal collection on Love My Dress,
and so popped into their boutique one afternoon to see what they were
like. I loved how friendly the girls were and how their beautiful
dresses could be easily tried on, by myself, in a normal changing room…"
Love My Dress Wedding Blog – Photography Copyright (c) 2013, Sarah Vivienne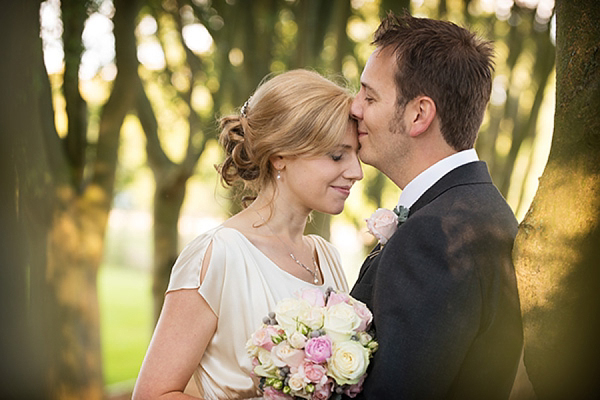 "My Belle & Bunty wedding dress (the 'belle') was beautiful, with its billowy then fitted bodice and an
amazing deep cut out back; it felt like a dress that I could imagine
having a lot of fun in! I arranged for my mum and sister to come along
the next weekend and was delighted that they loved it too."
"We met in Cambridge about ten years ago when Richard
started working in the research lab where I was doing my PhD. He says
that I scowled at him, but as it coincided with me switching to contact
lenses, I think I was just trying to get a better look ;o) We were
friends for years, but it wasn't until after I had moved down to London
that Richard asked if I fancied a drink, just the two of us. Unable to
resist the lure of assembling some flat pack furniture, he came back to
mine and I had him hooked!
Four years later (Nov '11), and on a lovely
Autumnal stroll around Richmond Park, Richard asked me to marry him and
the celebrations and then the planning began!"
"We
had never really spoken about a wedding and so we were completely
overwhelmed at the beginning. We wanted to enjoy celebrating our
engagement so didn't really start to think about any plans for the day
until after Christmas. When 2012 began, we got to it though as we both
wanted to get married that year.
This idea of a relaxed weekend away
from the city really appealed and I guess the style and feel really
stemmed from my love of pretty, simple things that have some connection
to us (be it places we have been or things we have done)! After a natty
bit of Googling, I found the beautiful Love My Dress blog and I
discovered that there was a wealth of advice and inspiration out there
for people just like us, who are a bit put off by the idea of the big
white wedding and wanted something more personal and stylish!"
"My shoes were Dally from Dune. 
I chose them because the height was perfect for an afternoon and
evening on my feet! And the diamanté bow added a bit of bridal bling!"
"Richard's mum, Rosemarie, and his sister, Louise, made our
cakes. Richard is not the biggest fan of icing(!) so we opted for a
butter cream iced 2 tiered layered sponge surrounded by dainty, lacy
cupcakes. Richard's mum made all of the beautiful roses and hydrangeas
that were trailing down the tiers and they matched perfectly with the
pink David Austin roses in my bouquet.
Our personalised toppers were
from Goosegrease on Etsy."
"Anna from Julie-Anna Flowers produced
our buttonholes, corsages, a bridal bouquet and the wonderful
decorations that really helped to bring the styling of our outfits and
decorations together! She had previously worked on photo shoots and
events with Sarah, our photographer, and when I saw examples of her
work, I knew that she would be able to provide what we wanted. In a
moment of insanity I had convinced myself that I'd be able to arrange
the stems and foliage in crystal glasses and vases myself, but, after
meeting with Anna, I realised that we should just leave everything to
her and that she could produce a vintage, elegant style to the day.
So
we had a beautiful flower ring to decorate the doorway, stems in vases
in the ceremony room and these gorgeous table decorations including
punch glasses, crystal bells and cake stands. She even managed to
incorporate 80 glass 'Gu pot' ramekins that I had managed to collect
from my work colleagues, and spent evenings with Richard decorating them
with the beads and lace.  (I'm a girl guide leader and we love our
crafting!!)"
"We chose our vows together and opted to say the same words to each
other. After chatting with the registrar, we chose to personalise our
ceremony and added a bit at the end where we used the 2 lit candles on
the table to light a bigger candle together. We kept all 3 candles lit
at the end, opting against extinguishing our own flames. This worked out
very well and was a really symbolic way to show how our marriage has
brought us both together.
The candles are standing in my fireplace at
home now so again, a very visual reminder!  My sister,
Stephanie, read Sonnet 17, by Pablo Neruda – a beautiful and tender
statement about true love that is felt so deeply. Richard's sister,
Louise, read (a slightly edited) excerpt from Captain Correlli's
Mandolin, where Dr Iannis is advising his daughter about love through
the ages."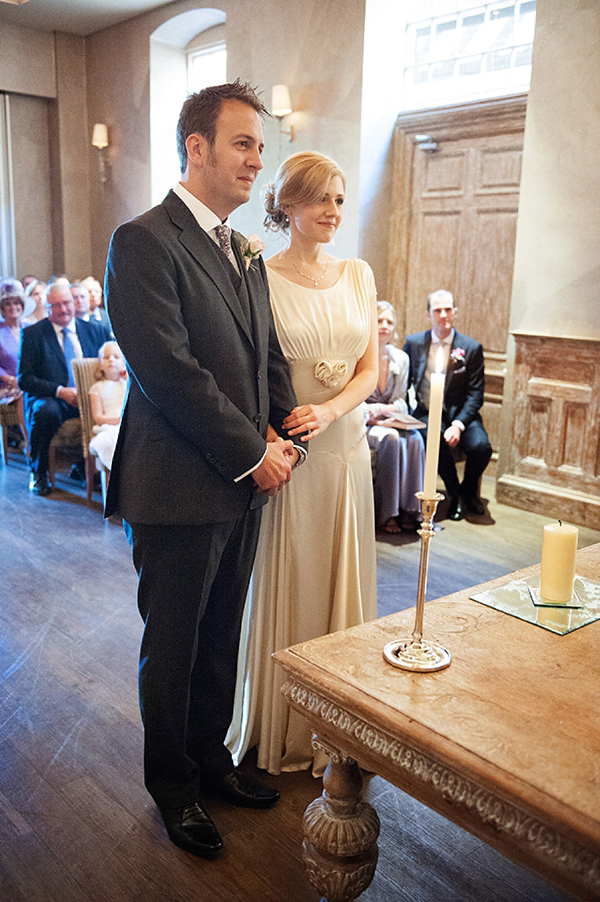 "Our table plan was based on a
schoolroom map of the UK with vintage postcards of our favourite
destinations directed guests to their tables. Richard did an amazing job
at turning my crazy idea into reality!"
"We picked Fawsley Hall in Daventry as our venue
because we were looking for somewhere that could accommodate our core
group of 14 for a weekend away in the countryside, but also allow for
the extra 70 guests to get to us easily on the Saturday to join us.
Knightley Court at Fawsley Hall fitted the bill perfectly. It's in a
beautiful part of the Northants countryside and has the feel of a luxury weekend pad in beautiful grounds with a spa!"
"The jams and chutneys were the favours, although some
people ate them with their dinner!  The rest of the decor were pretty
things that I had collected over the 6 months or so that we were
planning, along with some more slightly crazy homemade items. We wanted
some pictures of our parents on their wedding days as I just love how
happy, smiley and young they are ;o)"
"Richard's suit was a custom made three-piece suit from A Suit That Fits,
that very nearly turned out to be a complete disaster!
The weekend
before the wedding and after 4 fittings over the summer it was very much
a suit that didn't fit! To their credit, they pulled out all the stops
and made Richard another pair of trousers and delivered them to our
house the week of our wedding. But it was a bit too close to the wire.

They have re-made Richard's suit, just in case he ever needs to wear a
wedding suit again, and given him a complimentary 2 piece suit in
compensation! He's the smartest boy in town now!!
"Our Photographer was Sarah Vivienne,
a Northamptonshire lady who knew Fawsley Hall like the back of her
hand!  As soon as I chatted to her on the phone I just knew that she
would be a great person to be a part of our wedding celebrations. Sarah
is a true professional with a wonderfully friendly demeanor and she took
an amazing set of photographs that really captured the fun and emotion
of the day."

"Our stationery designer was Pia from Biplane Press
designed our invitations and programmes for the day. I loved her
blousey hydrangea letterpress design, which we used in both bright and
dusky pinks.
 Everything else we did ourselves
(with a lot of help from my fantastic Mum, Dad and Sister) – the place
settings were homemade seasonal jams and chutneys with a handwritten
tags, and the menus were personalised to each guests dietary needs (in
my day job I'm a nutritionist so realise how important it is to make
sure people know what they are eating!!).
The napkin rings were a single
button sewn onto a piece of satin that had been fashioned into a ribbon
by my amazing Mum – she spent a whole week helping me to make these and
I am just so grateful!"
"My favourite part of the day was definitely the moments
after we got the nod that it was all about to start! My mum and sister
left the room after much hugging and then I walked across to the
ceremony room on my Dad's arm feeling like a million dollars in my
lovely gown. When we entered the ceremony room and I first saw Richard
standing there looking all smart and smiley at the end of the room, any
butterflies I had been feeling just vanished. The rest of the day was a
really enjoyable whirlwind.
 My Dad gave me away – walking across to the ceremony from my room
was a really special time. And I loved walking down the aisle on his arm
– we were both so smiley. Our pianist had learnt the opening bars of Debussy's Clair de Lune just for our wedding…"
"My sister, Stephanie, and my best friend Annie both wore beautiful
gowns and accessories on the day. My only brief to them was to wear
something that made them feel fabulous. Stephanie's silver gown came
from a boutique on the Kings Road and Annie's dress came from John
Lewis."
"When Richard and I walked into the dining room, full of smiling
faces and clapping hands, we decided to say a few words together to
thank everyone for coming and say a special thanks to our friends and
family who had made the day so special.
We weren't sure how this would
work out as it was separate to the more traditional after dinner
speeches, but as it would be the first time that we would be able to
address our guests together, we thought we would give it a try."
"We scattered some games around the bar (Scrabble, Guess Who, Jenga –
that sort of thing). They were a real hit with our guests and provided
much fun when we were setting up. It wasn't until Sarah's photos came
through that I realised what my sister and her boyfriend had arranged.
So sweet!"
"We didn't really have a guest book – instead we asked for some
marriage advice, that we got guests to peg up on our wedding board, and
then we created a finger print wedding tree using a print and paints
from Bleu de toi."

Words of Wedded Wisdom…
"I absolutely loved Love My Dress
for the right mix of images and words, all of which were super
inspiring when we were trying to firm up exactly what we wanted to do. I
loved the fact that Love My Dress showcases so many different approaches with
couples in very different situations planning celebrations on all types
of budgets. I was completely unaware that online havens like this existed and I
really felt a connection with Annabel's approach to life!
There were a couple of decisions which turned out
to work really well. The first was to spend some dedicated time in the
month before the wedding talking about our aspirations for our marriage
and our thoughts about the vows that we were about to take. Every
Wednesday for a couple of hours we left the last minute wedding prep at
home and went out to talk, laugh and plan together. It was fantastic and
we realised it was something that we hadn't done enough of in the past!
Definitely protected time in our busy diaries now!"
"The
other was leaving the big 'honeymoon' holiday until well after the
wedding. We decided that we would go to New Zealand, but wanted to wait
until the New Year to make use of those extra days of holiday (and for
the weather to warm up). The day after the wedding when we woke up in
the countryside and we were able to have a leisurely breakfast and
morning coffee talking about the day with our family and friends ho had
stayed with us at the hotel.
We then packed up and headed off to a cosy
cottage in Shropshire for a coupe of days (we opened all our cards and
started looking at the photographs) and then we were back in the office
by the Thursday. We could then start some serious NZ planning and there
was so much more to get excited about. I think if we had been haring
around trying to plan both a great adventure and a wedding day, it might
have been a bit much! We used this to our advantage too. We set up a
honeyfund online where guests could buy us trips and  excursions to
enjoy when we were out there, as we felt a bit uneasy just asking for a
cash contribution to our trip. This meant that we were able to do so
much and have some really special memories."
"I'd
like to add too that we were so fortunate to have such supportive
parents, families and friends, who really understood how we wanted to
get married and then celebrate afterwards. As we are both in our
mid-thirties, some of the more 'traditional' elements of the wedding day
seemed less relevant to us, but I think we managed to keep hold of the
bits that were important to our families and still celebrate in a way
that we were comfortable with. Ultimately, it was the actual ceremony
that held the most meaning to us and we wanted to make sure that we got
that right and included all the important people in our lives.
We got married at 3.30pm on the Saturday but our very close
family and friends had travelled up to Northamptonshire on the Friday
and enjoyed a leisurely afternoon in the spa with a family dinner the
night before. This made the day of the wedding and all the preparations
really relaxed (well, at least from my point of view it was) and so by
the time we walked down to greet all our extended family and friends and
welcome them to our wedding, we were all ready to celebrate."
What fabulous advice and feedback from a beautiful newlywed bride for all our readers – thank you so much Joanna, I'm just over the moon that you discovered Belle & Bunty on these blog pages, that's really made my day.  You made an excellent choice in photographer with Sarah Vivienne too – your wedding photographs are so lovely – something really beautiful to pour over and in years to come, bringing back memories of your wonderful wedding day.
Brides who love Joanna's style can see more Belle & Bunty brides on Love My Dress here.
With much love everyone,
Annabel
Photographer – Sarah Vivienne
Venue – Fawsley Hall in Daventry
Wedding Dress – Belle and Bunty (discovered via Love My Dress)
Headpiece – Glamorous Bijioux via Etsy.
Brides Shoes – Dune
Bride's accessories – pearls from the groom
Grooms Suit – A Suit That Fits + Ted Baker Shoes + Liberty Tie
Bridesmaids + Flowergirls + Page Boys – own choice outfits
Flowers – Julie-Anna Flowers
Cake – The Groom's Mum + personalised toppers from Goosegrease on Etsy
Entertainment – jazz/swing trio
Favours – jars of jam
Stationery Designer  – Pia from Biplane Press