Good morning my loves! Did you have a sweet and lovely long Easter weekend break?  Whilst mine was full of family time and crafting, I can truly say I'm raring to get back in to work this week and have a full on few days ahead of my book launch next week. Excited? Check? Nervous and getting more nervous? Check and double check!
The wedding this morning is special to me because not only was the dress supplied by Laura and Emma of Fur Coat No Knickers who I think are just brilliant, and who also contributed their gorgeous designs to Style Me Vintage: Weddings – these photographs were shot by our brand new sponsor Sarah Lafford of Assassynation – whose work I have enjoyed featuring on Love My Dress for almost three years now!
Helen and Tim tied the knot on 1st December 2012 at The Town Hall Hotel in Bethnal Green London.  Helen chose to wear a flattering 1950s original vintage wedding dress – a fabulous find from the girls over at Fur Coat No Knickers…

"I discovered Fur Coat No Knickers through visiting wedding blogs like Love My Dress, and
I genuinely can't recommend it highly enough. I was a bit anxious having
gone to a few other vintage shops that I wouldn't be able to find a
vintage dress that wasn't for teeny tiny girls – but Emma and Laura
instantly found me a rack of amazing dresses that fitted perfectly, and
then proceeded to customise every detail to how I wanted…"
Love My Dress Wedding Blog – Photography Copyright (c) 2013, Assassynation
"Benjamina Fedaraviciute from Indeco Flowers
and who were recommended by our venue, were our florists.   I have to
say I was a little nervous about choosing flowers as neither Tim nor I
have any idea about flowers, and I really had no idea about what kind of
thing I might like – other than red! However we went along to New
Covent Garden Flower Market to meet Benjamina, accompanied by one of our
green-fingered friends, and after flipping through a stash of
Benjamina's magazines realised that we liked arrangements that didn't
feel too 'done'.
We then went round the market choosing the types of
flowers that we liked – and decided on a mixture of Piano roses, Grand
Prix roses, anemonies, rununculus as well as some seasonal greenery so
it felt quite fresh and natural.  Tim also suggested including some
strands of rosemary in his button holes which we thought was a nice
touch!"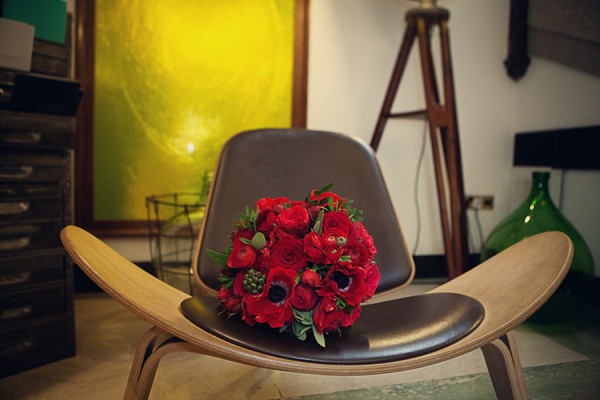 "I only had one proper bridesmaid, my best friend Jo. Her eldest
daughter, and my goddaughter, Sylvie, was also a flower girl. My
bridesmaid Jo just wore her own red shoes in keeping with the dress, and
I bought Sylvie some sparkly red ballet pumps from BHS.  Once
I had decided on the red shoes and flowers theme, I also thought it
would be cool to put Jo in red, and ideally lace so it had a similar
look/feel to my dress. I also didn't want a traditional flouncy
'bridesmaidy' dress – so I spent a little while searching on the high
street and online for the right red lace dress. The one we found was
originally from Marks and Spencers but I bought it on eBay for £20 –
bargain!
 For Sylvie we chose the Fairy Bridesmaid dress from John Lewis in white, with red sparkly shoes and a white cardigan. She loves dressing like a princess so this was perfect!  We also bought some flower clips for Sylvie from Accessorise."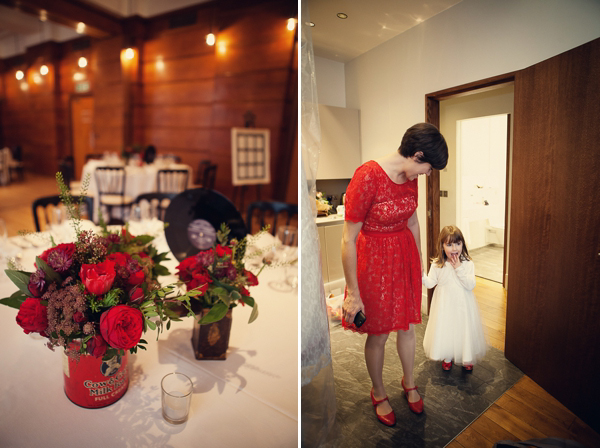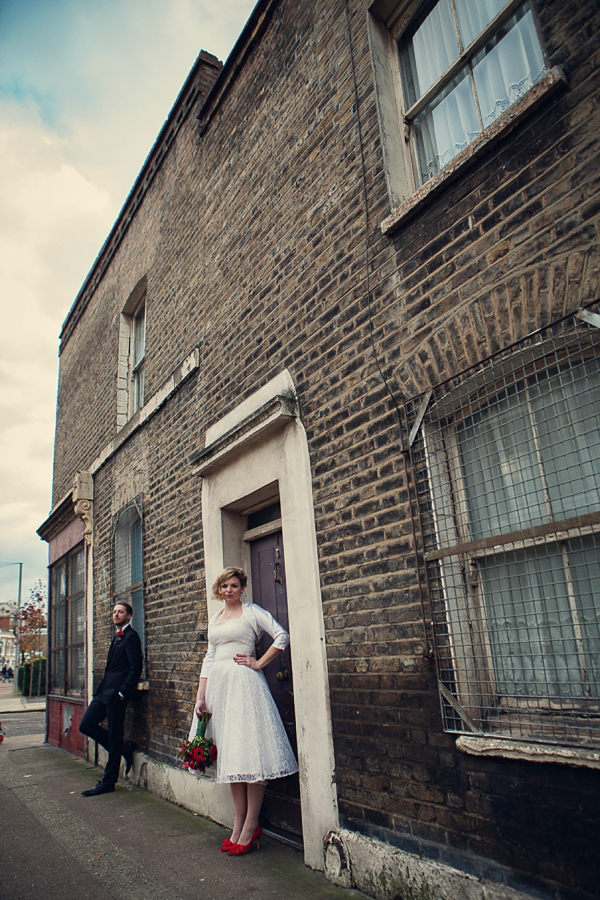 "Every
dress fitting at Fur Coat No Knickers was
such a lovely experience.  Visiting the girls with my Mum and best
friends and drinking bubbly and getting excited – part of
my wedding prep memories that I will always treasure.
I always had in my mind that I wanted a short,
fifties style dress with a tight waist and a big skirt, because I know
that style suits me and also it would fit in with the venue's vintage
style. I did try on a few modern, longer dresses but they just didn't
feel like me and I knew I wanted to be comfortable and able to dance on
the day, and also show off awesome shoes. I was torn between this dress
and another, more sparkly number from the shop, but in the end I was
really attracted to the simplicity of this one:  short, vintage, white,
lace – perfect.
The girls, Laura and Emma, were amazing and added some incredible
customised features – changing the sleeves, the length and adding some
beautiful buttons down the back. What a privilege to have an incredible
vintage dress fitted to your every need! I loved wearing the dress and
felt amazing in it all day."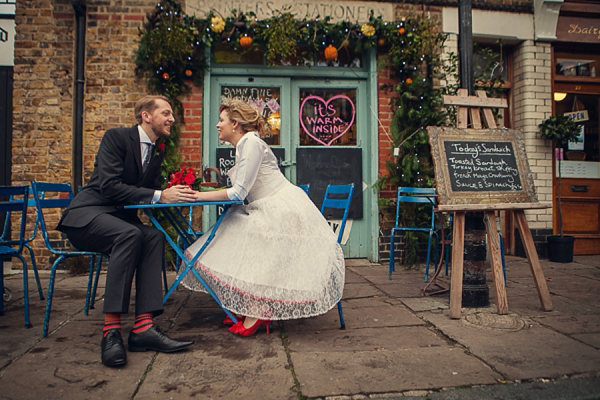 "My shoes were 'Marilyn' in red, by Rachel Simpson, purchased from  from Fur Coat No Knickers.
From looking early on in the planning process at wedding magazines and
blogs, I had the idea of a short white dress with red flowers and
amazing red shoes.
I saw these shoes online and was really pleased that Fur Coat No Knickers were able to order them from me – they looked amazing and were also
really comfortable – and hopefully the fact that they aren't in wedding
white satin means I will be able to wear them again as well!"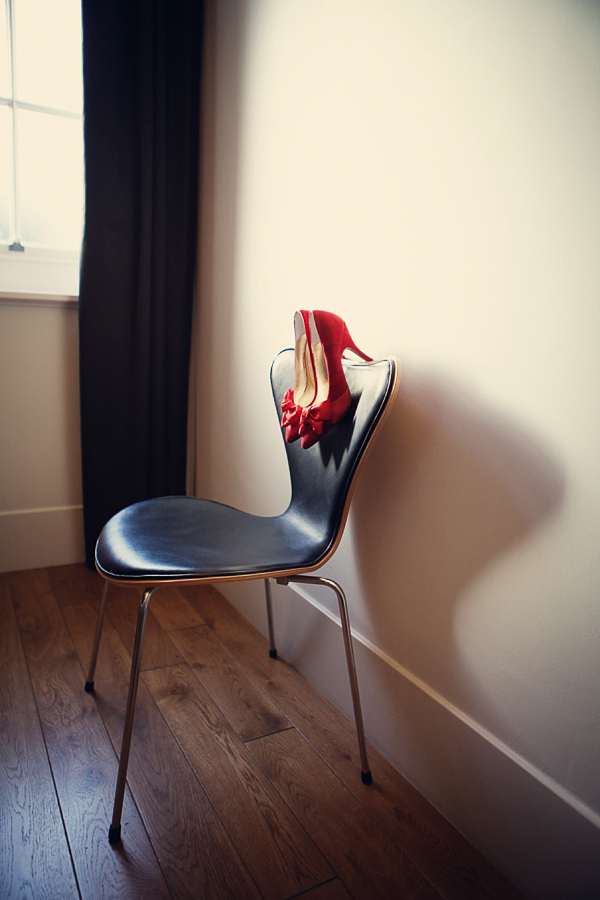 "Tim's basic objective for the day was to look and feel as
much like Don Draper as possible. He knew he wanted quite a tightly cut,
vintage-feeling suit, and we were fortunate enough that one of our
friends worked for Tommy Hilfiger and helped him find the perfect suit, from Ralph Lauren.
Tim also bought some vintage cufflinks from eBay which he was
very proud of, and also wore red socks to match my shoes and flowers!"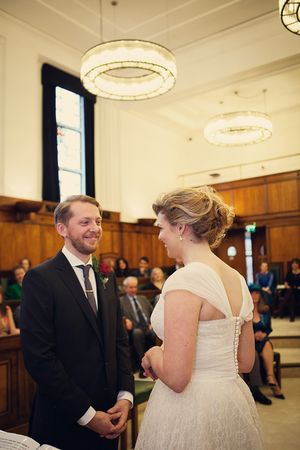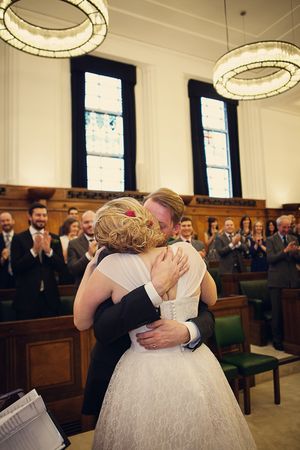 "We had two readings – one that was more formal and one that was a bit lighter in tone. The first was 'Union' by Robert Fulghum.
When we started looking for readings I was keen that we found one that
reflected our relationship, that acknowledged that we had been together
for a long time, and that  – and this is really important to how I
viewed the whole day – getting married was just an affirmation of how we
felt about each other and how we had supported each other throughout
our relationship rather than anything suddenly life-changing."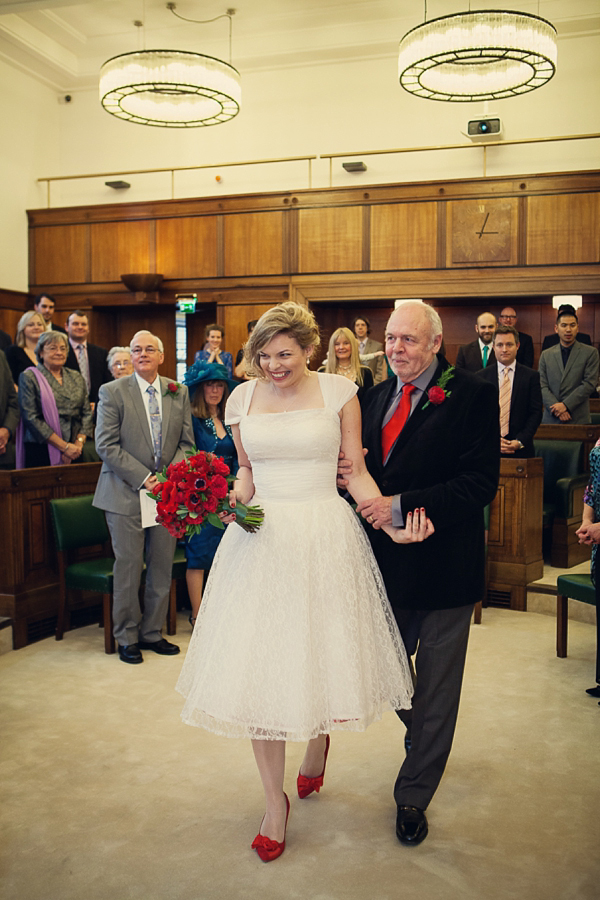 "My Dad gave me away – because music is a massively
important thing for us, we picked all the music on the day very
carefully. I walked into the ceremony room to The Universal by Blur – I
am a huge Blur fan and everybody associates them with me and me with
them, so this was the obvious choice. We signed the registrar to Clair
De Lune by Debussey, which is Tim's favourite piece of classical music,
and we walked out as a married couple to the theme from Rocky (Gonna Fly
Now by Bill Conti)!
That was something we kept a complete secret from
all of our guests because we knew it would work best as a surprise – and
it was a fantastic moment when it started playing and everybody laughed
and cheered us!"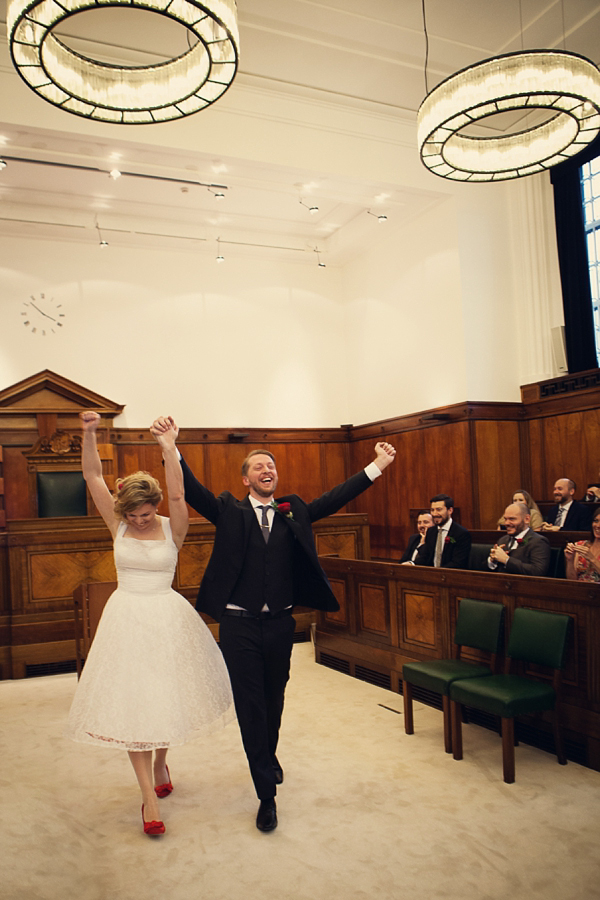 "This reading was really the only one I found that captured that
for me – the line about "all those promises that are unspoken matters of
the heart. All these common things, and more, are the real process of a
wedding" just really said what I wanted – that the marriage ceremony
was just a way of formalising all those unspoken, and spoken,
commitments we had made to each other over the many years of our
relationship. Tim's Dad – who is a Vicar and therefore used to public
speaking – did this reading for us, and he was amazing at it!
The
other reading we had was 'Recipe For Love" by Anonymous – it was just lovely and sweet and also Tim is an amazing chef so it was appropriate! My brother read it for us."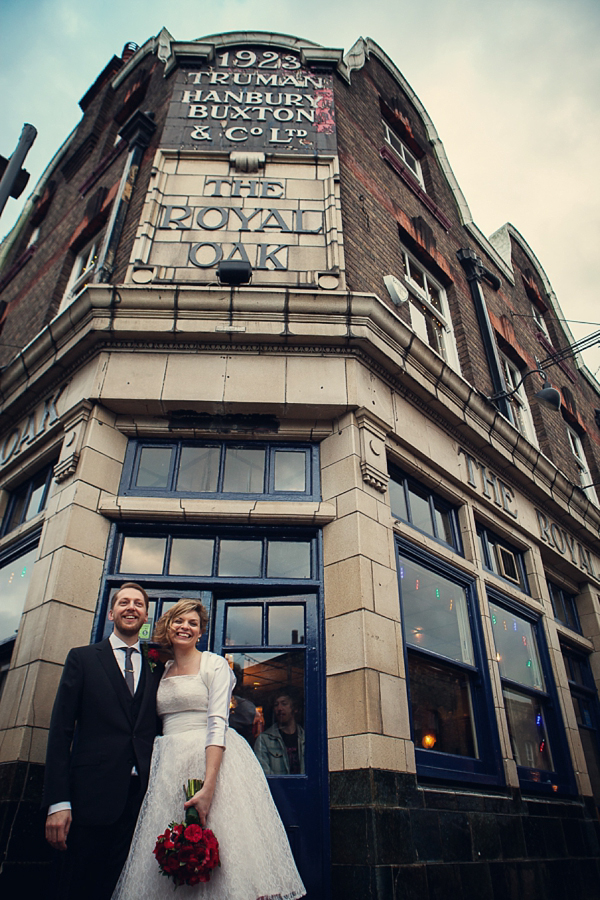 "Tim also designed the place cards and table plans in the same
font and style, and we bought a white vintage-style picture frame to
present the table plan in. Another DIY project was the table place names
– we are both big music fans, so we decided to have each table name as
one of our favourite albums."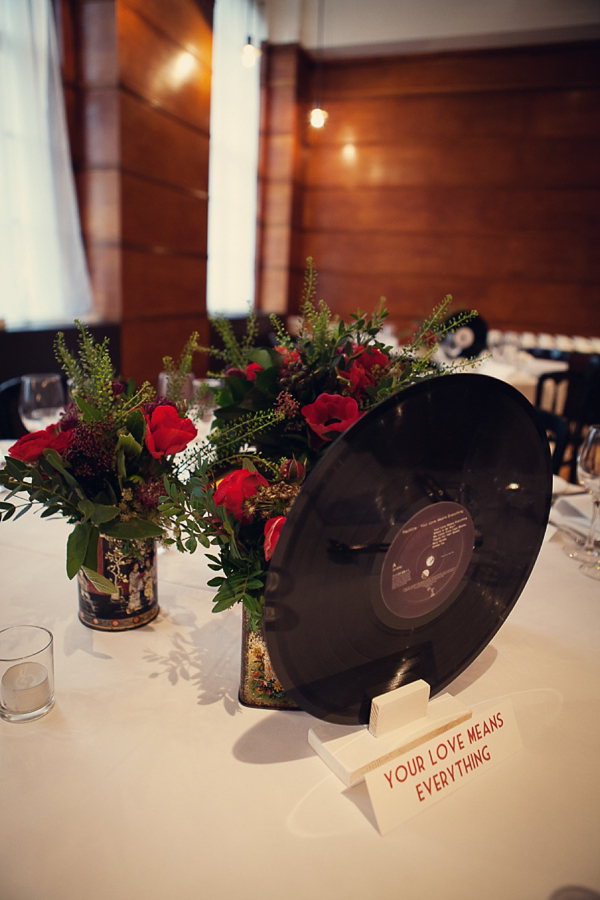 "Our venue, The Town Hall Hotel,
was everything for us – we knew we wanted to get married locally
because everyone says the most important thing about planning your
wedding is to make sure it feels like 'you' – and East London is our
favourite place in the world – where we have lived for years, where Tim
works, where we go out, where our friends live. But the amazing thing
about the Town Hall is even though it is minutes away from our first
flat together, and is surrounded by scruffy estates, once you are inside
it feels so unique and special – it felt like 'us' but a special
version of us, which how I think you want your wedding to feel. The Town Hall
was at the top end of our budget but once we saw it we knew there was
nowhere else we wanted to get married.
We definitely made the right
decision – the staff were all amazing from beginning to end. And now we
have a special place with amazing memories just around the corner where
we can celebrate our anniversaries!"
"The Town Hall
tended to dictate the style of the day more than anything –
particularly in terms of its vintage detailing, and also by the fact
that it was so spectacular with so many brilliant features, that we
tried to keep our own styling pared down so as not to detract from the
venue.
So where we did have to make style choices – over our outfits, or
the look of the flowers, we tried to keep with a vintage theme, but
mostly we wanted things as simple as possible – so no flowers in the
ceremony room, or seat covers in the reception!"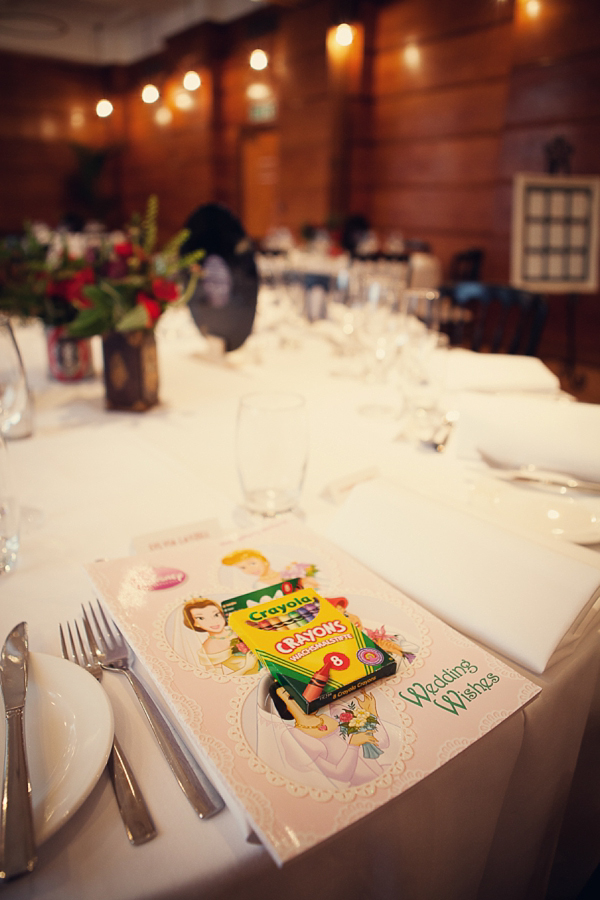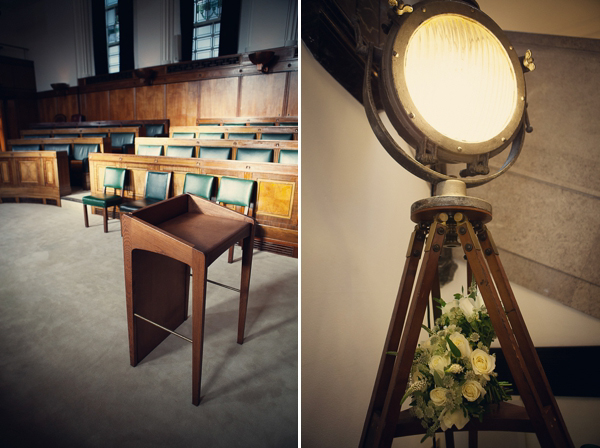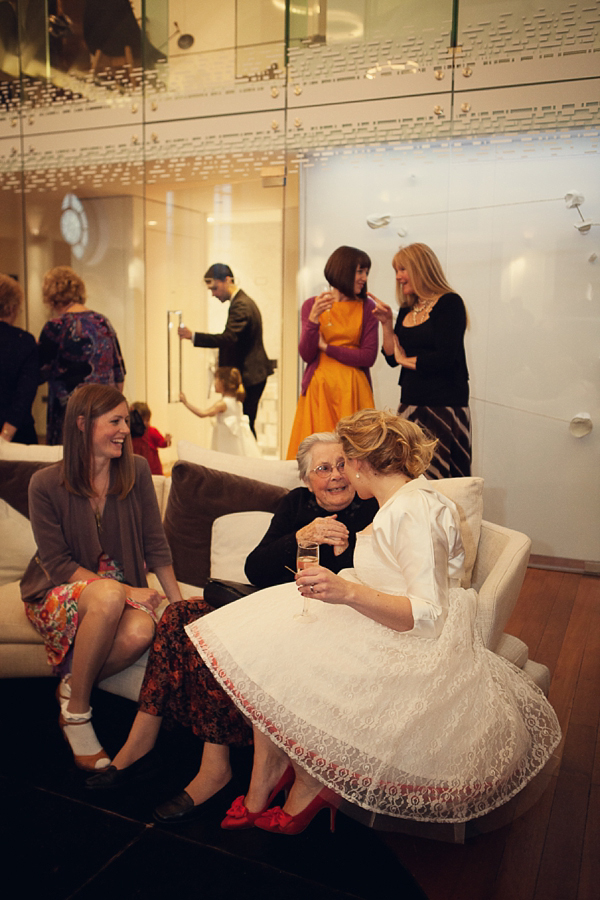 "Our photographer was the amazing Sassy from Assassynation. 
I cant really express how incredible Sassy was and how delighted we are
with her pictures – so hopefully her pictures speak for themselves –
and if not, this testimony we wrote will.  Tim
is a great photographer himself and we always knew we wanted a
particular style from our wedding photographs – cool, stylish and not
cheesy – and Sassy completely nailed that.
Our favourite photographs
from the day were when me, Tim and Sassy left the reception to take some
shots on Columbia Road in East London – our favourite street in London –
those pictures are so fantastic and it was lovely just having that time
away from everybody to focus on being together. Everyone who has seen
our pictures thinks they are amazing – I could look at them all day and
we will treasure them forever."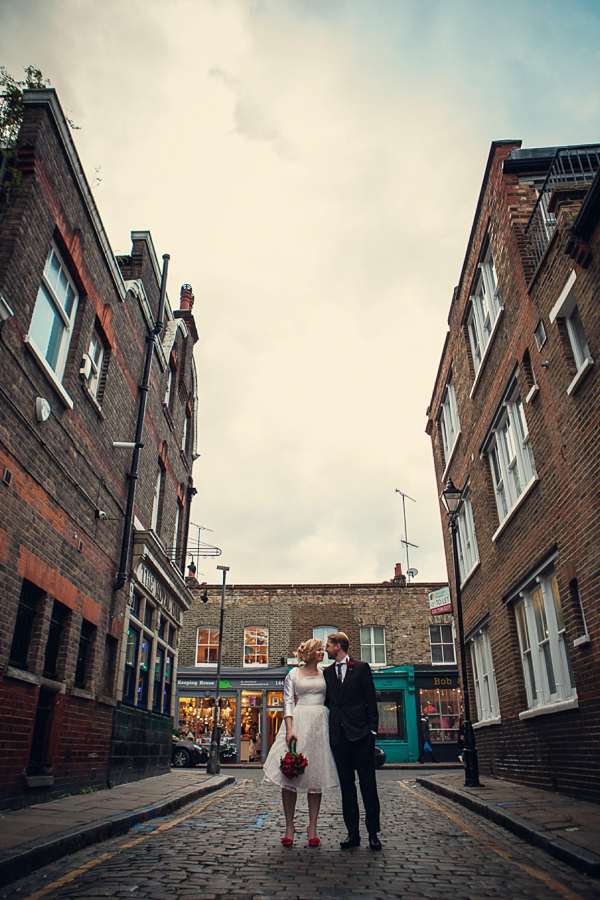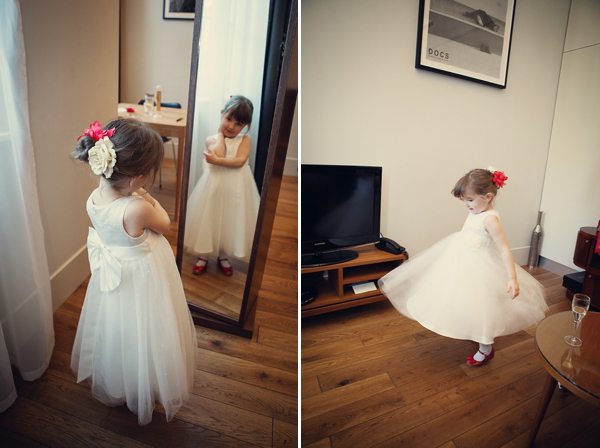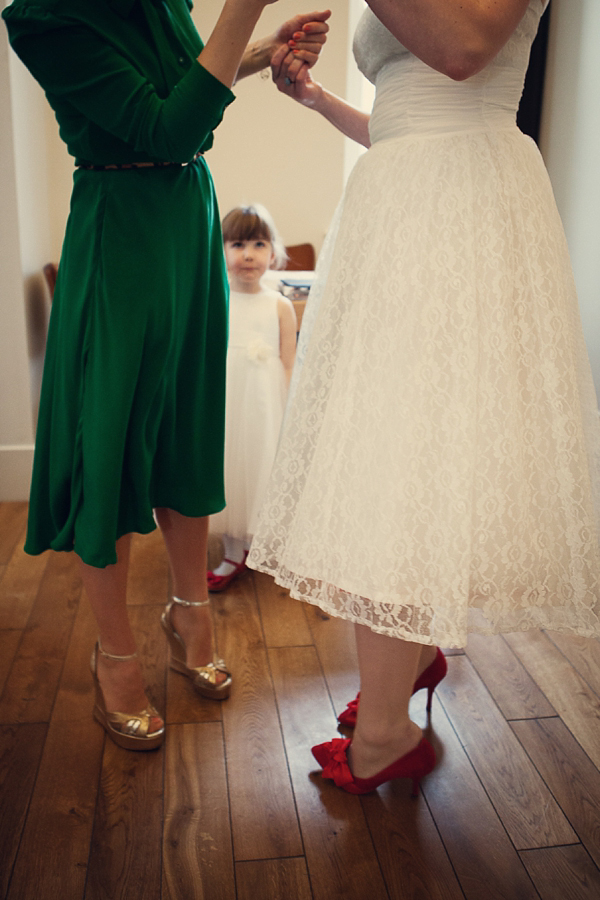 "I tried to keep my jewellery simple – ordering a drop pearl
necklace from Not On The High Street, and borrowing some drop pearl
earrings from one of my best friends that she had worn for her wedding.
My sister also lent me an amazing blue vintage ring that our Grandmother
had left to her, to act as my 'something borrowed' and 'something
blue'."
"I did try on a few veils in Fur Coat No Knickers but
instantly felt wrong in them. I know some people say they didn't feel
like a 'bride' until they put a veil on, but for it was the opposite – I
felt like a fraud, trying to be something I wasn't! So I just asked our
florist to provide me with a few red flowers to wear in my hair
instead.
I don't have a regular hairdresser but knew I wanted a
professional to do my hair so I didn't have to worry about it – I have
long curly hair that I ALWAYS wear down and I wanted something different
for the wedding. So my friend recommended Michael Cimino from Toppers in Hackney. 
Michael was absolutely amazing – I had an idea of what I wanted based
on discussions with a friend and from searching for images on Google of 'Taylor swift
updo'.  But Michael just transformed this into something incredible.  I
never thought I would say these words about a hairdresser but he was a
genuine artist and to my surprise I had more compliments about my hair
on the day than about any other aspect of my look!"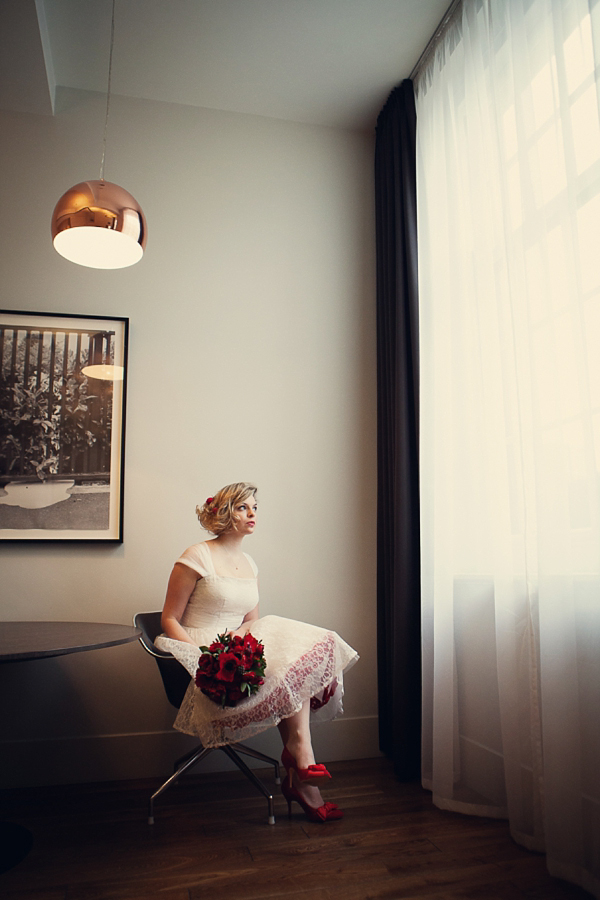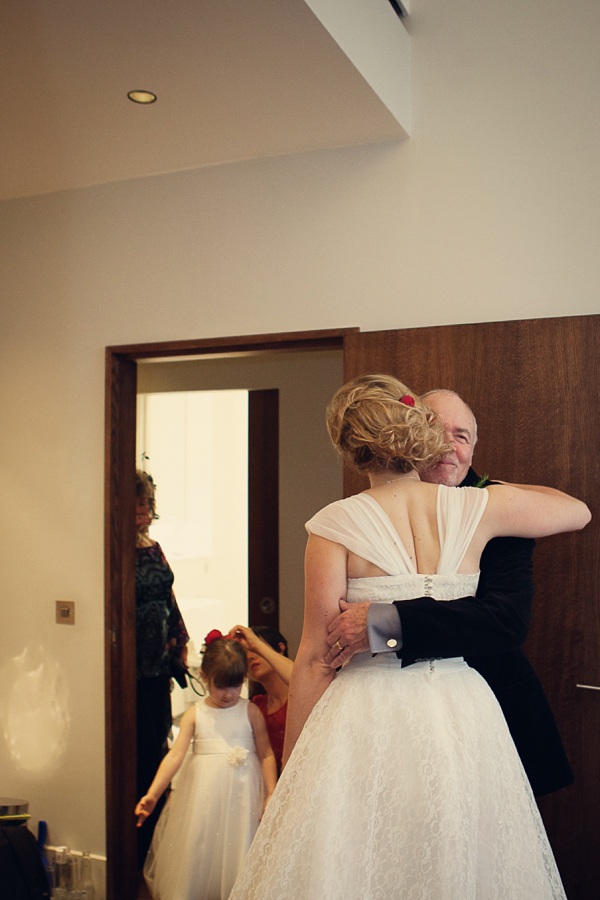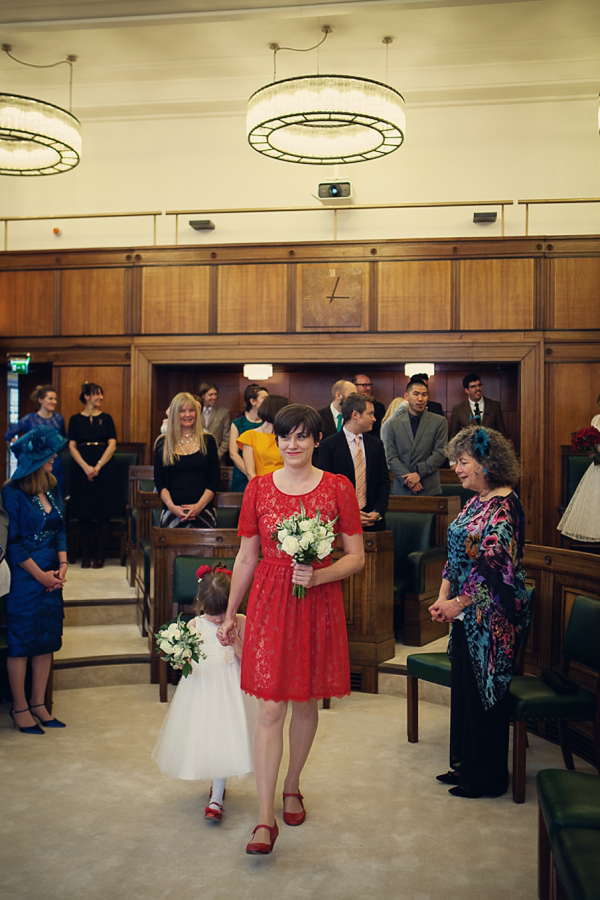 "A mutual friend introduced us back in 2002 – and after a
little to'ing and fro'ing finally got together in summer 2003. We thanked
our friend by making her give a speech at the wedding – at which she
showed a brilliant film telling the story of how me and Tim met, with
our friends acting as me and Tim!
We
had been together for nine and a half years by the time we got married –
and to be honest getting married was never something I had ever
particularly dreamed of or wished for. But I think we had been to so
many lovely weddings of our close friends over the years that in the end
we thought 'well maybe a special day with all our friends and family
would be nice after all'. Tim proposed on Christmas Day morning 2011,
while we were in our pyjamas, with a card at the bottom of my stocking.
It was perfect."
"We only decided at the last minute to say our own vows rather
than the standard ones from the registrars. I basically pulled together a
hodge podge of different vows I had read online which resonated with me
and our relationship – we just wanted something that felt honest,
wasn't overly gushing, and wasn't about 'two halves making a whole etc',
but recognised the importance of supporting and encouraging each other
as individuals.
This is what we said:
'I promise to love and cherish you, comfort and care for you,
honour and protect you throughout our lives together. I will love you
faithfully, through the best and the worst, through the difficult and
the easy. I promise to encourage you and support you in being the person
you want to be and in all the things you want to do.  I will help you
when you need help, and I will turn to you when I need help. I choose
you, with all your strengths and weaknesses, as the person with whom I
will spend my life, and I promise to live a life that will honour the
vows we have made today.'"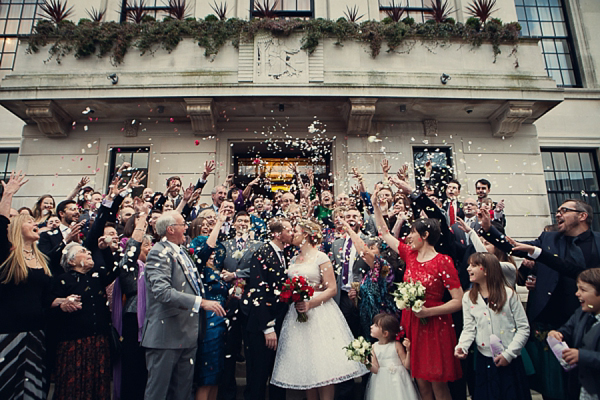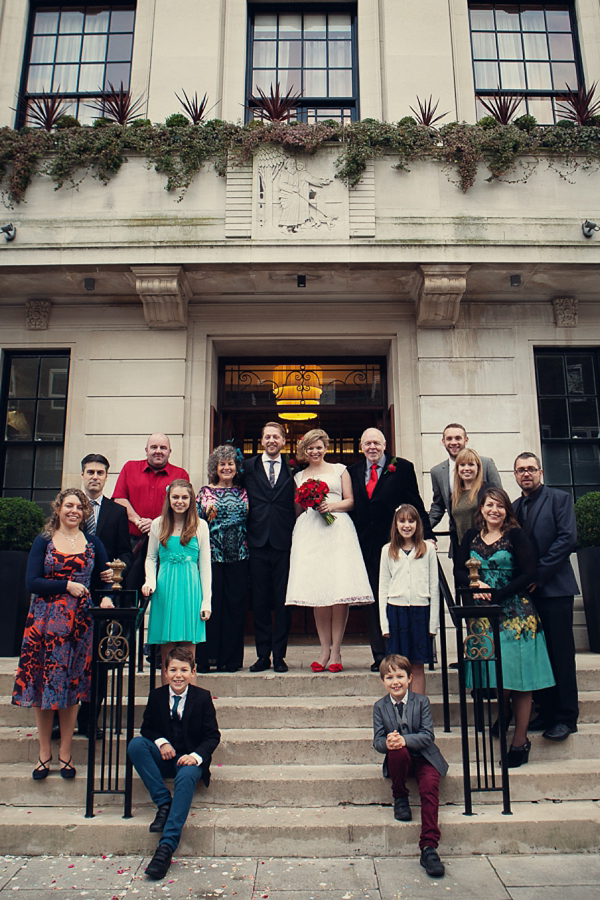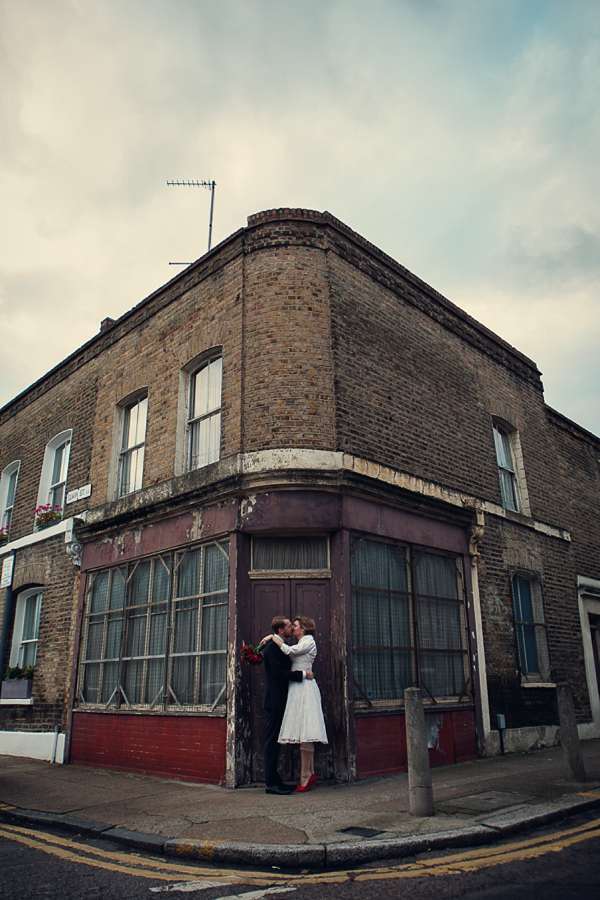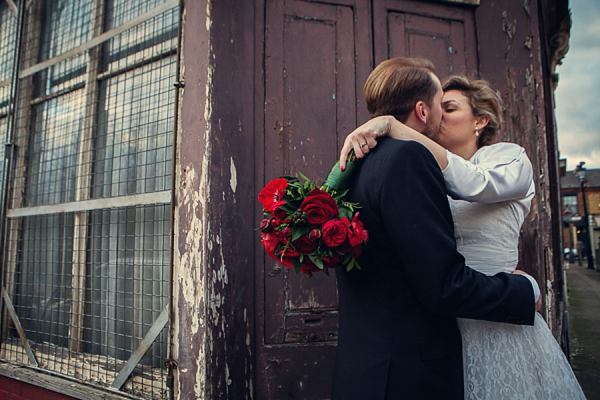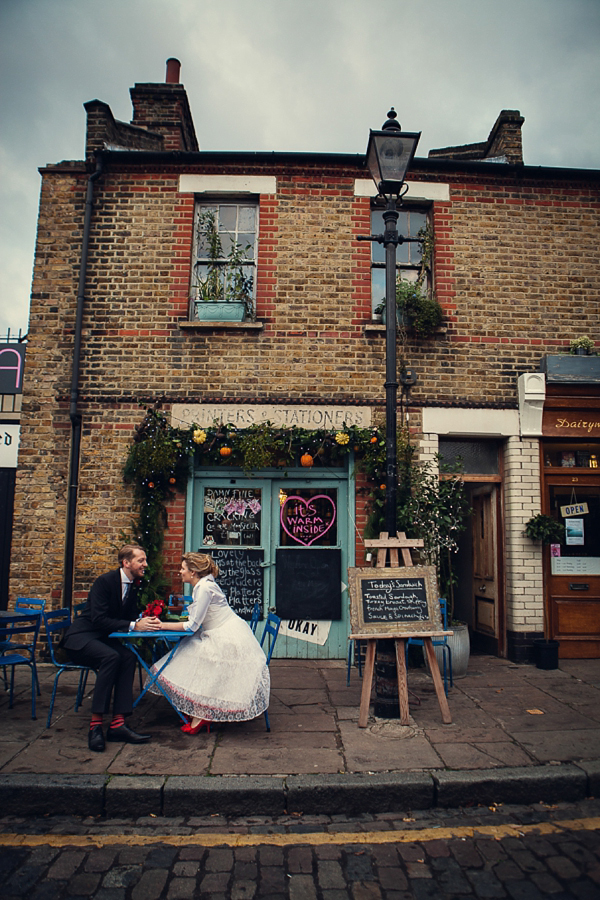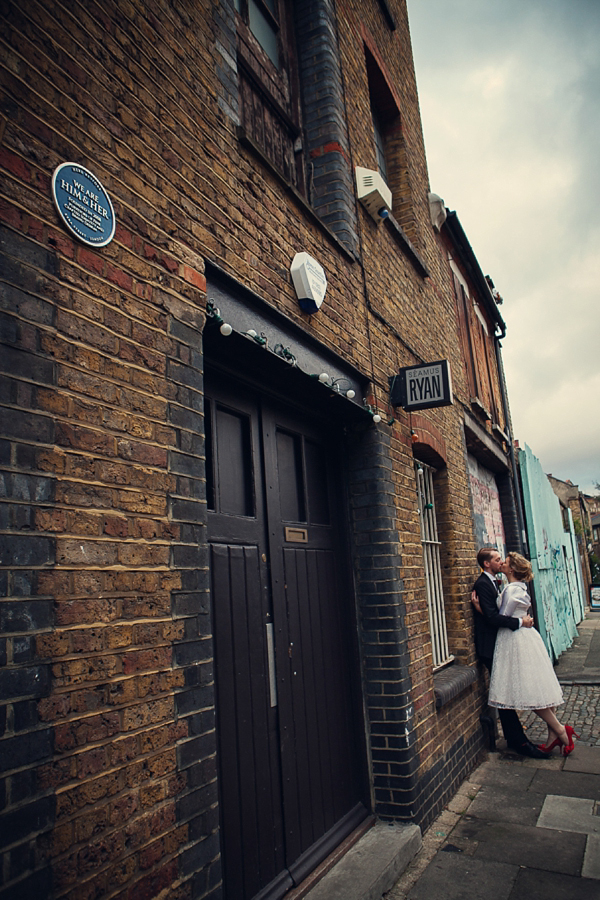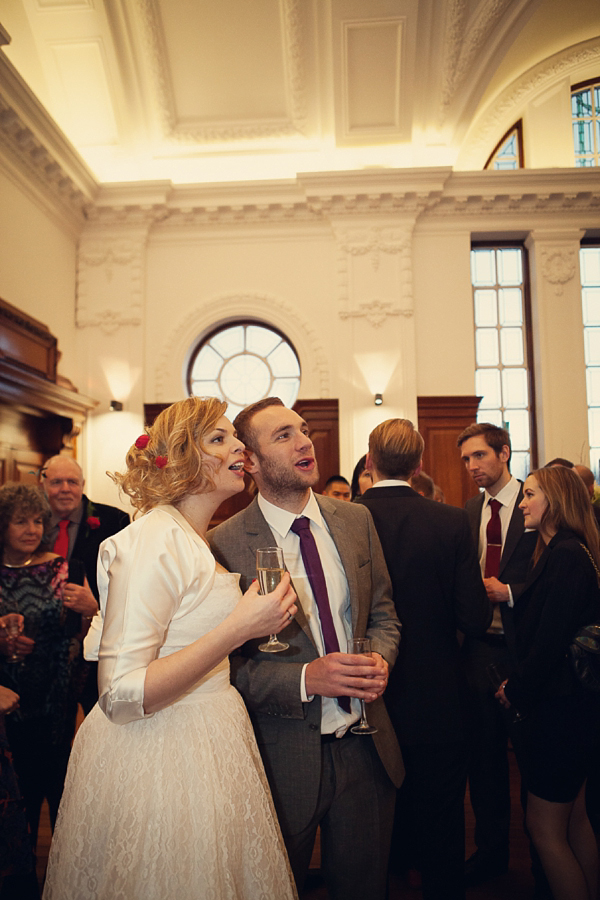 "We also used Benjamina of Indeco Flowers magazines, to give
us inspiration on how to present the table-centre arrangements – we came
across one picture where the flowers were contained in old tin cans,
and Tim suggested that it would be really cool if we could source a
selection of vintage tins to put the table-centre flowers in. We really
enjoyed sourcing old tea, coffee, sweets and medicine tins from second
hand shops and from eBay, and managed to get around 40 different tins in
all, with 3 or 4 on each table. They looked amazing – and because there
were so many of them and they belonged to us, it also meant our guests
could take both the tins and the flowers home with them, which they
loved!
One thing I thought was funny though was while we prided
ourselves on how cool  flowers in vintage tins looked, my Grandma was
completely aghast that we had presented our beautiful wedding flowers in
dishevelled old tea tins that she used to put in the bin!In the end we were over the moon with the flowers – even though I
had no idea of what we wanted and what would look good, Benjamina
completely nailed our very vague brief to produce bouquets and flower
arrangements that we absolutely loved and that were complimented on by all
our guests."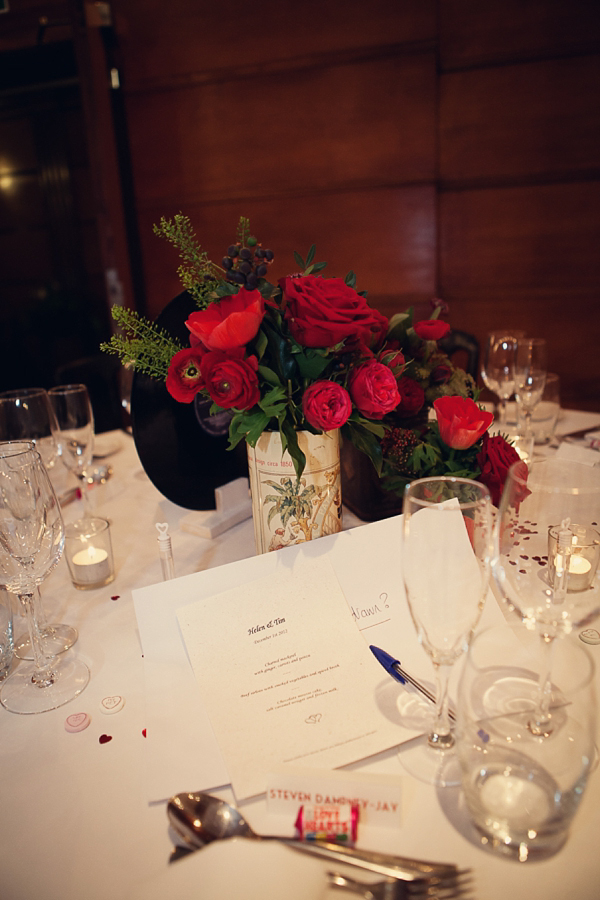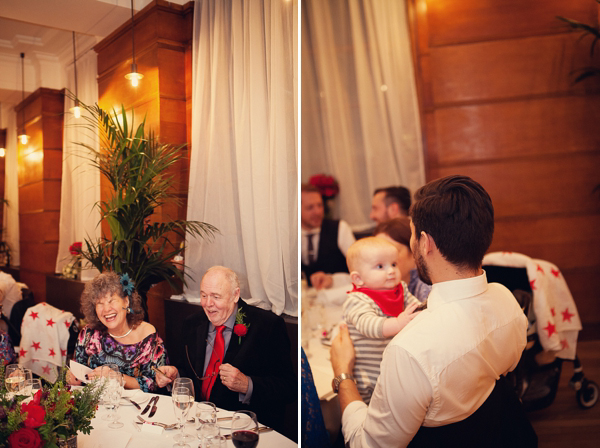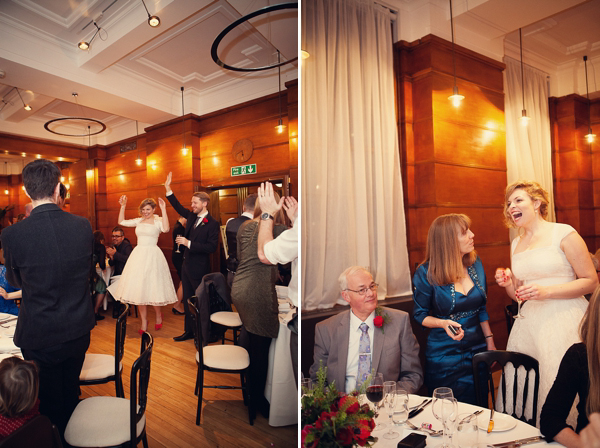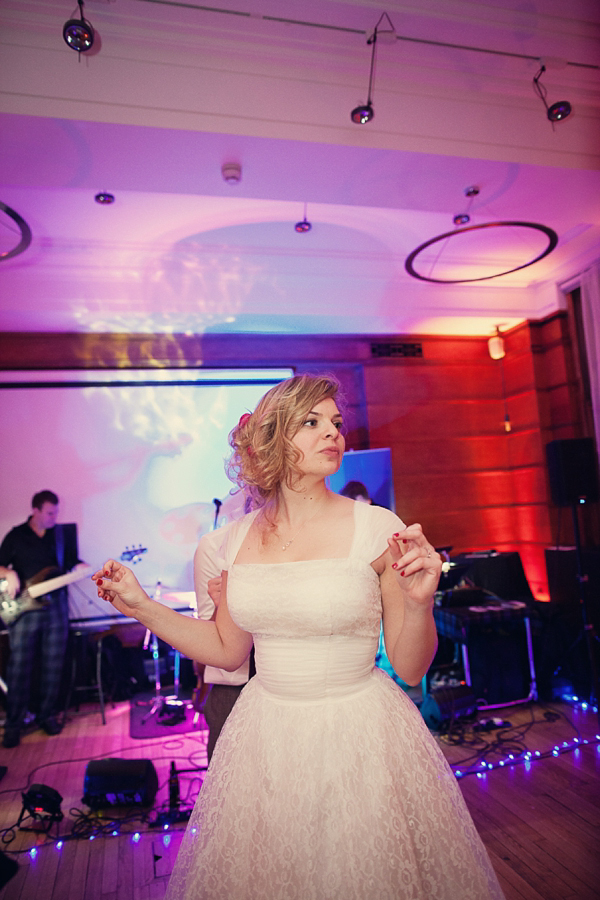 "My brother and his wife had a wedding 'cheese' cake made
up of layers of different cheeses and we knew we wanted something
similar because while neither of us are huge fans of cakes, we are
massive fans of cheese! In the end I am sure that we put more energy
into our selection of cheeses than any other aspect of wedding planning –
we went through two companies and two 'test boxes' of cheese before we
found ones we thought we were good enough. In the end we used Pong
Cheese and had an amazing selection of blues, cheddar and brie, topped
off with a Godminster Cheddar Heart, which my sister and sister in law
then arranged and decorated on the day."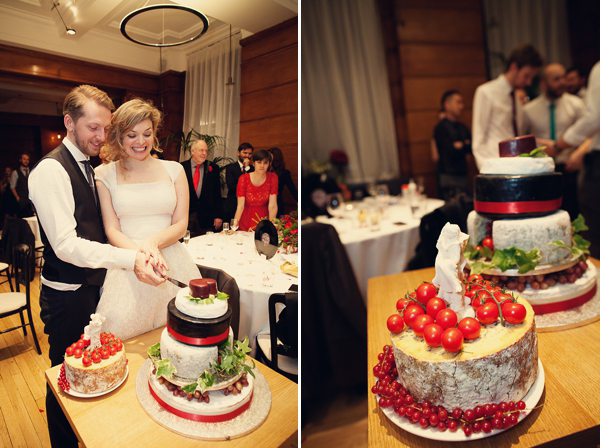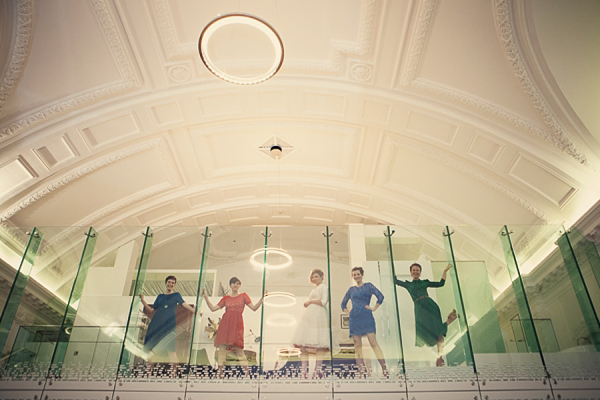 "All of the catering for the day was done by the venue, with the same chefs who run their Michelin-star restaurant Viajante –
so we knew we were going to get something quite special on the day!  We
chose a Mackerel starter, beef sirloin for main, and a chocolate and
salted caramel dessert. All the food was presented beautifully and
tasted delicious – although I have to say that I was pleased that me and
Tim had tried everything at the tasting session as on the day I had so
much adrenaline that I had absolutely no appetite at all.
But we were
told by everybody else that it was amongst the best food they had ever
had at weddings – my mum said the salted caramel mousse was the best
dessert she had ever had!"
"There were so many amazing moments throughout the day:  I think
getting ready with my girls on the morning of the wedding, walking into
the ceremony room and seeing Tim, going out for our photographs on
Columbia Road, coming back from that and seeing all of our friends and
family in the De Montfort Suite having an amazing time.
Funnily enough
though, one of the best moments was at the end of the night, sitting
drinking champagne in our room with Tim and a couple of our best friends
once everybody else had gone on to bed – I think this was the first
moment of the day when I properly relaxed! It was a lovely feeling
knowing that we had done it all and it had been brilliant and everybody
had a great time, and Tim and I didn't need to spend our evenings going
through 'wedding admin' anymore!"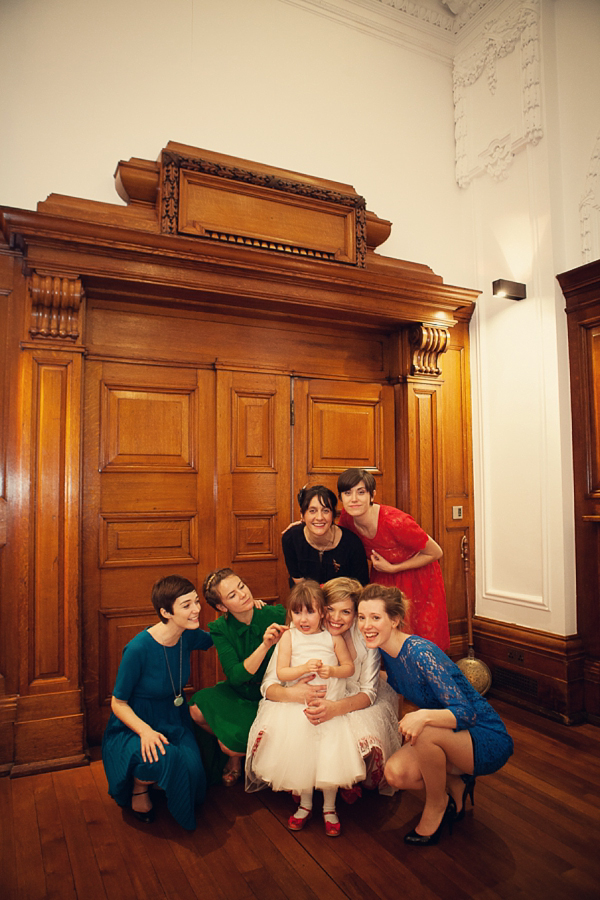 "Our first dance was to 'More than This' by Roxy Music. 
We both love this song and to me that line always sums up how I feel
when I am with Tim – 'more than this, there's nothing'."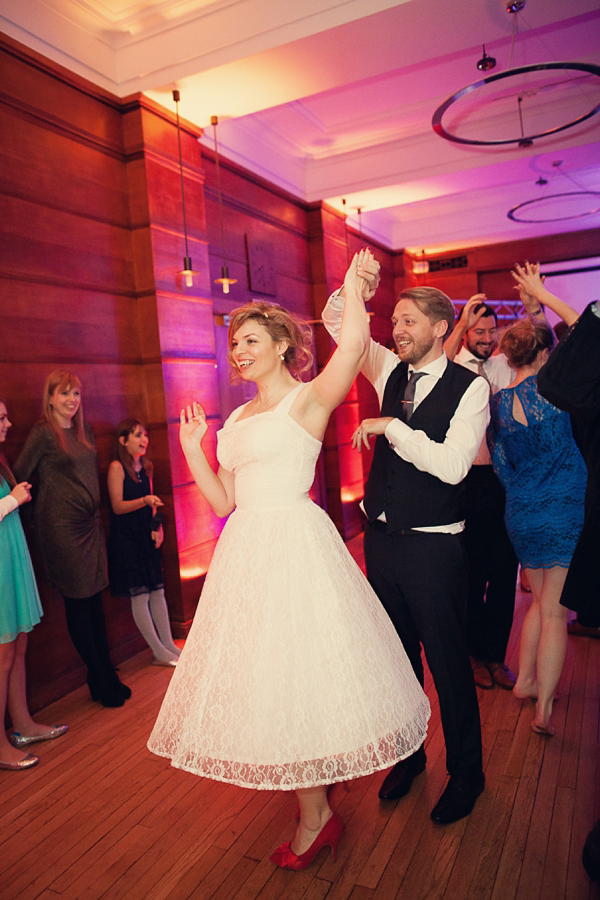 "Having been to a lot of weddings we agreed that the
ones that tended to be the most fun were ones with ceilidh bands playing
– so we knew that was something we wanted to have at ours. We used Licence to Ceilidh
who we had seen at a friends wedding – and they did a brilliant job of
getting everybody up dancing.
Ceilidhs are amazing at breaking the ice
and getting people from all ages onto  the dance-floor and having fun
with each other – we have so many photographs from the evening of our
family and friends in hysterics trying to master the dances!"
Words of Wedded Wisdom…
"My major piece of advice, which I am sure every reader of Love My Dress
will know anyway, is to have the day you want, and one that reflects
who you really are and who you are as a couple. I was quite keen to make
sure that everything – from the venue to the clothes to the readings to
the music – felt like 'us'. A 'special' version of us with pretty
outfits and fancy food – but still us.
Also, there are so
many options when you are planning your wedding, so you have to decide
on what is worth spending money and energy on and don't worry about
trying to do everything. We knew that the venue, the food, the
photography and the music was what was most important to us so that's
what we spent our money on. There were a million other things we talked
about doing that would have been great – like hiring a photobooth and
lots of fun games for our guests to do – but in the end we just couldn't
justify the expense, and everyone seemed to have plenty to do without
them anyway!"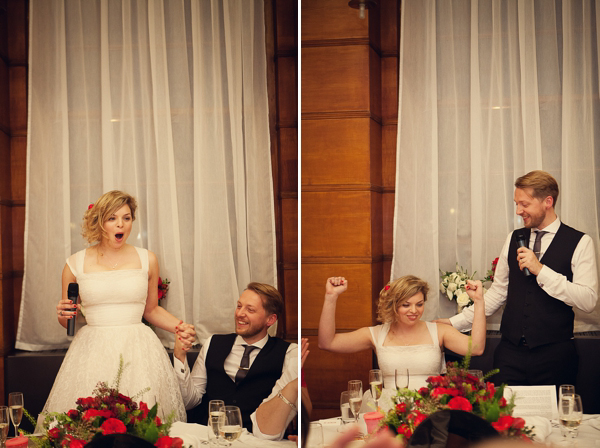 "Make your family and friends involved – they
really do want to be which I think is something I didn't realise before,
because I was concerned about not becoming a bridezilla burden.  And as
I said before, share the planning with your partner! A wedding is about
the two of you and your partnership, so it should be as much about his
tastes and interests and choices and efforts as much as yours!
As somebody who has been in a long-term relationship without much interest in getting married, I wanted to be clear at
the wedding about why we were doing it, so in my speech I said:  "For
me, today is not about achieving a new frontier of happiness and
togetherness – we already have as much of that as we could ever need –
but really, it is about affirming all those important moments from these
last 9 years, all those times when we have supported each other,
encouraged one another, laughed at each other, it is about stating that I
am totally up for doing that forever, and trying to make sure you know,
Tim, just what you mean to me."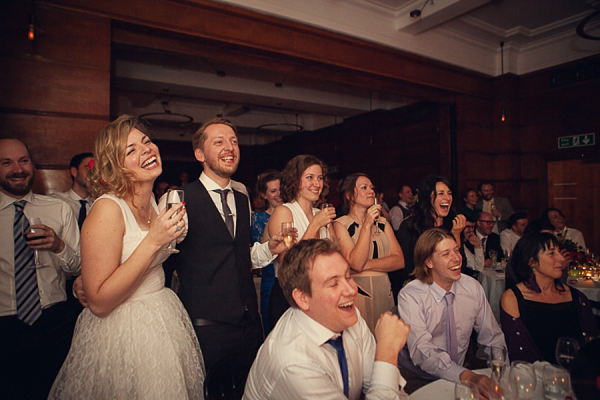 "Wedding blogs, like Love My Dress, are where I got most of my inspiration from, as
while I still managed to buy about 100,000 wedding magazines I knew that
the blogs that catered to the more vintage/alternative weddings like
Love My Dress  were more my style. So thank you for being such a
fantastic resource!"

Finally, one bit of advice I would give to brides is that unless you
particularly love thinking about flowers, there is no reason why this
has to be only the brides job! I know that most grooms don't even go to
the meetings with the florists, but it was really important to me that
we made those decisions together – and actually because Tim is much more
creative than me he had a great sense of what would look good, and in
the end actually had all the strongest ideas about what we should choose
and how we should present them.
As much as I tried my best not to get stressed out about
the wedding, I definitely did, and in a way I just wish I could do the
whole day again and tell myself everything would go fine and just to
enjoy it! If I am honest I also sort of wish I had been a bit more
militant about the timings of the speeches – we had loads (including
myself, our mutual friend who introduced to us and all 3 best men!) and
they went on for ages! But we are definitely lucky we had so many people
wanting to say nice things about us so I shouldn't really complain!"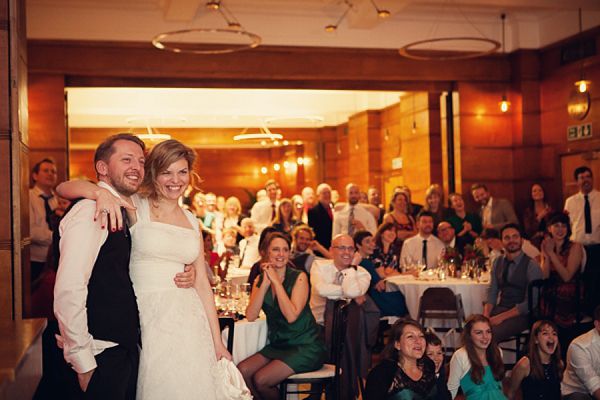 As is everything that Assassynation sends in to feature, this is fun and fabulous – congratulations Helen and Tim!
Brides, I can't recommend Fur Coat No Knickers enough – Emma and Laura the ladies behind the brand are warm, friendly and very passionate about finding frocks to fit brides of all size – so please don't be fearful that because they specialise in 'vintage', this means tiny size. Not. At. All. A visit to their gorgeous store is such a treat too – why don't you spoil yourself?
You can see more 1950s inspired brides here and more brides wearing 'FCNK' here.
Have a lovely morning all,
Annabel

Photographer – Assassynation
Venue – The Town Hall Hotel 
Wedding Dress – Fur Coat No Knickers
Brides' shoes – Rachel Simpson
Brides Hair Accessories – red flowers
Groom's Attire – Ralph Lauren
Flowergirl Dresses – John Lewis
Flowers –  Indeco Flowers
Cake – Family + Cheeses by Pong
Cheese
Entertainment – Licence to Ceilidh
Hair Stylist – Toppers in Hackney