It is such a beautiful, beautiful morning over here in the North East of England.  Beautiful sunshine flooding the rooms just as it does the imagery on the page here today.  This is Charlie (the bride) and Nick, who tied the knot on 29th September in the local village church where Charlie grew up, followed by a reception at Charlie's parents farm.
I love the laid back, rustic nature of this wedding, and Charlie looked quite the picture in this beautiful lace gown by Sassi Holford – a purchase from the award winning Ellie Sanderson in Beaconsfield…
"It was very hard finding something I liked as much, until I had an appointment at Ellie Sanderson
with my sister, Lucy.  All the dresses in this lovely shop are stunning
and the staff, in particular Eira, were very amenable and patient as I
wanted to try them all!  Sassi's 'Mia' dress has a very classic cut and
elegant structure, plus stunning guipure lace from head to toe and
gorgeous button detailing all down the back.
It's not the sort of style
I'd usually wear and I guess a bit of a gamble to try something new on
your wedding day but I loved it, and I wasn't disappointed with the
choice."
Love My Dress Wedding Blog – Photography Copyright (c) 2011, Dasha Caffrey
"I've always had a soft spot for the church we got married in, St. Mary Magdalene, as it's quiet and tucked
away and very pretty, but many years ago I visited it with a friend who
came to stay from up North and she wrote in the visitor's book 'My
friend Charlie Bowden is going to get married here someday…'  so that
sealed it really – years before I'd even met Nick.  The reception was
held around the corner on my parents' farm (also where I grew up).  You
may ask, did dear Nick have a say? Well, luckily for me he also likes
where I'm from and was pretty happy to go with the Dorset option. Plus
he got his way in other aspects of the day.
I can't say we had a strong theme for our wedding, or even
a colour theme really.  It was a bit of a mish-mash, but I quite like
things like that.  I guess the overriding factor was 'suitable for a day
on the farm'.  That said, my parents poshed the place up A LOT so it
wasn't like we were tramping around the cow shed in our wellies.  In terms of decor, we had lots of candles and fairy
lights! Bunches of white and pink gypsophila in washed-out cat-food
tins. Bunting made by a friend. A disco ball as a centre-piece.  Hops
hops and more hops. And lots of trees hired to us as a favour from the
local garden centre, Groves."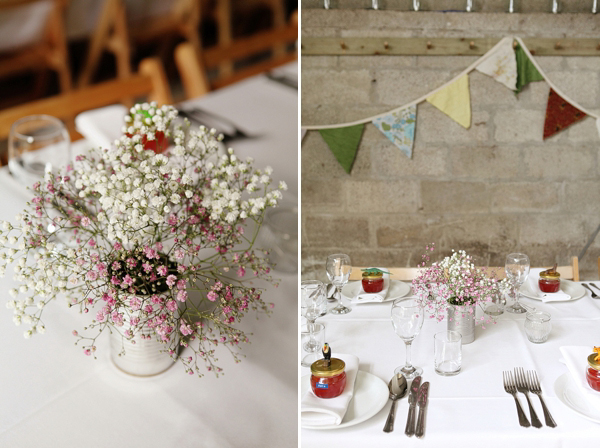 "Words
can't sum up the amount of work my parents put in to transform an old
breezeblock barn with asbestos roof into something befitting for their
daughter's big day.  They even re-landscaped part of their garden and
knocked down a wall to create a nicer entrance to the barn. The piece de
resistance was a pub (The Duck & Poulet) which Dad constructed
adjacent to the barn complete with footrests, scampi fries, pickled
eggs, pork scratchings, sailing paraphernalia and local ales and cider. 
It was well-patronised on the night, the next day and it's still there
now.  (I think Dad just needed the excuse)."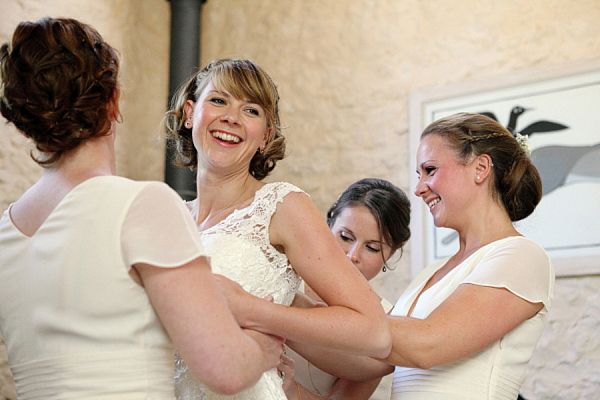 "I kept it simple with some fresh flowers in my hair – spray
roses and white gypsophila prepared by the florist,  Beaminster Flowers, and finished off by Mum.  I also wore a string of freshwater pearls I've had for many
years and some small stud pearl earrings that I'd bought from family
friend jewellers, Wessex Jewellers in Bridport, the day before."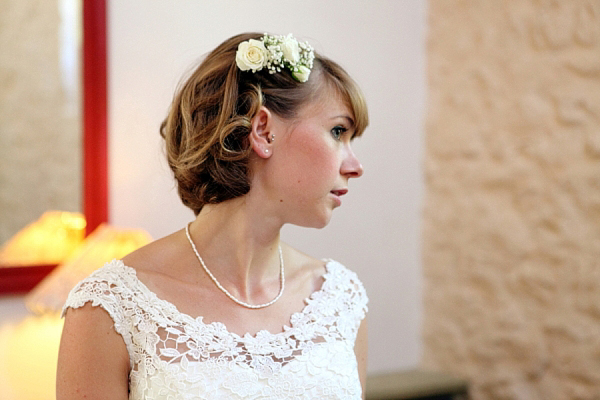 "We met in a pub in North London that was Nick's local and a
first-time haunt for me.  Nick was at the bar with a friend and
apparently my jumper caught his eye (nothing special I can tell you!). 
When I was at the bar buying a drink for my pal, he said 'that's a nice
jumper' or something equally blinding.  Then as my friend and I got up
to leave (much later, not because of said blinding compliment) he
persuaded us to stay for a drink.  And the rest, as they say…
Nick proposed to me 18 months later on a skiing trip in
Italy on New Year's day.  We were sat in deckchairs at the top of the
mountain on the only sunny day we'd had on the holiday so far. The snow
was sparkling as much as the beautiful rock he presented to me.  We were
married just over 9 months later."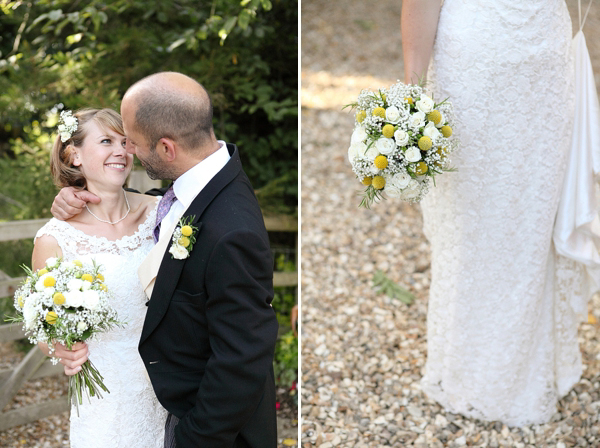 "I'd wanted a bit of colour on my feet and originally opted for some peach court shoes
from Selfridges.  Beautiful shoes in themselves but what on earth was I
thinking pairing them with a cream wedding dress?!!  They stood out
like a sore thumb and completely detracted from the dress.  So I swapped
them for a pair of LK Bennet Shilo patent leather court shoes in off-white, which were perfect – and soooo comfy."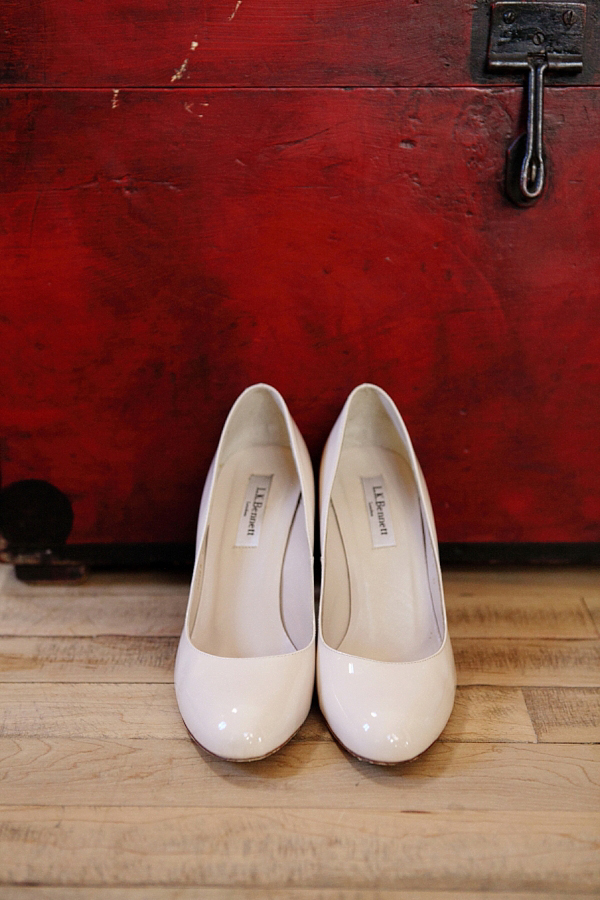 "My veil was handmade by one talented lady called Helen Martin in Norfolk. 
I can't remember how I came across her website but I contacted her
through it and she replied immediately outlining various options, with
photo examples and a list of costs.  She even sourced a sample of the
exact lace from my dress and sent it to me to be extra doubly sure of
the match.  From start to finish Helen was incredibly helpful, patient,
honest, and professional. And the veil was flipping gorgeous, I had
loads of comments on it on the day. "
"Our Florists were Beaminster Flowers
– a local supplier who had done the flowers for my best friend's
wedding the year before, which were beautiful.  So it was a no-brainer
to use them for our wedding.  Both Leah and Helen are wonderful and
achieved just the right balance between listening to what I wanted as
well as bringing their own ideas and creativity to the bouquets.  I was
after a simple bouquet for both the bridesmaids and me – just green and
cream.  And ideally flowers that were in-season.  I could spend hours
looking through the florist books dreaming up combinations but in the
end we opted for simple cream spray roses with white gypsophila and
green foliage including the herbs rosemary and sage.
My thinking was
that the smell of the herbs would help calm my pre-wedding nerves on the
day. In the event I completely forgot this clever idea of mine but nay
matter, they looked beautiful.  My one weakness in the bouquet was
Craspedia, a weed really that's native to Australia and NZ  but they
added a fun element and a pop of colour that looked great.  They also
looked great in the men's button holes.
I should also mention local lady in the village, Jessie
Barratt who does the church flowers each week.  She and my mum worked
tirelessly the day before the wedding on displays for the pedestals, the
church pews, the candelabras and the windowsills and made the church
look even prettier than it did before.  The result was stunning
especially with the sunlight pouring through the stained glass windows. "

"The bridesmaids dresses came from Boden,
I can't remember the name of them but they were a simple above the knee
v-neck dress with capped sleeves in cream.  They all looked blooming
amazing so it was worth the gamble of ordering online which I'm always a
bit wary of doing, especially as my cousin who lives in Paris didn't
try hers until the week before the wedding.
They all
wore their own jewellery and it was all different but looked fab.  As a
thank you gift I bought them matching bracelets from a shop in East
London called Luna & Curious. 
They stock a brilliant collection by largely British designers and
after much deliberation (I wanted it all), I ordered 4 gold bracelets
with a delicate heart charm by the designer Karin Andreasson.
Karin, and Rhianna, one of the shop owners, were super helpful in
creating a bespoke bracelet (based on Karin's 'Love Hearts Necklace) to
suit what I was after, as well as my budget and I was so pleased when
they arrived.  They were stunning."
"I've always had a soft spot for the church we got married in,  St. Mary Magdalene,
as it's quiet and tucked away and very pretty, but many years ago I
visited it with a friend who came to stay from up North and she wrote in
the visitor's book 'My friend Charlie Bowden is going to get married
here someday…'  so that sealed it really – years before I'd even met
Nick.  The reception was held around the corner on my parents' farm
(also where I grew up).
You may ask, did dear Nick have a say? Well,
luckily for me he also likes where I'm from and was pretty happy to go
with the Dorset option. Plus he got his way in other aspects of the
day."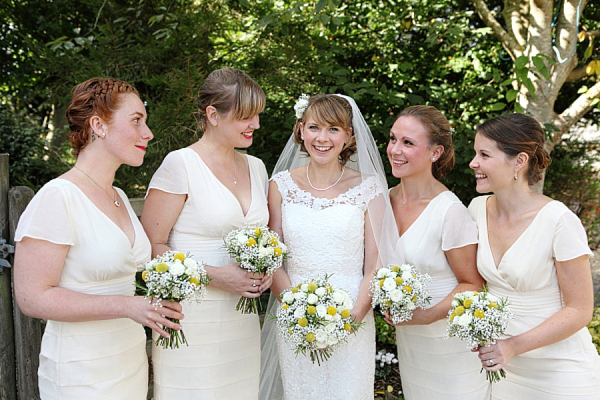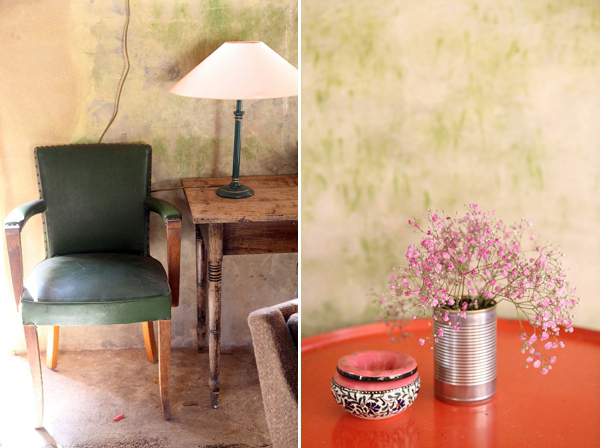 "Dasha Caffrey
was our amazing photographer and comes highly recommended by us.  She
really captured the relaxed, fun atmosphere on the day and we barely
even noticed her being there (in a good way). Her service was
professional but personable from the start, and the photos?!  Well, they
speak for themselves don't they? We've had so many lovely comments from
our guests about them."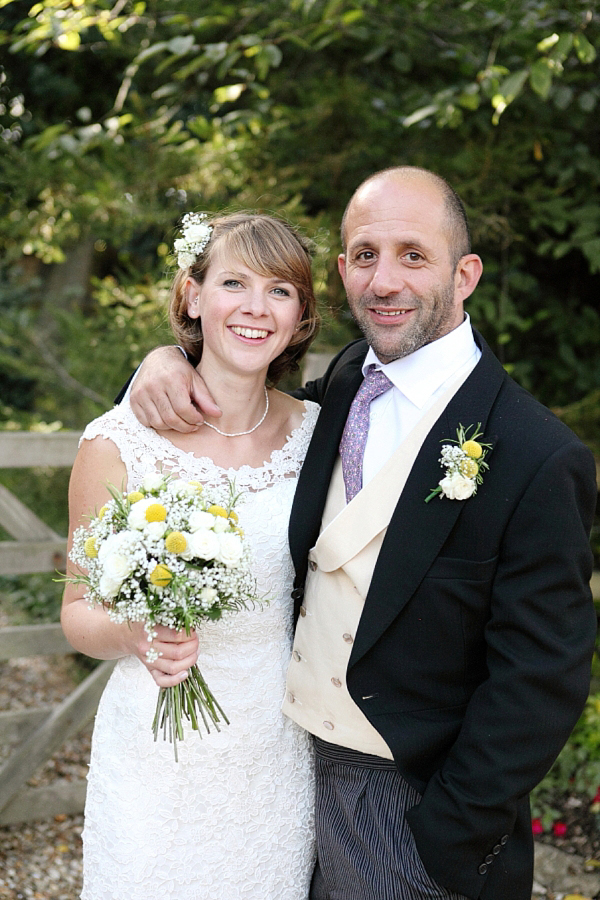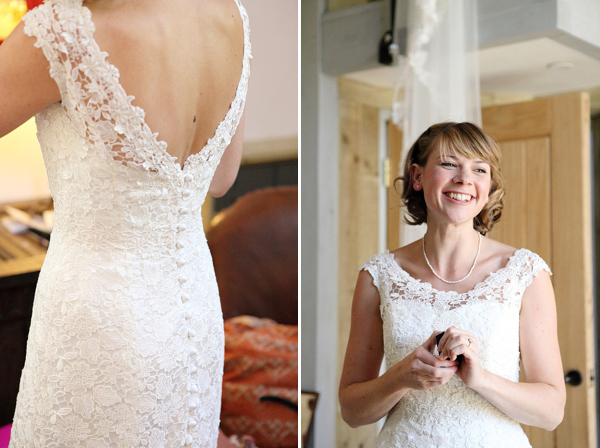 "My wonderful Dad walked me down the aisle and 'gave me away', to
the sound of 'Here comes the Bride' played by a friend on the church
organ.  To be honest I didn't think you could have anything else which
my bridesmaids found very funny.  I thought if I had this, it would
remind me of the giggle we'd had about a stiff walk to a stiff organ
tune, and would make me smile during the most nerve-wracking bit of the
day.  And it worked.
We went for the church vows, which I think are beautiful and need no altering.  Our readers were 'If I Could Write Words' by Spike Milligan who we're both big fans of.
'Song
of Solomon 2:10-13' from the Old Testament.  Nick and his family are
Jewish so we wanted to pick a reading from the Old Testament as our
bible reading.  This one is particularly lovely;
Extract from Sonnet XVII
I love you without knowing how, or when, or from where.
I love you straightforwardly, without complexities or pride;
so I love you because I know no other way
than this: where I does not exist, nor you,
so close that your hand on my chest is my hand,
so close that your eyes close as I fall asleep.
Pablo Neruda.'
…an
incredible friend of mine from Berlin read this in church and it was
the biggest tear-jerker for me.   English is not her native language but
her reading was perfect and very moving."
"Nick hired morning suits for himself and the best men from Austin Reed.  He didn't really have any accessories apart from some fun fox cufflinks
I'd ordered for him from Beluga Home Studio in America, via Etsy.  It
was a bit of a last minute thought and they only just made it in time
for me to give him (via a family courier) on the wedding morning. Oh, he
also wore a really nice watch his Father had given him some time ago."
"A friend's parents, who are jewellery designers and own Goldfinger jewellers in Briport,
made my wedding band, and a family friend of Nick's in Hatton Garden
made his.  I've long admired and hankered after a Jocelyn Pardoe item of
jewellery so for me this was the best excuse!  Nick's family friend
made his brother's wedding band and he wanted to keep up this
"tradition" too."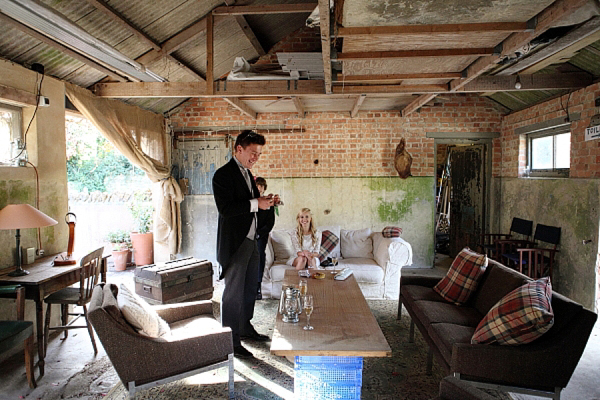 "My sister, Lucy, pulled it out the bag with the wedding
cake. Working right up to the wire with a team of secret helpers she'd
drafted in to roll, lift, place, ice, and decorate.  It was a dream to
taste and both the sponge tiers were completely devoured on the wedding
night and the next day when we invited our guests back for a hair of the
dog pint of ale and a hog roast."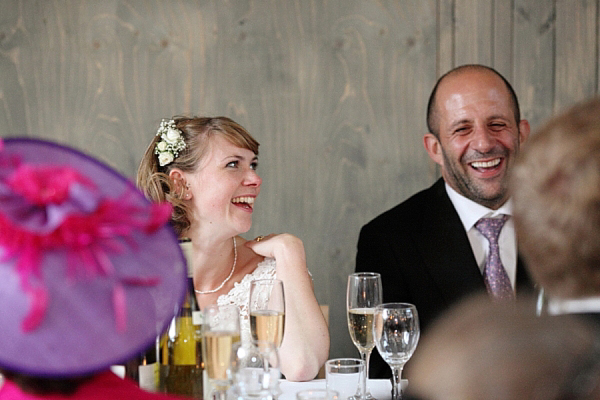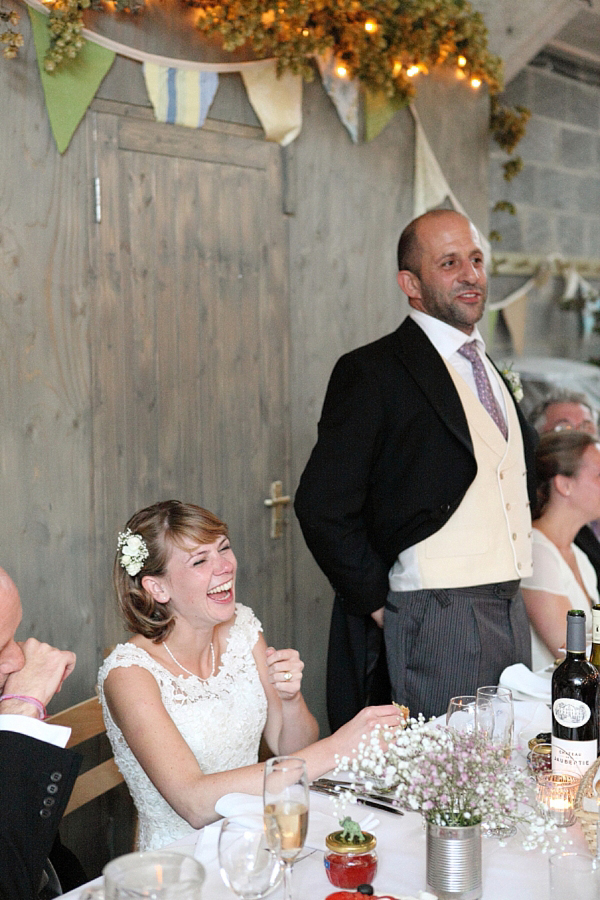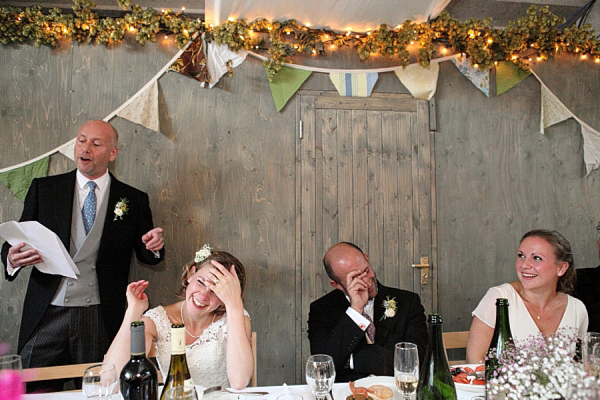 "We were a bit greedy when it came to entertainment and
hired local ceilidh band, Agglestone (no website I'm afraid, they're a
bit too local) to get everyone into the swing of things, which they did
with bells on, and then DT8, a
local 12-piece band who ensured everyone danced their socks off well
into the night.  We also have some HUGELY talented friends who played
during the ceremony and in the evening."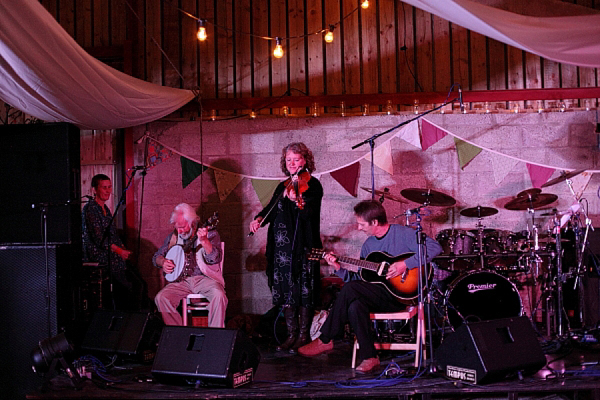 "I'd asked DT8 to play our first dance as a
surprise for Nick .  It was 'If you want to sing out sing out' by Cat
Stevens.  We heard it when we watched the film, Harold & Maude' and
it's basically saying just be who you want to be, which we felt was a
nice way to set the tone for the rest of our lives together.
What was your very favourite part of the day and why."
Words of Wedded Wisdom…
 "I'd say don't be afraid to stick to your guns about
the things you really want.  My family thought we were ridiculous to
source and collect 120 different plastic animals to go on the lids of
our chill jam favours.  They weren't shy in letting me know they felt it
was childish, would lower the tone and not suit the barn.  However,
they looked great, were a brilliant talking point for guests at the
table, and were enjoyed by all our younger guests who picked them off
and played with them on the night.
That said, I would also
say don't be too stubborn.  I was adamant it'd be a sunny day and we
didn't need a marquee for drinks on reception.  Once again, very
bluntly, my Dad said, "Wouldn't it be marvellous, Charlie, if the sun
shines and everyone is sprawled out on the grass drinking fizz.  If it's
blowing a hooly and pi**ing down however, your day will be ruined!" And
he was right.  Of course."
"In the event, we were incredibly lucky and had wall to
wall stunning sunshine.  And people really were sprawled on the grass
drinking fizz  (Dasha, please include a photo of this as proof!).  But
the marquees looked beautiful and played their part as respite with
comfy seats when the band was on, a cake & coffee serving area, and
for those wanting to stay out of the sun!  So it was a good move in the
end.
I definitely would have eaten more and drunk less tequila.  I'll say no more.
As for my favourite parts of the day, firstly I loved
going for a dip in the sea at Burton Bradstock with my Mum, and
bridesmaids first thing on the morning of the wedding.  It was the best way to
wake up and get stuck into the crazy day ahead. 
Secondly
I absolutely loved the church service.  It's funny because this was the
part I was most nervous about; I was worried about crying or saying my
words wrong or tripping over my dress or the atmosphere being too
staid.  In the event the ceremony was incredibly happy and light-hearted
with lots of laughing (thanks to a small slip up on the organ which had
everyone helpless with laughter and really set the tone for the rest of
the day) and I really really enjoyed it."
How completely beautiful, and so lovely that Charlie and Nick were able to tie the knot in a place loved by so many members of the family.
Huge thanks to photographer Dasha Caffrey for submitting these lovely photographs – you can see more absolutely wonderful weddings by this very talented photographer here on Love My Dress. 
Any other Sassi Holford brides reading this right now?  Take a peek here if you'd like to see more Sassi brides.
With much love
Annabel
Photographer – Dasha Caffrey
Venue – St. Mary Magdalene, Loders (the churcc) +
Brides Dress – Sassi Holford, via Ellie Sanderson in Beaconsfield
Veil/Headpiece – Helen Martin Veils, Norfolk
Brides' shoes – LK Bennet Shilo (in nude)
Bride's accessories – pearls + flowers in her hair
Groom's Attire – Austin Reed
Bridesmaids – Boden with bracelets by Karin Andreasson via Luna & Curious
Florist – Beaminster Flowers
Cake – The brides Sister
Entertainment – DT8 (band)