It's not as though we need to be sharing beautifully warm and sunny wedding photographs with you right now, not with the current UK climate we've been blessed with, but we're going to anyway, because these photographs are rather special.  It's over 18 months since this particular wedding took place but the images are so beautifully shot, they possess that wonderful timeless appeal that make them look like they were shot yesterday.  Becky and Kenny, who tied the knot on 22nd September 2011 in Protaras, Cyprus have Depict Photography to thank for that.
In fact, the couple were rather lucky, because Kate of Depict Photography happens to be the bride's Sister (helpful!).
I loved these images from the moment I saw them – the way the bride's hair catches the sweet September sunshine, the textures in all those lovely rustic details (something beautiful about paint peeling from old walls, don't you think?), and that chic Monsoon wedding dress that Becky slipped in to as she and her new husband continued to celebrate in to the early evening.
Love My Dress Wedding Blog – Photography Copyright (c) 2013, Depict Photography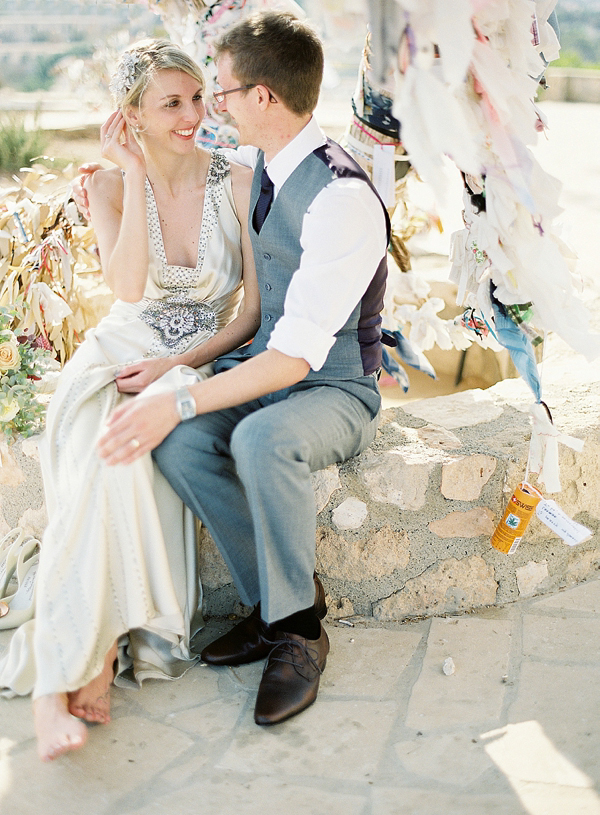 "I have been visiting Cyprus with my parents for most of my life.
When I was very young I used to say I wanted to be married in the church
up on the hill at the back of our apartment. I was so happy when Kenny
agreed that it would be a perfect place to marry.
Obviously we couldn't
get married in the church but there is a ceremony space just below the
church which was ideal."
"Luckily my wedding was so stress free and probably the only
thing I really struggled with was choosing flowers. I had seen so many
beautiful examples of bouquets on blogs/magazines but when I went to
look at examples in Cyprus everything seemed very old fashioned. I found
Georgiou Costakis
and liaised with him over email on the lead up to the wedding.
I was so
amazed by what he did. He was so lovely and created exactly what I was
after."
"Myself and Kenny actually met at secondary school and dated for a
while. After school we followed very different paths but these crossed
again in our early 20s. After being together again for a year Kenny
proposed whilst we were on holiday in the Dominican Republic. It was an
amazing holiday and we were so excited on our return but I was still at
university and planning a wedding was not really on the cards straight
away. Once Uni was finished real life kicked in and a combination of
looking for jobs and moving into our new home meant shelving the wedding
plans again.
My sister who was engaged during this time had a very
different approach and was married within a year. Wanting to give my
parents at least 1 stress free year between our two weddings we finally
set a date in 2011, five years after the proposal."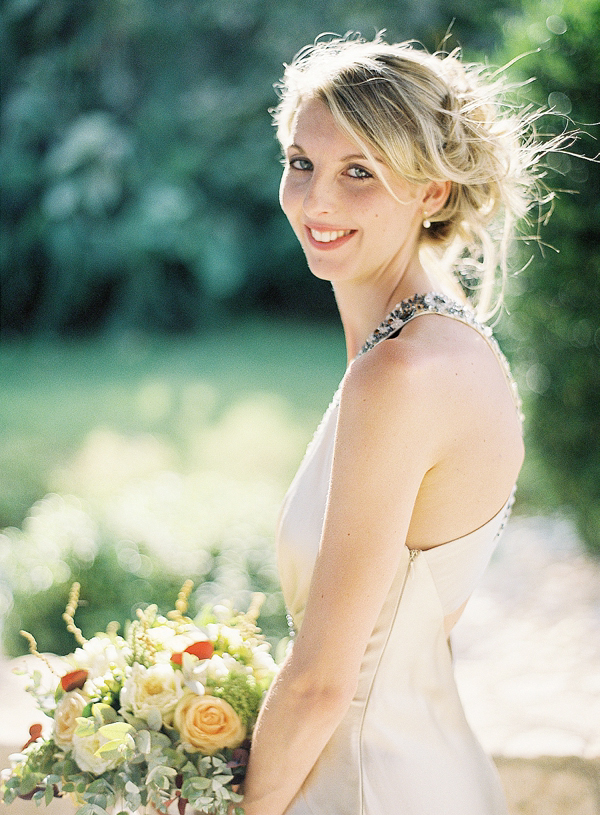 "The first dress I tried on was a Jenny Packham.
I always knew I wanted more of a gown than a typical wedding dress and
her dresses were exactly what I had in mind. I was lucky enough to find
someone who was selling their dress, the 'Carmen' design, second hand via sellmyweddingdress.co.uk in the colour/size I
wanted and in perfect condition not long after my search started. It
only needed slightly altering in length and it saved me £800 on the
original price."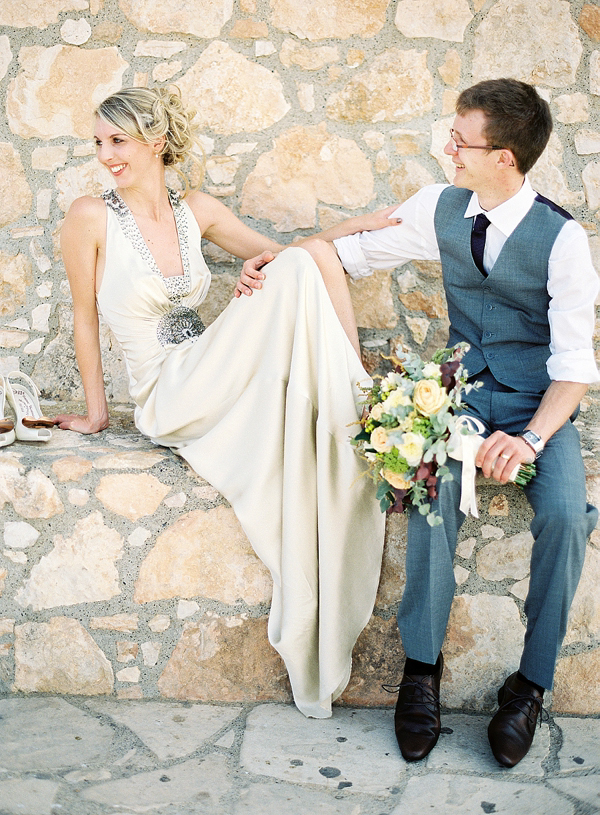 "I also wanted a shorter dress for the evening and had
tried on a short dress in Monsoon when I was my sister's bridesmaid so
ended up going for a similar version for my own wedding.  Not only did I
get my short evening dress from Monsoon but all of the bridesmaids
dresses too. They were not in the bridal range but evening dresses –
each bridesmaid chose their own dress just keeping it too either grey or
purple."
"Photography was always going to play a big part in our day.
Firstly because we not only wanted to document the day but also get a
feel for Cyprus as well. Secondly we were lucky so many people were able
to travel out with us for the wedding but many people including my
elderly grandmother and Kenny's dad were not able to join us. Because of
this we knew the photos would be really important to share with our
family on our return.
Lucky for us my sister, Kate, is a wedding photographer. She runs Depict Photography
and she primarily shoots in film, which I love. We were more than happy
to leave it up to her to photograph our trip in her way and we loved
how she was able to capture not just the wedding celebration but the
boat trip and the pretty details around where we stayed."
"I probably made Kate's job a little harder by asking her to be a bridesmaid as well – I
knew it would mean less coverage of the day than usual but I really
wanted her to spend some time not behind the camera. In the evening
before we went out for a family meal we spent an hour down by the sea.
At this point I had changed into my shorter dress and Kate had made me a
new headpiece for the evening out of her bridesmaids flowers.
This was
one of my favourite times during the day as we were able to spend some
quiet time together and really take in the fact that we were finally
married!"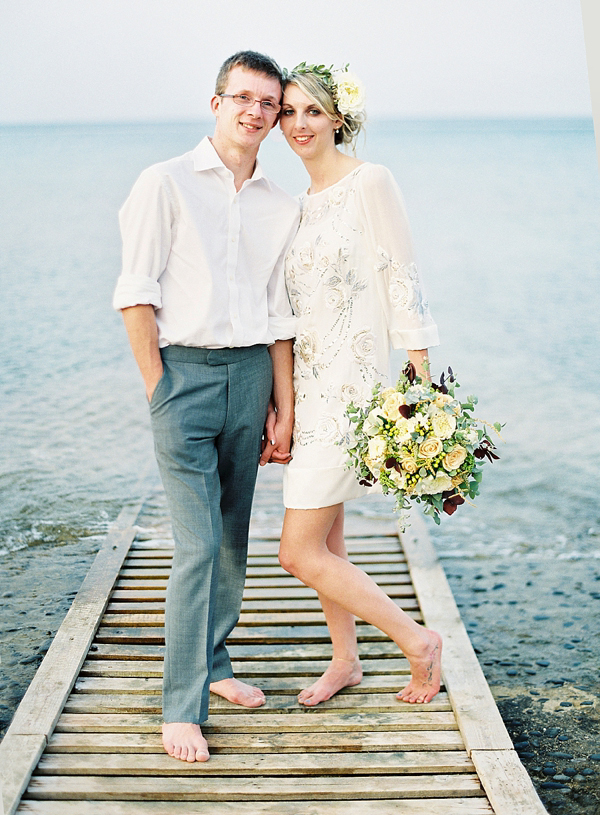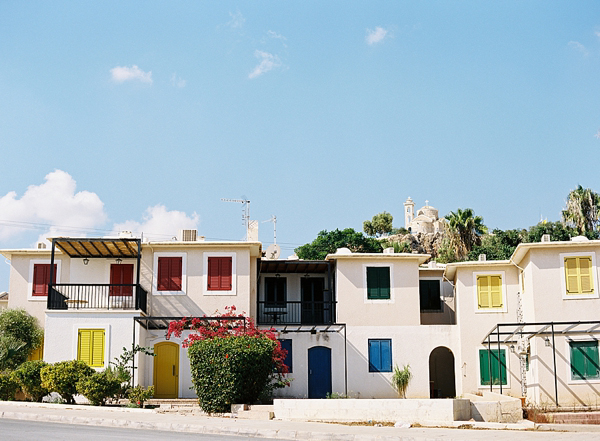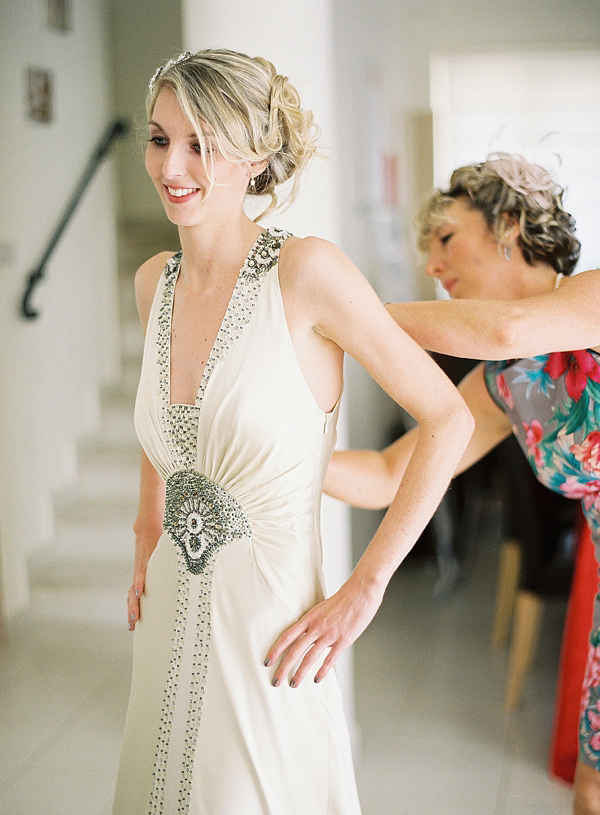 "My Grandmother bought me the accessories for my hair from Glitzy secrets. I originally had a necklace too but felt with the detailing on the dress it was too much so just kept the head piece."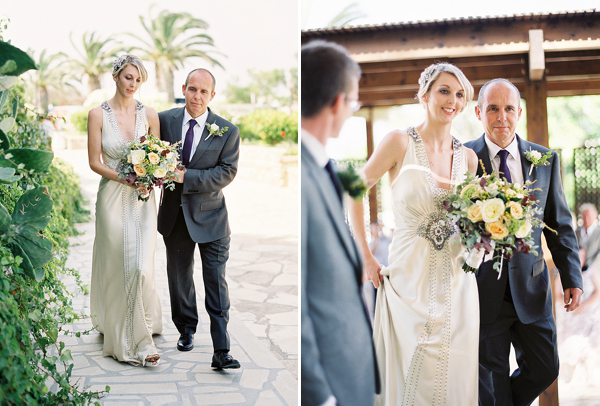 "Kenny used King and Alan
for his suit. My sister's husband had used them for his wedding suit
and we had both really liked the look of it. Off the peg suits were not
an option as we wanted something that fitted really well and felt hiring
a suit was too much stress with the traveling so this was perfect. A
tailored suit at a lower cost as they don't have premises to pay for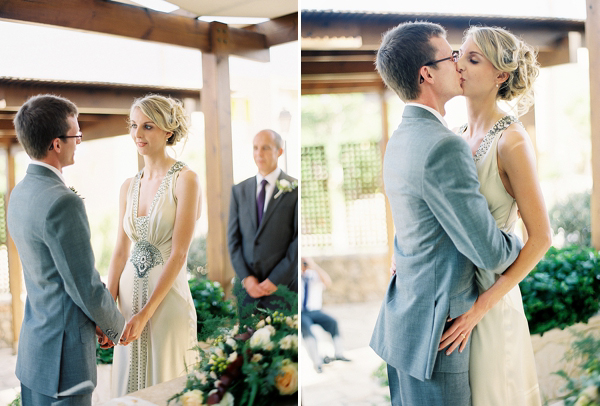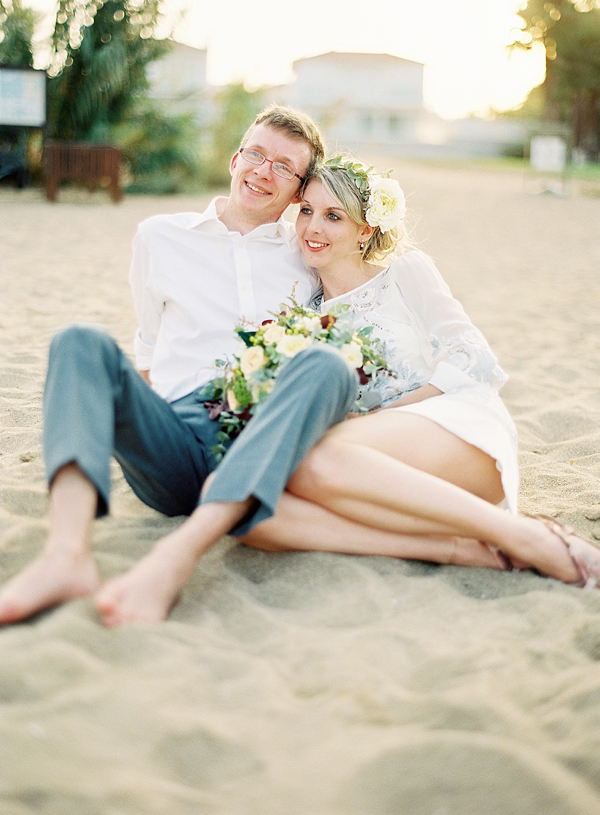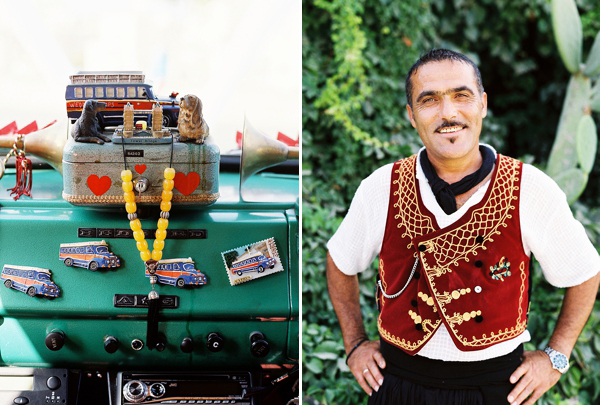 One of our favourite things we had on the day was the 'chicken bus'
that transported all the guests to the different venues. Lefteras
dressed in his traditional Cypriot clothes and became a big part of the
day. Everyone had so much fun.
We also went on a boat trip before the
wedding so that all the guests could spend some time together and get to
know each other more. This was another highlight of the wedding and was
such a relaxing way to spend time with our friends and family
*Oh happy sigh*
Huge thanks to Kate of Depict Photography for sharing these truly beautiful wedding images. These photographs simply reaffirm my love affair with film photography – and I'm now also utterly desperate to book my Summer holiday!
You can see more destination weddings on Love My Dress here. Are you getting married abroad?
With much love,
Annabel

a
Photographer – Depict Photography
Wedding Planner/Stylist – Venue – St Elias Gardens
Wedding Dress – Carmen by Jenny Packham sourced via sellmyweddingdress.co.uk
Evening Dress – Monsoon
Bride's hair accessory – Glitzy secrets
Bride's shoes – Melissa Westwood lady dragon heart shoes gold & cream
Groom's Attire – King and Alan suit + Debenhams shoes
Bridesmaids – Monsoon
Flowers – Georgiou Costakis, Paralimni
Wedding bus: Lefteris A Limniotis