Morning loves, hoping this finds you well this fine Thursday morning. You know, I feel so lucky that we happen to live close to the sea. Our house is only a 5 minute drive away from the beach. I happen to have been born and raised in the Midlands and about as far from the seaside as you can get, but have spent the last ten years of my life living by the North East coast, and I have come to adore it.  There is something about being able to jump in your car and within just five minutes, be taking in the vast expanse of the ocean with your view from the cliff top.  Something so charming and appealing too about a pretty seaside town like Whitby where we live – I love the way that bride Bo describes it below.
Bo and Michael's wedding took place on 2nd August last year, at The Wedding Hut on Bournemouth Beach – a fabulous little beach hut right next to where the waters gently lap the sands.
"We both love the charm and the slightly faded glamour of the
British seaside. I lived in Brighton for six years and Michael's parents
have a place in Swanage, Dorset which we love going to. There is nothing
more fun then a day out at the seaside – paddling, building
sandcastles, hanging out, carosels, playing the slots. We got to do all
of that – on our wedding day!"  
Love My Dress Wedding Blog – Photography Copyright (c) 2013, Emma Lucy Photography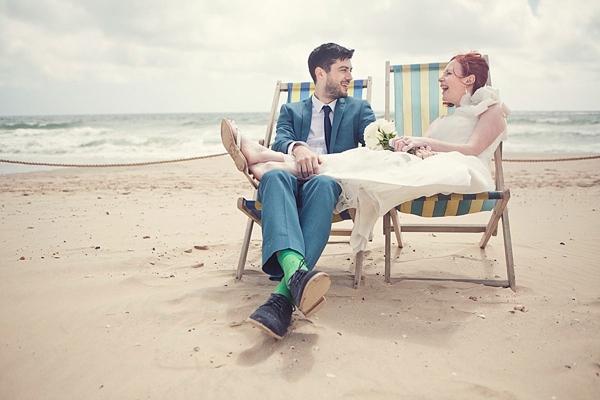 "I just loved being on the beach! The fact that I got to paddle in
the water with my wedding dress hitched up was brilliant! And playing in
the sand with our girls – it was like having a lovely family day by the
sea and coming home married. No stress, no fretting about the details,
no sweating the small stuff, just having a fun day.  We didn't really style the day as such. We just kept it simple and relaxed and let the venue be the style."   
"Michael actually went to University with my cousin Sarah back in
the late 90's and they were friends so I had known of him since then.
However, despite Michael and my cousin being housemates, having mutual
friends and being invited to various parties and such over the years we
had never actually met. Then in 2006 my cousin decided to move back to
Dublin and fancying a change myself I decided to take over her room in
the house she shared in London (where Michael lived!). So we became
housemates, then good friends, then starting dating (ahem!)."
"I wore the 'Bobbi Dazzler' dress by Kitty and Dulcie.  I
always knew I wanted a 3/4 length dress (I'm 5'3" – anything else would
swamp me) but apart from that had no idea what I wanted. Given that I
had only 6 weeks to get organised I hit the wedding blogs.
Kitty and Dulcie came up quite a few times and as soon as I saw their Bobbi Dazzler dress I was in love! And when I saw the price I was more in
love! :). I had found it and ordered it in just 3 days. Hurrah for quick
decisions."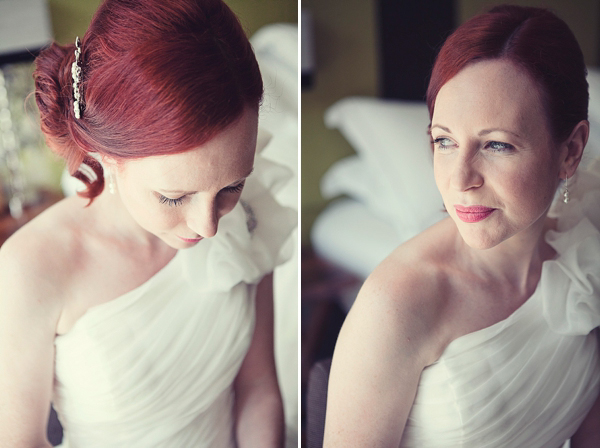 "I wore a pair of plain white Rainbow Club shoes found in a bridal shop that was closing down in Andover. A bargain at just £40!"
"We walked out of the hut to Peter Sarstedt 'Where do you go
to my lovely' which might seem an odd choice but we both love it and it
reminds us of a driving through France."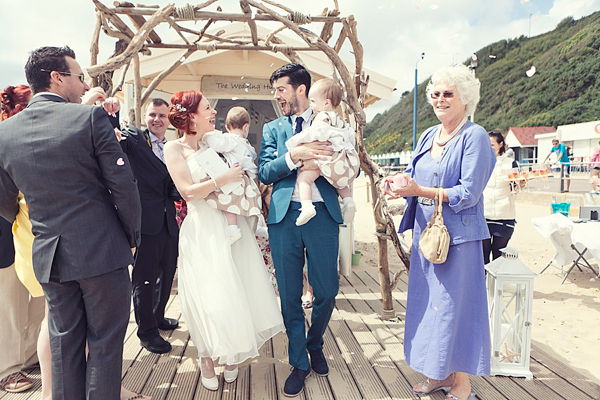 "We
had been together a few years and had planned to get married but as
neither of us wanted a big wedding we couldn't decide how best to do it.
We didn't feel the pull of any particular place (I'm Irish but have
lived in UK for 15 years, Michael's Dad is retired RAF so he moved every three years as a child) but also didn't want to just get married anywhere
for the sake of it. So we just got on with life, bought a house, decided
to start a family (and got twin girls!) and every now and then talked
about getting married.
We are both big fans of the British seaside (I
lived in Brighton for six years) and after chatting one day last June
about it thought, 'wouldn't it be brilliant to get married on the beach here in Britain?'.  One Google search later and we had found The Wedding Hut – a
beach hut where you can legally get married in Bournemouth. It was only
in it's first season having been granted a wedding license in 2011. As
soon as we saw it we knew it was the perfect venue. Who could resist
getting married in an actual beach hut?!"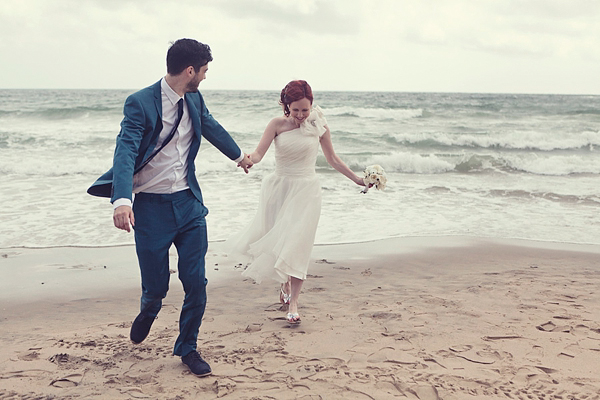 "I phoned The Wedding Hut
the next day and spoke to Melanie Kiani who set up the hut and runs the
weddings there and she was so lovely. We had a holiday to Swanage (just
up the road for Bournemouth) booked for the first week of August and I
asked Melanie if it would be possible to come see the hut. During the
conversation she mentioned that they didn't have a booking on the 2nd
August so we could come see it and have a chat then. I called Michael to
let him know and while chatting said 'we should just book it for that
day as we'll be there anyway' to which he said 'we should….lets just
DO IT!'. And that was it!
We called Melanie back and booked the date (a
mere 6 weeks away…eek!) and then called our families to tell them.
They were all surprised but thrilled for us. We wouldn't have wanted it
any other way – just 6 weeks planning and just our families and our
gorgeous twin girls, Alice & Annie, there – perfect!  We had a party for friends in London a month later which was brilliant. I even wore my dress again!"
"I wore a pair of pearl-drop earrings and a pearl bracelet from Kathy Jobson Jewellery on www.notonthehighstreet.com."

"Our twin girls wore matching Jasper Conran dresses from Debenhams."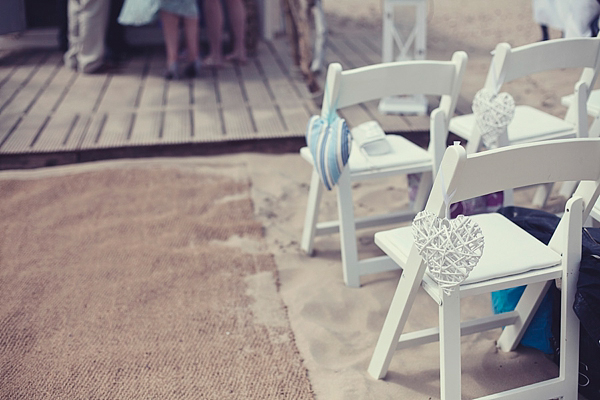 "Our photographer was Emma Lucy Photography. 
I found Emma through another blog and adored her style of photography.
I, like most people, don't like having my photo taken and the idea of
having to pose for endless photo's put the fear in me! Emma style is
more she 'documents' the day. She was absolutely amazing. She captured
the day perfectly and everyone who has seen the photos has been blown
away. I cannot recommend her enough."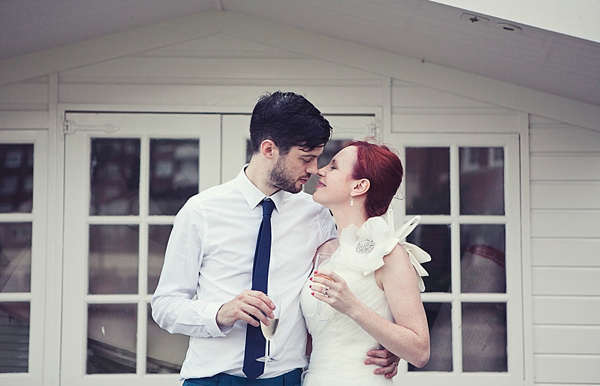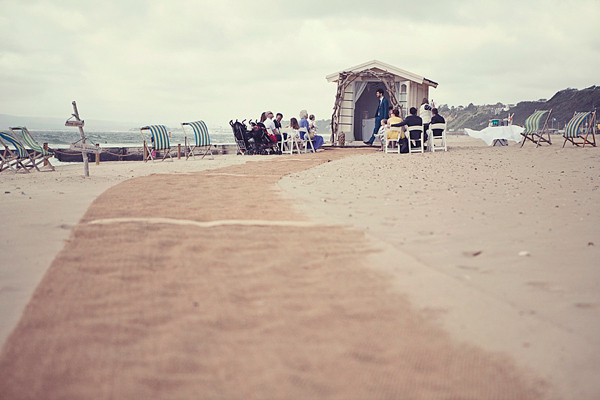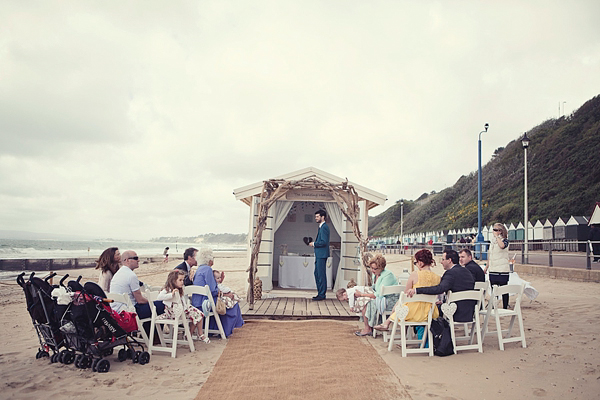 "My Dad gave me away to the sound of 'She's a Rainbow', by  The Rolling Stones."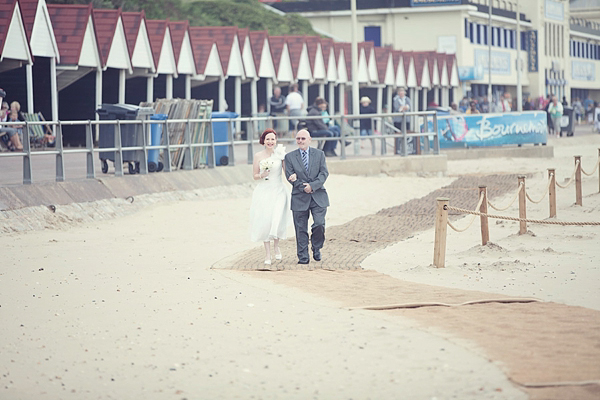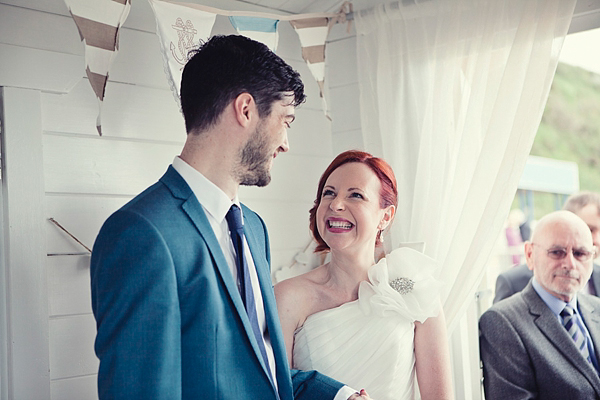 "Our rings were purchased from SWAG, a local jeweller. My engagement
ring is an antique art deco ring bought in Gray Antiques, Bond Street."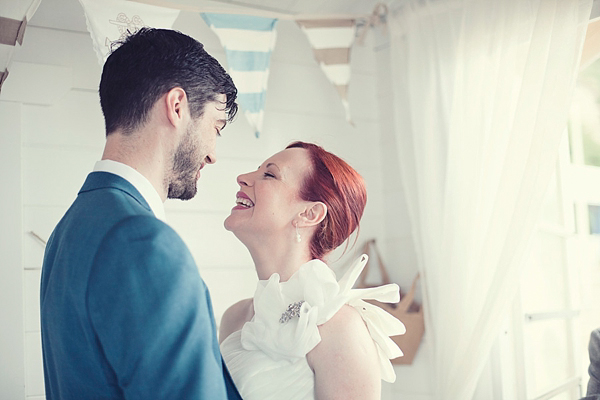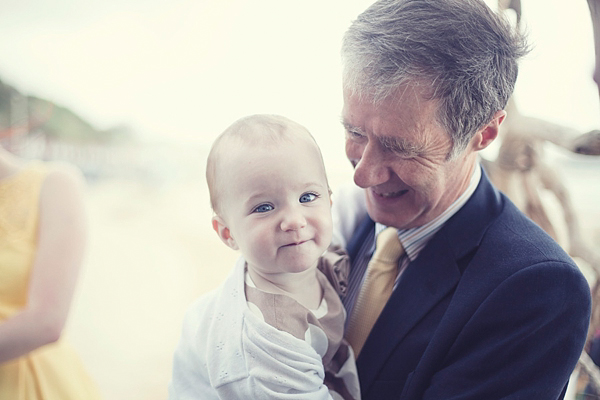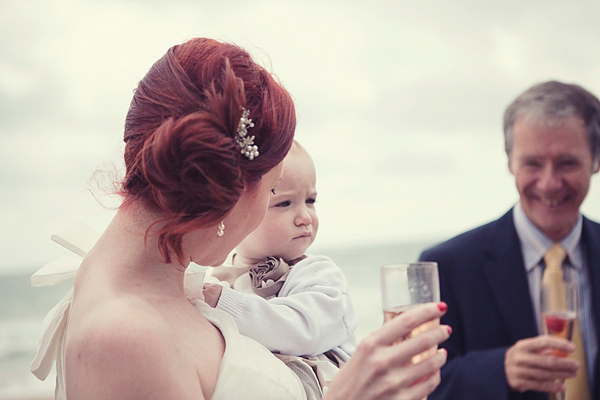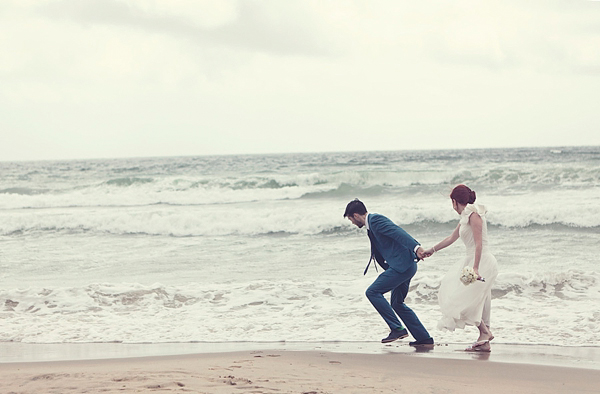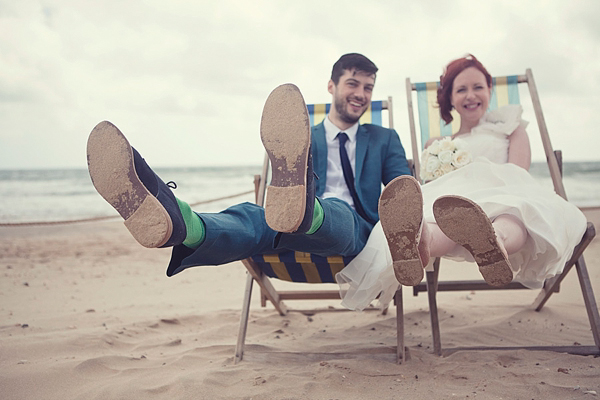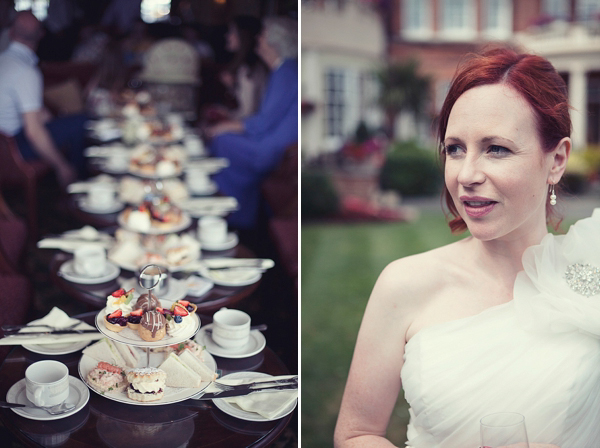 Words of Wedded Wisdom…
"I'm sure it's been
said a thousand times but have the wedding YOU want and not the one you
think is expected of you. If you want the big bells & whistles
wedding with 250 people then do it. Likewise if you want a small
intimate one – then do it. We worried that people would be hurt that we
hadn't invited them but actually they were all just so happy for us."
I think this wedding has a touch of the cute-factor, no?  Proof in the puddin' that if you really are on a small budget and have little time to plan, you can have a perfectly lovely wedding day 🙂
Thank you very much Emma Lucy Photography for sharing your sweet seaside images, and congratulations Bo and Michael! Not long to go now until your first wedding anniversary – I say that deserves a trip back to the beach at Bournemouth for a wee seaside celebration.  Fish n' chips and ice-cream all round!
You can see more seaside weddings here brides.
Have a lovely morning everyone,
Annabel
Photographer – Emma Lucy Photography
Venue – The Wedding Hut on Bournemouth Beach
Brides Dress – The Bobbi Dazzler dress by Kitty & Dulcie
Veil/Headpiece – A pearl slide from Accessorize
Brides' shoes – Rainbow Club
Bride's accessories – A pearl slide from Accessorise
Grooms Suit – Ben Sherman Slim Fit Suit in Teal
Flowergirls – Jasper Conran dresses from Debenhams
Flowers – the bride did her own bouquet
Hair Stylist – Laura Mackenzie