Good morning lovelies 🙂 Those of you who follow our the Love My Dress Facebook page (where we almost always provide preview details and information about what we are up to/have planned for the blog) will have seen this feature about Emmy Shoes appear around 9pm last night.
I could rave and rave about Emmy Shoes all day long if I were allowed. I'm the original Emmy shoes fan girl. I wore an amazing pair of Emmy shoes for my wedding, for the Love My Dress Summer Soiree and for my book launch party in Shoreditch last month too (a divine pair of fuschia pink Leila's, god they are amazing!).  So you could say, I'm pretty smitten with these gorgeous shoes and so I was absolutely delighted when Emmy herself suggested that she could give a pair of Emmy shoes away to one of our readers.  That's um, YOU.
Images Copyright (c) 2013, Lucy Tanner
But before we tell you how you can slip your tootsies in to one of the most elegant pair of wedding shoes you will ever find, let us first say hello to designer Emmy herself and learn a little more about this talented lady and what she does best…
'I graduated from Cordwainers
(specialist shoe college) with a 2:1 degree and then took off to Italy
for 5 years. I designed shoes and accessories for some of the most
prestigious fashion houses in the world; Bottega Veneta and Armani to name a couple, before returning to London to launch my own collection.  When I worked in Italy I was in a really fortunate position to work with the factory that make Manolo Blahnik shoes. The craftsmanship and accuracy of their work has always inspired me to raise the bar.
In
2004 the 'Emmy' brand was born. Originally making my name in bridal
shoes and later being recognised for offering 1st class bespoke service
for 'Emmy Signature'. Which is a collection made up of our favourite
shapes offered in a choice of subtle, seasonal shades.'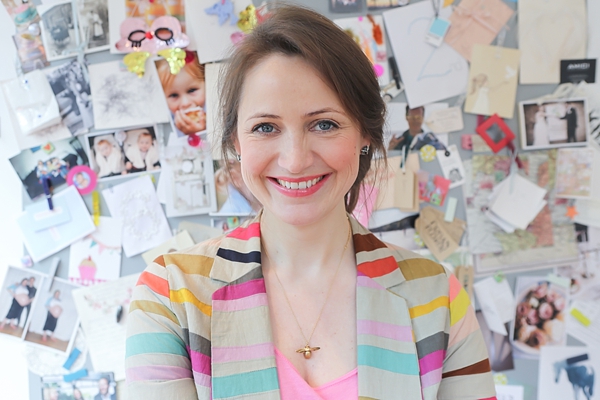 'I've always had a passion for shoes. I grew up in Somerset and my
village was home to super brand 'Mulberry' so to launch my own luxury
label didn't seem that unrealistic.  I was obsessed by shoes at an early
age, one of my first memories in fact is putting wooden building blocks
in my socks to create instant high heels!.  I feel blessed that I have
always known what I wanted to do, so it was so it was more about how
than what.'
'My inspiration never really comes from shoes! Although I've a collection of vintage shoes that I use to base some of me last shapes on. I'm really drawn to architecture. I love the structure of windows and doors, repetition of tiling etc. Plus, jewellery and insects play a big part in the detailing.
I absolutely love the glamour of the 1930's, I'm completely obsessed by this era. When we got married nearly eight years ago our wedding was based on the film, Gosford Park. I'd love to design a pair of shoes for Kristen Scott Tomas, I think she's got the perfect balance of femininity and strength of Character. On a more day-to-day level, I'd be pretty chuffed to see Kirsty strutting her stuff in a pair of 'Emmy's' on location location location!'
'My favourite Emmy Shoes are my fuscia Chloe's (seen below). They are my most recent, but they really get so many comments, they make an outfit are unbelievably comfortable. They are my 'can't go wrong' quick fix for a day at the studio or night out. They are from the Signature collection. This collection is available online or by appointment at the Emmy Boutique, it's a great opportunity to indulge in your favourite Emmy designs in gorgeous seasonally shades, perfect for special events or simply as a treat.
Gift vouchers are really popular too, especially for wedding anniversaries. Warning! May require quite a bit of hint dropping!!'
'We offer a bespoke service exclusively available by appointment in the Emmy studio. However, we also offer our signature and bridal collection as ready to wear online or from the studio.
Staying true to the brand, we offer a selection of beautiful details (often beaded) to ensure they are a perfect match for your dress. Also, we add a crystal to the sole of your shoes to ensure you twinkle as you kneel at the alter, we've added a choice of a blue crystal as your something blue.'
The beauty of ready to wear is that you can potentially take your beautiful shoes home with you, perfect for being organised for dress fittings etc. Our bespoke service takes around 12 weeks, so the ready to wear collection is perfect if timing is tight.'
'Ordering online is pretty simple, we can always guide you over the phone in terms of styles/size. However the shoes are fully refundable (minus shipping) if you need to exchange size of anything. If you have any doubts we are always here to help.
We love to offer the bride the complete head to toe look. Shoes, belt, clutch and hair decoration. We basically love accessories here! When I got married, as much as I loved my Jenny Packham bespoke dress, for me, it was all about the accessories and the detail I could add to the look myself.
I love styling hair too; I get lots of practice at home having twin girls! I am always keen to style brides hair, offer style advice and try new things out. Our hair decorations are the perfect echo of the shoes detail; super easy to wear, as they are so light. We pride ourselves on offering a soft, effortless look.'
'My collection works well with so many designers, but if I was to get married again I'd be hot footing it down the to the new Suzannah Boutique to check out a tea length dress – perfect for showing off amazing shoes!
I absolutely love my job, I'm surrounded by beautiful things, meet genuinely lovely people at the happiest time of their life. There's really something very special about the relationship between women and shoes, to be part of that is immensely fulfilling. I am ambitious and hugely driven and feel very lucky to be doing a job I love and have the balance of family life.'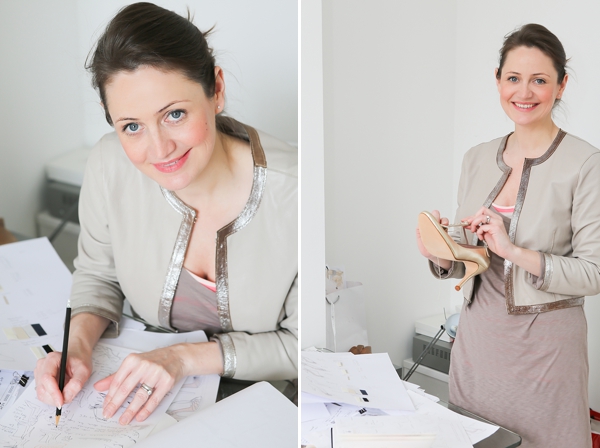 Ahh, you can just feel her infectious zest and passion for what she does can't you? I can safely say Emmy Scarterfield is possibly one of the loveliest people I know in this industry and I love that she loves working to inspire brides as much as I do, it's quite a privilege.

So readers, Emmy and I are inviting you to visit this page on the Emmy Shoes website which is full of Emmy's beautiful ready-to-wear designs with something to suit everyone; closed toe, open toe, high heel, mid heel, low heel, court shoes and sandals. We would like you to pick your favourite design, then pop back here and leave a comment in the comments box below stating which design (by name) you would like to win, and why.
Tell us a little about your wedding too if you like, we LOVE to hear about your plans, stories and experiences 🙂
Will it be the showstopping vintage inspired Francesca design?
…or the Gatsby glamour inspired Elizabeth wedding shoes?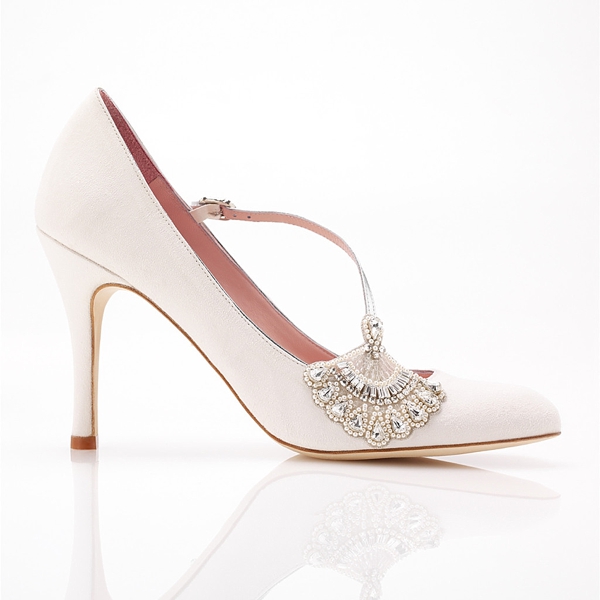 …or the divine Eva, another 1920's inspired design featuring a beautiful deco-inpsired mother of pearl T-bar trim?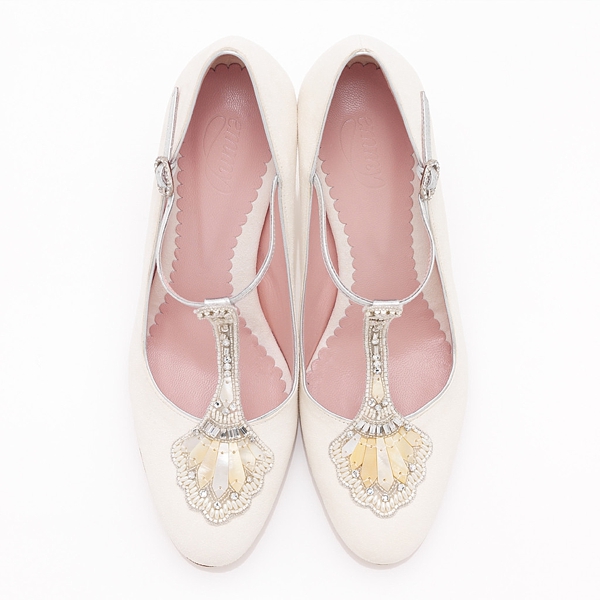 Or if super sexy shoes with a discreet raised platform heel are more your thing, what about the Matilda…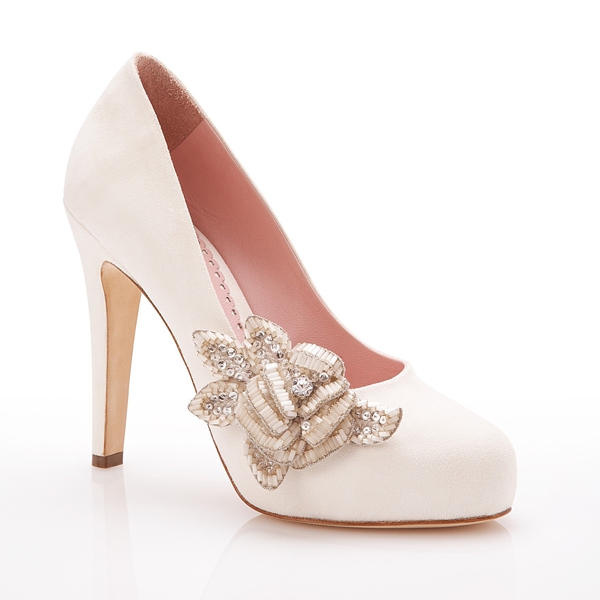 …or my all time favourite, the Leila design (I wore a silver pair of these shoes on my wedding day!)…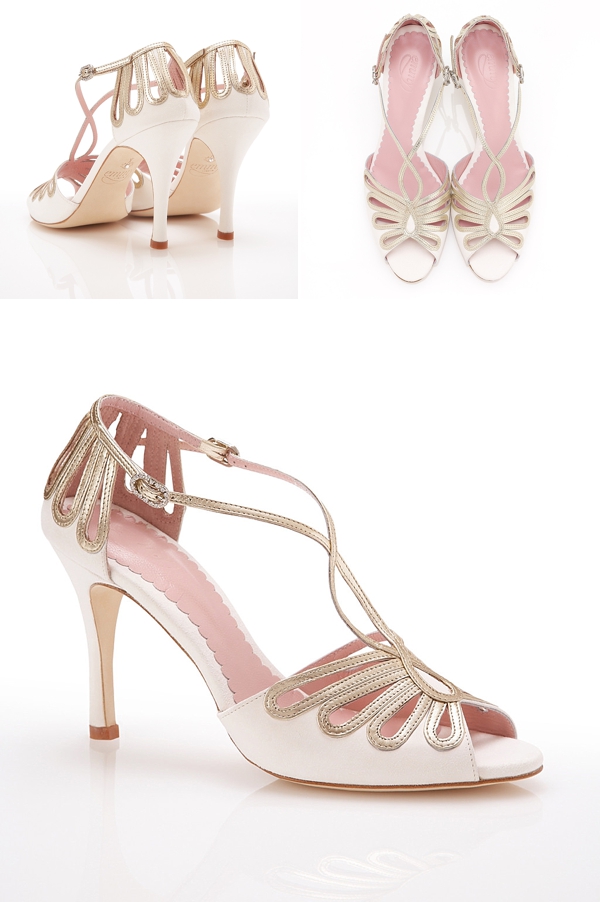 There are lots more pairs to look through here (remember to click through to page 2).  Remember, choose your favourites then leave your comment below on this page to be in with a chance of winning a pair of these divine shoes from Emmy.
This competition will end at midnight on Tuesday next week and we'll be announcing the winner the next day.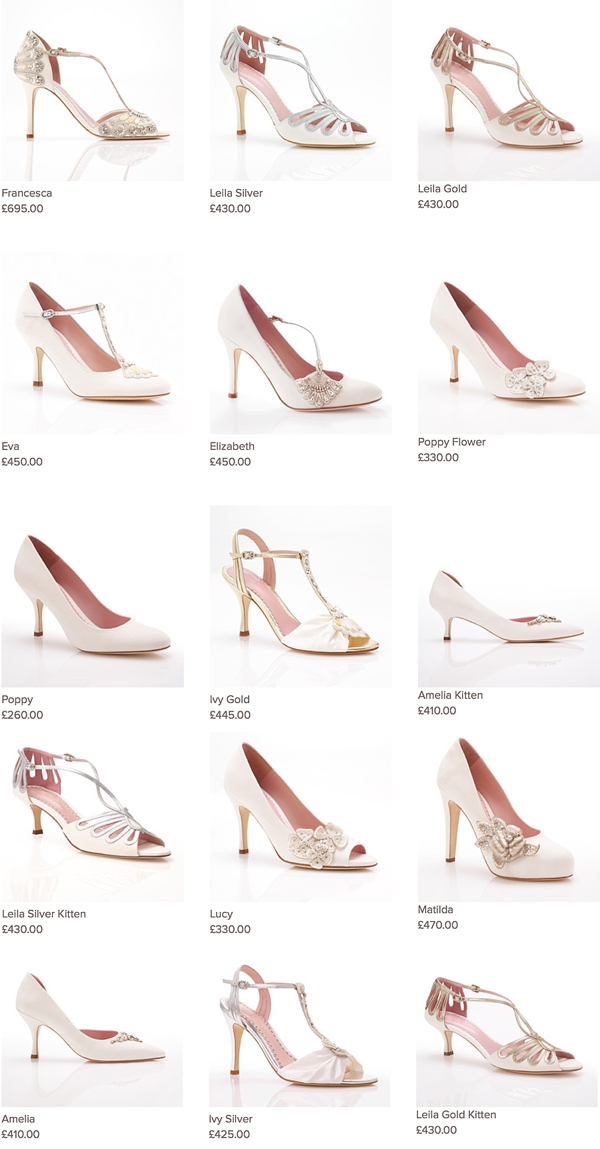 I would like to thank Emmy for her kindness generosity and for always being such a loyal supporter of Love My Dress. I like to think we're a match made in shoe heaven (shoe maker, BIG FAN shoe wearer….no?)
Very best of luck everyone!
Annabel
Terms and Conditions
1. This competition will run from 09.30 on 15 May to midnight on Tuesday 21st May. The winner will be announced on Wednesday 22nd May on Love My Dress and notified by email.
2.  The choice of shoes on offer is limited to the ready to wear collection by Emmy Shoes – and will be subject to availability
3.  Only one entry per person only.
4.  This competition applies to brides only who have yet to get married.