Morning lovers, how does this beautiful Thursday morning blog post find you today? I'm hoping that these photographs will add a splash of colour and inspiration to your day, whatever you're up to.
Will and Alice tied the knot on 23rd March 2013 with a ceremony at St Peters Church at Titchfield, in Hampshire, followed by a reception at Avington Park, Itchen Abbas, Winchester, Hampshire.
I really love these photographs sent in by photographer Hayley Savage; doesn't Alice look incredibly happy? And that beehive! This lady knows how to work her barnet! Absolutely beautiful.
Love My Dress Wedding Blog – Photography Copyright (c) 2013, Hayley Savage
"We
were introduced by our mutual friend Steve, who is our hairdresser. We
think he got fed up of us both moaning about our love life and helped
set us up on a blind date! We have been together seven years this year and
we got engaged Easter 2012. Will proposed whilst we were doing an Easter
egg hunt with our little boy. We were following clues and I found an
egg which had 'Will you marry me?' iced on to it and a gorgeous ring
inside. I can honestly say I did not have a clue what he had planned,
and he combined two of the things girls love the most, chocolate and
diamonds! The wedding was planned in just under a year. 
We had no set theme, as we thought that getting married covered
that concept. We had ideas of what we wanted and just tried to make sure
everything merged together well. There was no set colour theme either
which caused much confusion when it came to bridesmaid dress shopping. I
really wanted to get married in the Spring as I love cherry blossom and
just the feeling of Spring sunshine. This didn't quite work out (as
English weather never does), we had a dry but very, very cold day, with
snow forecast."
"I
don't wear heels too often as I am already quite tall and feel
self-conscious in them, so I admire them from afar. I knew I didn't want
classic white satin bridal shoes, so was on the lookout for something
different. I saw the red velvet shoes at L.K.Bennett
and got them there and then, it didn't matter to me that nothing else
in the wedding was red, I felt like Dorothy having them hidden under my
dress all day!"
"Will is a carpenter by trade so
isn't used to being all suited and booted. We did initially intend on
buying him a nice designer suit which he could keep. But when browsing
the Next catalogue he found a suit he liked the look of so we ordered it
see what it was like, and it was perfect. It was the exact colour he
wanted so he ended up wearing that.
Will wore a very pale pink shirt from Paul Smith.
He also wore an amazing skinny tie and matching pocket square from Mrs Bowtie. I bought him some silver sixpence cufflinks from notonthehightstreet.com as a present that he opened on the morning also.  The boys
were just asked to wear a black suit, white shirt and we provided them
with bright pink socks and matching ties from Mrs Bowtie."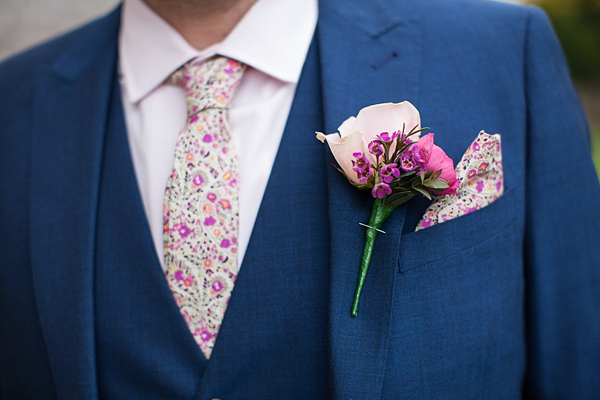 "We
decided to do our own flowers for the reception. I love flowers and
could easily have spent a fortune on them so we decided to use Will's
moms' expertise to do them ourselves to try and save the budget! She did
our table centrepieces using some coloured glass flower shaped bowls
that were my first wedding purchase from TK Maxx. I wanted a wild, garden
flower look with nothing 'too done'. I love ranunculus and roses so
they were the main flowers we used for the tables and the fireplaces."

"The bridesmaid dresses were
found by accident after I ordered a disaster online, which unknowingly
were made very poorly in China (avoid anything that sounds too good to
be true on eBay!).  They were also from L.K Bennett in the sale and I
bought them when only one of my bridesmaids had tried it on, luckily the
others liked them and they fit them perfectly also! When I told people
in the run up to the wedding that the bridesmaids were wearing black, I
got a few funny faces. But I knew they would look classic and timeless,
plus who doesn't want another little black dress!
I loved the material and the cut of the dresses but was
conscious about making them look funkier by using accessories. I wanted
something eye catching which made each one individual. On a girly trip
to London with my sisters, mum, and nan we went into Butler and Wilson and found the perfect hair bands. Each one was similar design and style, but completely different colours and stones."
The bridesmaid's
shoes were also from L.K Bennett. They were peep toe with crystal
studded heels and I managed to get them in the sale!"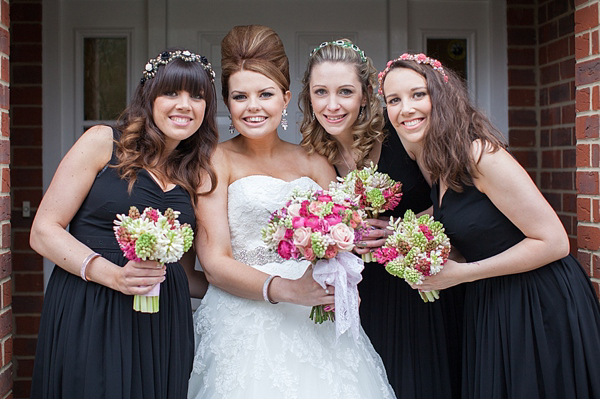 "My dress was Alcanar by Pronovias. I bought it at a gorgeous shop called Anya Bridal Couture,
which is set in a beautiful romantic barn. I cannot recommend them
enough, they were the only shop I would have considered buying my dress
from.  I loved the lace look and knew I wanted quite a
traditional dress. I fell in love with Pronovias dresses when I
downloaded the ipad app soon after getting engaged! I loved the way the
lace cascaded down the dress into the frothy tulle. Even though it was
quite big it was also very light and easy to move in. I felt like a
princess on the day and knew I would always want quite a traditional
style dress.
My veil was also from Anya Bridal, and was made by Richard Designs. It was single length plain tulle."
"My
bouquets were done by the lovely ladies at Arcade Flowers in Ringwood. I
would have loved to have peonies but they were out of season and blew
the budget! So we decided on having sumptuous and full natural look
using sweet avalanche roses, ranunculus, wax flower and pink hyacinth. I
think flowers are the one thing that you are never 100% sure what they
will look like till the day itself. The final result was absolutely
stunning and exactly what I had in mind."
"Our three year old son, Noah was our page boy. He wore an M&S autograph grey tweed suit, a pink shirt from Next, navy blue converse and a mini bow tie to match the groomsmen from Mrs Bowtie."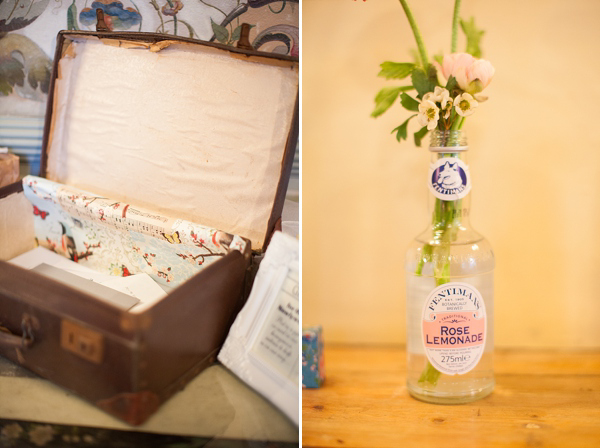 "Our photographer was the gorgeous Hayley Savage.
She did my sister's wedding last year and we loved her relaxed,
journalistic style. Will hates having his photo taken, so it was
important to have someone he felt comfortable with and Hayley was great
at making us both feel relaxed and made it fun."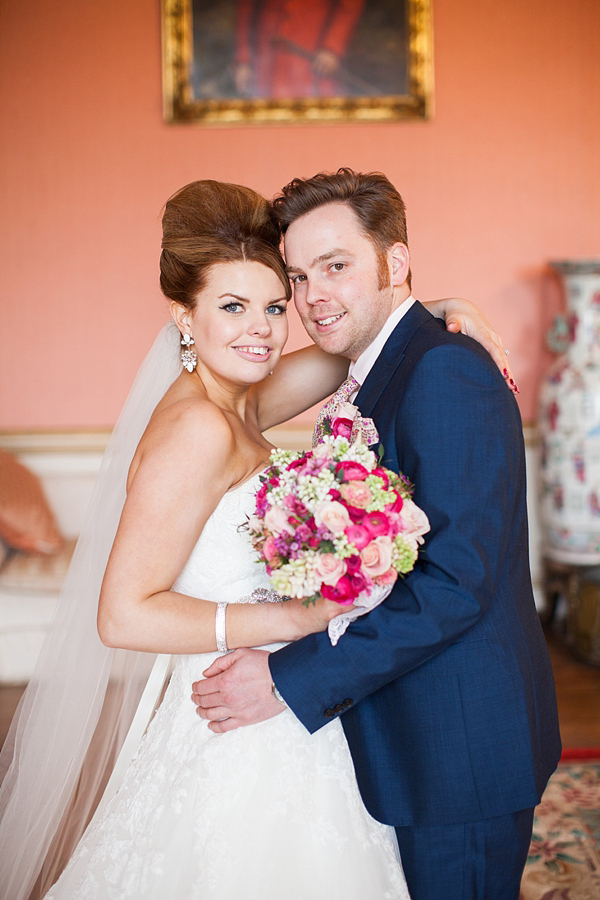 "My very talented bridesmaid and friend Sarah Bland
designed our wedding invites and all other stationary for the day. She
is a freelance graphic designer and was great at capturing our ideas on
paper."
"My makeup artist was
Alice Oliver, and we met at a vintage themed hen do I organised for my
sister. She is uber talented and travelled down from London despite
being ill on the day. I wanted big eyes, with a pale pink lip, and I was
so happy with the results on the day.
My friend Lacey
Hawkins works at Percy and Reed and I asked her to do my hair for the
big day. 'Big' being the operative word as I wanted a full on bee hive.
She accepted the challenge and after a trial at the salon the results
were amazing. As my dress is quite traditional I wanted to stand out and
add another dimension to my look. I have very thick wavy hair and it
was perfect for the style and it didn't move all day (even with all the
dancing!)."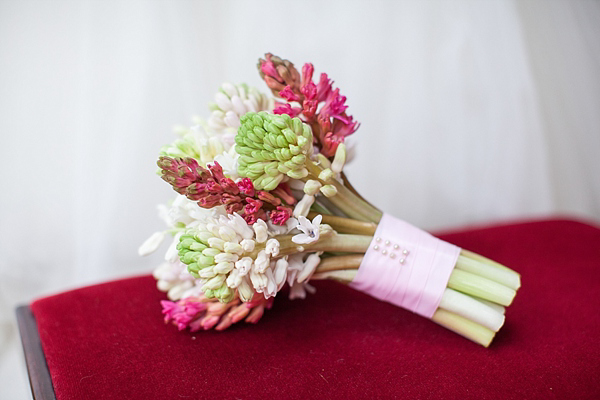 "I ordered a belt from Anya bridal to add a bit of sparkle to my dress, it is called Elizabeth and is from a company called Sash and Co.
It was expensive, but I tried to find other cheaper ones but you really
do get what you pay for. It also added another element to my
traditional lace dress."
"Will's mom has lived in Titchfield for over twenty years and has
a strong connection with the beautiful village church. She actually
helps organise the flowers for the services and weddings! Two of Will's
sisters were married there and our 3 year old son, Noah was also
christened there so there is a strong family connection also."
"The flower girl dresses were from an American company called Fattie Pie.
This was a company I found when looking on etsy for inspiration. We did
have to alter them slightly as the fabric was too white when put next
to my off white dress. So we bought some ivory tulle and attached it to
the sashes, to soften them for the girls. My sister in law Kate took
this task on 4 weeks before the big day and did a fab job."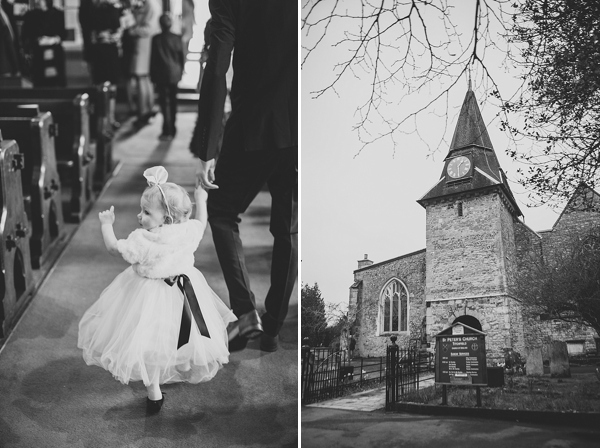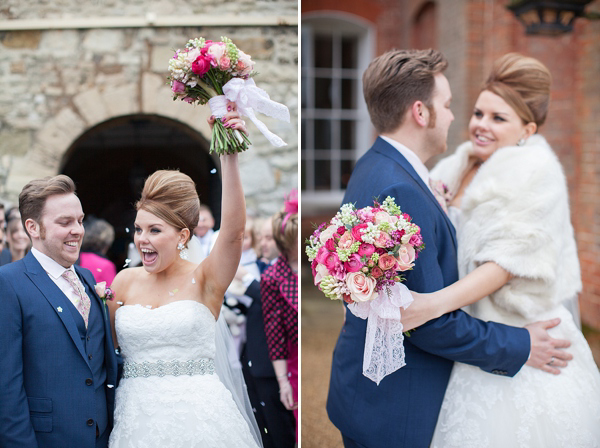 "My
dad Joe gave me away, and it was very emotional walking up the aisle
with him. I am his second daughter who has gotten married in the space
of 6 months so he is an expert on walking up the aisle next to an
emotional bride now.  We used the traditional wedding music which was
played by Keith the organ player. Even though initially I kept thinking
'here comes the bride all fat and wide' nothing else seemed to work and
on the day when I heard that classic music, it made it all real."
"We
used the traditional wedding vows. When we met with the vicar before
the wedding, and she asked what version of the vows we wanted Will was
very quick is responding that he wanted the traditional ones. Not
knowing that this meant I would be saying that I would obey him…. After a
slightly awkward conversation he managed to convince the vicar that he
wasn't some kind of chauvinistic control freak.
We had
the bible reading Corinthians Chapter 13 read by Will's sister Alex. We
both recognised the words from previous weddings we had been to and even
though it is very popular we liked it.  We also had Will's
other sister Kate read the lyrics to 'At Last' by Etta James. I love
this song and I think after being together nearly 7 years it was quite
apt!"
"When
we first started looking at wedding venues we found it hard to find
somewhere that was cosy which could fit our 70 guests, without having
the additional cost of a marquee. I came across the website for Avington Park by accident, and to be honest it doesn't do it justice. We
requested further details as we thought the building was beautiful and
that is when we really got excited, looking at the brochure. We booked a
visit and as we drove down the long winding driveway, with horses in
the fields each side, I got butterflies. It was love at first sight when
we saw the grand house. When we went inside and saw the main hallway
and library, we knew it was the one. It is grand and beautiful yet cosy
and homely with the big fireplaces and rows of books on the shelves."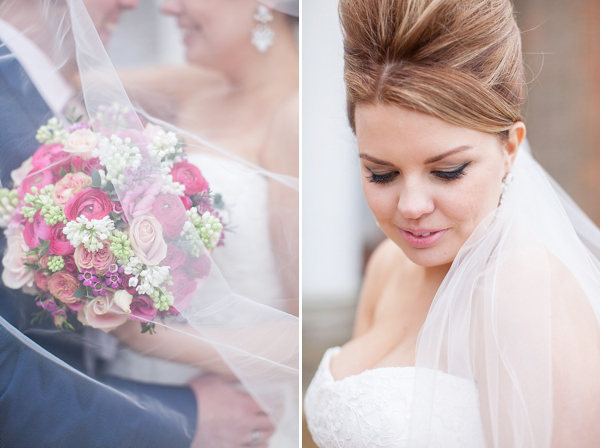 "My sister works for Swarovski so when it came to choosing my wedding jewellery I had an experts help. I ended up choosing the 'Triumphal Pierced Earrings' and the 'New York Crystal Bangle'."
"We bought some large
paper pom poms to fill up the conservatory off the library. We had a
mixture, of pink, white, lilac and pale green and we had a few fun
filled afternoons making them up, the week before the wedding.
We
decopatched some paper mache numbers for our table numbers and various
words around the reception venue. This was a very cheap and cheerful way
of adding a bit of colour to the tables.
We used slate
place mats for the base of the centrepieces, and I spent a weekend
writing some of our favourite song lyrics on them in gold chalk pen.  We
decorated the fireplaces with miniature kilner jars filled with loose
Swarovski crystals and flowers. We also collected a mixture of lemonade
bottles that we used on the tables and the other fireplace with single
stem flowers in."
"I saw a picture of a bride and groom
wearing heart shaped sunglasses in their wedding photos and thought it
looked cool and quirky. So we ended up buying 70 pairs in bulk from eBay
in a mixture of colours. We printed labels on them saying shades of
love. These went down very well with everyone and were good to cover up
the hung over look the next day! We even took them on honeymoon with us
and Will loved walking down the beach in Cornwall with his hot pink
heart shaped sunnies on!"
"Will's
sister Rozzy made our cake for us. She is such a talented baker and the
end result was amazing. We had a lemon cake, filled with lemon curd,
topped with Italian meringue ruffle icing. It was a four tier pink
extravaganza!"
"The Daggers Band were amazing and booked quite last minute without even seeing them
perform. Luckily the bet paid off and they made the evening. They had
everyone up on their feet all night and I am trying to think of another
excuse to have a party so we can book them again."
"Our song is 'Let's stay together' by Al
Green so it was a very easy choice for our first dance. My sister Maisie
and brother in law Steve surprised us on the day by singing and playing
a gorgeous acoustic version. This was such an amazing surprise and made
the song so much more personal to us."
Words of Wedded Wisdom…
"I
would say don't do anything because you feel it 'should' be part of the
day. Don't let anyone influence what you both want. Nothing on your
wedding day should be there to please others. I was so nervous the week
before the wedding that I had constant butterflies. But on the morning a
strange calm came over me, and I think a lot of that was getting ready
in the comfortable surroundings of my parent's house and knowing that
there was nothing else I could do!
I was addicted to reading Love My Dress
during the planning. I loved how I could go to one place to get so many
different ideas and inspiration. It was also nice hearing the stories
behind the beautiful pictures. It also reassured me that even though I
had no theme or colour scheme, that if I went with my gut and it would
all come out ok! When I was told about our submission I was so excited
that I couldn't help but text my sisters and mum, even though it was 3am
in the morning and I was in the middle of a night shift. I will still
be checking out the blog regularly, as I am slightly hooked to all
things wedding.
"We
both said it was great to look around the room at certain stages of the
day and just take it all in. It is mad to think that all the people who
you care about most in the world are all in the same room, just for you.
We also had about 15 minutes to ourselves during the evening when we
put our little boy to bed. It was lovely to hear everyone having fun
downstairs and it was the first opportunity to take in that we had got
married!
Even though some things were forgotten on the
day, and things may have not stuck to the schedule, there is absolutely
nothing I would have changed. The memories will be with us for the rest
of our lives and it was a beautiful day."
What a lovely day! Happy, smiley, colourful and relaxed. Perfection if you ask me.
And to see you out, a lovely little film for you to enjoy over your lunch break…
"I
knew from the beginning I wanted to have a videographer, but as we
started booking various other things the budget was running out. I found
a company called Family Creative online who had lots of experience in
extreme sports, but had only done one wedding video. They were really
nice guys who I think have a bright future in front of them…"
Film Copyright (c) 2013, Family Creative Wedding Films
So there you have it my lovelies, our first wedding of today. What say you? I hope this has put a little smile on your face and please join me in congratulating Will and Alice and thanking them for sharing their photographs and story to inspire us.
Huge thanks too, to photographer Hayley Savage, more from whom you can see on Love My Dress here. You might also want to browse through our pink, red, and Pronovias pages.
With much love,
Annabel
Photographer – Hayley Savage
Venue – Avington Park, Itchen Abbas, Winchester, Hampshire
Brides Dress – Alcanar by Pronovias via Anya Bridal Couture
Veil/Headpiece – Richard Designs via Anya Bridal Couture
Brides Shoes – L.K.Bennett
Bride's accessories – Anya Bridal Couture
Groom's Attire – Next suit + Paul Smith shirt + Mrs Bowtie + notonthehightstreet.com cufflinks
Bridesmaids – L.K.Bennett
Flowergirls – Fattie Pie
Page Boys –Next + Mrs Bowtie
Flowers – Arcade Flowers
Cake – Family
Entertainment – The Daggers Band
Favours – Sunglasses via eBay
Catering – County Catering
Videographer/Film Producer – Family Creative
Stationery – Sarah Bland
Decor – Deco Pompoms