Oh joy of joys! Some weddings are just so ruddy fabulous, I can't stop smiling about this one! These gorgeous photographs were sent in by our sponsor and Brighton based wedding and portrait photographer, Jacqui McSweeney and I absolutely adore them and have a real sense of joy looking through them that I hope rubs off through this blog feature.
Regular Love My Dress reader Louise and Chris tied the knot on 1 June 2013 with a ceremony at Brighton Bandstand, followed by a fabulous celebration at The Cuthbert Pub
and Kitchen, after which the masses returned to the couple's house to continue house-party celebration style.
"Having moved down to Brighton two years ago, we always
knew that if we married we'd want to do it close to home.
We didn't over think the styling of our wedding – no set colour
schemes or anything like that. Although ironically a vast proportion of
our guests ended up wearing blue including all three of my bridesmaids.
Our main priority was making the day as relaxed and fun as possible." 

Love My Dress Wedding Blog – Photography Copyright (c) 2013, Jacqui McSweeney
"Chris and I met in June 2009 at our mutual friend Becky's 30th
birthday. Chris had been to university with Becky and I was living with
her in London in 2009 but we were all down at her parents place in
Hampshire dancing the night away and camping in their back garden.
Chris
and I got chatting and that was that! He proposed three years later on
our anniversary weekend in Bristol and we got married almost exactly a
year later. Becky was one of our bridesmaids."
"I sourced my pink umbrella from Umbrella Heaven."
"I always knew that I wanted a fifties style full skirted
dress and almost as soon as I started looking online I came across
several of Joanne Fleming's beautiful designs and the fact that she is
also based in Brighton was a real plus! Chris had a beautiful bespoke
blue suit made.  Other than that for decorations we just went
for lots of bright colours in terms of our flowers (I wanted quite an
unstructured but fragrant bouquet), balloons and paper poms and we used
our lovely VW camper van to drive up to the pub in.
When it cam to decor, we used yards and yards of beautiful homemade
bunting, created by my bridesmaid Alice's Mum for her daughter's
wedding and she now loans it out!  We also purchased some lovely pastel colour pompoms from Paper Poms UK."
I think what I love the very mostest about this wedding is that Louise had my book Style Me Vintage: Weddings laid out on the side as she was getting ready in the morning.  TWENTY brownie points for you Louise! 😉
"My dress was a design by the fabulously talented Joanne Fleming.  I
loved every single one of Joanne's dresses but particularly liked the
beautiful french lace and the full skirt of the dress I ended up
choosing. Jo is really brilliant and makes the whole process really
enjoyable. Her studio is a real oasis.
My shoes were by Rachel Simpson."
"Our florist was Miss Mole's Flower Emporium. 
Barbara Mole is the best! She is a brilliant guide and excellent
interpreter of what we were after – basically seasonal, fragrant and
full of colour. she did a really lovely unstructured bouquet for me and
then suggested picking one different flower from my bouquet for each of
the bridesmaids bouquets. 
She also did beautiful buttonholes
and the flowers for the pub – a large jug for the bar and then jam jars
of flowers for the tables that we could hand out at the end of the day."
"Not being
religious but wanting the ceremony to be meaningful, the historic
Victorian bandstand seemed liked the ideal location and quite romantic
but also fun to be beside the sea! The idea of being able to go back
there in the future when we want to was also appealing. In terms of the
lunch venue afterwards,we were very lucky that Robin and Susannah had
taken over The Cuthbert Pub
and Kitchen at the end of our road the previous year.
We
knew we wanted a very relaxed vibe and the pub is full of lovely curios
and has a brilliant beer garden. The whole team at the pub are so
friendly and the food creative and delicious! We then ended the wedding
back at our house for a boozy party with lots of music. We love having
house parties and thought it would be a good closer!
The bandstand ceremony was really special and it was amazing having
our friends and family milling around in such a beautiful space in the
sunshine. we also really loved the afternoon at the pub – it just felt
very laid back and joyful."
"My Dad Keith Campbell gave me away to the sound of 'Annie's Song' by John Denver.
We
wanted something meaningful as part of our ceremony and it took a while
for us to find anything that we felt suited the way we thought about
our relationship and marriage but these worked well for us in different
ways.  We ended up using Edward Monkton's 'That Still & Settled Place', and a passage from Louis de Bernieres Captain Corelli's Mandolin."
"We used our own camper van and everyone else was transported by a busy supplied by Brighton & Hove Bus and Coach Company."
"Our photographer was Jacqui McSweeney –
she was completely brilliant from start to finish and captured exactly
the sort of photos we hoped for. She fitted in so well with our day and
her eye for detail is really great. She spent time with us on a
pre-wedding shoot getting to know us and the sorts of photos we wanted
to try and get. Can't recommend highly enough!"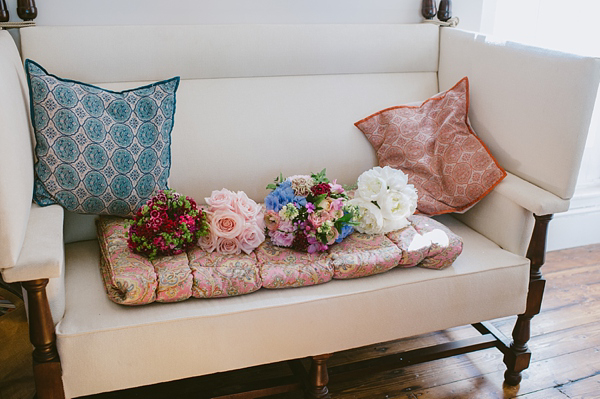 "For the actual wedding day we chose Red velvet cupcakes as we both
love the flavour and didn't want anything too fussy. We went to Cloud Nine in Brighton who were really helpful and created exactly what we wanted."
"Some of the nice extra-touch things we did included me commissioning as a surprise present for Chris a beautiful design by The Storyhouse who take the details of how you met and create an illustrated print.
We were extremely lucky when it came to favours. Chris's mum is
an expert maker of preserves and we had asked if she would do little
pots of jams and chutneys for the guests. She took on the challenge with
gusto and developed the idea much further sourcing cream enamel buckets
which she filled with preserves, homemade chocolates and bespoke sticks
of rock along with lots of other seaside themed treats. Each individual
bucket was wrapped in cellophane and it was a really lovely part of the
day handing them out to everyone as we left the pub."
."
Words of Wedded Wisdom…
"Above and beyond everything
else try to stay relaxed and focussed on what is important about the
day. It's a really incredible feeling when all the planning and
anticipation reach their conclusion and I'd just really say take time to
really notice and appreciate what is going on throughout the day. We
had some really nice time together on the drive from the ceremony back
up to the house and it was amazing to be alone for a few minutes after
the ceremony. Stay true to what makes sense to both of you as a couple
and don't be swayed by the deluge of wedding marketing around! Just do
it your way."
"I actually avoided wedding magazines and
most sites because we both had a good idea from the start of how we
wanted the day and didn't want to get too bogged down in wedding
nonsense! However, almost every time I did a keyword search for a
particular aspect of the wedding or something I was trying to course I
would end up on Love My Dress so was super excited to find that our
wedding would be featured on the site.  The only other one I
read was stylist magazine's wedding blog which was active during the
course of planning mine. Two of the staff members wrote about their
wedding planning and different aspects in the lead up to the day. 
Love My Dress was constantly inspiring because of the combination of
personal stories, beautiful photography and great lists of suppliers. It
just gives a great sense of the joy of a wedding without doing a big
sell or making you feel like you need a check list of things to make
your day complete!"

I more than love this wedding – I'm completely smitten by it. Thank you so so much Louise for your wonderfully kind words about Love My Dress, we so appreciate it and we think you look out of this WORLD in your beautiful 50's twirly Joanne Fleming dress – go girl! 🙂
I don't actually want to finish this blog post – boooo!! If you would like more of the same, visit these pages on our blog to be inspired even further; 1950s, pink, Brighton, Jacqui McSweeney Photography, and Joanne Fleming Design.
I hope you have a gorgeous sunshine filled afternoon dear and much loved blog readers, thanks for visiting today, we hugely appreciate it.
With much love,
Annabel
Photographer – Jacqui McSweeney
Venue – Brighton Bandstand + The Cuthbert Pub
and Kitchen
Wedding Dress – Joanne Fleming
Veil – Betty & Pearl
Shoes – Rachel Simpson
Hair Accessory – Glitzy Secrets + Alex Monroe necklace + Maya Magal bracelet
Grooms Suit – Bespoke from Gresham Blake + Agnes & Norman brogues and shirt, tie and handkerchief from Reiss
Bridesmaids – various own-choice dresses
Flowers – Miss Mole's Flower Emporium
Cake – Cloud Nine in Brighton
Transport – Own camper van + Brighton & Hove Bus and Coach Company
Entertainment – Florentine Quartet
Rings – Wedding Rings Direct
Hair Stylist – Cove Hair
Decor – Paper Poms UK + Balloon Wise
Pink Heart Umbrella – Umbrella Heaven