Morning guys n gals, and how be you today? It's not often we venture over to foreign shores for our weddings but today we're off to South Africa for the wedding of Audrey and James, which took place on 30 March 2013 at Lockestone Farm, outside the small town of Stanford in the Western Cape of South Africa.
Designer Audrey, who was a regular reader of Love My Dress whilst planning her wedding, looked completely elegant and graceful in her Aspen dress by Jenny Packham…
"I actually saw and fell in love with the Aspen gown by Jenny Packham
when Kate Middleton wore a bespoke teal green version. I just knew I
was going to get married in that dress one day.
It is an elegant
vintage-inspired lace and satin gown and sums up my style completely, so
when I found a shop sample for sale online, I decided to buy it then
and there (a ballsy move, considering we weren't even engaged yet!).  I loved everything about it. It was the only wedding dress I ever
really looked at and the only one I could see myself getting married
in.  It was love at first sight."
Love My Dress Wedding Blog – Photography Copyright (c) 2013, Bruce Boyd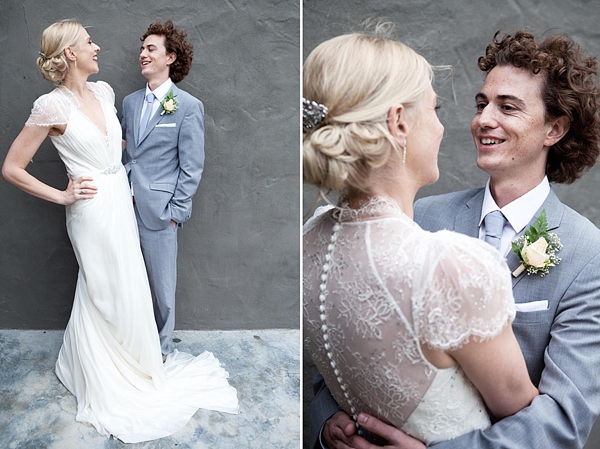 As well as being a talented jewellery and accessory designer, Audrey also runs her own graphics design business Audrey Botha, and created all the couple's stationery herself…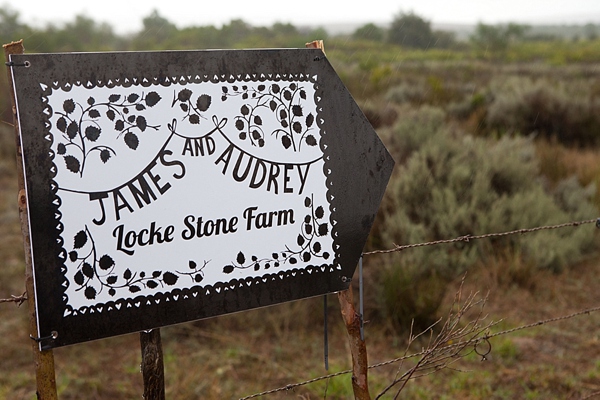 I love this shot below, it captures Audrey looking so relaxed, and I adore the detail in that dress. I love how Jenny Packham gowns have such a delicate, feminine signature…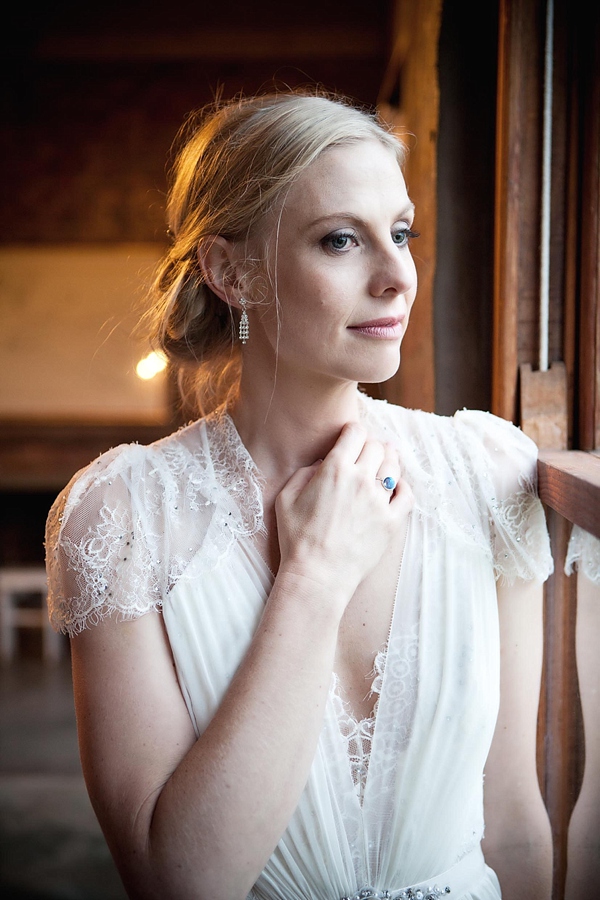 Audrey's shoes were from the 'Du Sud' range by South African designer Errol Arendz…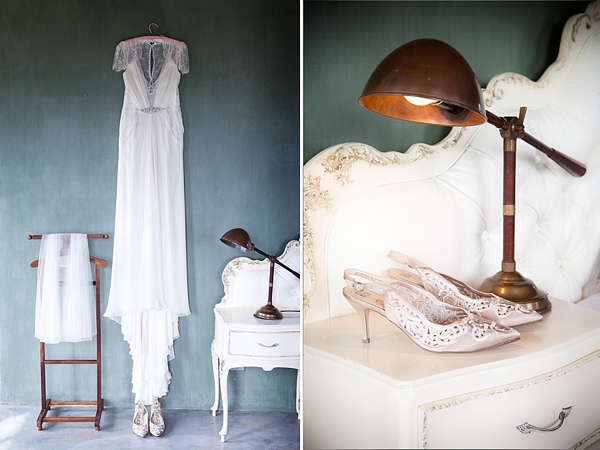 "James and I first met in a bar while out with friends.
He is much younger than me, so even though I really liked him, I didn't
even entertain the idea of us getting involved. He asked me out, but I
couldn't look past our age gap (7 years!). There was no denying that we
had a strong connection though and it wasn't until we bumped into each
other two weeks later in a restaurant and he asked me out again, that I
agreed. We met up for a drink after work and didn't stop chatting for five
hours. It was when he suddenly leaned over, cleared the table and kissed
me in one fell swoop that he sealed the deal. I giggled like a
teenager! We've been inseparable since.
Five years later, he popped the
question at home after cooking me an amazing meal and filling the house
with candles. It was perfect, as we love our home – a Victorian cottage
in the colourful suburb of Bo-Kaap in Cape Town. We ended up dancing in
our lounge, laughing and drinking champagne till late that night, even
our Beagle Otis joined in for a dance! There was little doubt of us ever
being apart, but I did wonder when James would propose. I later learnt
the reason he waited so long was that he had been saving for a very
special ring. It ended up being a vintage inspired illusion setting
white gold ring made with diamonds from his grandmother's engagement
ring."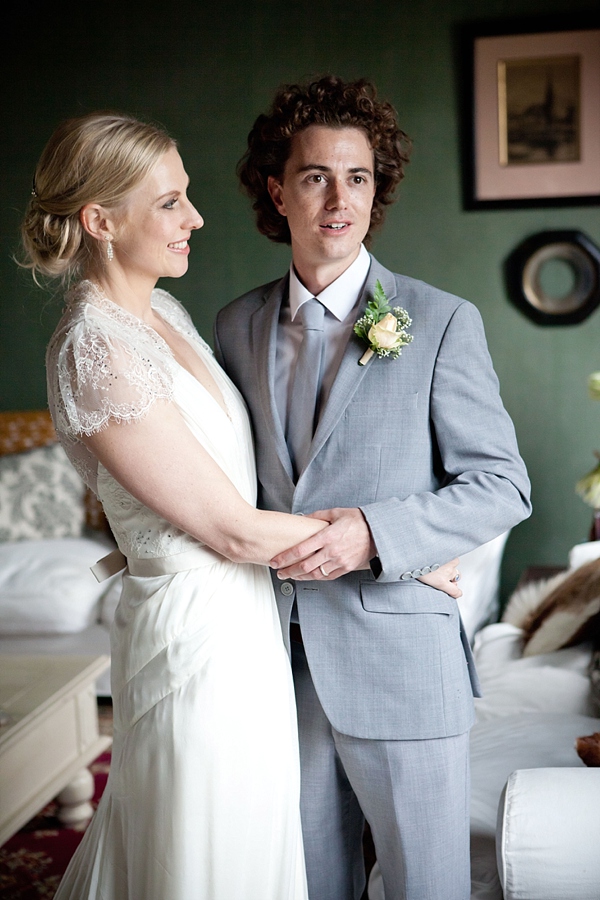 "We painted an assortment of children's Farm Animals
white and tied bells with people's names around their necks as table
settings. People had great fun with these.   We also used vintage lace bunting, retro
disposable cameras on all the table, vintage silver and bronze teapots
used as flower pots, stacks of old books, vintage silver under-plates, an
old vintage birdcage for people to put cards into. The walkway to the
ceremony was lined with old Persian carpets. The arch at the front was
decorated with flowers and we had vintage suitcases stacked next to the
arch."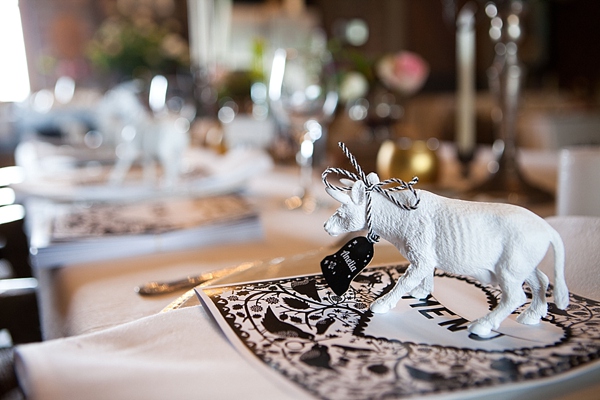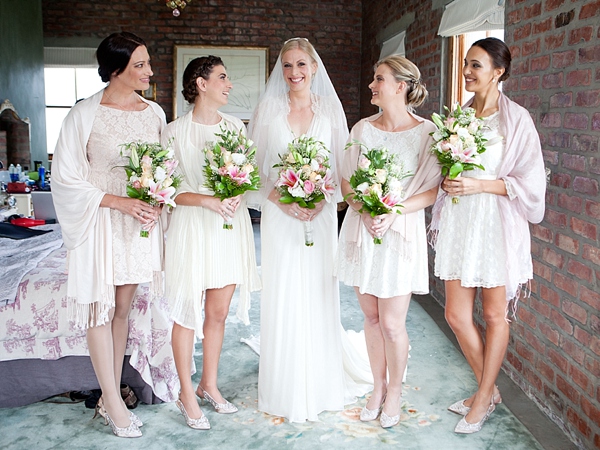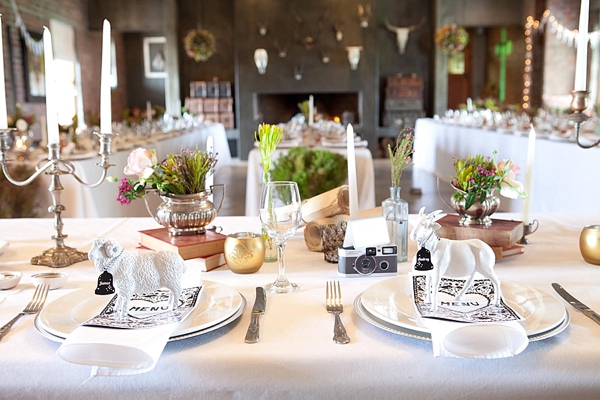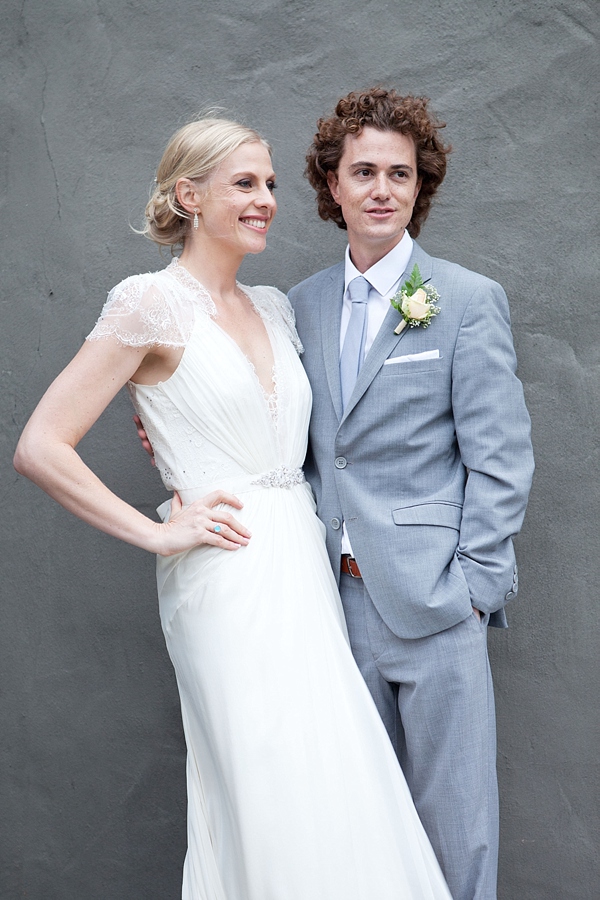 "I spotted pictures of Lockestone Farm on Facebook after a friend,
Dieter Rauch, posted about. He was the architect on the project, and I
immediately fell in love with it! It represented our style as a couple
perfectly – down to earth, eclectic, vintage and welcoming. Incidentally,
guests visiting the farm a week before our wedding put in a surprise
offer to buy the farm making our wedding the first and last wedding to
be hosted at this very special place, as it will be used as a working
farm and private residence in future."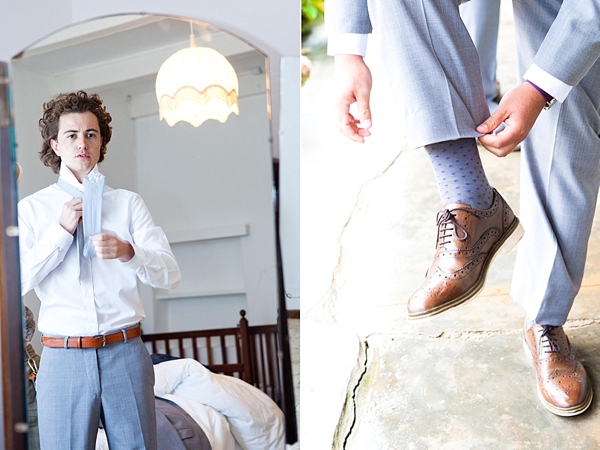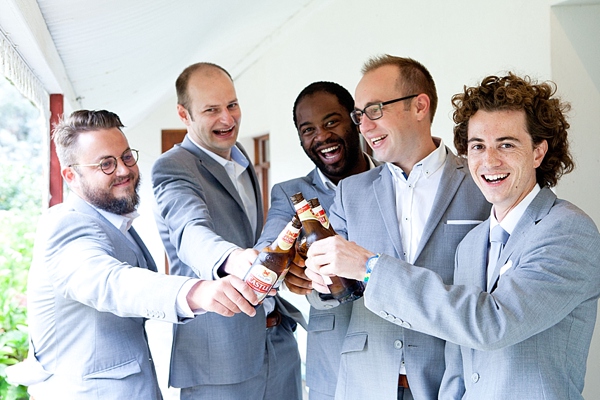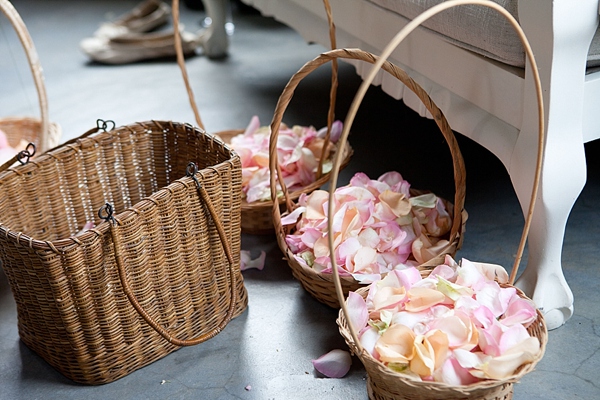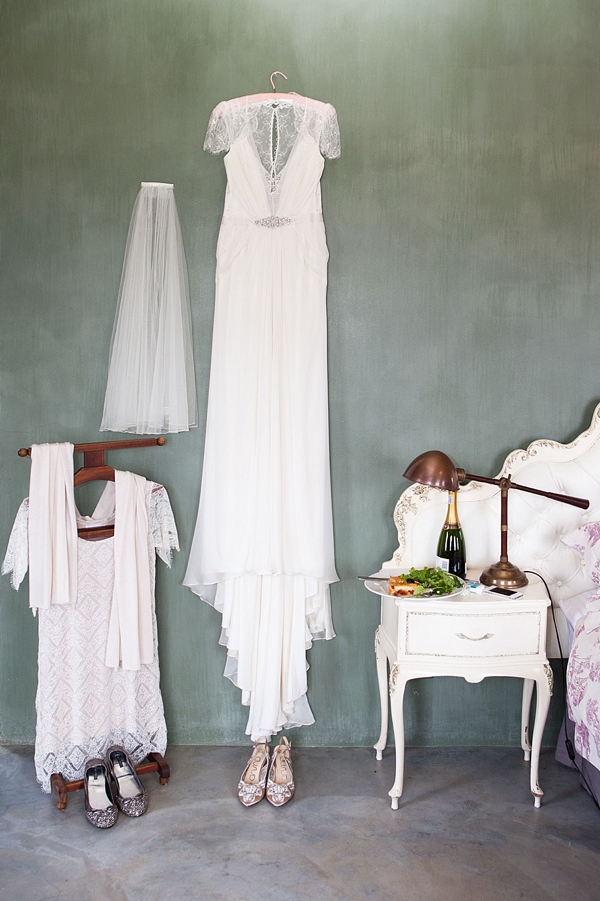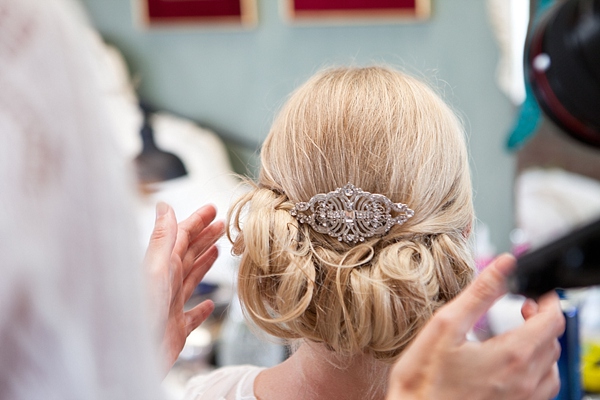 The bridesmaids all wore blue butterfly wing pendants,
earrings and rings from my design business Papillon Belle…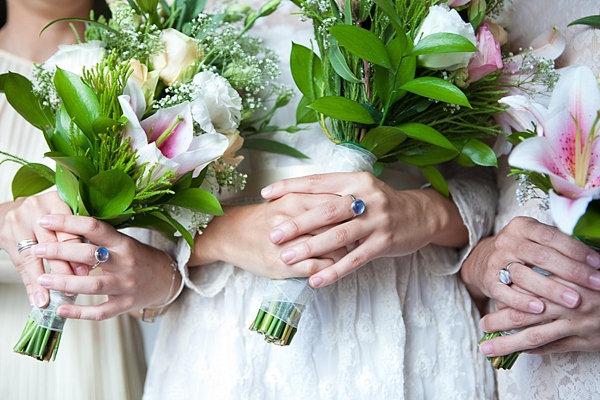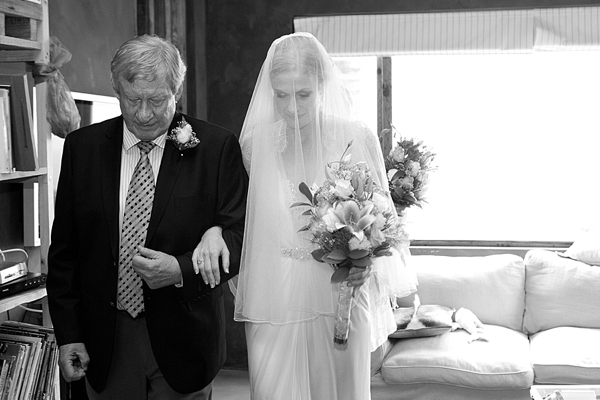 "My amazingly kind, generous and proud dad walked me down the aisle.  We
co-wrote our vows to sound like a private dialogue between us. James's
Aunt read it out so we didn't have to be nervous about speaking in front
of everyone (I'm quite shy when it comes to public speaking!) This gave
us the space to really listen to the words and absorb their meaning."
'We're sitting in different rooms each in our own
quiet space. There is nervous anticipation upon our fingertips, as the
words we are busy writing will soon be spoken to a crowd. Ironically
though, the words themselves hold no anxiety and their meaning will be
easy to hear and believe in.  Collectively we enjoy making
each other happy and one another's day better. Although there is a lot
going on around us today, we'll slow it down so we can remember every
detail. We are going to make life a little funnier for each other, by
laughing together as much as possible.  There are going to be things that
go wrong, that could detract from how we saw the day play out, but
because we are together we'll acknowledge them as part of our journey.
Temptation will arise perhaps, but if it's not on the menu we wrote
together, it's not for us.

I know my faults, but I will try
and be better than them today, as you are precious to me. Later, when
we nervously step onto the dance floor, we can lean on each other and
endeavor to stay in sync, anticipating so as not making the other feel
alone.   Because this is our collective day, I'm going to
look my best for you and I will acknowledge and trust you to appreciate
me for this.  As this is only one day in the many in our
future, we'll keep doing these things until there are no more. We will
strive to treat each other with the love and respect we have for each
other right now, for as long as we know each other.'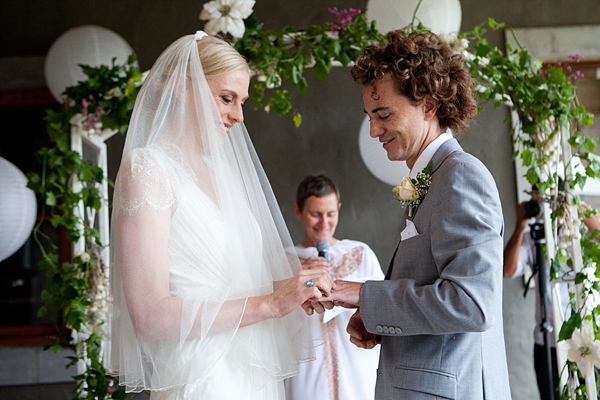 "My sister chose a reading for us. It was an excerpt from the
children's book "The Velveteen Rabbit". We got married on Easter
Weekend, which is why it was appropriate. We all cried our eyes out
though!"
Extract from 'The Velveteen Rabbit;
'For a long time he lived in the toy cupboard or
on the nursery floor, and no one thought very much about him. He was
naturally shy, and being only made of velveteen, some of the more
expensive toys quite snubbed him. The mechanical toys were very
superior, and looked down upon every one else; they were full of modern
ideas, and pretended they were real. The model boat, who had lived
through two seasons and lost most of his paint, caught the tone from
them and never missed an opportunity of referring to his rigging in
technical terms. The Rabbit could not claim to be a model of anything,
for he didn't know that real rabbits existed; he thought they were all
stuffed with sawdust like himself, and he understood that sawdust was
quite out-of-date and should never be mentioned in modern circles. Even
Timothy, the jointed wooden lion, who was made by the disabled soldiers,
and should have had broader views, put on airs and pretended he was
connected with Government. Between them all the poor little Rabbit was
made to feel himself very insignificant and commonplace, and the only
person who was kind to him at all was the Skin Horse.
The
Skin Horse had lived longer in the nursery than any of the others. He
was so old that his brown coat was bald in patches and showed the seams
underneath, and most of the hairs in his tail had been pulled out to
string bead necklaces. He was wise, for he had seen a long succession of
mechanical toys arrive to boast and swagger, and by-and-by break their
mainsprings and pass away, and he knew that they were only toys, and
would never turn into anything else. For nursery magic is very strange
and wonderful, and only those playthings that are old and wise and
experienced like the Skin Horse understand all about it.'
"What
is REAL?" asked the Rabbit one day, when they were lying side by side
near the nursery fender, before Nana came to tidy the room. "Does it
mean having things that buzz inside you and a stick-out handle?"
"Real
isn't how you are made," said the Skin Horse. "It's a thing that
happens to you. When a child loves you for a long, long time, not just
to play with, but REALLY loves you, then you become Real."
"Does it hurt?" asked the Rabbit.
"Sometimes," said the Skin Horse, for he was always truthful. "When you are Real you don't mind being hurt."
"Does it happen all at once, like being wound up," he asked, "or bit by bit?"
"It
doesn't happen all at once," said the Skin Horse. "You become. It takes
a long time. That's why it doesn't happen often to people who break
easily, or have sharp edges, or who have to be carefully kept.
Generally, by the time you are Real, most of your hair has been loved
off, and your eyes drop out and you get loose in the joints and very
shabby. But these things don't matter at all, because once you are Real
you can't be ugly, except to people who don't understand."
"I
suppose you are real?" said the Rabbit. And then he wished he had not
said it, for he thought the Skin Horse might be sensitive. But the Skin
Horse only smiled.'
"We
wanted a non-religious wedding ceremony and could only think of one
person who embodied our perception of spirituality. James' aunt who is a
Brahma Kumari guided us through the ceremony. As she wasn't registered
to marry us legally, we decided  to arrange a civil ceremony a few
months before our wedding took place. Our civil wedding was meant to be a
simple affair at the magistrates court in February, but when we went to
book an appointment, the clerk told us that we had the option to get
married on Robben Island (The place where Nelson Mandela was held
prisoner for 27 years) on Valentines day with 12 other couples. A
signifficant opportunity given South Africa's past and the history of
Robben Island.
We would get ferry tickets, a tour of the island and a
government lunch…this certainly sounded better than getting married on
the third floor of home affairs! So off we went… one of 13 couples to
get married on Robben Island in 2013! It was a strange and surreal
experience (I have included one picture of this day if you would like to
include this story)."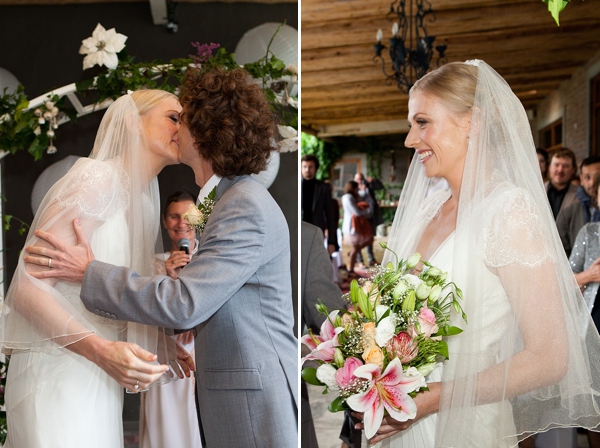 "My
ring was designed by James and made by Linde Collection using stones
from his grandmothers ring. James'
ring was by Nic Bladen and was cast from the root of a
fig tree. This was inspired by a story James told me about his
Grandfather proposing to his Grandmother under a giant fig tree."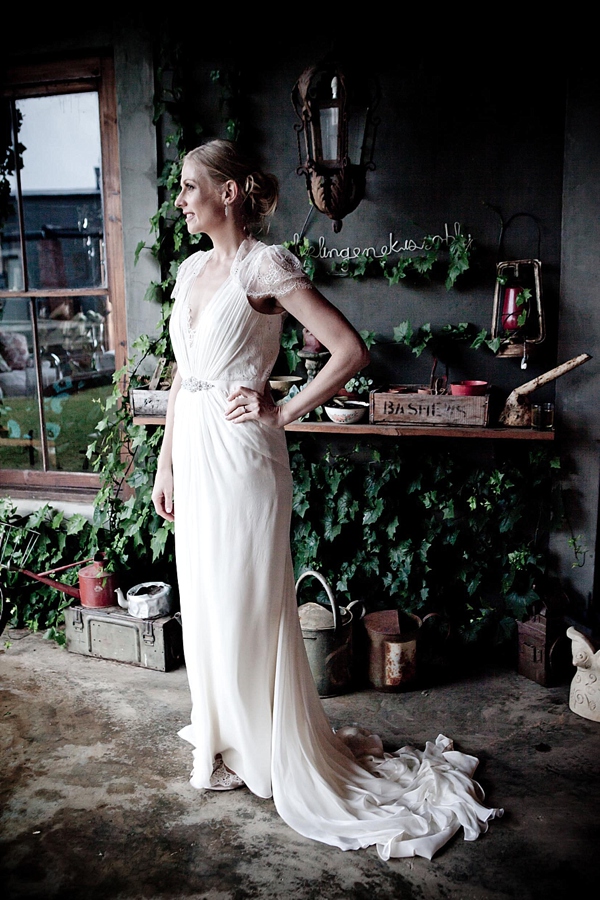 "I'd have to say my favourite part of the day was how
connected I felt to James. There was a gail force storm on the day of
our wedding that caused a power outage…this sounds like a recipe for
disaster, but it actually amplified the feeling of excitement and
anticipation and we made good use of the fireplaces and many candles. It
also forced everyone much closer together, so people really mingled
instead of spreading out.
The storm created a giant rainbow over the
homestead where we got married, which was probably one of my other
favourite things on the day ☺ To me the unforeseen things were all
really a metaphor for what married life is going to be like – life is
full of challenges, but if your relationship is rock solid, you can
weather any storm together. Everything was perfect and I wouldn't change
a thing!"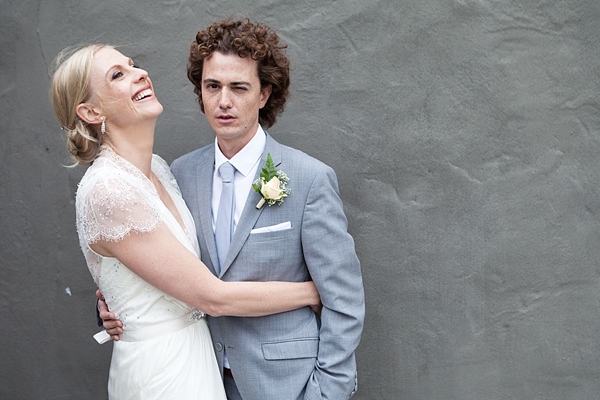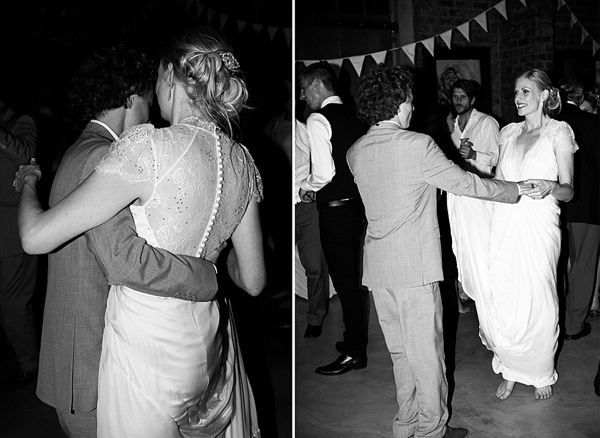 Words of Wedded Wisdom…
"It's hard to think that anything will change after you get married, but it does. It's such an overwhelming and intimate experience to share with your partner and the people you love. My advice would be to try and remain present through it all and absorb as much of the experience as possible. Don't get bent out of shape over things that go wrong, rather focus on everything that is oh so right.
I visited Love My Dress often while I was searching for my dress. Annabel and Franky feature a lot of beautiful brides wearing Jenny Packham, which helped me to see what the dresses looked like on normal people and not just models."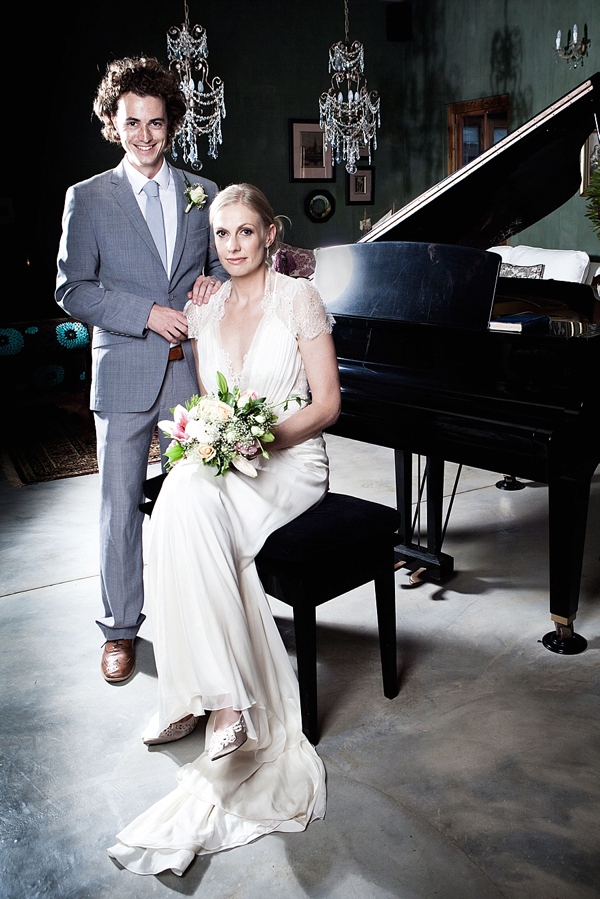 Audrey, you are elegance personified!
Readers, if you have ten minutes spare over your lunch break today, why not fetch a cup of tea and enjoy it over this film of Audrey and James's wedding day…
Film Production Copyright (c) 2013, Tyron Mountjoy
Have a good morning all, back a little later on today with something beautiful for you.
Annabel
Photographer – Bruce Boyd
Venue – Lockestone Farm, outside the small town of Stanford in the Western Cape of South Afric
Brides Dress – Aspen by Jenny Packham
Brides Veil – Elbeth Gilles (South African designer)
Brides Shoes -  Errol Arendz  from his range Du Sud (South African designer)
Brides Hair Accessories – Hair comb by Lisa Katz
Grooms Suit – Euro Suit Hire
Bridesmaids Dresses  – Zara + pendant earrings from Papillon Belle
Flowergirls – Flowers sourced locally & provided by the venue
Cake – The Velvet Cake Co
Entertainment -  DJ – Ben Ludik
Hair and make-up Artist – Colleen van Rensburg
Stationery – Audrey Botha (the bride)