Oh I will be sad when this beautiful sun stops gracing us with it's presence every morning! Another glorious day with a real feel-good factor – thank you Mr sunshine!
This morning's wedding took place last September at The ICA in London, where Ros and Alex's had their Jewish wedding ceremony and photographer Amy Murrell of Especially Amy was there to capture it all on camera.  I love Ros's choice of fun, 1950's inspired dress and short veil to match… 
"My dress was a Justin Alexander design, purchased from wedding shop, Bell Amore.
I had seen the dress online and just had to try it. I went to the
National Wedding Show (Earls Court) with my mum and mum-in-law (who were
egging me on to try everything on) and made a bee line to the stalls
who stocked Justin Alexander designs. I met these ladies (Jo is just
fantastic!), described the dress and made an appointment to visit their
shop in Bexley Heath.  Quite a way from North London, but the service was
worth it.
 
I knew I wanted a tea length dress and this design was
not only a great length (a lot of tea dresses are quite short), but not
too wide or puffy either. The lace and pearly beading is so intricate
and beautiful. I was also looking for something I could move and dance
in."
Love My Dress Wedding Blog – Photography Copyright (c) 2013, Especially Amy
"We met at Bristol University in September 2002, as Freshers living in
the same student halls. Our first date was breakfast at a greasy spoon cafe 
down the road! Alex popped the question in February 2011 at the boutique
Gramercy Park Hotel (NYC) before whisking me off for dinner and
cocktails. We have always loved New York, so it was perfect. That night,
the lights on the Empire State shone for us in the snow. After a lot of
planning and juggling of dates, we married 18 months later. 
We had a couple of influences when it came to styling our wedding.
First, our religion and culture. We wanted our Jewish ceremony and
reception in the same venue, so arranged for our chuppah (wedding
canopy) to be there and separate rooms for the private ceremonies before
the main service. Other choices that reflect our faith include the
bride's veil, covering of shoulders, the food chosen , and of course,
enough room for Israeli dancing in the evening! Second, we both love the
'Mad Men' style and so wanted nods to the 50s/60s, which inspired
clothes, stationery, cake and colours. A bit vintage, without being
themed. Also, we had London touches here and there (the stationery,
table decorations, our seating plan)."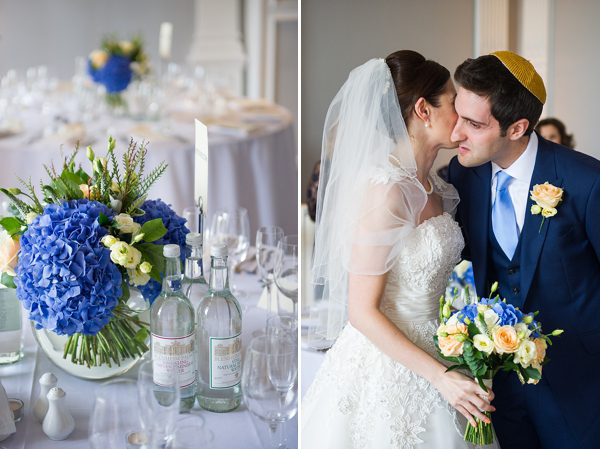 "My shoes were by Harriet Wilde – an independent
British shoe designer. Ruth is just lovely (and very patient) and she
does half sizes (which not all wedding shoe brands do)!  My style was
Ella, without the embellishment."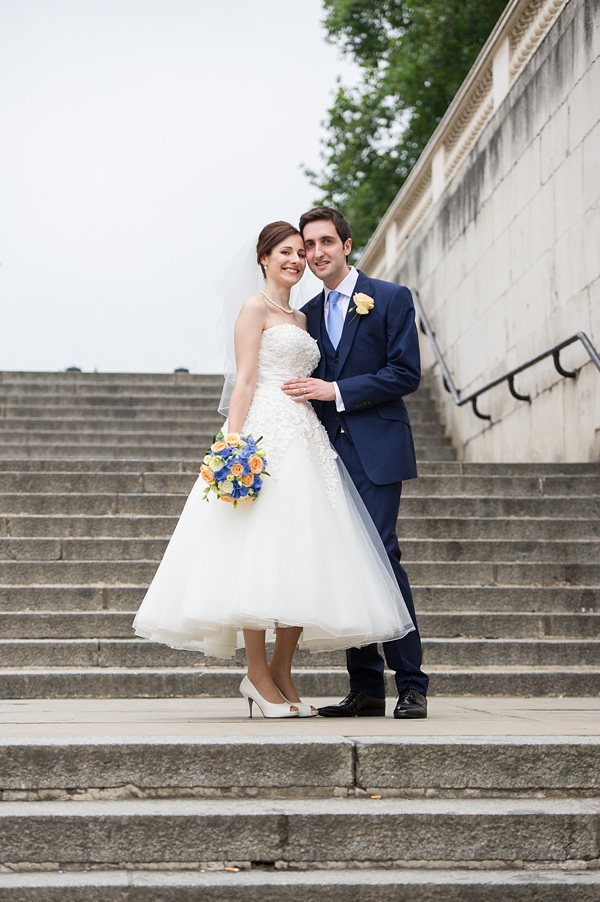 Ros's bridesmaids wore lace ¾ length sleeved dresses in navy blue from Whistles and necklaces from Tatty Devine. They also wore nude patent platform courts from Marks & Spencer.  I love this look! Navy blue will always be one of my favourite colours.

"We
were looking for a central London wedding location that was elegant, yet
contemporary, and a little bit different. We both enjoy London's art
scene, so getting married in a gallery like The ICA felt right – it expressed
something about us. The sizeable light rooms, stunning views from the
balconies, and private garden clinched it for us. Also, we knew the
in-house caterer (Peyton & Byrne) has an excellent reputation (the
quality of the food was important to us). Our guests still talk about
what a fantastic choice of venue is was – not your run-of-the-mill
Jewish wedding!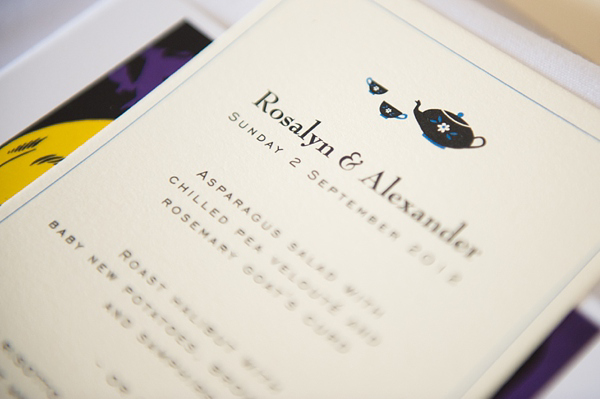 "We used toy London buses and taxis as table decorations, and toy model of London landmarks on mantelpiece, all from Ebay to style the venue.  We also used a polaroid guest book, using a secondhand polaroid camera from eBay and film from The Impossible Project.  We had art postcards (for guests to write messages on) from various London galleries, and wedding postbox from notonthehighstreet.com."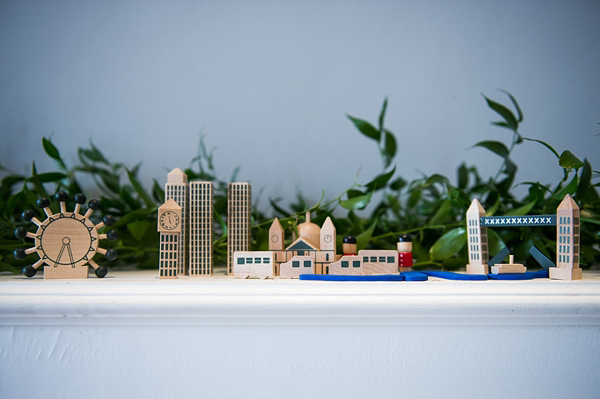 "I wore a short, two-tier wedding veil from a shop in Islington called Angelica Bridal.  It was elbow length with cream satin edging."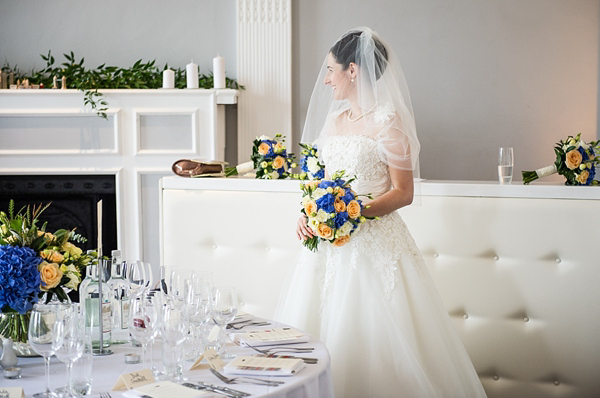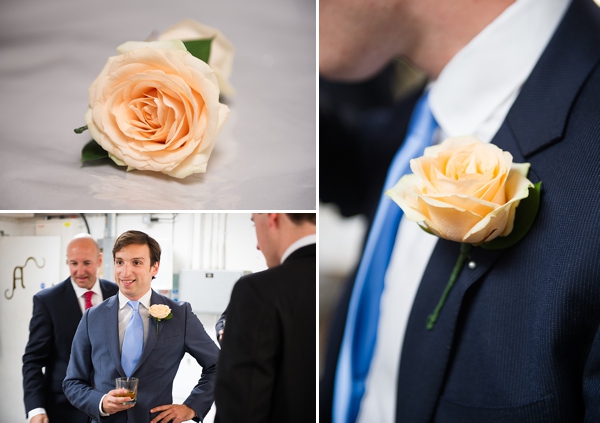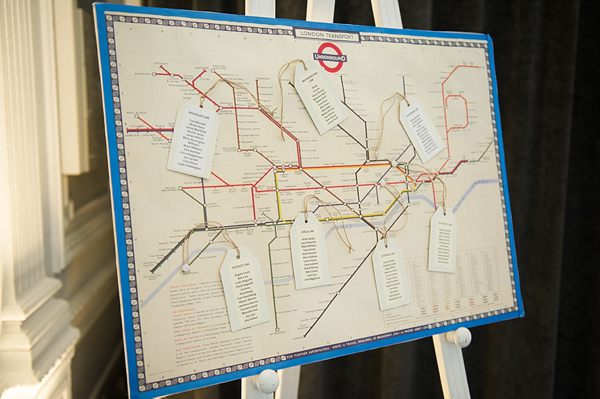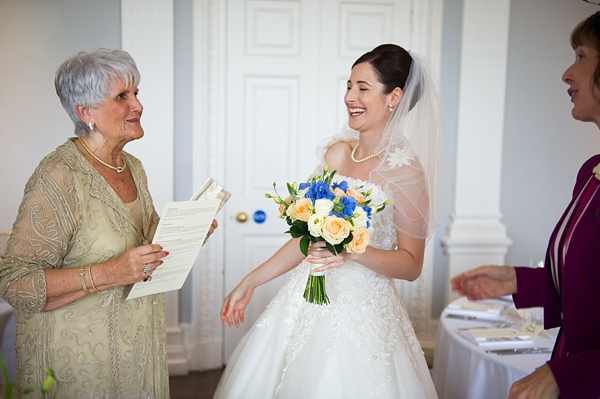 "Rachael Roberts at Vanilla Rose
I had a colour palette in mind: corals, creams and hints of blue. I
wanted it to look fresh and natural, including vintage-looking roses. I
met with Rachael twice, shared photos and ideas and decided on hand tied
bouquet of Avalanche and Marie Jane roses, with dark blue hydrangea,
blue delphiniums, cream veronica, cream lisianthus and eucalyptus, tied
with ivory ribbon.
Bridesmaid's flowers were smaller versions of the
bride's bouquet, and table decorations were similar arrangements in
glass bubble bowls. Colours kept in mind would complement colours of
venue (whites, dove grey) and bridemaid's dresses. I absolutely loved
the flowers, they were gorgeous."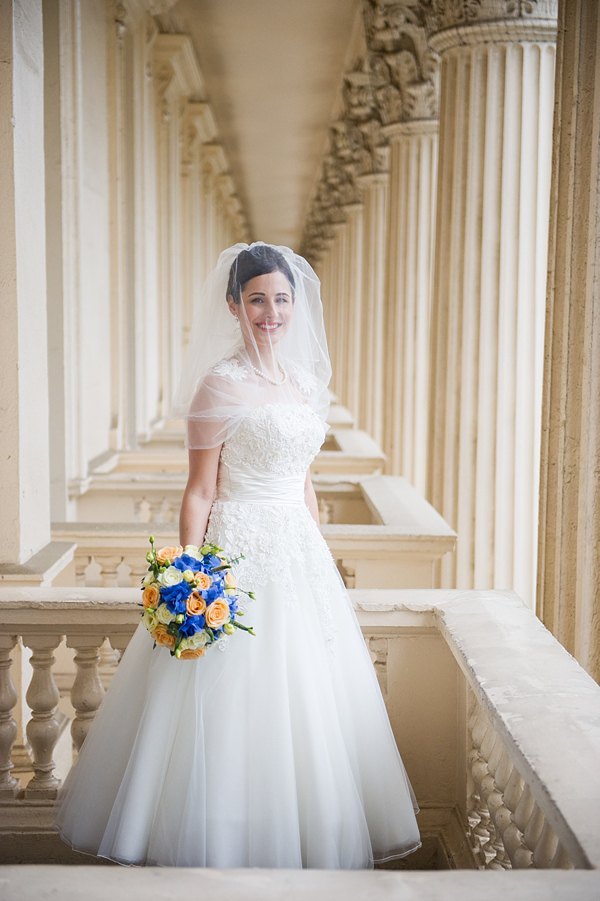 "My parents gave me away to the soun of a beautiful acoustic
version of Erev Shel Shoshanim ('Evening of Roses', a Hebrew love
poem/song).  We asked friends to read the Sheva Brachot (seven blessings) out
in English. Our Ketubah (marriage contract) was designed and printed by
http://www.ketubahkraft.com/about.html It has the traditional Aramaic
text (required by Jewish law) on one half and a contemporary alternative
wording in English that we chose. Here's an extract, which Ros' sister
read aloud at the chuppah…"
'With our community of family and friends as witness, we made
these promises to each other: We pledge to be equal partners, loving
friends, and supportive companions as we walk through life's path
together. We will build our relationship on open communication, honesty,
loyalty and devotion. We pledge to each other our mutual trust and
respect. We will offer support and encouragement for personal growth and
the fulfilment of our shared dreams. May we celebrate the beauty and
happiness of life and comfort each other in times of sorrow. Together we
will create a home filled with laughter, wisdom, generosity and
compassion. We promise to honour our ancestors, families and all living
beings, and we will treasure the traditions we have inherited.'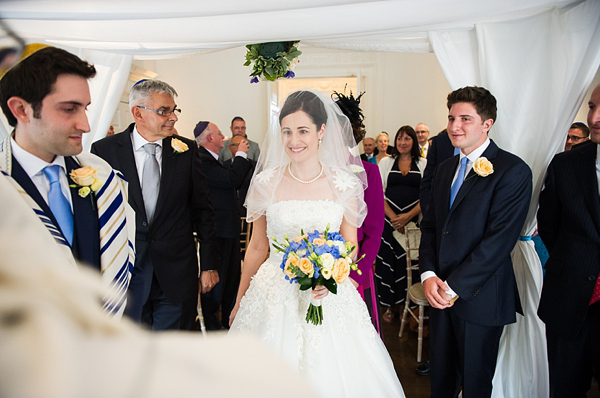 "Our readings included 'Love is a decision, it is a
judgment, it is a promise. If love were only a feeling, there would be
no basis for the promise to love each other forever. A feeling comes and
it may go. How can I judge that it will stay forever, when my act does
not involve judgment and decision." – Erich Fromm, The Art of Loving'.  We were moved and inspired.
I'll never forget our ceremony – it was really intimate and
romantic, shared with family and friends. The Beddeken (veiling)
ceremony beforehand was quite something; the first time we saw each
other after a week apart (which is traditional), all dressed up. All the
speeches were very moving indeed."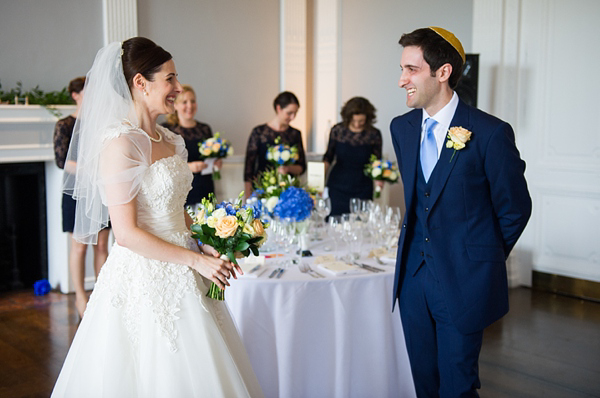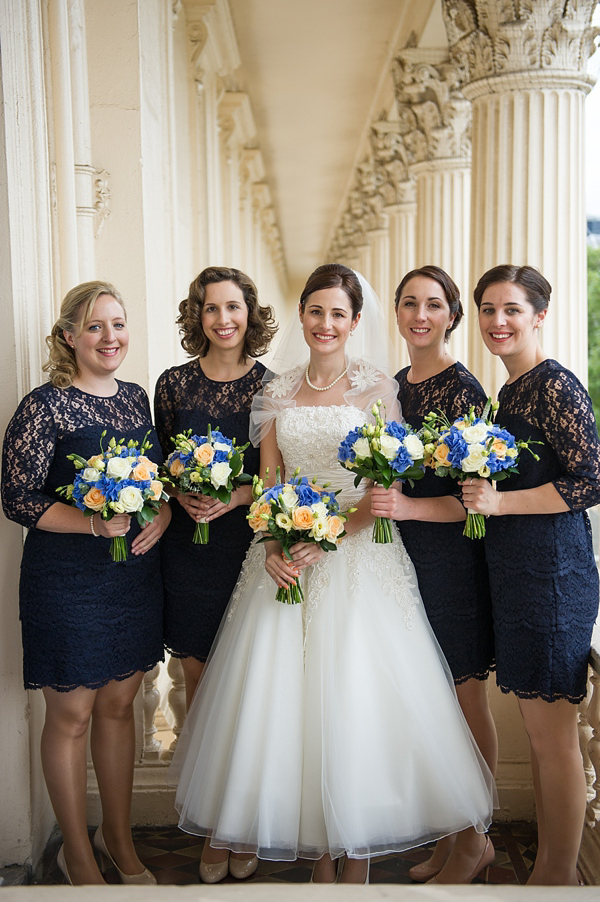 "I loved the quirky vintage touch that
The Frockettes
brought to our drinks reception and being sang into the dining room was
a lot of fun.  Polly and Co. sang old standards such
as 'Keep Young And Beautiful' and 'Anything Goes'. They sang as into
the dining room with 'My Guy'. They were a huge hit with our guests.
Partying whilst looking out over London from the
balconies was wonderful, before being whisked off to The Boundary hotel where champagnes and cupcakes were waiting for us. 

Only one thing: In an ideal world, we would have both liked a live band for the evening, but the prices seemed extraordinary."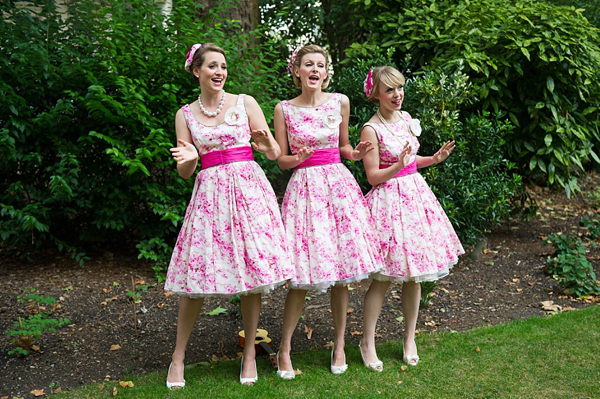 "Amy Murrell of Especially Amy was our photographer.  After
a lot of research, Amy was the only photographer that we chose to meet
for coffee. We chatted, looked through her portfolio again…and then
booked her! We loved her unobtrusive and contemporary style. We knew we
didn't want lots of fussy, formal photos. Instead, we wanted natural
shots, capturing key moments and emotions – which is exactly what we
got! Amy is creative, honest (about what will and won't work at the
venue) and extremely professional – she also has an excellent sense of
humour!
What was particularly helpful on the day was how she kept to
timings, particularly of group shots: she commanded authority without
being bossy. Our photos are wonderful and many guests have asked after
Amy's contact details to pass on to friends/relatives, as they were so
impressed with her."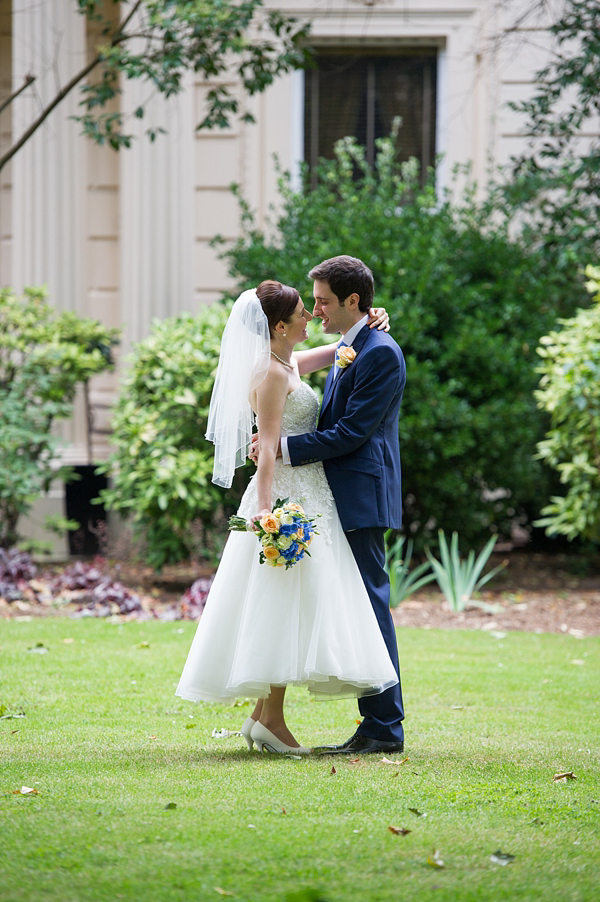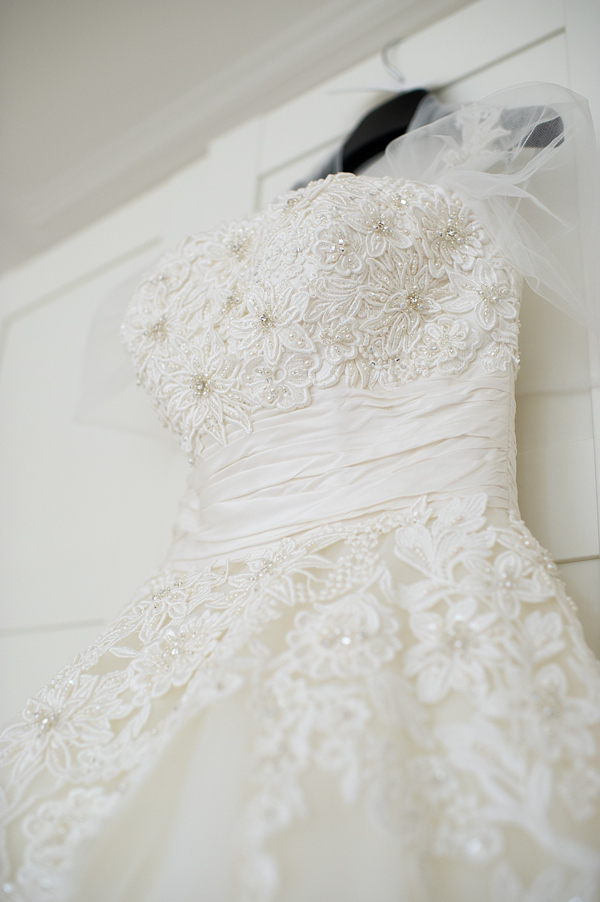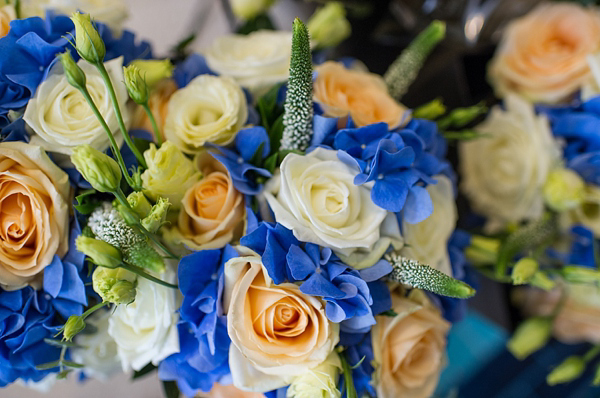 That pretty peachy nail polish colour below is 'June' by Chanel…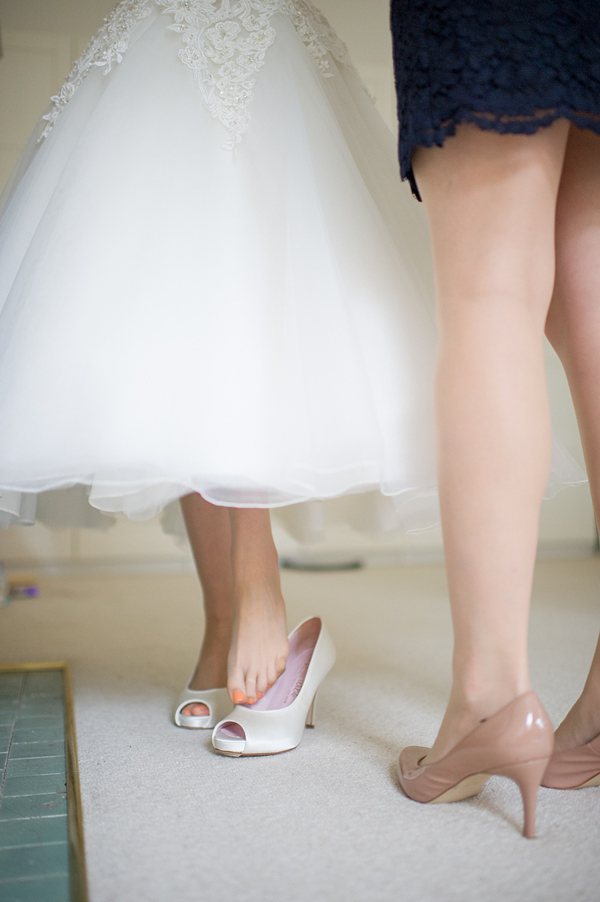 "Natasha Hall (and an assistant) from Pretty Me Vintage.
She was the only company I had a hair and make-up trial with, as I knew
what I wanted (a la Audrey Hepburn). We had a fun trial at Natasha's
vintage-styled home. On the day, Natasha styled me, mum, and four bridesmaids. Such a treat."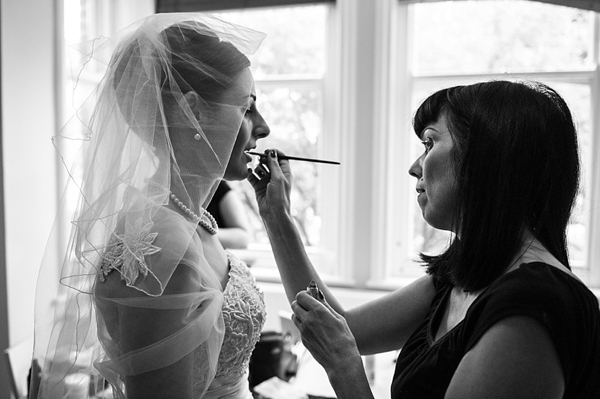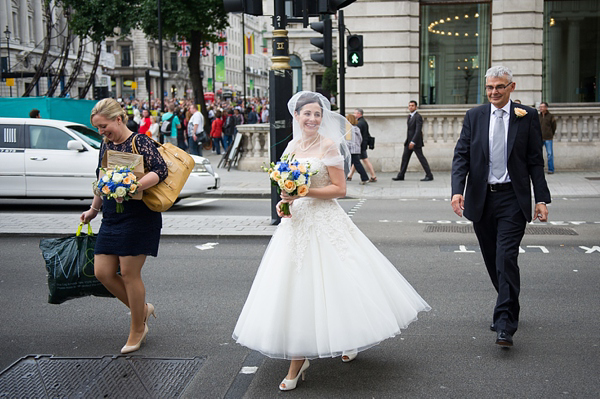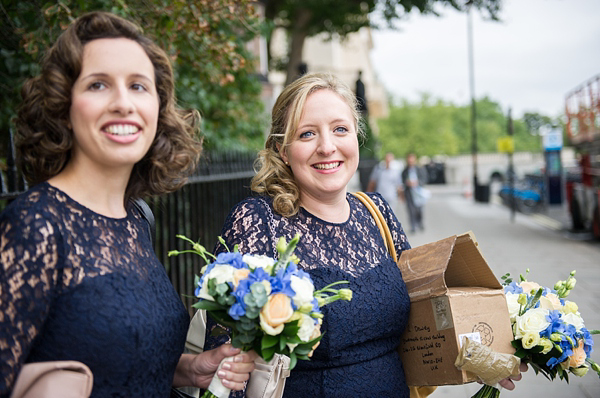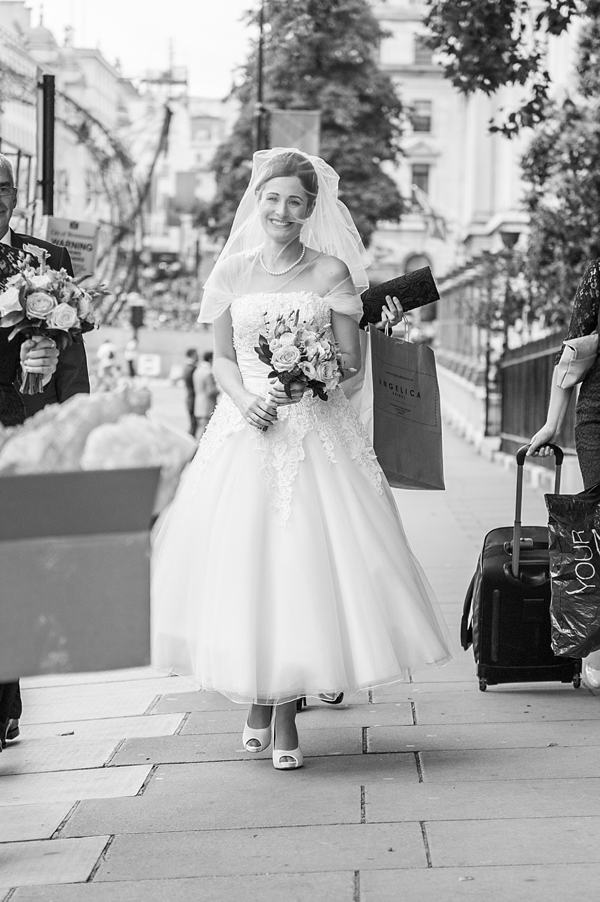 "Jen Cooper at Jen's Cakery Jen and I sat down in her lovely kitchen, discussed the ideas I'd seen (on her Flickr and other sites) and we drew a sketch. I chose a 3 tier vanilla sponge with lemon filling, with ivory icing, decorated with pearly details and wrapped in coral ribbon.
Jen went to a lot of trouble to get the colour match of ribbon just right (the same colour as Chanel's 'June' nail polish that I wore). I wanted the cake to suit the colour scheme, to look elegant and also be delicious – which it was! There wasn't a crumb left!"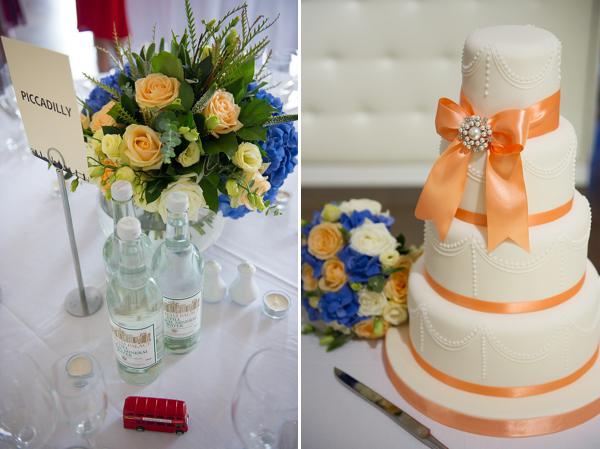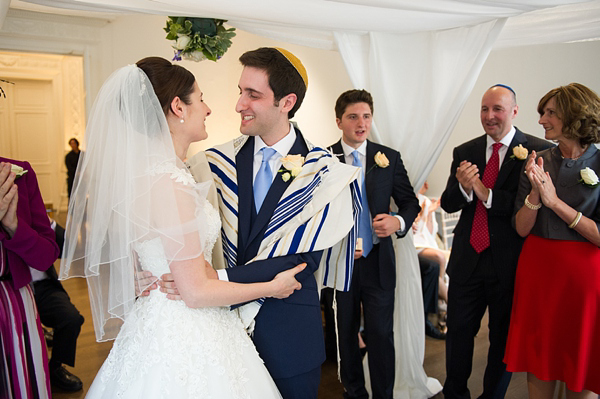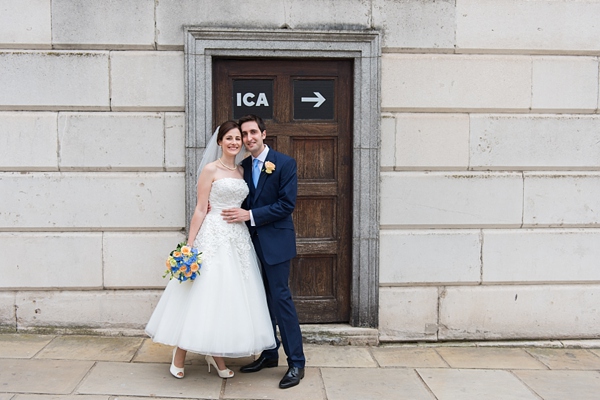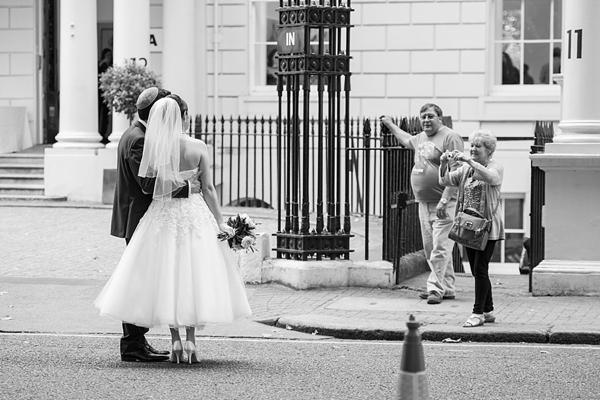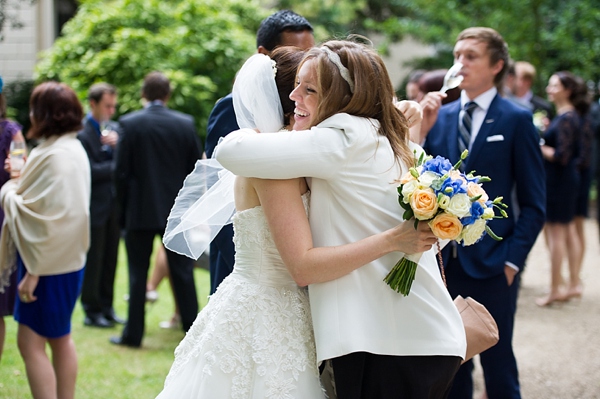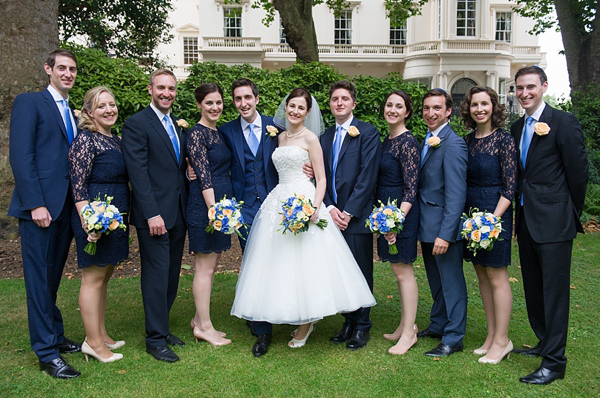 "Jen Cooper at Jen's Cakery
made our cake.  Jen and I sat down in her lovely kitchen, discussed the
ideas I'd seen (on her Flickr and other sites) and we drew a sketch. I
chose a 3 tier vanilla sponge with lemon filling, with ivory icing,
decorated with pearly details and wrapped in coral ribbon. Jen went to a
lot of trouble to get the colour match of ribbon just right (the same
colour as Chanel's 'June' nail polish that I wore). I wanted the cake to
suit the colour scheme, to look elegant and also be delicious – which
it was! There wasn't a crumb left!"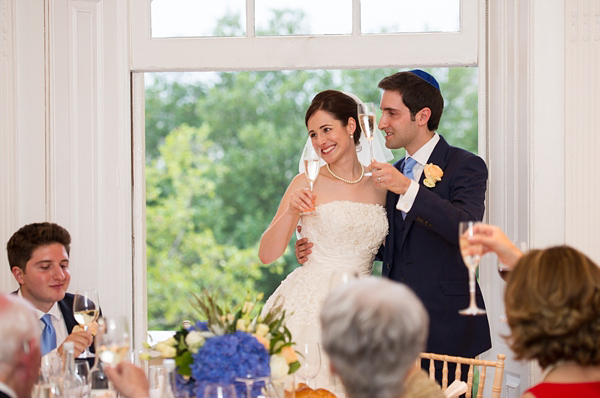 "Our first dance was to the 'You and Me Song' by Wannadies. Simple, fun and upbeat – we
wanted guests to join us on the dance floor! It's about the everyday of
relationships, and we didn't want anything slushy."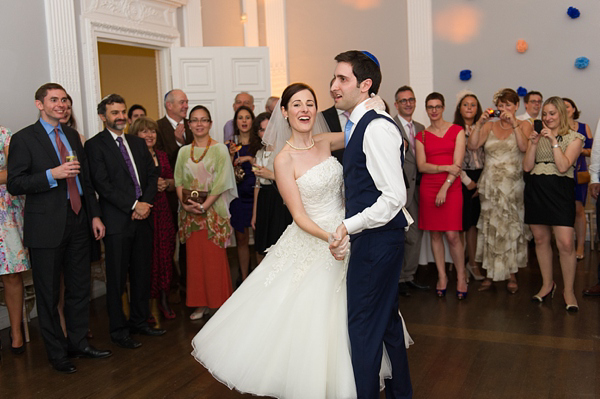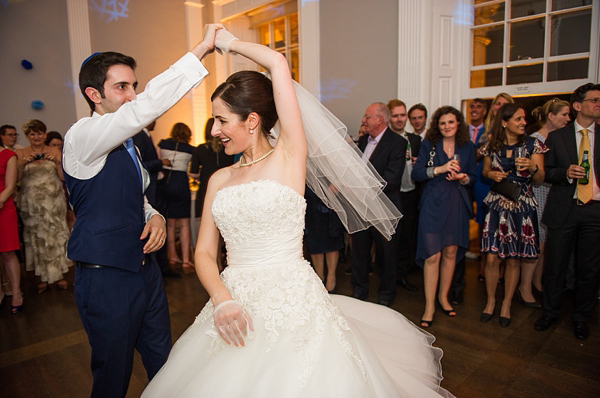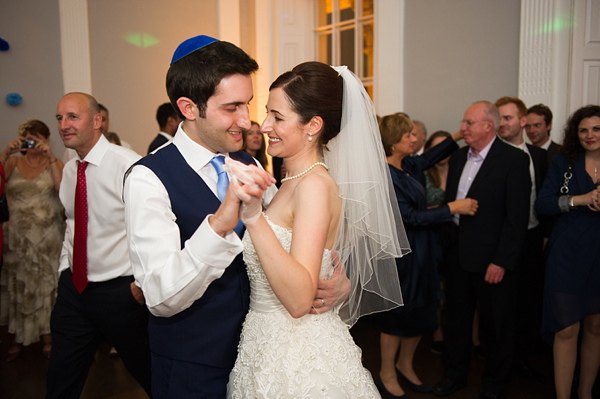 Words of Wedded Wisdom…  
"Don't be afraid to negotiate wherever you can on
prices. Suppliers are open to this, so ask! If they won't give you
discount, then what else can they include in the price?  Plan
ahead and look out for 'holiday' online deals e.g. we bought our
stationery online at Christmas, Prosecco on bank holidays, sign up for
e-newsletters and use those discount codes! Digital printing is much
cheaper than letterpress stationery.  
It's easy to get lost down the rabbit hole of research online and
overwhelmed with quotes. Only contact your top 3 suppliers for quotes
and then choose from them.  I met every one of our major
suppliers in person. Don't forget that it's not just the product you're
buying, but the service – ask yourself: are they the kind of person that
you'd like involved in your big day, do I like working with them? If
not, don't book them!  
Be honest if you don't like a dress you're trying on.
As Jo at Bell Amore, the shop I bought my dress from, says 'Dresses don't have feelings!'Get it off quick
and try on something else!'  Although brides have in mind a
particular style of dress, be prepared that, in reality it may not suit
your body shape. Experienced staff in wedding shops should be able to
recommend styles to try on by listening to what you're looking for and
then advice what will be flattering for you. My idea of a slinky 1920s
number went out the window, it just looked awful on me!  
I had particular flowers in mind and then discovered
that as September is end of summer, a lot of the brighter are (of
course) dying off. Fortunately Rachael sourced for me, but a lesson
learnt in bearing the season of your wedding in mind when making
choices." 

Ros, I think we share much by way of our sense of style! Everything is beautiful!
You can explore more Jewish wedding ceremonies on Love My Dress here – you can also explore more orange, blue, peach and London weddings too.
I genuinely love this wedding dress – you don't happen to be a Justin Alexander bride do you? I'd love to hear from you if so.
Many thanks indeed to photographer Amy Murrell of Especially Amy for sharing these images with us all today and of course, congratulations to you Ros and Alex – not long now until your first wedding anniversary! I say you ought celebrate in style 🙂
With much love, 
Annabel

Photographer – Especially Amy
Venue – The ICA in London
Wedding Dress – Justin Alexander
Brides Veil – Angelica Bridal
Brides Shoes – Harriet Wilde
Brides Accessories - Lovett & Co + lace wrist-length gloves from Vivien of Holloway
Grooms Suit – Navy blue suit and waistcoat  from Reiss + cufflinks Paul Smith +  shoes Kurt Geiger + shirt Thomas Pink + blue silk tie Roderick Charles
Bridesmaids – Lace ¾ length sleeved navy Whistles + Tatty Devine jewellery + nude patent platform courts from Marks & Spencer
Flowers – Vanilla Rose
Cake – Jen's Cakery
Transport – Wedding Taxis
Entertainment – DJ Matt Maurice + The Frockettes
Additional Styling – hanging pom poms in blue, coral and cream 
Rings – Wedding Rings Workshop via Hatton Garden
Catering – Peyton & Byrne
Wedding Stationery – Hello Lucky
Makeup Artist – Pretty Me Vintage
Chuppah – Essential Wedding Hire decorated with silk flowers (similar to the fresh flowers).