Whilst predominantly, Love My Dress features UK weddings, every now and then, I like to dip in to another culture and feature a wedding from somewhere completely different, as it kind of fascinates me to see how other cultures honour the tradition and ceremony of marriage. This morning's real wedding is one that took place in Romania in June, when Roxana and Stefan tied the knot.  The couple, who have been together since they were just 19, met
through friends, and got engaged in 2006.  They decided to style their
wedding around Roxana's love of the colour burgundy and shoes – hence
the rather epic pair of Badgley Mischka heels!
Both Roxana's full-circle
dress and short, sweet, pouffy vintage inspired veil were
created by Romanian designer Natalia Vasiliev…
"I
knew I didn't want a long dress and the 50's style was the most
appealing. I loved the feel of the duchesse silk material.  I
specifically asked the dress designer, Natalia Vasiliev,
to consider the style and colour of my shoes, (yes, I bought them
first!).  She also created a short vintage inspired veil to complete the
overall look akin to the fashions of the 1950s."
Love My Dress Wedding Blog – Photography Copyright (c) 2013, Kalura Photography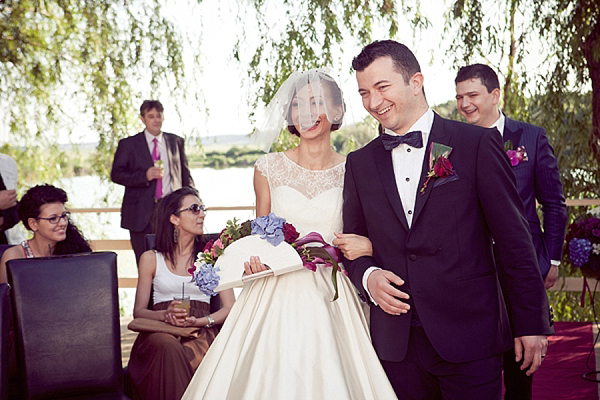 Gorgeous shoes by Badgley Mischka…
Did you know that in the Romanian Orthodox church, the bride and groom
choose a married couple to become their 'Godparents', and it is the
'Godfather' who gives the bride away?  It is also traditional for the bride and groom to be presented with a crown during the wedding ceremony, which is associated with particular blessings made upon the couple and
sets them up as the 'king and queen' of their newly created family.  Fascinating isn't it?
You can read more about Romanian orthodox wedding traditions here.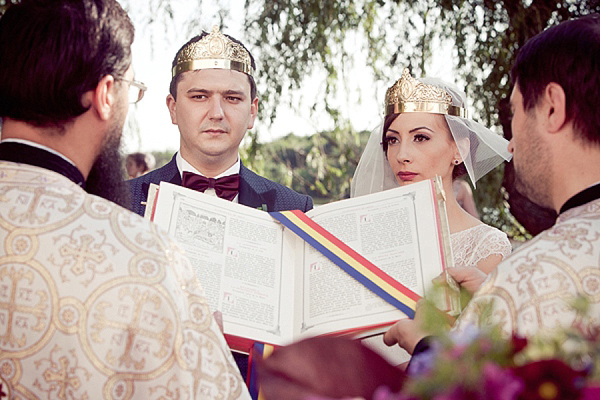 Of course brides the world over use scent on their wedding day to complete the way they look and feel. We've explored the notion of wedding day scent and perfume in quite a bit of detail already here, and there is chapter devoted to it in my new book too.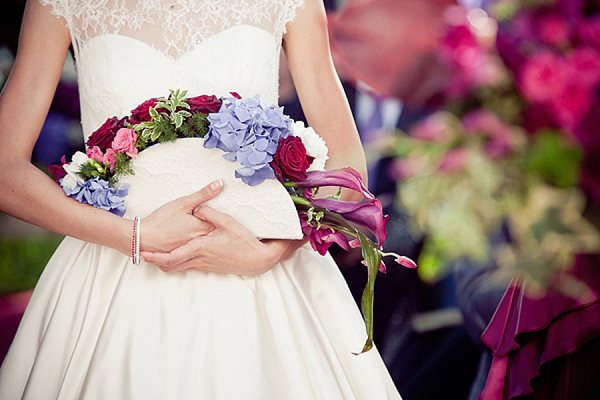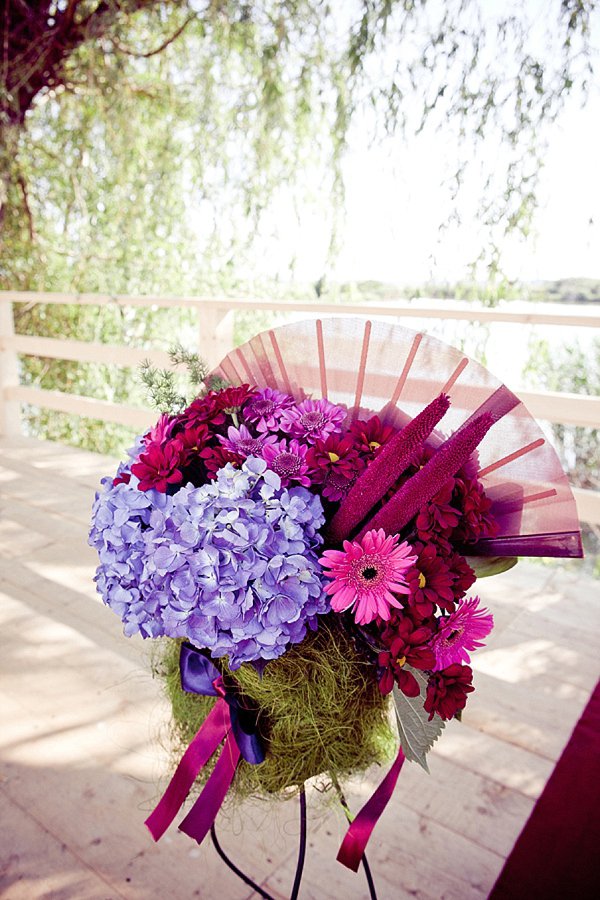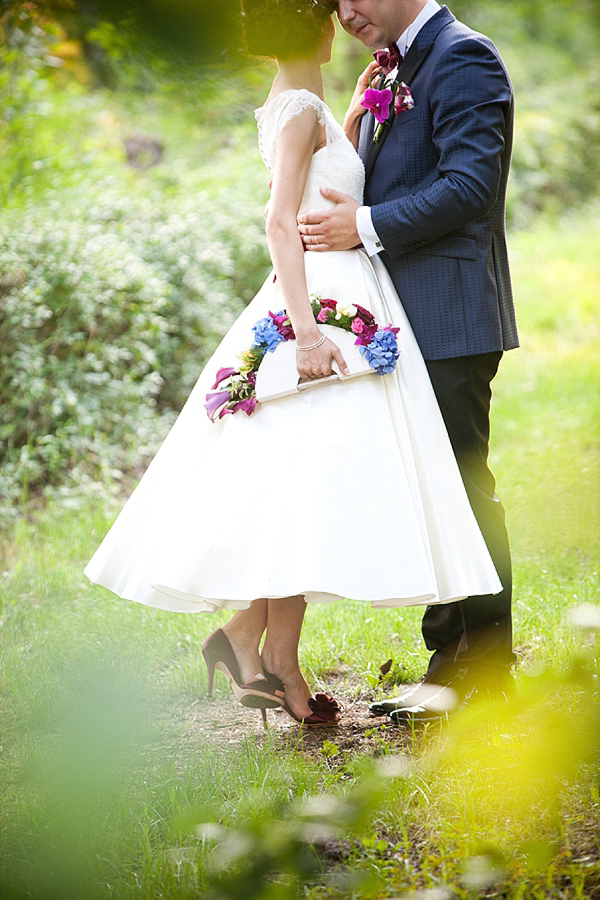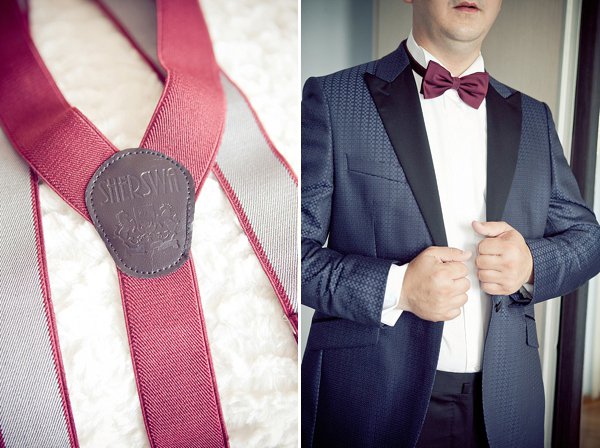 It's still custom to provide favours in Romania, and so all the
female guests received a hand held fan to keep them cool, and the gents
received cigars tied with blue ribbon…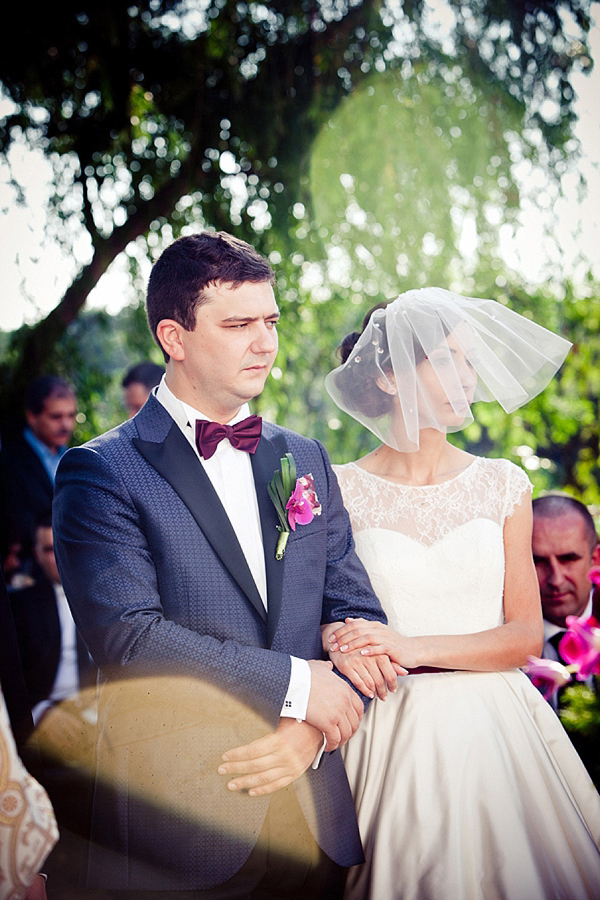 "The bridesmaids dresses were from Poema, but each bridesmaid added a personal touch/some customisation to her dress."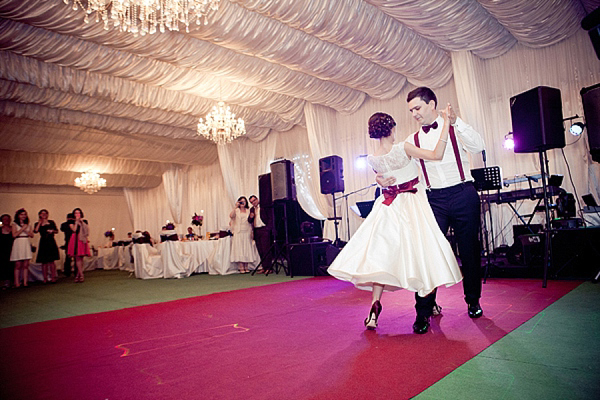 Words of Wedded Wisdom…
"If you aren't a well-organised
person, hiring a wedding planner is a must. If you decide to organise
the wedding by yourself, be prepared to delegate tasks and never expect
them to be completed as you intended.  Pay attention to details. They
personalise your event and make it stand out from all the other weddings
your guests may have attended.

Hire people with initiative. They
participate in many events, so they know the right people to contact and
they may give you ideas you would never have come up with on your own.
Plus, I always appreciate people who are able to work independently
without asking you for solutions all the time.
Don't let your family's pressure and ideas get to you. For me, they were the main source of stress.
My favourite moment of the day was when Stefan came to my mom's house to
pick me up and he first saw me in my wedding dress. His eyes told me
that he had fallen in love with me for the second time.  There's nothing
I would have done differently. Sure, there were some things that didn't
go according to plan, but I learned to accept these changes. After all,
Stefan married me with or without Grenadine syrup in our champagne
glasses."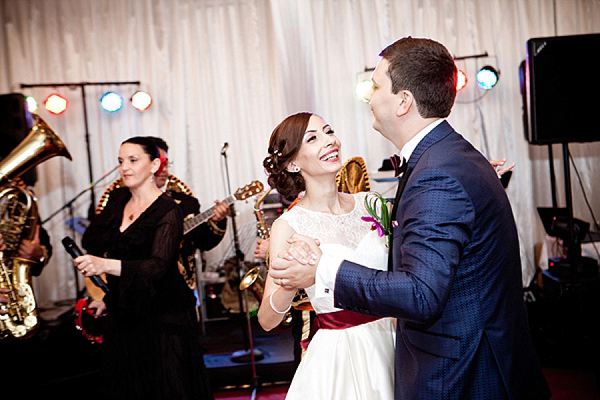 I'd like to thank Raluca of Kalura Photography for sharing these images and inspiring me even more in to the fascinating and beautiful world of weddings.
Check back at lunch time folks, if you're at the stage where you're looking for a table plan and place names, we might well have something pretty useful for you.
Annabel
Photographer – Kalura Photography
Wedding Dress – Natalia Vasiliev
Brides Shoes – Badgley Mischka
Brides Hair Accessories – Picasso + bracelet by Oliver Weber
Grooms Suit – Louis Purple + bow/pocket square by Steilmann
Bridesmaids – + hair accessories by Forever 21
Florist – Oana Ghermanschi
Cake – Cofeteria Michelle, Craiova
Entertainment – Black Box Band + Ela Danhi, Jazz singer + Ringo Mariachi Band