Top of the morning all! The real wedding I'm going to share with you right now is a fabulously stylish take on the 1950s retro high school prom with lots of fabulous London city touches – a real city-chic affair, and these beautiful image were sent in by the award winning (and truly lovely) photographer 
Anushe Low.

Katy, a showroom manager for Farrow and Ball, and Tim, an Executive TV
Producer, tied the knot on  Saturday 5th May last year at Somerset House
in London…
"The
theme for our wedding was 1950's American high school prom.  Tim is a
big fan of rock 'n roll music, vintage 50's cars and all things a bit
retro.  I love the styling and the fashion of that era and grew up
obsessed with Grease.  We also thought the prom theme could incorporate
my love of 80's teen movies (think Pretty in Pink).  I always wanted to
be prom queen and this was my chance!
Our wedding day was a real blend of both our tastes – certainly not
all about me.  Everyone said on the day that it was so 'us'.  Tim's
only wish was that I arrived in a classic 1950's Cadillac convertible. 
He found the perfect white one with blue interior at Dream Cars in
Redhill.  After the ceremony Tim and I were driven
over Waterloo Bridge in the car, which I'm pretty sure was Tim's
favourite part of the day.  It had started to drizzle by then so it
definitely wasn't mine!"
Photography Copyright (c) 2013, Anushe Low
"We
really wanted to get married by the river as it held so many special
memories for us as a couple.  We viewed Somerset House early on in our
search but were a little concerned that it was too grand (and expensive)
for the type of wedding we had in mind.  However, after looking at
other venues we both decided that we really couldn't beat the
amazingness of Somerset House and the fact that it sits next to Waterloo
Bridge (our song is Waterloo Sunset by the Kinks) was the cherry on the
cake.We
wanted our wedding to be fun, relaxed, informal and memorable. 
We like
to be a bit different and aren't really a soppy couple so didn't want
things to be too traditional or sentimental.  Our
colours were red, white and blue, which obviously tied in with the
American theme but also gave a nod to the union jack (particularly as it
was the diamond jubilee year)."
"We originally met in February 1998 at my sister Jess's house-warming party.  Tim came to
the party with his friend Steve, who was a friend of a friend of my
sister.  Steve met my sister for the first time that night.  I
was 17 and Tim was 23 and I thought he was a bit of a show-off.  He
worked in TV and thought he was pretty cool.  He thought I was just a
silly student.  6 years later, Steve married Jess and Tim and I met
again at their wedding.  I was a bridesmaid, had been single for 9
months after a 6 year relationship, and wasn't in the mood to be chatted
up in front of my extended family.
Tim persevered all night and
although he charmed me I didn't give him my number.  Tim was so keen he
called Steve later (on his wedding night!) to make sure I got his
number.  I texted him a couple of days later and we went on out first
date to the OXO Tower.  It was love at third sight and we clicked
straight away.  We had our first kiss by the river, which was very
romantic, as far as I can remember (I'd had 5 cocktails by that
point!)."

"From then on, you couldn't keep us apart. 
Tim wined and dined me and we spent a lot of time going out on the South
Bank and along the Thames as Tim lived nearby.  After a couple of years
I moved from North to South London and Tim and I began living together.
"From our first date in September 2004, we dated for 7 years until Tim (finally) proposed on New Year's Eve 2011 on London Bridge.  I was really ill and just
wanted to stay at home but Tim forced me out to dinner on the South Bank
and a reluctant walk by the river just before midnight.   He walked me
to the centre of the bridge so we could see Tower Bridge and all our
favourite sites by the Thames and gave me a huge, sparkly, solitaire
diamond ring.  Although I'd kind of been hoping that he'd do it some
day, I was totally surprised and couldn't believe it when he told me he
had been looking at rings for month."
"I
had a very clear idea of what kind of dress I wanted and knew that I
wouldn't find it off the peg.  I found Juliet Poyser from a wedding magazine ad and as soon as we
met and I saw her samples, I knew she was the dressmaker for me. 
The dress was handmade at Juliet's studio in Clapham Old Town, South London.  It was crafted from French lace.  I always knew that I wanted a Grace
Kelly style dress with lace and sleeves (even before Kate Middleton
stole my thunder!).  We added a gorgeous satin bowed belt to the dress
to keep it young and to tie in with the 50's vintage look that I love.
I chose some 1950's style ivory satin shoes from Rainbow Club and I kept it simple with just a gorgeous veil, again made by Juliet Poyser."

"I
chose gorgeous midnight blue Audrey Hepburn style cocktail/prom dresses
for my two bridesmaids (and sisters), Jess and Ellie.  They were from
Alfred Sung at Dessy.  My gorgeous niece Rosalie, who
was my flower girl, wore a dress from Monsoon."
"The flowers were designed by the hugely talented Sue Barnes at Lavender Green.  My
bridal bouquet was a beautiful tied bunch of red Grand Prix Roses, blue
Grape and normal Hyacinths with white Stephanotis (star-shaped white
flower) heads wired and scattered over the bouquet.  The bouquet design
referenced the American flag.
Sue designs in such a collaborative way and sketched all my ideas for me so
that I could visualise exactly how the flowers would look.  I wanted
them to match my colours, which was a tricky task to do tastefully and
subtly but Sue did an amazing job."
"I
chose tall mirrored plinths with large silver urns on top filled with
red, white and blue designs for the ceremony/wedding breakfast room which Lavender Green styled beautifully.  I
also had a small glass beaker filled with my bridal bouquet flowers on
the registry table, tall glass storm lanterns with central battery
operated candles and rose petals inside, which were placed at the end of
every row of chairs for the ceremony and square mirrored plates with
central mirrored globes filled with red/white/blue flowers with vintage
nightlight holders around the base for each table during the wedding
breakfast."
"We wanted to go against tradition so decided to serve American
diner-style food at the wedding breakfast.  We served crab cakes with
tomato salsa or mini mac'n'cheese to start,  hamburgers / veggie burgers
with chips as a main course and mini key lime and apple pies with
cinnamon cream for dessert." 
"I
sourced the perfect wedding favours, having deliberated for months on
what to have.  I choose mini blue and red photo frames from Habitat that
guests received at the wedding breakfast with a note saying 'fill
yourself up now, you can fill me later', which gave them a clue to the
photobooth that I had booked for the evening reception.
"We
named each table after a bridge along the river Thames, all of which
had some meaning to Tim and I.  The top table was named 'London Bridge'
to celebrate where Tim proposed.  We of course had Waterloo and Tower
bridges and all my friends who I used to work with at Jo Malone in
Chelsea sat on the Chelsea Bridge table."
"I
worked really hard to make sure there were lot of quirky, personal
touches on the day.  I had all the menus, table plans, table centres
etc. designed from scratch by an amazing graphic designer called
Michelle Dodds at Sweetest Pear.  We worked
really closely together on the designs and choose to use lots of retro
style fonts and star motifs in our wedding colours.  Michelle also
designed signage for around the venue and a 'high school year book'
style guestbook for me.
In
addition to all the fantastic designs created by Michelle at Sweetest
Pear for the day, I spent a long time looking for the perfect save the
date cards and wedding invitations.  I wanted these to be different and
to give my guests a clue as to the theme for the day.  I ended up
ordering from the most amazing US website, Royal Steamline, who design the most original and unusual
vintage style stationery.  I chose a 1950's retro design called
'Shindig', which I had printed in a custom colourway of red, white and
midnight blue.  It perfectly matched the overall theme, colour, style and tone of our day."
"One of my favourite touches was
the poster that we had designed by artist Ewan Eason in the style of a high school prom poster.  We
named the evening 'The Enchantment on the River Dance' (with a nod to
Back the Future's Enchantment Under the Sea Dance).  Ewan's poster
looked amazing framed and displayed at the entrance to the evening
reception and gave guests a clue as to the theme of the evening." 
"Our photographer was the fabulous Anushe Low and I chose her for her beautiful, arty, relaxed shooting style."
"In keeping with our chosen colour scheme, I
placed alternate red and blue Emma Bridgewater pocket tissues on each
seat during the ceremony, just in case a few tears were shed.  I also
had red heart bubble wands for people to use instead of confetti as we
walked out.  These were from Paperchase."
"Tim
shed a tear during the ceremony, which was very out of character for
him.  It was so touching to see him so touched and really made the day
special.  I held it together completely!  Tim's dad also gave a
brilliant reading by Beat poet John Cooper Clarke called 'I Wanna Be
Yours' which was so sweet and funny and brought the house down."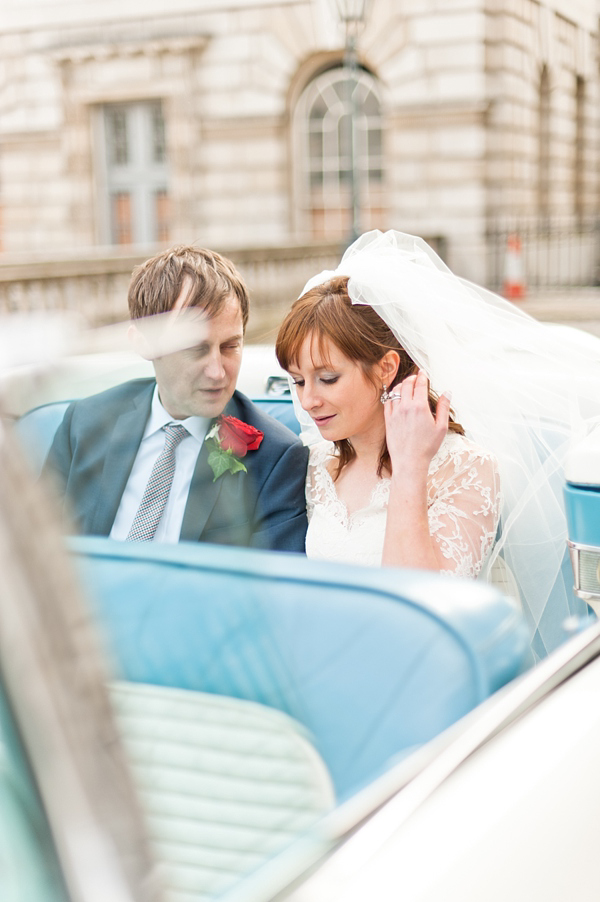 "Our first dance was Waterloo Sunset by the
Kinks.  It's 'our' song as it always reminds us of our early days of
dating down by the river."
"I
wanted a traditional prom style look for the evening so we had red,
white and blue balloons, supplied by Party Tec and
some great lighting effects designed by Wise Productions.
We served
hotdogs to our guests and mini ice cream cones which were supplied and
served by Ice Angels who wear 50's dresses and serve the ice creams
around their necks – old cinema style!
The
other thing that Tim was really keen to have was a live rock and roll
band.  We hired the fantastic Good Rockin' Tonight
who performed a brilliant live set of rock and roll classics and then
followed this by DJing the rest of the evening with a mix of wedding
classics and cheesy 80's tunes.  People were dancing from the first dance to the very end of the night.  We actually had to drag people off the dancefloor!"

"The
main attraction during the evening however was the AMAZING silver
glitter photo booth that we hired from Booth Nation.  It was a bit extravagant but my absolute
favourite thing about the wedding as everyone had so my fun using it and
we'll always have those crazy snapshots of all our happy, drunk
guests.  Afterwards, everyone changed their Facebook profile pics to an
image from our wedding which really made me smile."
Words of Wedded Wisdom…
"Make
savings on things that your guests probably won't even notice, e,g.
choose prosecco over champagne, in season flowers over expensive out of
season ones.  Invest in things that will make a big impact.  The photo
booth wasn't cheap but it was all everyone was talking about for days
afterwards and created lasting memories for everyone who came.
Also, have lists,
lists and more lists.  Also, delegate some tasks.  I'm a control freak
and wanted to do everything myself but it was very stressful and was a
great relief when friends and family offered to help out.
I
have to say, I was pretty proud of myself for planning and designing
the look for the day.  I was thrilled with the overall effect."
Congratulation Katy and Tim on your fabulously stylish 1950s American high school prom inspired wedding, and love and thanks to the award winning photographer Anushe Low too.
It's wonderful to see someone pick up on this 50's Americana theme and work with it so stylishly.  What do you love most about this wedding?  You can see more 1950s and retro Americana inspired weddings here.
With much love,
Annabel
Photographer – Anushe Low
Venue – Somerset House
Wedding Dress + Veil – Juliet Poyser
Brides' shoes – Rainbow Club 
Groom's Attire – bespoke suit by Hackett, London
Bridesmaids – Alfred Sung at Dessy
Flowers – Lavender Green
Cake – Sweet Tooth Factory
Transport – 1950s Cadillac Convertible via Dream Cars in
Redhill
Entertainment – Good Rockin' Tonight
Favours – Habitat
Catering – Tom's Events
Hair Stylist – Craig at Andrew Jose on Charlotte Street
Photobooth Hire – Booth Nation
Table Plan & Wedding Day Stationery – Sweetest Pear
Poster Design -  Ewan Eason