Last year, my family and I had the loveliest camping-come-glamping holiday at Fforest in Wales, the most beautiful alternative/eco camspite in Wales -  you have to check out their website if you're in to that kind of thing, it's an incredible place set in the most stunning natural landscape.  Not so long ago, Fforest became a wedding venue – we've already featured several beautiful weddings that have taken place there.  Today's wedding happened in Fforest too, and it warms my heart to see these beautiful images, taken by my friend and colleague, the delectable Emma Case.

Zoe and Darren's wedding took place on 5 May this year and bride Zoe tells us how they ended up tieing the knot in this most beautiful of outdoor natural backdrops…
Photography Copyright (c) 2013, Emma Case Photography
"Typical wedding venues (i.e. hotels, country clubs, castles etc)
as nice as they are, just weren't really what we had in mind. We spent a
great deal of time searching for something different, specifically
somewhere that we could bring our friends and family together for a
whole weekend and offer them, and us, the chance to really relax and
spend time with each other. Ideally we wanted somewhere where our guests
could camp out under the stars and have a totally different wedding
experience that they may not have had before. 
 Putting your stamp on the day is so important and
something that you can do for relatively little cost (but with a little
more effort). The style of our wedding had to fit with our venue, and we wanted quite a
rustic vibe – nothing too over the top, something simple with no colour
schemes and lots of mis-matching!"
"We visited  Fforest
on a cold dark January day and we instantly fell in love. It's a truly
unique and special place, situated next to a wildlife reserve with views
over sprawling countryside. It offered 'glamping' in the form of
spacious Domes, Tipi's and other types of tented accommodation, all with
wood burning fires and with their own kitchens as well as luxurious
converted pig barns for our mature guests.  It has its own 'Bwythn' which
is an old stone pub, a huge high-hat Tipi for the bands, entertainment
and humanist ceremony, a warm wooden lodge and a barn for the reception
at the heart of the camp. Blissful, amazing, brilliant and a whole lot
of other superlatives don't do justice to this place.
We were fortunate to have the assistance of Charissa (the
wonderful wedding organiser at Fforest), but really this was a
'do-it-yourself' wedding. We had quite clear ideas about what we wanted
and how to achieve it. Charissa shared in our enthusiasm and made it all
come together smoothly on the day, along with the help of the awesome
 Fforest
staff."
"I met Darren about fourteen years
ago while he was working as a bartender in Cardiff, although we didn't
have our first date until seven years later. We moved in with each other
quite quickly but it took another six years before he finally proposed
on Christmas Day 2011 – after numerous hints (Darren says men don't get
'hints')… and puppy eyed looks across the room after watching episodes
of 'Don't Tell The Bride'."
"For the table plan we used a label maker to print out our guests
names (it took forever!) and stuck them onto a vintage mirror I found on
Ebay. Even super glue doesn't keep them on – we don't advise doing
this! However, it looked great until at least the point where everyone
was sat!
 The table names were all words from our first
dance (Bob Marley – Is This Love?) and were printed onto pages of a
dictionary and framed. It was up to the guests to try and work out the
name of the song using the table names."
"I wore the Eden dress in Platinum by Jenny Packham, which I purchased from White Bride in Narberth.  I first tried on the Eden dress in white on my very first dress
appointment, and although I liked it, the colour of the dress didn't
really suit my colouring so I thought no more about and I continued to
look around. I spent a while longer popping into bridal shops but
nothing really appealed to me.
When we went to meet Emma (our
photographer) up in Birmingham she recommended The Wedding Club nearby, so my aunt and I went to have a look. That's where is met Eden in
Platinum! I couldn't believe how the same dress could look so different."
"I tried it on and I remember it felt amazing. When I came out of the
fitting room my aunt's draw dropped. I knew then that it was the one. I
looked in the mirror and couldn't believe it was me! As my mum wasn't
with me at the time I didn't want to make a decision without her seeing
it first.
Although I really loved the dress I did the typical woman
thing and kept browsing the internet and fell in love with Claire
Pettibone's dresses. They were very floaty and romantic and most of them
had a strap or capped sleeve which is ultimately what I was looking
for. The nearest shop to me who stocked Claire Pettibone dresses was in
Bradford on Avon.  I went up to have a look and although they were out
of this world they were very much out of budget – so sadly, were an instant no
go."
"That was the last sign I needed! I was going to go back to The Wedding Club in Birmingham as Clare was so amazing but it just wasn't
practical, so, I managed to find Sally of White Bride in Narberth (not far from
Fforest) who stocked Jenny Packham dresses.
I contacted Sally to get an
appointment but she didn't have the platinum in the shop.   Twenty minutes
later I was just about to phone another shop when I got an email from
Sally saying she could get the dress for me to try within 2 days!
Another sign!  My mum and I went down to Narberth that weekend and that
was it, done deal! Sally was the nicest most genuine person. She wasn't
pushy and I felt so relaxed in her beautiful shop.
Throughout the whole
process, Sally was brilliant. To top off her amazingness she managed to get
me a Jenny Packham head dress that had been discontinued from Jenny
herself!"
"Our florist was Catrin of Pink Orchid – and she was
fab! We were pretty open to ideas when it came to the flowers. We just
wanted something natural and in season. I love ferns so they were a must
but apart from that we were open to anything.
At first I thought white
and green, but then Sally from White Bride suggested different shades of
green as she reminded me that they was actually no white in my wedding
dress. I loved that idea and Catrin sorted out the rest!"
  " As neither of us are particularly religious people, we
decided against a church ceremony and opted for a humanist ceremony
under the high-hat tipi. Of course to make things legal we also needed a
formal civil ceremony which we were able to have with just our parents
and grandparents in the tiny Bwthyn on-site – which was perfect in every
way and gave us a chance to see each other with our families in a very
private moment before the entrance into the tipi for ceremony number
two!" 
"Darren took some persuading to have a humanist
celebration on the basis that it might be a bit too 'hippy' for his
liking, but after meeting the lovely Lisbeth – the celebrant, she
fortunately changed his mind.
We both would now totally recommend
humanist ceremonies which talk about the real challenges and meaning of
marriage in simple terms and allow you to write your own, unique vows to
each other. Both our vows to each other now take pride of place on the
fridge door to remind us everyday what we have promised each other (and
to remind each other when we slip!)."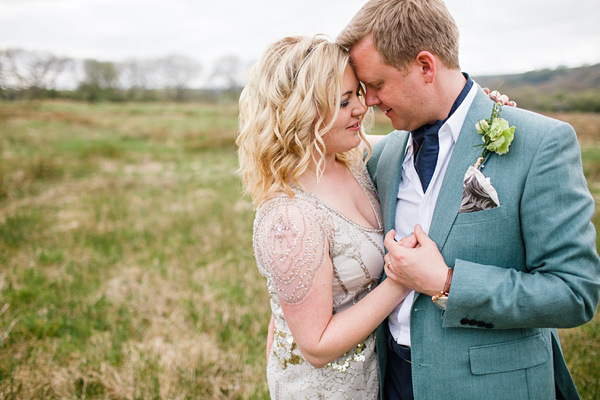 "We didn't really need any stationary on the day. There were
chalk boards on the outside of the lodge which we used to tell people
about the timings for the weekend. My aunt, Darren and I had fun drawing
and writing on these the morning before the guests arrived." 
"I managed to secretly get my Samba band, Samba Galez, in
to the venue and surprised Darren and the guests with a short samba
set. I'd managed to keep it under wraps from everyone and boy was it
worth it! It was such a buzz! I'd organised for them to come through the
woods playing about 20 minutes after the humanist ceremony whilst
drinks were being served. Little did I know that after the ceremony
everyone seemed to flock towards the pub (I should have guessed!) which
was the opposite direction of where I had planned for us to play.
I
needn't have worried though because as soon as the samba rhythms filled
the site everyone came running! My friend Emma was on standby with a
basket of handmade egg shakers which she gave out to the guests as we
were playing. I remember looking up and all I could see was everyone
dancing and smiling. It was a real highlight of the day."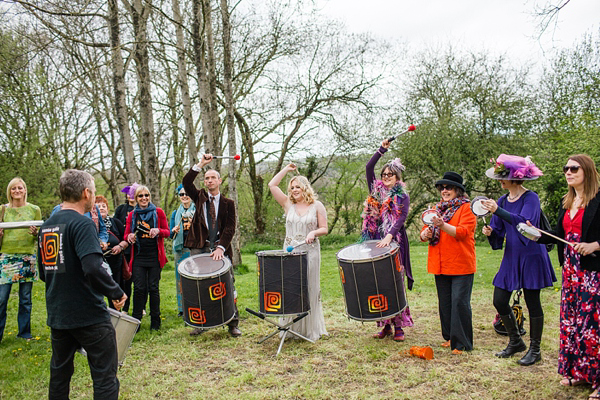 "As the 'tea party' included lots of amazing cakes we felt that a
savoury cheese 'cake' would be our best bet. We selected several
cheeses from Ultracomida
which only cost around £150 for us to build our own. It went down a
treat accompanied by about 30 jars of handmade chutneys painstakingly
made by my auntie and her friends a few months before hand. It was
heaven for our guests with the munchies in the evening!
I surprised Darren with some custom made cake toppers from Star House on Etsy.
Admittedly I keep this as a 'surprise' for Darren as I didn't want him
to be angry with how much I had spent, but I'd had my eye on them since
we first started planning and they were a 'must have' for me. They now
sit happily on our mantel piece!"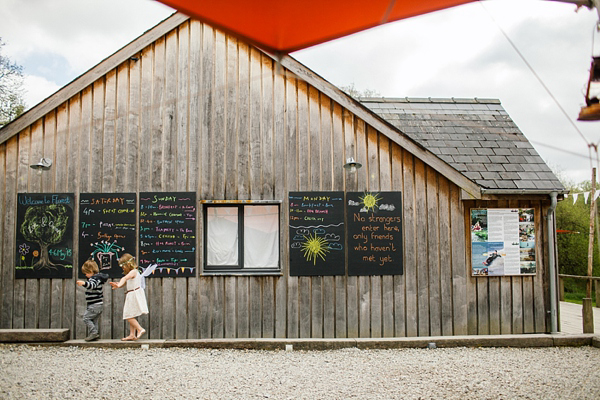 "We were so so fortunate to find Emma Case and her trusty sidekick (husband and second 'stealth' shooter) Pete. When I first met Emma
I could have sworn that I had known her forever and teamed with Pete
they are the most talented, genuine best friends you have always wanted
in your life. Finding a photographer who would really understand what we
were looking for was very high up there on our list. We wanted high
quality, natural pictures which told the story of our day without the
fuss of formal family shots which can take-up an hour or two (although
we did admittedly have a few!). From that first moment we met them we
knew that they would get the best out of even our most camera shy guests
on the day. 
Emma and Pete overachieved on our brief and the
investment we made in them was totally worth it – perfect execution,
great with our guests, even greater with us. Top marks times a
gazillion!"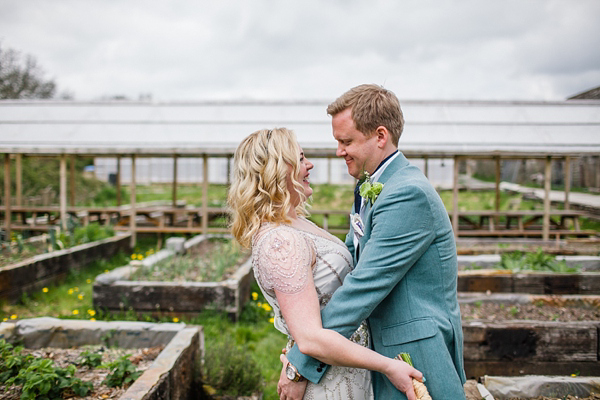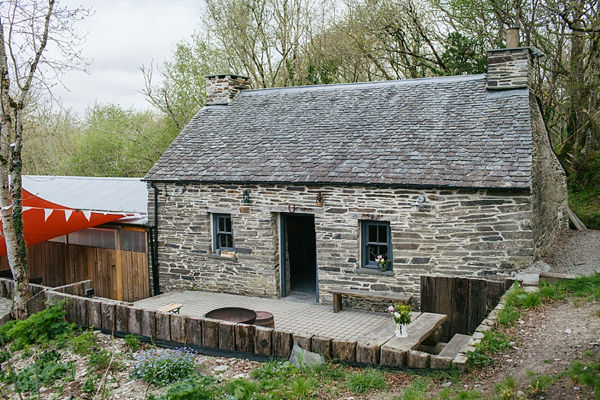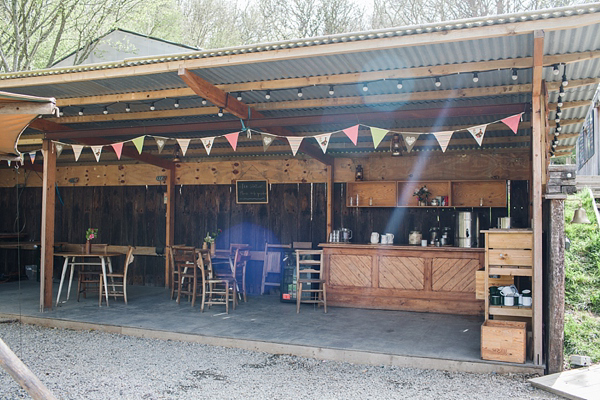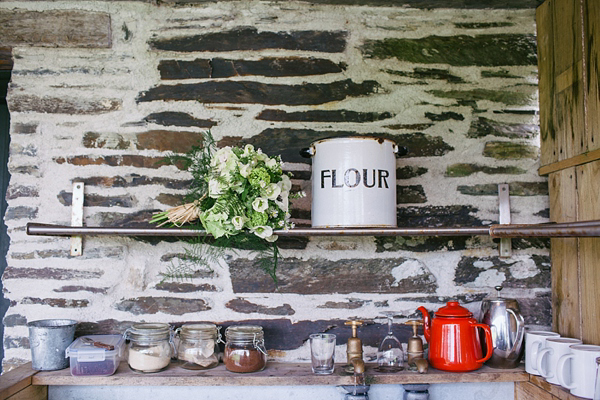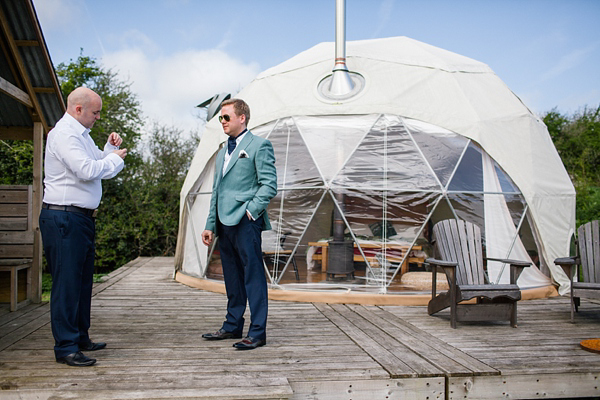 "I was convinced I didn't want a veil, but about a week before the
wedding I'd been having second thoughts. I came across a blog about
common things brides would have changed about their day. A lady had
commented on the post as she was getting married in the next few months
and she'd been doing her own bit of research. She'd said the most common
things her friends had said was that they'd wished they'd worn a veil.
So, I decided to just go for it.
Although I thought it wouldn't really
be practical I decided I could wear it for the ceremony and then take it
off. I called High Society in Cowbridge and they managed to get me a
veil within 3 days! I'm so glad I did it. Darren has a traditional
streak in him and I thought it would be nice for him to see his bride in
a veil. I'm so glad I did it."
"My Dad gave me away to the sound of The Maccabees singing 'Toothpaste Kisses".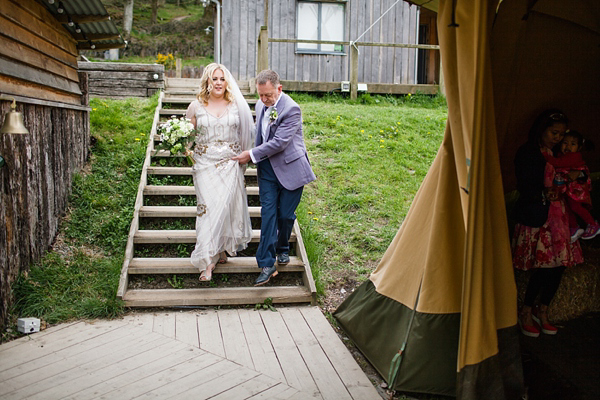 "We were able to write our own vows for the humanist ceremony,
which was more difficult than you might think. Putting your feelings for
your partner into words is both emotional and challenging. Our vows
were both very different from each others and were mixed with humour,
happiness and love.
If you're up for the challenge of doing something
similar, we would recommend just writing all your feelings and
expectations down and the structure of the vows will come to you as you
go. There are lots of examples on-line (but obviously don't copy them!).
"
 
Zoe's Vows:
Today is mostly an ordinary bank holiday
Sunday – the sun rose/it rained, people slept in and then probably went
to B&Q and it just so happens that we are getting married. But, the
not-so ordinary part is how today, you and I, are making promises to
each other for the rest of our lives, no matter how ordinary or unusual
they may be.You have helped my through times of sorrow and shared times
of joy. I am the luckiest and I couldn't imagine growing old with anyone
else.
So on this day I promise:
To do what I love
To do what you love, with me
To be great parents together
To spend less time and money at TK Maxx
To laugh with you
To remember how lucky I am
To never go to bed angry
To take joy in doing nice things for you including your washing up
To talk about my feelings
To encourage you
To admit how much it actually cost and not how much I saved
To stand by your actions
To be there when times are good and bad
To be happy
To not pick my lip…much
To always kiss you goodbye
To be devoted
To ask for help when I need it
To speak and to listen to you
To stroke your back, occasionally, for as long as we both shall live
To love you from the bottom of my heart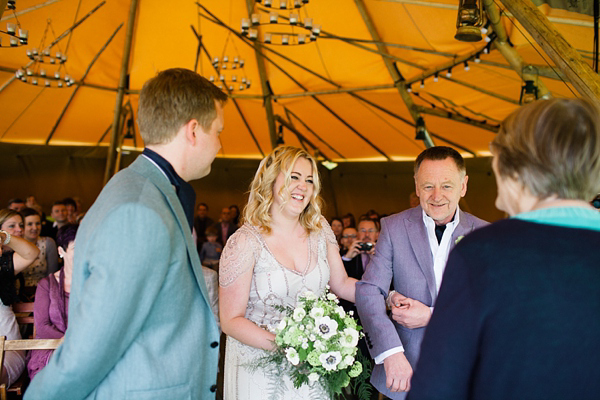 Darren's vows:
Because of you, I speak of us instead of me
Because of you, I look forward to tomorrow and am excited about the future
Because of you, I laugh every day
Because of you, I have an adopted Welsh family who don't seem to mind this Englishman
Because of you, I am surrounded by cats – and torn furniture!
Because of you, I discovered that relationships are worth working at, even though they are sometimes difficult.
And because of these things:
I promise to bring laughter into your life;
I promise to keep on working at our relationship to make it the best it can be;
I promise to send you flowers at work – at least once a year;
I promise to be kind, considerate and loving – even when I'm grumpy;
I promise to be faithful to you always;
I promise to continue to love you for who you are and to never try to change you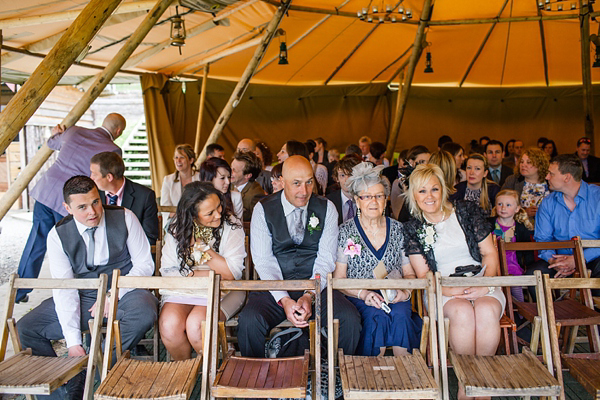 "We chose a reading that we both found it really
beautiful. It's by an unknown author and we asked our good friend Debbie
to read for us…" 
'Some say I can fly on the wind, yet I haven't any wings. Some
have found me floating on the open sea, yet I cannot swim. Some have
felt my warmth on cold nights, yet I have no flame. And though you
cannot see me, I lay between two lovers at the hearth of fireplaces I am
the twinkle in your child's eyes. I am hidden in the lines of your
mother's face. I am your father's shield as he guards your home. And
yet, some say I am stronger than steel, yet I am as fragile as a tear.
Some have never searched for me, yet I am around them always. Some say I
die with loss, yet I am endless. And though you cannot hear me, I dance
on the laughter of children. I am woven into the whispers of passion. I
am in the blessings of Grandmothers.
I embrace the cries of newborn
babies. And yet, some say I am a flower, yet I am also the seed. Some
have little faith in me, yet I will always believe in them. Some say I
cannot cure the ill, yet I nourish the soul. And though you cannot touch
me, I am the gentle hand of the kind. I am the fingertips that caress
your cheek at night. I am the hug of a child. I am love.'
"My art deco inspired engagement was designed by Darren and I designed my wedding ring. Both were handmade by Diamond Centre Wales.   We
were really impressed with the time taken by Siantel to develop bespoke
rings to our designs. They are very special and we encourage anyone who
does want something a little different to speak with them.
 At
first Darren was going to opt for a plain silver band. But one day we
were in Narberth sorting out some wedding bits and we walked past a
jewellers which had Clogau gold. Darren took a bit of a shine to a rose
gold band in the window. He went in and tried it on and it was lovely. I
could see that he liked it but we had already ordered his ring from
Diamond Centre Wales. The next day I phoned Siantel and managed to
cancel the order just in time. I then gave Darren the Clogau wedding
ring as a gift on Valentines Day. He loved it and it's nice to know that
when he's not with me he still has a little bit of something welsh with
him."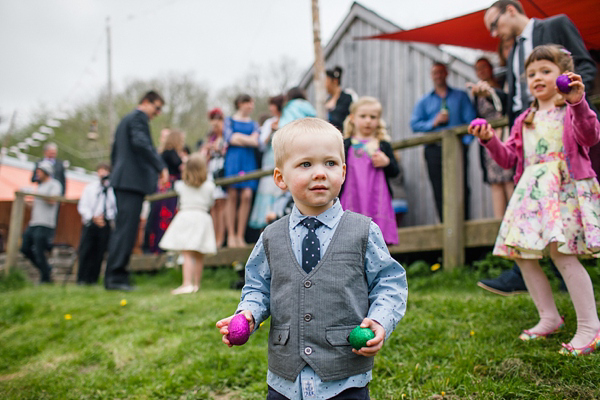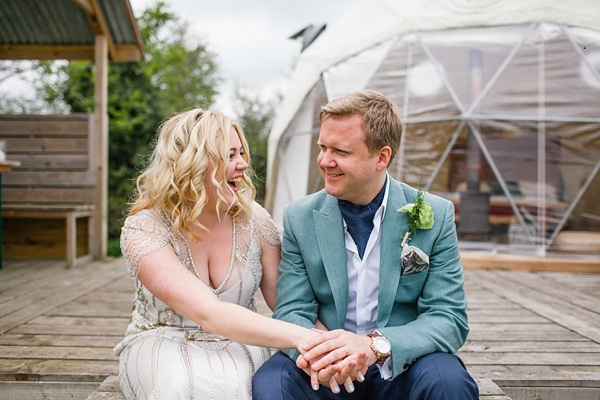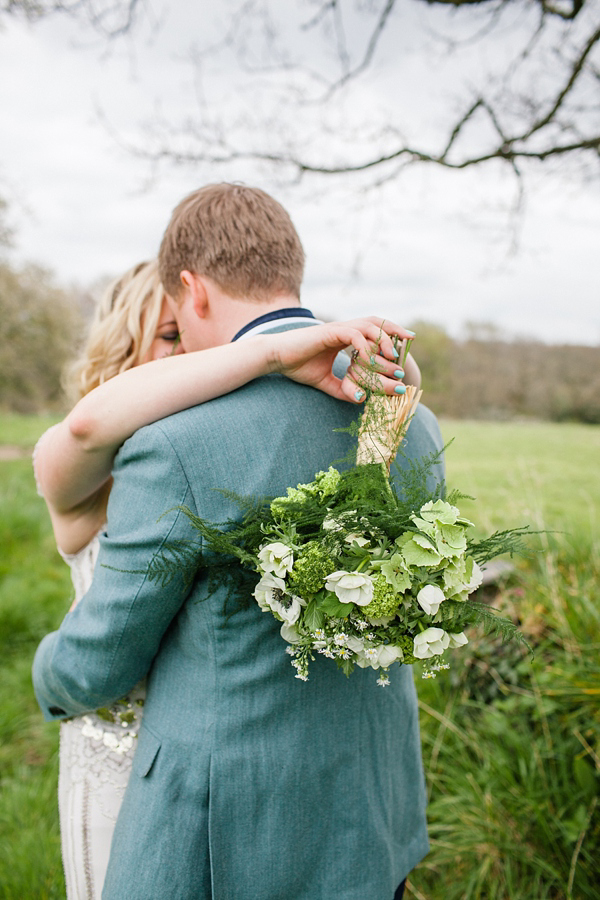 "Fforest
provided simple vintage table cloths, bunting and candelabras for the
tables as well as vintage china and wildflowers picked from the Fforest
grounds on the morning of the wedding.   I sourced mason jars
from the US to hold the wild flowers on the tables and hand-painted all
of them. It took a few attempts to get them right but in the end I used
bog standard emulsion tester paints and sprayed them with a clear
sealant to stop the paint running. This really made the tables pop with
colour.
  We also sourced some vintage looking
lamp shades which we hung from the beams of the barn and stuffed them
with twinkly fairy lights. We took along a collection of
pictures and paintings from our home to put around the sides of the barn
to give it a personal touch."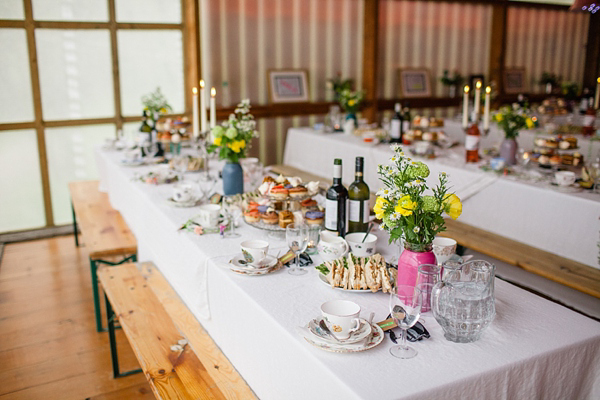 "Whenever I'm at a festival I always love to buy a flower crown so
this was without a doubt going to be the favours for the ladies. I
didn't have a clue where to start with making these so I googled a few
video's and just went for it. I ordered lots of pretty paper flowers,
forestry wire and leaf ribbon and gave it a whirl! They came out great
and I really enjoyed making them. Whenever I felt a little stressed and
had a million things running through my head I would sit down and make
them. It was totally calming and they took no time at all to make. It
was great seeing people wearing them throughout the day. Even now I go
to friends' houses and see them hanging on their dressing mirrors. 
We
scoured charity shops for gents 'country' hats but after I'd raided all
the local shops I realised that it was going to be fairly impossible to
get one for each male guest. Finally we decided on glasses with
moustaches for the men. I found some with clear lenses but I couldn't
find anyone with the quantity I needed.  I came across some moustache
sunglasses on ebay one day and got a great deal on a bulk buy. So, it
was more blues brothers than country gent but everyone seemed to love
them. By the end of the night most of the women were wearing the glasses
and the guys we wearing the head dresses."
"We opted for
goody bags for our younger guests. Although fforest had plenty of
places to explore I wanted to make sure that the kids weren't too bored
when they had to sit down. We went to Smyth's toy store and got lots of
colouring and sticker books, dinosaurs for the boys and pink sparkly
things for the girls. I found lovely handmade bags on www.folksy.co.uk
which I had made with their names on them.
Of course, I couldn't resist
fairy wings and animal masks, which again, most of the adults ended up
wearing after dark!"
"Fforest have on-site catering- they aso have their own
vegetable garden and hand pick most of their ingredients. The meats
(such as the hog-roast) were all sourced locally and were so fresh. The
food looked and tasted out of this world!"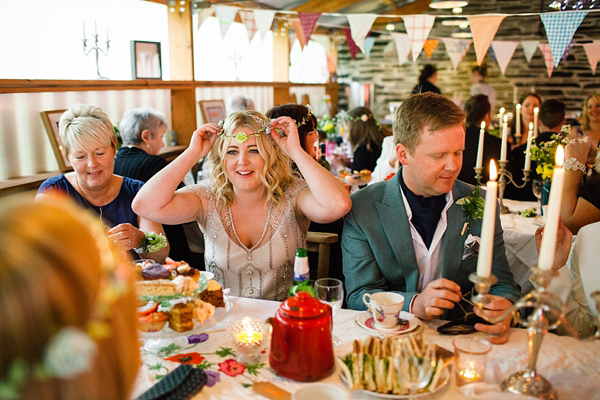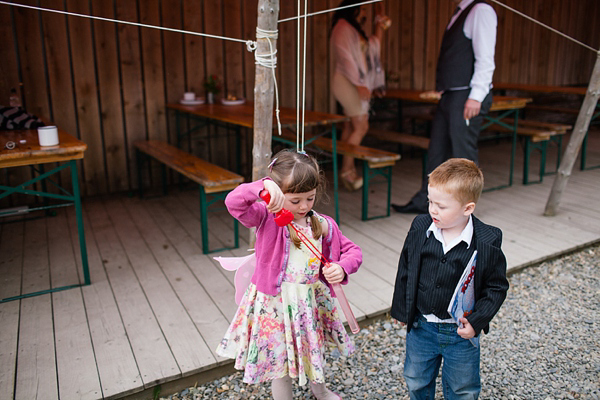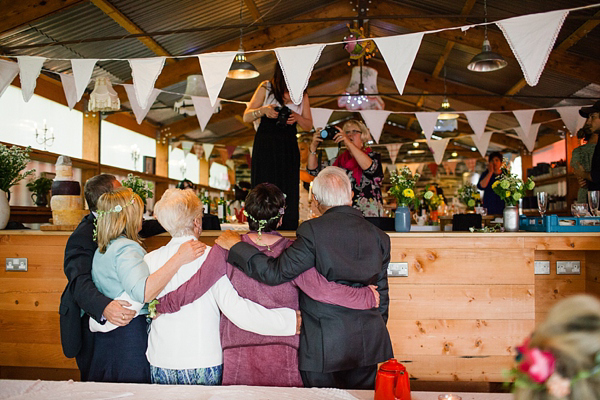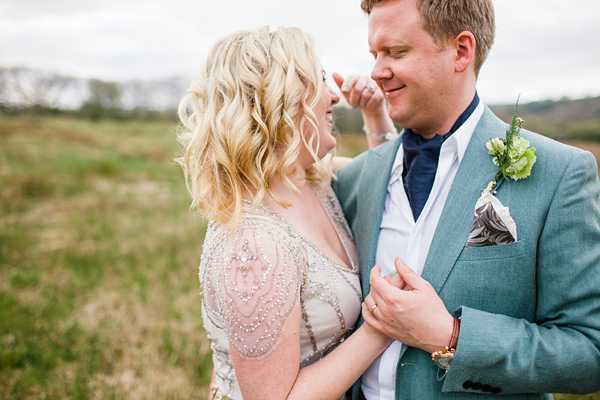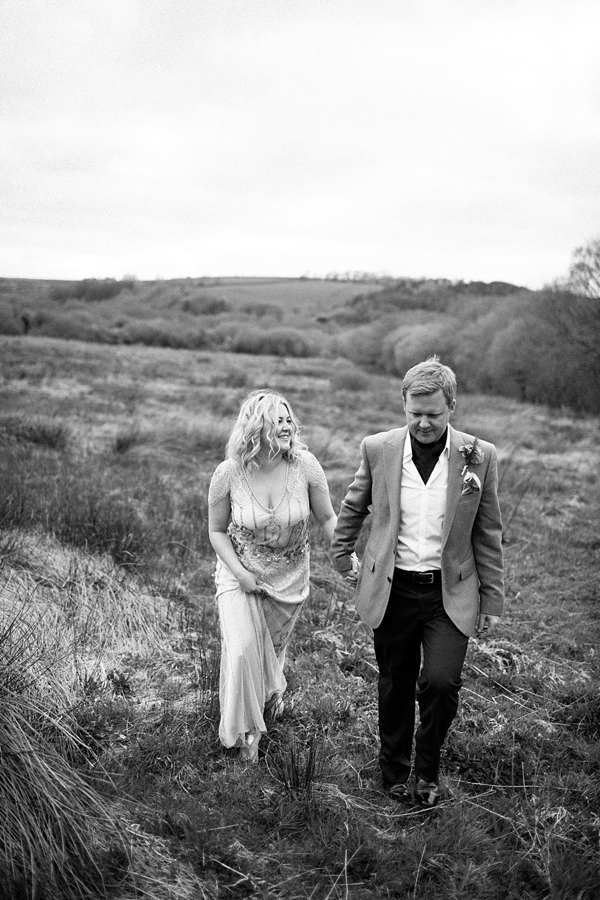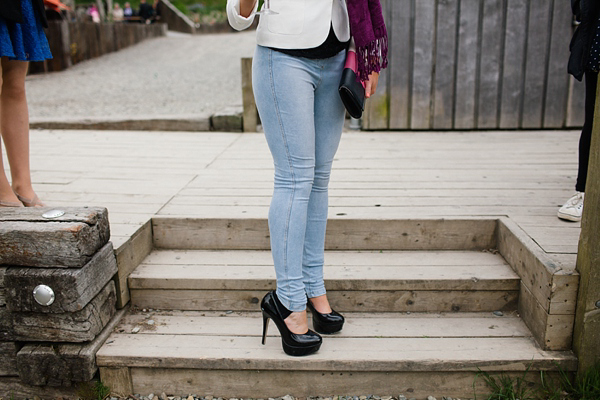 "Our firt dance was to Bob Marley's 'Is This Love'. I'd love to say
that we chose this song because it meant something to both of us, but
really we chose it because the band had it on their song list and we
felt that the lyrics were apt. Plus we're both partial to a bit of Bob!"
"I'd seen 4 Squaree
at a festival the year before and fell in love with their modern twist
on ceilidh. I searched high and low for them on the internet but
couldn't find them anywhere. Eventually I managed to contact the
festival organiser who passed me their details. Being a ceilidh virgin
Darren wasn't too sure but after much convincing he agreed to book them.
Ceilidh has this amazing ability to get everyone on the dance floor and
it was hilarious to see everyone giggling and bouncing around.
   I'd
seen The Groovinators (no website) at a live music venue in Cardiff one night out
with friends. Admittedly I was slightly tipsy when I saw them but I was
convinced that they were THE best live band I had ever seen! I didn't
stop talking about them and I finally convinced Darren to come and see
them with me one school night. I fell in love with them a little more
and Darren was really impressed. They had a really mixed repertoire
which included everything from Kings of Leon to Stevie Wonder which we
were sure our guests would love. We got their details that night and
emailed them shortly after. They were actually based in London so it
cost us a bit more than we'd planned but it was so worth it. They
brought the day to end on such a high!"
"There are so many parts of the day which are special
for their own reasons. Marrying the person you love is always going to
be a big one but the small things like sitting around a fire in the
evening watching friends who've never met chatting away, seeing the kids
in their element running around the fields, sharing laughter and tears
with family and just generally sucking in the atmosphere. I especially
liked surprising everyone with the samba band. For weeks before the
wedding it had caused me so many sleepless nights. Darren was angry
because I kept on changing the timings of the day but I couldn't tell
him why. It was so great to see it all come together on the day.
 We honestly wouldn't have done anything differently." 
Words of Wedded Wisdom…
"Do not give in to pushy suppliers! This is your day
and it should be exactly how YOU want it. Don't feel pressured by hard
sell techniques! Take time to think about things before saying yes. We
met a few along our journey (especially at wedding fayres) and we just
walked away. Eventually we found an amazing bunch of suppliers which we
trusted 100% to deliver on the day.  
 Sweat the small stuff! Everyone says not to but I think
the opposite. People do notice the little things. So many of my friends
have said how it was the small details that they loved. I really wanted
to go to town on making it special for all our friends and family. It's
only once you get to do it and I wanted to put all my thoughts and
dreams in to the detail of the weekend and really make it mine and
Darren's very special day. I'm not saying take it to the extreme but do
go for it! Even if you think it's a stupid idea and no-one will
notice, I'm telling you, someone will, and it might even be a small detail
that someone will think fondly on for the rest of their lives.
"With the venue we chose we had to fill 80% of the camping
accommodation. It was a big decision given that we weren't sure how our
friends and family would react to staying in a field, but we really
didn't need to have worried. We realise now that generally people will
just go with it and love to experience something new and different.
At the
end of the day though, family and friends will get on just fine, guests
will enjoy the day come rain or shine, the venue has everything under
control, the band will show-up, your hair and makeup will look great,
the dress will fit, the flowers will arrive on-time, you'll laugh and
cry, and you'll have the best day of your life. If you are happy,
everyone else will be!
Finally, I visited Love My Dress
regularly. I LOVE this blog and I wouldn't change
it in any way – I visited often when I first saw found my Jenny Packham dress, as I wanted to get
an idea of what it looked like in pictures."
I always get that warm glow all over after I've enjoyed looking one of Emma Case's weddings – this talented photographer always seems to capture the most beautifully natural portrait shots and this wedding in particular is so full of joy, so unpretentious, just so lovely – thank you so much Emma for sharing.
Congratulations Zoe and Darren on tieing the knot – we're so delighted to be able to share these lovely photographs with our readers on your behalf.
And so it's over to you lot – are you the glamping type? And what about that beautiful dress? Jenny Packham has by far been the most popular wedding dress designer to have ever featured on these pages and you can see many more beautiful brides looking out of this world in one of her gowns here. If you're the outdoor type, make sure you take a peep at our outdoor weddings, tent, tipis, Fforest and other Spring and Summer time weddings too.
Big Monday morning love everyone, have a beautiful day.
Annabel
Photographer – Emma Case
Venue + Catering – Fforest, Cilgerran, Pembrokeshire, Wales
Wedding Dress – Edin dress in platinum by Jenny Packham via White Bride in Narberth
Brides Hair Accessories – Jenny Packham Onda
Brides Shoes – Jimmy Choo – Token Champagne Glitter
Grooms
Suit – Reiss jacket+Pocket Square, M&S trousers, Hugo Boss shirt,
Dune shoes, cravat Tom Sawyer, Silver Fern Cufflinks – Made by Alan
Wright, Dimensional Design (Hatton, Warwick)
Florist – Pink Orchid, Cardigan
Cheese Cake – Ultracomida, Narberth + cake toppers made by Star House on Etsy
Entertainment – Samba Galez + 4 Square + The Groovinators (no website)
Makeup Artist - Maxine J. Dadoush