Morning all! Happy Monday to you, welcome to the start of a new week and if you're new around here, welcome to Love My Dress.
This morning's blog post is typical of the kind of absolutely beautiful wedding day we like to feature on this blog; Alex and Kathryn tied the knot on 13th July 2013 with a ceremony at Christ Church Morningside, followd by a reception at Teviot Row House, both in Edinburgh.  There was rather a knock-out gold dress involved.
"The feel of the day was very important, we wanted it to be
informal and fun. We've both been to lots of weddings by now, so we knew
what we wanted to include and what we wanted to leave out! We tried
really hard to get all the logistics right for our guests, so they
weren't bored or unsure of what was happening at any moment.
We didn't have any set colours or themes for the day.
We wanted everything to be colourful, bright, and feel like a big family
party."
Photography Copyright (c) 2013, Caro Weiss
"Our wedding was quite traditional in a lot of ways. We got married
in church, had a sit-down meal and then dancing to follow. But we
thought about everything carefully and made differences where we wanted
to. We walked down the aisle together, didn't have identically dressed
bridesmaids and ushers, didn't process into dinner as a couple, didn't
have hours of formal photos, and Kathryn and her bridesmaid Bea both
made speeches.
We knew we wanted to get married in
Edinburgh, as we met there and our families both live near-by. We wanted
a city centre wedding that would be easy for people to get to, a venue
large enough for a ceilidh but laid-back enough for a party, and
somewhere with no venue hire fee – Teviot Row House fitted all three criteria. It's actually part of Edinburgh University student union.  Our dinner and ceilidh were in the Debating Hall and had the Loft Bar and roof terrace as well.
We looked at some other venues that were posher but they felt too
grand and not really 'us'. Teviot is a beautiful old building but it's
hosted a LOT of parties so it's perfect for a wedding."
"Alex and I met when I was working in a deli in Edinburgh in
2004, just around the corner from the church we got married in. Alex
used to work there but had recently left. He lived around the corner too
and kept coming in to buy random items so he could talk to me!  We
moved in together just a month after we starting going out, but it took
us nine years to get around to the wedding.
We got engaged
while on a trip to Norway in August 2012, on top of a fjord at sunset.
We were there with some friends on a group holiday, and poor Alex
carried the ring around in his pocket the whole time trying to find the
right moment. He even hiked it 5 hours up the top of a mountain and back
down. On our last night we managed to get away alone together for a
sunset stroll and Alex proposed."

"My wedding dress is a Gold Babukshka lace dress from Issa London.  It was from the Autumn/Winter 2012 collection. I bought it online in the sale in January 2013.  I always knew I didn't want a white strapless wedding dress. I
am pale with blonde hair and look washed out in white. I didn't even go
to any traditional 'wedding' shops. 
At first I was sure I'd either make
the dress myself or get something vintage. But during my research
process, I tried on the most fabulous gold lace Alice Temperley dress.
It was AMAZING, but way out of my budget at over £2,000."
"I thought about trying to replicate it. Then one day I was
browsing the Issa site, when I saw the Babushka dress in the sale. It
was so similar to the Temperley dress, but still around £750, which was
too expensive. I hesitated for ages, until it came down to £500, when I
decided I'd go for it and just return it if it looked awful.
Well, it fitted almost perfectly. I took it to a London tailor
and they took it in a bit at the back and sides for £50. It's incredibly
comfortable to wear.  I love that it's vintage-looking
without being twee or fussy. I felt super glamorous and like a retro
Hollywood movie star. The long sleeves and boatneck are demure, but
they're balanced out by the backless detailing. If you're not going for a
white dress, you still want to wear a Dress with a capital D, and what
says 'party' more than gold."
"At first I wasn't sure about hiring a florist, but when
I looked into doing the flowers ourselves I realised it would involve a
lot of work, and we were only travelling up to Edinburgh a couple of
days before the wedding. I knew I didn't want stiff, over-arranged
'wedding flowers'. After doing some Googling, I found Pyrus. They grow most of their own flowers, or forage them, and they specialise in natural arrangements and edible flowers. 
They were so lovely to work with, and were also the only florists I
found who were prepared to Skype me from London so I could discuss what I
wanted before coming up to Edinburgh. All we asked them for was
something colourful and festive, and they came up with the idea of
flowers and plants in recycled glass bottles on the venue tables and
around the bar.
I gave them reference points of Swedish midsummer
parties and the artwork of Carl Larsson, who I love. The room looked
beautiful, natural, and wild.  My bouquet was the most gorgeous
bunch of flowers I've ever seen, I only wish I could have kept it
forever. It was incredibly bright and smelled amazing. I kept sticking
my nose in to smell the roses and getting yellow pollen all over my
face. The buttonholes and wrist corsages for the bridesmaids were also
beautiful."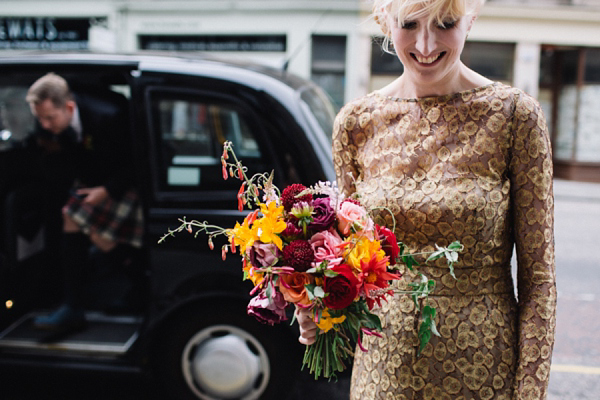 Such gorgeous wrist corsages for Kathryn's bridesmaids…
"I wore the Rachel Simpson Ginger shoes
– I love their vintage ballroom look. They were a last-minute purchase –
I ordered them to be delivered to my mum's house and only got to try
them on two days before the wedding! But they were perfect and very
comfortable.
For the ceilidh I changed into some gold flat sandals I
bought from Topshop for a tenner. You just can't ceilidh dance in
heels."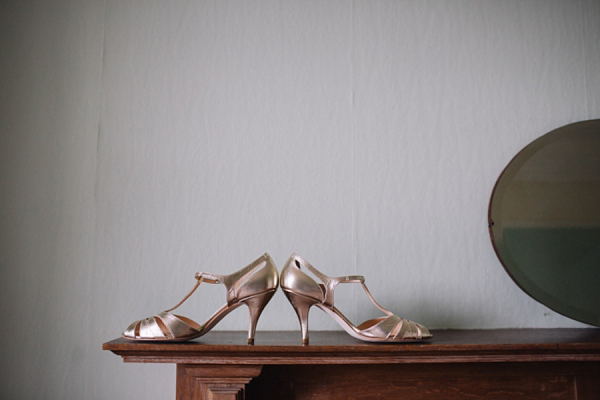 "The main hall looked beautiful without us doing anything –
Teviot put a starlight curtain on the stage, white drapes from the
ceiling to the balcony, and fairy lights along each balcony. The dressed
tables and the flowers by Pyrus made the room look amazing.
The bar was a bit more studenty looking, so we bought lots of paper streamers from Party Party in Dalston and colourful pompoms from Deco Pompom to brighten it up a bit. My friend Lizzy, who was one of our bridesmaids, made the bunting on the bar.
"Caro Weiss
was our photographer. I can't recommend her enough. We wanted someone
who would take lots of candid images, and wouldn't whisk us away for a 2
hour couple photo session when we wanted to have fun with our guests. I
was nervous about the fact that we hadn't met her before the wedding as
we live down in London, but she spoke to us twice on the phone to
reassure us, and went through all the details. On the day she was
completely brilliant.
I can't believe all the amazing photos she took; I
didn't even notice she was there for most of them! I'm so pleased we
chose her as our wedding photographer, she's really captured the feel of
the day, and given us beautiful pictures of our friends and family at
their happiest, to keep forever. Looking at the pictures fills me with
joy all over again."
"Alexis Miller
did both hair and make-up. She was brilliant, doing full make-up for 6
ladies and hair for 2 in just 4 hours. She was also the perfect calming
presence to have around in the morning. I completely loved the plaited
hair-do and side bun she did for me. People kept asking me if it was all
my own hair – the cheek! (for the record, it was). She created a smokey
eyed makeup look with subtle pink lipstick, that made me feel very
glamorous and went perfectly with my dress.
She also created incredible
victory rolls for my bridesmaid Bea, and did beautiful make-up for my
two other bridesmaids, sister, and mum. The make-up and hair lasted all
night through some strenuous ceilidh dancing.
The day before the wedding my Mum asked me if I'd like to borrow
her gold drop amethyst earrings, which were the first proper piece of
jewellery my Dad gave her after we were married. They went perfectly
with the dress and it was lovely to wear them on the day".
"Alex's kilt, jacket and waistcoat, and sporran are all from Kinloch Anderson,
and he's been building up the full set over a few years. The tartan is
Stewart Modern Dress and he went for a grey tweed jacket and waistcoat.
 Alex's shoes are Doc Martens, a limited edition made from blue-grey Harris Tweed, woven in Scotland.   His tie was also blue wool tweed, again from Kinloch Anderson. He wore a blue and green Liberty print hankie in his jacket pocket."
"We walked down the aisle together on our own. This was very
important to us. We've been living together for so long that it felt
strange to not enter married life together as well. It was very
meaningful to meet Alex in the garden outside the church and have a
moment together alone before the service. 
 We had traditional organ music throughout the ceremony, our
processional was the Purcell Trumpet Tune in D and we walked out to the
Hornpipe from Handel's Water Music. My dad is actually the organist and
choirmaster at Christ Church (although he didn't play on the day!) and
he helped us pick the music. The choir sang John Rutter's 'Gaelic
Blessing' while we signed the register, which was beautiful."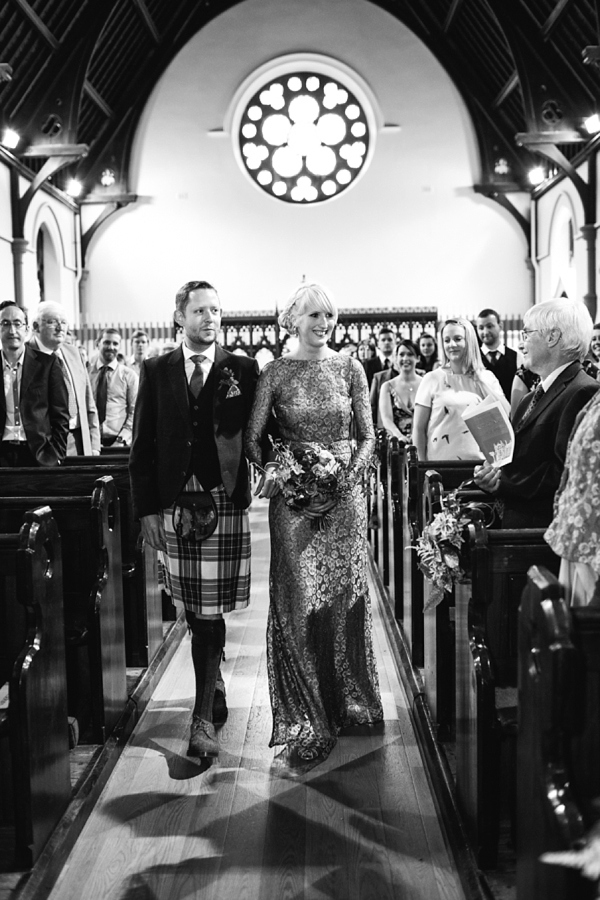 "We made our own wedding rings in a workshop in Brighton, with the jewellery designer Laila Smith. 
I really recommend doing this, it was a lovely day and it felt very
special to make each other's rings. We each have very plain white-gold
bands, Alex's wide and polished, and mine slim and matt-finished."
 
"The church where we got married is where my mum and dad attend
to worship, and we are good friends with the vicar Susan. It was lovely
to be married by someone we know."nue in December 2012 and organised everything from then on.
The
Scottish Episcopal church has lots of options for the service. We chose
a more modern wording for our vows and got to pick readings and prayers
that resonated with us. This made the ceremony very personal. One thing
I really liked is that the congregation is involved throughout the
whole service – they're asked if they will help and support us in our
marriage, like this;
'Will all of you support and encourage Kathryn and Alex in their marriage?
We will.

These are the vows we chose:
Before God and our friends,
I, Kathryn, give myself to you, Alex,
in loving and lifelong marriage.
I promise to be with you,
in sorrow and in joy,
in need and in plenty,
in frailty and in strength.
God keep me
always true to this promise.'"
"I didn't want the traditional Corinthians reading so we went for Ecclesiastes 4.9-12:

'Two
are better than one, because they have a good reward for their toil.
For if they fall, one will lift up the other; but woe to one who is
alone and falls and does not have another to help. Again, if two lie
together, they keep warm; but how can one keep warm alone? And though
one might prevail against another, two will withstand one. A threefold
cord is not quickly broken.' 
"We also had a poem by Michael Donaghy called 'The Present'.  We chose this poem because I loved the sentiment behind it – to live together in every present moment."

'For the present there is just one moon,
though every level pond gives back another.
But the bright disc shining in the black lagoon,
perceived by astrophysicist and lover,
is milliseconds old. And even that light's
seven minutes older than its source.
And the stars we think we see on moonless nights
are long extinguished. And, of course,
this very moment, as you read this line,
is literally gone before you know it.
Forget the here-and-now. We have no time
but this device of wantonness and wit.
Make me this present then: your hand in mine,
and we'll live out our lives in it.'

"We had a piper outside the church as people arrived, and as we left
the church. My dad is also a piper and he played us into dinner – we
all processed in together from the bar, led by me and Alex. That was a
really fun part of the day."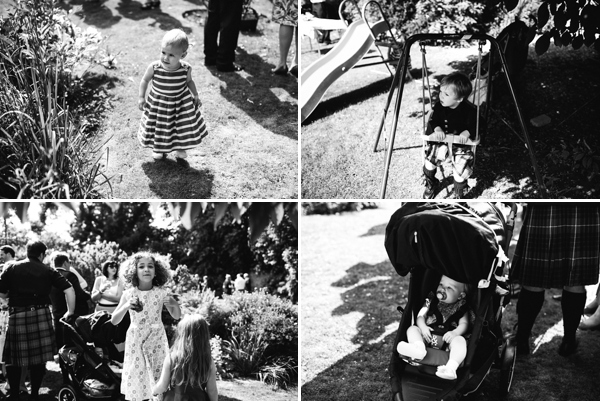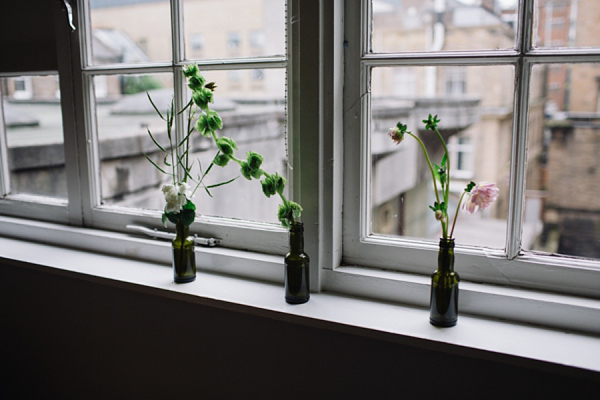 "Alex's stepmum Jean made a traditional
fruit cake, decorating it with beautiful white icing feathers and
iridescent glitter. It was delicious.
Our 'cheese cake' was bought from Iain Mellis in Morningside and decorated by Pyrus with edible flowers and fruits."
"Alex designed the table plan and all the individual table names. We
had assigned tables but not assigned seating. All the tables were named
after our favourite places in Edinburgh and London, with pictures of
each place. Alex also designed our invitation, which went on the front
cover of our order of service, which was kindly laid out and printed by
the church manager at Christ Church."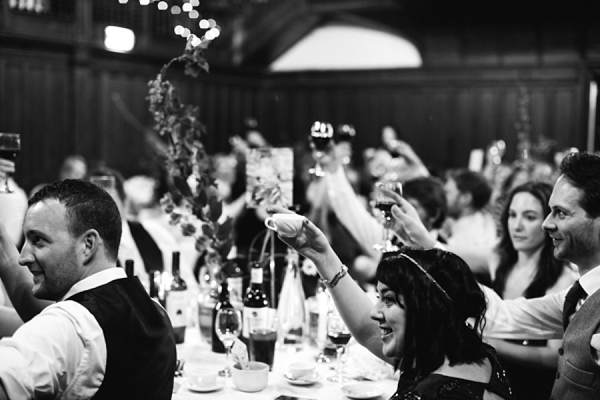 "We had the Gay Gordons, which are the traditional way to start a
ceilidh. We demonstrated the dance to all the guests, then began it on
our own before guests started to join in. Neither of us were keen on the
idea of swaying around the floor on our own to a song for several long
minutes, so this was the perfect solution (suggested by the ceilidh
band).  Although we got pretty tangled up and kept going the wrong way,
it was incredibly fun!"
"The ceilidh was one of my favourite parts of the day. Our band was Carrie On Dancing
and they were brilliant. About half of the guests had never been to a
traditional Scottish ceilidh before, and Carrie was a really good
caller, explaining each dance. Everyone had a go! Teviot is a great
space for ceilidhs.  The ceilidh pictures are some of my favourites from
the whole day."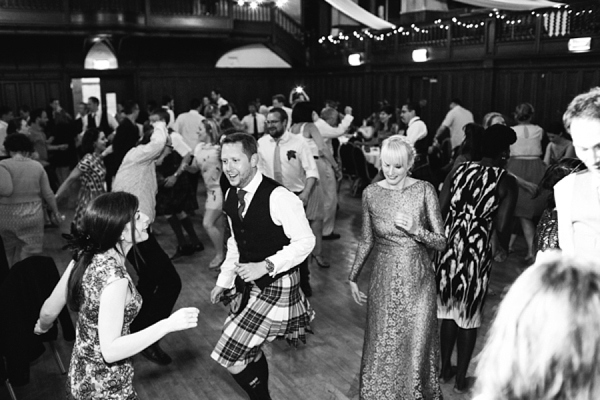 "There's too much to choose from, but my favourite part of the
day was probably making my speech! I woke up at 4am on the wedding day
worrying about it, but getting to have my say in front of all my family
and friends was pretty amazing. My lovely friend and bridesmaid Bea also
read a poem she'd written especially for us. I'd held it together all
day until that moment, but hearing that poem had me in floods of (happy)
tears. 
Alex's favourite part was meeting a very  nervous Kathryn outside
the church and getting to walk her down the aisle, then walking out of
the church with her as my wife, into bright sunshine.
There isn't really anything I would change about the day, it was perfect. I just wish it could have lasted longer!  Okay,
one small thing – I wish I'd realised how long the ceilidh would take,
and not spent hours building the perfect party playlist on Spotify when
we only got to hear 45 minutes of it!"
Words of Wedded Wisdom…
"If you're worried about an aspect of your wedding, think about
how it will make you and your guests feel rather than how it will look.
At the end of the day, nobody will remember the favours, your hair-do,
or the colour of the napkins. Your guests will remember the atmosphere,
how happy you both looked, and whether they were stuck waiting around
for ages before dinner! 
Don't take anything for granted- think about every tradition, the
reason behind it, and whether you want to keep it, chuck it out, or
modify it.   It's a special day, but it's only 24 hours long.
It'll be over in a flash, so don't get too stressed about it or spend
too long planning. 
Think about what you want. Lots of people told me not to hire a
make-up and hair artist as I wouldn't look like 'myself', but it was
some of the best money I spent. Take every Word of Wisdom with a large
pinch of salt!

Lastly, hire an amazing photographer – the photos are all you get to keep!"
Congratulations Alex and Kathryn and as always, a huge big thank you to one of our favourite Scottish wedding photographers, Caro Weiss.  You can see much more of Caro Weiss's beautiful photography on Love My Dress here.  Be sure to also check out the gold, Scottish wedding and colourful wedding pages.
Would you wear a gold dress on your wedding day? Any other Issa fans out there? And what about those flowers?

Have a great Monday morning everyone,
Annabel
Photographer – Caro Weiss
Venue – Teviot Row House
Wedding Dress – Gold Babukshka lace dress from Issa London
Veil/Headpiece – pearl hair vine via Pearlspearlspearls.com
Brides' shoes – The 'Ginger' shoes by Rachel Simpson
Bride's accessories – mothers jewellery
Groom's Attire – kilt via Kinloch Anderson  + limited edition Doc Martens + Liberty print hankie
Bridesmaids – own choice
Flowers – Pyrus
Cake – The groom's mum + cheesecake via Mellis in Morningside
Entertainment – Carrie On Dancing
Decor – paper streamers via Party Party + paper poms via Deco Pompom
Rings – designed by the bride & groom via jewellery designer Laila Smith
Catering – Honours Catering
Hair Stylist + Makeup Artist – Alexis Miller