Well good morning guys 'n gals! This is my first morning back in the UK in almost a week, having just returned from a 5 day break in Marrakech with my husband – more on that soon, though you can catch up on some of my travel adventures via Instagram.
This morning's gorgeous wedding, sent in by Sally T Photography, is something a little special – Gill and Ben had the most beautiful humanist wedding celebration set alongside the sea on the most glorious sunny day in June.  The couple tied the knot at East beach in North Berwick – Gill's parents live nearby and both bride and groom love how pretty the area is.  They were assisted by Gill's friend Kirsty of the blog 'A Safe Mooring' in planning their wedding.
"I wanted it to be relaxed and also quite natural. I am not really
one for getting dressed up or spending much time over my appearance – so
chilled out and natural was the plan!"
Photography Copyright (c) 2013, Sally T Photography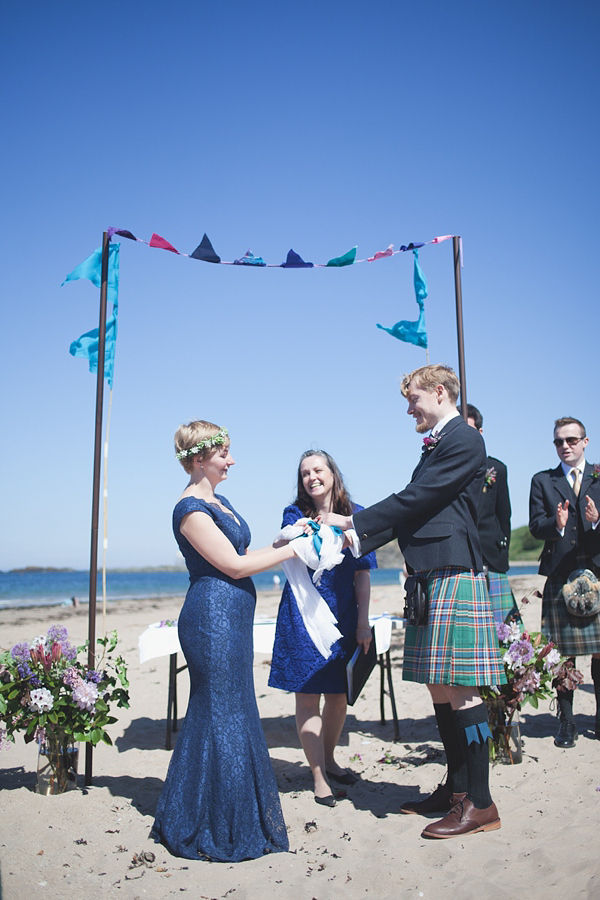 Gill shares the story of her relationship with Ben, which was
read out at their wedding by one of their close friends. The couple
were engaged for six months but had been together for seven years…
'And
so our romantic tale begins… in a grimy, sweaty techno club – no longer
of this world – which once squatted in the shadows of an M8 flyover in
Finnieston, Glasgow.'
'Some of you here today were lucky
enough to have known the Soundhaus well, and Gill and Ben were lucky
enough for some of you here to be present on that fateful night.  In
fact, without the intervention of these close friends it is unlikely
that Gill and Ben would ever have developed the 8-year-old loving bond
they now cherish.  Ben, you see, struggles with a social phobia and was
particularly shy in his approaches with women.  In any normal situation
Gill would have walked away, but Kev and Dom were adamant that – despite
avoiding her and refusing to make eye contact – Ben did like her. 
Instructed by Kev to "just do it" Ben found himself waiting outside the
toilets for Gill to reappear.  Mumbling something along the lines of
"I'm not very good at this…", Ben couldn't finish his pre-prepared
garble before Gill did the honourable thing and kissed him.'
'Gill
and Ben properly met and talked for the first time in Milano, months
earlier, on a 21st birthday excursion for Kim Brownlie.  Gill was
immediately drawn to the sophistication of a man choosing to buy fine
cured meats and cheeses over the cartons of cheap plonk others on the
trip were stocking up on.  Always eager "for a taste", Gill was quick to
propose going 'halfers' on the goat's cheese and red wine Ben was
eyeing up.  Ben, always eager to save a few pennies – and for someone to
help him obtain good food, was quick to accept.  On that day, from
their shared love of good wine and cheese, the seeds of a companionship
were sown.'
'Gill and Ben continued to develop their
relationship in and around Glasgow for the next 3 years and in that time
they encountered innumerable unique and character building experiences
together.  While Ben was still studying for his first Masters degree,
Gill began her first of many oversees volunteering ventures in Sri Lanka
– working at an orphanage and helping with the rebuilding effort after
the Boxing Day tsunami of 2006.  This was the first long distance
relationship test.  Owing more to Gill's resilience than Ben's
communication skills or ability to buy a long-distance calling card, the
first test was passed, though not without its scars.'

'In
the summer of 2007 they were fortunate enough to be able to spend 5
weeks backpacking around Eastern Europe, the stories from which still
form a bedrock of the B&G team relationship experience.  Experiences
such as dancing all night in a derelict hospital in east Berlin;
getting trapped in dusty backwater town in no-man's-land on the border
of Hungary and Croatia with no money to get a train back to
civilisation; or watching the sun come up atop a fortress overlooking
the River Danube having been almost crushed to death in a panicked crowd
the same evening.
Later that year they moved out of the
city to a country estate, growing their own vegetables and helping to
raise some chickens.  Surrounded by beautiful scenery, fresh air and
produce they soon realised that no one but their mums and dads were
visiting them, so they moved back to the city.'
'Tired
of having her quality of life trampled on by her employers, upon
becoming a qualified solicitor Gill quit her job and became a cook. 
Tired of having her quality of life trampled on by her employers Gill
went to Uganda to work for UN WOMEN.'
'Shortly
afterwards Ben was made redundant for the second time in two jobs and
moved back in with his parents 9 years after leaving the nest.  Dark
days followed and the second long distance relationship test was
stretching the endurance of their bond to the limit.  Ben was unable to
muster the resources to visit Gill in Uganda and 6 months passed in
separate realities.  Gill, returning to find her life in Glasgow
disappeared and her unemployed, uncommunicative boyfriend living with
his parents, moved back in with her parents too.'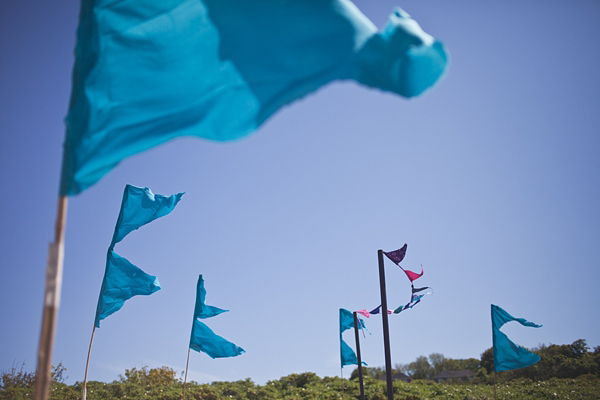 'Unhappy
with their career directions and prospects at the time, both Gill and
Ben independently decided to go back to university.  Ben went to London
and Gill went to Essex University.  Gill and Ben made
it through their Masters courses invigorated with a new sense of purpose
with Ben securing a PhD and Gill getting work with the Special Tribunal
for Lebanon in The Hague.  Displaying his knowledge of the errors of
his previous ways, Ben visited Gill in The Hague several times,
developing his love of cycling, pancakes and other Dutch specialities.
'Gill
got work with the Civic Coalition in Palestine. Ben visited the West
Bank, took a trip to the Jordan Valley to protest while Gill was at
work, and birthed some of Lisa and Jo's kittens.  At
this point they decided that it was rubbish living apart and that they
really ought to be living in the same place at the same time from now
on.  In summer 2012 Gill moved in together with Ben in London.  It was
the first time in almost 3 years they had lived together in the same
house.'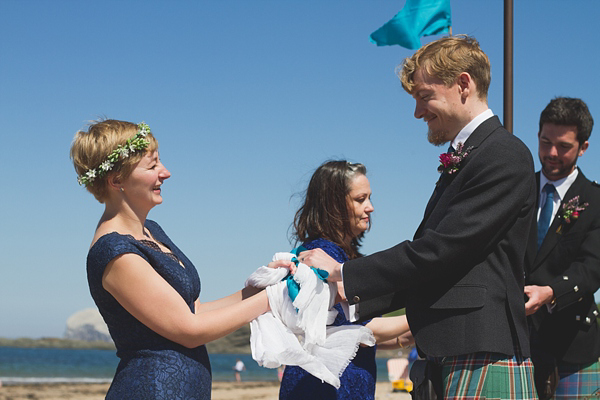 'In November 2012 Gill got a job in a London
based Human Rights firm, (HOORAY!), but the very next day they sent her
to Kenya.  Thankfully Gill now comes back every now
and again – like this week for her wedding – and Ben gets to live with
her for half the time and, displaying his knowledge of the error of his
previous ways, has bought a long-distance calling card for the other
half.'
'Tired of having her quality of life trampled on by her
employers, Gill is now waiting for Ben to finish his PhD so they can
move back to the countryside and Gill can open a café, be her own boss
and bake cakes for a living.  Ben likes cake and is happy for Gill to
provide him with a living.

…and they will both live happily ever after.'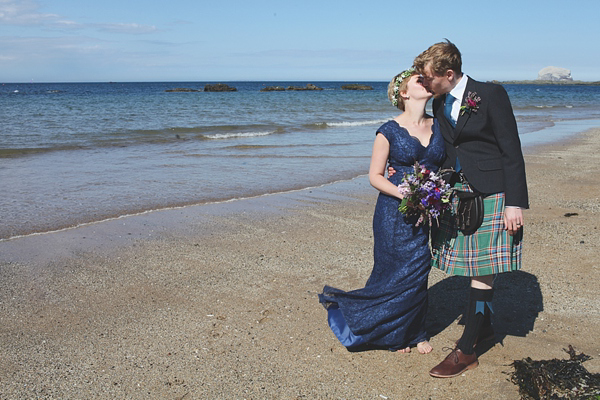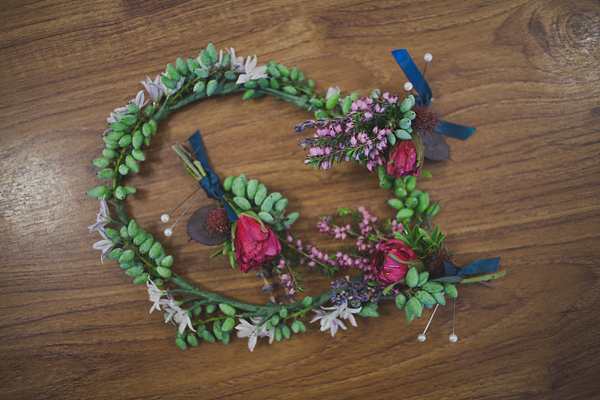 "As well as creating my flower crown, Fiona of Pyrus Flowers also provided the most wonderful natural looking flowers.  We
wanted as much sourced locally as we could but also wanted some bright
colours and she pulled it off. I just loved them on the day."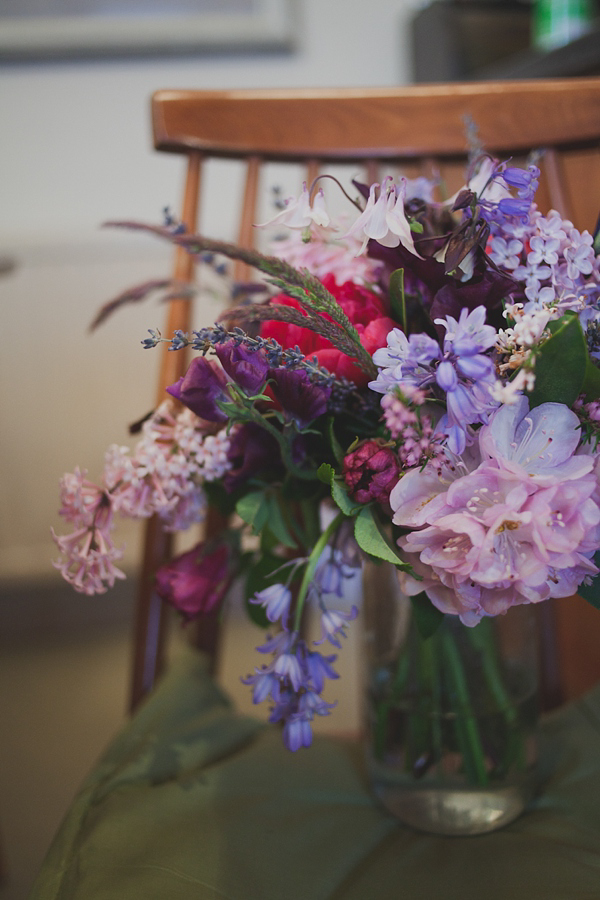 "My dress was by Ariella, from House of Fraser.  I loved the fit and the fact that it was not white!
I went barefoot on the beach but otherwise wore a pair of gold shoes…"

"My mum and I made the cake, because we make tasty cake. All colours were natural."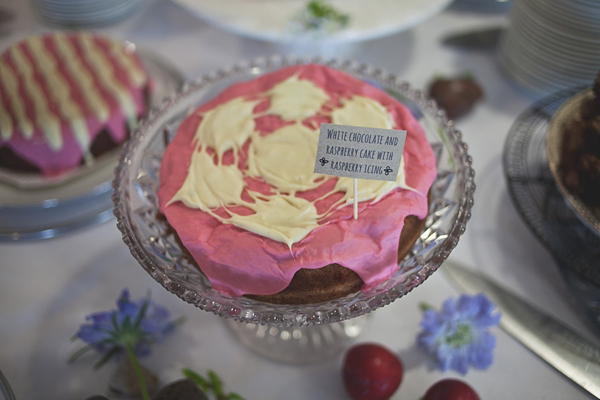 "We used bunting, made by my mum and our nieces."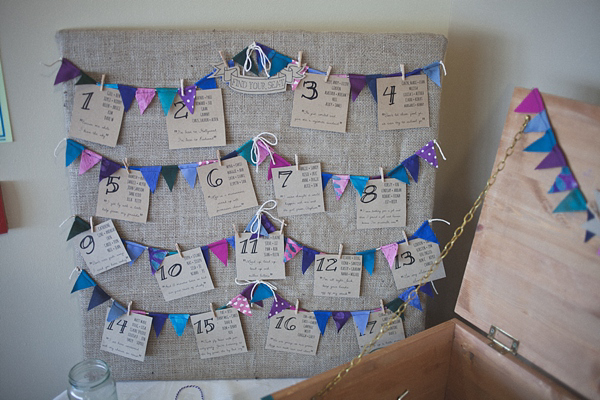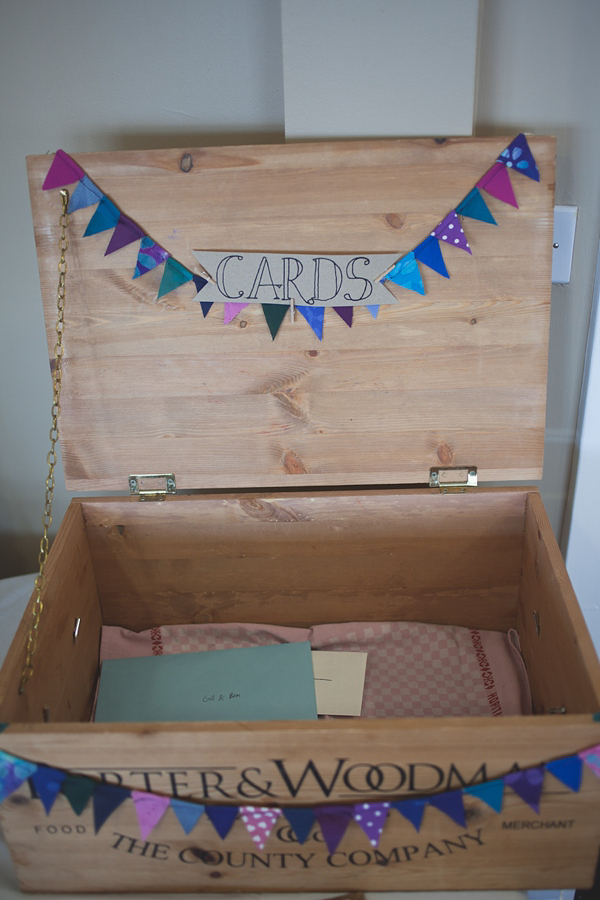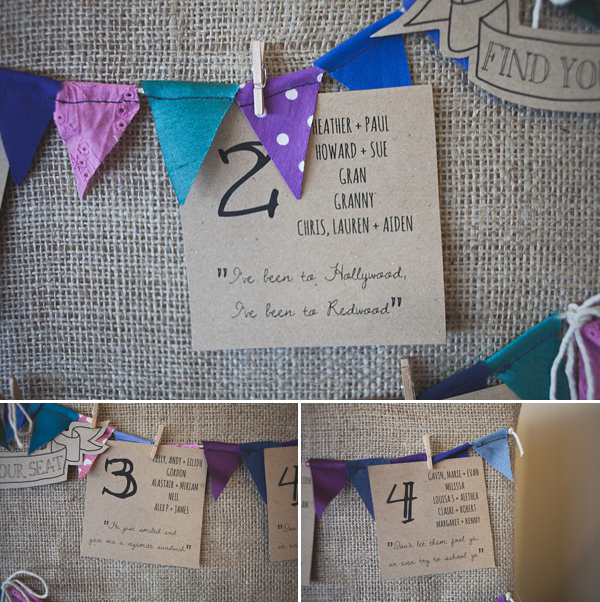 "My friend Kirsty of A Safe Mooring
designed our stationery, including our order of the day cards and table plan.
I have to admit even I was quite surprised
by the extent of her talents. Kirsty has a full time job, although seems
to manage to help style, organise and design wedding stationary in her
spare time. Amazing!"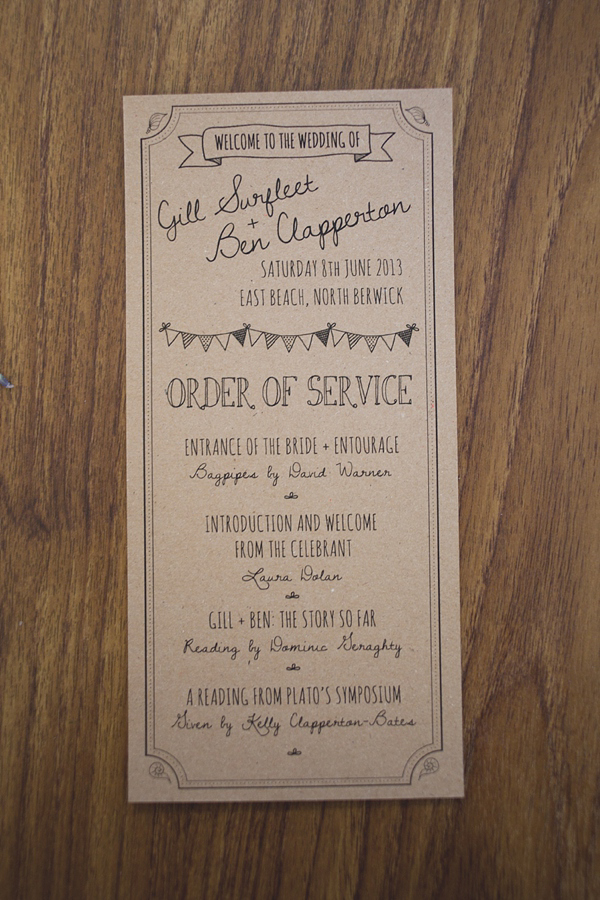 "As a favour, we gave everybody little bags of tablets. The tablet
was made by Ben's mum Helen and his Aunt Maggie, they did a wonderful
job."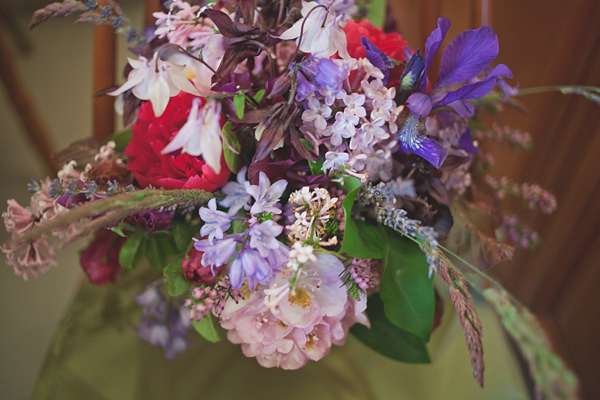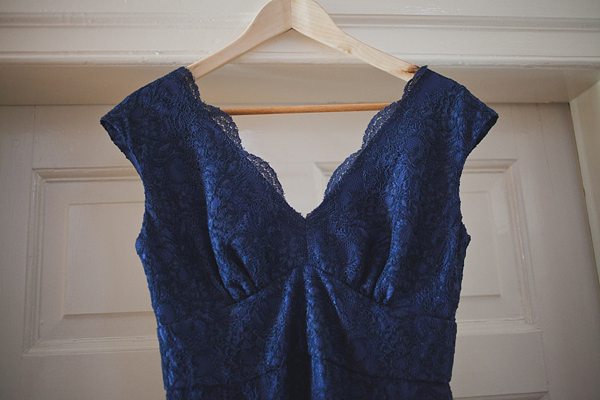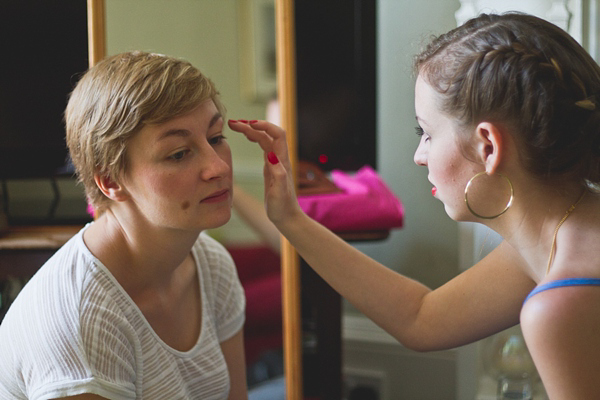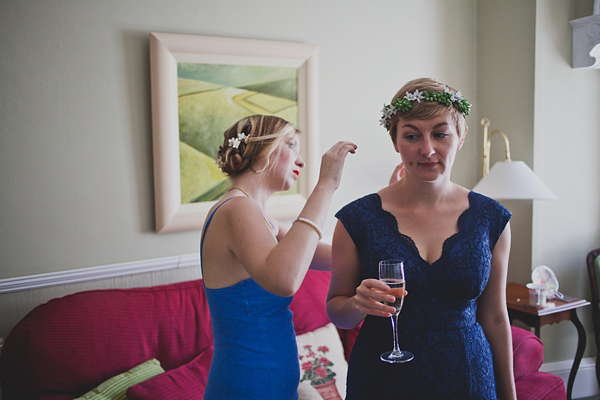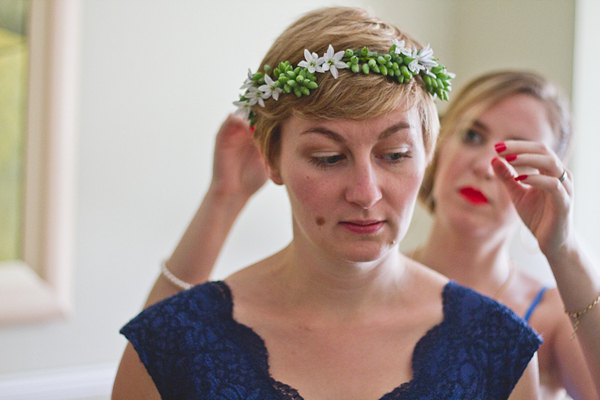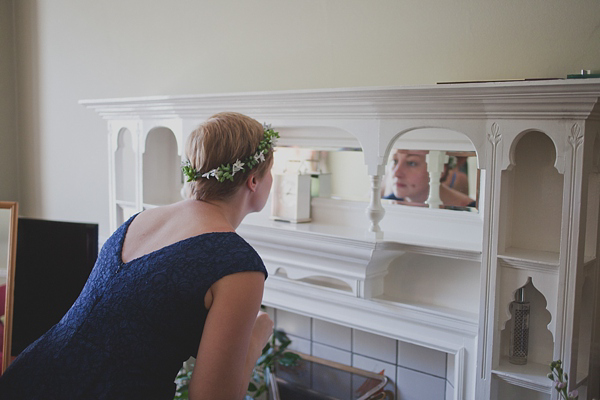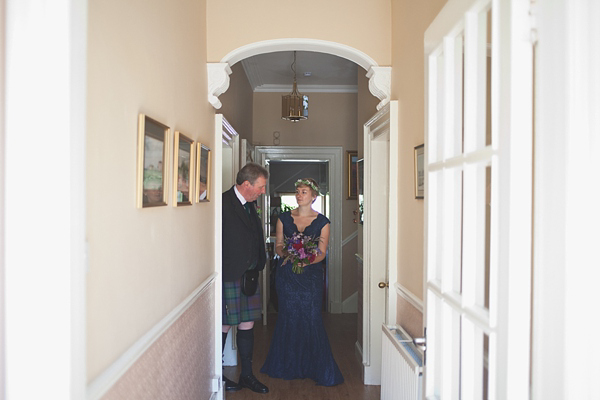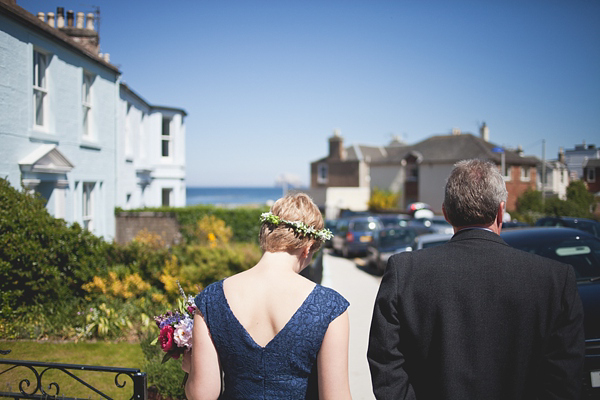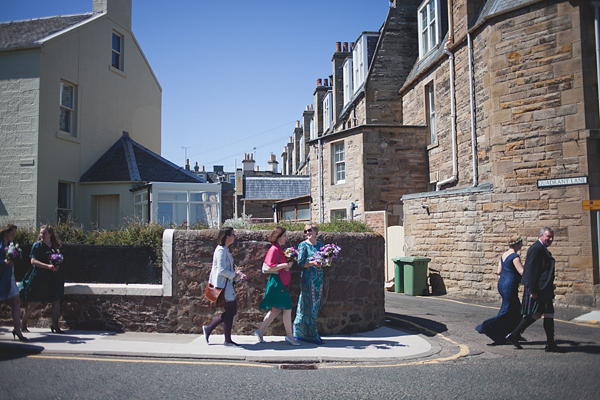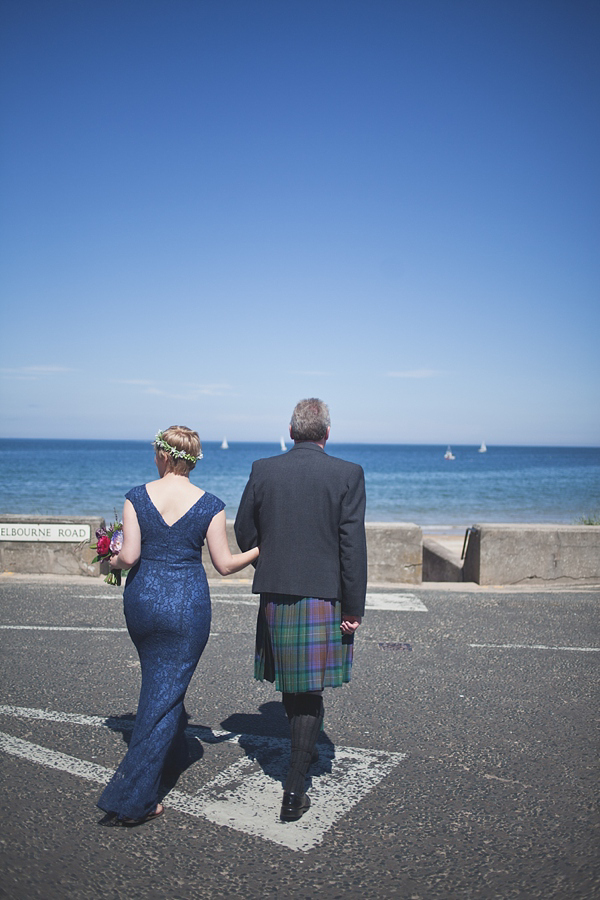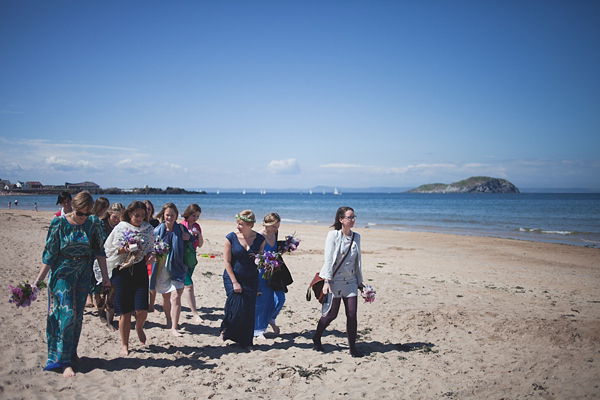 "My Dad 'gave me away', to the sound of 'Mahairi's Wedding'."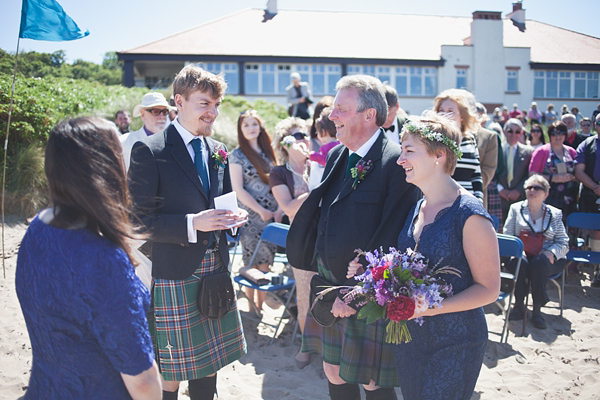 "We
had a humanist ceremony which suited us. We liked the idea of having
personal vows, but were not that comfortable sharing vows we had written
in front of a big crowd so we selected a poem by Robert burns, 'Wilt
Thou be my Dearie?'
'G: Wilt thou be my Dearie?
B: When Sorrow wring thy gentle heart,
B: O wilt thou let me cheer thee!
G: By the treasure of my soul,
G: That's the love I bear thee:
G: I swear and vow that only thou
G: Shall ever be my Dearie!
B: Only thou, I swear and vow,
B: Shall ever be my Dearie!
B: Lassie, say thou lo'es me;
B: Or, if thou wilt na be my ain,
B: O say na thou'lt refuse me!
G: If it winna, canna be,
G: Thou for thine may choose me,
B: Let me, lassie, quickly die,
B: Still trusting that thou lo'es me!
B: Lassie, let me quickly die,
B: Still trusting that thou lo'es me!
G: I swear and vow that only thou
G: Shall ever be my Dearie!
B: Only thou, I swear and vow,
B: Shall ever be my Dearie!'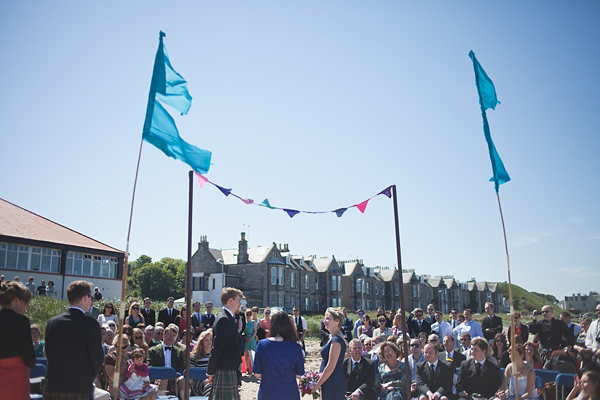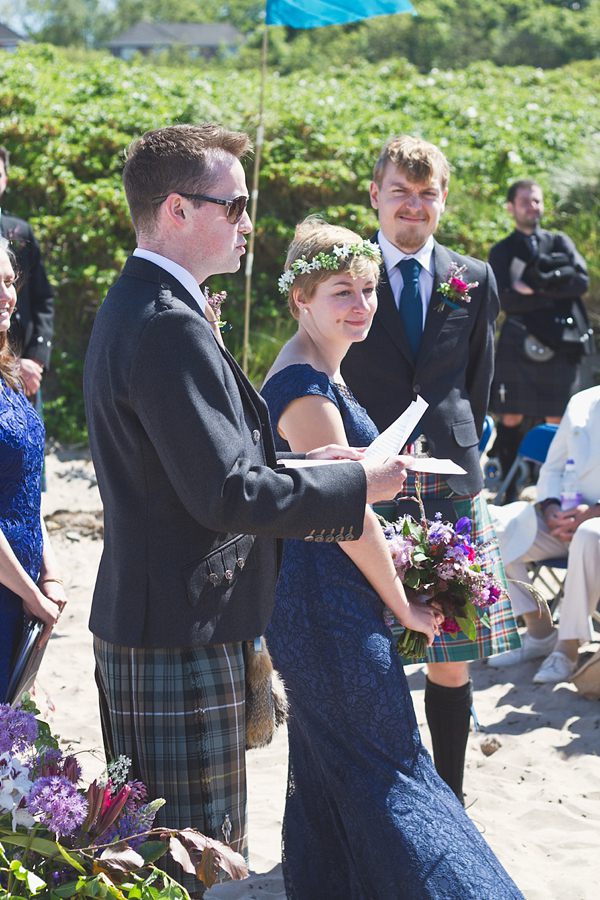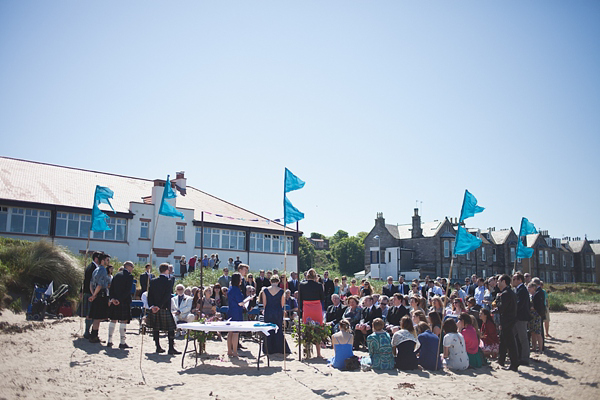 "Our multi-talented friend Charlotte
(who is also glass blower) made our rings. My rings are stacking rings,
my engagement ring has a tiny pearl nestled amongst twisted silver
bands. While we were out for dinner one night we found a pearl in an
oyster, so that formed part of my engagement ring. Ben has a lovely
textured silver band."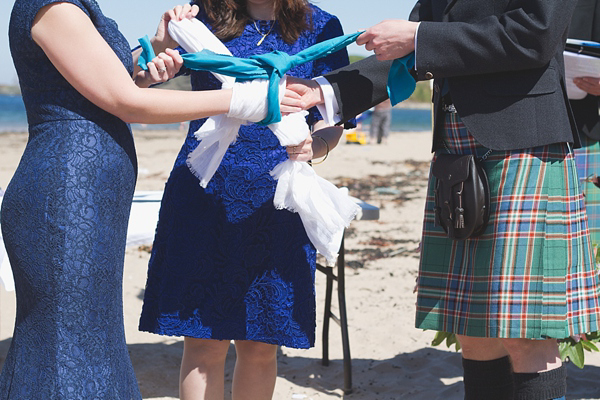 "We
had Ben's sister read form 'Aristophanes's Speech from Plato's
Symposium' , we liked the descriptions of love, plus we liked the big up
he gives to same sex couples in 380BC.
My friend Kirsty
read, 'We Are the Music-Makers' by Arthur William Edgar O'Shaughnessy,
it's a very grounding poem, it makes you think about your place in human
society and what has gone on before and will go on after we are gone.
For us it helps us get perspective and we think that is important in
life.
Ella our niece sang, 'I am O'er Young to Marry
Yet' by Robert Burns for a wee bit of humour. She was wonderful and sung
acapella."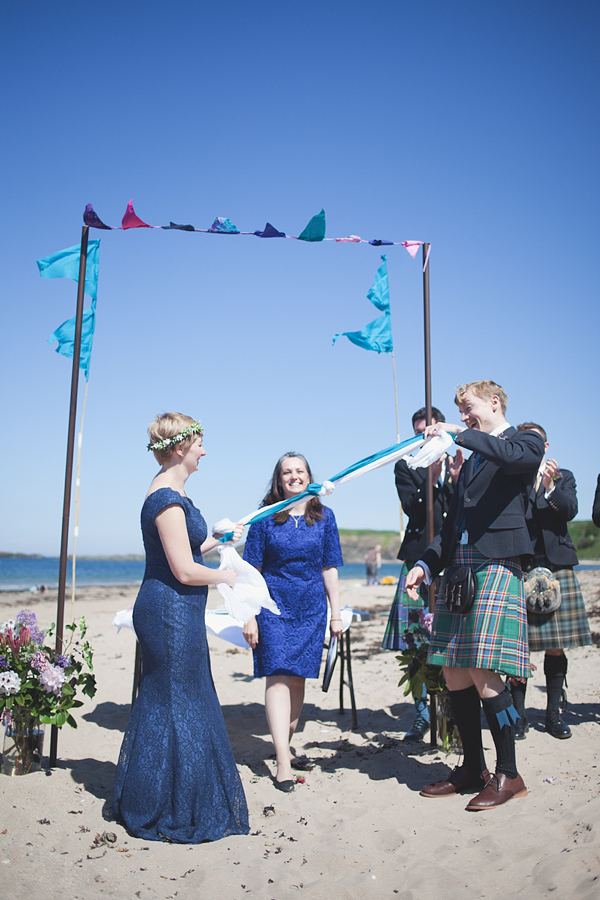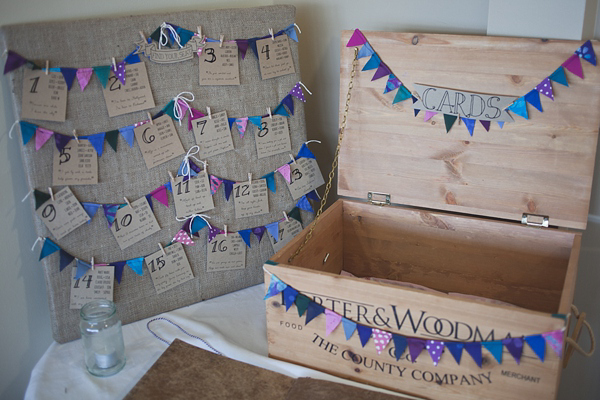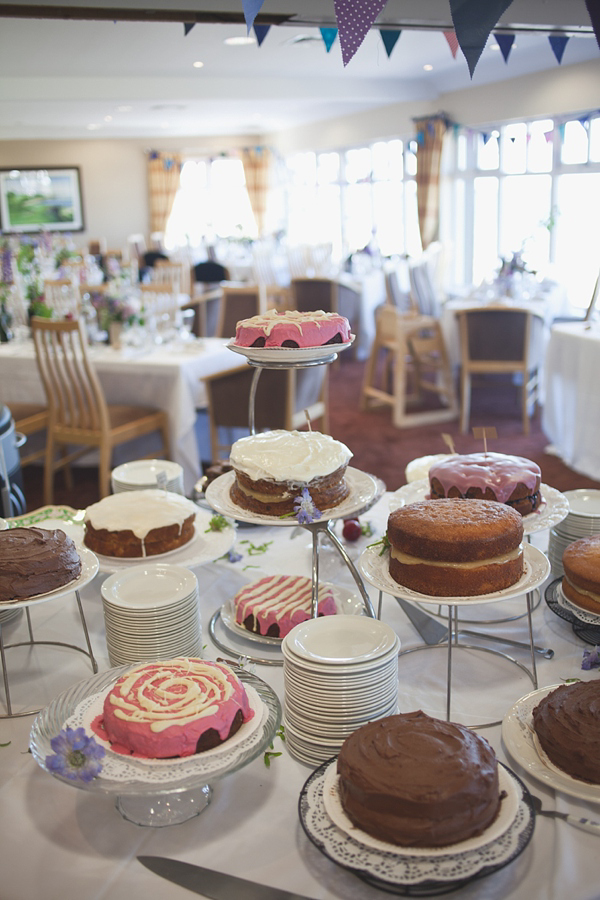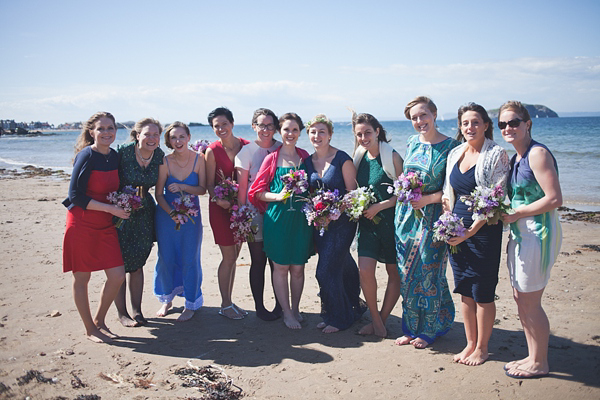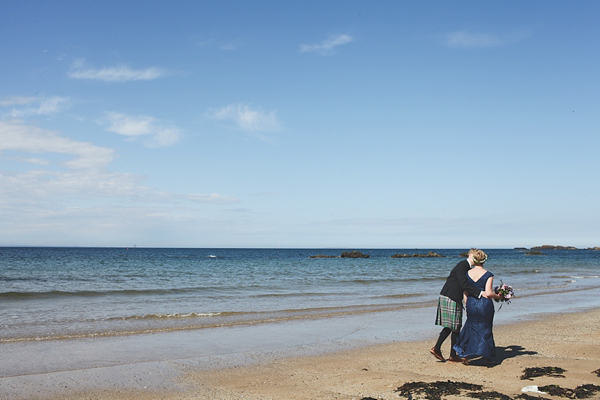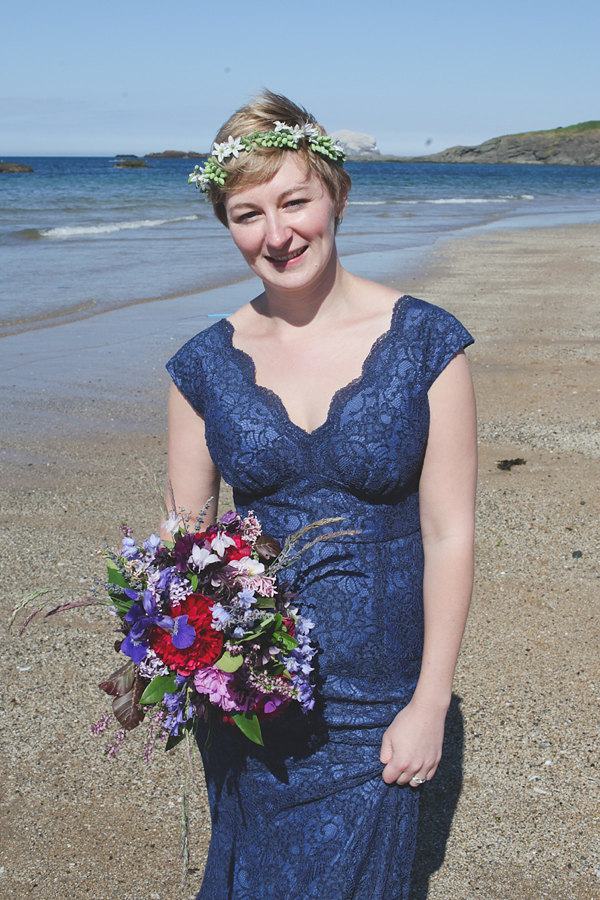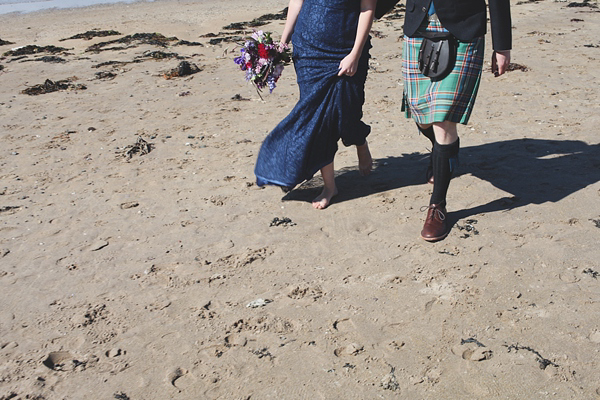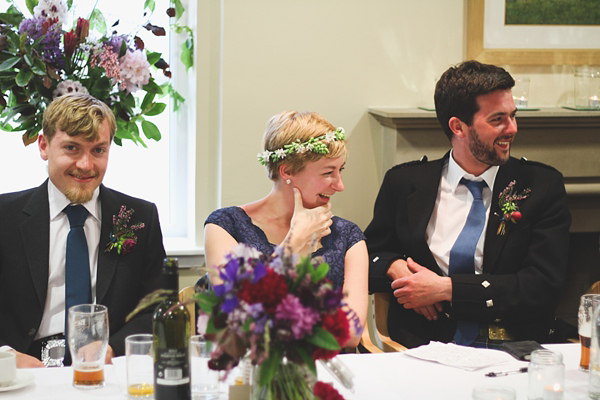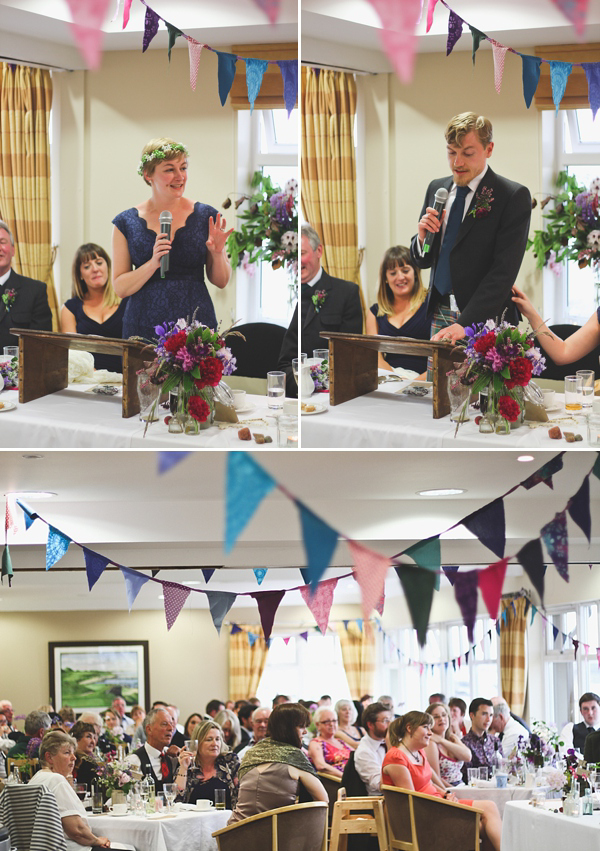 Words of Wedded Wisdom…
"It doesn't matter what people tell you, you must do, or have to have etc, anything goes, you don't need to follow the rules.
My favourite part of the day was the dancing! That is always my
favourite part of weddings and it was no different at my own. I love a
ceilidh and our band were just great they were so lively and the party
going. After the music stopped inside we went down to the beach, had a
bonfire more dancing and watched the sun come up over the islands off to
the East."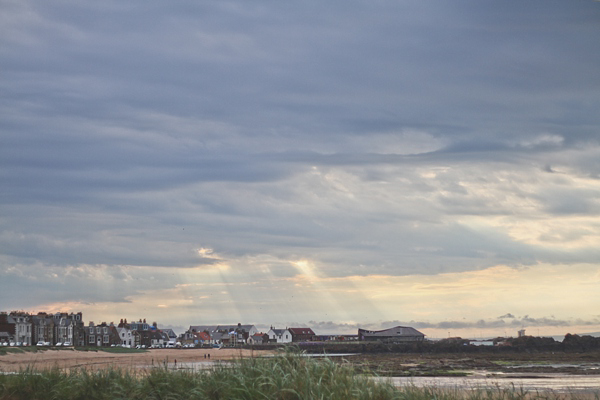 It's this kind of wedding I simply adore sharing with our readers – such a wonderfully personal day, a couple celebrating in their own way, and heart-warming photographs. 
Thank you so much Gill and Ben and congratulations to you both too – and as always, respect to the lovely Sally Thurell for sharing her beautiful photography yet again with Love My Dress.  Click on the related post/category links beneath this blog posts to find lots more similar content to inspire you.
With much love,
Annabel

Photographer – Sally T Photography
Wedding Planner/Stylist – Kirsty of A Safe Mooring
Venue – East beach in North Berwick
Wedding Dress – Ariella, from House of Fras
Brides' shoes – none, barefoot on the beach
Groom's Attire – Kilt, Kinloch Anderson
Bridesmaids dresses – their own
Flowergirl dress – her own
Flowers + Flowercrown – Pyrus Flowers
Cake – Made by the bride and her mum
Entertainment – Graeme Armstrong and his Scots Ceilidh Guard
Rings – Charlotte Sale
Catering – Glen Golf Club