Hey there! Morning beauties. Let's get stuck right in to today's first real wedding.
Ashley and Neil tied the knot on 28 April this year at Greywalls Hotel in Gullane, East Lothian, Scotland.  I adore Ashley's dress, I think she's rather unintentionally ended up reflecting one of the biggest style icons of the past century, the beautiful and elegant Audrey Hepburn of course.
"Our aim was to create a 'glorified house party' with a vintage
1950s touch.  I love all things 1950s and knew instantly the style of
wedding I wanted to create.  I also was aware that the venue itself is
so unique and has lots of nick naks around the place and really didn't
need much additional décor.
I didn't want to 'overstyle' it. I am
obsessed with polka dots so little red polka dot touches were all over
the place."
Love My Dress Wedding Blog – Photography Copyright (c) 2013, Lisa Devine
"Neil and I met as we worked together in the same company in
Glasgow.  We have spent the last couple of years tirelessly renovating a
house and it was very appropriate that Neil proposed to me in our
garden.  He thought it would be romantic to look out the window and
always see the spot where he popped the question. 
He can't sit still in
our house for five minutes as there is always something needing done –
just before he proposed he cut the hedge!  Then he appeared with a
bottle of champagne and the ring!  He completely surprised me and I was
delighted. We were engaged for just over a year."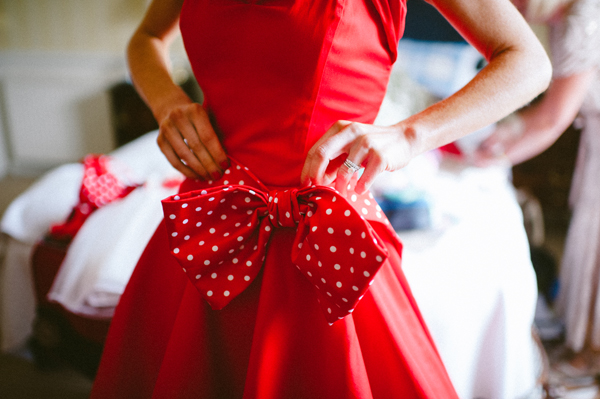 The fashions and styles of the 1950s has been so incredibly popular this past couple of years with brides, but I particuarly love this boat-neck dress by Lou Lou Bridal – so Audrey!

"I knew I wanted a tea length fifties style dress and found Lou Lou Bridal online and liked about four of their dresses.  I struggled to find stockists in Glasgow so ended up at Alison Kirk Bridal.  It was the second one I tried on! I cancelled all other appointments!
I spotted my veil on the Maria Louise Bridal Etsy store
and couldn't recommend Maria Louise enough!  Her customer service was lovely
and the veil arrived in a handmade box with my name on it (see photo).
Very reasonable price too."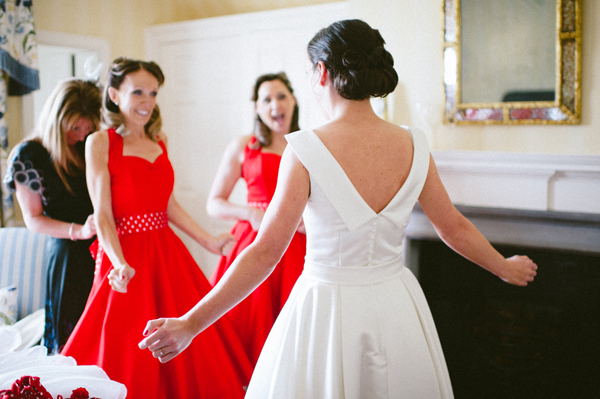 "My bridesmaids wore red circle dresses from Vivien of Holloway and red polka dot slingbacks from EBay."

"I didn't want to put too much into the venue as it really
didn't need much, but I decorated the ceremony room with simple white
bunting and some of the decorated jam jars with candles down the aisle. 
I had red and white hearts fairy lights in our disco room.  On the
tables we had my decorated jam jars with flowers.  The table names were
all my favourite 1950s movies and I had a little frame with the movie
poster."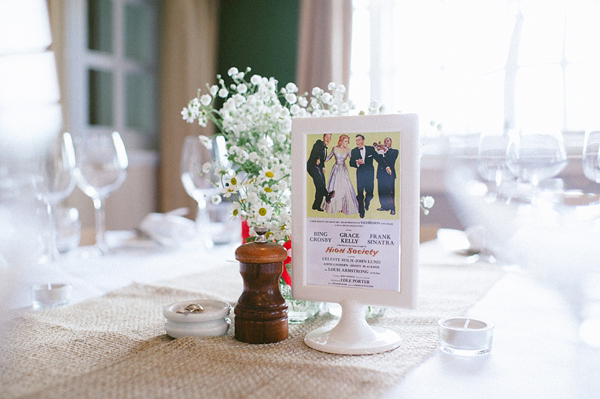 "I used white linen, white chair covers and bows and I made
hessian table runners.  I really liked the white with hessian and all
the little touches of red on my stationery.  I made a seating plan from
an old frame which I painted white and then used polka dot fabric and
luggage tags to display the names.  In the hallway I had a piece of
string and pegged on pictures all my favourite stars weddings (Elvis,
Frank Sinatra, Johnny Cash, Elizabeth Taylor, Grace Kelly, Audrey
Hepburn etc).  I hired vintage champagne saucer glasses for the drinks
reception.  It looked so lovely seeing everyone drink their fizz in such
style!"
"Tulipa
were recommended by our venue. I wanted my bouquet to look like Audrey
Hepburn's in Funny Face and my bridesmaids to have the same but a
slightly smaller version.   I used Tanacetum (like a daisy) and gyp.  I
don't really like big floral displays and wanted to keep the flowers
very simple so ordered loose Tanacetum and Gyp for my table centres. I
had collected jam jars and vintage bottles/jars and my bridesmaid
Anna-May worked very hard on the morning of the wedding making them all
up. They looked great."
"I run fundraising events for The Prince & Princess of Wales
Hospice in Glasgow and one of our volunteers, Andrea, very kindly
offered to make my cake.  I didn't want a wedding cake as such as we
didn't want to do the 'cutting the cake' thing, but thought mini
victoria sponges would be a nice idea (and a bit retro).  They went down
a treat and we even had some left over for the party at our house the
next day."
"My shoes were from Ted Baker.  I
wanted red killer heels with a big bow.  I searched for quite a while
for my shoes, but ended up getting these half price from ASOS in the
sale with a bag to match."
"I
really wanted something a bit different for my photos and had seen all
the lovely vintage style photographers but thought they were well over
my budget.  Then I spotted Lisa Devine's website!
We met for a coffee and got
on like a house on fire.  Lisa offered a half day package which to be
honest was perfect as it covered everything I wanted. She was a lovely
person to have around.  She was unobtrusive and yet felt like just
another friend at my wedding."

"The venue, Greywalls Hotel,
was the first place that popped into my mind when we got engaged.  I
had spotted it years earlier when looking for a venue for a work event
and thought it looked amazing.  As I organise events for a living, I
really didn't want a hotel with a "function suite" as such (I didn't
want a hotel that was too hotel-y!). Greywalls was perfect as it just
felt like a big house (but with a 5* hotel service!).
"Kathy at Pin-Ups turned
us all into 1950's glamour queens!  She was amazing.  She turned up in a
little vintage style uniform with a big silver trolly with all her
goodies.  She was great fun and created the exact hair style I wanted
for both myself and my bridesmaids."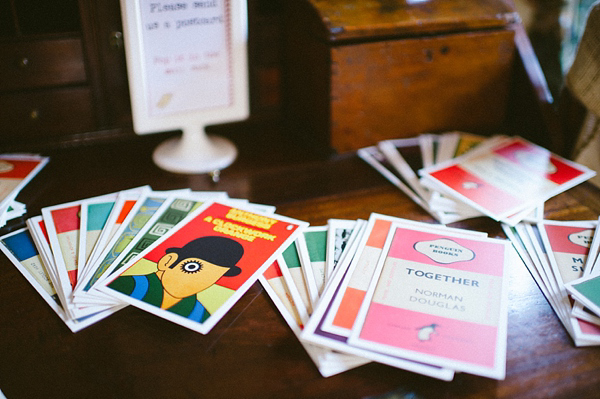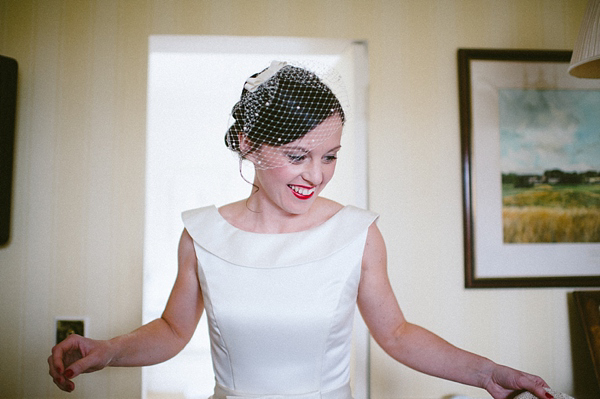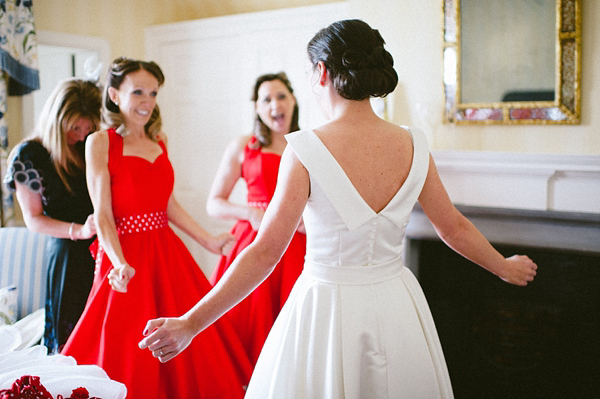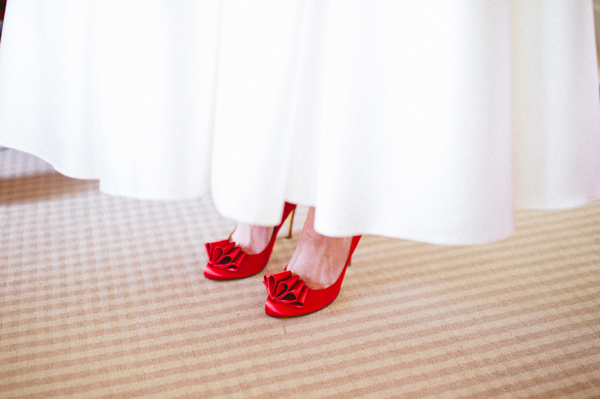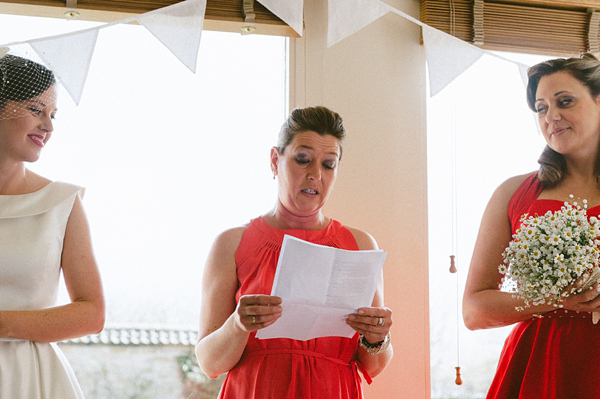 "My step-dad Stevie gave me away – I walked down the aisle to 'Moon
River' played on the cello by my friend Zoe.  She never ever let me hear
her play and would always joke 'I'll play at your wedding', so as soon
as I was engaged I asked her if she would.  It was a very special moment
– at least it was until I saw Neil and his two sons (best men) wearing
joke teeth.  Neil knew I'd be nervous so thought it would calm us all
down – it did – we were in stiches!  Thankfully he took them out for the
rest of the ceremony!"
Hahaha!!!
"When we were signing our register we had "Make
Someone Happy" by Jimmy Durante.  It's used in the film 'Sleepless in
Seattle' which I had watched with the girls the night before.  We walked
back up the aisle to "Bring Me Sunshine" by Morcambe and Wise.  Just
for a bit of fun.
We wrote our own vows.  We
had serious parts and some fun parts too.  For example Neil told me he
would always feign interest when I show him funny cat clips on you tube
and I told him I would always love him more than Elvis (I'm a big fan).
Our friend Louise who had come over from New Zealand to be at our
wedding read "O Tell Me The Truth About Love" by WH Auden.  Louise chose
this herself.  Neil also read me a poem he had written me years ago,
but had tailored it a bit for our wedding."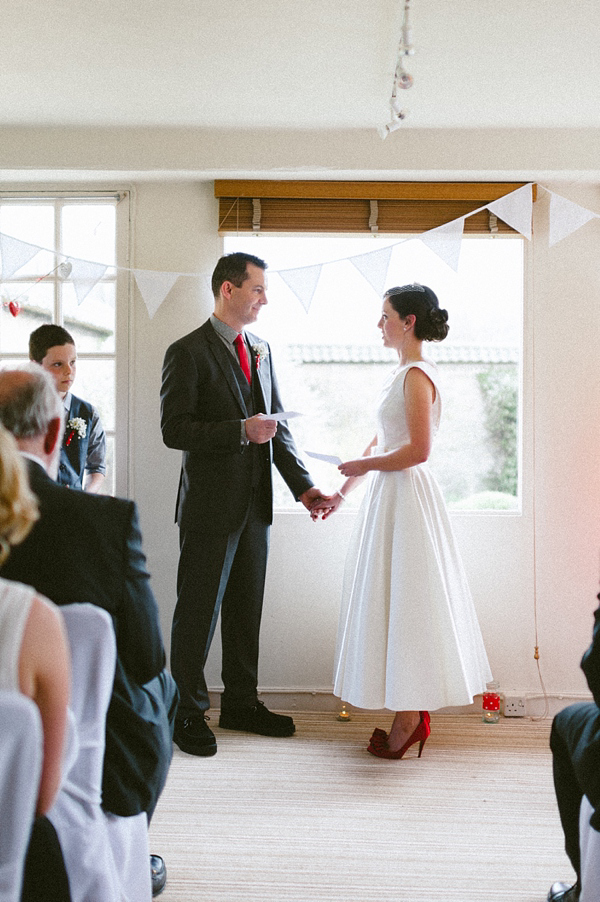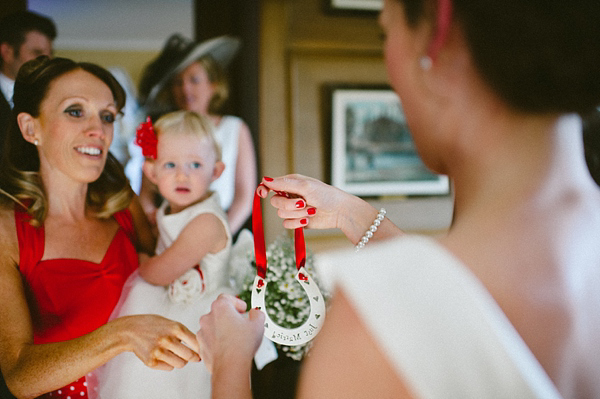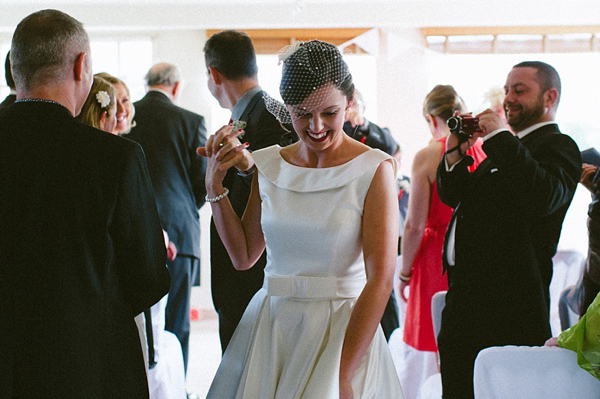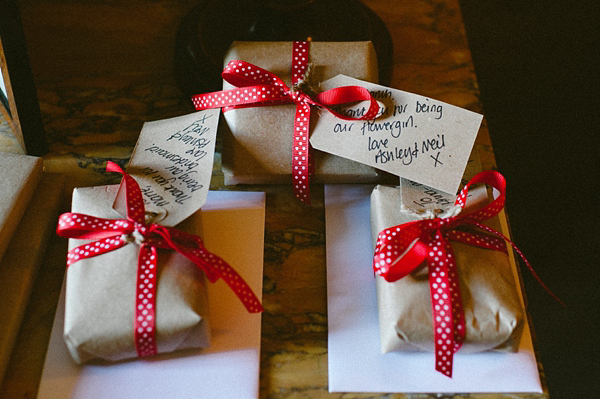 Words of Wedded Wisdom…
"Don't sweat the small
stuff.  There were things I was worried about that honestly just didn't
matter on the day.  I really wanted my wedding to be outside but
although the weather was sunny the venue is right by the sea so it was
cold.  We ended up getting married inside and it really didn't matter a
bit.  I wish I hadn't bothered looking at the weather forecast every
day! 
I loved the speeches.  We had them
at the end of our drinks reception and it was very relaxed – everyone
standing with a glass in their hand.  Neil's two sons both read out a poem
that Neil had written for them. They blew me away!  I was so proud.  My
mum also surprised us with fireworks.  I'm such a control freak a
surprise didn't even enter my mind.  It was amazing!  It also my sound
cheesy but just having all my friends and family around us was so
special.  Two of my best friends came over from New Zealand – one brought
her little girl who was my flower girls.  Just having a chance to spend
some time with them was brilliant.
I honestly don't think I would do anything differently."
Oh what a lovely day! If you adore red hues and are thinking of incorporating the colour in to your wedding day, you can browse through these pages for a tonne more information. You might also want to see our polka dot and Audrey Hepburn inspired pages also 🙂
I'd love to know what you have enjoyed about this wedding. I think for me the dress and family shots are the best thing 🙂 Huge thanks to photographer Lisa Devine for sharing these beautiful images – you can see more of this talented photographers work here on Love My Dress.
With much love,
Annabel
Photographer – Lisa Devine
Venue – Greywalls Hotel in Gullane, East Lothian, Scotland
Brides Dress – Lou Lou Birdal via Alison Kirk Bridal in Perth
Veil/Headpiece – Veil – Maria Louise Bridal on Etsy
Shoes – Ted Baker
Bride's accessories – 1950's crochet gloves via EBay
Grooms Suit – Slaters + polka dot shirt by Ted Bakers + red tie via Debenhams
Bridesmaids – Red circle dresses from Vivien of Holloway + red polka dot slingbacks from EBay
Flowergirls – EBay
Flowers – Tulipa
Cake – friend
Rings – Laings of Glasgow
Hair and make-up Artist – Kathy at Pin-up