I'm in one of those dreamy, whimsical style moods today, which has been prompted, I'm fairly sure, by my memories of having attended the brilliant Pretty Nostalgic Gathering this weekend in Bristol. There were just so many fascinating people there, so many pretty, arty, crafty, wonderful things to admire. It really was a lovely weekend punctuated by this glorious day full of creative people offering all manner of gorgeous products and designs made with love and passion.  It just reminded me what a brilliant industry I work in and how lucky I am to be surrounded by all this creativity every single day. It's inspiring.
And so it seemed fitting this afternoon to share this whimsical and wonderful little creative photoshoot that was sent to Love My Dress by Fly Away Bride.  Fly Away Bride is a blog that promotes destination weddings and was established by bloggers Lindsay Moynagh and Amy O'Neill, who are both huge Audrey Tatou fans - as in that gorgeous elfin creature who plays the starring role in the French film, Amelie (which if you've not seen yet – you must!)
Film Production Best Day Production
'When we decided to produce a photoshoot
inspired by the film Amelie, it was natural that we'd fly to Paris to shoot it!
An Amelie inspiration board we created earlier in the year was the seed that planted
the idea, so we used this board as our starting point.
Both of us are huge Audrey Tautou fans, and we wanted to re-create the love
story between the character she plays, Amelie Poulain, and her love interest,
Nino, from the 2001 movie Amelie ("Le Fabuleux Destin d'Amelie
Poulain"); we wanted Amelie to have the wedding she would have had:
quirky, colourful, whimsical, interesting- and most importantly, fun!'
Photography by  Brosnan Photographic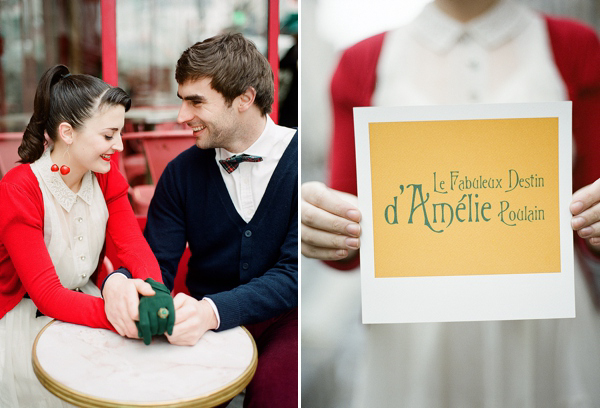 'We set off on a trip to
Paris after months of planning, prop gathering, and vendor organising. We went
to shoot in Montmarche, where the film itself is set, and at a few other points
around the city. The shoot took us a day and a half of concentrated work but
was also great fun as well, and I think this comes across in the photos.'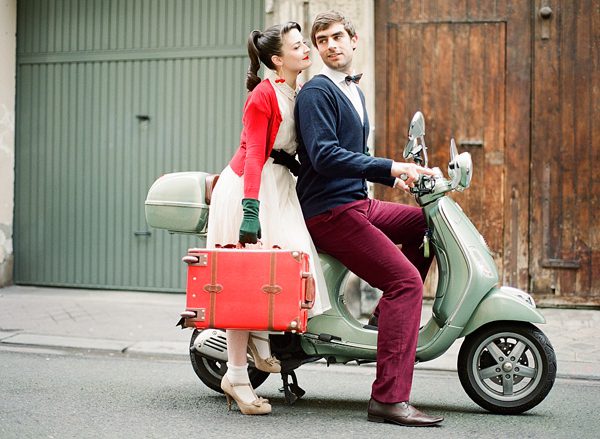 'We were inspired mainly by the colours green and red – we
wanted the shoot to have a whimsical aspect and to inspire brides with elegant
and colourful ideas.'
'We used real life couple, Roisin and William, as our models.  For Amelie, we wanted to create a 1950s inspired look with a modern twist, in the style of the film but easy for
modern brides to recreate. Amelie's outfit was a vintage off-white tea-length
dress with a black velvet bow belt, and two outer coverings: a green 1950s
jacket and a red cardigan which we alternated in the photos.'
'Nino's look came together as preppy-vintage with wine cords, a plaid bow tie
and suspenders under a navy cardigan.'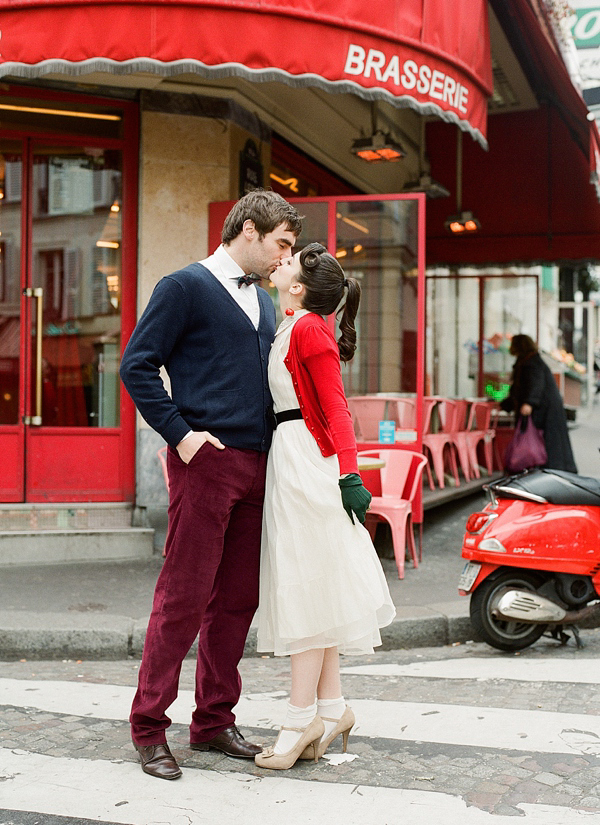 'We also had green
velvet gloves and a gold ring, vintage as well, and we put socks under her
shoes for a look that was that little bit quirky but still really cute. Our
model's make up was kept porcelain-skinned but with red lips and black eye
liner, and her hair in a 1950s-reminiscent up-do.'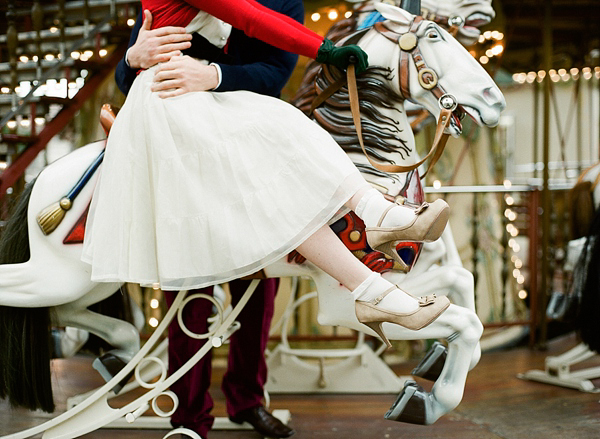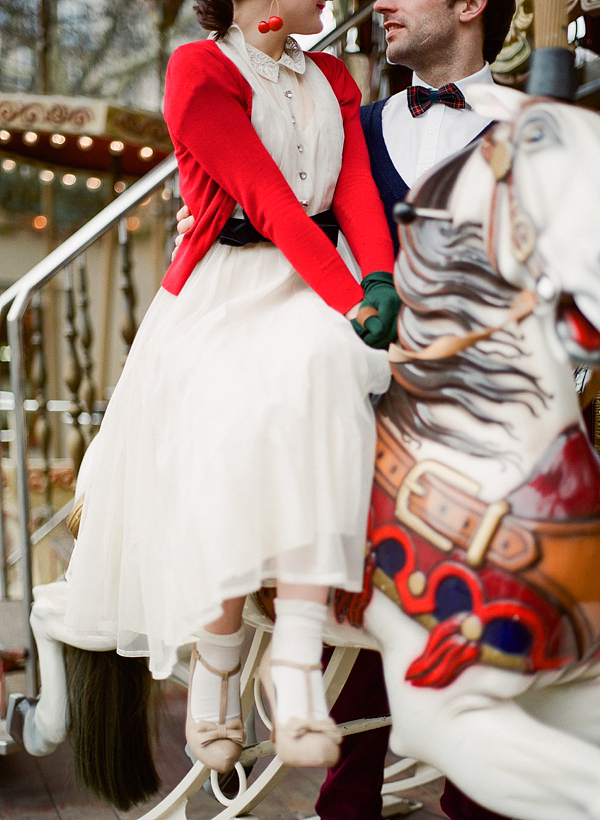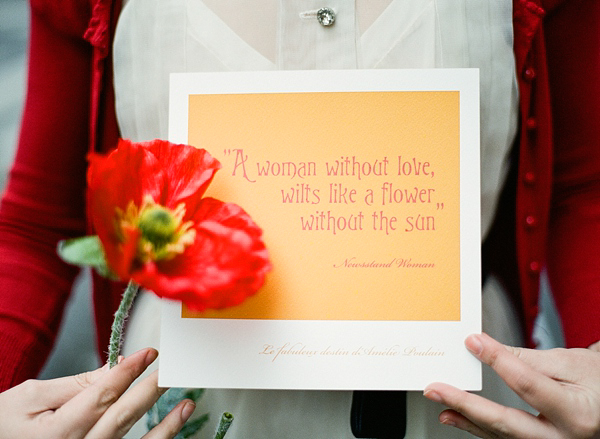 'The props were inspired by
details in the film: a moped, gnome, vintage keepsake boxes, an old bundle of
letters, invites hanging on a clothes line, a photo album, a photo booth (we
used the strip of photos we took there in the photo album), cherry earrings and
red vintage suitcase.
We used some quotes from the film on cards also, such as:
"A woman without love wilts like a flower without the sun"; as
you'll see in the photos.'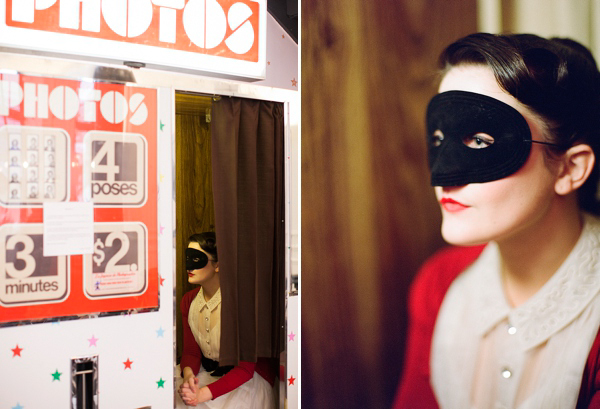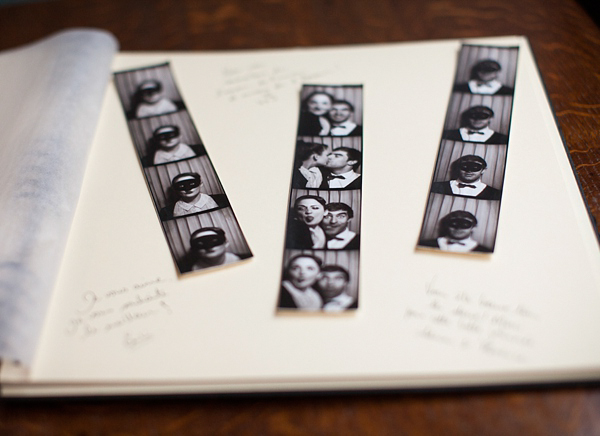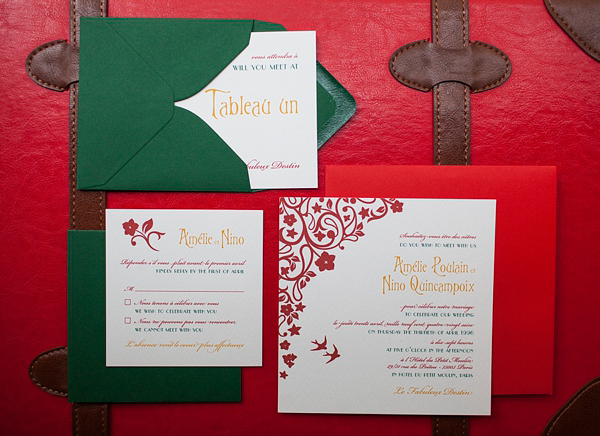 'When it came to the cafe table settings, we made napkins from
material we found that matched our colour scheme. The white animal napkin rings
were reminiscent of the scene in the film where Amelie sees a rabbit in the
clouds. Lindsay found posters online of the paintings that were in the film,
which we used as a backdrop to the table setting and dessert stand.'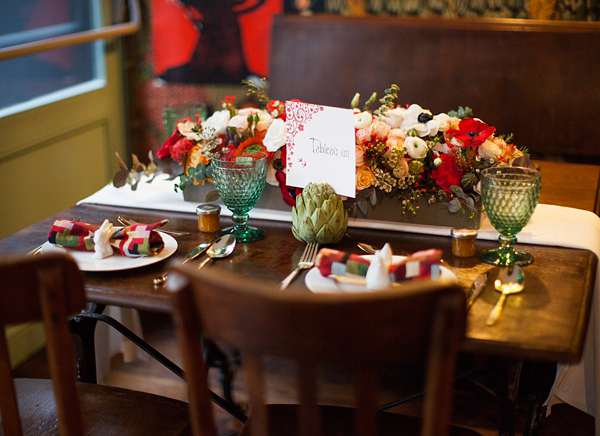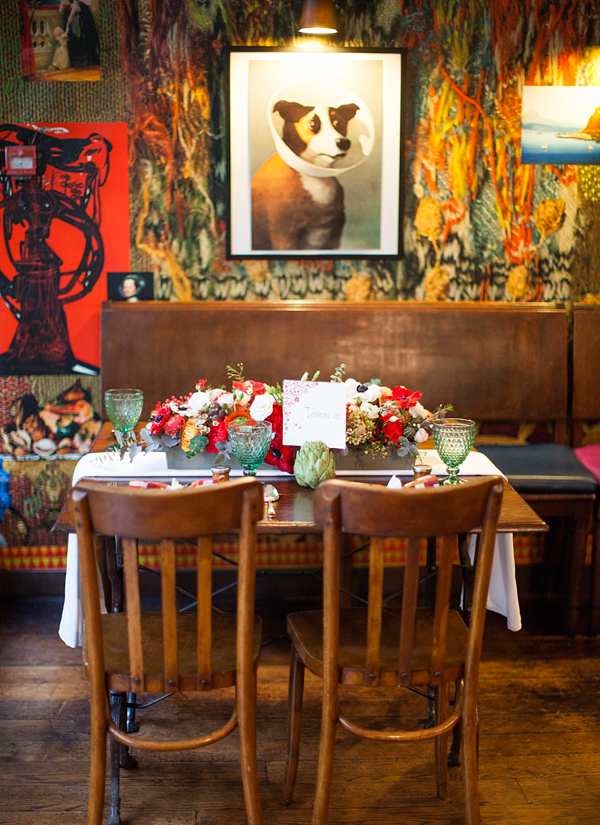 'The creme
brûlée spoons idea combined Amelie's love for cracking creme brûlée with
spoons, and the raspberry macaroons and red velvet sponge cake were made to
match the colour scheme.'

The floral display we kept green, red and white mainly,
with an artichoke place setting from an Amelie quote: "Even artichokes
have hearts". The Hotel Moulain where we shot this had just the right mix
of elegance and whimsicality.'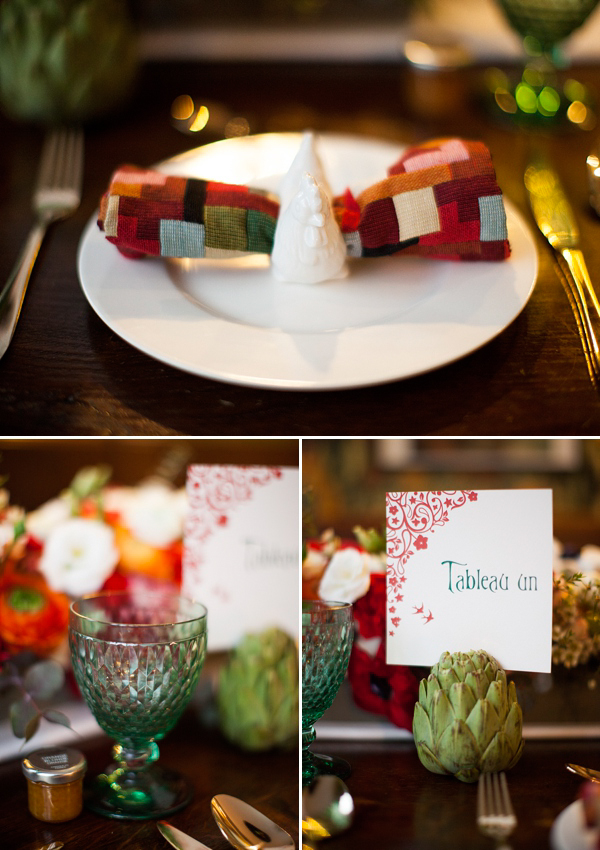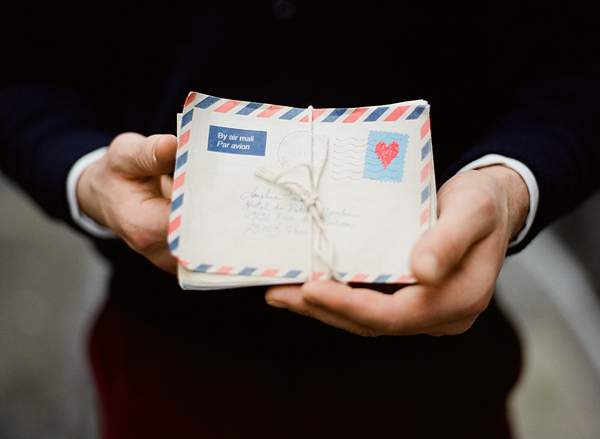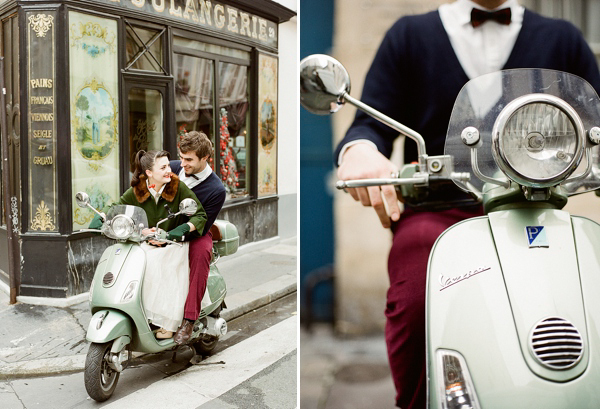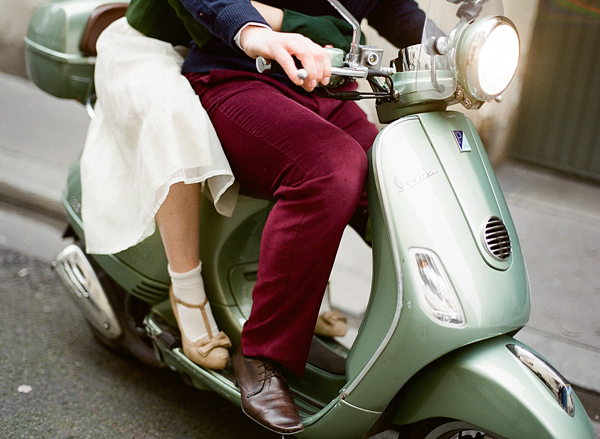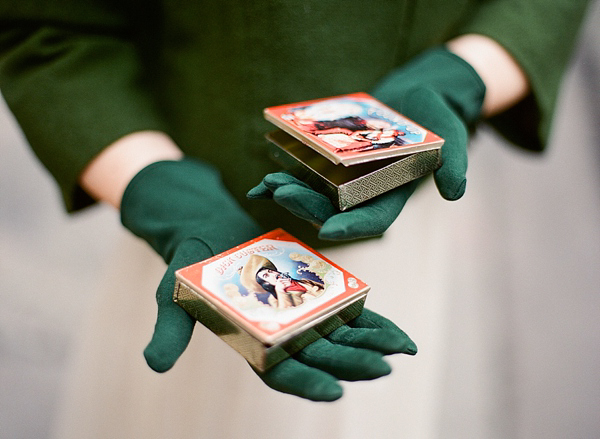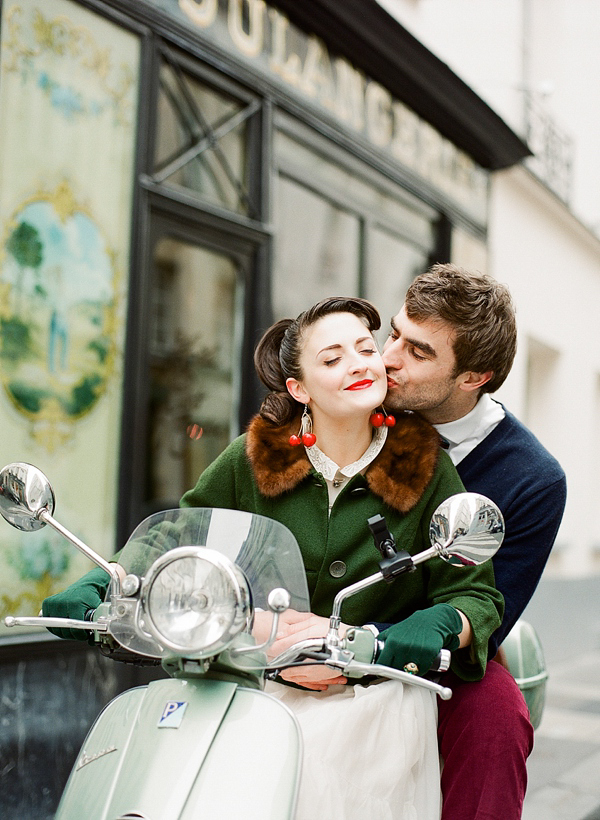 'We were incredibly lucky to
have such an amazing team of vendors on board that really made our
vision come
to life. We can't thank them enough for their dedication and we had such
a
great time working together.  You can find a list of all those who
helped to create these images in the credit list at the end of this
feature.'
Oh I do love these sweet images – and I'd like to thank Fly
Away Bride, Brosnan
Photographic, Best
Day Productions and the whole creative team listed below for choosing to share this charming and delightful photoshoot with Love My Dress readers.
If you are interested in planning a destination wedding, pop along to the Fly
Away Bride blog
when you can – you can see more from Fly
Away Bride on Love My Dress here.
With much love,
Annabel
Production: Fly
Away Bride | Photography: Brosnan
Photographic | Videography: Best
Day Productions | Styling: House
of Hannah | Local Event Co-Ordinator: Mon Plus Beau Jour |
Vintage Clothing: Dirty
Fabulous | Stationery: Farrell
and Chase | Hair and Make Up: Lexi
DeRock | Cakes and Desserts: Eye Candy Cakes |
Hotel Location: Hotel du Petit Moulin |
Vendor Accommodation: Wedding
Luberon | Suitcases: Steamline |
Moped: Left
Bank Scooters | Photobooth: La
Joyeuse de Photographie
Models:
Roisin Finnegan & William Heffernan (a real life couple)