Hey lovely morning people, thank you for popping by Love My Dress this morning – I hope that this latest wedding makes you smile.  Lauren and Oscar tied the knot on 1st July 2013 with a ceremony at St Michaels and All Angels Church in Sandhurst, followed by a reception at Gate Street Barn in Bramley and these photographs were submitted by the couple's photographer, Amy B.  I love the fun, jolly nature of these images – lots of laughter and smiles and a fun modern day colour scheme…
"We
wanted the wedding to represent both of us, so we chose Oscar's
favourite colour, and my favourite pattern, polka dots, to guide
our choice for decorations. We loved the barn venue and loved its rustic
countryside feel so we decided to go with a 'shabby chic' theme – we
used wooden crates, bunting, birdcages and lots of flower filled jam
jars!
I wanted a big white gerbera to put in my hair for the wedding day
to match the flowers we were going to use. I couldn't find a hair clip
that was right, so I decided to buy an artificial flower from Hobbycraft and make one myself!"
Photography Copyright © 2013, Amy B Photography
"Oscar and I
met in 2003 through our friend, Fraser, who worked at my college. He
took my friend and I into town to go shopping and we
picked up Oscar on route. Oscar was hobbling around as he had injured
himself at football the night before, but ironically he was wearing a
superman t-shirt! We hit it off immediately and after lots of flirting
and awkward silences, Oscar asked me to be his girlfriend on 1st July
2003.
We got engaged on 1st July 2011, which
was our eight year anniversary. Oscar took me to London to visit all of my
favourite places – at the end of the day we ended up at London Zoo. I
love zoos and my favourite animals are penguins! London Zoo had just
opened a new penguin beach habitat and I was dying to see it first, but
Oscar said we should 'save the best until last'. We got to the penguins
about 5 minutes before the zoo closed and I was panicking we wouldn't
get to see them!"
"The zoo keepers started ushering people towards the
exit, so I quickly bent down and climbed into this massive porthole
where you can see the penguins swimming about. I started taking pictures
and Oscar called for me, I thought to tell me we had to go, so I told
him to wait! He called me again, I turned around and he was knelt down
beside me with a ring in his hand!
After lots of tears and hugs I said
yes! Turns out Oscar had arranged with the zoo keeper for us to stay
there until everyone had left so he could propose!  We decided to wait two years so we could get married on our 10 year anniversary on 1st July 2013."
"We put quite a lot of effort into collecting things to decorate the
venue. We collected hundreds of jam jars and wrapped them with
twine for candles and extra flowers.  We also collected loads of old vintage bottles from auctions, car
boot sales and antique shops. We used these as decoration for the bar
and to put the extra flowers in.
We also started collecting hearts
to hang around the place – we even made a few hearts ourselves when we
were feeling extra creative! I wanted polka dot bunting to put on the
back fence which looks out onto the field, but couldn't find the right
material to make it. So instead I bought some wooden triangles and
painted them green and cream with polka dots!"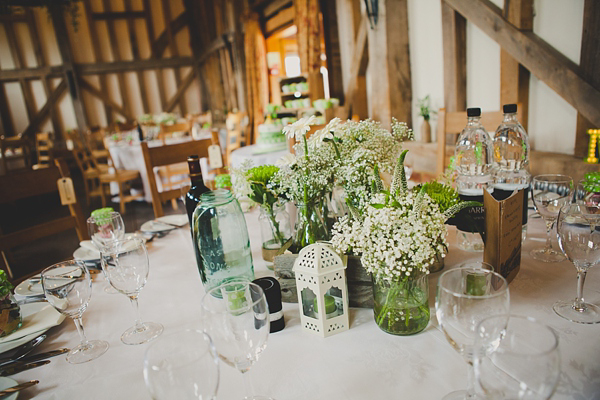 "My dress was by Candy Anthony. 
Funnily enough I came across the shop while watching 'Don't Tell the
Bride' with Oscar and my mum. The bride wanted a 50's inspired dress
which was bright red, so she went to Candy Anthony to pick her dream
dress. When they filmed around the shop I saw a polka dot dress hanging
up! I never knew something like this existed and when Oscar left the
room my mum and I both excitedly said 'did you see the polka dot
dress?!?' You see, I love polka dots and pretty much wear something
dotty every day, so I knew I had to visit the shop! 
 I
went shopping to other dress shops with my mum and my nan, but all I
could think about was the polka dot dress at Candy Anthony. So I booked in a visit with two
of my bridesmaids, Emma and Rio, and went to London to see if I could
find my dream dress.  I was helped by a lovely lady
called Hazel and I explained my love for polka dots (she said that she
had guessed that by looking at my polka dot handbag and purse!)."
"The
first dress she put me in was the one! It was perfect! I came out of the
changing room and Emma and Rio cried! I felt absolutely amazing and
couldn't believe how perfect the dress was! The polka dot overlay was
beautiful and I loved the length of the dress – being short I knew a
full length gown wasn't for me! I tried on plenty of other dresses while
we were there, and although they were all beautiful they just didn't
compare to dress number one, my dream dress. 
Hazel
at Candy Anthony then picked out a matching veil and as soon as I put it on I knew I had
to have it. It was a short veil, edged in the same satin as my
dress. It really set off the whole look and made me feel like a proper
bride!"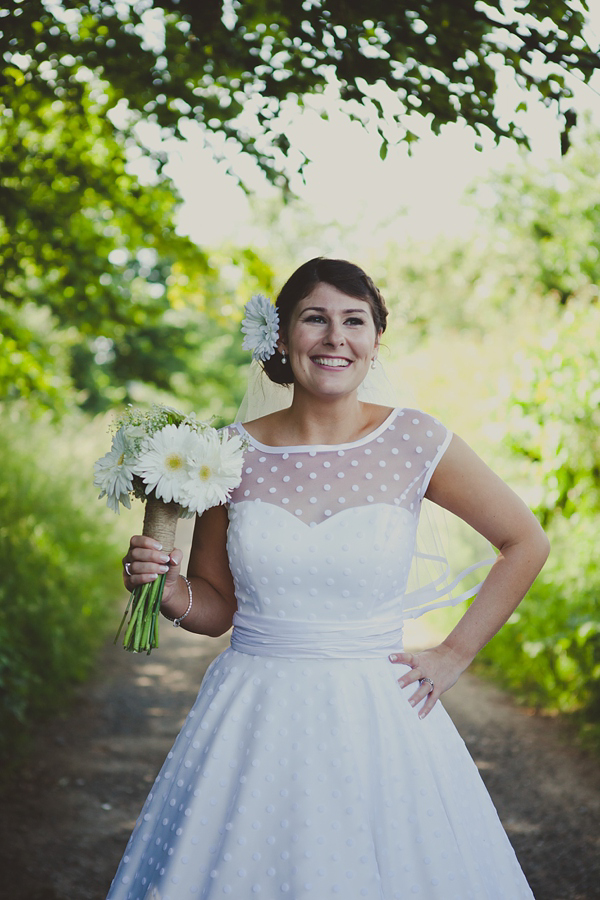 "Having a short dress I knew I needed amazing shoes, and I knew
exactly what I wanted - bright green, peep toe shoes with a bow
on the front and a low heel.  So I typed that into the internet and came
up with nothing!  I searched high and low for these shoes and couldn't
find a thing, so I had to look further afield. I widened my search to
the States and found some amazing shoes by Nina.

They were exactly what I wanted! The only problem was that US shipping
was almost as expensive as the shoe – and that meant it would be way
over my budget!   Then I had a brain wave! My mum's friend has a
holiday home in Florida and was out there at that time! I emailed her
and she said she would buy them and bring them back for me! So a month
later she came back and I had the perfect shoes to match my perfect
dress!"
"Originally we wanted a little two seater vintage sports car for
the wedding, but that plan fell through quite late in the day.  But we
are glad it did as it meant we were able to hire an amazing split screen
camper van from Russ and Tara. 
I found them on Facebook
and it turned out they lived just down the road from us! The Camper
looked amazing and was a big hit with our guests!  Russ and Tara also
kindly provided us with some bubbly for our journey to the venue (which
went down a treat!)"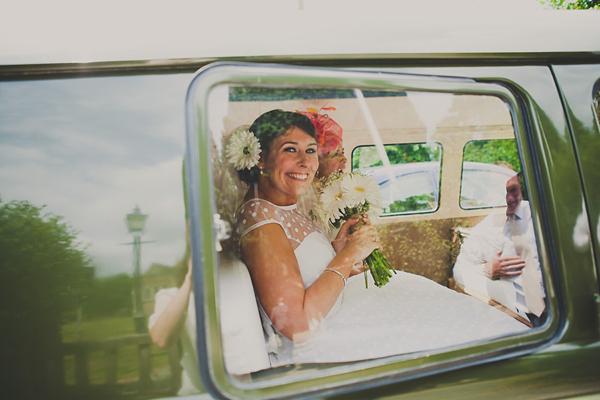 "From listening to other brides I knew that finding the
right dress for all your bridesmaids is a tricky job! I had four of my
best friends as my bridesmaids and wanted
a dress that they would all love and all feel comfortable in. 
I came across
these amazing twist wrap dresses from Dessy -
you can wrap the dress in loads of different ways to create different
styles! Also they did it in the perfect green to match our theme – it
was called apple slice! I loved the idea of the girls each having a
different style of dress and thought it would be something a bit
different!"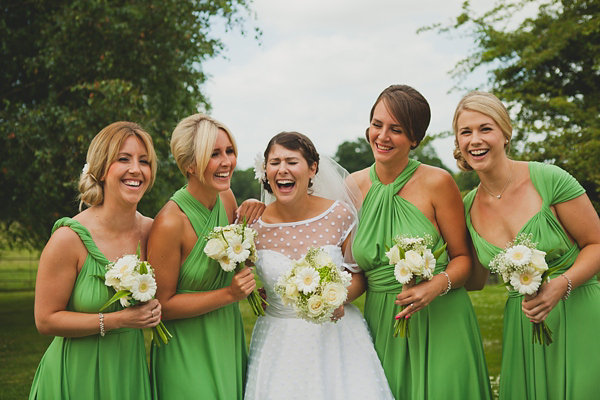 "I looked at the different wrap styles and
thought about which dress would suit each of the girls, and by
coincidence they all chose the same one that I had chosen for them! When
they arrived the girls loved them! They were a little complicated to
start with, but after a few attempts we mastered the different styles!
The girls looked beautiful in the dresses and I am so happy we chose
them! 
I wanted the girls to have a little
flower in their hair to compliment mine, and I found some lovely little
cream flower clips in H&M.  I
also bought each of the girls a little silver bracelet to wear as one of
their thank you gifts. I couldn't find ones I liked in the shops and
ended up finding some nice ones on eBay."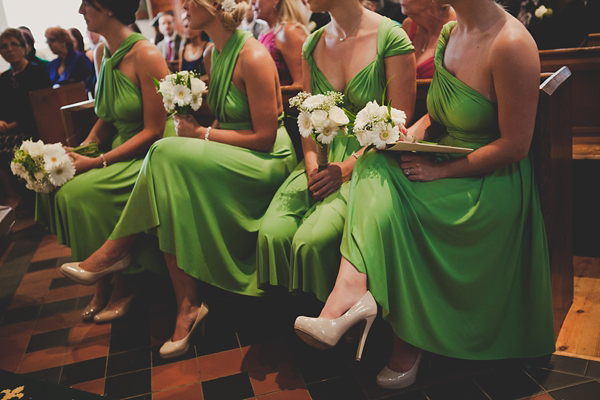 "I decided that I was going to do the flowers as we wanted rustic,
handmade style arrangements – which I thought I could probably do
myself. We collected loads of jam jars from friends and family and
wrapped them with twine.
We used these for flowers and candles and we
dotted them around the venue. For our centrepieces Oscar hand made
little wooden crates for each table and we put old fashioned milk
bottles inside them. We then filled the bottles with flowers."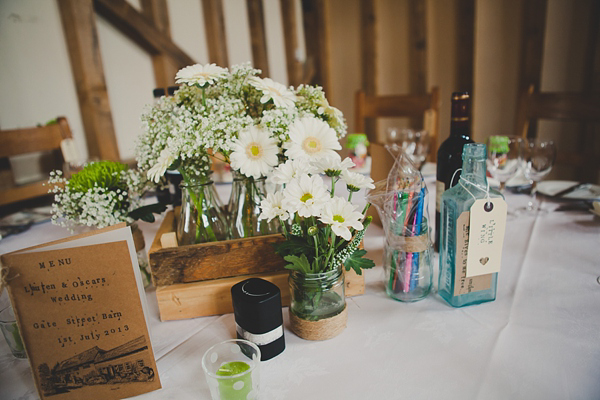 Our main
flowers were cream gerberas and germinis with lots of gypsophila. We
also used other white, cream and green flowers; like bloom and daisy
chrysanthemums, avalanche roses and veronica to fill the jam jars! We
wanted a handmade, freshly picked looked – and I think we achieved it!
The weekend before the wedding my Dad and I collected all of the flowers
from the garden centre (I ordered far too many!) and the girls and I
became DIY florists for the day! My lounge looked like a beautiful
jungle full of flowers and plants!
Oscar made all of the button holes
and I made all of the bouquets too! It was a big job but I think the
flowers looked great!"
"My Nanny June is an avid
gardener and really wanted to help with the flowers at the wedding. We
bought some metal buckets and nan grew beautiful flowers in them, a bit
like what you would see in a hanging ,just 100 times bigger! They
looked great and we had four on the steps of the barn arch and others
dotted around the grounds.
The one thing we didn't do
ourselves was the flower arrangement around the arch of the barn – this
was maybe a little too adventurous even for me! So we got Carolyn from Florartistics to do us an arrangement to compliment the other flowers. It looked really beautiful and was exactly what we wanted!"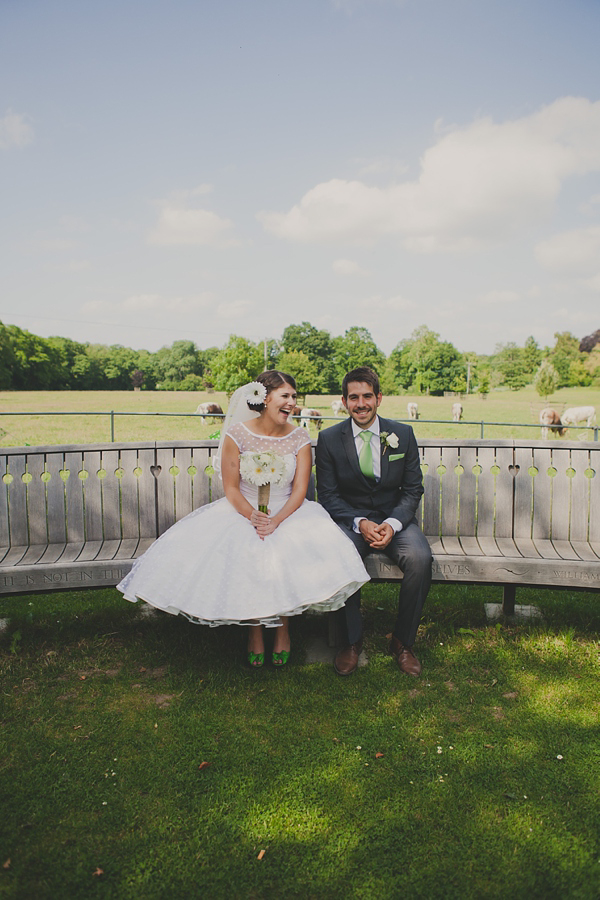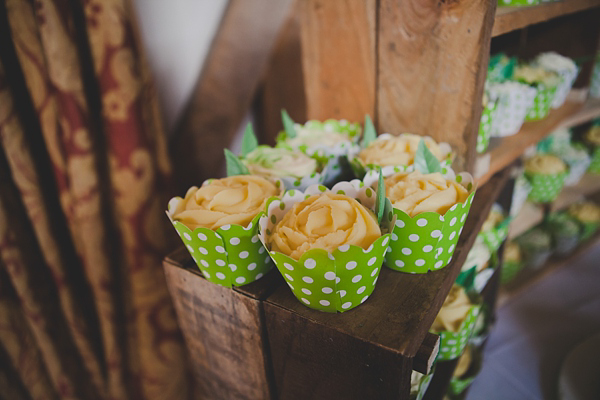 "We decided to use songs as the inspiration for our table names. We
love music and have plenty of songs that remind us of 'us'. We used the
title of some of our favourite songs as the table names, such as 'It
Must Be Love' by Madness, 'This Modern Love' by Bloc Party and 'Little
Wing' by Jimi Hendrix. We stamped the song titles onto luggage tags and
hung them on antique bottles. We also stamped our favourite lyric from
the song onto a separate tag and hung that on the bottle too. 
Our
top table was 'About Her Dress' by the Maccabees and our lyric was 'You
stood out like a sore thumb, the most beautiful sore thumb I'd ever
seen.'  We always knew we wanted to do something a bit
different for our table plan. We weren't sure what at first, we just
knew we wanted to put a bit of effort into it as we knew everyone would
have to look at it!
After getting some ideas from the internet, we
decided to use crates as the base of the table plan and hung each table
arrangement on some twine. I hand stamped all of the names and tables
and we attached them to the twine with little pegs.  I also
hand stamped cream luggage tags with the individual place names for each
guest so they could be hung on the back of the chairs. This job did
take a long time, but they looked great in the end and it was totally
worth the time and effort."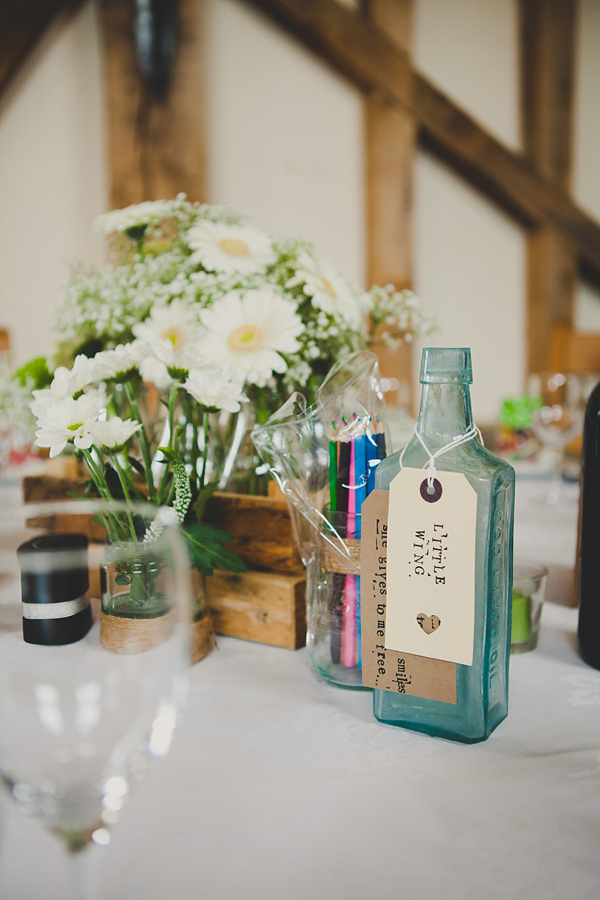 "My lovely ex work pal Jo, from Charming Cakes and Tasty Bakes
of Newbury made our cake for us as a wedding gift. We aren't really
fans of fruit cake so we went for 2 types of cupcakes, chocolate and
vanilla, with a 2 tier cutting cake of lemon drizzle and carrot
(Oscars favourite!) Jo made it green and white polka dot to match
the cupcake holders I had sourced from Canada!
There was
a bit of a cake disaster the night before, as it collapsed while being
transported home. But Jo saved the day and re-iced the whole thing late
at night. It looked great and was absolutely delicious!
We
also decided we wanted some funky wedding toppers as we weren't the
biggest fans of the traditional bride and groom – they just didn't look
like us! So we decided to choose figures of our favourite childhood
characters – Belle from Beauty and the Beast and the Incredible Hulk! We
loved them and lots of our guests thought they were great (although my
dad thought they were a bit odd)."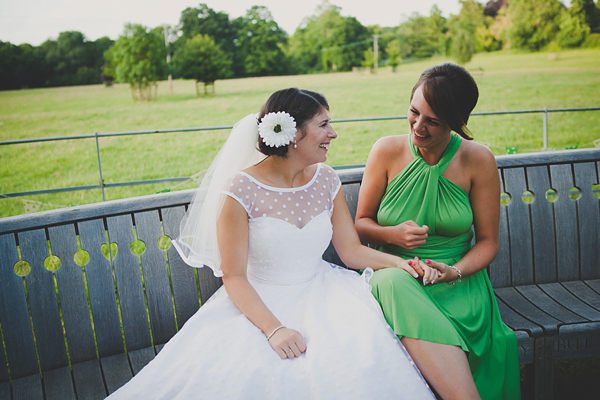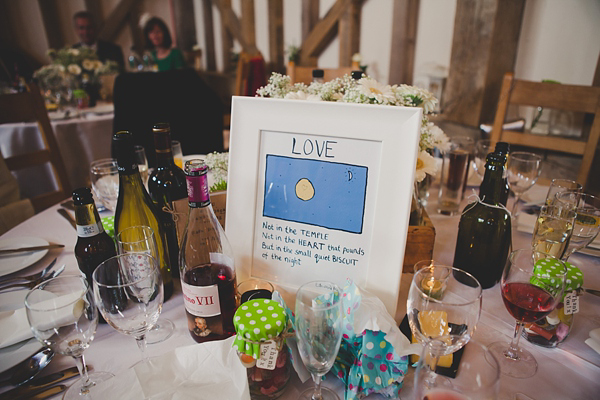 "Our photographer was Amy Barton who is the mastermind behind Amy B Photography. 
I met her at a Wedding Fayre in Reigate and we started talking because
she was wearing a polka dot top that I also had! I wasn't looking for a
photographer at the time, but when I started looking at her work I knew
we had to have her! Her work is really creative and a bit quirky and we
absolutely loved her style! I actually ended up stalking her website a
bit as I couldn't stop looking at all the beautiful photos on her
blog!
On the day Amy was just as excited as we were! It
felt like she was another one of our friends there to celebrate with
us- she just fitted in so well! She took so many shots and was always on
the lookout for beautiful spots -after the meal she grabbed us and said
'come over here, I've found a really awesome gate!'."
"Amy was so easy
to get along with and all of our guests thought she was fab! She is
super friendly and really made us feel at ease whilst she was
photographing us. We couldn't have asked for a better photographer!
She
captured our day beautifully and we can't wait to see our album in
print! While we were on honeymoon Amy started to put an album together
for us – out of the 100+ photos she included I think we only swapped 5
or 6! She made it look so lovely we didn't want to change it!  We are
now thinking of other excuses to book her as we loved her so much
(perhaps if a little mini Sanchez comes along in the future we can book
her for a baby shoot!)"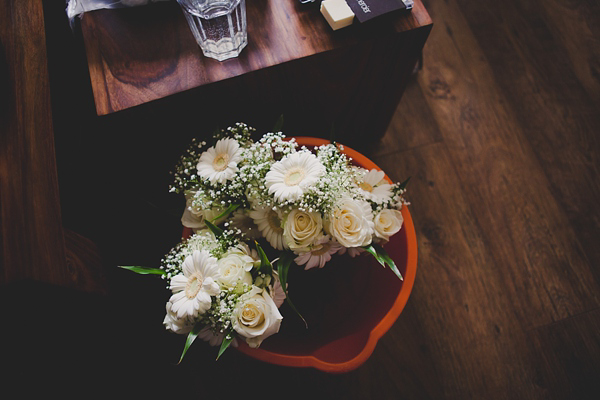 "I am very lucky to have two hugely talented friends who helped out with my hair and makeup.  I have known Leanne
for as long as I have known Oscar, so it just felt right to have her as
my makeup artist to make me look the part for our big day! We had our
trial and I asked her to make me look like me, just a better 'Hollywood'
version of me! She laughed and got to work!
After the trial I looked in
the mirror and felt absolutely gorgeous – I didn't want her to change a
thing!"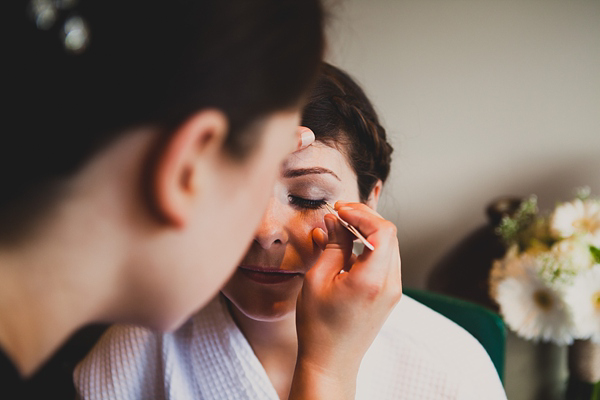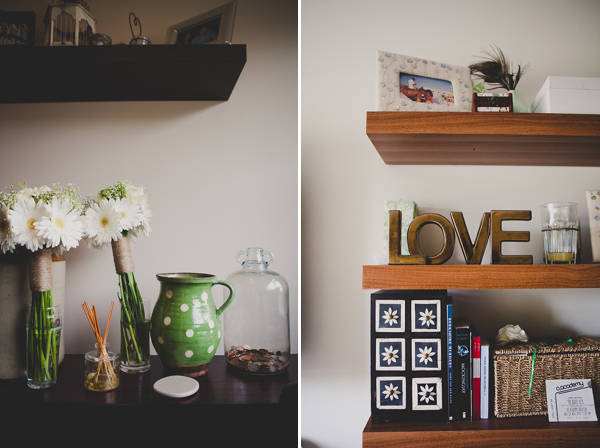 "Natalie, one of my bridesmaids, is the style director at Tony and
Guy in Fleet and she offered to do my hair as a wedding gift! She
normally cuts my hair so I knew I was in very safe hands! She also did
all of the bridesmaids hair. I loved my hair on the day and Natalie
understood exactly what I wanted."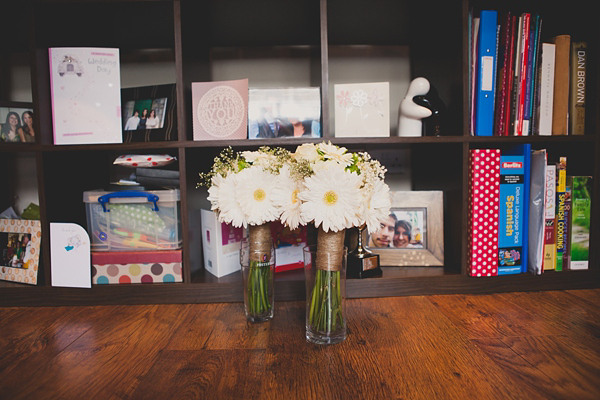 "When it came to stationery we decided we were going to
design and make it all ourselves. We couldn't find invitations
we liked, so we to popped to Hobbycraft to stock up on supplies and
make them ourselves! We designed them so they were cream with green
polka dots on the front and green with cream polka dots on the inside!
They looked great and we were really pleased with how they turned out!
Although by invite number 100 we were a bit fed up of hole punching and
sticking down so many dots! 
We also made our order of service. We kept
with the same colour scheme as the invites, but this time we put green
bunting on the front instead of green dots."
"Oscar has never been the biggest fan of traditional wedding suits.
The same way I knew a full length gown wasn't for me, Oscar knew a
morning suit wasn't for him! He chose a lovely charcoal suit from Next."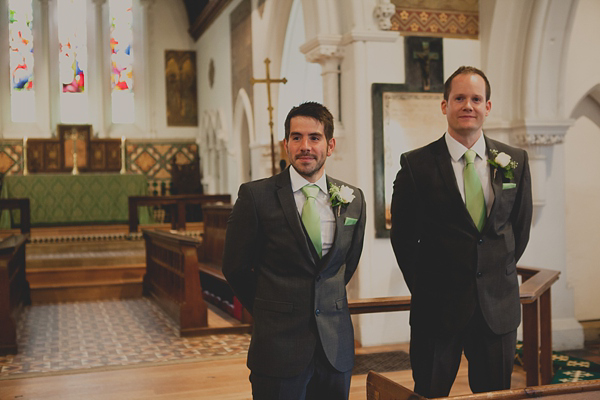 "I always knew I wanted to get married at St Michaels and All Angels Church in Sandhurst, as this is
where my Grandad John is buried. Before he passed away he told me how
sad he was that he wouldn't be here to see me get married – So I thought
this would be a way to have him there with me."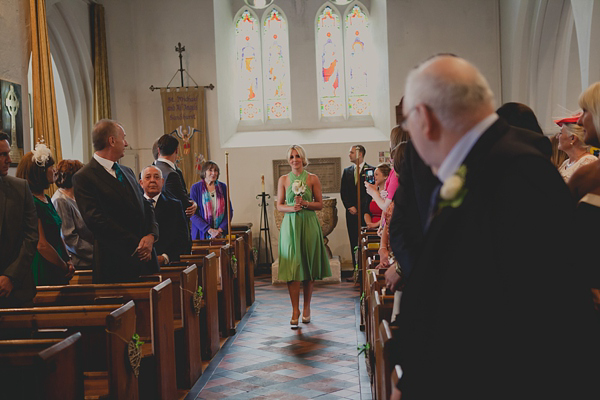 "My lovely Dad Gary gave me away – we walked down the aisle to 'The
Book of Love' by Peter Gabriel. We did it the American way and had the
bridesmaids walk down first as I wanted to walk down when the lyrics
about wedding rings were being sung. This made me feel really emotional
and I did have a few tears!
We read the
traditional church wedding vows and luckily we got them right! At the
rehearsal the Vicar had real difficulty saying 'Sanchez' – he kept
pronouncing it as Chanchez! So there was a lot of tension amongst the
wedding party waiting to see what he would say this time! Luckily, he
said it right! We all had a bit of a giggle!"
"We
had two readings at our wedding. For our bible reading we chose
Ecclesiastes 4 9-12 for my godmother to read. We chose this as we had
heard the usual suspects a few too many times. We liked this reading as
it talked about how two are better than one as you are there for each
other. It was short but sweet.
Then my friend Kelly read 'The Magic of
Love' by Helen Steiner-Rice. Kelly chose this reading and the words
were lovely.  It brought a smile to our faces!"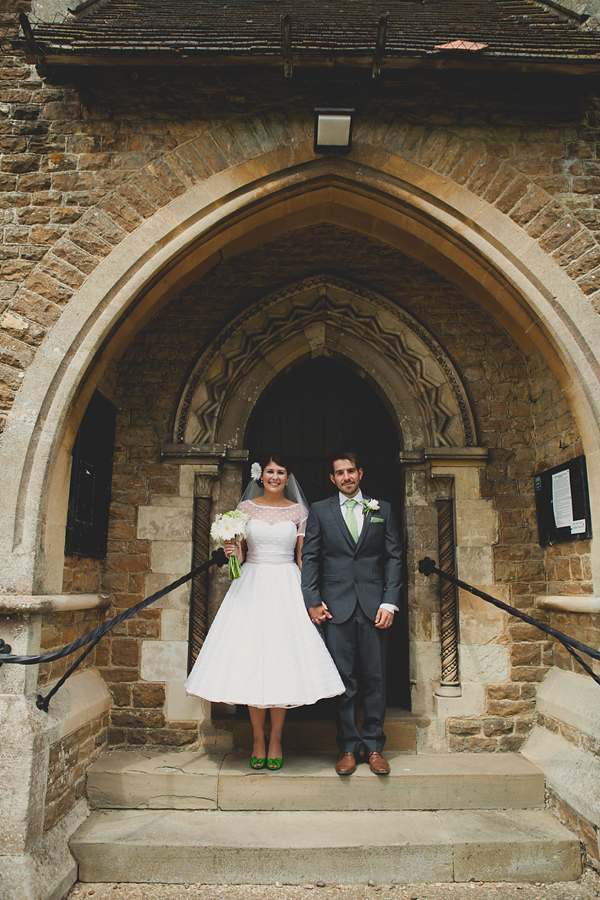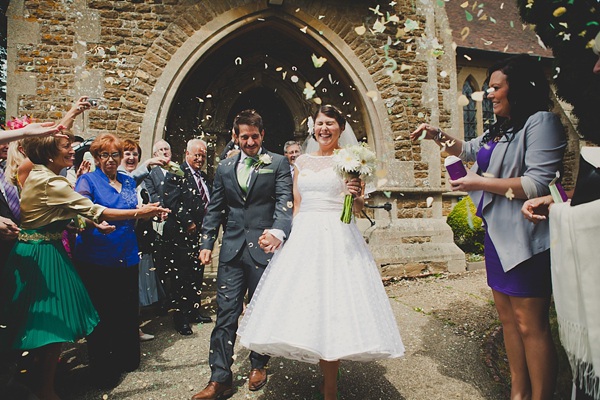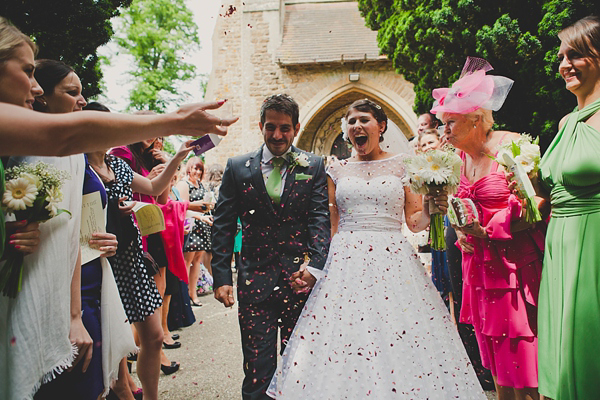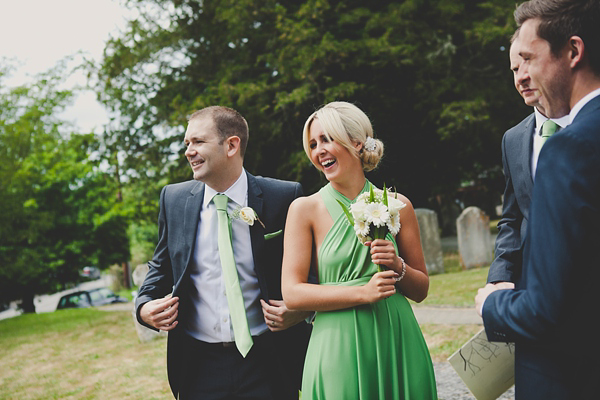 "We came
across the reception venue, Gate Street Barn by chance really. Because of Oscar's Spanish
heritage we decided early on that we wanted Spanish food for our
wedding breakfast. We love eating tapas and paella and we wanted our
wedding food to be food that we love! We also knew we wanted to have our
reception in a barn as we love the beams, woodwork and the feeling of
being out in the countryside.
When we started looking at venues our
choice was very limited by the food choices – most venues only allowed
you to use their caterers and most caterers would only do fine English
dining – not the Spanish feast that we wanted! We then looked at venues
that allowed outside caterers, as we thought this might be our only
option, and the only one anywhere near us was Gate Street Barn in
Bramley, Guildford."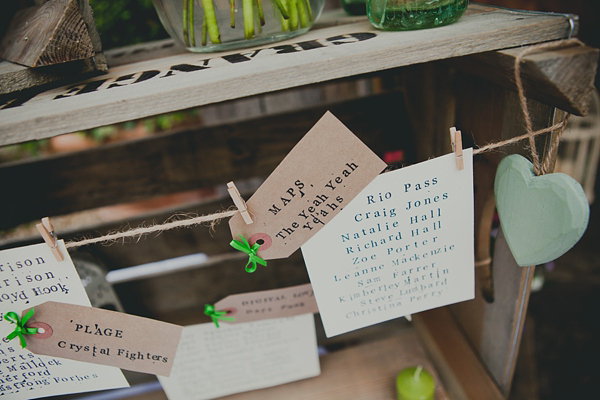 "We went to visit the barn on a
beautiful spring day and immediately fell in love with it! The barn was
stunning and we loved that it had a separate smaller barn (called the
pheasantry) for the bar, lots of greenery and cows roaming around in the
field!
We discussed our needs with Lisa, the manager,
and we explained why we needed an outside caterer. She told us that they
have a choice of six recommended caterers and that one of them
specialises in Spanish food!  That's when we knew that Gate Street Barn was the perfect venue for us!"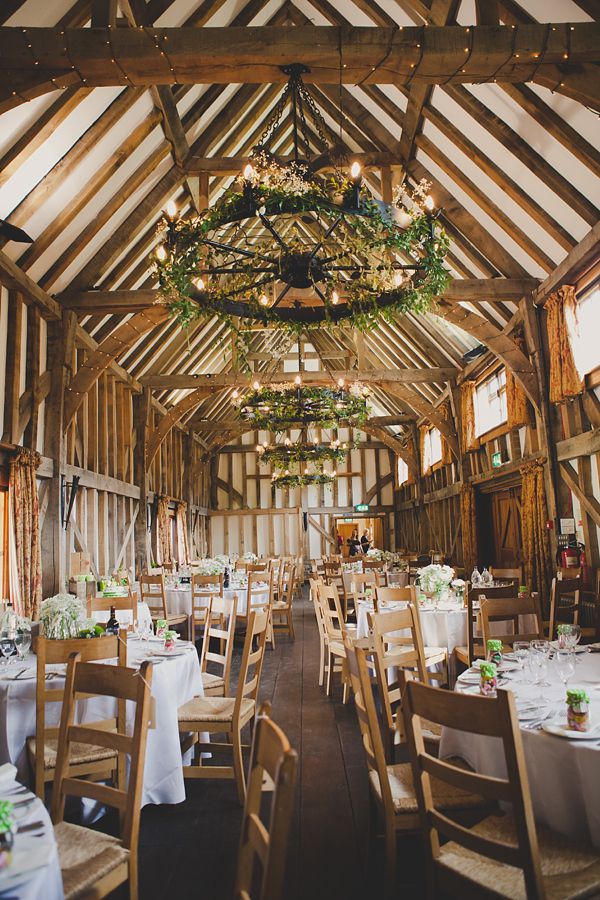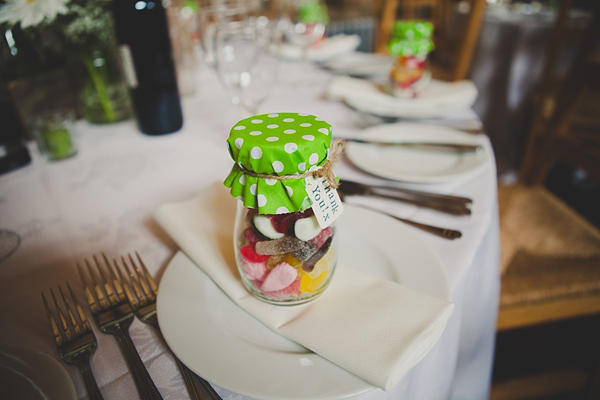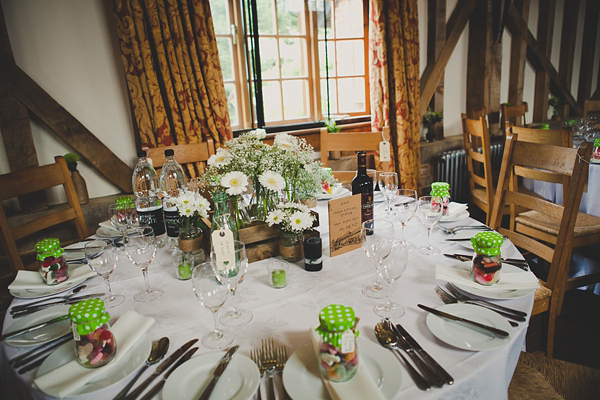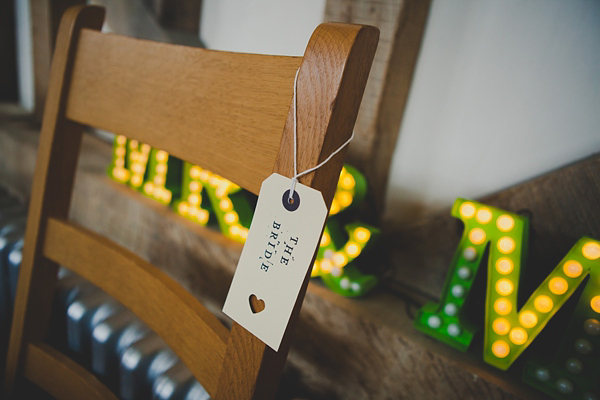 "Oscar made a Mr & Mrs sign out of card and little Christmas
bulb lights which looked fantastic! He made all of the letters by hand
and then attached the lights – I was very impressed! We had that behind
us at the dinner table."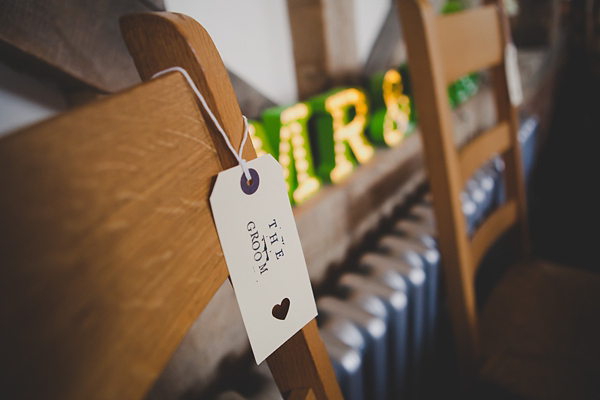 "I wanted to make something for our cards as I wasn't a big fan of
the traditional wedding post boxes. For our honeymoon we were spending 3
½ weeks travelling around the USA,  so to incorporate that I bought an
old vintage suitcase from a local auction and I covered the inside with
pictures of everywhere we were going! This was Orlando, Boston, New
York, San Francisco, Vegas and Miami! I thought it looked fab!  At
the same auction we bought a 2nd suitcase. I filled this up with different polka dot flip flops for people to change into during the evening if their feet were starting to ache.  They went pretty quickly.
"We decided we wanted to give sweets as our favours and asked our
friends and family to collect Hartley's jam jars for us so we could fill
them with pick n mix sweeties. It took us eighteen months to collect them all
but we managed it!
We ordered a variety of sweets from an online wholesaler
to fill the jars – but I may have ordered a few too many (33kg!) The
bridesmaids and I got together one weekend and filled all of the jars
with sweets. We then put a green polka dot fabric cover over the lid,
tied it on with twine and attached a little thank you tag (which were
all hand stamped by me again!)"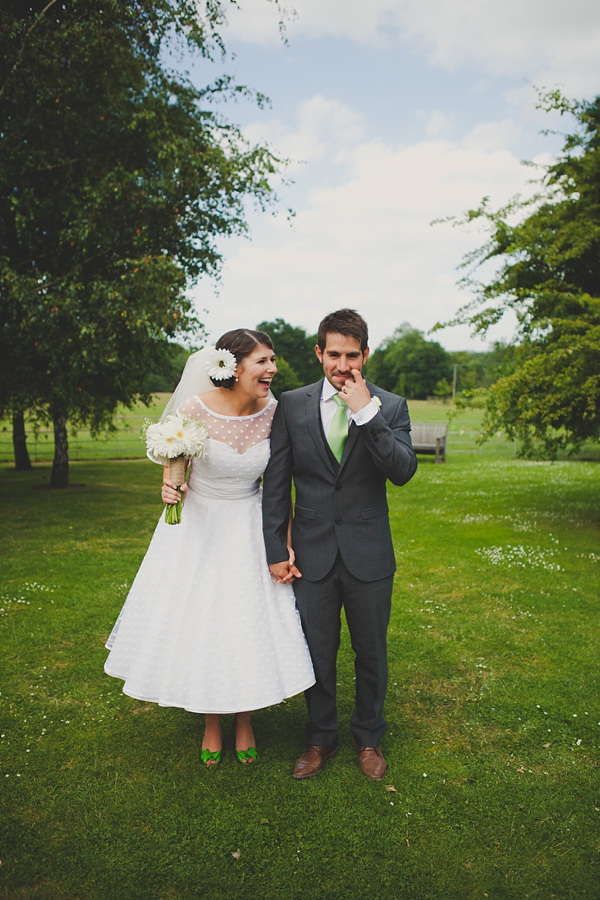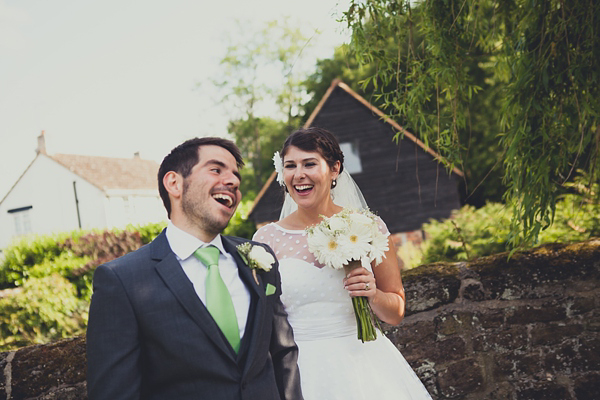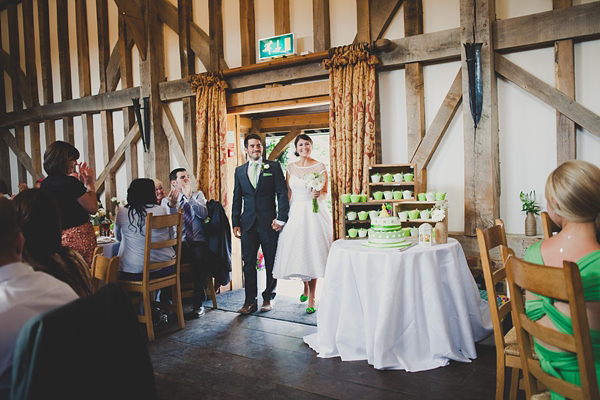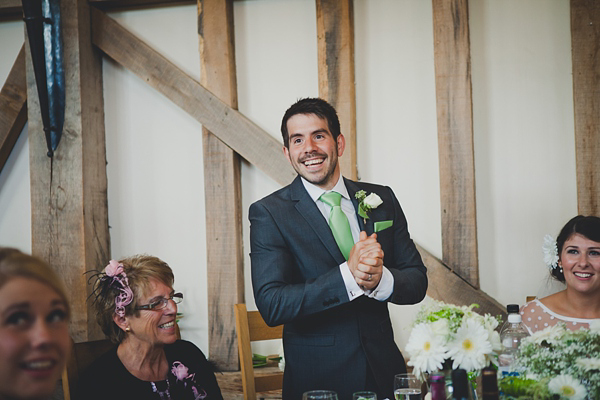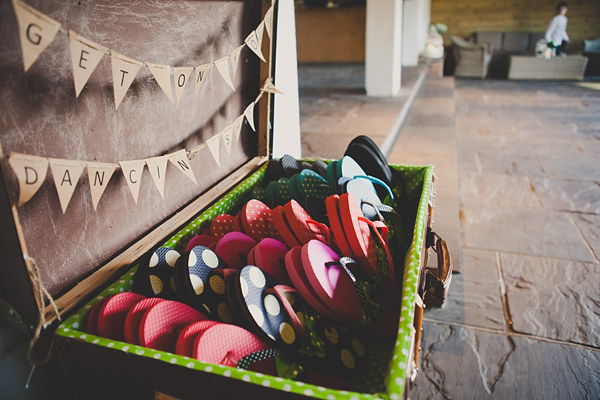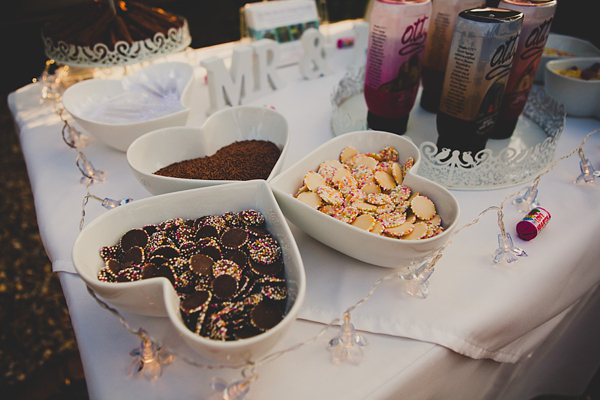 Words of Wedded Wisdom…
"My
top tips would be – towards the end try and let go/relax! A few days
before the wedding there isn't much more you can do and you will end up
stressing over the smallest detail. I had an email on the morning of the
wedding saying the photo booth people had been broken into and would be
sending a different booth than the one I chose – on the day I was so
excited I didn't care!
You can't please everyone, the
most important people to please are you and your future husband. So do
what you really want, as it's your big day.  Just enjoy it!  It goes by so quickly that you blink and it's almost time for the last dance! Love every minute of it."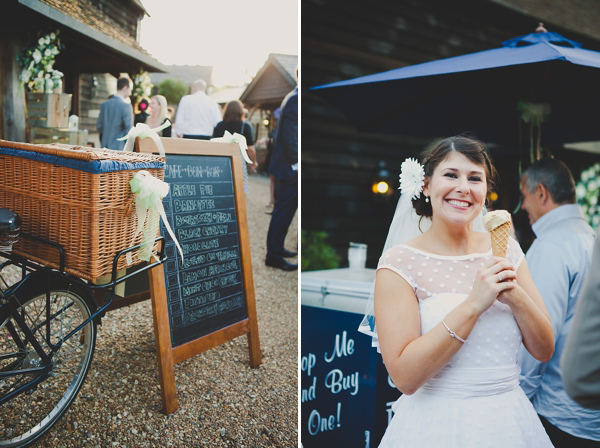 "My favourite part of the whole day was walking down the aisle and seeing Oscar at the end with a big smile on his face!  The
speeches were amazing too! My dad made everyone cry, and my mum read
out his speech in Spanish for the benefit of the Spanish family! I was
really proud of her for doing that! Oscar and Neil's speeches were
absolutely hilarious. The room was full of laughter, as was most of the
day! We couldn't stop smiling and laughing!
Finally, on
reflection maybe we did give Oscar and the boys a bit too much to do on
the morning of the wedding. They had to rush around and almost didn't
make it to the church on time because of the terrible traffic!"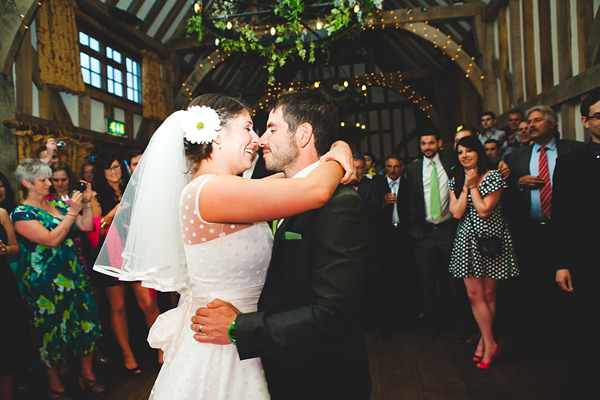 With love and thanks Lauren and Oscar for sharing your lovely day with us all, and thank you Amy B Photography for sharing your lovely wedding photography with our readers.
You can see more polka-dot style weddings here on Love My Dress. You might also want to see more brides wearing Candy Anthony or explore more weddings that incorporated the colour green.
Have a lovely morning all,
Annabel
Photographer – Amy B Photography
Venue -  Gate Street Barn in Bramley
Brides Dress + Veil – Candy Anthony, Oxo Tower Wharf, Southbank
Brides' shoes – Nina
Groom's Attire – Next
Bridesmaids – Dessy
Flowers – Bride & her friends, floral arched designed by Florartistics
Cake – Charming Cakes and Tasty Bakes
Transport – VW Camper Van Hire
Entertainment -  The Skylarks + Chess Disco
Favours – sweets via an online wholesaler
Catering – Tandem Catering
Stationery – made by the bride & groom using products from Hobbycraft
Makeup Artist – Leanne Mackenzie
Photobooth – The Mighty Booth
Old fashioned ice cream trike hire – Café Bon Bon