We have 3 pairs of tickets to give away to the Eclectic Wedding Extravaganza, being held on Sunday 3rd November at Fazeley Studios in Birmingham.  Simply leave a comment on the blog below with your name and a little note in the comments box below, about what you're looking forward to seeing at the show!
Back in early 2012 a wedding show like no other was born.  It tumbled
from the crazy hearts and minds of three creative (but arguably a touch
batty) wedding industry suppliers.  Sassy, better known as Assassynation Photography; Jo the creative wizard behind The Couture
Company and Rawhide Corsets, and Vikki, the ethereal, floaty, fairytale inspired designer behind Liliia.
Based on a desire to showcase the very best of the UK's alternative
wedding industry, these three creative souls have searched high and low
for some cracking, super talented and totally lovely suppliers and
dubbed them the 'Bad Ass Mother Flockers' (they did say they were a
touch batty, didn't they? Batty but jolly bloomin' lovely, I can
certainly personally vouch for that!).
Image by Assassynation Photography
These 'Mo Flo's' travel from all over the UK to come together at the Eclectic Wedding Extravaganza (EWE, to you and me) to inspire couples who are looking for something slightly or totally away from the 'norm', creating an exciting showcase for brides and grooms to be and offering giveaways galore!
Cakes by Carolines Cake Company
On November 3rd, the 3rd Eclectic Wedding Extravaganza will take place at the awe-inspiring Fazeley Studios in Birmingham (also available to hire for your alternative big day – see map below).  Previous shows have included a procession of gorgeous dresses on walkabout (even their cat walk refuses to conform to the norm) and more amazing prizes in their treasure hunt than you could frankly shake a stick at.
Oh My Honey Dresses, photographed by Kat Hill
Their themed café designed by Strange Case Collective will be a wonderful place to chill with a drink and something to eat while you decide which Mo Flo to visit next. With several EWE weddings under their belt (weddings where quite a few services/products were found through EWE), the EWE gang is confident there is something for everyone at their quirky and wonderful event.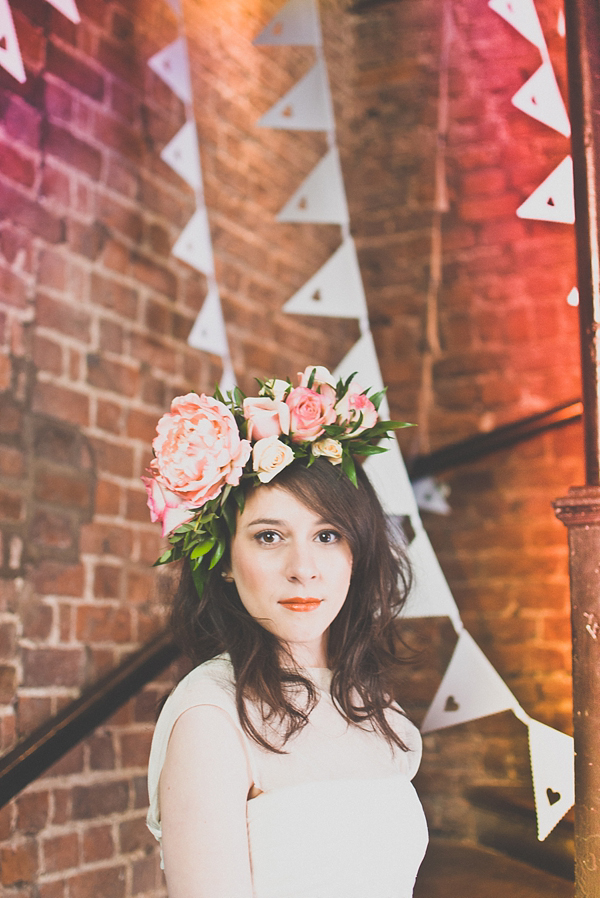 Top – Assassynation Photography
Middle – Revive Me Boutique Shoes, Photography by Camera Hannah
Bottom – Strange Case Collective, Photography by Rivington Photography 
Mo Flo's already signed up include Toast of Leeds Photography, Papertwin, Oh My Honey, The Vintage Salon via Le Keux Events, Revive Me Boutique, Crown and Glory, Plastic Pantomime, Disco Wed and Elbie Van Eeden Make up Artist to name but a few.  And more Mo Flo's are being added to the line up each week."
Luxe Bridal (original vintage), image by Liezl Croft
Check our the EWE website for a full list of brilliantly creative suppliers who will be exhibiting on the day.  Tickets are on sale now for a baaaaargain price of just £3 each, though if you prefer to be a maverick and simply turn up on the day, the door tickets will still cost only £6 each.
 Stationery by Be Our Guest Designs
Dress by LIliia Designs, Photography by Assassynation
Don't have any one to look after your little lambs? Simply bring them along, they get in free and there will be fun things for them to do all day long.  The EWE gang want you to be able to relax and have a little fun at their event.
Image by Assassynation
For further information, you can visit the EWE website.  Make sure you head over to their Facebook page where they will announce all the competitions and activities that will happen on the day as well as introduce you to the Mo Flo's.  You can also find EWE on Twitter.
Don't forget folks, leave a simple comment in the box below to win tickets to this event – we'll be in touch in due course if you get picked.
Have a lovely morning, won't EWE? (see what I did there??)

Annabel
This is a sponsored post