A little 'lunch time bite-size' feature to keep you going until the afternoon, courtesy of top London florist, Philippa Craddock, who has very kindly offered to share some images from her recent collaboration with Jenny Packham.  These flowers were too beautiful not to publish on Love My Dress, and I hope they offer those of you looking for floral inspiration something to swoon over and brighten your day on this otherwise grey Monday.
Autumn is the most exciting season in the bridal fashion calendar
Spring/Summer 2014 collections are unveiled.  Brides will be picking
through the cream of
the crop to choose their own perfect dress, accessories and florals.  As
you do this, we wanted to share our own
excitement at the inspired collaboration of Jenny Packham with Philippa Craddock.  Such a brilliant partnership,
with creativity and inspiration for a perfect 2014 wedding.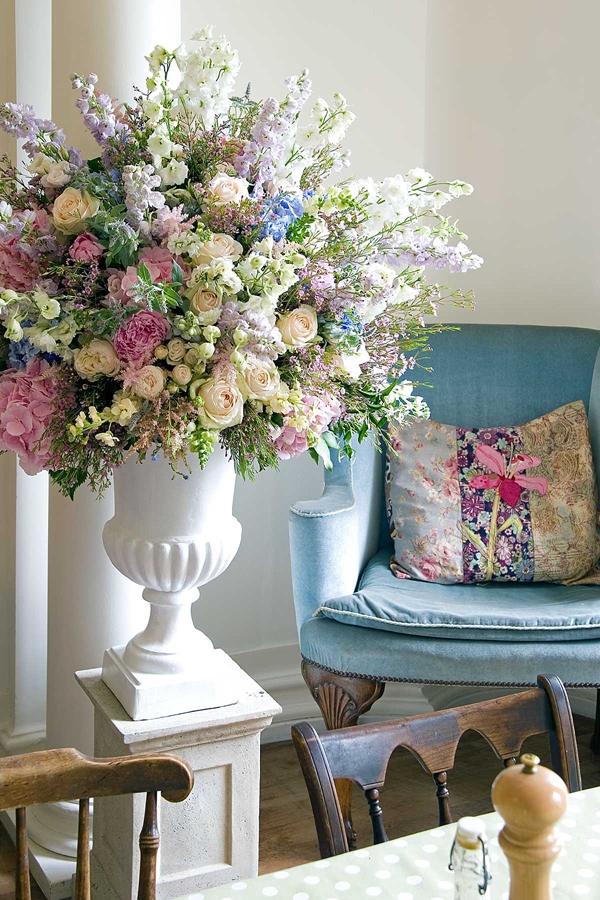 Philippa and Jenny have worked together to
create what we believe will be one of the trends to watch next year: Jenny's stunning
romantic, ethereal wedding dresses and Philippa's gorgeous country house florals. They complement
each other beautifully, creating a serene, graceful ambiance and the potential
for a gloriously, relaxed and happy wedding.
As regular readers will probably know, our brides adore Jenny Packham, as these pages provide evidence.  I wore Jenny Packham on my own wedding day back in March 2009 and have been a Jenny fan-girl ever since.
The Jenny Packham bridal campaign was shot
in a stunning 16th century Sussex country house.  Once Jenny and Philippa had discussed the
brief and location, Philippa worked on her stunning designs creating beautiful,
relaxed flowers using a soft palette. 
The
flowers were designed to not only complement Jenny's  new collection but were also inspired by the
beautiful surroundings: the elegant home and extensive gardens.
The flowers were designed to create a
relaxed and inspiring space for the bride to both prepare for her day and for
the bride and groom to receive their guests returning for the reception: a
perfect country house wedding. Philippa wanted the flowers to create an
ambience that would give a warm, happy welcome to those entering the space
whilst also highlighting areas of the house that were particularly beautiful.
The
kitchen was a relaxed, informal, family space with soft colours, worn, loved
antiques and eclectic crockery and glasses. The pretty, blue chair in the
corner with its applique patchwork cushion, alongside the soft green of the
tablecloth initially provided the inspiration for one relaxed, generous
arrangement.
Philippa chose heavenly scented creamy
white garden roses, long and luscious delphiniums and stocks shaded white to
the palest blue and lilac. Light and feathery astilbe, sweetly fragranced
flowering mint and large hydrangeas in pinks, violets and indigos, as well as one
of her favourites for texture and structure, wax flowers.
Philippa absolutely loved designing the
flowers for the shoot but is equally excited about the weddings she is involved
with next year; "We have been discussing
designs with brides for next spring and summer, and there is definitely a shift
towards relaxed, happy, fun weddings with many of my brides agreeing that the
idea of a country house wedding is the ideal setting.  It gives optimum flexibility within a truly
relaxed location. The bride, groom and their families get the perfect weekend
house party and our florals bring the whole space to life in an incredibly personal
and fabulous way."
The Jenny Packham shoot was styled by the
esteemed Lucy Ewing, the Sunday Times Style magazine's fashion editor.  Bridal Campaign photography was by the hugely
talented Robert Wyatt and floral photography was by the brilliantly creative
Anthony Craddock.
For further information on Philippa Craddock, please visit the Philippa Craddock website, telephone 44 (0)1825 723 715  or email [email protected].
The Spring/Summer 2014 collection from Jenny Packham can be viewed on film here.
With lots of heavenly wedding flower love,
Annabel
Credits
Floral styling – Philippa Craddock
Bridal wear – Jenny Packham
Fashion photography – Robert Wyatt
Floral photography – Antony Craddock