Well good morning lovely ones! Can't quite believe its 9th December already. Sixteen days until Christmas – yikes! There will be many of you right now however thinking a little further afield to next Summer as you plan your June, July and August weddings and for those of you who are, we hope that Sam and Sam's wedding here offers some inspiration.  
Sam and Sam tied the knot on 14th August at Chaucer Barn in Norfolk.  I love the sutble colourful nature of these images and that the couple were blessed with such wonderful sunshine for their very pretty and charming outdoor wedding.  Bride Sam is a zoo keeper who says she has always loved nature and the outdoors – these lovely and uplifting wedding photographs were sent in by Norfolk wedding photographer, Katherine Ashdown.
Photography Copyright (c) 2013, Katherine Ashdown
"I wanted the day to be outside as much as possible, which is why Chaucer Barn was such an important choice. We both wanted the day to be as colourful, relaxed and comfortable for everyone as possible.
The whole day was so magical and perfect, but one of the best moments was straight after our dance. Sam and I took a bottle of champagne and a couple of glasses outside to enjoy our first real drink of the day (I couldn't drink before the dance). The garden was lit up with hundreds of fairy lights and candles. We snuggled up under the stars on one of the hay bale sofas and toasted to being husband and wife."
"Sam and I met online. We were chatting for around four months before our first date. We hit it off straight away and I knew that Sam was special and that I wanted him in my life. I moved in with him within a few months and we were together for about four years before Sam proposed. We got engaged in April 2012. We spent all morning fixing some LED lights in our Campervan. As a reward for helping he took me out for a fancy lunch and a walk on Hampstead Heath.
As we were walking I saw a beautiful tree and suggested we climb it. As we were sat high in the branches Sam produced a ring and proposed. I nearly fell out the tree! He did of course get down on one knee once we were safely back down on the ground."
"I found Chaucer Barn online and liked the idea of being able to stay the night before and after the wedding with friends and family. This gave us the opportunity to set up together and then chill out together the next day. I went to visit the barn with my mum and instantly fell in love with it, but the gardens are what really sold it for me.
We wanted to have our ceremony outside and once we saw the willow arch by the wild meadow I knew this is where I saw our special moment taking place."
"I made the majority of the décor for the wedding myself – this was partly to save money and partly because I wanted the day to reflect Sam and I.  I made giant paper pompoms in lots of different colours and hung these in the banqueting hall.  I used hula-hoops covered in ribbon to suspend multi-coloured butterflies I had made from card and translucent papers. Again these were hung from the ceiling of the banqueting hall."
"My sister made the bunting which we hung in the garden and in the marquee.  I also had hula-hoops covered in ribbon with different coloured ribbons suspended from them. These were hung outside from the trees. I made lots of different coloured wool pompoms and strung them together with fishing wire and hung these around the building and in the trees."
"My dress was from London Bridal Couture and was a Mikaella design. It was a strapless dress and the wonderful Tina at the store did an amazing job of adding the keyhole back and sleeves. I loved the scalloped hem to the dress. I also felt it flattered my shape and had the lace overlay which I knew I wanted from the beginning. The shop was very helpful in accommodating the adjustments I wanted to make and made everything seem possible."
"I found our florist Bramble & Berry online – I wanted the flowers to be lots of different colours and sizes and to be mainly wild flowers. We drove to meet Sarah and tell her our ideas. She took them all in her stride and did such an amazing job.
Sarah added her flowers to the willow arch, marquee pole, stair banister and gave us buckets of flowers to fill the small glass vases I had been collecting over the months. The bouquets contained a huge array of flowers and herbs and smelt wonderful. The flowers were such a special part of our day."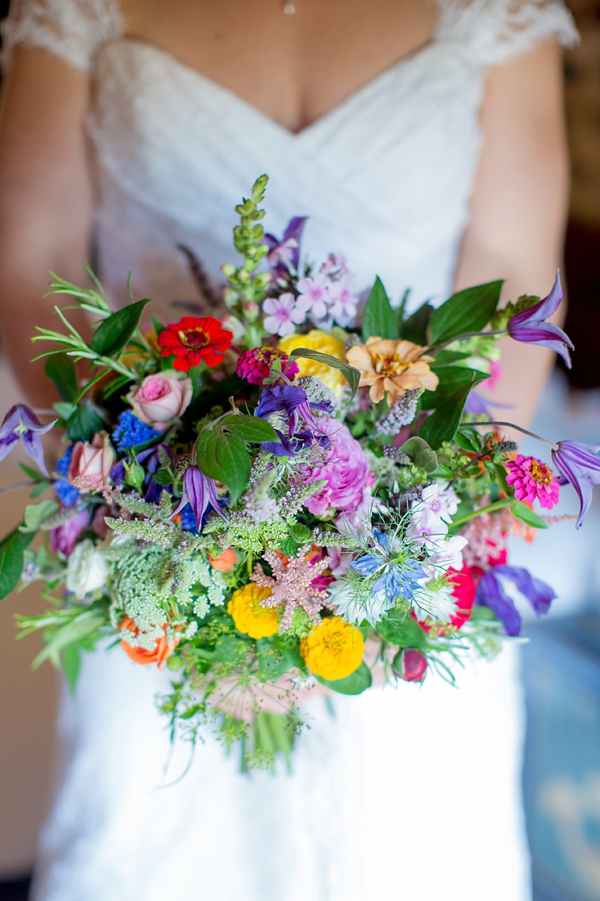 "Sam got his suit on a Groupon offer. It was a tailored suit from a store on Savile row. His tie was from Dessy and was in Regalia like the bridesmaids dresses.  His buttonhole flower was also made by Bramble & Berry.
As a gift I brought him a pair of cufflinks, again from notonthehighstreet.com – I chose the tree design as we used it throughout the wedding as a nod to how Sam proposed to me. I had them engraved on the back with the date of the wedding,"
"My bridesmaid Sadie,  Sam's sister,  was eight months pregnant at the time and this proved problematic. I wanted to the girls to look similar, but be comfortable and happy in what they wore. I didn't originally what to get the dresses from a bridesmaid shop as I feel the dresses can be too over the top. However with the pregnancy we struggled to find dresses on the high street that both girls could wear. In the end we succumbed and went to Reflections Bridal, through which we found a couple of dresses that the shop were happy to adjust to look similar.
Sadie had an Alfred Sung maternity dress, and my sister Catherine wore an Dessy design – both dresses were in Regalia colour.  The girls also had fresh flowers from Bramble & Berry. 
The girls wore flip flops from Dessy which matched the colour of their dresses."
"For favours I made a variety of different jams and curds and used these jars for them.  I also had butterfly shaped papers with wildflower seeds embedded in them.  We had bubbles too, decorated with ribbon around for people to play with."
"We used Expresso Catering for our afternoon tea -  they also supplied all the antique crockery and worked really hard to make sure we had everything just the way we wanted it and surpassed our expectations. They also supplied the salads and pavlovas for during and after the hog roast.
The hog roast was supplied by H.V. Graves. They were very efficient and helpful and everyone commented on the quality.
My Mum made the cake. The bottom was carrot, the middle chocolate and  the top was a fresh fruit cake. Carrot is my favourite, the chocolate was for Sam and the fruit a modern take on the traditional wedding cake. My brother made the cake stand. He carved a traditional love knot on one level, an eternity knot on the next and a carving of the tree he designed for our wedding invitations on the other."
"We made butterfly shaped cards for people to write messages to us on. These were then tied to a small wooden tree using ribbon. We are going to use the butterflies as a boarder around a photo from the wedding. 
We used solar powered white tea lights in the topiary trees in the garden for the evening. We also had 100 paper bag tea lights around the gardens. We hung heart shaped tea-light holders from hobby craft, in the trees."
"Our photographer was Katherine Ashdown. She was recommended to me by my florist Bramble and Berry. After looking through her website I fell in love with her style of photography and her use of nature in her photos.  As nature is so important to me and I wanted the great outdoors to feature heavily in our wedding I felt confident that Katherine would be able to capture our day.
On the day she fitted in perfectly and made everyone feel at ease. Sam was not looking forward to having his photo taken, but was smiling throughout thanks to Kathy's relaxed yet professional attitude."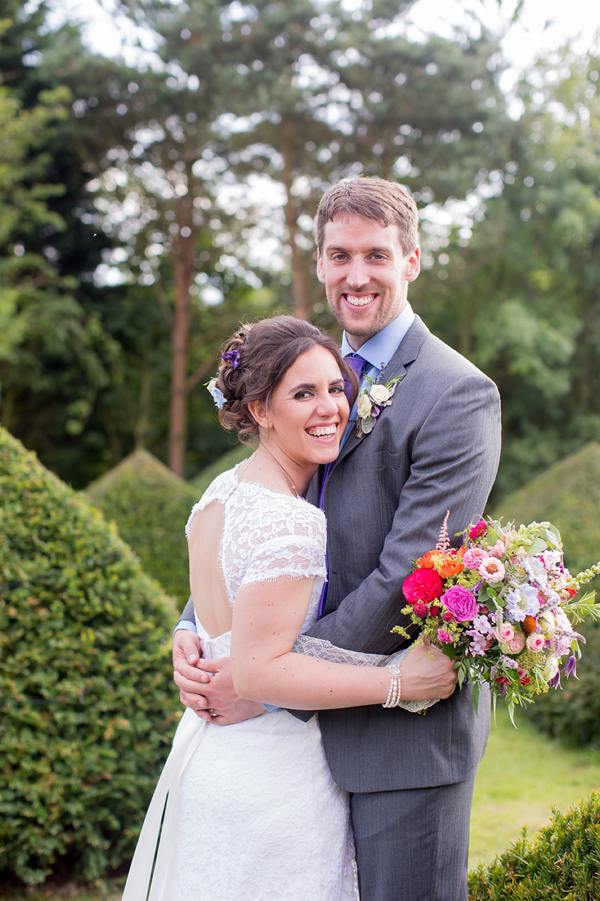 "My shoes were found on EBay and cost £17. The link for them doesn't exist anymore." 
"My necklace and bracelet were bought online at notonthehighstreet.com – and I wore real flowers in my hair supplied by the amazing Bramble & Berry."
"My hair dresser was injured three weeks before the wedding and could not do my hair and I was not happy following a trial with my makeup artist. As a result, three weeks before the wedding I had no one for hair or makeup. I asked around on Kathy Ashdown's facebook bridal page and had both Amy and Emily recommended to me. I went up for a trial with both the ladies the week before and was blown away with how helpful and accommodating they were. The both did an amazing job at making me feel super special on the day."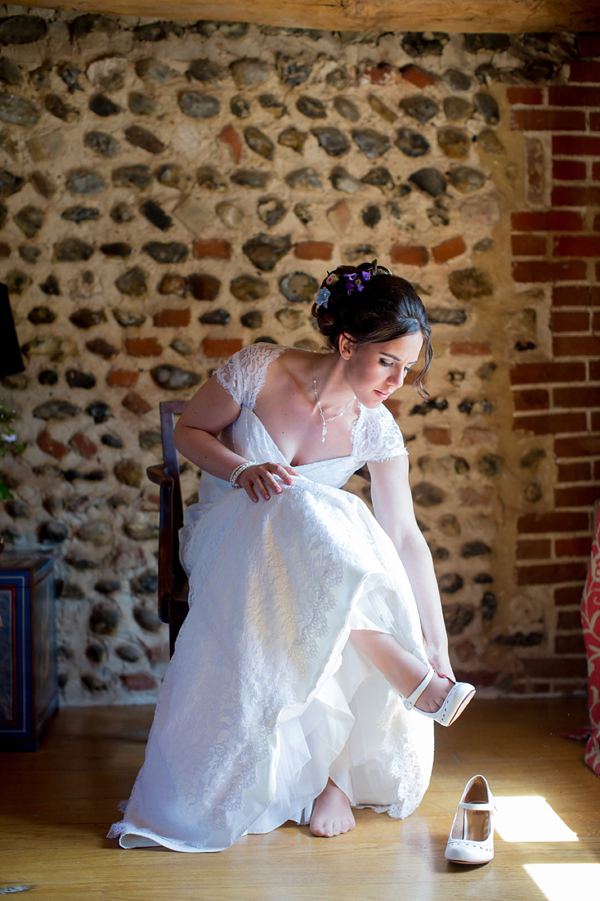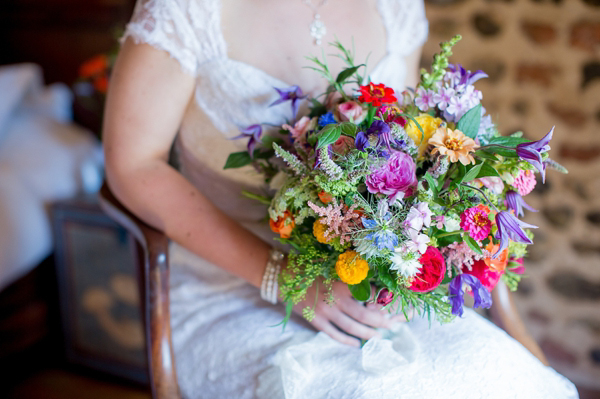 "My mum made the quilted blankets and cushions that we used on the hay bales, and for people to sit on the grass."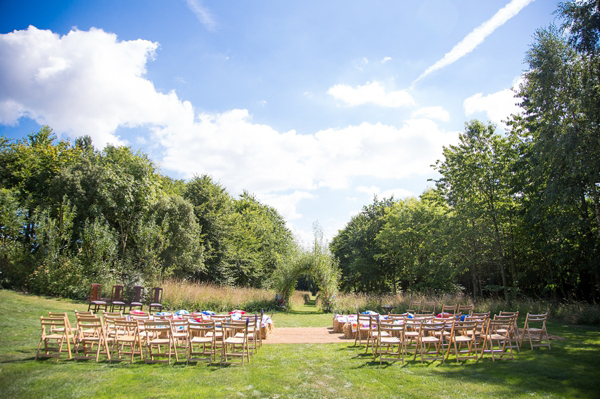 "We had a string quartet called Reeverberate.  They were happy to learn how to play Bob Dylan's (covered by Adele) 'Make you feel my love' a week before the wedding for me to walk in to and played throughout the afternoon tea.
Sadie's husband Matt sings and plays the guitar and did a long set for us in the afternoon. He did such a wonderful job and really helped set the relax/chilled out mood of the day."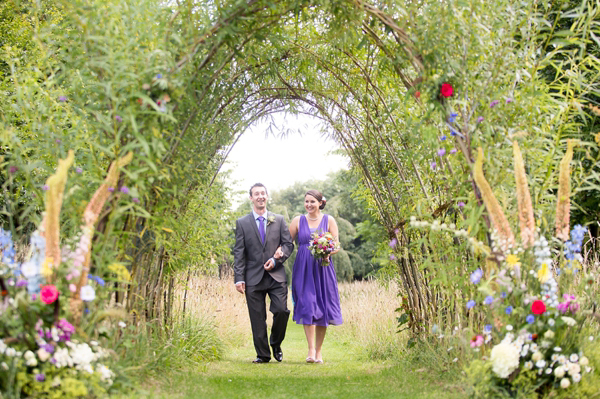 "I walked with my mum 'down the aisle' to the sound of 'Make you feel my love' by Adele, which was played by the string quartet."
"I tried to get Sam to write his own vows, but felt uncomfortable doing this especially reading them out in front of people, so we picked vows from the list supplied by the registrar. I did however write a letter to Sam, which I had my sister deliver to him on the morning of the wedding. In this I told him how special he is to me and how lucky I am to have found him.
I also wrote a letter to my mum and Sam's parents thanking them for their help with the wedding and for making Sam and I the people we are, ultimately enabling us to love each other the way we do."
"We got our rings from Purely Diamonds – Sam found them online and we used them because they were able to supply us with exactly what we wanted and at a much better price than anything we could find on the high street."
"I asked all my family members who would like to read something. Both Chris and Sadie offered. I then let them both pick their own readings.  Sadie read the following, which is a Bob Marley quote: 
'He's not perfect. You aren't either, and the two of you will never be perfect. But if he can make you laugh at least once, causes you to think twice, and if he admits to being human and making mistakes, hold onto him and give him the most you can. He isn't going to quote poetry, he's not thinking about you every moment, but he will give you a part of him that he knows you could break. Don't hurt him, don't change him, and don't expect for more than he can give. Don't analyse. Smile when he makes you happy, yell when he makes you mad, and miss him when he's not there. Love hard when there is love to be had. Because perfect guys don't exist, but there's always one guy that is perfect for you.'"
My brother read this, by Anon;
'Today is a day you will always remember
The greatest in anyone's life
You'll start off the day just two people in love
And end it as Husband and Wife
It's a brand new beginning the start of a journey
With moments to cherish and treasure
And although there'll be times when you both disagree
These will surely be outweighed by pleasure
You'll have heard many words of advice in the past
When the secrets of marriage were spoken
But you know that the answers lie hidden inside
Where the bond of true love lies unbroken
So live happy forever as lovers and friends
It's the dawn of a new life for you
As you stand there together with love in your eyes
From the moment you whisper 'I do'
And with luck, all your hopes, and your dreams can be real
May success find its way to your hearts
Tomorrow can bring you the greatest of joys
But today is the day it all starts.'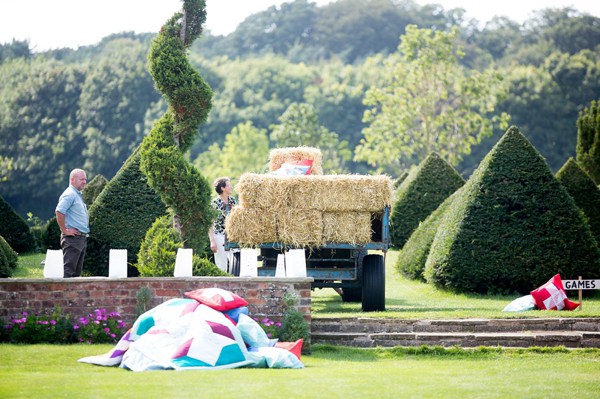 Words of Wedded Wisdom…
"The homemade items really made the day special for me. The little touches all the family contributed made it more personal and now when I look through the photos I can remember all the effort everyone put in. Don't put too much pressure on yourself. I gave myself a lot of tasks to do and started to get really stressed towards the end. I had to let go of some things and let people help.
Lastly I got frustrated at times when Sam appeared to have no opinion on bits for the wedding. I realised in the end however that he just wanted me to have what I wanted on the day and was always happy as long as I was happy.
I wouldn't change anything about the day at all. Although if we could have stretched to it a live band in the evening that would have been fun, but we were happy with our own tunes."
Huge congratulations to you both Sam and Sam! And big thanks also to your wedding photographer Katherine Ashdown.  Readers, you can see more from the talented Katherine Ashdown via her website katherineashdown.co.uk.
If you love the colourful nature of this wedding, you can see more beautiful colourful weddings here – you can also browse through more Summer weddings too.  And if you're still undecided in which season to get married, perhaps take a look at this seasonal wedding feature to help you decide.
We'd love to hear back from you on this beautiful December morning – pop a comment below.
With much love,
Annabel
Photographer – Katherine Ashdown
Venue – Chaucer Barn in Norfolk
Wedding Dress – Mikaella via London Bridal Couture
Brides' shoes – EBay
Bride's accessories – Chez Bec necklace + bracelet
Groom's Attire – Saville row suit via Groupon + tie via Dessy + cufflinks from notonthehighstreet.com
Florist – Bramble & Berry
Cake – The brides mum
Bridesmaids – Reflections Bridal (Alfred Sung maternity dress + Dessy)
Entertainment – Reeverberate (string quartet)
Rings – Purely Diamonds
Catering – Expresso Catering + hog roast via H.V. Graves
Hair and make-up Artist – Flamingo Amy
Make-up Artist – Emily at Love Moi Make-up