I'm ridiculously excited by this post, same as I always am when it comes to the first wedding of the year we feature on Love My Dress®.  I've been saving this one for all you lovely new visitors to our blog (congratulations on your engagement!), because I'm completely smitten by it and love how it so perfectly represents the very essence of what we do – glamorous era inspiration translated in to the modern-day wedding setting in the most perfect way.
Laura, a Graphic Designer tied the knot with her beau, and Art Gallery owner, George (they run the William Benington Gallery in London) on 14th September 2013.  The couple's wedding venue was the most incredibly splendid Coombe Trenchard, which also happens to be George's parents home.  I dream about having a home like this.
"The style of our wedding was inspired by the jazz age of the 1920s and 1930's, with a George and Laura twist. We are both huge Art Deco, Agatha Christie, F. Scott Fitzgerald, Jeeves and Wooster fans etc. I don't even remember discussing it – we both just knew that we had to have some Jazz Age styling.  Perhaps because George's parents house, which was also our venue for the day, was clearly designed for hosting parties when it was built in 1906, and we have often sat around the fire imagining the festivities that may have happened there years ago."
Photography by Eclection Photography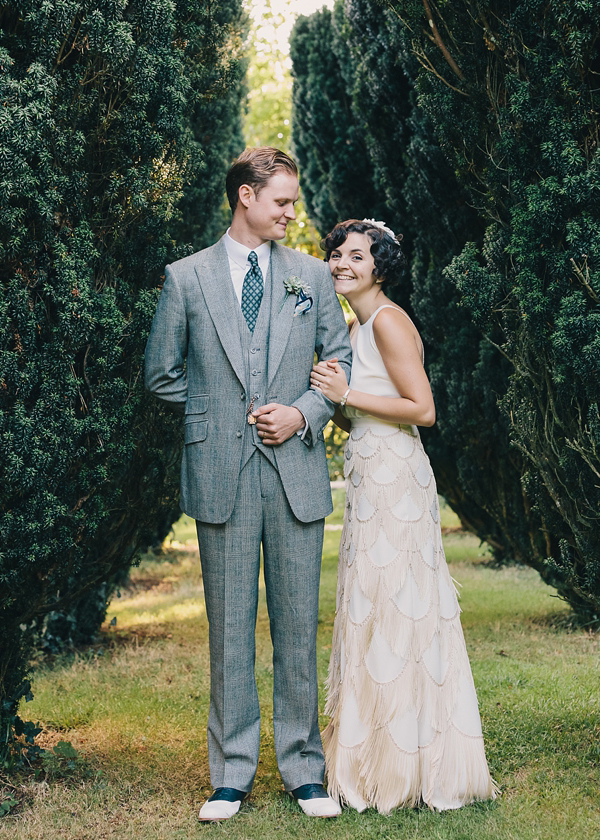 "By the time I had finished designing our wedding invitations, there was really no doubt that we would be holding a 'prohibition-era-styled, cocktail-fuelled, charleston-dancing' celebration!  Rather luckily for our outfit-seeking guests too, over the year and a half of our engagement, the 1920's came soaring into fashion with the re-release of The Great Gatsby and programmes like' Dancing on the Edge' being aired."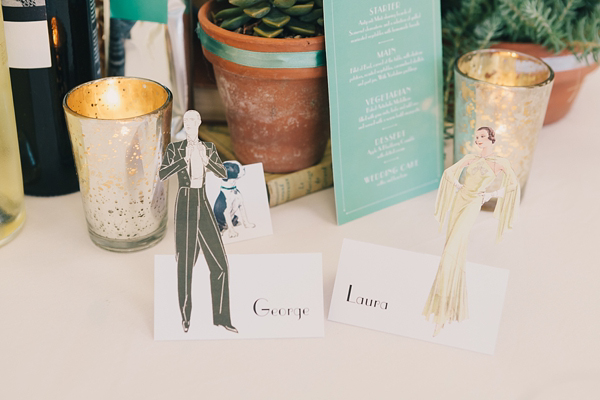 "George and I met on a drawing trip to Lisbon during foundation Art and Design, a one year pre-degree arts course at Kingston University. After being inseparable friends for almost a year we finally gave in and admitted our feelings for each other, much to all our friends' secret expectations!  Around this time, I was in the habit of hand-drawing ants onto stickers and pasting them here, there and everywhere (typical art student!).  This will make sense shortly.
Six and a half years, two degrees in graphic design and fine art and a tiny rented flat in Bow later – for my 26th Birthday, George bought me tickets to re-visit Lisbon, the city where it all started. On 1st March 2012, George gave me a second birthday present which he had been saving for the trip; it was a stunning Jonathan Adler sculpture of a squirrel holding an acorn."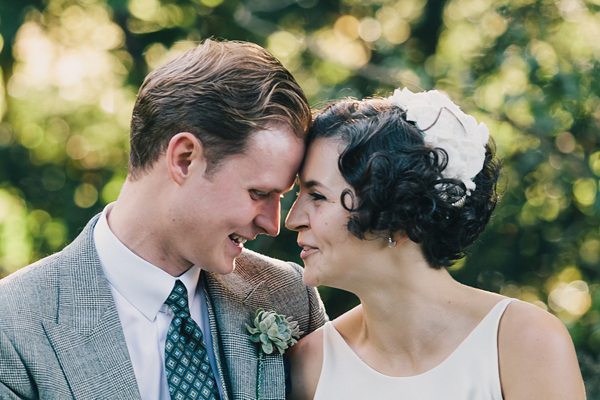 "When I opened the little acorn, inside were some strips of stickers with little ants drawn on, just like those I had made so many of when we were in our teens – such attention to detail, and on one strip of stickers were written the four words WILL YOU MARRY ME? I almost passed out!  But I said yes, of course, as George passed me a tiny ring box. His hands were shaking so much he couldn't open it! He had chosen me the most stunning engagement ring I have ever seen, from around 1910 with a ruby as well as diamonds, as red is my favourite colour.
A year and a half, a purchased flat in East Dulwich, the opening of our art gallery, William Benington Gallery, two sculpture shows in Devon and a kitten named Moriarty later, we were married! It has been a busy whirlwind of a year but by far the best of our lives."
"We got married at Coombe Trenchard – George's parents' beautiful arts and crafts house in West Devon. Coombe Trenchard is a house which is close to the hearts of not only George's but my family too, having spent Christmas together there in 2011. It is, quite simply, one of our very favourite places to be and we were so lucky to get married in a place which feels like home to both of us.
Our ceremony was held in the triple height Hall of the house with our loved ones looking down or up at us as we stood on a raised section of the entrance."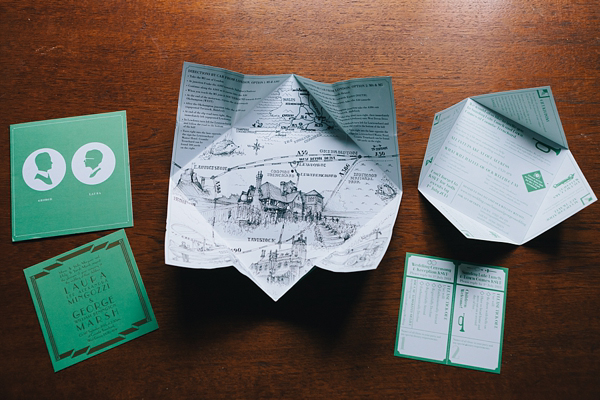 "Without trying on a single other dress, I found a photograph of a vintage dress on a fashion museum website and knew it was the one. My Maid of Honour, Hatti, redesigned the top half for me and Natasha Shaw of Harlequin Fox painstakingly replicated it for me from just two photographs. The fringing on it is just sublime (26 meters!) and I knew that the movement in it would be spectacular. It's amazing how much you can love your dress!"
"When it came to decor and styling our wedding, our Best Man Tom, and Usher Fred built the stage backdrop from almost nothing!  The dining tables were decorated with stacks of beautiful books, cut glass decanters which we filled with whisky or port, which reflected the candles beautifully, and succulents in dusty colours, planted in little vintage terracotta pots."
"My mother and my maid of honour very kindly helped me to sew ribbon bunting and strings of hanging ribbons for the backs of every-other chair, and we suspended my collection of vintage parasols and umbrellas from the ceiling."
"My favourite plants have always been succulents. The plants themselves look as beautiful as flowers and they come in such an array of colours. The colours I like best are the dusty pale greens and the purples. I am so grateful to George's mother, Sarah, who, knowing that I was hoping for these plants to be dotted about in terracotta pots, went succulent-mad and grew hundreds of stunning little plants with which to decorate the dining tables and gardens."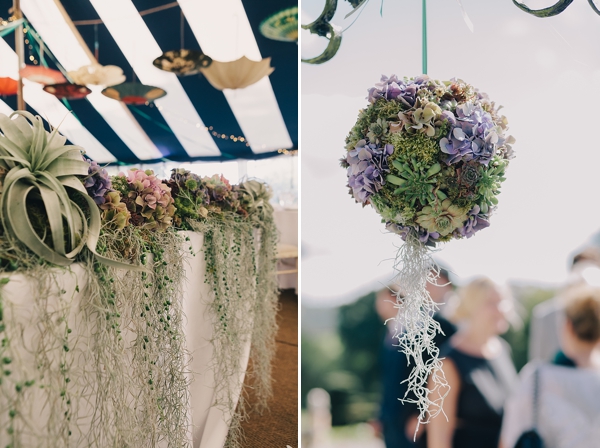 "Our florist Amanda Randell was was also absolutely incredible and we can't recommend her highly enough. I described the types of plants and the colours that I liked to Amanda and she arranged the most interesting, and beautiful bouquets, button holes and arrangements. Cascades of individually wired succulents, air plants and more. Her enthusiasm is contagious, her manner professional and her flowers are really the best. What a talent."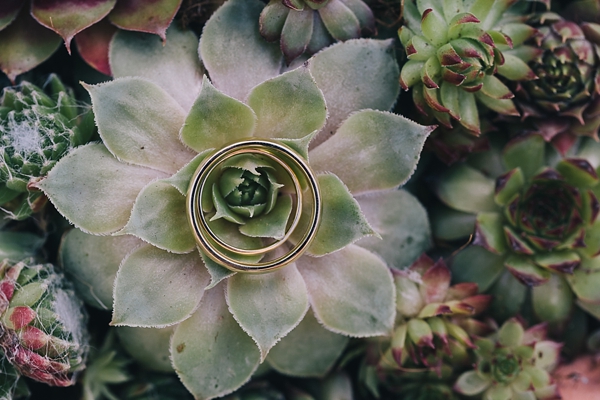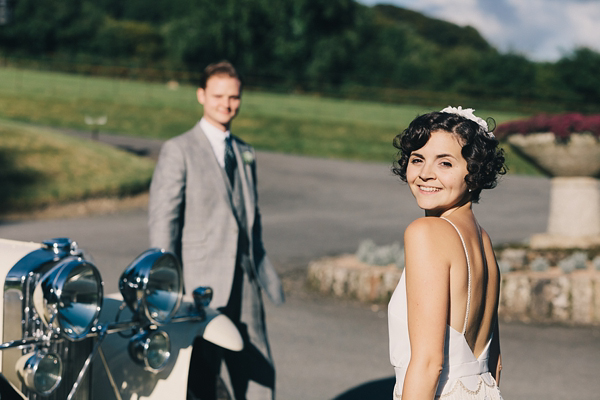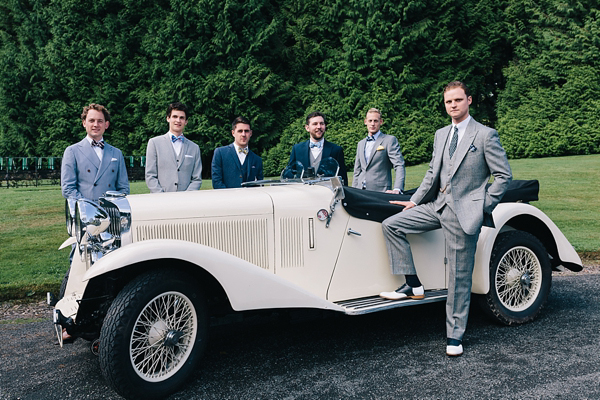 "George had his three piece, Prince of Wales suit made by Cad and the Dandy and his shoes were from Mr Hare.  His tie and pocket square were from Mariano Rubinacci.  George gave each of his Ushers and his Best Man a bow tie from Brookes Brothers."

"I designed all our stationery and paper products, from the invitations to the hand cut place names.  Each guest's place name had a little 1920's character on it to represent them. The menus and bread sticks were branded to match all the other printed materials."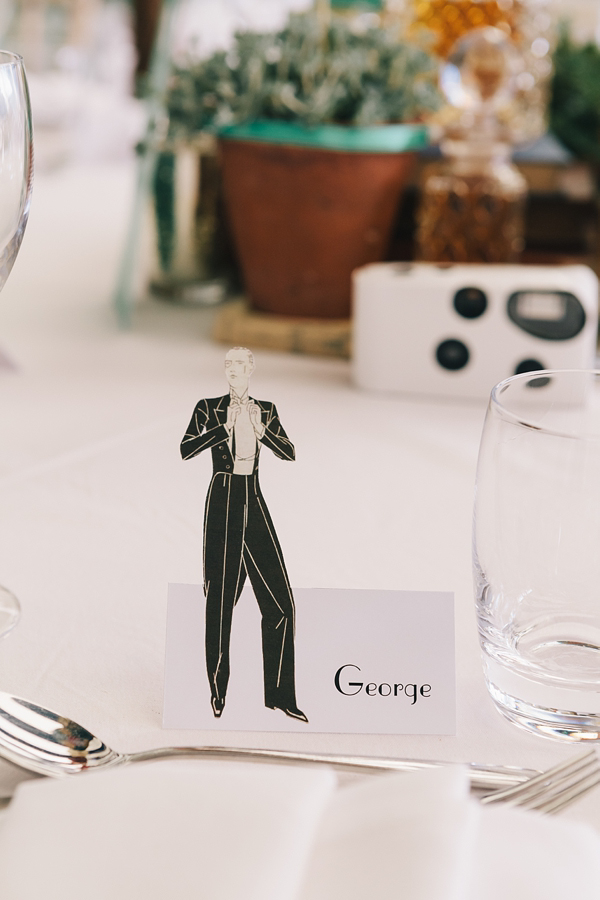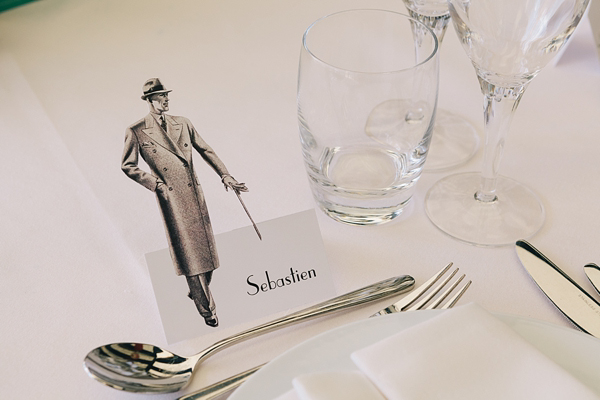 "Our Guests drank from over 100 champagne saucers that my mother-in-law, friends and I collected in advance in junk and antique shops. These elegant glasses really made the afternoon drinks special. My parents lent us a very special pair of glasses which they have had since they were young. We were holding them during our confetti shot!"

Laura's bridesmaids all wore dresses which were made from a rather fabulous zingy green fabric, along with their own silver and gold shoes.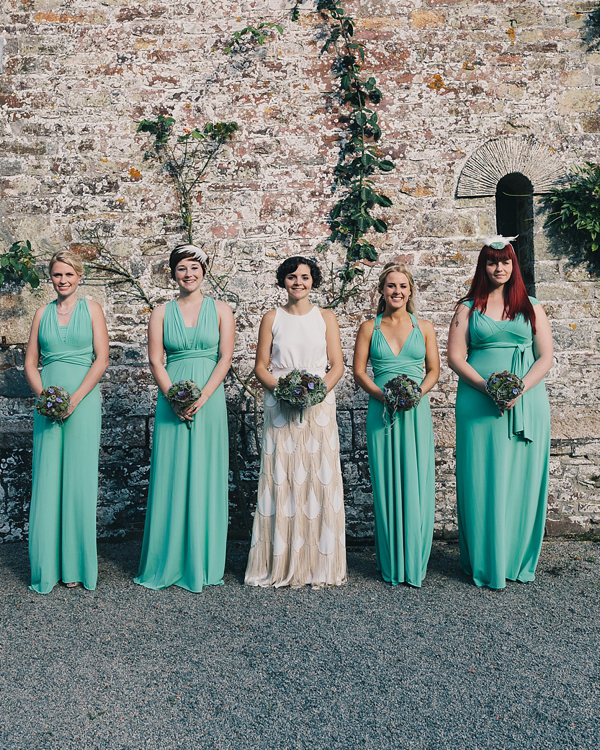 "My personal gifts to my bridesmaids were head-pieces I made for each of them. I used the same vintage green velvet as I had on my own headdress and incorporated vintage, diamante brooches and off white feathers."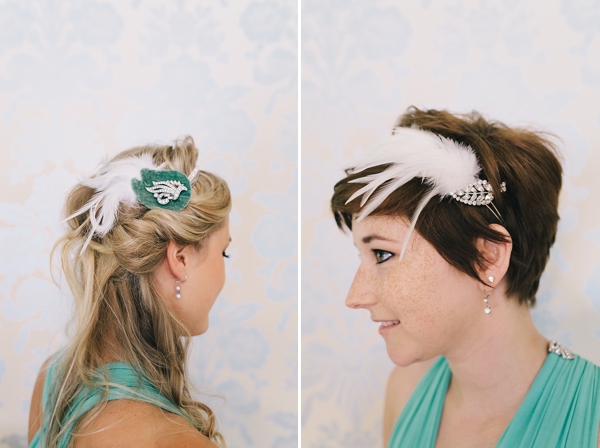 "Sammy has a symmetrical hairstyle so her head piece sat on top of her head in a heart shape with a V-drop brooch; Tiggi's piece pulled her hair to the side above her ear, with a dangling brooch; Sally has very short hair and so I made her an Alice-band with feathers curled over her head; and finally, Hatti had a pair of ethereal, mercury-styled wing-shapes on either side of her head with wing shaped brooches. They were such a pleasure to make and to give to my closest friends and family."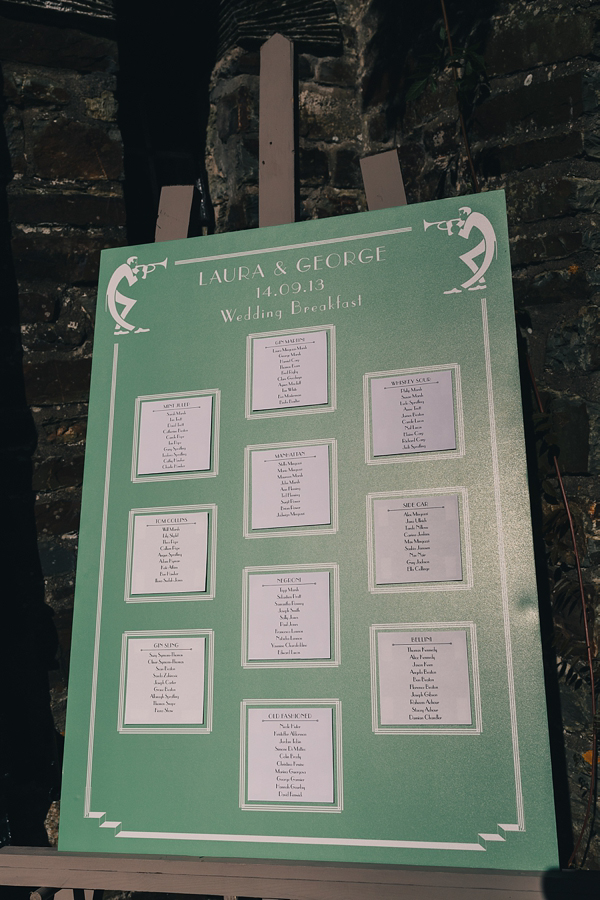 "I made my headdress from the same fabric as my dress. The base was lined with some stunning vintage green velvet that my mother-in-law bought for me at a craft fair in Devon. I attached gathers of fabric and curves using french knots and little pearl beads all over it in an Art Deco fan motif. At either end, behind my ears, I attached some old silver coloured earrings which I had purchased the summer before in a vintage shop in Florence."
"For favours for our guests, George, his parents and I dug up little pots and glass vessels from the woodlands on the land at Coombe Trenchard. These were planted up with little succulent plants with thank you notes and care instructions tied on."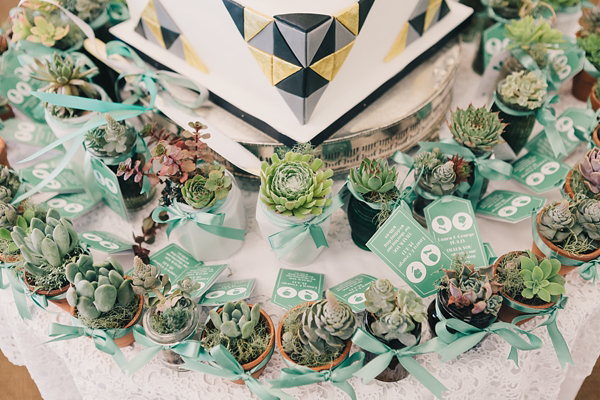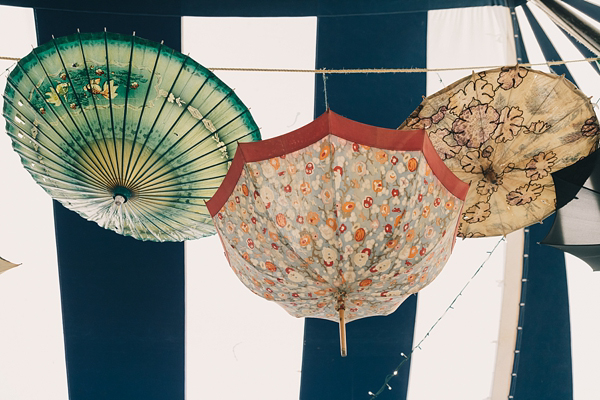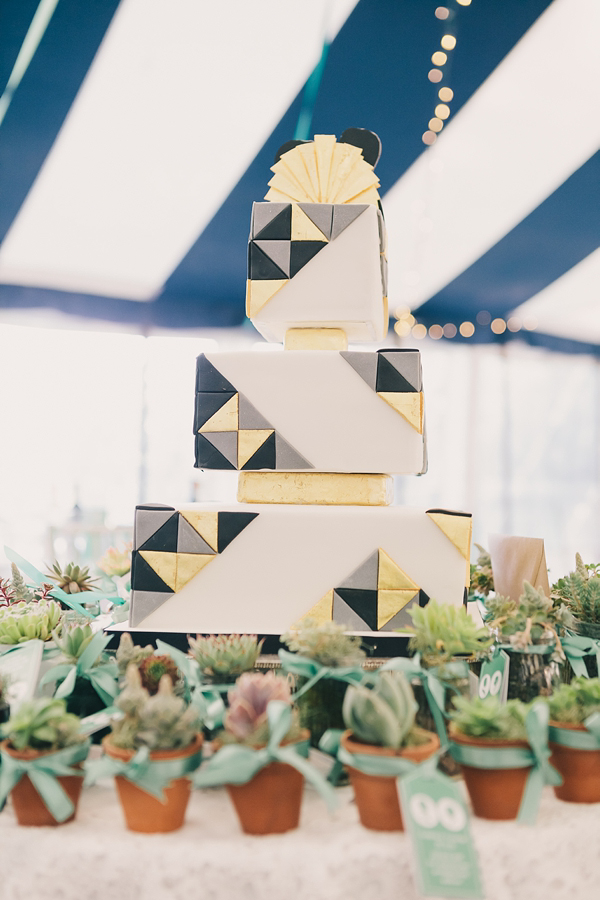 "As you can see, Heather Shuker of Eclection Photography and her second shooter Elizabeth Armitage did a lovely job of capturing our special day. She even captured my 'excited face' or what my brother describes as 'more than a posed smile' – it's an uncontrollable upward distortion of my face!"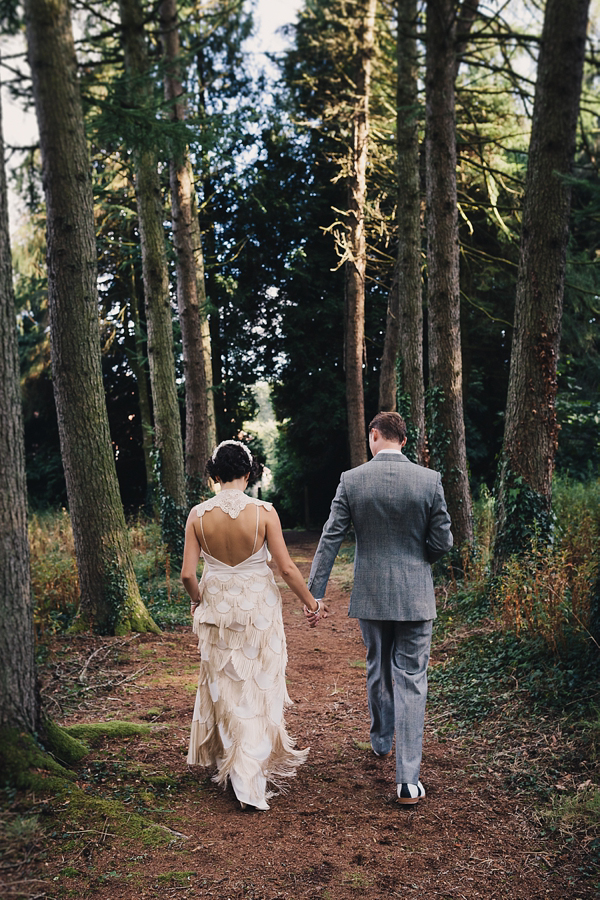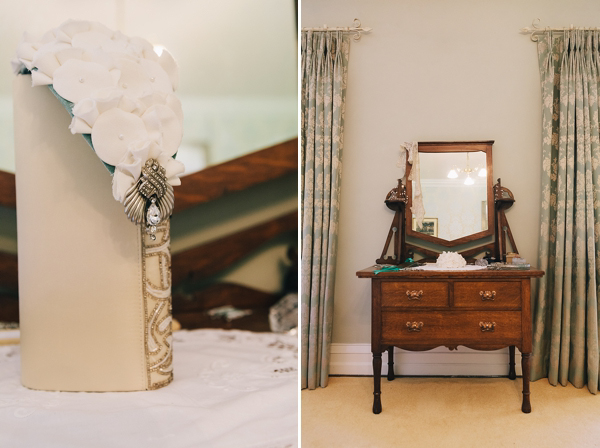 "My shoes were vintage, golden peep-toe sandals. I bought them at Blackout II and my beautiful lace shawl was purchased from Diane Harby Antique Lace and Linen at Grays Antiques."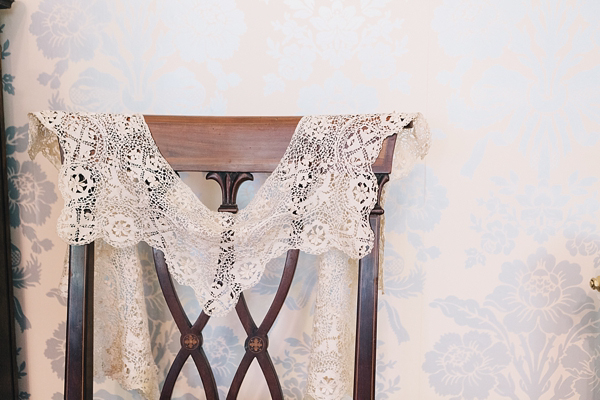 "I wore a bangle which George gave me for Christmas which was originally given by his Grandfather to his Grandmother on her 21st birthday. I also wore a beautiful pair of arrow style earrings which he gave me on the morning of the wedding. They are so beautiful and are from V-jewellery.
I will never forget the look in George's eyes when he noticed that I was wearing the bangle he gave me for Christmas."
"My Maid of Honour, Hatti, lent me her grandmother's genuine art deco watch as my something borrowed and my something old."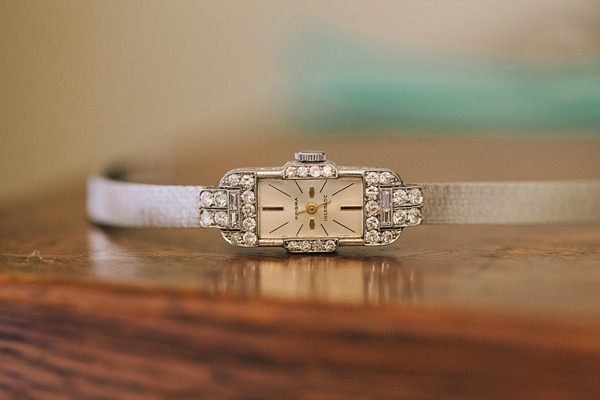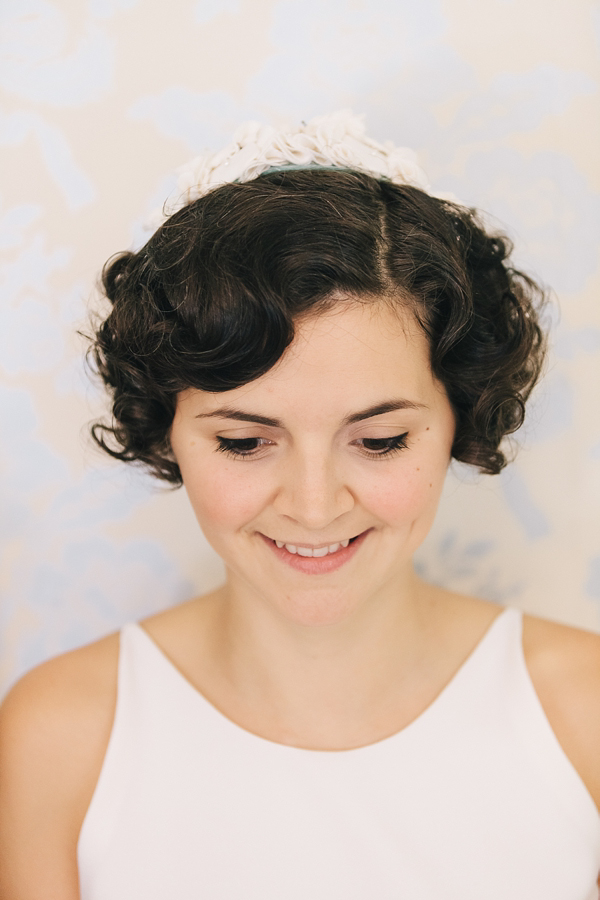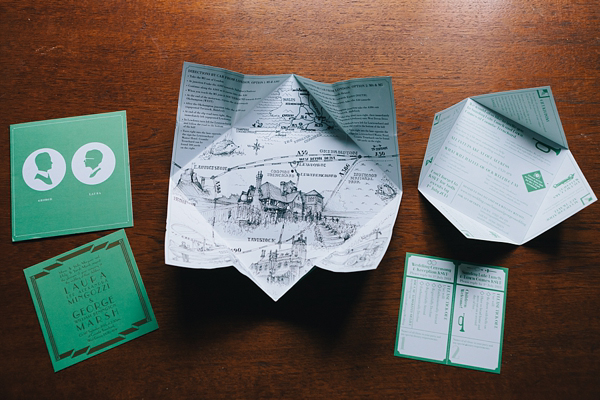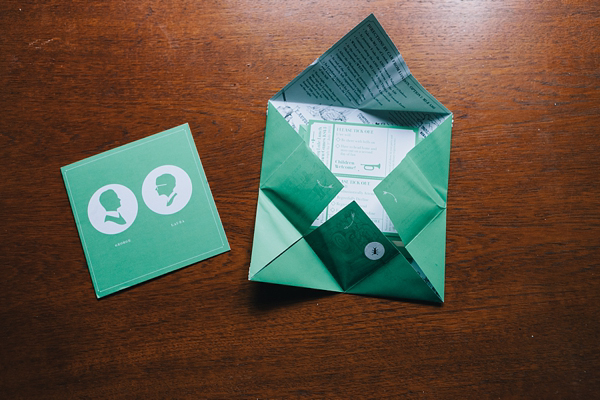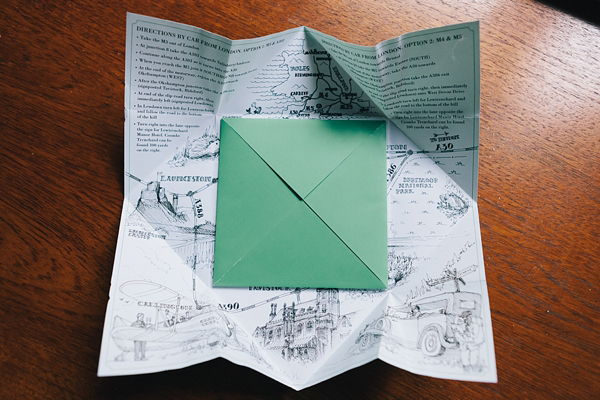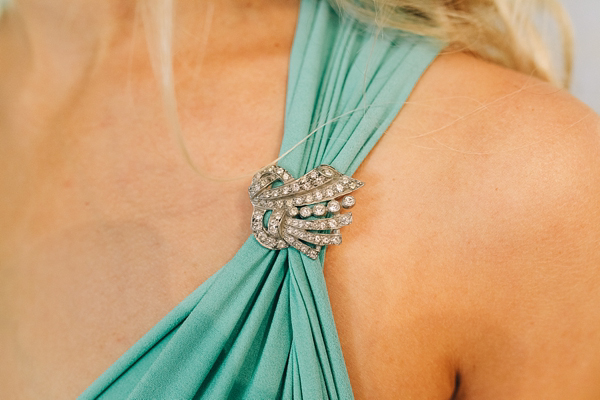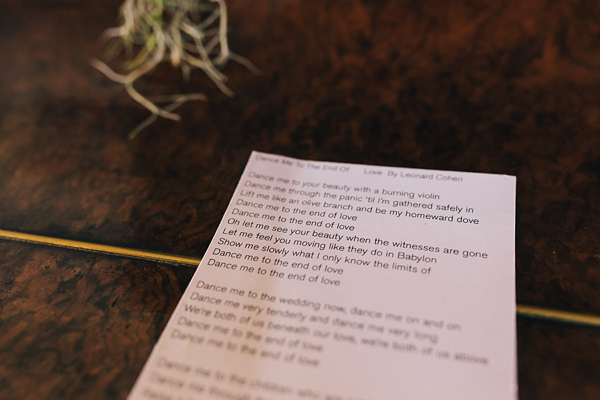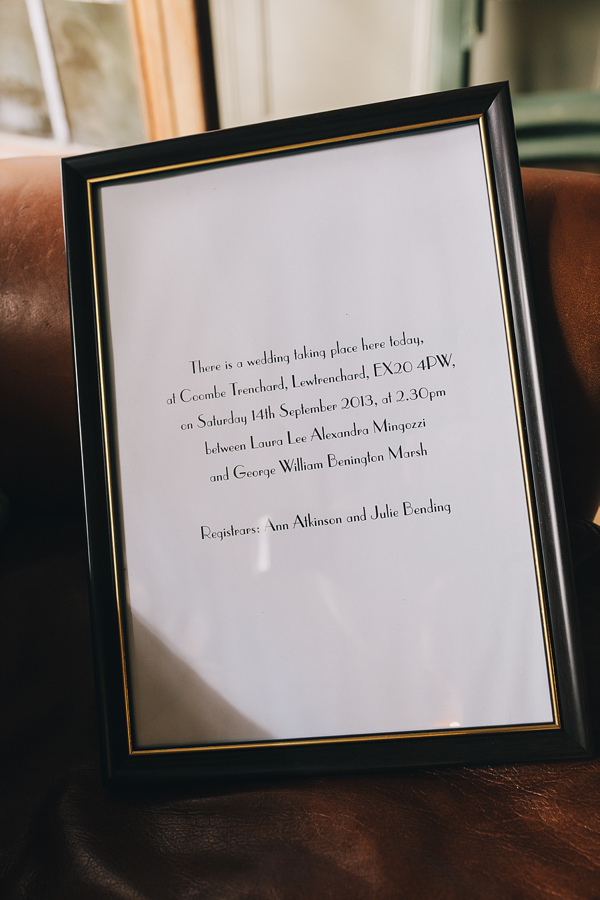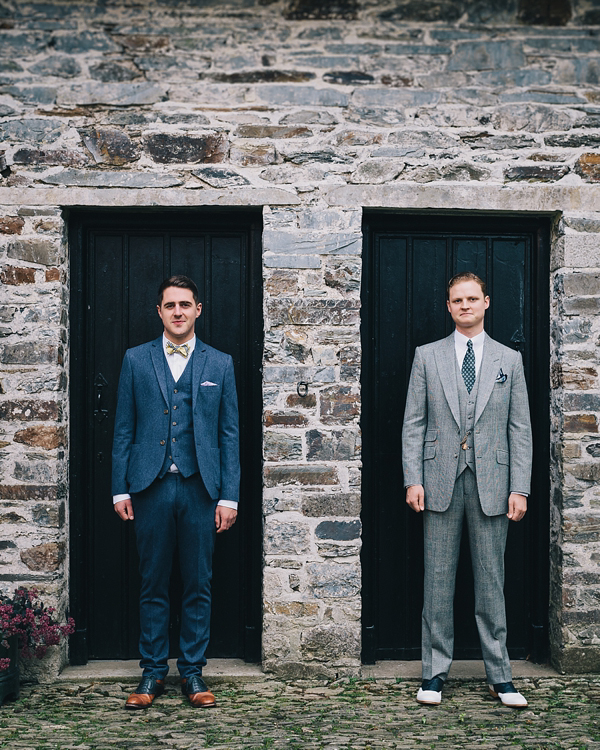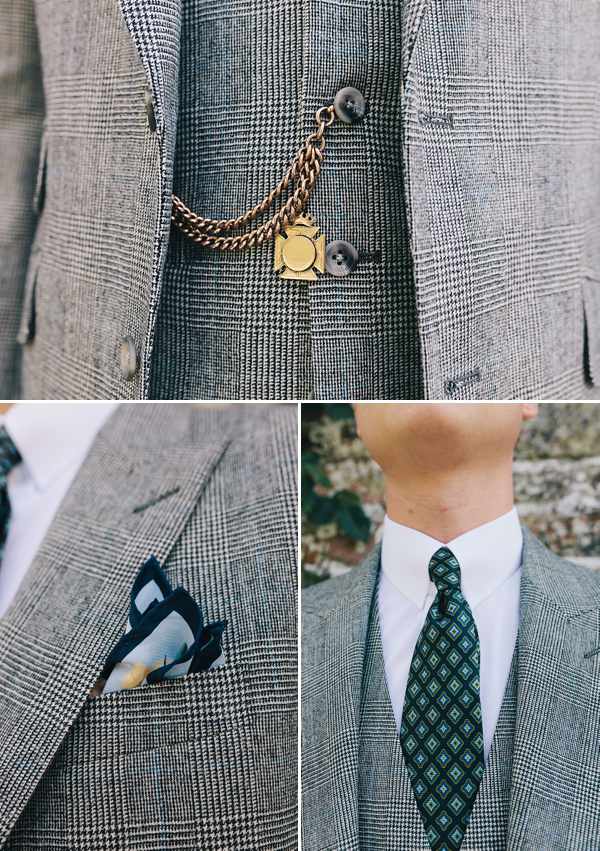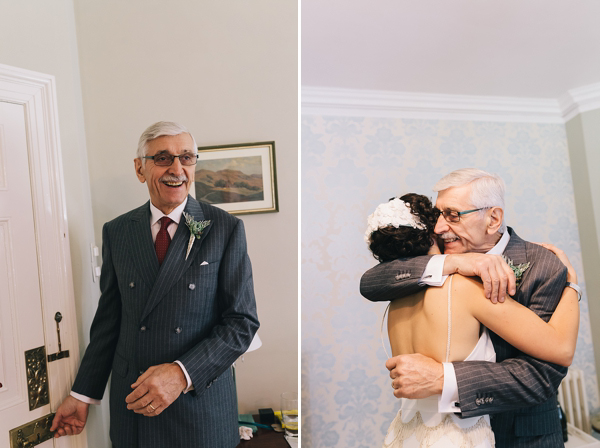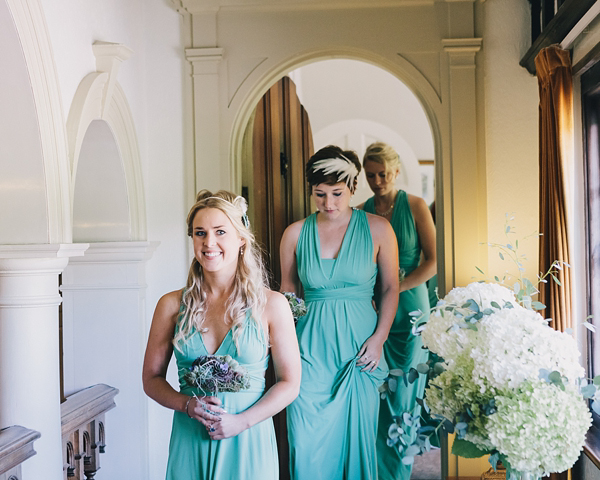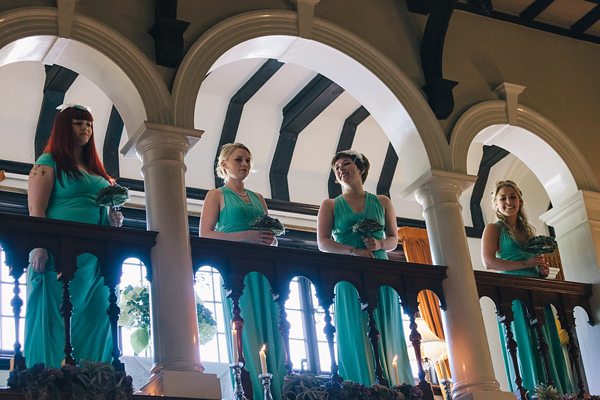 "My father, Mario, gave me away – we walked down the aisle to Comptine D'un Autre été L'après-midi by Yann Tiersen."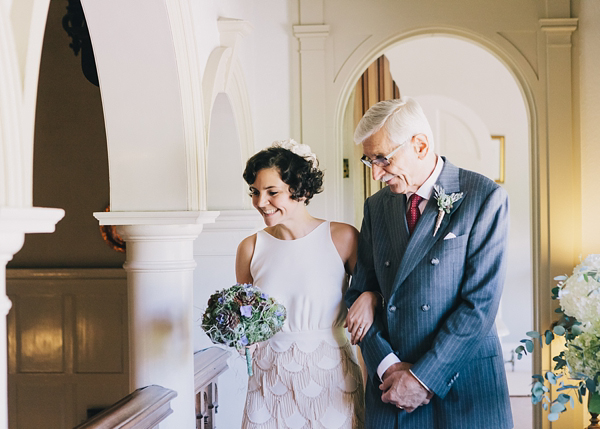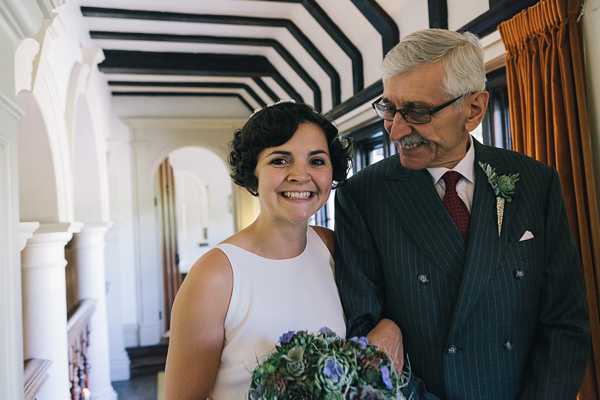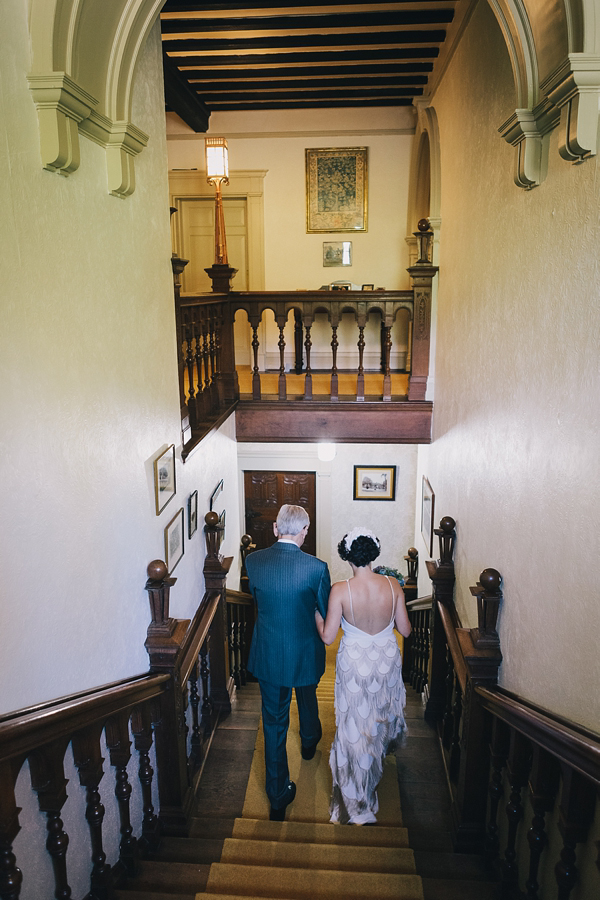 "George and I didn't tailor our vows, but the music which was played up to, during and after our ceremony was very significant to both of us.
George's Godmother Carole, read 'Dance Me To The End of Love' by Leonard Cohen. George and I both enjoy Cohen's poetry and music and the second line, 'Dance me through the Panic 'til I'm gathered safely in' perfectly describes to me the security I feel when I think of my husband as well as the protective instinct I feel for him."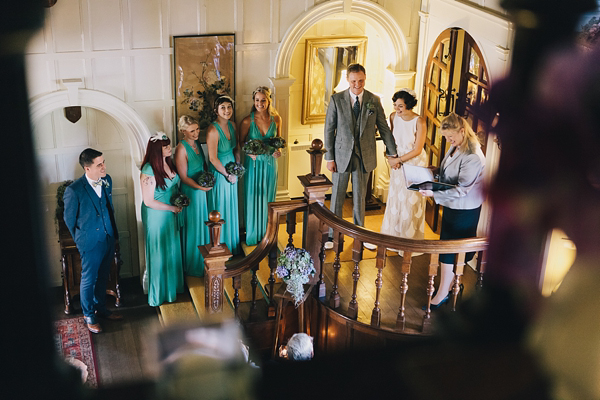 "My brother, Alex, read 'The Owl and the Pussy-Cat' by Edward Lear for us. This poem strikes just the right balance between romance, silliness and whimsey to perfectly reflect our relationship."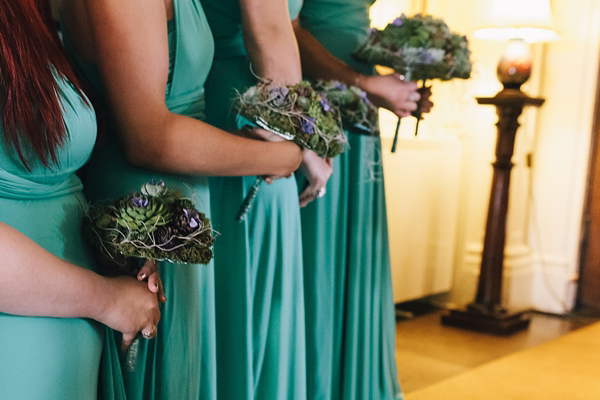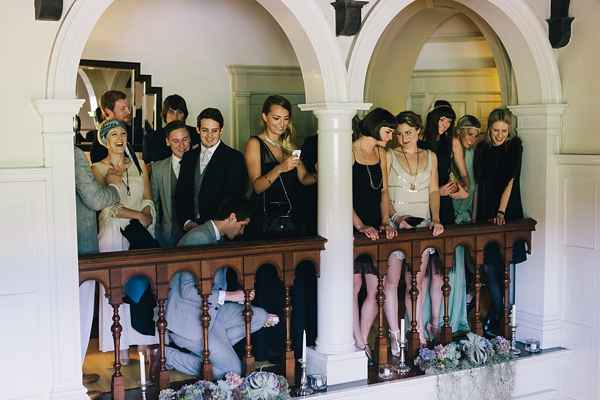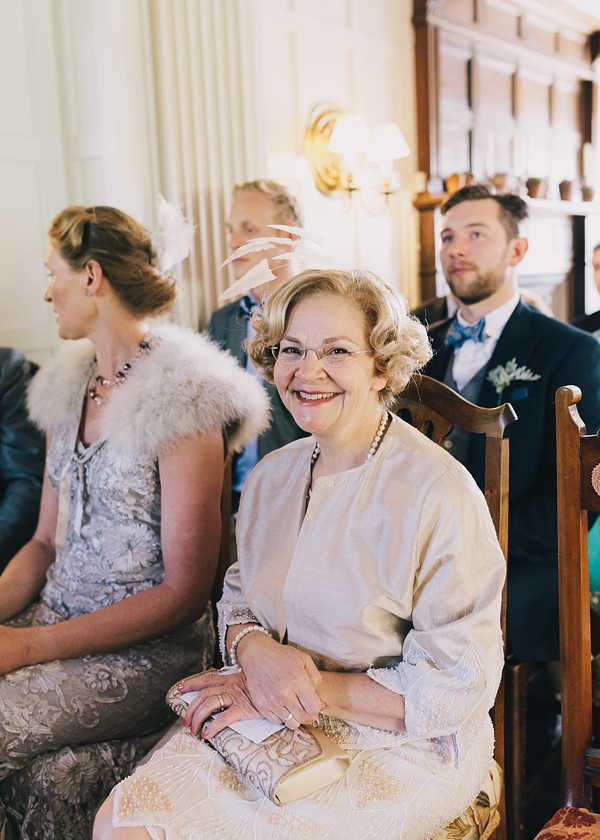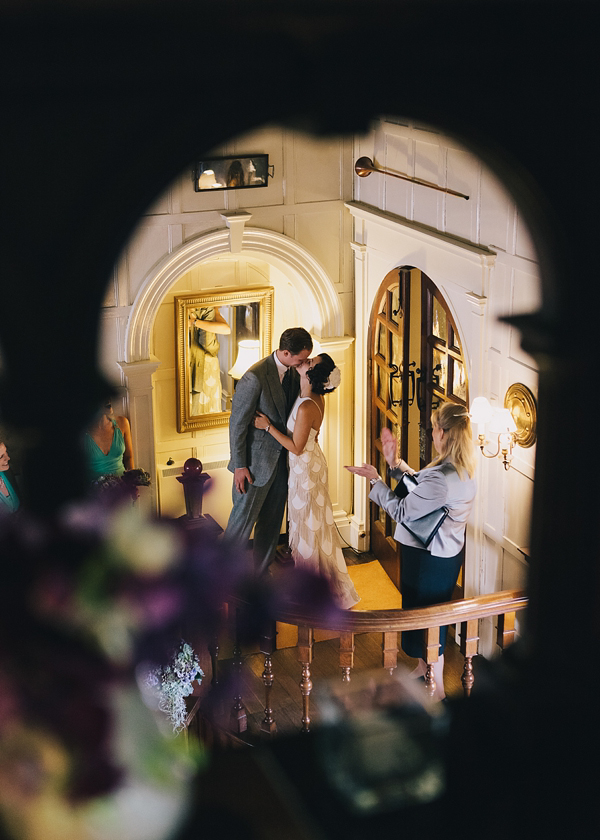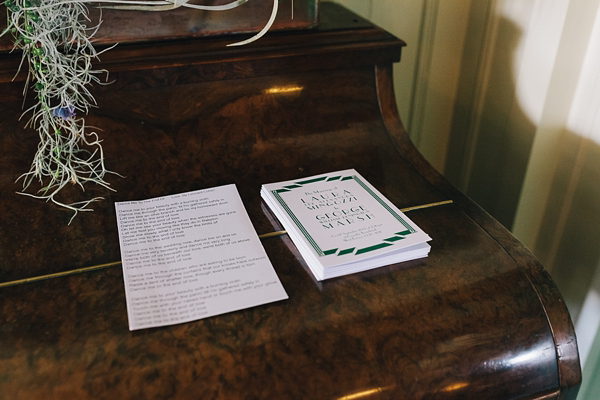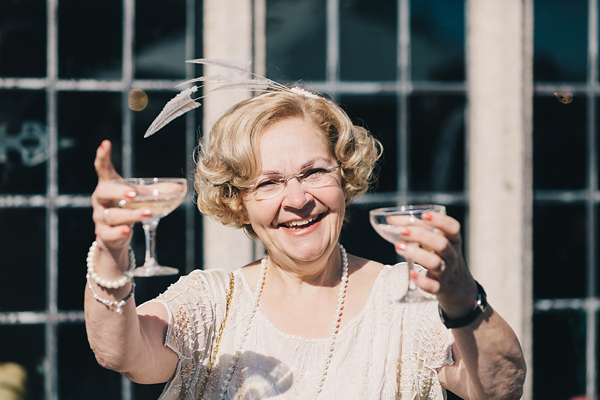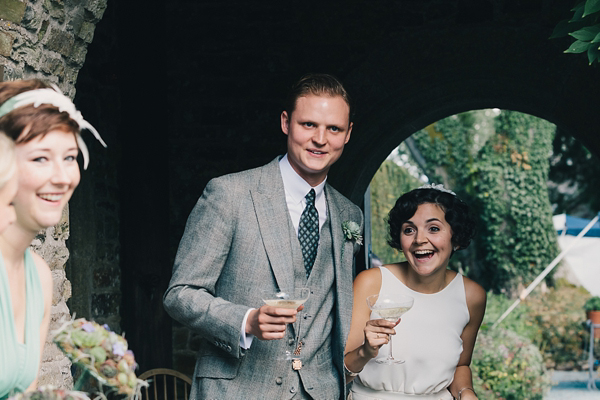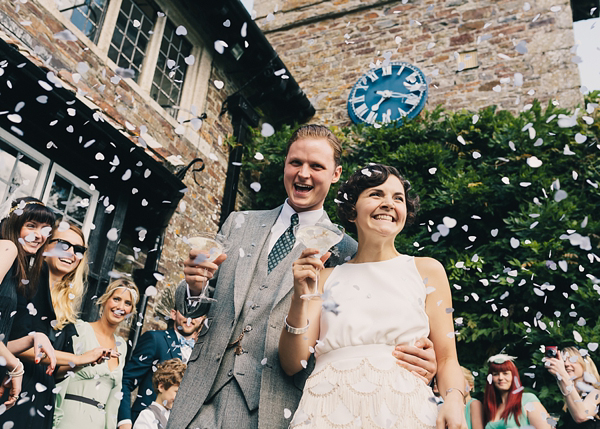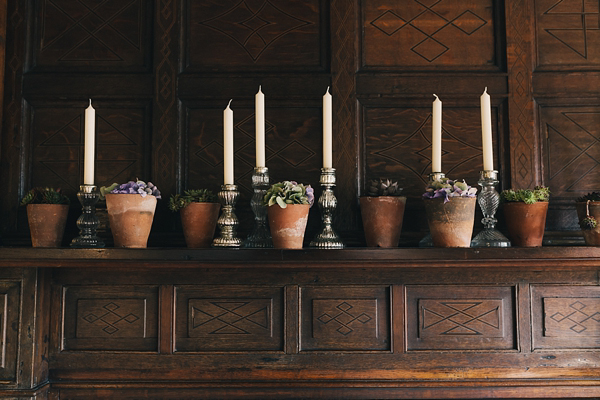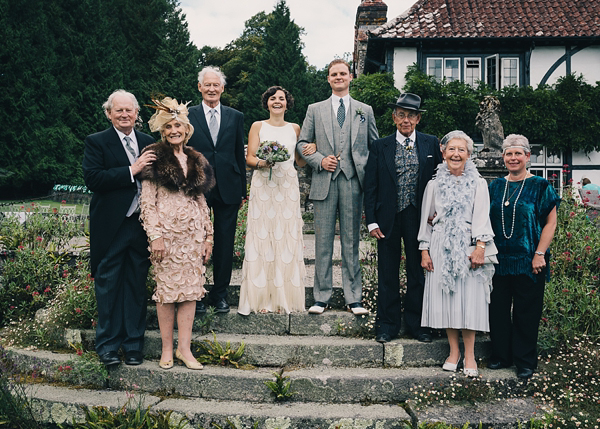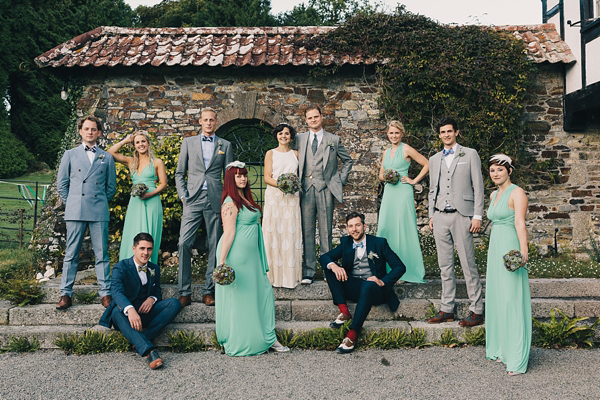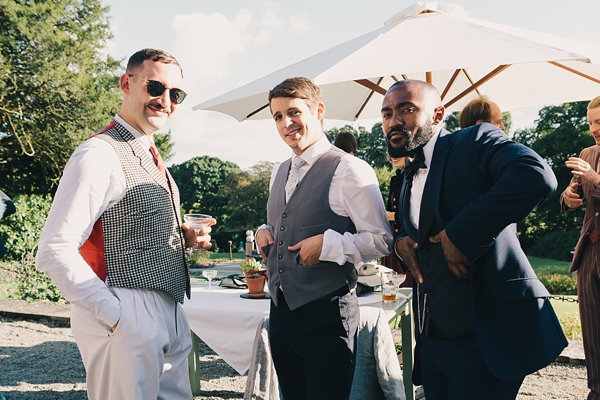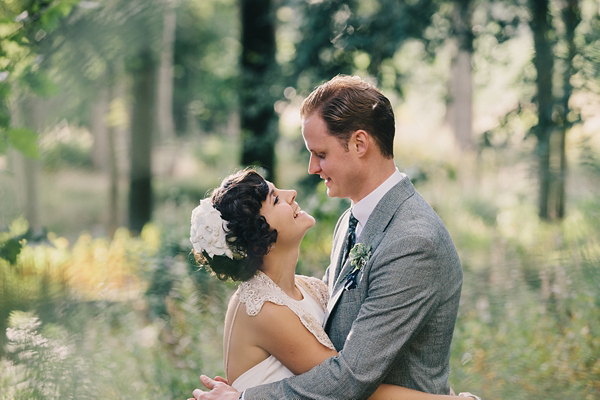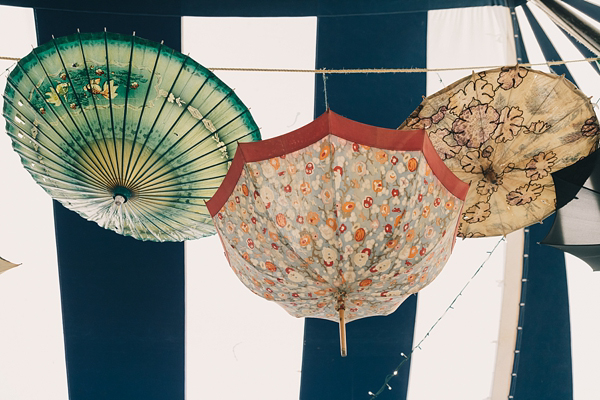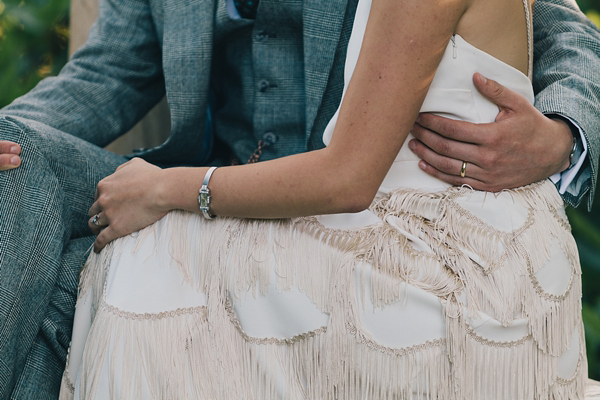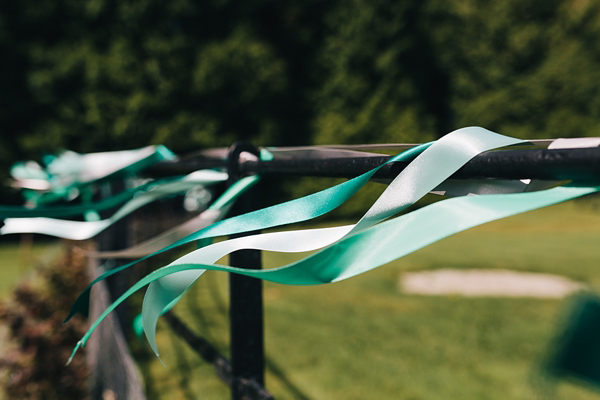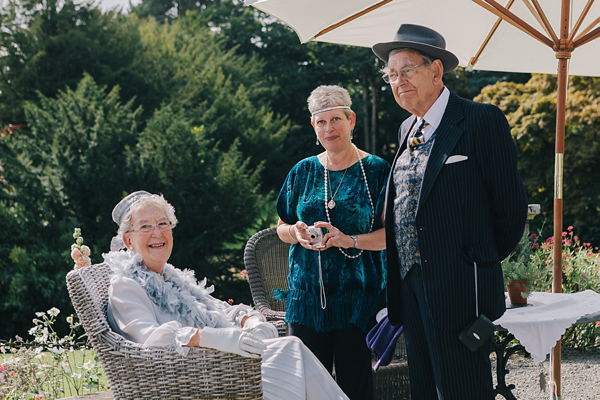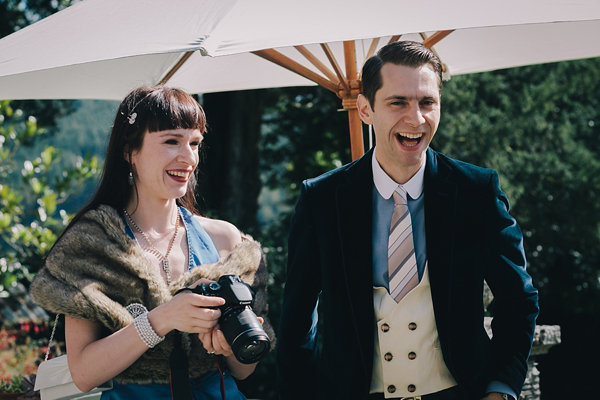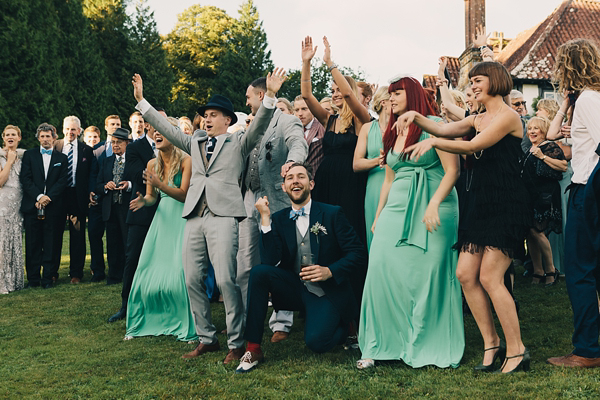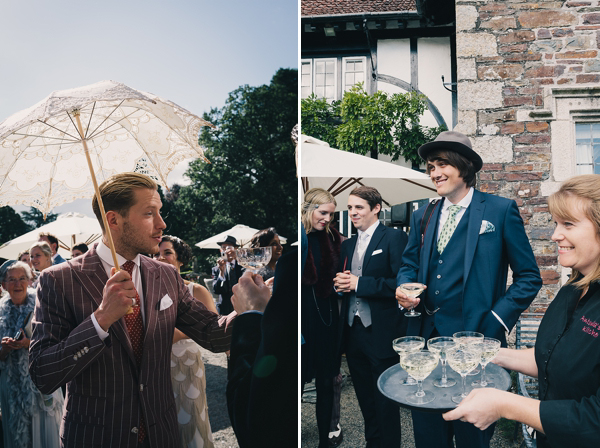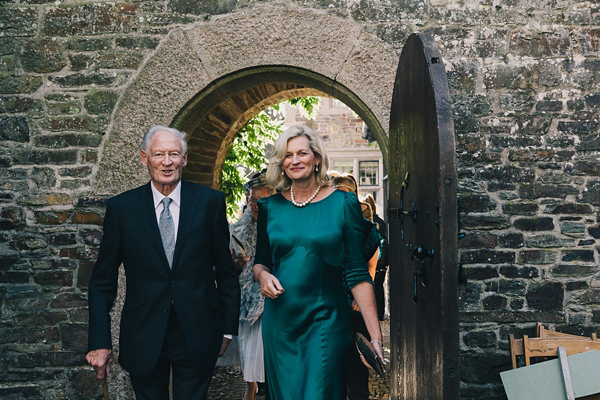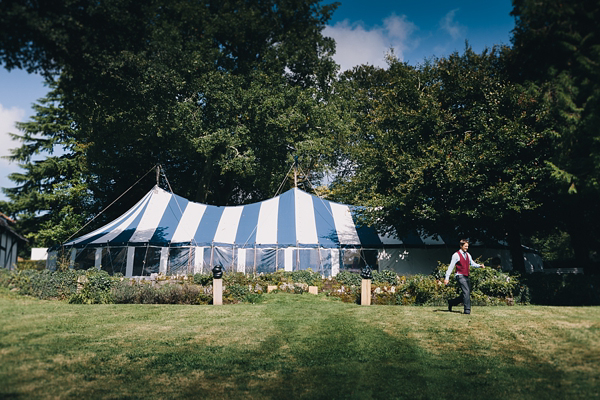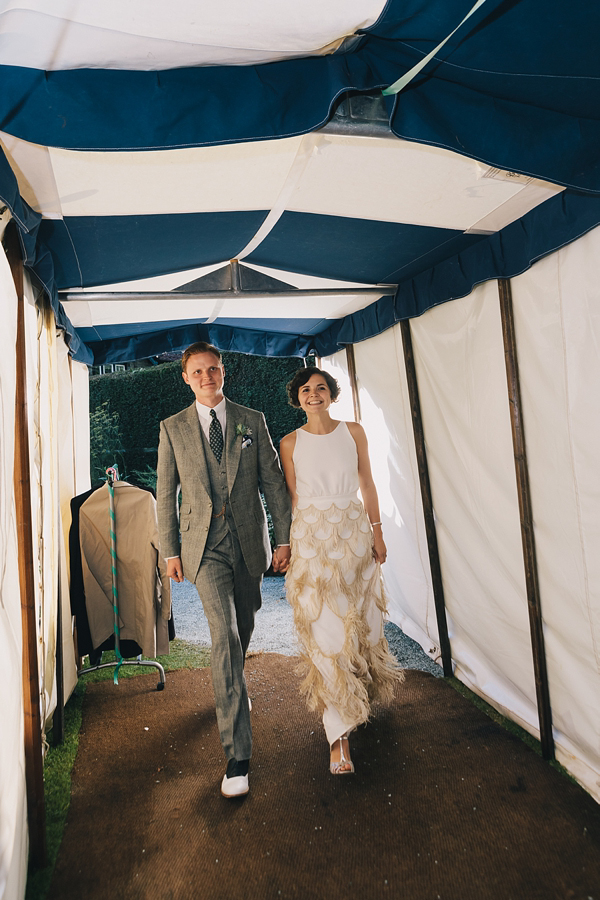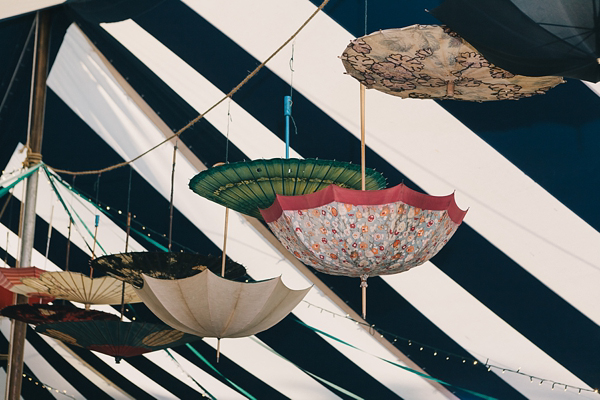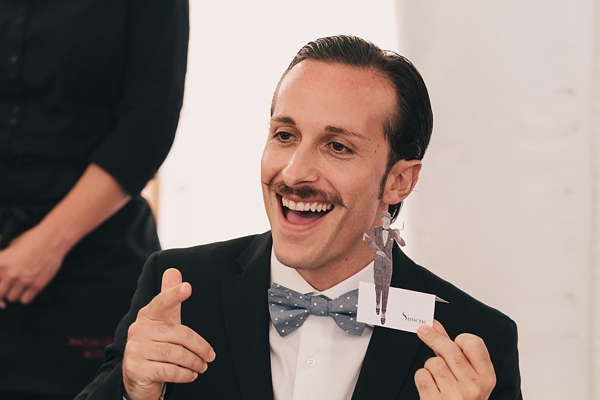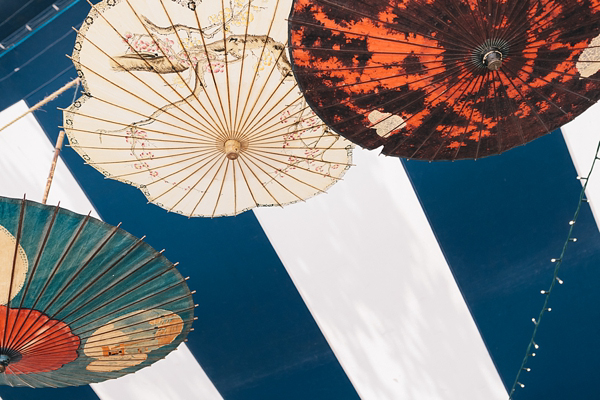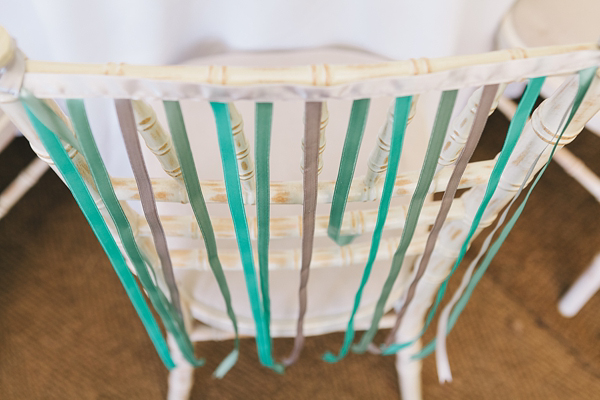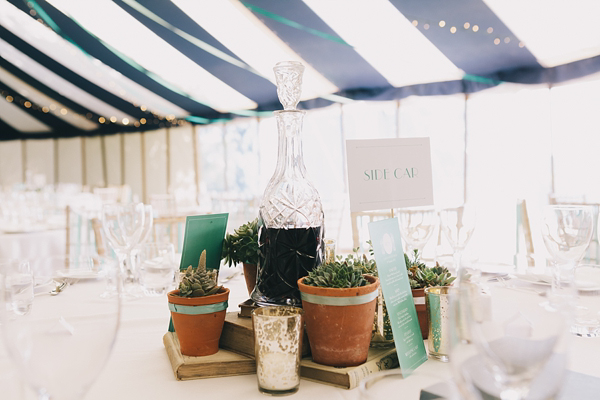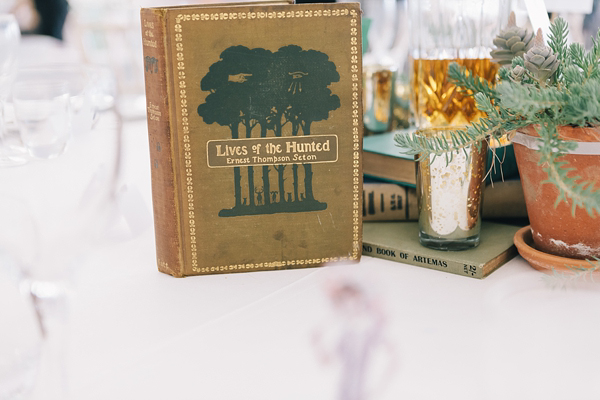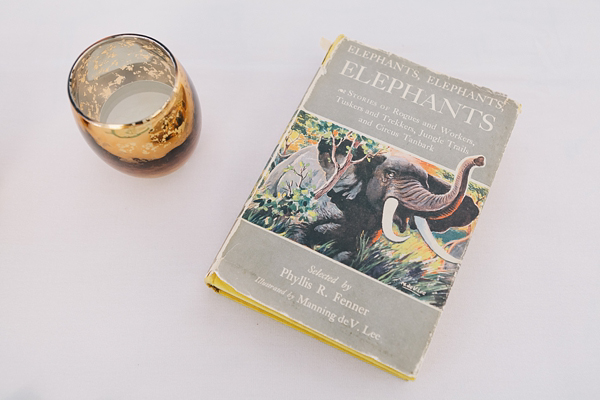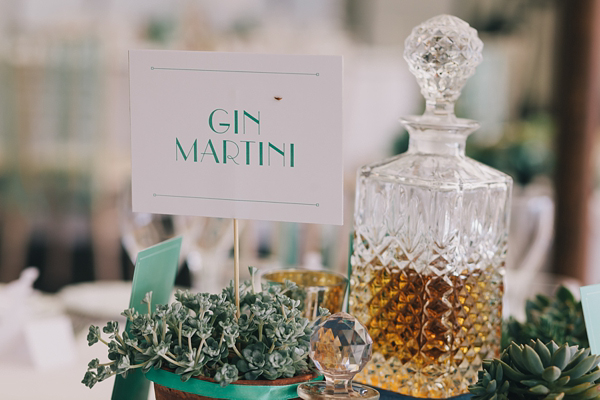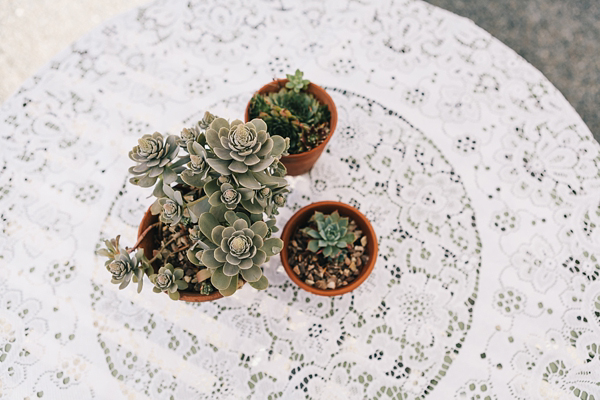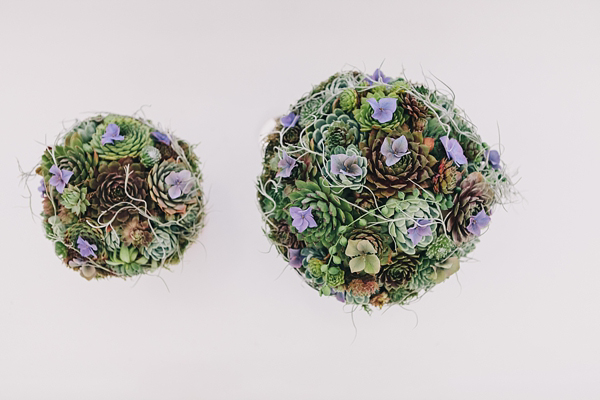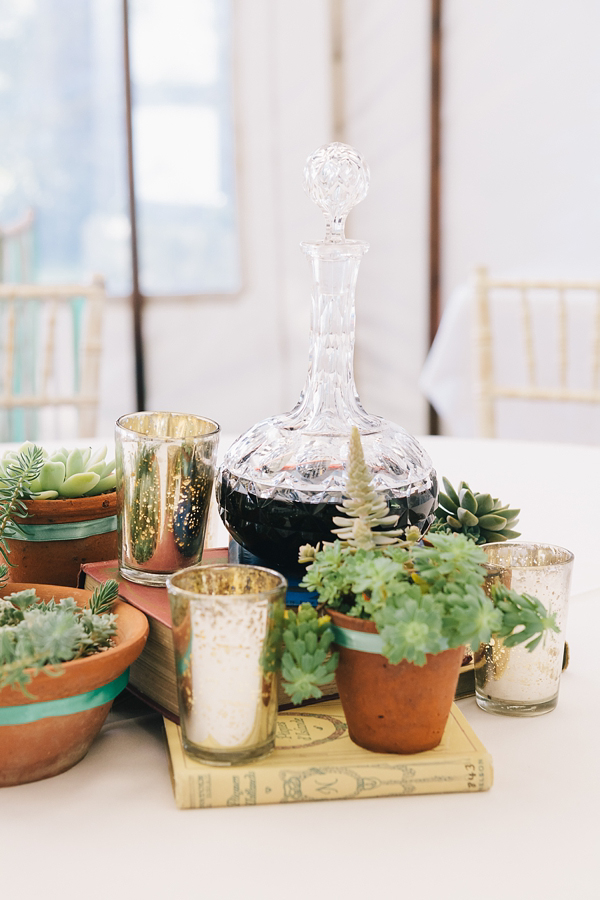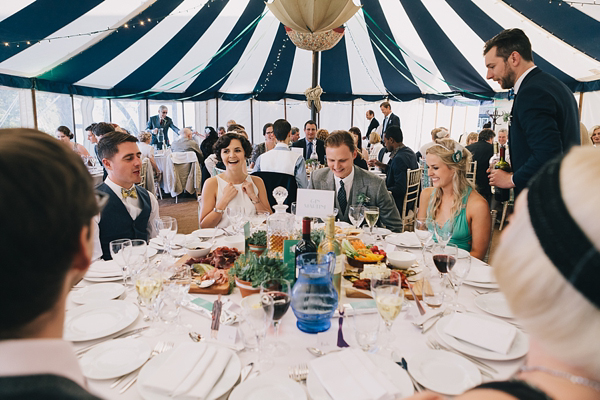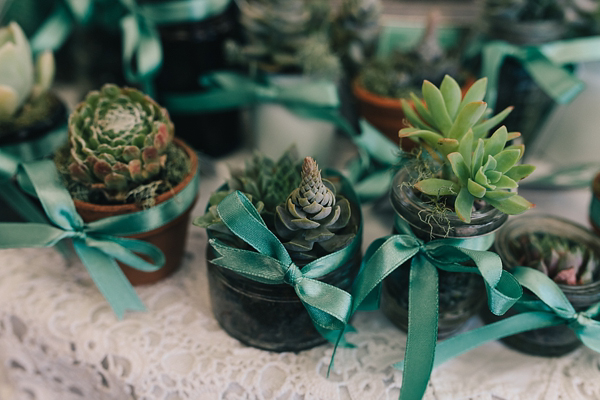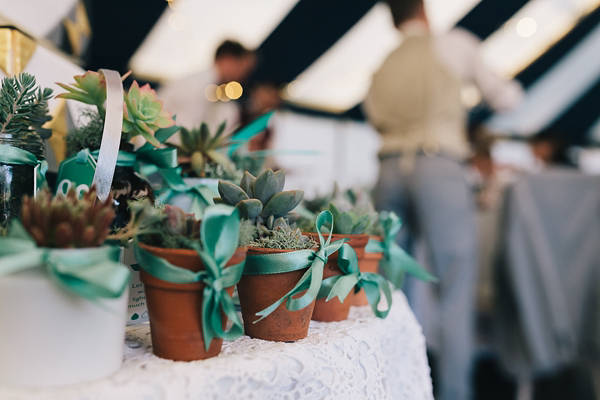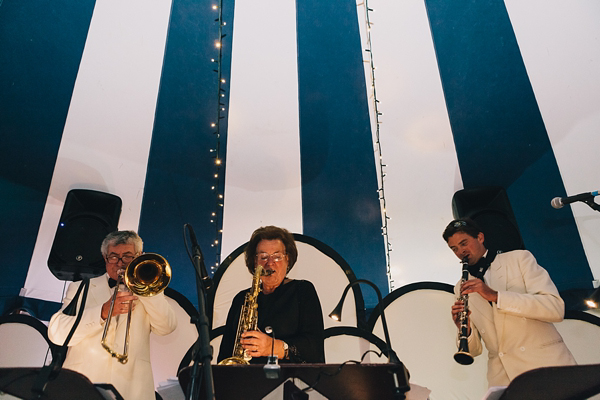 "We danced to The Smashing Pumpkins '1979' for our first dance – not a Charleston, I know, but it takes us both back to the very innocent beginnings of our relationship."
"Spiffing Tunes played us beautiful Charleston Jazz all afternoon and through dinner. Philip and his colleagues were the perfect musicians for our wedding."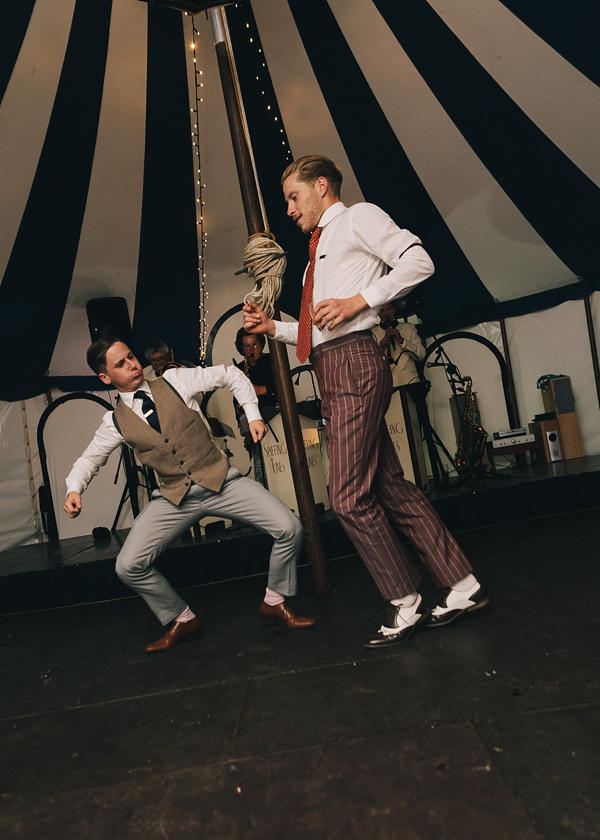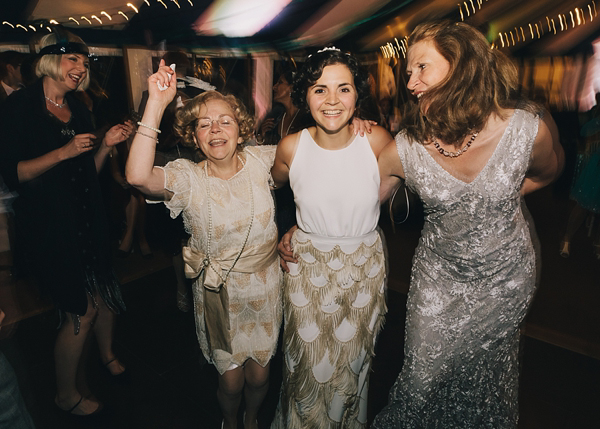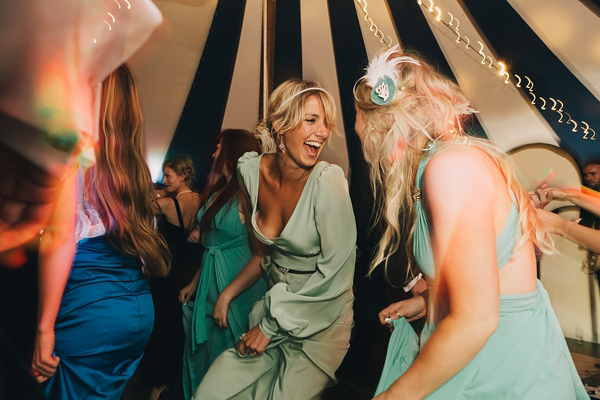 Words of Wedded Wisdom…
"My top tip is make mood boards for each aspect. Mood boards are the best tool to ensure that every idea you have and wish to incorporate into your wedding is actually going to work with the overall feeling of you and your husband's wedding. If you can't make a flower idea, for example, fit on your flower mood board then you know to let it go.  I also made my mother's and George's mother's fascinators to match their outfits.
As an incredible treat, my father ordered us a whole wheel of Parmesan which was opened on the day of the wedding for our guests to enjoy. We hardly made a dent on it! The next day, the cheese was chopped up and wrapped and George and I gave away chunks of our 'Wedding Parmesan' to our gleeful guests. This was a nod to my father's Italian nationality."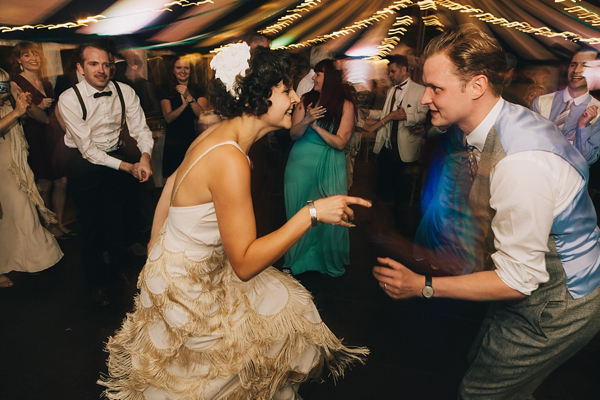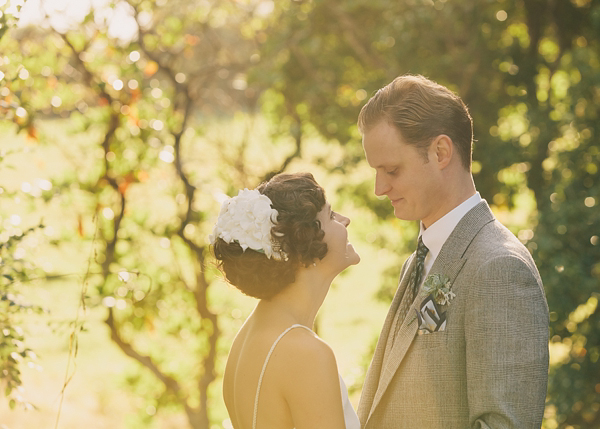 Didn't I tell you it was divine? Our first wedding of 2014 had to be rather special.  Laura and George, you have the most exquisite style and I'm so thrilled we've been able to share your wedding with our readers – thank you both so very much.  And huge thanks as always to the immensely talented Heather of Eclection Photography for sharing these beautiful images.
Readers – if you adore the 1920s style, you can explore many more exquisitely styled 1920s weddings here.  Take a peek at the other category pages listed at the very end of this post to discover more similar style too.  We have a vast archive of content just waiting to be explored.  And I'd love to read your thoughts and reactions to this wedding; has this wedding inspired you in any way? Are you planning your own era-inspired wedding? And are there any elements of Laura and George's beautiful day that you might want to steal for your own?
Have the most gorgeous day my loves,
Annabel
Photographer – Eclection Photography with second shooter Elizabeth Armitage
Venue – Coombe Trenchard, Devon
Wedding Dress Designer – Natasha Shaw of Harlequin Fox
Veil/Headpiece – Made by the bride
Brides' shoes – Blackout II
Bride's accessories – earrings from V-jewellery
Groom's Attire – Cad and the Dandy suit + shoes via Mr Hare + pocket square via Mariano Rubinacci
Bridesmaids – Harlequin Fox
Flowers – Amanda Randell
Cake – Cake Diddly
Transport – vintage Jensen belonging to a family friend
Entertainment – Spiffing Tunes + The Wild Knights
Catering Company – Antonia's Kitchen
Stationery & all paper goods – The bride
Hair Stylist – Ann Flemming, a family friend (no website)
Follow Love My Dress® on Google+