Welcome back again dear reader, have you had a moment yet to look at this morning's real wedding feature? This afternoon's wedding is all about Lucy and Anthony, who tied the knot on 5 October last year at Buckland Tout-Saints Hotel, near Kingsbridge in Devon.
"I have always loved vintage, be it fashion or furniture, and wanted our wedding to reflect our tastes in everyday life. The wedding wasn't supposed to be based on a particular period or era, but the elegant fashion and styling of the 1920s and 1930s definitely provided inspiration, especially for the bridal outfit and accessories.  It was also really important that the wedding reflected the Devon location and more than anything we were inspired by the beautiful area and coastline and the 'feel' of being in Devon.  As an example we opted for quirky VW camper vans as our wedding cars, served Devon crab on the wedding breakfast menu and our table place names were made from beach pebbles collected locally."
Photography Copyright (c) 2014, Dasha Caffrey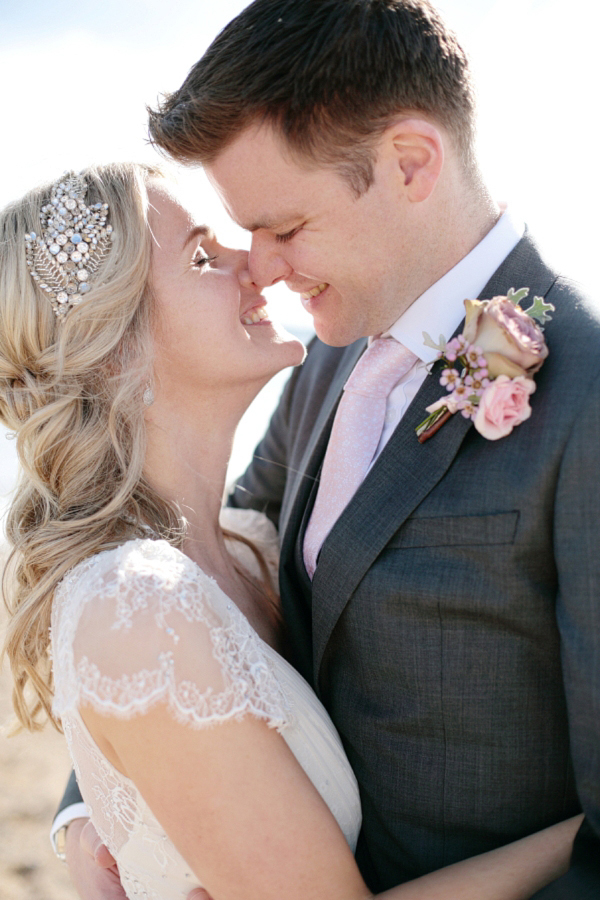 "We met when we were both working in London, although we've moved back to the south west now. Anthony proposed when we were travelling together in India. We were flying from Delhi to Goa for Christmas and nearly got grounded in Delhi airport, due to fog on Christmas Eve. We made it to Goa at about 10pm! We were staying in a lovely beach hut, at Agonda in south Goa. We agreed to bring just one little Christmas present each and just after midnight Ant insisted we should exchange presents and brought out an engagement ring. He proposed on the terrace outside our beach hut. It was a wonderful location to propose – no gimmicks or anything showy – just proposing by the sea in a country we both love.
We started thinking about planning properly when we got home in January and booked the wedding venue in February, so then had nine months until the wedding day. It meant we needed to get organised with booking some things pretty quickly, but was about the right amount of time. We didn't want to wait ages and be planning the wedding for another two years!"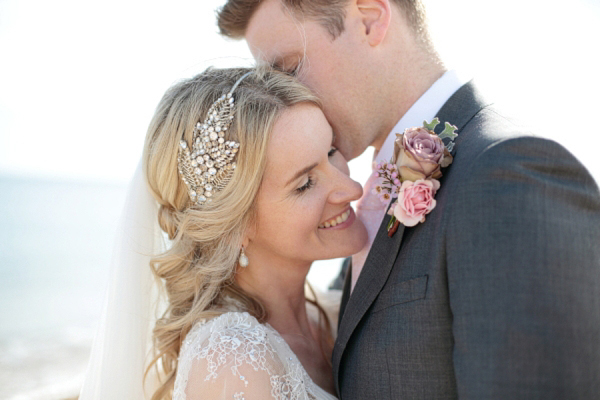 "We decided early on after getting engaged that we wanted to get married in Devon. My parents live in South Devon and we both love to be near the seaside and enjoy camping trips on the Devon and Dorset coastlines. We also needed a venue which could accommodate at least 120 guests for the wedding breakfast; a wedding in Devon meant a long journey for many of our guests and so we wanted everyone to join us for the whole day, not just the evening.
When we saw Buckland Tout-Saints Hotel, it seemed like the perfect setting and location. The hotel is in the South Hams countryside with beautiful views and gardens, but also cosy rooms and open fires inside in case the weather was not on our side. The reception room was simply and tastefully decorated, allowing us to add our own styling for the day.  It was also really important that we didn't feel like we were on a 'conveyor belt' of weddings in a venue. Buckland was great for this; we were the only wedding over the weekend and took over the hotel from Friday to Sunday, allowing us to have a relaxed dinner the evening before and plenty of time to finish decorating everything the way we wanted."
"I wore the Jenny Packham 'Aspen' dress in Ivory. I purchased the dress from The Mews of Clifton in Bristol.  I started looking at a few dresses online for ideas and loved Jenny Packham's vintage inspired styles. I wanted something which felt right and just me and loved the understated elegance of her designs. I went to the Mews particularly to try on Jenny Packham designs and as soon as I tried the Aspen, it just felt like my dress!  My only concern was the Aspen is designed to be very low cut and I wanted a more demure look for a church wedding but the Mews made a few alternations to the neckline which worked perfectly!
I only decided to wear a veil a few weeks before the wedding and so glad I did! I didn't want the veil to distract too much from the dress design, so I wore a completely plain cathedral length veil, also from The Mews."
"I wore a vintage inspired crystal side headpiece, which I bought at the Jenny Packham accessories boutique in Belgravia, London. It picked up the detailing on my dress, and is something which could be worn again, and I wore a pair of white topaz Hope earrings from Links of London, which were a present from Anthony on the wedding day – my something new."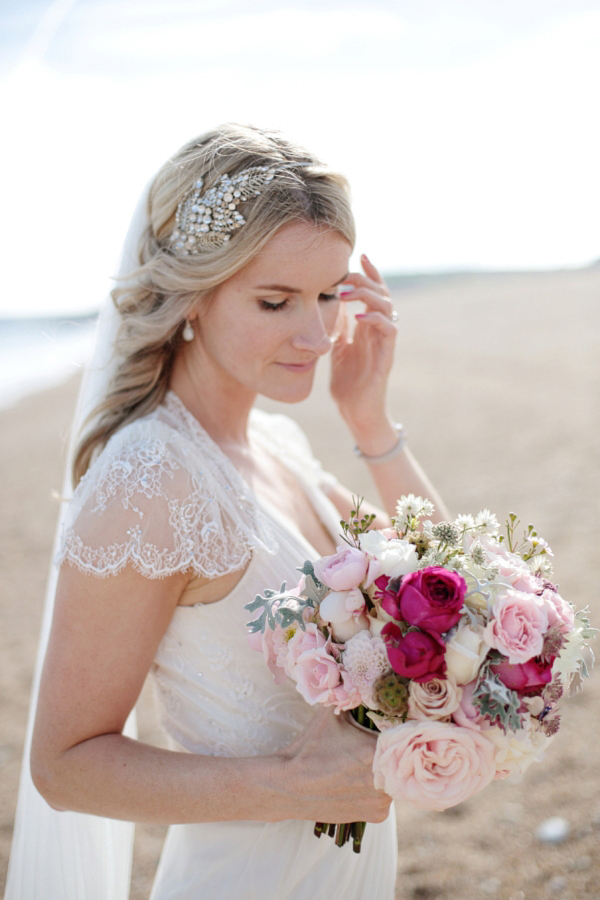 "We used Devon based florist Joanna Game for all the flowers in the church, venue and the bouquets and button holes. We actually saw some flowers she had done when viewing wedding venues and immediately knew we wanted her to do ours. We didn't give Joanna a colour palette really; we just described our vision for the day and gave her lots of creative licence. The only requirement was that, as much as possible, the flowers should be local and seasonal. We absolutely loved what she created for us; she's so talented!"
"Anthony and his two best men all wore tailor made suits from Moss Bespoke. Anthony didn't want to wear a morning suit or anything too formal, so the boys picked tailored 3 piece suits in a charcoal grey.  They all wore ties from Daniel Hechter, in either pale pink or blue, and my Dad wore the same style in a champagne colour. Anthony also had engraved silver cufflinks, which were a present from me the year before, and wore a Tag watch, which I gave to him as a wedding present on the day.
We just asked the ushers to wear grey suits, which all of them already had. We weren't too concerned about them matching precisely – the boys' outfits just tied together with the coordinating ties and button holes"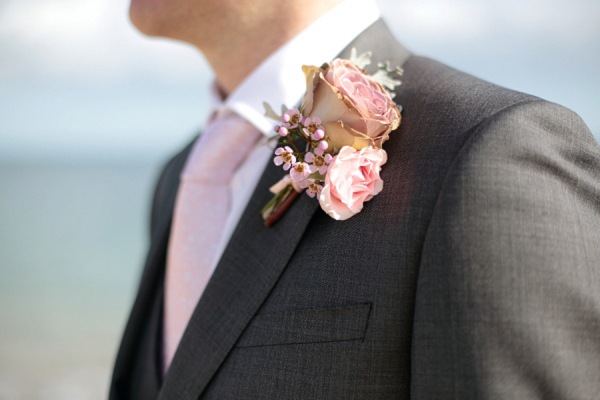 I spotted a very familiar book in amongst the photographs!
"Our invites and orders of service were from Ellie at A Bird and A Bee, who has some lovely vintage styles, all produced on recycled paper. All of the rest, we did ourselves. I designed and created all the information sheets to go with the invite cards, we created our own table plan using a large frame (which now has wedding photos in it) and we used pebbles collected  over time at Slapton Sands beach as place names. Anthony painted the names onto every pebble and the guests all took them home as a memento of the day"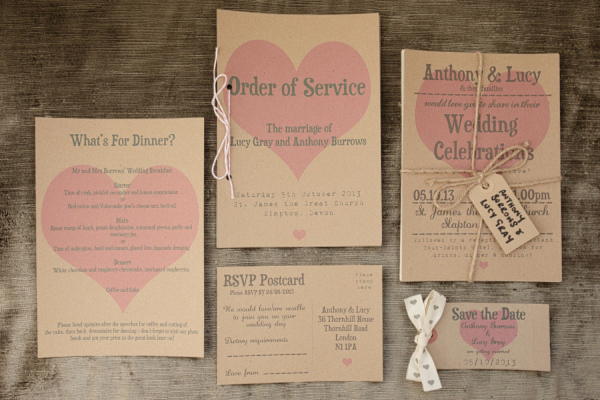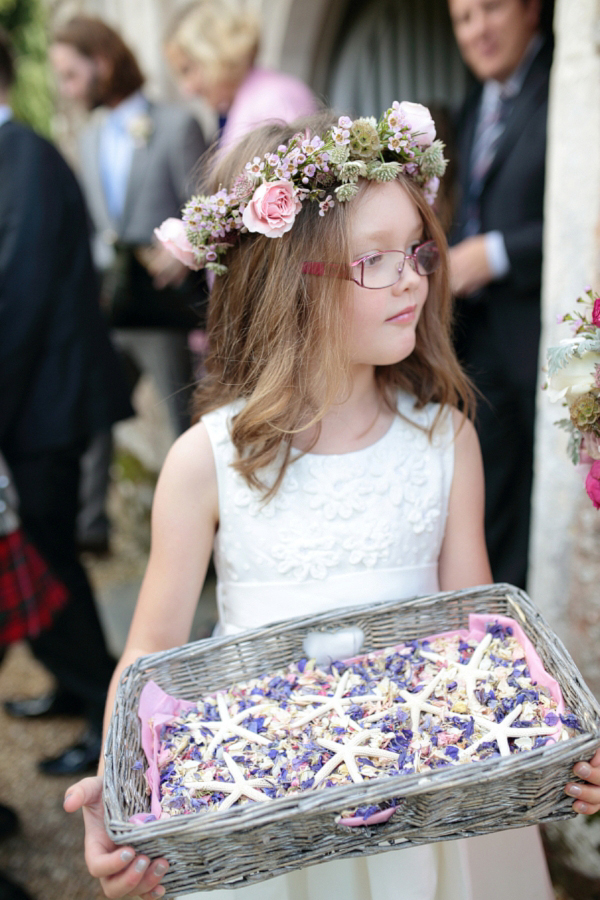 "The bridesmaids' dresses were from J Crew. We looked at some options in bridal shops and on the high street in the UK, but nothing was quite right. JCrew have a great range of colours and styles, and the girls choose a nude pink and opted to wear the same style as each other. We had to order the dresses from the US, but since the wedding J Crew has opened in London."
"Our photographer was Dasha Caffrey – the only non-local supplier we used, as Dasha is London based and travelled to Devon for the weekend. We loved her relaxed, natural style of photography and, after meeting for a coffee in London, felt she was definitely the right choice. We had some engagement photos in Hampstead, which helped us get to know Dasha before the wedding. We absolutely love our wedding photos, she captured the day so beautifully!"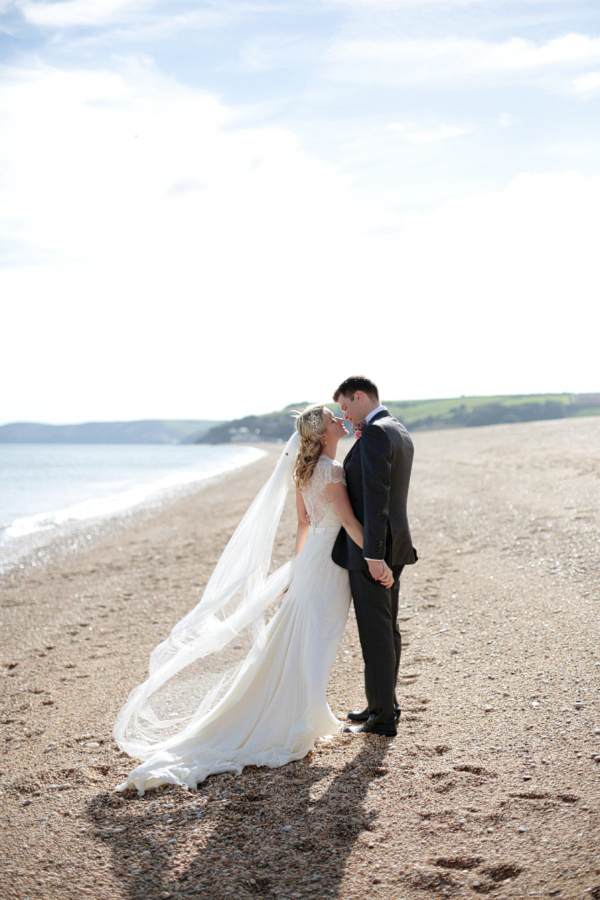 "I wore the Isabel sandal from Jimmy Choo. It's a sparkly silver kitchen heel shoe and was so comfortable I wore them wore them all day, except when we went on the beach! I would definitely recommend buying shoes which aren't too 'bridal', so they can be worn again after the big day."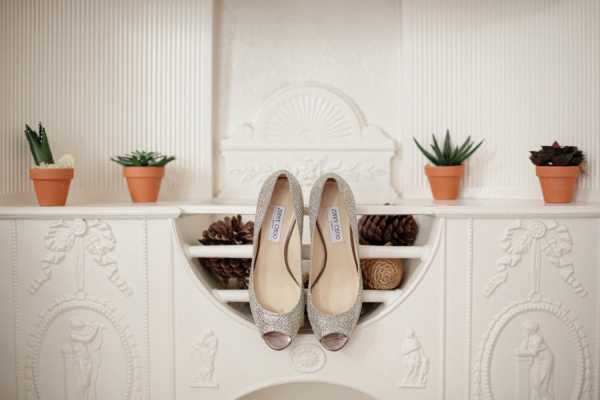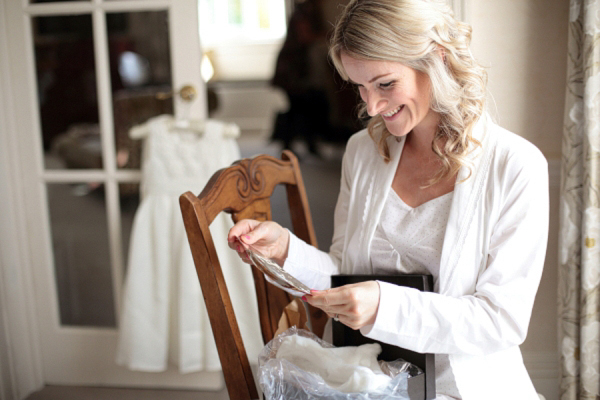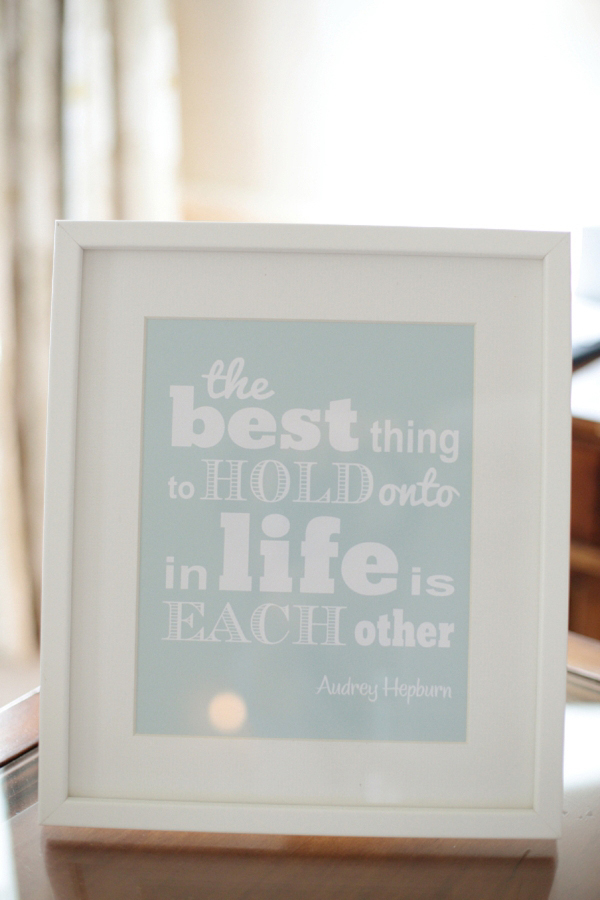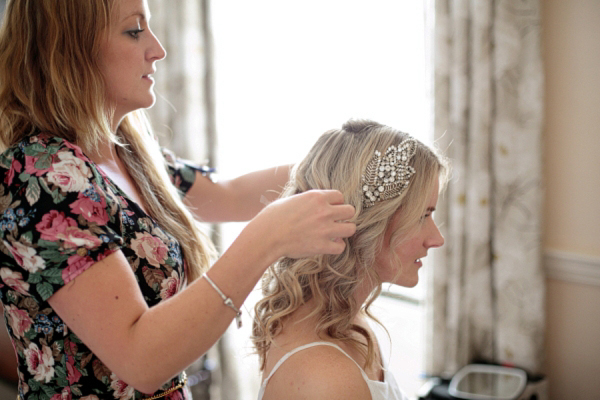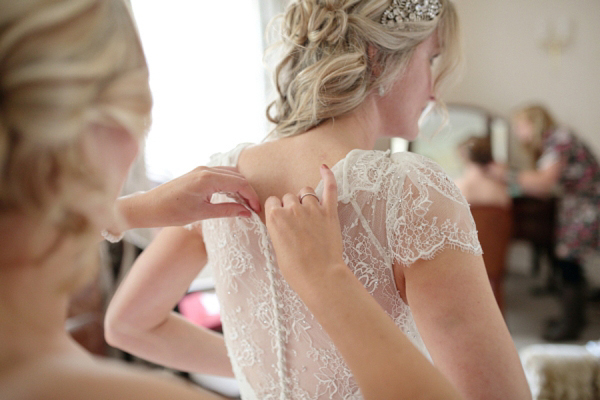 I also wore a diamond and platinum dress watch which belongs to my Mum and was my something borrowed.   My something blue was a blue topaz ring which Anthony proposed with in India. It was my 'stand in' engagement ring – he had another ring at home but was worried about backpacking around India with it hidden in his rucksack! Our florist tied the blue ring to my bouquet.  Finally, as my something old, I carried an antique beaded bag from the 1920s.
I kept an eye out for the perfect vintage piece for months and eventually found the bag, in great condition, at a vintage shop in East London, near Brick Lane. The owners have a fabulous collection of 1920s goods under their tea shop – it's like walking into the Great Gatsby costume set. It's not all for sale, but luckily I was able to buy the bag. Its so beautiful and unique and a treasured possession now"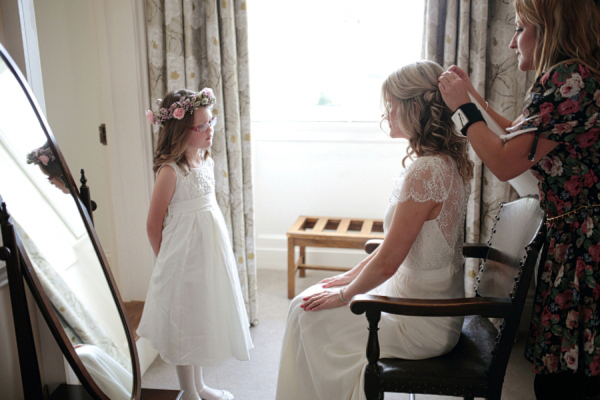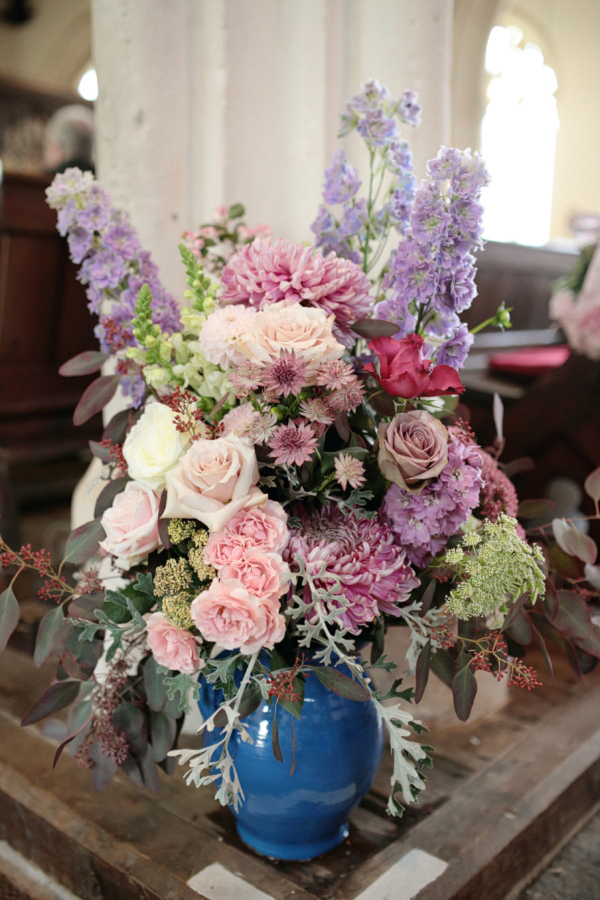 "Religious values played a part in our choices too. We picked the reception venue first, but always knew that we wanted a church wedding. The church closest to the venue was too small for everyone to attend and we wanted all guests to share in the ceremony, after all, it's the most important part of the day! We therefore got married in Slapton village church instead, where everyone could join. It's a stunning old village church, just big enough for everyone, and fantastically only 5 minutes from the sea."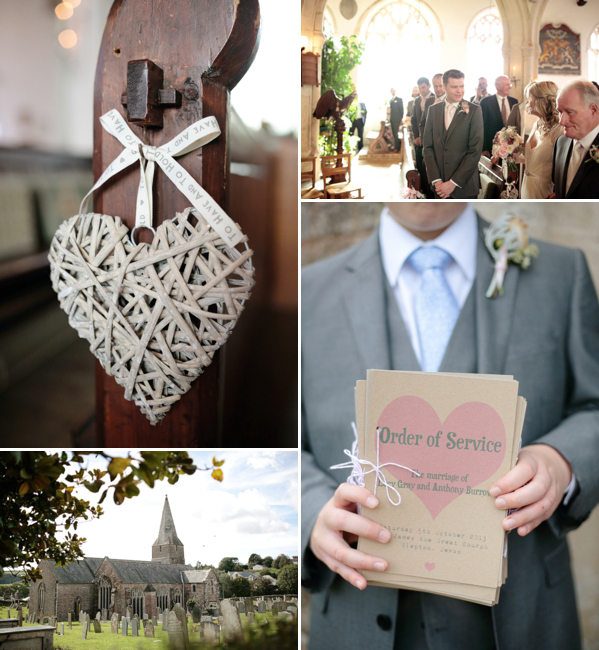 "My favourite moment was the ceremony and actually marrying Anthony – it's what it's all about after all! After that, seeing all your close friends and family in one place is just wonderful. A wedding is one of the only times that everyone you love gets together like that and it's so fabulous to have these people there to celebrate with you."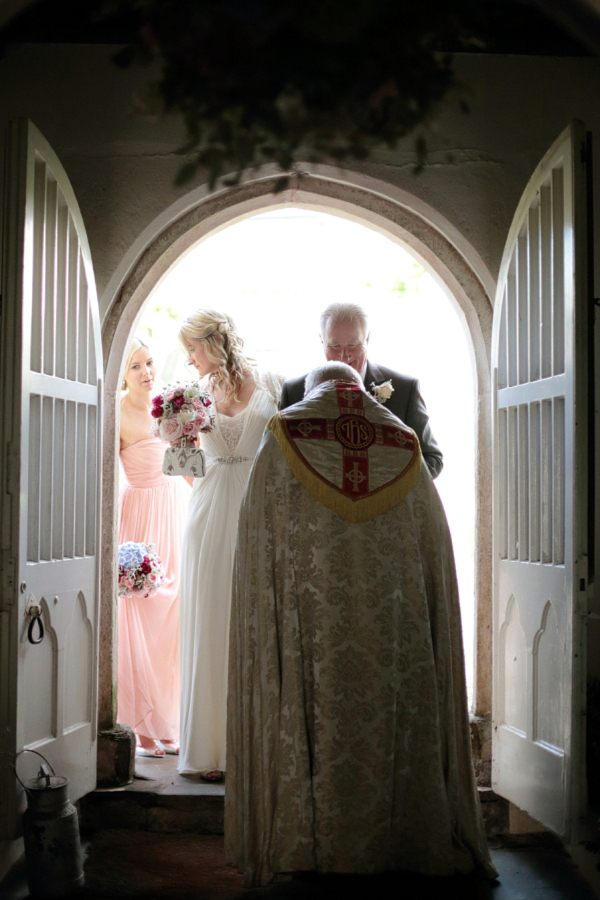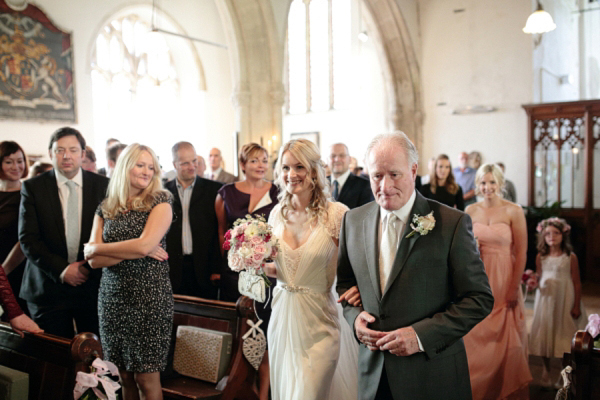 "We had a traditional church service so the music reflected this. I walked down the aisle to the Arrival of the Queen of Sheba by Handel and we left to the Wedding March by Mendelssohn.  We had a choir who sang choral versions of What a Wonderful World by Louis Armstrong and Let it Be by the Beatles while we signed the register."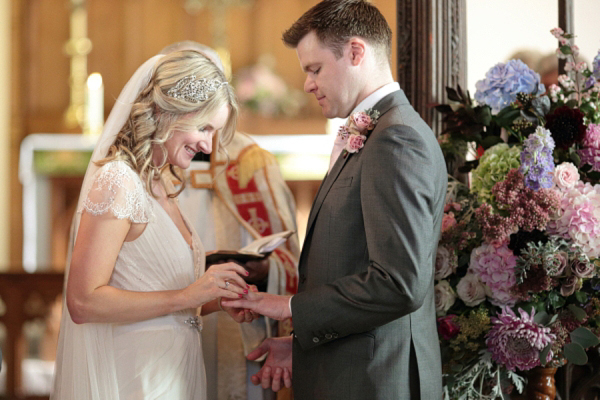 "Again, because we had a church service we used the traditional Christian wedding vows and didn't change these, however we wouldn't have wanted to. For me, the traditional wedding vows are so special and emotive, they don't need anything added or taken away. We used the readings and the order of service to include things that meant something to us personally. On our order of service we printed the following; 'If you live to be a hundred, I want to live to be a hundred minus one day, so I never have to live without you' – from 'The House at Pooh Corner' by A.A. Milne."
"My friend, Felicity, read Chapter 13 of Corinthians and Anthony's cousin, Andy, read another extract from 'The House at Pooh Corner' by A.A. Milne.
We had to have a bible reading and the Corinthians messages about the importance and meaning of love are perfect for a wedding. It's the most popular choice, which is not a surprise, and it was our choice too. We wanted the second reading to be something meaningful, but also lighter and fun. We both loved the excerpt from 'The House at Pooh Corner' and also 'The Places You'll Go' by Dr Seuss. We couldn't decide between them so we gave Andy, our reader, the choice."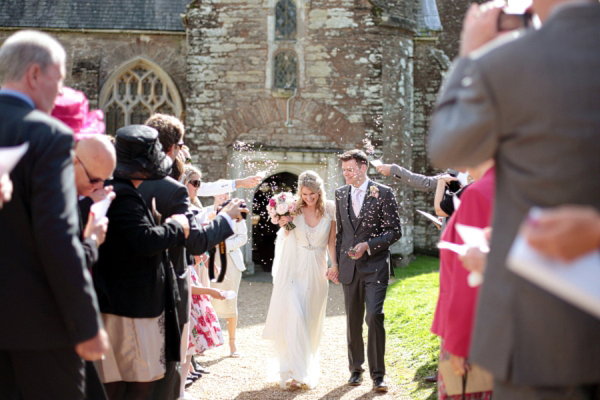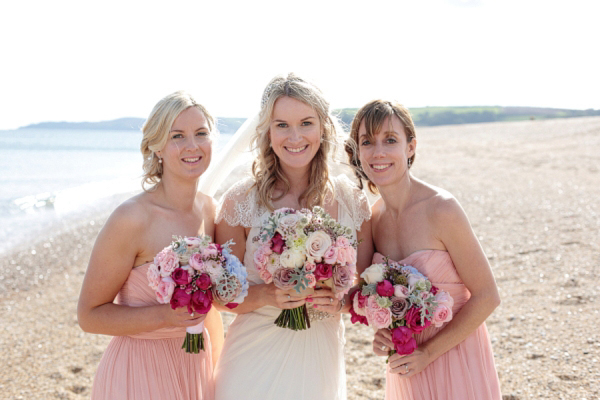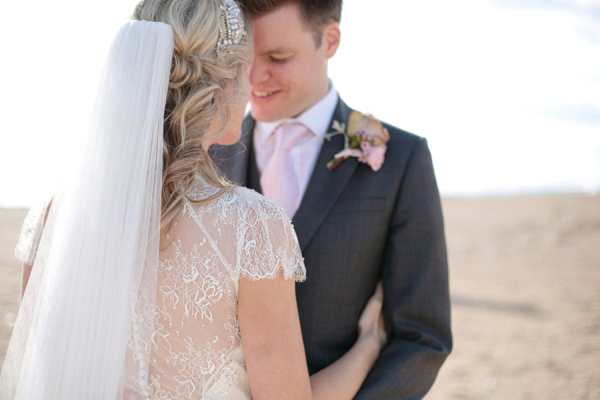 "We hired two VW camper vans, Stella and Buzz, from VW Love Bus, based in Plymouth. Our bridesmaid Charisse and her boyfriend Jonathan also lent us their convertible VW Beetle, which Jonathan drove on the day for us."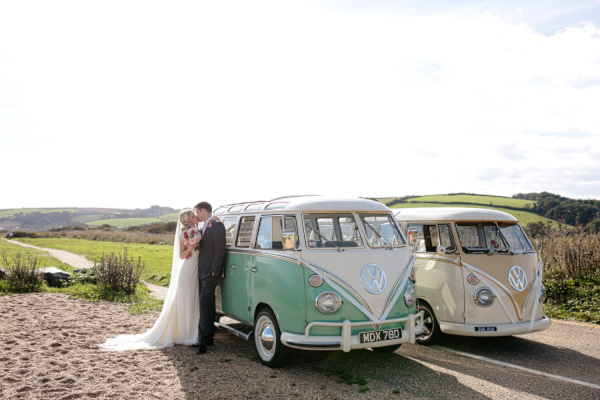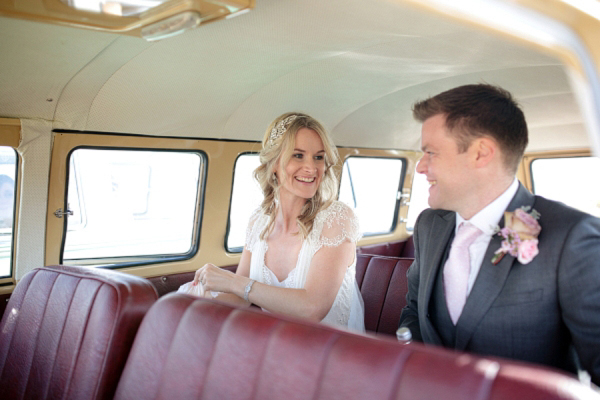 "The décor was a real team effort. Apart from the flowers, we sourced or made and decorated everything ourselves, with help from my bridesmaids and my friend Francesca. We used our place name pebbles and favours to decorate the tables, along with tea light lanterns and Joanna's flowers. We also hung up bunting in a few places which looked bare, including the bunting which the girls on the hen weekend all made! My bridesmaid, Charisse, made jam jar lanterns to decorate the outside, which she customised with wedding ribbon."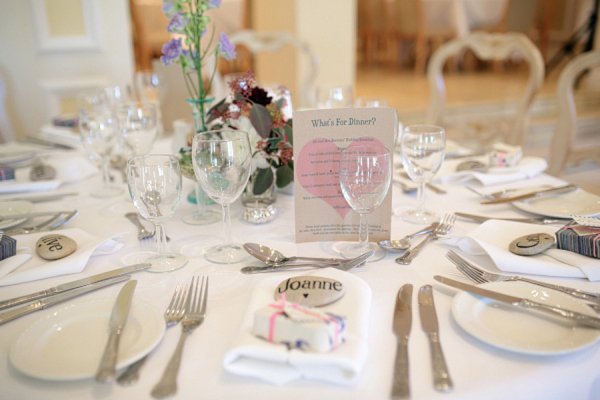 "We named the tables after our favourite films and then put silver frames with a famous film quote on each table. The guests had to identify the film quote to find their table. It worked really well and helped break the ice on tables where not everyone knew each other. Since the wedding, we've been giving the silver frames to family as gifts, with photos from the day in them."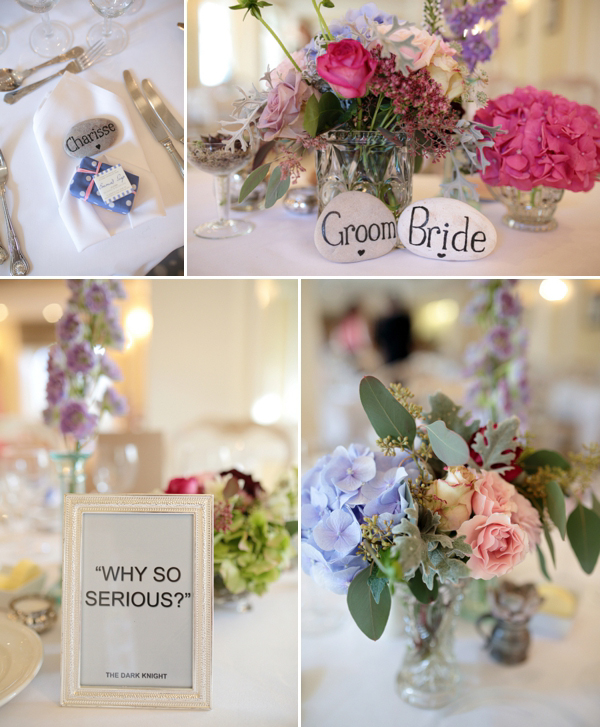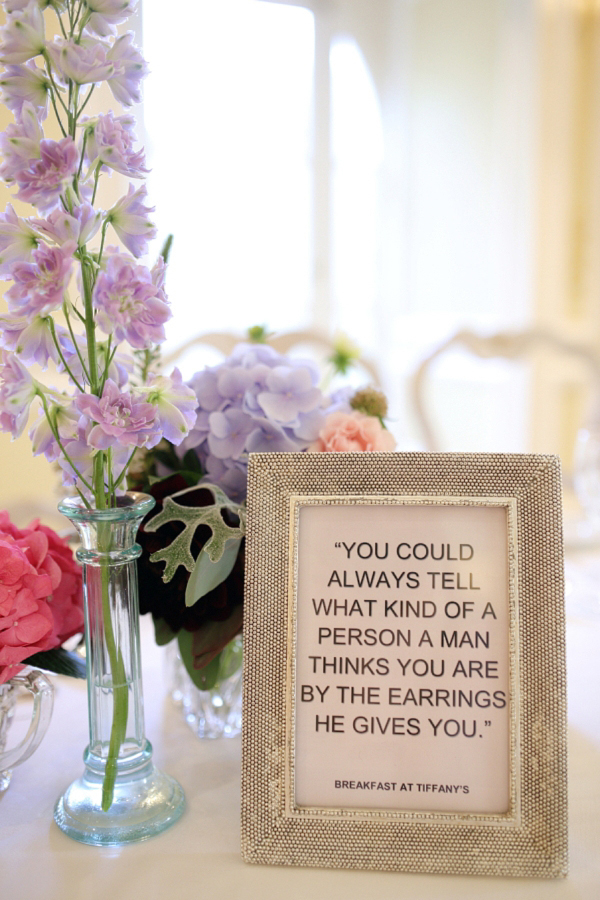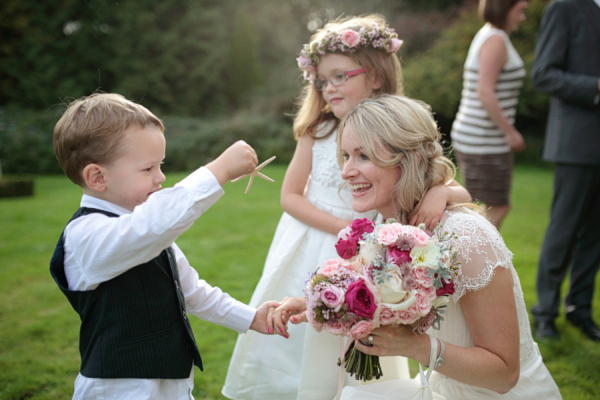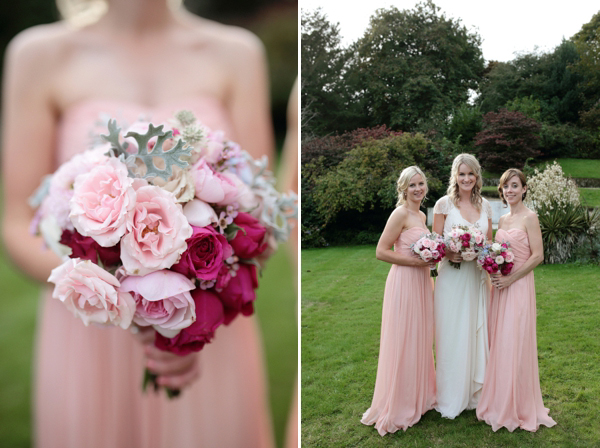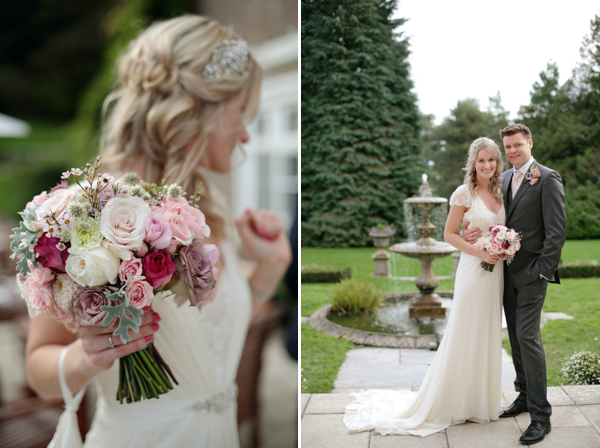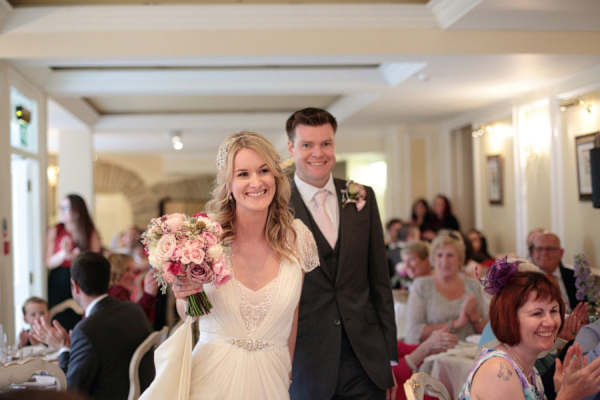 "Our cake was made by Rosanne Hollowell. We went for an un-iced stacked victoria sponge and lemon drizzle cake, just decorated with flowers. I have never liked fruit cake, so vetoed the traditional iced wedding cake! The rustic stacked sponges just seemed to fit in perfectly with the venue and the rest of the menu. We served all the cake during the evening reception.
We also had a 'cheese cake' which Buckland created for us – a stack of round cheeses, all from local producers, which was then served up for guests in the evening."
"Our first dance was 'Here Come's the Sun'  by the Beatles. It's one of Anthony's favourite songs and has a particular meaning to us. When we were in India we heard the Nina Simone version of the same song playing again and again in beach cafes in Goa, where we got engaged, so it brings back fond memories of that trip and place."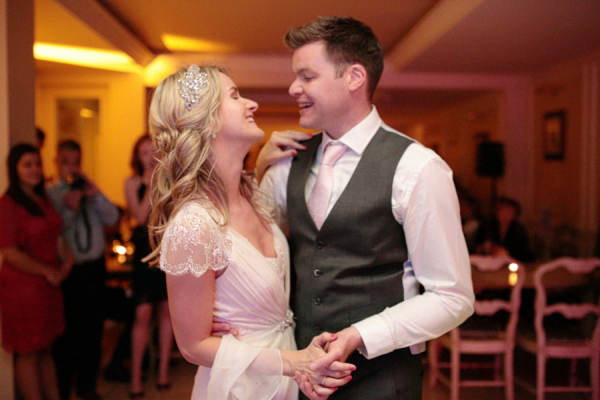 Words of Wedded Wisdom…
"My advice to any bride is remember you're not superwomen and divide up those tasks. Everyone will be super keen to help, so delegate when you can! The one thing which is really worth getting right and maybe spending a bit of budget on is the photographer. Great photos of the day can make you feel like you're reliving the whole thing, especially if your photographer captures some of the special moments when people are unaware. Meet your photographer before you book and see a good range from their portfolio, that way you're more likely to get exactly what you want.
I wish I had delegated a little more in the planning – I should have relinquished control of a few more things, because I had a very willing groom and family to help!"
Jenny Packham fans, if you love this wedding, take a look through more of our real wedding features with Jenny Packham wedding dresses, there are so many to be inspired by.
We'd like to congratulate Lucy and Anthony on their beautiful Autumm wedding, and also thank Dasha Caffrey for sharing these beautiful photographs.
Are, or were you a Jenny Packham bride? I was!
Love Annabel
Photographer – Dasha Caffrey
Venue + Catering – Buckland Tout-Saints Hotel, Devon
Wedding Dress – Aspen by Jenny Packham, from The Mews of Clifton in Bristol
Veil/Headpiece – Jenny Packham, from The Mews of Clifton in Bristol
Brides' shoes – Jimmy Choo
Vintage Clutch Bag – Vintage Emporium Cafe
Groom's Attire – Moss Bespoke + Daniel Hechter ties
Bridesmaids – J Crew + silver peep toe shoes from Office
Flowergirls – John Lewis + floral crown by Joanna Game
Page Boys – Marks & Spencer
Flowers – Joanna Game
Cake – Rosanne Hollowell
Transport – VW Love Bus
Entertainment – Off Beat Entertainment
Favours – Emma's Soaps
Rings – Tiffany & Co.
Stationery – A Bird and A Bee
Hair & Makeup – The Pop-up Salon
Photobooth Hire – Say Fromage
Follow Love My Dress on Google+