Good morning lovelies, it's been a while since we featured an original 1950's vintage wedding dress, so we're about to put that right with the wedding of Annie and Thomas – a September celebration that took place with a ceremony at The Garden Station, followed by a reception at Wheelbirks Ice-cream Parlour in Stocksfield, Northumberland.
I love this wedding for all it's down to earth sweetness, but for that beautiful original vintage 1950's dress too – a fabulous find from Glory Days Vintage in York. Annie just looks so effortlessly elegant and demure – with more than a dash of Audrey Hepburn glamour about her too.
"There was no 'theme' as such, lots of people asked what our 'theme' was and we didn't really understand what they meant, we just knew what we liked and didn't like and just went with that. I always knew I wanted a vintage dress and something along the lines of an afternoon tea but that was it, all we knew was that we wanted it to be a reflection of us and didn't want to have to follow any traditions."
Photography Copyright (c) 2013, The Twins Weddings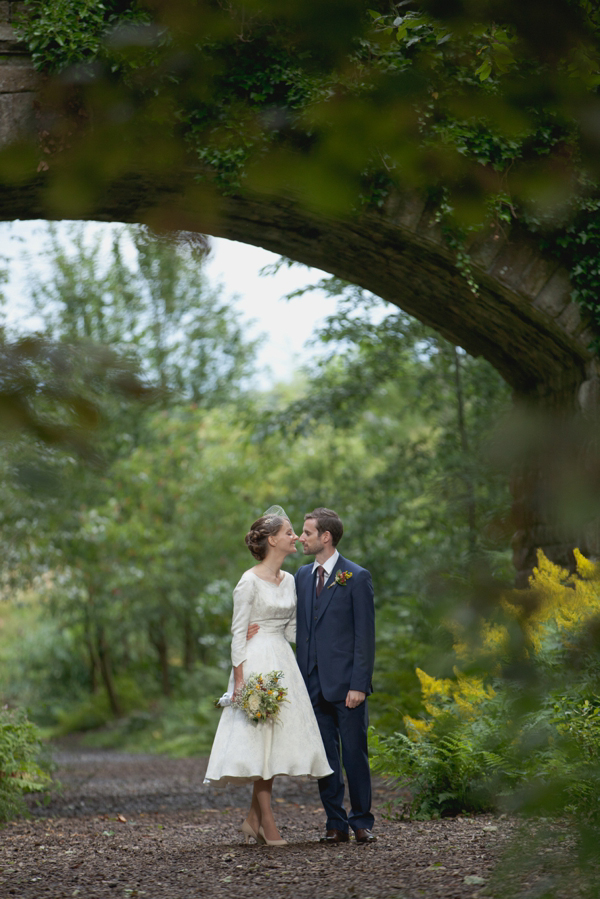 "One of my friend's summed it up as 'if you were inside Annie's head, this is what a wedding would look like' which was really lovely to hear.  Wheelbirks has a lovely stone parlour with beams, so we just hung yellow and white paper lanterns form the beams, had milk bottle vases filled with simple flowers that matched my bouquet and some scattering of paper flowers on the wooden tables."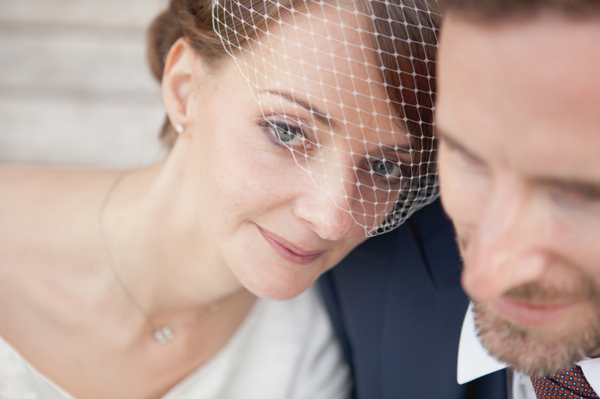 "Thomas and I met in our first year at Northumbria University, Newcastle in 1998 on a night in the students' Union, and as Thomas said in his speech, he chatted me up and then two years (!) later we went on our first date to The Carriage pub, Jesmond. We have been together ever since.
We moved in together a few years later. We were together for 12 years before we got engaged and I don't think either of us had thought that we would get married, we were really happy together but then obviously something changed and Thomas proposed in December 2012 – just near our 12 year anniversary."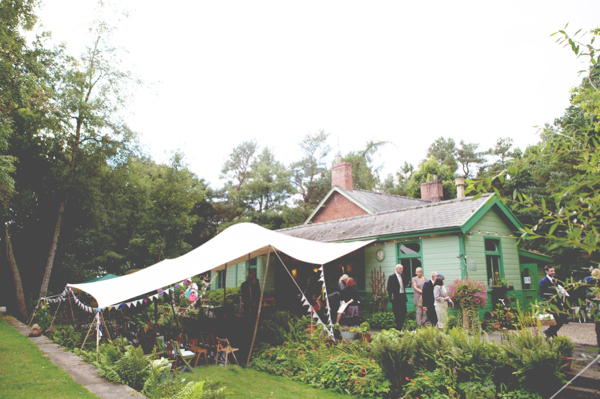 "We had done a bit of Christmas shopping and then gone to our favourite cinema – Tyneside Cinema to watch Sightseers (not the most romantic film to watch!), and just before the film started rolling Thomas gave me a ring!  I can quite honestly say that it was a complete surprise and we still sat and watched the whole film – all I wanted to do was go and have a drink!  We didn't want a long engagement – we set the date in March and married six months later."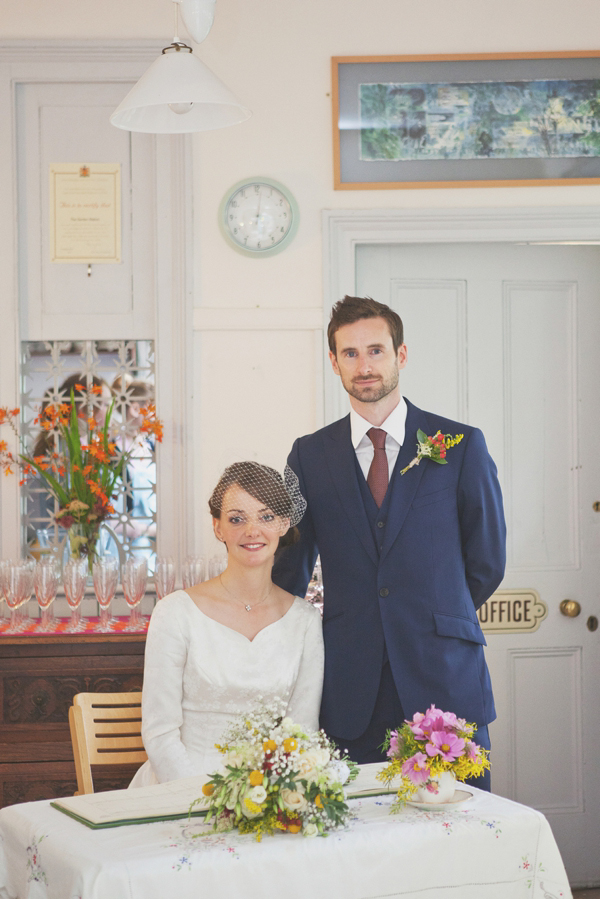 "We wanted to get married in the North East as that is where we met and it is our home now. We love Northumberland and wanted our wedding to be out of the city, so we knew that our venues had to be there.  We had only visited a couple of other places before deciding on our venues, we simply didn't have the budget to pay for some venues that are in the area but they also didn't feel right for us.  The Garden Station is a restored Victorian railway station that has gardens, café, art exhibitions and other exciting things going on! We knew instantly as soon as we met Phillipa and her mum at the Garden Station that it was the venue for us – we loved the feel of it and we both enjoy our garden and the veg patch so it just seemed to fit with us.
We wanted to keep it simple and both of the venues are visually impressive anyway for different reasons so we didn't want to take away from this, and we are not overly fussy people anyway. So, at the Garden Station, we simply had some bits of yellow and grey ribbon looped over the chairs and some paper lanterns. We also used some decorations from the Garden Station, Phillipa decorated it with fairy lights, bunting and some flowers from the Garden Station itself."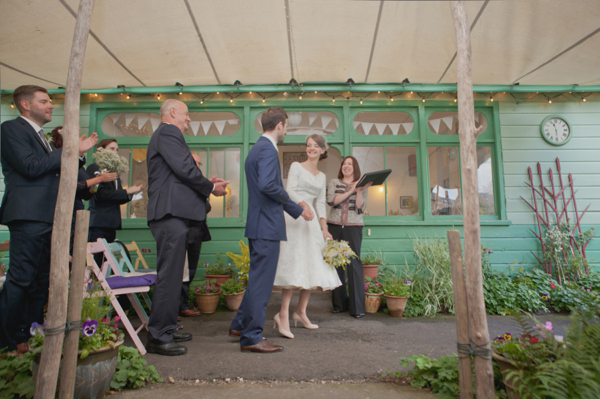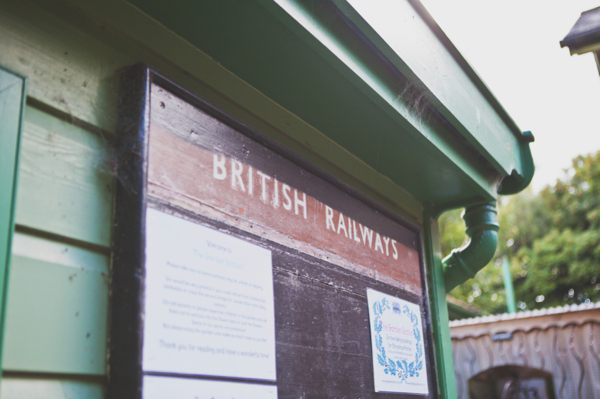 "We then had to find a place for our reception and a friend recommended Wheelbirks and again, as soon as we walked through the door we knew it was the place for us. Wheelbirks is the most amazing café and ice cream parlour, housed in an old stone parlour, it also has an orchard and a children's play area which we knew would be useful as we had a few children coming to our wedding.  Phillipa at The Garden Station and Sarah at Wheelbirks did a fantastic job and everything just ran so smoothly."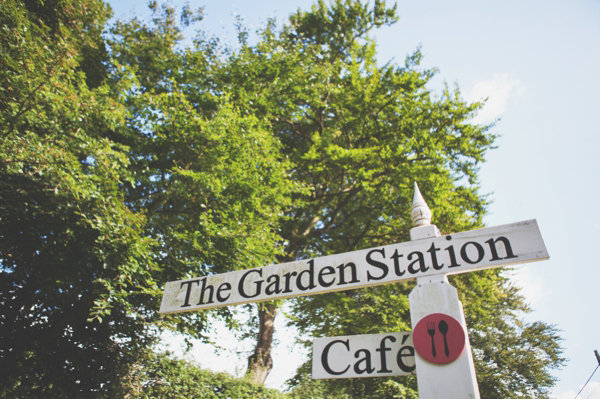 "My dress was an original 1950's vintage wedding dress – I'm not sure who it was designed by, but I absolutely loved it and want to wear it over and over again!  I purchased the dress from Glory Days Vintage – owned by Hayley, who was so accommodating and made the whole experience so easy – she literally let me try on every dress she had, and was not precious about them at all."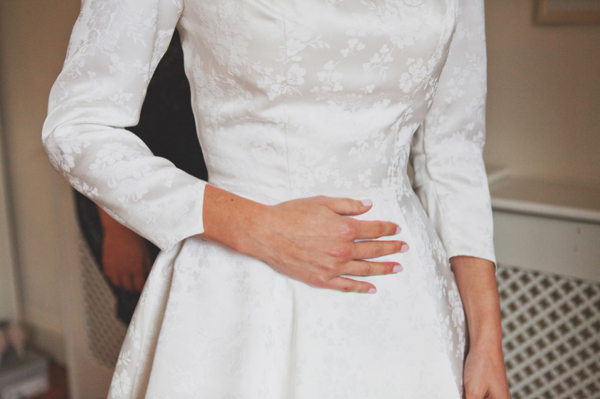 "Hayley's advice was to just try them and things can always be altered if needed. It was the second dress I tried on and Hayley and my sister's reaction told me it was the right one. I went to one other vintage shop that day and then went back to Hayley that afternoon and bought it there and then. I loved the fact that it was an original dress and that it had a history to it.
The dress was originally floor length and the sleeves longer, but I knew I wanted it shortened, but still keeping it in with the right era. It was unfussy but had a lovely brocade pattern on it and I just felt so comfortable and special wearing it – literally did not want to take it off!"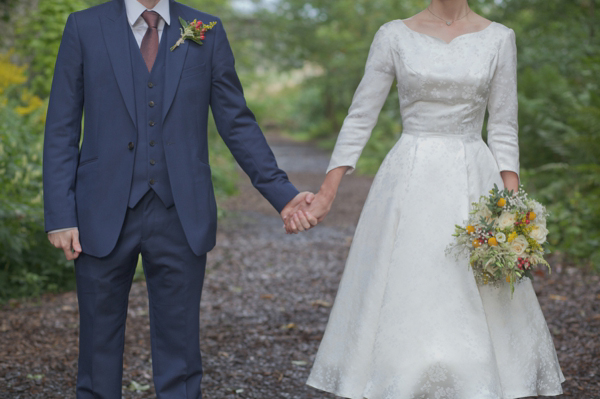 Annie's birdcage veil was from Vintage Styler…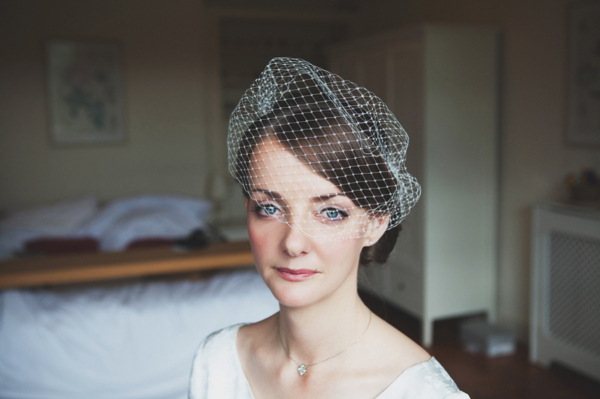 I love Annie's simple elegant courts…
"My shoes were from Kurt Geiger – I just passed them in the shop and decided to try them on as I wanted shoes I could wear again. They were so comfy and fitted with the dress perfectly."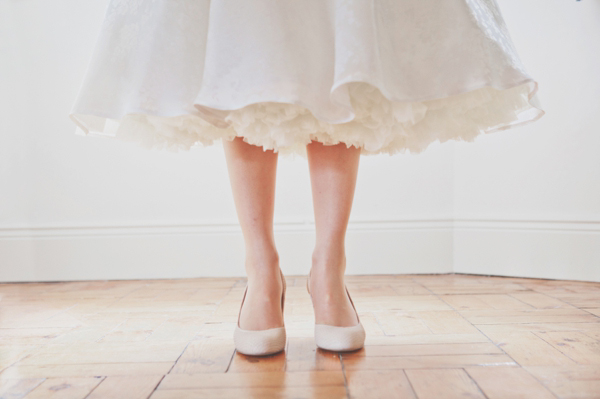 "We knew we wanted the men to wear navy and this was the first suit Thomas tried on – he wore a navy suit from Reiss."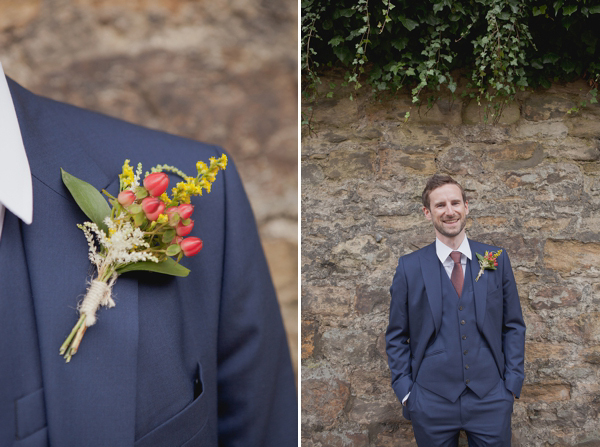 "My dad, Keith walked me in to the ceremony.  We didn't have a traditional aisle as such, as it didn't go up through the guests, it was along the platform. I walked in to Grow Old With You from the film the Wedding Singer – as although pretty cheesy it matched how we feel."
"There was no way we could have written our own vows and got through the ceremony, so we chose the simplest ones from those that were offered to us from the Registrar.
Our readings included 'Friendship', by Judy Bielicki, and an extract from 'The Velveteen Rabbit' by Margery Williams.  To be honest, we really struggled to find readings that represented us and weren't too soppy, but we knew we wanted them as part of the ceremony. I don't think the Friendship reading is a traditional reading but completely summed up us and also the support we have from all of our friends. It was read by my best friend, Clare, which seemed so appropriate. The second reading was ready by one of Thomas' oldest friends, Neil."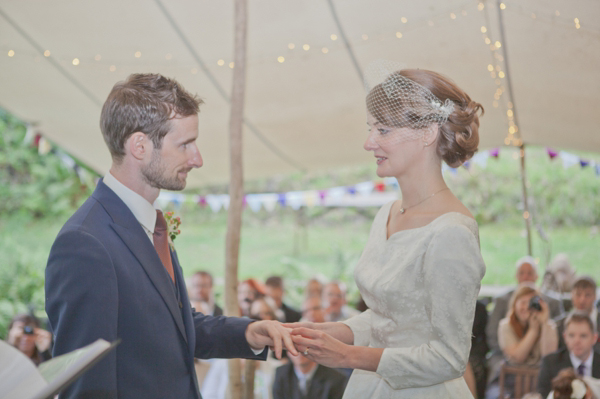 "My sister literally got her bridesmaid dress about two weeks before the wedding which isn't really advised! We didn't want traditional bridesmaid dresses and just wanted Karen to wear something she felt good in – we weren't event too bothered about the colour. We looked everywhere and even had a dress as back-up when we discovered this dress at Phase Eight.
Evie, our Goddaughter was our flower girl, her dress was from John Lewis – it just went with the men's suits and Karen's dress too but had bright colours in that seemed to fit with the Garden Station. Evie kept telling everyone it was her flowergirl dress in the lead up to the wedding."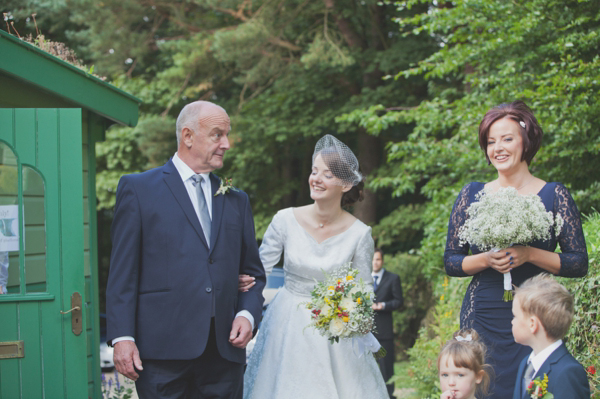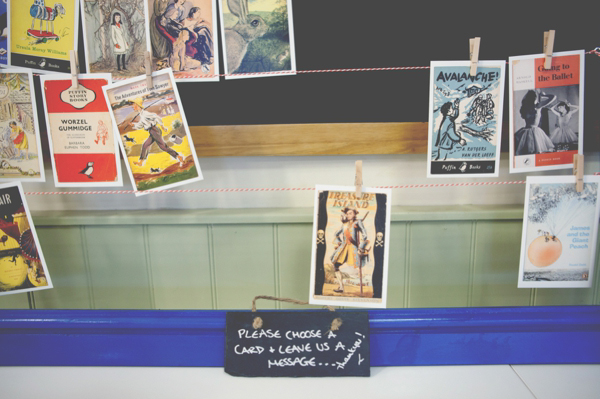 "Our florist was Sue from Cosmic Flower Shop.  Sue was great from the start and from just a telephone call, she knew straight away what we wanted. I never actually met Sue until the day of our wedding but she supplied mock ups of the bouquets and buttonholes and she got it so right. We just wanted flowers that looked natural and had yellows in, that is all we told Sue and she brought them all together with some key flowers to link the bouquets and buttonholes."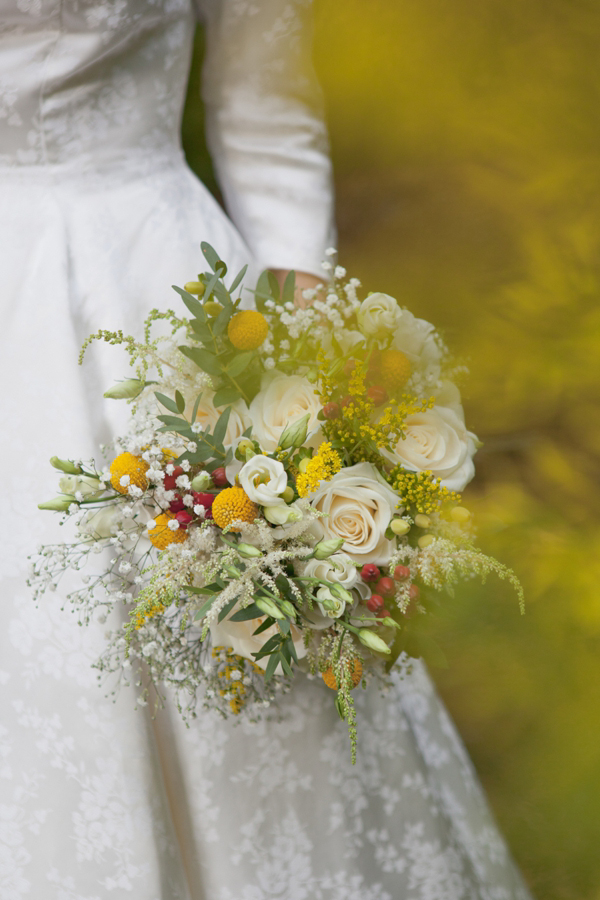 "My previous manager, Lizz, just has an amazing talent of decorating cakes and she very kindly offered to do ours, which we were so grateful for and it looked fantastic. The actual cakes were supplied through a friend of a friend, and so between Kelley and Lizz our wedding cake was arranged! We had lemon and Victoria sponge, two tier with lots of tiny white and yellow flowers cascading down which fitted with the decoration at Wheelbirks."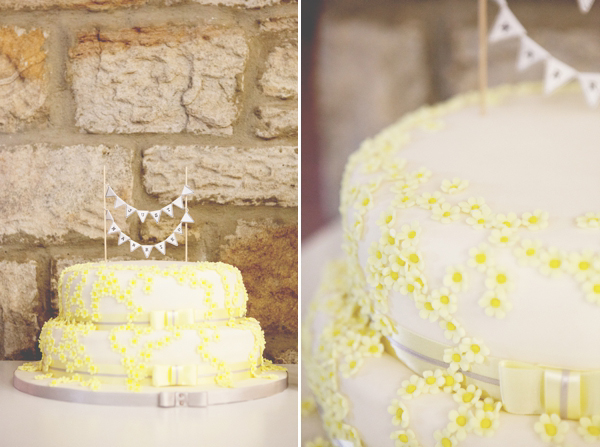 "Our photographers were The Twins – based in Newcastle upon Tyne. Caroline and Kelly are absolutely fantastic! They were recommended by a couple of friends whose wedding they had photographed and we loved their style. We wanted something that wasn't too formal and just seemed really natural and they did that perfectly! We really enjoyed having them around on the day and night, they worked so hard and stayed for so much longer than we expected.
The Twins also did a photobooth for us at the reception which has produced some brilliant pictures – would highly recommend this. Everyone who has seen the photographs has said how much they captured the feel of the day and we love looking at them, they are just perfect."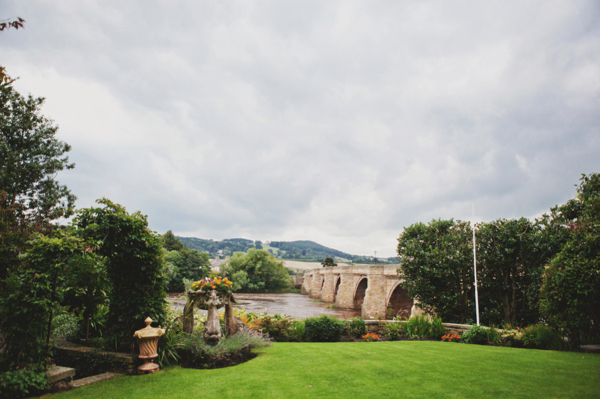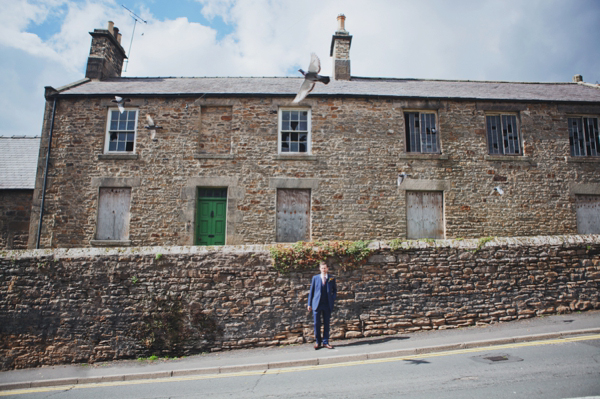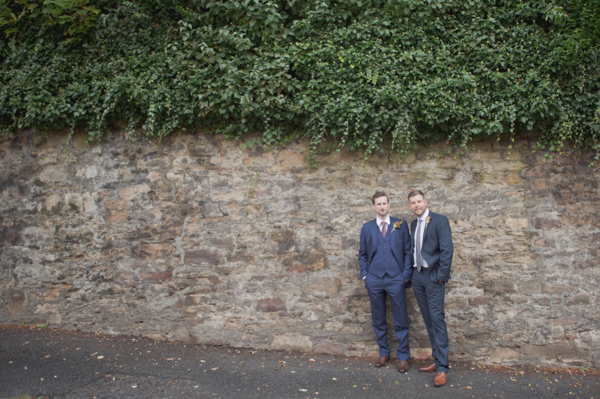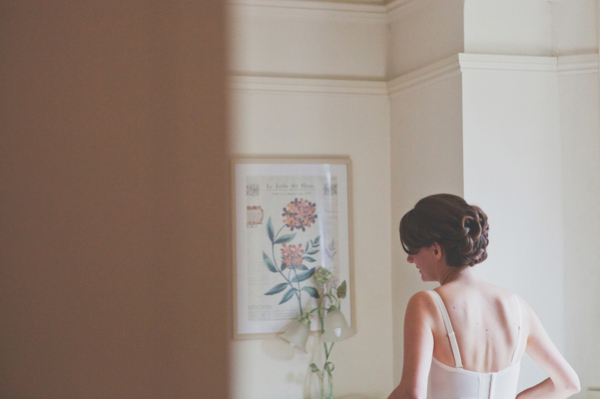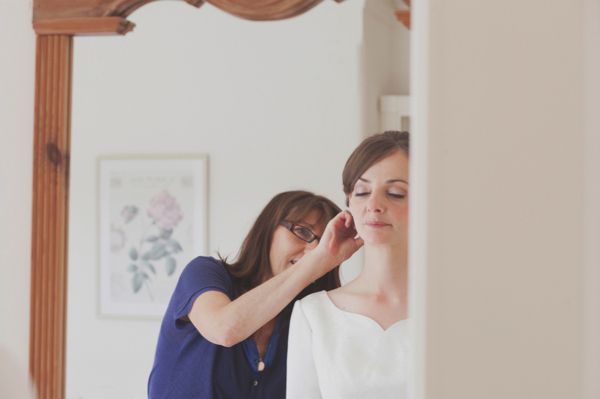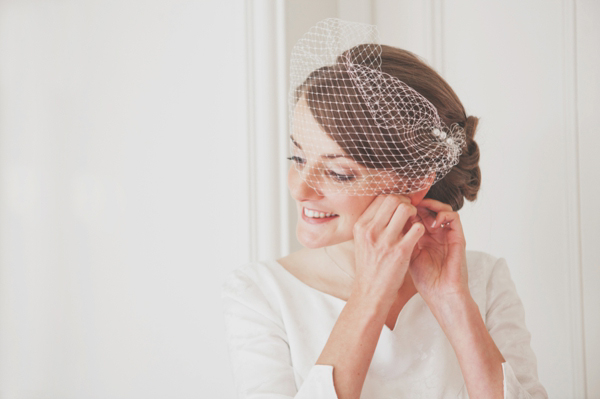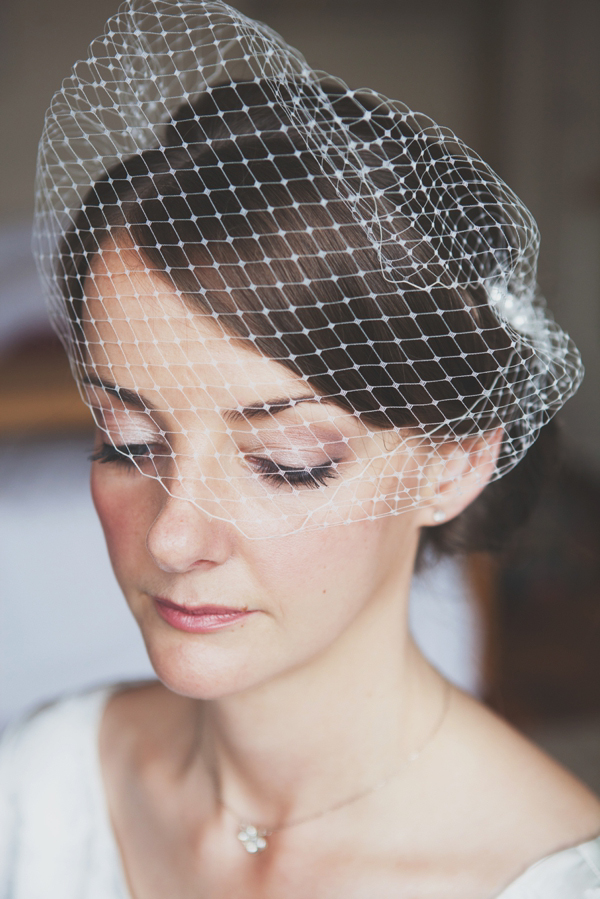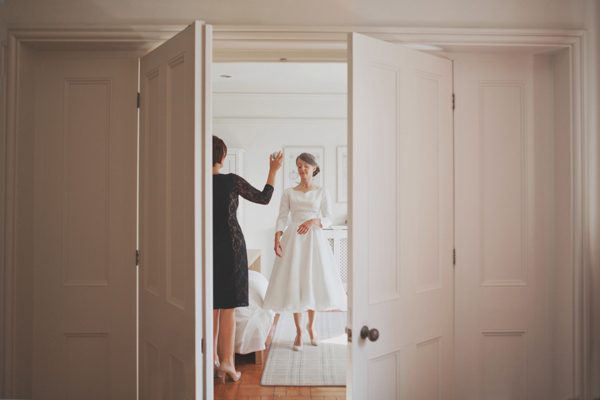 "I was looking all over for a hair clip that would fit with the era but also the veil and after looking at local markets, I just couldn't find anything until I popped into Accessorize and find a lovely hair clip that just went with it all.    I was looking for an original 50s style necklace but couldn't find an affordable one I liked, but once again, Accessorize came to the rescue!"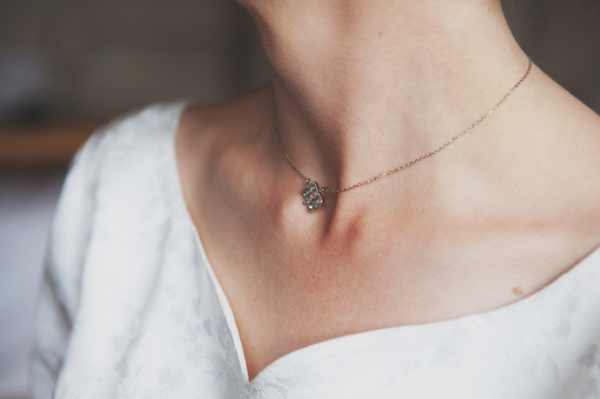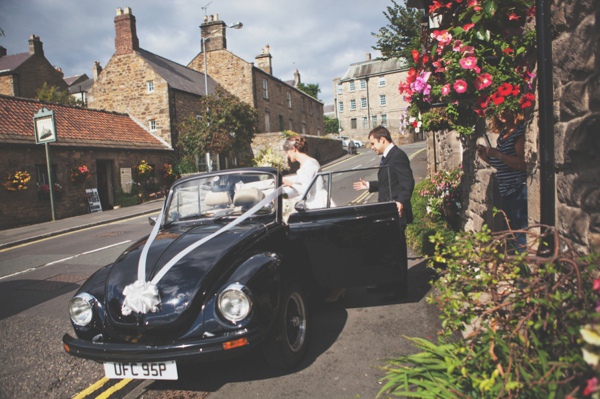 "Paul from Canny Campers was brilliant, we didn't think we would have a wedding car at first or be able to afford it but then thought that I would like to arrive at the wedding in style and for us both to have some time together in between the venues. We wanted an old beetle and we got it – it was just perfect and the fizz went down well on the journey to the reception too! Paul was so friendly and put us both at ease, we wanted the journey to last longer."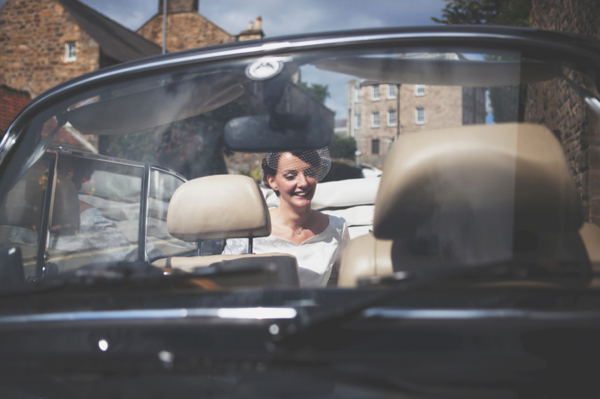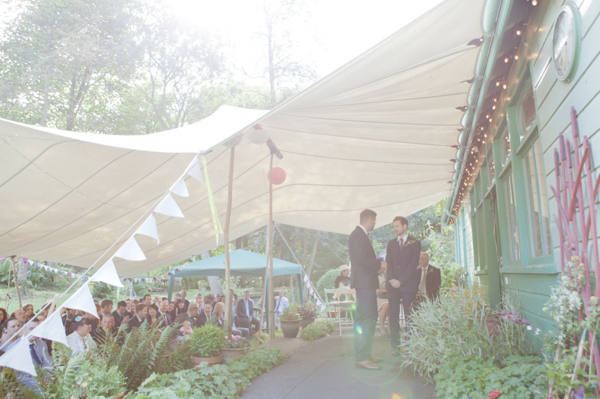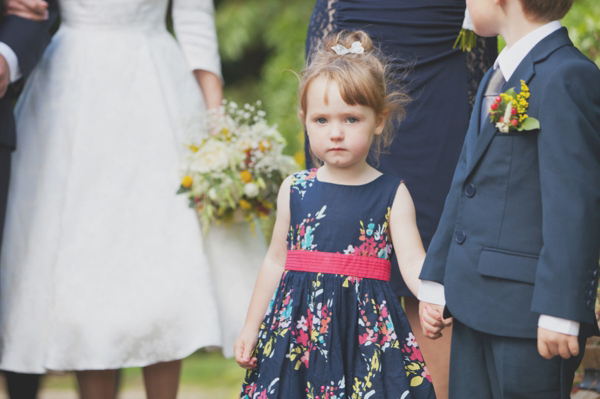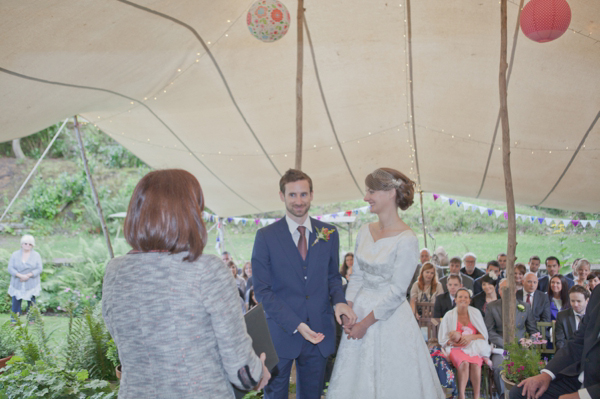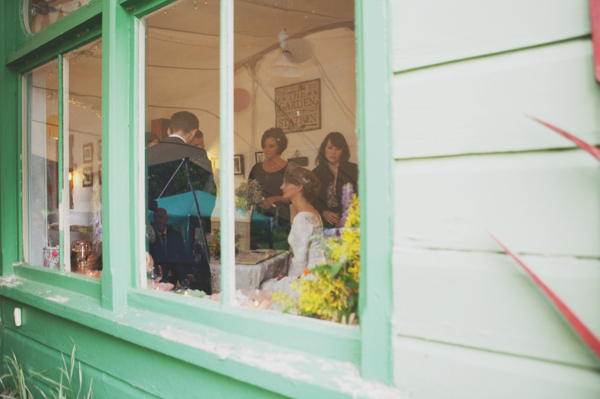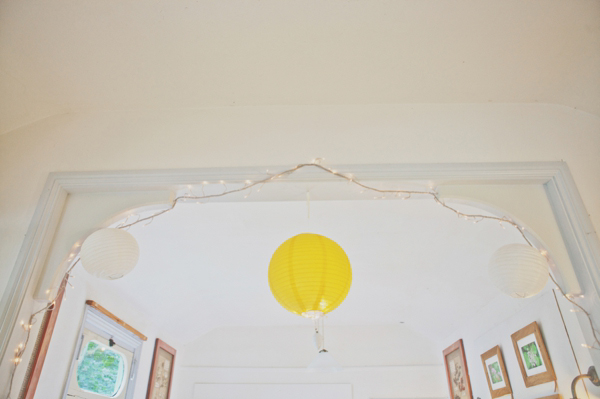 "At The Garden Station we had canapés in the style of a mini afternoon tea – Victoria sandwiches, sponge cakes, triangle sandwiches, along with fizz, beer and tea of course! At Wheelbirks we didn't want a formal meal so we had a buffet which got great reviews from the guests and the special request for the scotch eggs went down well too.  And of course, our own special ice cream flavours were amazing too!
We weren't going to provide wedding favours but then Thomas' mam, Dorothy, kindly made batches of raspberry jam and lemon curd which she put into small jars as favours which also worked for place names too, we just put a little luggage tag round the top with guests names stamped on. We think they went down well and we have received requests for more jam!"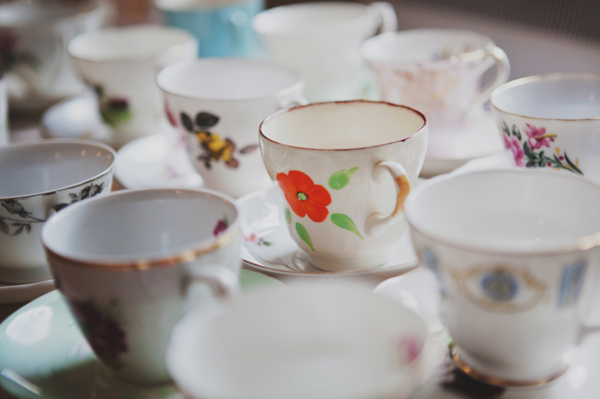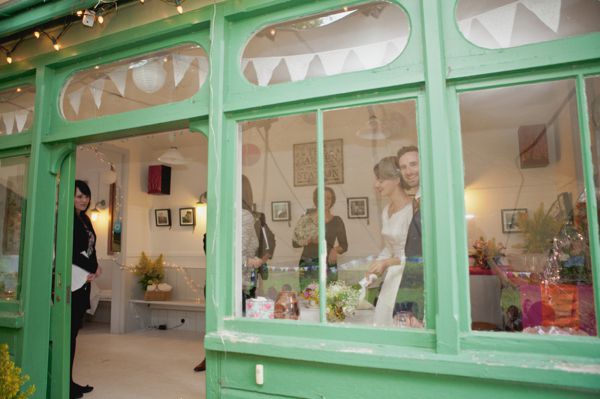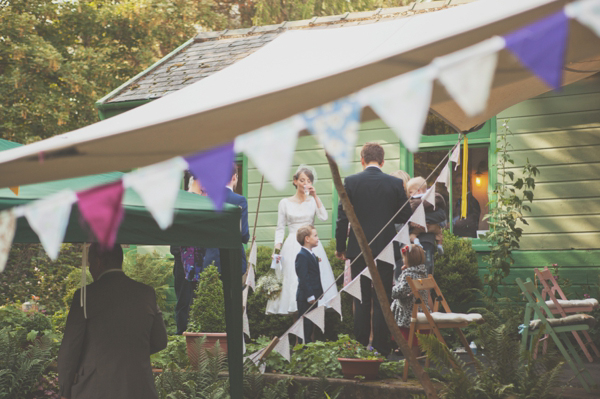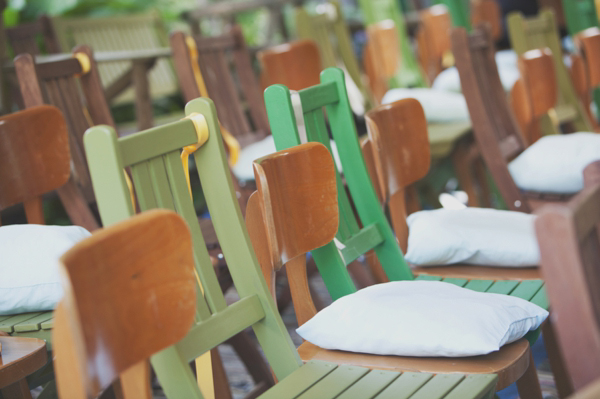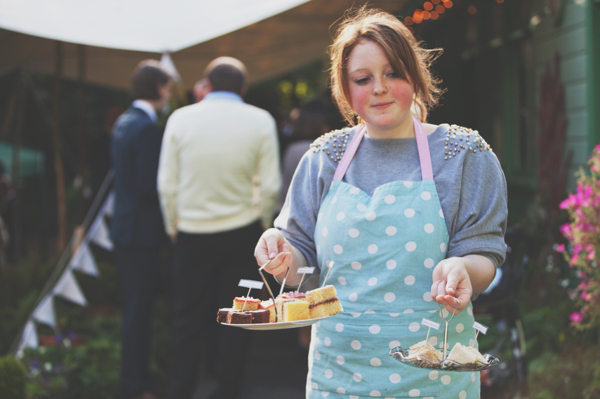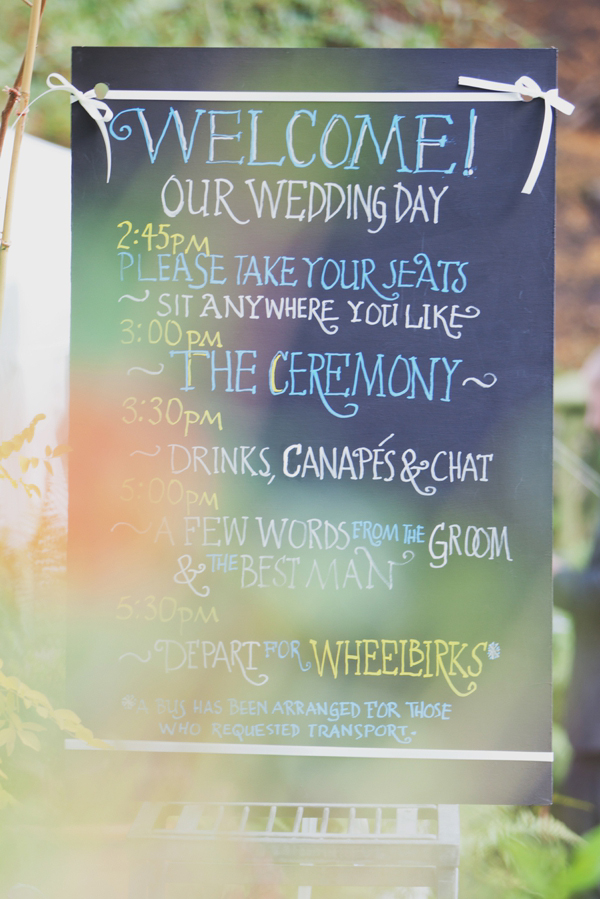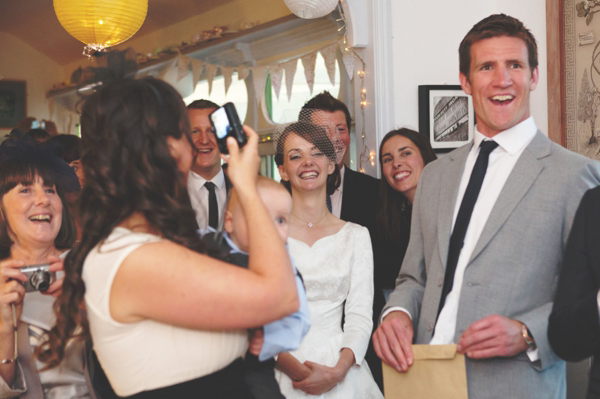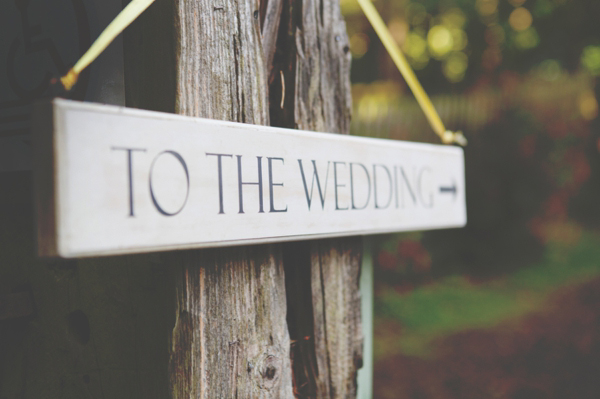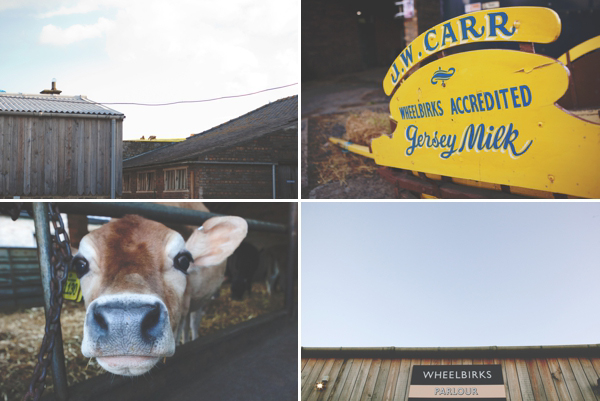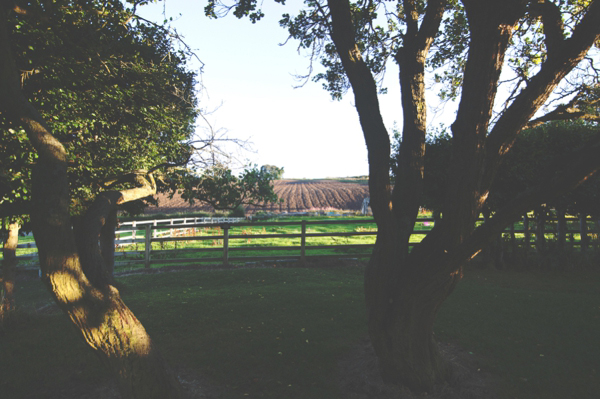 "I made the table plan from a picture frame and just printed out the table names etc and stuck them on to a board backed in fabric. The table names were just the table names that Wheelbirks use in their café and we liked the idea of having them as part of the wedding – they are all named after their cows. We didn't have any orders of the day or menus as we just felt it wasn't needed."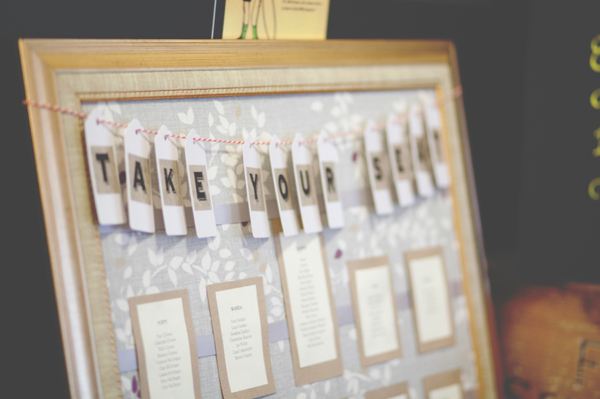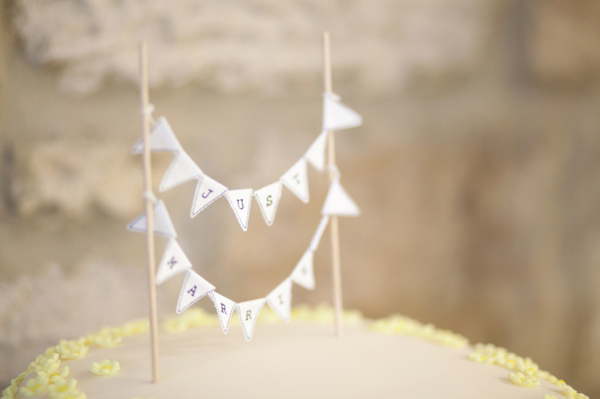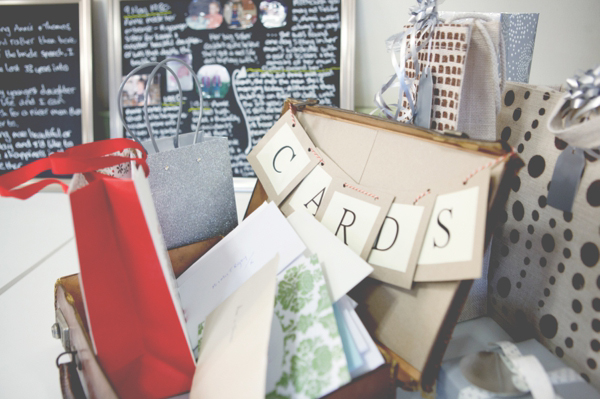 Words of Wedded Wisdom…
"We would just say go with what you want and really don't worry about what is expected or 'the norm'. My dad didn't do a speech, we didn't have a formal wedding breakfast, we didn't cut the cake as we wanted it to be a relaxed day to reflect us and our families – all this really didn't matter as we simply wanted to be married – make it your day so that you can reflect on it and know that you wouldn't have changed a thing.
I don't think either of us can pinpoint one exact moment, we had the most fantastic day – I think seeing each other on the platform and saying our vows, which felt like it was just the two of us, and it just feeling 'right' was just so lovely but then also walking down the aisle with my dad and my sister, and also just having all of our favourite people all around us, it was so surreal but just amazing too! I think we completely underestimated what the day would be like!
Finally, Love My Dress (I'm not just saying that!) was the main one really as a lot of the weddings on there were similar to what we wanted in how they came across. I also visited Pinterest a lot, perhaps too much, for some great ideas on flowers."
What a lovely day – huge thanks to you Annie and Thomas and congratulations on your wedding! As always, thanks also to Kelly and Caroline of The Twins Weddings, for furnishing our pages with such lovely wedding photography.
I'd love to hear from those of you intereted in 1950's inspired bridal fashion – will you be wearing a dress similar to Annie's? Have you got an original vintage dress in mind?
Love Annabel

Photographer – The Twins Weddings
Venue – The Garden Station + Wheelbirks Ice-cream Parlour
Wedding Dress – original 1950's vintage gown via Glory Days Vintage in York
Veil/Headpiece – Birdcage veil from Vintage Styler
Brides' shoes – Kurt Geiger
Groom's Attire – Reiss
Bridesmaids Dresses – Phase Eight
Flowergirl – John Lewis
Page Boys – Marks and Spencers
Flowers – Cosmic Flower Shop
Cake – A friend
Transport – Canny Campers
Entertainment – The Replicants
Favours – Homemade
Rings – Reid & Sons
Hair Stylist – Viv Hutchinson, Vivid Hair Design
Make-up Artist – Kerry Nicholson
Follow Love My Dress® on Google+