Good morning all – we've a wedding we're hoping will inspire all you brides looking to marry overseas this morning.  Henry and Alex who both work in PR, tied the knot in Crete on 21st September last year – I love how elegant Alex looks in her 20's inspired gown by Charlie Brear – the back detail is stunning.
"My dress was from Charlie Brear – it was an ivory 1920's vintage style dress, dropped waist with cowl back made from 100% Sandwashed silk. I loved how elegant and vintage my dress was. The moment I put it on I felt like I had walked of the set of The Great Gatsby and it felt as though it would fit perfectly within our chosen destination."
Photography Copyright (c) 2014, Jonny MP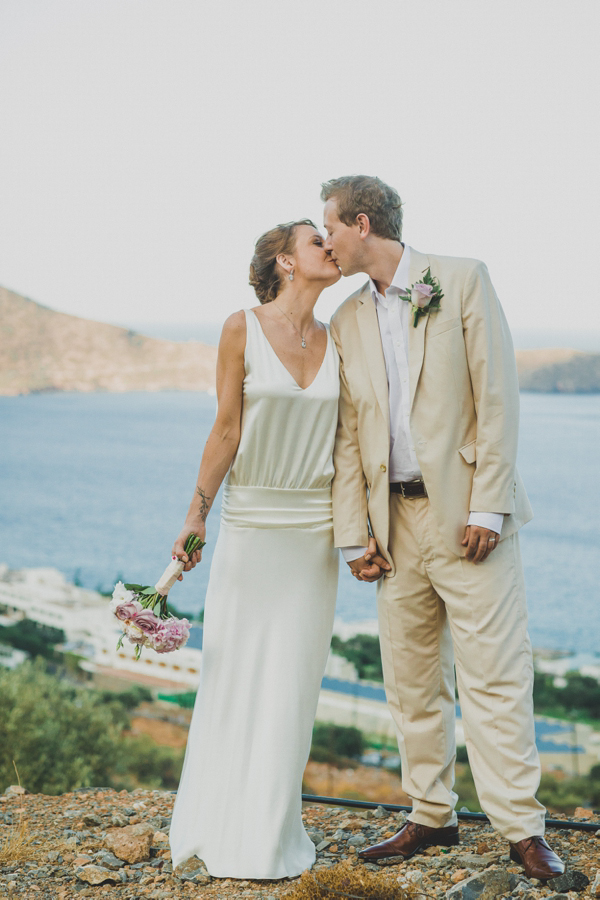 "We both met at a small public relations firm when we were 22. It was my first day, and as I struggled to use the binding machine and called across to see if anyone in the open plan office could help. A very young looking and slightly dishevelled (un-ironed shirt and scraggy jeans) Henry came to my rescue. We went out for our first date that weekend and have been together ever since."
"We lived in Singapore for three years and just before returning to the UK last year, Henry took me to Krabi (Thailand) as a surprise birthday present.  It was on our balcony, overlooking the sea that he got down on one knee and proposed. It was the most amazing view, moment and holiday of both of our lives, one we will never forget. We were engaged for 16 months before we got married."
"Getting married on a Mediterranean island, to a certain extent, dictates the style of wedding you have. We wanted light romantic colours, a slightly rustic feel but with an extremely relaxed and fun atmosphere! I loved the idea of getting married in a vintage style dress from the 20's, an area synonymous with glamour, romance and a degree of decadence.  I loved reading  F. Scott Fitzgerald's 'The Great Gatsby' when I was growing up, with its extravagant parties that continued well into the night, so when I tried my wedding dress on for the first time and felt like Daisy Buchanan, I knew that was 'the one'."
"We got married at Elounda Gulf Villas & Suites in Crete. We knew from the moment we started discussing our big day that we wanted an intimate wedding somewhere in the Mediterranean. We decided on Greece because Henry's grandmother was Greek and we both love the culture, food, people and weather. We fell in love with the venue at first sight! Elounda Gulf Villas and Suites is a family run hotel which consists of a number of unique but equally stunning villas set against the stunning backdrop of Elounda bay.
We didn't hire an event planner. However, our venue was extremely good at recommending, contacting and directing suppliers for us and handling our requests."
"We actually got suits for the groom, best man and ushers from the website Tailor4Less. We chose the site as we couldn't find any beige suits in high street stores that fitted and couldn't afford to get them made by a traditional tailor."
"I think my favourite part of the day was walking back down the aisle after we had just been married. By that point all of my nerves had settled, we were actually married and I was able to take it all in and look at all of the people who had travelled so far to share our big day with us. I knew from that point onwards we were going to have a fantastic time, both that day and for the rest of our lives, which was an extremely exciting feeling."
"The bridesmaid dresses were from Coast. They were a neutral pale pink colour, with detailing around the waist, and a very light material.
Our flowergirl (my niece Jessie) wore a Grecian style dress from Monsoon with gold embroidery and our page boy (my nephew Joey) wore a beige suite, similar to the Ushers."
"Our photographer was the fabulous Jonny MP. We couldn't recommend him more. He made us very relaxed, was extremely professional and captured stunning photos that made the most of the scenery and atmosphere."
"Our hair was done by local hairdressers, whom the venue recommended. We all did our own make-up. For my make-up, I used Clarines products and to tie in with my vintage style dress, I wore red lipstick. My Mother also gave me a bottle of ESTEE LAUDER 'Modern Muse' perfume, which I wore.
I also wore a pair of vintage style diamond drop earrings and matching necklace, which my Mother gave me on the morning on my wedding."
"My father walked me down the aisle to the sound of Pachelbel Canon, played on the acoustic guitar.  During our ceremony, we read the standard vows provided by the local Town Hall. My friend came to me with a list of potential readings and this one stood out. It's very simple, honest yet powerful, we just loved it – it's called 'The One';
'When the one whose hand you're holding 
Is the one one who holds your heart 
When the one whose eyes you gaze into 
Gives your hopes and dreams their start,
When the one you think of first and last
Is the one who holds you tight,
And the things you plan together 
Make the whole world seem just right,
When the one whom you believe in 
puts their faith and trust in you,
You've found the one and only love
You'll share your whole life through.'"
"We flew one of our family friends, Charlotte Campbell, out to Crete to play during our wedding (including our first dance). We then had a local DJ who did a fantastic job of getting everyone up on the dance floor late into the evening."
"We decorated The Royal Villa for the ceremony with white cotton bunting, paper rose flower garlands and from the olive trees we hung white paper doves and white paper lanterns. In addition, we had some vintage style wooden signs directing people to the wedding. All of this was purchased from notonthehighstrteet.com.
The venue also decorated the ceremony area and restaurant with flowers, lanterns and lots of candles. In the centre of each table we had circular mirrors with different sized jam jars for the flowers. We were trying to get a romantic, elegant yet rustic feel to the venue, which worked perfectly."
"Our first dance was 'Ho Hey' by The Lumineers. We wanted a song that had meaningful lyrics that were not too cheesy! We had our family friend who was playing guitar play and sing this for us, it was stunning."
Words of Wedded Wisdom…
"The day itself will be over before you know it, so every half an hour or so take 5 minutes to step back with your partner and take it all in. It's an amazing feeling to have all of your closest family and friends in one place enjoying themselves and it's important you both have a chance to appreciate that fact. We did this and I'm so glad we did."
What a gorgeous day from start to finish, Alex, you look breathtaking in your beautiful wedding dress – and thank you so much to you both being so happy to share your wedding day with our readers.
Huge thanks also to photographer Jonny MP.
Love Annabel
Photographer – Jonny MP
Venue – Elounda Gulf Villas & Suites in Crete
Wedding Dress – Charlie Brear
Shoes – Vince Camuto gold shoes
Grooms – Tailor4Less shoes by Jones Bootmaker
Bridesmaids – Coast.
Flowergirls – Monsoon
Flowers – Local florist
Cake – The brides mum
Entertainment – Charlotte Campbell
Additional Styling – notonthehighstrteet.com
Rings – Star Jewellers in Hatton Garden + Tiffany's & Co
Follow Love My Dress® on Google+