Apologies this wedding didn't get published earlier than this folks – we had a little glitch in our system! But it was worth the wait, I promise you.
This is such a lovely, full of colour, celebration and wonderful smiles, and sent in by photographer Jonny MP; Dee and Zarius tied the knot on 24th August last year at The Royal Valentia Hotel, Knightstown, Valentia Island, Co. Kerry, Ireland.
"We wanted a day that exuded fun and friendship and love. So lots of colour and a laid back vibe.  We both said from the beginning that we didn't want a 'theme' in the traditional sense, so we ended up with a medley of ideas that somehow all came together!"

Film Production Copyright (c) 2014, Steven Hall Video
)
"My mom was born in Kerry and we spent a lot of time there during our summer holidays as children. It is a very special place for me and when I brought Zarius there a few years ago he fell in love with it straight away. When Zarius and I visited Valentia we explored the grounds of the beautiful St John the Baptist Church in Knightstown and when we got engaged our minds kept wandering back to it.
So we booked the Church, even though we had never actually been inside and then needed a venue. The Royal Valentia Hotel is a few minutes walk down the road overlooking the water."
Photography Copyright (c) 2014, Jonny MP
"Zarius and I both arrived in London within a week of each other in July 2006. I was coming from Ireland and he came from South Africa and 10 months later we started working at the same company. It was a very sociable place so after many a night out we started dating and 6 years later, nearly to the day, Zarius got down on one knee at the end of the small pier in front of the Oxo tower on the Southbank and proposed.
It was the night of my birthday we had spent the day in our favourite place in London soaking up the sounds and the atmosphere in the sun. It was the perfect end to the day." 
"We loved the idea of being in this very small town and having everyone walk from the church to the venue in their finery! The hotel was being renovated when we visited to check it out but the people we met were so friendly and it had a rustic charm that we knew it would suit our day perfectly. Everything kind of just fell into place. And the view from the bay window in the honeymoon suite is possibly my favourite view in the world. Stunning.
We wanted to somehow acknowledge how much our family and friends mean to us.  We're lucky in that we both get on really well with each others friends and family and when we mix them all up they all get on too!"
"
I wore a yellow flower in my hair for the service and later replaced it with a hair slide I had picked up for £1 at a Monsoon sample sale!  I also wore a necklace that my Dad had given to my mom. It's a simple silver pendant that shows the words I LOVE YOU when you blow on it and it spins on the chain. It was a private way of honouring them on the day. I wore a pearl ring and matching earrings which Zarius' parents had given to me as gifts and I love."    
"The dress I wore wasn't my first dress. The original one sits in my wardrobe awaiting a buyer! Because we wanted quite a relaxed day I really thought I didn't want a traditional dress. I tried on quite a few and always loved the fitted fishtails but for some reason ended up choosing a loose fitting 1920s inspired dress! When I put it on I thought that it was a party dress that I could dance in and I was sold. But when I collected it I knew I had made a HUGE mistake.
I shed a lot of tears! It was Zarius who convinced me to find something I really wanted.  It's a long story but I eventually ended up in a beautiful boutique called Exquisite Bridal Couture in Lymington Town in Hampshire. I had spoken to them on the phone and they had a sample sale starting in a few days which was perfect because I didn't have time to order a new one."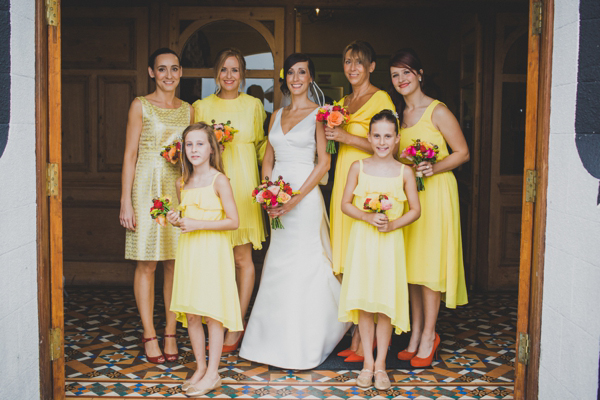 "The criteria I had decided on before I arrived was it had to have a low neckline and a nice back. This dress had both but it was a few sizes too big and I wasn't sure that it could be taken in that much and retain the shape. How wrong I was.
The seamstress Anna worked a miracle and when I returned to collect it I couldn't quite believe what an amazing job she had done! I was overwhelmed and absolutely delighted! The dress fit like a glove and on the day I was absolutely over the moon."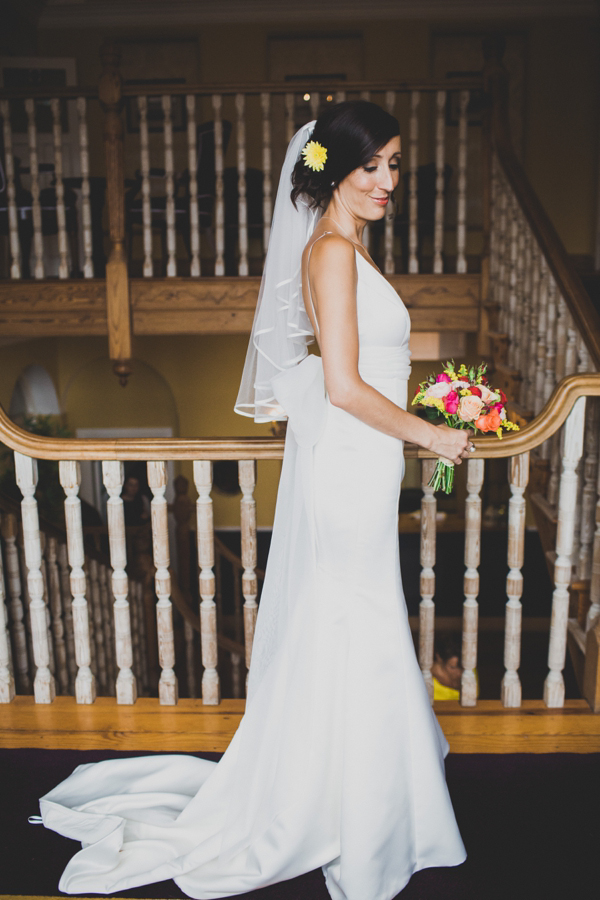 "Our florist Leona of Every Occasion Florist was very easy to get on with and really happy to do something a little bit different. I didn't have specific flowers in mind, but I had a Pinterest board which was more about colour and shapes. Lots of colour and lots of different sizes, shapes and textures. And I had a list of things I didn't want! I didn't want any chiffon or bows, no diamonds, diamantes or pearls and no foliage on the button holes or bouquets.
And then I just left it to Leona and on the day everything looked beautiful and fit together really well. The table arrangements were perfect. The junior bridesmaids and I wore a flower in our hair and Leona created a whole selection to try out. She put wire in each one and wrapped the stem to make it easier to pin. All three of us found the perfect flower!"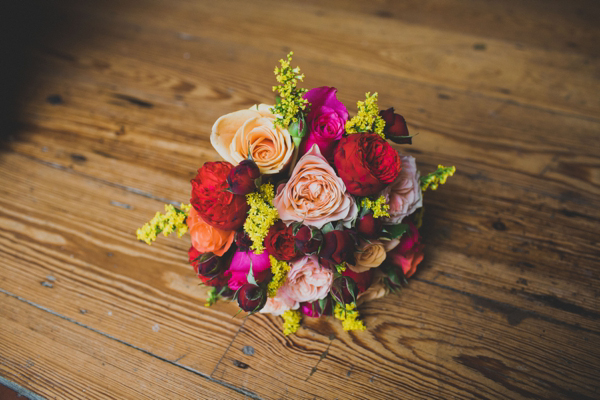 "While doing research early on I came across the billy ball flower and loved it. It was a bright summer colour and when used for a button hole it could be quite small and neat which Zarius liked. So our bridesmaids were stuck with yellow! The billy ball then featured in all our stationery and worked really well. And we reflected both our cultures in the table numbers having them in Irish, Afrikaans and English.
I had four bridesmaids and two juniors bridemaids. Two bridesmaids and the junior bridesmaids live in Ireland, one lives in South Africa and one in Dubai and I'm in  London. So when Annie suggested that the dresses didn't necessarily have to match I thought it was a great idea. I decided to let everyone choose their own dress, it not only fit with our laid back theme but made sense practically! So I gave them a broad brief. Any shade of yellow and ideally not full length. Oh and not too bridesmaidy!"

"My nieces who were junior bridesmaids wore matching dresses and shoes in a deep yellow and their mom, my sister Karen had the same shade of yellow and material. By total coincidence Zarius' sister turned up on the morning of the wedding with a dress I hadn't seen and it was identical in colour and material and my cousin Niamh almost the same.
It was so weird! Paula chose a beautiful yellow/gold dress from Monsoon which looked great with the others even though it was very different. And they all wore red shoes, again of their own choosing."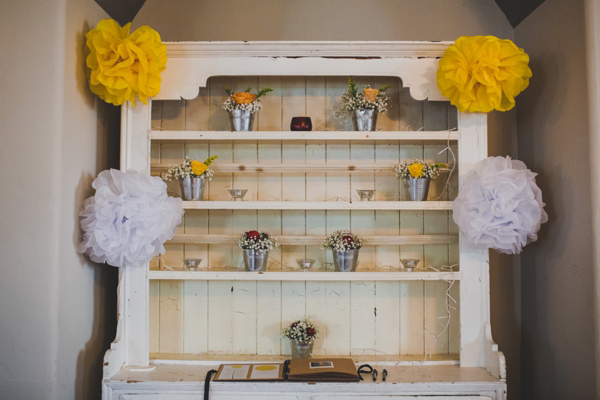 "I have never been a fan of the sashes that typically come with chair covers when you rent them. So we agreed that the chairs needed to be covered but I wanted to find an alternative to the sash. I came across a picture on Pinterest of a small tissue pom pom on the back of a chair and I thought it was a great way to dress up the room as well as spruce up the chairs. So I ordered 100s of sheets of tissue paper and took to YouTube to find out how to make them. Zarius to be fair did the lions share and we made something like 70 in total. We had very large yellow ones which Annie tied to every second chair and then smaller sized yellow and white ones which she used to decorate the room, the reception area and there was even one in the car which made me smile!
Something so simple and cheap had huge impact and of course as the night went on they were used as hats, bow ties and who knows what else in photos!  I think my favourite decoration though was the two pictures drawn by my nieces from when we got engaged. One was of a fantasy wedding dress for me and the other was a congratulations sign thanking Zarius for choosing me and me for saying yes! It was very sweet and we them hanging on the wall in main room."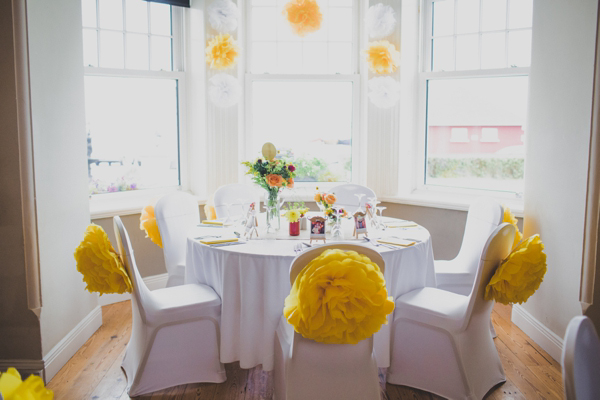 "For favours, we used polaroid photos of each person with a handwritten message as our favours. Where possible we tried to have at least one of us in the photos too! We scoured all our old photos to choose the right ones and uploaded them to Instagram so that we could print them as polaroids. We used miniature easels to stand the photos on which we ordered online from Amazon and finally we had name cards to slot onto each photo, in the shape of lips for the girls and moustaches for the boys."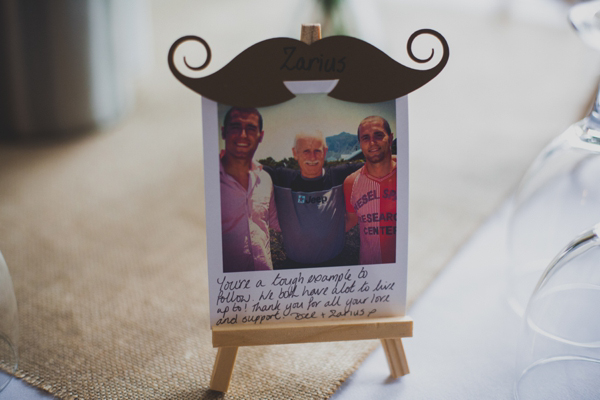 "We first met our photographer Jonny at the wedding of two good friends of ours and we liked him straight away. Afterwards they happened to be staying with us when they got their wedding photos so we went through them all and loved his work! His pictures were very atmospheric and looked completely different to anything we had seen before. We never considered asking someone to fly over from the UK to Ireland, it was our wedding planner Annie who suggested it because we raved about him so much. Luckily for us Jonny was available and willing to travel!
I feel that we got to know Jonny quite well during the lead up to the wedding and he's a great guy, personally and professionally. He fit in so well on the day and everyone was very relaxed around him. His energy is contagious and his passion really shines through. We feel very lucky to have found Jonny and he captured the emotion and atmosphere of our day perfectly. The quality and range of photos is incredible and if I could I'd print them all out and cover the house in them!"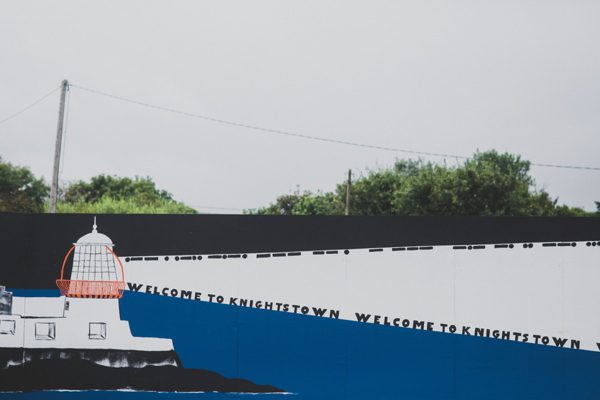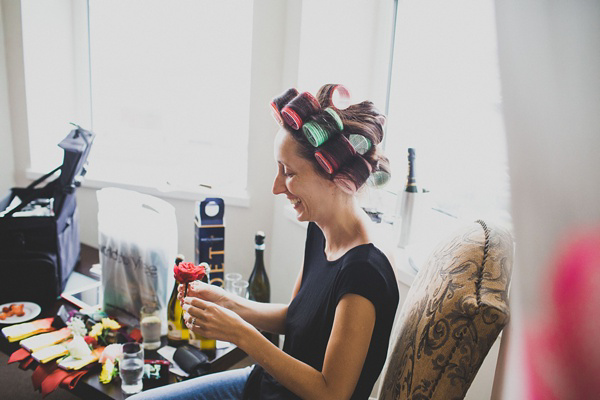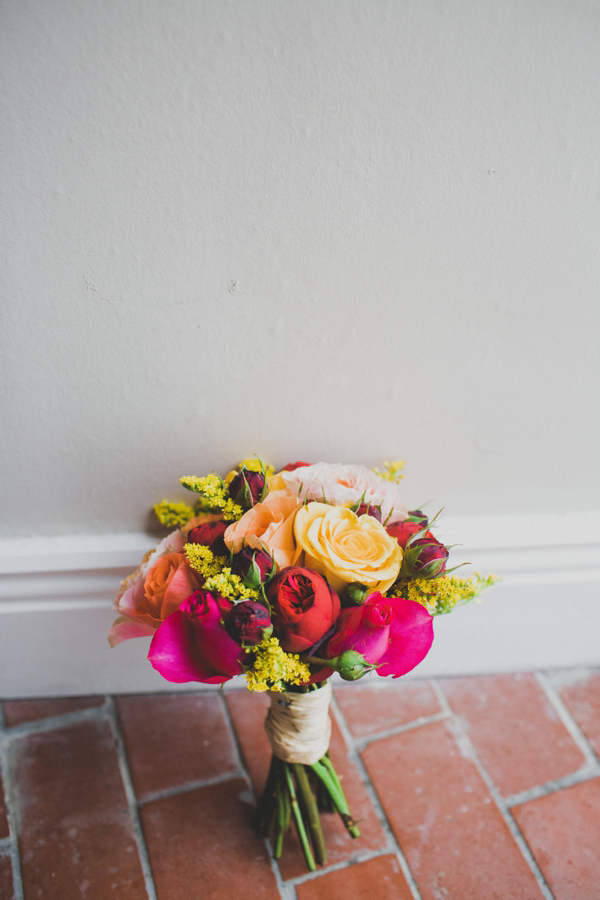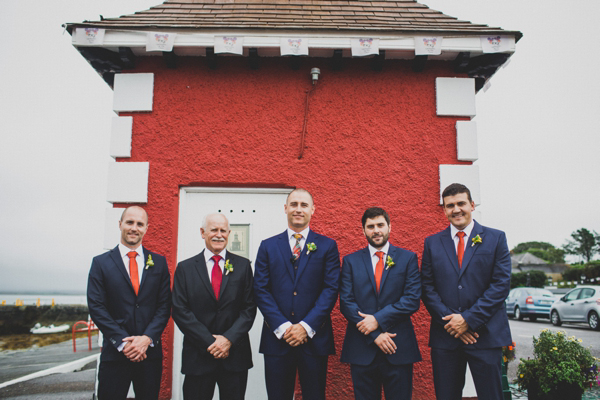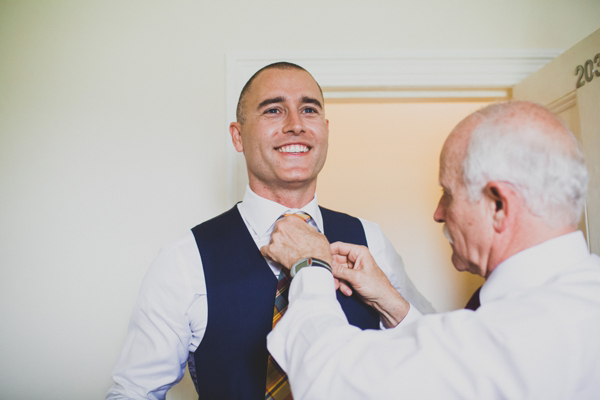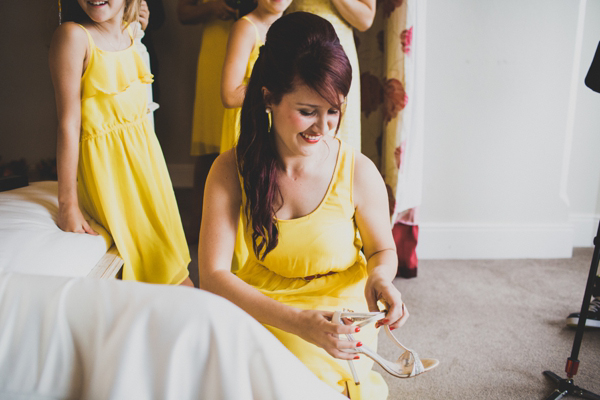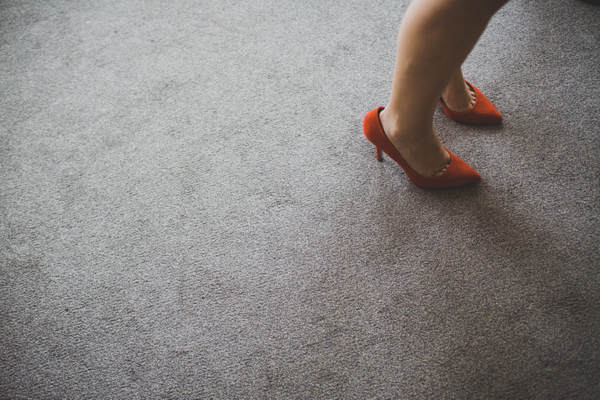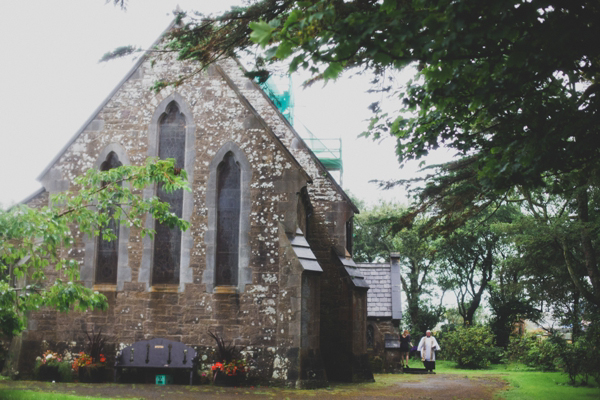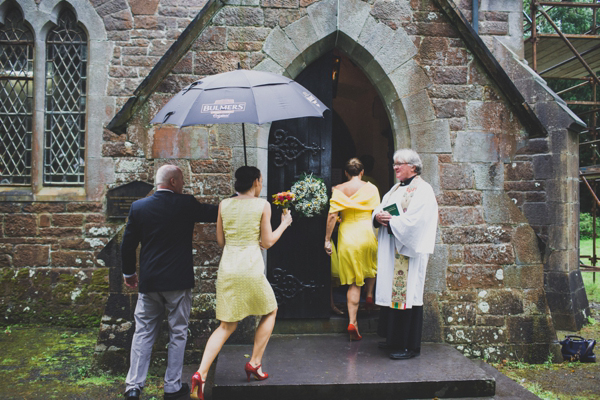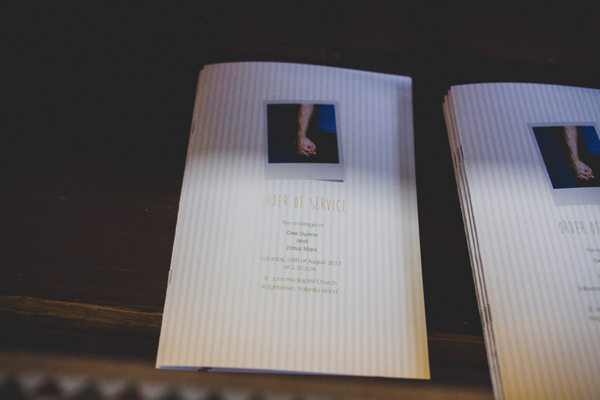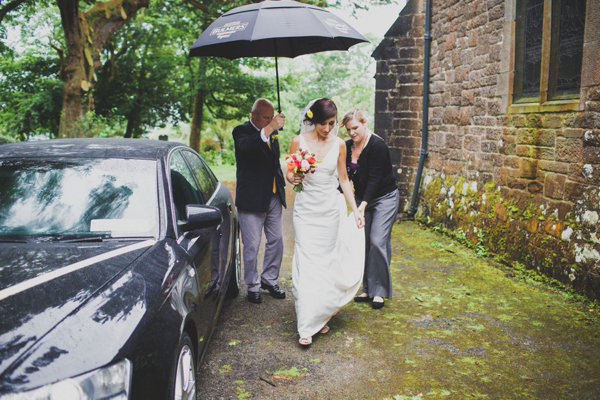 "Both my parents have passed away so my two sisters walked me down the isle. We were fine all morning but as soon as the time came to start our walk down the isle we all broke down and cried the whole way!"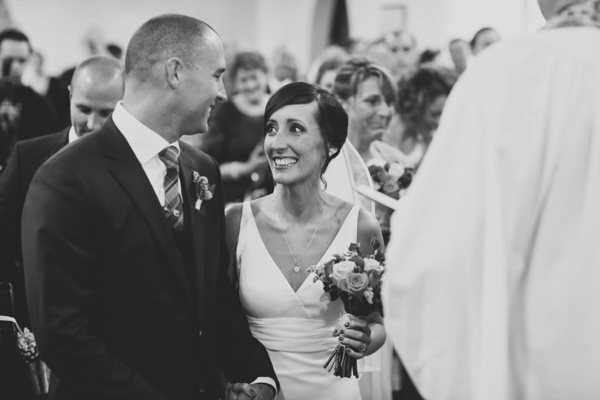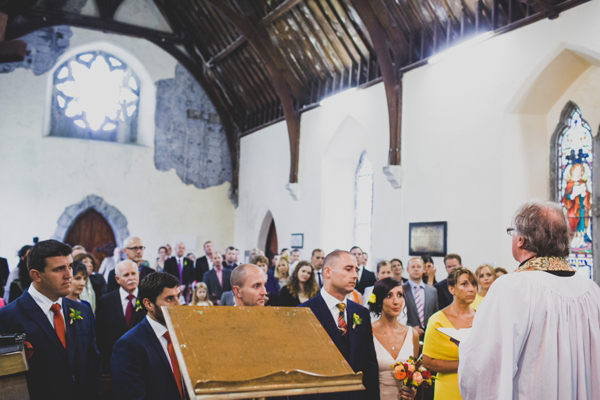 "
Zarius and I chose my engagement ring together. I wanted a vintage ring and after some research online it sounded like Grays Antique Dealers was the best place to go. I was convinced I didn't want a diamond. And I ended up with three diamonds! It's hard to know what will suit your hand until you try rings on. When I tried on a 'twist' style ring I knew it was the right shape for me so we narrowed our search to that style. And at Grays, even on a Saturday when a lot of the stalls were closed, there was plenty to choose from. I fell in love with my ring at the last stall, The Antique Jewellery Company. Jo explained she hadn't planned on opening that day and was going to be shut for the next few weeks so we thought it was meant to be! It's a 3 diamond twist ring with tiny stones on the arms. It dates back to the early 1900s and I love that someone else wore it first and there's a history to it.
My wedding band was my moms. It's very special to think she wore it ring for 25 years and being able to incorporate something of hers into the service meant a lot to me.  
Zarius's ring is palladium and we bought it at Fraser Harts. He wasn't very fussy with the ring itself so it was a quick and easy purchase! I then went back to the shop and had it engraved as a surprise for him on the morning."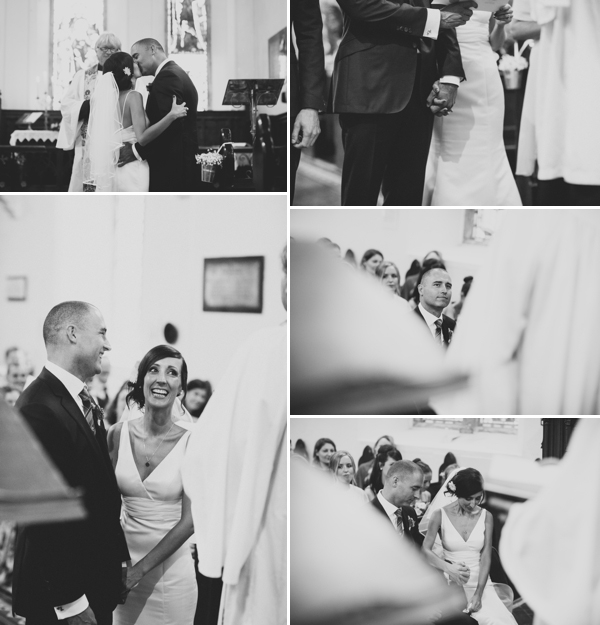 "We had three readings in total, one read by Zarius' mom and then two mutual friends, Helene and Ria. We asked them to choose the readings for us. Zarius' mom gave us a choice of two bible readings to choose from before the day and Helene and Ria kept it as a surprise. Helene merged two prayers to make it her own and titled it 'A blessing for Zarius and Dee' and Ria chose a poem titled 'You are the One'.
All three were beautiful. It was very personal and emotional to have such close family and friends read something they had chosen themselves for us. And because of the size of the Church and how the Reverend positioned them, it meant they got to stand directly in front of us and read it as it was just the three of us in the room each time. Three very special moments."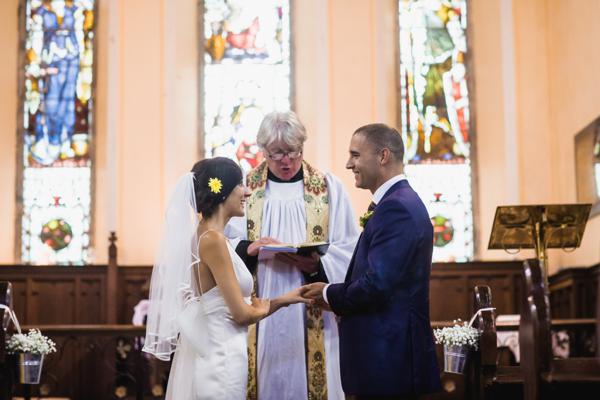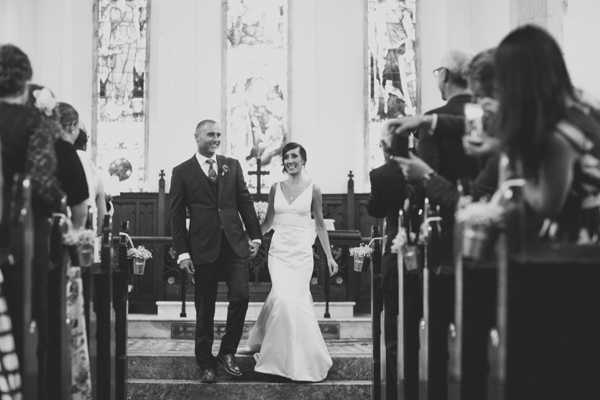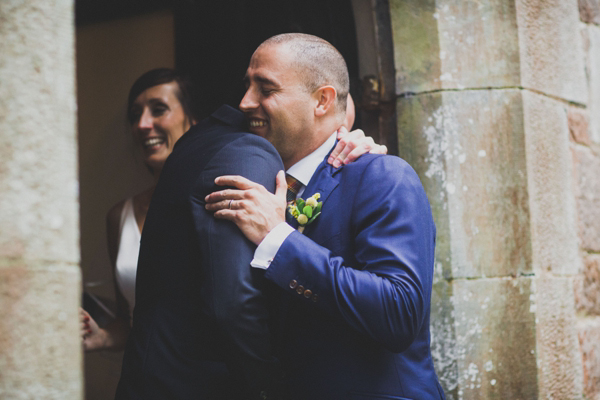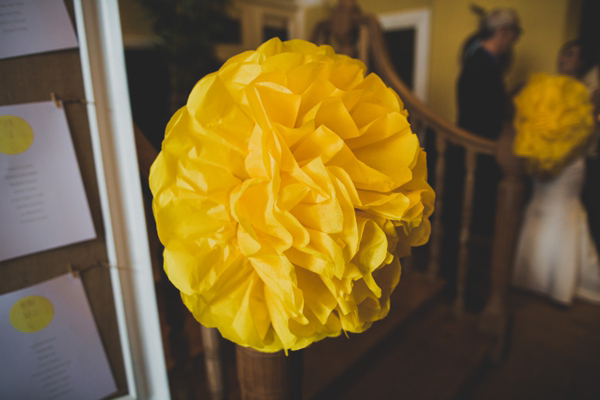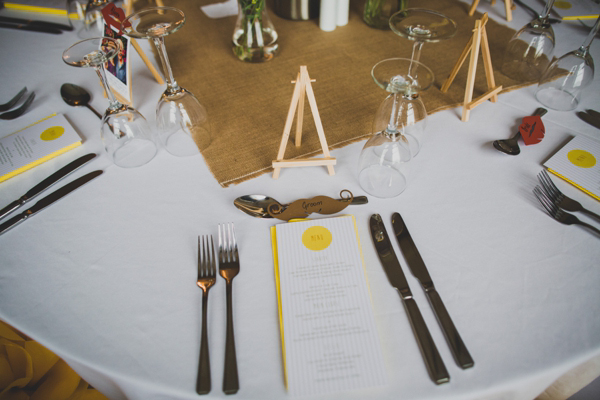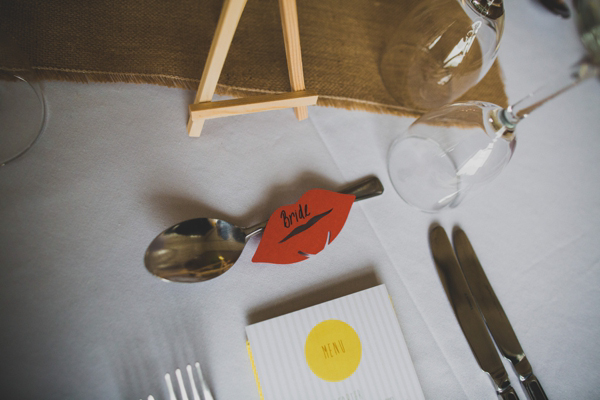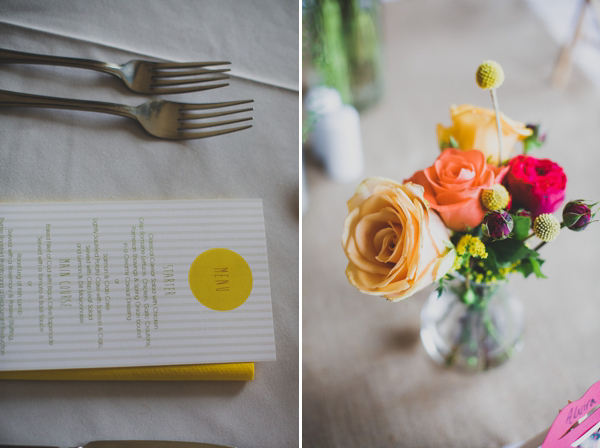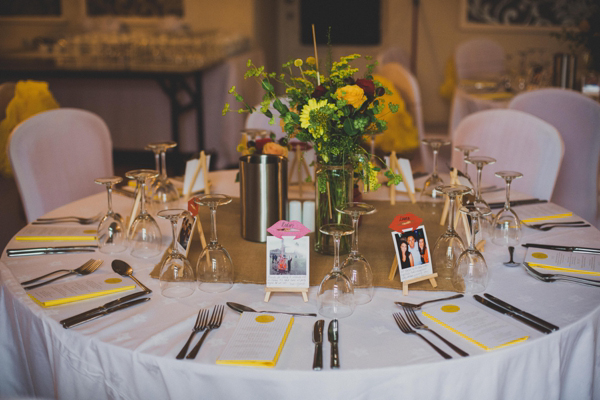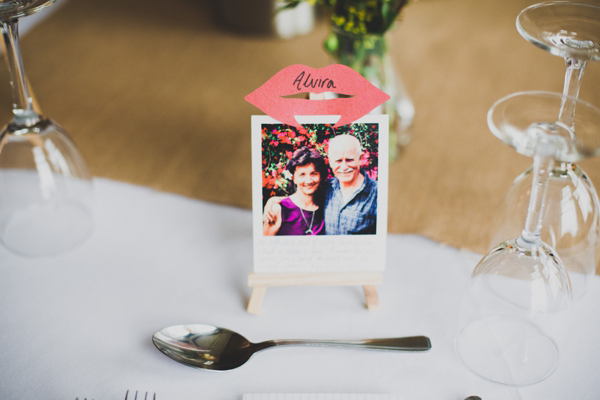 "One of my close friends, Lucy Adela-Smith, is a very talented Art Director so when she kindly offered to design all our stationery as our wedding gift we jumped at the chance! We wanted something very personal and liked the idea of having a time line of our relationship for the invitation. Other than that we were open to design ideas which Lucy says made her life a lot easier. Her work is beautiful and we know each other well enough for me to trust her completely and she didn't disappoint. S
he did a fabulous job and the design fitted our day perfectly. She incorporated the billy ball flower and carried this through on everything from the invitation and order of service to the seating plan and table numbers. Everything looked great!"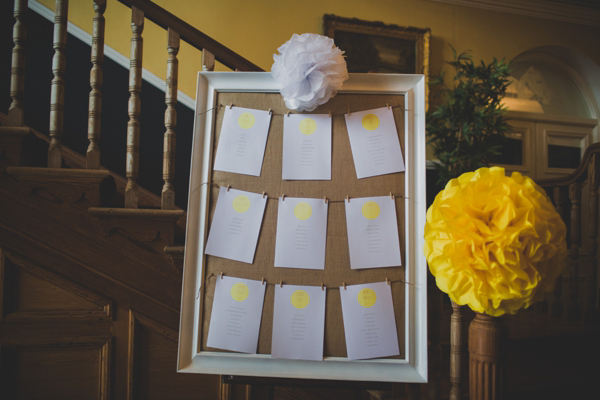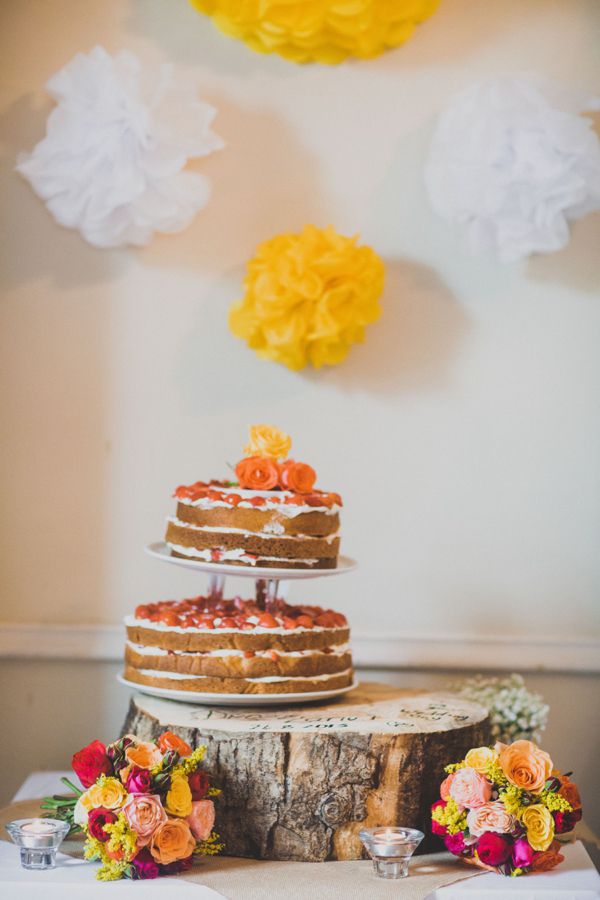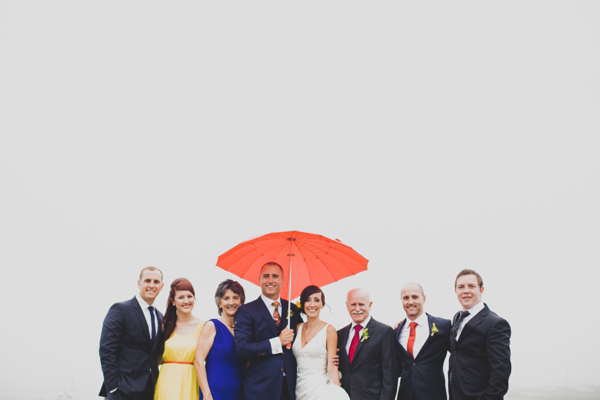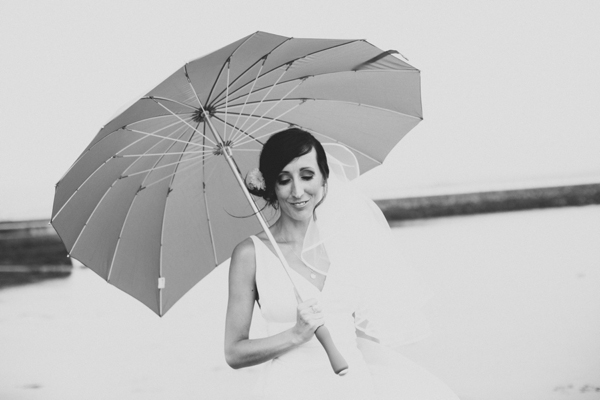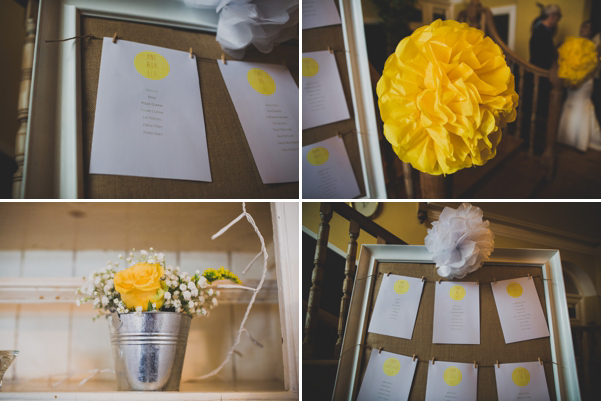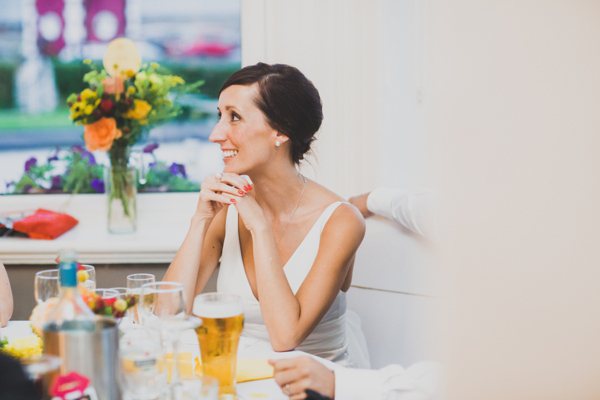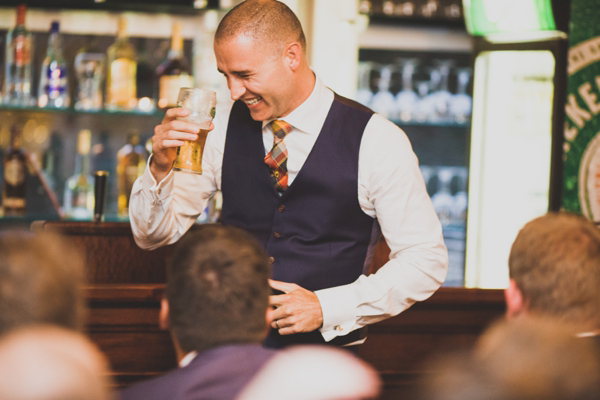 "There are many! I enjoyed every second of the day and would re-live it again and again in a heartbeat. Walking into the Church with my sisters and the emotion I felt walking down the isle was incredible. The feeling of holding Zarius's hand at the top of the Church and realising the enormity of what we were about to do and bursting with happiness. The service itself, the Revered, Michael Cavanagh, was absolutely amazing. He had us all laughing one minute and crying the next. I have never experienced anything like it. He did the most wonderful job."
The readings and how personal they were. The speeches, the emotion in the room, Zarius was incredible and took my breath away. The feeling of being one. The warmth and love of each and every person there was overwhelming at times. I felt like the luckiest girl alive. The first dance, and the second dance later in the night when everyone cleared the floor again and we danced to Hold Me by Tom Odell. The day exceeded any expectation we had. If we did it all over again we wouldn't change one thing. Not even the weather!"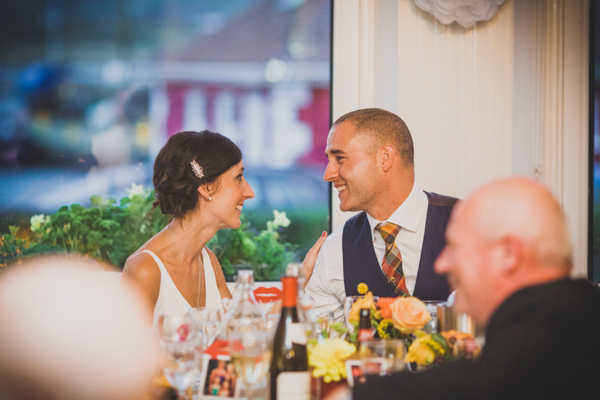 "We both wanted live music on the day and ideally wanted to incorporate some Irish music if we could. The Royal Valentia recommended some local girls who perform in their bar occasionally and they played during the reception. They went down a storm and did an amazing job. In the evening we had a band to kick off the night, Renovator Band
, who were absolutely brilliant. The South Africans are big into a specific type of dance, it's called Long Arm, which is like a very fast paced waltz and the dance floor was full for the whole night. By the end of the night everyone was having a go!
Our first dance was to Ho Hey by the Lumineers. We decided on it while we were at the house of friends late one Saturday night dancing round their sitting room! When this came on Zarius took me in his arms for a Long Arm and we knew it was the song we wanted to dance to. Zarius always teased me that I could never let him lead but for the first time it all worked perfectly and he glided me around the dance floor seamlessly. Even now when I think of it now I break into a massive smile!"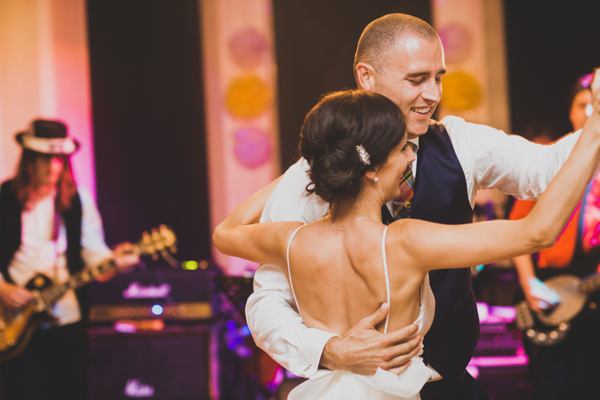 Words of Wedded Wisdom…
"If you hire professionals let them do their job! Also find people you trust and who understand you and then don't worry about it. We tried to give people freedom and it made their lives easier and definitely ours! Don't get caught up in the small stuff. Our attitude was, if there's enough food and drink for people they won't worry about anything else!
And if you can, do get a wedding planner. It's like a massive weight being lifted off your shoulders. We hired wedding planner and stylist Annie Byrne of Aislinn Events – it was the best decision we made! Annie Byrne of Aislinn Events. We didn't know anything about budgeting and planning for a wedding or etiquette about certain things and it was great to have someone to turn too.  And also on the day we didn't have to think about who should be where and when and who needed to be paid etc. A wedding planner is like the invisible thread that pulls it altogether."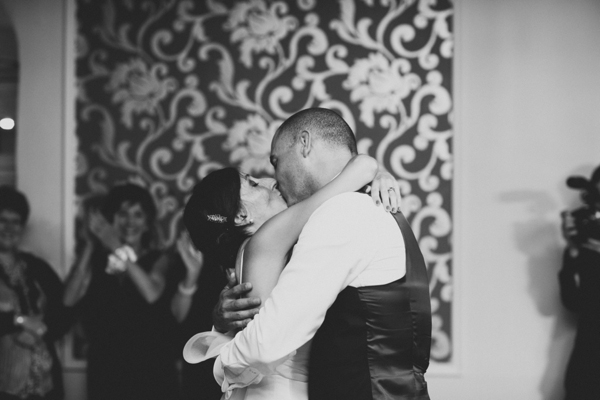 What a gorgeous gorgeous day! Huge congratulations to you both Dee and Zarius – I hope your first year of marriage is treating you very well.
Huge thanks to photographer Jonny MP for once again sharing his wonderful wedding photography.  There are lots more weddings with colour bursts of yellow if you'd like to see them here – enjoy folks!
Have a lovely evening,
Annabel
Photographer – Jonny MP
Film Production – Steven Hall Video
Wedding Planner/Stylist – Annie Byrne of Aislinn Events
Venue + Catering – The Royal Valentia Hotel, Knightstown, Valentia Island, Co. Kerry, Ireland
Brides Dress – Mikaella 1562, via Exquisite Bridal Couture
Brides Veil – A ribbon edge veil also purchased with the dress
Brides Shoes – 'Carmen' via Love Art Wear Art
Groom – Suit Supply + Ralph Lauren tie + vintage tie pin via Pop Boutique + Jones Bootmaker
Bridemaid Karen – House of Fraser dress + shawl she made herself  + Kurt Geiger red stilettos
Bridesmaid 
Paula – yellow/gold spotted dress + platforms by J by Jasper Conran
Bridesmaids – Niamh + Anneri – own dresses
Sarah and Amy – Debenhams dresses + H&M gold ballerinaFlowergirls –
Florist – Every Occasion Florist
Entertainment – Renovator The Band
Favours – Polargram photos + lip+moustache name cards via EBay
Rings – The Antique Jewellery Company in Grays Antiques market
Stationery – The couple's friend Ludy
Hair Stylist – Marianne O'Shea
Make-up Artist – Eileen Goodman
Follow Love My Dress® on Google+