Good morning you – I hope you had the most lovely relaxing weekend.   If you're back at the grindstone this morning, feel better about it that we are here to inspire you with all things beautiful this week, starting with the very elegant wedding of two classically trained musicians. Juliette, who plays the flute, and Tristan, who plays the violin, tied the knot on Thursday 27th June last year at Eshott Hall in Northumberland.
I love the subtle 1920's Gatsby vibe to this wedding – a hint of vintage without being too much and  lots of rather timeless elegant style that will look as amazing in years to come as it does in these photographs today.
"We didn't really want to have a themed wedding as such because we wanted it to remain personal, but we felt having a 'vintage' twist to the day would enable us to unify all of those decisions that one has to make, and this was reaffirmed after I had found my dress!
It's difficult to pinpoint a favourite part of the day because there were so many beautiful aspects. I think what we will always remember is a day when we just couldn't stop smiling and loved every minute of!"
Photography Copyright (c) 2013, Julie Tinton
"Tristan and I met through our work, playing classical music together. We had been going out for a couple of years before Tristan proposed, during a romantic weekend away in the Lake District, and we decided to plan our wedding for the following summer, one year later.
When we started talking about our wedding day we kept saying we didn't want it to be too 'weddingy' or formal, but wanted to keep it fairly relaxed and above all, personal. We decided to hold it all in one venue, with an intimate civil ceremony for close family and friends and then a larger evening party. We were also keen to find a venue that could be exclusively ours, hopefully feeling like our very own country house and not at all corporate in anyway."
"We wanted to get married in Northumberland, both because it's near to Edinburgh and Newcastle (where we work/live) and also just because we really love the area with its beautiful countryside and coastline.
We looked at lots of lovely venues in the area but as soon as we drove through the gates to Eshott Hall and saw the wisteria covered house, set in gorgeous grounds with beautiful woodland and red squirrels running about, we knew it was the one for us! It's not too big so was perfect for having a smaller, more intimate ceremony and meal, followed by a larger evening reception.  The staff are all so friendly and helpful, nothing was too much trouble or 'not possible' and they all seemed to genuinely want to make our special day wonderful."
"I wore 'Eden' by Jenny Packham in platinum. I bought the dress from The White Room in Sheffield, which I had walked past when I was playing in Sheffield. I knew I would find 'the dress' in there, purely from seeing the gorgeous window display and rows of individual looking gowns, hanging behind – not a meringue in sight!
The owner, Chloe Curry, has created a beautiful, luxurious bridal boutique and makes the whole experience of choosing your wedding dress feel extremely exciting and special! "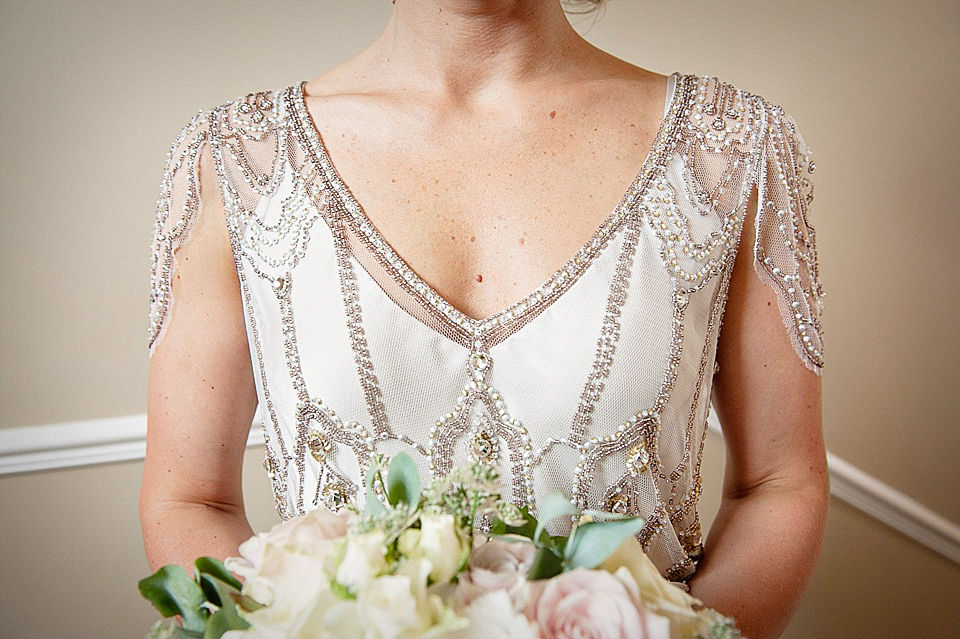 "As soon as my mum and I walked into the shop we both spotted Eden and fell in love! I think it stood out from the other dresses on the rack because of the antique gold beading and it really did feel so special as soon as I put it on! I just love the sophisticated vintage glamour of the dress, yet it still feels beautifully feminine and bridal with its cut and floating fabric."
"I did my own make up, using Bobbi Brown products, following a bridal consultation in store. I had been planning on doing my hair myself too, but at the last minute had a slight panic about this and was lucky enough to find hair stylist Lindsey Mathieson from Hair at Home in Newcastle who put my hair up in a lovely relaxed vintage style!"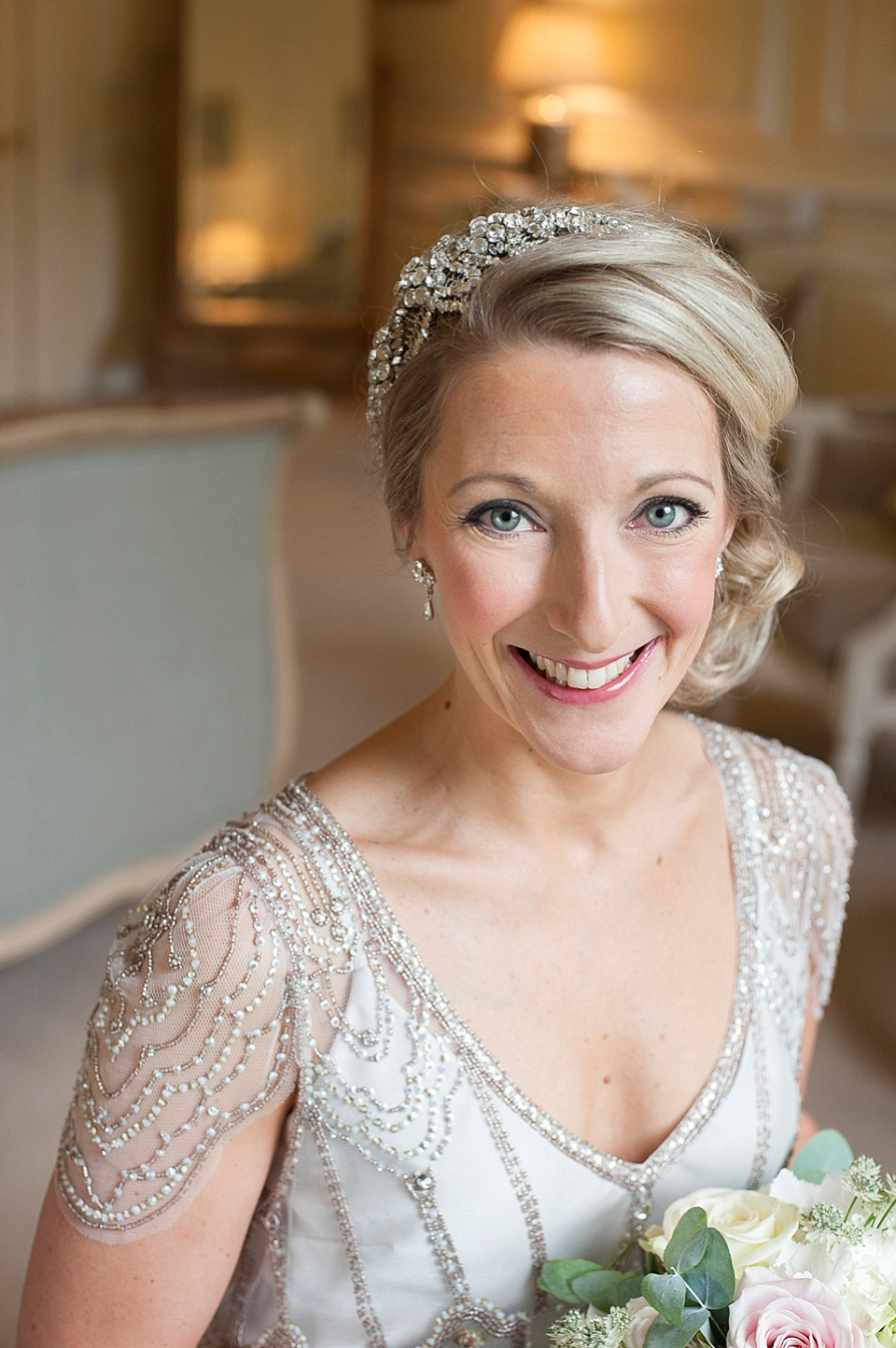 "We used Fern Florists from Northumberland and Jane and Julie were wonderfully patient with us during our consultation, and created absolutely beautiful flower arrangements and bouquets. We opted for long stemmed, loose tied bouquets for both the bride and bridesmaid, in ivory, white, soft pink and silvery shades, which included white hydrangea, soft pink Sweet Avalanche roses, ivory Avalanche roses, ivory Snowflake spray roses and white astrantia, with Cineria eucalyptus scattered throughout and wrapped with vintage lace."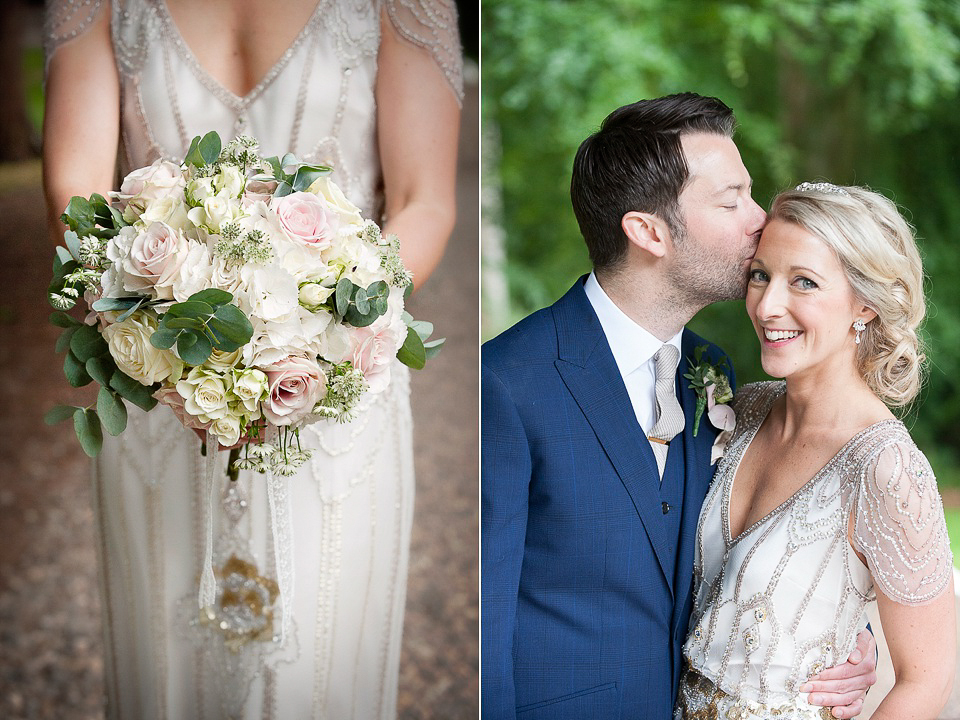 ""For the buttonholes there was a cluster of small flowers which included white astrantia, ivory rosebuds and a little fine leaf eucalyptus"
"The table arrangements also doubled as ceremony displays. On the top table we had a long design along the front with white hydrangea heads, white astrantia and an abundance of cineria and fine leaf eucalyptus, and in the centre of each round table we had a vintage glass cake stand with a loose, informal design containing white hydrangeas, white scented stocks, "Sweet Avalanche" roses, "Avalanche" roses, green amaranthus, white astrantia and cineria eucalyptus."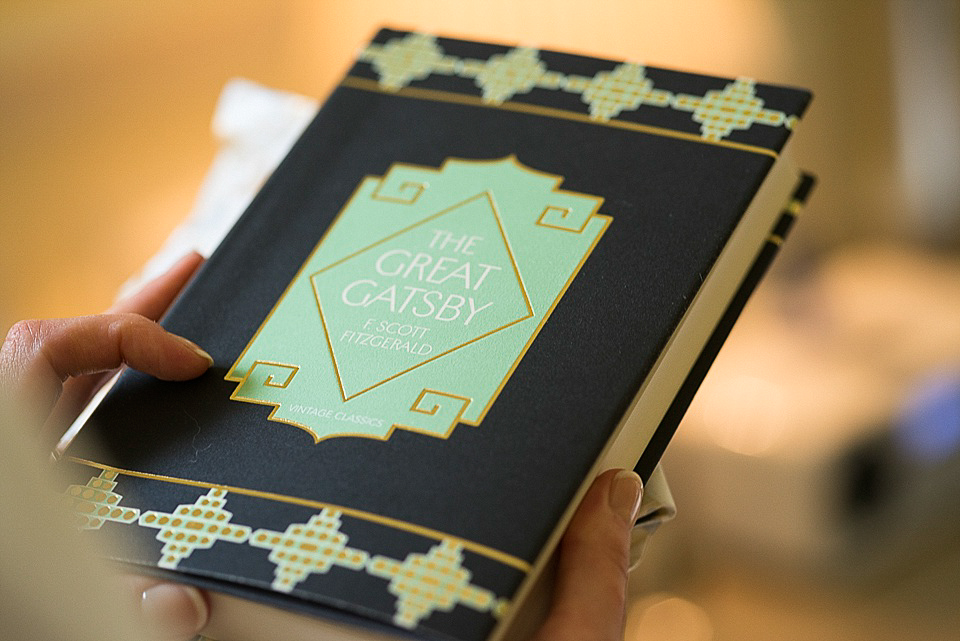 Juliette wore the Acacia II headpiece design by Jenny Packham and gold 'Ginger' (named after Ginger Rogers) shoes by Rachel Simpson.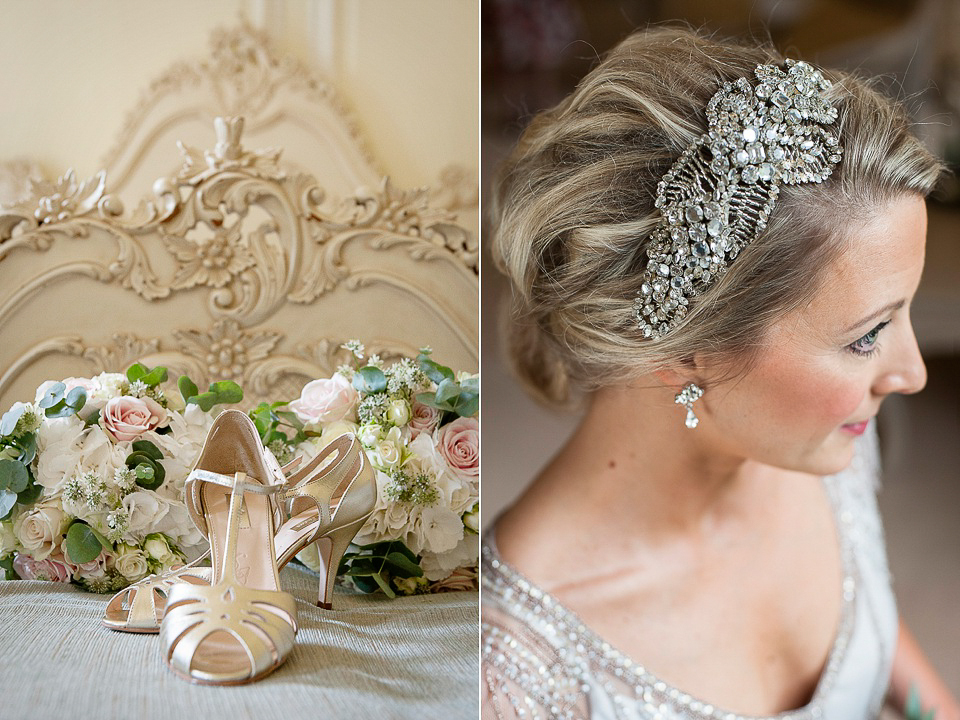 "My beautiful sister, Jemma, was my only bridesmaid and wore a vintage 'flapper' style beaded dress from Jigsaw in an oyster/pearl colour. Jemma spotted this in London, it was a very lucky find as it matched my dress perfectly because of the beading and its colour!"
"My mum made the wedding cake, with help from my sister, on the morning of the wedding!.. We didn't want the cake to be too formal looking or traditional and so went for a three-tiered Victoria sponge with buttercream icing and strawberries. It was delicious!! We also had a four-tiered cake of local cheeses for the evening party."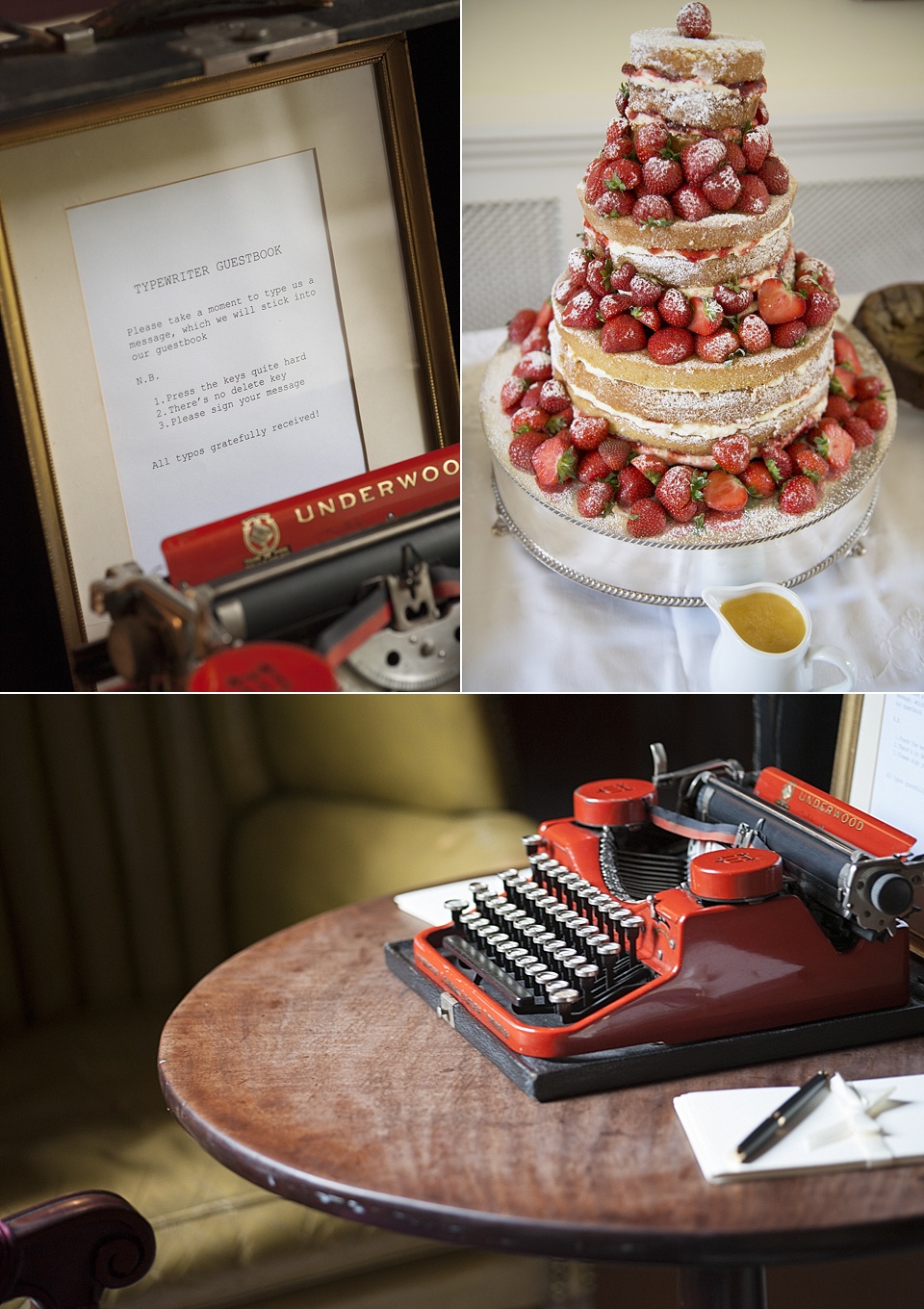 "In the daytime we just enjoyed the beautiful classic décor of Eshott Hall, only adding the gorgeous flower-arrangements. It was in the evening that we went all out adding extra props to create a 1920's influenced party! We transformed the ballroom using fairy-lights, extra candles, vintage-style props and extra furniture, including chaise-longues to create more of a lounge feel and extra ambience.
I made 1920's style headbands with vintage brooches and ostrich feathers for the female guests and we created two signature cocktails to serve at the bar, Tristan's Tonic and Juliette's Golden Flute! We hired champagne coupe glasses, vintage cups and saucers, and borrowed a vintage typewriter for guests to leave a typed message. We also had a brilliant vintage photo-booth, set up in the library, with a handmade antique wooden box camera prop, with tripod and cape, created by my brother, Jonathan, a professional set-designer.
We also hired the incredible Charleston Charlies, who played roaring 1920/30s music. I can't recommend them highly enough to anyone looking for this type of band, they really were brilliant!"
We found Julie Tinton whilst researching photographers on the Internet and were grabbed by the life and energy in her pictures, and the wonderful colour and vibrancy. We are absolutely thrilled with the results, Julie has an amazing eye and talent for creating beautiful shots, and has captured the atmosphere of the day perfectly!
We are so thrilled that we have these amazing photographs to help us remember the details and excitement of our special day."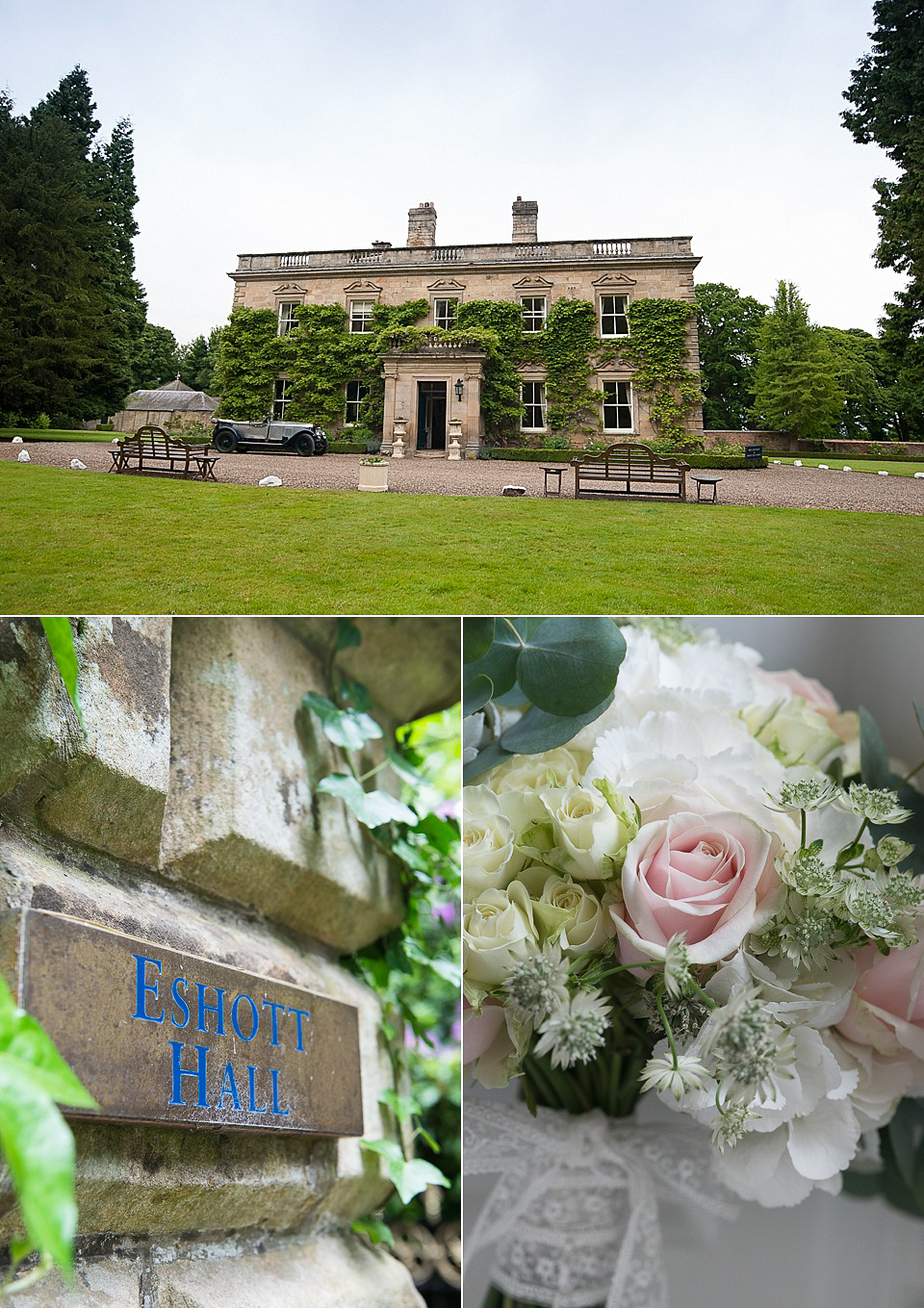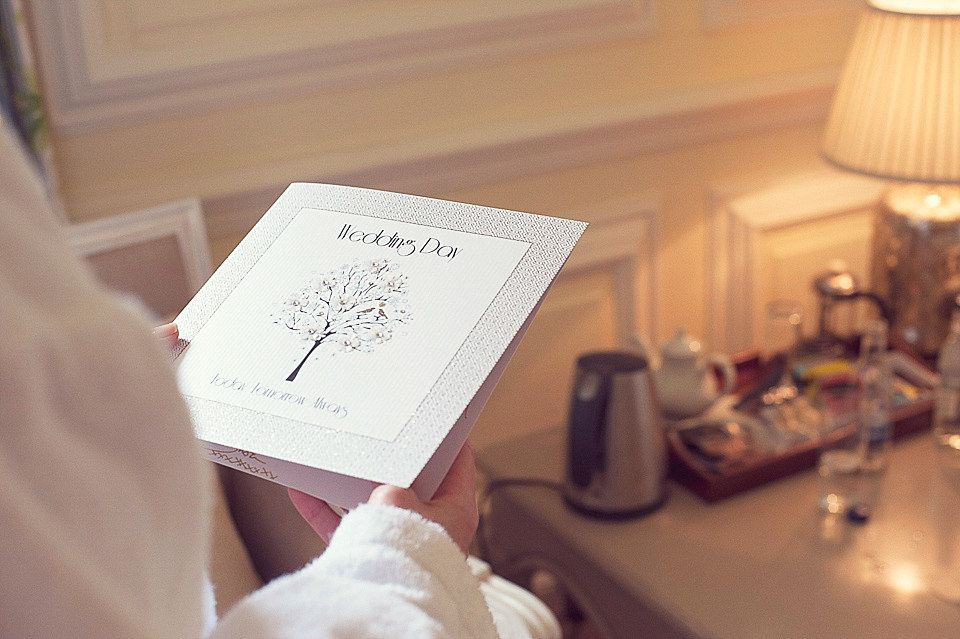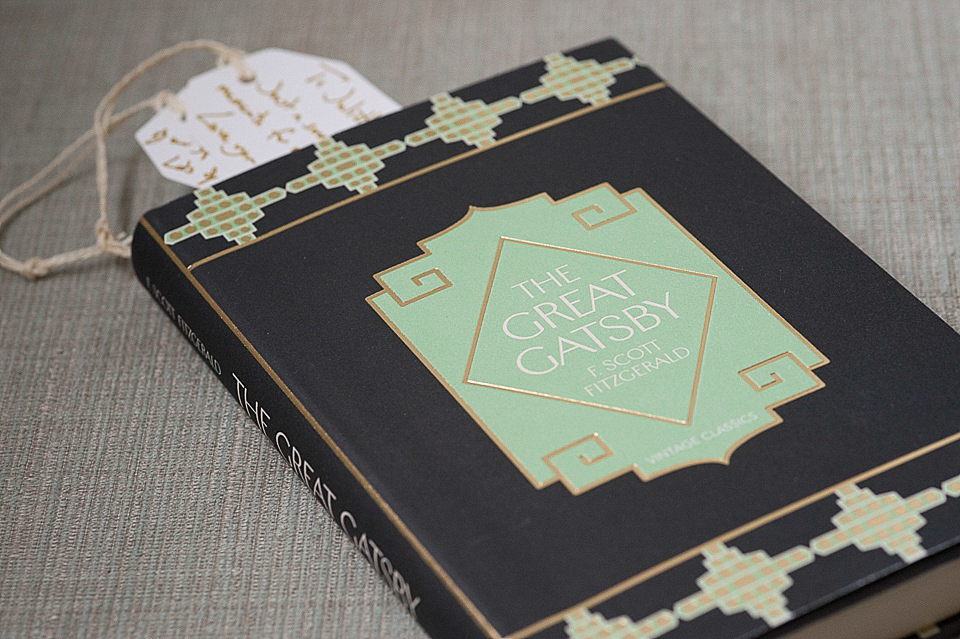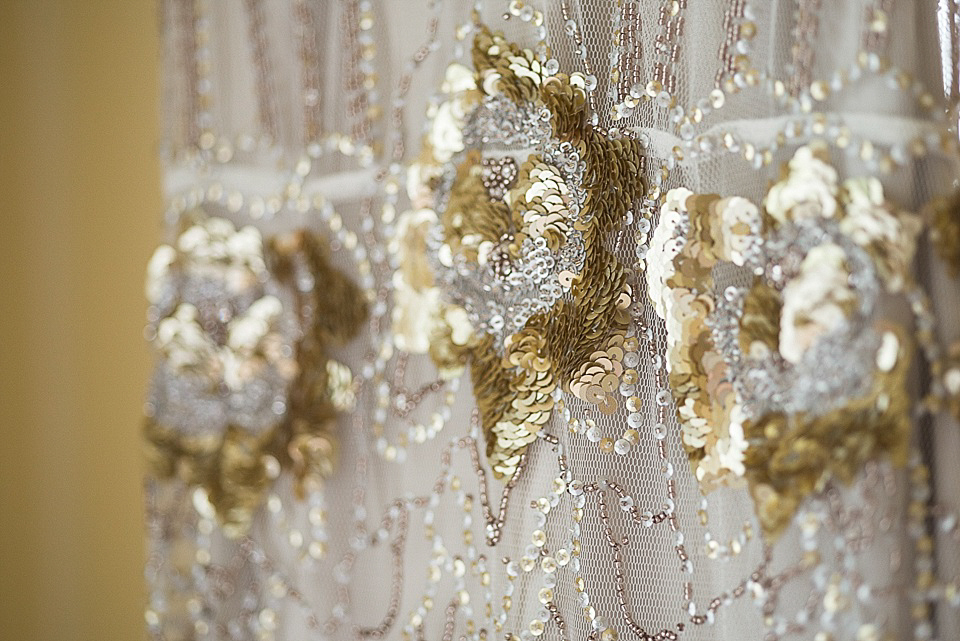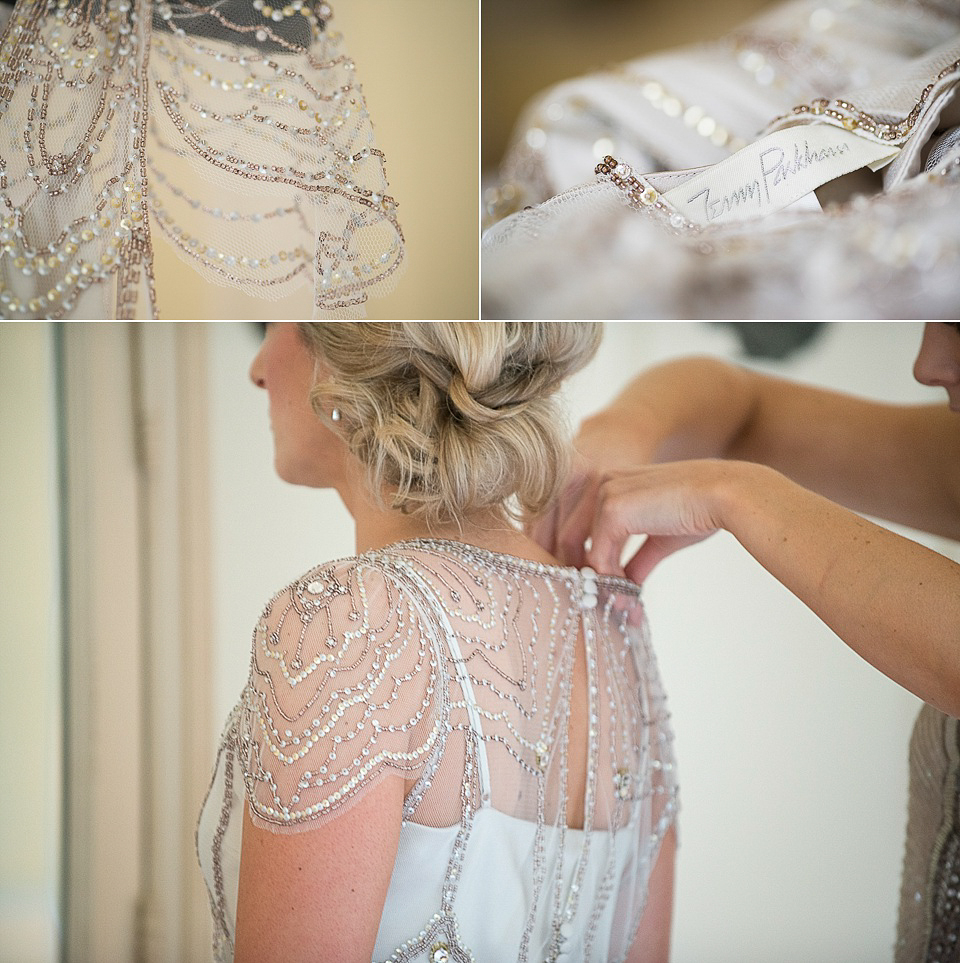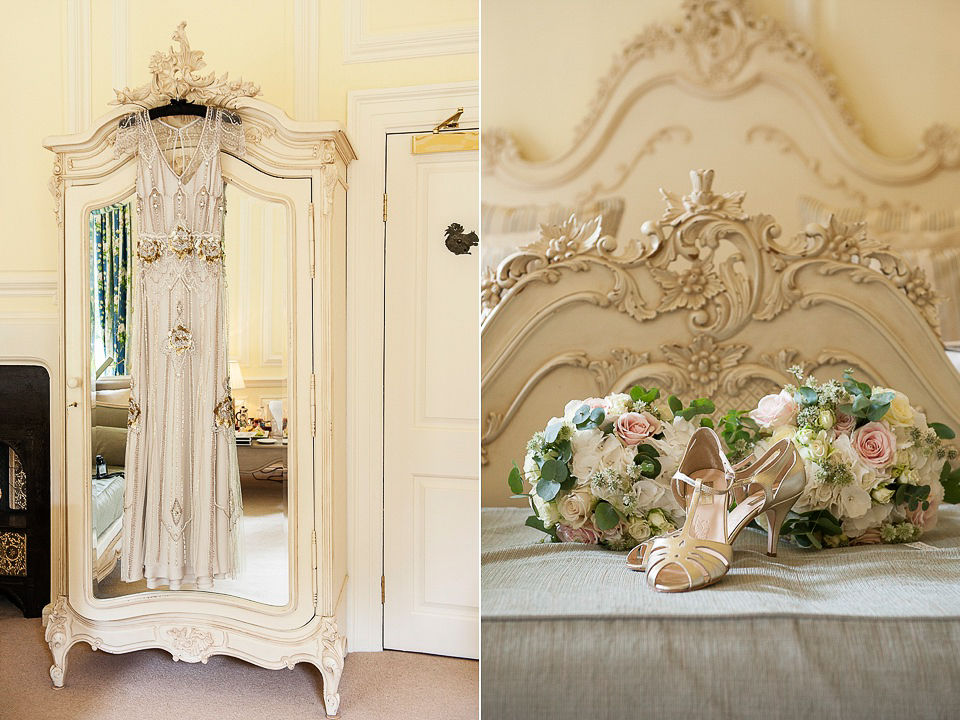 "Tristan wore a three-piece suit from Reiss in navy with a subtle check running through it, which he had tailored in store.  He also wore black Paul Smith shoes, a silk tie from Reiss and antique gold cufflinks.
Tristan's best friend from his school days, Paul, was his best man and gave a very warm, heartfelt yet funny speech which had the room in fits of laughter!"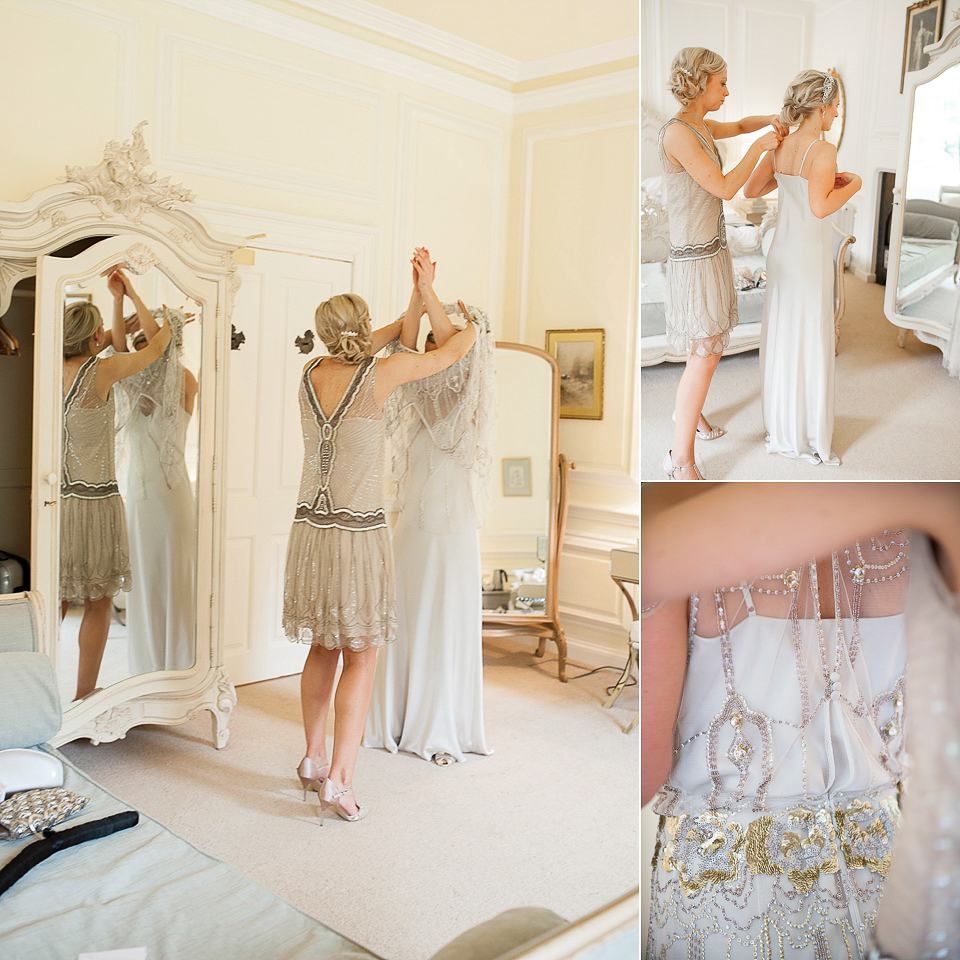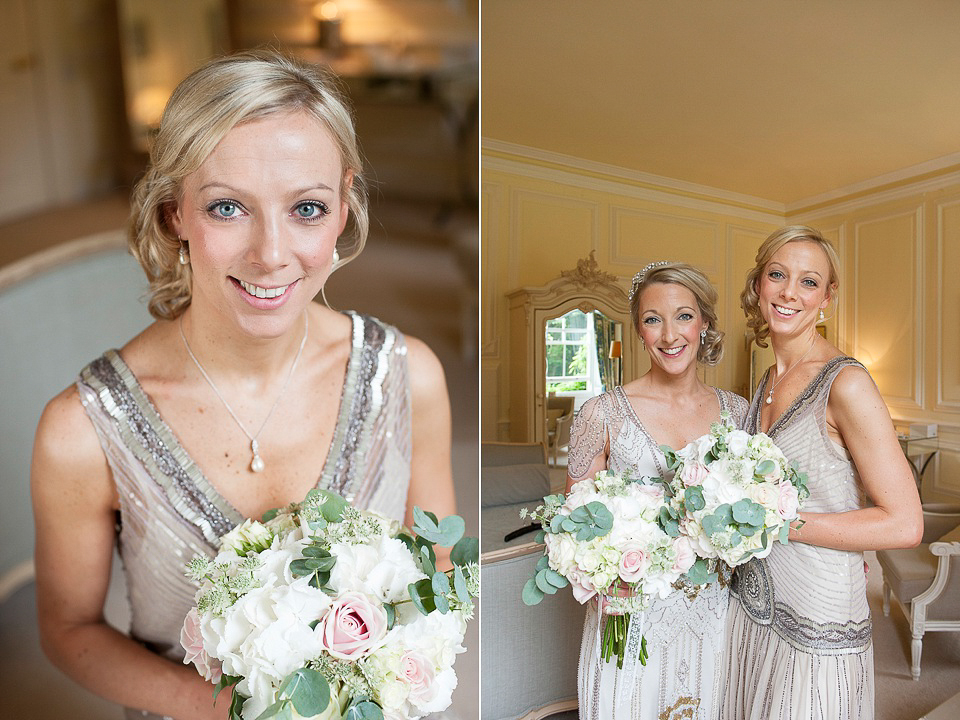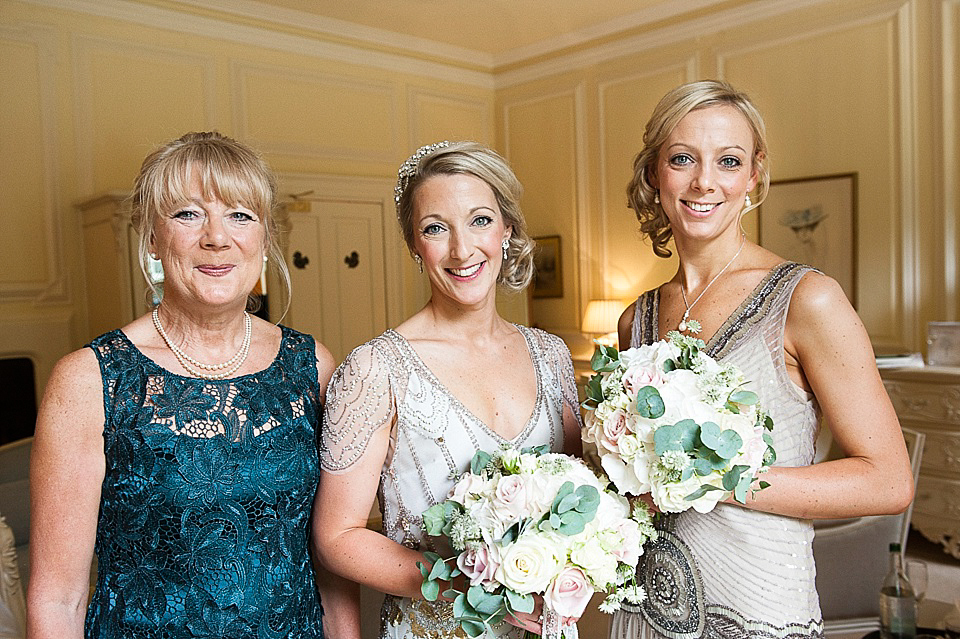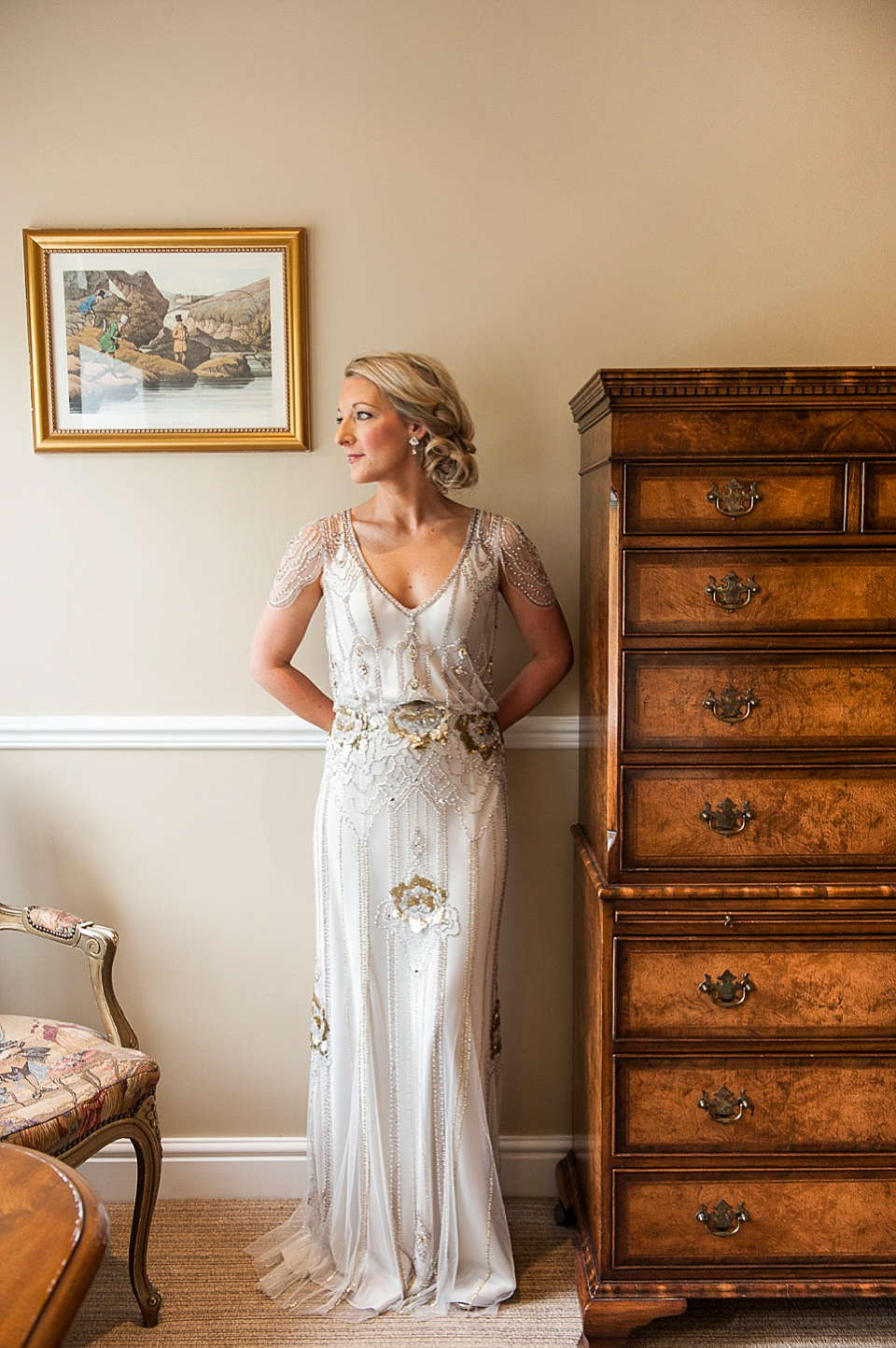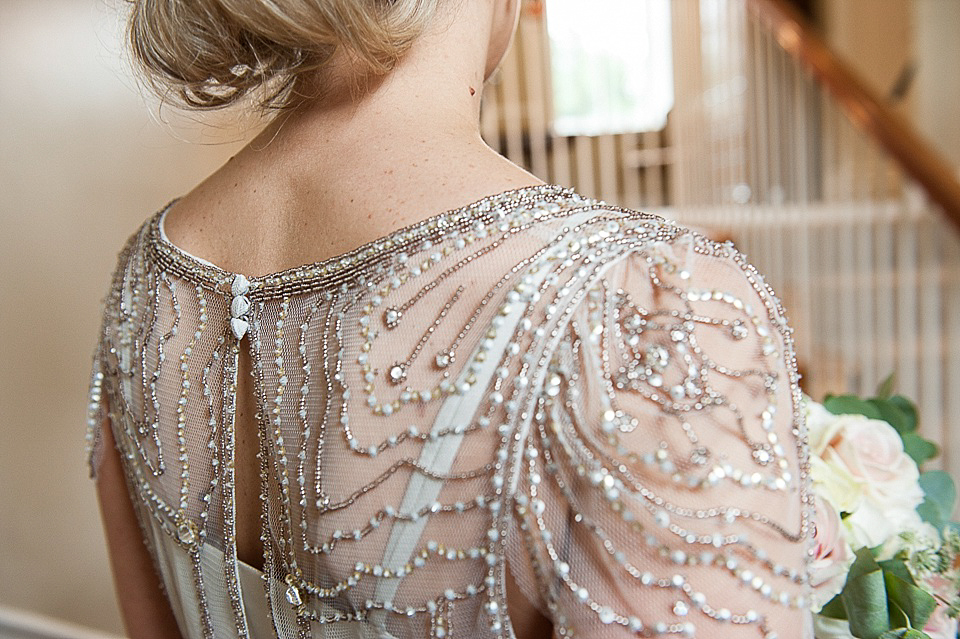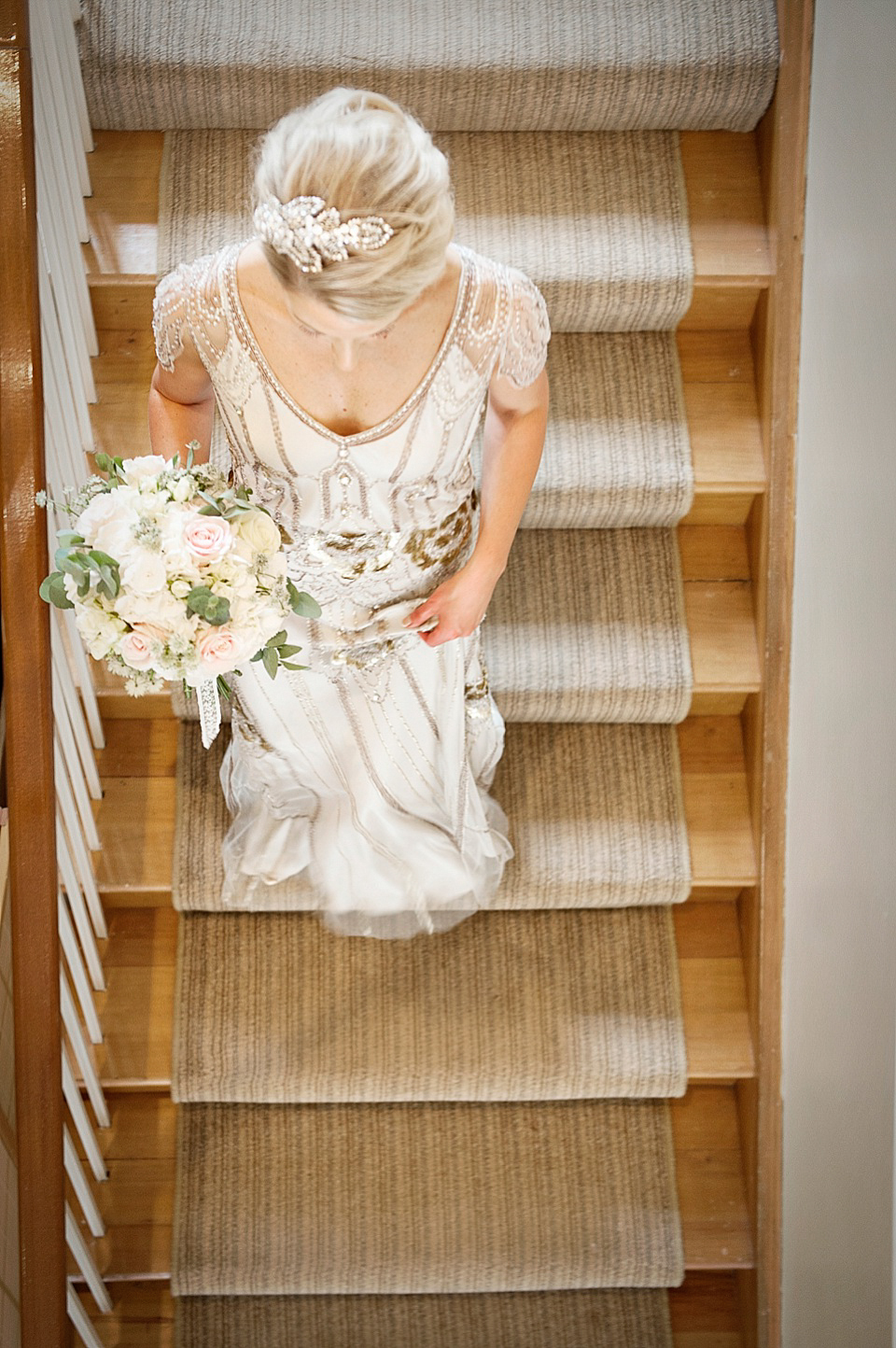 "My platinum wedding ring is a very delicate, scalloped, diamond band, which is from the same shop as my engagement ring (a diamond solitaire with diamond set shoulders), Lucie Campbell in London. Tristan's classic 4mm band from Heming Jewellers of London is also made of platinum. We both went for fairly thin ring widths because of having to have good dexterity in our fingers for playing our instruments!"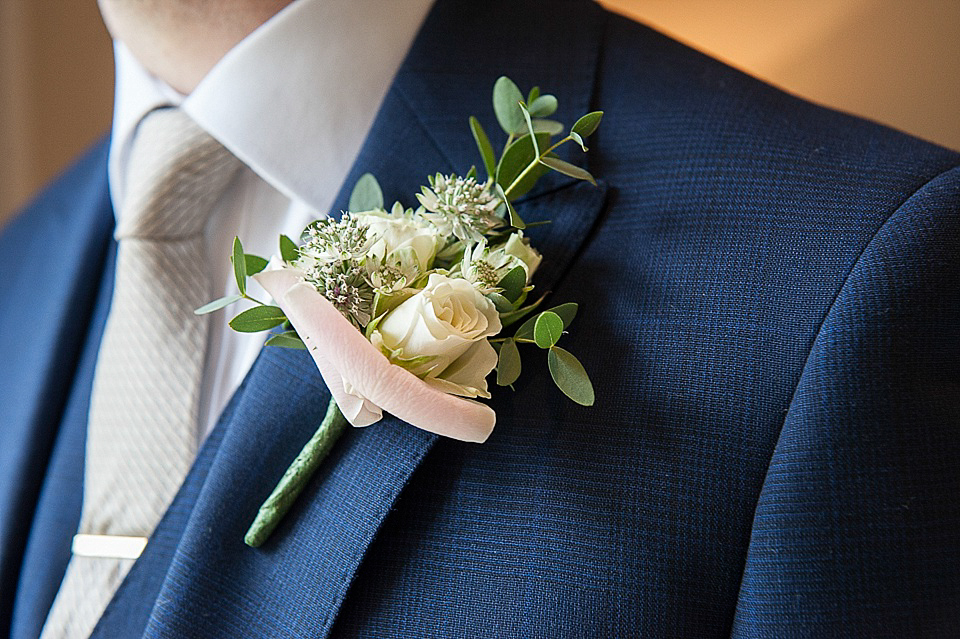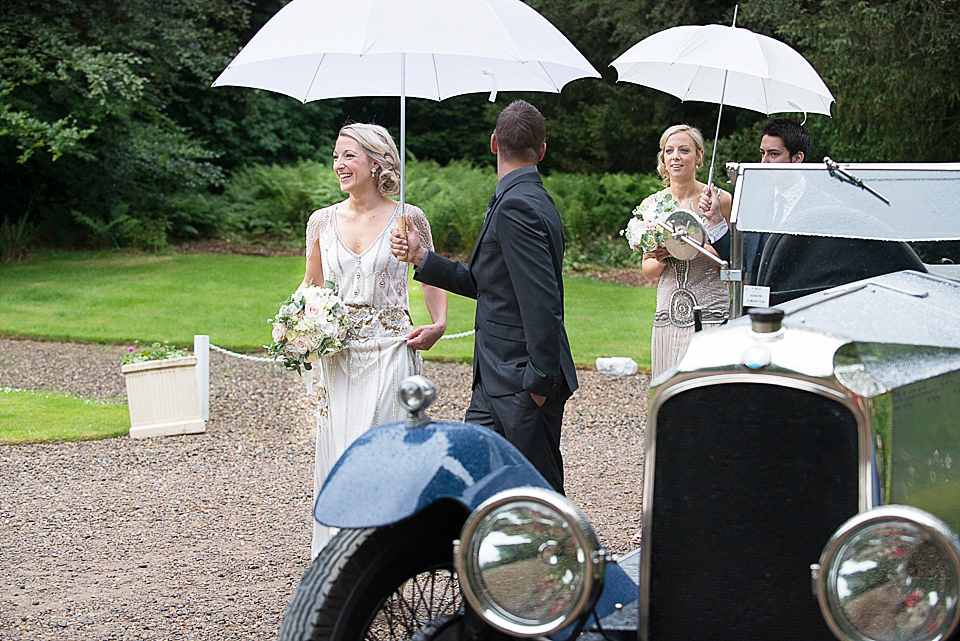 "I walked alone down the aisle but my brother, Jonathan, gave a lovely 'big brother' speech, welcoming Tristan to our family."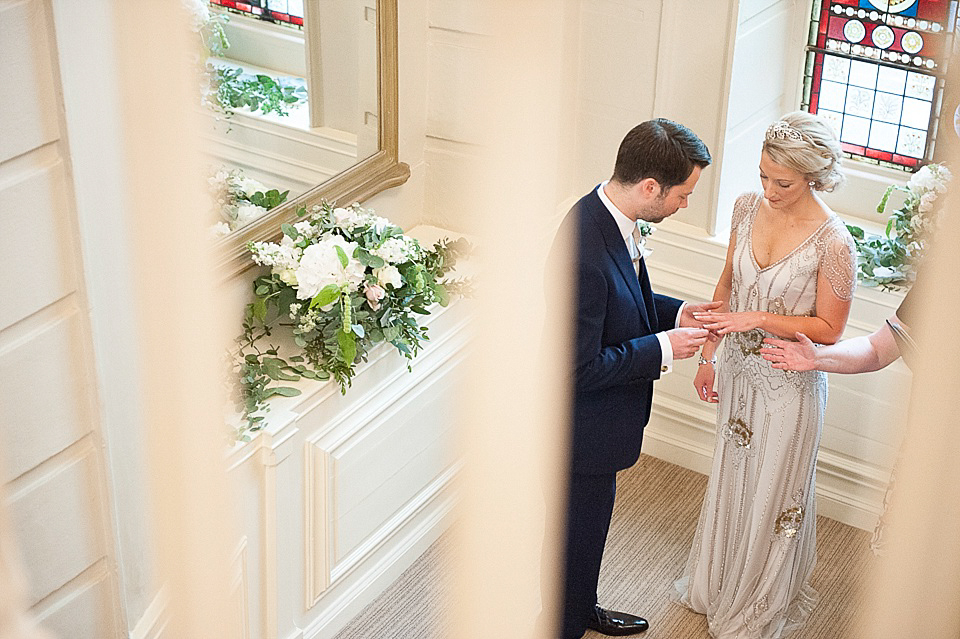 "As we are both musicians the music was obviously a particularly important part of our day and we spent a lot of time thinking about it and arranging pieces! We chose to include String Quintets by Mozart and Mendelssohn that we feel are particularly sunny, happy works! We are extremely grateful to some of our incredibly talented close friends and colleagues who offered to play for our ceremony. Rather than just having the music in the background we wanted to ensure everyone could hear and appreciate it, so we had a short 'Prelude' to set the scene before the ceremony began, with the 1st Movement of Mozart's String Quintet in C major, K.515, and then the Entrance of the Bride was an arrangement of Mendelssohn's beautiful 'Nocturne from A Midsummer Night's Dream'.
During the signing of the registrar they played the 1st movement of the Mendelssohn String Quintet in A major op 18, and we were able to sit back and just enjoy the music, it was a moment that will stick in our memories forever. The recessional was the last movement of Mozart String Quintet
in C Major K. 515, a lively Allegro."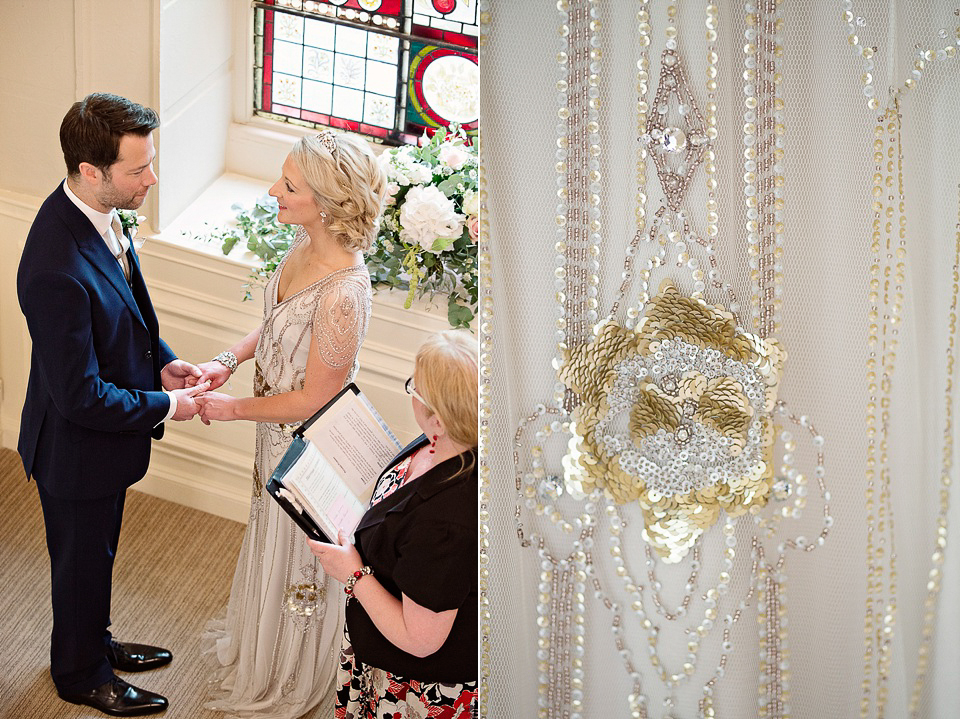 "When we chose to have a civil ceremony our only concern was that, what is essentially the most important part of the wedding day, can sometimes seem to pass by in a flash and with little in the way of ceremony! We spent time to tailor classic vows to fit our personalities and dreams, creating our own heartfelt 'Personal Promises', which made them feel particularly intimate and special."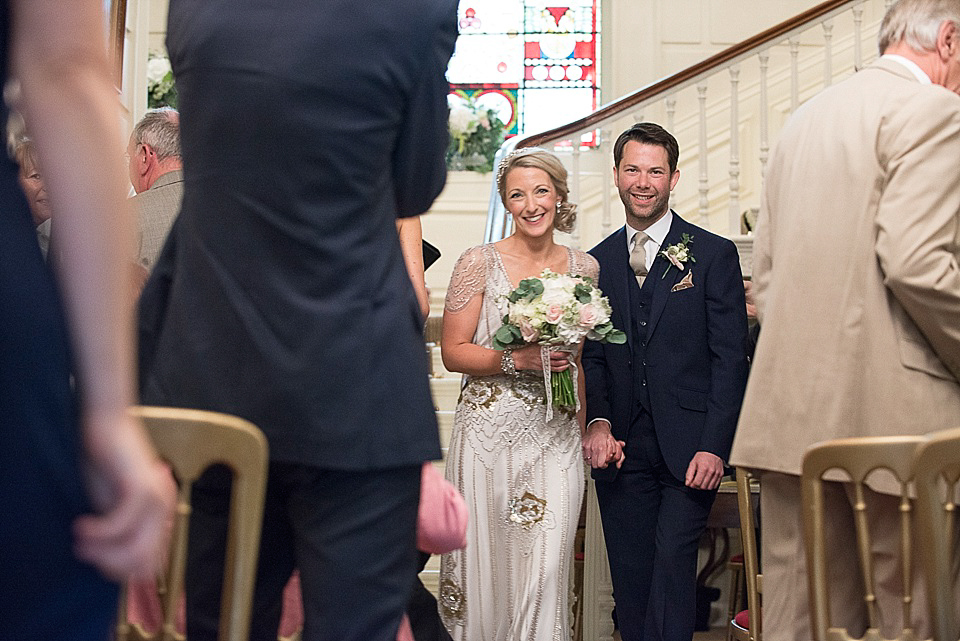 "We chose to include two readings by William Shakespeare in the ceremony, An extract from 'Love's Labours Lost' (But love, first learned in a lady's eyes, Lives not alone immured in the brain… Subtle as Sphinx; as sweet and musical as bright Apollo's lute, strung with his hair…) read by my brother, Jonathan and then Sonnet No. 116 (Let me not to the marriage of true minds admit impediments), read by Tristan's brother, Edmund.
We kept returning to William Shakespeare's beautifully phrased writing when we were looking for readings and finally decided to stick with our initial choices, which also work together nicely with Mendelssohn's 'Nocturne from A Midsummer Night's Dream'!"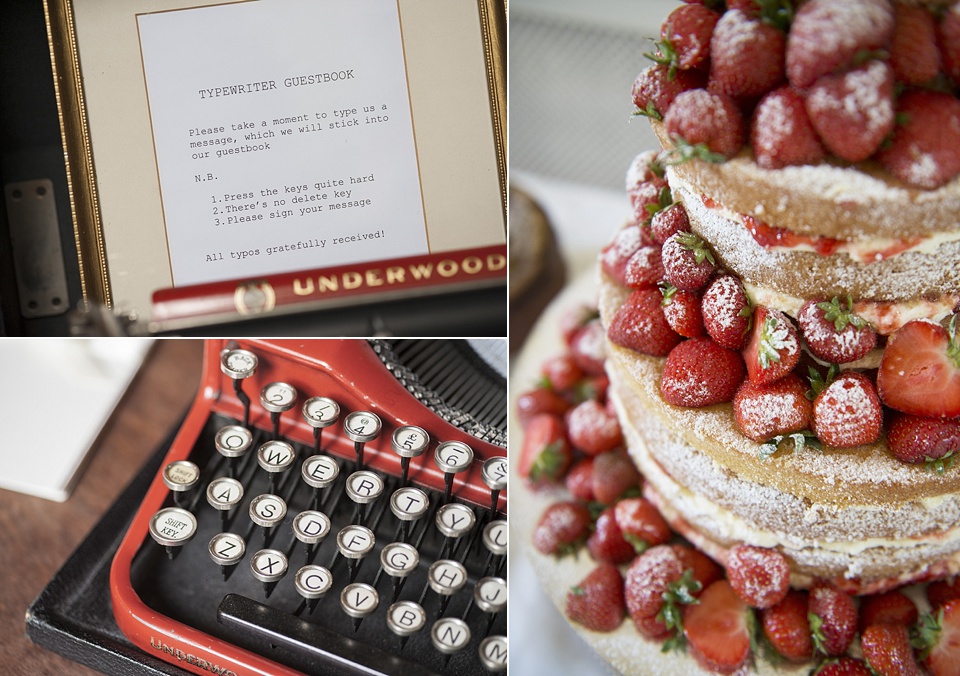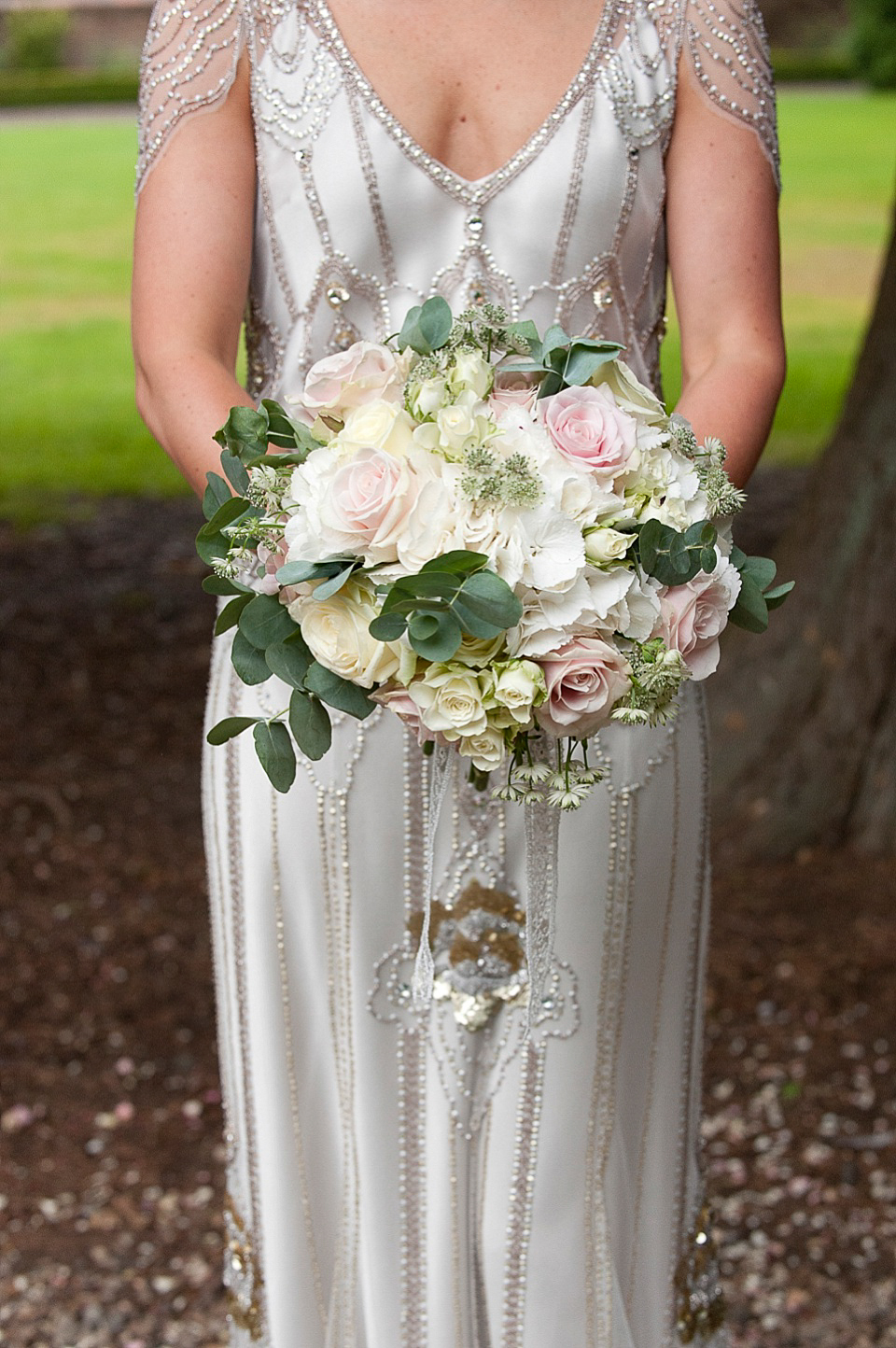 "We didn't need to leave Eshott Hall at any point in the day since both the ceremony and evening party were at the venue, but my stepfather came in his beautifully restored vintage Vauxhall 3098, which created a wonderful 1920s feature parked in front of the house!"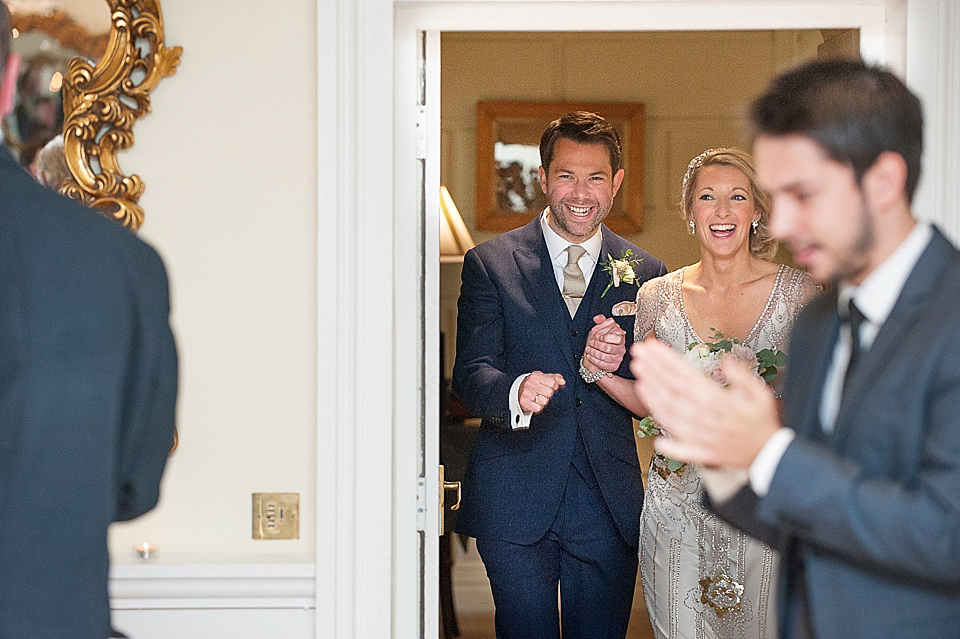 "Eshott Hall's award winning Head Chef, Chris Wood and his team provided delicious menus of locally sourced, seasonal produce with vegetables from the hall's garden! We also had a separate buffet style dessert table, with some amazing treats made by friends and relatives, which added a lovely personal touch to the meal."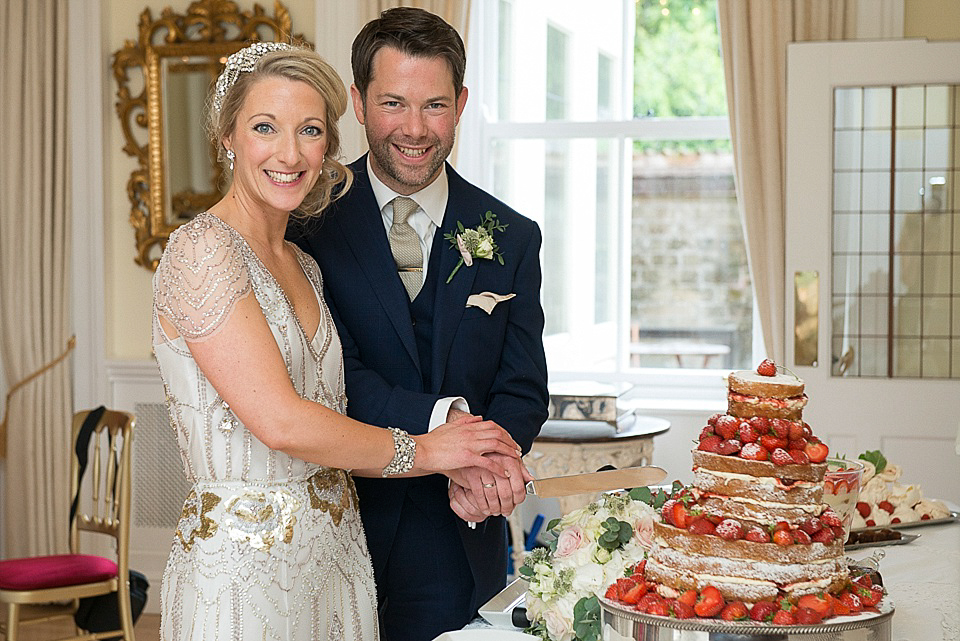 Words of Wedded Wisdom…
Keep as many details of your wedding as personal as possible, as it is these small touches that we remember so fondly, but also remember that once it comes to the big day, whatever happens it will be amazing so relax and enjoy it!
We would probably have allowed more time for each part of the day because everything took a bit longer than we had planned and so by the time the evening guests arrived we were running pretty late!
We decided not to have wedding favours, but provided all the young children with goody bags full of things to keep them entertained, including stickers, colouring books, wedding trivia etc. This seemed to work well as many of our close friends now have families and it was lovely to be able to have them there with us.
I spent many an hour looking at wedding blogs on the Internet in the run up to our wedding, which i found not only cheaper but more informative than most bridal magazines. I particularly enjoyed reading' Love My Dress', which I had saved to my bookmark bar! It is amazing to be able to find so much inspiration in one place and I really enjoyed reading about other people's days and looking at all the gorgeous pictures!  I loved being able to search for articles on particular areas of the wedding and how up to date the site is with designers and wedding trends. I also like the fact that it covers all budgets and types of weddings and makes them all look amazing!"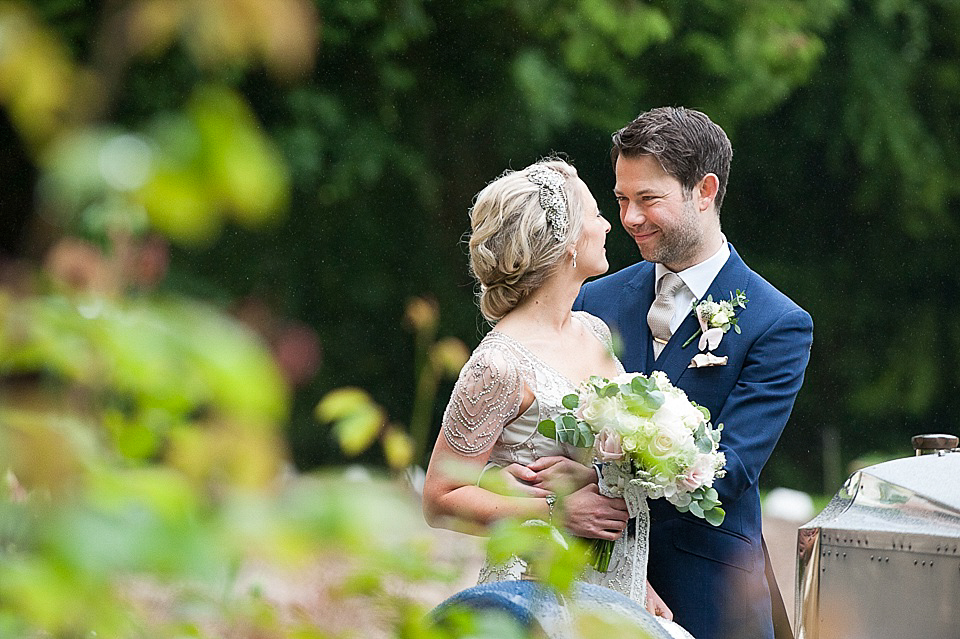 A beautiful day indeed, so classically elegant.  The Eden gown by Jenny Packham will always be one of my very favourite wedding dresses for it's exquisite embellishment, and Juliette it looks as though this gown was made for you.
Thank you so much to photographer Julie Tinton for sharing her beautiful wedding photographs today.
Love Annabel
Photographer Julie Tinton | Venue Eshott Hall Northumberland | Wedding Dress Eden by Jenny Packham via the White Room in Sheffield | Headpiece Acacia II by Packham via Elegant Wedding Creations | Shoes Ginger by Rachel Simpson | Accessories Jenny Packham earrings | Grooms suit Reiss + Paul Smith shoes | Bridesmaids Jigsaw | Florist Fern Florists | Entertainment Charleston Charlies | Rings Lucie Campbell | Stationery Rachel Koo Design | Hair Stylist Hair at Home
Follow Love My Dress® on Google+