Annabel and I love sharing the very best wedding suppliers with our readers, but it feels even more special when we have the opportunity to shout about a brand we've had firsthand experience of. Last summer, two of my best friends were married and I was lucky enough to accessorise my carefully planned outfit with a bespoke, handcrafted couture accessory by Lila.
The brand won a place in my heart forever and it is without hesitation that I recommend them to you today. Having worn a Lila original to the Style Me Vintage Weddings book launch last year, Annabel also shares my enthusiasm.
Best known for their intricate floral headpieces and with work that stands out for its exceptional craftsmanship, original design and artistic flair, the Lila signature style is elegantly feminine. The flowers used in their designs are handcrafted from a clay that becomes lighter and slightly soft when it dries.
Making the flowers is a lengthy and highly skilled process with every petal sculpted by hand – they do not use cutters, stencils and other such tools – and they create their own colours too. Each flower is totally unique.
Alongside their floral designs, Lila's new collection includes some striking pieces made with crystals, pearls and gemstones. These designs are just as original and lovingly handcrafted, but with an added sense of luxury and sophistication.
Sofia, the Designer and Creative Director of Lila, comes from a family with a very long tradition in craftsmanship.
'My grandmother, Sofia, was embroiderer at the Greek Royal Palace in the 1930s. She taught my mum, Lila, and I still hear stories from when, as a little girl, she and grandma would spend their evenings embroidering as they listened to theatre plays on the radio. Mum went on to become interior designer, and consultant, embroiderer and headpiece maker for the official body for the preservation of Greek national costumes and traditions.'
'Her love for beautiful things, elegant design and traditional artistry lead to the opening of her first studio in Athens in 1994 where she created handcrafted wedding and christening accessories. She brought a breath of fresh air to the bridal market and the studio was soon established as a leading, independent, bridal boutique.'
'In 2012, we made an exciting step, launching a new design studio in London, with everything now handmade in Britain. Lila, named after my mother, combines contemporary design with the experience, skill and artistic flair of three generations of craftswomen.'
'I feel there is a lot of history on my shoulders, but I have such love for what I do and I strongly believe that even in this day and age quality, true skill and craftsmanship should be held on to and celebrated. Nothing can compare to a beautifully designed and skilfully handcrafted object that carries character and individuality.'
Sofia's studio is located in the capital, very close to the Tower of London.
'Clients are most welcome to visit by appointment. Alternatively we can discuss all details and accept orders via email or phone. We can also send out colour samples and swatches if required and make the process as enjoyable and special for our long distance clients as we would if you visit us in person. We ship worldwide.'
'I love working with brides. It allows me to engage in a creative process that is truly unique and personal. Call me an old romantic, but I think there is something very touching and sincere about weddings; this public declaration of love and dedication to one another. I find it humbling and inspiring that people I don't even know invite me to be part of something so special to them.''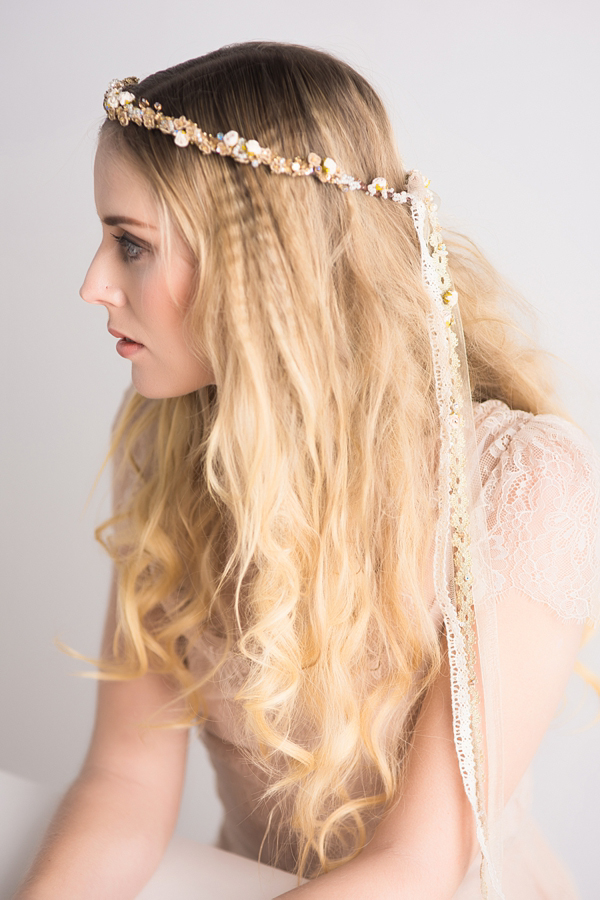 With a background in History of Art, Sofia has spent most of her working life as a curator in a major London art museum.
'Art is the richest source of inspiration for me along with nature. But inspiration can literally come from anywhere; it can be a pattern, a melody, a colour, a scent, a childhood memory. Sometimes ideas hover in my mind for months, until there comes a moment when it all clicks and becomes a tangible design. Other times, I am lead by an interesting material, because of its texture or pattern, how it reflects the light or the feeling it conveys.'
'I am also interested in fashion and its relation to skilled workmanship as it has evolved and influenced design and trends through time. For example, although my floral pieces are contemporary in concept and design, my flowers are sometimes likened to traditional handmade wax flowers and I often draw inspiration from historical pieces of the late 19th century right through to the 1940s-1970s, when bridal headpieces were predominately floral.'
All the Lila bridal headpieces are handcrafted to order. The current collection ranges from £145 to £390 in price, or more depending on the design. However, Sofia primarily works on bespoke commissions guided by a client's requirements and budget.
'I have a little exclusive to share with your readers. I am thrilled and truly honoured to have been approached by the incredible Claire Pettibone herself to design a bespoke collection of headpieces, reflecting the style and delicate, romantic nature of her beautiful gowns. These pieces will be available at the Claire Pettibone flagship salon, 'The Castle', in Los Angeles. Details on this exciting collaboration will be announced shortly.'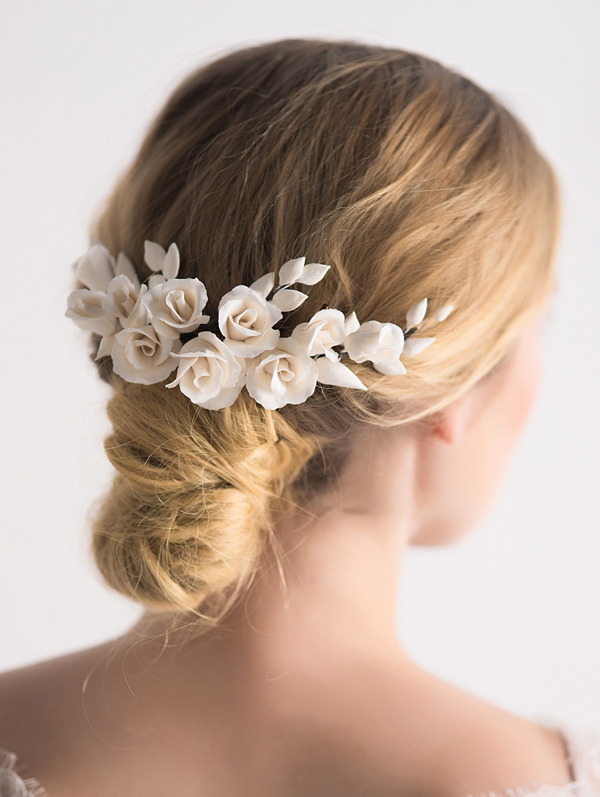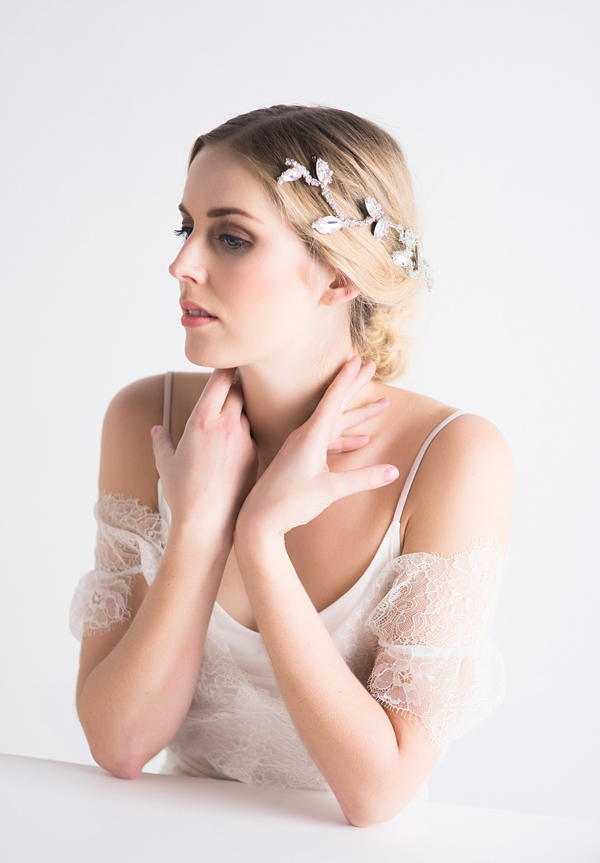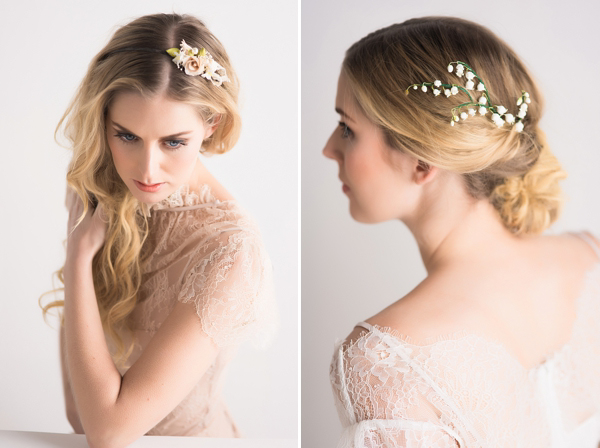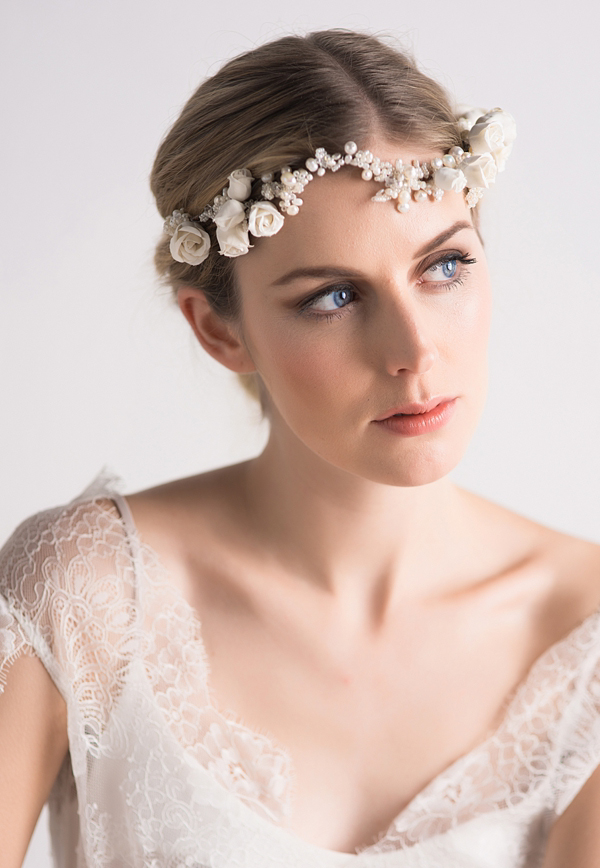 You can see more from Lila at lila-lila.com and keep up-to-date with the latest news via Facebook, instagram, twitter and pinterest too.  
Love Franky
Accessories – Lila Accessories
Photography (flowers) – Katy Lunsford
Photography (model) – Jamie Cowlishaw
Hair/make up – Rosie Powers
Model – Katie Farr
Dresses – Katya Katya Shehurina