Good morning everyone, really hoping you're blessed with the same glorious sunshine as I am this fine Tuesday morning.
This is such a lovely wedding, proof once again that rain on your wedding day doesn't matter one jot.   Matt and Charlotte, who both run an events management company called 'Steel City Promotions' tied the knot on 3rd October last year at The Treehouse Restaurant in Alnwick, Northumberland.
"We really just wanted a place to marry that didn't feel like work, where we could relax, chill and spend some time with our friends and family. Somewhere that we could add our own personal touch.  The rustic, woodsy and quirky feel of The Treehouse was just perfect. We went with a late ceremony too, at 5pm."

Photography Copyright (c) 2014, Katy Melling Photography
"Matt and I met back in 2006 whilst I was still at university and working on a casual basis for an events company (Matt will tell you he was my boss).  I took Matt away for his 30th birthday to Marrakech, in January 2013, and he proposed whilst we were away. We'd already been together 7 years when he proposed so we decided not to wait too long so set the date for 8 months later!"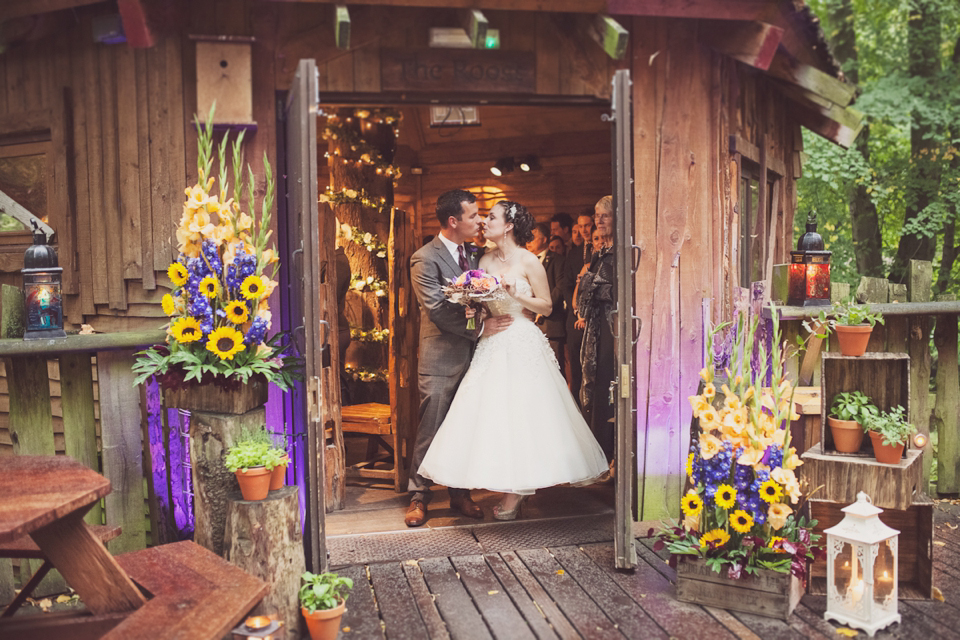 "As soon as we thought about The Treehouse, we knew that was where we had to get married. When we were shown around it was in the middle of refurbishment, but as soon as they switched the fairy lights on it was just magical! We wanted somewhere that didn't look too 'weddingy', somewhere that was completely relaxed and somewhere we didn't need to do much in the way of décor, since we do this every day at work!  This unique venue ticked all our boxes!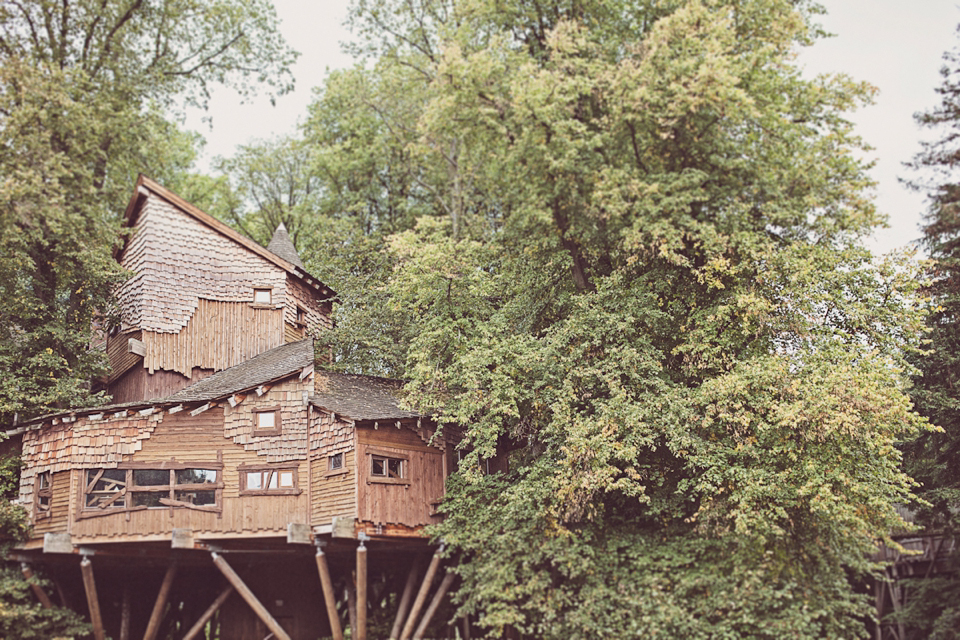 "My mum is a florist and owns Lavenders Blue in Morpeth. She does incredible things with flowers and I just left her to it.  I've seen so many different things that she does that it really didn't matter to me as long as they were colourful.  We used anemones in my bouquet as these were a favourite of my Great Grandma (nana), mum also included nana's wedding and engagement rings into my bouquet."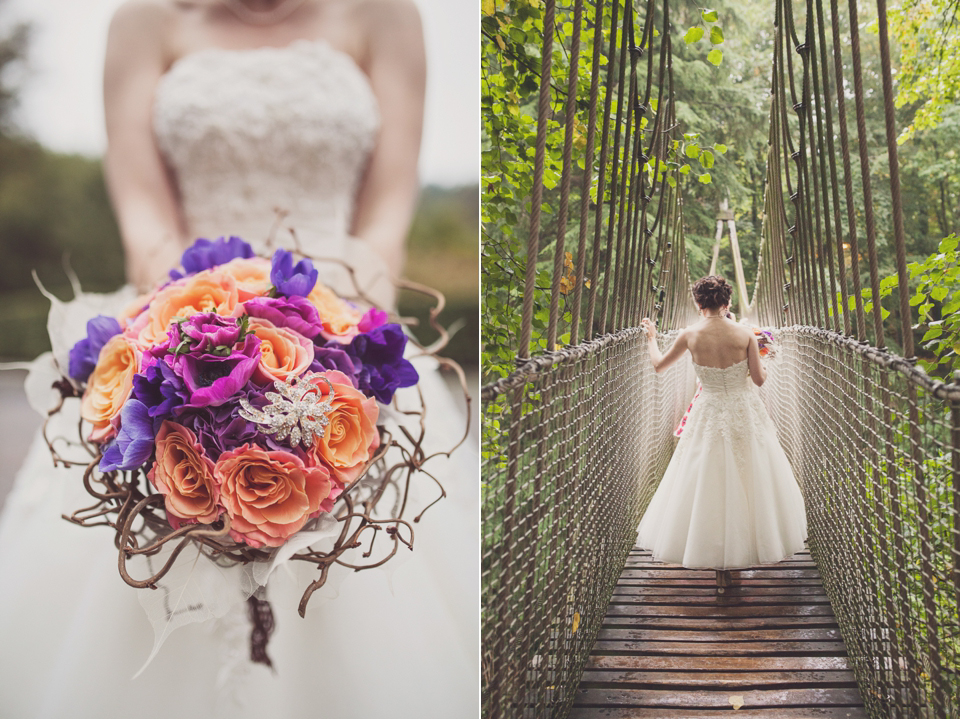 "The flowers were a big part in the decoration but we didn't want my mum to have to do too much – hence why we used lots of herbs and plants, which we could prep well in advance. Each table was a 'Herb' and so the Table Plan (with the help of grandpa's excellent ladder / astroturfting skills) was filled with herbs, tea lights and name boards – we thoughts it was rather quirky!  Old crates and wooden lanterns helped to add to the flowers.  In our stock of theming at work we have a range of Arabian Lanterns which we used outside on the tables as a link back to our proposal in Morocco.
Lighting is really important to us in what we do for work as it adds depth, so we added extra lights to all the trees so that when it got dark it was even more magical – the purple worked really well and added to the photos.  The rain also added to the photos – creating wonderful reflections in the wet wood!"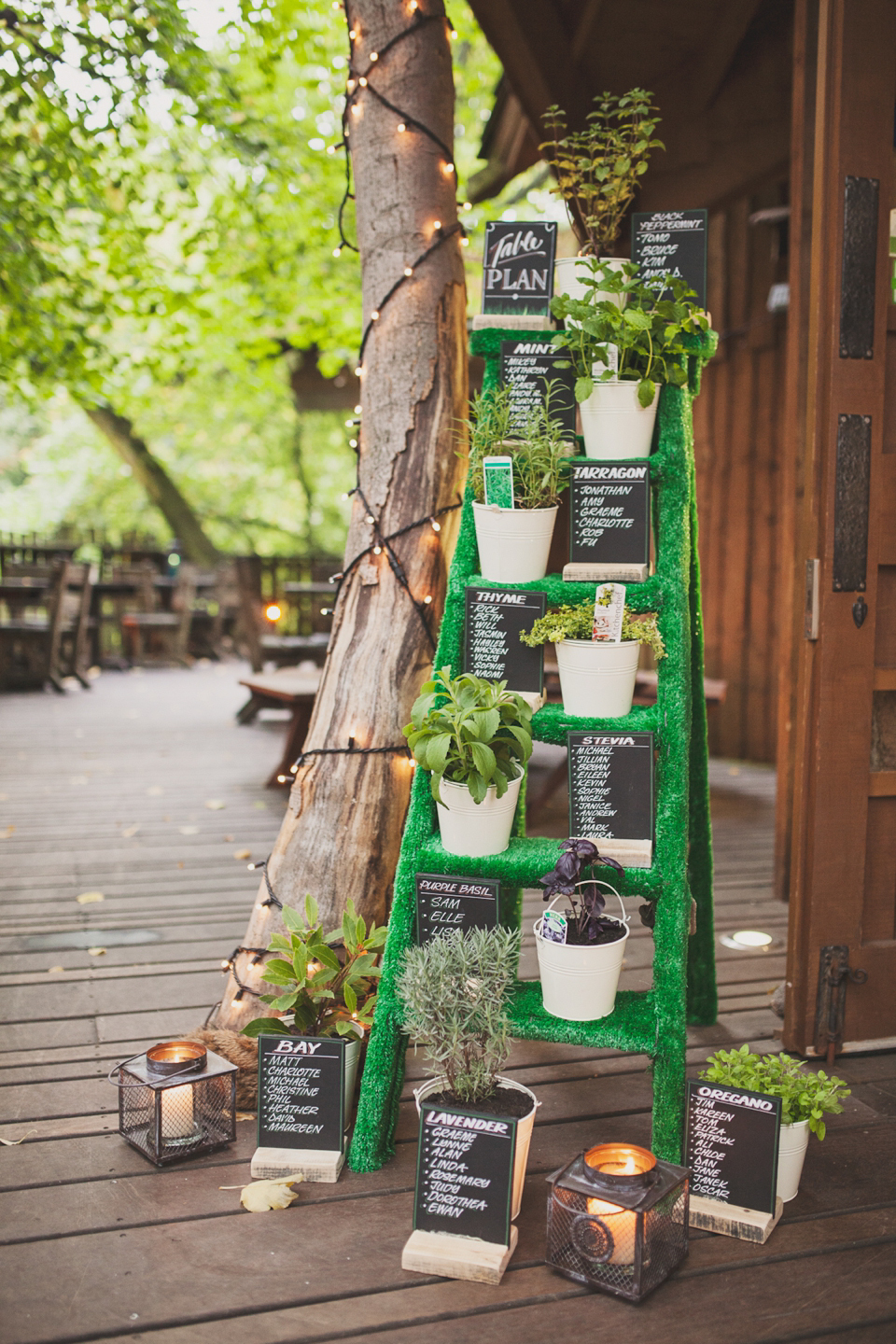 "We bought some wooden hearts and got our local sign-writer to make them into place names – these doubled up as favours and we thought guests could keep them and dig them out at Christmas to hang on their tree.  He also made our welcome sign and table plan."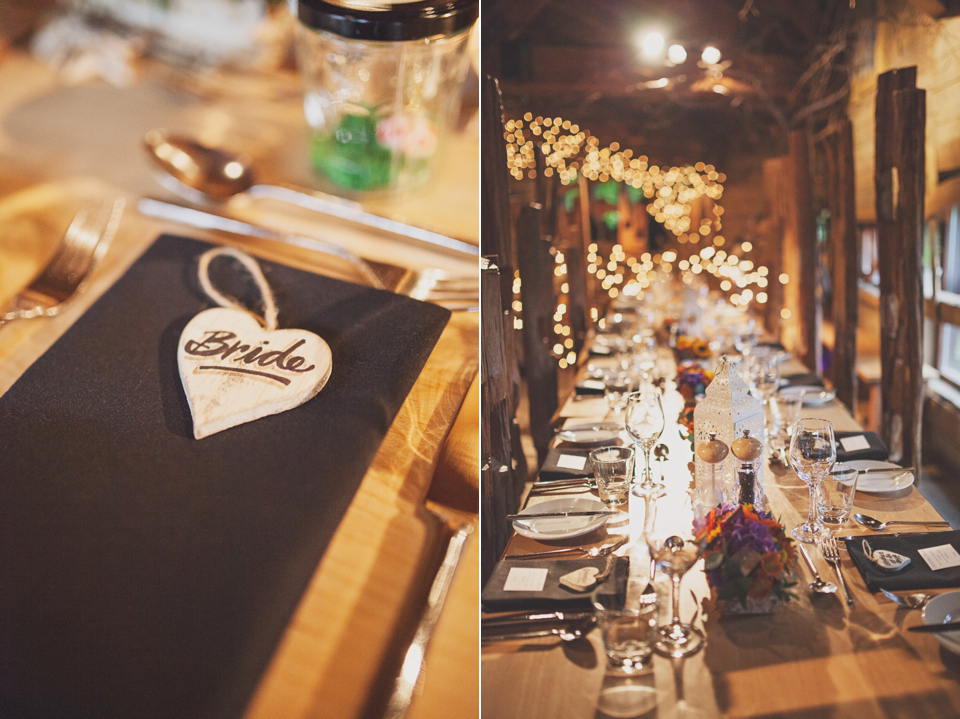 Charlotte's dress is the second Justin Alexander design we've featured this week (did you see the first?).  She purchased her gown from Bridal Wish in Northumberland.
"I absolutely fell in love with this dress the moment I tried it on (it was the first one I tried on!!).  I liked the fact it wasn't too formal in length, and I felt totally comfortable in it.  The lace detail was the icing on the cake.  The tea length style meant that I could have some fabulous shoes and they would be on show all day!"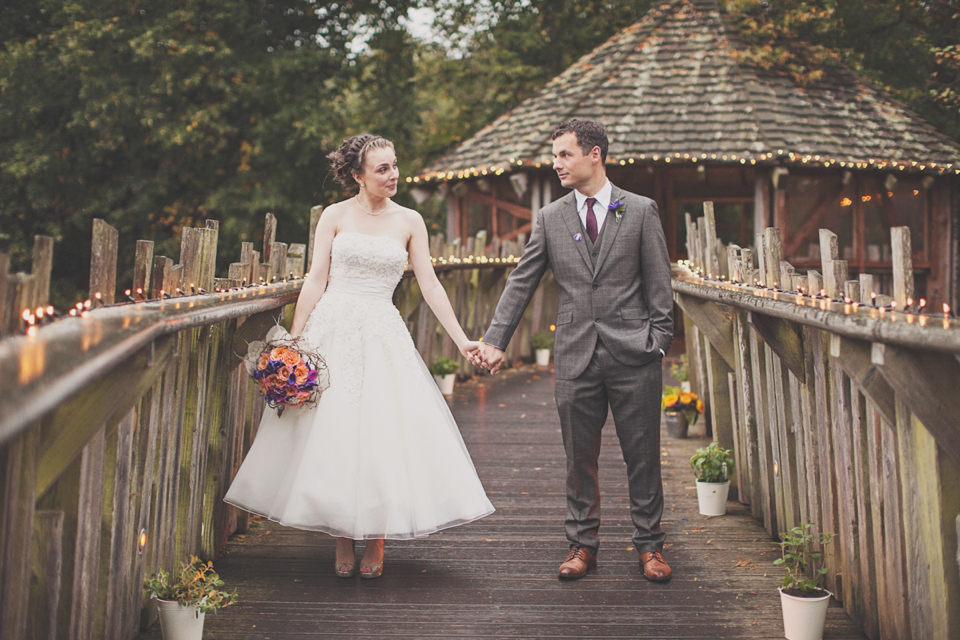 "My shoes were Jimmy Choo.  I looked online for ages, but nothing caught my eye. Then an  unexpected 'pop in' to House of Fraser in Glasgow was where I spied the perfect pair."
"I wore a necklace of pearls that was given to me on the morning of our wedding by my parents. I also wore a pair of glitzy earrings from a boutique called Molly Browns in York, bought by a wonderful friend on my hen day.   I also wore a charm bracelet that has been added to ever since my mum was given it years ago."
"Our photographer was Katy Melling Photography – she was an amazing find!  She really captured everything we wanted in a relaxed style and beautiful light.  Katy is also a lovely person who is extremely easy to get along with and puts you at ease straight away.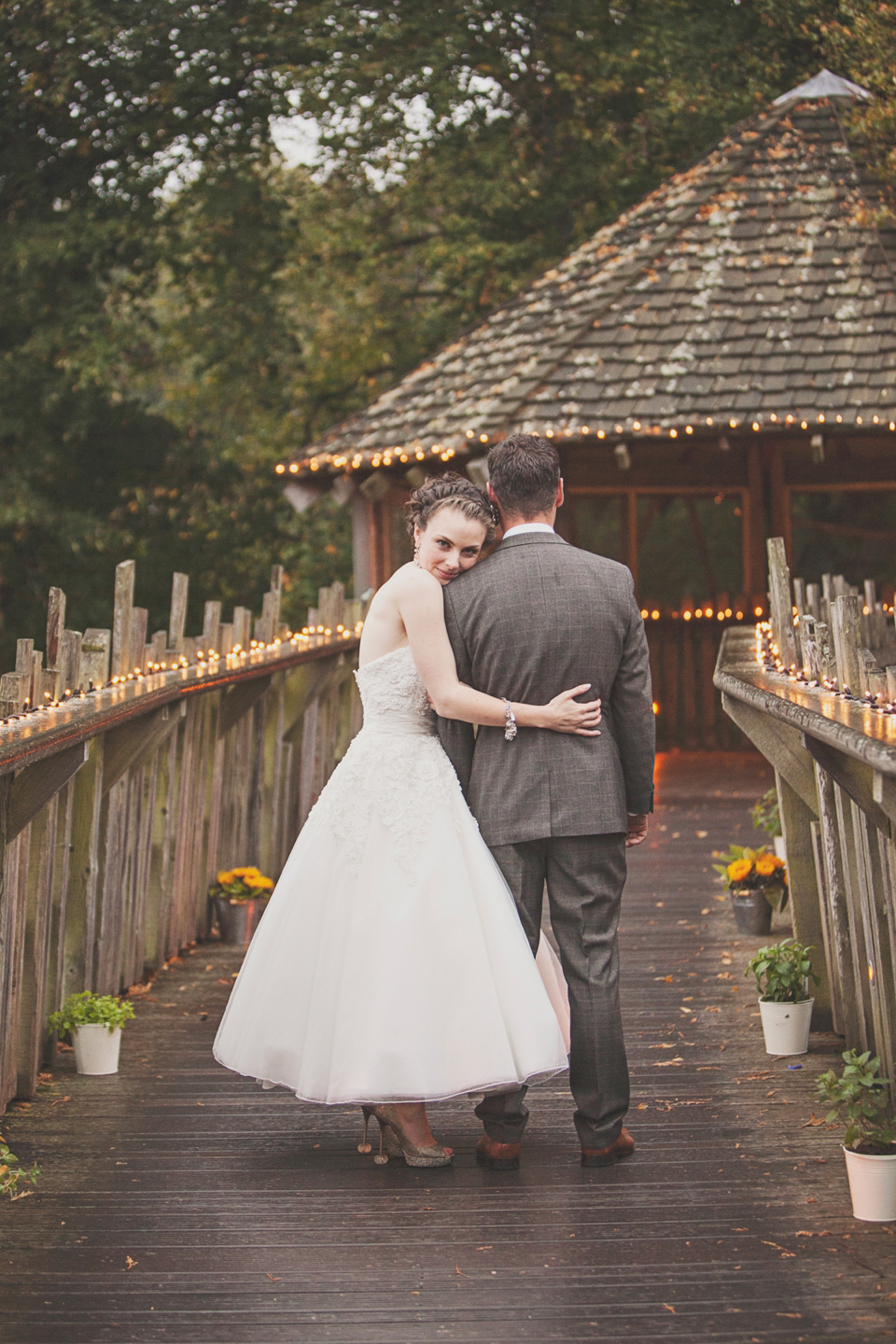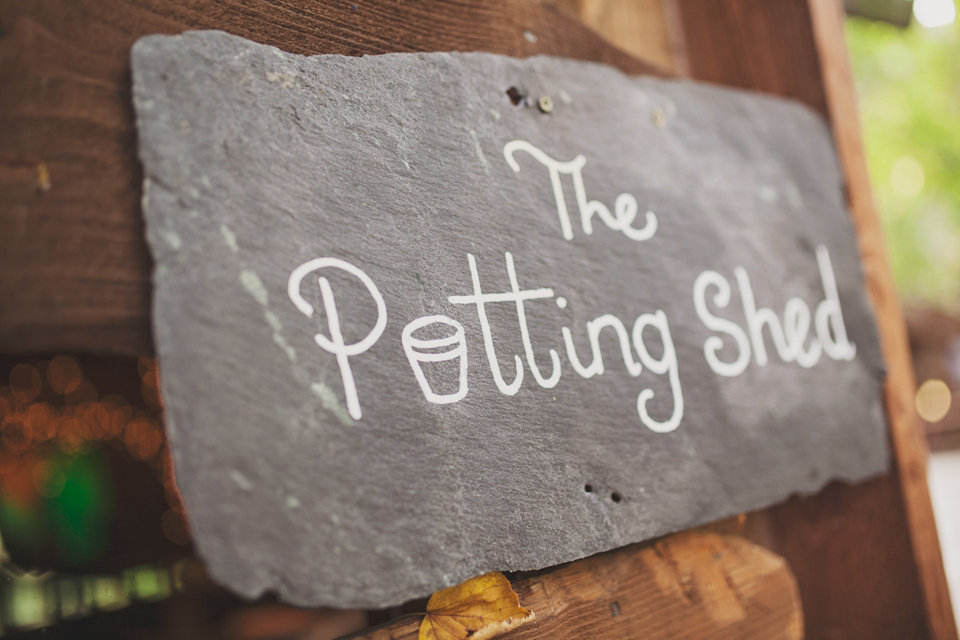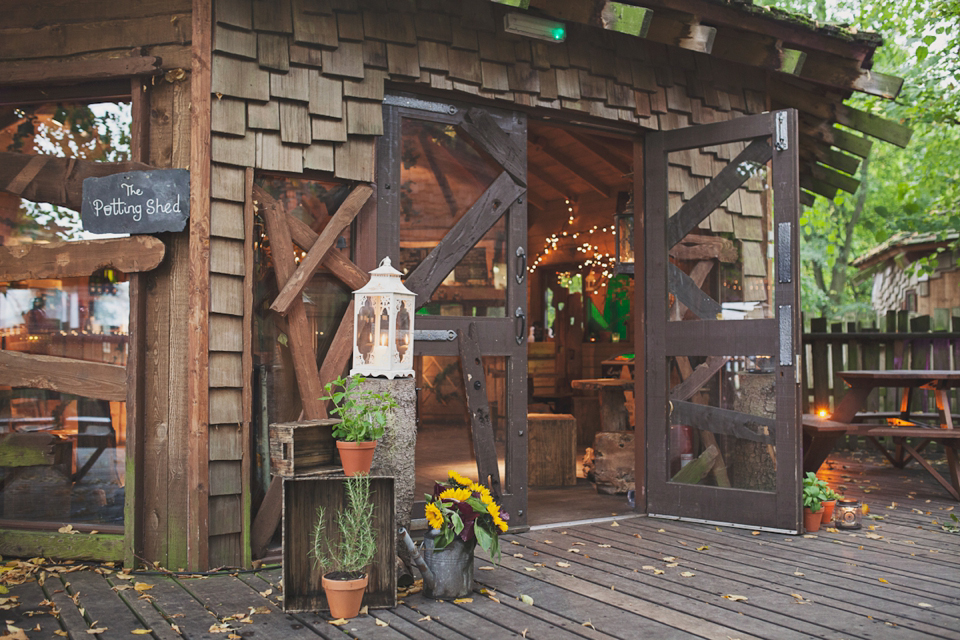 "I designed and made the stationery myself, not to pinch pennies but because I enjoy the creative side of things."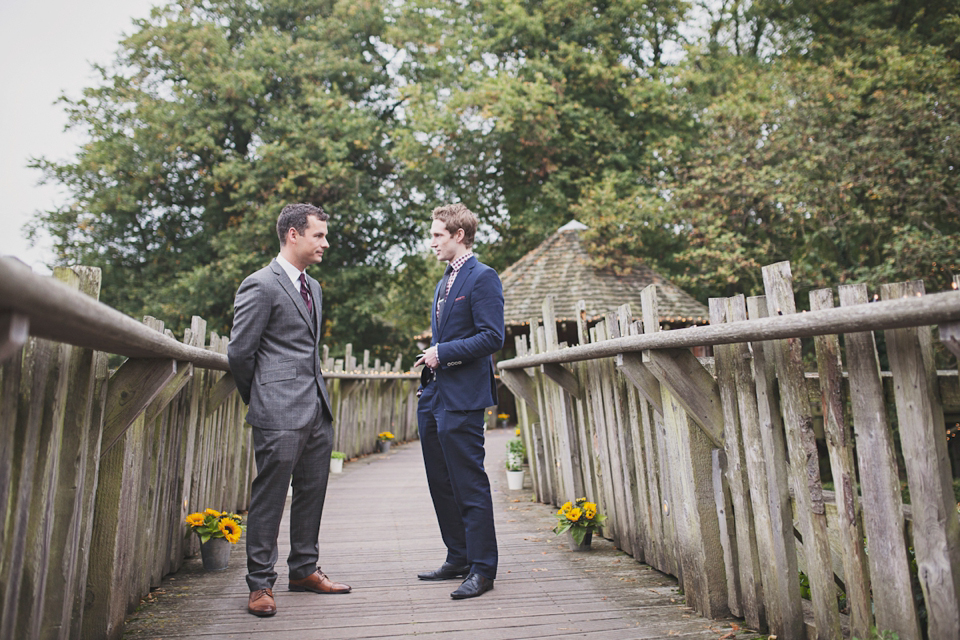 "Matt isn't all that comfortable wearing a suit, but we managed to find a fantastic 3 piece suit from Next which he liked, was comfortable in and fitted the look of the day.  Rob, Matt's friend from school was best man – he flew all the way from Canada for the occasion."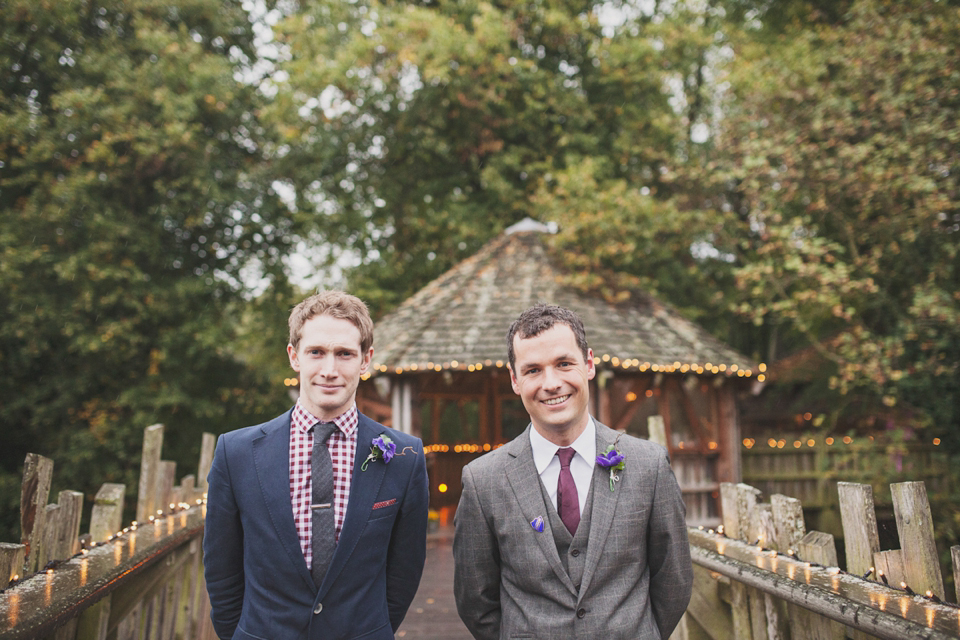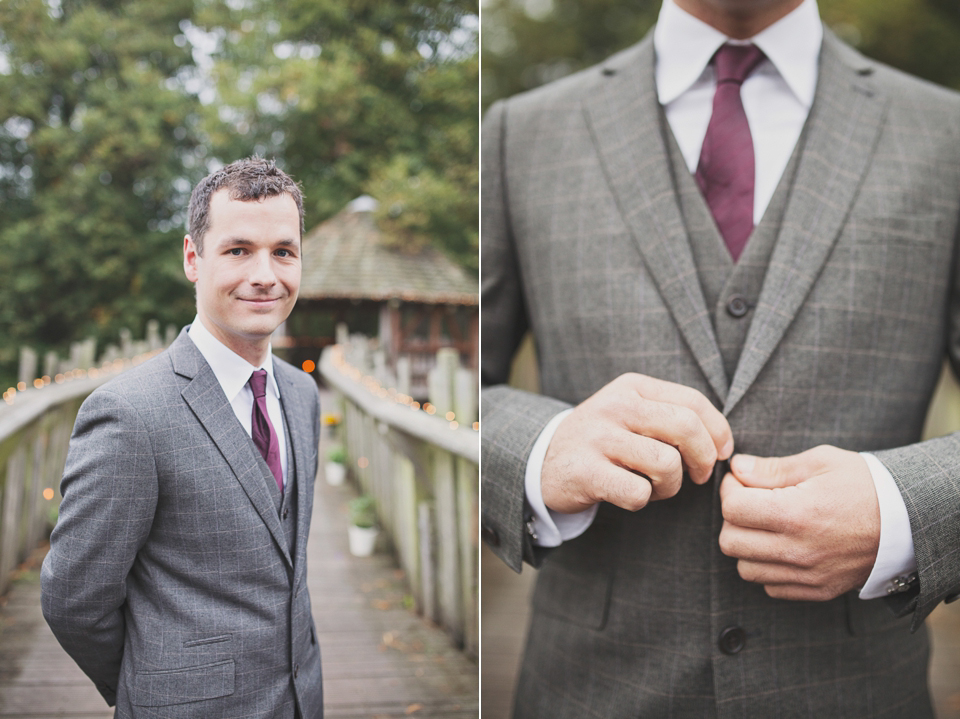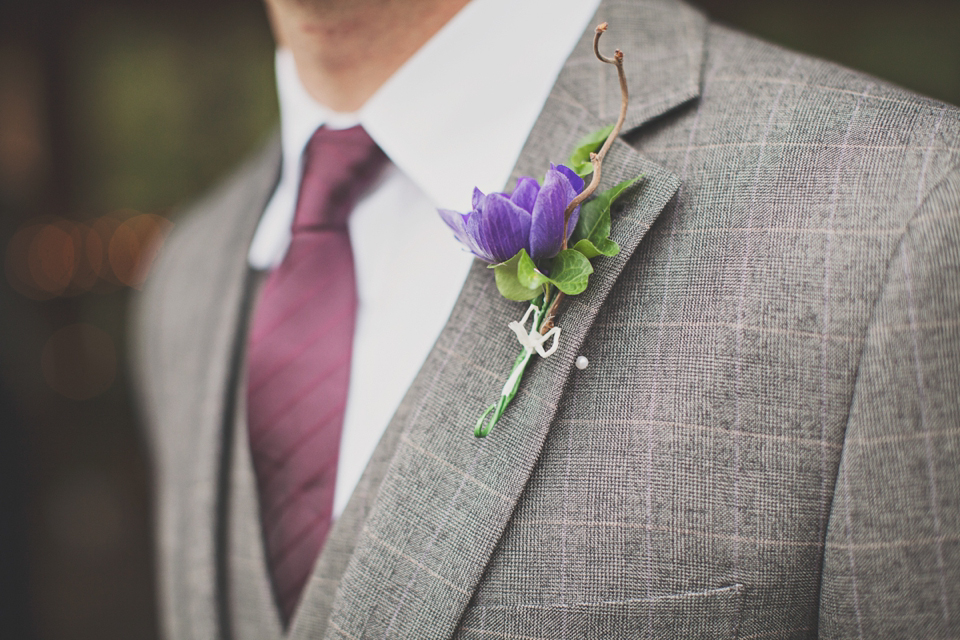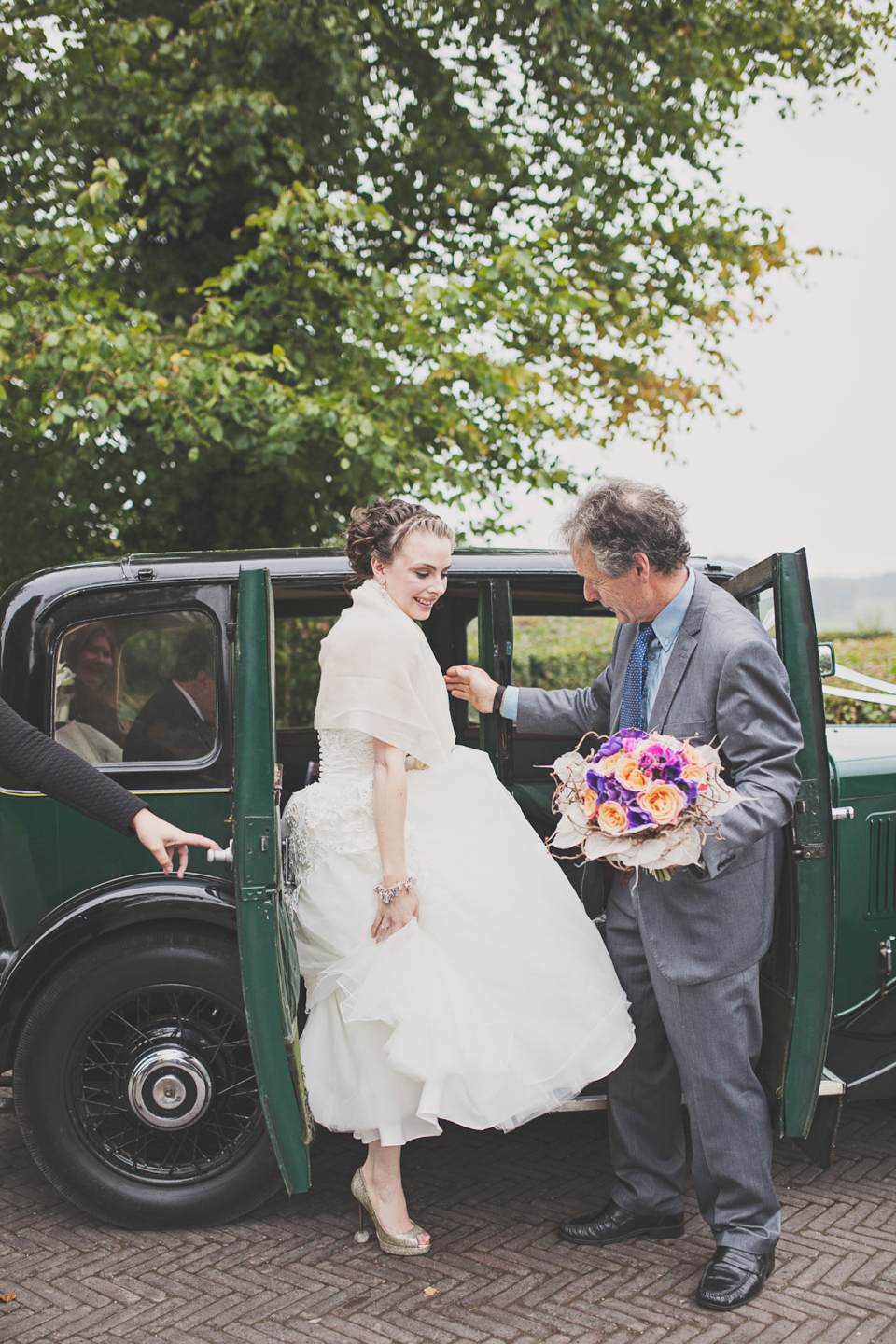 "My Dad walked me down the aisle – although there wasn't much of an aisle, more of a skip round a tree trunk! 🙂 The nice thing was there is a great long stretch of decking up to the Treehouse where we could have a good old giggle and some father/daughter time.
Music was a real struggle but we eventually settled on 'Love Story' by Andy Williams as my entrance song."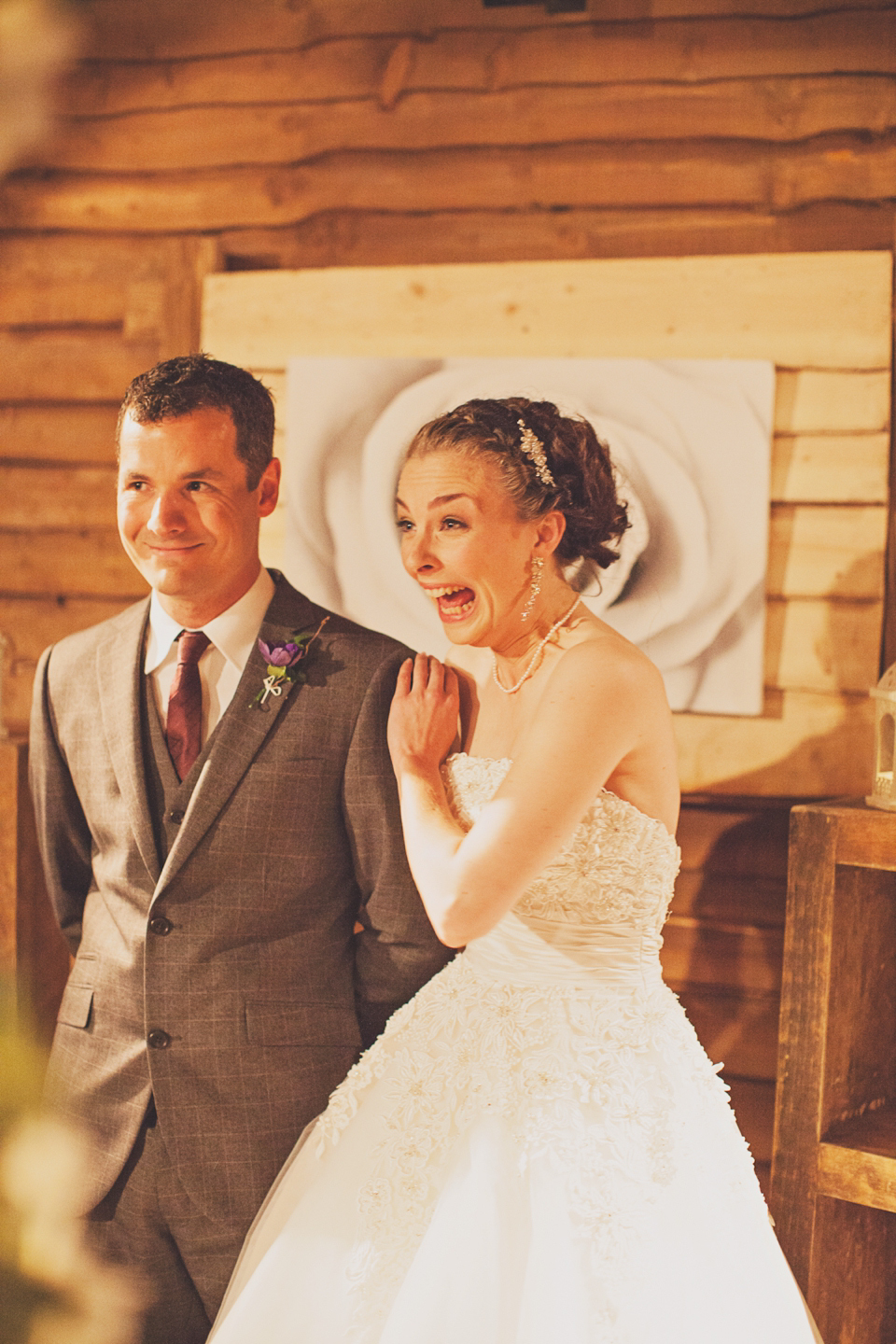 "We had two readings – read by Claire, my friend from school and Matt's sister, Kareen. Claire read 'We're all a Little Weird' a quote from Dr Suess / 'True Love' by Robert Fulgham.  Claire found a gorgeous book with this quote in to give to us on our wedding day too!"
'We're all a little weird. And life is a little weird. And when we find someone whose weirdness is compatible with ours, we join up with them and fall into mutually satisfying weirdness—and call it love—true love.'
"We thought this was quite apt, and liked that it was short and sweet".
"Kareen read 'Union' also by Robert Fulgham. We thought this was just lovely and Kareen did a super job of making it personal."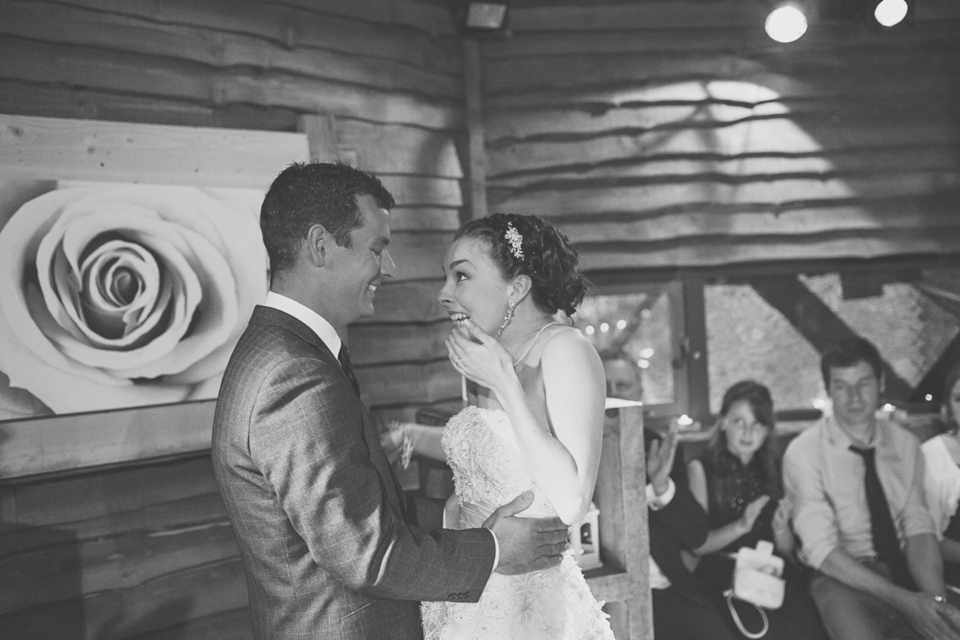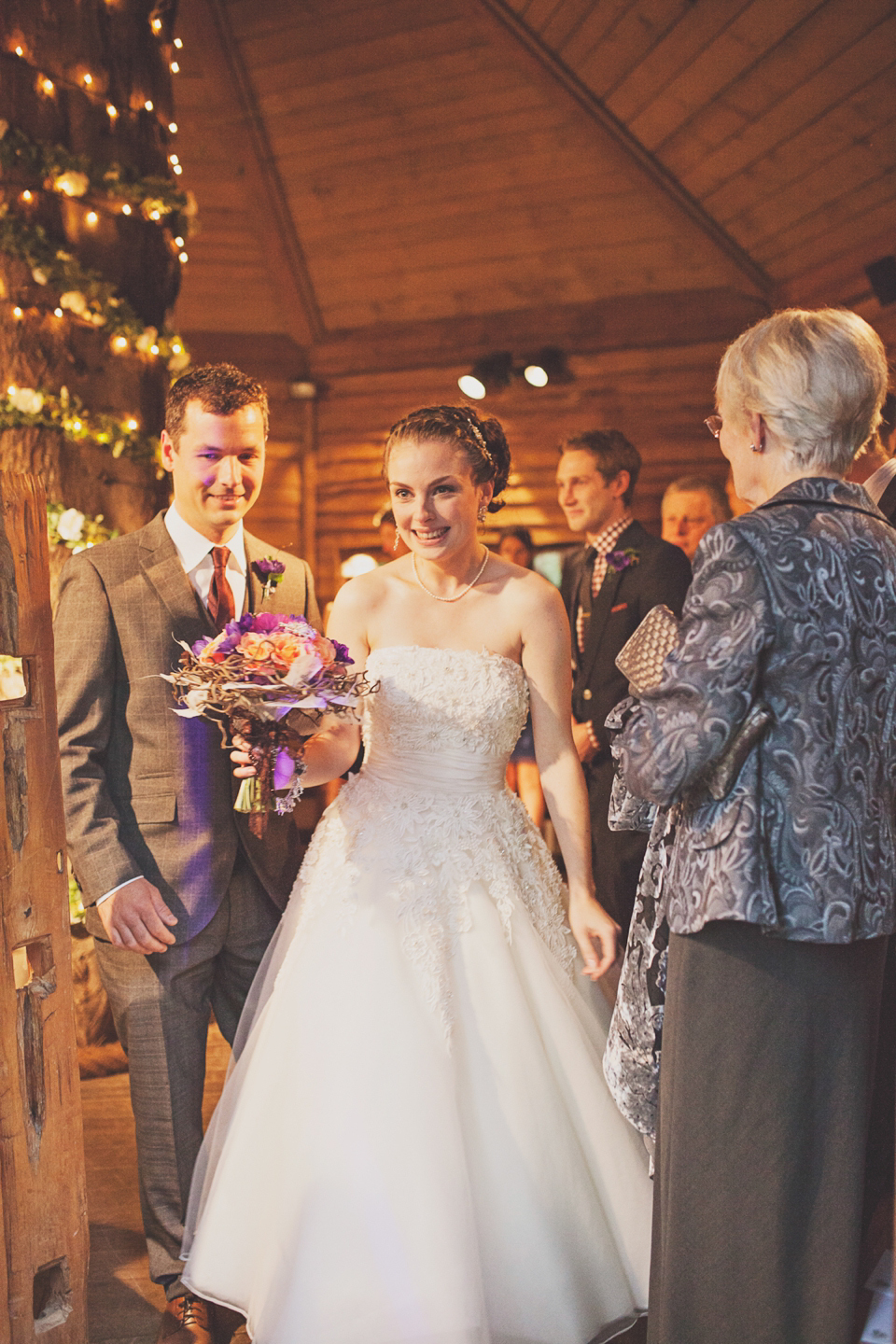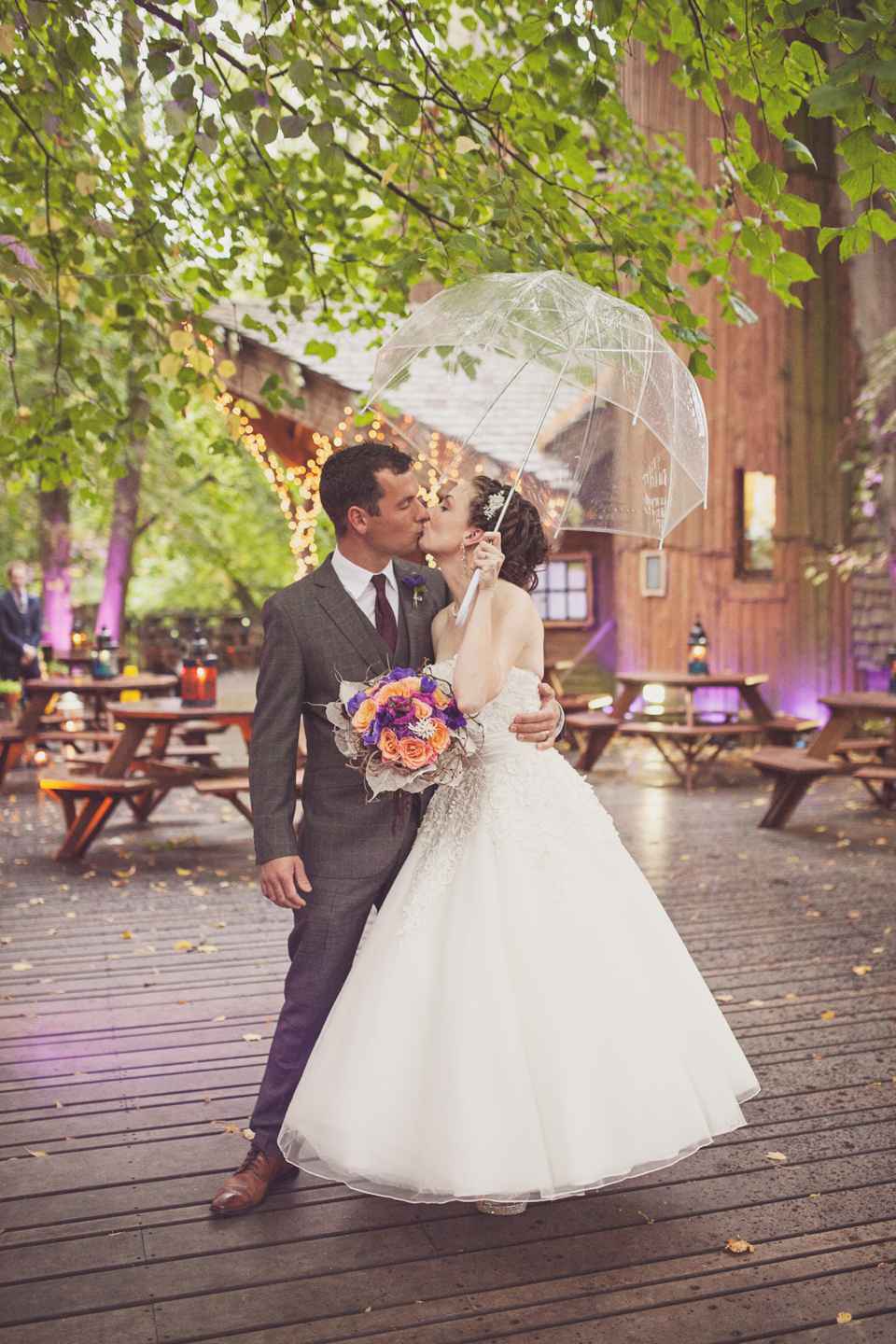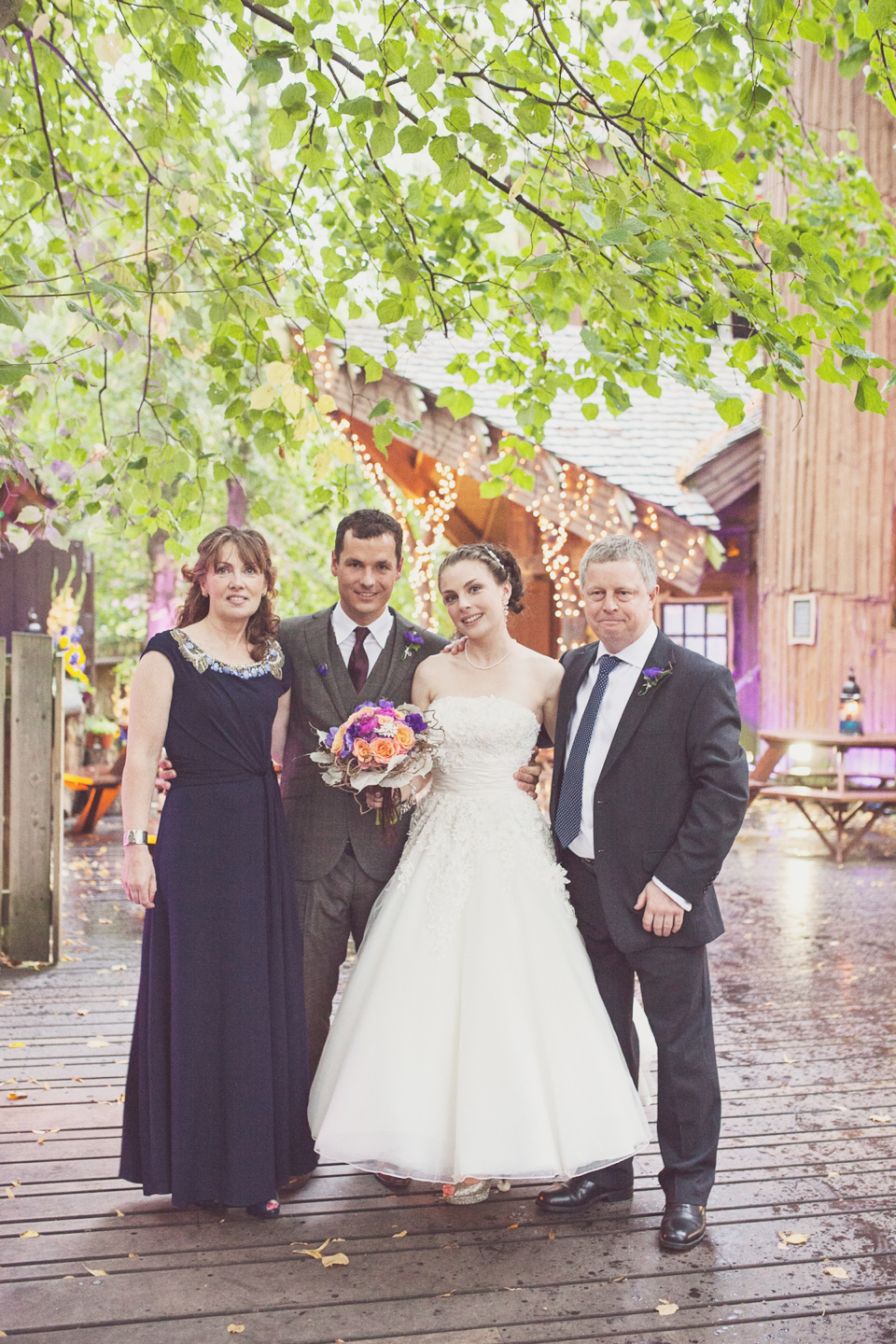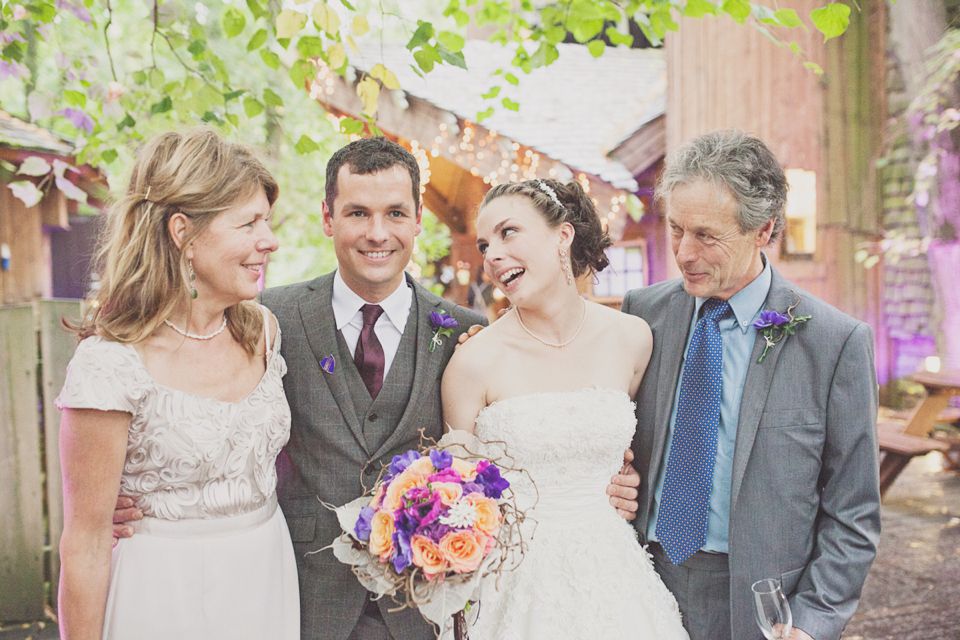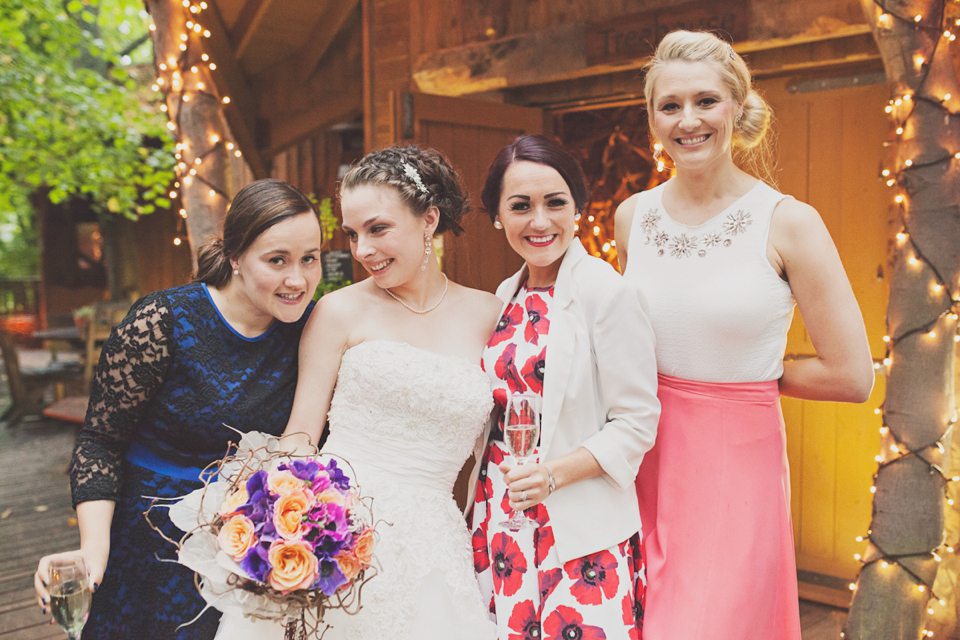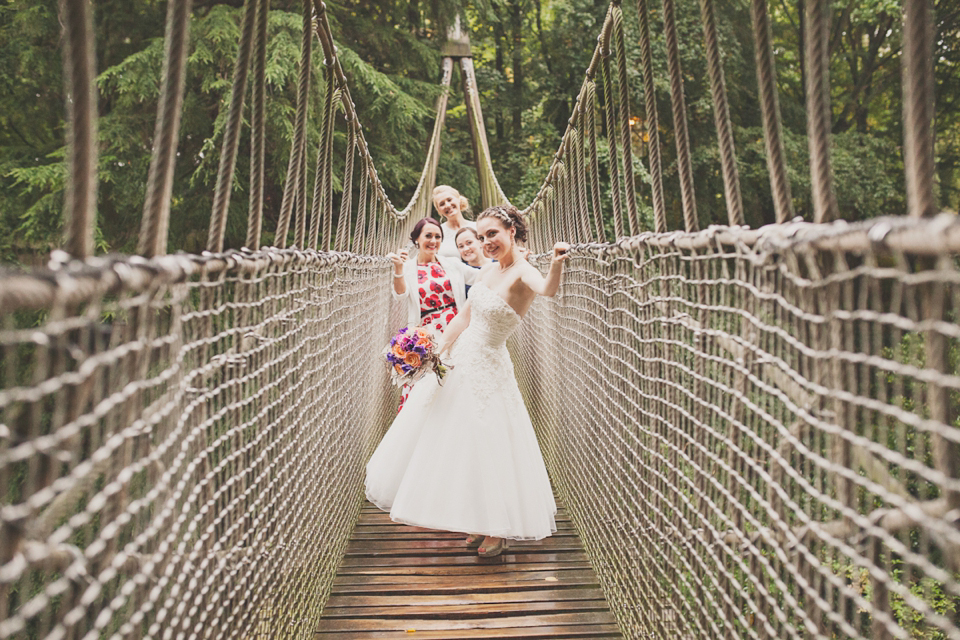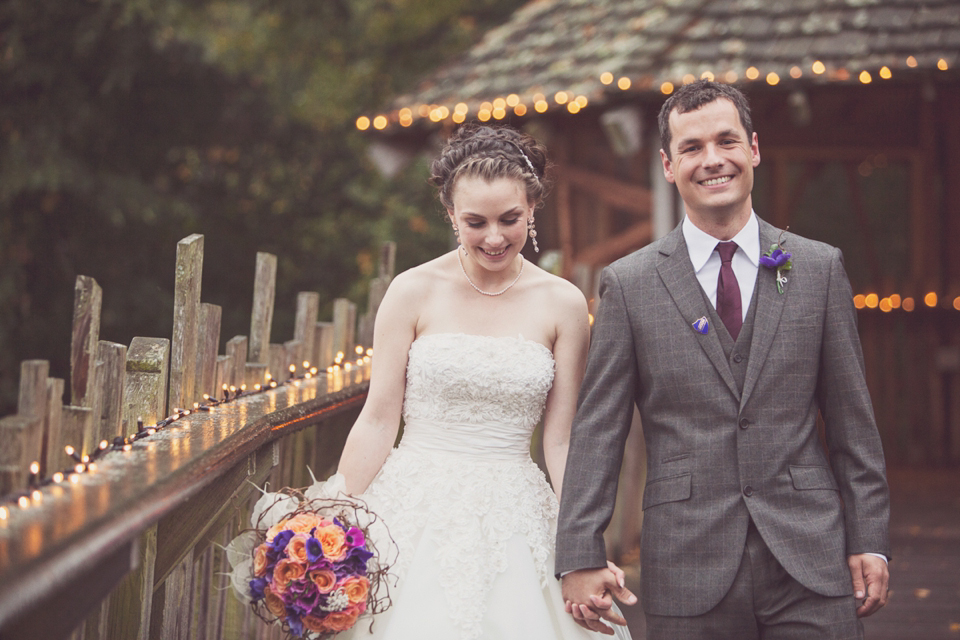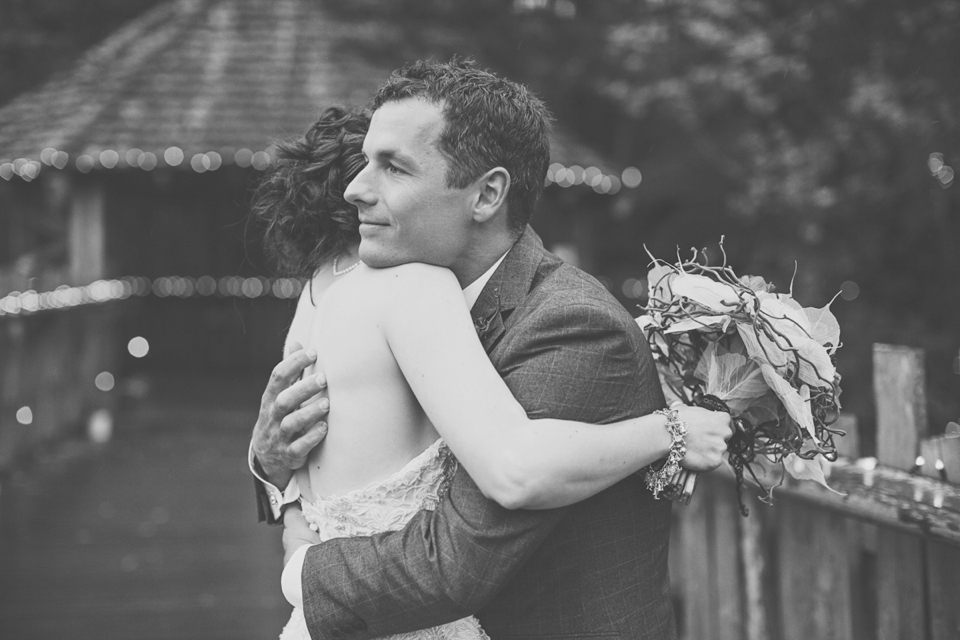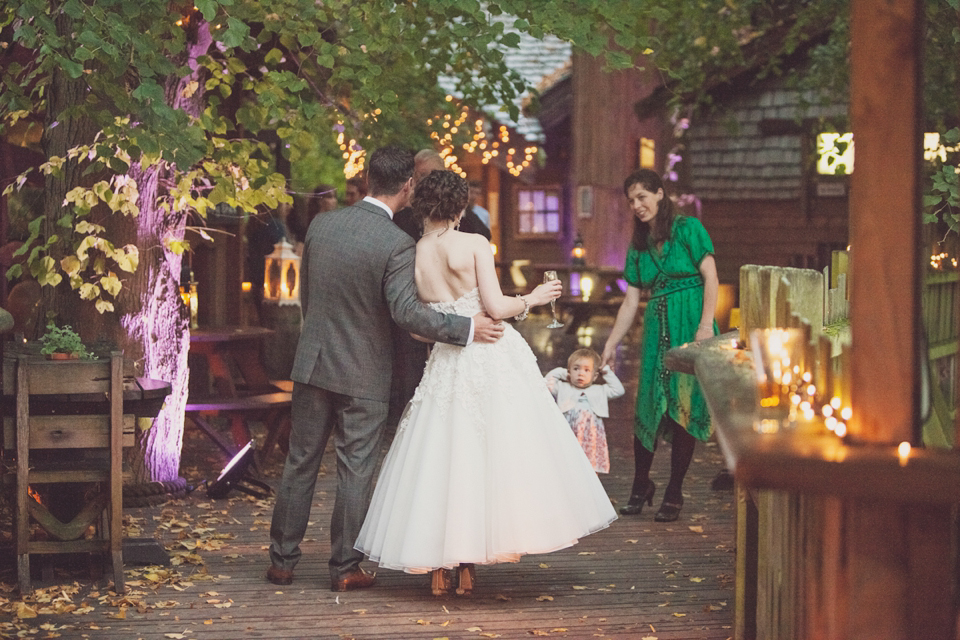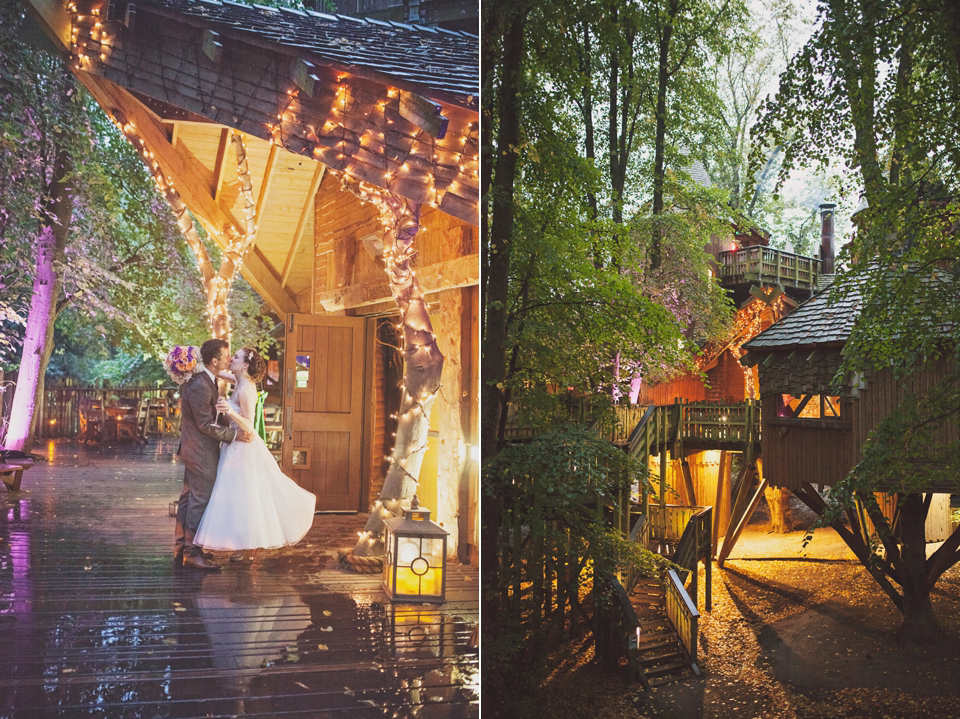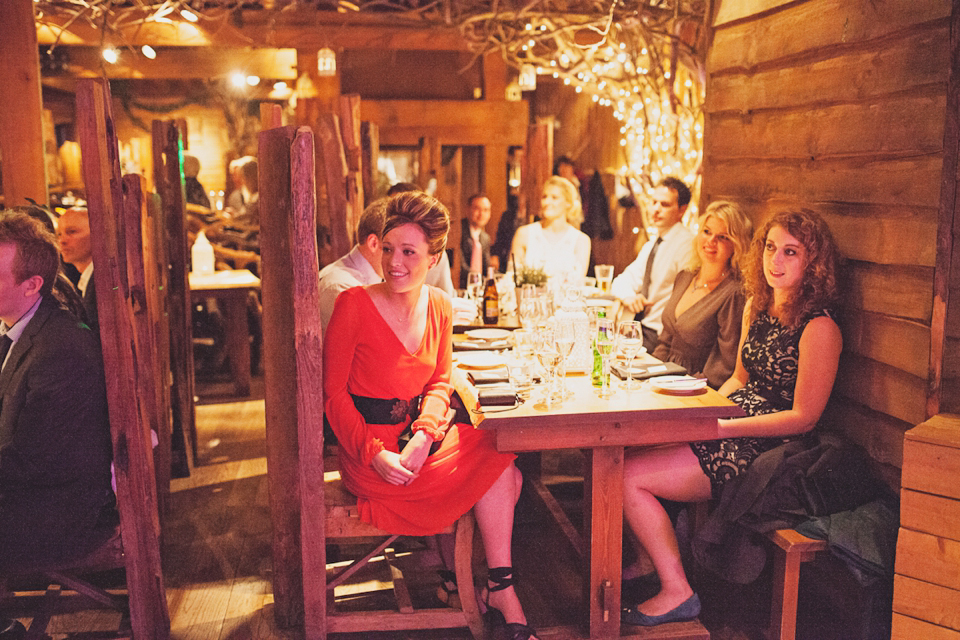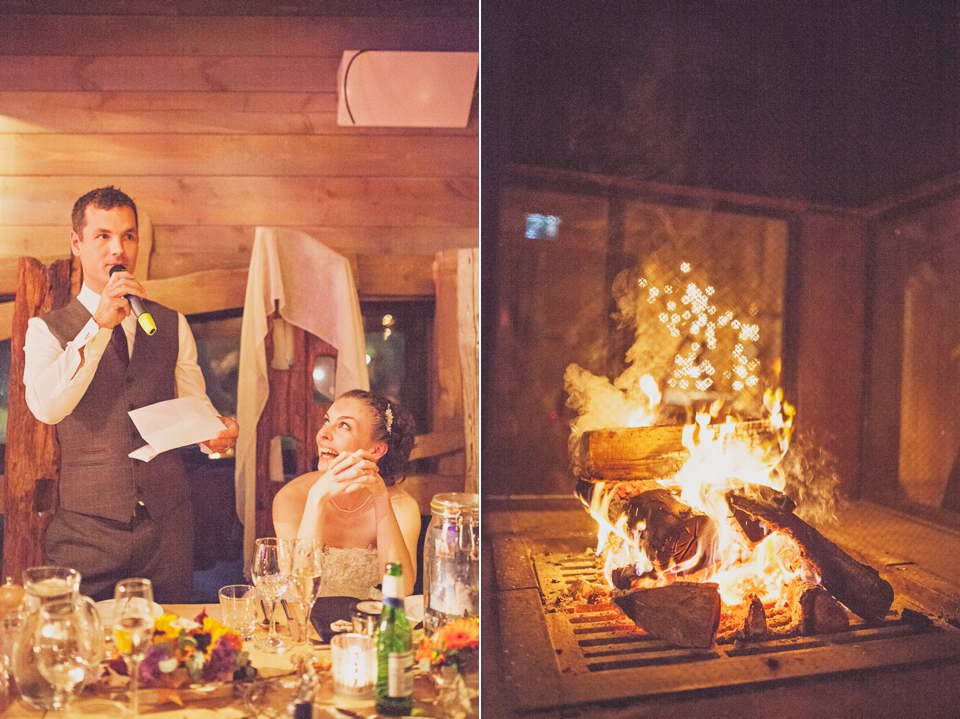 "We opted for a cake of cheese (again, carrying on with the non-traditional theme here!!). It came from Morpeth Cheese Shop.  They were really knowledgeable and invited us for a tasting so we could tailor it to our own tastes. I think we were still making our way through the cheese cake well into December."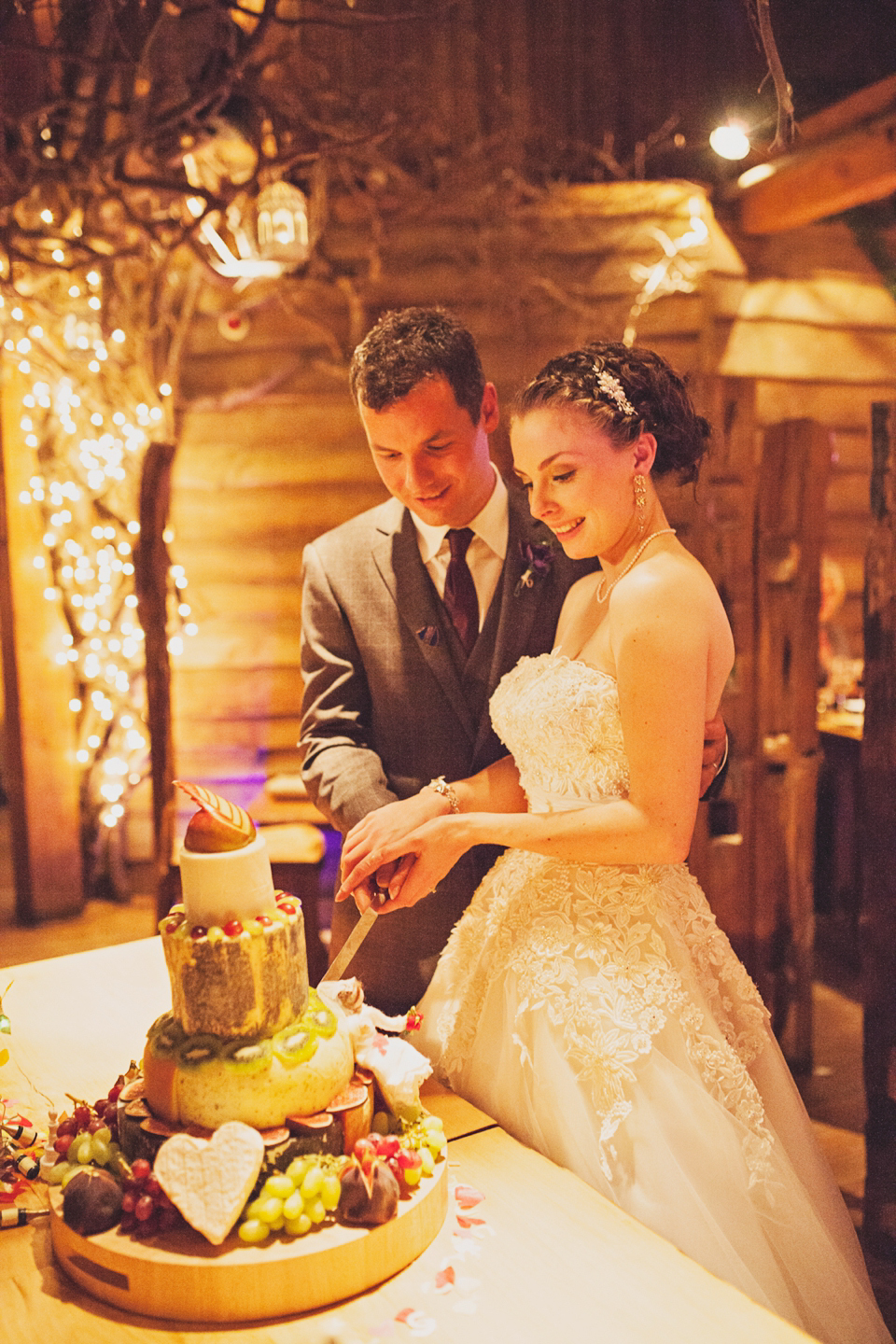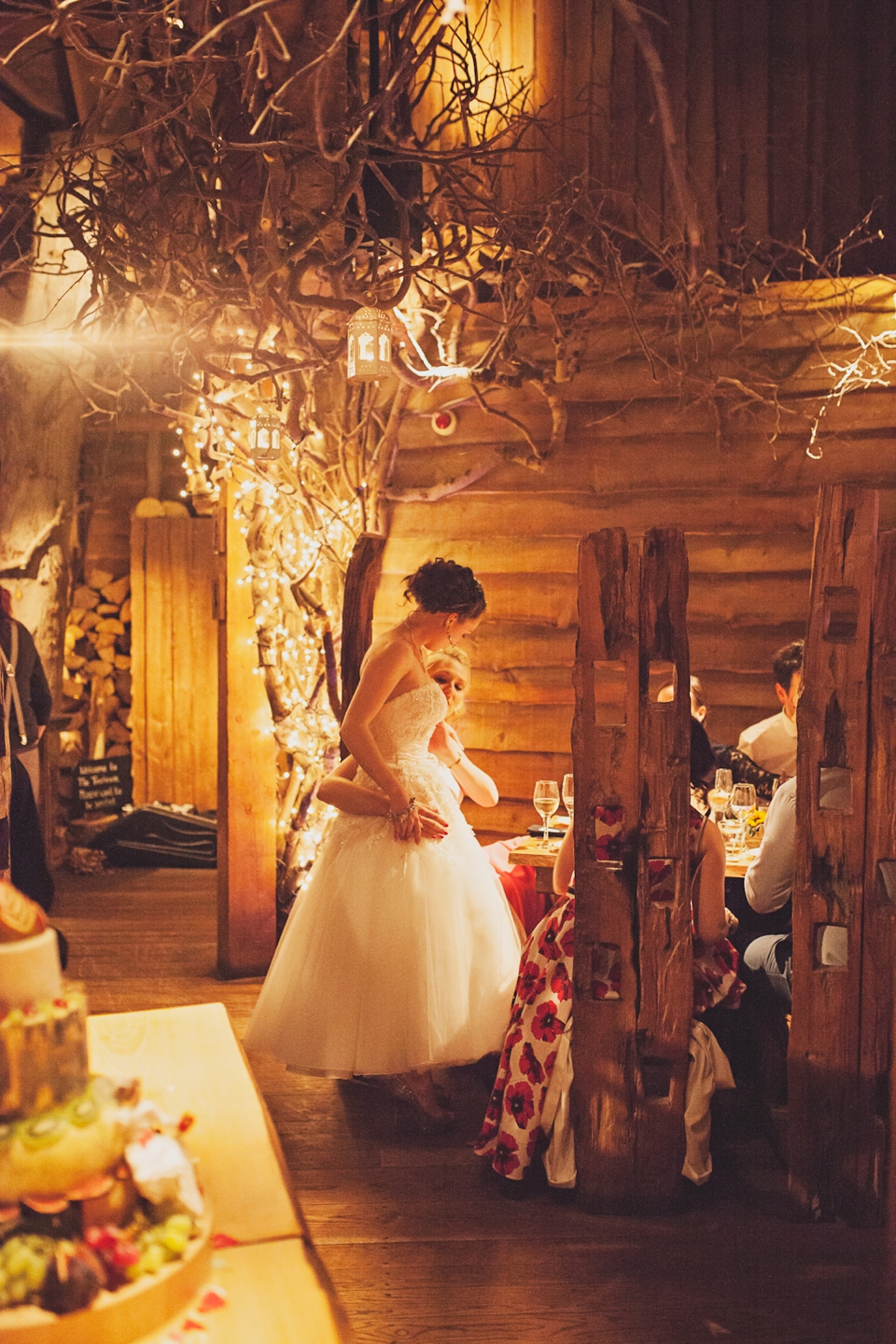 "When I think what my favourite part of the whole day might have been, for me, it had to be just simply spending time with everyone that we love in one room – and of course becoming Mrs P (finally). For Matt it was once the ceremony and speeches were done so he could relax and enjoy!"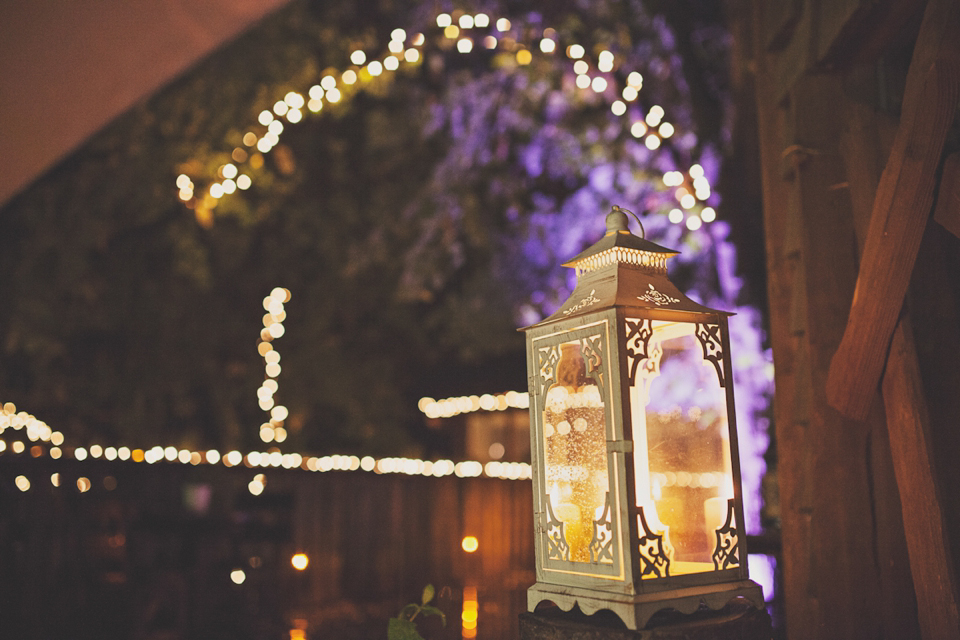 Words of Wedded Wisdom…
"We would both say that it is YOUR day – do what you want. We were lucky that we had supportive parents on both sides, but can see how it can get overwhelming.  Marry where you want, when you want and invite who you want (this was an issue for us as we were limited on numbers).
I decided not to have any bridesmaids for a few different reasons: I have too many close friends in different groups to choose between, our wedding was really late in the day and I REALLY wanted an excuse to blow the whole bridesmaid budget on shoes – which I did!"
What a beautiful day – huge thanks to you Matt and Charlotte for sharing your day and congratulations on your recent 6 month anniversary 🙂
You can see more weddings at The Treehouse in Alnwick here, as well as more beautiful wedding photography by Katy Melling on Love My Dress here.
Who might be planning a quirky, woodsy, alternative venue style wedding like this one? I'd love to hear from you.
Love Annabel

Photographer – Katy Melling Photography
Venue + Catering – The Treehouse Restaurant in Alnwick
Wedding Dress – Justin Alexander via Bridal Wish in Northumberland
Veil/Headpiece – Earrings via Molly Browns in York
Brides' shoes – Jimmy Choo
Bride's accessories – Earrings via Molly Browns in York
Groom's Attire – Next
Flowers – Lavenders Blue in Morpeth (the brides mum)
Cheese Cake – Morpeth Cheese Shop
Transport – Alnwick Wedding Cars
Entertainment – Caro Emerald Tribute
Rings – Tiago Jewellery
Stationery – the bride
Hair Stylist – Hair by Avril in Morpeth
Follow Love My Dress® on Google+