Morning all! Vintage inspired dress seller Amy, tied the knot with Danny on 17th August last year at Pitzhanger Manor on Ealing Broadway, London, followed by a reception at The Bollo House in Chiswick.  Their day was one of fun, love, colour, good food and great music – a very British pub celebration.
"About five and a half years ago I was out with my sister and my friend Gemma at a brilliant club night called Jazz Juice on the pier in Bournemouth.  My sister found Danny for me and brought him over.  Fuelled by massive gin and tonics we got talking and discovered we both lived in Ealing Broadway, just a road away from each other.   How funny to find each other down in Bournemouth when we could have met at the local pub, it felt like fate!"
Photography Copyright (c) 2014, Assassynation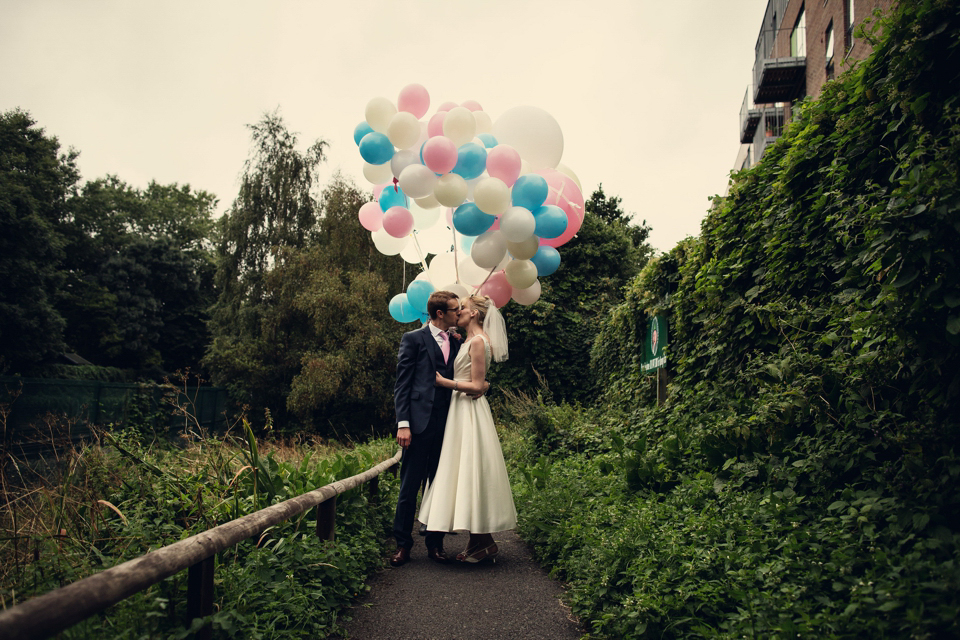 "Set in the grounds of Walpole Park, Pitzhanger Manor was once owned by Sir John Sloane; he re-built the house to turn it into his 'dream home'.  Well we certainly had our dream ceremony there, wowee it was so lovely.  We got hitched in the Georgian Eating Room with all of our gorgeous friends and family there."
"Danny and I wanted a pub reception and we originally chose a pub in Kew.  There were a few compromises we had to make but the location did seem ideal.  After confirming with the pub I must admit I never felt completely at ease.  Each time I raised concerns with the manager she did well to ease those concerns, but they always crept back into my mind as the communication wasn't very good."
"Three weeks before the wedding we had an email from the manager advising she was leaving but not to worry as the owner would now be taking up the reigns.  We went straight down to meet with the owner and it became very clear that they didn't want to put on our wedding.  Suddenly there were extra costs for everything, we couldn't have this or that, and the BBQ would have to be cooked out in the alleyway. It was heart breaking, especially for Danny as he loved the location – but we had to walk away.
At this point my head was exploding! 'Let's just get a hotel and be done with it' I shouted to Danny.  Anything to take the stress away.  Danny wasn't having it as he wanted us to have our pub wedding and was now on 'a mission find a new pub to hold our wedding reception in 3 weeks' time'.  Then we found The Bollo in Chiswick and they blew my mind! They really stepped up to the mark and then some.  We had the entire pub to ourselves, they let us run riot with the paper pom poms, and they fed and watered us to an amazingly high standard.  We were even able to offer a menu choice to our guests, which I think was a nice bonus.  The staff worked their socks off and nothing was too much trouble.  I absolutely cannot recommend the Bollo enough.  We salute you!"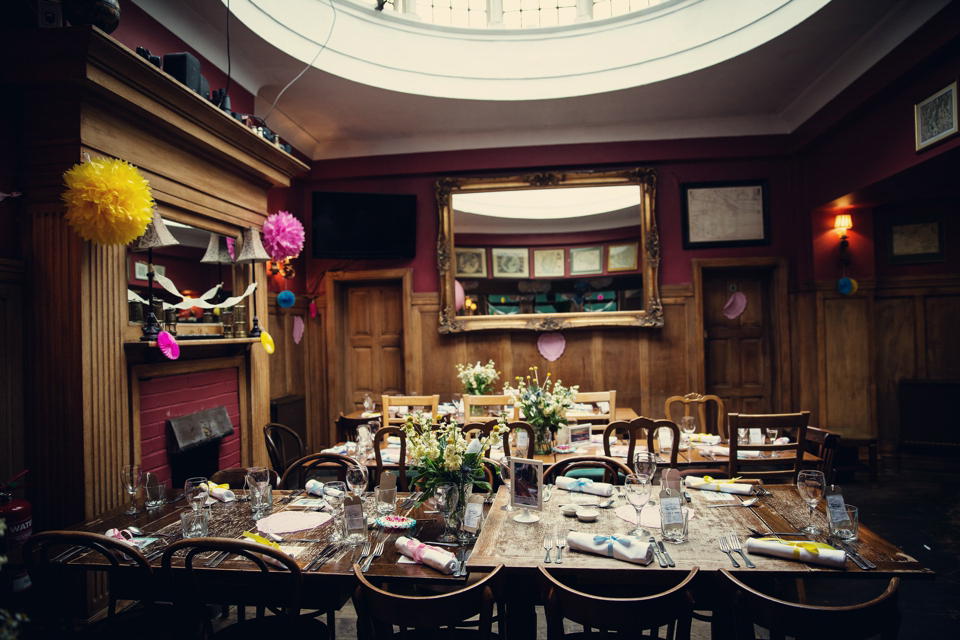 "My dress was always going to be either a massive princess dress or a fun short dress with a big skirt.  I did try on a mahoosive sparkly tulle number, train and everything, but it was so hot and I kept tripping over it so I knew then that short was the way to go.  I then went into Sassy Brides where they stock Lou Lou. I immediately wrote off the satin ones saying 'nothing shiny'!  I was almost convinced on another Lou Lou dress in tulle but then one of the ladies at Sassy Brides said I must try on the satin and so I did thinking it would be awful but as soon as I was in it I just absolutely loved the warm ivory colour, it really suited my pasty skin, and the back was so flippin' pretty with the sparkly bow.
My mum made my veil – I had found a veil online that was in America, sent the link to my mum and then she said 'well I can knock one of those up' and she did!  It was amazing, a lovely grosgrain ivory bow and French netting.  It really made the dress for me and I wore it ALL day!"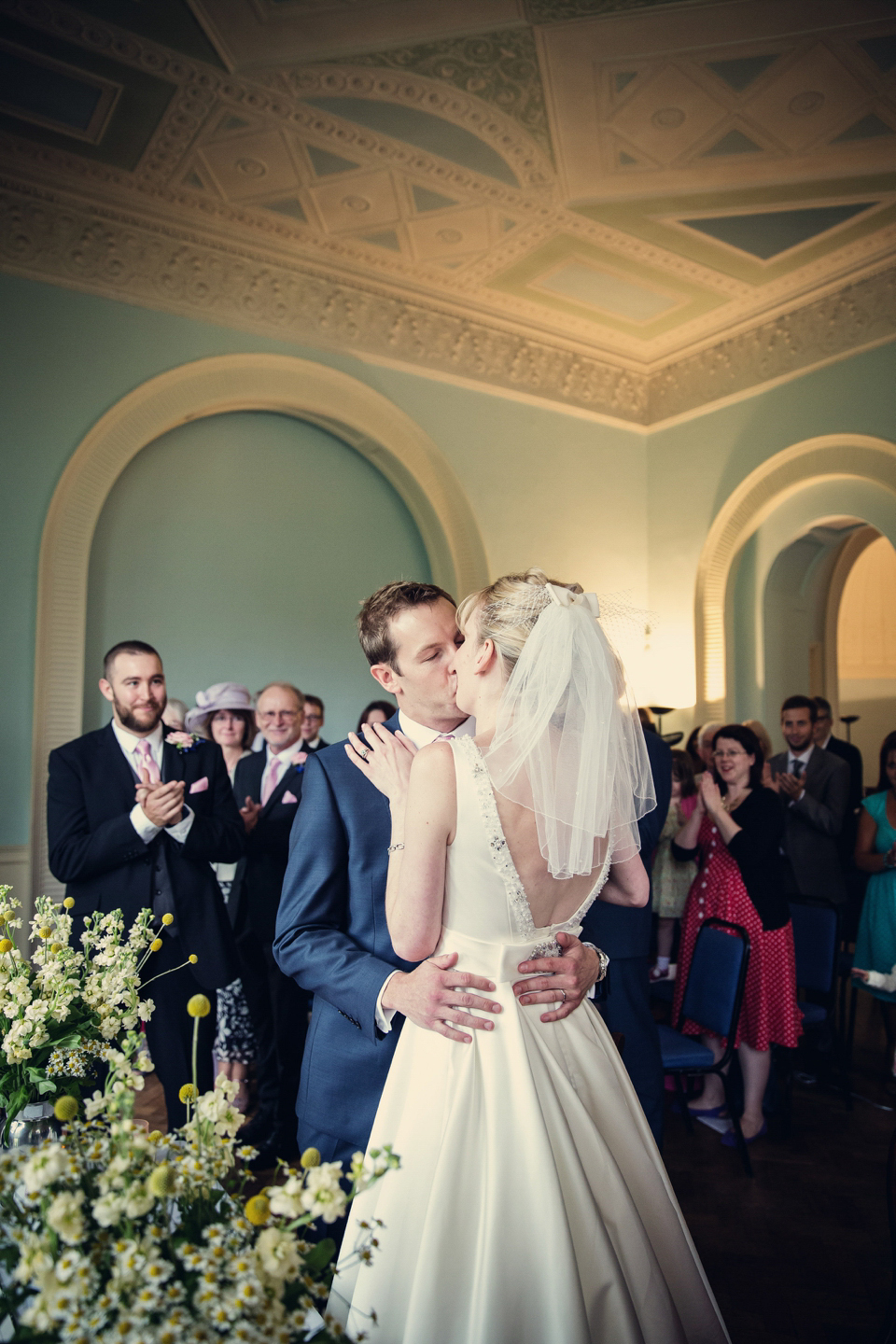 "I didn't realise you could buy from Moss Bros, I thought they were all for hire.  The suit Danny found fitted him perfectly and was very good value."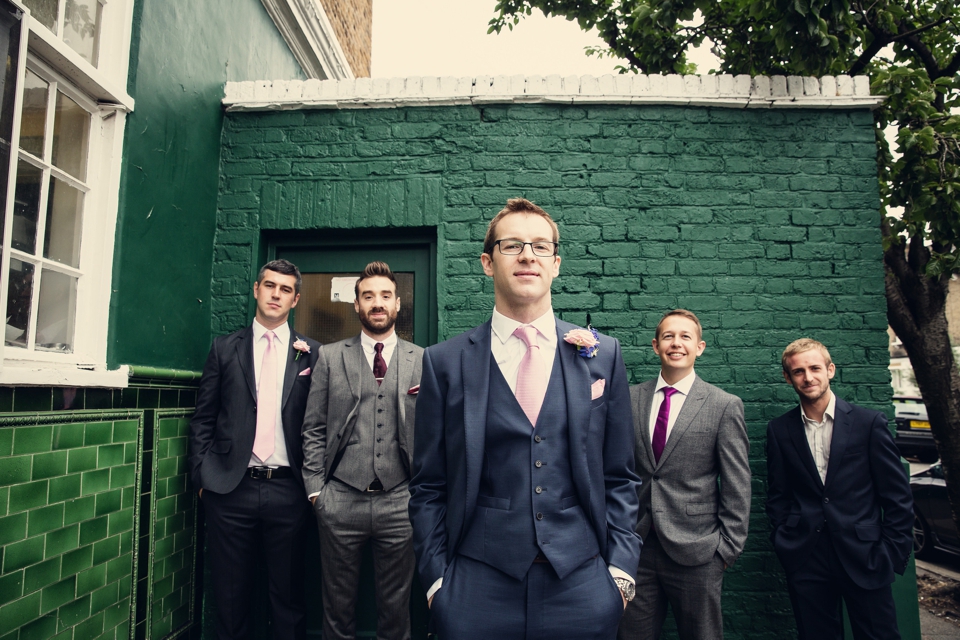 "My bridesmaids wore navy blue with white polka dot Vivien of Holloway dresses, with chiffon petticoats in blue, cream & pink.  I was really bossy about the dress for the girls, I had my heart set on Vivien of Holloway and thankfully they all loved the dresses and I think they looked flippin' fabulous.The bridesmaids bought their own shoes, they all wore lovely high heels which looked great with the 50's style dresses (and also made me look less like a giant!)"
"Our florist was Becky from Peony Flowers.  I wanted lovely summery bouquets, nothing too formal or fancy pants, and Becky from Peony flowers delivered.  Beautiful roses, hydrangea stocks and daisies in pink blue and cream.  She also supplied cut flowers for the pub and ceremony - cream stocks and daisy's. 
Mum and I arranged all the cut flowers in jugs I had collected from charity shops or were given by friends.  We were so pleased with ourselves, and they looked great at the pub amongst all the colourful decorations.   I did have crazy visions of getting up early and going to Covent Garden Market the day before the wedding, but thankfully I reigned myself in on this one and asking Becky to supply the cut flowers was a great compromise."
"I'm not the most crafty person but liked the idea of having homemade decorations and bits, but I knew deep down inside that what would happen would be that I would have all these grand plans for what I would make, order all the bits, but then leave it all to last minute and have a meltdown (imagining thousands of crumpled sheets of tissue paper and me in a heap on the lounge floor).  So to Pippi it was. 
They have a lovely range of paper decorations, pom  poms, straws, cocktail sticks, streamers etc."
"I kept my box of decorations, not really having a plan for them, and once we got closer to the day I realised that I was not going to be able to decorate the pub on the morning so I delegated to Danny.  Danny rounded up friends and family and they spent the morning making my box of decorations come to life.  Boy oh boy did they!  When I got to the pub and walked through the door I was blown away, they had made it look absolutely wonderful, it was all my dreams come true, I could not have done a better job myself. 
They all went above and beyond and I will be eternally grateful.  I had wobbles on the way that the decs would look like a small child had free reign, but once again my instincts were proved right!"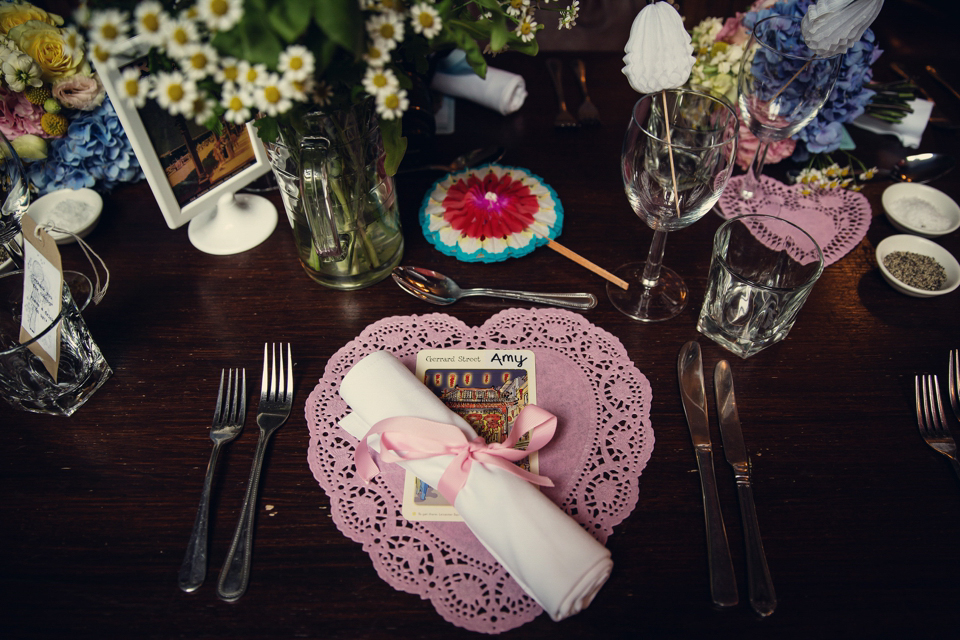 "For the table plan we used vintage train postcards of destinations that meant something to us.  My poor dad spent hours the day before with a big can of spray mount getting this absolutely perfect for us!  On a very humid day – thanks dad!
As for 'favours', we decided to make a token where our guests could get a free drink at the bar.  I ordered some trusty luggage tags and stuck a printed message on 'have a drink on us'.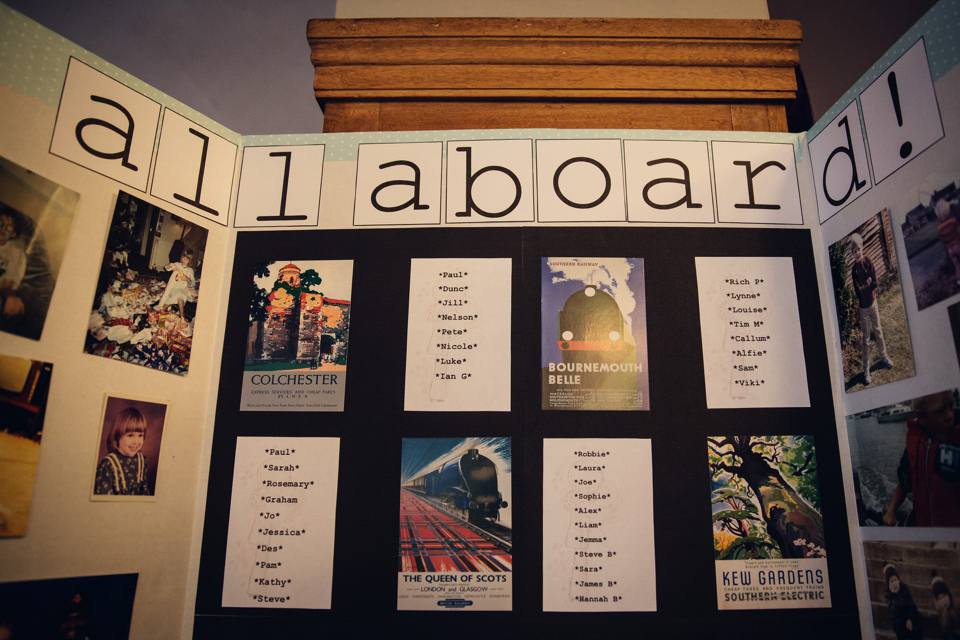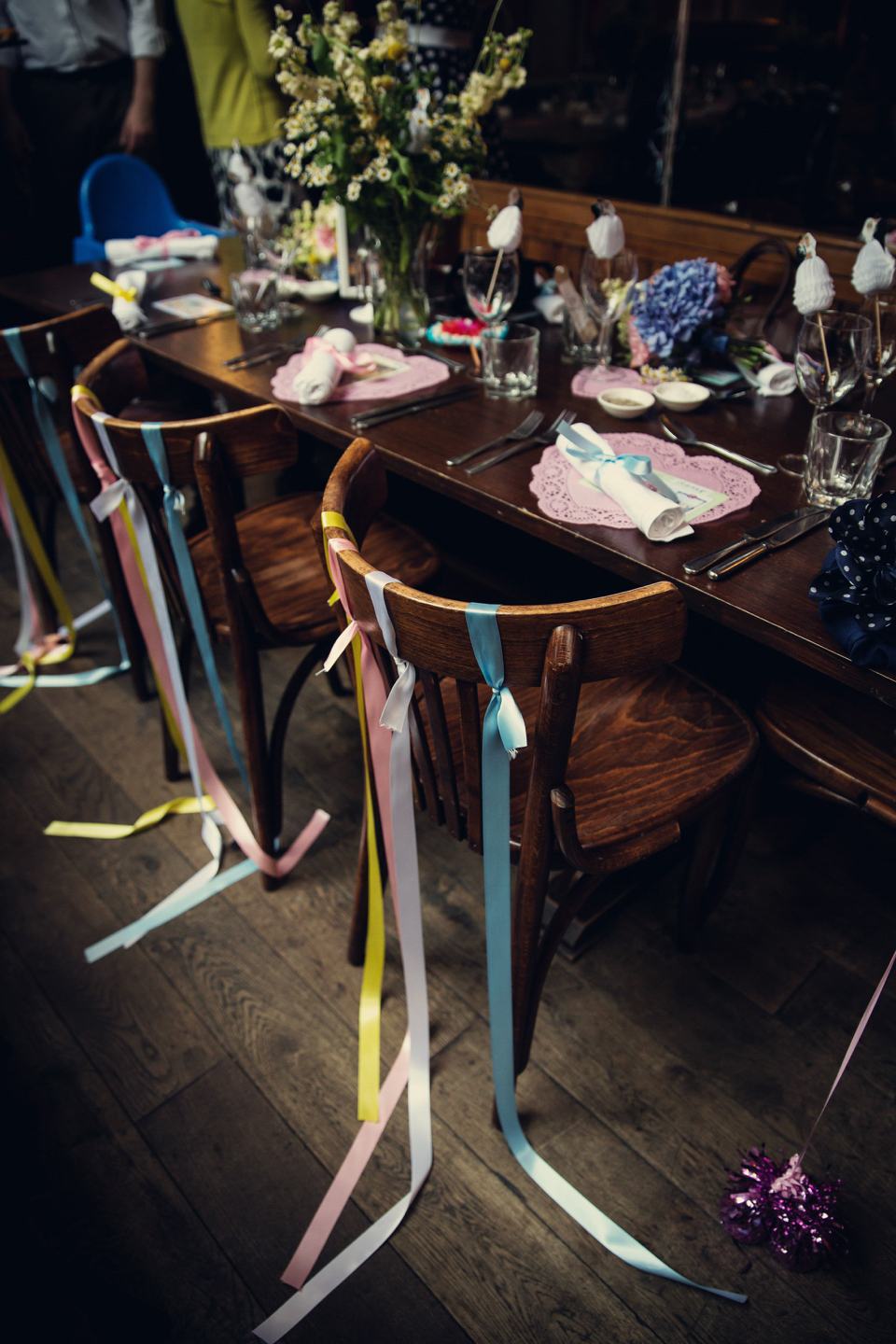 "Throughout the process we met a lot of wonderful suppliers and some not so wonderful (you know the ones, the people that tell you what you should have and not what you want!). Obviously, our photographer Sassy of Assassynation is in the wonderful category, I actually think she is a genius!  Booking Sassy was the best decision we made out of all of the billion decisions associated with planning a wedding, I never once regretted it! 
I must have seen Sassy's photos in a wedding blog and I was in love!  The colours, the fun and the fabulous stories she tells  through her photographs told me that she was the 'one'.  On the day itself, Sassy was amazing; she was very kind and friendly to us and all of our guests.  I knew I could trust her just to get on and rock it, and she certainly did. Sassy saw lots of opportunities that I never would have seen and it was a joy to be photographed by her.  The photographs we got back are sensational and we couldn't be happier.  All our family and friends were raving about them and Sassy.  I have spent hours going through them re-living the day. 
I know we will treasure them forever.  I knew that finding the right photographer was important but I didn't realise how much until after the day.  She has made us all look amazing and really captured the happiness and fun in the day."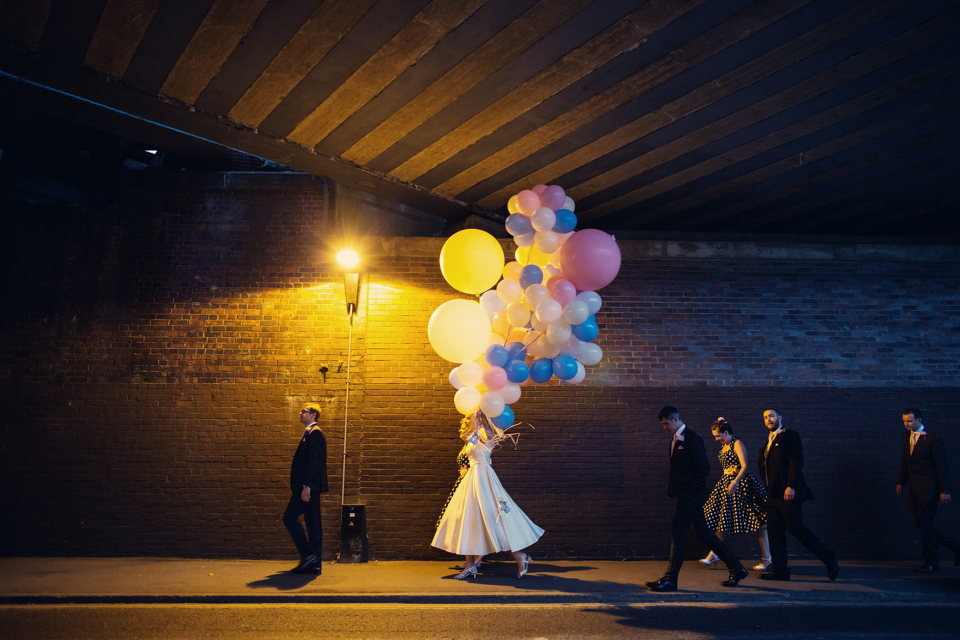 "As a tall lass, I've got big feet, I was dreading the shoe saga. After HOURS of online searching and unsuccessful Westfield missions my sister marched me down to a bridal shoe shop near her house in Tunbridge Wells and miraculously they had some ivory sandals by Pink with a small heel in a size 8 AND were on sale.  The shoe saga was over."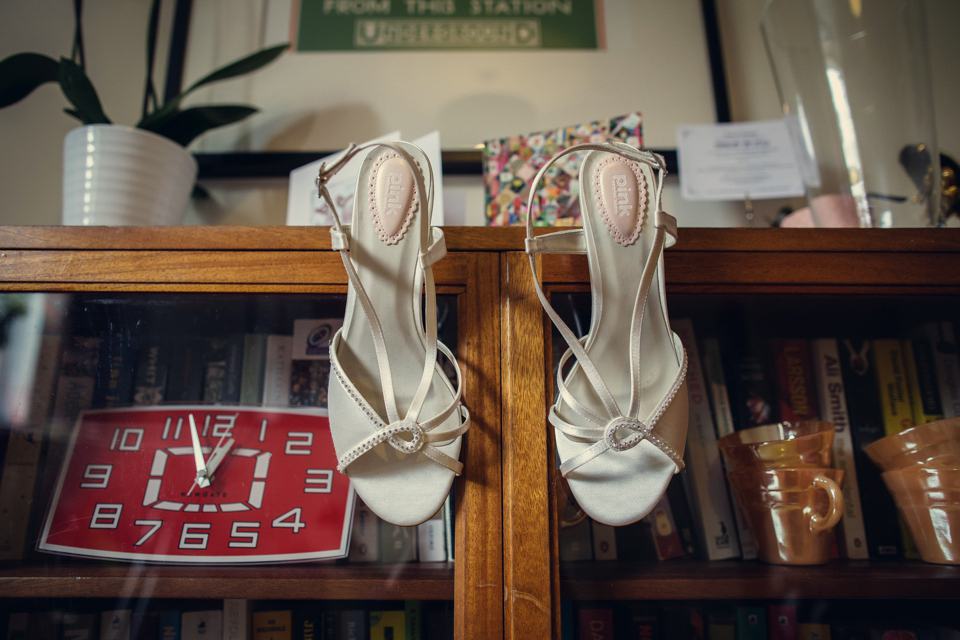 "We had an awesome navy blue Morris Minor supplied by Nick from Classic City Tours.  We didn't want anything too ostentatious or flashy – something different with personality.  The Morris was immaculate and Nick was a superstar, calmly driving me and dad to our destination.
"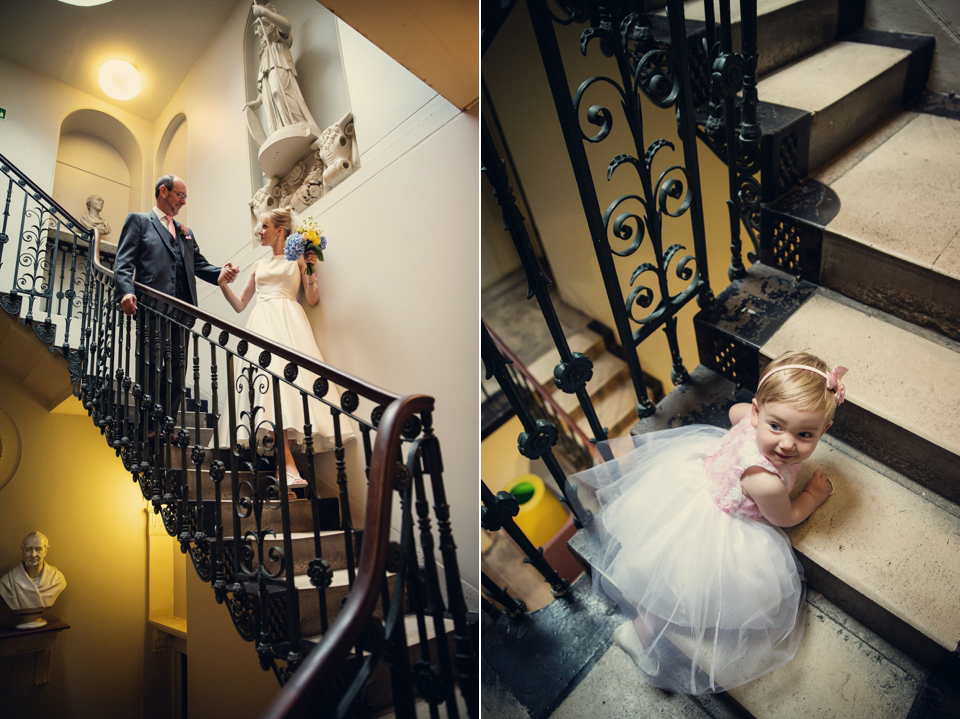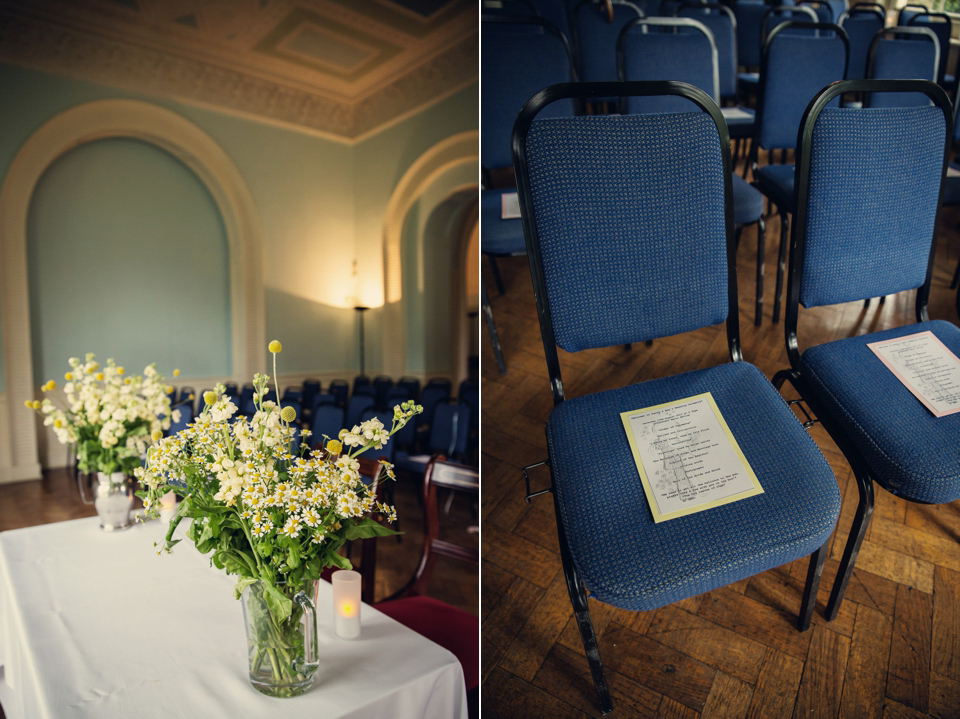 "My daddy gave me away – I walked down the aisle to Badly Drawn Boy's 'Magic in the Air'.  We walked back down the aisle to 'Let's spend the Night Together' by the Rolling Stones." 
"We plumped for the traditional vows.  The registrar emailed them through to me before the wedding and I read them at work trying not to sob at my desk – they are very lovely.
We chose two readings – 'I want to be yours' by John Cooper Clarke and the lyrics from 'Tightrope' by the Stone Roses.  It took ages to find the right ones but these were perfect and read brilliantly by good friend, Isla, and one of the bridesmaids, Danny's sister Helen."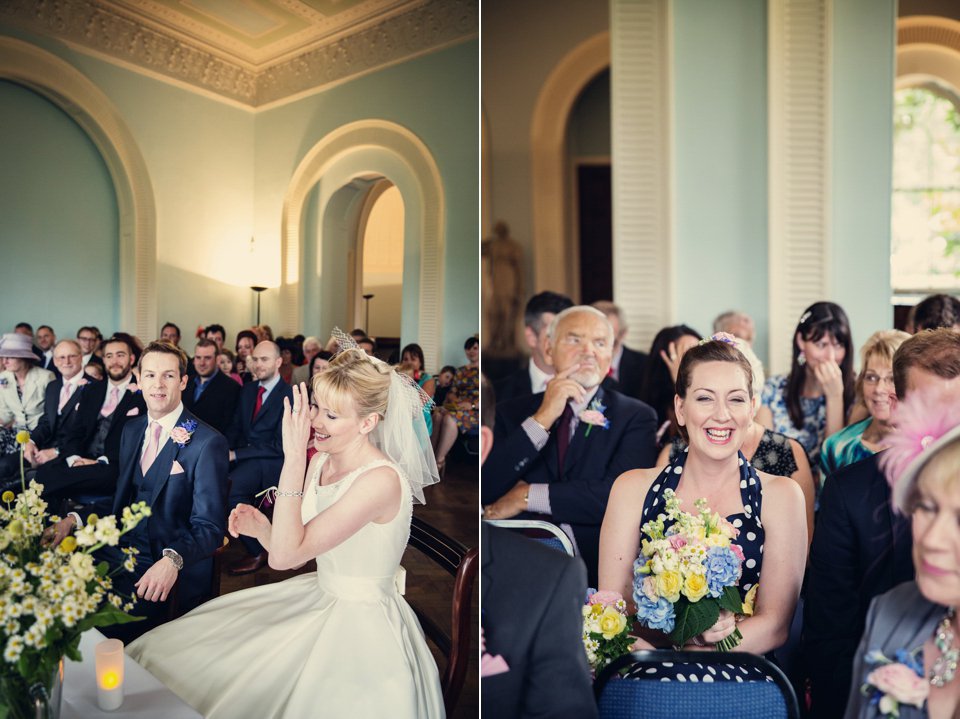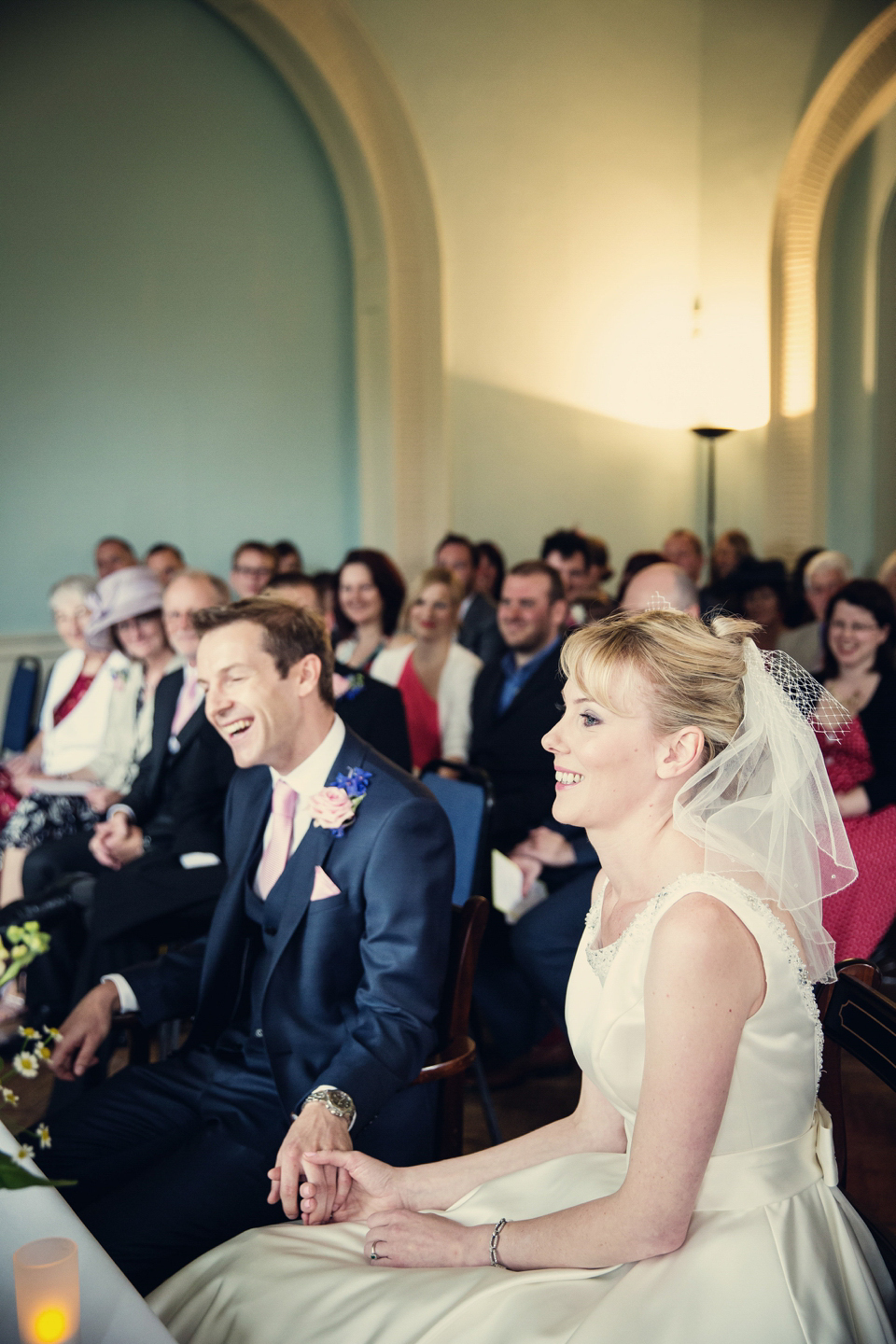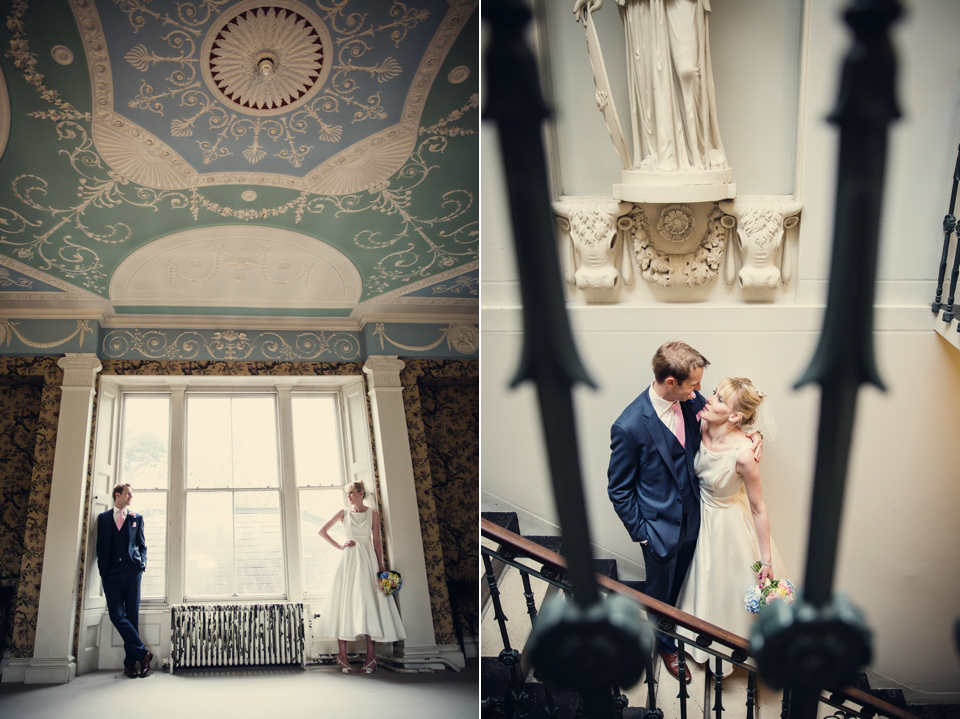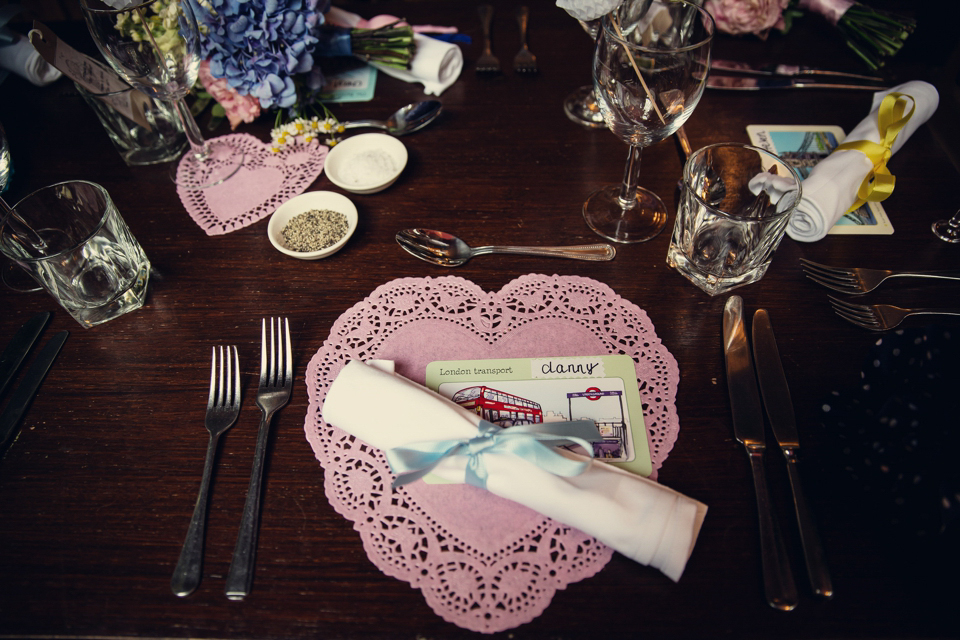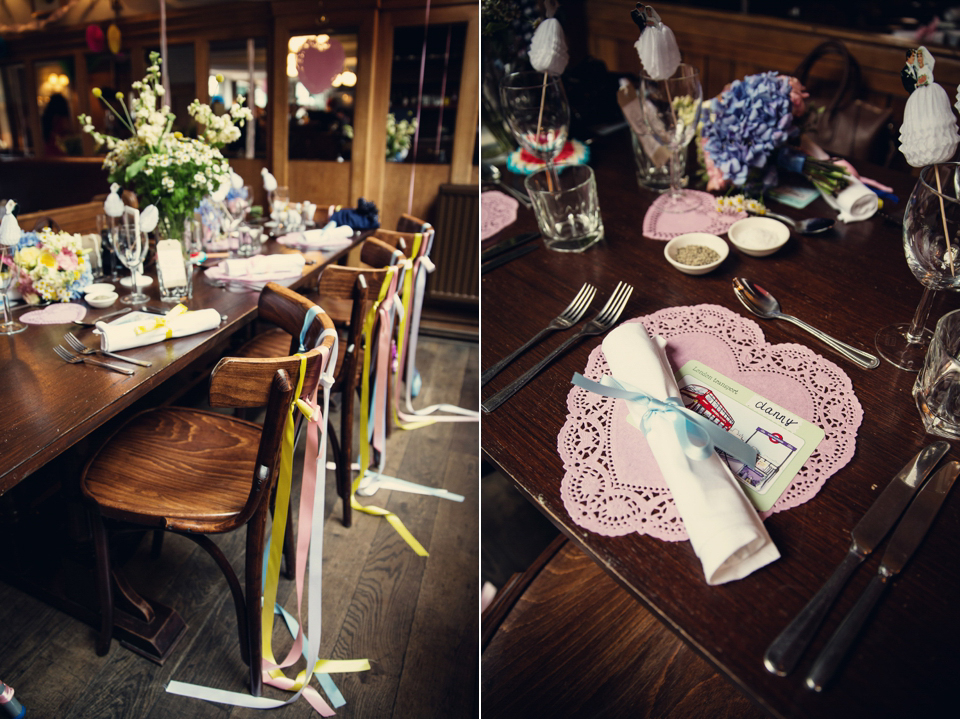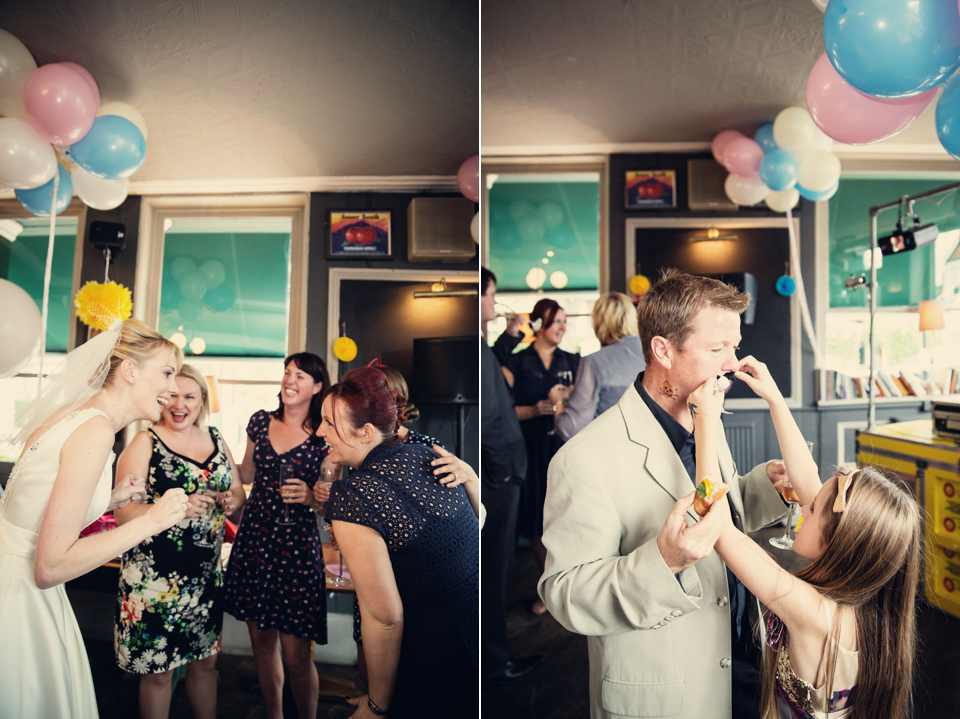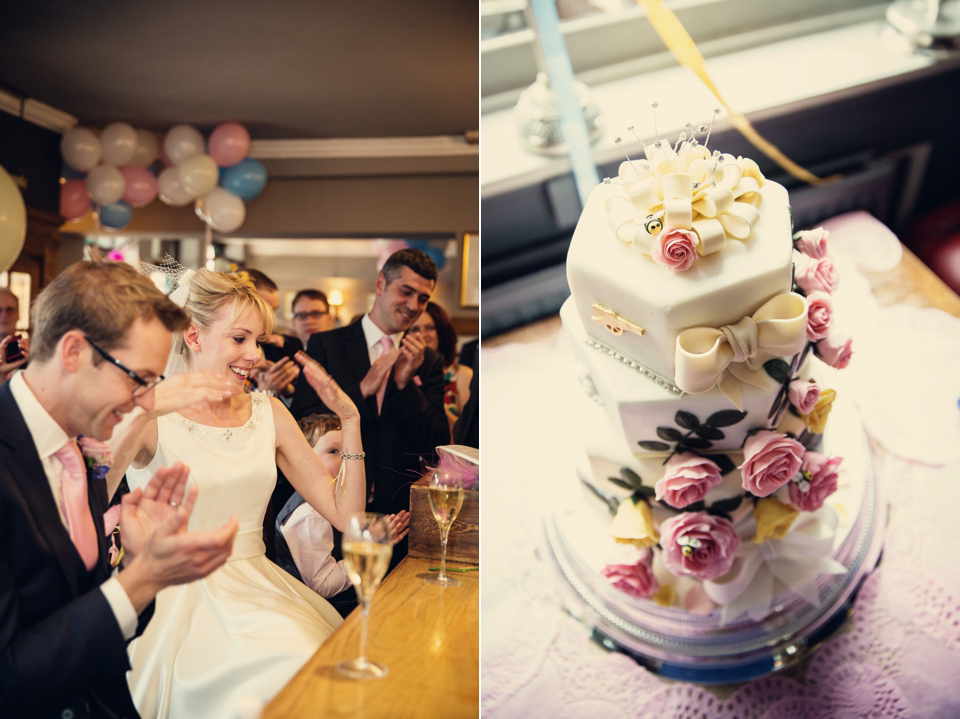 "The cake was a labour of love and a masterpiece, made by Danny's dad and partner Sarah.  We gave them free reign and I was just so pleased that they said yes when I asked whether they would make us one.  I was absolutely gob smacked when I saw it at the reception.  It was ruddy brilliant - the colours, the little details AND 3 tiers, yummy.  They also gave us a Vera Wang cake knife – Wang at my wedding – how posh!"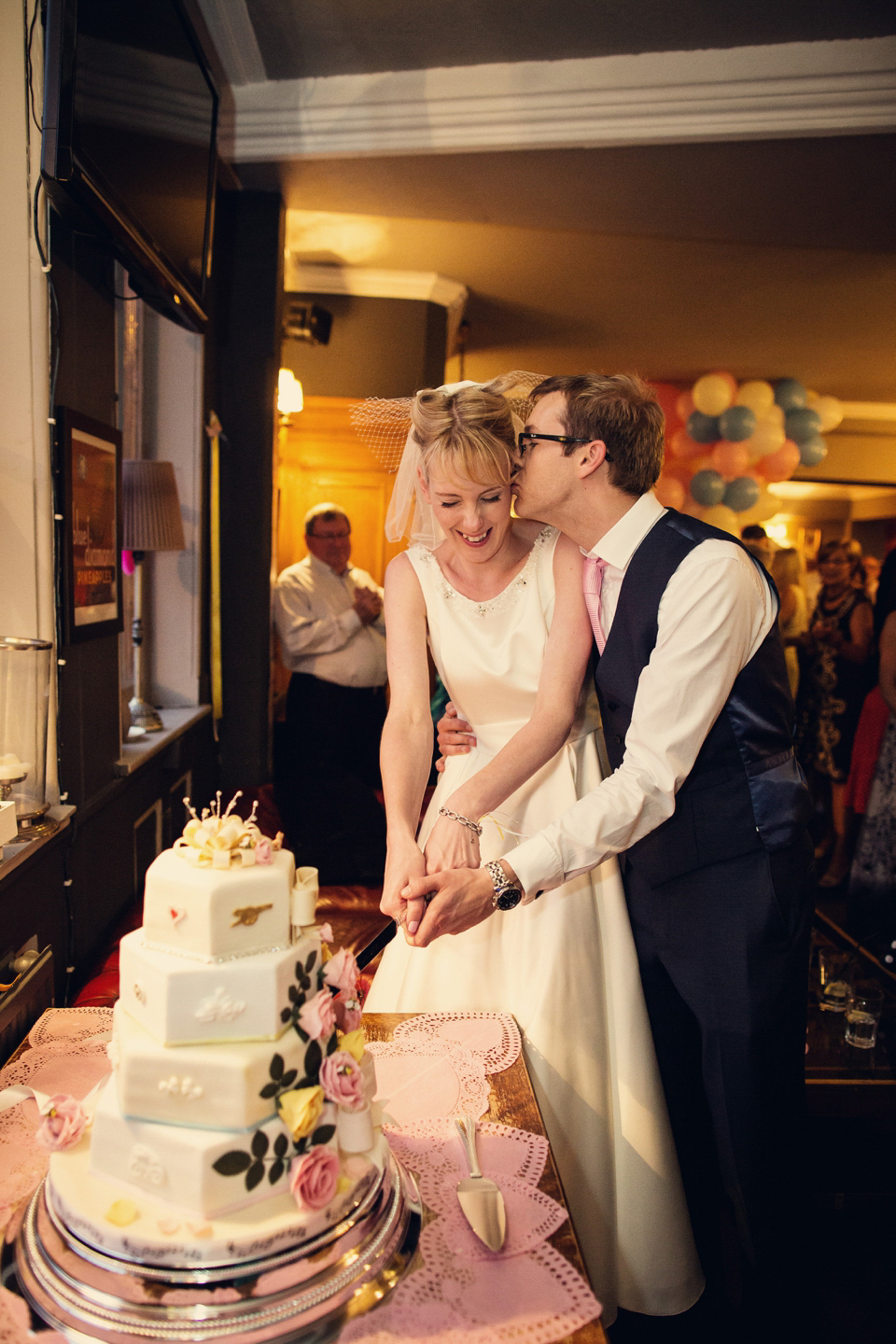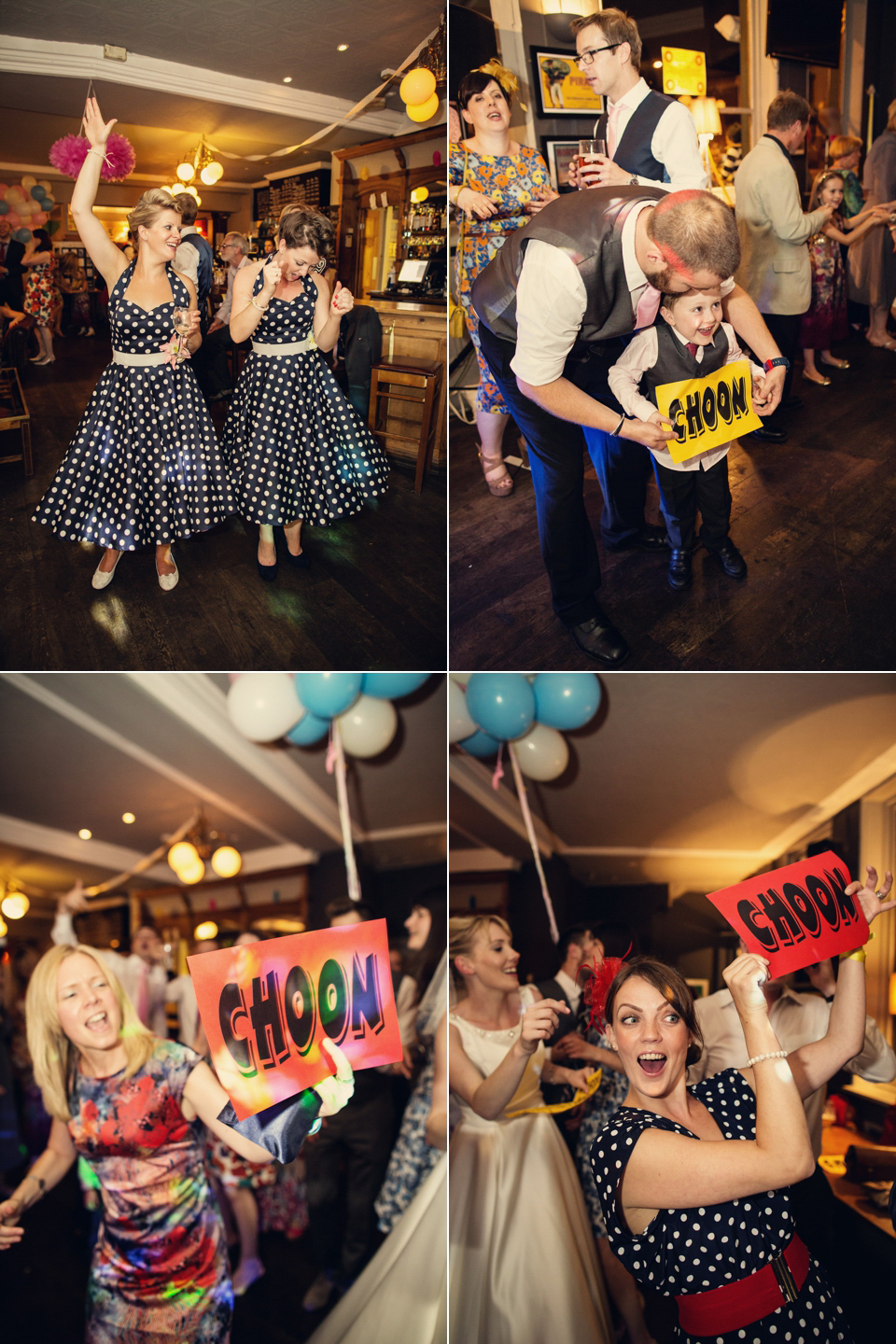 "Without a shadow of a doubt, alongside providing copious food and drink for our guests and getting a great photographer, making sure the music was right was at the heart of the day.  I love music and it has been a running joke that being a bit of a music fascist I would have to DJ at my own wedding!   When I found Stick It On, it really did seem a brilliant solution.  I got to hand over all the song choices to friends and family thus letting go and embracing all the eclectic choices AND I got to DJ – Oop oop. 
Rob is a true professional and gent, the evening went perfectly and it was so funny seeing friends and family behind the decks.  We had everything from Barry Manilow to the Pixies.  A highlight was Danny's brother Chris and girlfriend Cheryl playing DJ Fresh 'Golddust' -something I would have never chosen but was totally EPIC!   Just for your info myself and Danny played Daft Punk 'Get Lucky', 'Blur 'Girls' and Boys' & Hot Chip 'over and over' – damn fine set if I do say so myself!"

Words of Wedded Wisdom…
"If I could give one piece of advice to brides to be – trust your gut instinct and go with it!  Also, looking back now I wish that I had taken more pictures of myself in the dress as I have some minor wedding dress regrets (I know I know, I shouldn't say this!).  I think I got carried away with the back as the front didn't look as nice.
I also wish that I had customised the petticoat more, I really wanted it to be very full and colourful but I got talked out of it – my fault for not trusting my instincts. If I had my time again I would have put much more time and effort into searching for a dress, but I must admit that my dress was very affordable, made in Britain and a classic design.  Hello Audrey!
There was a moment at the reception when Danny said to me; 'this is too good to be our wedding!' He was in disbelief, like I was, about how amazing the day had turned out!"
I do love a good old knees-up! Thanks so much Amy and Danny for sharing your special wedding day and, as always, a huge thank you to photographer Sassy of Assassynation.
I'd love to hear from other readers planning a pub-style wedding celebration.
Love Annabel
Photographer – Assassynation
Venue – Pitzhanger Manor + The Bollo House
Brides Dress – Lou Lou Bridal purchased from Sassy Brides
Veil – The bride's mum
Shoes – Ivory sandals by Pink
Groom – Moss Bros
Bridesmaids – Vivien of Holloway
Flower girl Dresses – BHS
Florist – Peony Flowers
Transport – London Route Master + Classic City Tours
Entertainment – Stick It On
Make-up Artist – Amazing-Face
Balloons – Oscar's Den
Paper Decor – Pippi
Follow Love My Dress® on Google+