Good morning all, I hope you've had a gorgeous weekend.  I've so much to share with you following a few days in London, where I attended and spoke at the Blogtacular Conference. It was just fabulous, and on top of getting to meet one of my blogging idols, Joy Cho of Oh Joy (and speak alongside her – proud blogger moment), I also got to make a whole new bunch of blogging friends. It was so inspirational.  Keep your peepers on the Blogtacular site because the whole conference will be available online soon.
This morning's wedding took place in North Yorkshire, my home and a place that's so very dear to me.  Equestrian rider and trainer Helen tied the knot with Khuong, a Graphic Designer on 20th July last year at St. Lawrence Church, Flaxton, North Yorkshire, followed by a reception at Newburgh Priory in Coxwold and an evening reception at The Talbot Hotel in Malton.
"Due to the location we chose, I would say we wanted to focus on an understated countryside glamour aesthetic when styling our wedding.  It was also important to us that our day was unique to the two of us. We kept the wedding fairly traditional, but didn't want to religiously adhere to the formats which did not suit our style. We also wanted to support British fashion designers, and reflect timeless elegance."
Photography Copyright (c) 2014, Annemarie King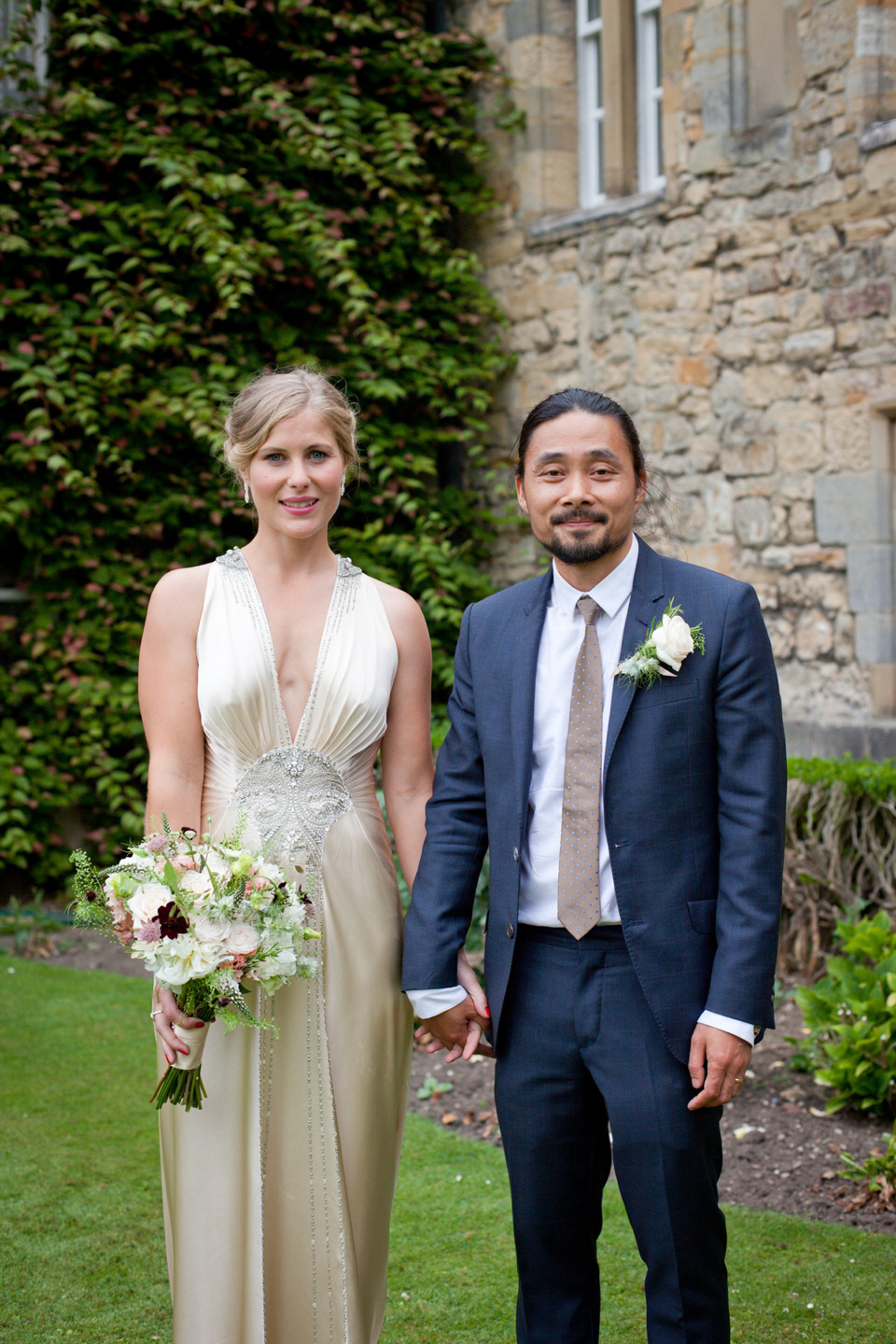 "Khuong and I met through a mutual friend in London in 2004, and have been together ever since then. We got engaged in August 2012, 11 months before we were married."
"I was brought up in Yorkshire and wanted to be able to walk down the aisle in the chocolate box church that is St Lawrence, in the small village that I grew up in - Flaxton. We decided we should maximise on the natural heritage the Yorkshire countryside has to offer, many of our guests were from London or abroad, and chose to hold the reception at Newburgh Priory in Coxwold, which is set within an area of outstanding natural beauty – the Howardian Hills. Newburgh is set on the site of an Augustinian Priory founded in 1145, but is now a relaxed family home for the Wombwell family which makes it feel more special and understated, although it does have extensive grounds. The setting was quite fitting as my family are keen equestrians, and you could actually see the Kilburn white horse on the hills in the distance."
"I wore the Imari design by Jenny Packham, in the softer champagne colour. I bought this dress from Andrea Bambridge in York. Andrea was an absolute pleasure to do business with, and is very knowledgeable – I highly recommend her.
I loved the quality and simplicity of the heavy silk charmeause, the beauty in the design of the plunging neckline, and the cross straps at the back, which revealed just enough. The beading detailing topped it all off without being fussy. It had that timeless elegance and glamorous feel I was looking for."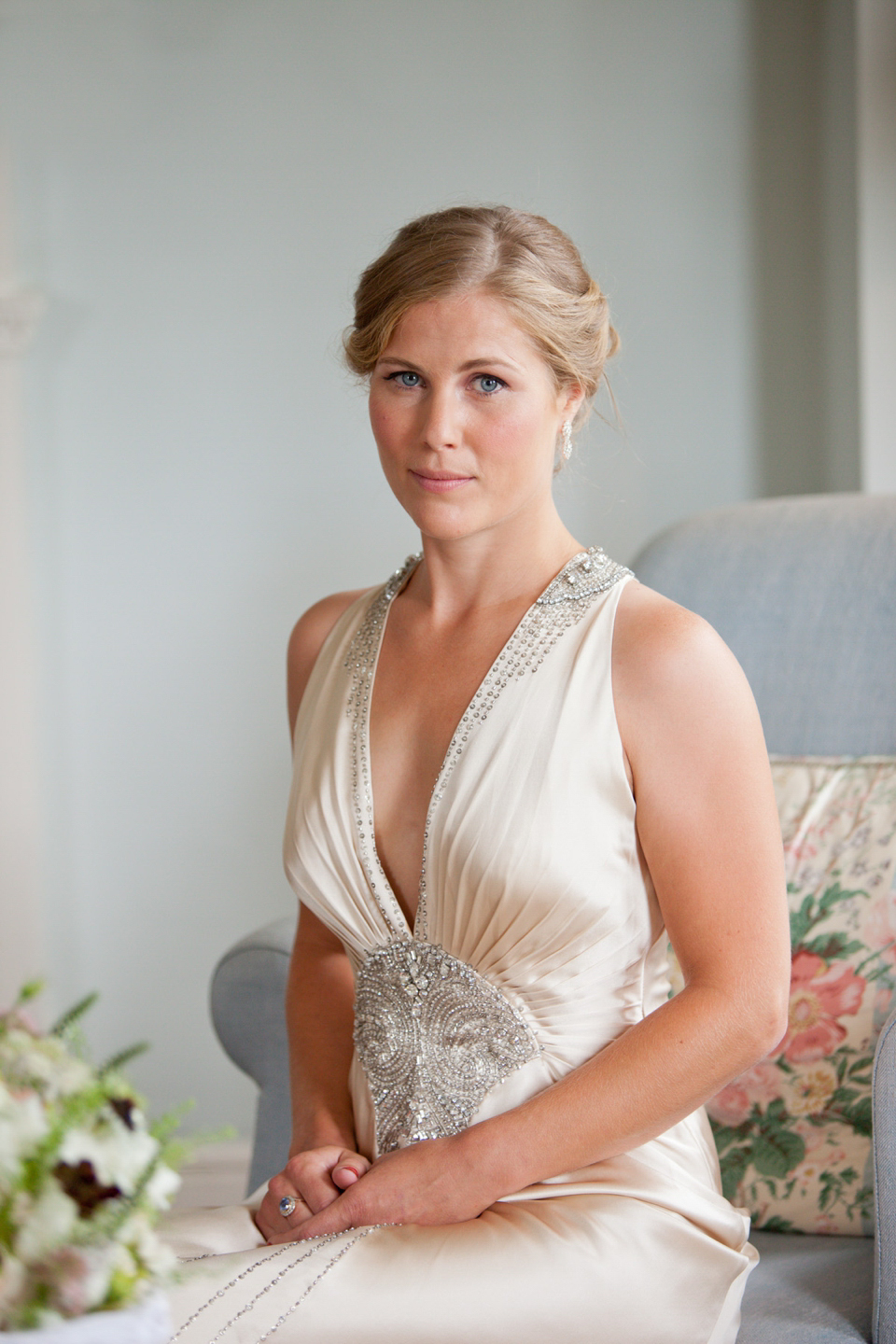 "I sourced my veil online from Unveiled Bridal Designs in Portland Oregon, USA. I choose the bandeau veil in French netting in the end, which was matched to the colour of my dress. I know that Jenny Packham dresses are notoriously difficult to wear with veils, but I just loved my subtle bandeau netting." 
"Our flowers were by the hugely talented Lucy MacNicoll, and were really important to me. Lucy did such an amazing job as I wanted wild but soft country designs, nothing too structured or sickly sweet. I particularly requested Nigella and Astrantia to add texture to the softer roses, peonies and others. The colour palette was sensational with elegant tones of white, cream, pale pink, dusky pink, blush with pops of green and claret red cosmos to add depth and contrast.
Lucy's flowers just totally took my breath away when I saw them on the day, they far exceeded my expectations (which were already pretty high)!"
"My bridesmaid dresses were Diane Von Furstenburg, but I just had to get them as I knew the rich brick colour would work so well with their olive skin tones."
"Our photographer, Annemarie King, is quite simply brilliant and I couldn't imagine having any other photographer at our wedding but her. Annemarie not only takes totally stunning natural photographs, but she also has such a lovely manner, which helps you to relax and just have confidence in her. We knew we loved Annemarie after doing our engagement shoot with her. Your photographs will last forever, so invest in the best."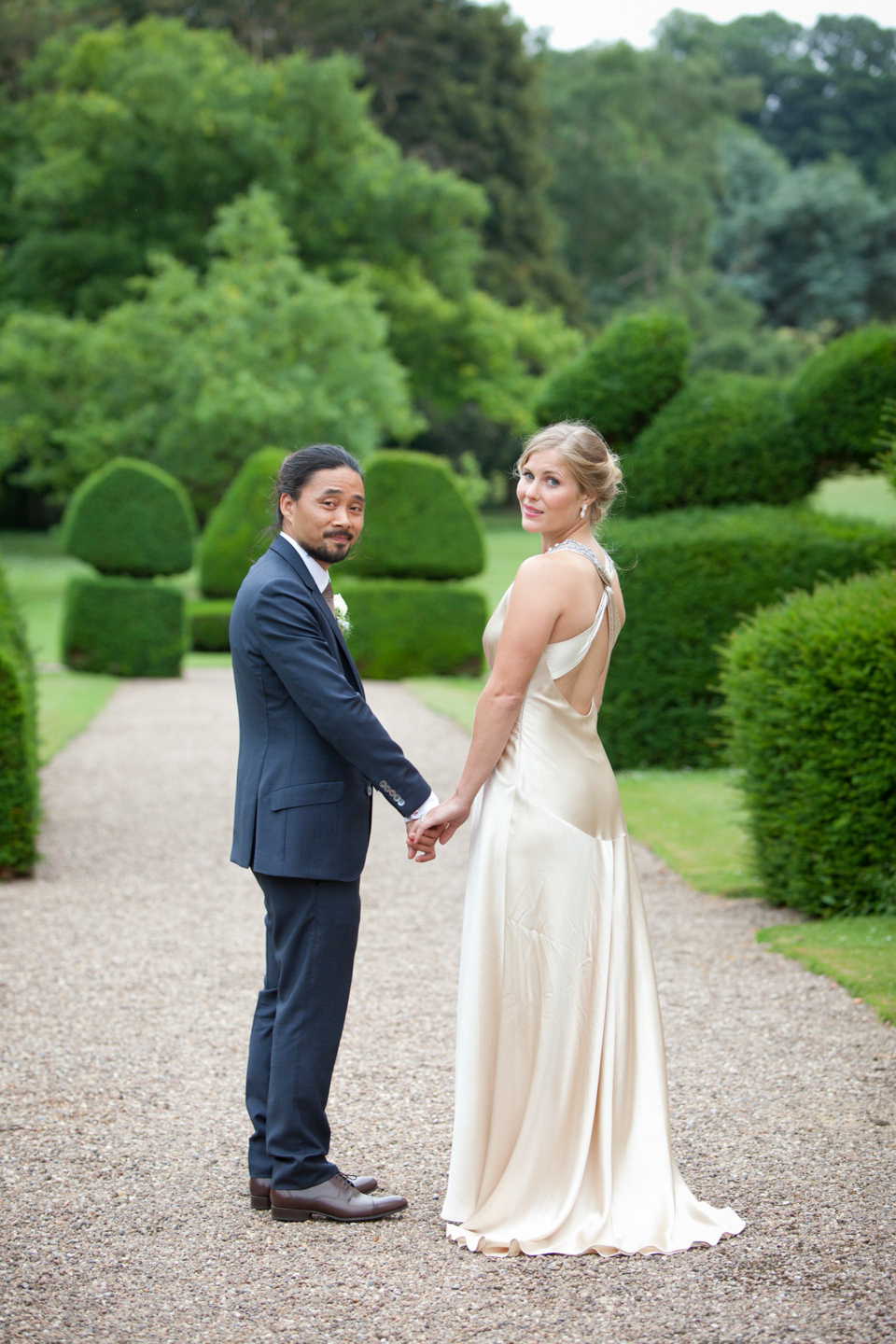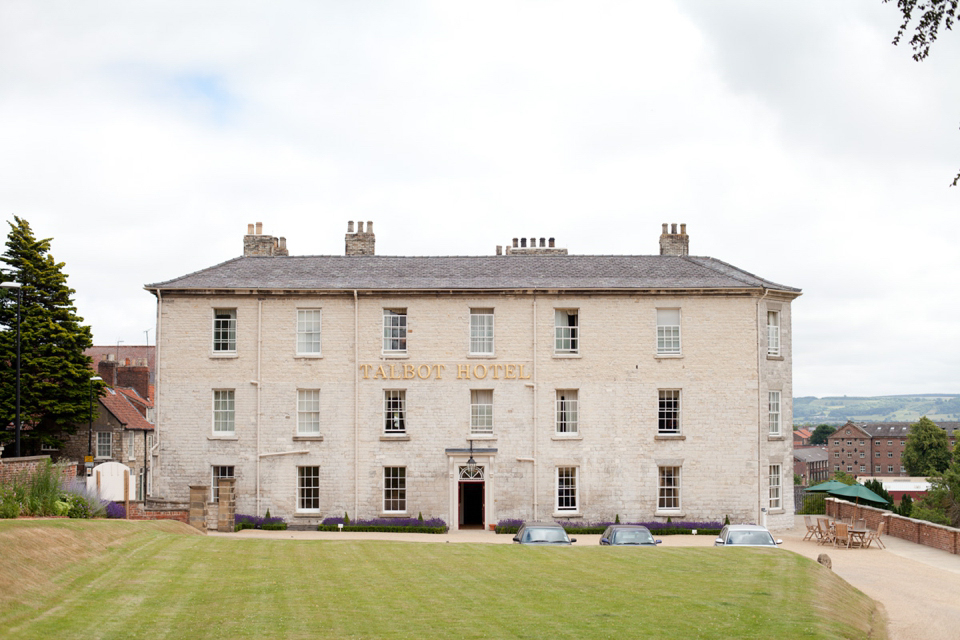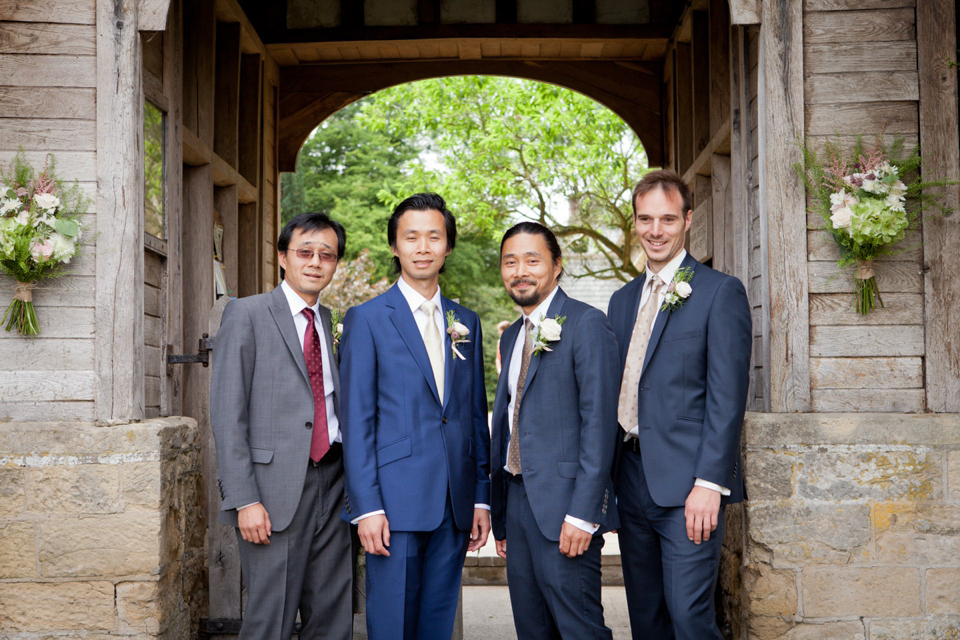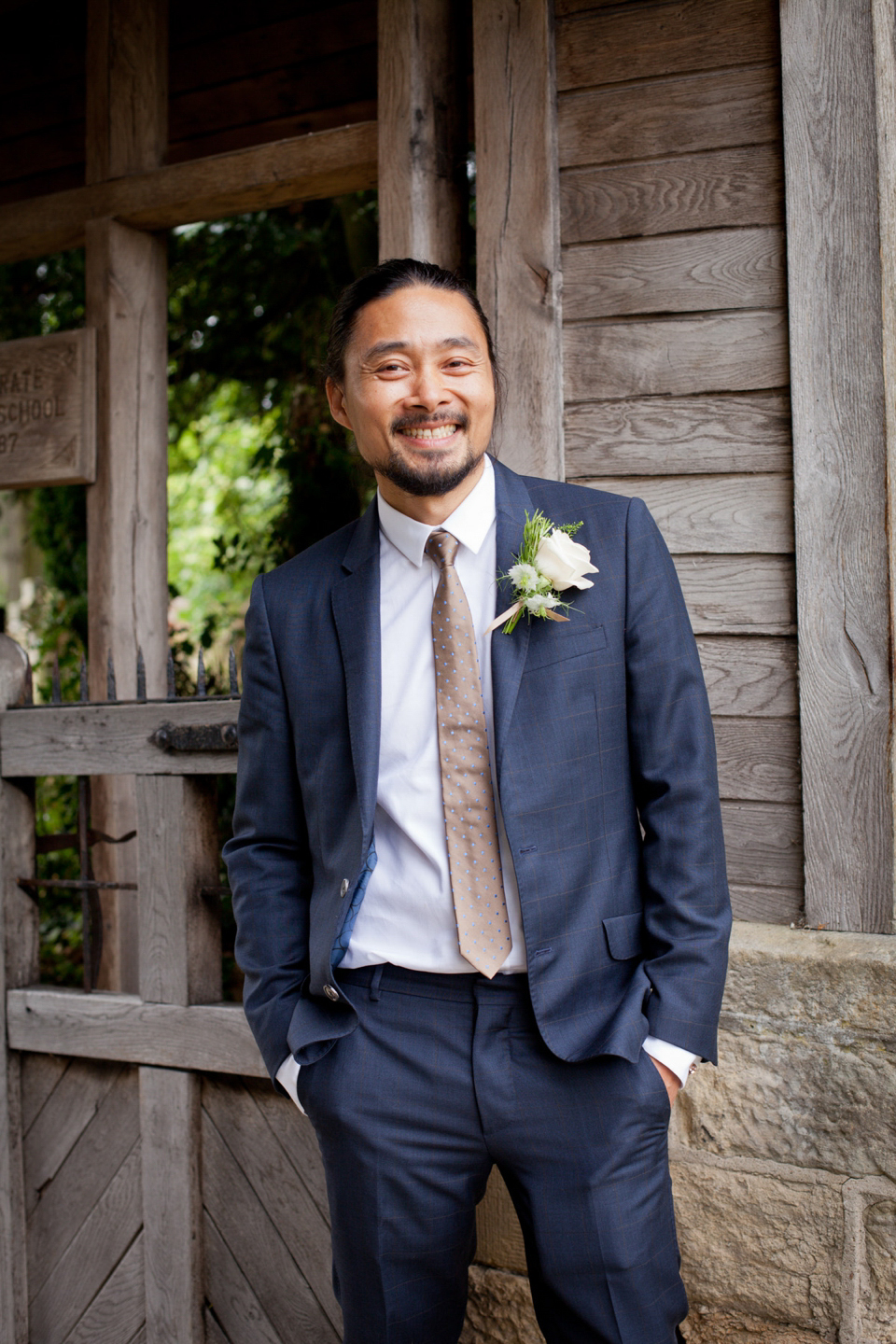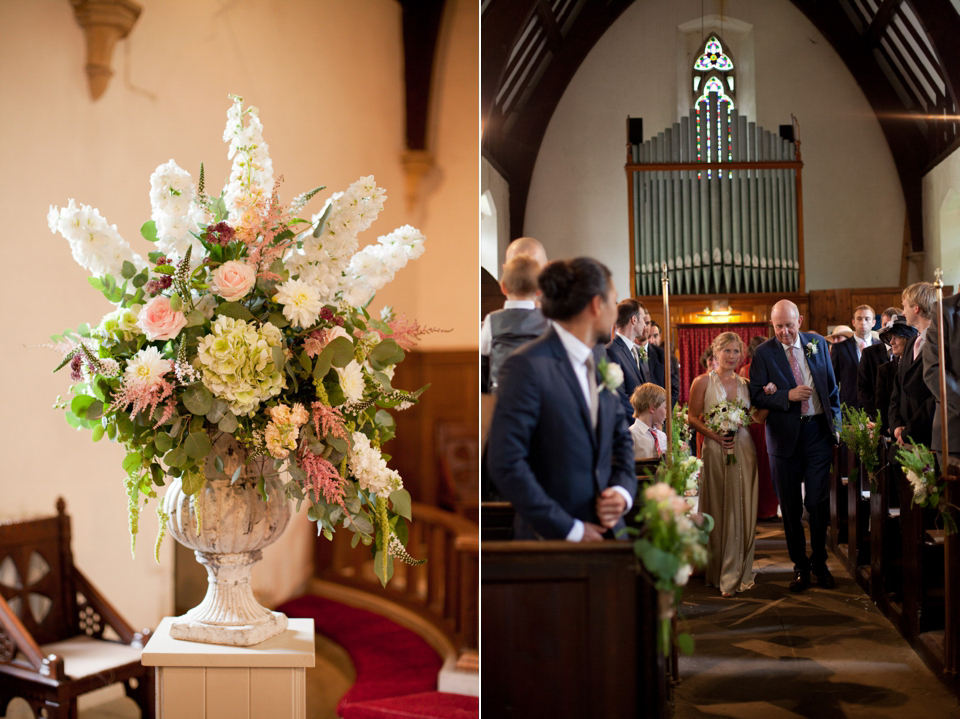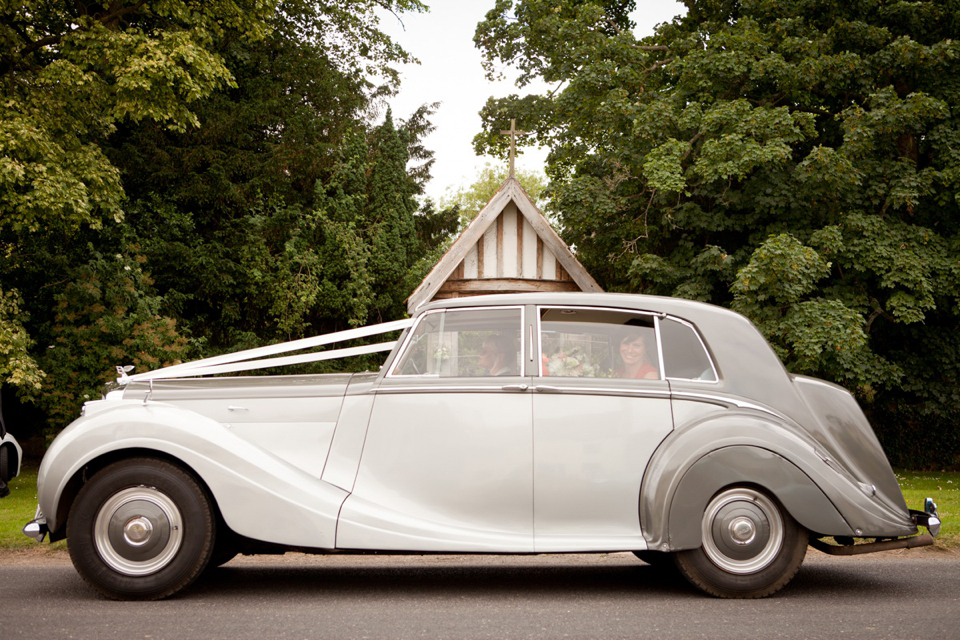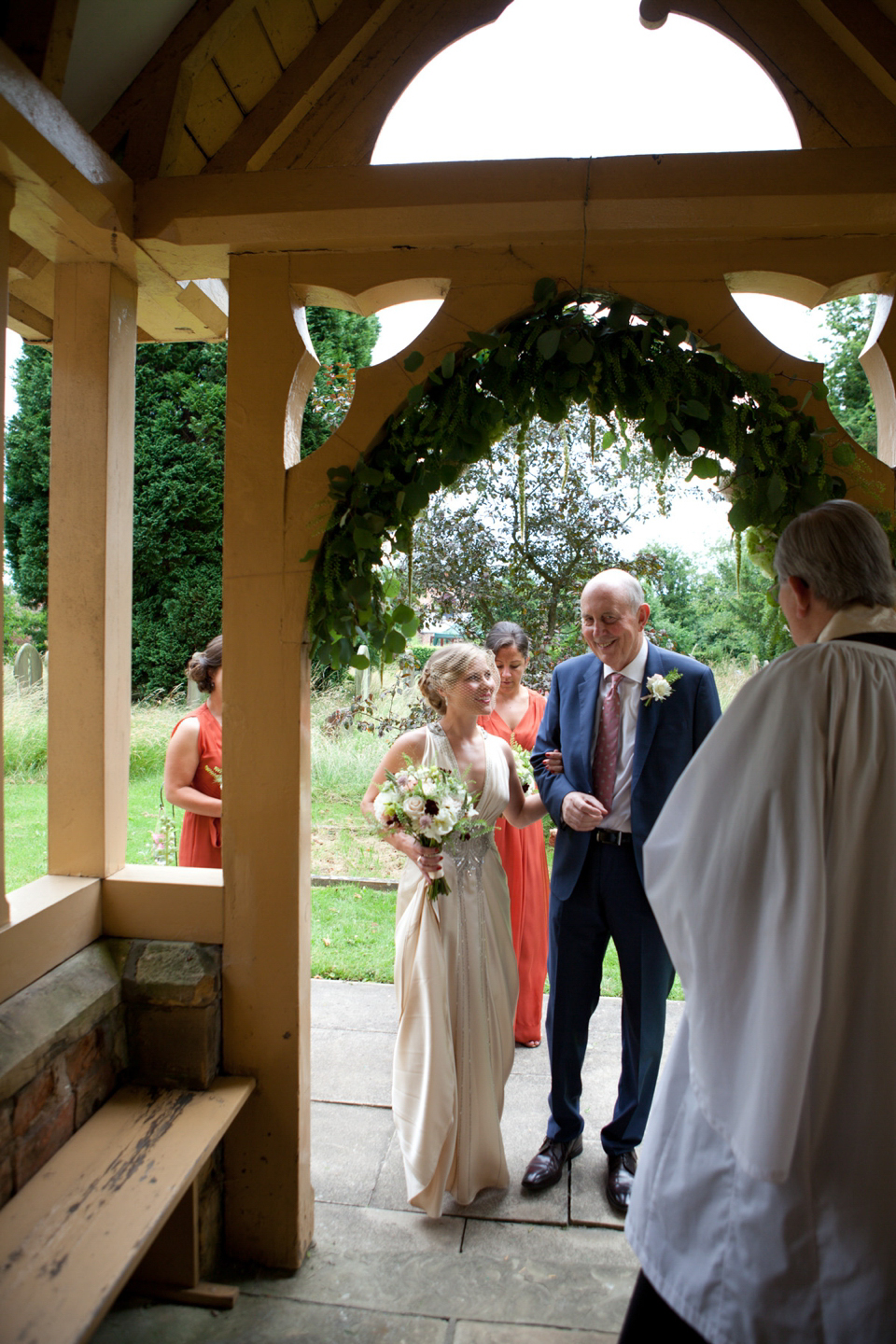 "My Dad walked me down the aisle to the sound of Hornpipe from Handel's Water music – both Khuong and I just love this music, and chose it together.
During our ceremony we exchanged traditional wedding vows and had a poem as a reading called 'The double bubble of Infinity' by Kate Farrell.  The other reading was read by Khuong's brother, Sihn,  and was 1 Corinthians, Chapter 13 Verses 1-7.  I always loved these words – for me they sum up what 'Love' is very eloquently, but may be a little deep and heavy. The poem was meant in juxtaposition to this - to be light and frivolous."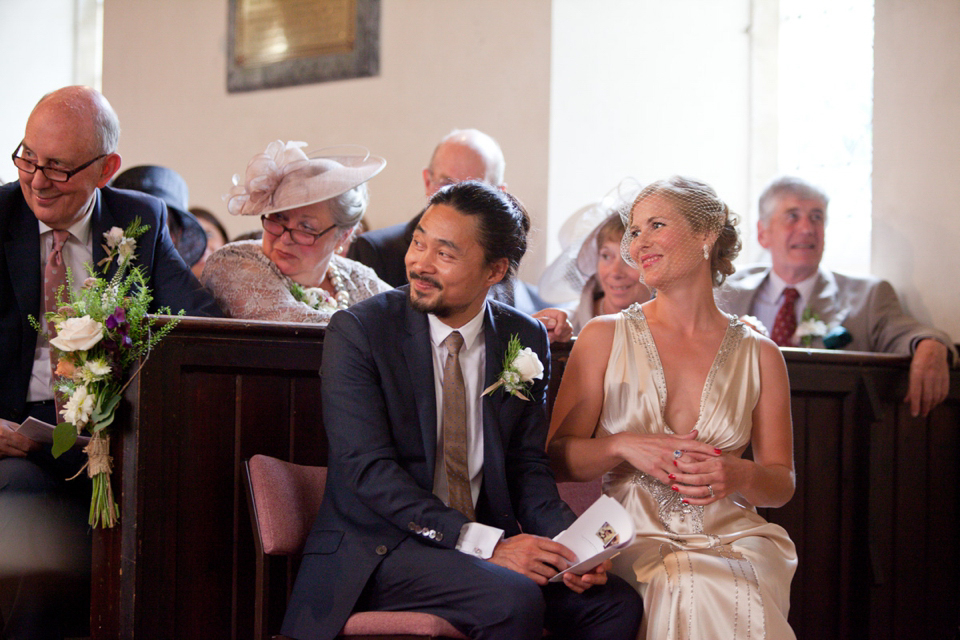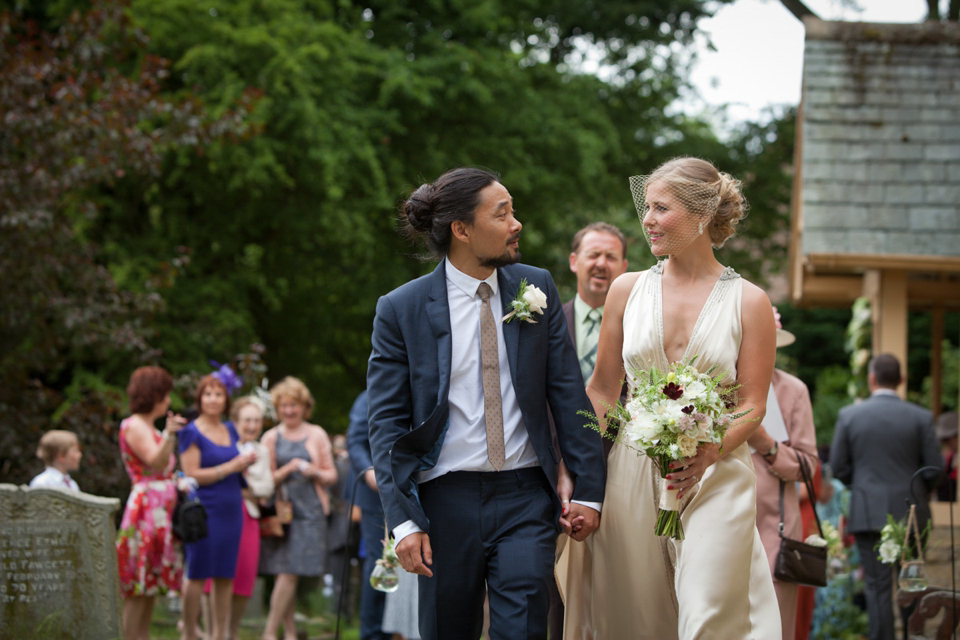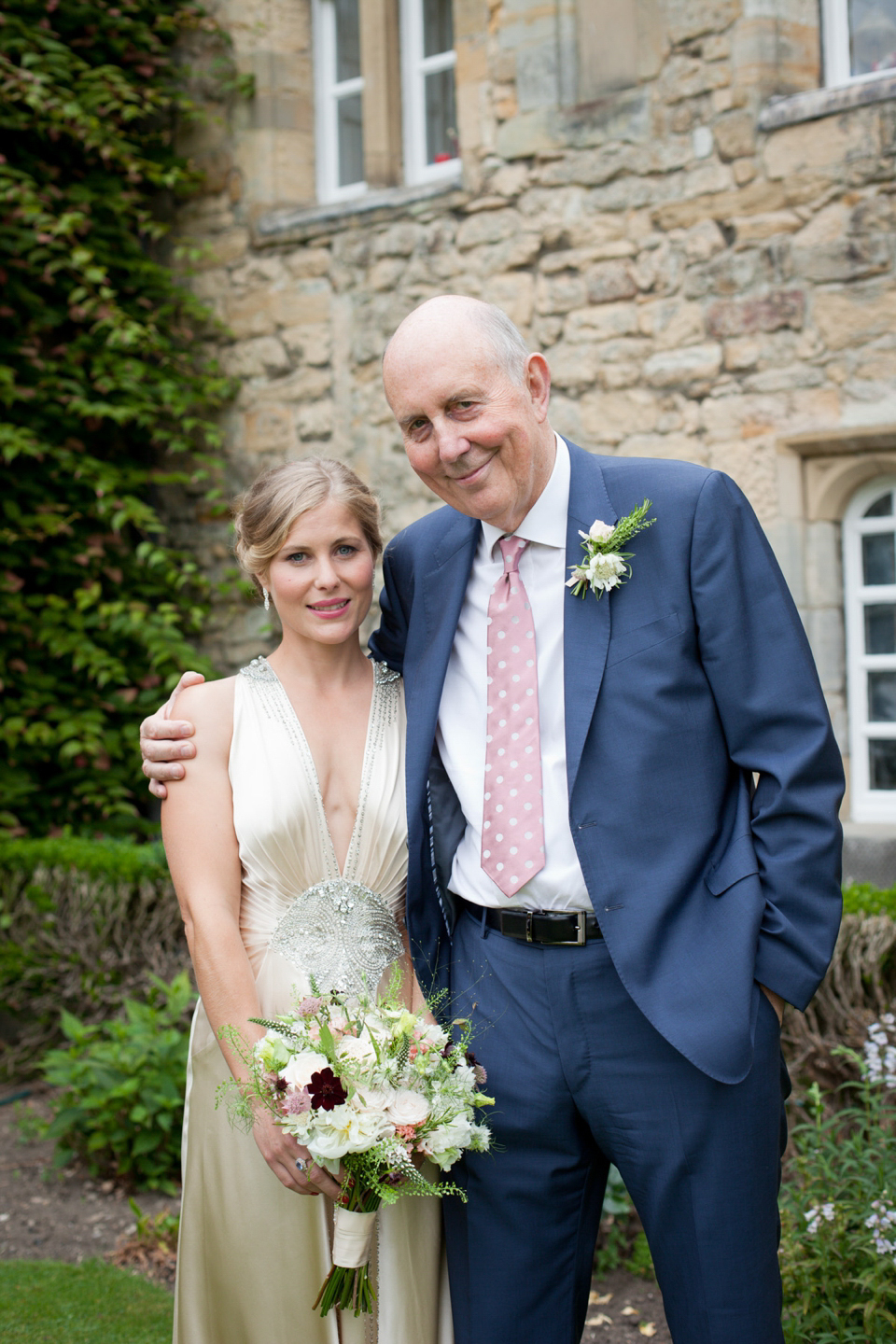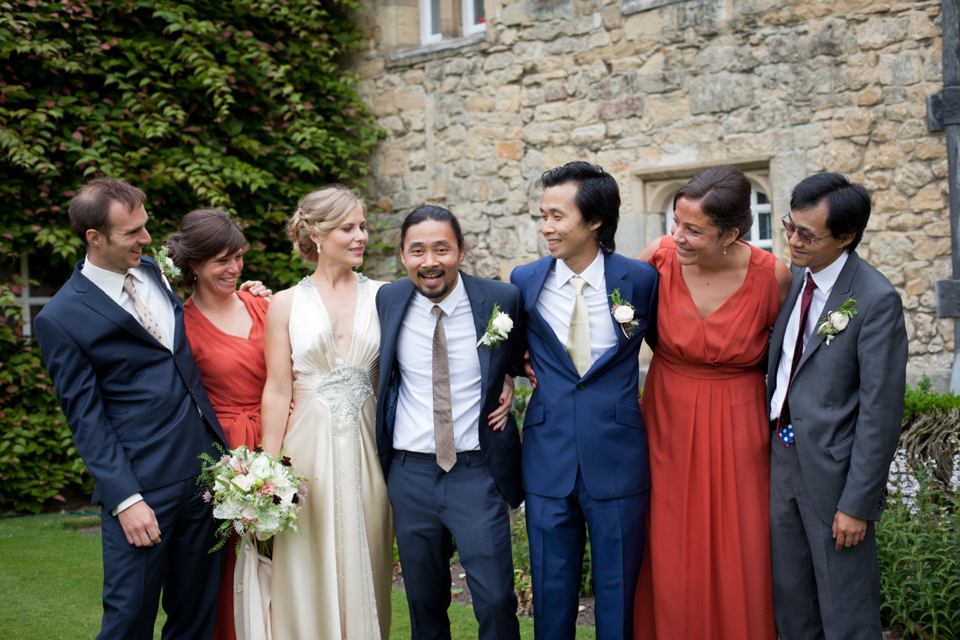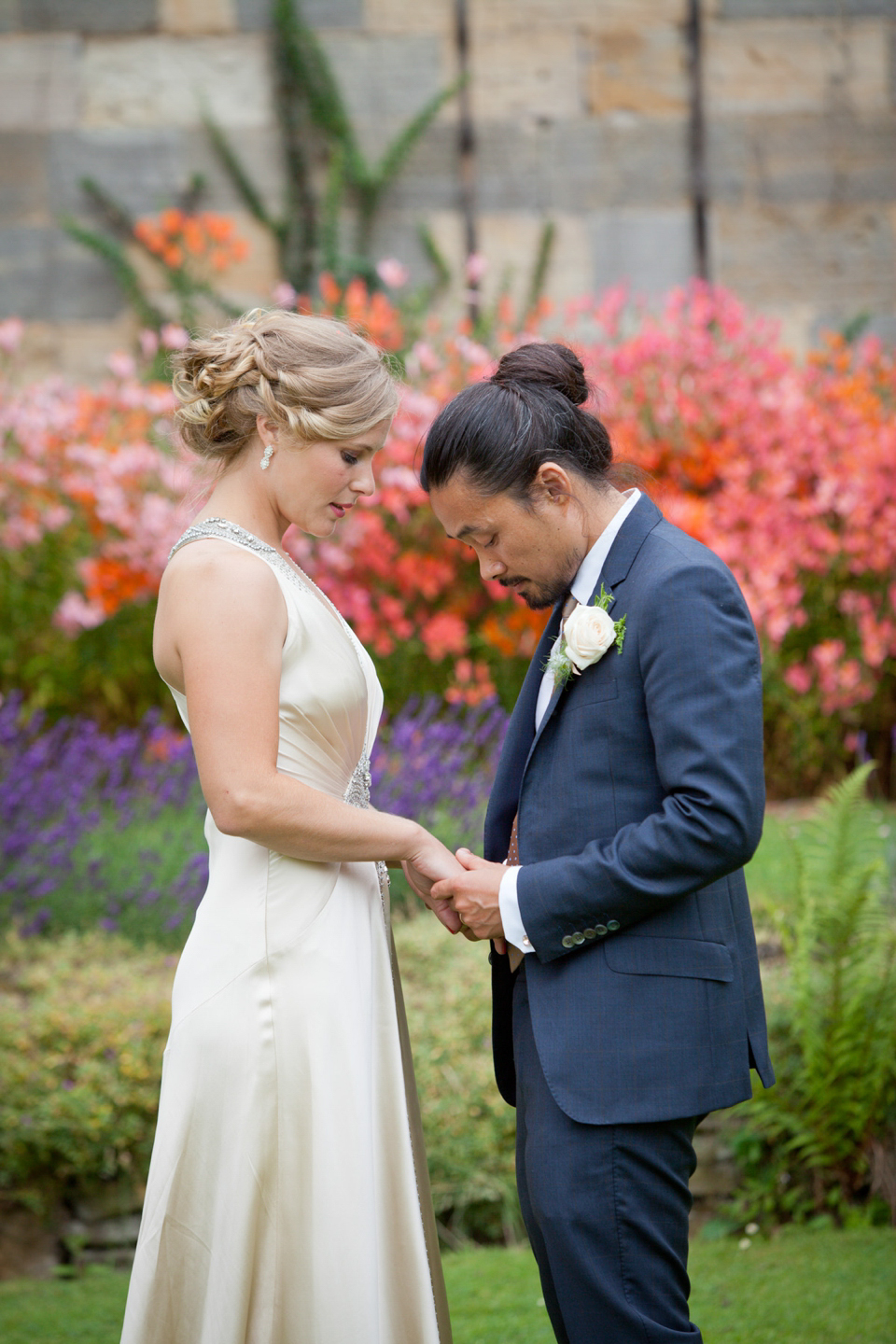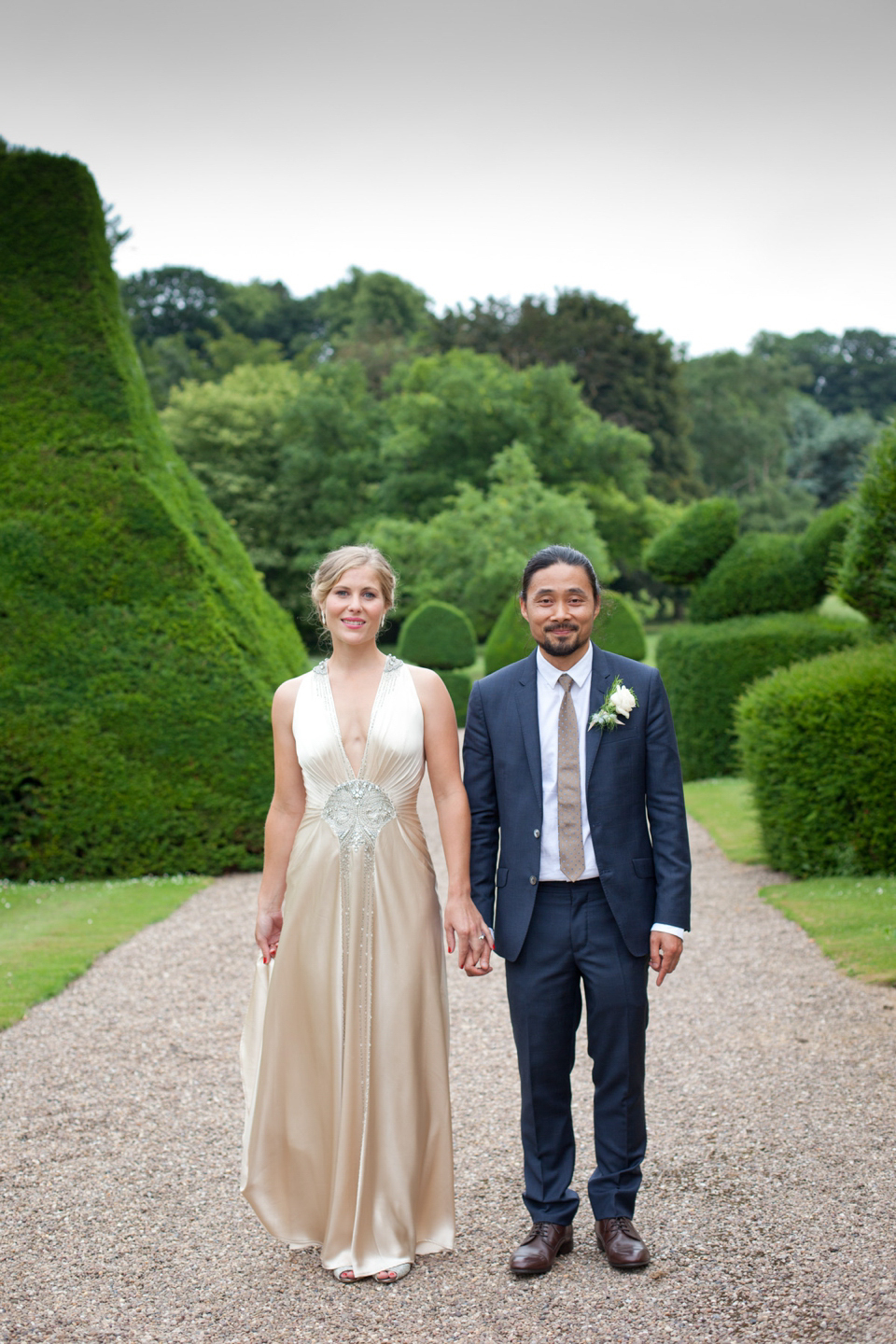 "We were privileged to be able to use Feast Yorkshire to cater for our wedding – they are owned by my talented friend, Siobhan. We had fun creating the tailor made menu for our guests, and even managed to have a trip to Shrimpy's and Ottolenghi in London in the name of research. The seasonal summer food blew me away on the day. Siobhan is not only an extremely accomplished chef, she also has the creativity and flare to make anything possible. Thanks so much Siobhan, the food was really important to us (we are foodies), and you absolutely nailed it!"
"Something which was important to Khuong and his family, being from Vietnam, was to have a tea ceremony where the younger members of the family offer tea, out of respect, to the older members of the family. A lot of guests really enjoyed this unusual ceremony."
Words of Wedded Wisdom…
"Enjoy every part of the lead up, and every part of the day itself. It goes so so quickly and you won't get that time back again.
Khuong and I went off on our honeymoon the day after our wedding, and had to leave the post wedding BBQ early because of this. We both felt sad to leave everyone especially when emotions were running so high. In hindsight it would have been nice to spend another day or two relaxing with family and friends before jetting off (although the honeymoon was most welcome!)
And it's a minor thing, but we forgot to dim the lights in the marquee, so once it got dark outside we were all in full bright lights, but we were too caught up in the moment to notice.
I truly loved it all, the thing that makes it so special is that you get to have all your family and friends in one place at the same time (when else does that ever happen?). The church was certainly a more powerful experience than either Khuong or I had even imagined; our loved ones witnessing our marriage, it was incredible."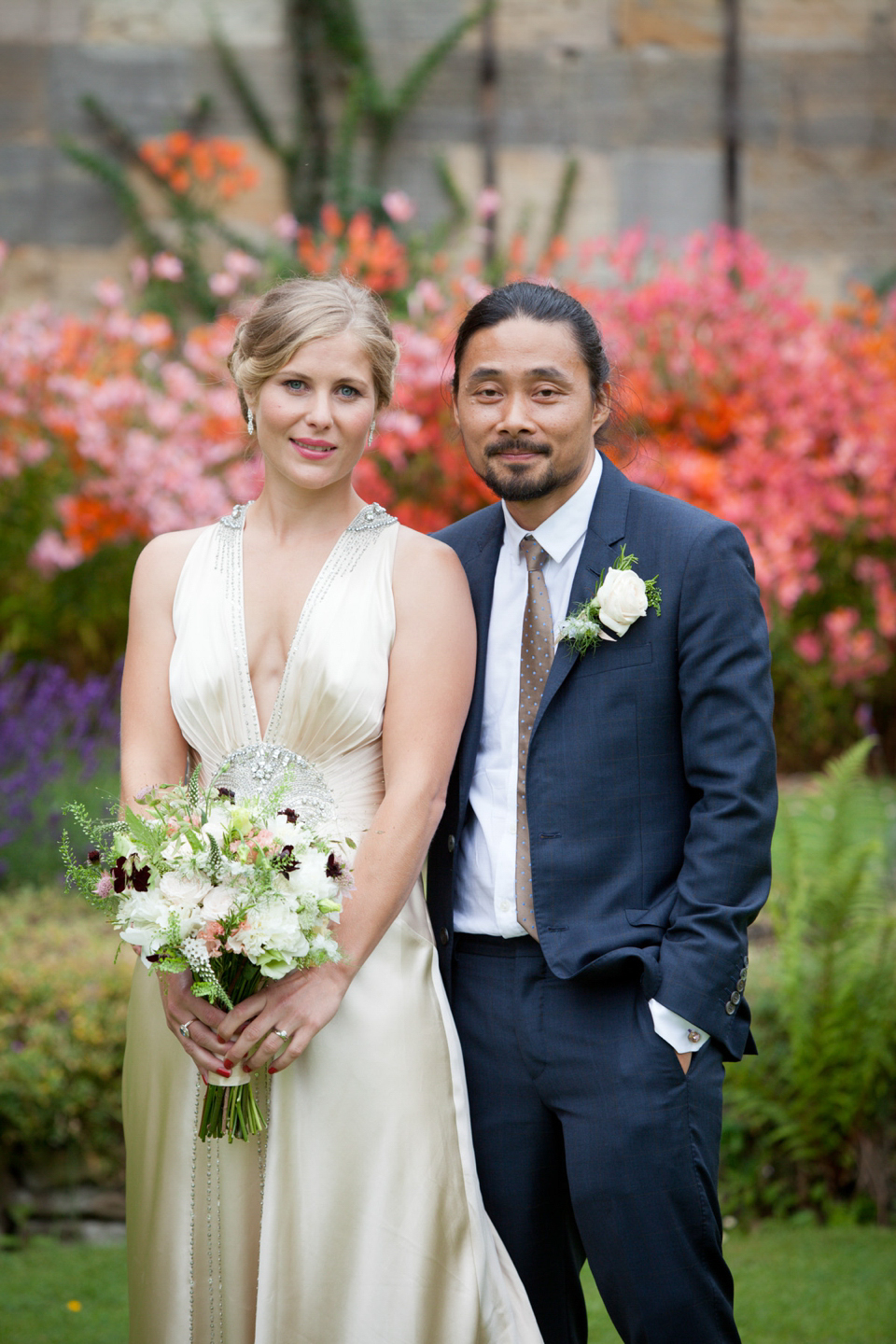 Such a lovely day – thank you so much Helen and Khuong for sharing your precious memories and beautiful day with us.  Helen, I can't imagine another dress looking more elegant on you – it was the perfect choice!
Readers, you can see more Jenny Packham brides right here.  And I'd love to hear from more brides planning on getting married in the beautiful North Yorkshire too.
Love Annabel
Photographer - Annemarie King 
Venue - Newburgh Priory in Coxwold + The Talbot Hotel in Malton
Wedding Dress - Imari design by Jenny Packham via Andrea Bambridge in York
Veil - Unveiled Bridal Designs
Brides Shoes - Jimmy Choo
Accessories - pale blue sapphire and diamond ring (heirloom)
Groom - Paul Smith + Lanvin Derby shoes
Bridesmaids - Diane Von Furstenburg
Florist - Lucy MacNicoll
Cake – The bride's Grandma
Cars/Transport – 1948 Bentley from Superior Motor Cars
Entertainment - The Riviera Band
Rings - Wedding Rings Direct
Catering - Feast Yorkshire
Stationery - The groom
Favours - Smart & Simms
Follow Love My Dress® on Google+