Morning all! May we welcome you to another week full of wedding inspiration on Love My Dress.  This morning's feature is full of 1940's era inspired touches and lots of pretty pale blue accents that I hope all those who appreciate vintage wedding style will love.
Megan, originally from Auckland in New Zealand but who has lived in London for 12 years, tied the knot with her beau Rich on Saturday 5th October last year, with a ceremony at Wandsworth Town Hall followed by a reception at Balham Bowls Club – a former bowls club and now a gastro-pub in South West London.
Film production Copyright (c) 2014, Photography by Krishanthi
"Rich and I wanted a relaxed and not overly formal day where everyone would be well fed and watered and would have fun. We also wanted something slightly different with lots of era-inspired touches that our guests would remember, like seeing uniforms and victory rolls and an old Routemaster bus."
Photography Copyright (c) 2014, Fiona Kelly Photography
"Rich and I met internet dating in 2010 (via Match Affinity). A great first date turned into many more and we hit it off from there. We got engaged in January 2013, a complete surprise during a home cooked meal (by Rich) on a very snowy weekend in London. We quickly decided that we would crack on and get married the same year and felt October would be a good time to get friends and family all in the same place with enough notice (as some were coming from New Zealand and Germany) and that usually the weather in early October is still nice.
We planned the wedding ourselves with the help of friends, family and the venue who (particularly Emily and Iona) who were amazing. Nothing was too much for them and everything ran like clockwork. Rich and I divided tasks out between us alongside an extensive wedding spreadsheet tracker that kept us on plan. My project management skills took over in full force until the final wedding plan was handed over to friends and family just before the wedding."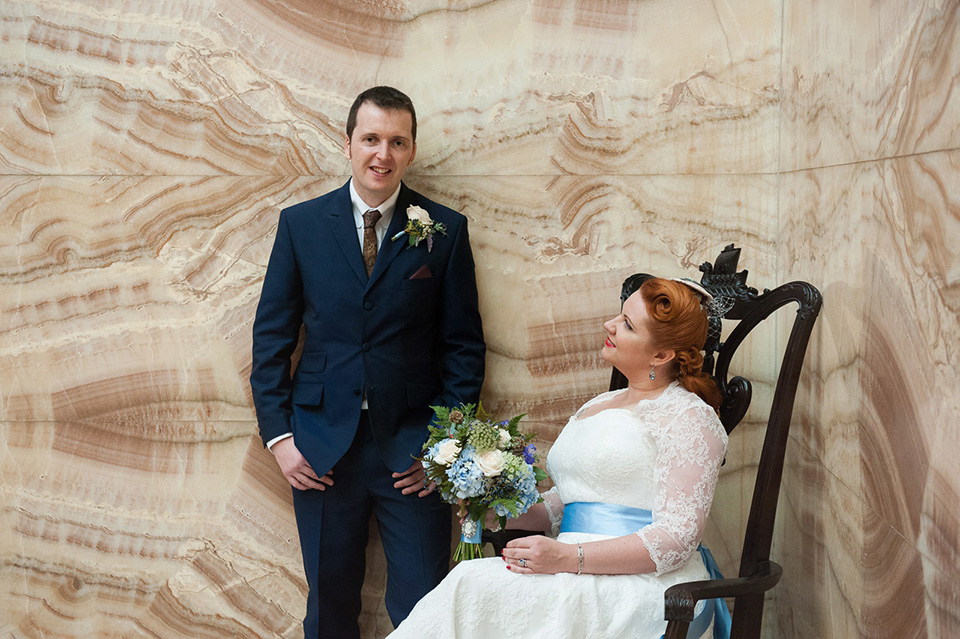 "We both love vintage, particularly the 1940's era, so our wedding venue provided the perfect setting.  Balham Bowls Club was already all set up as that is what it is like every day so there was very little decorating to do (and very little un-decorating!).
We were keen to have a vintage tea party set up with old cups and saucers, cakes and scones after the ceremony – in keeping in with the 1940's theme and offering an Alice in Wonderland style tea party vibe. I also collect my own cups and saucers- the oldest one in my collection dating back to 1750."
"I wore the Marianne dress by designer Johanna Hehir. I wanted a dress that was 1940's in style and this dress was the look I wanted in a style that flattered.  To enhance the waist of the dress, I opted for a wedgewood/cornflower blue satin ribbon around the middle of the dress with bow tails that extended down the back and train of the dress. The colour matched in with elements of the bridal fascinator, brides shoes, bouquet ribbon and the cake. The same ribbon was used for the flower vases on the tables and the table name cards.
I loved the lace on the dress and the long train at the back. I wanted the shrug to emulate the 1940's style of square shoulders and a high neck. The shrug was made with the same lace as the dress (cornelli lace) and pinned onto the dress to give the appearance that it was attached.
I have a photo of me in the dress which is very similar to one taken of my grandmother at her 1940's wedding."
"Our florist was Kirsty Grieg of Flowers by Kirsty, who we first discovered at a vintage wedding fair and on speaking with her realised that she lived very local to us. We wanted simple, whimsical, country garden style flowers including my personal favourites,  pale blue hydrangea (to match the blue ribbon on my dress).  Kirsty quickly understood the look that we were going for.
For my bouquet I had spray roses and blue hydrangea's, other blue flowers, scabia (blue berries) and some green fern – something I wanted to add in due to my New Zealand heritage."
"Since I was little, I have been fascinated with the rococo era and anything Marie Antoinette, so included a few touches here and there on our day. These included cameo brooch on the flowers and the blue Marie Antoinette inspired shoes with pearls, flowers and ribbons.  My shoes were from Oxford is Heaven on Etsy."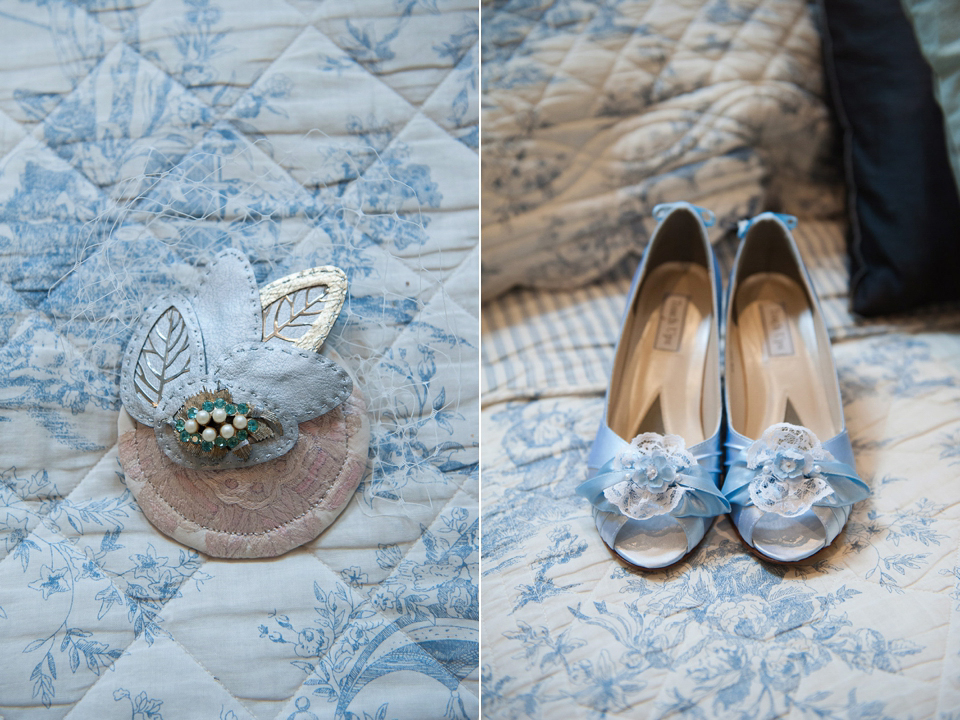 "We borrowed on old suitcase off our photographer Fiona for our wedding cards. This was placed downstairs with the vintage tea party (set up and provided by Daniella at Classic Crockery). An old gramophone with vintage music also accompanied the tea party. When we moved to the upstairs function room later on, guests brought up the milk bottles with the flowers in them which were dotted around the room.
We can't thank photographer Fiona Kelly and our and Krish and Joe enough for the photos and short film of our big day."
"Our seating plan was designed by Rich and the place cards were designed by my brother (from New Zealand) and hand written in his unique architects hand. This was his special wedding 'chore' the day before the wedding!"
"Rich found Charlotte of Restoration Cake when we were at a vintage wedding fair- deciding on the cake was one of his wedding tasks! We got to sample some of Charlotte's cake and quickly decided that we wanted her to make our wedding cake for us. We went for a three tiered cake with a pale blue exterior, white ribbons and sugar roses surrounded by 12 gluten free cupcakes- also blue. The layers consisted of carrot, red velvet and traditional fruit cake on top. The cake was divine and there wasn't much left post the end of the day.
I found a miniature vintage style tea set to sit on top of the cake."
"We can't thank photographer Fiona Kelly enough for the photos and short video of our big day.  I met photographer Fiona Kelly at the Miss Vintage wedding fair and raced home to recommend her to Rich. We met with her and quickly decided we wanted her to shoot our wedding, we loved her style of photography and knew it would be perfect for our big day.
The photos are incredible and emulate the feeling that we stepped back into time for the day. She is brilliant to work with and we can't thank her enough. It is so lovely visiting friends and family and seeing our wedding pictures in pride of place. A day we will remember forever."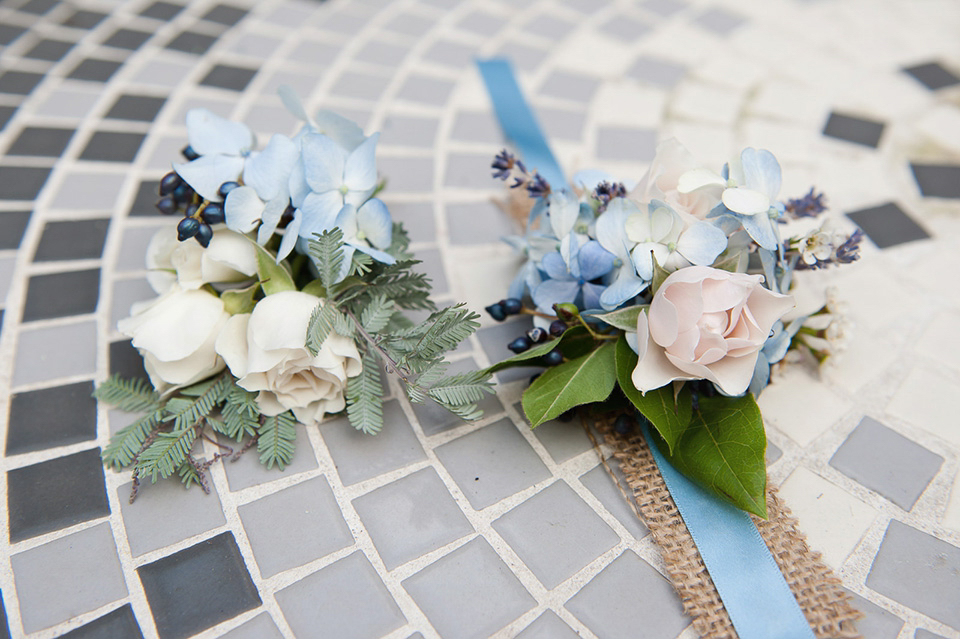 "My bouquet had a cameo brooch added to the ribbon to complete the vintage look. The bridesmaids had wrist corsages with roses and bits of other material similar to the bridal bouquet. The groom and other corsages also had roses and similar foliage. One the tables for the reception, we had a mix of flowers and green fern arranged informally in old milk bottles from Rich's family farm in Warwickshire."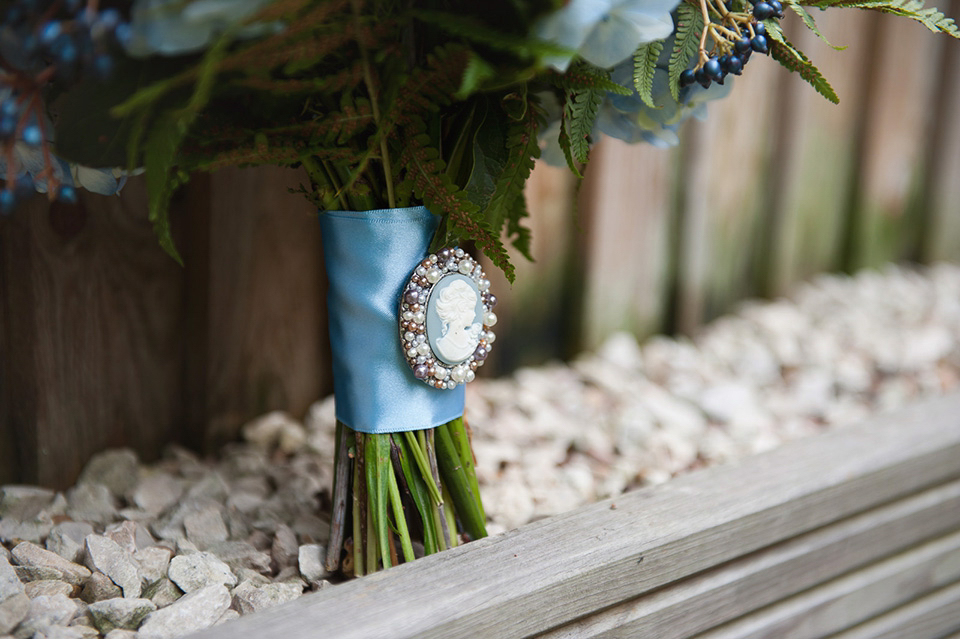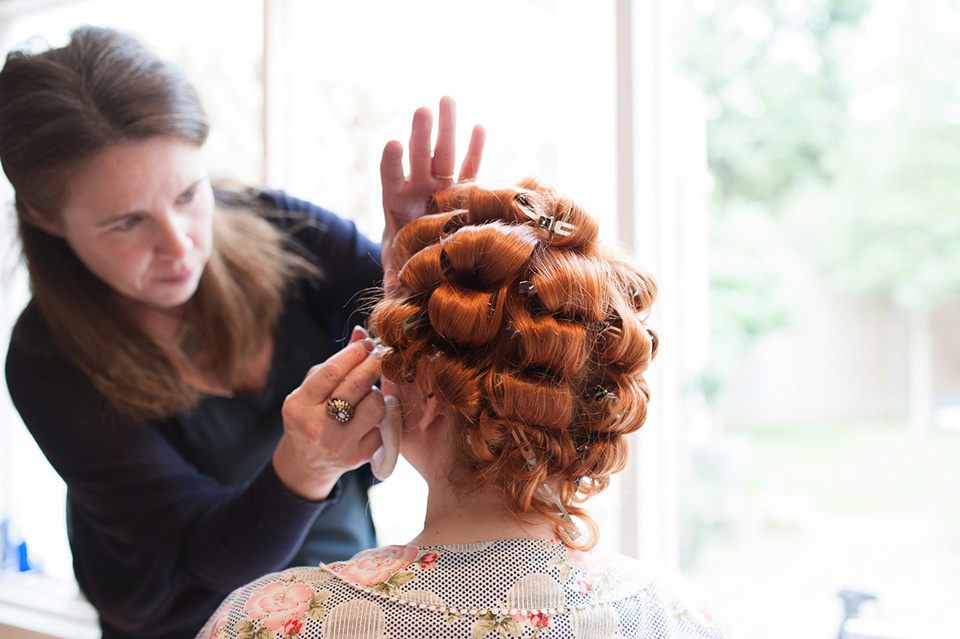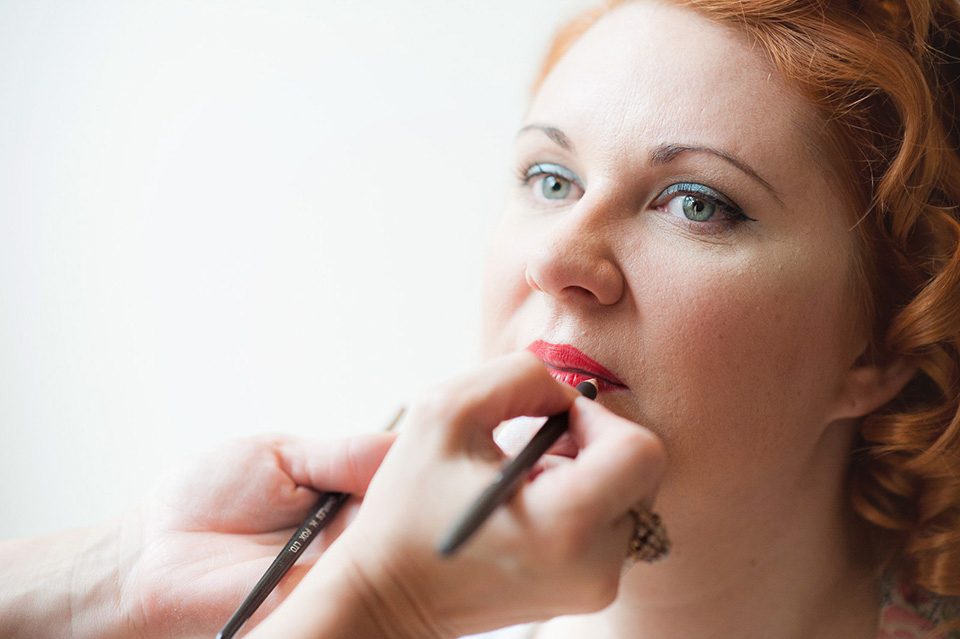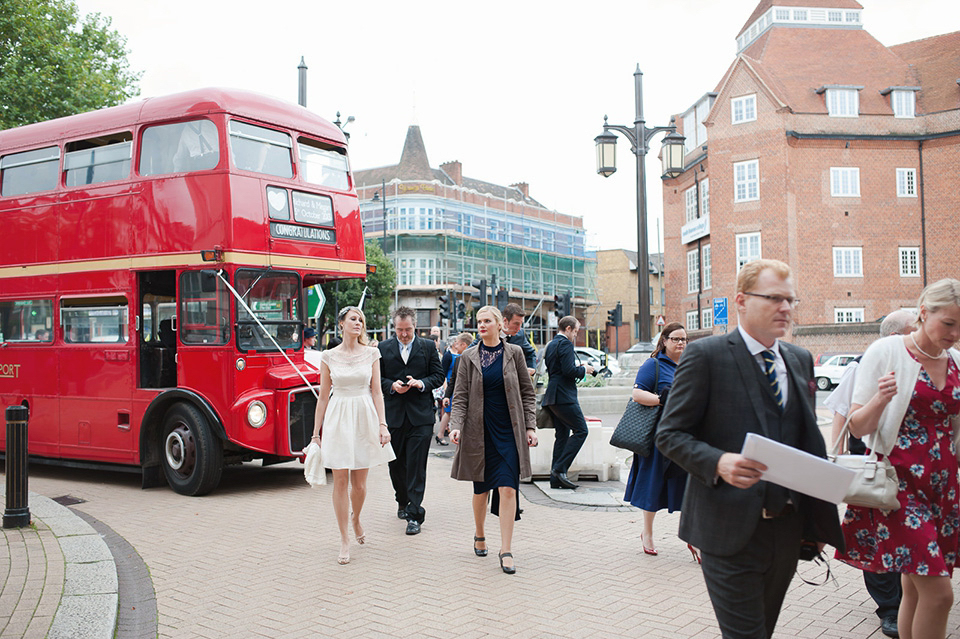 "The bridesmaids wore burgundy vintage style from Revival Retro London and shoes of their own choice in nude."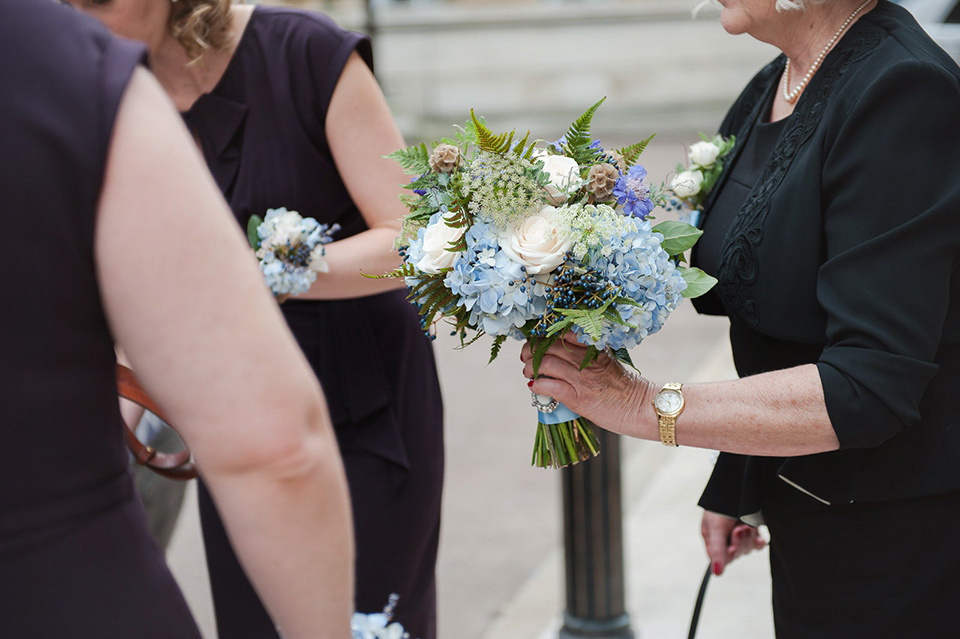 "My brother Jeremy gave me away, wearing an old vintage air force uniform purchased in the Stables Market in Camden. I walked down the aisle to REM's 'Everyday Is Yours To Win', from their last album 'Collapse into Now'. I have absolutely loved REM since I was quite young and my walking in song had to be theirs- it was just about finding the right one! We had Elbow's 'Loneliness of a tower crane driver' when we signed the register and walked out to the Cure's 'Lovesong'.
We wanted to keep our ceremony simple, so we used the standard wording as recommended by the registry office. We were both so nervous- the 20 minute ceremony was a bit of a blur!"
"My engagement ring was a 1940's vintage sapphire and diamonds in white gold from Grey's Antiques in central London and my wedding ring was white gold with diamonds and hand made at Grey's Antiques to fit beneath the engagement ring.  Rich's ring was made by Stephen Einforn (London based jeweller)."
"Our guests were asked to attend in 'vintage' attire and we couldn't wait to see what everyone decided to wear! The effort guests went to was incredible and at various times during the day, it felt like we were in an old wartime movie set and that we had stepped back into time."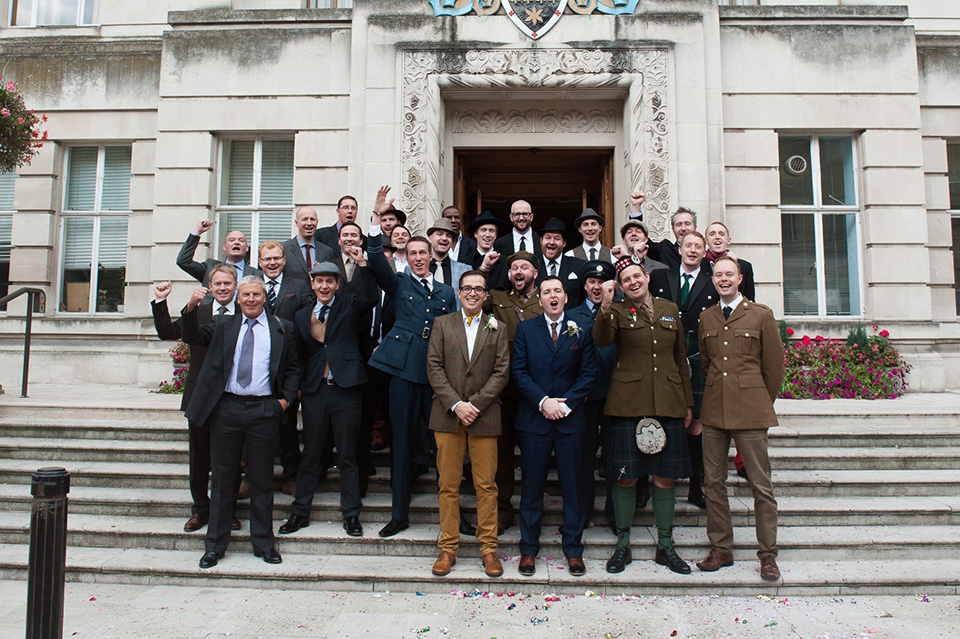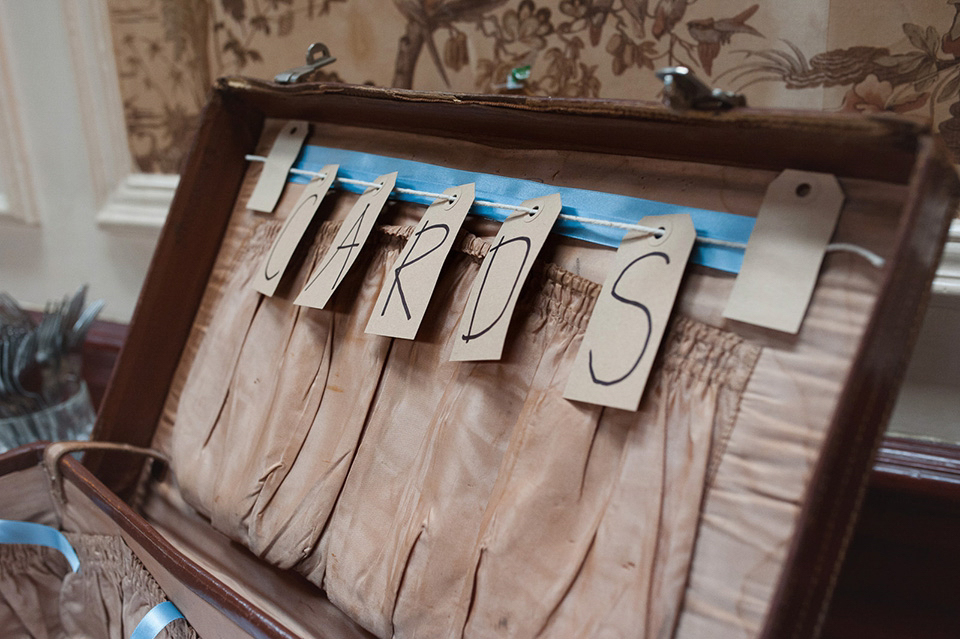 "Some of the most precious moments for me included getting ready in the morning – it's when it all starts to feel real!  Aside from spending time with everyone through the day, another special moment for me was walking into the ceremony and seeing the look on Rich's face and then travelling back to the reception on the bus with Rich and all the guests. We had cars beeping at us and people shouting 'congratulations' into the back of the bus.
My mum read a beautiful war time themed poem during the speeches which was very moving."
Words of Wedded Wisdom…
"Make the day your own. It's the special little touches and details that bring it to life and add pieces of your personality and who you are to the big day.
Don't be afraid to do something different either. The funniest moment for us is when we pitched to our guests that we were having a vintage inspired 1940's wedding, some of our guests really got into this and others contacted us terrified and asked where they should go to get their costume! I started a wedding scrapbook with cut outs of all my ideas. This was a fab way to see all sorts of things together and make decisions about the details we wanted for our big day."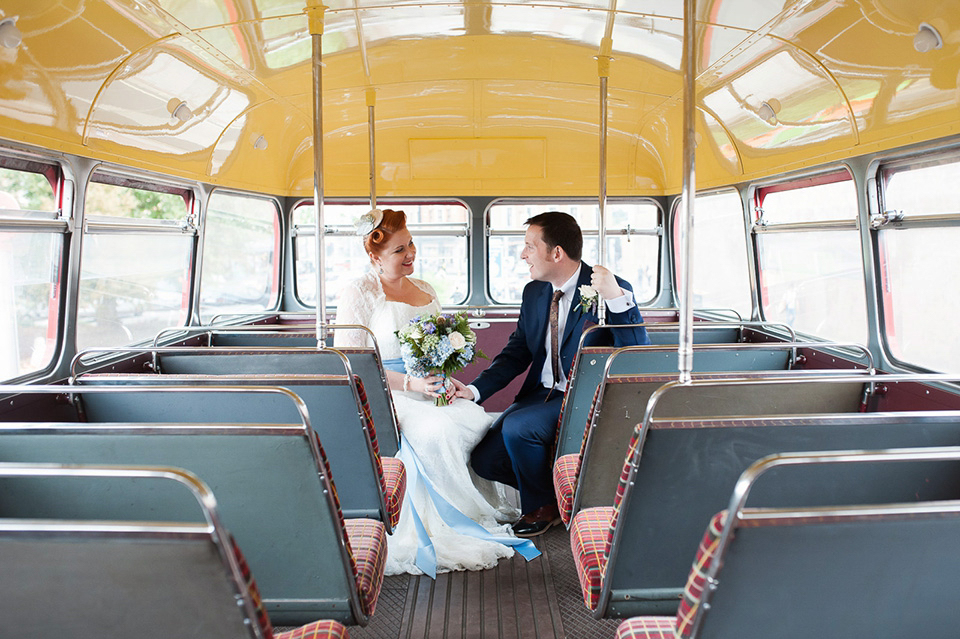 I love to see a couple adhere to their true, personal style on their wedding day, it's so encouraging and inspirational.   Congratulations to you Megan and Rich! I hope your first year of marriage is a beautiful one so far.
Love and thanks to photographer Fiona Kelly for sharing her imagery with us today.
Love Annabel
Photographer – Fiona Kelly Photography
Film Production – Photography by Krishanthi
Venue + Catering –  Wandsworth Town Hall + Balham Bowls Club
Brides Dress – The Marianne dress  by Johanna Hehir + additional shrug
Hair Accessory – Teasemade + vintage hair clips
Bridesmaids – Revival Retro
Shoes – Marie Antoinette's party shoes via 'Oxford is Heaven' via Etsy
Groom – Adam of London (Portobello) with Paul Smith accessories
Florist – Flowers by Kirsty
Cake – Restoration Cake
Transport – Routemaster via Red Route Buses
Entertainment – The 'Belle's 4 piece band via Warble' Entertainment
Rings – Grey's Antiques + Stephen Einforn
Stationery – Wedding in a Teacup
Hair Stylist – Hair that turns heads, by Lucy Hayward
Makeup Artist – Laura Moss
Follow Love My Dress® on Google+