I have saved so very many gorgeous weddings for the month of June to celebrate the launch of our new blog. You might think that choosing the very first wedding to grace these fresh, clean new pages would be difficult. Not so. I really wanted today's wedding to be a little bit extra special and because of that  it could only have ever been this one.
For those of you who aren't familiar with Kate Halfpenny, I hope that this feature serves as your much needed introduction to one of the UK's most talented fashion and bridal wear designers. There's a school of thought suggesting that highly talented individuals don't ever need to shout or show-off about their skills, if their products and designs are good enough, their reputation will do the work for them – allowing them to simply get on with what they do best. This theory certainly applies in Kate Halfpenny Duffy's case – she's one very naturally talented designer, and also incredibly lovely. From the moment I started blogging 4 and a half years ago, when no one really knew about Love My Dress®, Kate was one of the first to make me feel welcome in this industry. She's been nothing but charming and genuine ever since. I've a little bit of a soft-spot for her if truth be known, and feel so delighted and privileged to be sharing her wedding with you today.
Photography Copyright (c) 2014, Elegant & Wild (additional imagery taken by Chris and Carol Duffy)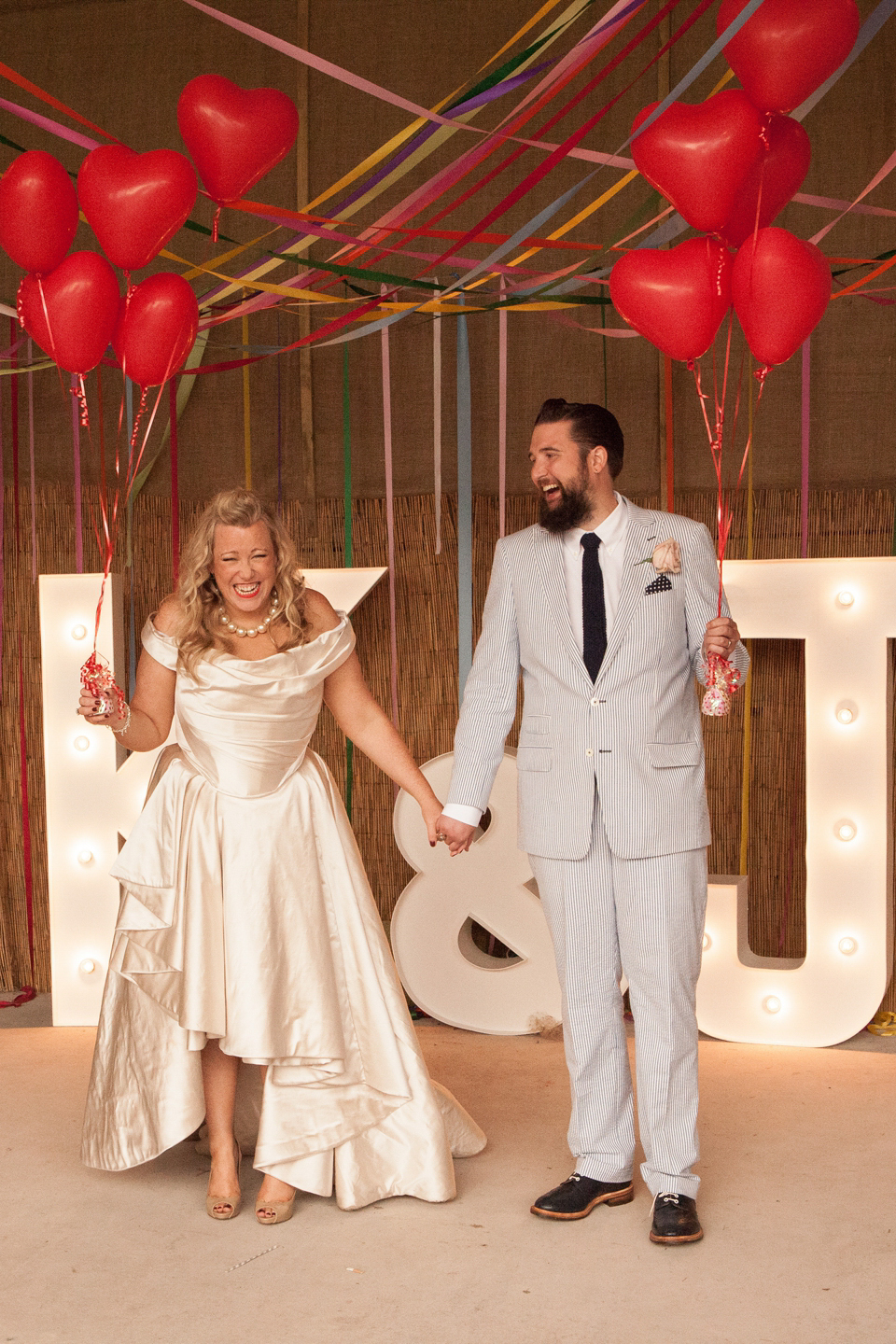 Kate Halfpenny married her beau James Lee Duffy, an Art Director, Illustrator and Graphic Designer on 25th August 2012 at Nether Burrows Farm in Kirk Langley, Derbyshire – a venue chosen because it slept 50 people in 4 barns, had a pretty barn for after-dinner, a large lawn for a marquee and a meadow and lake for the bell tents which would house the weekend guests.
This wedding is really something else and I am so in love with every single little bit of it – 21 bridesmaids and flower girls, colour bursting from all over the place, little boys dressed up as owls (YES!) and a dress that shows off all of Kate's most fabulous best bits! You'll probably spot a few familiar/celebrity faces as you browse through these images too. ENJOY!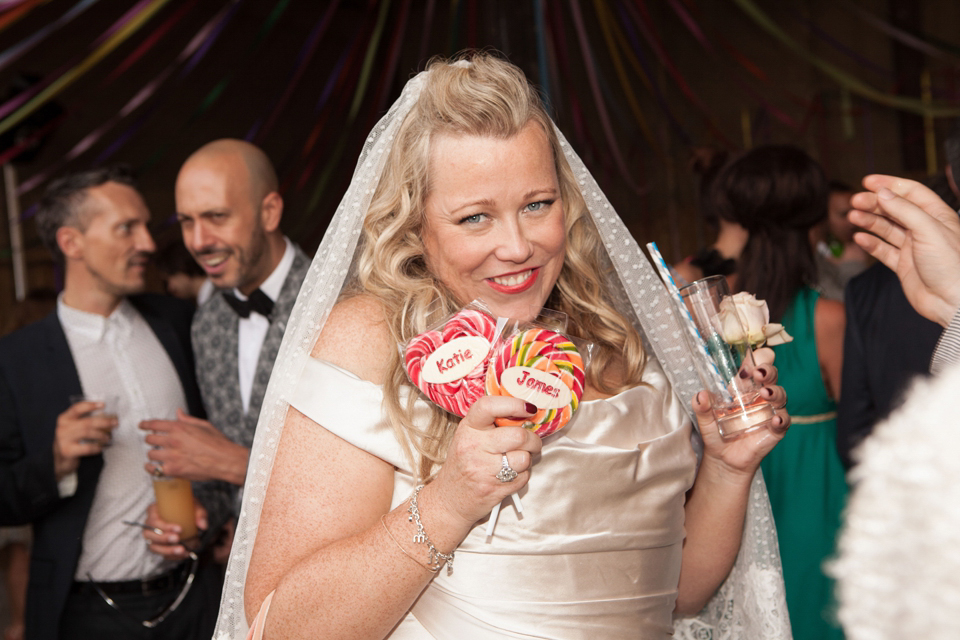 "James and I had been together for almost 3 years when we got married. We got engaged the May before in New York.  I had taken James there for his birthday and organised a surprise dinner with all our stateside friends and family – he totally stole my thunder by proposing to me the night before his dinner!"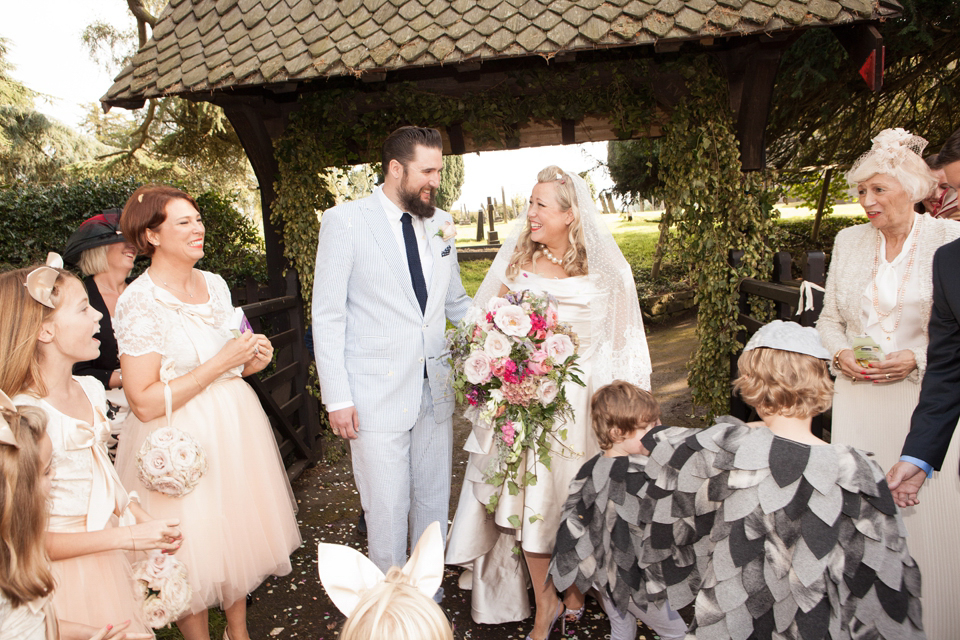 "We wanted a wedding that was relaxed and fun – a celebration with all our dear friends and family. It evolved into the most amazing, colourful wedding ever. James and I are visual people – definitely not spreadsheet types. We would just sit there with mood boards for all the areas of the wedding and this worked perfectly for us.
We used Maria Antonia at White Door Events to pull the whole day together. She was just amazing. She totally got our vision and orchestrated it in such an effortless way."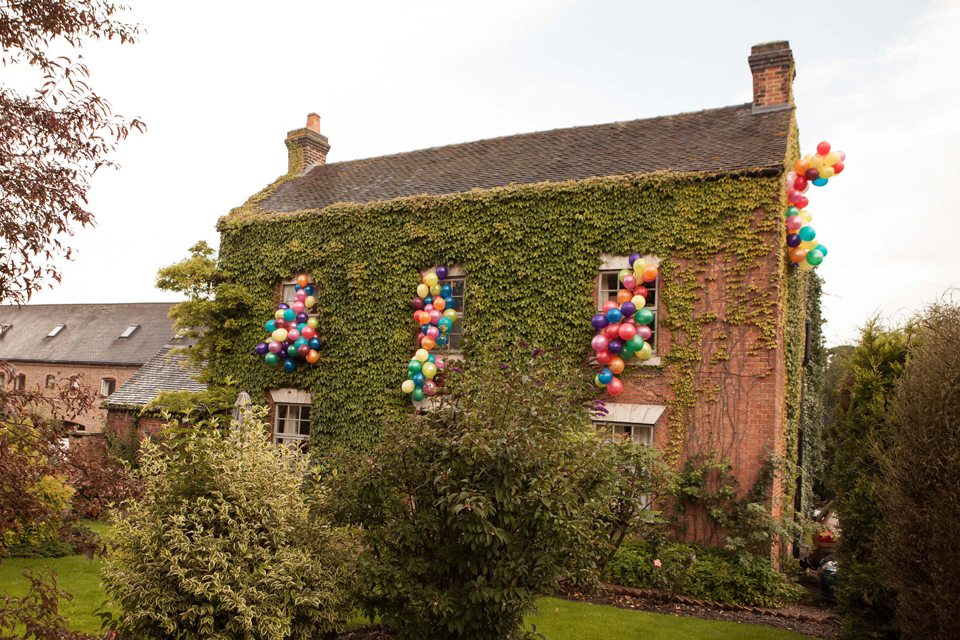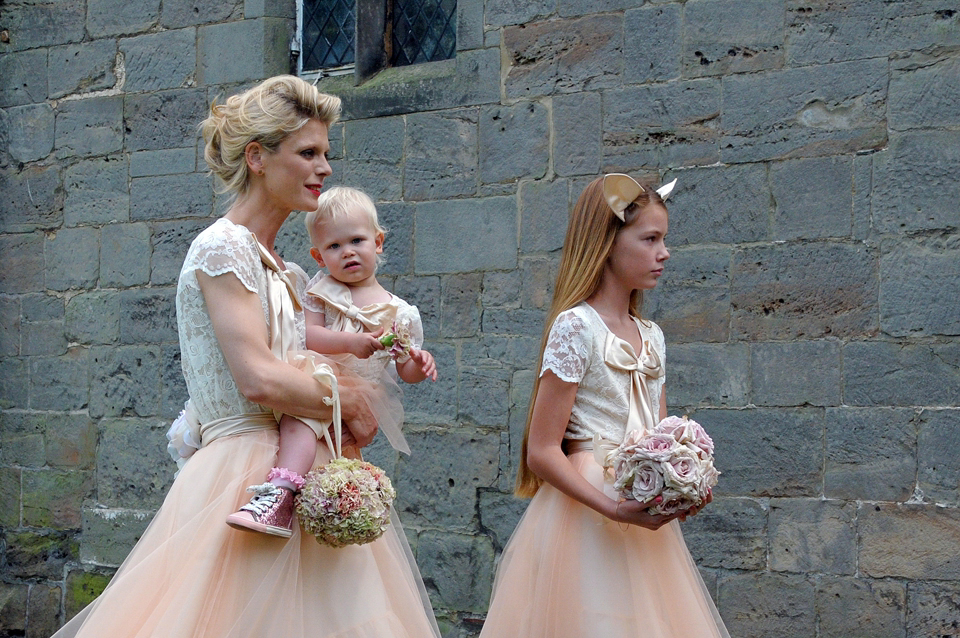 "I of course made all the bridesmaid and flowergirl dresses. This isn't something we do as a rule at Halfpenny London, but of course I wasn't going to get someone else make them, so we had tutu's and lace tee's with silk sashes and silk roses and bows. The girls were all shocked when I told them they were wearing peaches and cream, and now look at the cat walks! It's peaches and nudes everywhere! They actually all loved there outfits – some of the little flower girls still wear there tutus.
The girls all wore different brand shoes, that included Vivenne Westwood, Topshop, Miu Miu, Zara & M&S – we're not brand snobs here! Whatever worked for my girls worked for me. The flower girls all wore glitter converse from NEXT."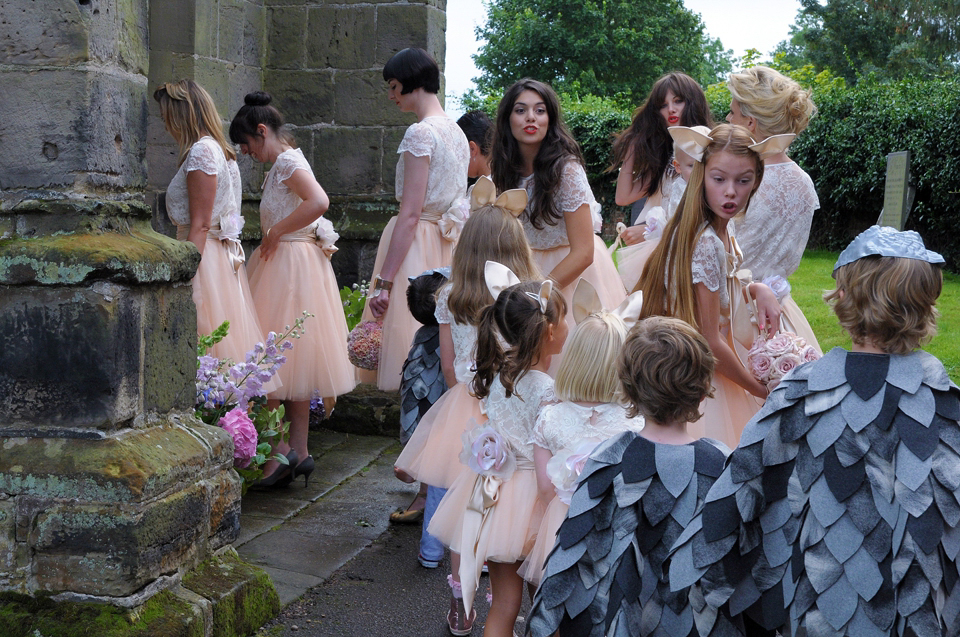 "I accessorised the flowergirl dresses with lambs ears that we made out of silk and put onto hair slides. They looked gorgeous as they all wore them in different positions, some on top of their heads, some at the sides, some wonky – it was just so cute!"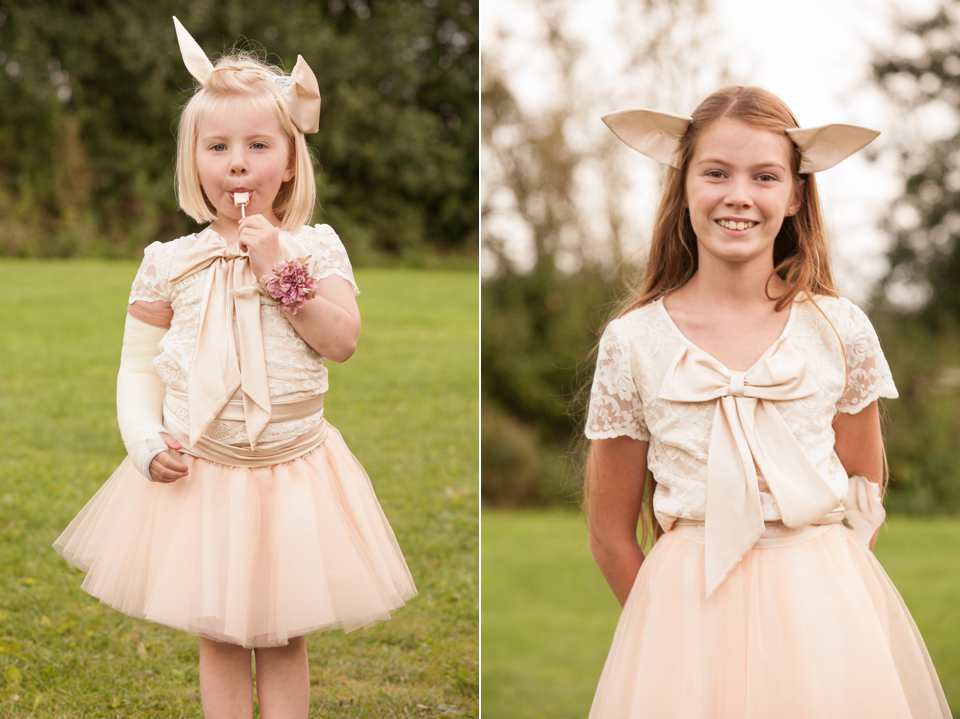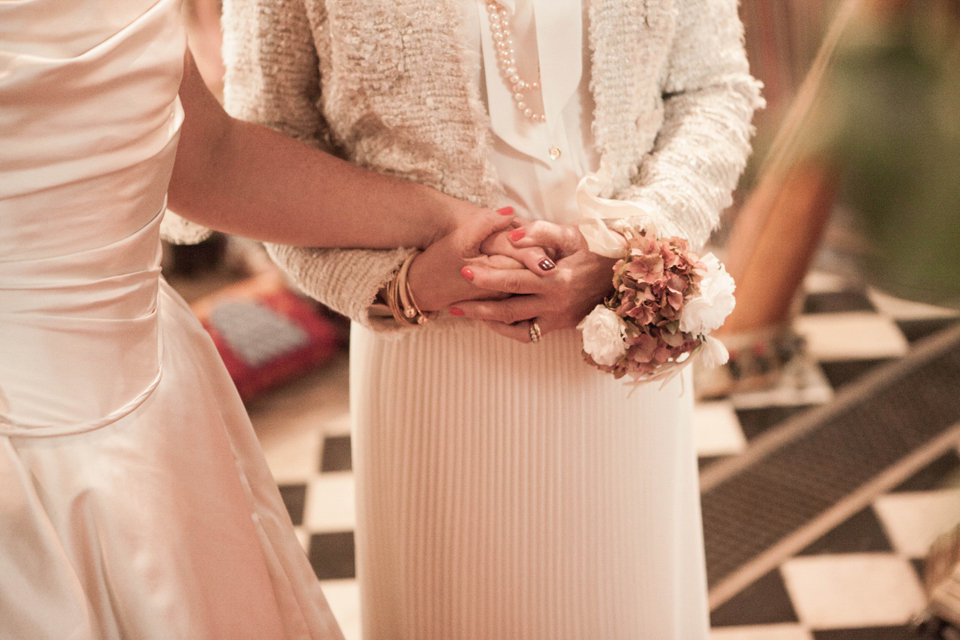 "We used Rebel Rebel to provide the flowers – they had the vision to create the abundant floral look we wanted to go for, but worked with us on our budget, and were brave enough to take on board the tonnes of bridesmaids pomander bouquets we wanted, the mother of the bride wrist corsage and not to mention my giant incredible bouquet and the van full of flowers they bought up to Derbyshire for me and my bridesmaids to make into fabulous table decorations. I sourced all the swan vases for the tables in the run up to the wedding."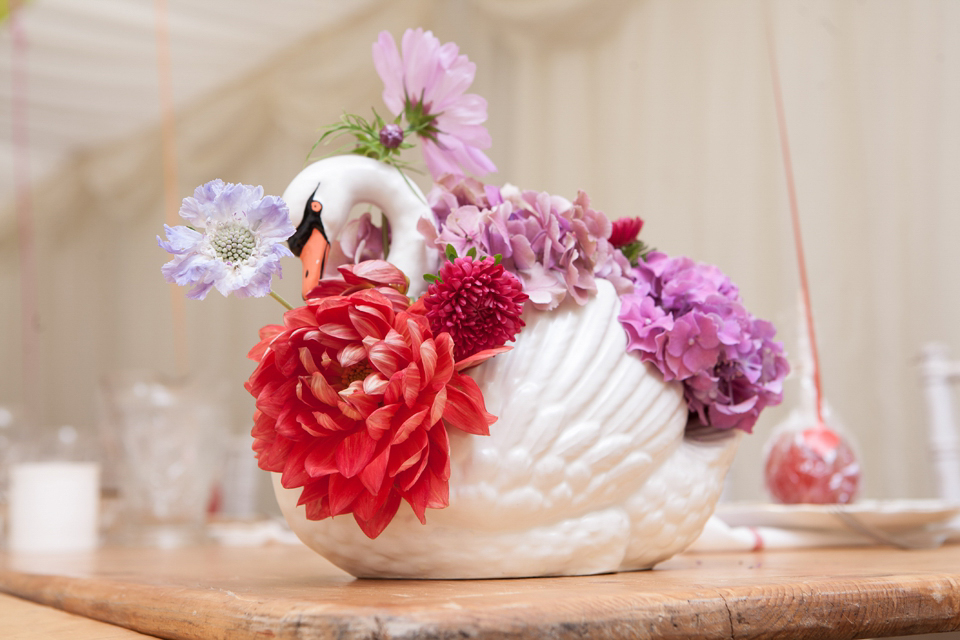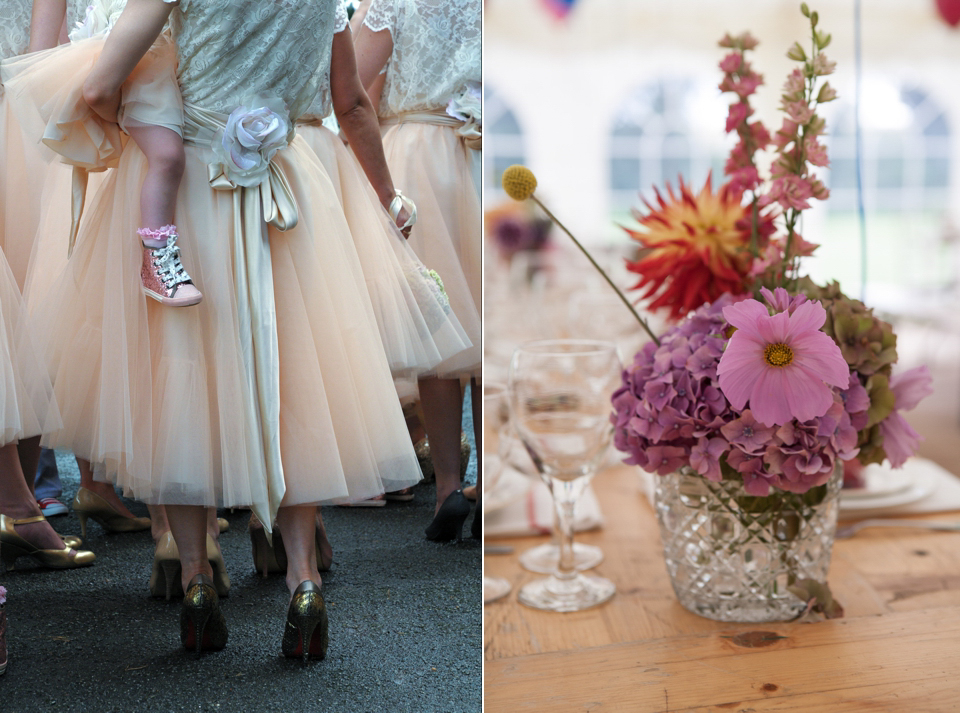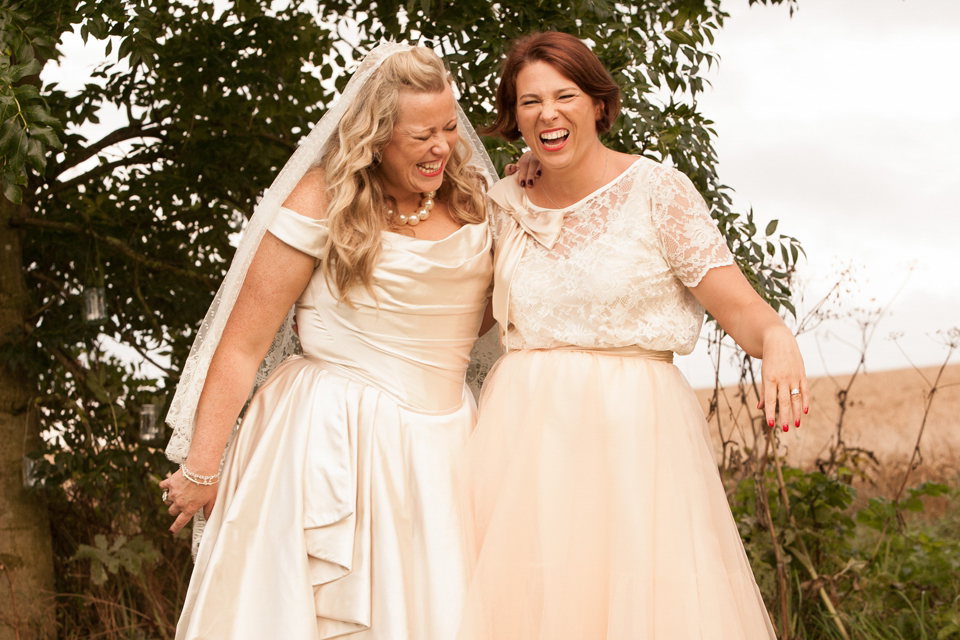 James wore a Mellor Woodrow suit and his tie was hand knitted by Kate's mum as a wedding present. His shirt was from Brooks Brothers and his shoes were Trickers.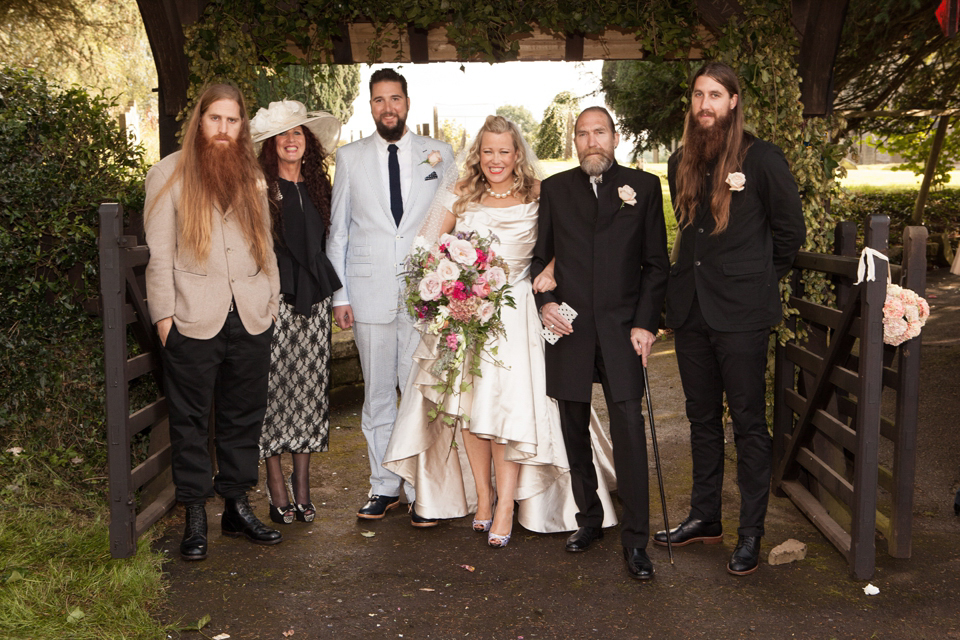 "We used Detox Kitchen for catering. Before the wedding I had used their home delivery service a few times, which was amazing and delicious, so we spoke with Lily the owner, as we wanted the wholesome delicious salads to go with our hog roast.  The food was exceptional.  We used local Derbyshire Artisan bakers for the bread and even had gluten free loaves made, olives, oil and jam jars of home made coleslaw too for the pork. It was a feast made in heaven, I must admit I didn't eat much though, I was so excited and just revelling in the day."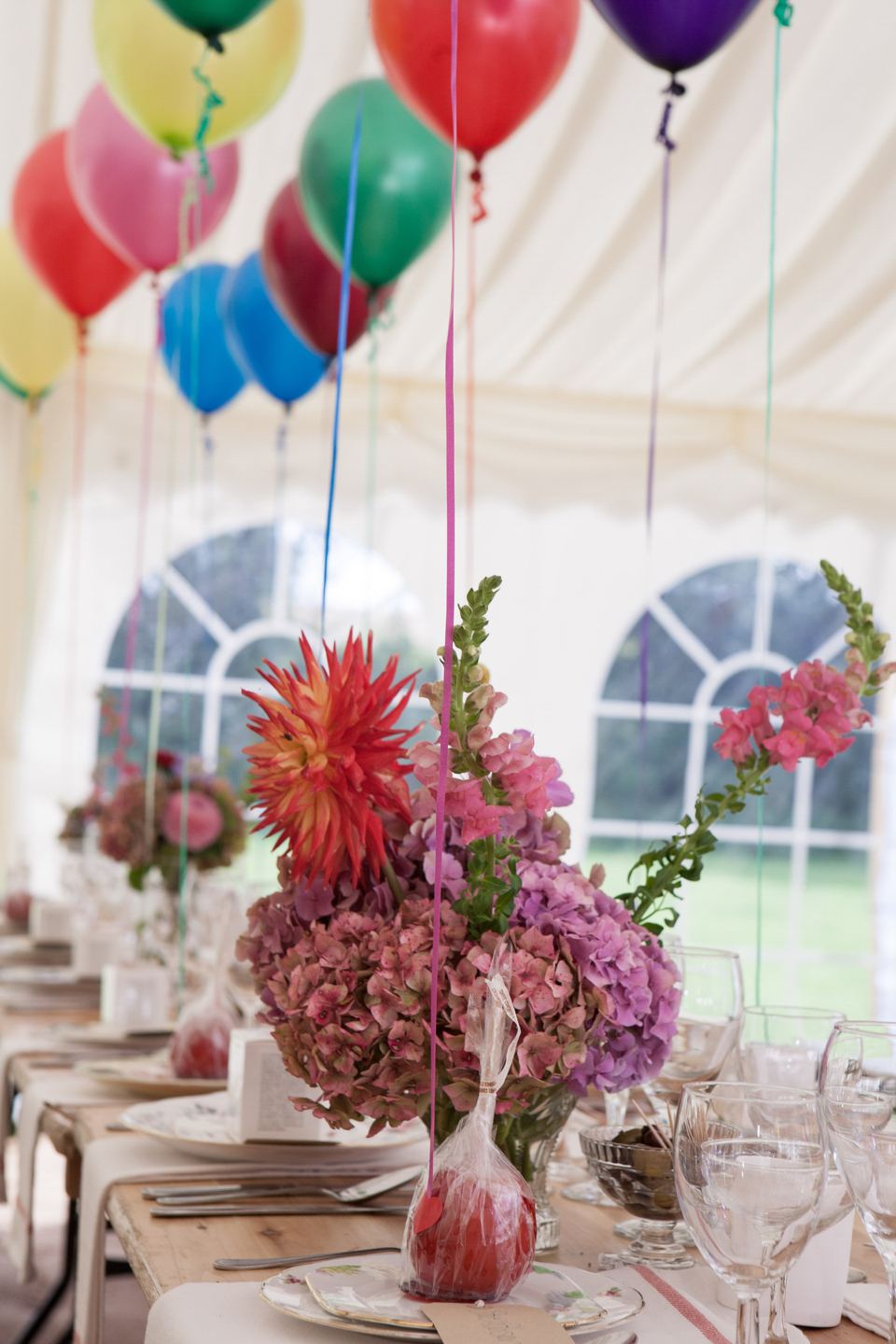 "I'm fortunate to be a wedding dress designer, so I worked closely with my wing-woman and assistant Cherry, to create my corset and skirt. Again, it really evolved, as it was originally going to be in lace, but when the dress was mocked up for me to try on, the simplistic, graphic silhouette just screamed 'no lace', which really shocked me very much, but, I knew I had to follow my instincts. Instead, I wore a pretty spotty tulle and French lace veil – Cherry made this for me as my wedding present and heirloom."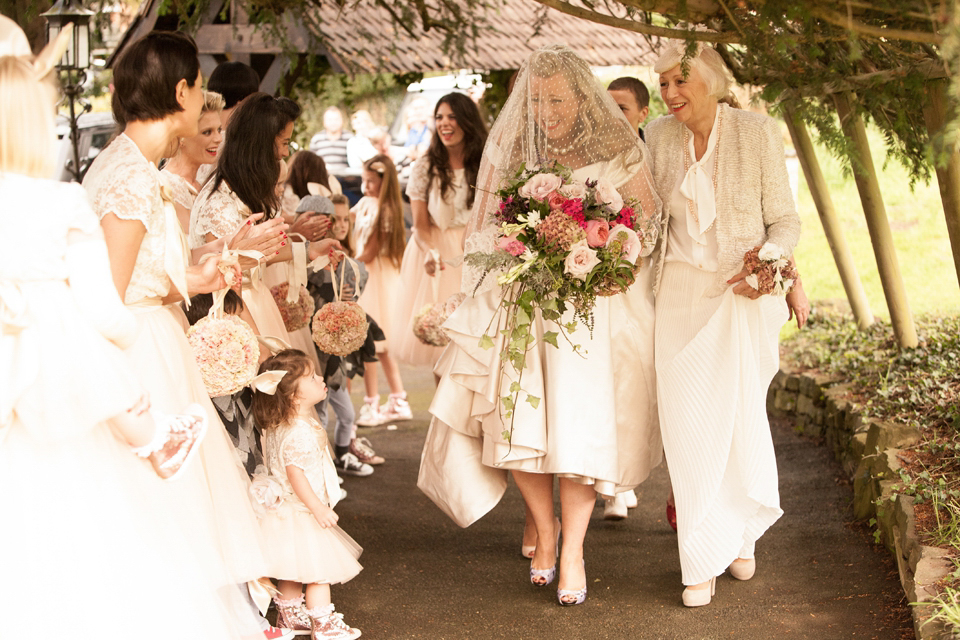 "I'm a curvy girl and I needed something that both showed off my best bits, but also had the drama I need and love in my clothes. The corset is so me – nipped in at the waist and draped to hide some of my ample bosom, and a big drama filled skirt! It actually had 17 meters of duchess silk in the dress!! Ridiculous, but worth every cm!
I also made the dress short at the front with a long train behind so my slim ankles could be on show – making sure I didn't just look like a big skirt on wheels!"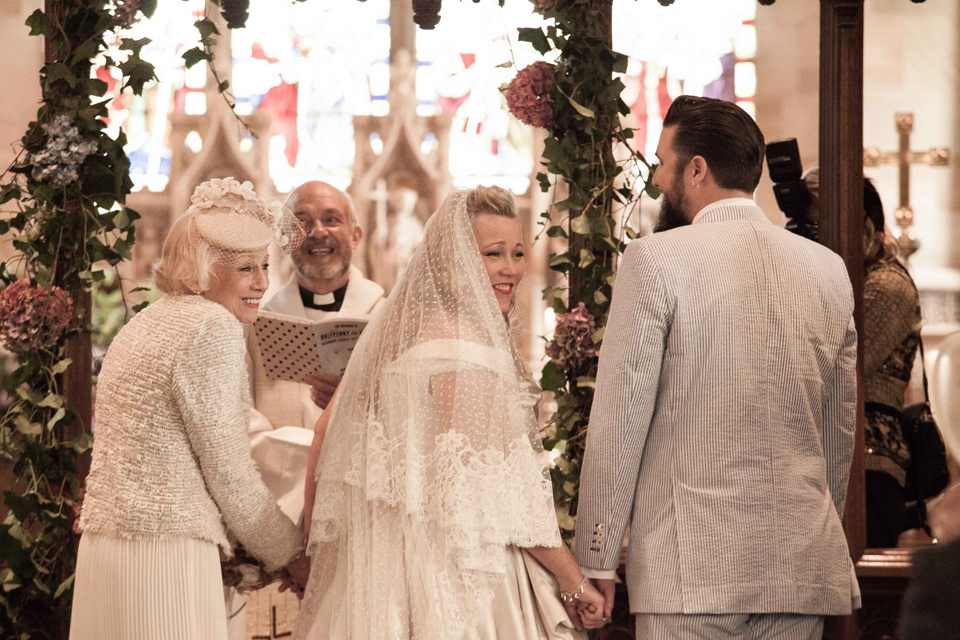 "All in all, I had 21 flower girls, page boys and bridesmaids. Perfect!"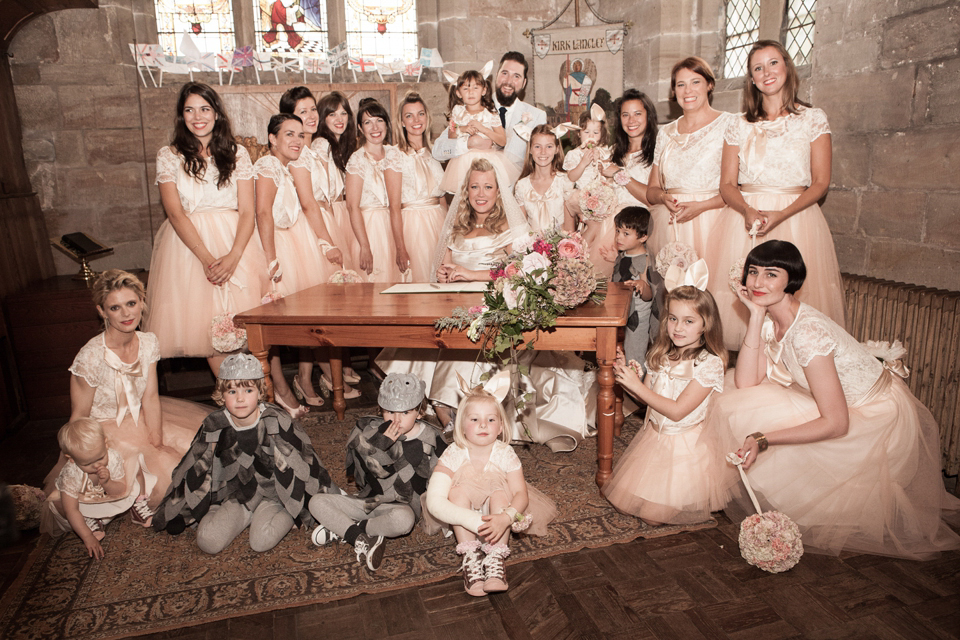 "The page boys wore little owl outfits! I bought them at H&M – they included leggings and a vest and grey Converse – Mum then set about making little felt petal shapes that she layered on to a felt cape to look like owl wings – they were AMAZING, and the boys loved them."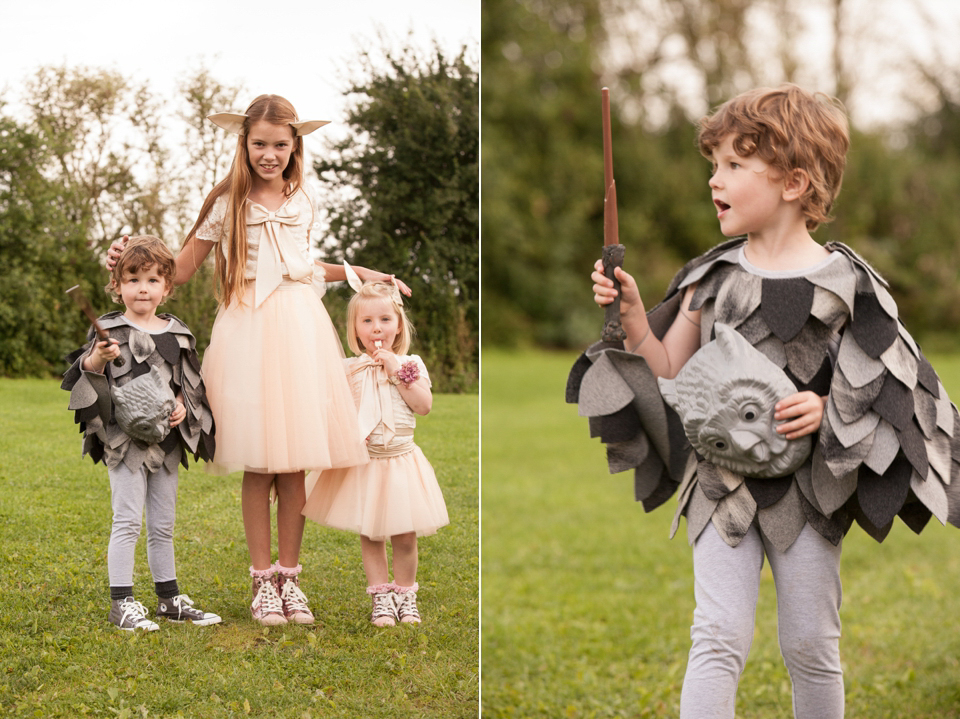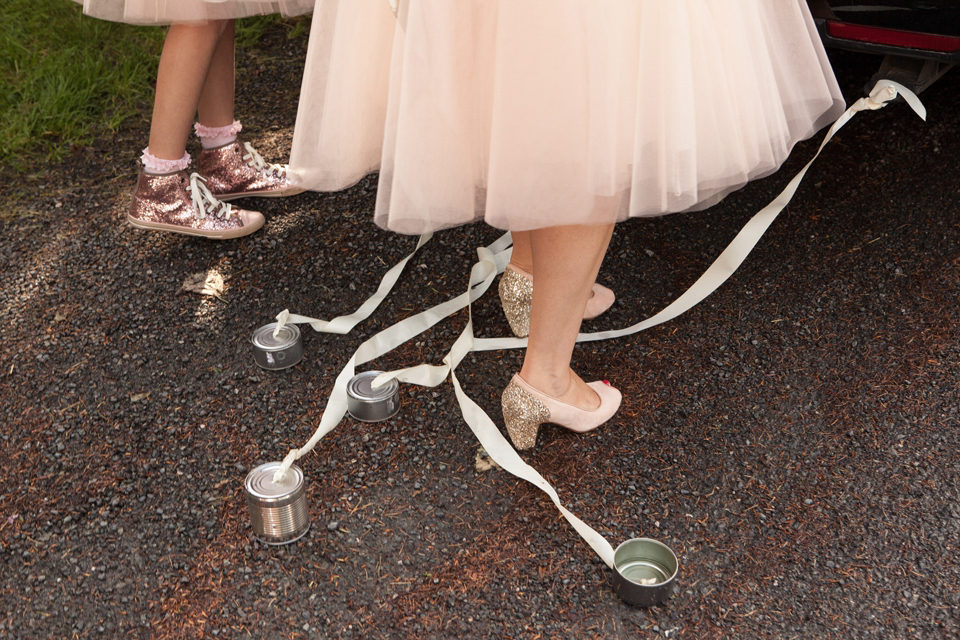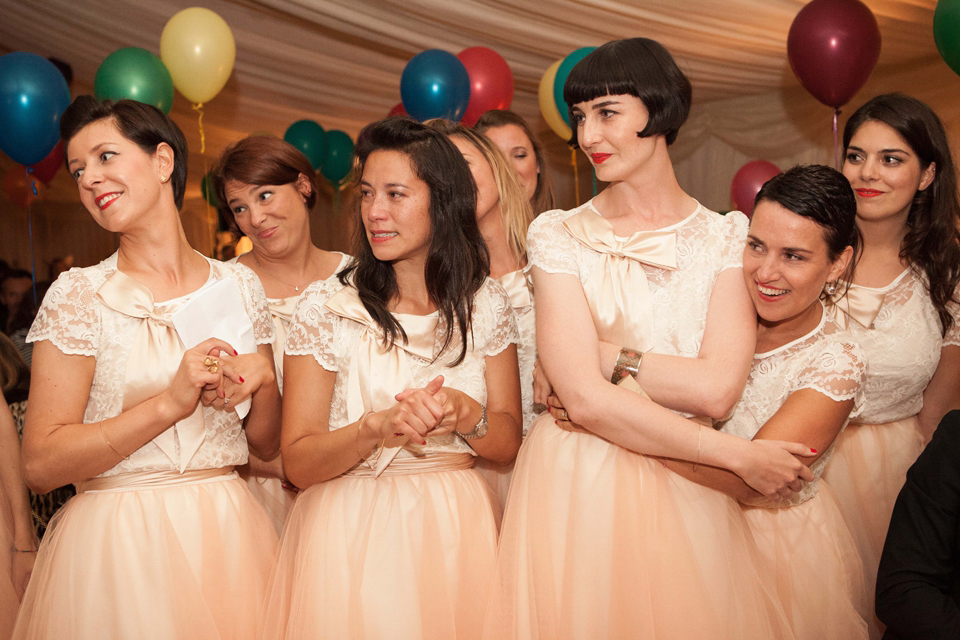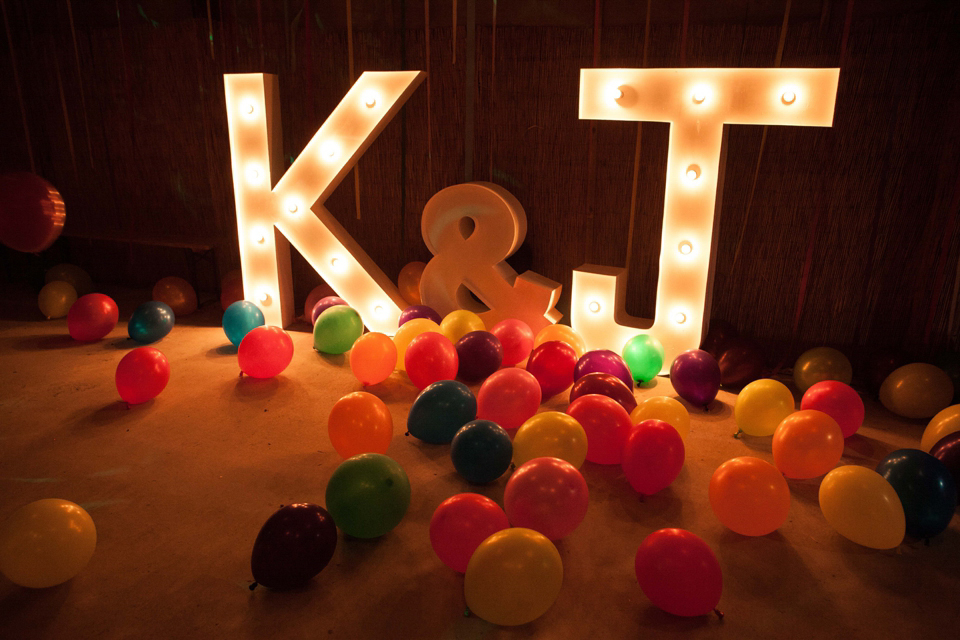 "Our photographer was Victoria Dawe of Elegant & Wild – the most incredible wedding photographer ever. We have worked together for years on fashion shoots for magazines and it was of course the obvious choice to swap a wedding dress for our wedding photo's when we both got engaged within months of each other.
Vicky cares so much about her clients and their guests, and the family and the wedding! She made sure we had all the group shots, and ample pictures of the whole day, too many in fact that we still haven't got round to making our wedding albums.  YIKES, a job we must do!"
"My shoes were from Nicholas Kirkwood, they were stunning, feather printed sling backs, of course with the rhinestone 'I DO' underneath and a silver sixpence inside.
My necklace was made from large pearls threaded onto silk ribbon, and my bracelet was a silver charm bracelet from all my bridesmaids with there initals in charms on it."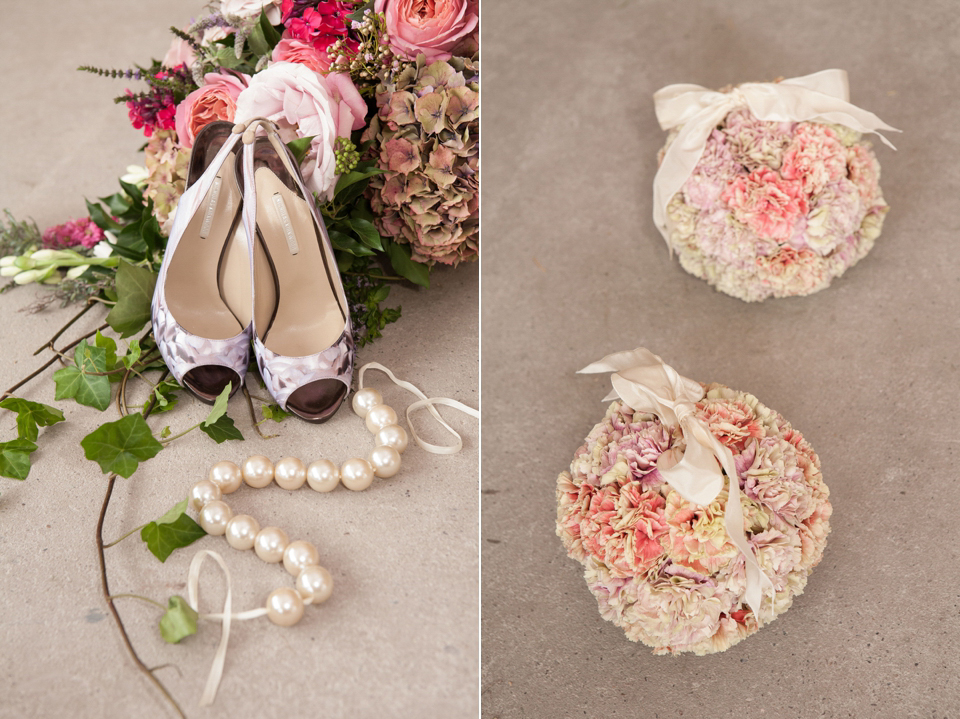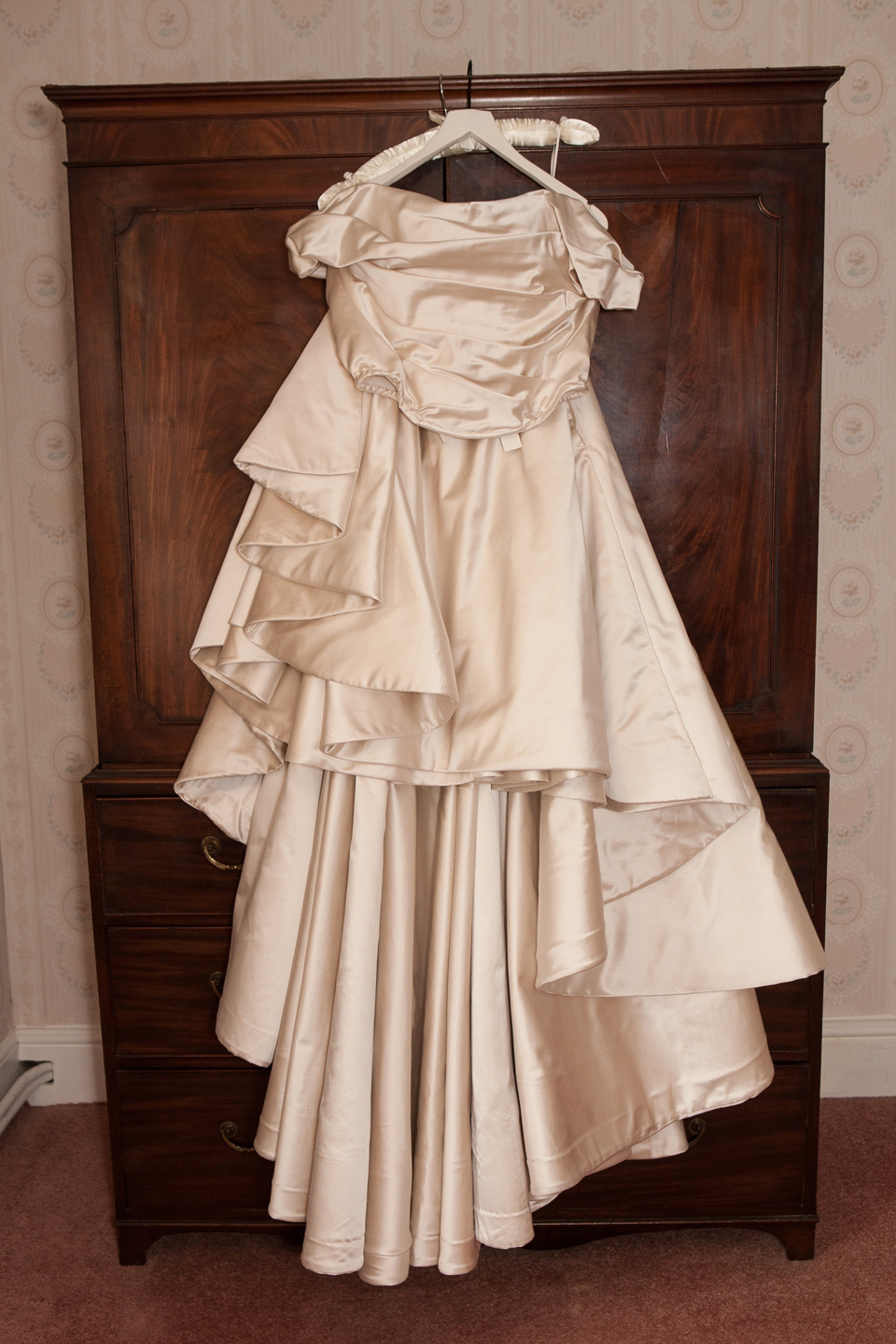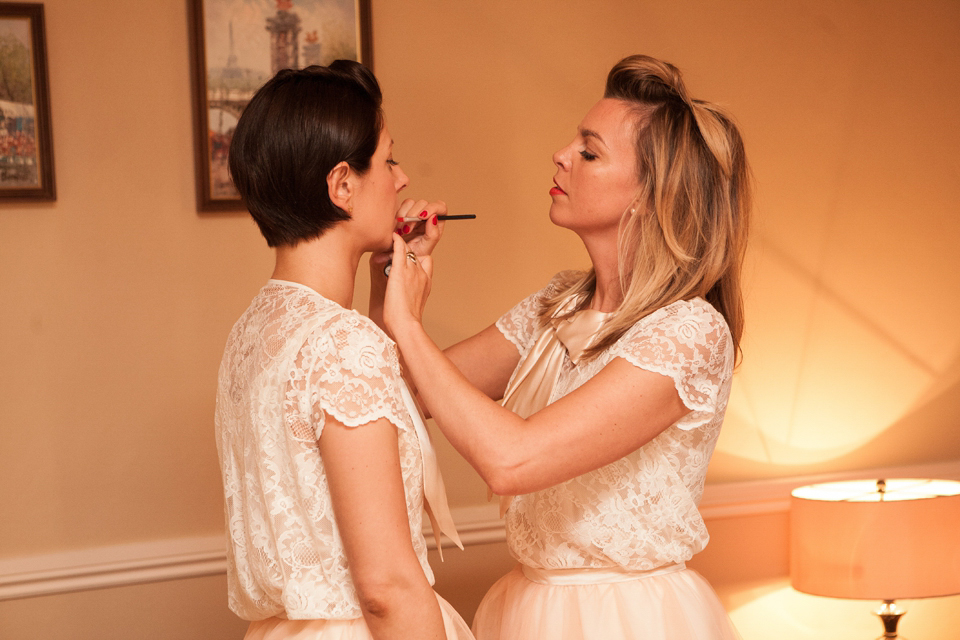 "James' amazing brother Duffy did my hair (you'll later realise that his other brother, also called Duffy, is a Jeweller, who designed our rings and other jewellery worn on the day). Ginger Duff is a dear old friend of mine, and also James' middle brother. I have known him for 10 years – who would have thought I would marry his brother?! Ginger Duff is a big celebrity hair stylist, and flies around the world with the most famous and fabulous people. He of course did me the best hair do EVER!
I had my dear friend Beverly Pond-Jones do my makeup, she is amazing, and really kept me calm – totally phenomenal.  I didn't think I would be stressed, having been so hands on when organising our wedding.   I was just a bag of nerves when the morning eventually arrived.  I wanted it to be perfect and couldn't wait to marry the love of my life."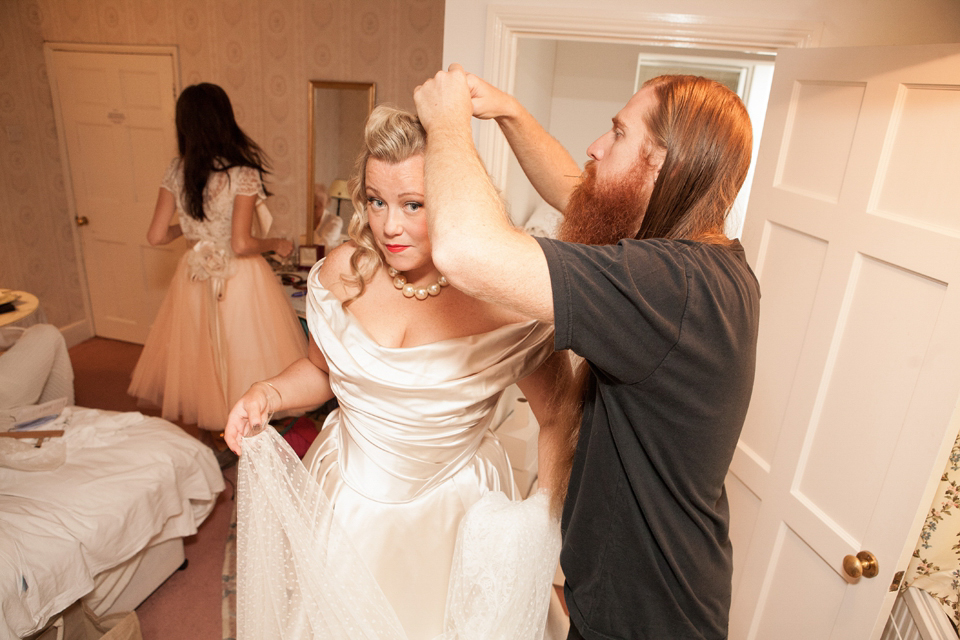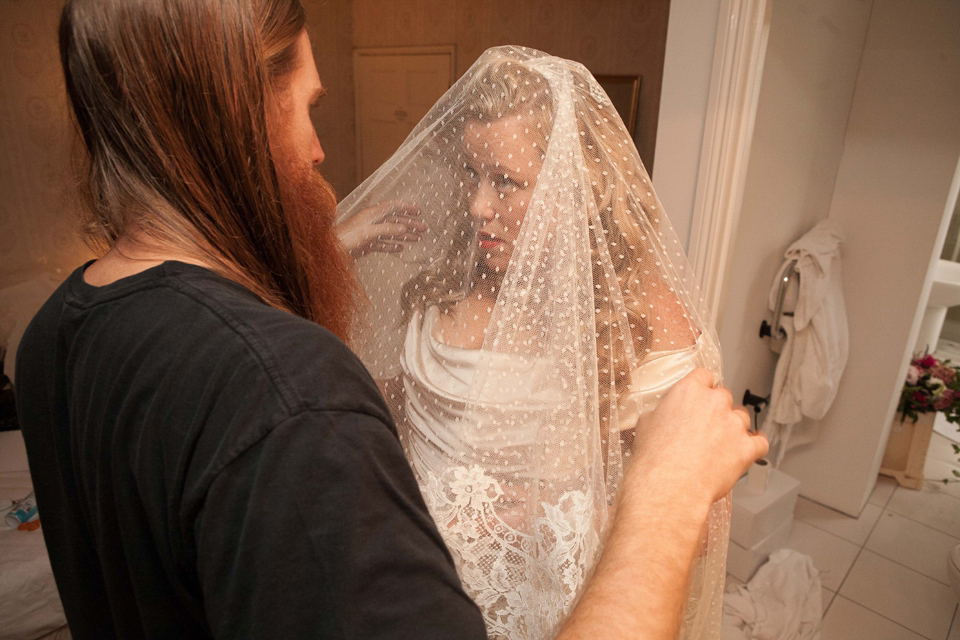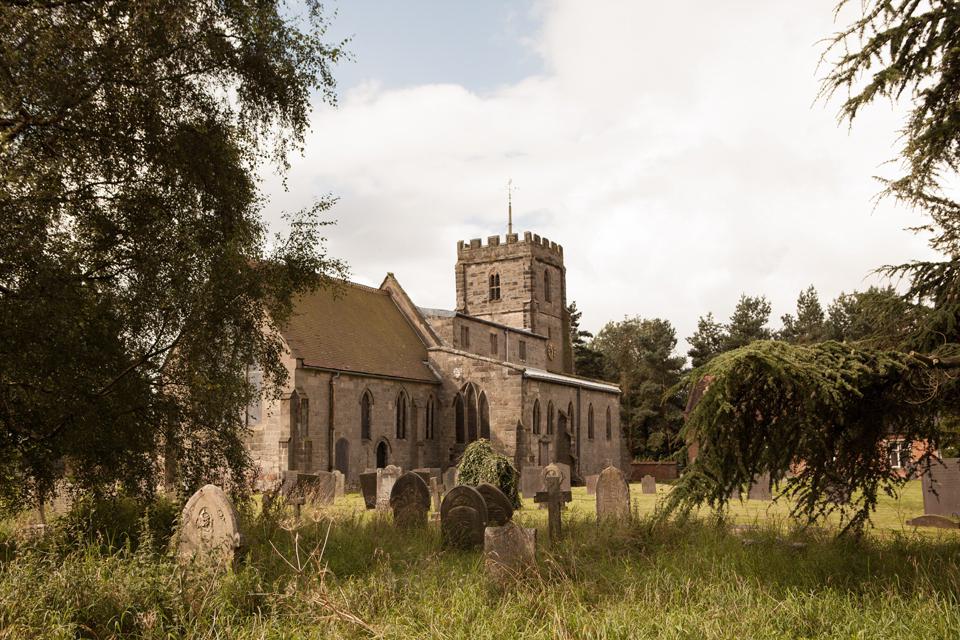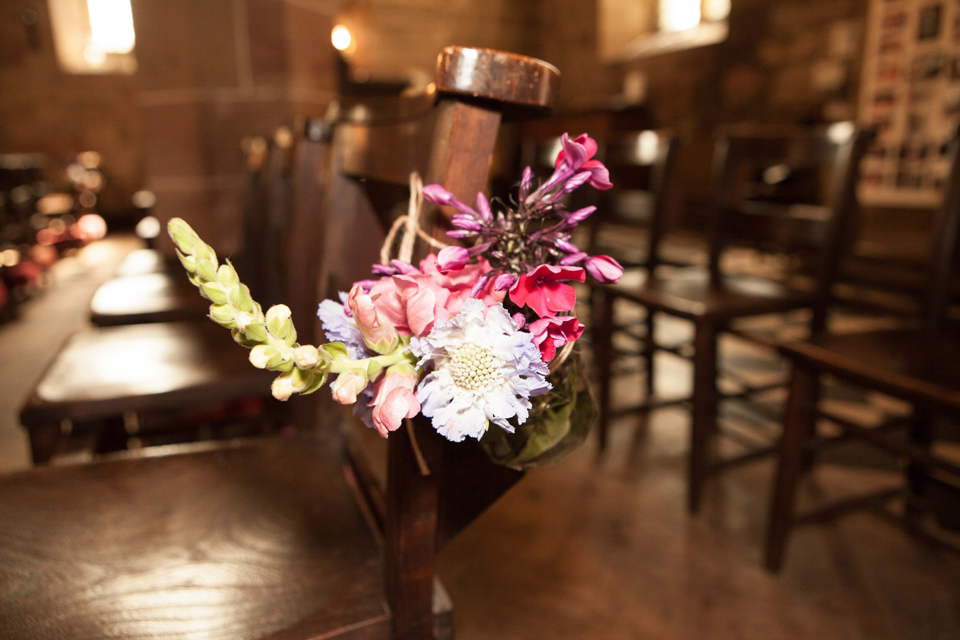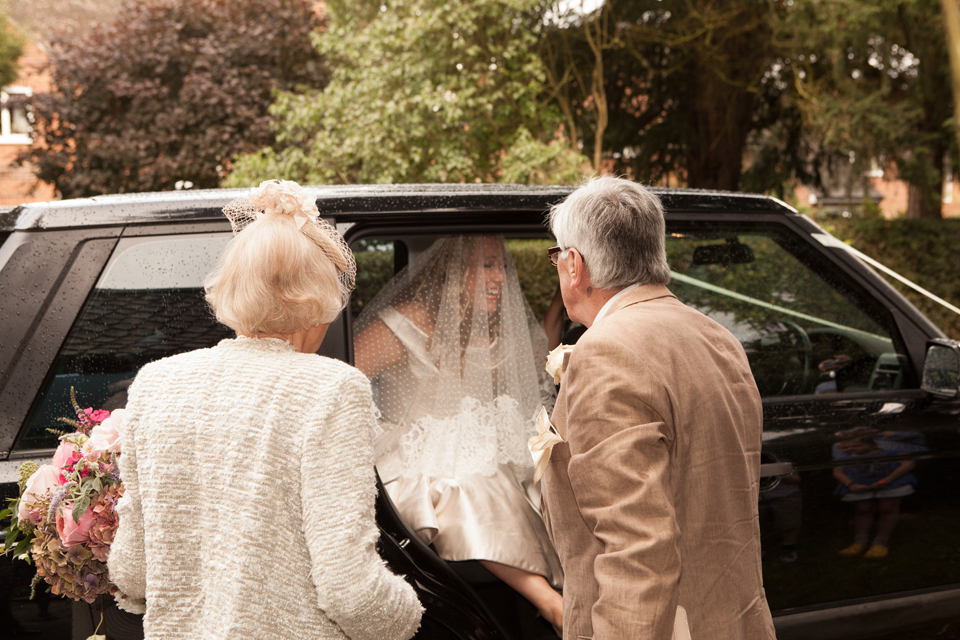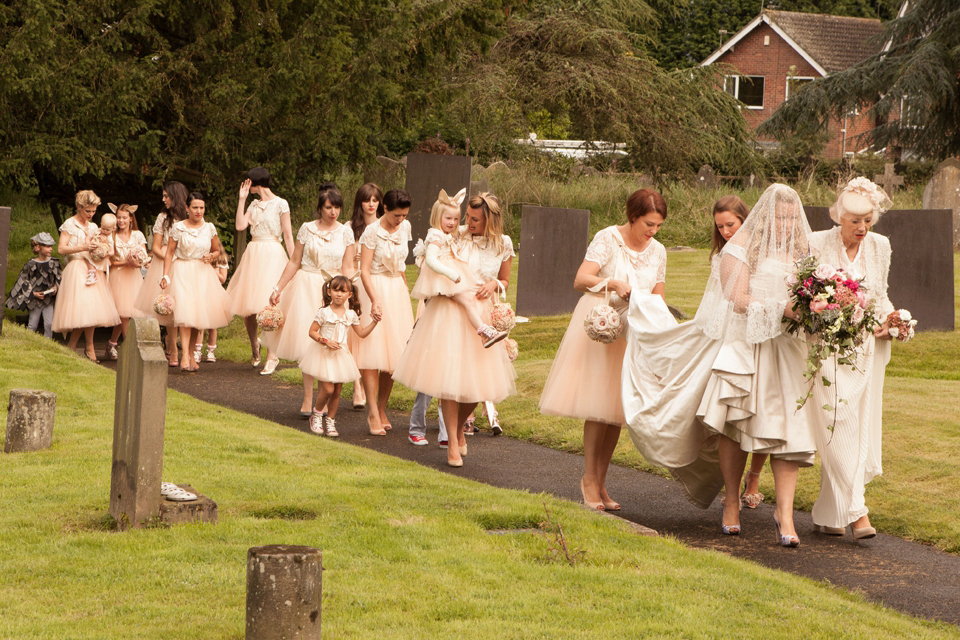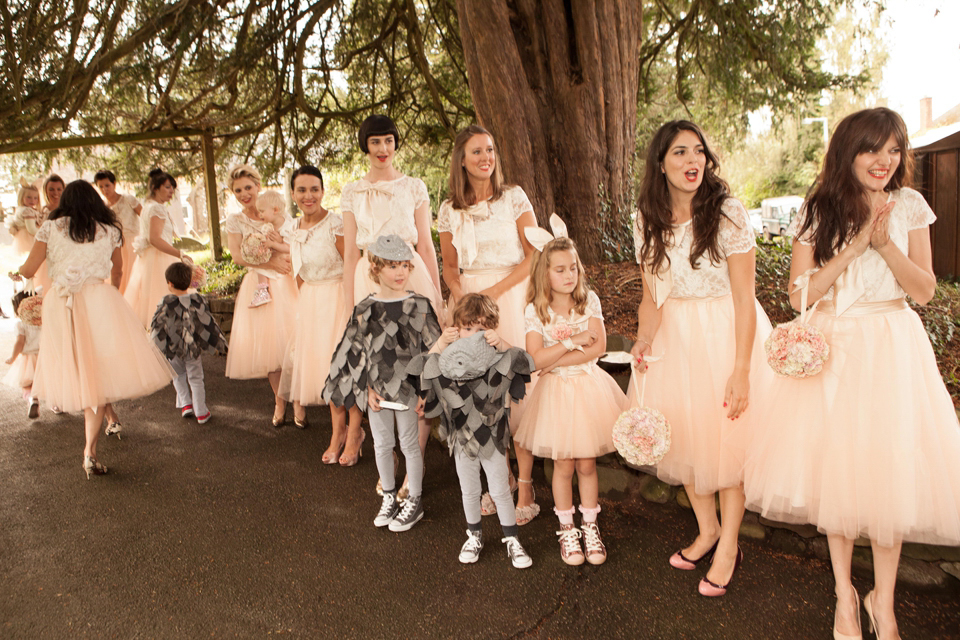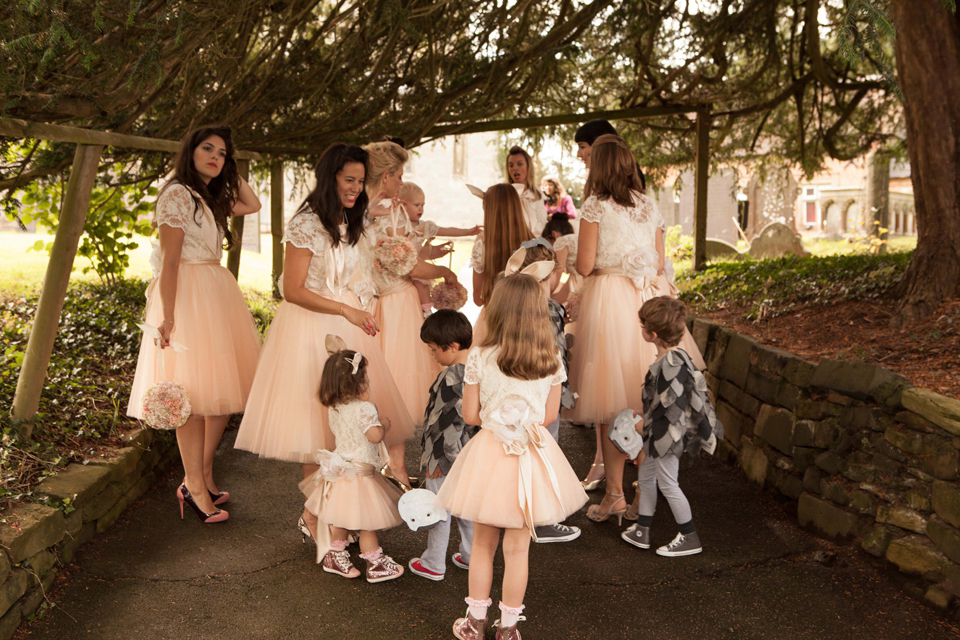 "We had our friend Marques Toliver who is an incredible violinist and singer play before the service in the church yard as people arrived, sensational, and also he played for James and I before the dinner. He played my favourite song, White Sails, this is him on Jools Holland – WOW! "
"Then our beautiful friend Myleene Klass played the harp in the church.  We're so lucky to have such talented friends.  We also hired a fabulous local pianist that we found in a restaurant in Derby. He was just brilliant, played with no music, just free styling loads of sing a long songs.  When James and I arrived at the marquee for dinner, he was playing bohemian rhapsody! The whole marquee of 200 people starting singing along and bobbing up and down. It was the most emotional love loaded thing I have ever witnessed – it brought tears to my eyes to to see everyone singing too us – it really is a memory I will cherish forever."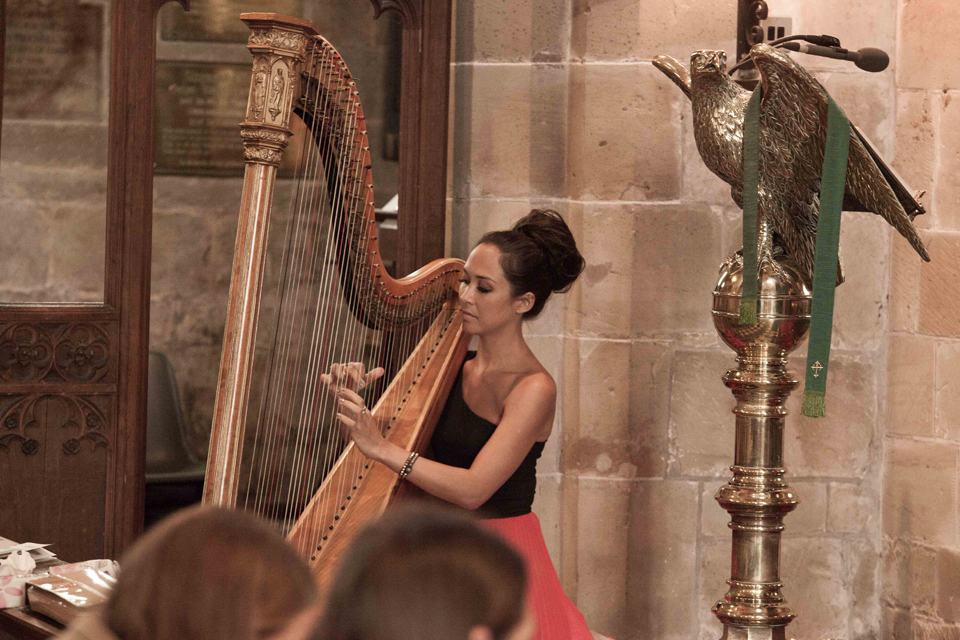 "The husband made all the wedding invites – we did a circus style poster, and in big letters in the middle it said THE NORTH, it's a personal joke, whenever you get on the M1 to Derby that's what we always laugh at and James being Southern and everything!"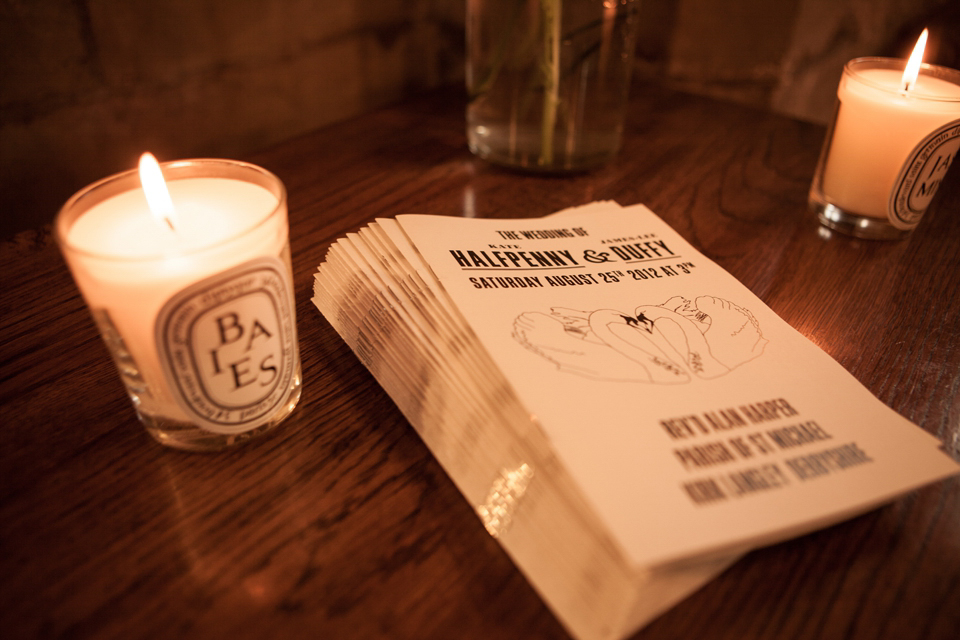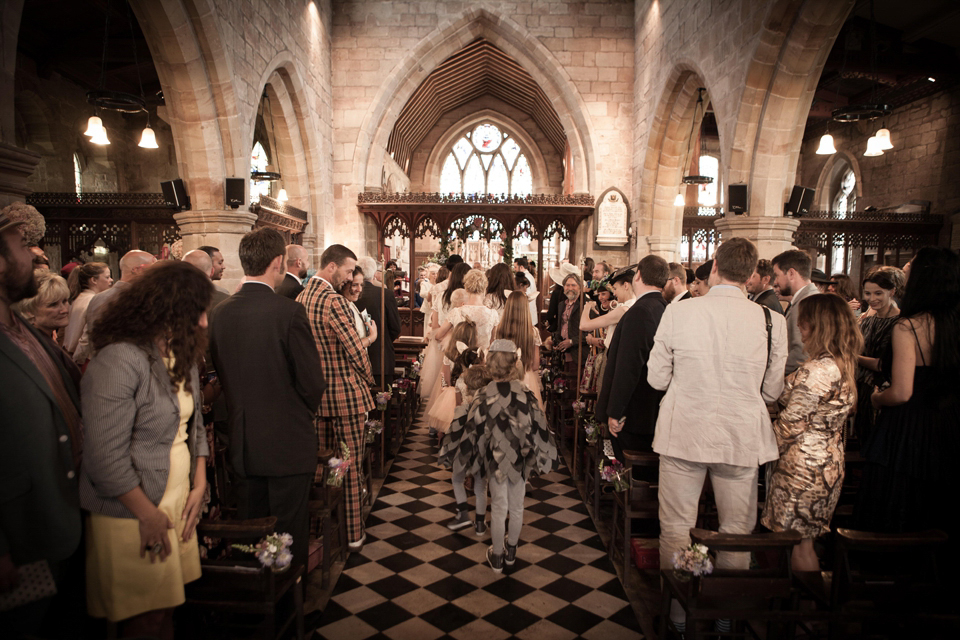 "My mum walked me down the aisle, and did me proud, she looked a million dollars in her outfit, I think she was more nervous than me!
We chose two readings for our ceremony – An Apache Wedding Blessing and Corinthians Chapter one Verse 13."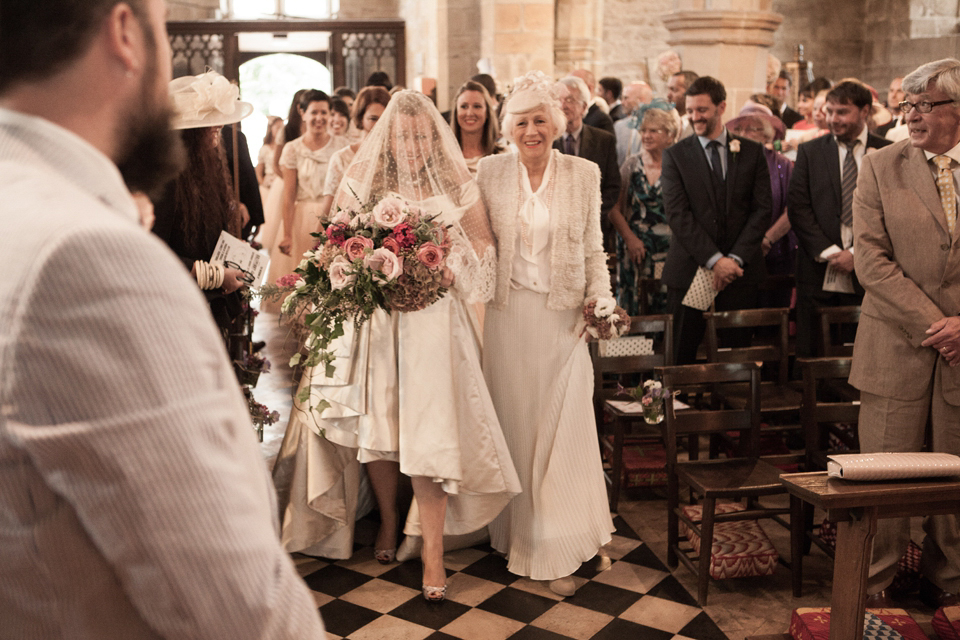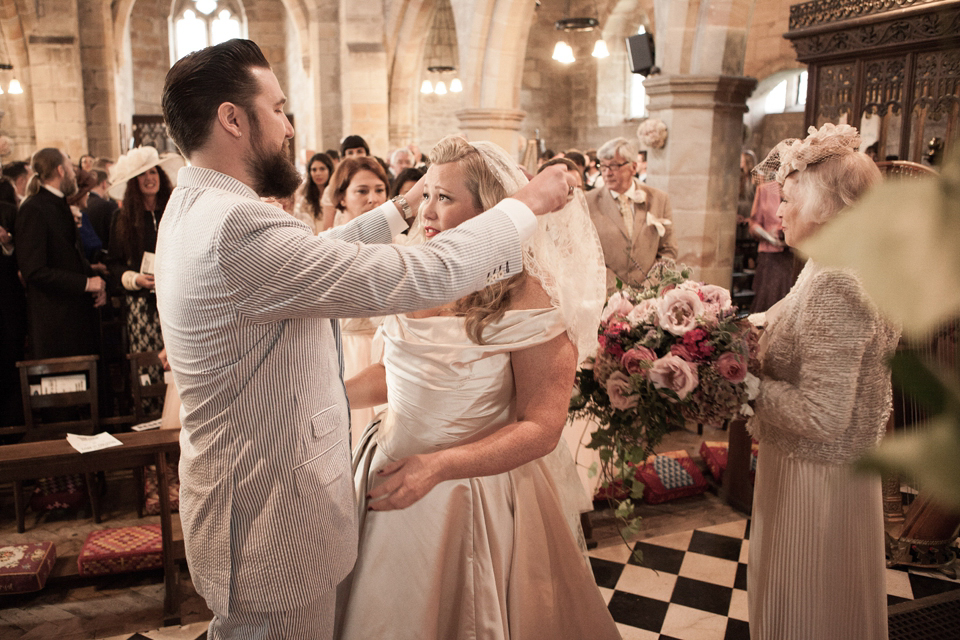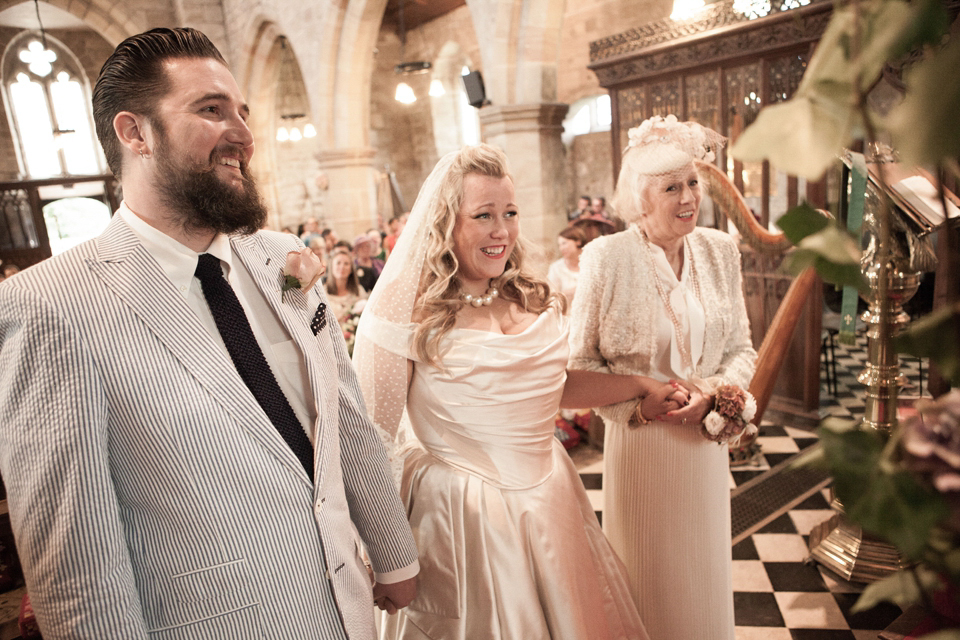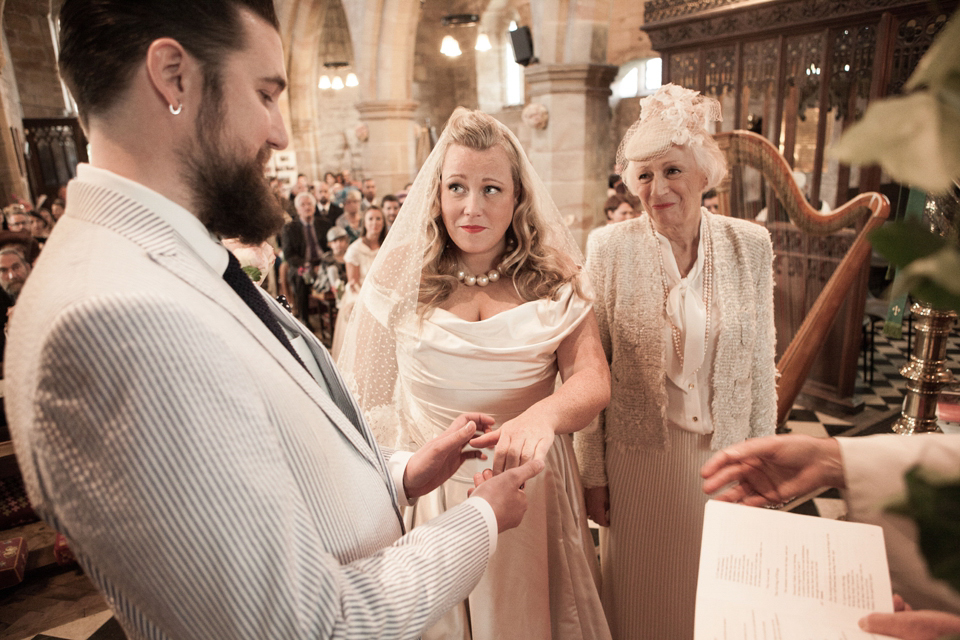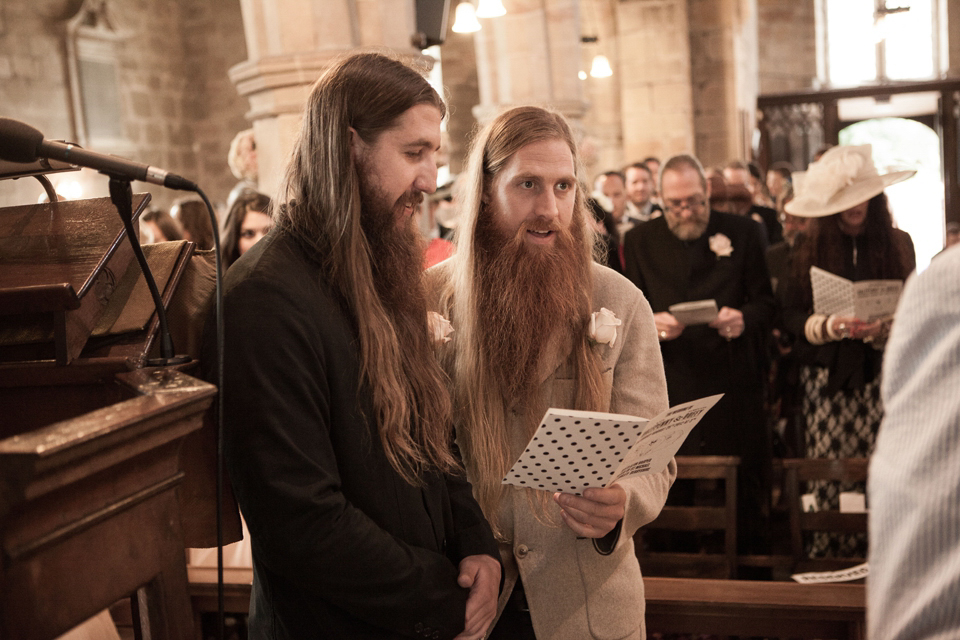 "We made our rings with James little brother Duffy – he is the most incredible jeweller and we wanted our bands to be made of one continuous piece of metal, to symbolise that we fit seamlessly together, smushy I know, I am so soft and like sentimental things!
Duffy also made each of my 12 big bridesmaids a gold bangle like the one I made for myself a few years ago – they all loved them and all still wear them to this day."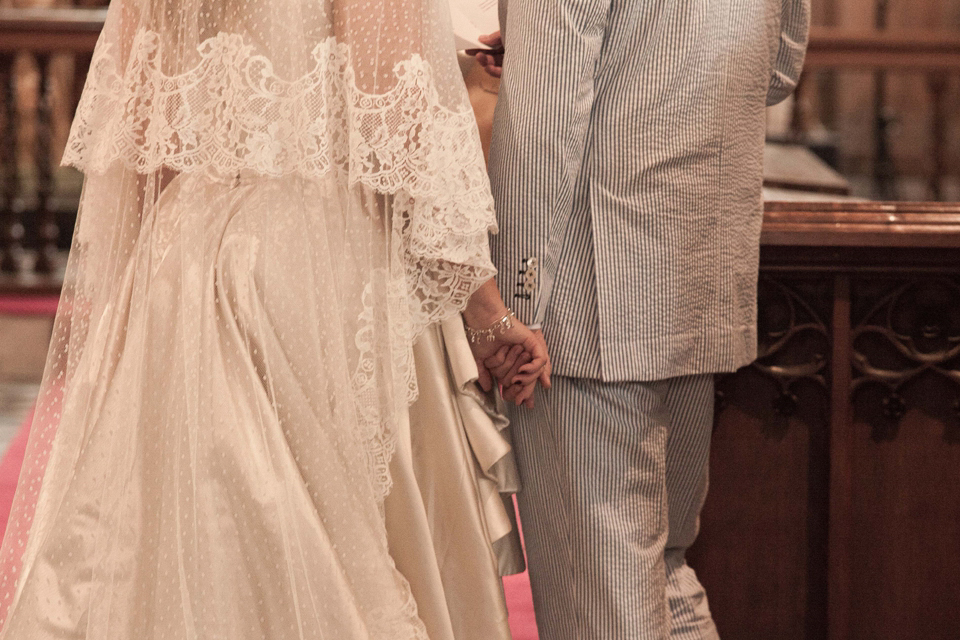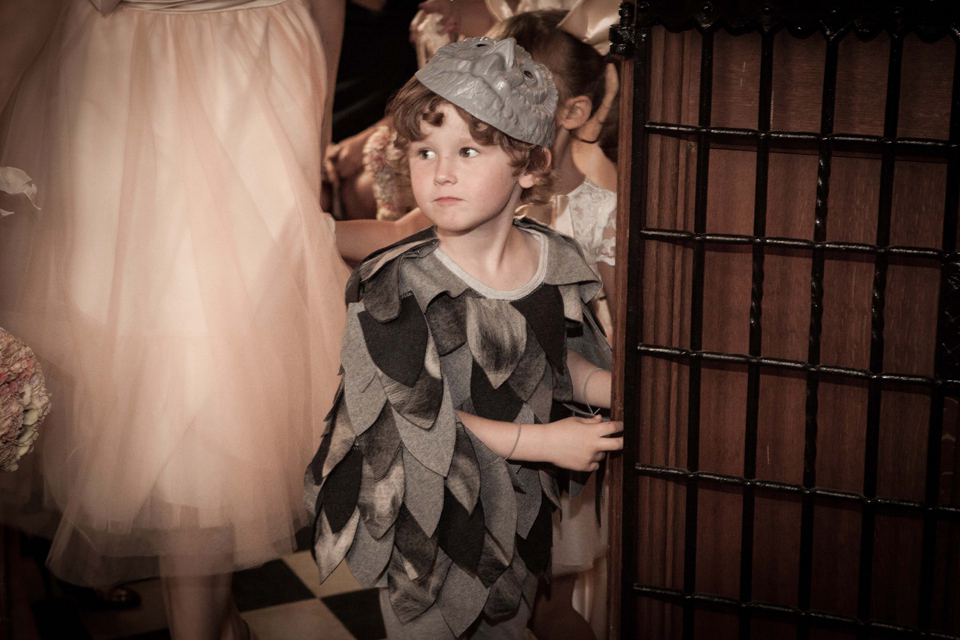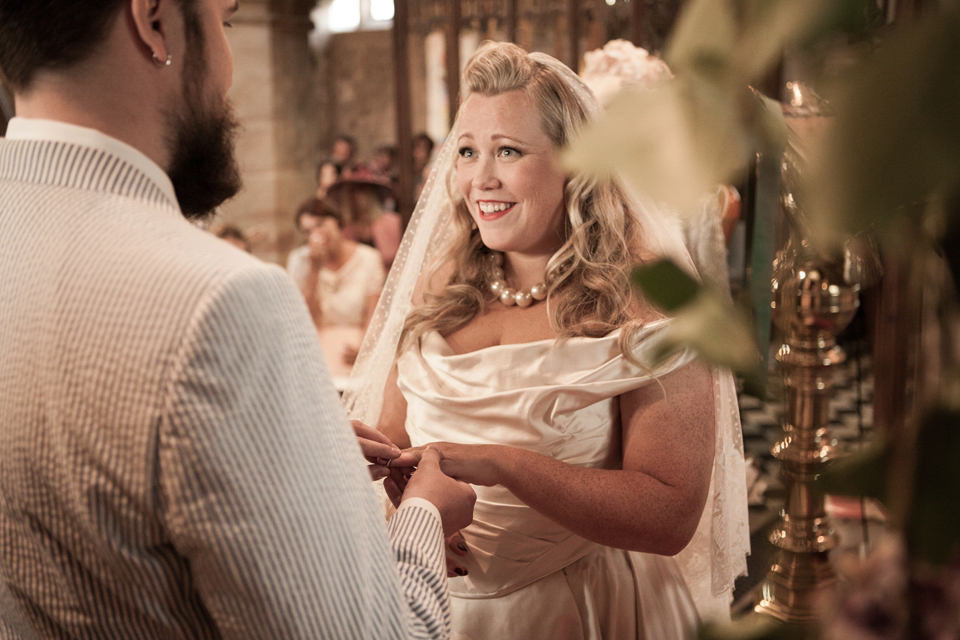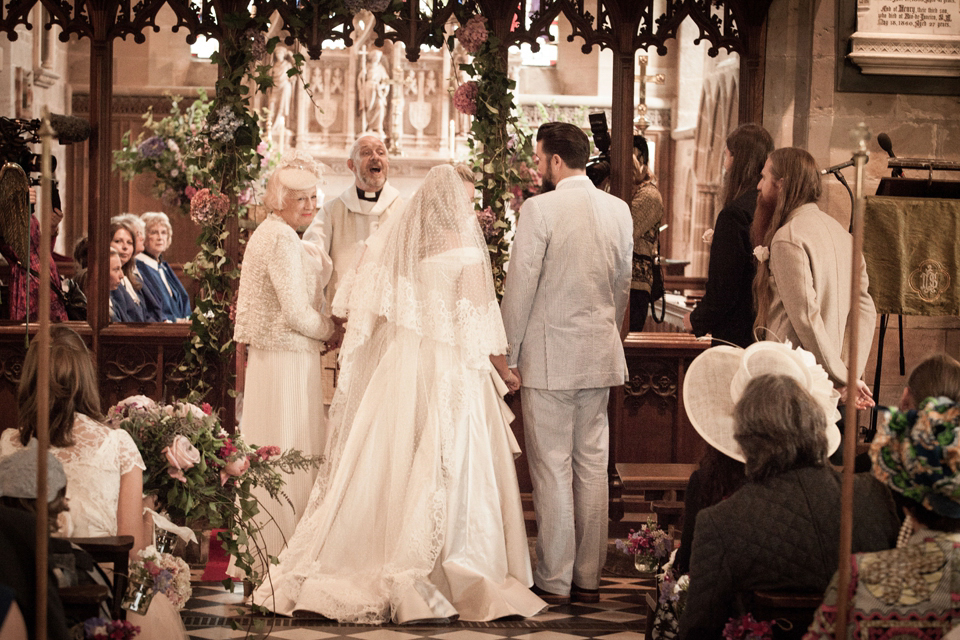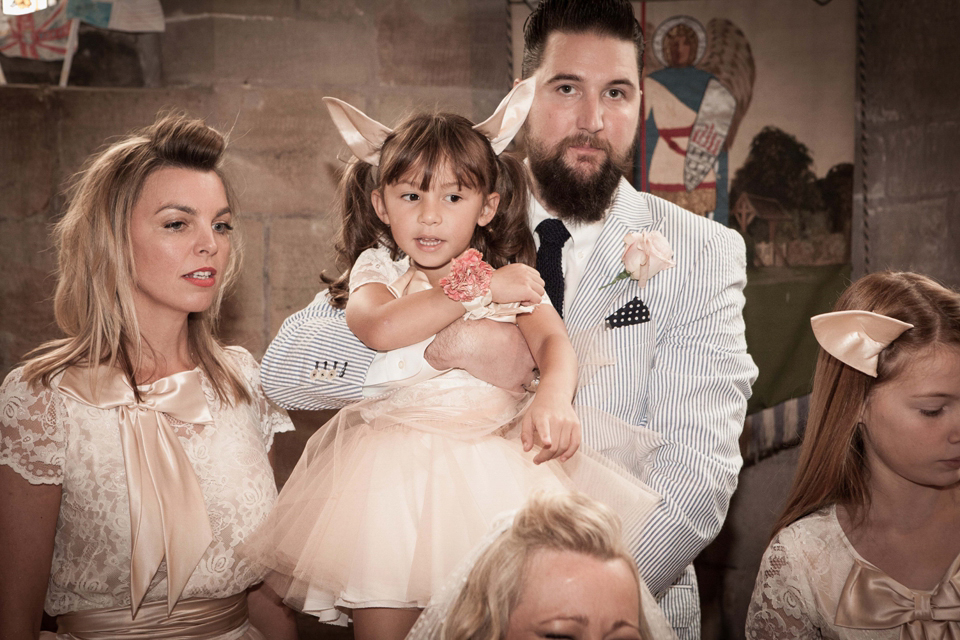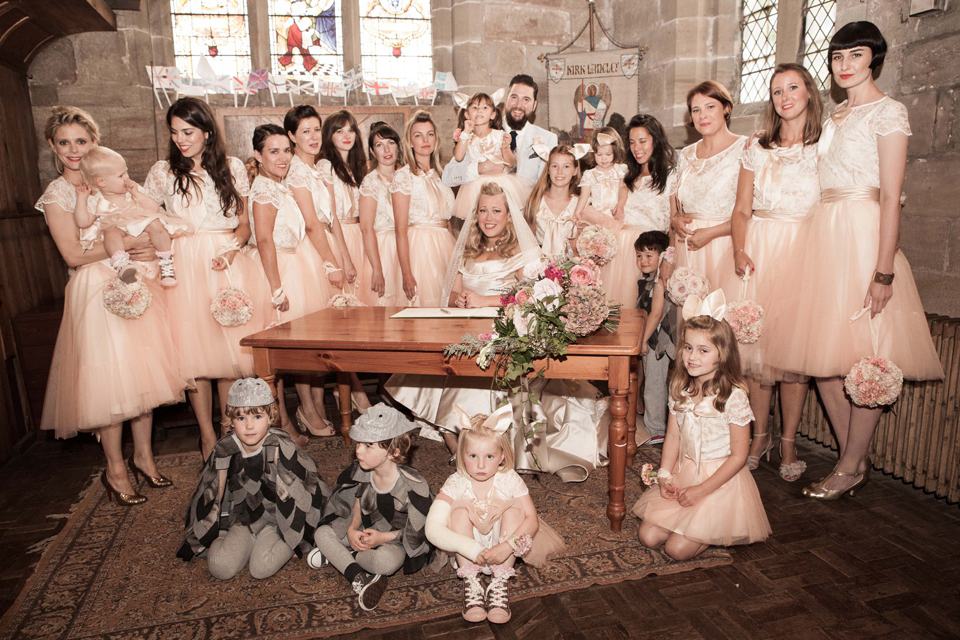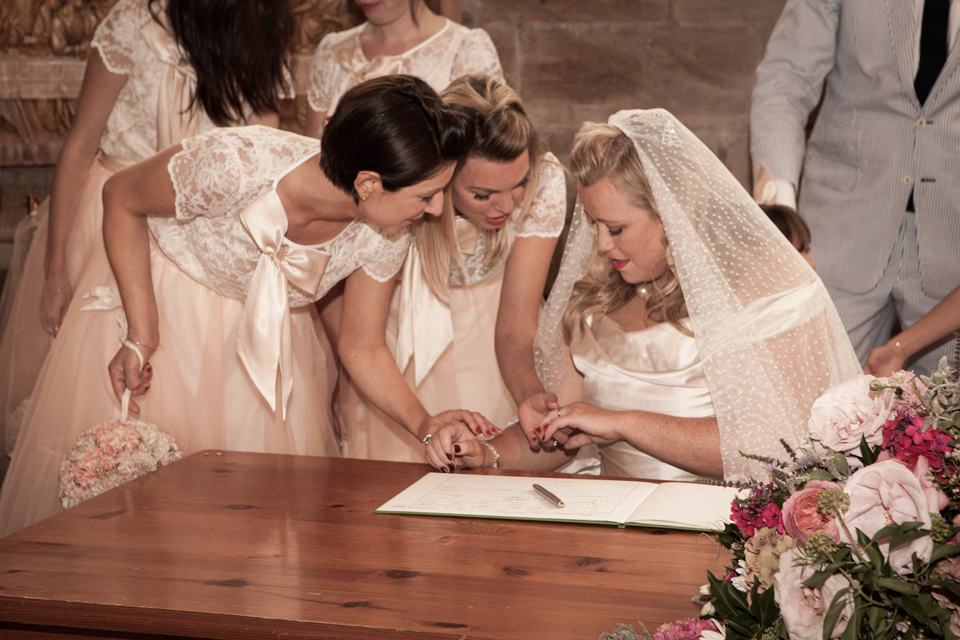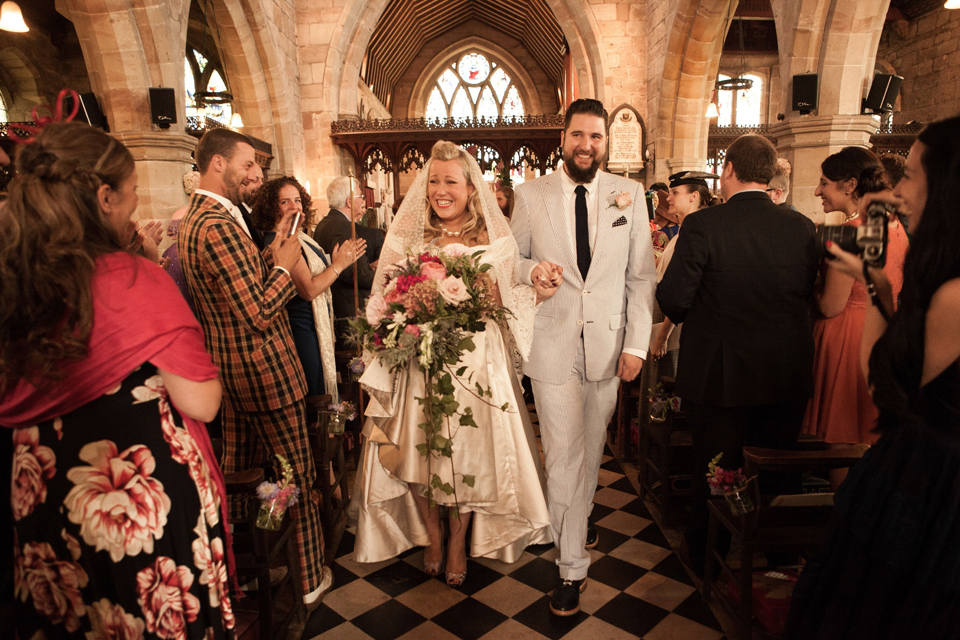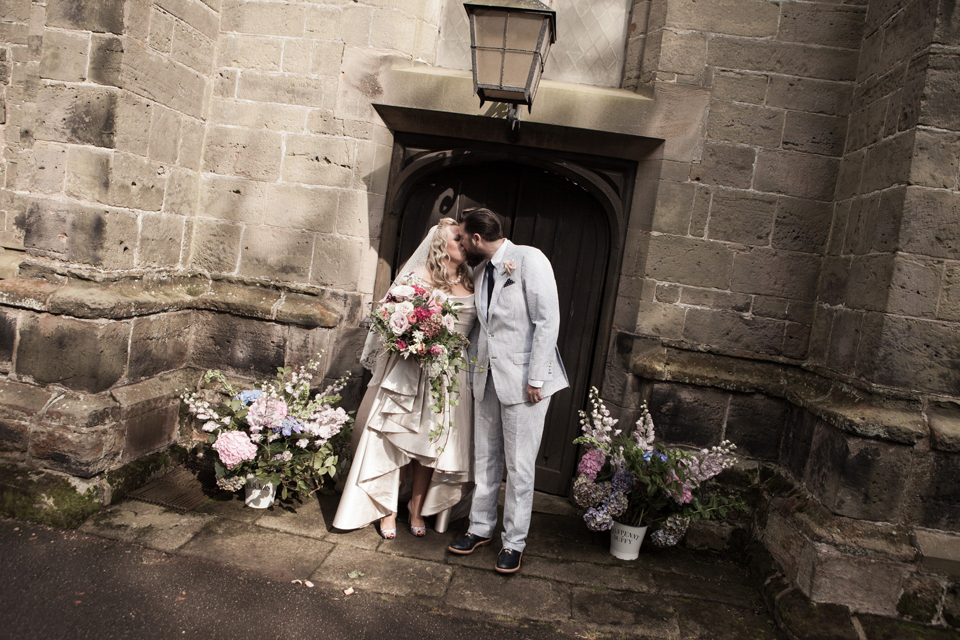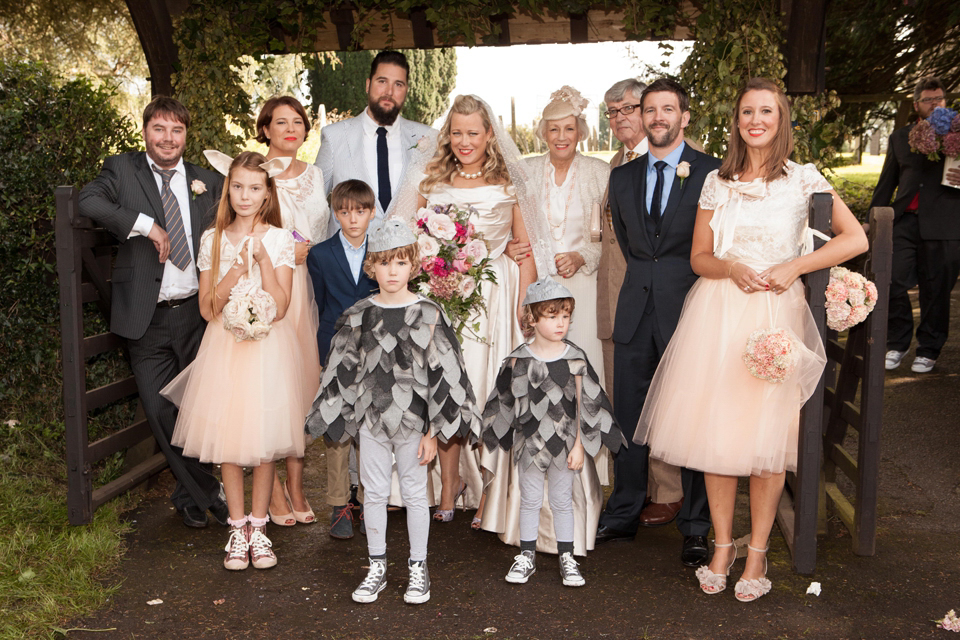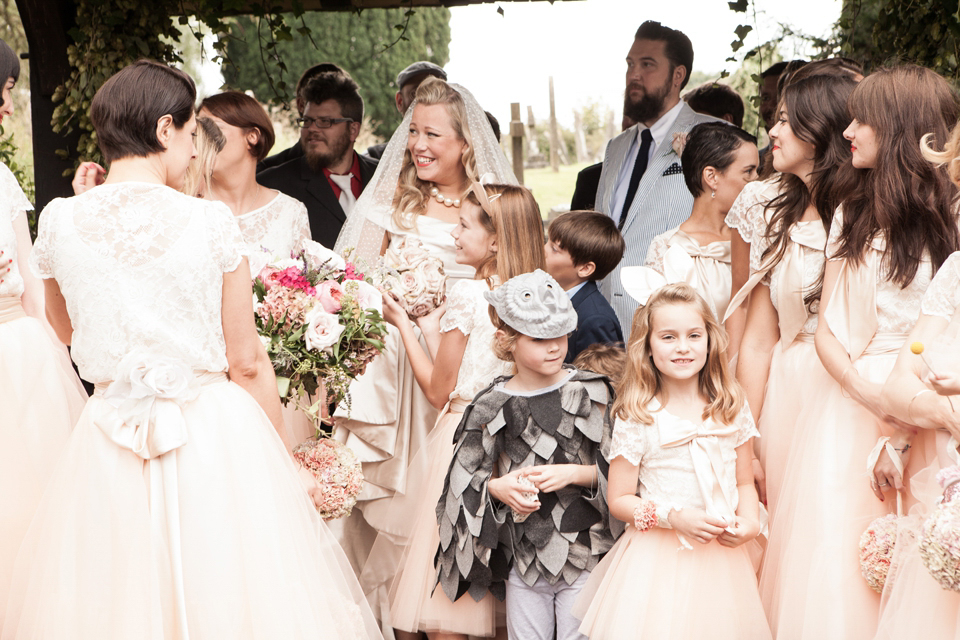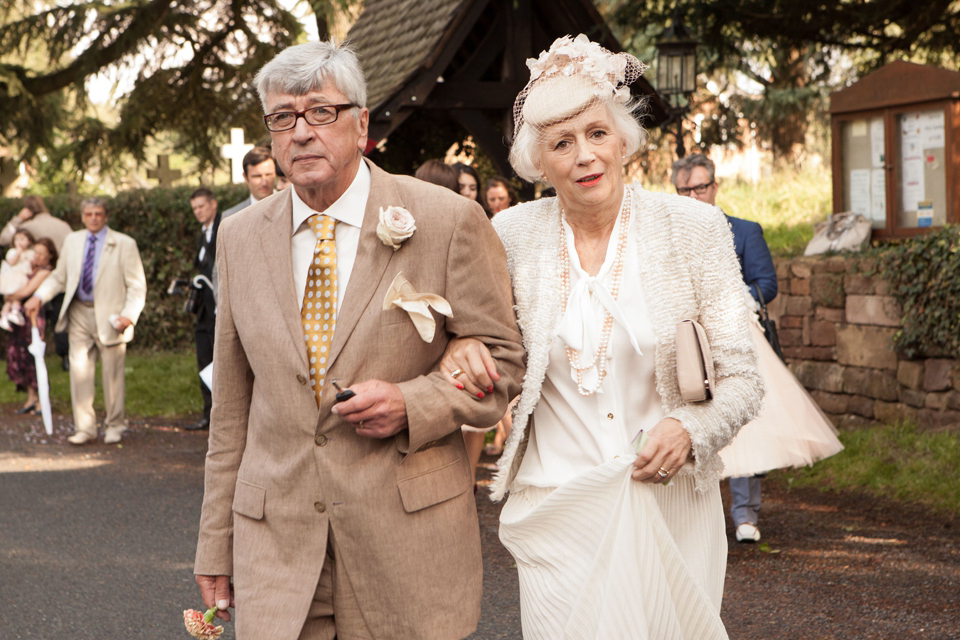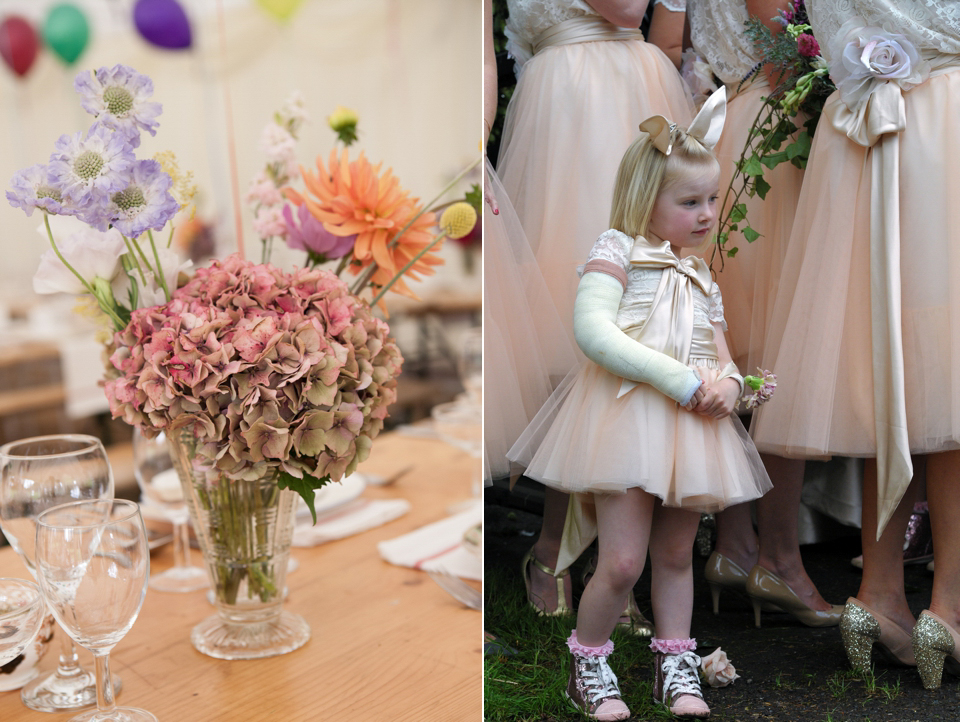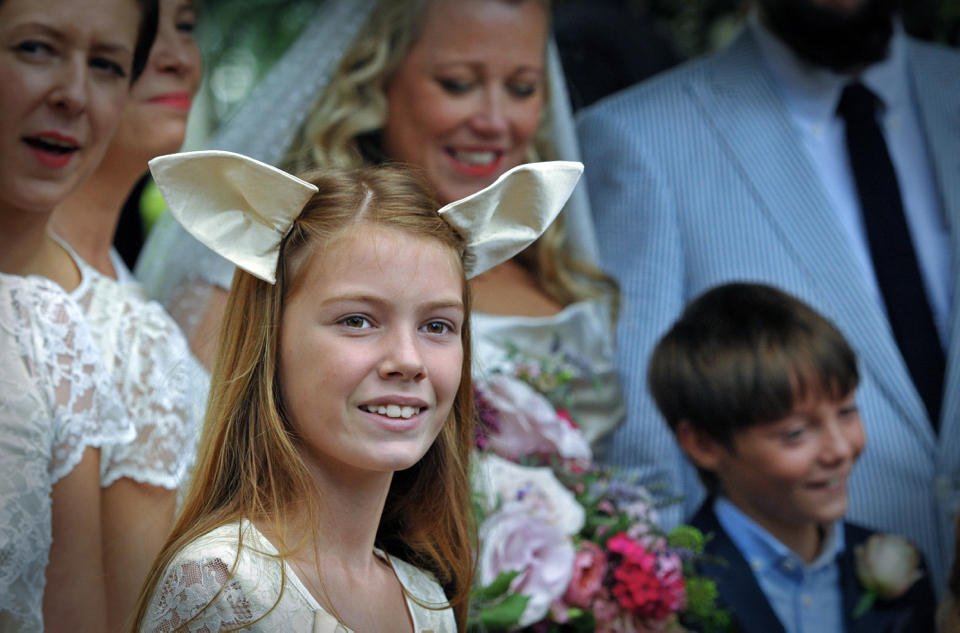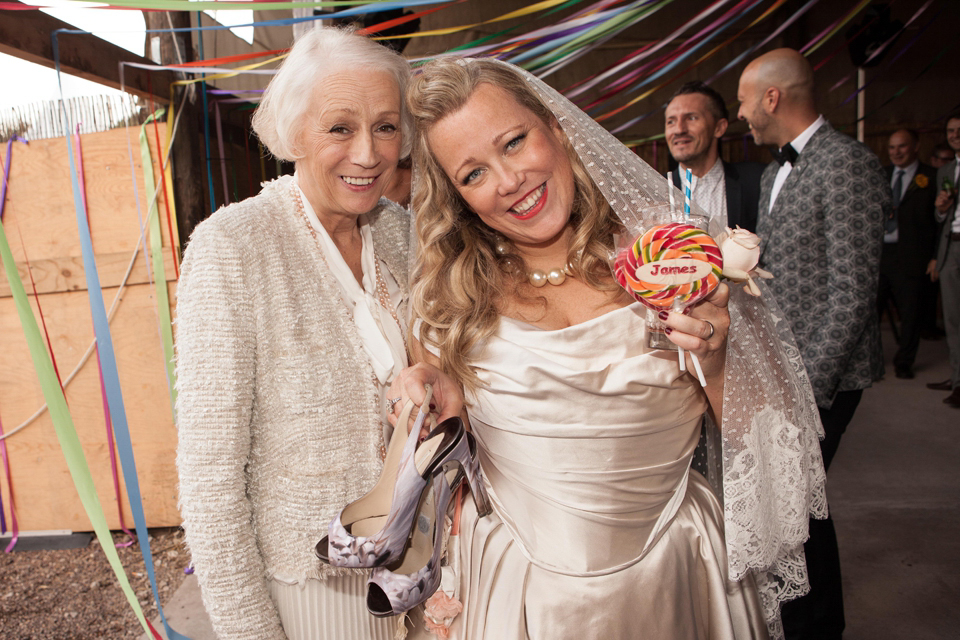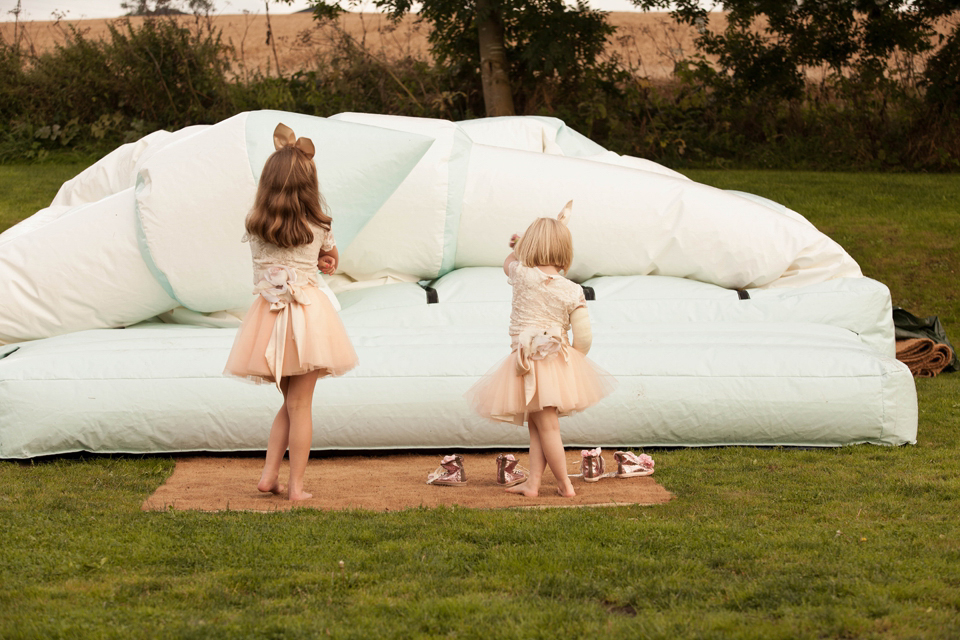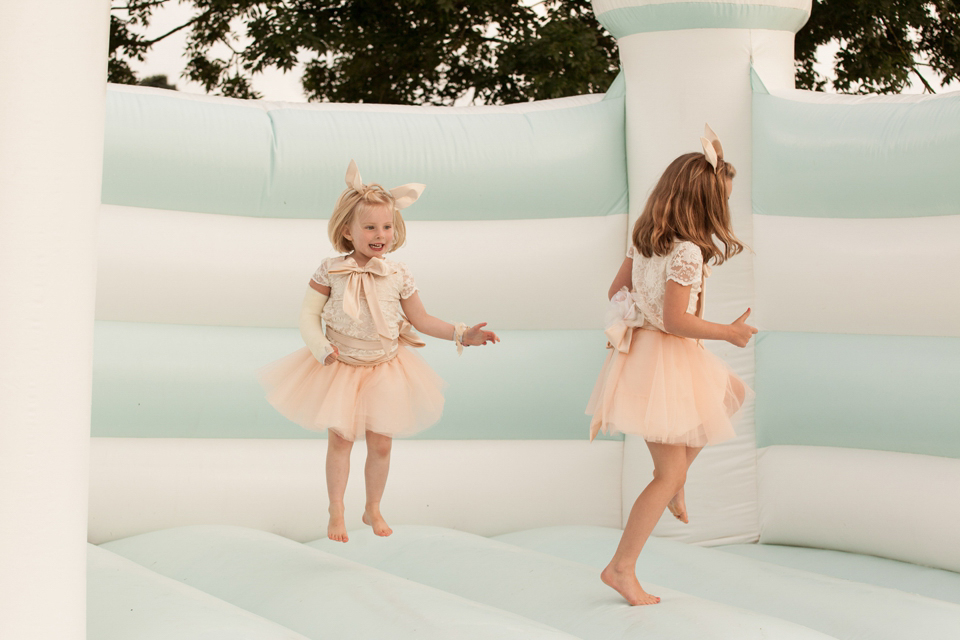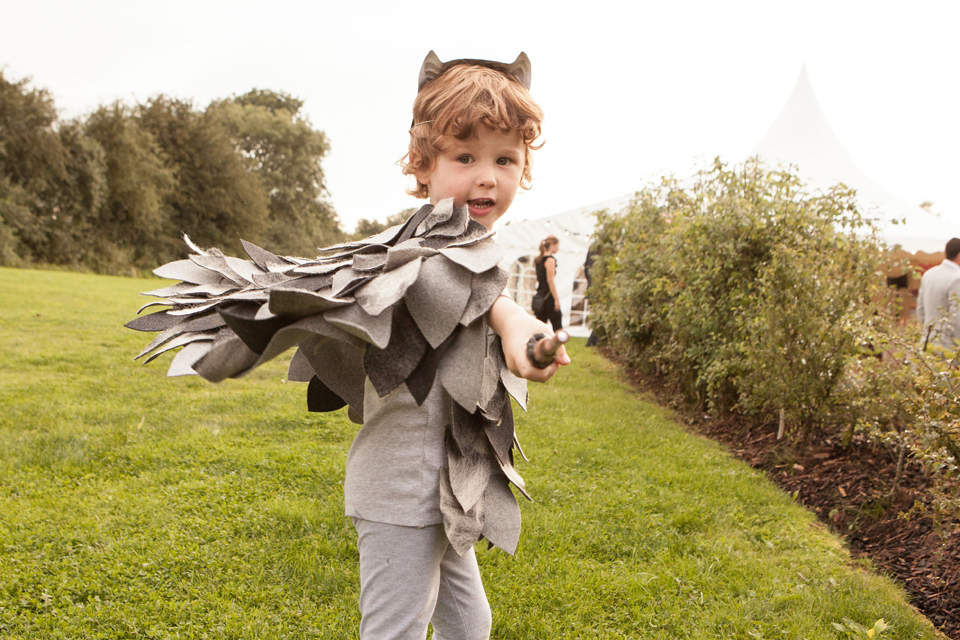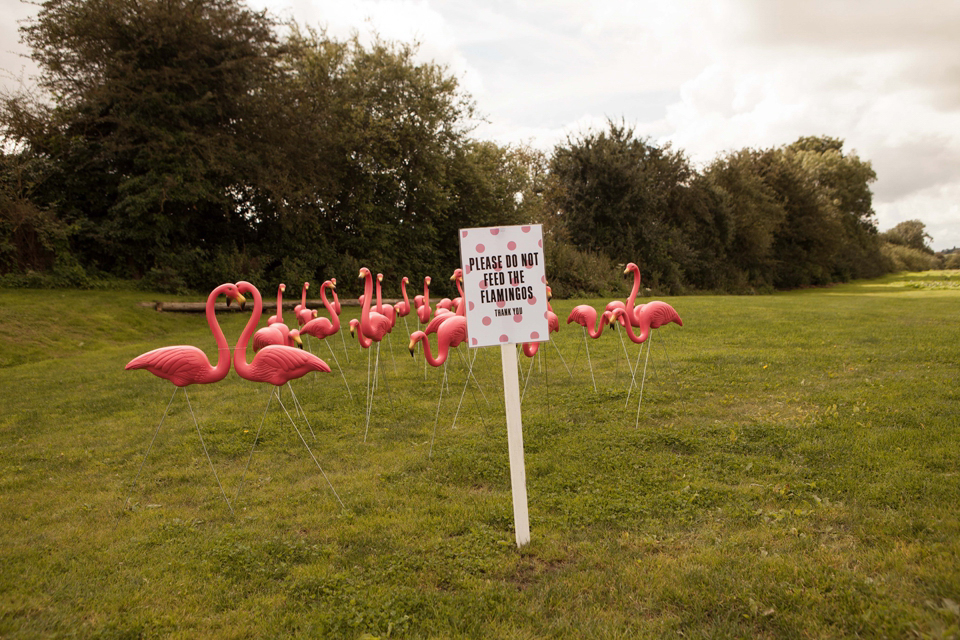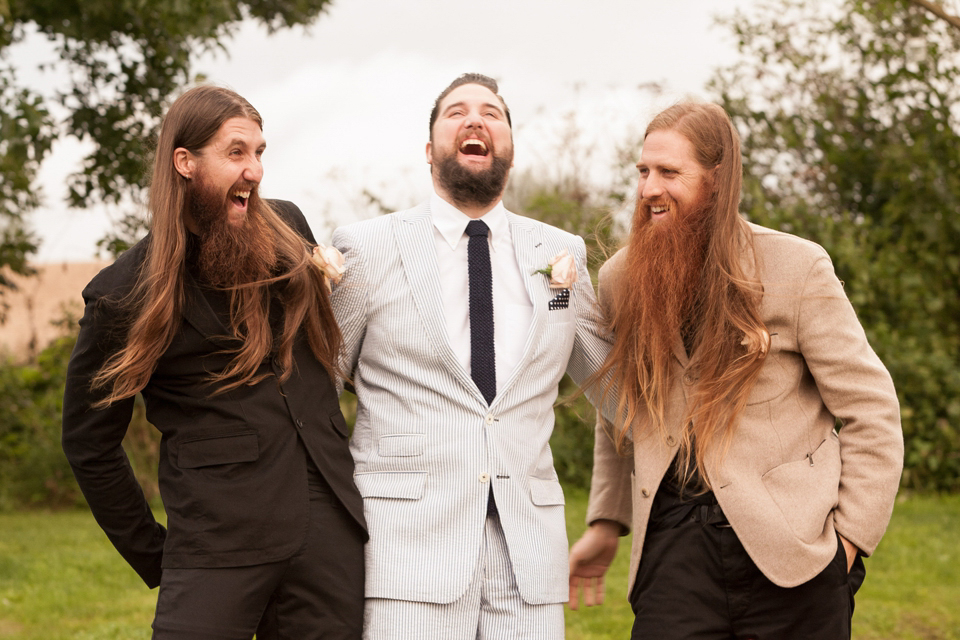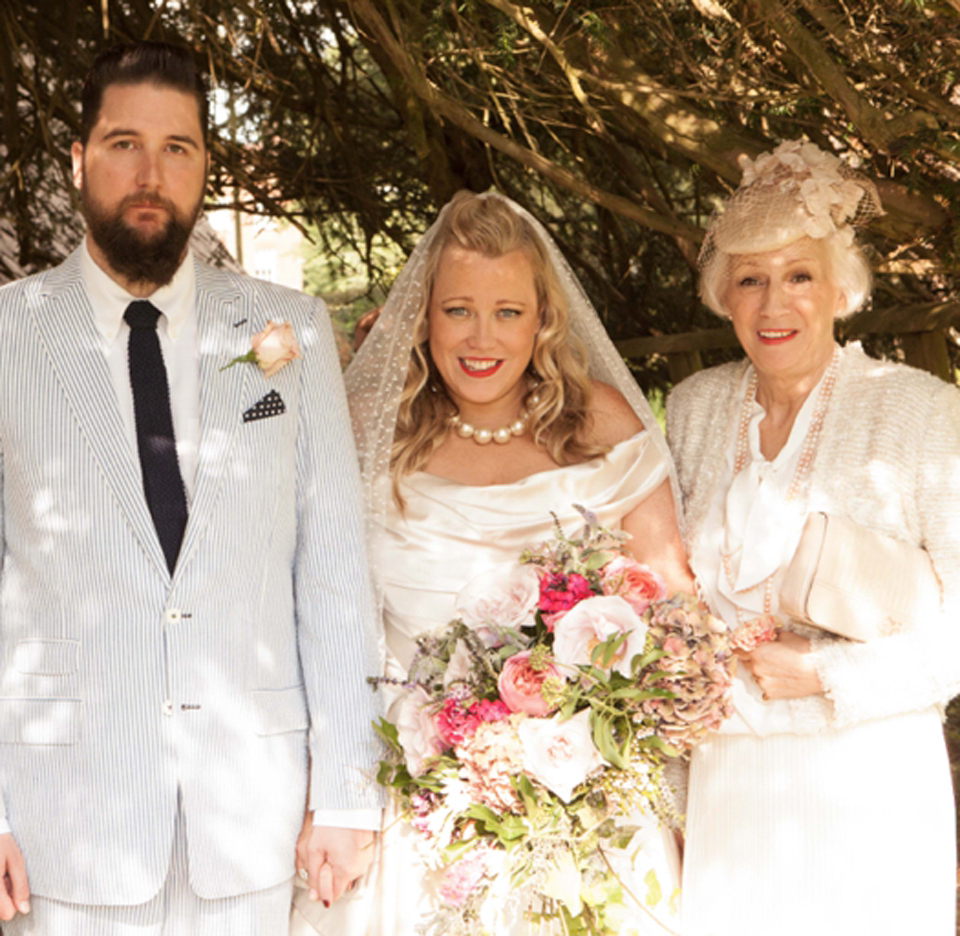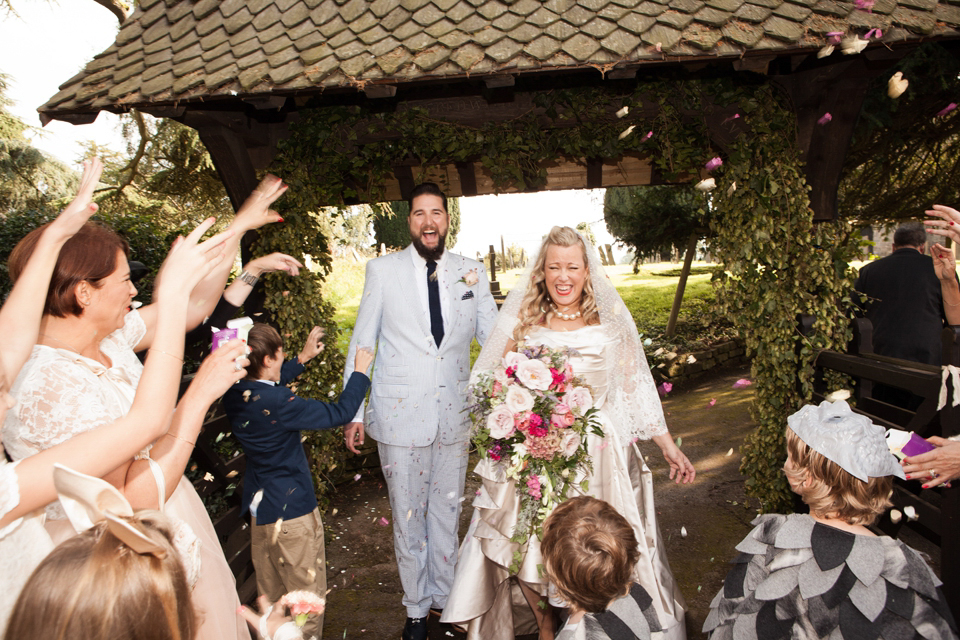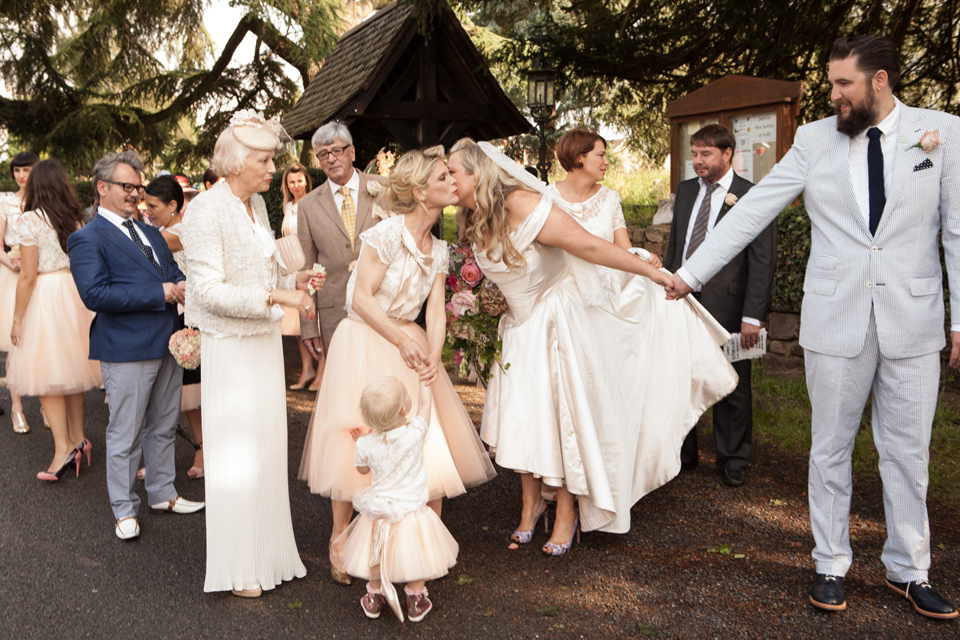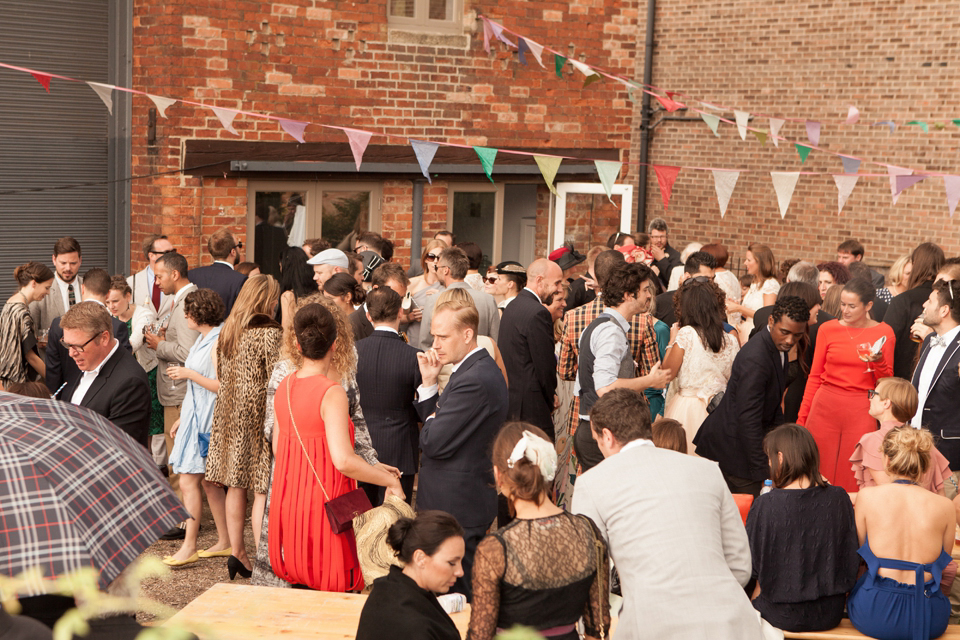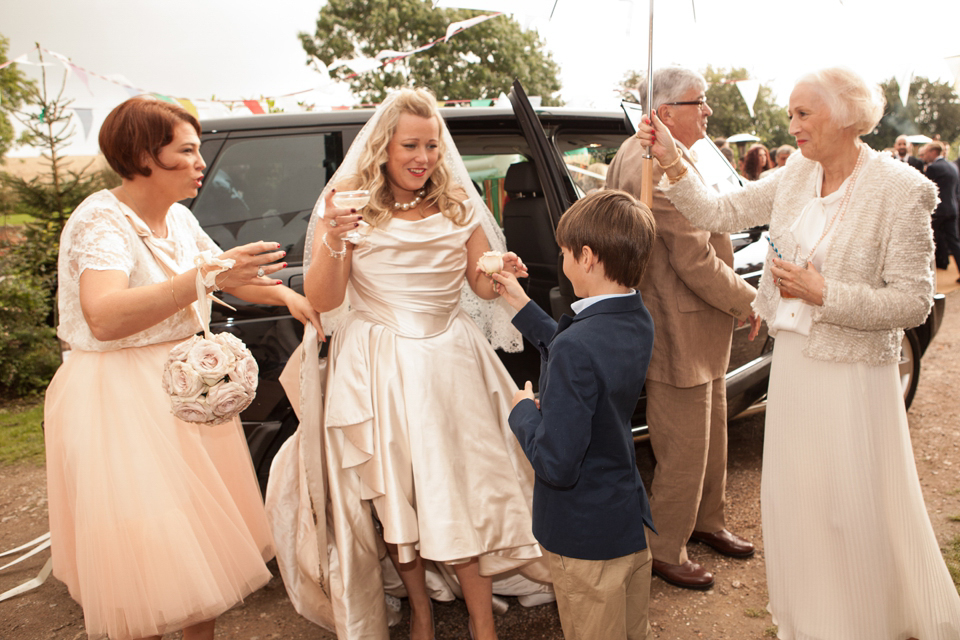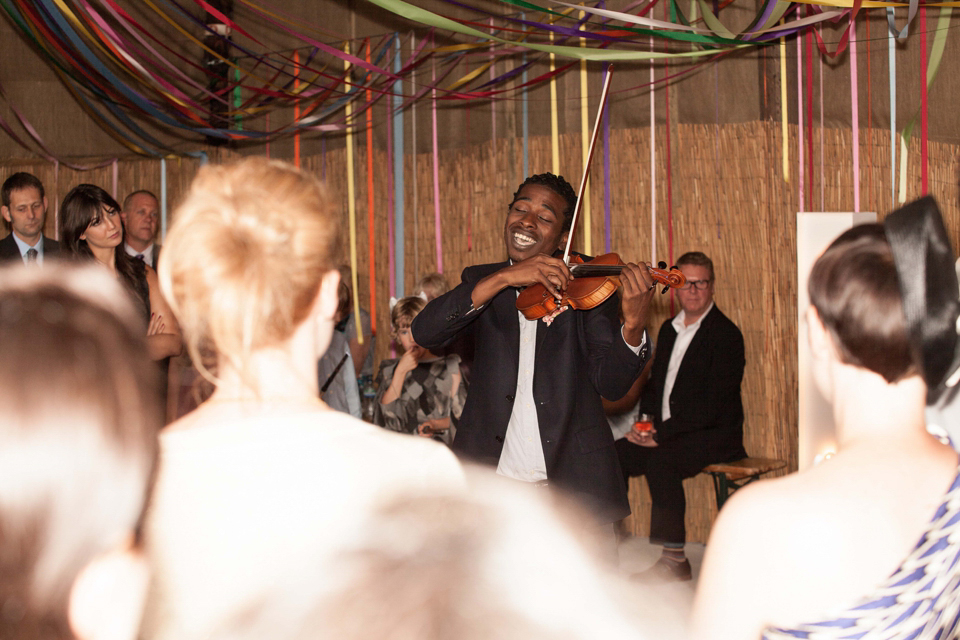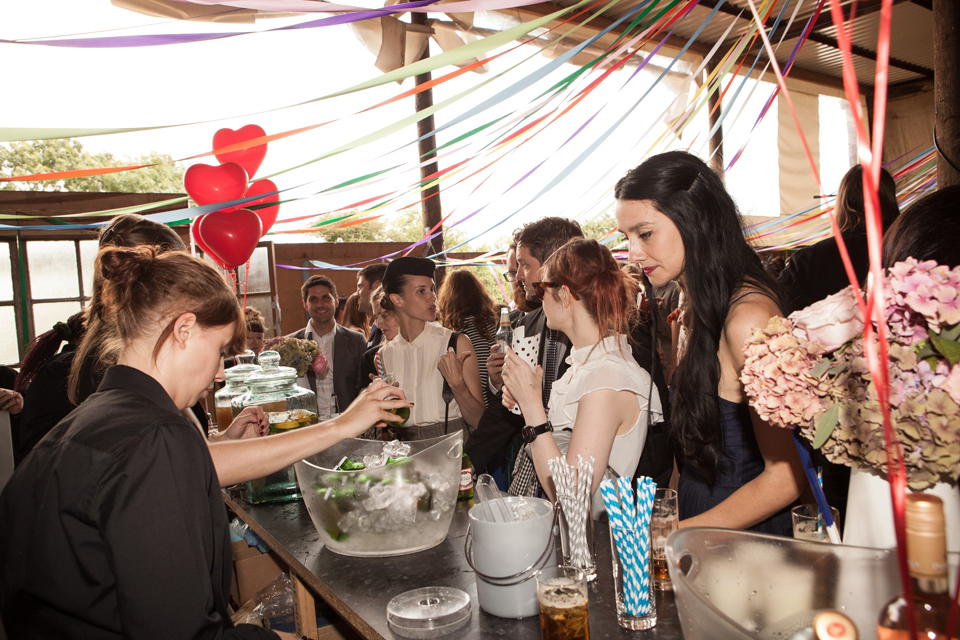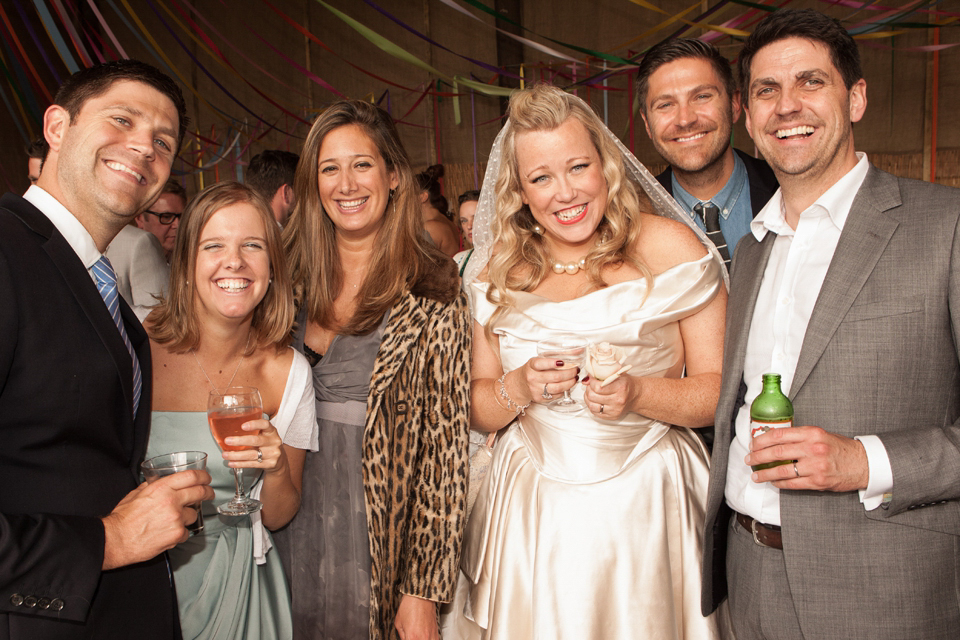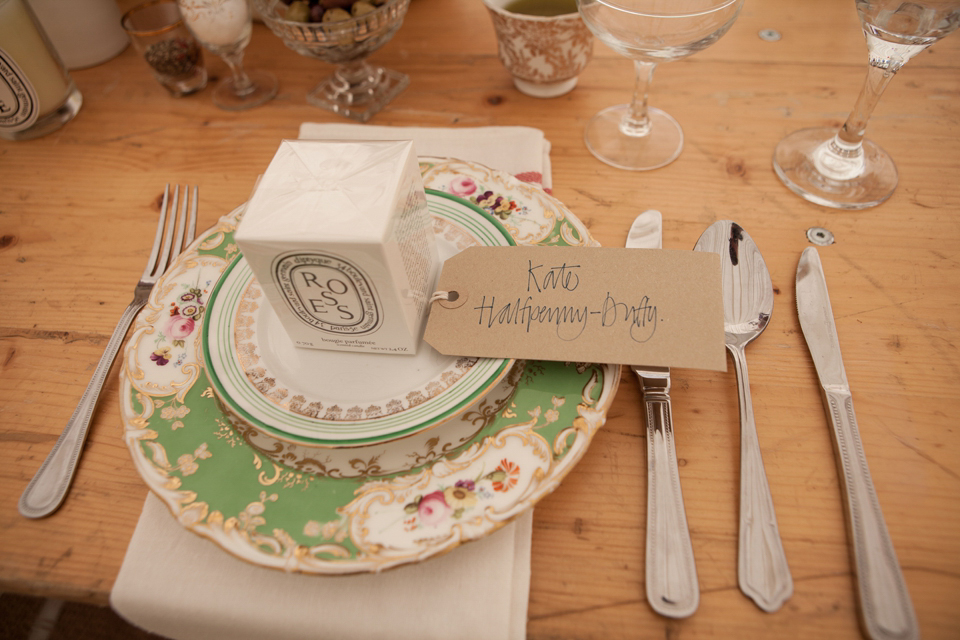 "Diptyque scented our whole event using different fragrances for each area of the wedding, so we had rose in the church, and I sprayed the bridesmaids tutu's with room fragrance so they floated fragrance down the aisle, then Bais in the barn, fig in the Marquee, it was just sensation overload, so we gave Dyptique mini candles for all the ladies, and toffee apples for the gentlemen and children.  The toffee apples came from the toffee apple manufacturers next door to our summer house in Whitstable, kent – we wake up to the smell of candy floss and toffee whenever we go there."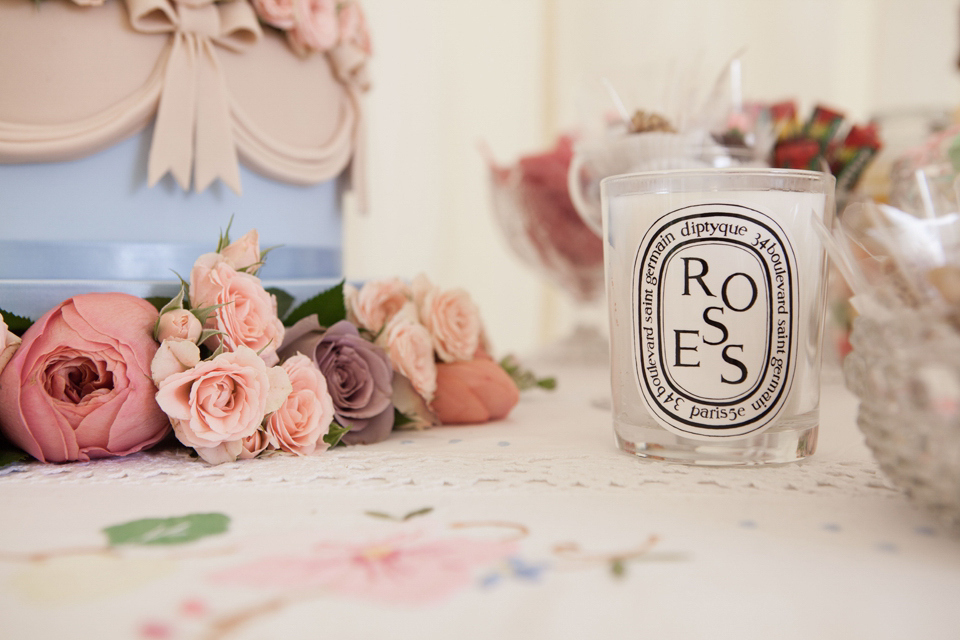 "As well as candles, when it came to decor, we used a Mr & Mrs Jugs & Pale that I had painted on enamel and vintage items filled with flowers. I used reels and reels of ribbon from the ceiling of the barn to make it burst with colour, all the decorating was done with friends and family the week of the wedding, so it got everyone together and made the event last longer. I would highly recommend if you can find a venue that will allow it, to have a few more days before or after with family and friends. There were no arguments – it was quite the opposite, everyone just couldn't do enough. We also had balloons above the dining tables."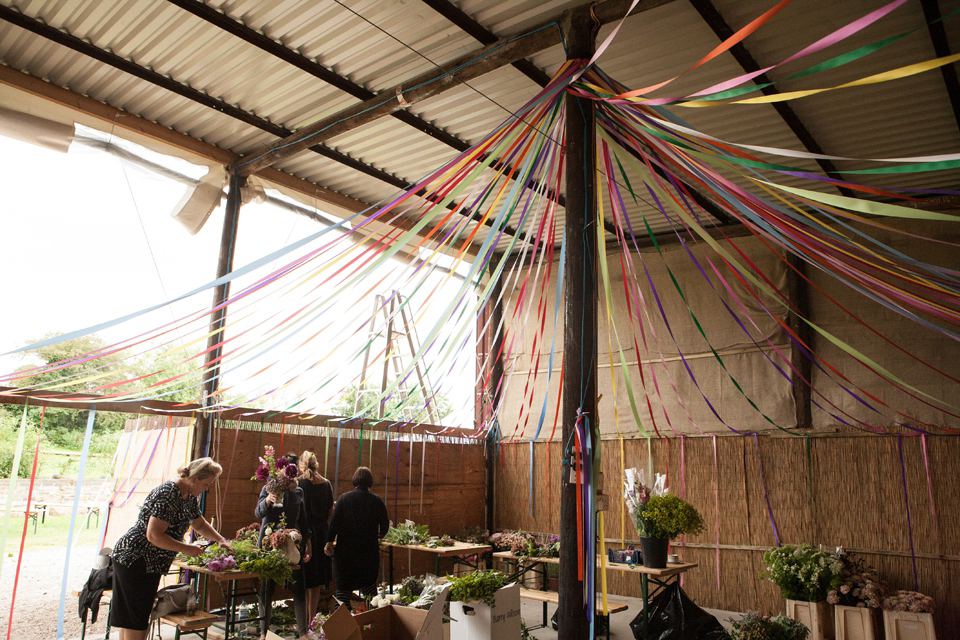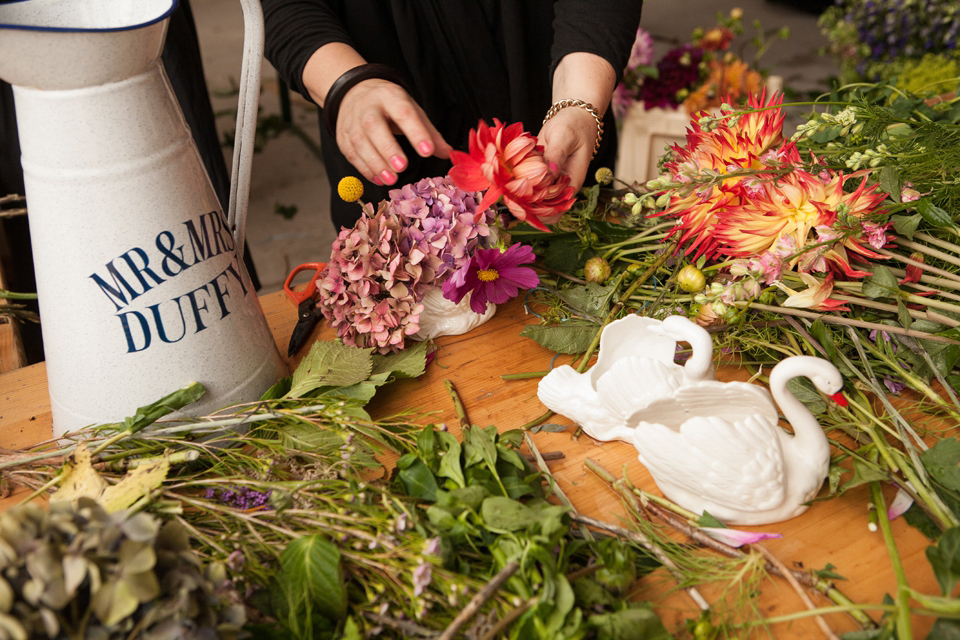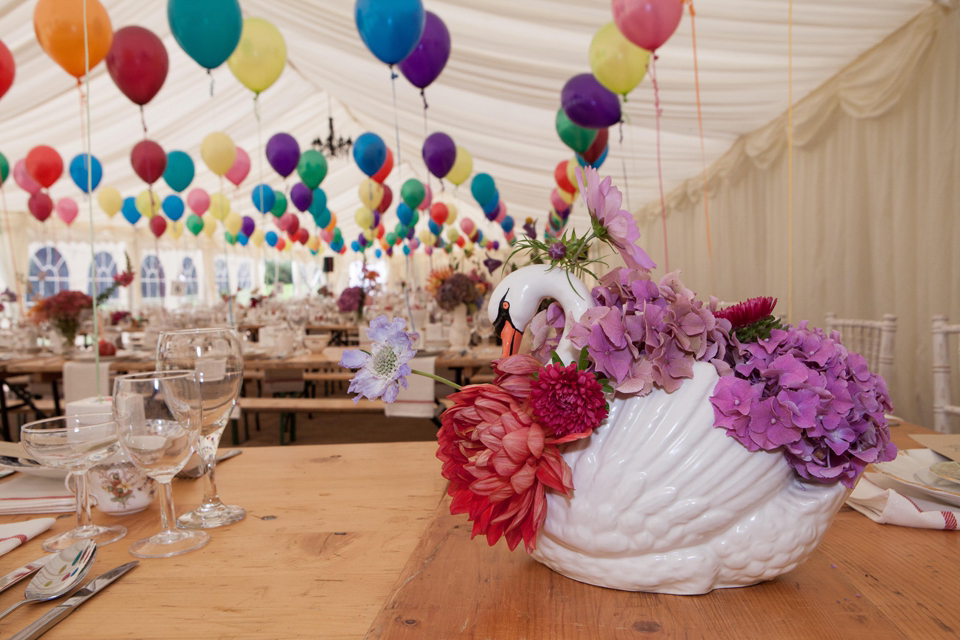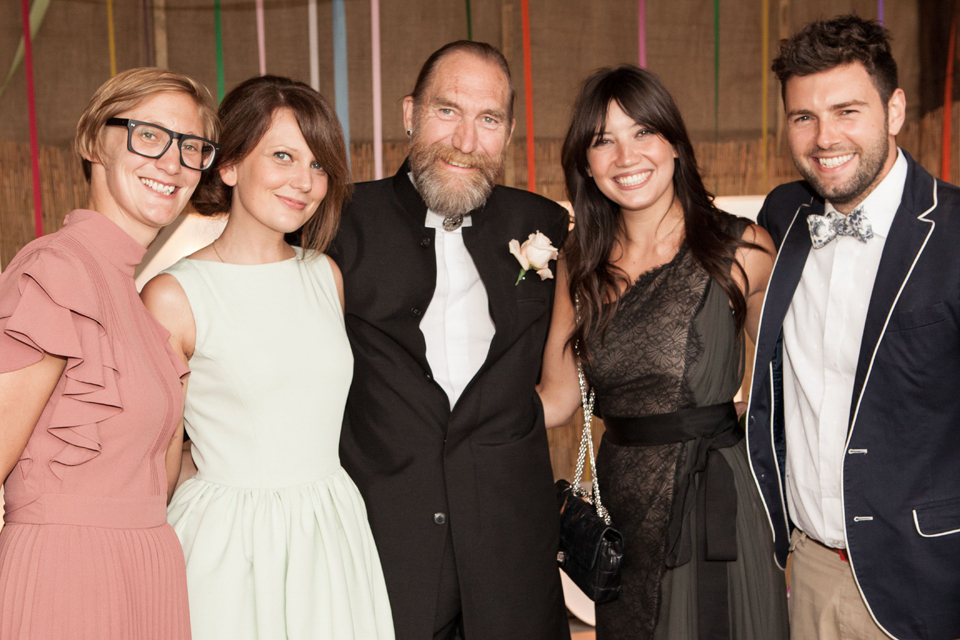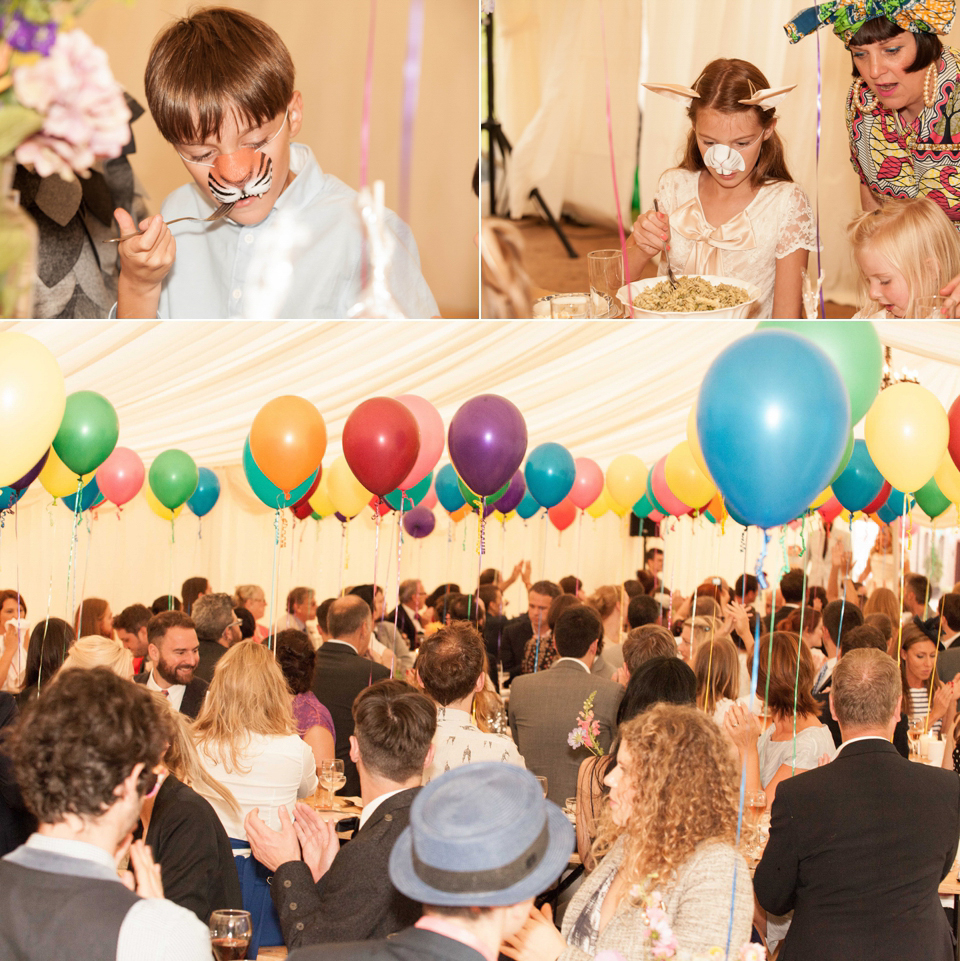 "The vintage china used on the tables was hired from Darby and Joan Vintage and the sweet table was designed and styled by our cake suppliers, Villa Dolce – they take such pride in making it amazing."
"Villa Dolce made our cake, they make the most exquisite cakes, they copied a cake design I found online, it was just the best cake I have every seen, lots of colour and looked amazing, the taste too was delicious."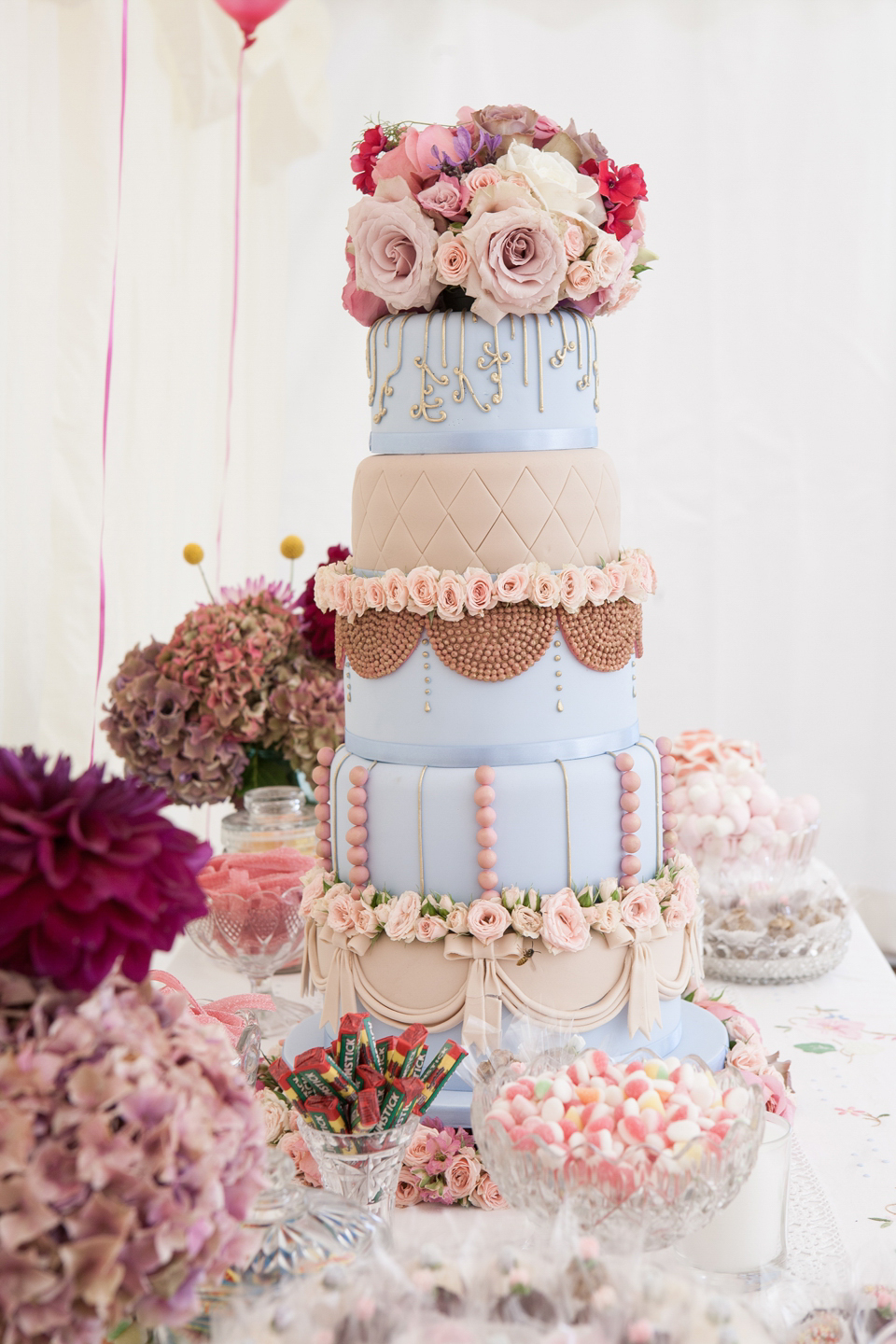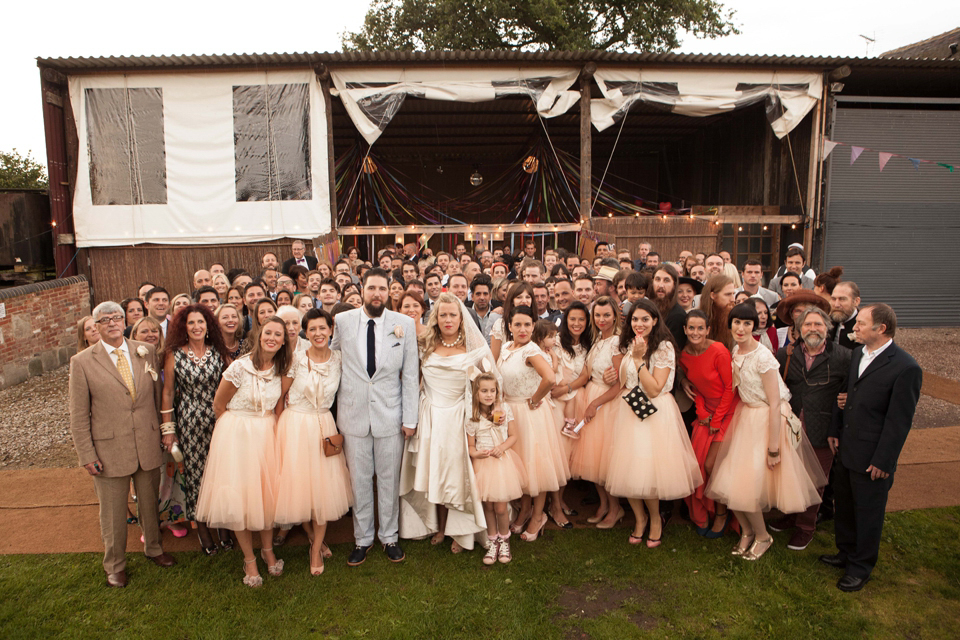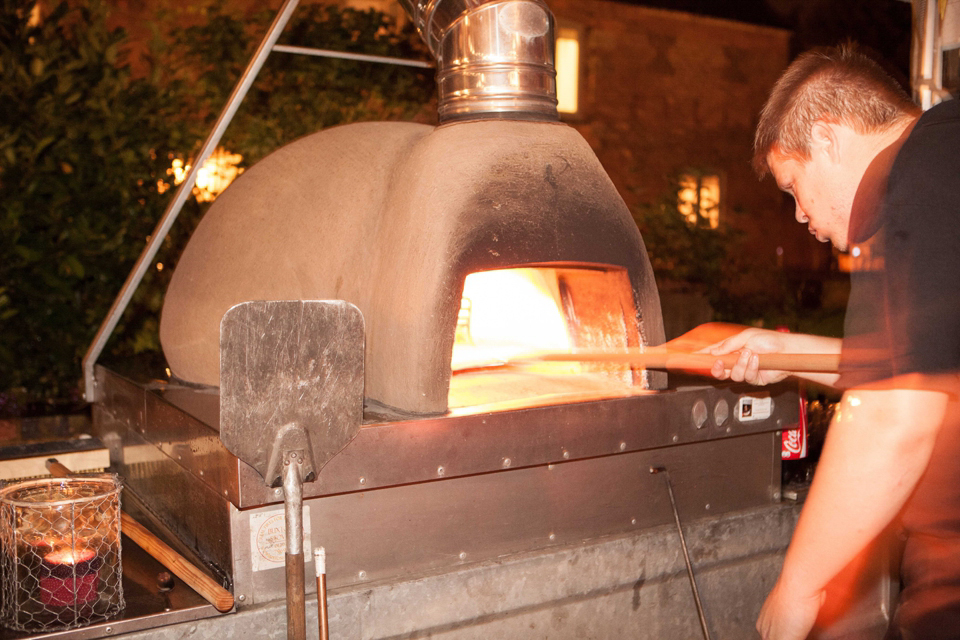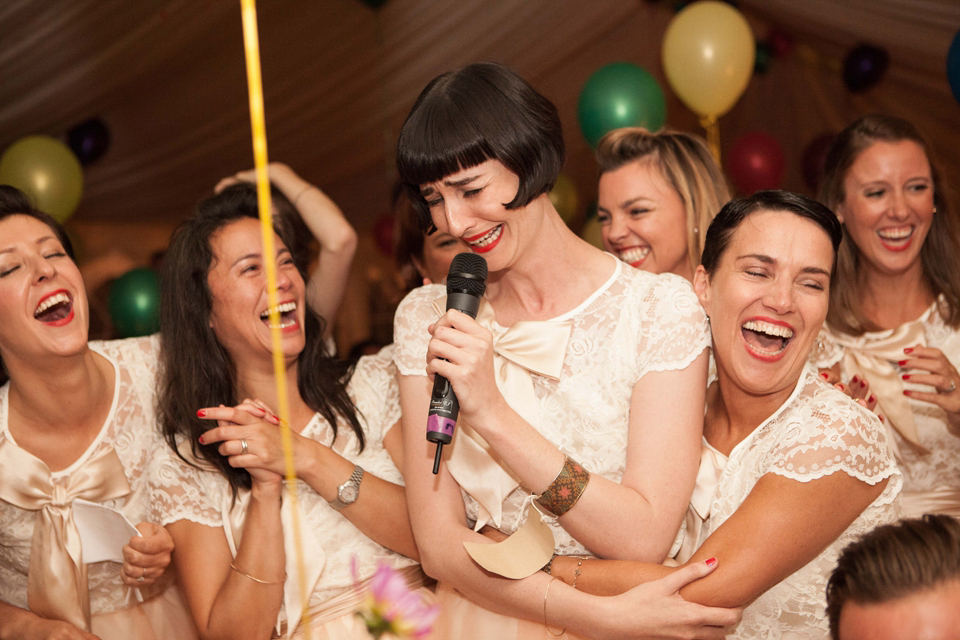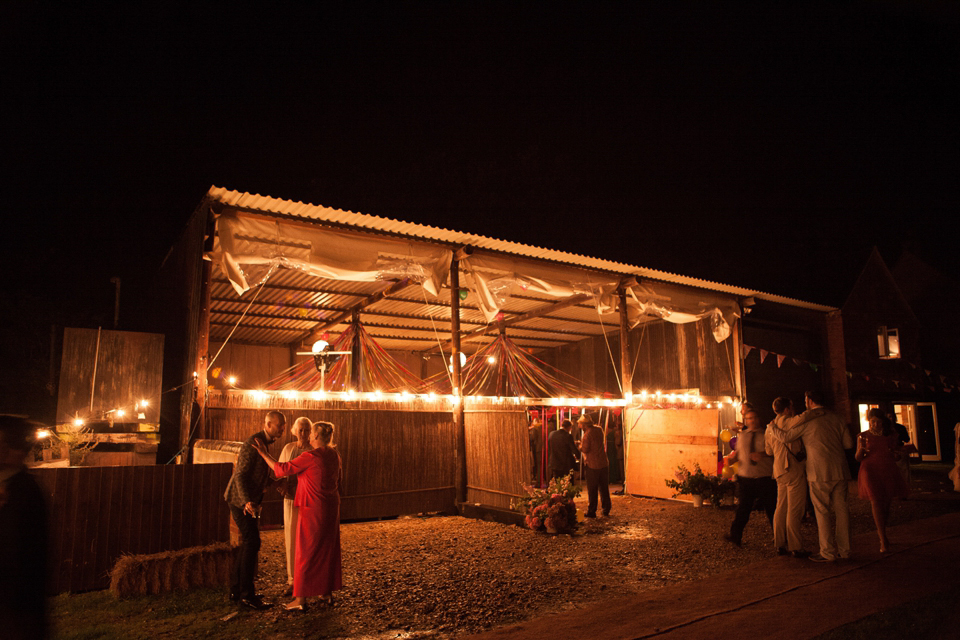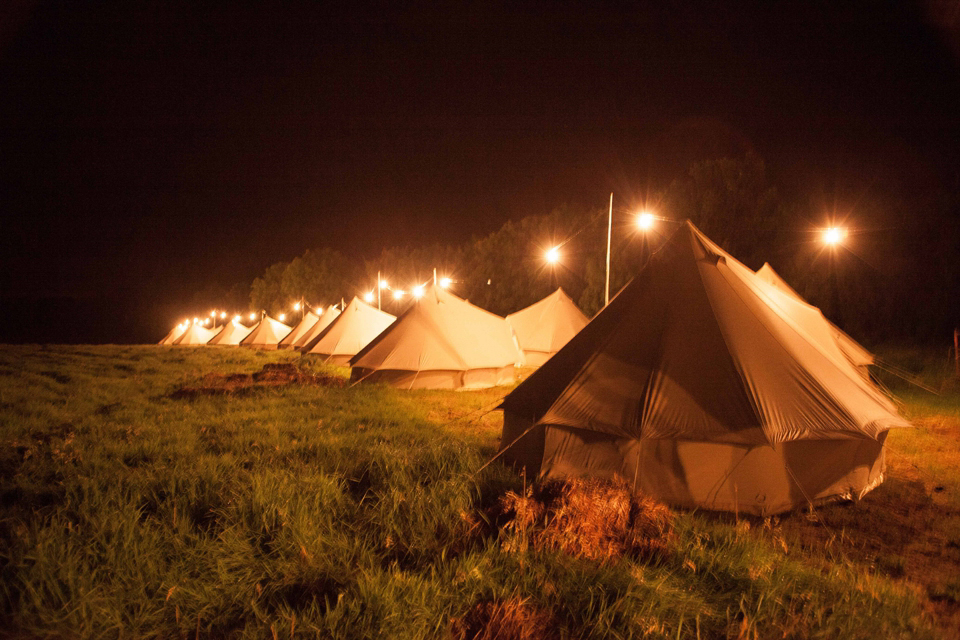 "Our first dance was Stevie Wonder's, 'You are the Sunshine of my Life'. It's something silly that we sing to each other when we called each other up when we first started dating, we still do it now occasionally, we are so soppy, you wouldn't want either of us to serenade you – haha!"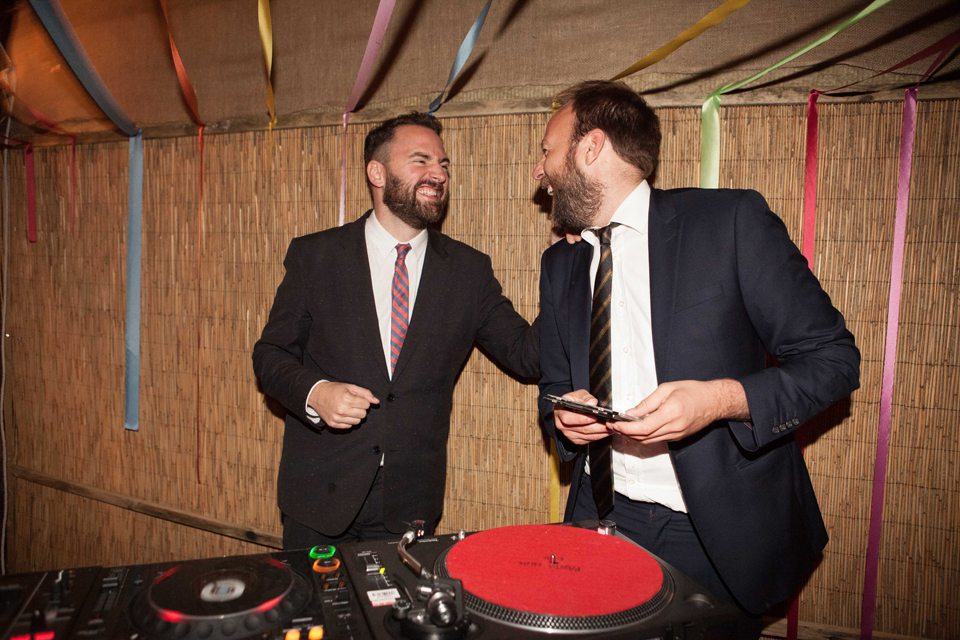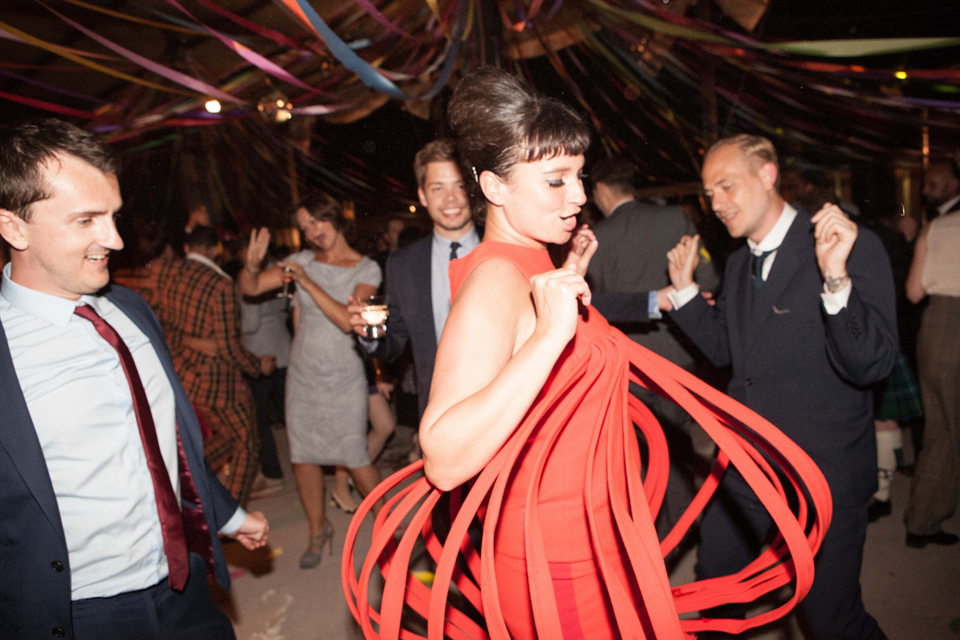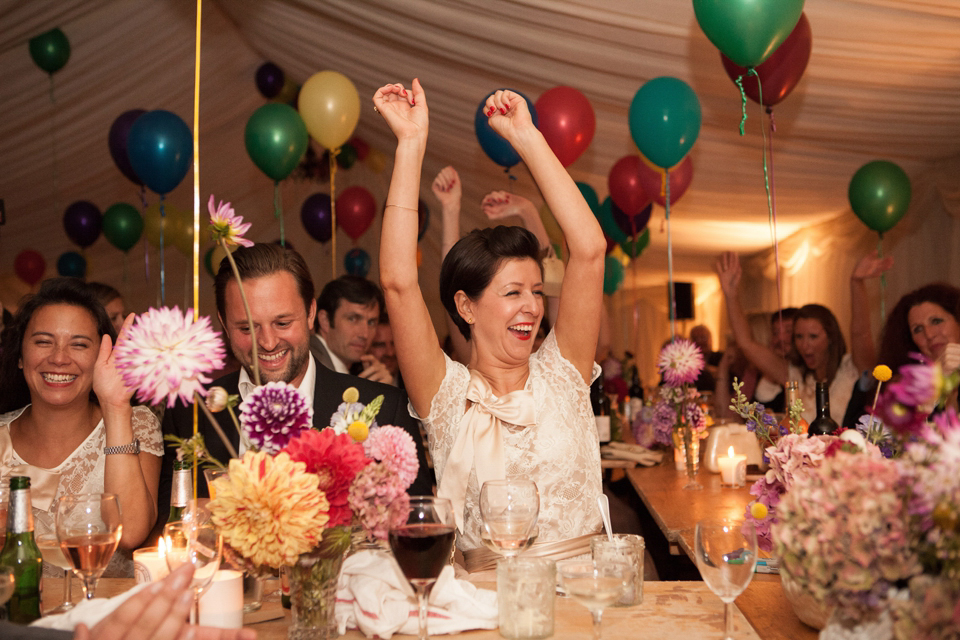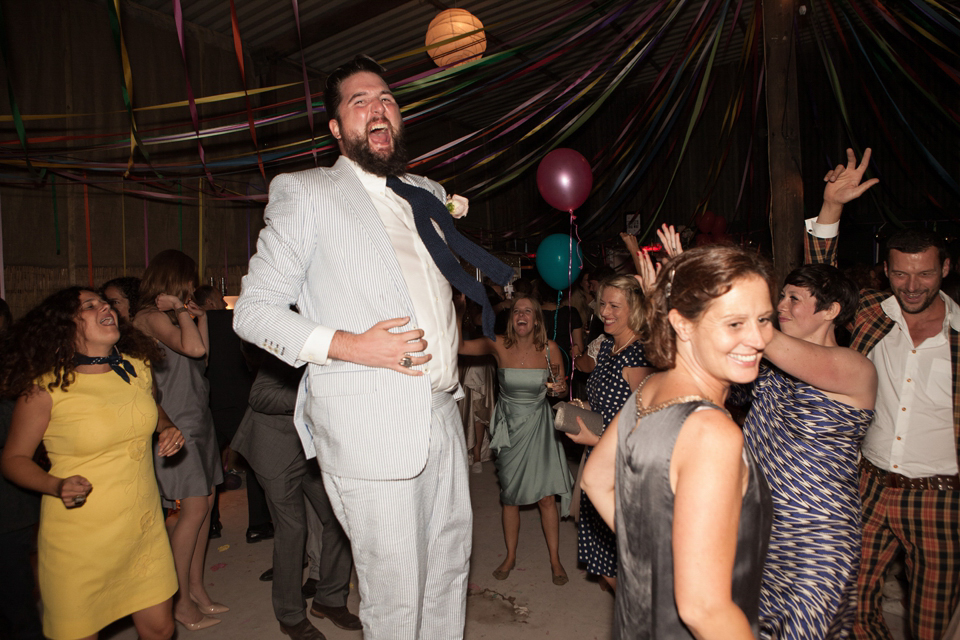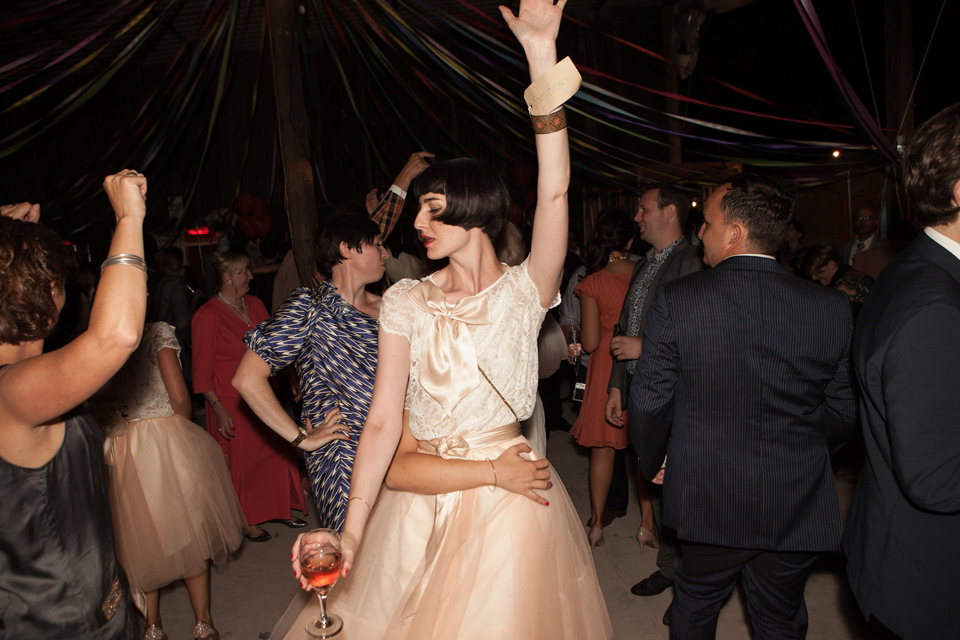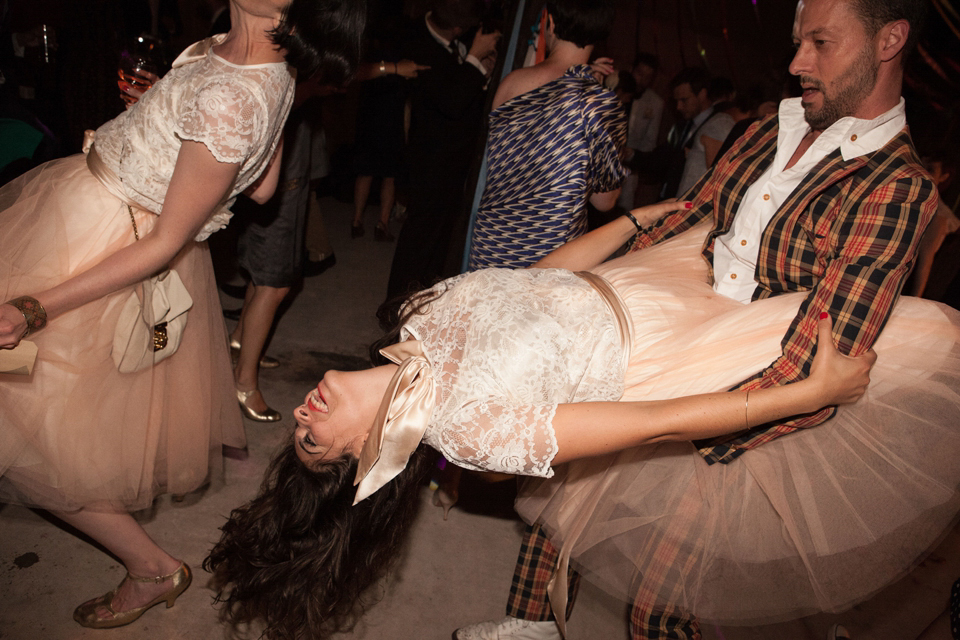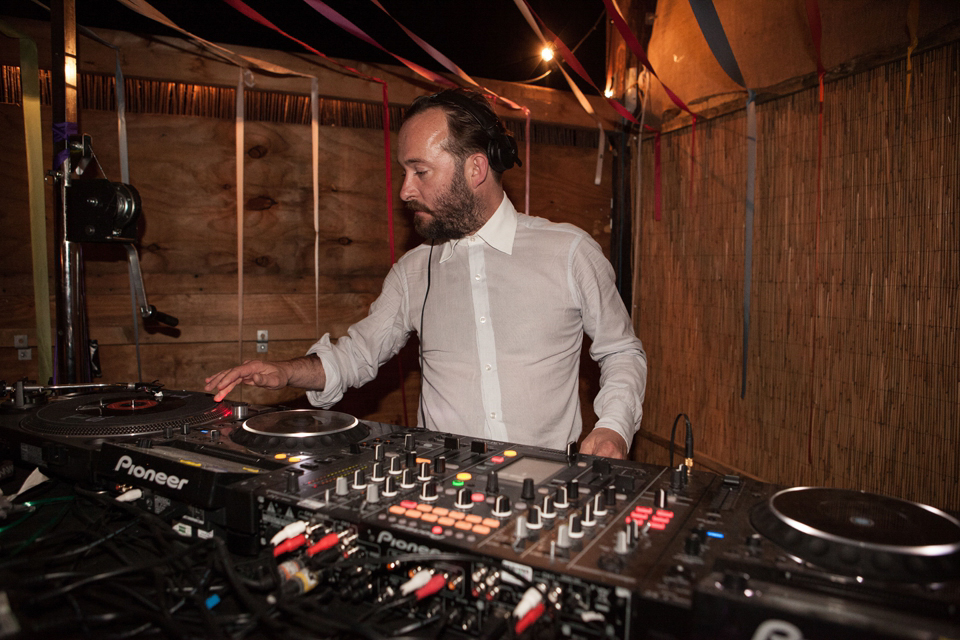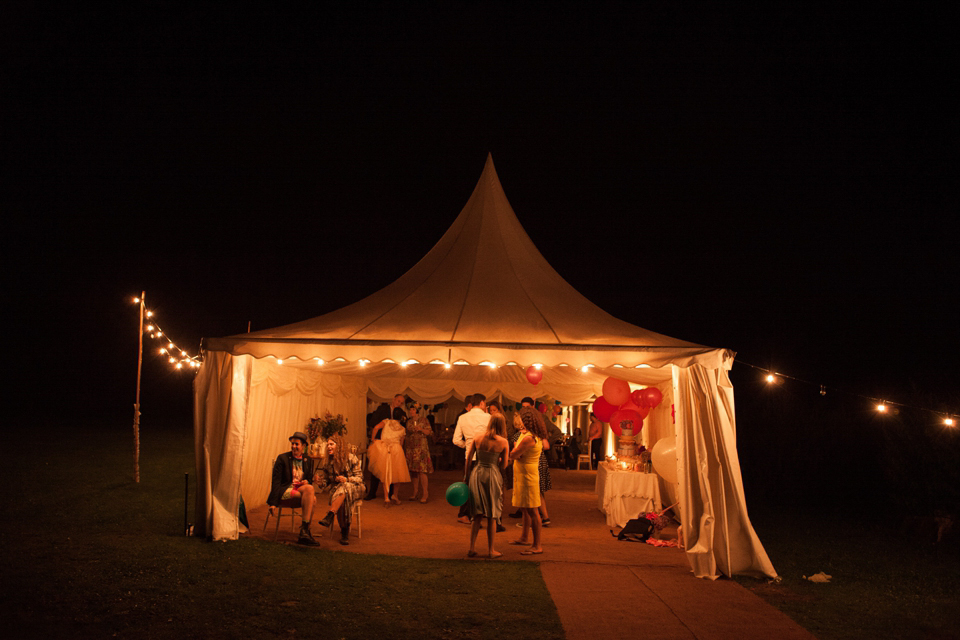 "My favourite part of the day was saying 'I DO' to start with, to know that we were now married was amazing – also, the Bohemian Rhaphosdy sing off, and James' speech – it was so funny and fully loaded, he made me cry!
There's absolutely nothing I'd have done differently – I now long to celebrate our anniversary every year in as big a style as on our wedding day itself! Surrounded by family and friends."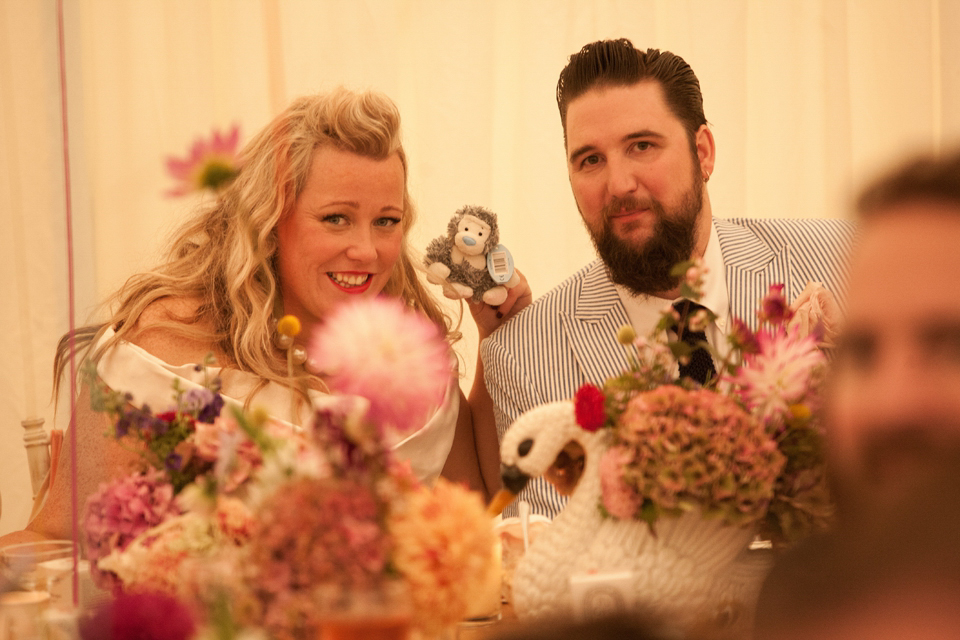 Words of Wedded Wisdom…
"My one piece of advice would be don't let the fun of planning your wedding become too stressful. Enjoy every moment and take pleasure in the food tasting and the event planning.  When are you going to have the opportunity to have so much fun and do everything that you want to do again?  Remember not to be rushed around or herded about on the day too –  take moments to be with your new husband, those precious moments make memories forever."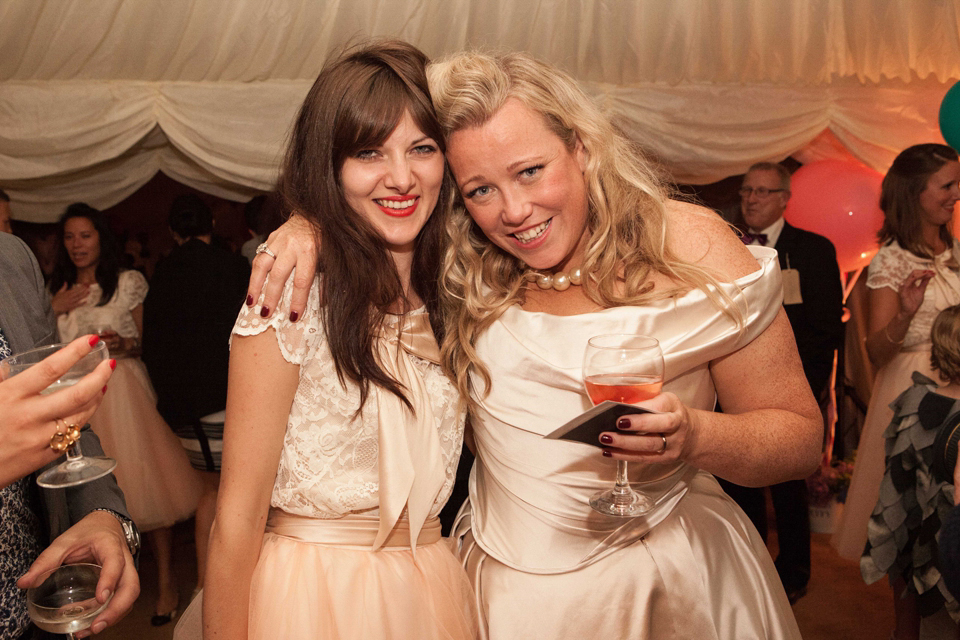 "Love My Dress® provided me with tonnes of inspiration during wedding planning – everything that Annabel and her team blogs is executed in such an inspiring and loving way. I genuinely love the real weddings on this blog, and I hope mine inspires people to be brave with colour and to have all those friends as bridesmaids – rules are meant to be broken after all!"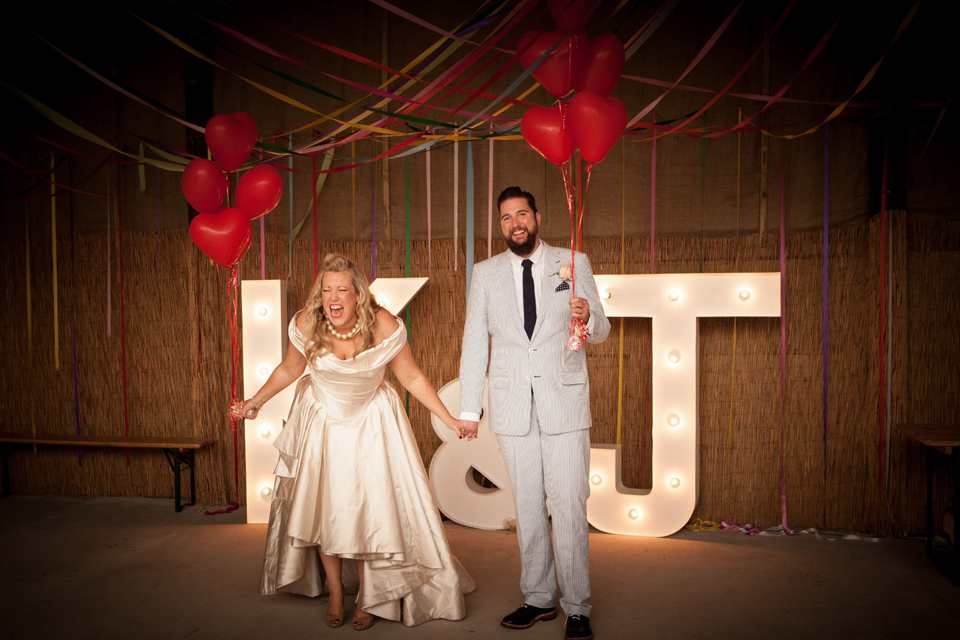 Those amazing giant light up letters by the way are by the fabulous Vowed & Amazed.
What a truly incredible day, I can't stop staring at these photographs – and can only imagine how much joy, celebration and pure love was evident.
Kate, thank you so very much for trusting me to share your gorgeous, inspirational wedding. And I'm definitely coming out to celebrate your 2nd wedding anniversary this year!!
What's your favourite part of this day, and might you be pinching some of Kate and James' style ideas for your own nuptials?
Love Annabel xx
Photographer – Elegant & Wild
Wedding Planner/Stylist – White Door Events
Venue – Nether Burrows Farm in Kirk Langley, Derbyshire
Wedding Dress – Brides own design (Halfpenny London)
Veil – a gift made from lace from Kate's own Halfpenny London collection
Brides' shoes – Nicholas Kirkwood
Bride's accessories – vintage diamante piece designed for Kate's shop
Grooms Suit – Mellor Woodrow
Bridesmaids + Flowergirls – made by the bride
Page Boys – H&M customised by the bride & her Mum
Florist – Rebel Rebel
Cake + Sweetie Table Styling – Villa Dolce
Entertainment – Marques Toliver (violin), Myleene Klass (harp) + Pianist Ryan, tel 07931-665287
Favours + Event scenting – Diptyque
Vintage China hire – Darby and Joan Vintage
Rings – Duffy Jewellery
Catering – Detox Kitchen
Stationery – The GroomGiant Light up Letters – Vowed & Amazed
Follow Love My Dress on Google+