I could not have been more delighted to see these beautiful images as there are few things in life I like more than the 1920's and the Cotswolds!  The moment I saw this wedding, I just wanted an invitation, I love everything about it. It is an utterly stunning and glamorous spring time affair for you today, with not one but two lace and diamante adorned wedding dresses, inspired by the roaring twenties and both designed and made by the bride herself. With a host of 1920's style prohibition glamour sprinkled throughout the decor and details, a fabulous trio of bridesmaids dresses and wedding guests dressed to party along too.
Couture wedding dress designer Lucie Green and her partner Leigh, an accountant, were married on April 12th, 2014 at Hyde Barn, Stow on the Wold in the heart of the Cotswolds. The day's speakeasy influences throughout represent the couples lighthearted side and sense of fun but they have also created an edge of sophisticated rustic charm with the choice of venue and flowers which reflects the couples love of the countryside too. It's a combination that makes for a very stylish wedding indeed and I simply adore every element of it.
Photographer Copyright (c) 2014, Nigel Edgecombe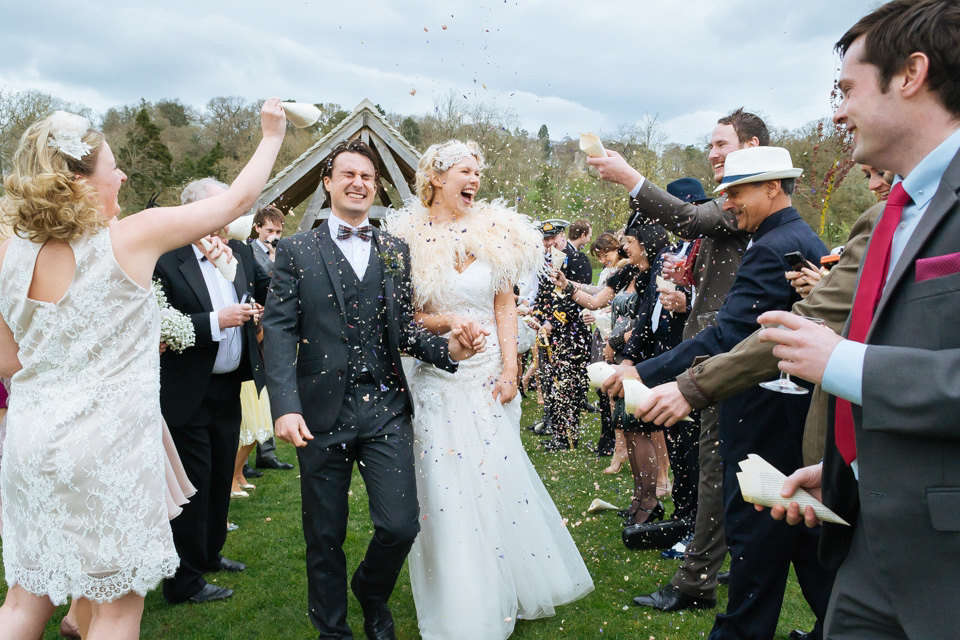 "I have always loved the fashion of the prohibition era, and we wanted our day to have a fun laid-back feel so thought having our reception like a speakeasy would give us the atmosphere we wanted. I always tell my brides that weddings should have a real injection of the couple's personalities into them, I think that's what makes every wedding day unique and special.
Weddings should be an incredibly fun and memorable day not only for the bride and groom but also for all the family and friends that attend. We thought our theme not only represented our fun attitude towards the day but also gave our guests the chance to get all dressed up and join in the fun, and boy did they join in!"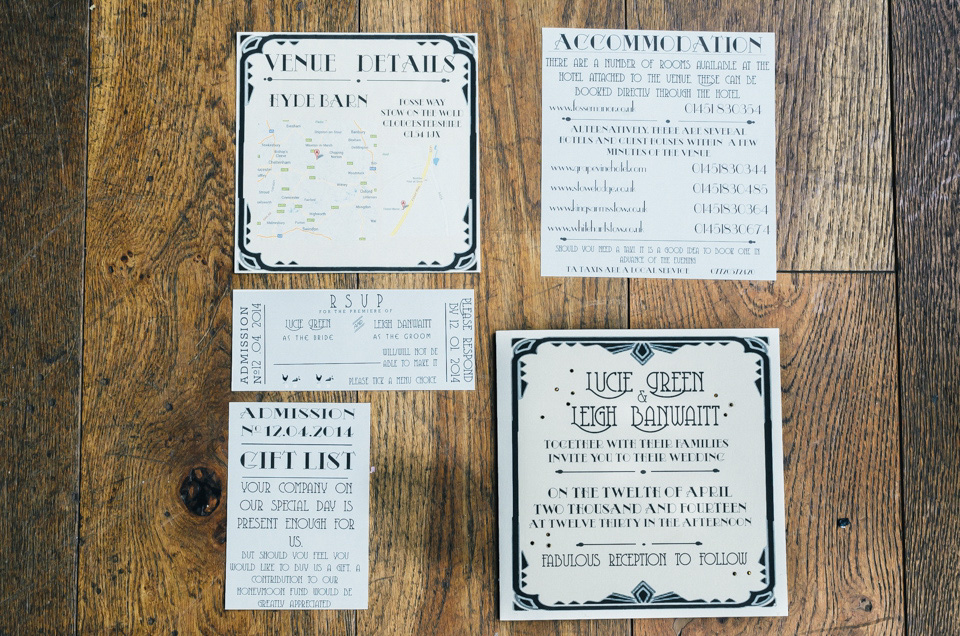 "We really wanted a laid back rustic country venue the reflected our country loving lives. We love to go for long walks in the country and in particular love visiting the Cotswolds for a long walk and a cream tea! We had stayed at the Fosse Manor hotel attached to the venue a few years previously so when we started looking for a venue and found they had built a purpose built wedding barn venue in their grounds it was a no-brainer!"
"I started collecting jam jars and glass bottles back in October and developed a bit of an obsession! My spare room was filled with the things! Over a few Sundays my sister and I then dipped them all in glue and gold glitter. We then put tea lights and candles in around half and used the other half as little vases on the tables.
I wanted guests to be able to see each other over the table and still be able to talk to one another so didn't want table decorations/flowers that were too tall. So these were perfect – sparkly, creative and small!"
"Leigh and I met at school when I was only 15 and he was 17.  He saw me in the bus park after school one day and came and chatted me up, it's been a blur ever since! Leigh proposed to me in September on one of our walks at a National Trust property we like to visit. It was a lovely sunny Sunday afternoon, I wasn't expecting it at all so it was a really lovely surprise. We got engaged in September and started planning in November. We were incredibly lucky when planning in that as I already work in the industry I knew all of the suppliers I wanted to use before we started the planning process. I think it took me 2 hours to book all of the key suppliers once we had our venue, the rest I added over the space of about a month."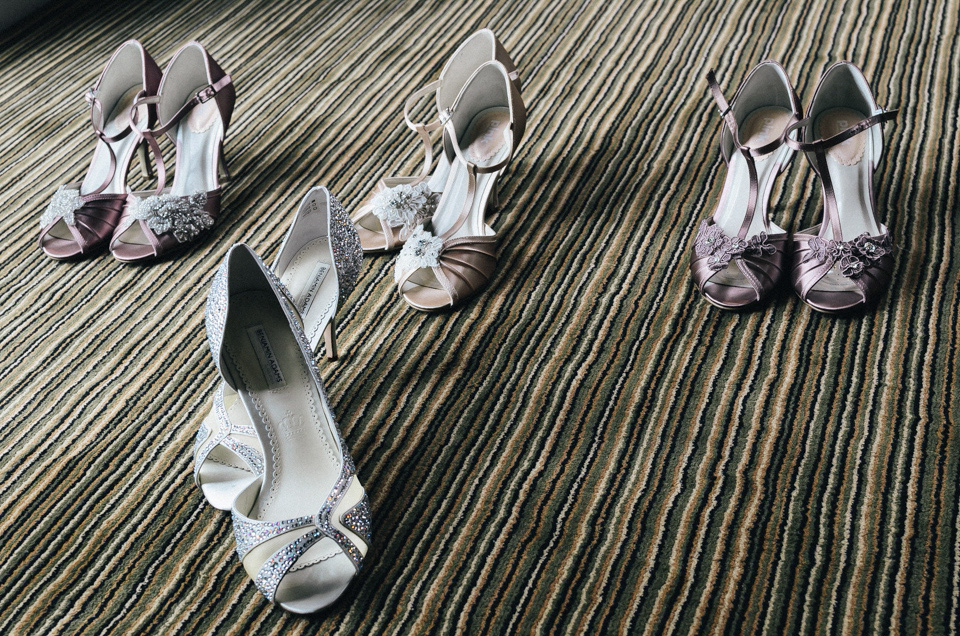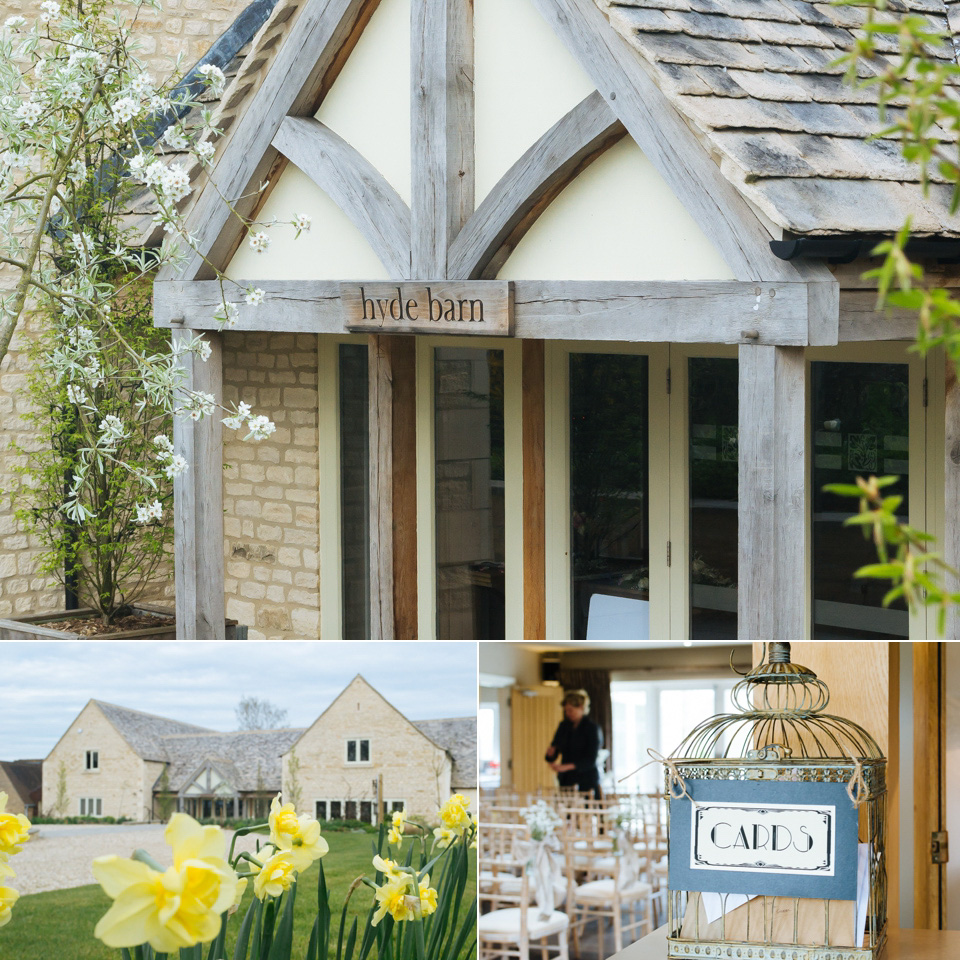 "As a couture designer and dressmaker, there was never any doubt in my mind that I would design and make my own dress. It's the one dress I've waited my whole life to design and make and I couldn't let anyone else do it, I had to do my own.  I thought I would take a long time to design my dress. After all, given my profession I'm exposed to such a variety and quantity of different designs, styles and details that I thought I would really struggle to compile all my favourite elements. I wanted to embrace the 20's theme without going for a design that was classic and elegantly beautiful.
In the end I found it surprisingly easy. I knew I wanted a relaxed style but I wanted it to show off all of my favourite features and reflect the prohibition style that we wanted our whole wedding to embody. I wanted a dropped waisted number and lace always gives a gown a timeless elegance that accentuates the vintage in any design. I set about trying to find the perfect lace and came across a beautiful corded italian lace. Layer this over a stunning silk and a super soft silk satin skirt with 5 layers of soft tulle and you're starting to get the gist…"
"I knew I wanted detail down the front of the lace and wanted to tie in the gorgeous soft gold, silver, mocha and rose gold colours I used on the bridesmaids dresses and accessories. So I painstakingly cut out details from the lace and hand sewed it onto the front of my bodice and then began the task of hand beading the lace pieces all down the front of the gown. The overall effect is absolutely stunning – all those Swarovski crystals and diamantes twinkling away in the light – but my fingers didn't thank me for it!
The style fits the theme while still embracing all the sparkle that I love. I love all the Swarovski crystals on the front and all the beadwork that I did by hand. I started it in November and finished it a few weeks before the wedding – my Mum was having kittens it wouldn't be finished! I had to work on it in between clients as my brides absolutely always come first."
The normal process for my brides would be to have at least four fittings in their dress to get it to exactly how they want it. I fit it and pin it to within a mm of where the dress needs to be, making sure the neckline, hemlines etc are all in the right place, that the boning is exactly where the bride needs it to be to give her the right amount of support. This was a challenge when it came to fitting my own dress! Between my Mum and my bridesmaid Mandy and a lot of mirrors we got there and managed to get the perfect fit."
"I had a separate skirt to do our first dance. We go to Argentine Tango lessons once a week and decided to do a little routine for our first dance. I didn't want to compromise on my big tulle skirt so I had a second skirt with ostrich feathers that fitted under my bodice to do all my leg flicking. I used the same lace pieces on the top of the skirt to blend the feathers into the tulle so my guests wouldn't notice the join in the bodice and the skirt. It was so much fun to dance in –all the feathers sashaying about!"
"I then changed back into my tulle one afterwards –I didn't want to miss a second of being in my dress! I always say to my brides that your dress should be one that you absolutely cannot wait to put on and have to be prised out of at the end of the night. I definitely felt like that about mine!"
"I made my headdress also. It was made from the same lace as on my dress and all the same bead work and Swarovski crystals. It was so beautiful. Again, I wanted to reflect the 20's theme without dating all my photo's. I always knew I wanted vintage finger waves in my hair and this headpiece set them off perfectly. I wore a Tiffany aquamarine bracelet as my "something blue" that Leigh bought me a few years ago."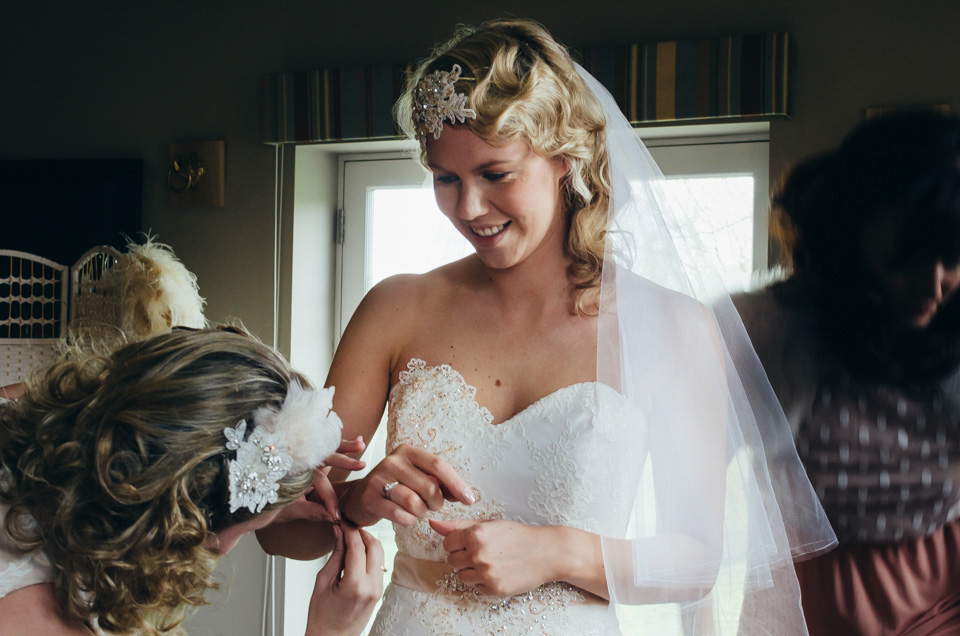 Lucie designed and made the absolutely beautifully 1920's inspired bridesmaids dresses herself to reflect each of their personalities and individual styles.
"For my sister who was maid of honour, I did a pretty, floaty scalloped waist dress with lots of sparkles, diamantes and bead work. The style fitted in with the 20's theme whilst still being very pretty and complementing my dress perfectly. Using the same crystal and beaded motifs on the shoulders, the decoration on this dress featured in accents all over with the chiffon being pleated into the centre accentuating her tiny waist.  For my sister in law I used the most beautiful beaded lace with a gorgeous floral scalloped edge. I wanted to give April a real flapper style dress and make the most of this beautiful fabric so used the scallop edge at both the hem and the waist. I kept it fun and flirty with a key hole detail in the back.
My best friend was 6 months pregnant on the day so she needed a style that would be comfortable and pretty whilst still fitting with the theme. So I designed her a drop-waisted dress with a chiffon skirt and a slightly darker lace colour to best complement her neat little bump."
Lucie borrowed the veil her mum wore at her 1977 wedding and her stunning look was finished with a pair of 'Catherine' shoes from Benjamin Adams.
"My bridesmaid and best friend Mandy did my make up for me. I don't wear a lot of make-up and wanted to look as natural as possible so I asked Mandy to do it for me as I knew if she applied too much I'd feel comfortable enough to tell her I didn't like it!"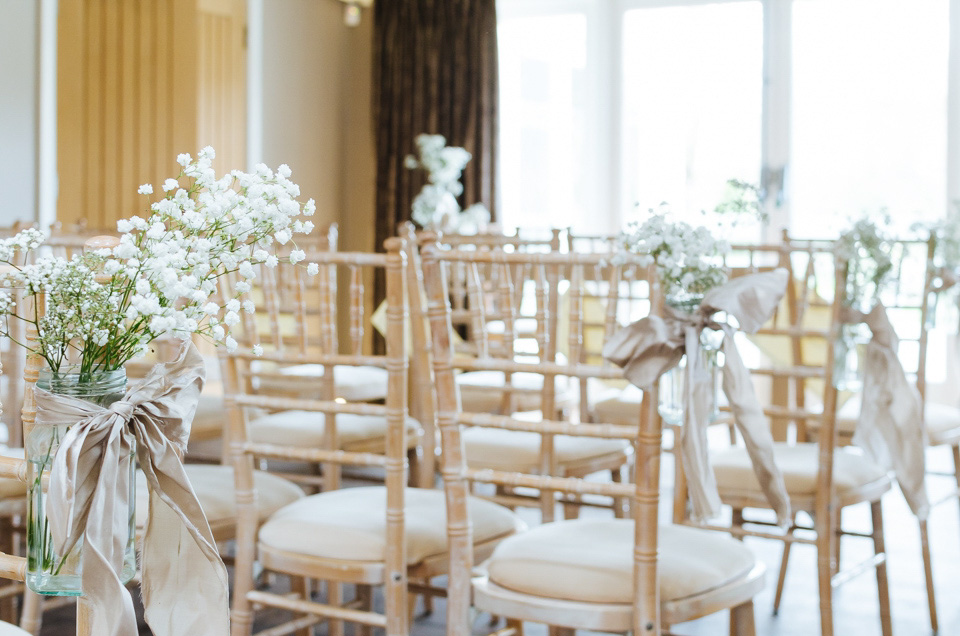 "My lovely father walked me down the aisle, to Johnny Cash "Rose of My Heart'. Leigh and I both really like the lyrics and they really hit a chord with us. 'we're the best partners this world's ever seen' in particular."
"We wrote our own promises to each other as it was such a special moment for us, we wanted to use our own words to express what it meant to us."
"We had two readings, the first read by Leigh's sister in law. It is a nod to Leigh's geeky side whilst
still being so very relevant and again, a tender moment. The second a heartfelt and meaningful poem that wasn't too serious and that everyone could relate to. My brother read this out and did a
great job. It was a really lovely moment."
Reading 1
Gravitation cannot be held responsible for people falling in love. How on earth can you explain in terms of chemistry and physics so important a biological phenomenon as first love? Put your hand on a stove for a minute and it seems like an hour. Sit with that special girl for an hour and it seems like a minute. That's relativity.
by Albert Einstein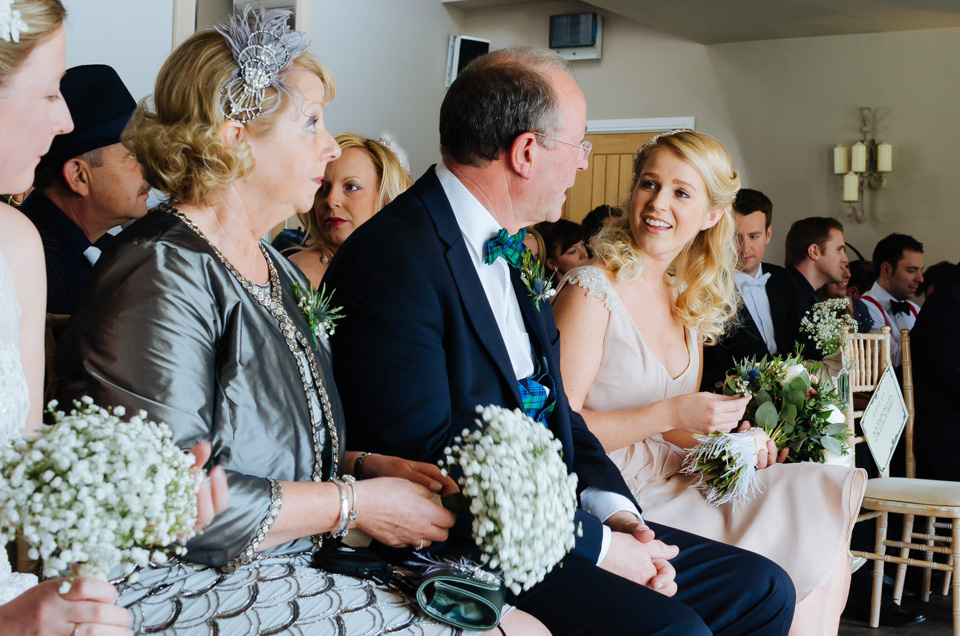 Reading 2
He never leaves the seat up, or wet towels upon the floor.
The toothpaste has the lid on, and he always shuts the door!
She's very clean and tidy, though she may sometimes delude.
Leave your things out at your peril, in a second they'll have moved!
He's a very active person, as are all his next of kin.
Where as she likes lazy days, he'll still drag her to the gym!
She romances him and dines him, home cooked dinners and the like.
She even knows his favourite food, and spoils him day and night!
She's thoughtful when he looks at her, a smile upon his face.
Will he look that good in 50 years, when his dentures aren't in place?!
He says he loves her figure, and her mental prowess too.
But when gravity takes her over, will she charm with her IQ?
She says she loves his kindness, and his patience is a must.
And of course she thinks he's handsome, which in her eyes is a plus!
They're both not wholly perfect, but who are we to judge.
He can be pig headed, where as she won't even budge!
All that said and done, they love the time they spent together.
And I hope as I'm sure you do, that this fine day will last forever.
He'll be more than just her husband, he'll also be her friend.
And she'll be more than just his wife, she's be his soul mate 'till the end.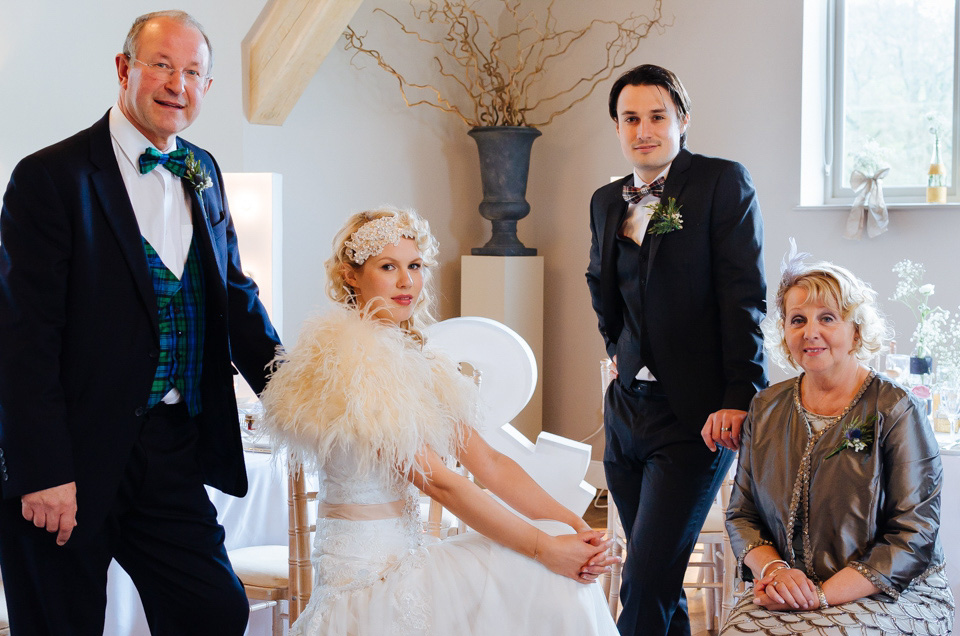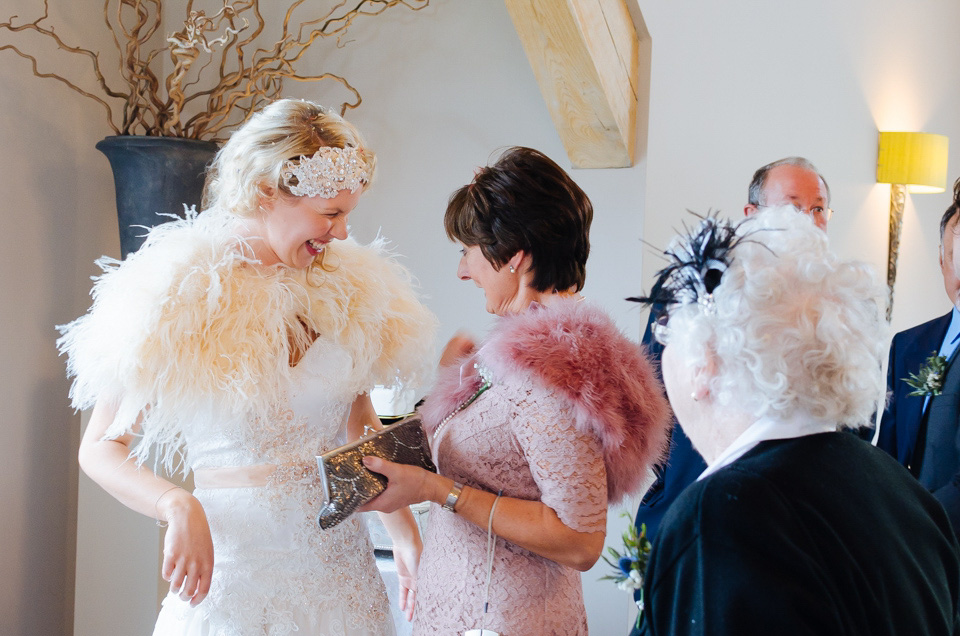 When it came to choosing a photographer Lucie and Leigh knew the perfect chap to capture the day for them.
"Nigel Edgecombe is a very dear friend of mine. I think this makes a massive difference to the photo's he manages to capture. He puts you at ease instantly which on such an emotional, pressured day is essential. Leigh and I are not very photogenic (just for the record, I'd very much like to disagree with this, you guys look stunning!) so I knew I needed a photographer that could capture our best sides – there was never any doubt in my mind that I wanted Nigel to be that photographer.
I have liked his work for years, he has such a way of capturing those special moments so you can re-visit them for many years to come. I have always admired a particular photo in Nigel's portfolio of a best man whispering to the groom as the bride walks down the aisle, the groom has a lovely smile on his face as he waits in anticipation for his bride. Nigel managed to get one of these special shots for me of Leigh peering over his shoulder at me walking down the aisle to him and then the moments after where he is grinning ear to ear. It's one of my favourite shots and I know I'll cherish it forever."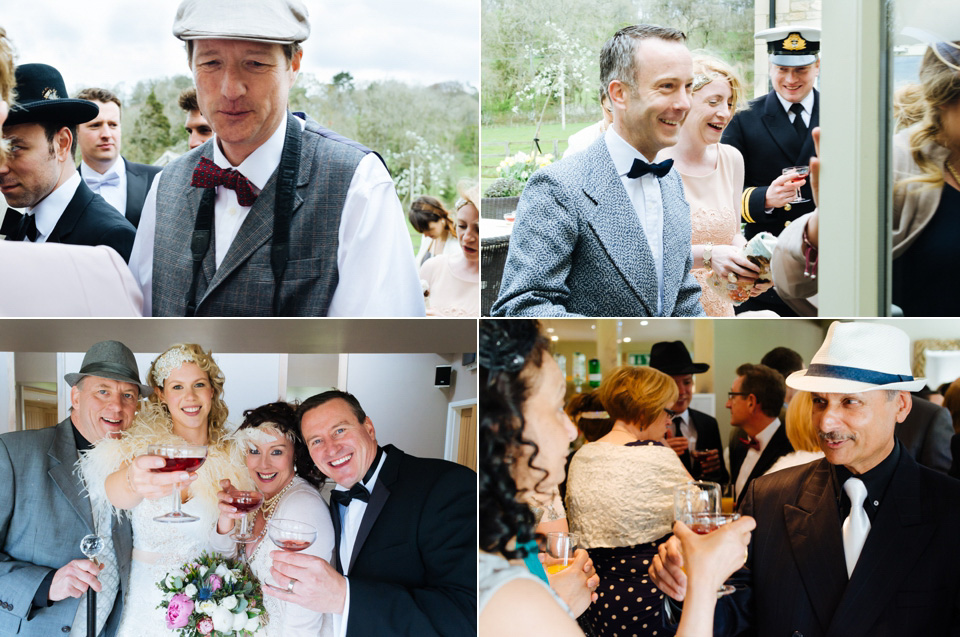 "Your photos are all that you have to remind yourself of your special day once it's all over so the amount of trust you place in your photographer is incredible. I am so in love with all the shots Nigel took for us, I can't recommend him to brides enough. Such a talented, polite man who will put you at ease and just disappear into the background during the day.
I was never aware of him and his lens, and as a result he has captured an amazing collection of candid shots that as we look through them we really feel like we're back there re-living it all again. It's so amazing to be able to take in all the little details that you miss or aren't aware of on the day itself and Nigel is so clever at capturing these. The faces on our guests all look so super happy and everyone is laughing and enjoying themselves. It's great to see that everyone enjoyed the day just as much as we did."
Lucie created all her speakeasy inspired stationery herself using vintage books as centre pieces "I printed off the table names and attached them to the fronts of the books and then printed off the menus and had them tied into the centres of the books. All in a prohibition font of course!"
"I decided to go with Frosts the Florists and they had such a great selection of flowers that I could see and touch and smell before ordering. They were also very enthusiastic about my ideas and understood the look and feel I wanted to achieve."
"I wanted relaxed bouquets that reflected our surroundings and the laid back day we wanted to achieve. I love peonies so knew I wanted lots of these in my bouquet. I wanted my bouquet to look like freshly picked meadow flowers I might have collected on one of our country walks. So the thistle, ranunculus and waxflowers gave the bouquet a gorgeous full look and it smelled amazing! I love the small posies of gypsophila that the florist made up for the girls – they're so pretty and compliment their outfits perfectly. They also don't distract from their outfits, I wanted these to be the focus."
"For the flowers on the tables, we just ordered some bunches of the same flowers I had in my bouquet and the gyp and put them in the jars ourselves the morning of the wedding. The buttonholes were a thistle and little wax flowers. I wanted these to be pretty but not too feminine. The thistle was a nod to Leigh's Scottish heritage and I kept them a secret from his mum and his Grandma until the day which I think they really liked."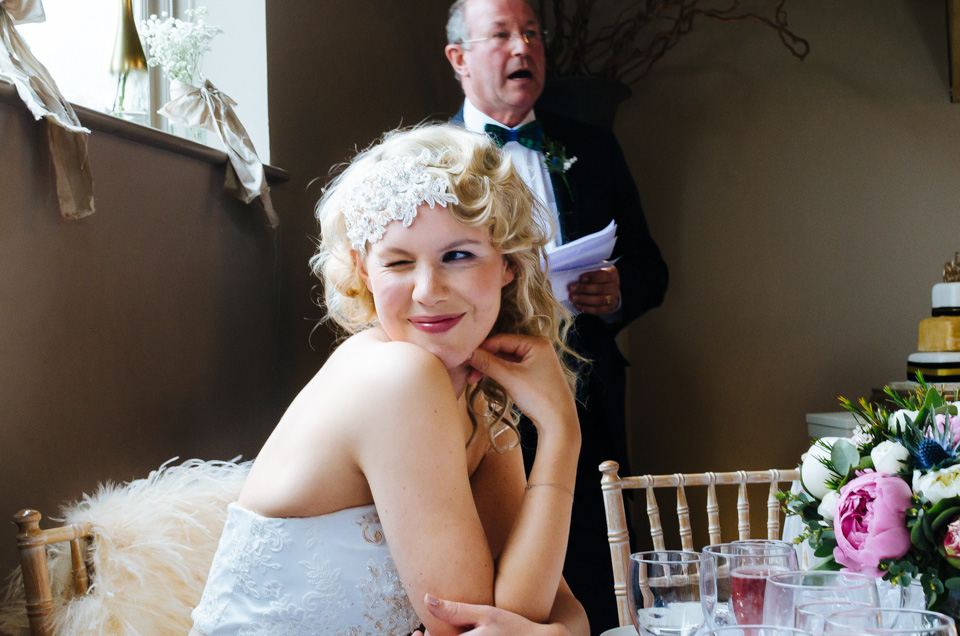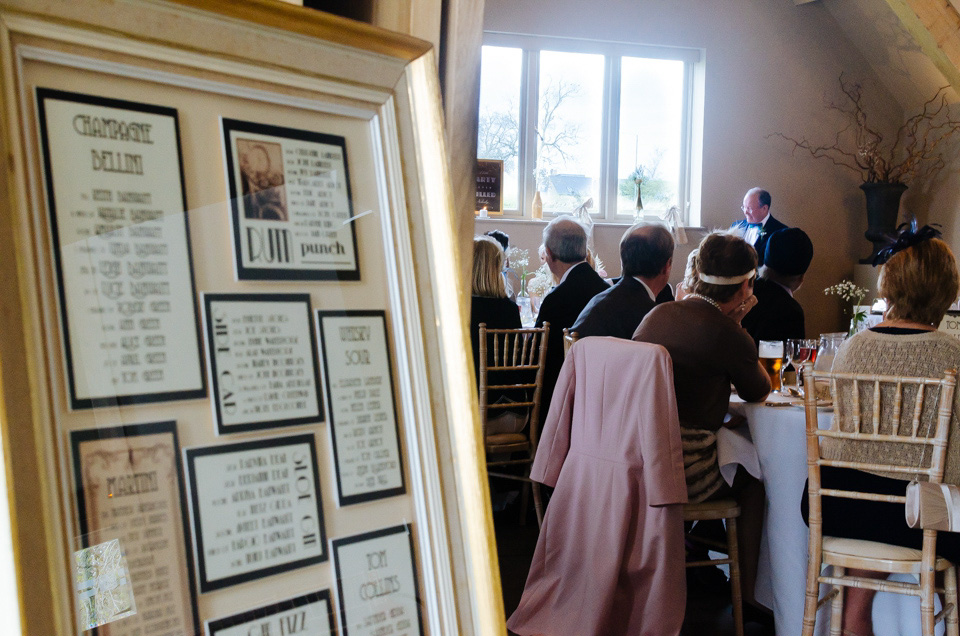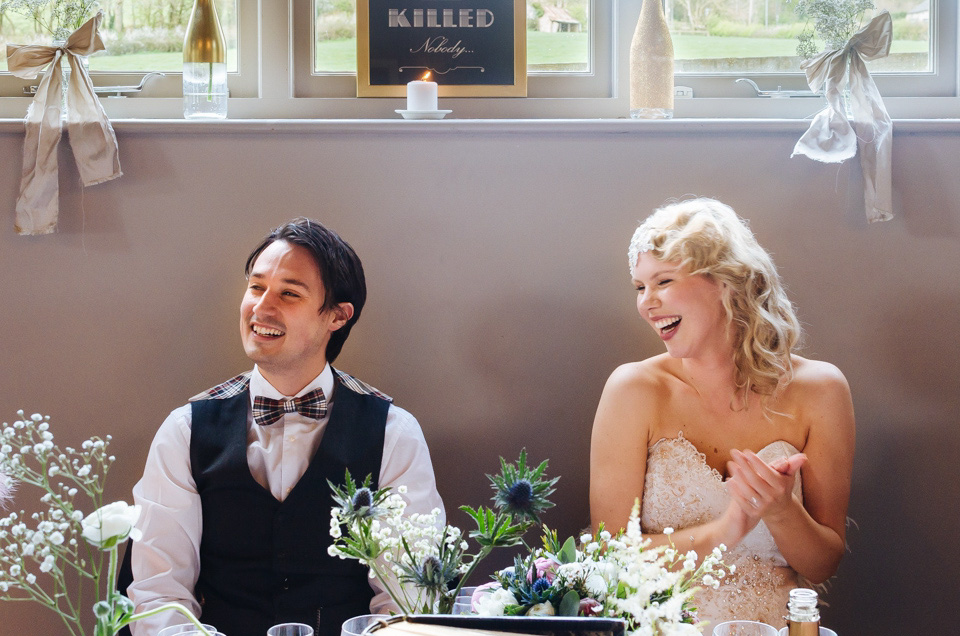 "When I was younger my granddad made me a sweet shop one Christmas and filled it full of sweets. My Grandad is sadly no longer with us but I thought if I resurrected the sweet shop for the day it would be a nice, touching way of having him with us. My Mum sewed the same lettering onto a sheet as we'd had on the front of the original sweet shop and I got little bags and scoops and lots and lots of sweets. A photo of me as a child with the sweet shop completed the look.The "Greens Sweet Shop" was back for one night only!!"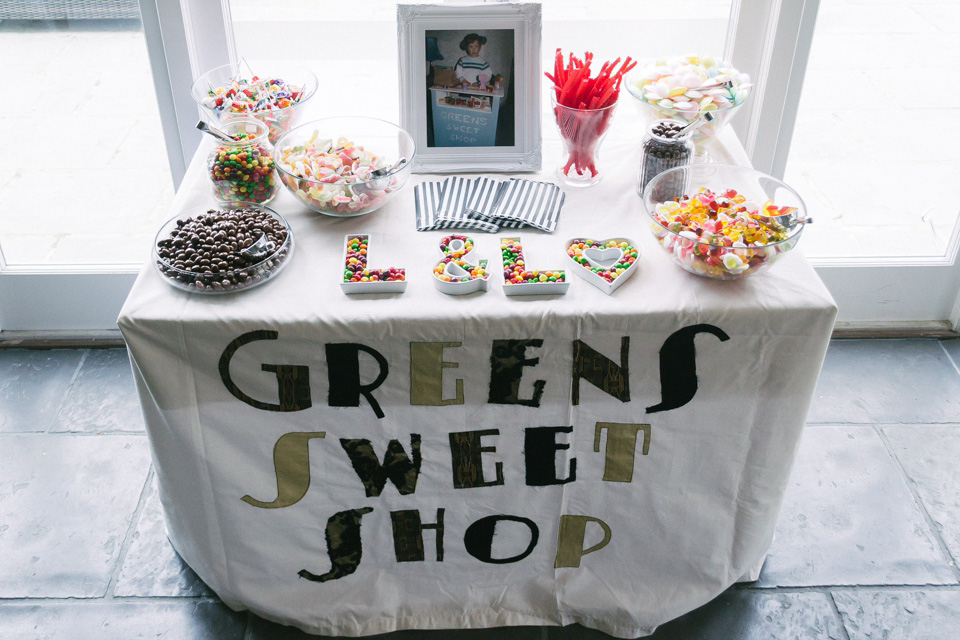 "I love reading Love my Dress, all your features on real brides and bridal suppliers are a really great source of inspiration and I love soaking up all the prettiness! I hired some light up letters from Vowed and Amazed who we found through Love My Dress and I knew I had to have some on my big day."
"We decided to have a DJ instead of a band – we both have very eclectic music tastes and knew a band wouldn't possibly be able to cover everything from Metallica to Take That! Gavin, our DJ, was fantastic. There was no cheesy talking over the songs and he played literally anything we asked for. He even downloaded some lesser known bands that we have an emotional attachment to which made it extra special when they came on. Seeing our guests faces light up as they recognised the songs was priceless! I always think songs are so emotive and they take you back to a particular time and place, it was so nice to re-live these memories with our nearest and dearest on such an amazingly special day."
"Our first dance was a traditional argentine tango song. I think it was a big hit from the faces in the background of the photos!! We certainly enjoyed doing it despite our steely faces in the photo's – it was the concentration!!"
"My favourite and most memorable moment was when I was walking down the aisle – I felt quite nervous up until the point where Leigh turned around and smiled at me. As soon as my hand was in his I was perfectly relaxed and enjoyed the whole experience.I don't think I would change a single thing, I loved every second."
Words of Wedded Wisdom
"Enjoy every second. Take a few moments during the day at several intervals to just take in your surroundings. It all goes so quickly and these are the moments that will stay with you after the day is done and over.There are a few moments that really stick in my mind from our day for this very reason, walking down the aisle and making eye contact with Leigh, the first moments after the ceremony where we had a minute to ourselves, the speeches, our first dance. These are the moments that will stay with me forever. I loved looking round at all our guests enjoying themselves, laughing and having fun."
Thank you so much to the gorgeous Lucie and Leigh for sharing their fabulous day with us, I'm absolutely in awe of the dresses and adore all the personal touches, especially The Greens Sweet Shop, such a brilliant and unique nod to the past. Huge thanks also to photographer  Nigel Edgecombe.
The 1920's is a truly wonderful era to draw wedding inspiration from, why not pour yourself a pink gin and pop over to Love My Dress on Pinterest, to explore even more of the glamour and sparkle of the prohibition age,
love and best wishes,
Rebecca x
Photographer – Nigel Edgecombe
Venue – Hyde Barn, Stow on the Wold
Brides Dress and Headpieces – Lucie Green Bridal
Brides Shoes – Benjamin Adams
Bridesmaids Dresses and Headpieces – Lucie Green Bridal
Bridesmaids Shoes – Pink by Paradox customised by bride
Groom's Attire – Marks and Spencer customised by bride
Flowers – Frosts the Florists
Hair  – The Beehive Hair Hair & Beauty Salon
Rings – Beaverbrooks
Cake – Marks and Spencer
Cake Toppers – Sophie Victoria, Etsy Shop
Light Up Letters – Vowed and Amazed
DJ Entertainment – 1Entertainments
Casino Table – Sevens Casino Nights
Follow Love My Dress on Google+