Oh my – the colours in this wedding are just stunning! The bride's clever use of vibrant spring shades paired with her gorgeous full-skirted dress make a sumptuous feast for the eyes. Set within the vast grounds of Richmond Park, this april wedding is captured on camera in the beautifully clear spring light by Amy Barton. Do take a look Love My Dress readers, it's a treat…
Neil and Vanessa were married on 18th April 2014 at The Belvedere, Pembroke Lodge.
"When we started dating Neil lived nearby so we spent lots of time in the park. Walking off a sunday lunch we discovered the beautiful gardens of Pembroke Lodge and spied a lucky couple celebrating their wedding. I think we were both privately convinced this would be the top venue for our our own wedding one day, but neither dared speak it so early on in our relationship."
Photography Copyright (c) 2014, Amy Barton
Vanessa opted for a classic 50's style silhouette when choosing her bridal gown.  She accessorised her outfit with vintage earrings borrowed from her nanny Sylvia and a pair of dainty lace gloves from Pennies Vintage.
"My dress was from Candy Anthony. I love the fashion of the 50's and the feminine shape it creates, probably highly influenced by my Nanny's glamorous tastes. This dress certainly gave me it all. The lace bodice felt classically beautiful whilst the tulle skirt kept things modern. Capped sleeves meant I could dance freely and enjoy the swooshiness of the three petticoats. Importantly the silk sash gave me the chance to be a part of the bright spring colours of the day."
"Our photographer was Amy Barton. We found her to be a bubbly, personable photographer and really easy to be around. Amy could melt into the background so she could capture the day as it was happening naturally as well as command a large crowd to organise the group shots. Other guests commented on her friendly manner too. I loved the taster from Amy's blog which we got on honeymoon and were thrilled with the full set of shots when we arrived home.
If I could have the choice all over again, I would definitely pick Amy."
I am head over heels in love with the flowers at this wedding. Those bright splashes of colour are tied throughout the whole event and bring such a lovely, cheerful feel to the day.  Vanessa asked Gabi from The Fine Flowers Company to create the floral arrangements and the bride's beautiful bouquet.
"We wanted a fun rather than formal theme for the day and I was inspired by the bright colours of spring, reds, yellows, purples and greens.  I took Gabi the mood board I had created and the fabrics Neil's mum was using for making the bunting. She perfectly knew how to create my vision of bright spring informal flowers scattered in milk bottles as well as a vibrant bouquet tied with trailing ribbons."
The right choice of footwear was very important to Vanessa.
"I went for a pair of ladylike shoes from Rainbow Club. I was looking for shoes that I could show off with my dress but that would also protect my inevitably sore toes (I ran the Brighton marathon a week and a half before our wedding). They had a blue diamante on the bottom which counted as my something blue."
"My friend (also a Vanessa) who runs Blushing Bride at HCT Beauty did my hair and make up. She was fantastic at interpreting my loose ideas from a few pictures and making it work for me. I loved the vintage and statement look she created which fitted perfectly with my dress. Vanessa also did my mum Jane and my sister Lydia's hair and make up. We all felt fantastic."
"Our florist Gabi of The Fine Flowers Company  suggested we incorporate some larger displays to add focal points to the ceremony room that could also be re-used later when the room was adapted for the reception.
These were a huge success and made a dazzling impact as soon as you walked through the door. Although I mentioned tulips, gerberas and daffodils, it was Gabi's knowledge of mixing texture and lots of other seasonal colours which meant we also incorporated lisianthus, veronica, roses, delphiniums, larkspur, chrysanthemums and hydrangeas." 
The groom's suit was made to measure from A suit That Fits. All the gents wore brightly coloured ties from a selection at Hugo Morris in Brighton.
Vanessa's sister Lydia was bridesmaid, in a deep aubergine dress from Coast. She accessorised with necklace and earrings from Bejoux, a jewellers in Winchmore Hill, London. Neil's nieces made the prettiest flowergirls in simple frocks from John Lewis, customised with hand-made sashes made by his sister Lynn.
Vanessa and Neil met at work. "Neil proposed on the ski slopes in Alpe d'huez halfway down an exciting black run. We had stopped for a rest when we noticed a waterfall. After I declared this to be "so romantic" Neil hurriedly said "in that case I've got something to ask you…." I was jumping up and down saying yes before I'd even seen the gorgeous ring he had picked. I think both of us had very wobbly legs on the rest of the run down. We were engaged for 16 months before our wedding day."
The bride walked down the isle with her grandfather Terry to the classic 'Here Comes the Bride' played on piano.
During the ceremony Neil and Vanessa exchanged heartfelt vows. "We spent a long time thinking very hard about what we specifically wanted to promise each other and finalised our vows on the plane on the way back from a week's skiing in Switzerland. These are the words we chose: "I promise to care for you, to remain true and faithful to you, to talk to you, to be your friend, and above all to love and respect you always.
I promise to support and encourage you to achieve your ambitions, to approach life as a team, to share all things in my life with you, and actively seek to create new memories together"."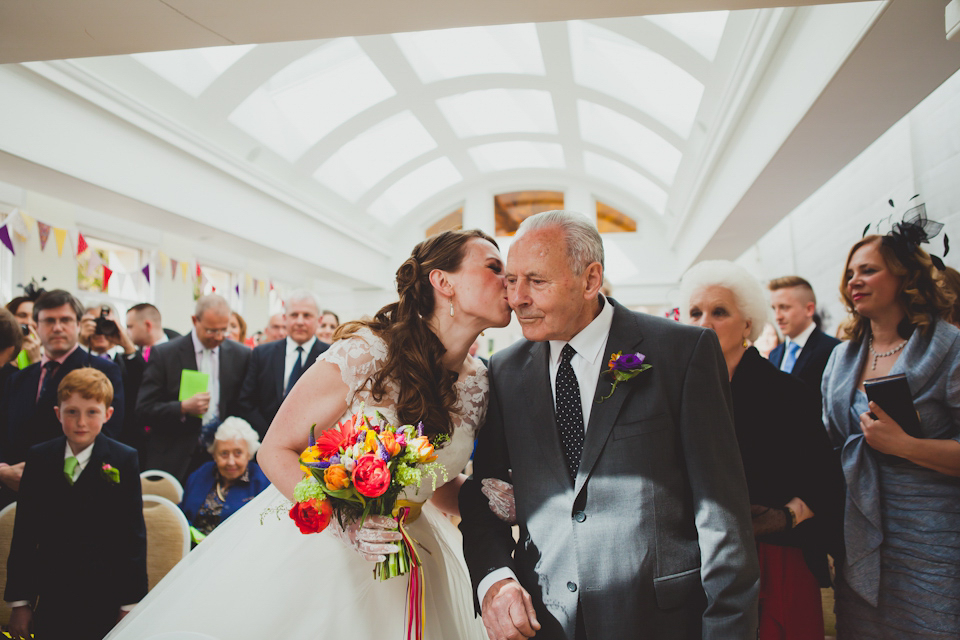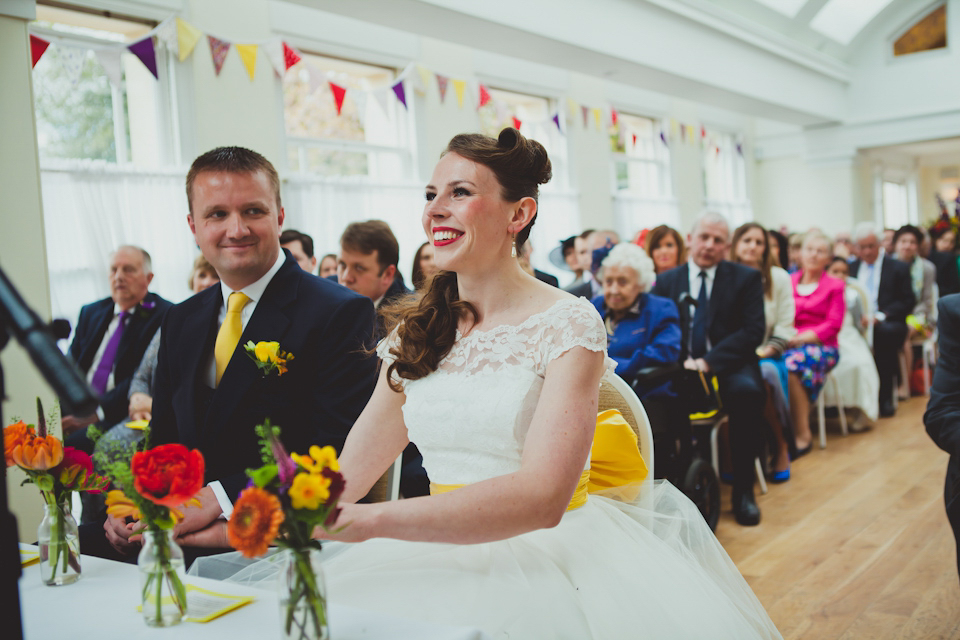 Neil had chosen Vanessa's engagement ring from Anthony Gray and had such a positive experience that it was the natural choice to return there for wedding rings. 
"We went for a band alternating rubies and diamonds to match my engagement ring. sparkletastic! Neil opted for a plain platinum band (even though I'd offered him diamonds too)."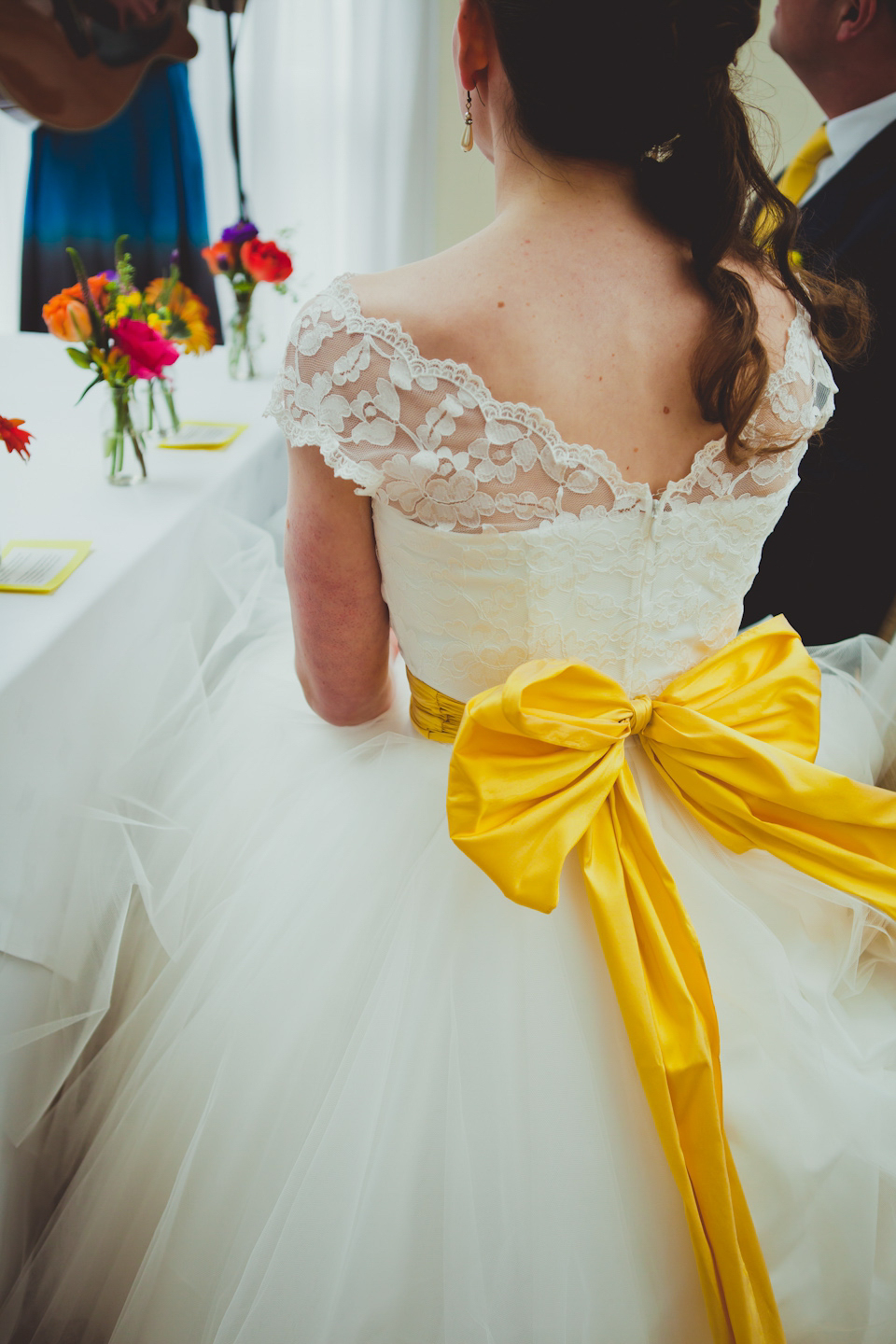 "Our friend Amy Richards read the humerous 'Untitled' by Bee Rawlinson (a particular favourite with the guests in their retirement). "Love me when I'm old and shocking, Peel off my elastic  stockings, Swing me from the chandeliers, Let's be randy bad old dears."."
"Our friend Alice Watts sang 'Songbird' by Eva Cassidy whilst playing her guitar and Morven read 'To Love Is Not To Possess' by James Kavanaugh."
"My favourite part of the whole day was the ceremony, the part where I made a promise to the man I love and he promised to me all the things that we thought were most important for our life together."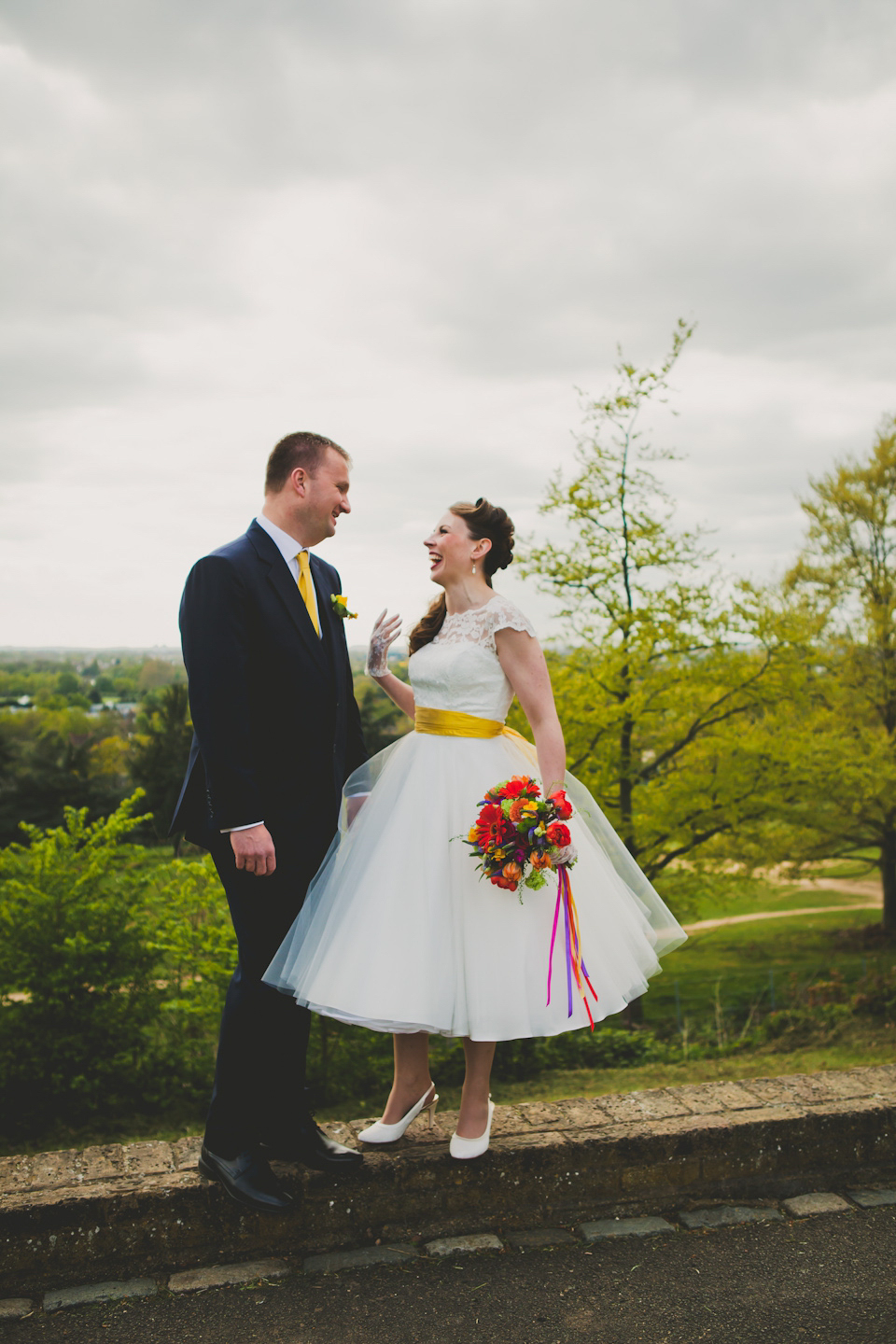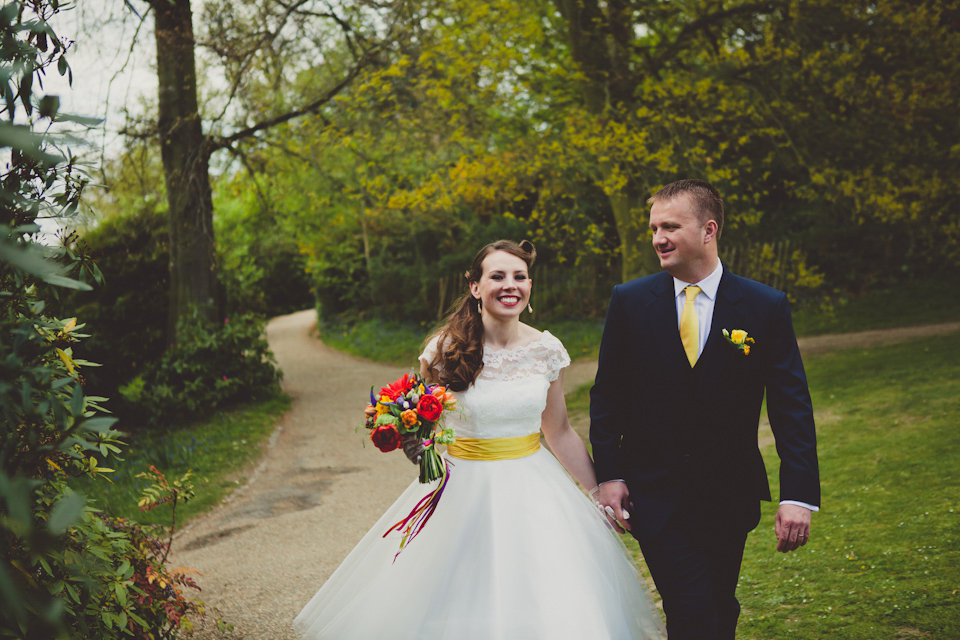 The decor for the venue utilised more of the wonderful bright spring colours that made Neil and Vanessa's wedding such a vibrant occasion. Bunting sewn by the groom's mum was draped around the window frames and behind a lovely sweetie table, overflowing with everyone's favourites in glass jars. Behind the table they created a washing line of photographs, capturing happy memories that the guests had shared with the bride and groom.
Amid the sweets and memories, The cake took pride of place, created by Vanessa herself.
"Despite everyone warning me it would be too stressful and time consuming, I went with my childhood dream and I made and decorated our cake. Christmas involved creating a 2 tier cake to trial the traditional brandy recipe against sherry (both families agreed sherry was a marginal winner). Neil doesn't particularly like fruit cake so he opted for a three layer victoria sponge with homemade vanilla buttercream and raspberry jam. Each tier was decorated with bunting made from fondant with colours matching the fabric bunting made by Neil's Mum Anne."
Wedding favours doubled as place settings and were the most charming little packets of seeds; Love-In-The-Mist for adults and Sunflowers for the children. Each envelope had handwritten planting instructions, painstaking copied out by Vanessa and her mum Jane and secured with more colourful ribbon.
"We had a range of entertainment lined up for the reception. My old salsa teacher, who took our guests through the dancing paces and the amazing Paul Meagram performed some astonishing close up magic.
We chose Andy Williams "Can't Take My Eyes Off Of You" as our first dance. Neil sang this to me while I was in my bunk on our sleeper train in Canada. This is probably the only time he has ever sung anything which isn't a Brighton football song."
"Signed Sealed Delivered, a recommendation from my cousin Jon, were the band which got everyone on their feet the whole night long. They particularly loved singing Rihanna when all the guests accessorised their dancing with my just-in-case colourful umbrellas. They also provided a pianist who played beautifully during the ceremony."
Words of Wedded Wisdom…
"Think carefully about what you are going to promise each other – this is the main point of the whole day after all. Make sure he knows if you want a really nice first kiss rather than a peck on the cheek. Lastly, don't be afraid to make a speech! I did and really loved having the opportunity to speak to our guests."
Thank you Neil and Vanessa, for sharing this beautiful wedding with us and thank you to Amy Barton for capturing the vibrant spring shades and relaxed atmosphere in such a luminous way. I really admire the use of strong colour for a wedding, do tell us if you're planning to go supersaturated on your big day.
Love Susie x
Photographer- Amy Barton
Venue – The Belvedere, Pembroke Lodge
Bride's Dress – Candy Anthony
Bride's shoes –  Rainbow Club
Bride's  white lace gloves – Pennies Vintage 
Groom's suit –  A Suit That 
Bridesmaid's dress – Coast + Dorothy Perkins shoes
Florist – The Fine Flowers Company
Cake – The bride
Entertainment – Mina Queen Salsa, Paul Meagram + Signed Sealed Delivered
Rings – Anthony Grey
Hair & Make-up – Blushing Bride at HCT Beauty
Follow Love My Dress® on Google+