Oh WOW! This is the most gorgeous wedding Love My Dress readers, in a stunning location with perfect weather. Amy rocks a pre-loved 50's frock covered in sequins, in which she looks a total knockout. I adore how the sparkle of the dress mirrors the sun sparkling off the sea, and the bronze colour is just perfect against the grey cliffs and golden sand. All this wonderful refracted light is captured on camera by Sarah Falugo. The select few invited to Amy and Russell's wedding on 14th September 2013 celebrated at The Scarlet Hotel, Mawgan Porth, Cornwall…
"Our venue was our main source of inspiration – we fell in love with The Scarlet  the minute we looked at the website. We went to Cornwall and half heartedly booked viewings at other venues but The Scarlet had our hearts before we stepped foot in there. It's heavenly and just so relaxing and luxurious. We had a small wedding (16 people) and wanted to create a day that felt like a gorgeous relaxed Cornish dinner party that just happened to include a wedding ceremony. Everything was planned to ensure the guests felt as relaxed, comfortable and spoiled as possible."
Photography Copyright (c) 2014, Sarah Falugo
Amy, a lingerie merchandiser and Russell, a network and security engineer, met whilst working for Monsoon Accessorize.
"We were friends who bonded over a mutual love of a Friday fry up before any romance developed. Russell pulled off an amazing surprise proposal at my stepdads 60th birthday party. When he asked my mum for permission to propose my stepdad asked him if he would mind doing it at his birthday meal so that the family could be there too – Russell agreed and my stepdad had no idea that the 'meal' was actually a front for a surprise birthday party with over 150 of our friends and family."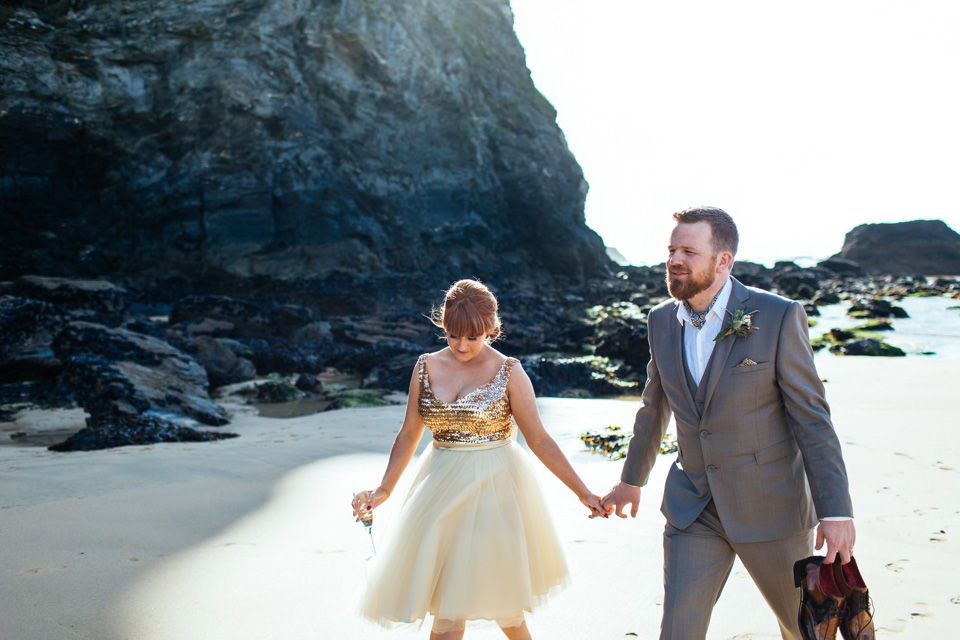 "When my stepdad got up to say a few words at the party he finished by saying – 'and there is someone else who has a few words to say' – out popped Russell holding my pink ukulele (which I was annoyed about initially as I'd told him not to play with it – such a bossy mare) and he proceeded to sing me the song from the Wedding Singer movie 'I Wanna Grow Old With You', then got down on one knee at the end and had my engagement ring on his little finger.
I was so surprised I forgot to actually say yes for about 5 minutes – very brave boy! We were engaged for nearly 2 years as we saved up for the whole wedding shindig ourselves."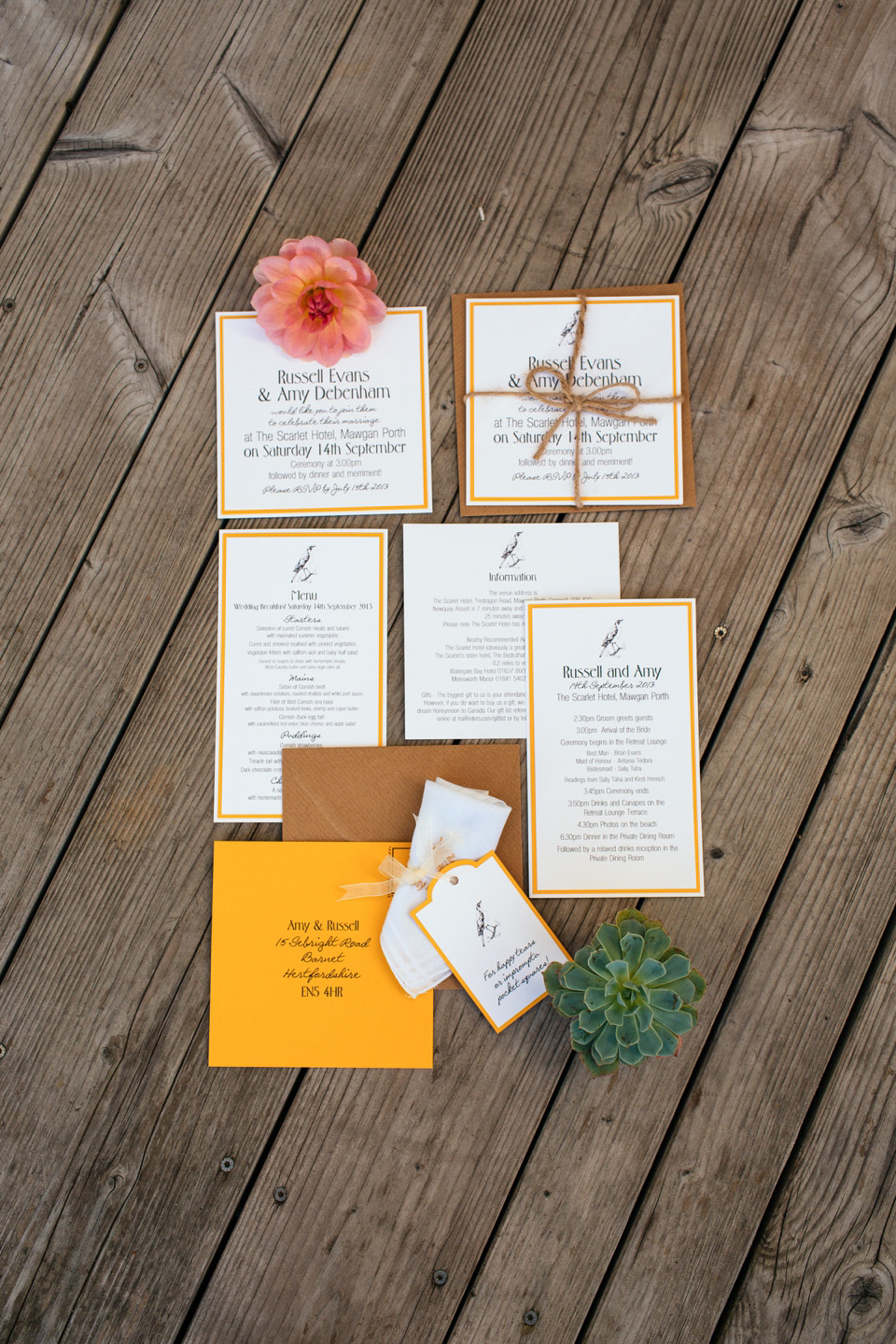 "My dress was from Fur Coat No Knickers who specialise in vintage. It's from the 1950's and FCNK customised it to ensure a perfect fit and tailor the silhouette for my body. I also had a custom petticoat to add volume – also from FCNK."
"I had tried on a few 'new' dresses but was hooked on the feel of vintage. I liked the idea of another bride having loved the dress before me, that it had history. When I first went into FCNK I thought I wanted lace and originally said no sequins as I thought I wanted a more classic look. On reflection this was a bit crazy as I am obsessed with anything sequinned, beaded or sparkly! Then the girls at the shop asked me to try 'the Disco Dress' on as they wanted to see it on someone – I never considered it would be my dress. I popped it on to humour them but as soon as it was on I felt like I just wanted to dance and twirl like a five year old – I was sold!! It was the perfect dress for me; fun, quirky and  it made me feel like a bombshell. I didn't want a dress that I couldn't move, eat or climb down to the beach in."
"I very naughtily cancelled another florist as I fell so hard in love with the style of Suzanne at The Blue Carrot and her amazing flowers. I came across her work in Unique Bride magazine and it was exactly what I wanted – delicate, natural and slightly wild. Suzanne became one of my favourite people, she is so crazy talented and creative and also very honest with feedback so you can trust her completely. It's worth following her on Facebook as her work will make your newsfeed super pretty. I gave her a rough idea of colours and flowers I liked and let her work her magic.
As we had only one dining table we could really go for it on the flower front – I am so glad I didn't have to par anything back when it came to flowers. I adored my bouquet so much I would not put it down all day."
The bride and groom chose Sarah Falugo as their photographer. I love the way that she has captured the essence of the location; the unique, crystalline light of the beach and all the wonderful textures used throughout the wedding. 
"Sarah was incredible throughout – I hate having my picture taken but Sarah's relaxed approach meant it was easy on the day – she was endlessly patient with Russell and I when we kept getting the giggles and messing about. She is so warm and friendly she felt like an additional guest, who just happened to take awesome pictures!"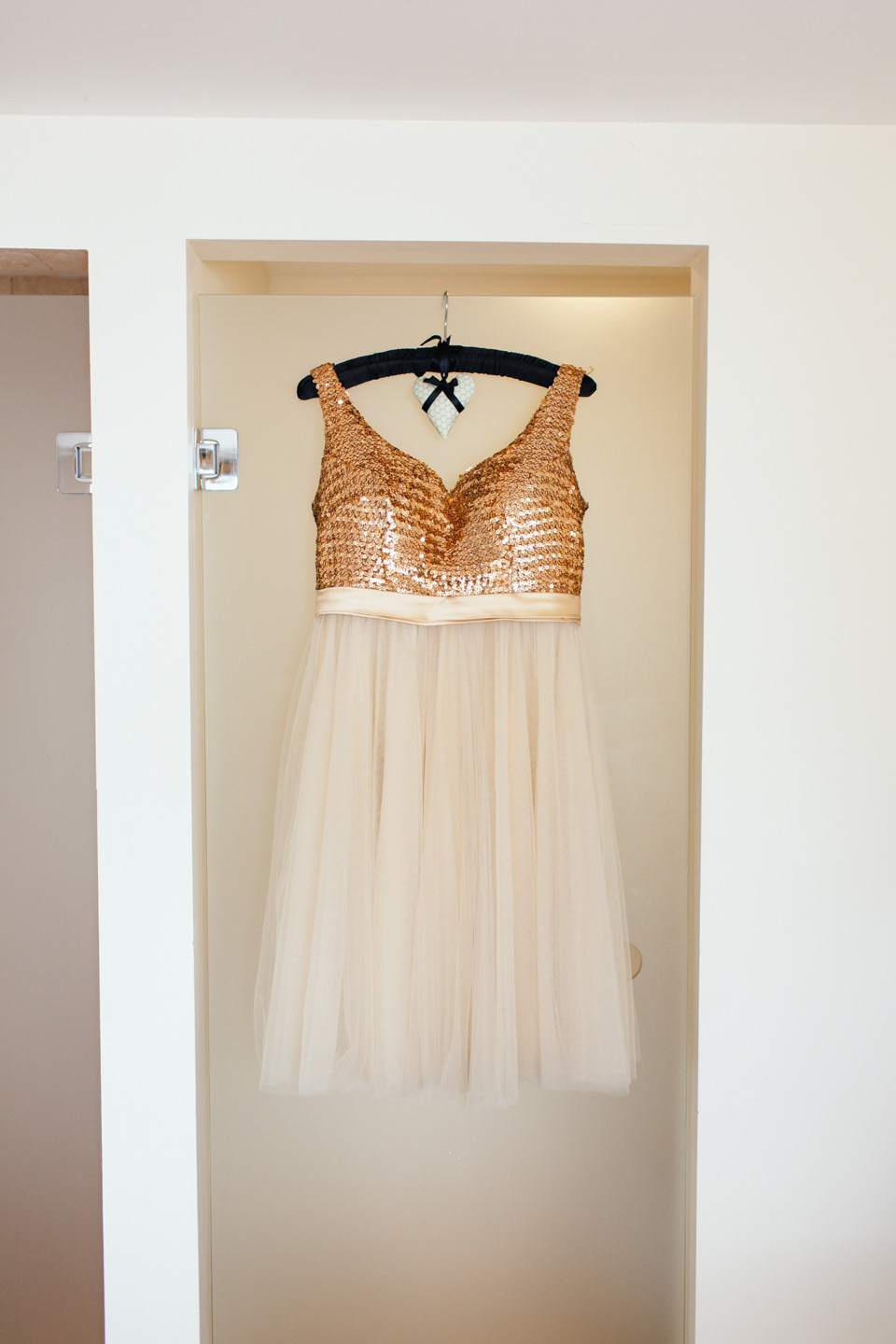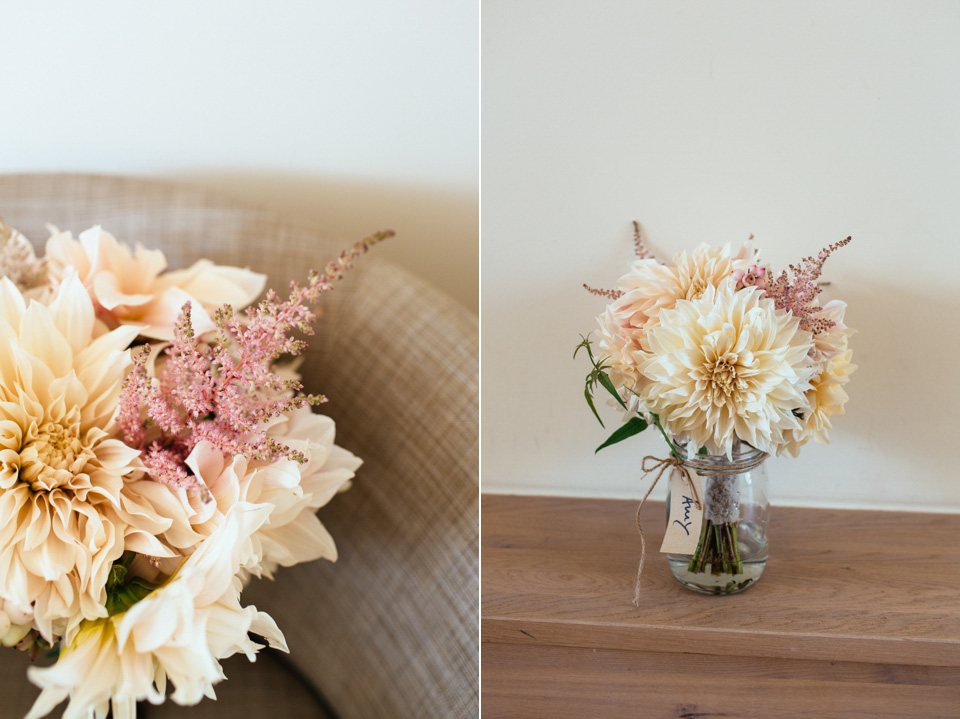 Amy's hair and make-up was done professionally on the morning of the wedding. Her gorgeous up do was created by Rochelle and classic/vintage makeup look by Eve Ashby.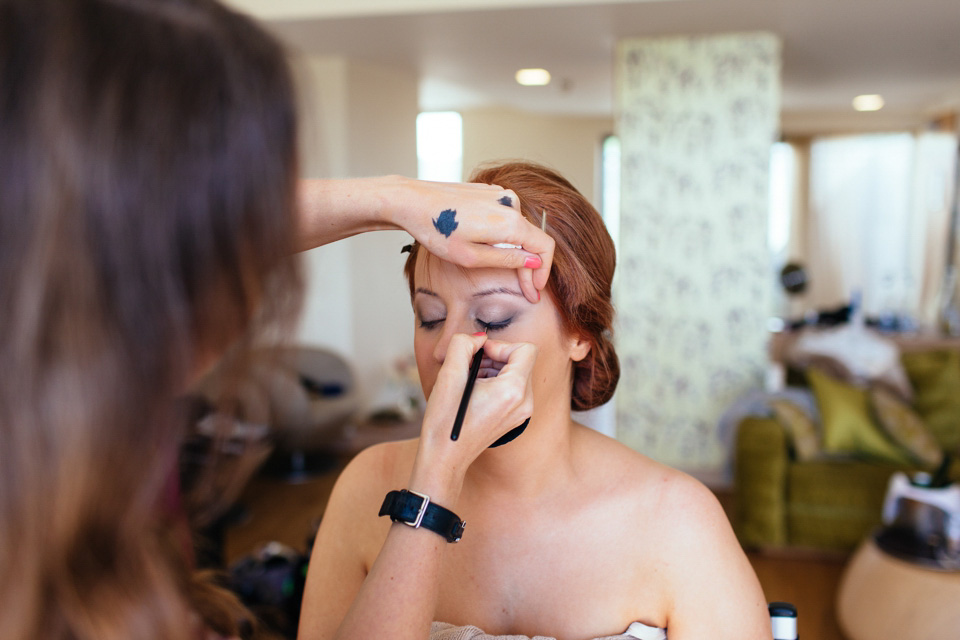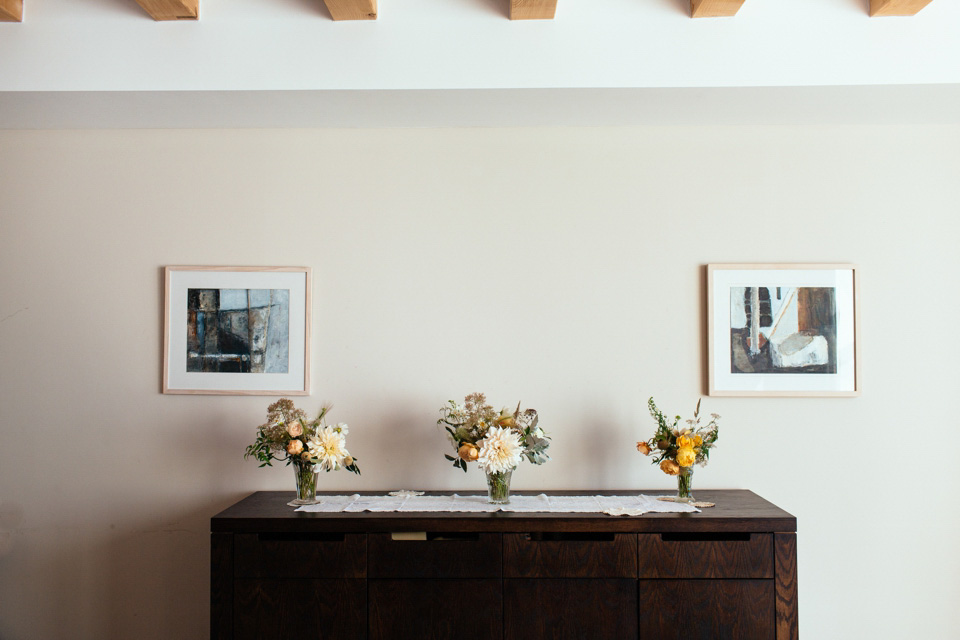 "I was very naughty and bought several pairs of shoes but none were quite right as I'd already fallen for a pair of Louboutins and was just trying to resist them (due to the price tag). Then I got a nice promotion at work and decided to go for it and buy them for myself!"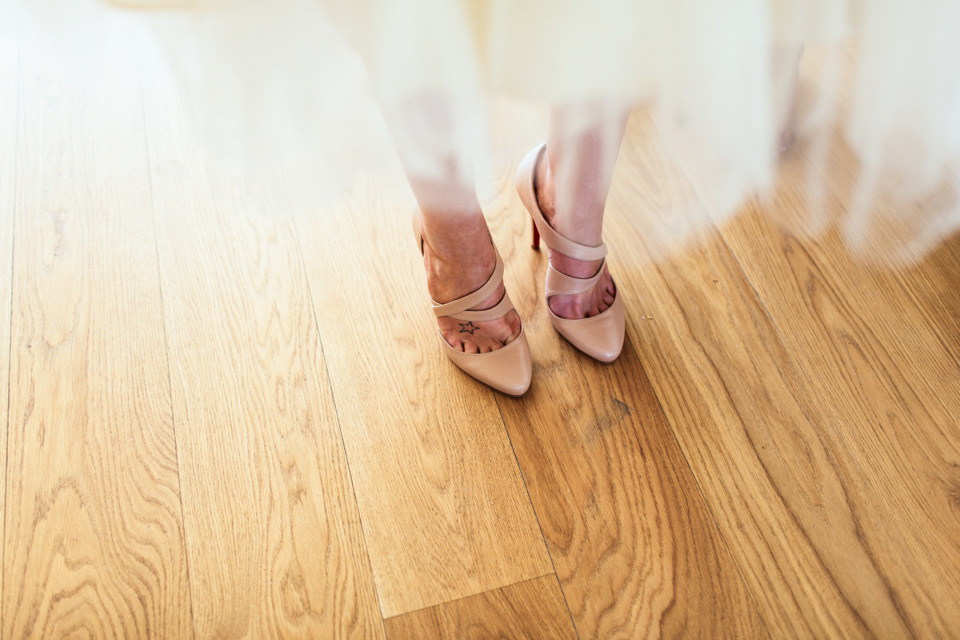 "My Earrings were from Swarovski, another last minute naughty purchase as I loved them but thought they might be too much with the rest of the bling – but then I thought never mind, the more sparkle the better! I also bought the feather shrug the weekend before the wedding from Biba at House of Fraser as I thought it was cute but had been trying to resist it. All in all I was a very naughty bride with the accessories budget!"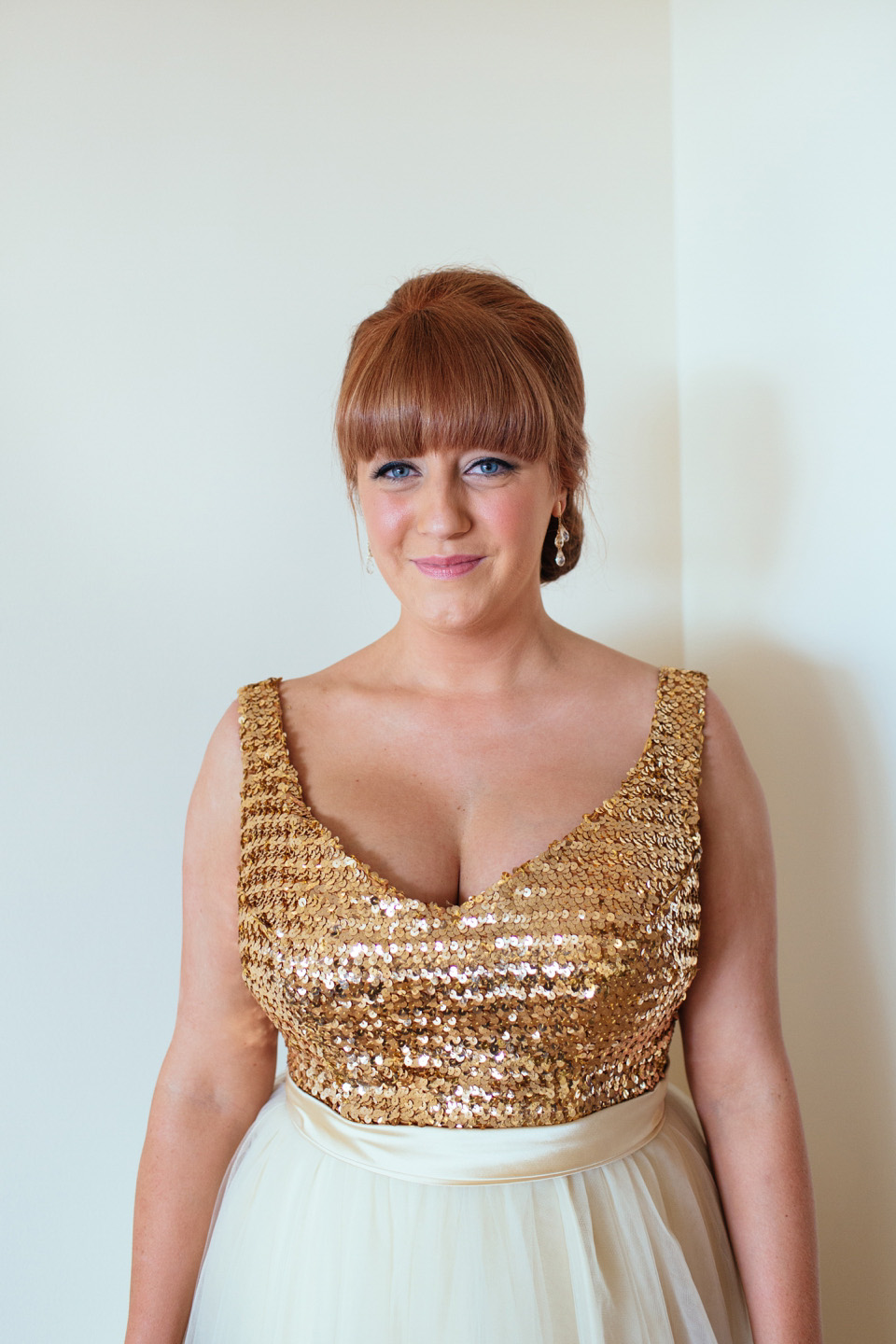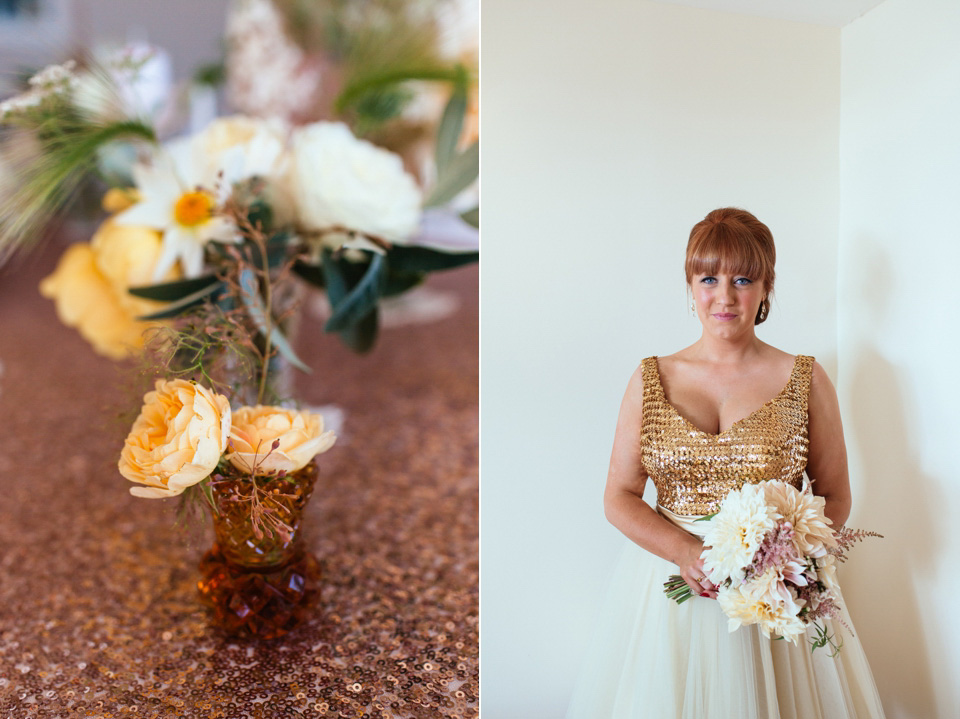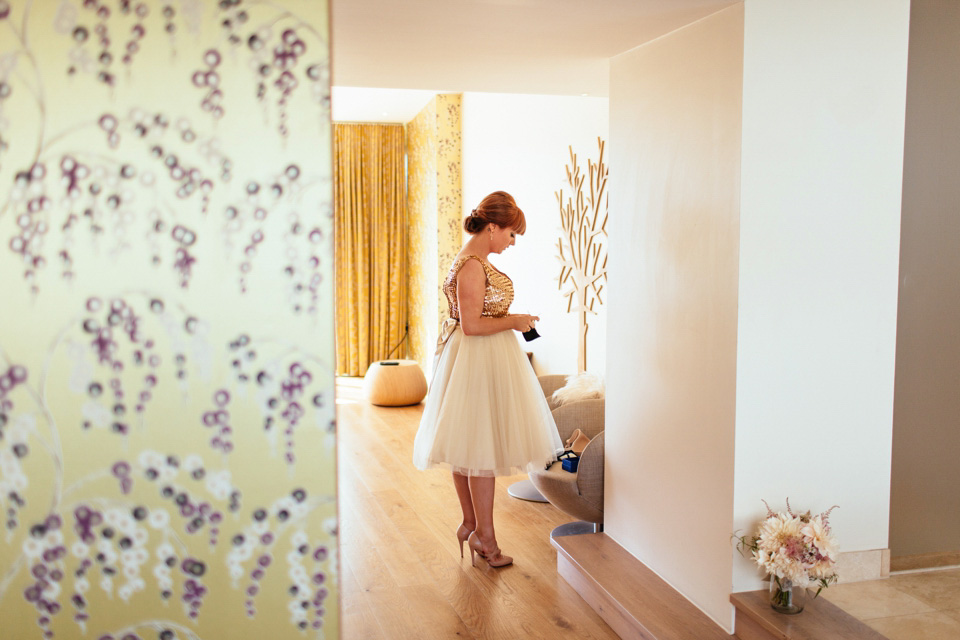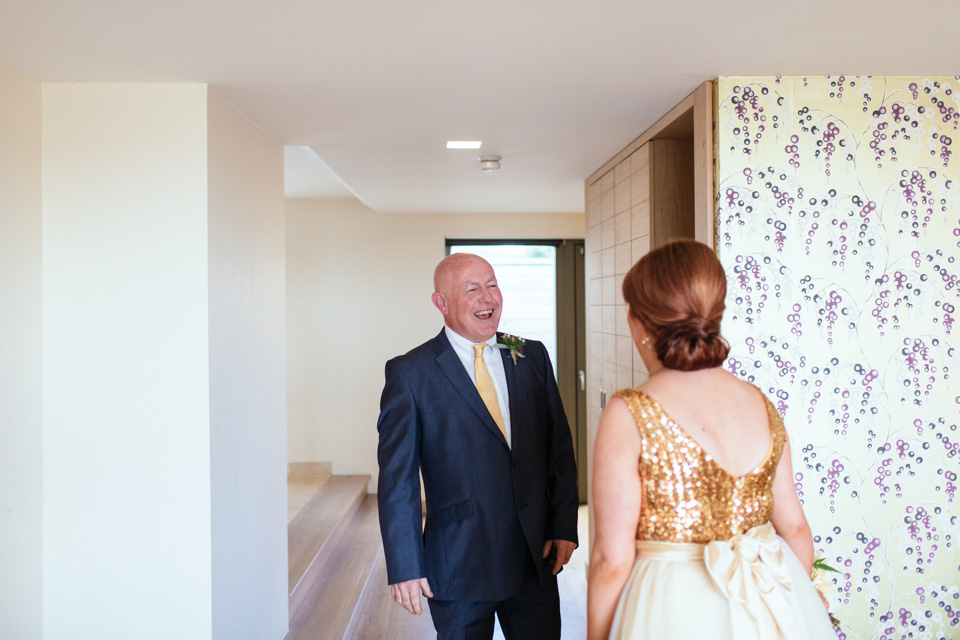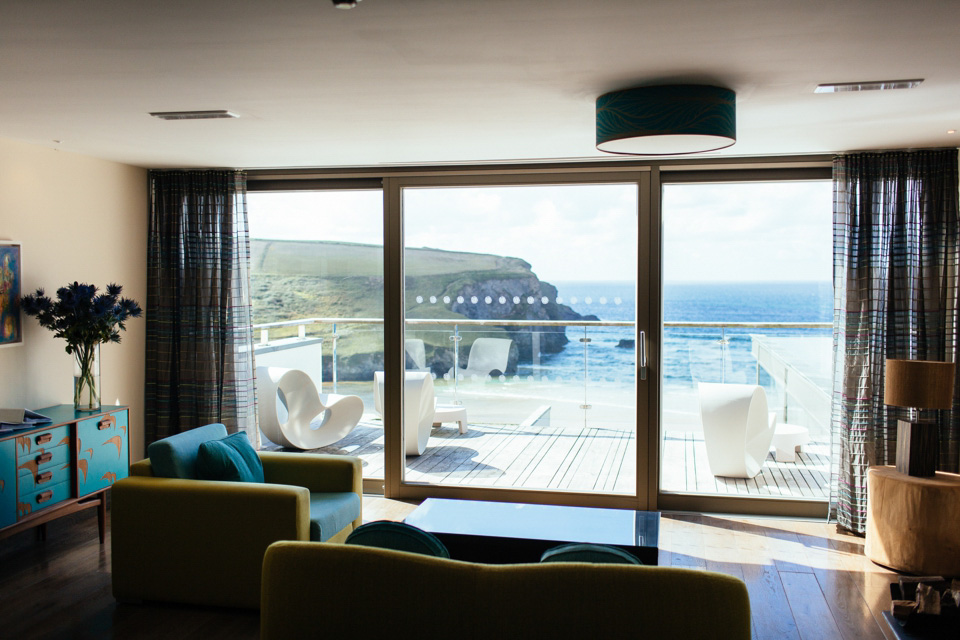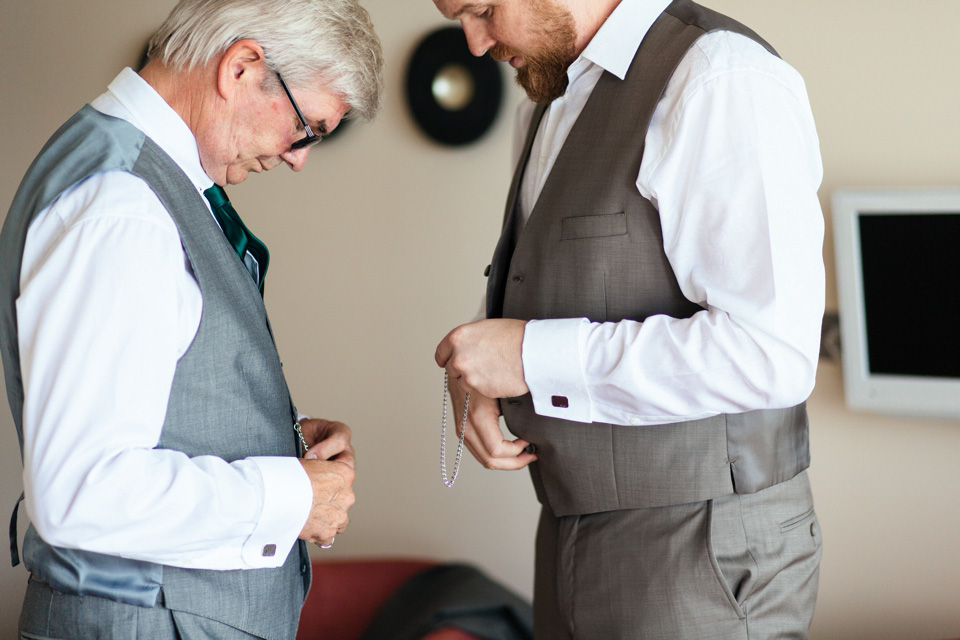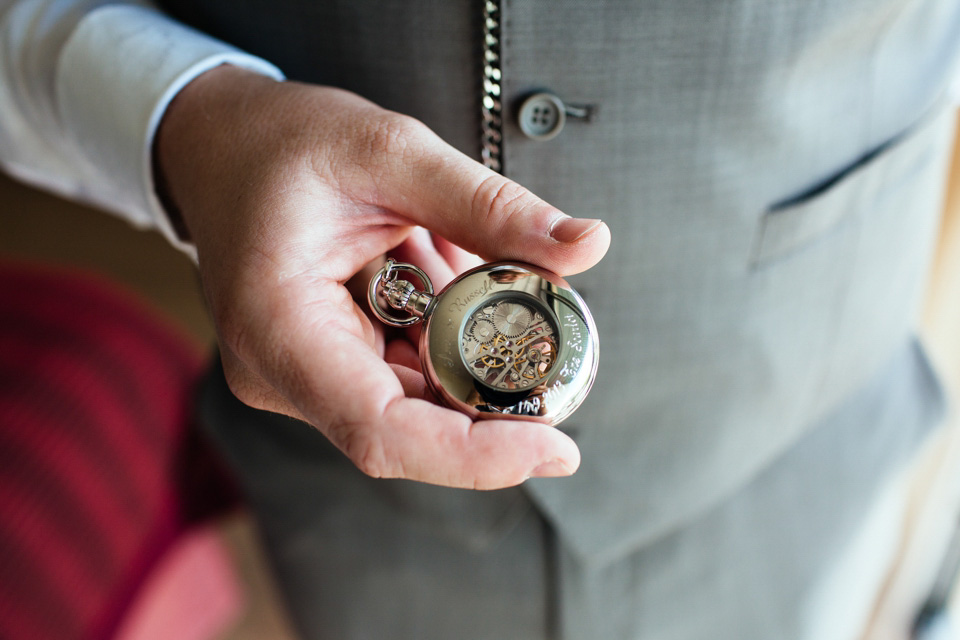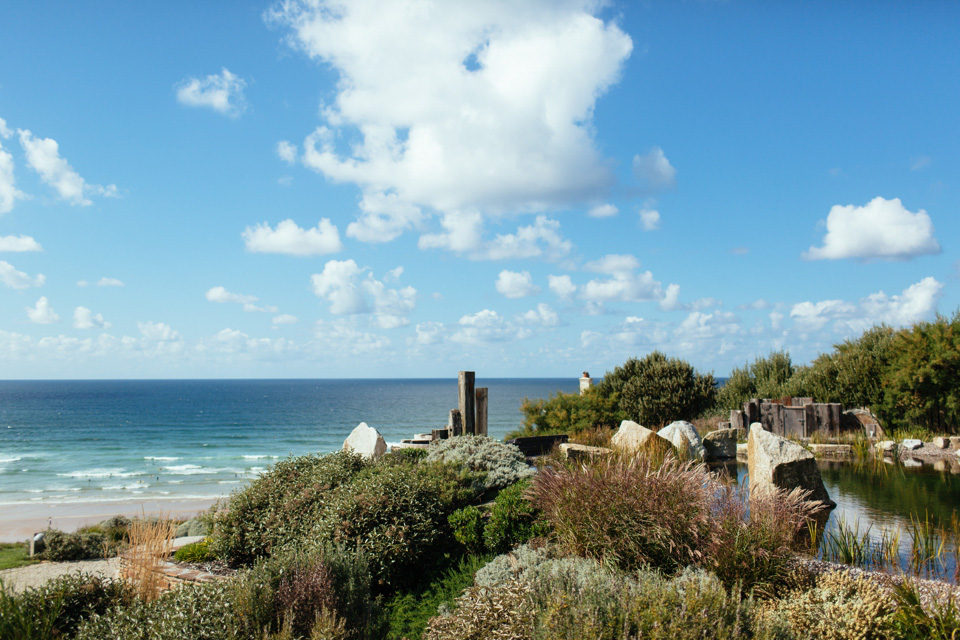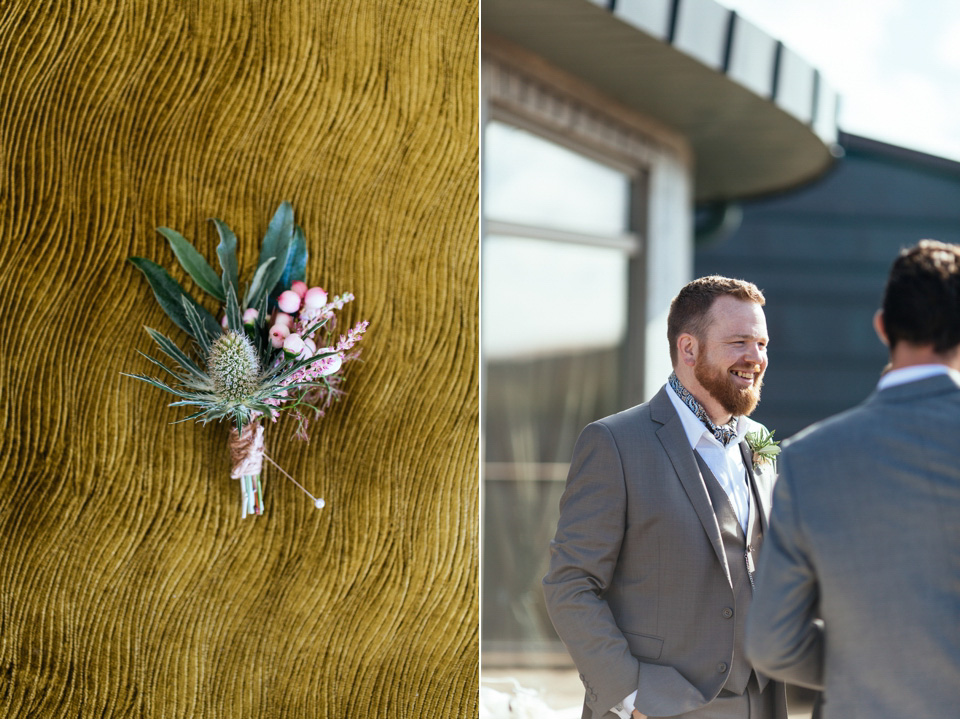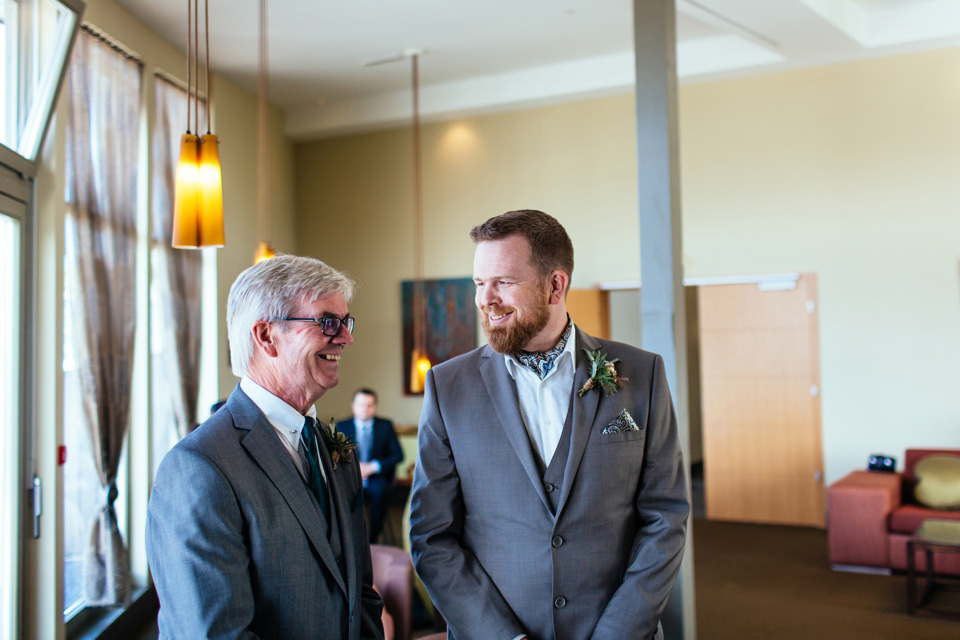 Amy's dad gave her away and she entered the room to 'Make You Feel My love' by Adele. "Russell had his iPod on shuffle when he was driving home from work one evening and when this one came on he decided it was the perfect song. We kept our vows quite simple as we we knew we were likely to get emotional."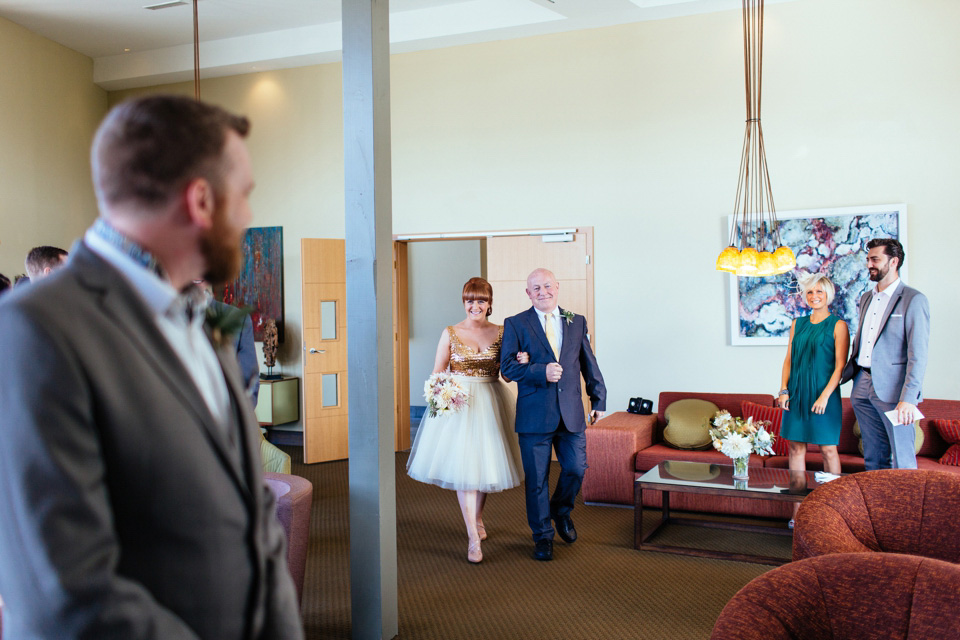 "For our wedding rings we wanted something a bit different in terms of design. Doron Merav was the perfect choice. I went for a fine plaited band and Russ choose a gorgeous chunky sculpted design. Doron is a sculptor and architect so his designs have an incredibly unique handwriting."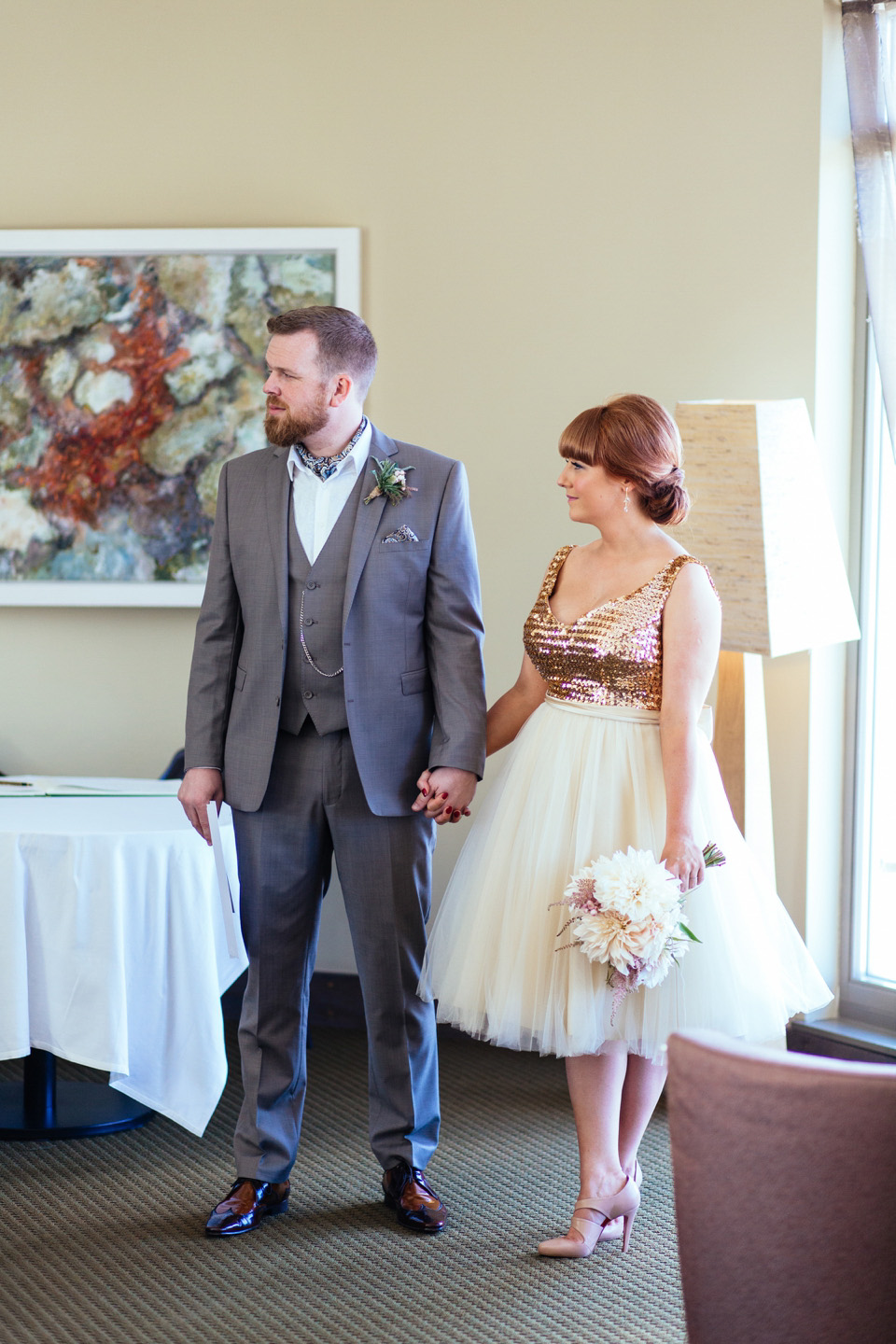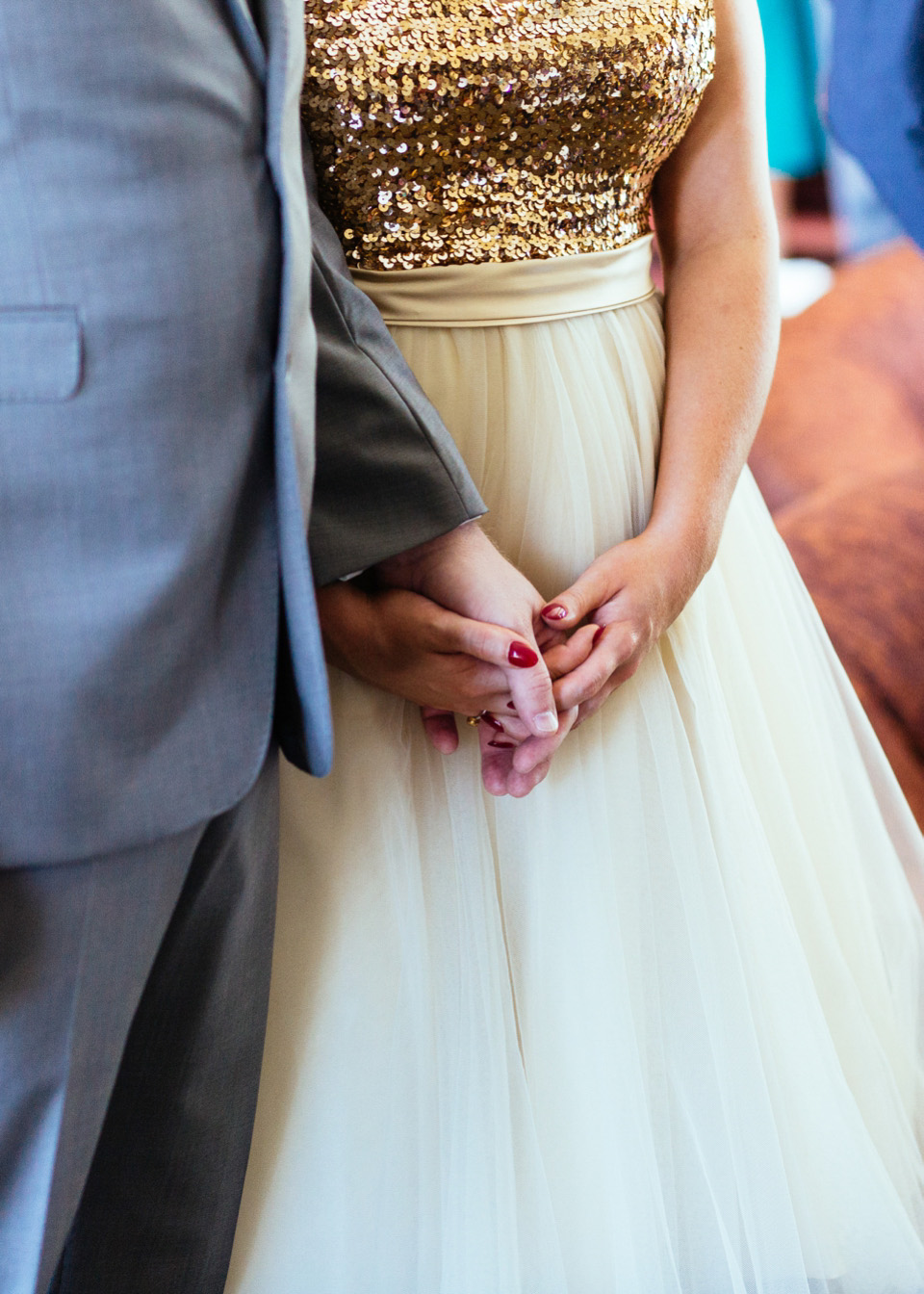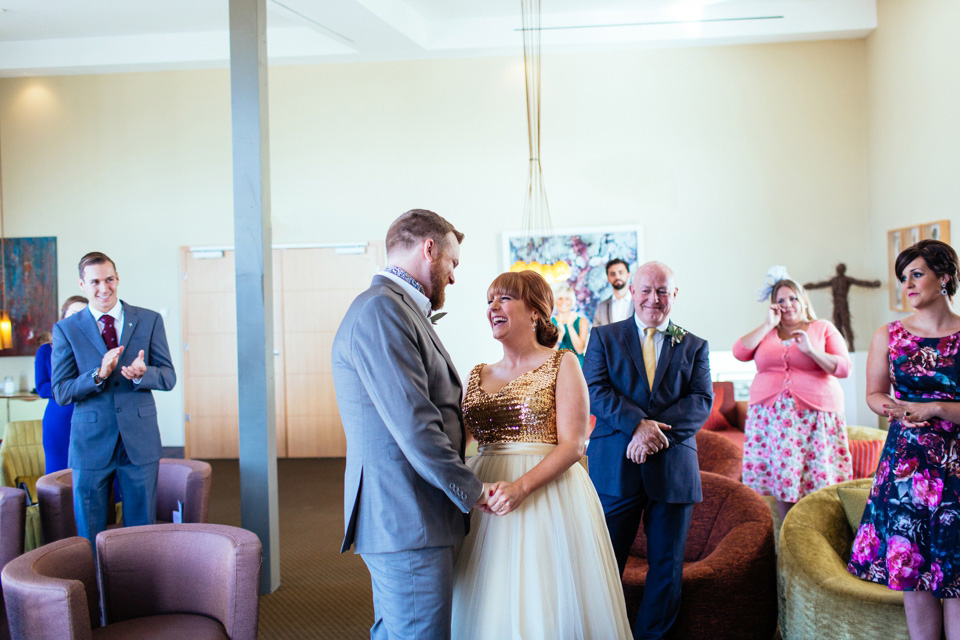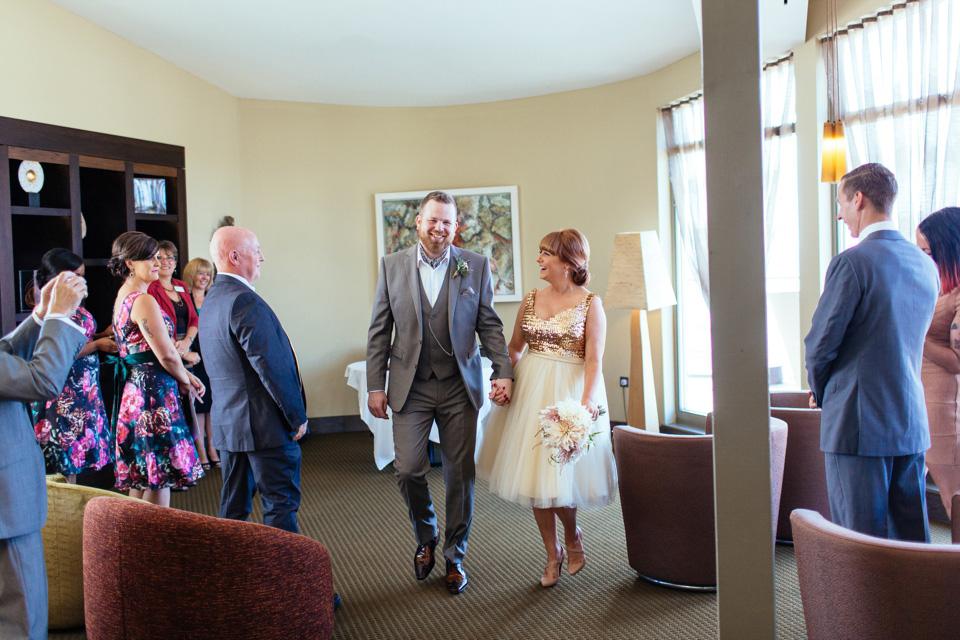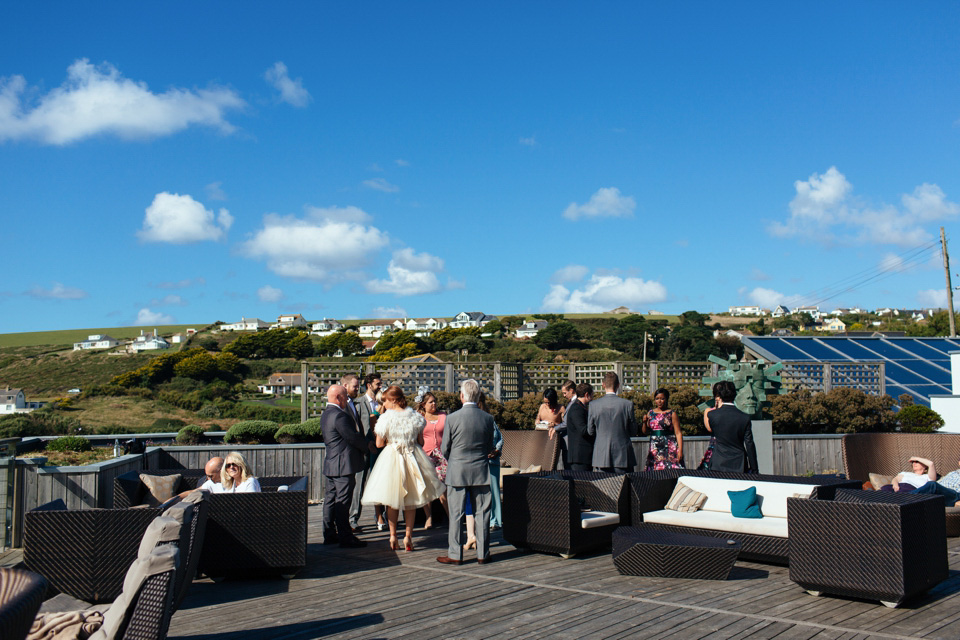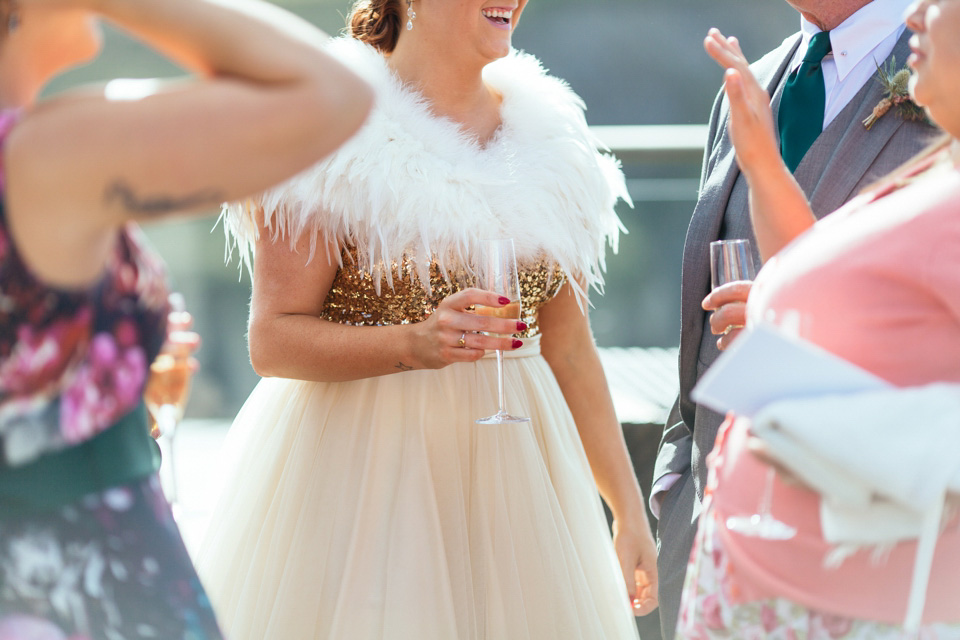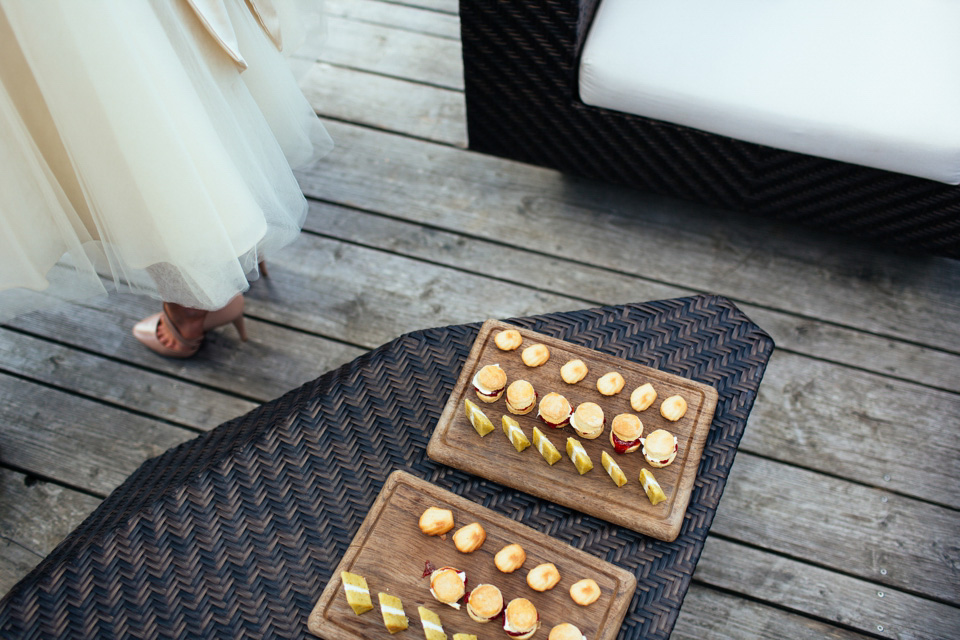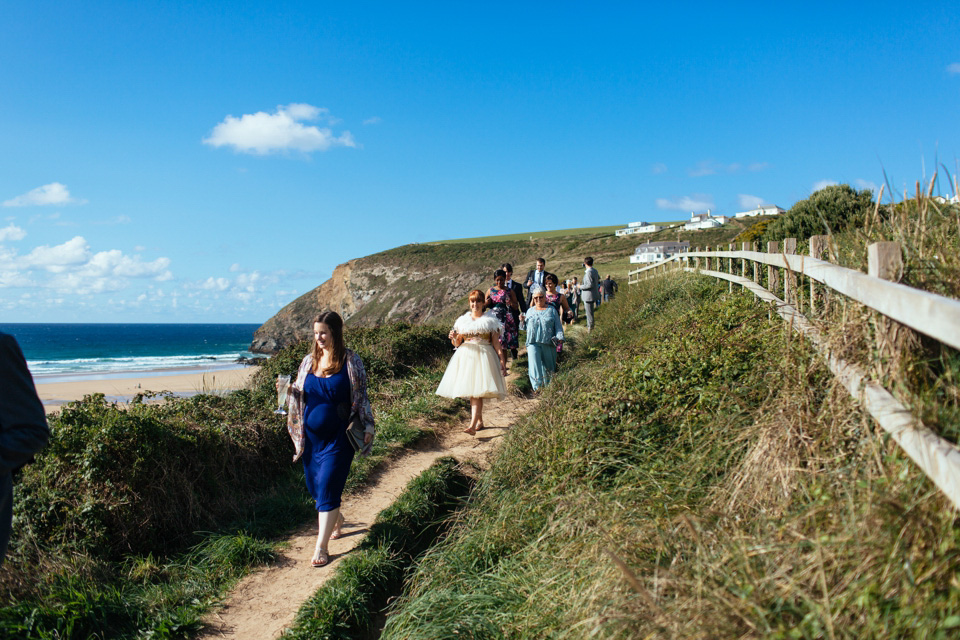 Amy's two bridesmaids wore pretty floral dresses from Phase Eight, shoes from Monsoon and earrings from Accessorize. Russell looked dashing in a blazer from Moss Bros, cravat and pocket square from Swagger and swoon, shoes by Jeffery West and accessories from Paul Smith.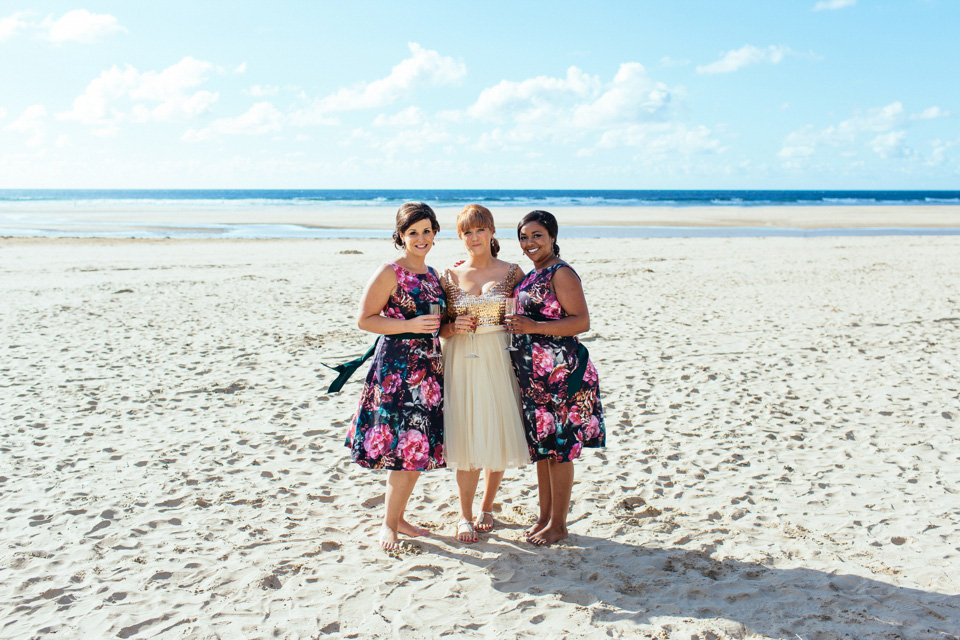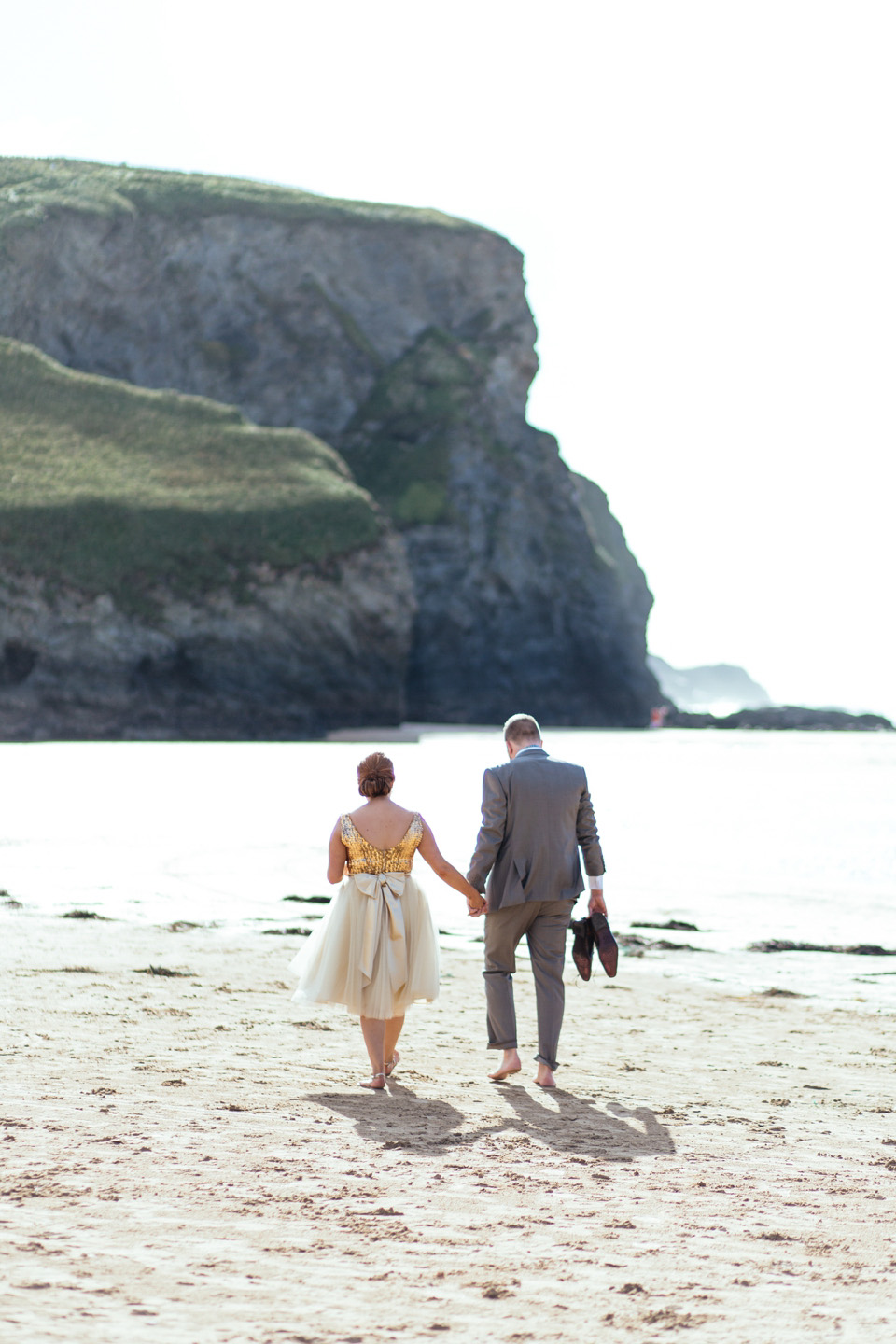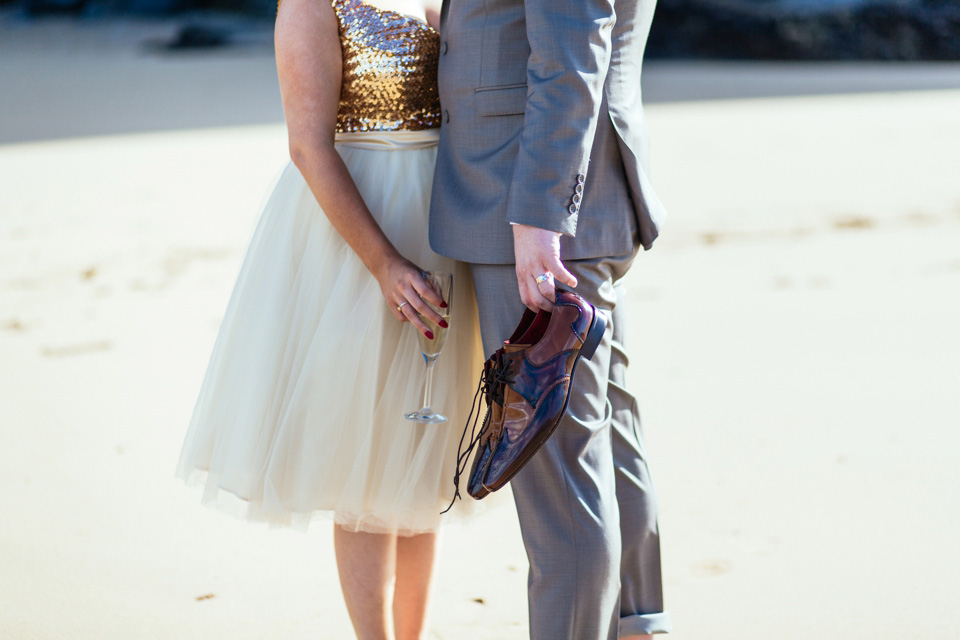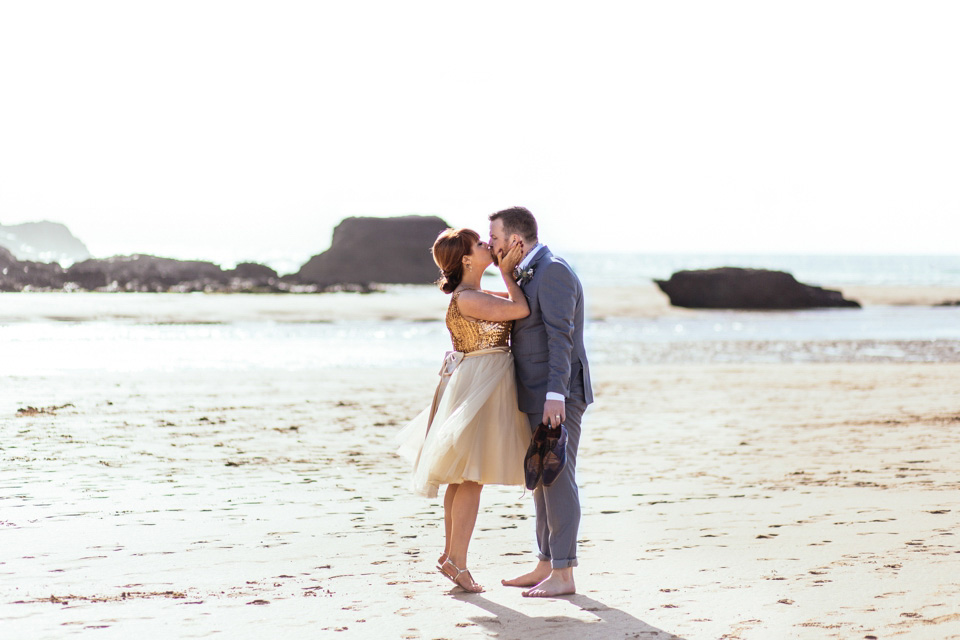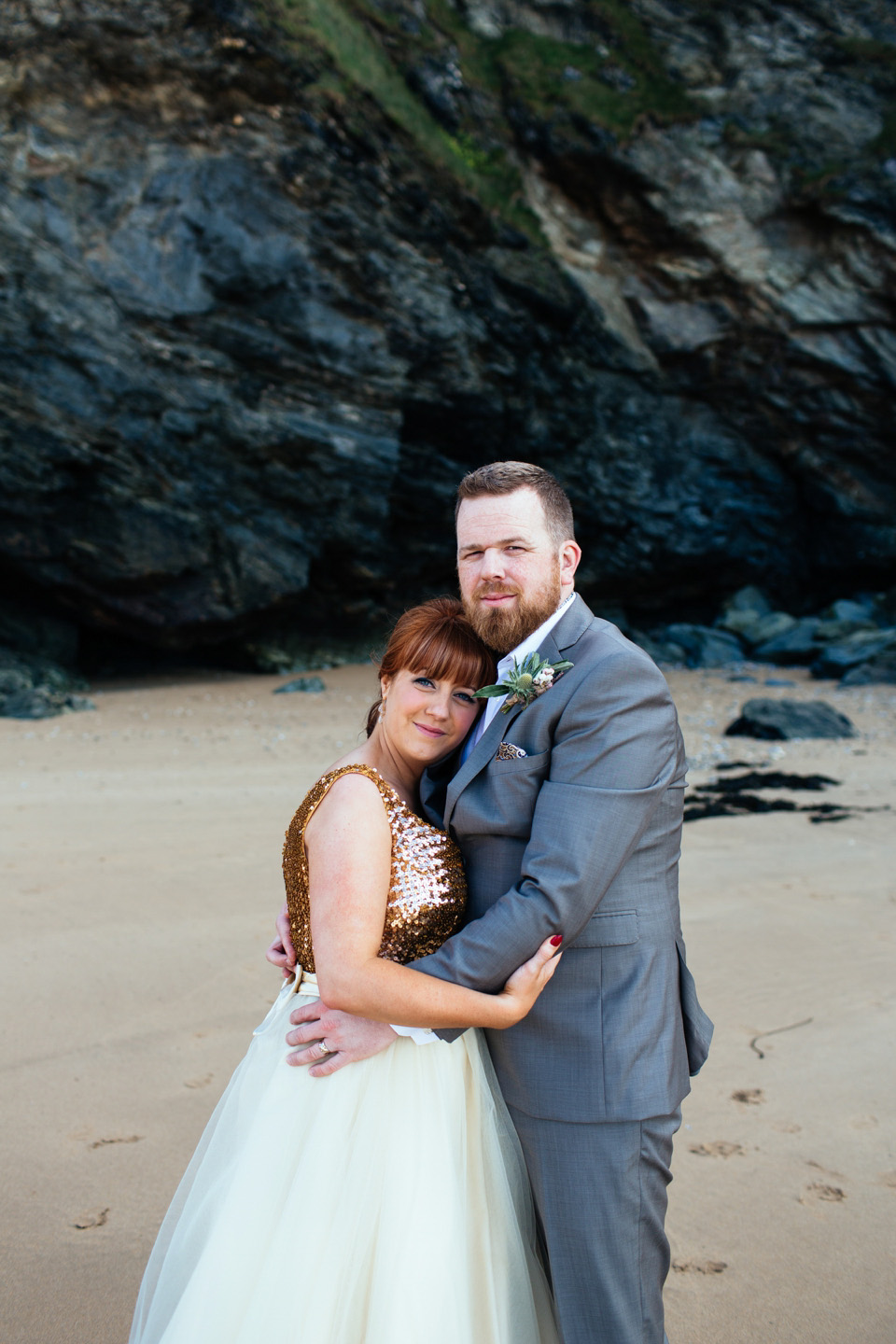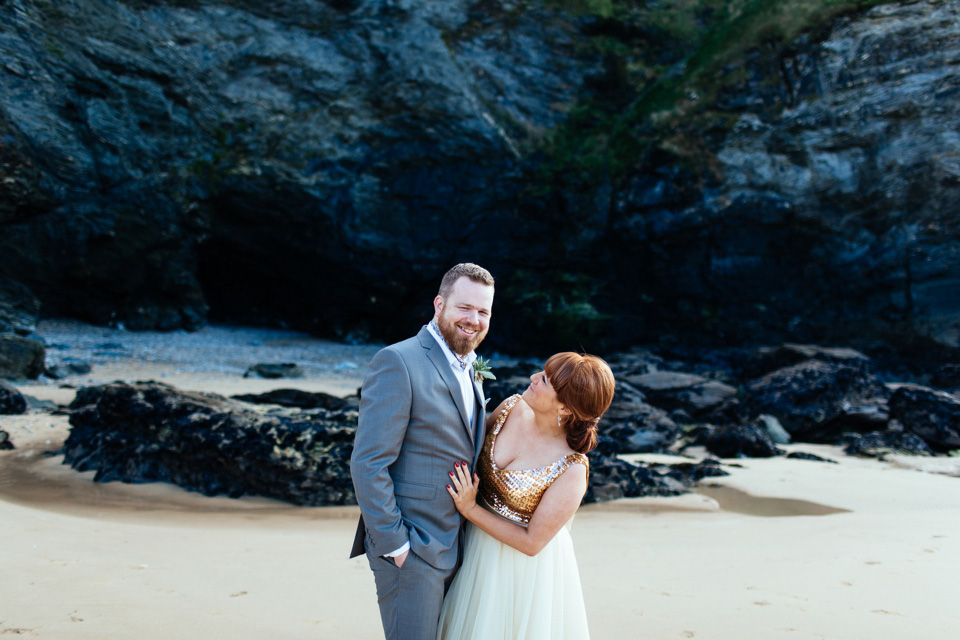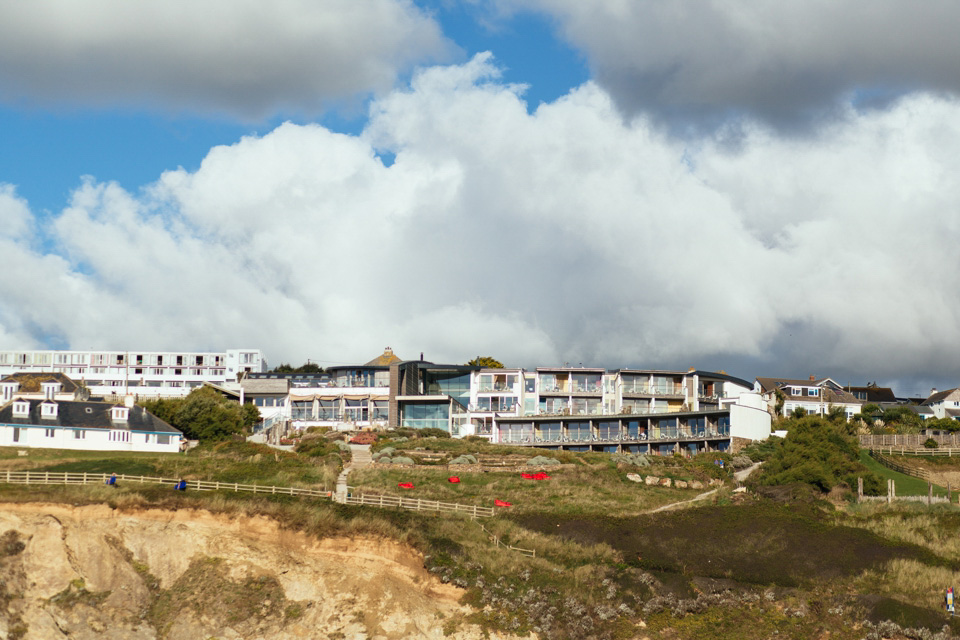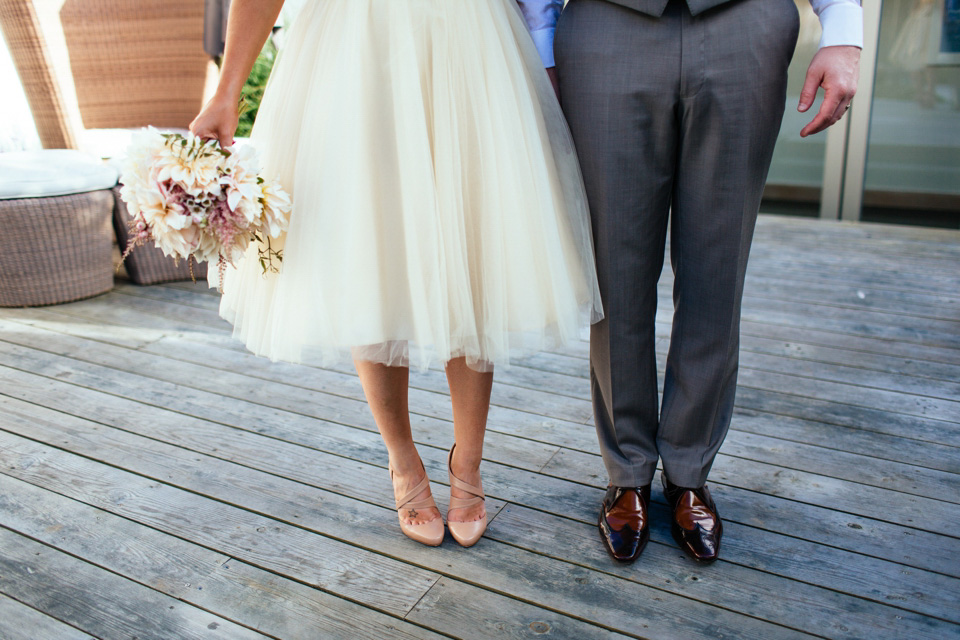 The couple had assistance and styling help on the day from Nat at Jolly Good Wedding.
"The way we approached styling the rooms used was to complement the beauty of the surroundings and make the most of the light. The Scarlet is planned around the incredible view and the natural beauty – every room faces the sea. We used natural style florals to complement the beautiful beach outside, lots of cut glass and sequins to reflect the gorgeous coastal light and candlelight as the night fell to keep it warm and intimate. We were more inspired by the feel we wanted our day to have then specific palettes or themes."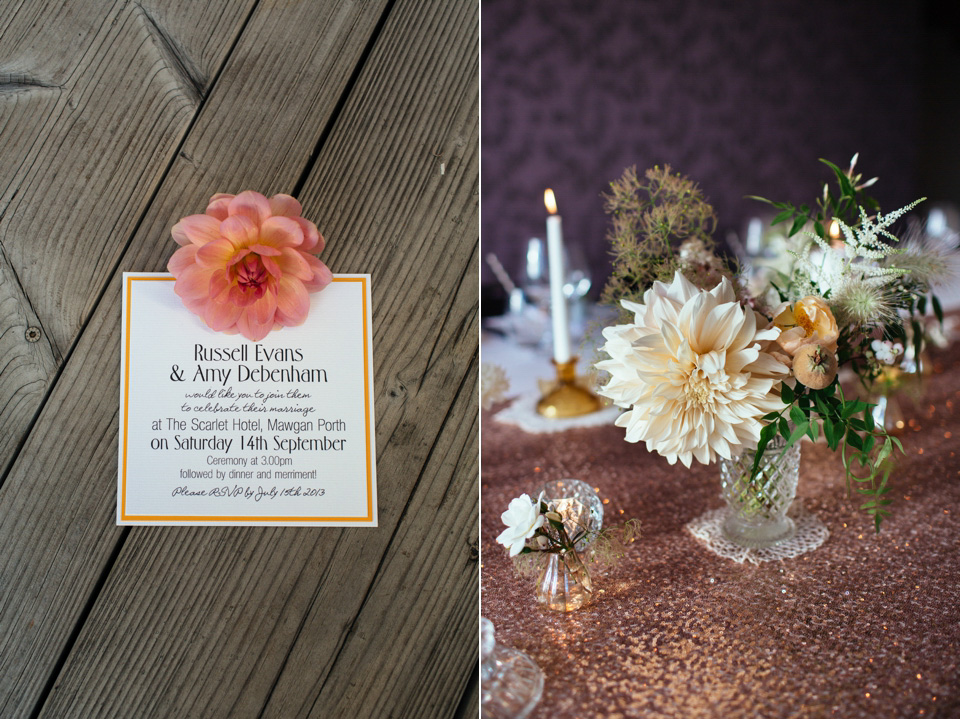 The venue makes really good use of space, light and texture in its design and furnishings, the ideal backdrop for Amy and Russell's enviable style. 
"We bought sequin table clothes from H&M home. These were actually runners so I had to buy four and sew them together to make a large table cloth. We also sourced cut glass vases, candle holders and bud vases from charity shops – Russell and I turned it into a competition of who could get the best bargain on them and spent many Saturdays rummaging through charity shops and then carrying heavy bags of them home."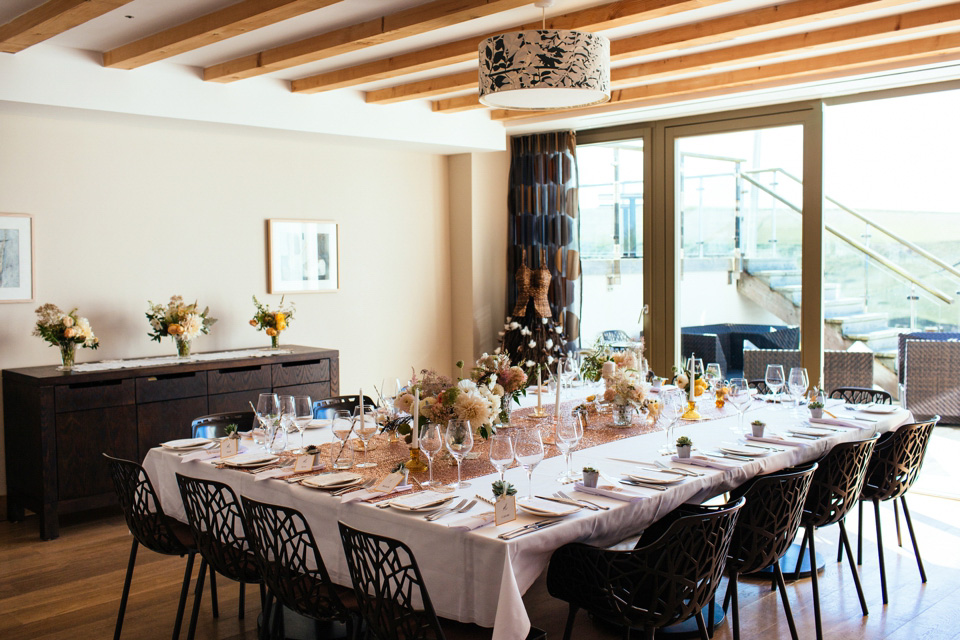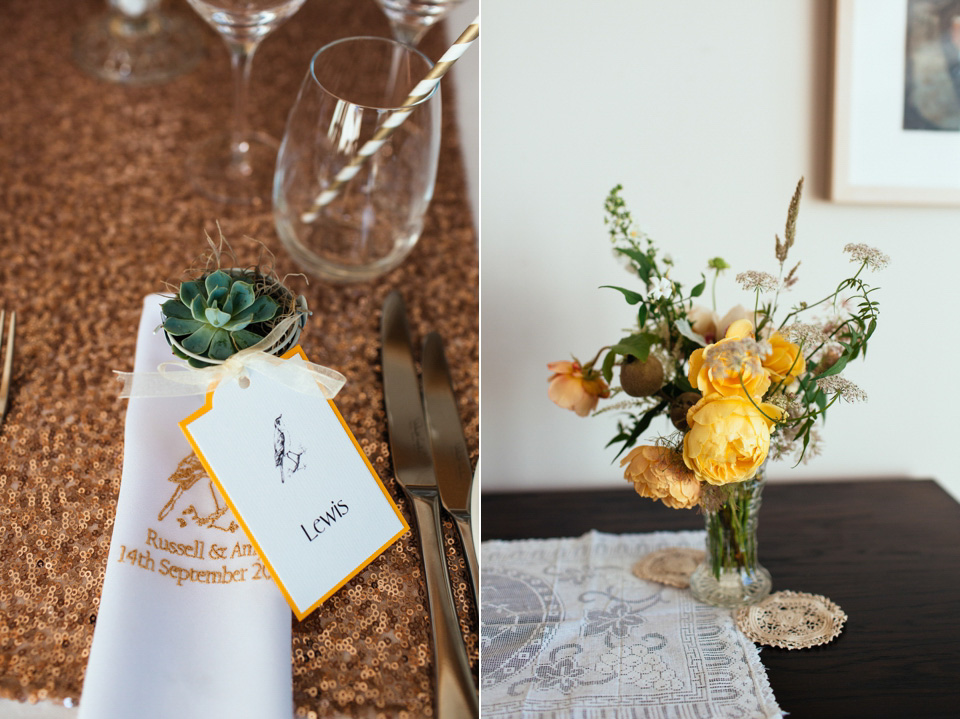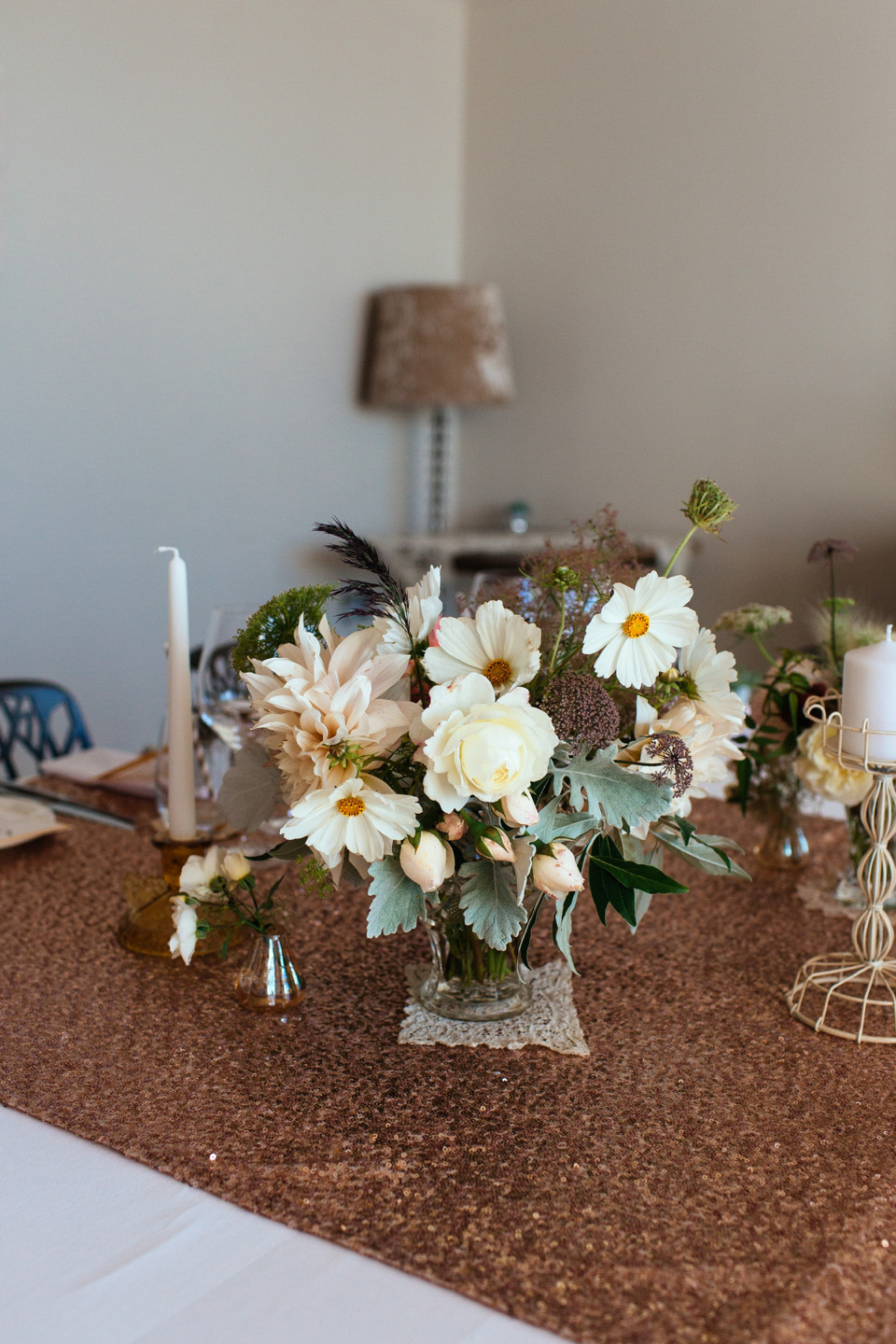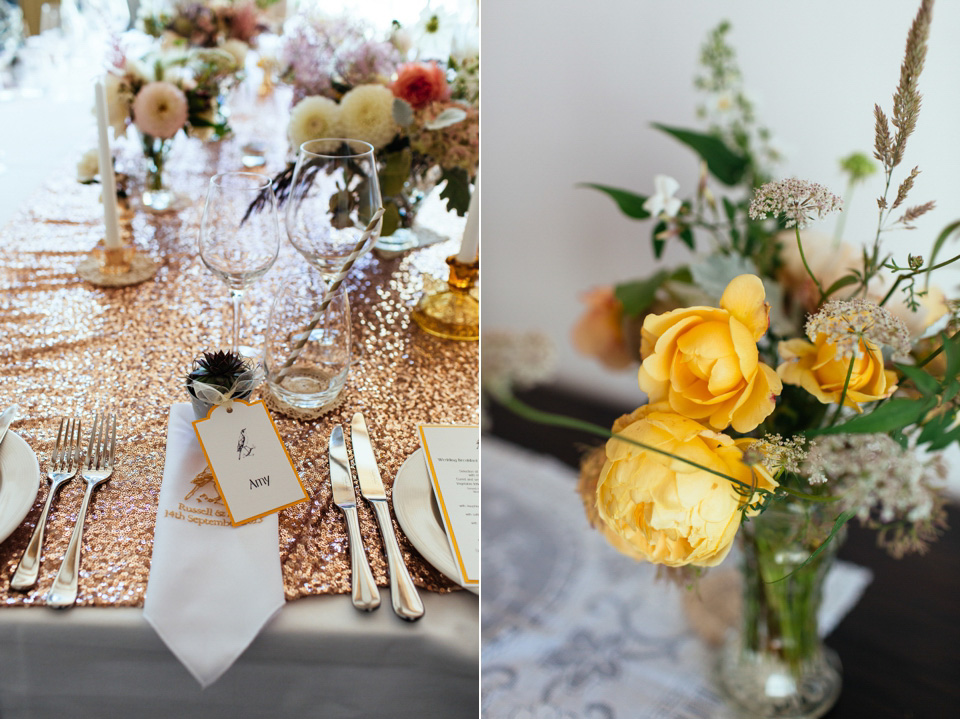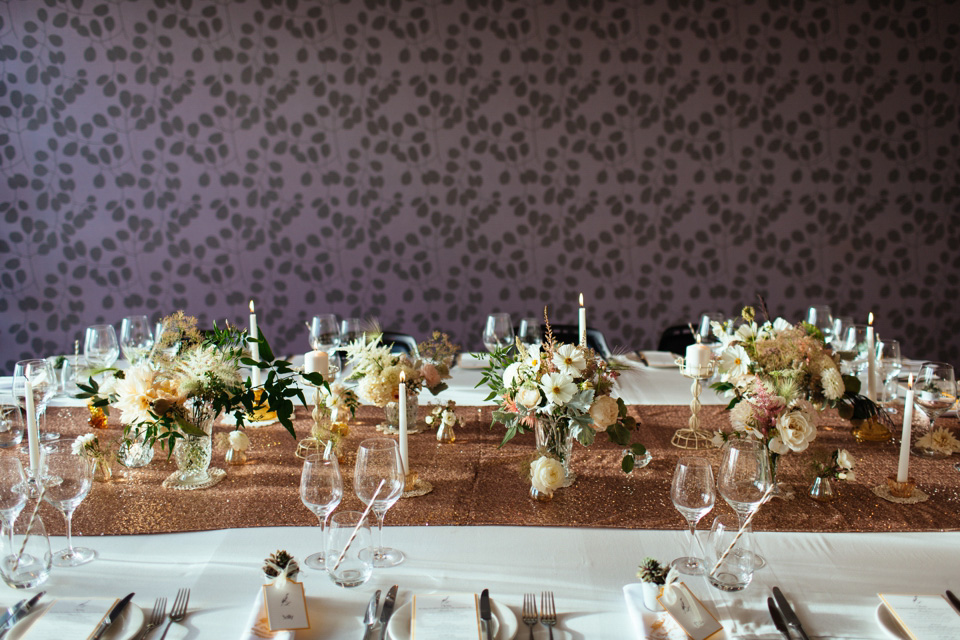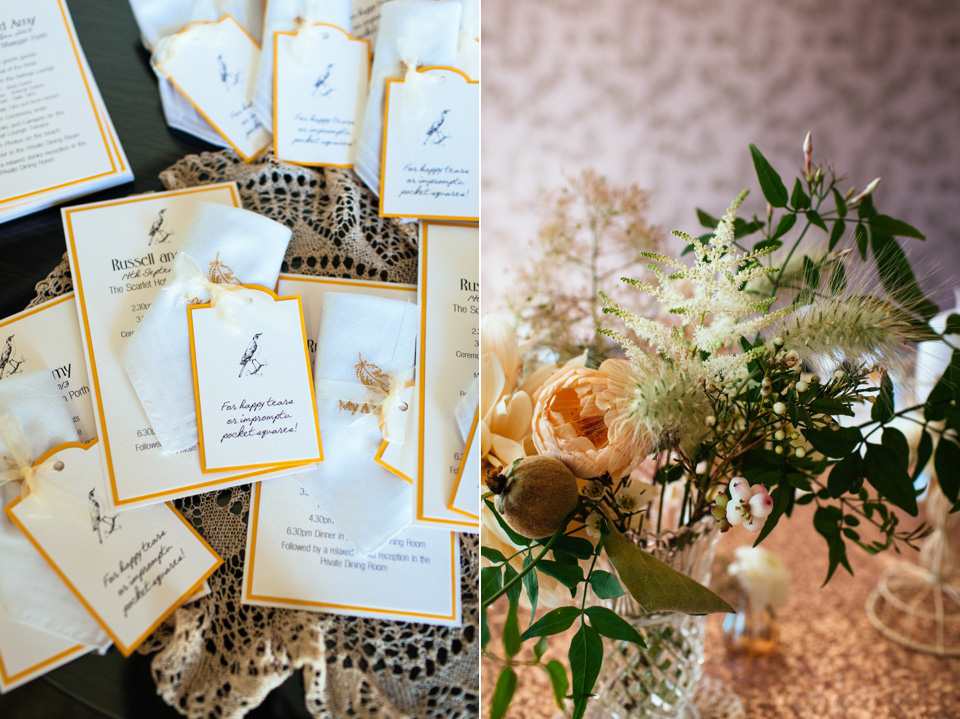 "We had a few things for guests to use on the day and then keep; personalized napkins on the tables and handkerchiefs (or pocket squares if people fancied) attached to the order of the day. These were made bespoke by Bluebells and Nightingales to complement the stationery, which was from the Sketch range by Knots and Kisses. We provided a basket of flip-flops for guests to use when we went down to the beach for champagne and pictures, as well as a basket of pashminas for the ladies to use in the evening on the terrace (these were hotly fought over!)"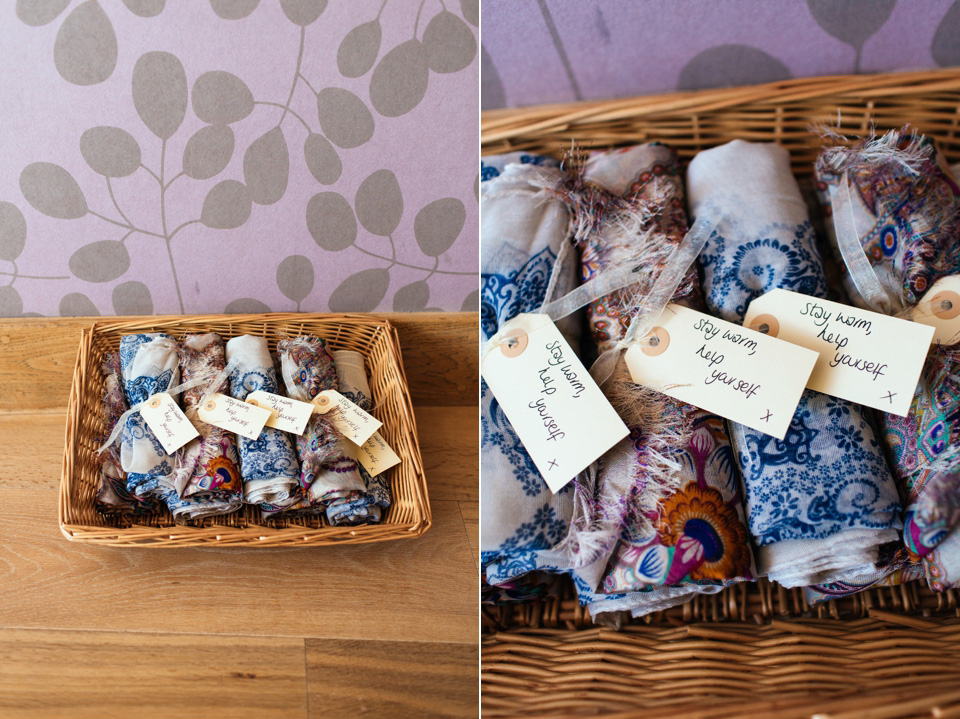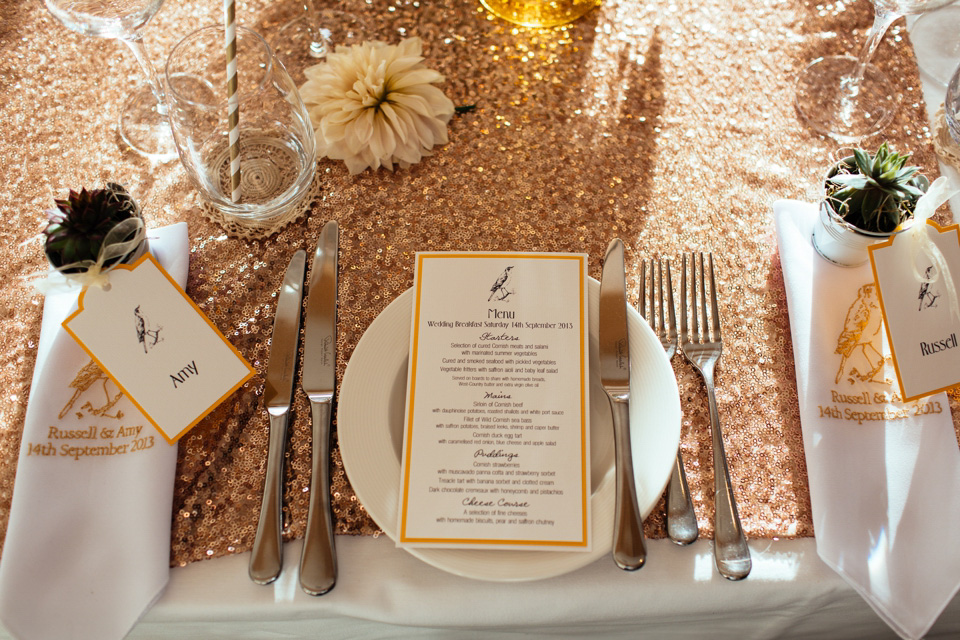 One of my favourite aspects of this wedding is the intimate guest list. I just think it's so special that everyone invited was able to sit around one table for dinner, creating a happy, homely feeling. "All food was from the wonderful kitchen at The Scarlet. After the ceremony we had champagne on the terrace with afternoon tea canapés including gorgeous mini scones, pistachio cake and a selection of delicate sandwiches. For the main meal in the evening the chef Tom created a bespoke menu for us; we had sharing platters of Cornish cured meats, Cornish seafood and vegetable tempura to start; for mains and desserts the guests could pick their own from a choice of three. The size of our party meant we could offer the guests real choice with the food. We also had a cheese course as I'm a cheese obsessive – Tom even selected a special selection of cheeses for my friend Agnes, who was six months pregnant, so she didn't miss out."
"We had our evening meal in the gorgeous private dining room and stayed there having drinks and chatting away well into the night, accompanied by a playlist carefully selected by the groom."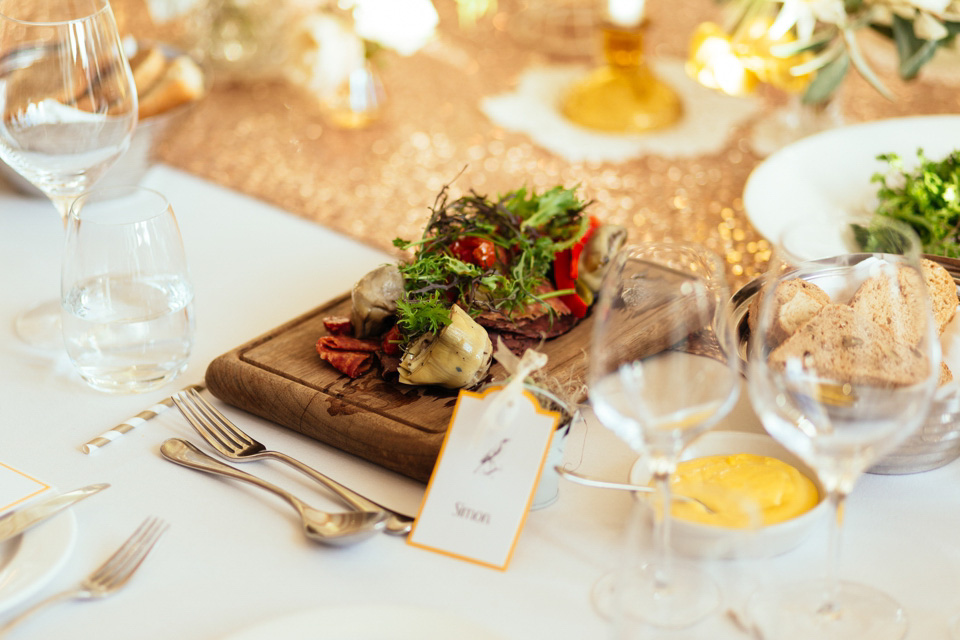 Amy and Russell's favourite part of the day was watching their guests enjoy the beautiful surroundings. "When we came back up from the beach after our pictures we snuck onto the terrace and spied on the guests. They were all lounging on the terrace chatting away with champagne in their hand in the blazing sun, all the men had ties and blazers off and no-one had put their 'posh' shoes back on – they were all still rocking the flip flops we had provided. It was perfect as it was exactly what we wanted,everyone just relaxing and being spoiled. The dream!!"
"I wouldn't have changed a thing! Everyone kept saying that they would find it hard to keep the numbers so small but we loved that we shared such an intimate day with just our absolute favourite people and that we could completely spoil them all day. Also Cornwall is our favourite place on earth so it was so nice to share it with our friends – especially those that had never been there. We rented a house down the road from the Scarlet and our friends stayed with us for the week after the wedding and we shared lots of pub lunches and Cornish adventures – great forever memories made!"
Amy and Russell threw a big party a fortnight before they left for Cornwall for all the people who they couldn't quite fit into their wedding venue. "It was a noisy party with all our friends and family (about 150 people) in London, with a mariachi band, DJ and lots of cupcakes (no professional photographer). The wedding vows and ceremony just felt too intimate to share with too many people but we wanted a big party too (very greedy). It was nice to have the two separate-and very different days – one intimate and luxurious and one a bit more wild! I broke the zip on my dress dancing so much to the band! It's the band from the Doritos adverts and they were incredible.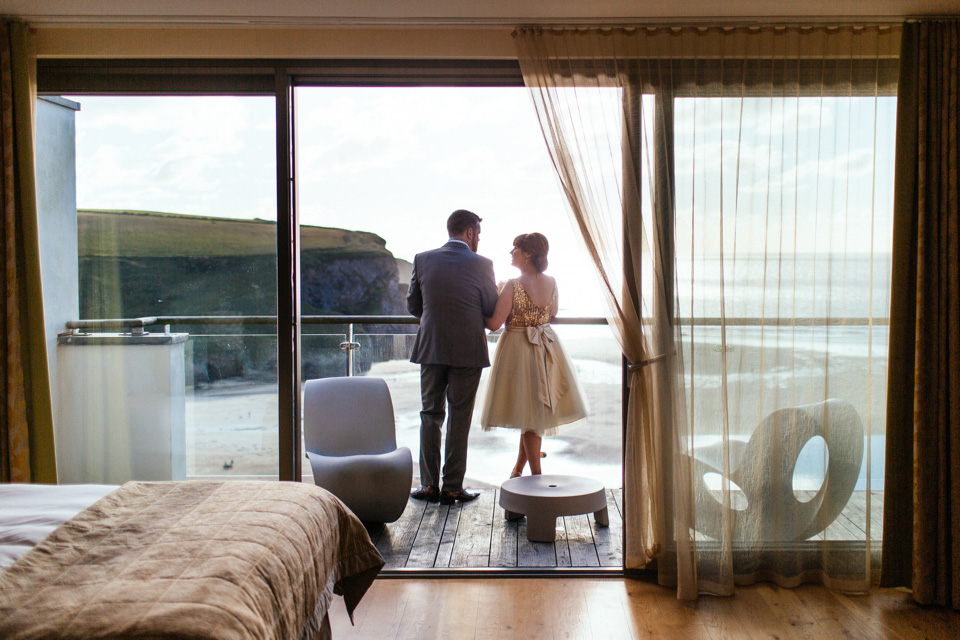 Words of Wedded Wisdom-
"Do exactly what you want to do and don't let anyone make you feel bad for it! Never apologise for your choices. We had a few people who just didn't get why we would have such a small wedding guest list or why we did it in Cornwall (when we live in London) but we stuck by our choices and our day was everything we wanted, no compromises. Your day should be all your favourite things and all your favourite people – if other people have strong opinions remember its not their day!"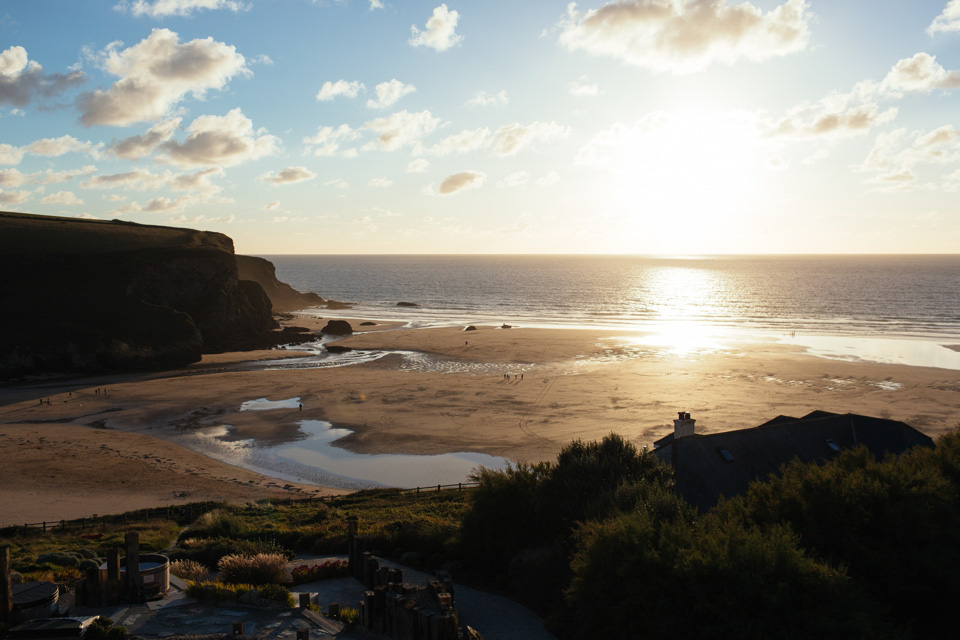 Goodness me, I am so in love with this wedding! The setting, the dress, the flowers… everything! Thank you to Amy and Russell for letting us take a glimpse into their obviously very special day, and to Sarah Falugo for the jaw-droppingly gorgeous photography. That venue is an absolute stunner too, for any brides hoping to get married in Cornwall, The Scarlet is one to remember.
Love Susie x
Photographer – Sarah Falugo
Venue and Catering – The Scarlet Hotel, Mawgan Porth, Cornwall
Bride's dress – Fur Coat No Knickers
Bride's shoes – Christian Louboutin 
Brides accessories – Swarovski and Biba
Hair – Rochelle
Makeup – Eve Ashby
Bridesmaids dresses – Phase Eight
Groom's blazer – Moss Bros
Groom's cravat and pocket square – Swagger and Swoon
Groom's shoes – Jeffery West
Florist – The Blue Carrot
Rings – Doron Merav
Stylist – Nat at Golly Good Wedding
Stationery – Knots and Kisses
Napkins – Bluebells & Nightingales
Follow Love My Dress® on Google+