Last week I blogged a personal post, in which I  shared my thoughts on body weight and how I'd turned my back on the bathroom scales. The reader response to my post reminded me just how much the experience of shopping for a wedding dress is so intrinsically linked to body image and self-confidence.   My colleague Emma Meek, Managing Director of Miss Bush Bridal in Surrey  – who has been spent the past 20 years assisting thousands of brides in finding their perfect wedding dress – felt compelled to respond to my post.  I was so moved by her reply that I asked her to share her thoughts with you all today.
This is must-read. The fact that Emma is such a deeply honest, erudite and considered writer aside, I love the way she has used this opportunity to address both trade and consumer in such a heartfelt way.  This is a no bullshit kind of post, written from the heart – a love letter from Emma, if you will, to all brides who have weight and body confidence issues on their mind.  It is also a manifesto for our wedding industry to have more respect for brides who don't fit the 'standard' dress size, because we believe style has no size.  Brides, boutiques and bystanders, please take note. Over to you Em…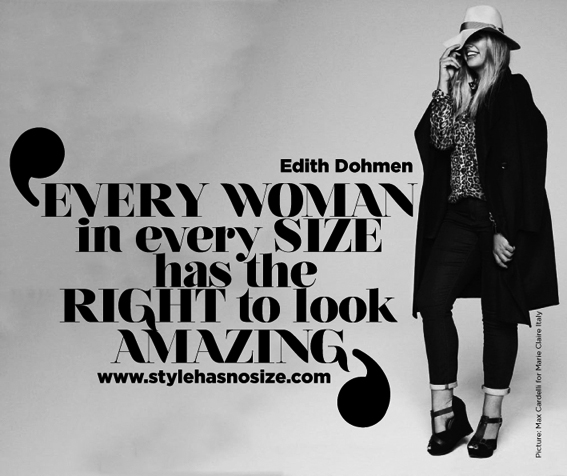 Image source: stylehasnosize.com
My Body
For two decades I have helped women to find 'the dress' that is to be the very definition of their femininity; I have become something of an armchair expert in the relationship between women and their body.
For you to understand the wedding industry, specifically bridal wear, it is critical to look at the changing relationship between designers, boutiques and the bride.  For you to understand my experience of my body, my self esteem and how I relate to brides and bridal wear it is necessary to give you some back history.
When I got married at the tender age of 26 I weighed in at 8 stone 10. I dieted for my wedding, went to a couple of exercise classes and stood on the scales every day. Weight dropped off me because I was in my twenties and I considered leaf tobacco to be one of my five a day.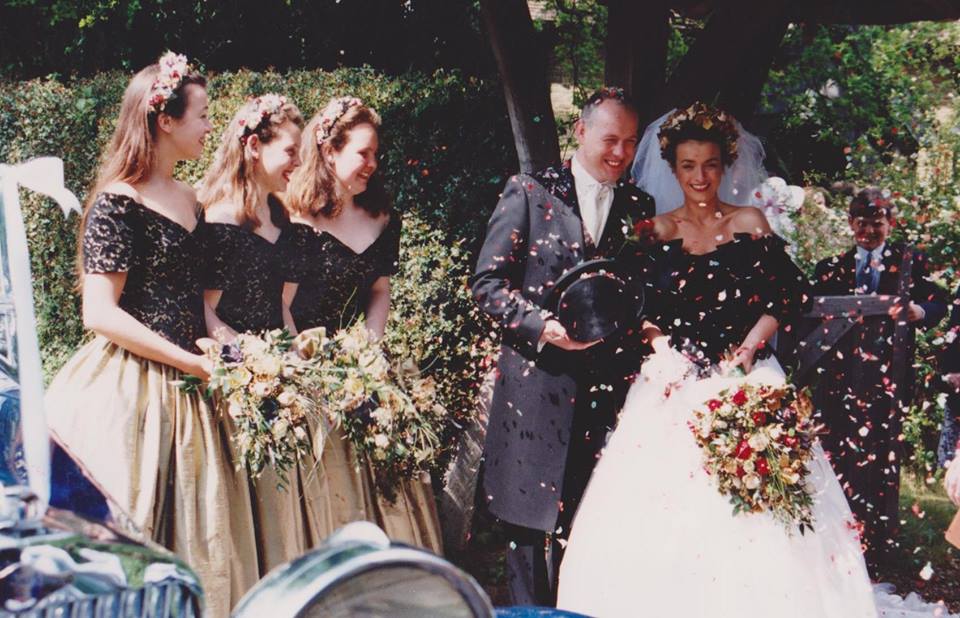 Emma on her wedding day in 1992
My Mum, already in command at Miss Bush, said I looked too thin. I entirely disagree; I looked a babe both in my wedding dress and my honeymoon bikini. I went sailing to Greece for my honeymoon, pigged out on Souvlaki, Feta and Metaxa, and swiftly gained half a stone. Three months later I was pregnant and I watched my body disfigure before my eyes. As the first of my peers to have a baby, and the least interesting NCT group on the planet as friends, I went alone through the transmogrification. Like a latter day Mary Shelley, I had the kind of gothic, blood-soaked birth experience that ruined parts of anatomy that I couldn't have previously named. The wonderful Registrar sewed my episiotomy back incorrectly with the amusing excuse, "well it was a bit messy down there."  One hopes that Field Hospital or A&E surgeons don't struggle to identify basic body parts that they just cut in to. My generous DD bust swelled to an H cup, I discovered that nipples didn't have one hole in them but a rose head like a watering can. I discovered automatic let down, wetting myself on a trampoline and waited 6 months to have sex until the comedy figure of eight vaginal opening was refashioned. I felt I went from perfect to paté within a year.
Another year and another baby was followed immediately by the black puppy of baby blues that grew to be a snarling, fanged-beast of a black dog that saw me plummet to a bone thin state, not for any specific eating disorder reasons but because I lived in a perpetual state of near fatal anxiety and was often too nauseous to swallow. My über thinness was accompanied by eyes as lively as a shark and agoraphobia so acute that the 200 yard walk to the school gates became too daunting to achieve. Of course I styled it out – friends now tell me that that they thought I was aloof; the cool clothes and massive sunglasses that hid my terror made me look frosty and unapproachable.
Wellness followed, another baby followed. My Mum and my husband looked on nervously to see if I would 'go mad' again. I didn't. I stopped smoking, became enormous and very, very happy. My huge chubby, placid baby was born in a textbook manner requiring no intervention; a couple of pushes and I could walk out of the delivery suite. I had friends, I had a support group, I had good health and about 3 or 4 extra stone. I was ready to take my place back in the world as the Emma that you may meet at Miss Bush. The outgoing, confident person was back commissioning couture pieces to wear in starring roles at the village panto. I was enjoying life.
Image source: stylehasnosize.com
I decided it was time to hit the gym, get back in shape. I worked pretty hard and concocted a vaguely alcoholic Atkins diet and dropped back to under 10 stone.  As the weight dissolved so did my marriage. My husband could not conceive that I wanted to look and feel good for myself and there was constant accusations that I was having an affair. As a renowned Lothario friend quipped – 'well if you weren't before you can now babe'.  The rogue was right. Mix up confidence and happiness with a figure you are comfortable with, a spot of sexual nouse and your mid 30s sassiness and, boy, do you get noticed. When it came to pass that it was in fact my husband having an affair (serial philanders and ex mistresses had assured me that was what was happening all along) I embarked on something of a sleazy, slutty and utterly fabulous reawakening that culminated in meeting The Lovely Marshy – my partner to this day. Having already turned 40 when we met, I foxed around in private in the kind of boudoir garb that would enrage me were it to appear on a wedding blog.
A final and successful attempt to quit my Marlboro Light habit added 2 stone. A chance meeting with a personal trainer at Miss Bush got me whipped into the best shape of my life. Hard training, running, boxing and weights and the wine and vegetable diet paid dividends. My third Grim (an ice riddled, mud splattered hill race) was days away when my ex husband just upped and died. From that point to this very day a dark path of bereavement, financial insecurity  (get life cover, get your income insured and make a Will people), and life changing stress has lead to self medication with alcohol, prescribed medication for anxiety and, of course, middle age has lead to weight gain. Believe me, not even serious stress touches your metabolism in your late 40s like it does in your 20s.
I am, currently, not brilliantly enamoured with my figure, the boobs have reached matronly on the size chart, I am a Hobbs 18 which is generous. I very much love my boyfriend, my kids have settled, but not recovered, from their various grief reactions, we are a blended family. At some point I will probably get married again, at some point I will be the one walking into my own bridal appointment or fitting bringing this history with me.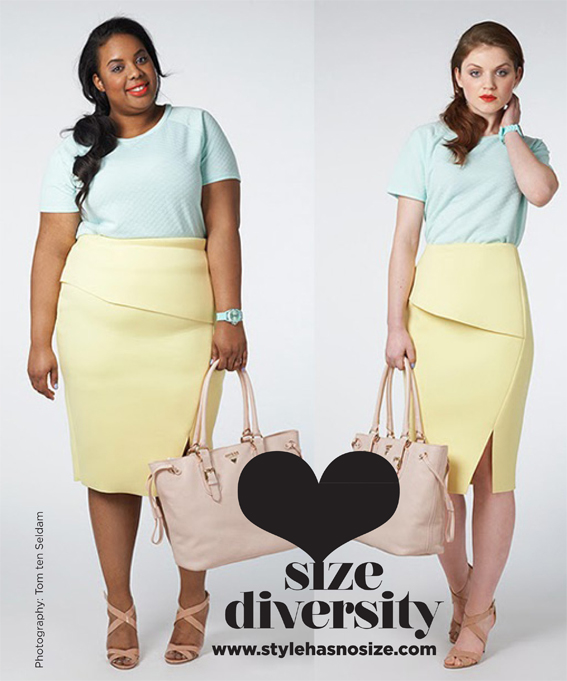 Image source: stylehasnosize.com
My Work
When Miss Bush Bridal Wear started 26 years ago the 20 something bride was the only demographic that the bridal industry was concerned with. The shop opened only 7 years after the marriage of Charles and Diana when society thought it was still perfectly reasonable to marry a 19 year old virgin to the future Head of State. My own Step Mother married my Dad in a very apologetic suit befitting an aged Mother of the Bride when she was a girl of 40. Older brides and second marriages didn't register; didn't matter. Berkertex, for that was where the suit came from, clearly had enough commercial acumen to cater to this bride but not enough respect to design anything worth wearing.
Back in 1988, at the inception of Miss Bush, brides were young, straight and, whilst not virginal, they didn't usually have kids. If they did they didn't then do the 'proper' wedding. Having now worked in the industry for 21 years I always imagined at some point I would be older than all my clients. This year I have helped brides from their early 20s to their late 50s without an apology in sight for their age, sexual orientation or number of children. There has been a very elegant revolution, a mighty social shift in the way we marry and yet Annabel's post about weight and weddings saw dozens of women answer on Facebook and on the blog in deeply personal ways about their relationship with weight, self esteem, body confidence and the resulting experience of wedding dress shopping and wedding dresses.
I read the post, read the feedback and, like an actor reading a review, focused on the parts that talked about me. Not me specifically, not even my ego is that well developed, but the 'wedding shop' and 'wedding shop bitch' experience.
Image source: stylehasnosize.com
The one thing that comes across loud and clear is that the experience of wedding dress shopping is a highly charged and emotionally loaded transaction. Brides need some pre visit preparation and shop staff need to possess the skill set of Gok Wan, a trained psychotherapist, celebrity stylist, life coach and wedding planner. Whilst I have no accreditations or paper qualifications I have been mad, fat and fabulous so that counts right?
What I hope from my over share is that I know, acutely, how our bodies changes with time, with health, with childbirth. Unless it is within our earnings capacity to turn back time, live in the gym and put ourselves at the centre of our own universes it is hard to tick off another decade without reflecting on ageing and weight gain.
The bride of 2014 has so much choice beyond the 1980s virginal dress and a divorcee's bad suit. Yet how do all these articulate women writing to Annabel feel that the wedding industry is not catering for them? Not understanding or empathising with them? As Annabel's piece focused on weight, I will focus on weight.
Image source: stylehasnosize.com
 I want brides to know that there isn't an industry wide conspiracy to make you feel bad if you are plus size, any more than if you are older, been married before, disabled or LGBT. However from an outsider's point of view I can see how this seems to be the case. I have yet to see one 'plus size' gown that was worthy of me spending money on. I was recently asked to be a judge for a prestigious industry awards and I was depressed and revolted by the cynical, generic cheap dresses that were designed to be 'plus size'.
I am plus size and here is my comment on the category I had to judge;  'Plus Size Collections – there is not enough gin in the world! Again I have voted for the only company that have not marketed 5 year old polyester monsters to a customer they see as fat, poor and unfashionable. As a fat woman I am outraged. All companies should make plus size dresses – I move that you include any manufacturer or designer that offers sizes above 18. Just ghastly.'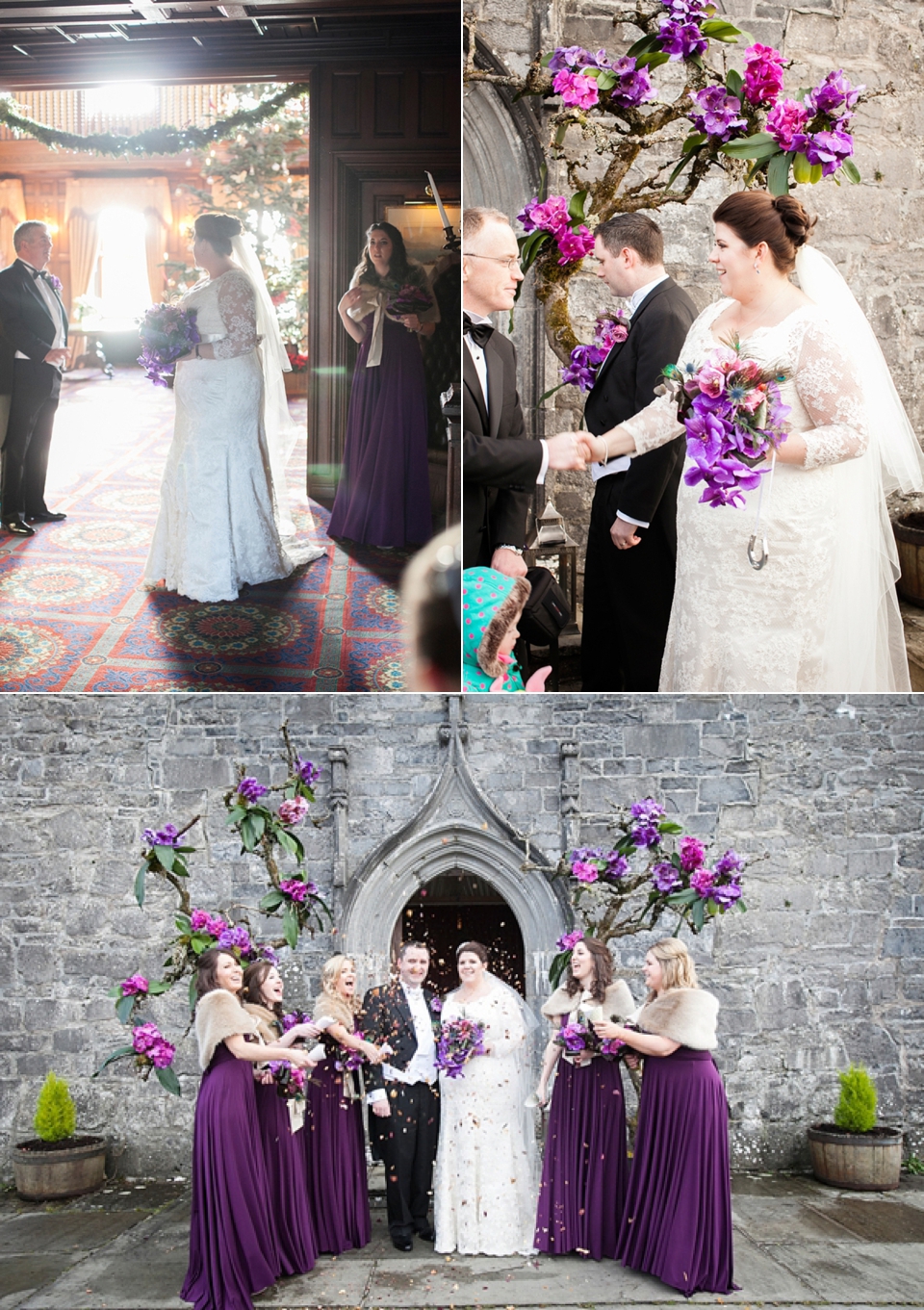 Jane, who wore a super beautiful size 24 couture gown by  Suzanne Neville via Miss Bush Bridal Wear 
See the full, knock-out glamorous wedding here on Love my Dress.
Photography by Paul Kelly
For Those About To Shop For A Wedding Dress
10 Top Tips For The Weight Worried
Virtually no one has a flat stomach. The only people I see that have flat stomachs are women that run Ultra Marathons and they are few and far between. Everyone has a hang up about the letterbox part of their body from their navel out to their hip bones down to the top of their bikini line. I am not expecting to see a flat stomach. Don't apologise for not owning one.
Don't wait to lose weight before talking to boutiques or designers. There are so many different options open to you – if you wait for a phantom target weight, you may have denied yourself some ranges of dresses that are time sensitive to order.
If you have severe body confidence issues talk to us. Make an appointment to come in and discuss what you want first before taking your clothes off. If you get on, gel or click with someone then you can establish faith and trust before moving to taking your clothes off and trying on dresses
Acknowledge and tell us what your hang ups are. One person's body art is another's tramp stamps; I envy a flat chest while others crave more boob! If you love your generous curves let us know. More often than not we are given a list of despised body parts as part of a bride's opening remarks  so sometimes if an assistant assumes you might want a generous thigh concealed by an A Line skirt rather than highlighted by a Fishtail it is because she has heard this preference a million times.
Don't always expect 'the moment'. I did a bridesmaids appointment recently where a woman was getting increasingly frustrated that she couldn't she what dresses looked like properly fitting. The woman was petite and a plus size, immensely difficult to cater to off the peg. I asked 'what shape dress do you normally wear?' The answer? 'I don't, nothing ever fits'. If there isn't a dress made for regular shops that stock a range of sizes it is no more likely that I can offer this. However, unlike regular shops bridal shops offer solutions through  brilliant fitting and bespoke options.
Expect 'the moment'. This is not always a Hollywood style Pretty Woman moment. As a sensible grown up you will have to acknowledge there is sometimes delayed gratification if you do not fit the samples. Don't just buy whatever fits in the store, make sure at a fundamental level you love the shop, the designer label and your stylist
If you have the budget go bespoke, made to measure or couture. A brilliant pattern cutter will be able to cut 'you' a pattern not adapt an existing one or alter a standard size. If I were to be heading aisle-wards I would rather feed my guests cheese and pineapple on sticks rather than have a frumpy frock. Remember I am terribly shallow though…
Underwear, underwear, underwear. Get your bust measured in a proper lingerie shop or department store and wear said correct bra with two proper straps to an appointment or fitting. Have absolutely no faith in strapless bras. Also, people, the increasing trend for feature backless dresses, keyholes or plunge especially in very soft fabrics means there will be NO bust support. If you're not happy bra-less move on! Don't build disappointment into your wish list and Pinterest board. However a boutique will usually surprise you with dresses you didn't think would work. How much more positive is that? Also if a dress requires Spanx to make it work it isn't you it's the wrong size or a badly cut dress.
Don't blame the shop. If you look ghastly in a dress in Topshop do you blame the changing room lighting? Acknowledge that you may be over their target demographic?  Do you blame Phillip Green?  Generally one doesn't go rushing to the Chief Exec complaining 'I felt bloody awful in my pants today and it is all your fault.' I have tearful moments in front of my own wardrobe where I vow to get skinny. Shop bashing upsets me. There are some dire wedding dress shops around but there isn't an industry wide conspiracy to be body fascists. There are no classes in haute snobbery or couture crassness. In bridal retail virtually every store is independent. From the artisan/designer owned boutique, to the city centre label shrine; the purveyors of meringues to the restrained county set shops all bridal retailer have their own philosophy, taste and style. If you walk in feeling fragile we don't smell blood. Similarly if you walk in with your defences up we have to spend a long time gaining your trust.
Look at what makes you lovely. You are not a series of body parts and measurements, this is not an autopsy. You are not defined by your size. Technically your designer and fitter has to know these things to perfect a dress, but a bride radiating gorgeousness comes from confidence,  wide smiles, and being loved.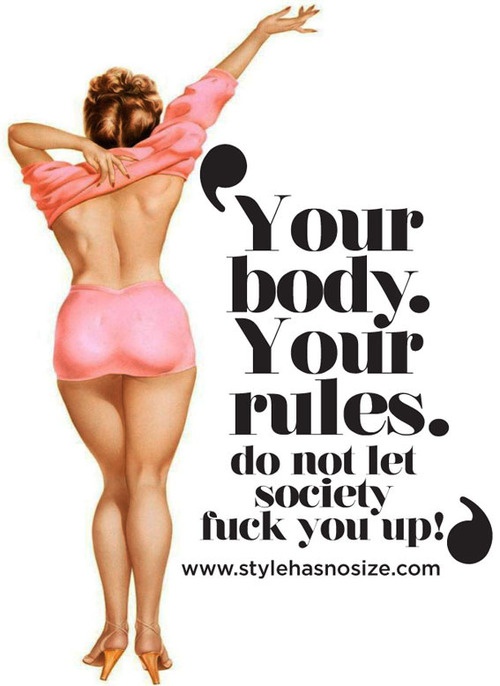 For The Industry
10 Suggestions For The Trade
Respect your plus size customer. I have heard from a particularly well known 'horse's mouth' (or should that be horse's arse) that the big bridal brands consider all plus size customers to be in a lower socio-economic class. Even if this ill-informed world view was the case why would they not view success stories like ASOS. ASOS has a budget Curve range that sits happily alongside the rest of their collections at the same price points and changes as frequently as the rest of the collection. They do not simply offer a pair of old leggings from 2009 as their only offering.
Designers, manufacturers and the media need to be aware that the increasing demand for a wider range of sizes from zero to plus has more to do with a changing society than it does with tabloid hysteria. Brides marrying after having kids and carrying a spot of baby weight are not the '4x4s' that the 'horse's mouth' referenced. These are educated, middle class consumers that the bridal designers ignore at their peril. Size zeros are likely to be small framed Asian women not victims of an eating disorder. Similarly plus sized brides may often just have a more mature figure like me, not a fast food addiction.
Look at your labelling. One of my much loved labels who I hold in high esteem have size 12 samples that are closer to an 8. They charge a hefty premium for plus sizes but it is not difficult to be one when the sample sizes are so outrageously small. Labelling across the brands varies wildly and it is impossible to judge one make's size charts against another. With brides and bridesmaids so sensitive you can often get a bride choosing on the label size rather than the love!
Manufacturers should consider dropping all plus size labels and look at re-cutting the patterns of their best selling dresses in the standard collections to fit and flatter a curvier figure. They should do it properly not simply increase the size.
All designers should follow Jenny Packham's lead and create some of their new season dresses in a plus size, engage plus size models for their catwalk shows and make the sample available for loans for designer days and trunk shows.
All designers and manufacturers should work with stockists and their in house fitting teams to understand the concerns of the bride, and create a two way dialogue about style and fit
The bridal media, both blogs and magazines should go behind the scenes in ateliers regularly and see how fabulous bespoke pieces are made to understand the cost implications of a perfectly fitting dress regardless of size.
Drop the plus size premium price. There is usually a 10 to 20% surcharge for plus sizes. I understand when you reach the higher reaches of plus sizing there is more fabric used but there is no discount for tiny sizes.
Boutique staff and owners: Engage in social media; start to tell your stories. Brides to be need to know that we are not a bunch of skinny ass judgemental bitches waiting to roll our eyes at the first sight of a muffin top. I see a lot of generic text on websites saying 'we are waiting to offer you excellent customer service for your special day'.  It says nothing about you except that you are the same as the next shop. We are all subject to the same body confidence issues as our customers, it is critical to engage like a normal human being. Woman to woman.
Boutiques owners: Invest in the best products your demographic allows. Train your staff – it is not enough for them to think weddings are lovely and dresses are pretty (I am referencing CVs I have actually been sent). Empathy and expertise are fundamental principles for all your staff.  There are no excuses for badly fitting dresses if you buy from decent labels.  Having a sound understanding of garment construction can professionally guide a bride to the right dress choices.  And finally, make sure you have seriously talented in-house fitters.
Both Annabel and I welcome your thoughts, questions, concerns and all and any kind of feedback.
Emma x
Follow Love My Dress® on Google+