When this wedding dropped into my inbox I couldn't contain my excitement. Scrolling through the images I was a teeny tiny bit envious of the amazing pub venue with long wooden tables, quirky décor (antlers!) and neon signage. This couple's aim was a fun and relaxed day spent with only their closest family and friends.
Melanie and Asa tied the knot after a six month engagement at The Bell in Ticehurst, East Sussex on the 12th of April this year and their photographer was Dale Weeks. Forgoing some traditions such as a first dance and being 'given away', they created their ideal day on their own terms complete with a very sweet first-look shot. I hope you love this wedding as much as I do!
"I didn't want to get hung up on trying to create something 'perfect' – we were going for a relaxed, informal and enjoyable day so small budget, no theme, no colour scheme. I figured that if we just went with things we liked it would all work fine."
Photography Copyright (c) 2014, Dale Weeks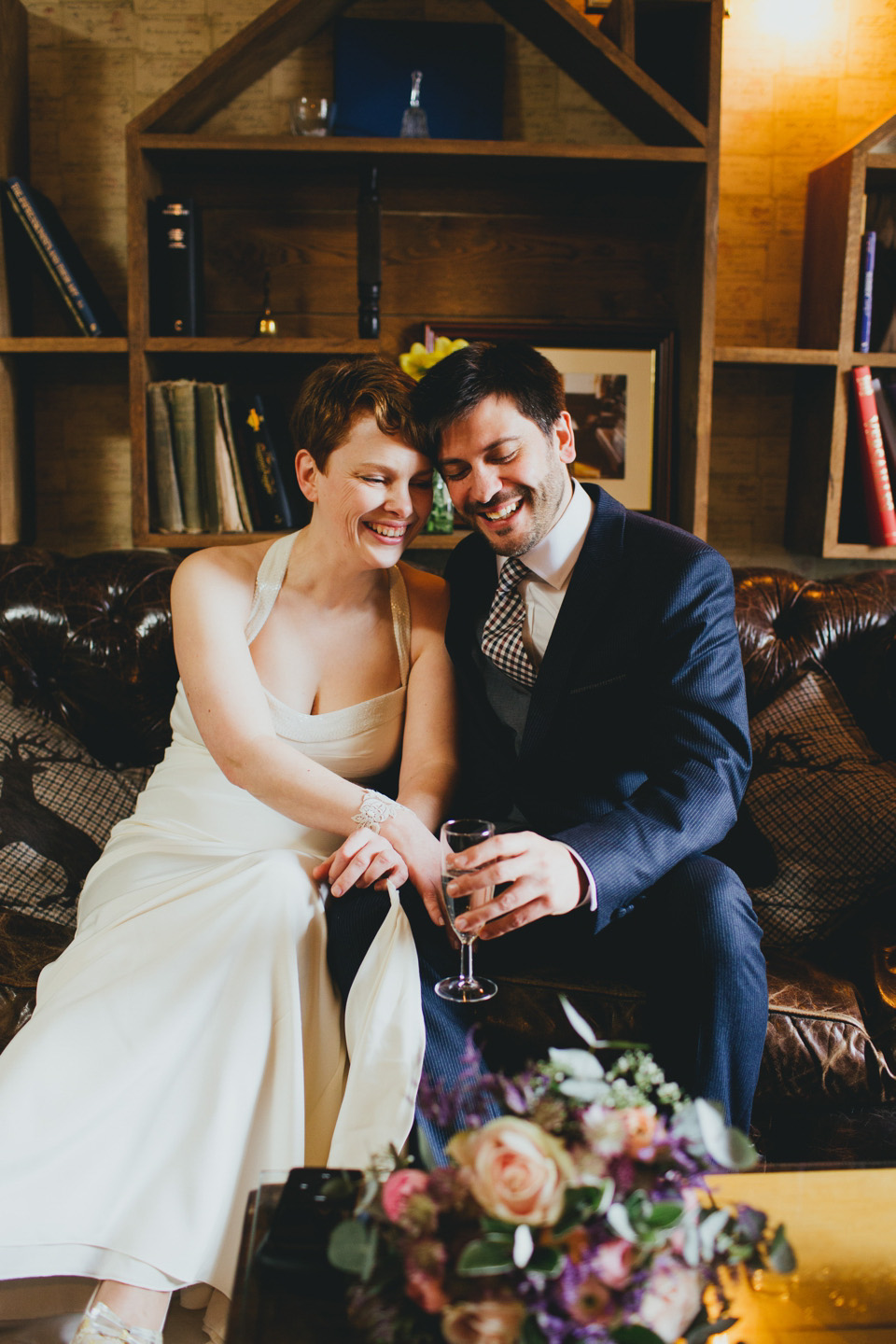 "We met at a friend's birthday party then shared a taxi. I drunkenly kissed Asa then hopped out and legged it home  – of course he got out too, paid the taxi only to find I'd disappeared leaving him a long walk home. Clearly impressed he got my number from the mutual friend the next day. 5 years later, Asa asked if I wanted to go ring shopping. It took me a while to realise he meant an engagement ring!
I was adamant that we have an intimate wedding, only inviting those we really wanted there, which meant a guest list of 38.  I work in Ticehurst so knew The Bell already. It's a lovely, quirkily decorated pub and licensed for ceremonies. 'Stable with a Table' is a terrific room at the pub, it was the perfect size. "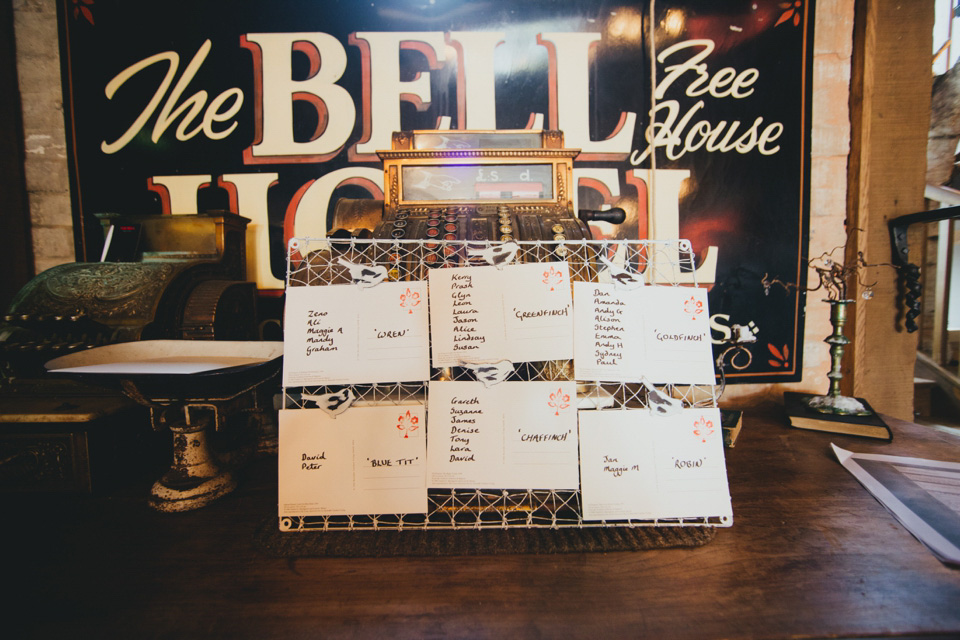 "I have always hated the idea of being 'given away' and even if my Dad were alive I wouldn't have done it. I walked in by myself, to the instrumental part of 'La Vie en Rose' by Louis Armstrong then Asa came towards me and we walked the rest together. The remainder of the song was played during the register signing, along with 'Most Beautiful Girl (in the Room)' by Flight of the Conchords.
We walked/danced out to 'Bring Me Sunshine' by Morecombe and Wise."
"Alison from Fleur-Essence, opposite the venue, did the beautiful flowers. I gave her a teeny budget and a few pointers as to what we liked but left it pretty much up to her.  The Bell didn't need much in the way of decor – the flowers just softened it and made it look more 'weddingy'. She did a really terrific job."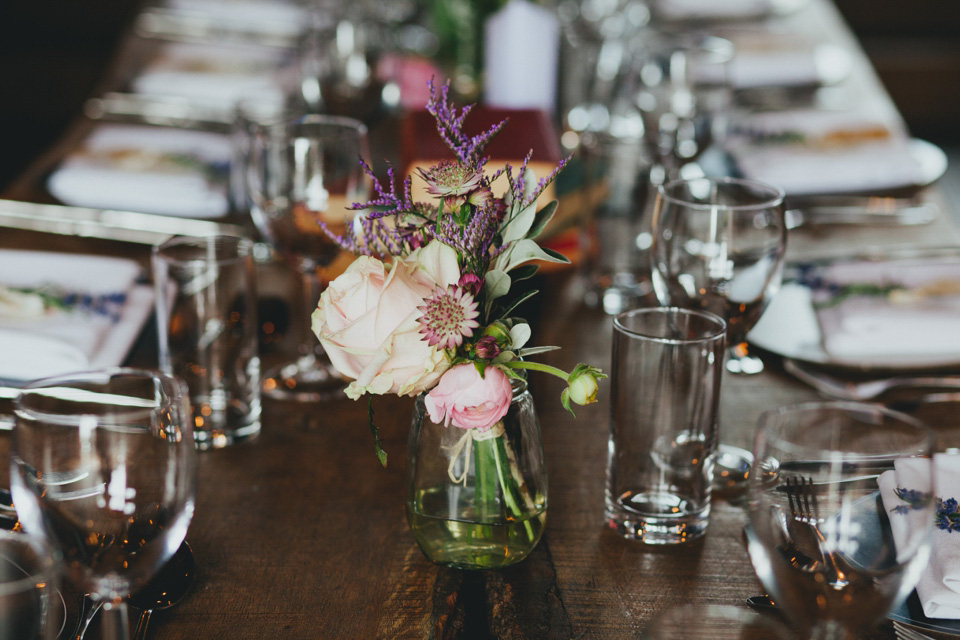 "Our photographer Dale Weeks was fantastic. I love his photos and he's a lovely guy, quiet and unobtrusive – lots of the guests commented on how great they thought he was."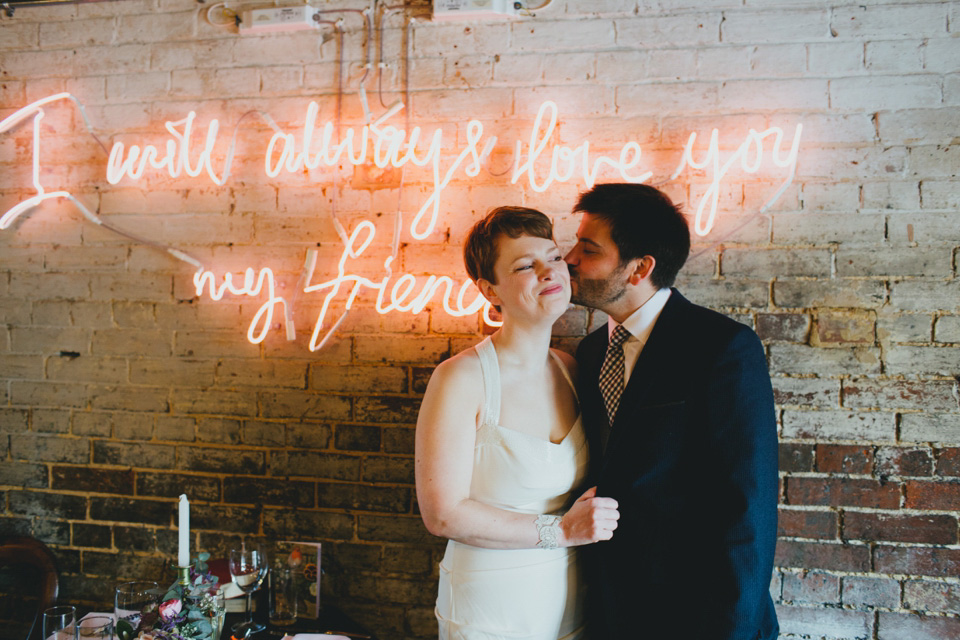 Melanie and Asa decided to have their couple shots privately at the venue prior to the wedding ceremony as they wanted to spend as much time as possible with their guests later on. I really love the look of excitement and anticipation in these wonderful images.
Asa's sleek Without Prejudice suit was teamed with Aldo shoes, a Ted Baker shirt and chequered Aquascutum tie.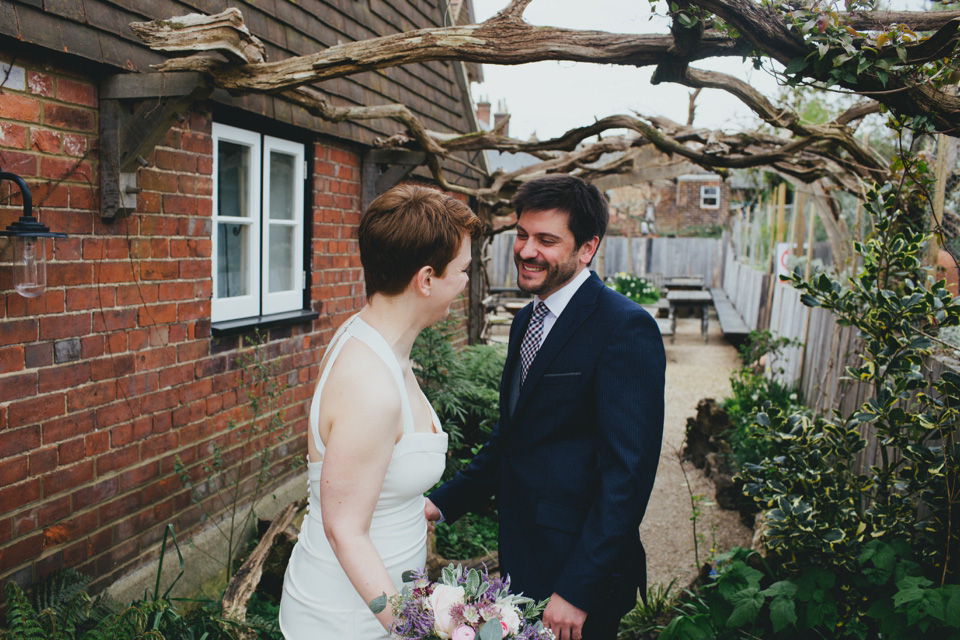 Melanie had grand ideas for her wedding dress but after a visit to the Frou Frou Bridal Boutique in Tunbridge Wells she ended up with a stunning halter dress from Nicole Miller. Her only accessories were a pretty lace bracelet from 'Culpably Cute' a stall in Covent Garden and gorgeous bronze Irregular Choice shoes.
"Asa said he imagined me in a long white elegant dress ''nothing wacky'' (damn it, I knew all my ideas were out the window). The beaded halter neck caught my eye and it felt great when I tried it on. It wasn't at all what I'd thought I'd get, much more traditional, but I loved its simple glam."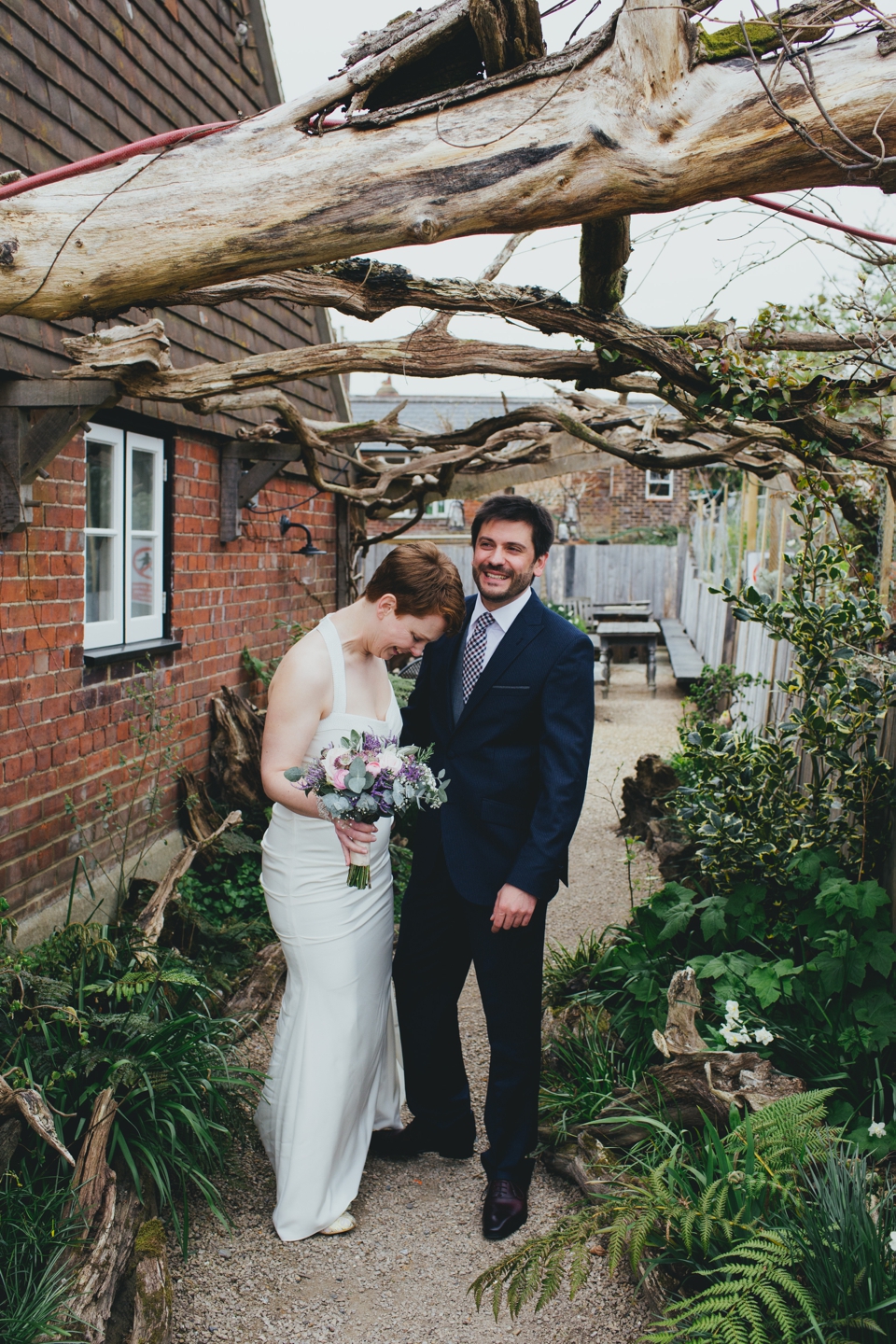 "My wedding ring is a thin diamond band from Finecraft in Hatton Garden. I wanted something that went with my engagement ring but that also looks pretty if worn alone. I spotted Asa's white gold ring in a jewellery shop window, it was clearly meant to be as it was his size!"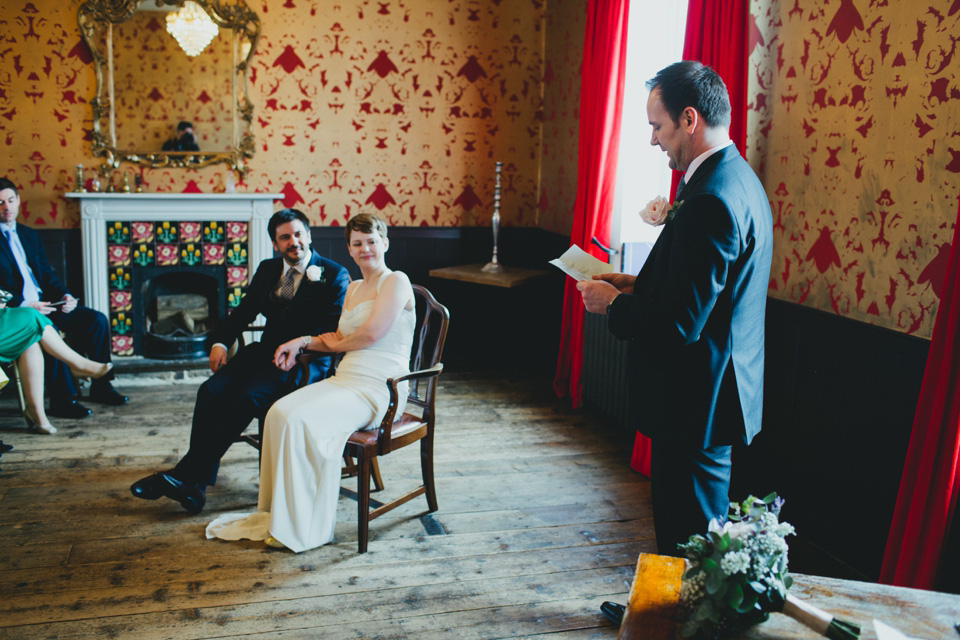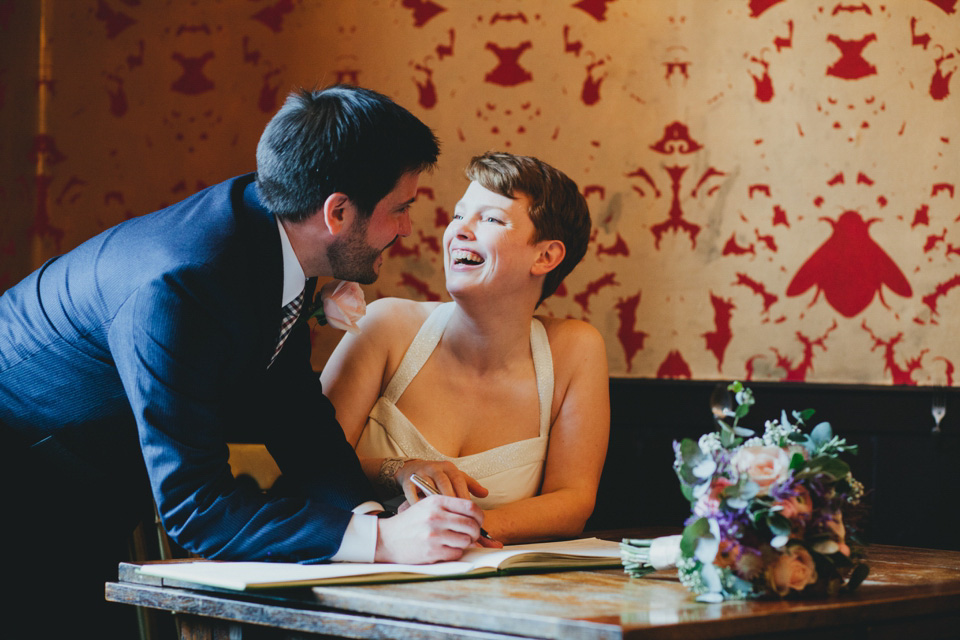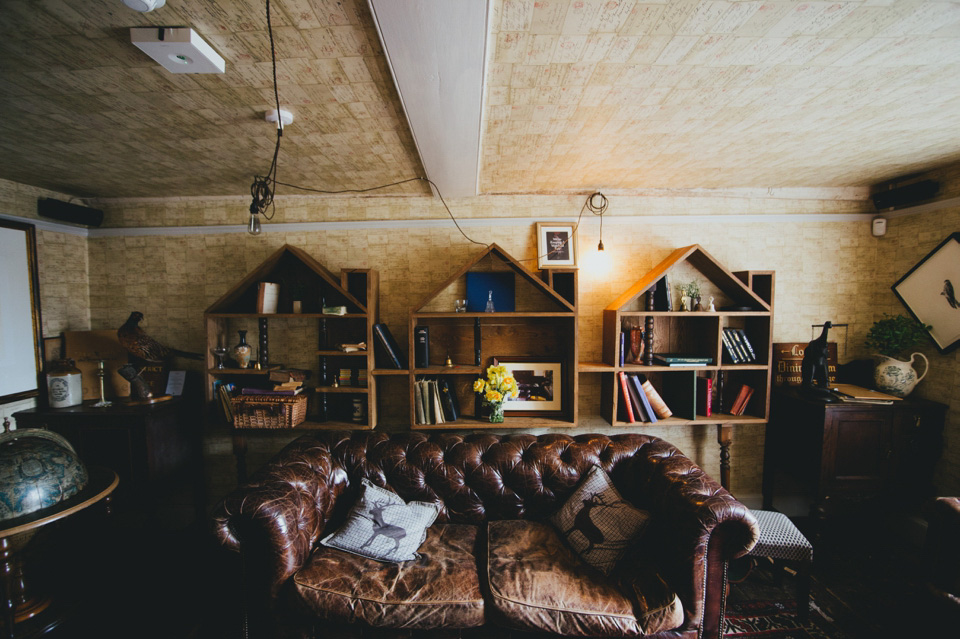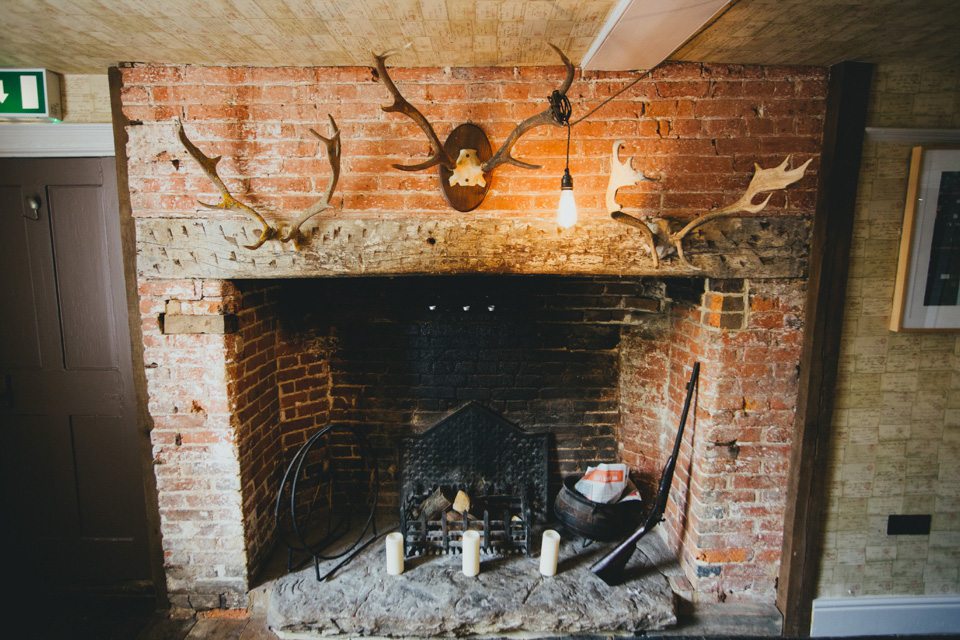 "I made the place settings with sprigs of rosemary and lavender from our garden tied with either lace or ribbon and a hand-stamped tag. We named the tables using pages from an old Ladybird book with pictures of British garden birds."
"As favours, we gave discs of seeded paper for planting flowers – white petal for the boys and pink for the girls."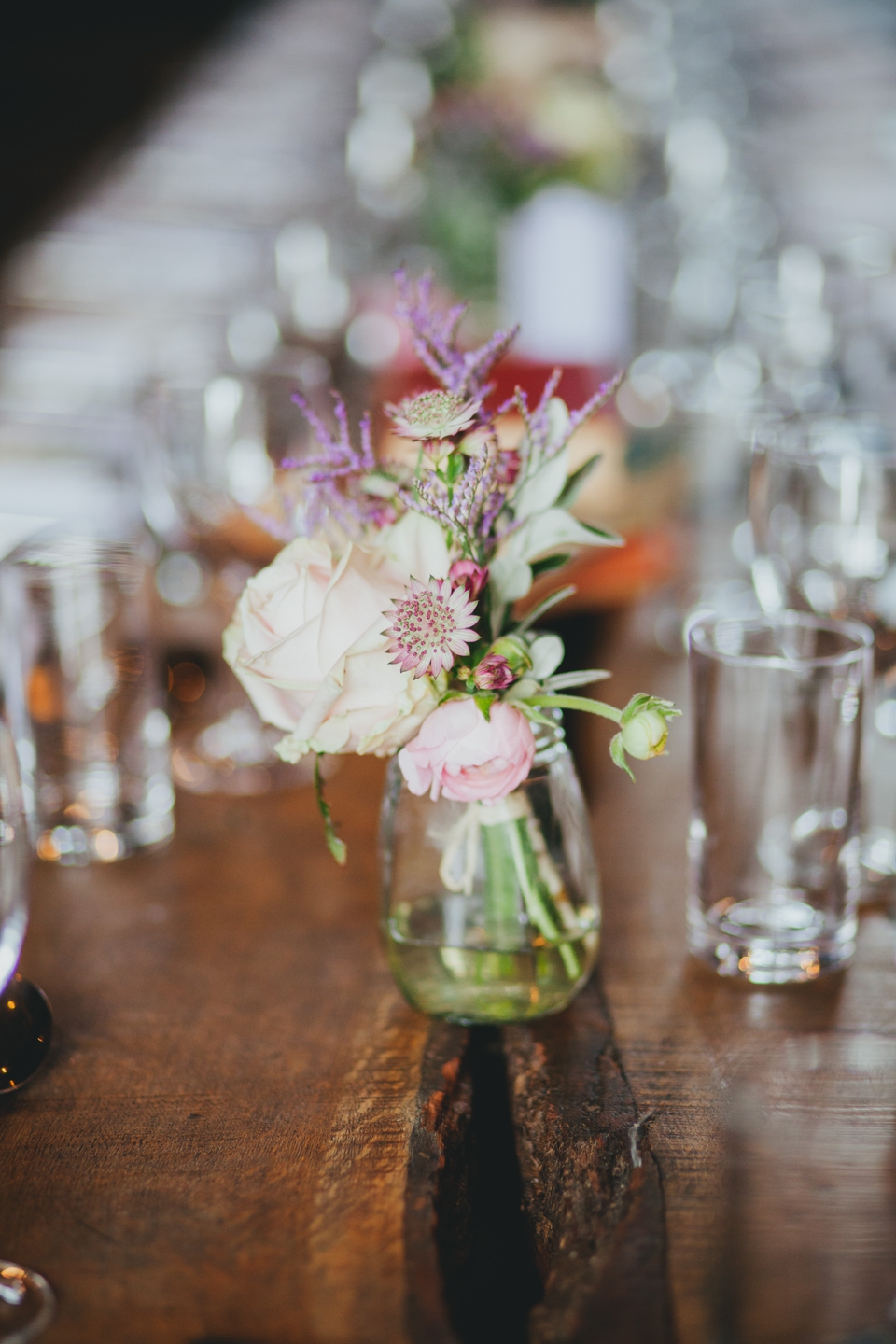 "I didn't want a cake or a 'cake cutting' (I find it weird) but wanted something to nibble on later on in the evening. I come from the West Country but if I'm honest I picked the company because they do cute little clay mice to sit on the cheese!"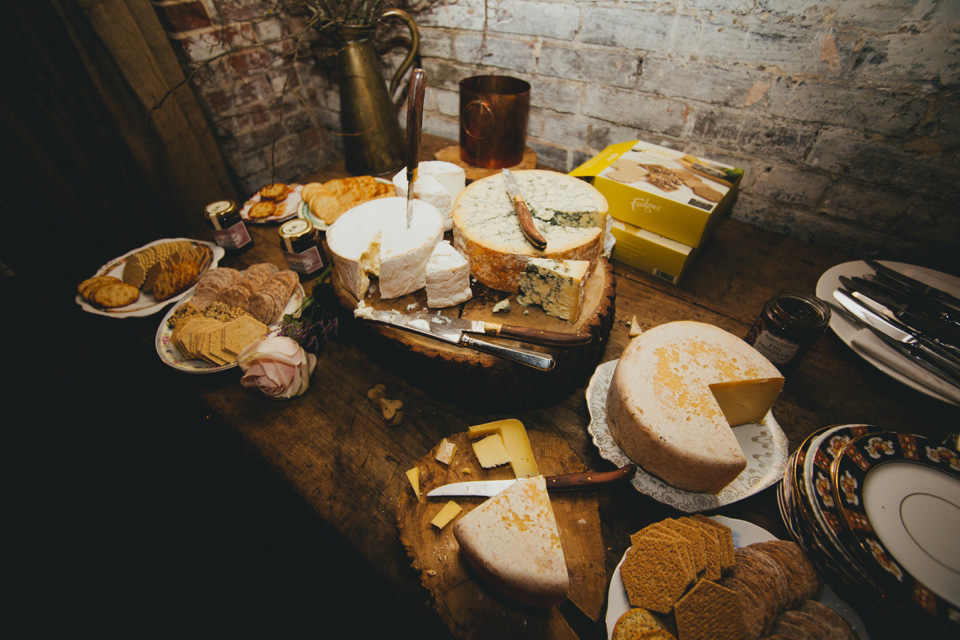 "We loved being with our lovely guests, they were all so happy and excited for us. We had a terrible morning, bad traffic meant we were both running really late and I didn't even have time to do my hair!! BUT, once we were at the venue together, we loved every single minute. I seemed to be laughing nonstop from beginning to end."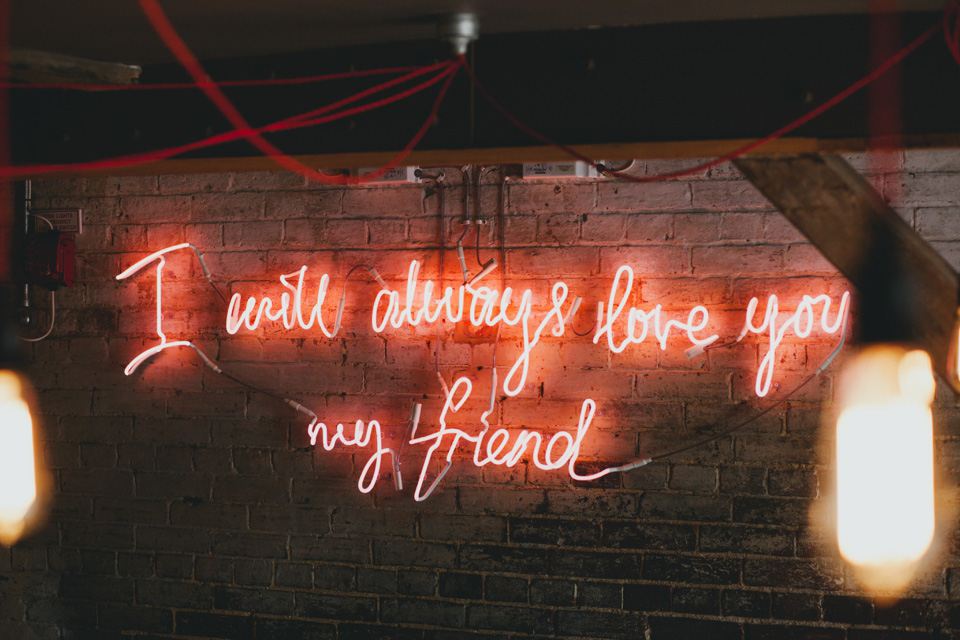 "I think I danced with most of the other male guests before finally dancing with Asa. To Barry White 'First Last Everything' – how could we resist?"
Words of Wedded Wisdom
"Be individual, make it personal but know that the details are mostly for yourself. Think about weddings you've been to and what made them enjoyable (or not). It probably wasn't the cleverly constructed seating plan. Be a happy and relaxed bride and groom. Things went wrong for us but it didn't matter, it was still perfect because of the people we chose to be there.
That and actually getting married (always a bonus at a wedding!). It's not for everyone, but having our photos done secretly just before the ceremony really worked for us, as it meant we had private romantic time but at no point did we need to neglect our guests."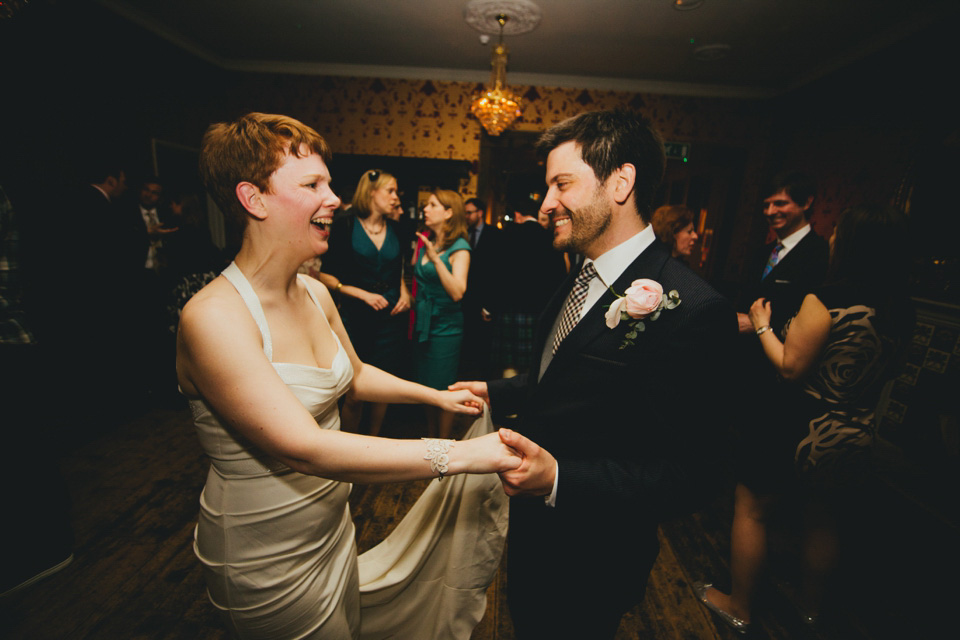 Thank you very much Melanie and Asa for sharing your wedding with us. Dale Weeks did a fantastic job with the photography. Are any of you planning a first look or complete couple shots before the ceremony like Melanie and Asa?  You can see other first-look weddings here on Love My Dress.
Love Caoimhe xx
Photographer – Dale Weeks
Venue – The Bell, Ticehurst, East Sussex
Wedding Dress – Nicole Miller from Frou Frou Bridal Boutique, Tunbridge Wells
Bride's shoes – Irregular Choice
Bride's Bracelet – Culpably Cute', Covent Garden Market
Bride's Wedding Ring – Finecraft, Hatton Garden
Maid of Honour's Dress – Monsoon
Groom's Suit – Without Prejudice
Groom's Shirt – Ted Baker + Aquascutum Tie + Aldo Shoes
Florist – Alison from Fleur-Essence, Ticehurst (no website)
Invitations – Wild Ones from Charlie Loves Lucy
Entertainment – Graeme Smith from Wedding Jam
Favours – Wildflower Favours
Cake – West Country Cheese
Follow Love My Dress® on Google+