We're deviating a little from our usual format of inspiration boards this month as I wanted to show the readers of Love My Dress just how valuable mood boards can be when it comes to planning your wedding. So today I am featuring the mood boards Pocketful of Dreams created for a photoshoot to promote Manchester wedding show White Memoirs. The show is something we're working on right now alongside creator Rachael Adams, who came to me earlier this year and asked if we could come up with a new brand identity for the show, one that would speak to creative and free-spirited brides.
We've talked at length about our creative process and how we help our wedding planning couples to define their own personal styles in order to design a day that's 100% reflective of who they are.  So to give us a starting point for creating these mood boards we asked Rachael to describe a White Memoirs bride to us:
She has a free-spirited femininity and likes to think outside the box, insatiably curious with an appetite for fulfilling experiences, she dances under the stars and loves with all her heart.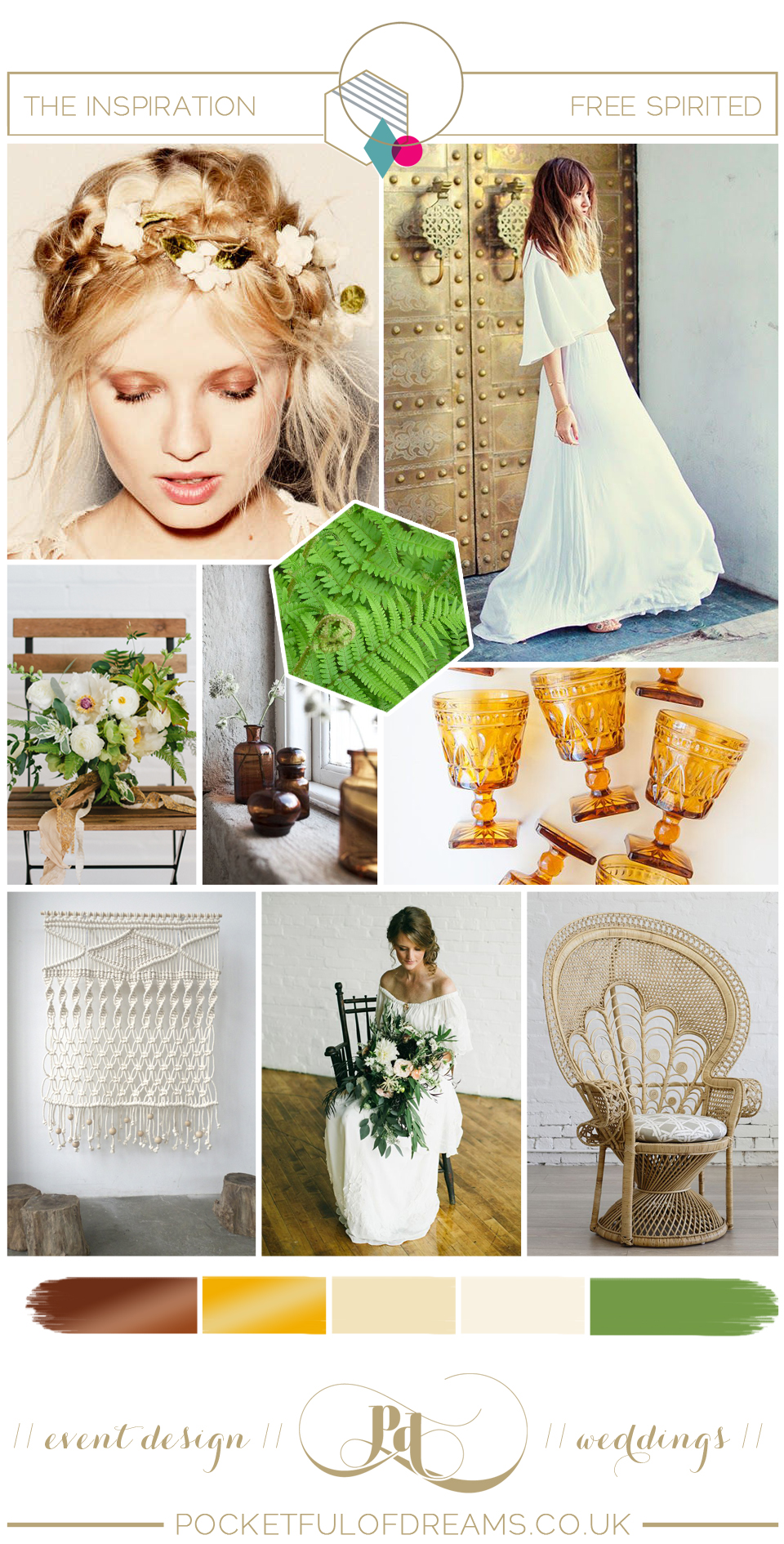 Image Credits: 1. Grazia 2. Let It Be 3. Ruffled 4. Snippet & Ink 5. Batixa 6. Etsy 7. Behance 8. Jaclyn Journey 9. The Family Love Tree
THE CONCEPT
Our concept  took the lead from Rachael's words with a hazy, almost angelic looking modern-day bride. The colour palette really lends itself to capturing that sense of free-spirited, femininity with gentle vintage influences coming through such as the wicker, macrame, vintage glassware and lots of ferns! It's soft and gentle, quite pure and definitely not trying too hard!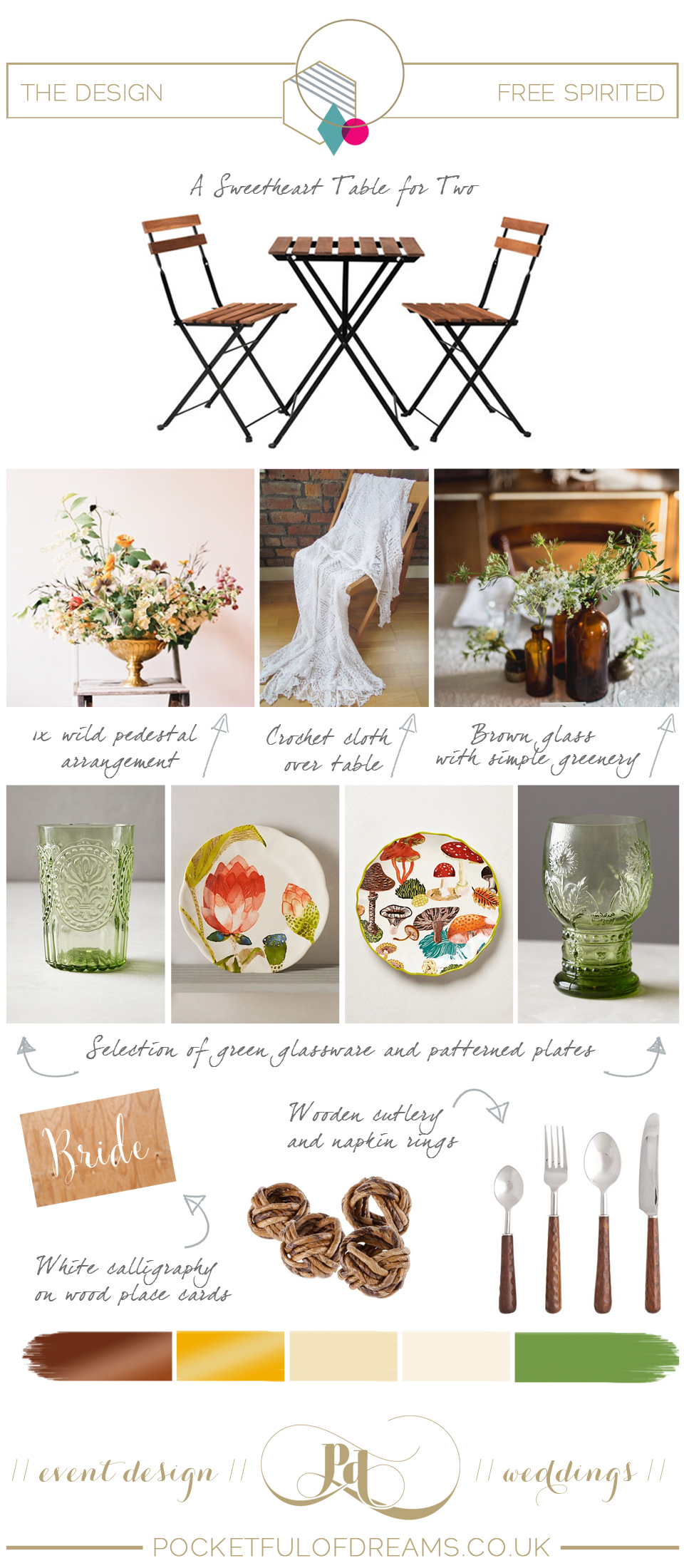 Image Credits: 1. Zara Home 2. Ruffled 3. eBay 4. Local Milk 5, 6, 7, 8. Anthropologie 9. Pocketful of Dreams 10, 11. Zara Home
THE DESIGN
We wanted to show some attainable ideas with our design and so decided on a really simple sweetheart table using wooden bistro furniture, with a vintage crochet tablecloth draped over. A wild pedestal floral arrangement for the centrepiece with vintage glassware and a variety of mismatched patterned china picking out the colours from the palette. Additional amber and brown glass bottles would be filled with various ferns and foliage with the odd splash of white and yellow flowers to provide a nice contrast to the brown.
The place cards were to be a DIY affair with simple wooden tags hand calligraphed in white ink.
Image Credits: 1. Style Me Pretty 2. Snippet & Ink 3. Pocketful of Dreams
THE FLORAL DETAILS
The shoot took place at the Halle St Peter's in Manchester, a wonderfully atmospheric wedding venue with huge vaulted ceilings, stained glass windows and exposed brickwork. To make the most of the space we wanted to create a series of interesting backdrops using simple decor such as festoon lighting, a conker garland and our favourite: a fern archway to mimic the shape of those windows in the Halle as shown in our brief to the florist above.
We also wanted a really organic looking bouquet, a true showstopper and showed two examples to the florist of the style we loved and let her work her magic.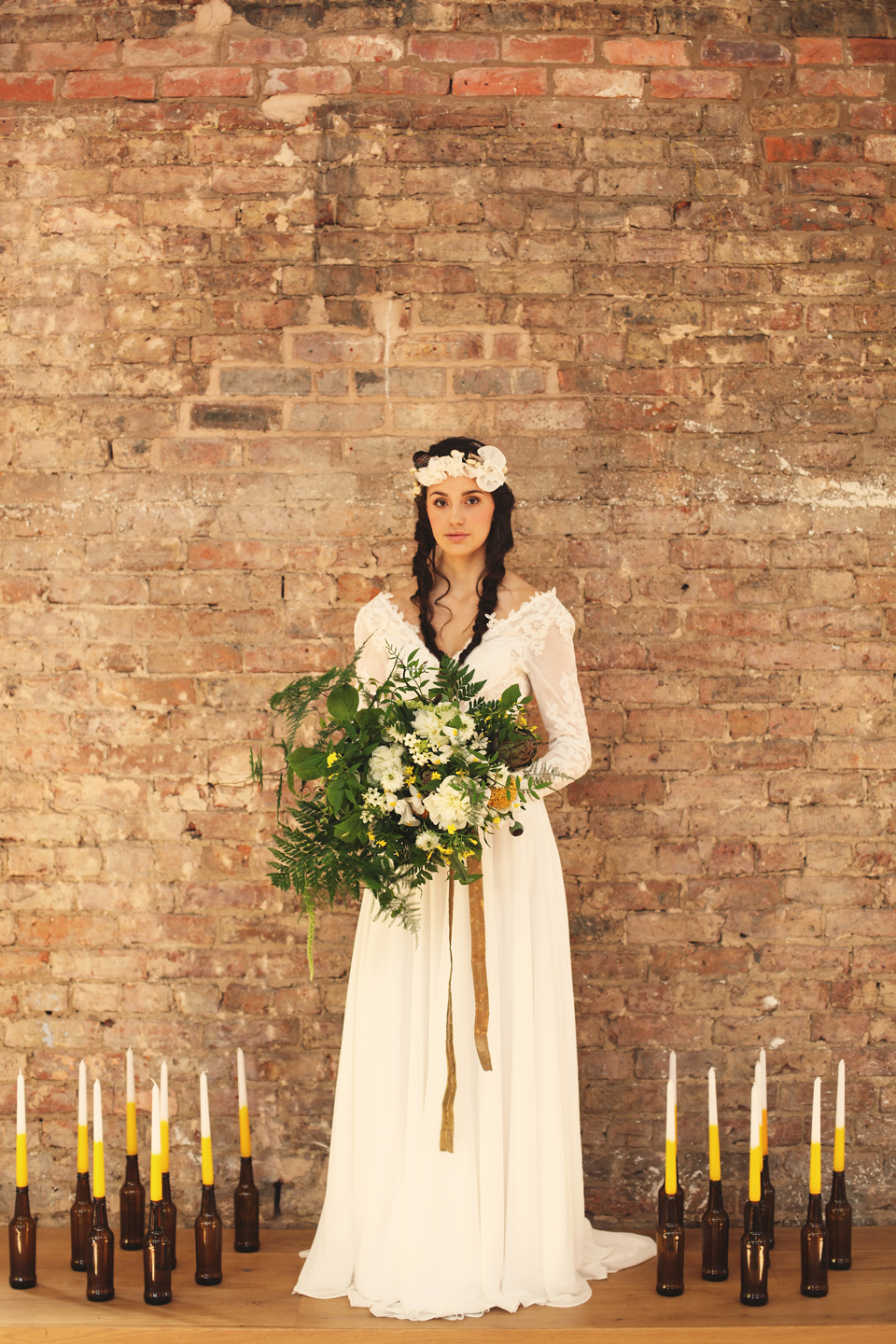 THE REALITY
A shoot like this is a chance for us to test out new creative ideas and to go a little wild with the styling, after all we're working up 1 table not 20 – it's meant to be a taster of what's possible. We certainly don't expect anyone to replicate a shoot in its entirety, we just hope there's plenty of lustworthy details within that will inspire you to adapt for your own wedding day, so without further ado here's how we brought this design to life….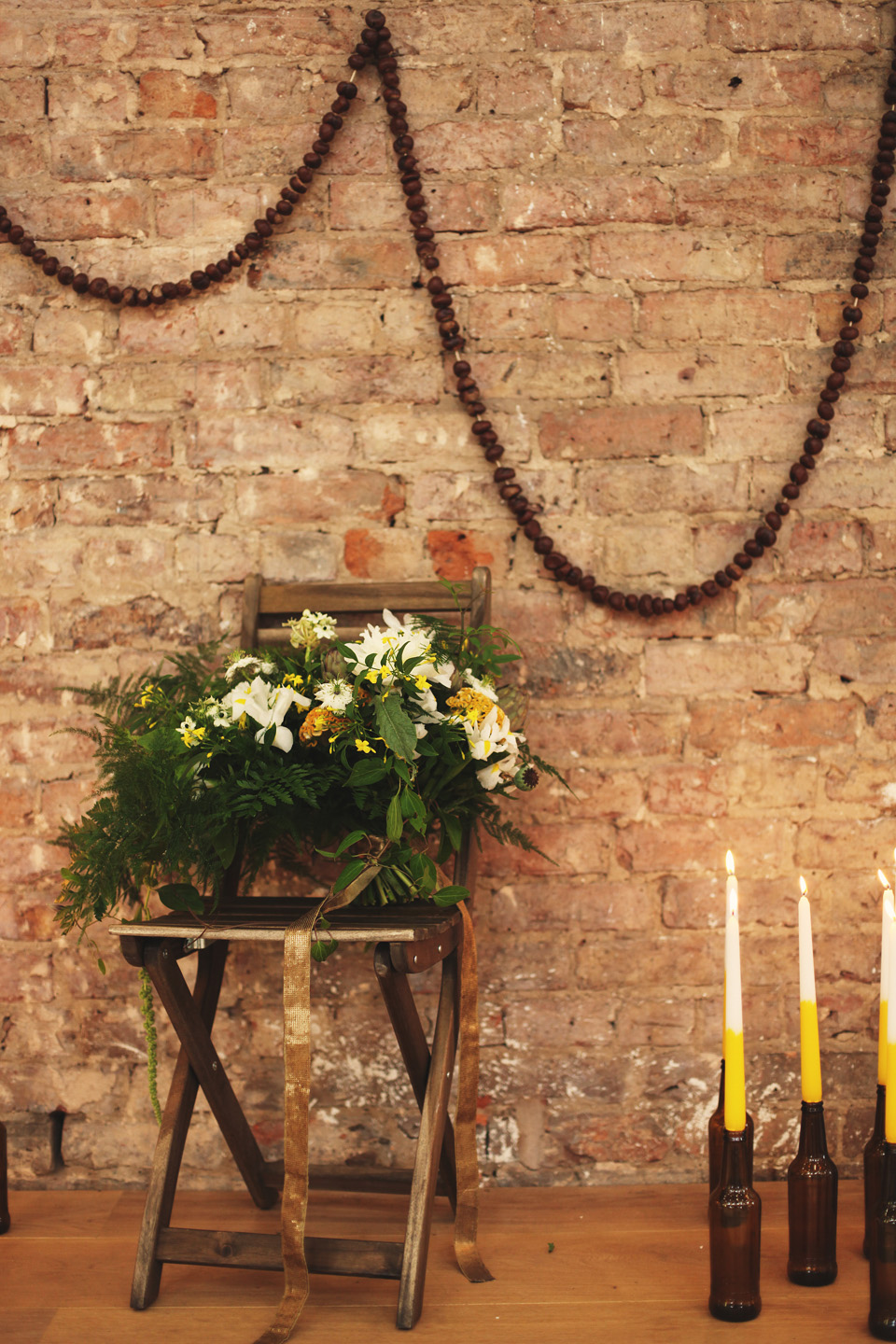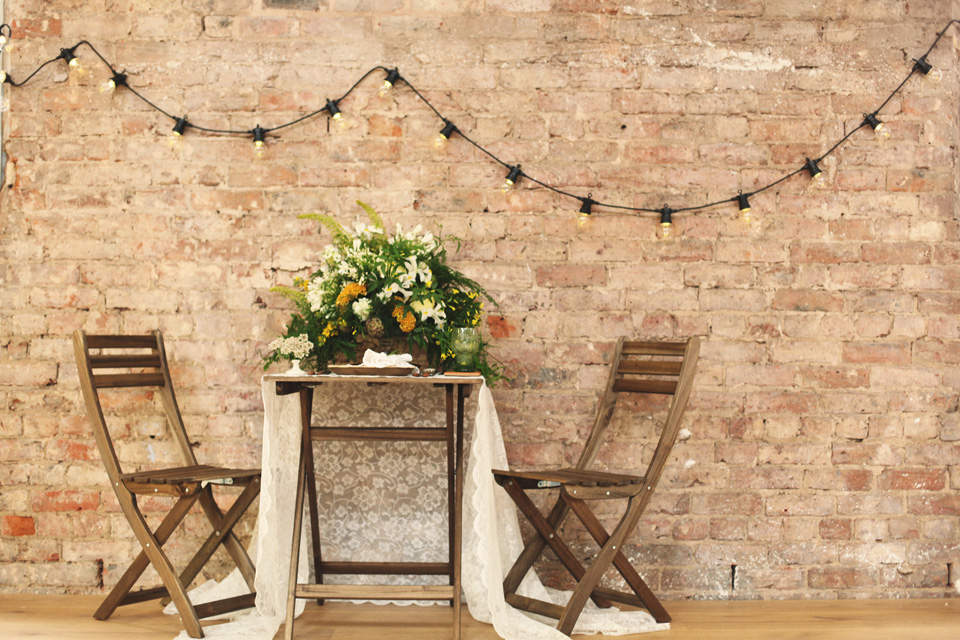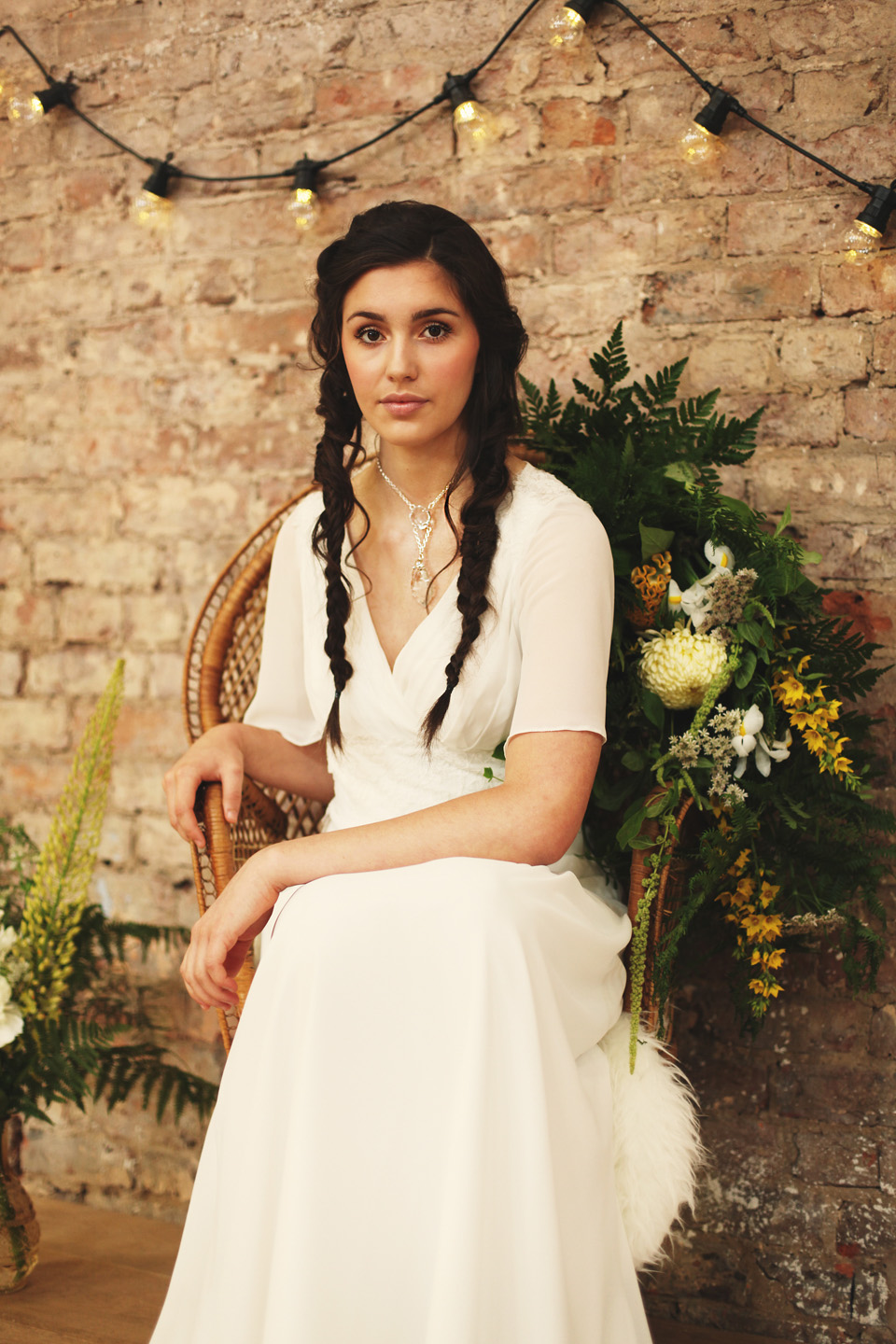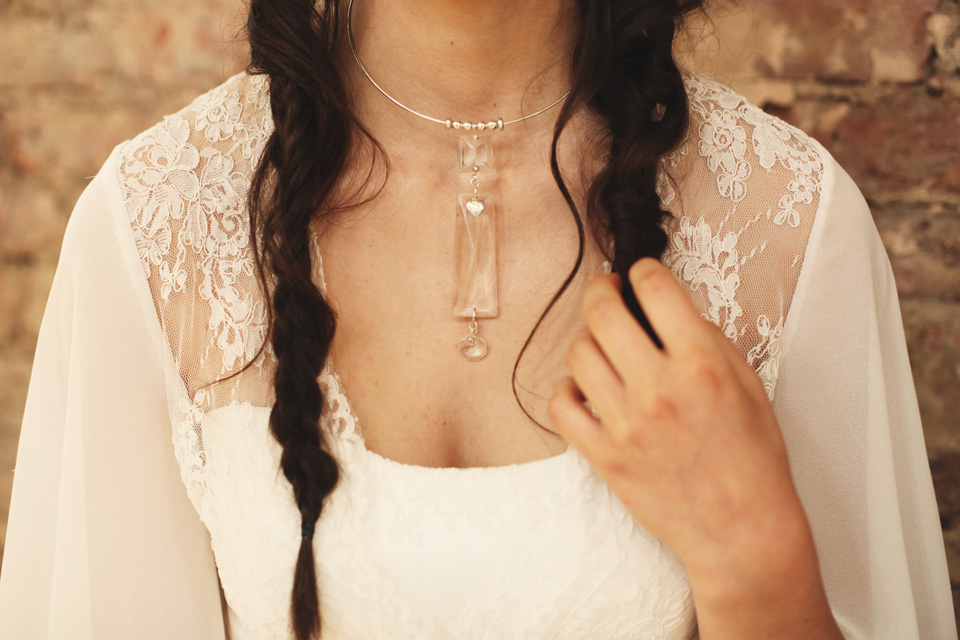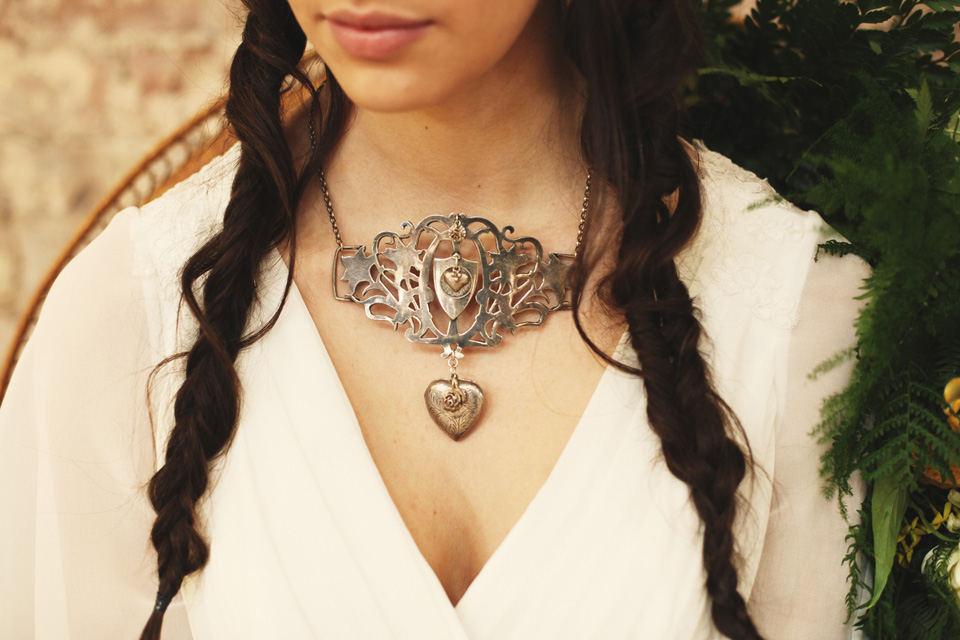 When it comes to creating mood boards for your own wedding day they certainly don't have to be all fancy shmanzy like ours, as don't forget we're professional event designers doing this day in, day out. A Pinterest board filled with images is totally fine. What they give you though is a way to communicate exactly what that vision is in your head to all of your suppliers, as words alone sometimes just don't do the trick.  It's important to give just enough guidance so that people know what your vision is, but plenty of flexibility so that they can bring their own creativity to the table too, you want your suppliers to present you with ideas and creations that reflect their own skills and passions. Whenever we work with creative suppliers from florists to cake makers to stationers we're not aiming to instruct them on exactly what to create, instead we give them a flavour of the overall aesthetic and then trust them to work their magic.
All the details behind the shoot can be found below and if you'd like to meet us and the team behind the shoot then do pop along to the White Memoirs show October 26th in Manchester. The first 50 brides to pre-register and purchase an advance ticket for the event will receive a free glass of fizz, copy of White Memoirs wedding zine and goody bag.
I hope you've enjoyed this inspiration to reality post, do let us know in the comments below which details are your favourite? Will you be trying any of these ideas out for yourself?
We also offer a design service to couples to create a wedding design concept just like this one.  We can work with you to help you refine your ideas, adding our extensive knowledge of what we know works (and doesn't) and providing you with a set of comprehensive mood boards that you can use to brief your own team of suppliers or we can work with you to execute the design. Contact us at [email protected] for more information.
Michelle & Vicki xx
___________________
Michelle and Vicki are Creative Event Designers at Pocketful of Dreams – they are passionate about designing, styling and delivering unique weddings, tailored to your own personal story.   You can read more about Michelle and Vicki on our About Page.
Follow Love My Dress on Google+
Photoshoot Credits