Happy Saturday morning folks, I do hope you got to have a little Halloween fun last night – we had a blast! My sister and family are over and so we took four excited little girls (and one other grown up girl who still loves a trick or treat) to scare the locals and it was so much fun – that was after an afternoon spent walking the streets (and floating on the seas) of Whitby and soaking up the 'Goth weekend' fun and frolics.  If ever you get a chance to visit Whitby at Halloween,  you must, the atmosphere is amazing and you get to see really fun things like this, this and this 🙂
This morning's wedding has been such a delight of a feature to work on.  I'm always been drawn to those weddings that embrace the family unit – children and all – and I was really uplifted by the way bride Diana spoke about the joy she felt on her wedding to Stefan on 26th April this year at Brockwell Lido in London.  These beautiful photographs were taken by the talented Lisa Jane, whose work I've also delighted in featuring in the past on Love My Dress®.  I also find it amusingly ironic that I am sharing a bride wearing a dress by Ghost on Halloween weekend 🙂
"We knew we didn't want a large traditional wedding as it just isn't us. For us the day needed to a relaxed celebration of everything we had achieved together – as we had done so many of life's milestones so fast. We really just wanted a beautiful low key party with all the people close to us in one room."
Photography Copyright (c) 2014, Lisa Jane Photography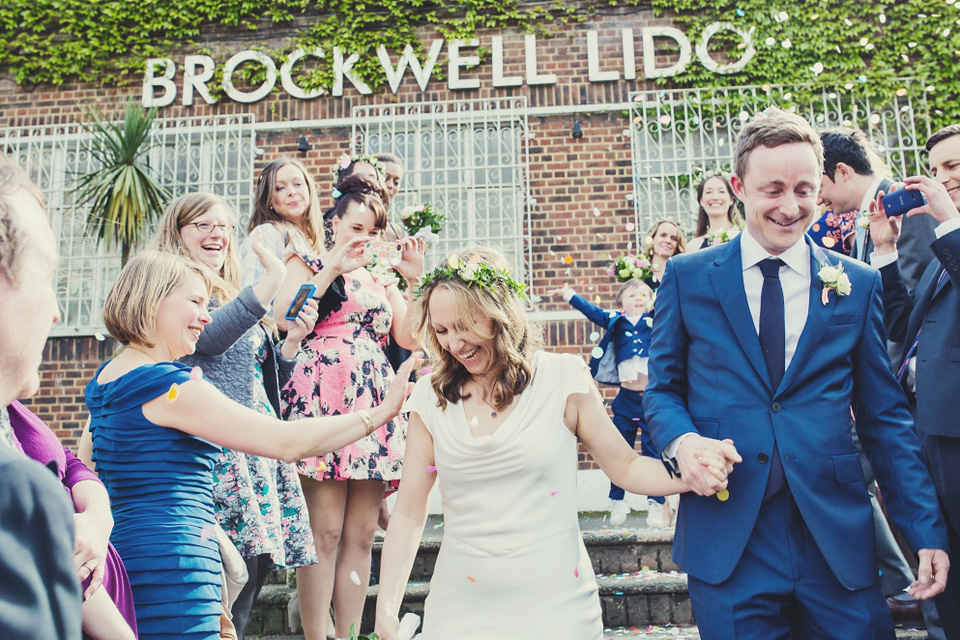 "Stef and I met online and had our first date in January 2009. We fell in love and everything happened at a hundred miles an hour – we were living together and I was pregnant with our first child by June of the same year.
Stef proposed on our 1st year anniversary. As well as giving me the most beautiful diamond engagement ring, he also handed me the newspaper from the 9th January 2009 – the day that we had first met. Across the top was written 'Today I met the woman I am going to marry'."
"Apparently he knew after our first meeting and scribbled it across that days paper on the way home after that date. We were engaged for four years. We had wanted to get married sooner but a hectic life with a young family, house moves and job changes took over. But in January this year (2014) we made the decision to go for it and had 3 months to plan everything."
"I wore the Sylvia dress by 'Ghost', in ivory'.  I always thought the dress would be the easy bit but in reality it turned into a bit of a saga. Two things I knew from the beginning – firstly, that I didn't want to spend a fortune and secondly that I didn't want anything really overtly bridal. I had my heart set on getting married in vintage-style gold sequins – not traditional white/ivory. So as soon as we decided to get married I found the perfect gold sequin gown online in the sale (from Nicole Miller in the US).
"I bought it without trying it on and it arrived and fit beautifully. I thought the gold sequins fitted the venue perfectly. However as time went on, to my surprise, I started to feel a bit worried about the dress actually not being bridal enough!! I got increasingly anxious as the day approached, struggling to find shoes and to feel good in the dress.
Basically, two weeks before the day, I had the terrifying realisation that I needed to find a new dress and quickly! I had seen the Ghost dress online so went to try it on and I instantly felt beautiful in it. I loved the vintage feel and shape, and all of a sudden, it actually felt right to me to be getting married in ivory, despite my initial reservations.  The dress was beautifully bridal and elegant yet understated too. And it didn't break the bank! It was exactly what I wanted."
"My son Noah, who is four and a half, was also the ring bearer, and he wore a great little three piece suit from the John Lewis Heirloom collection.  He wore it with his little white converse and the cutest little bowtie by Brighton based Etsy shop Cool Baby Ned who do the cutest daddy and son matching bowties which I gave to them both on the day of the wedding. He loved it and in fact has been wearing his wedding outfit at almost every possible opportunity over the last 3 months!"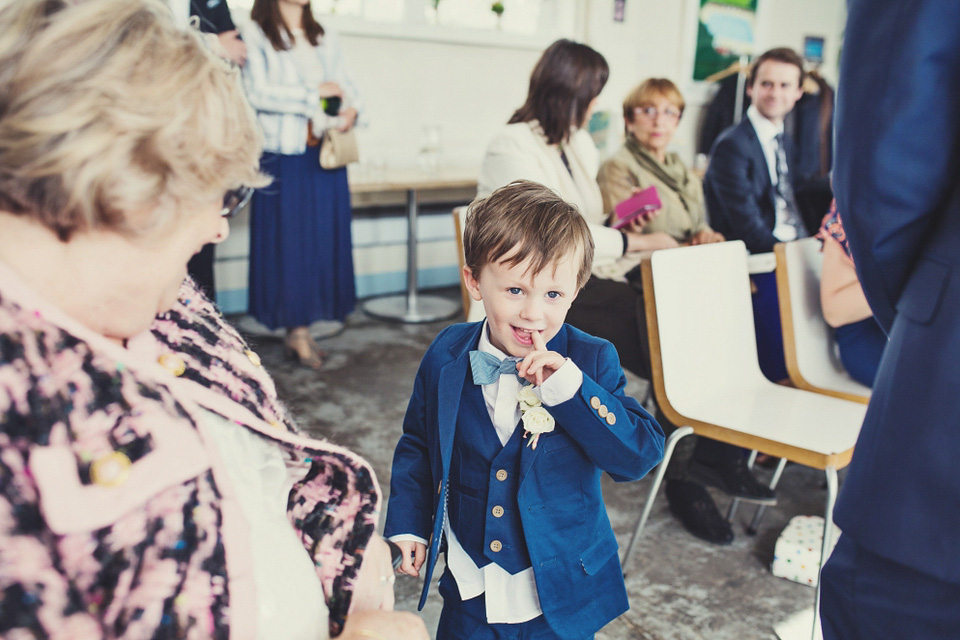 "We used the amazing Juliet at Paperpoms. She makes the most beautiful handmade paper decorations. She made our paper garlands, the paper poms on the ceiling and the beautiful pom arch we married under."
"My bridesmaids are a long time circle of lovely friends. I told them they could wear whatever they liked as long as it was black (and they felt comfortable!). I loved the idea of mismatched black dresses for them on the day. No-one actually co-ordinated in advance but in the end it all came together beautifully.
They wore a selection of dresses and shoes from ASOS, Office, H&M, Mango and New Look. They looked beautiful and felt comfortable and that was all I wanted!"
"We hired vintage circus lights from Vowed and Amazed.  All other decoration I did myself with the help of my talented friend Anna. She made the beautiful A board and the other blackboards dotted around – she hand drew the font I had used for the invitations. I bought giant gold foil balloons spelling out LOVE in our high street balloon shop. We used these as props in some of our photos and they still make me smile! I hung beautiful Rob Ryan papercuts on all the walls, as I love his work and his words are always so beautifully romantic."
"Our photographer was Lisa Jane – I loved her style and was glad she was able to photograph our day for us. I loved that she works with an old polaroid as well as a digital camera (as I am a huge fan of vintage photography).  She captured the day beautifully and the best part was that after the day we received a beautiful set of original polaroid shots she had taken on the day – perhaps the most special treasure of it all."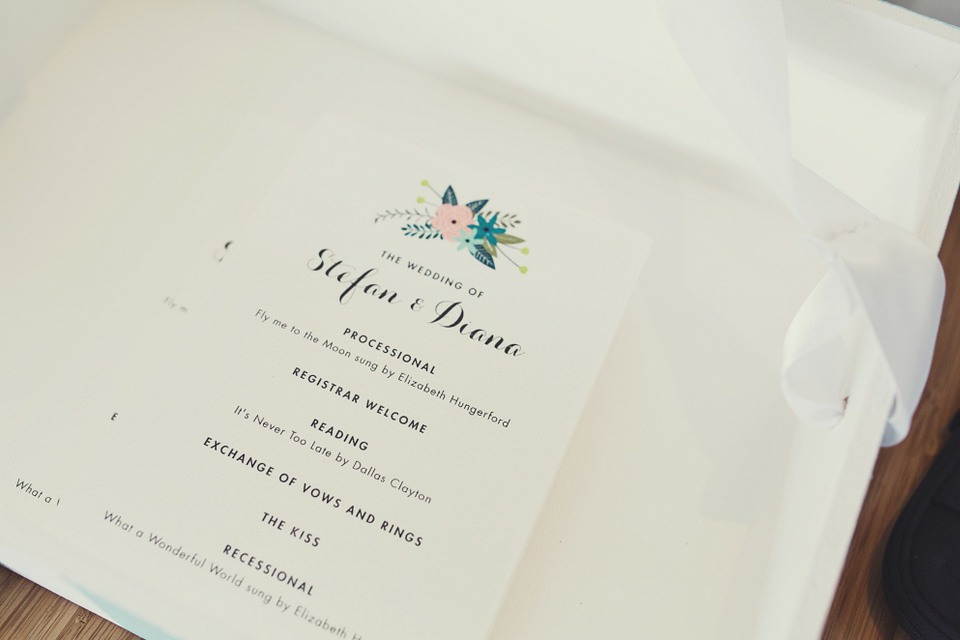 "My necklace was by Decadorn. I picked this up in a little boutique in Herne Hill called White Feather.   I purposefully kept accessories to a minimum.
I also wore YSL Cinema. The perfume I was wearing when we first met.
The wonderful Kylie McMichael did my make up. She made me look beautiful on the day. She came to hotel in the morning and helped me get ready while the girls made their garlands. I felt great, not too done up or uncomfortable. Just the best version of me I could be!"
"I wore a flower garland in my hair made by our lovely florist – the Fresh Flower Company in East Dulwich. From the beginning I had my heart set on a garland of flowers in my hair. I pinned hundreds of garlands on pinterest and looked at some beautiful garlands of dried and material flowers on Etsy and Folksy. In the end I decided to go for something very simple, and I asked the florist (who knew what I liked) to make one for me that on the day would be a bit of a surprise. When I opened the flower delivery before the ceremony I was really happy."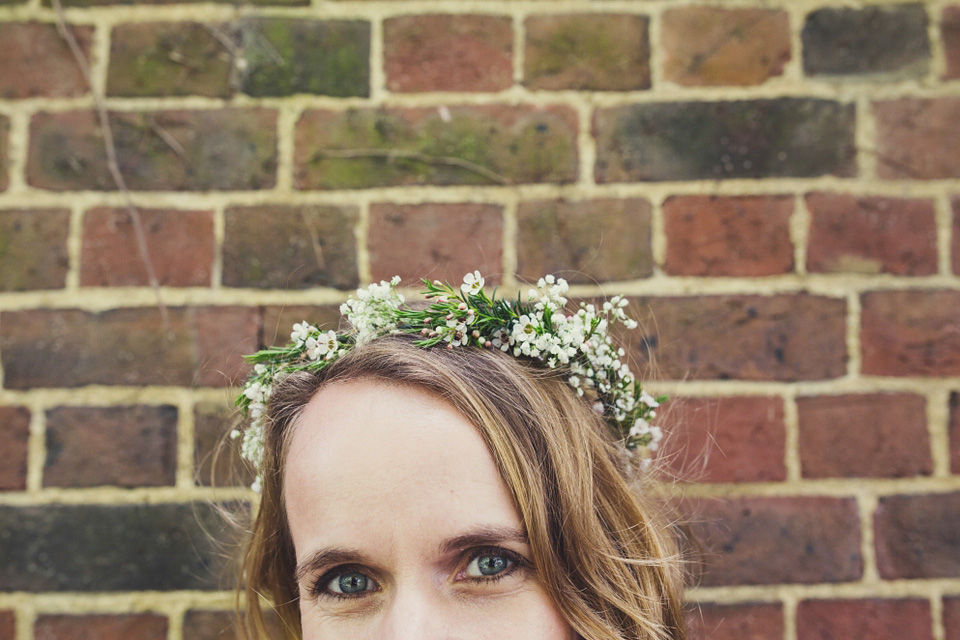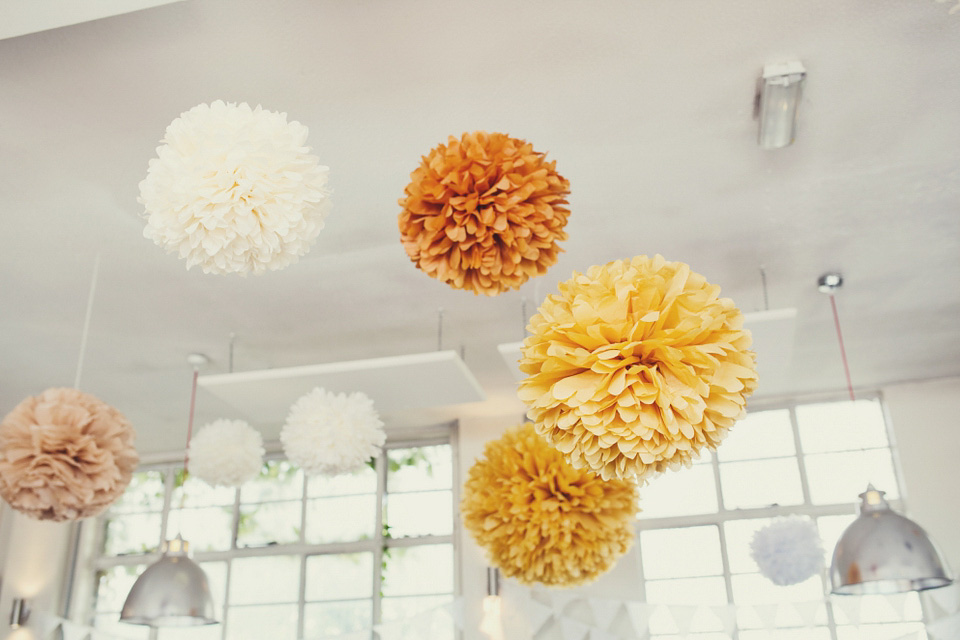 "My bridesmaids came in first and then I came in alone. It was a difficult decision, I thought about asking someone to do it. But in the end I came to the conclusion that I was strong enough to do that, that asking somebody to fill my dad's role just didn't feel right and I knew my dad was there in spirit right beside me.
 I walked down the aisle to 'Fly me to the Moon', as my dad was a huge Sinatra fan. Herne Hill local Bethie Hungerford who has the most beautiful voice, sang accompanied by a piano. We walked out to What a Wonderful World by Louis Armstrong again sang by Bethie."
"We tailored our vows throughout and we used the following vows at the exchange of rings. I came across it online when we were planning and I loved the words; 'I give you this ring as a symbol of my endless love. I promise from this day forward, you shall not walk alone. May my heart be your shelter and my arms be your home.'"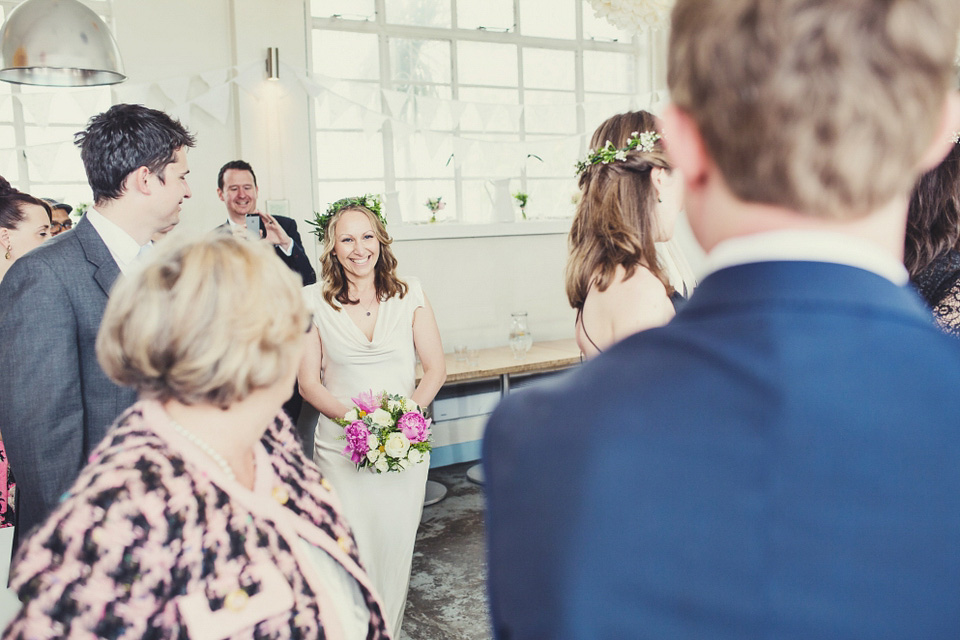 "We had a reading from the amazing Dallas Clayton. He is a children's author and illustrator but his books are simply beautiful for adults too. If you haven't heard of him I very much recommend you look him up. Our reading was from his book 'It's Never Too Late'."
"I didn't have any flower girls per se but my little two and a half year old daughter Grace was at the ceremony and she wore a beautiful Alice Temperley dress from the Somerset range at John Lewis. Again it had a very vintage feel and suited her beautiful auburn hair perfectly. No longer for sale but can be seen here. She wore it with a pair of hot pink tights."
"Our rings were made by my mother Katie Gayle who is a professional jeweller and makes loads of rings including wedding ring weekends for couples who want to design and make their own rings. She did a beautiful job."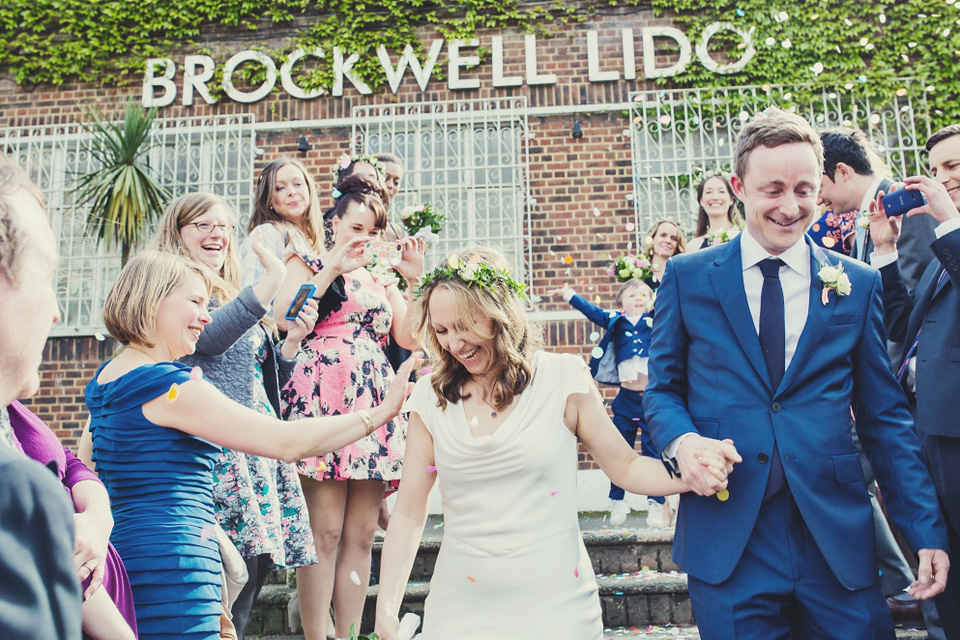 "The bridesmaids all wore garlands of Angels Breath in the hair which they made themselves on the morning of the wedding. I had said I wanted them to wear garlands but in the end budget wouldn't stretch to it, so being the amazing women that they are, they just made them themselves!"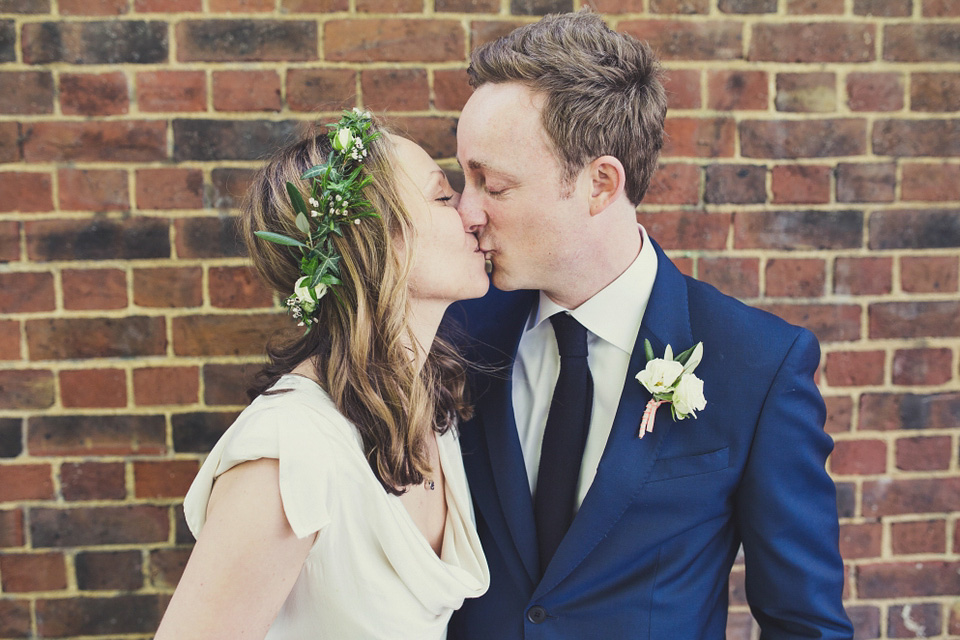 "Our florists were The Fresh Flower Co in East Dulwich, as they are a local florist to where we live. I always love their styling so it was a natural choice. Flowers were really lovely on the day. I bought 20 jars from a local pound shop that reminded of bevelled 1950s jam jars and they filled them with peonies, ranunculus, roses and herbs for me. The jars where decorated with a beautiful neon pink ribbon."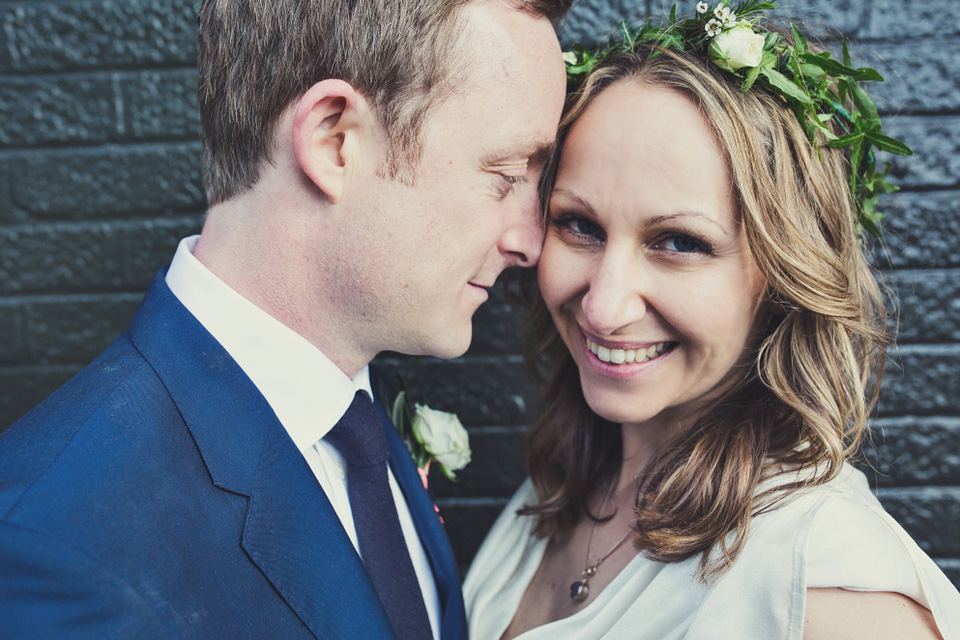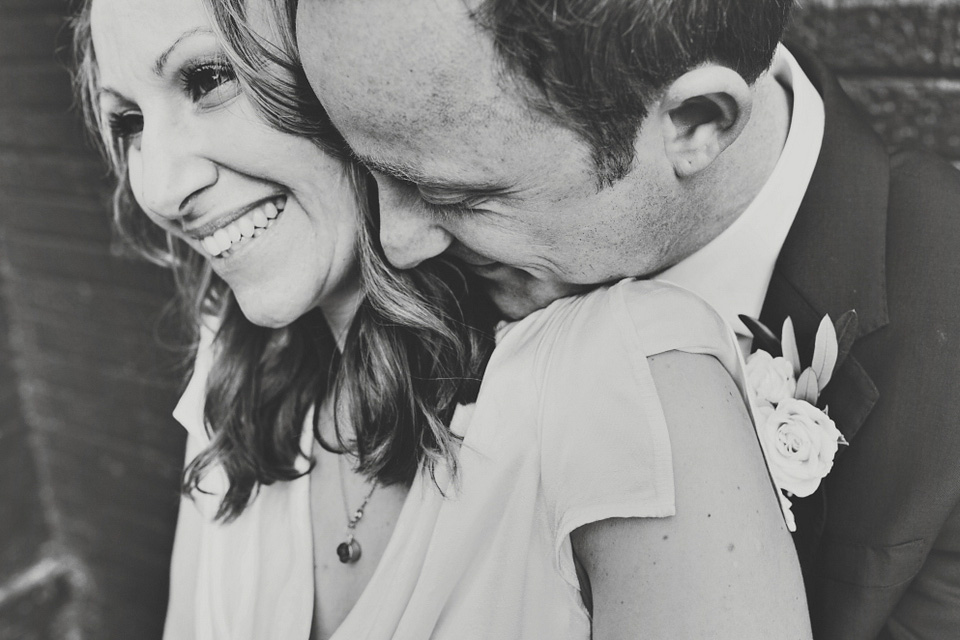 "I found some wire numbers in a charity shop and spray painted them gold for the tables. We sprinkled confetti from Knot and Bow over the tables and I designed the seating plan myself in the same style as the invites. We tied festoon lights around the terrace for evening."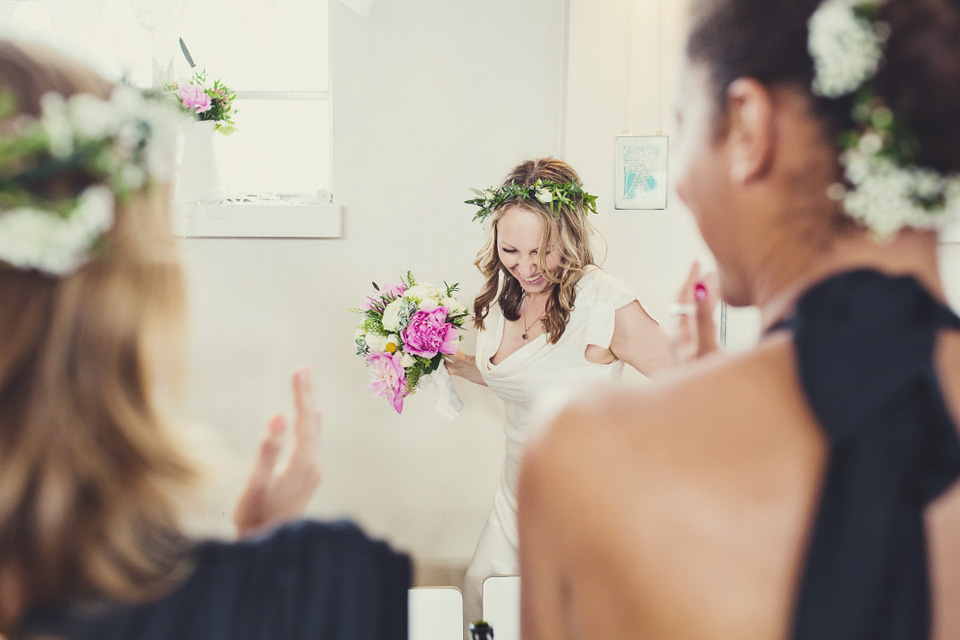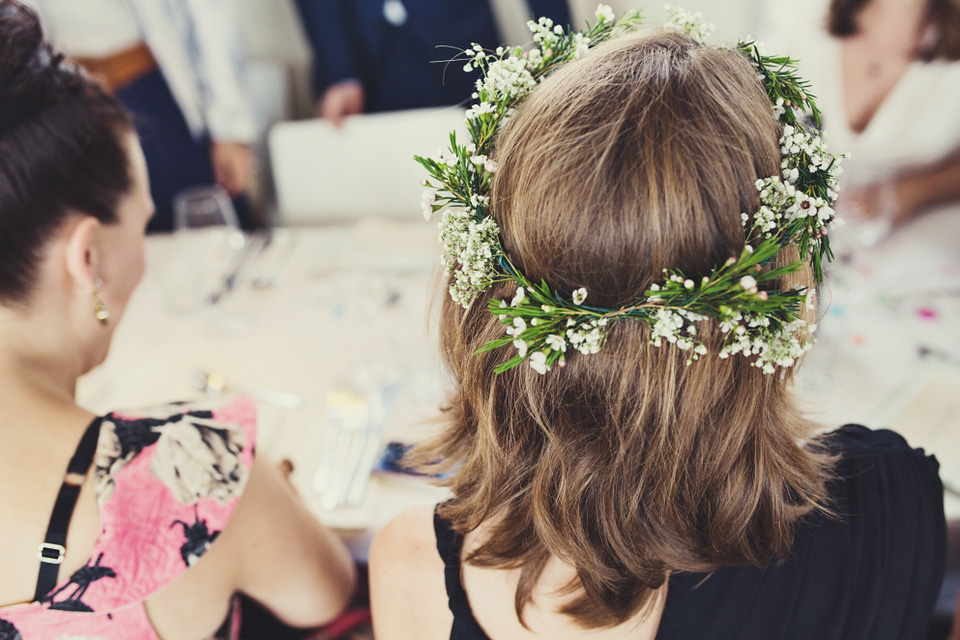 "I had my heart set on getting our invites designed by Rifle Paper Co who I love but in the end we just didn't have enough time to turn it around. So I bought my own fonts and worked with a designer on Etsy who helped me design them myself. I bought watercolour paper from a high street stationer and then got our local community printers to print them. I made the menus, programs and seating plan in the same way."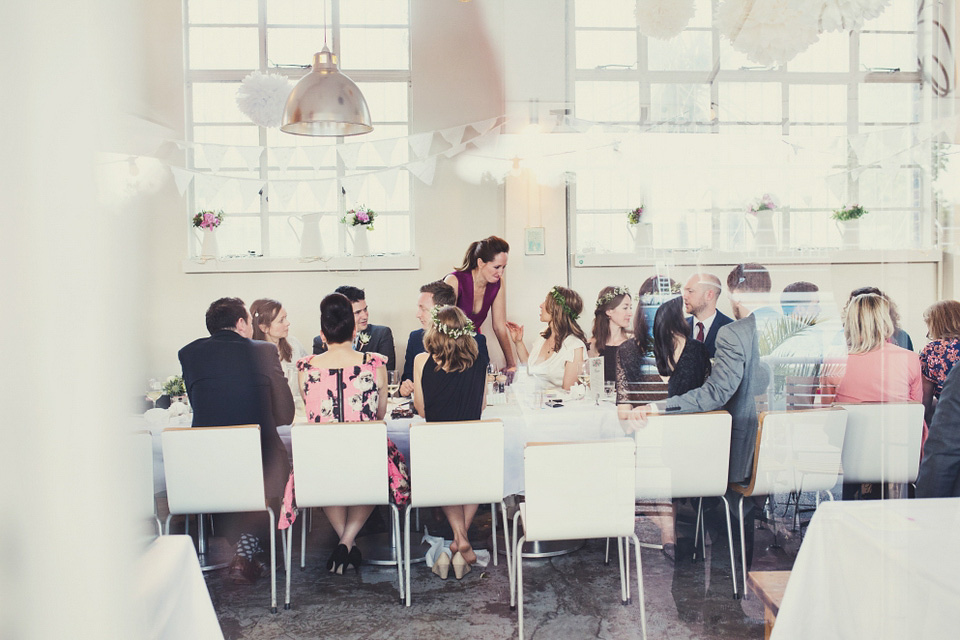 "We did a sweet little gift bag for every guest. I used beautiful mint green and white stripe kids party bags from My little Day, and used a neon pink heart sticker from Knot and Bow to seal it. I bought some beautiful vintage 1960s RAF tags on ebay and I stamped each with every guests name using typewriter stamps purchased at the Tate. In each bag was a thank you (as seen in the photo and explaining the contents)
a pair of magic heart holographic glasses,
a lottery ticket
a packet of love hearts
and one of a number of old school hb pencils I had personalised for the day."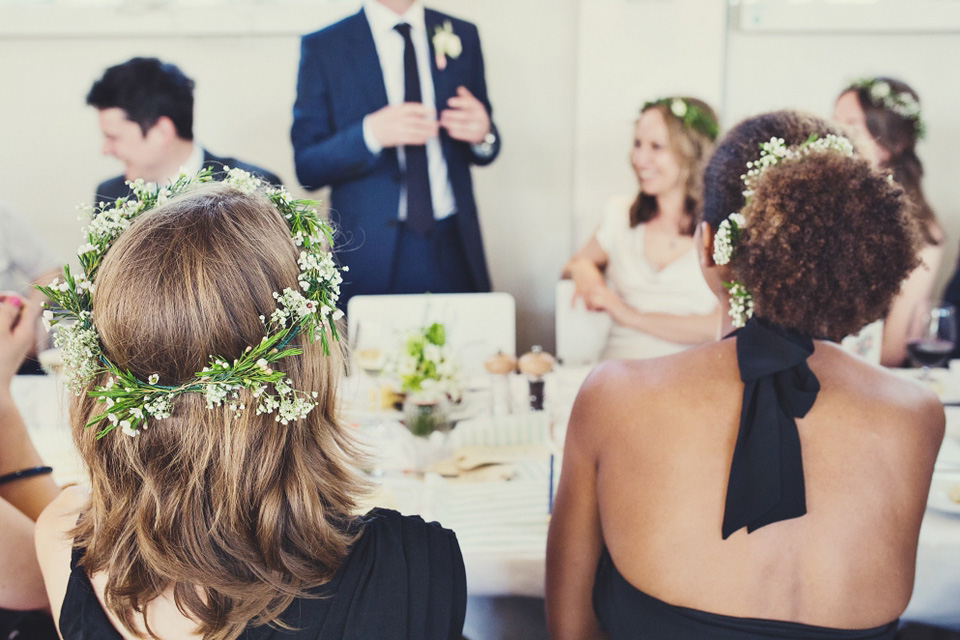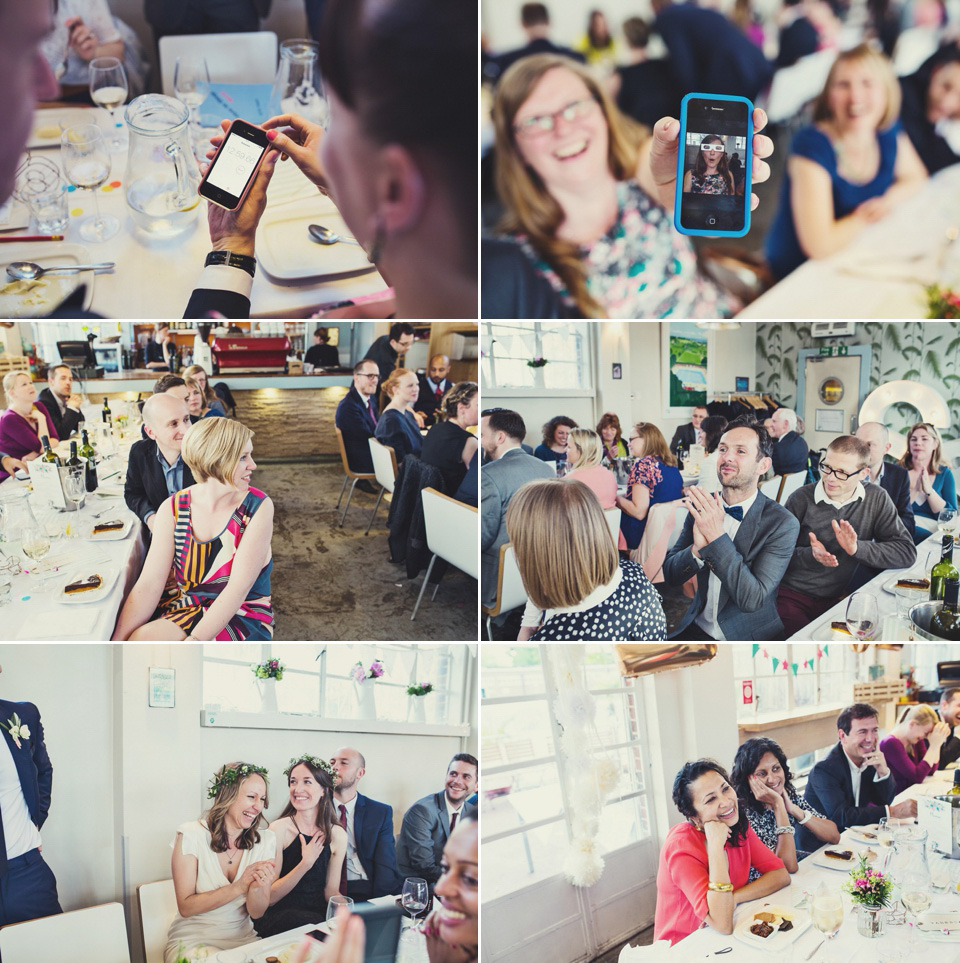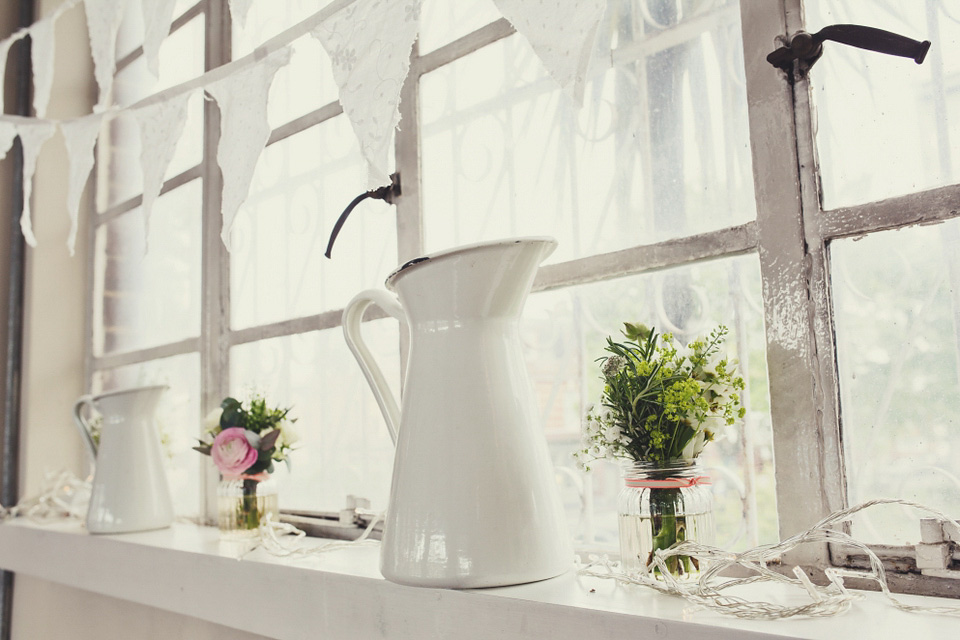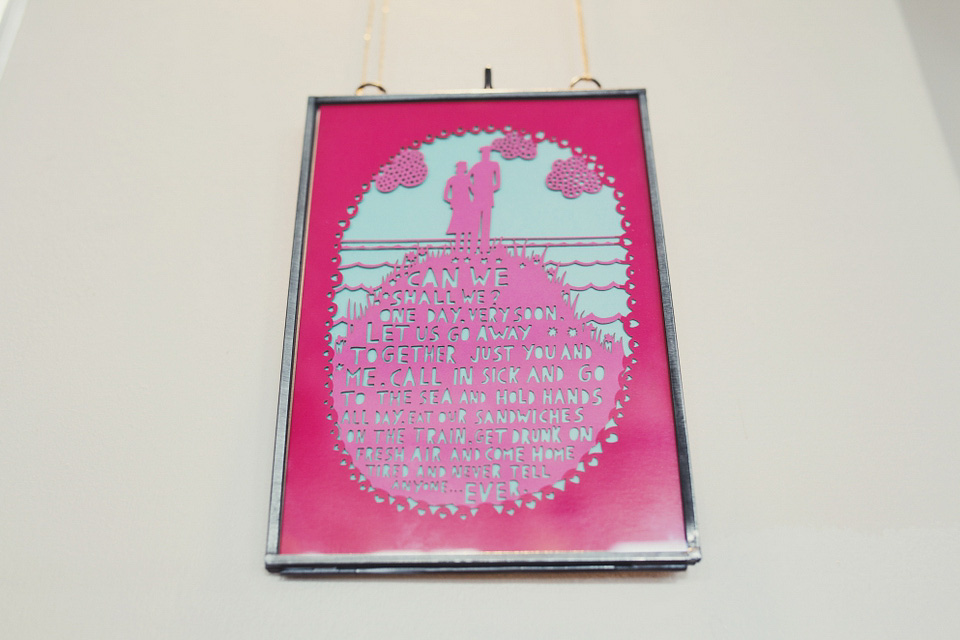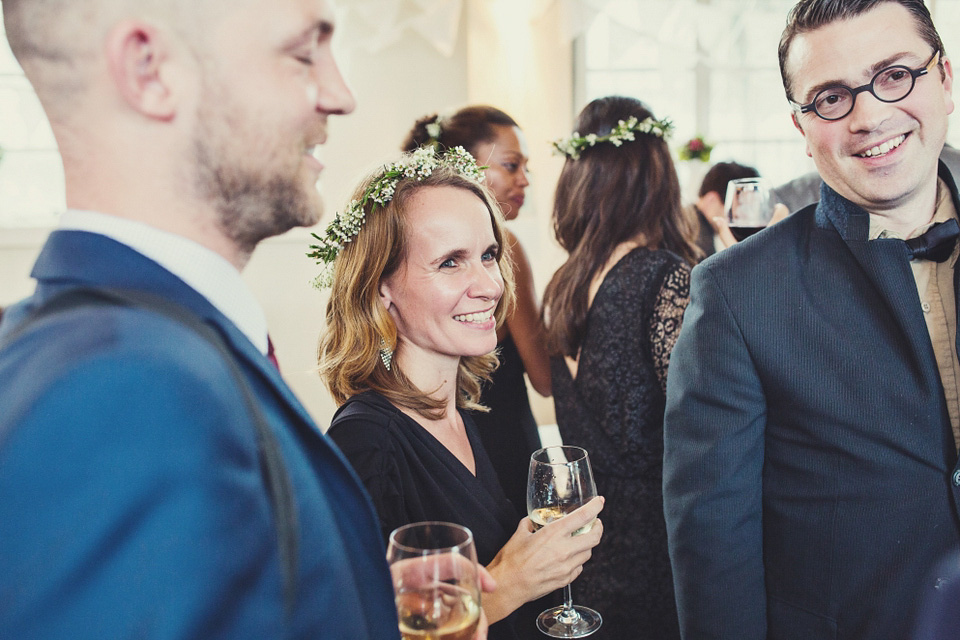 "We decided to not have a traditional wedding cake – it just didn't feel right. We did however have a beautiful Macaron tower from the amazing Claire at La Dinette. and we had a selection of cakes on offer for evening guests along with lots of retro 80s sweets to keep people energise for a night of dancing!
We topped the tower with a lovely hand painted wooden personalised cake topper of the two of us in our wedding outfits from Love on Top. The little wooden figures take pride of place in our office now and whenever I look at them I smile! Such a lovely keepsake."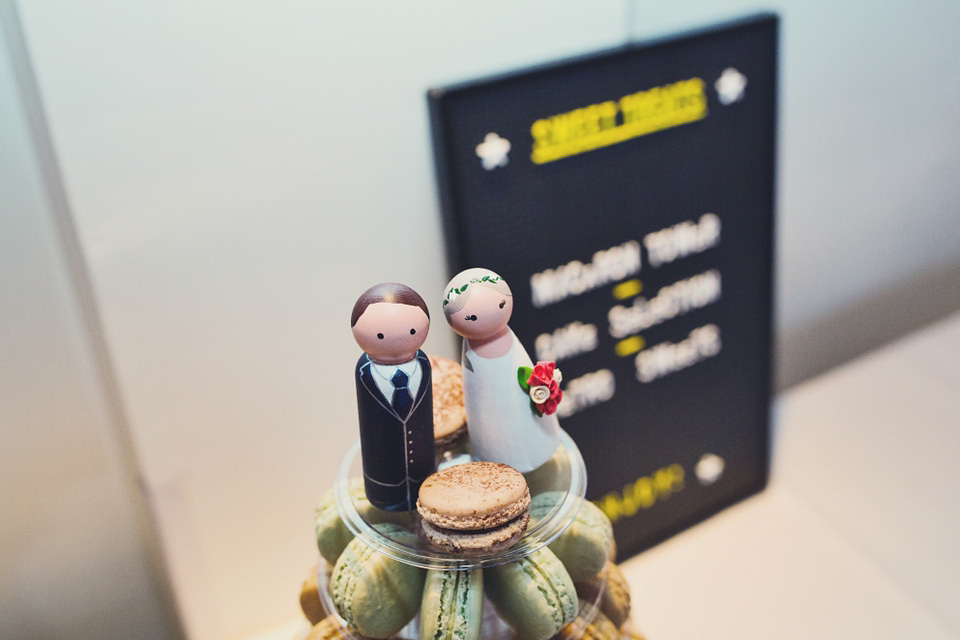 "We put loads of retro 80s sweets in Falcon enamelware bowls so everyone could have a trip down memory lane with wham bars, sherbet fountains and dip dabs! These were alongside the macaron tower and a selection of cakes we laid on for evening guests. We used a vintage style barber shop peg board to make sure everyone knew what was available."
"I have a collection of old polaroid cameras and in the evening I had these dotted around with loads of films we bought from The Impossible Project. We wanted our friends to capture their own shots on the night.  We had a range of props like stick on eyebrows and moustaches/beards (from paperchase) along with star sunglasses and flower garlands (bought from amazon) alongside the cameras so people could have fun as the night wore on.  I also had my beautiful mustard vintage silverette typewriter out and we asked people to write us notes and thoughts and advice on wedded life. Let's just say, that as the night wore on and the alcohol flowed, these got more hilarious!
My favourite was the one that started with words 'Murder she Wrote'.'"
"Our first dance was a beautiful Terry Callier track called Lean on Me from the collected album.  The lyrics are simply beautiful and it is a song we both love."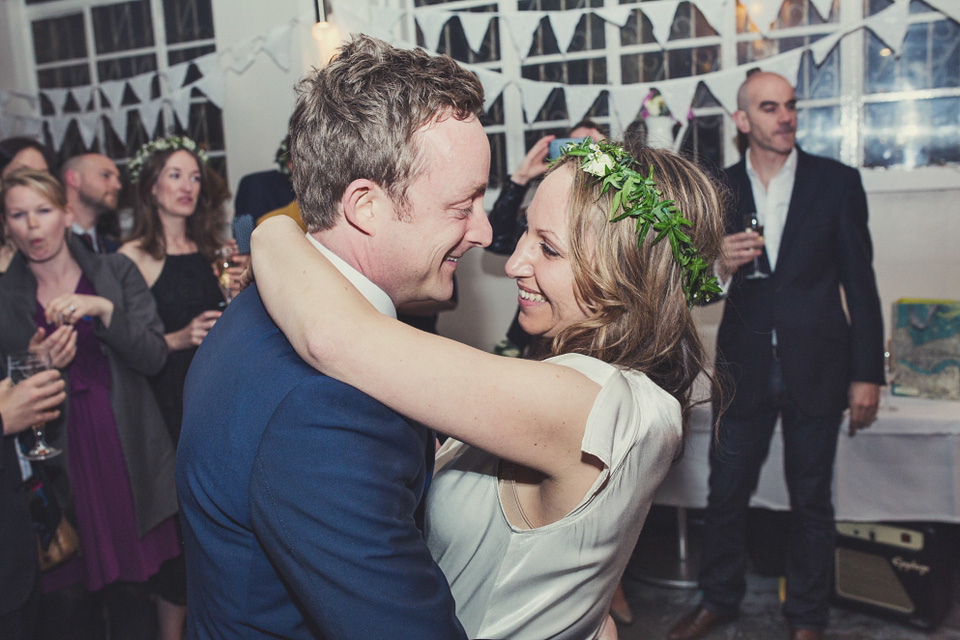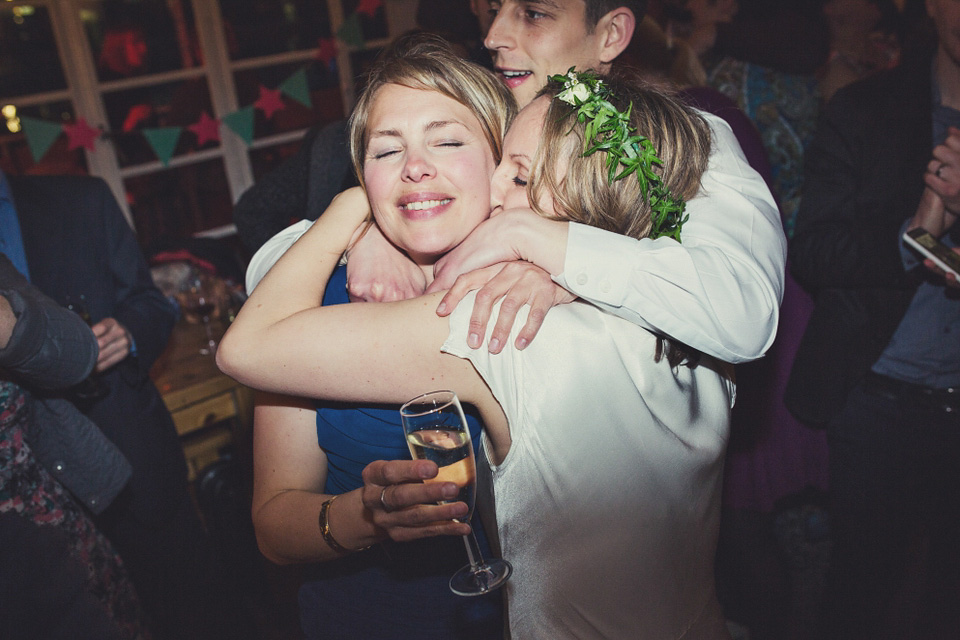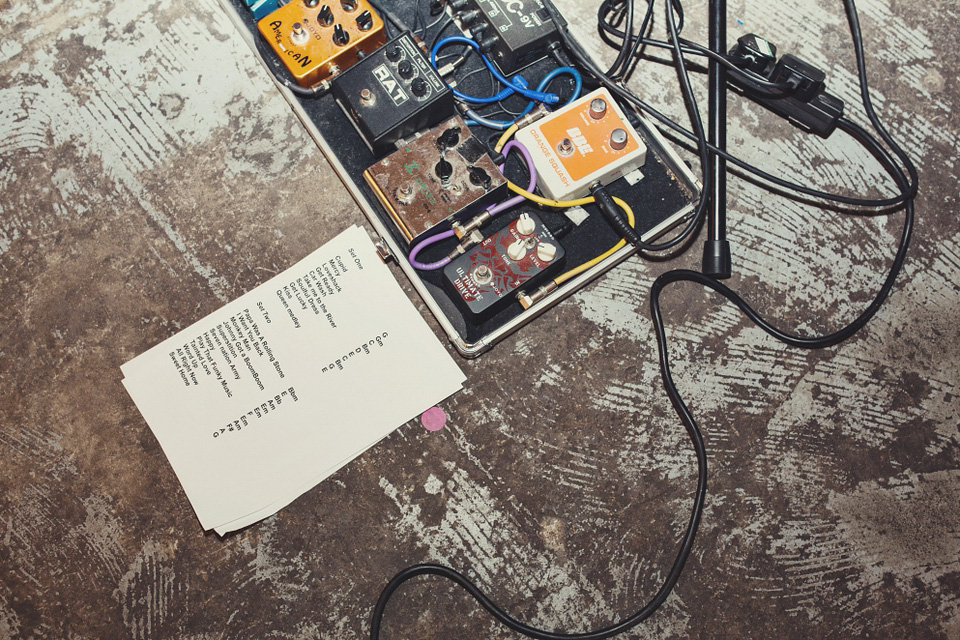 "We asked our fantastic family friend Adrian of Camille & The Dare Devils, to play with his band on the night.  They were absolutely AMAZING and got the dancefloor started before we put on our playlist through the PA. We had considered getting a DJ but in the end we just asked everyone for their favourite tunes and we compiled them all on Spotify ourselves. The music was one of the best bits of the whole night. Everyone was on their feet till the very end."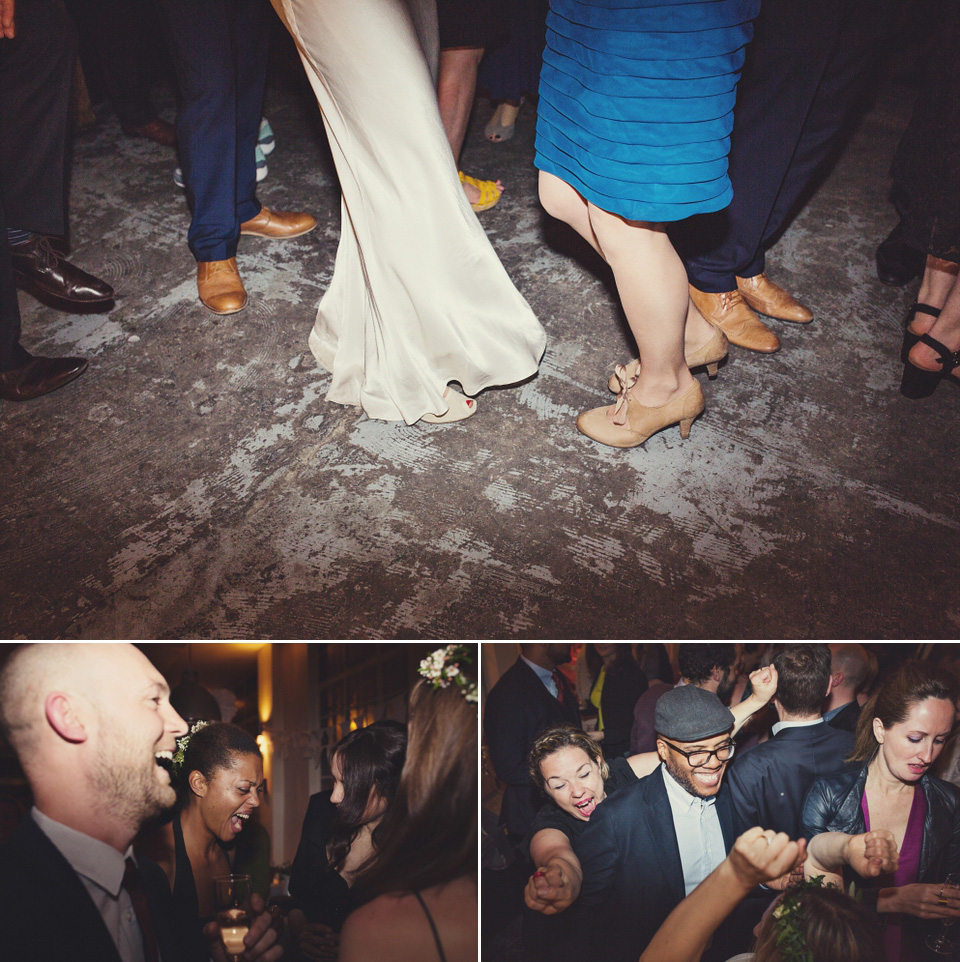 "The whole thing was the best day of my life. I married my soulmate – my very best friend – the man of my dreams, in front of our children and all the people we love in the world. We cemented our family. It was the most joyous celebration and the best day ever."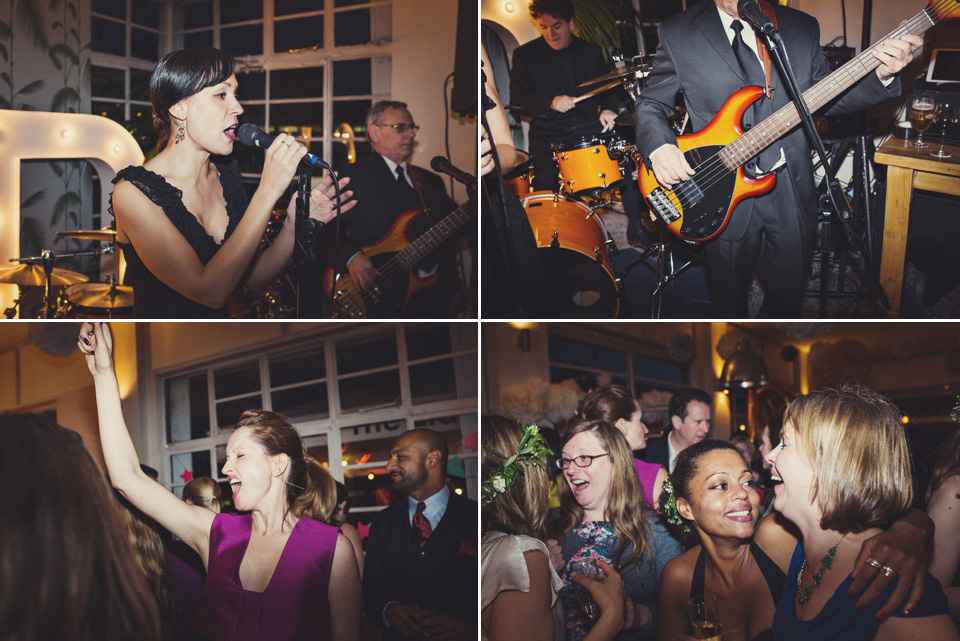 Words of Wedded Wisdom…
"Do it exactly as you want to do it. Don't be pressured by family, friends or perceived tradition. It's a day to celebrate everything you have together. Let it be a reflection of that and everything else will be wonderful. The small details just fall into place when you do it your way I think.
Please use this box to add anything you feel we might have forgotten to ask you: I loved planning my wedding. I tried to source as much from local makers and suppliers as possible. When you start planning a wedding it is so daunting…there are so many possibilities. But I think SE London is such a special creative pocket of Londo. I love living here I am so glad we got married in our own neighbourhood where we felt most comfortable.
I would have given a speech myself. There are so many things I would have liked to have said to Stefan in the company of those we love and on such a momentous day, but I didn't think there was space and time on the day when we were planning it. On reflection I wished I had pushed harder for that."
"I also wish we could have invited more people, extended family etc.. but unfortunately that just wasn't possible.  No matter how hard you try, someone is always offended. Although there must be so few weddings with unlimited budget and space so I think anyone going through planning a wedding can empathize with the difficulty in limiting the number of people you invite!
I am also so glad we had no travelling between the ceremony and the reception. Everything was at 'The Lido'. We had the ceremony at 3pm and as we left, everyone threw confetti on us as we walked down the beautiful stairs outside. We then asked guests to go over the road to the pub for a quick drink (we put money behind the bar) while the Lido set up and we had some photographs taken. Everyone then came back across the road for the meal and we moved onto the terrace poolside while they set up for the evening.  It all felt quite seamless!
The staff at the Lido were fantastic. Anke who organises weddings there is absolutely brilliant, has every detail covered and I cannot recommend it as a venue more highly."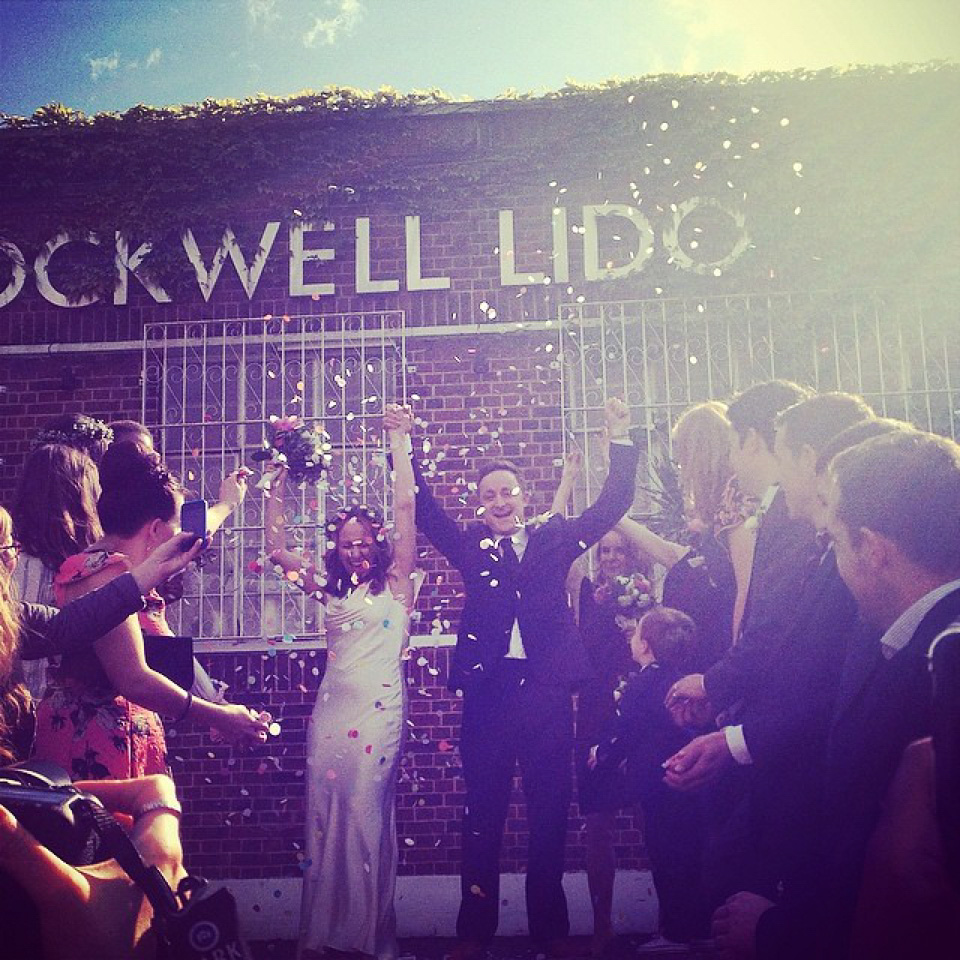 What an absolutely delightful way to welcome the weekend – with thanks to photographer Lisa Jane and congratulations and love to you both Stefan and Diana – thank you so very much for sharing your wonderful wedding day story with us.
Are there any of you reading this now who have had dress doubts and changed your mind at the very last minute?
Have a beautiful Saturday morning all,
Love Annabel xx
Photographer – Lisa Jane
Venue + Catering  – Brockwell Lido, London
Brides Dress – Ghost Sylvia dress in ivory
Shoes – PC purchased at Iris Boutique
Accessories – necklace was by Decadorn
Bride's Scent/perfume – YSL Cinema
Groom – Paul Smith slim fit suit + Oliver Spencer shoes
Bridesmaids – ASOS, Office, H&M, Mango + New Look
Page boy – John Lewis Heirloom collection + Cool Baby Ned bow tie
Florist – The Fresh Flower Co in East Dulwich
Macaron Tower – La Dinette + topper by Love on Top
Transport – Black cab
Entertainment – Camille & The Dare Devils
Rings – Katie Gayle (professional jeweller + the bride's mother)
Makeup Artist – Kylie McMichael
Giant light up letters – Vowed and Amazed
Decor – Paperpoms
Colourful Confetti – Knot and Bow