This afternoon's wedding is a very special one. Regular readers will know that every so often, Annabel teams up a first-rate supplier to offer a very exciting competition. Back in March Love My Dress offered a very lucky reader the chance to win a full photography package courtesy of the frankly amazing photographer Tom Ravenshear. Today's newlyweds Kirra and Tim were the winners and it is my pleasure to share their August wedding in all its glory with you all now.
A spectacular Georgian mansion was the setting for Australian Kirra and Londoner Tim's music filled 'wedfest'. Both are musicians so they certainly weren't short of entertainment and laid on an impressive rock'n'roll meets village fete wedding on a budget of £5000. They made the most of local suppliers and favours from friends as well as Kirra's newly acquired stationery skills to pull off a stunning budget wedding.
"We always knew our wedding would be a bit bohemian with a touch of rock'n'roll, an awesome party on a budget. We decided on a 3 day 'wedfest' so we could set up with our guests, get ready with them on the day and recover with them afterwards."
Photography Copyright (c) 2014, Tom Ravenshear
"Tim and I are both professional musicians but actually met on a delayed flight to Australia. Two years later we met again playing in the same orchestra on a seven week tour to the USA. Several hours of chatting later we realised that we had sat next to each other on that flight two years earlier!
A week and a five hour date in a cafe in Greenville South Carolina later, we had totally fallen for each other and I knew with total certainty that he was the person for me. I never knew it could really happen like that."
Kirra wore a spectacular flowing layered BHLDN gown adorned with her Nan's silver brooch and sparkly flat sandals. Her 'something blue' was a flash of aqua nail varnish just visible under the gorgeous wildflower and rose bouquet. The incredible Eve Ashby applied the makeup which was still perfect the next morning and Jodie Lywood prepared Kirra's hair for her delicate flower crown.
"Dress shopping didn't live up to what I had imagined until I spied the 'Cascading Goddess Gown' on Pinterest, it was exactly what I was looking for. At half price I had to go for it so took a gamble and bought it online. I left it in the box for days as I was too nervous to try it on! Luckily it worked wonderfully with a few alterations. The material was so delicate and gorgeous and flowed in the breeze all day making me feel like something out of an Edwardian fairy tale."
The bridesmaids' lime green maxi dresses were initially tried on as a bit of a wildcard. They looked fantastic with some wildflower wristbands and carrying daisy bouquets…
"Hannah Burnett delivered buckets with an abundance of wildflowers, sunflowers and eucalyptus leaves (for a touch of Australia!) which my Mum, aunt and friends arranged into jam jars, tins and vintage bottles that we had collected. The arrangements were so beautiful it just took my breath away when we walked into the tent.
In the chaos the sunflowers never made it from the sink to the ceremony, we didn't even notice though so it obviously didn't matter that much!"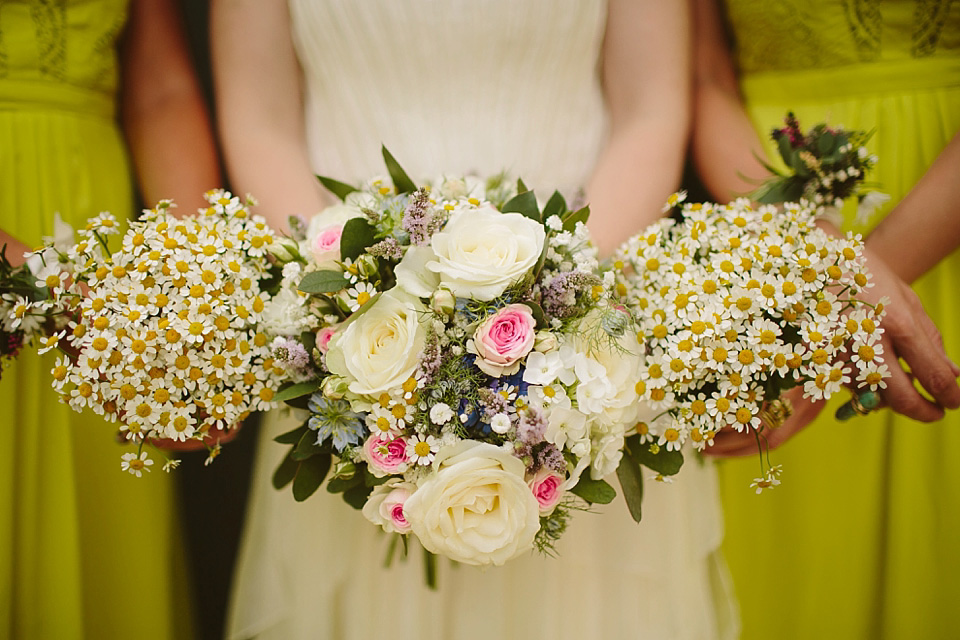 "With numerous professional musicians among our guests we were covered for entertainment. We ended up with a large Céilidh band as more guests joined in to play and the guys blew everyone away. We danced on the front lawn as the sun went down, Tim twirling me around in my cascading dress"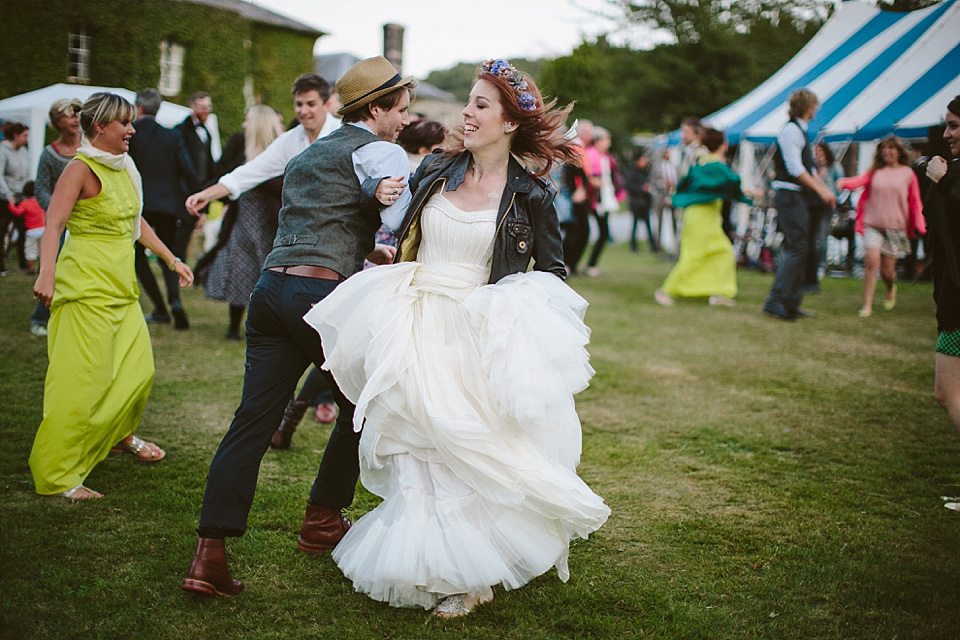 "We were lucky enough to win this wedding photography competition on Love My Dress and our prize was to have our wedding photographed by Tom Ravenshear.  Photography was hugely important to us, we really wanted those little touches of DIY captured forever, our families and friends all happy together and the joyful moments of our first day together as husband and wife. Winning the competition made a huge difference to our tight budget and enabled us to have the wonderful pictures which speak for themselves.
Tom kept me calm about the morning rain with his weather app telling us that the sun would appear in time for the ceremony and we did have glorious sunshine for the rest of the day. Just goes to show that you should enter competitions, you might win!"
"We visited Colehayes Park on the edge of Dartmoor in Devon, four weeks before our son was born and instantly fell in love with it. We held the ceremony in the back garden overlooking rolling Devon fields and hired a blue & white stripy tent for the reception to ensure outside partying regardless of weather. Our lovely friends and family totally got in the spirit of it all and the next morning my Dad barbequed a delicious recovery breakfast.
We've been so lucky to travel to amazing locations together playing fantastic music but actually got engaged in the comfort of our little North London flat on Boxing Day 2012 after a relaxed evening at the pub. We were engaged for 20 months during which time we had our son Jamie."
"My bridesmaid Tamar gave me a beautiful book with photos and letters from my parents and oldest dearest friends as well as my sister who was unfortunately unable to travel from Australia. It was filled with words of love and support, the perfect thing to see before I walked down the aisle. It was such a special gift and I was totally overcome with emotion as I read it, luckily before the mascara went on!"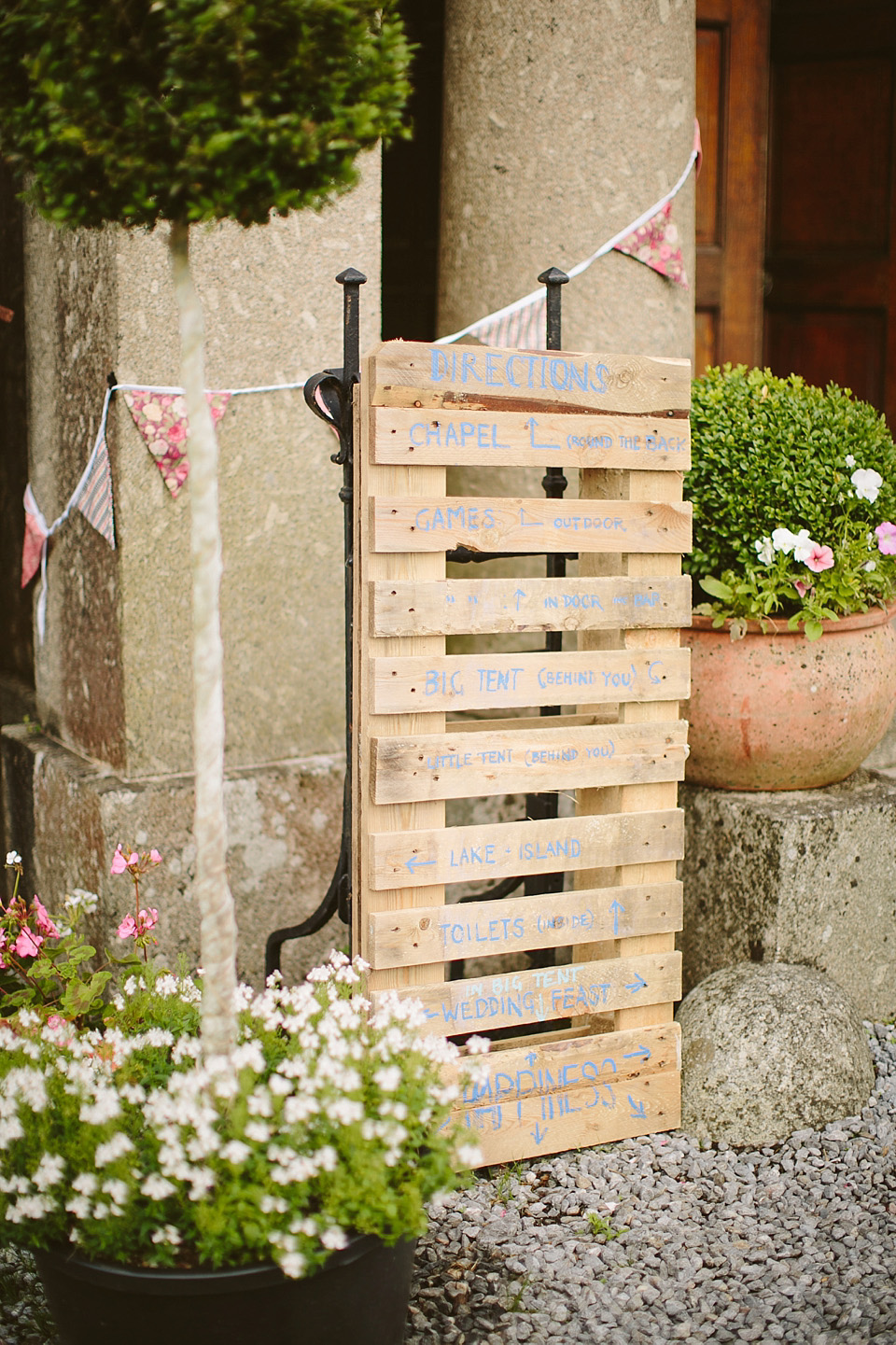 "Suits aren't really Tim's thing so he wore a light blue shirt, burgundy braces and navy blue chinos with brogues and a waistcoat which turned out to be from Newtown in Sydney where I used to live (random!). We bought the hat in Las Vegas at 1am when we were on tour there and it has travelled all around the world with us so had to be at the wedding too.
The best men and our son Jamie got waistcoats to match Tim's and along with my Dad all wore boutonnieres of a mini sunflower and herbs."
"We decorated the ceremony area with Tibetan prayer flags from Nepal and hired garden games and deckchairs for the reception, a gramophone and vintage drinks dispensers for the bar."
"Tim wrote an incredibly beautiful and atmospheric arrangement of a Sigur Rós track which played as my dad walked me down the aisle. I never thought I'd go for that tradition but it felt really special so I'm glad we did it. Tim forgot to turn around and see me so I tapped him on the shoulder to say hello instead!"
"Our lovely friends Holly and Tamar made bunting which we draped around the house and garden. We decorated the bar with coffee sacks, fairy lights, handmade signs and tassel garlands. Tamar also made the sari table runners."
"A very sporting Devon registrar agreed to incorporate many of our own words into the legal ceremony making everything so much more meaningful and emotional. Everyone sang 'All You Need Is Love' enthusiastically, playing kazoos in the chorus during the ceremony and walked out to a New Orleans-style Dixieland parade playing 'You Are My Sunshine'. We were incredibly lucky to have so many world class musicians playing for us."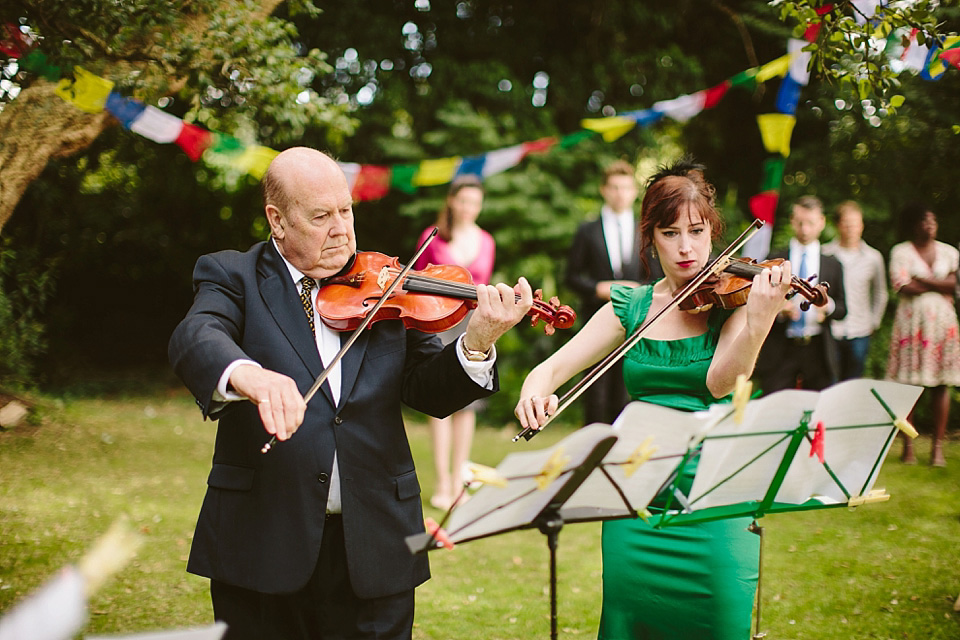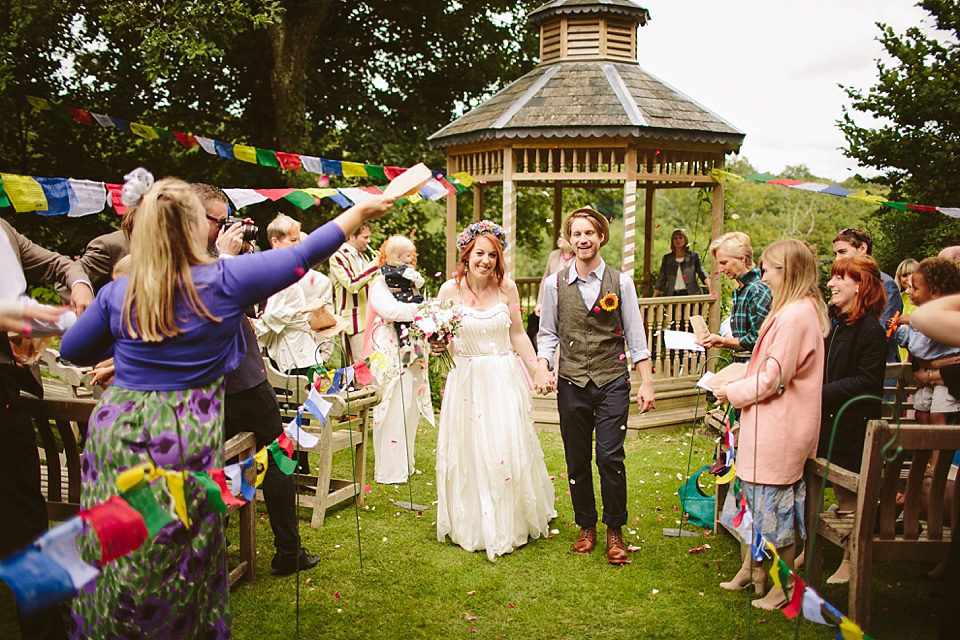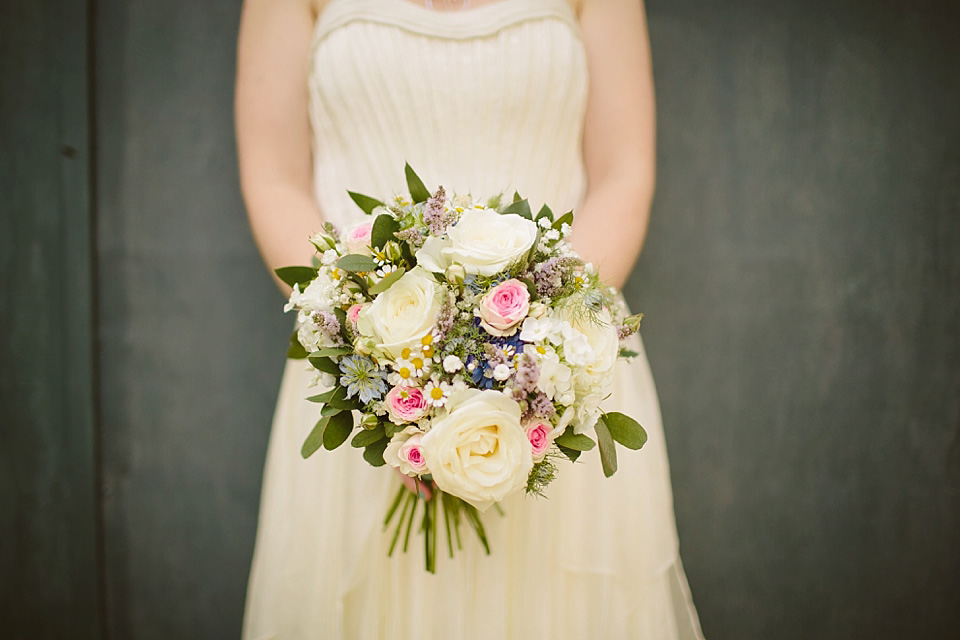 "Kate Burt made a tiered strawberry cake which was decorated with gorgeous fresh flowers. We liked the informal, messy look and it was so delicious, everyone loved it and we had a great time munching leftovers!"
"Having a buffet style high tea really helped to keep costs down and somehow we managed to have food throughout the day and within budget. Fine Country Lifestyle uses fresh farm ingredients and provided a ploughman's lunch buffet of local produce and our guests got into the 'Bake off' spirit bringing loads of wonderful desserts. Later we had a locally sourced hog roast, with homemade cider sauce, fresh bread and stuffing.
Everyone was raving about it, we cannot recommend Shaun enough he really went above and beyond."
"Instead of table numbers we had pictures of Lego Star Wars characters propped up in Brixton beer bottles."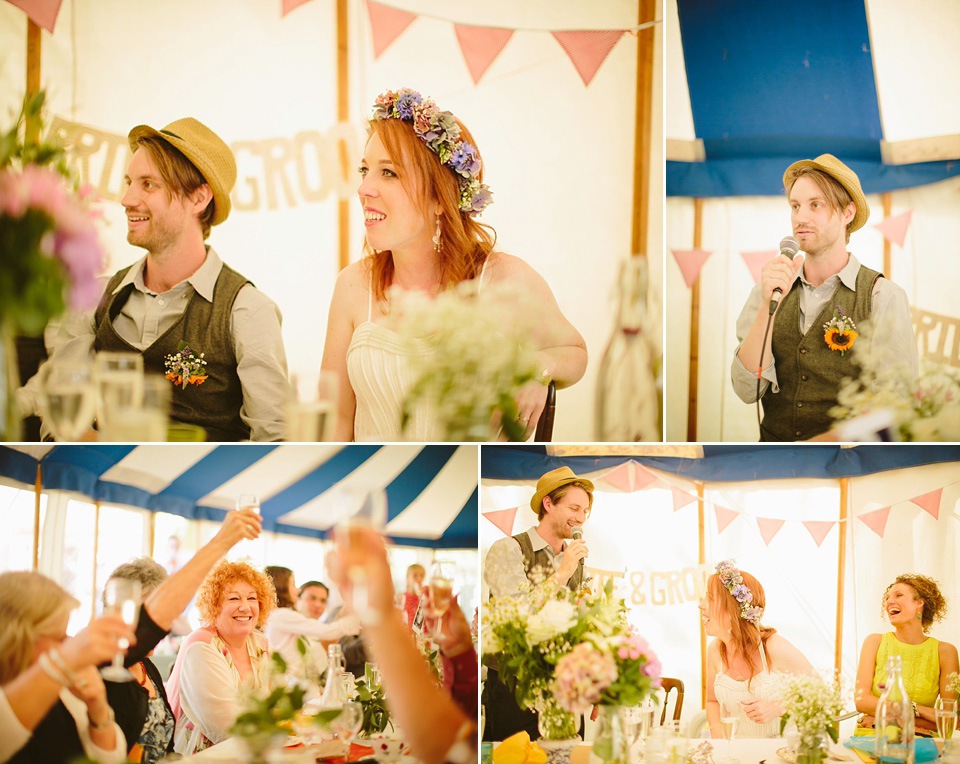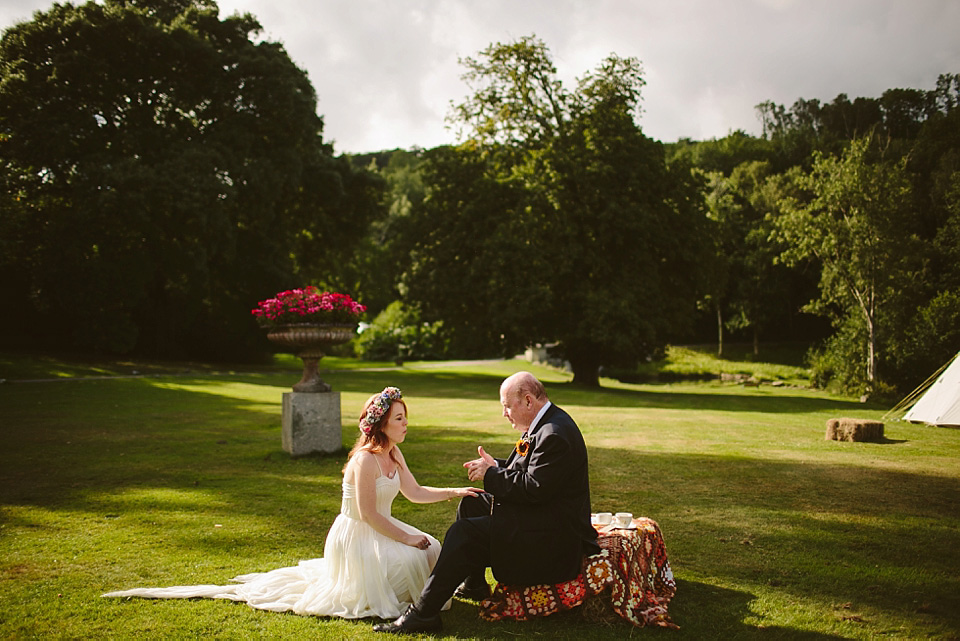 "We loved the little moments through the day where we could just sit back, relax and enjoy our efforts. Seeing everyone smiling and laughing having made the effort to come to celebrate with us meant so much. Bouncing around in my wedding dress to 'Rage Against the Machine' as my husband played guitar was so amazing. I wish we could do it all again!"
Words of Wedded Wisdom
"Make lists and accept offers of help, you will be so grateful in the days leading up to the wedding. Use suppliers who are in sync with your vision and who lend positivity to your plans. The suppliers we loved the most really cared that we had a great day. Planning a wedding can weirdly make you feel a bit vulnerable, things naturally get missed and don't always go exactly to plan… don't stress, a wedding is about the two of you getting married and sharing your celebration of that surrounded by the love and support of your friends and family is a happy beautiful thing.
We felt like we must be bonkers trying to do it all ourselves with baby in tow so getting to the wedding day and having the lovely Nat Haydon as our on-the-day coordinator was a great help. It was such a relief and resulted in a great party!
We would have loved to have the wedding filmed to watch it back and have the music from the day on record. We could have got more done before the last month, we just didn't anticipate how much would still need to be done and it was a bit of a sprint finish in the end… but none of that really matters!
It was a LOT of work to take on with a new baby but totally worth it. The challenge of doing it on a budget was actually really fun. We felt like it meant even more to be doing it after that first year of parenthood, in addition to celebrating love and marriage it was also a celebration of that new and crazy journey together."
I adore this wedding, I hope you did too. Thank you so much to Tom Ravenshear for sharing your wonderful work with us. Huge congratulations Kirra and Tim, it looks such a fun wedding!
Love Caoimhe xx
Photographer – Tom Ravenshear
Venue – Colehayes Park, Devon + Tent supplied by Ashley Events
Dress – BHLDN + Shoes Dune
Bracelet – Nest Very Pretty Things
Bridesmaid's Dresses – Warehouse
Hair – Jodie Lywood + Makeup Eve Ashby
Groom's Outfit Shirt – All Saints + Braces Debenhams + Waistcoat Hound & Tooth + Brogues Loake
Page Boy's Outfit – Mama's & Papa's
Rings – Artemer studio + Maya Selway
Stationery – Stickman Cards
Props – Very Vintage Hire Company + There's Something About Vintage
Coordinator Nat Haydon from – Jolly Good Wedding
Catering – Fine Country Lifestyle + Maddocks Farm Organics + Piglet Cottage
Cake – Kate Burt
Flowers – Hannah Burnett