Happy Saturday morning you guys! I just posted the most dreamy set of images to our Facebook page which show off the work of my lovely friend Asma at Boudoir Lashes (a member of my coveted little black book of the very best suppliers in the UK wedding industry).   This morning's wedding takes us over to London again (where I spent Monday and Tuesday of this week visiting Twobirds Bridesmaid and Upperstreet Shoes – watch out for features soon).
Dominique, a jewellery designer, married Music Producer/Photography Studio Manager Jody on 21st June last year at The Old Finsbury Town Hall in Clerkenwell, London.
"We wanted a London wedding because this is our home. Also it was middle ground for my French Family and Jody's family in Somerset.  Everything seemed to just fall together. We did not have a set theme or ideas. We just wanted everything to reflect us and also compliment the beautiful setting of the town hall."
Photography Copyright (c) 2015, Debs Ivelja
Dominique's bridesmaids wore the prettiest peach floral retro style dresses from Asos, which they teamed with shoes from John Lewis and Dune.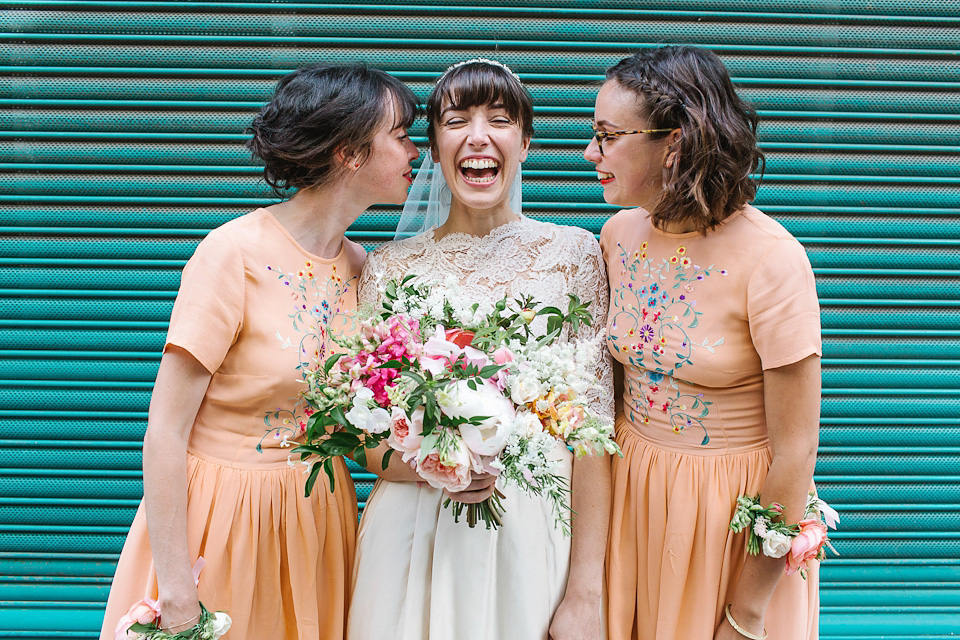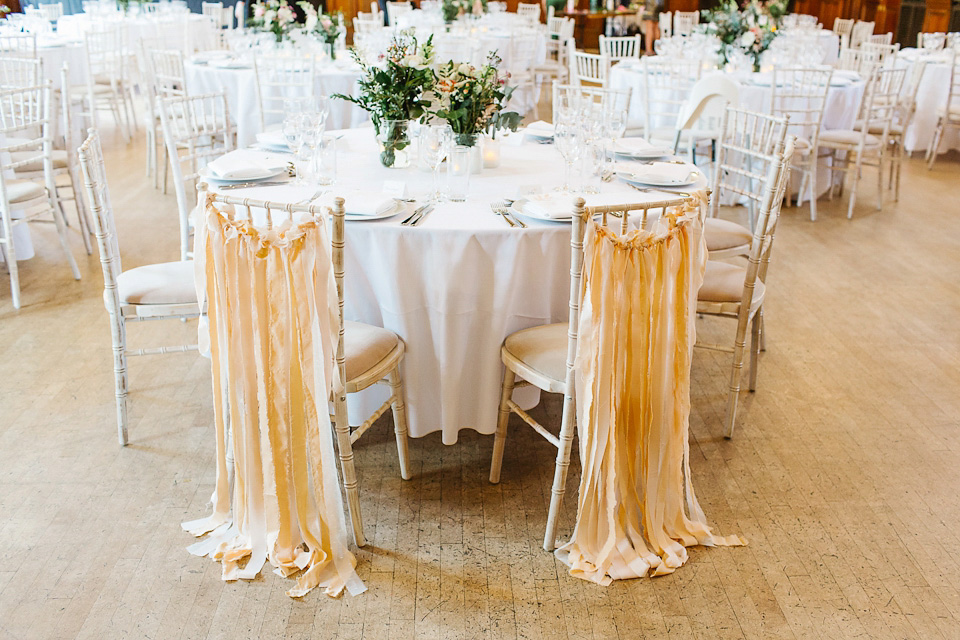 I adore that Dominique chose to wear ballet shoes.  These were from Anniel Moda.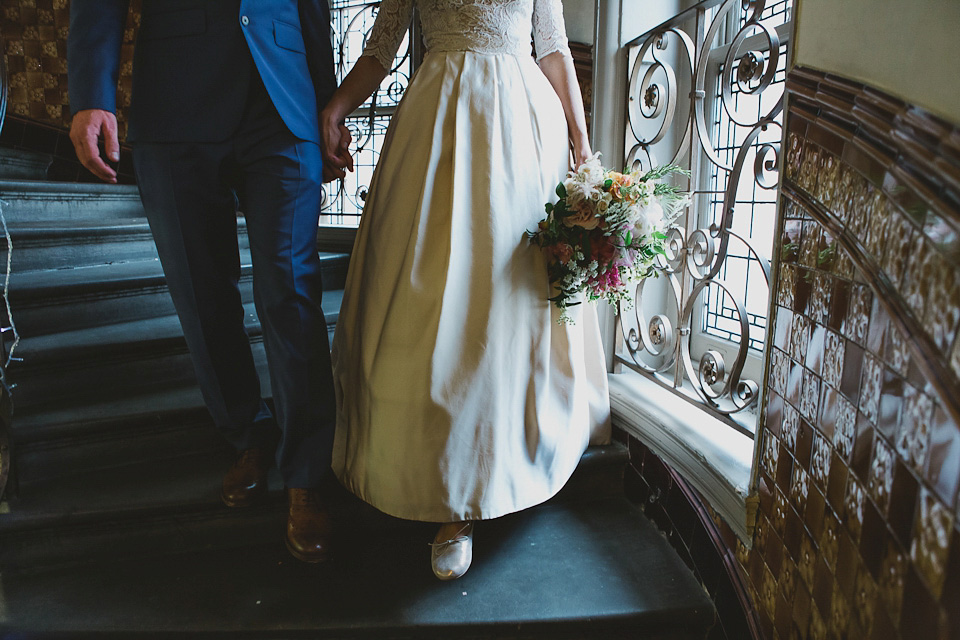 "Rebel Rebel florists did my bouquet, the button holes, flower crown and corsages.  All the table and ceremony flowers we did ourselves the day before, after an early morning trip to New Spitalfields market (we had pre-ordered all of the flowers). We wanted it to look natural and fresh – and a tad messy too!"
"Our photographer was Debs Ivelja, who was the photographer at my sister sophies wedding a couple of years before and there was no way I would have had anyone else. Debs is amazing and she captured the day as we knew she would, perfectly. We even booked Debs before anything else!"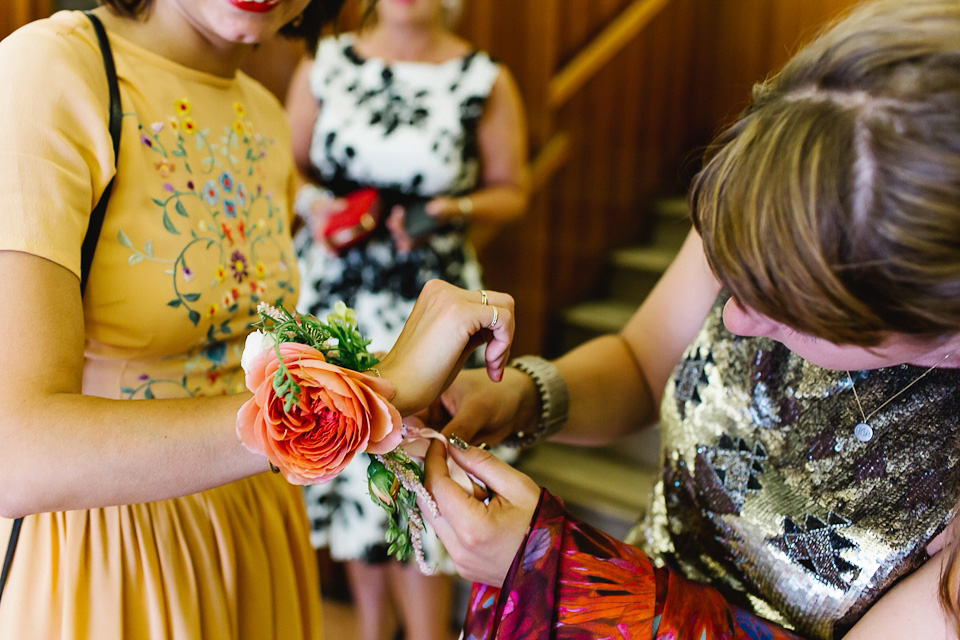 "I bought my dress by complete fluke in Montreal, Canada when I was visiting my sister from 'The Little Shop'. It was the first dress I tried on and was ridiculously perfect! It was a vintage haute couture dress made of nude silk and lace. It was a complete steal at £120!  I then had it in my suitcase when we flew from Canada to Mexico for a friends wedding.  I always wanted a nude, vintage dress – it was as if this particular one had been made for me."
"I did my own makeup and my hairdresser Rachel Nau did my hair."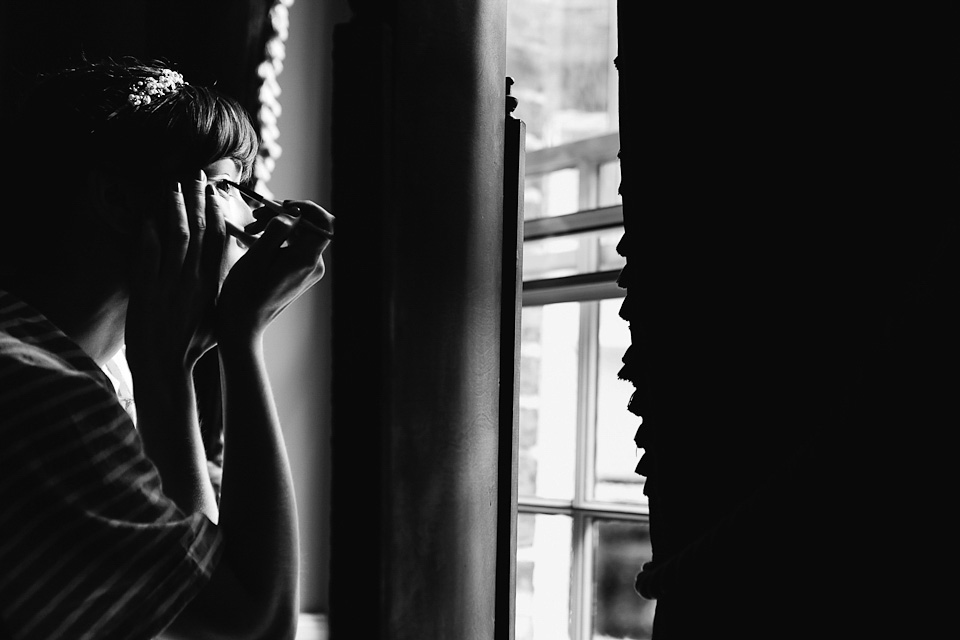 "My sister Chloé and my Maman made my veil out or some silk tulle that had a little sparkle all over."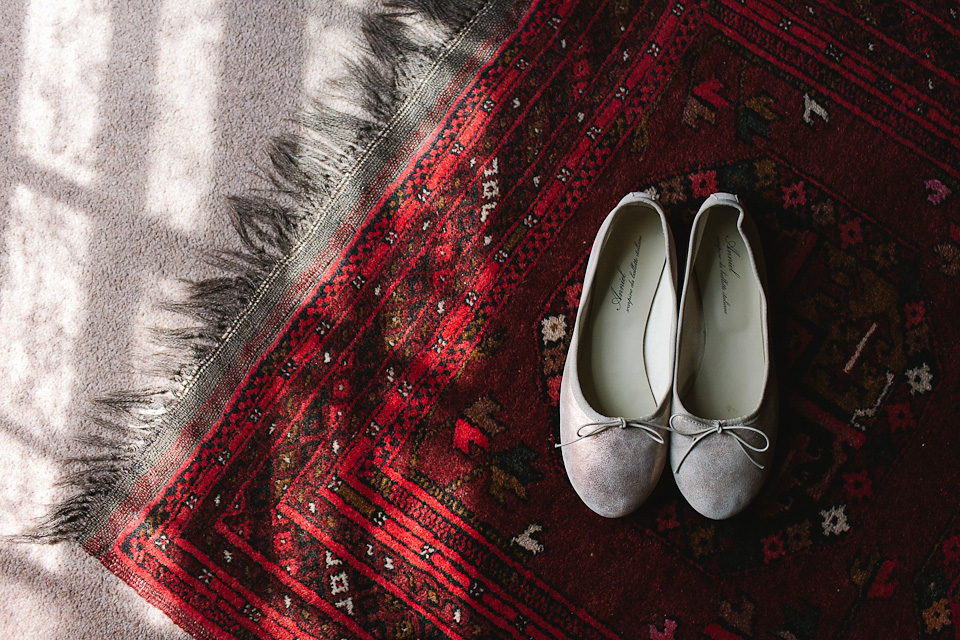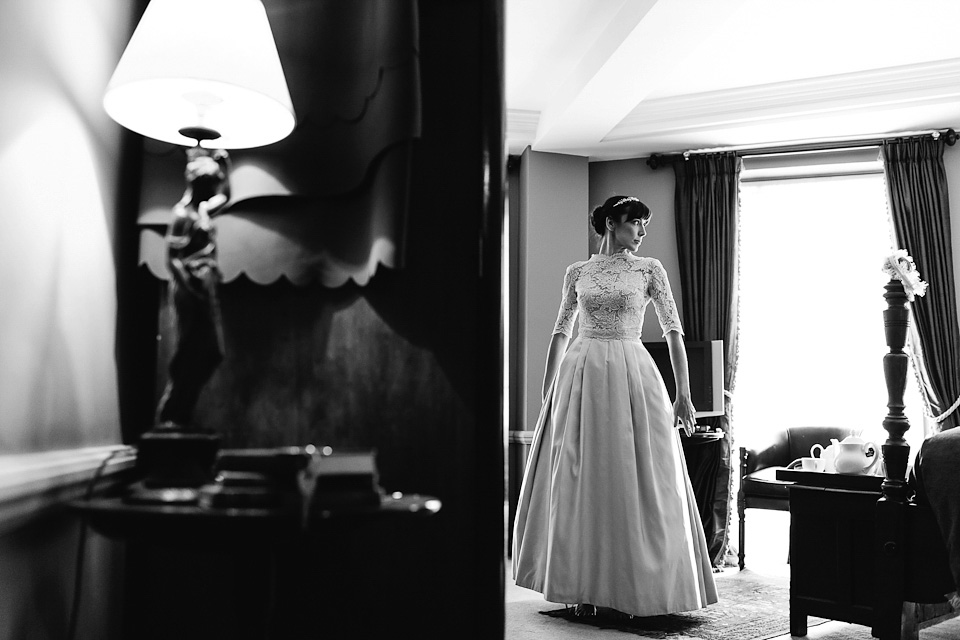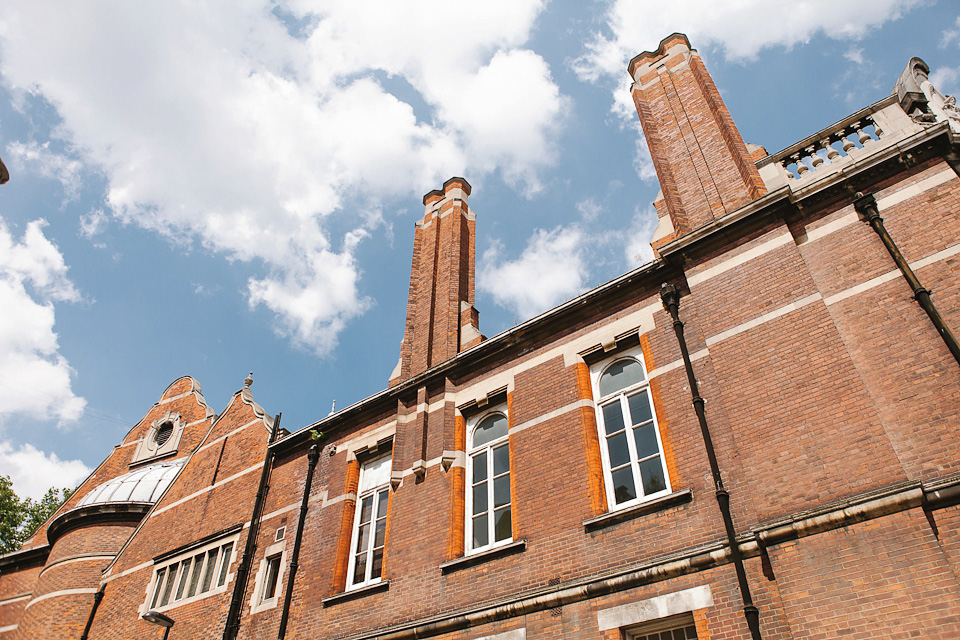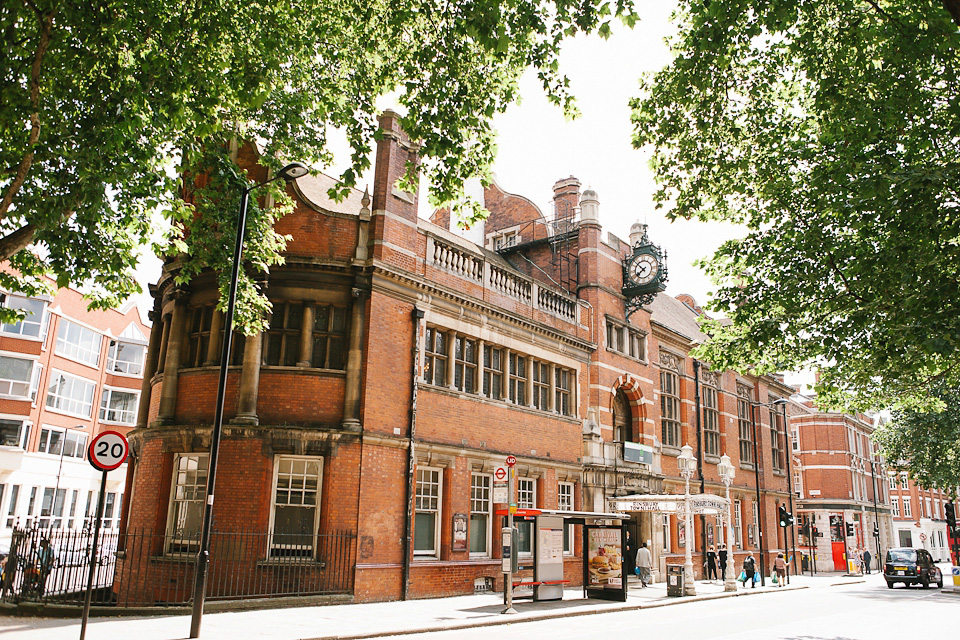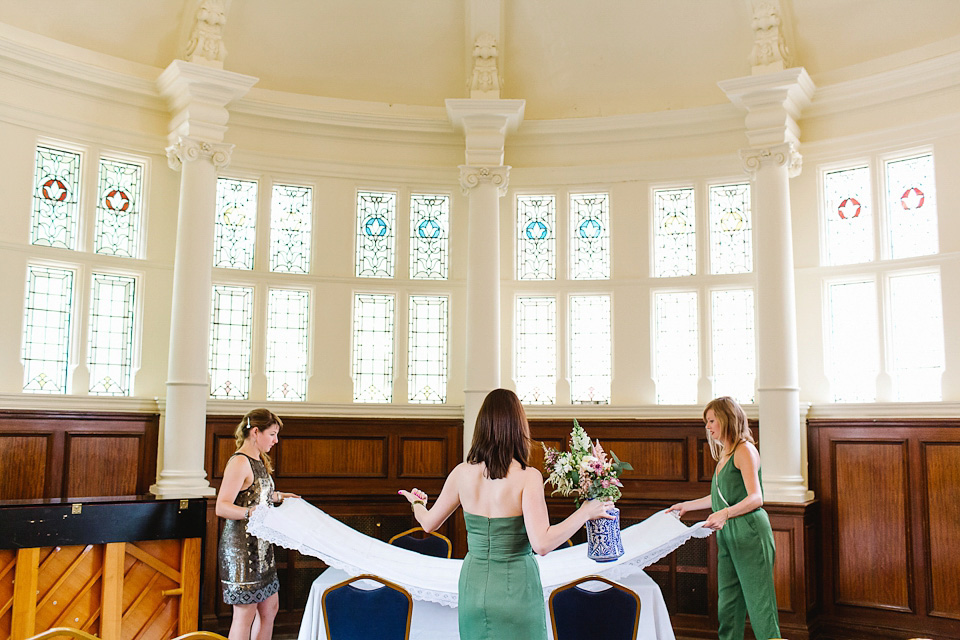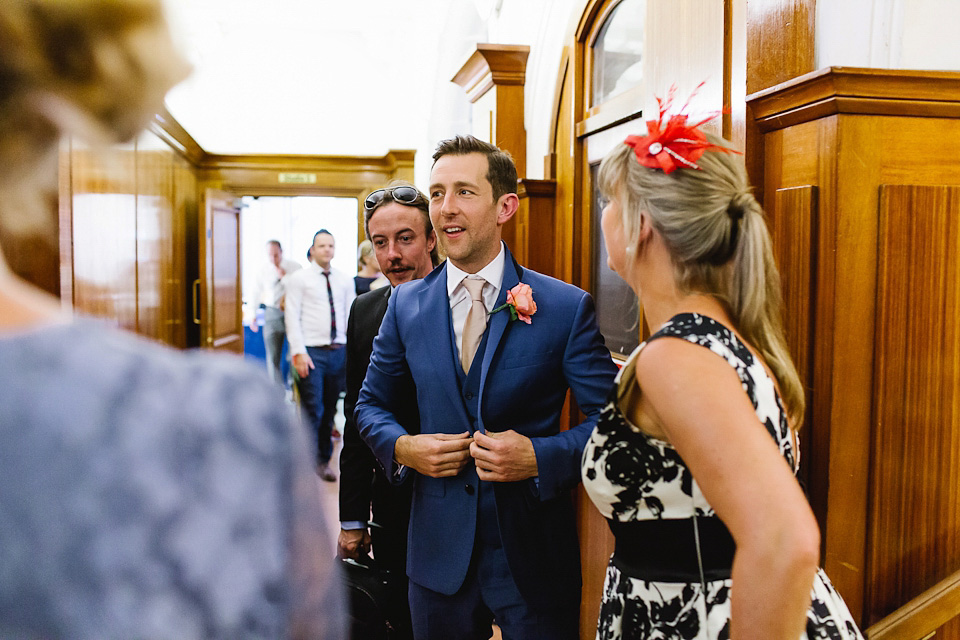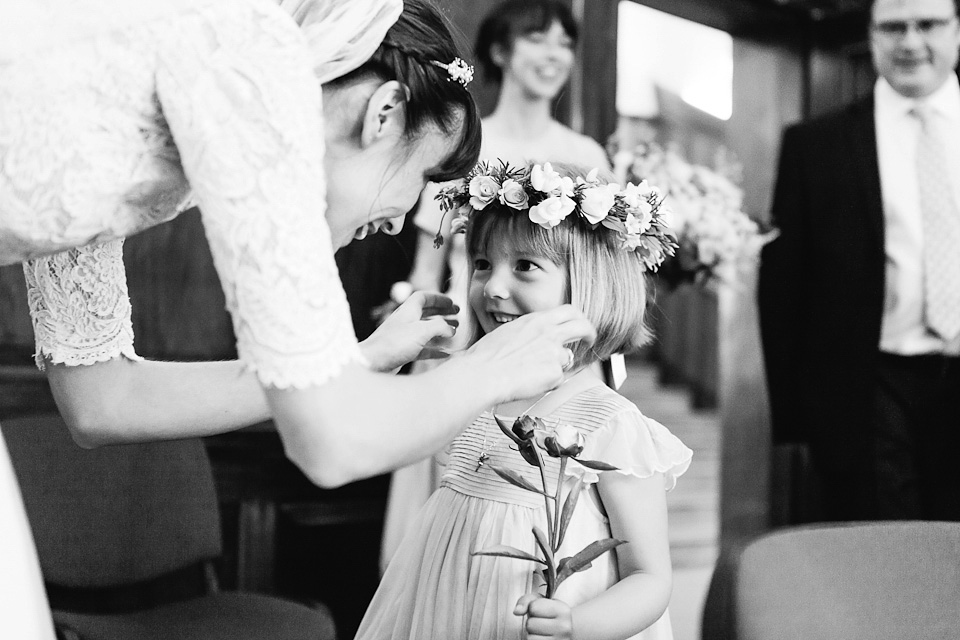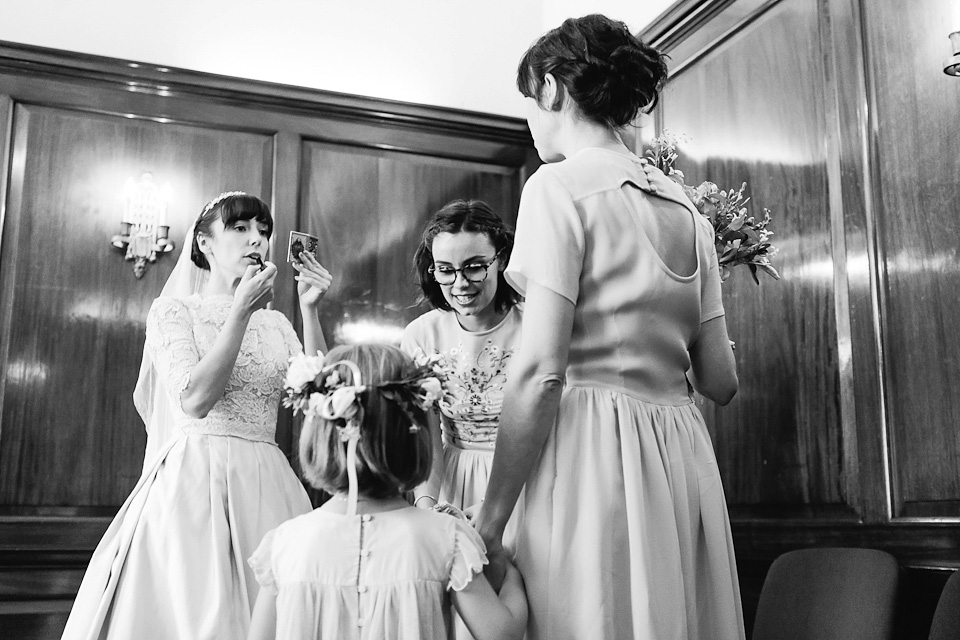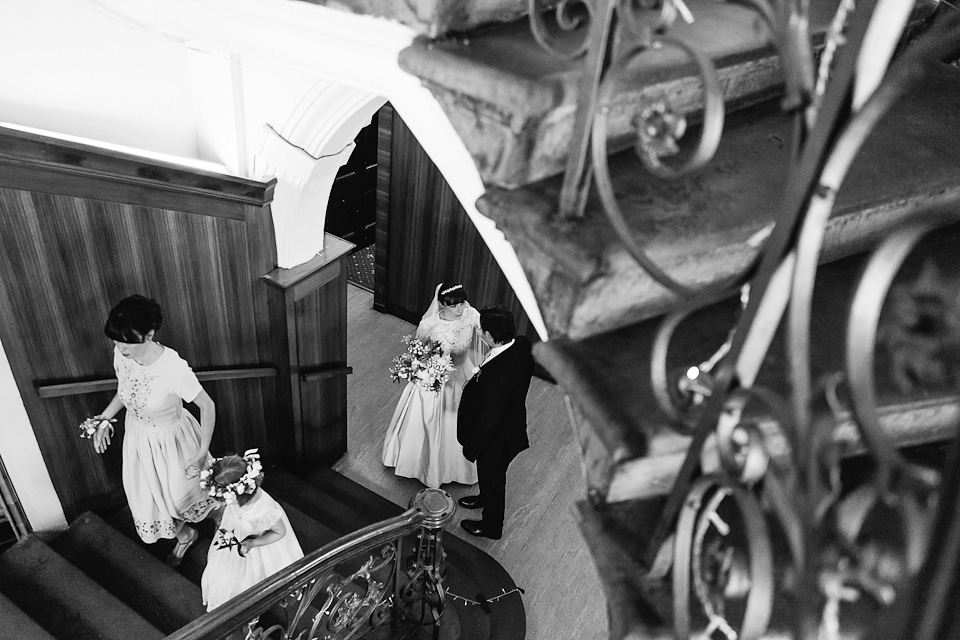 "We met when we moved into a house share together and got together 2 months later! Jody proposed nine years later (at my family's house in France – it was so romantic), and we got married eight months later."
"We decided not to read out our vows but to write them to each other for after the big day.
We asked my Maman to do a reading in French and my sister Sophie read out the translation. Jody's sister Jemma and mum, Janet also did readings. We asked them to choose them as we wanted a surprise. They were all so lovely and really reflected their personalities. Maman and Sophie read a French poem. Jemma read a short story about dinosaurs and Janet wrote her own reading."
"My favourite part of the day was the ceremony. I have never felt such happiness. And then dancing dancing dancing. Jody's favourite part was the ceremony – which he says was perfect – and seeing Dominique come down the aisle was very overwhelming. Food was delicious, the speeches short and sweet and then the band totally rocked out. I wouldn't have changed anything!"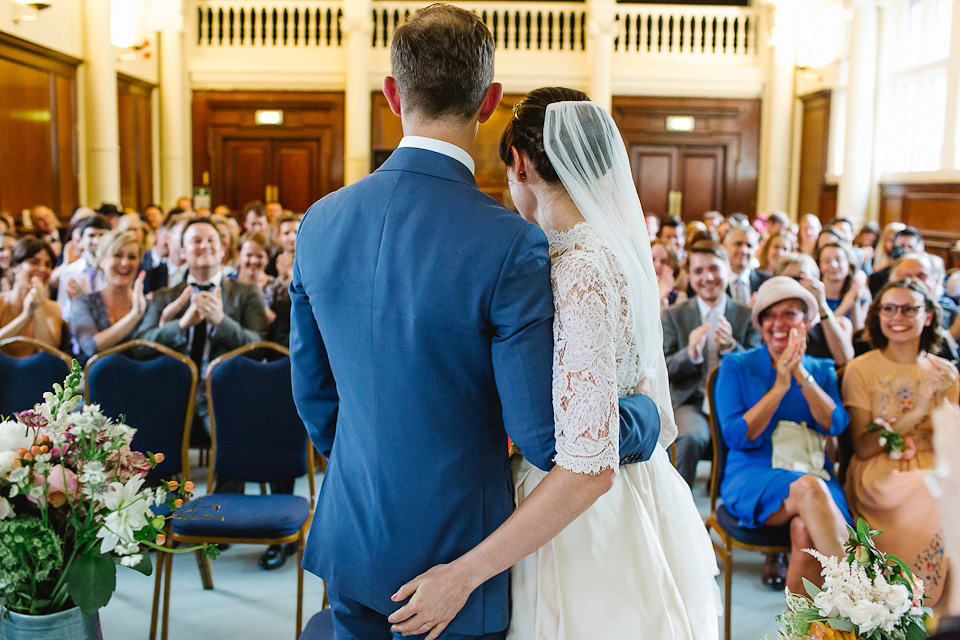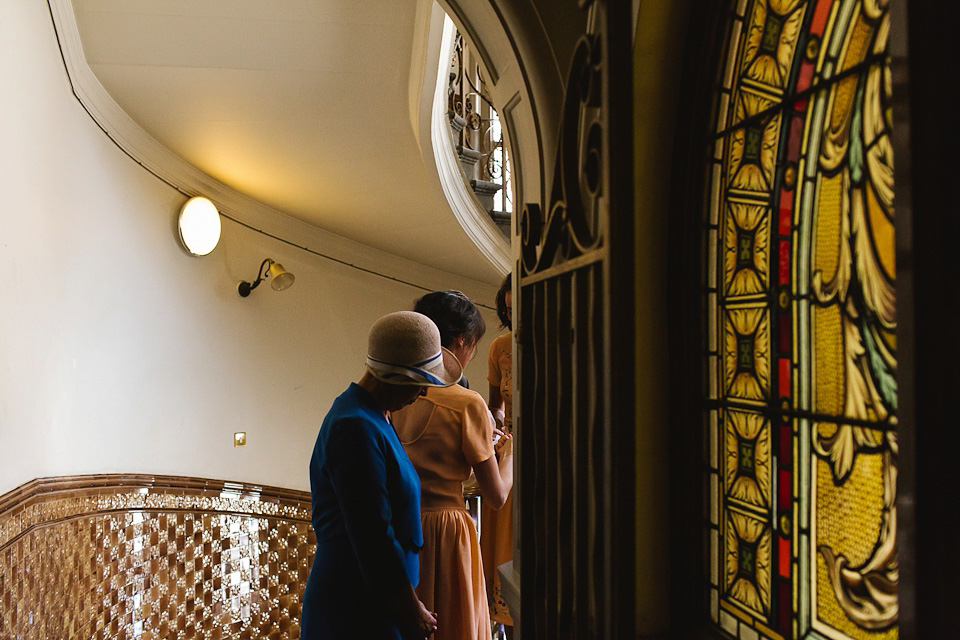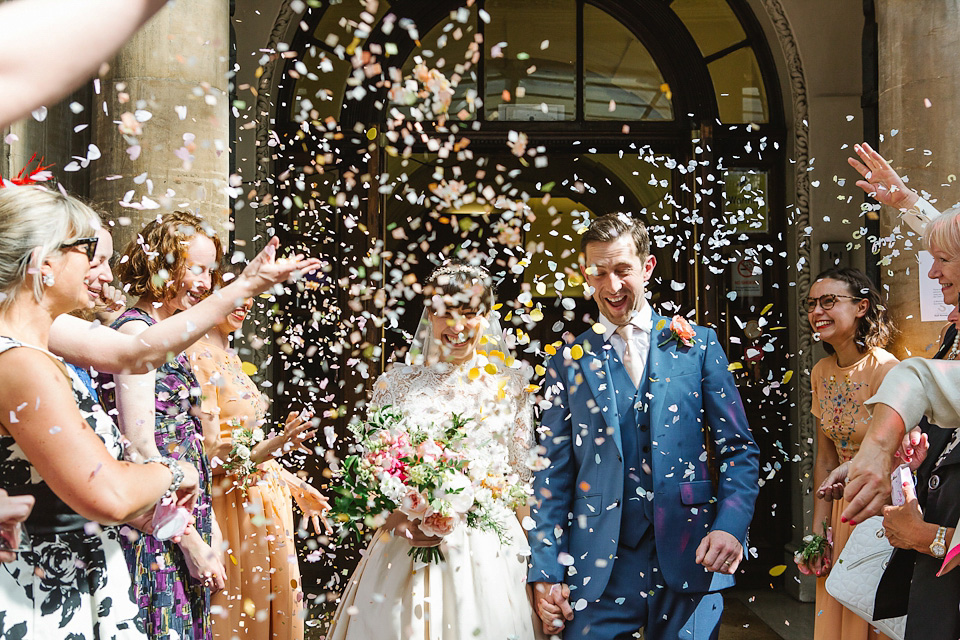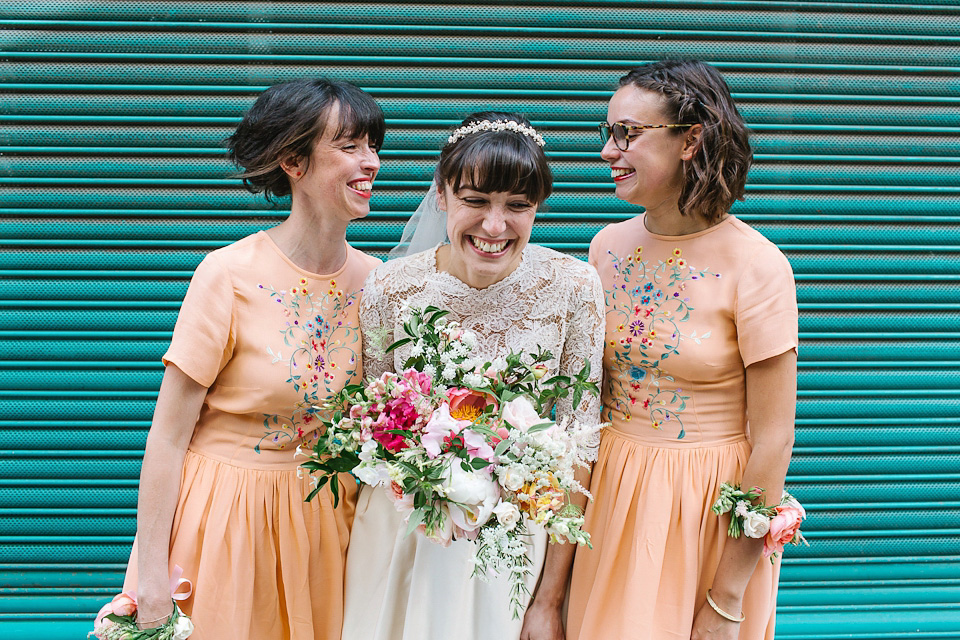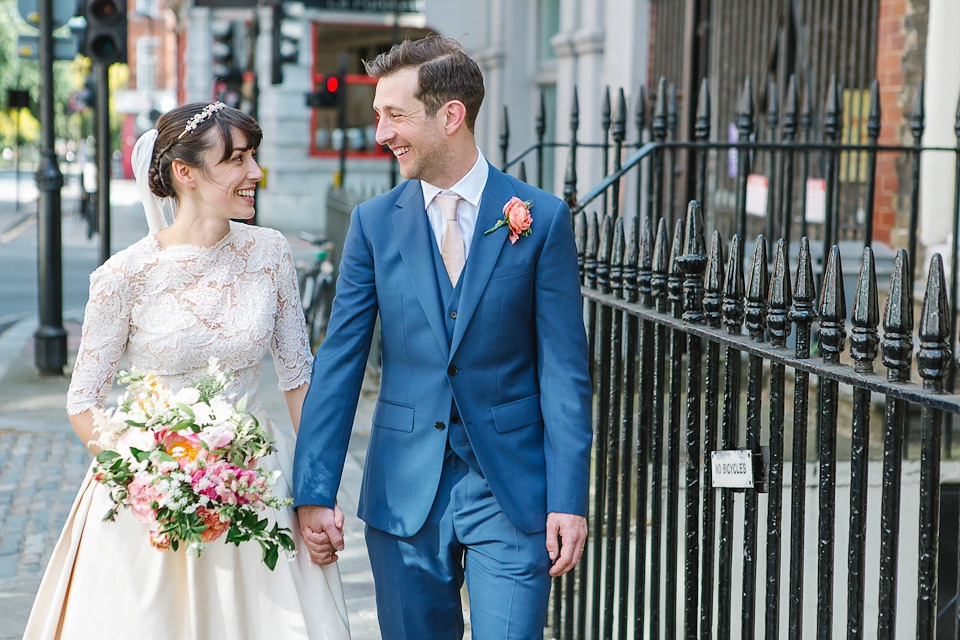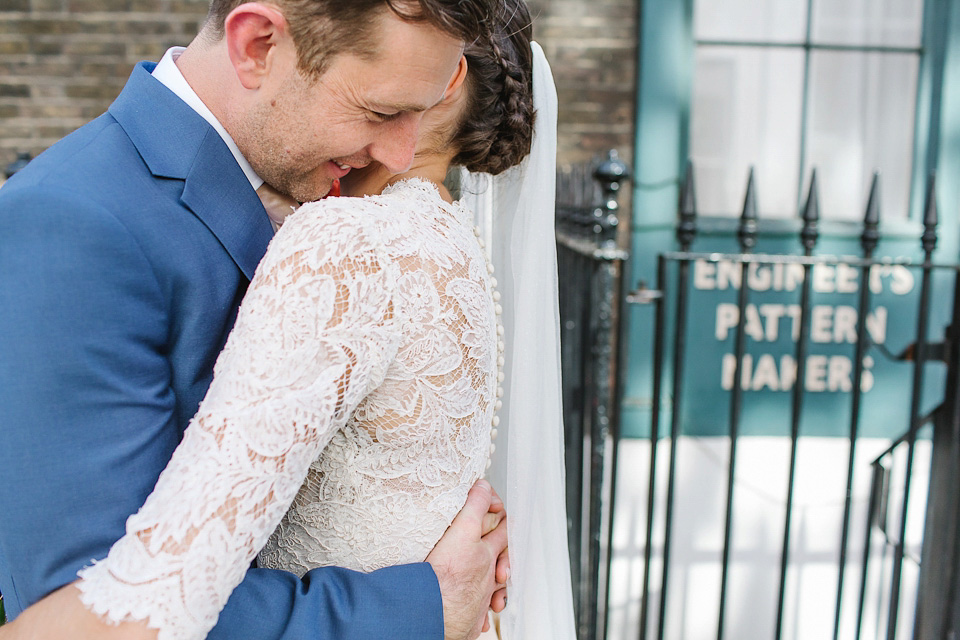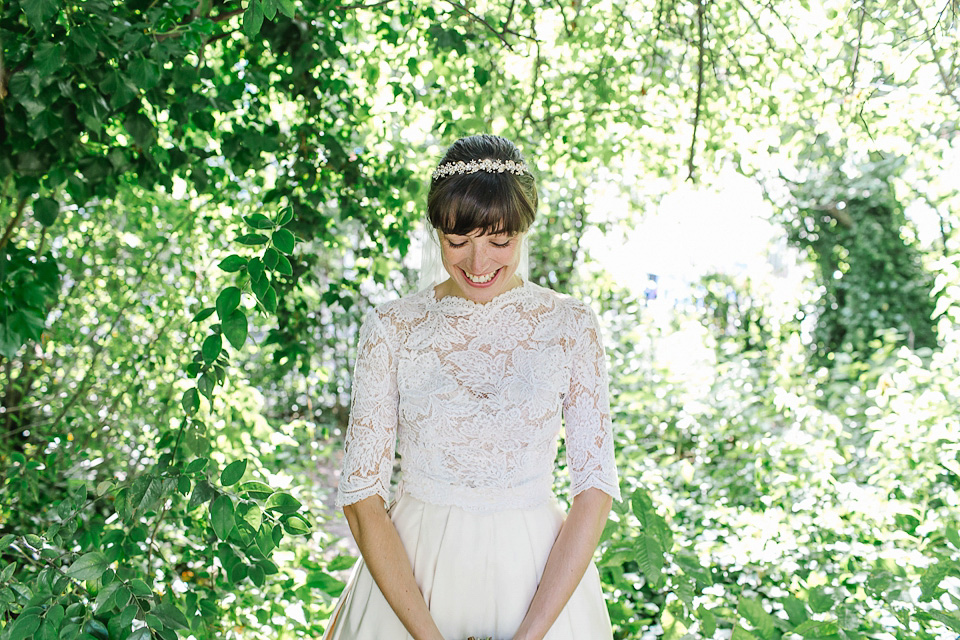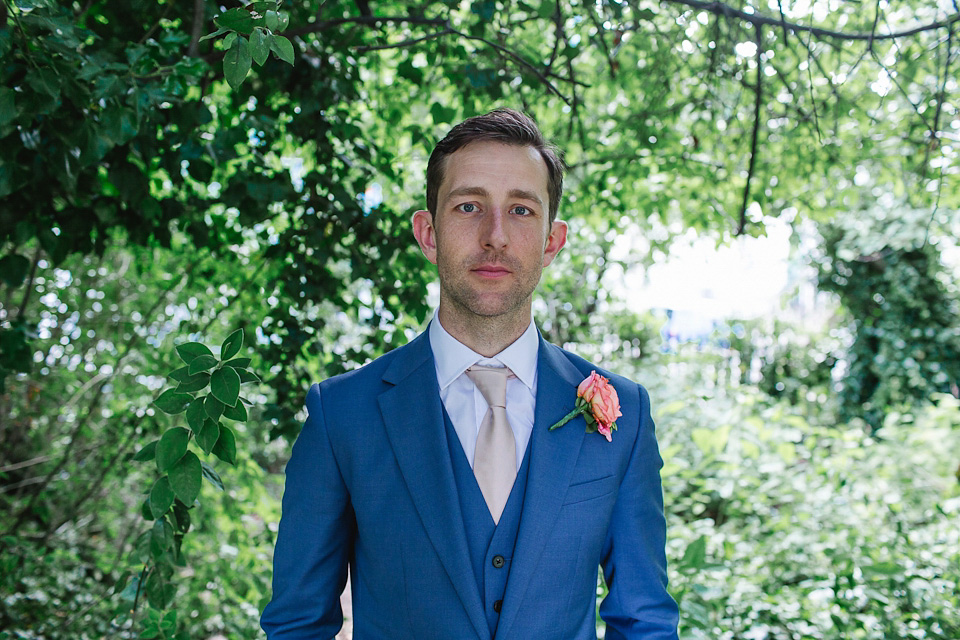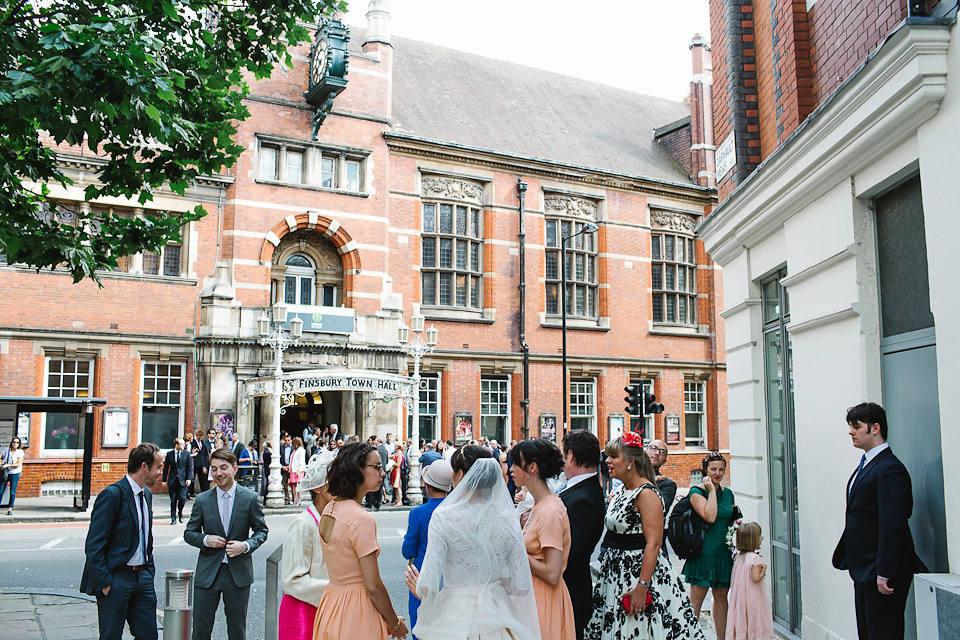 "I made all of the stationery myself. I enjoyed doing all the details and making everything just so!  Also, we donated to a local childrens charity instead of providing individual favours."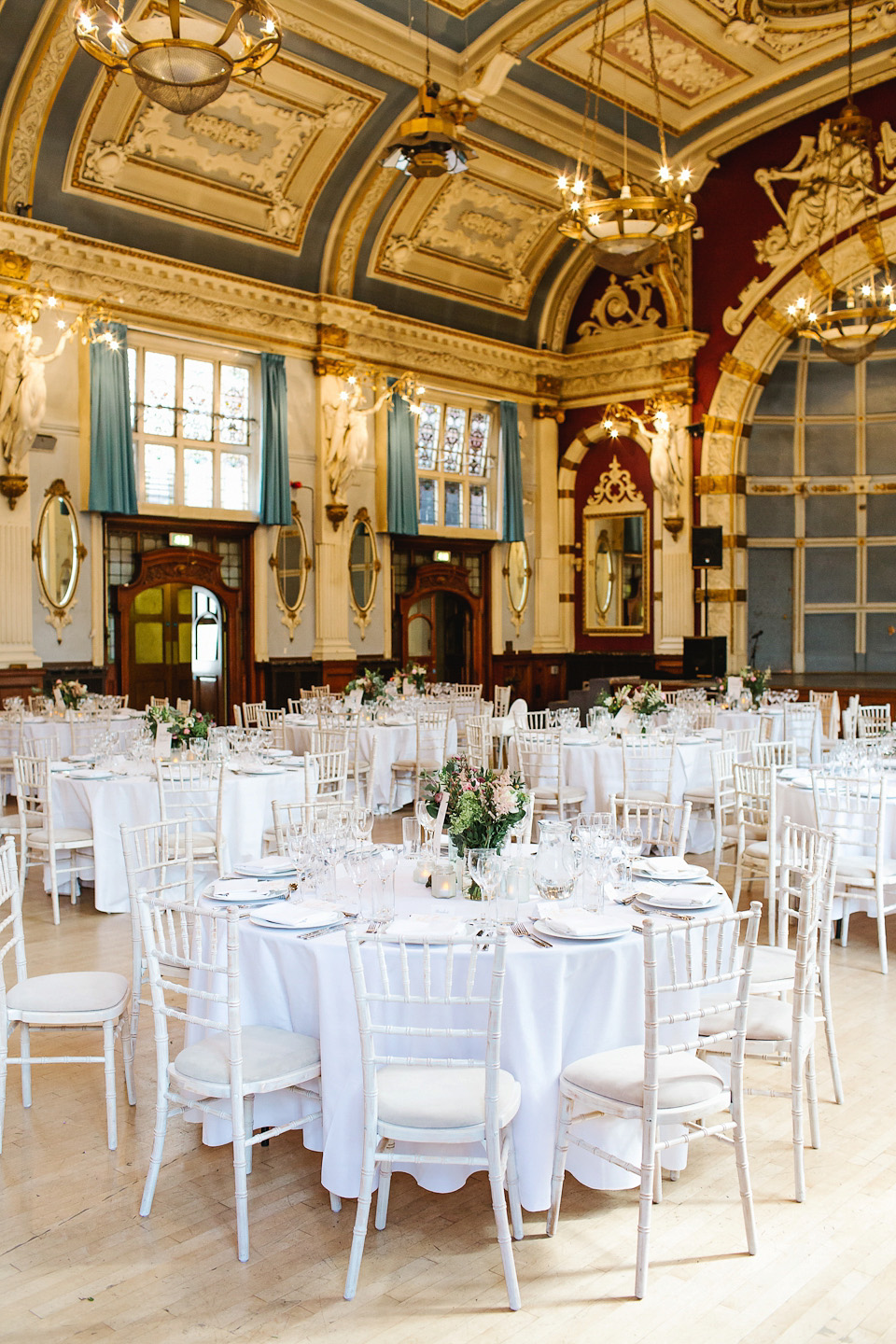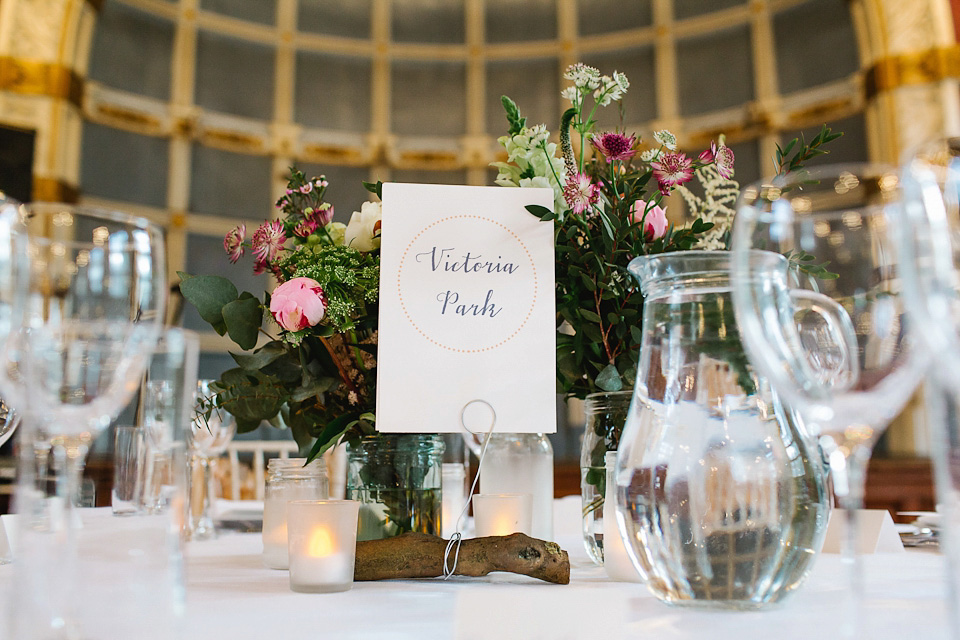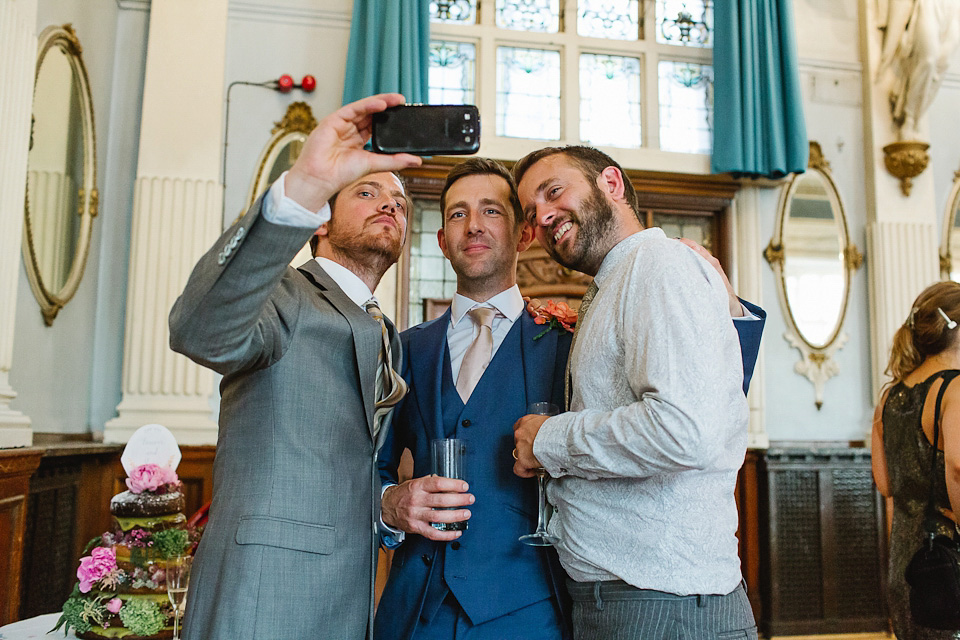 "My maman, sisters and I made the cake – it was lime, olive oil and coconut cake with a lime curd made by my sister in law, Jemma."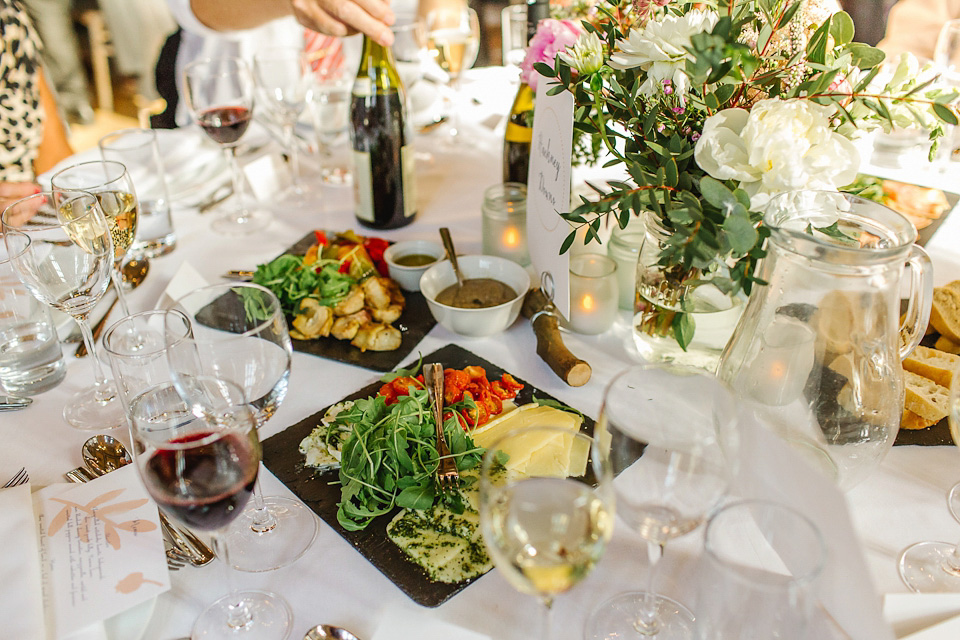 "We had a jazz pianist for the champagne reception and then a live band for the dancing – they were AMAZING. I didn't stop dancing all night.
Jody found the perfect song for our first dance – it gives me goose bumps every time I hear it. James Vincent Mc Morrow's cover of 'Higher Love'."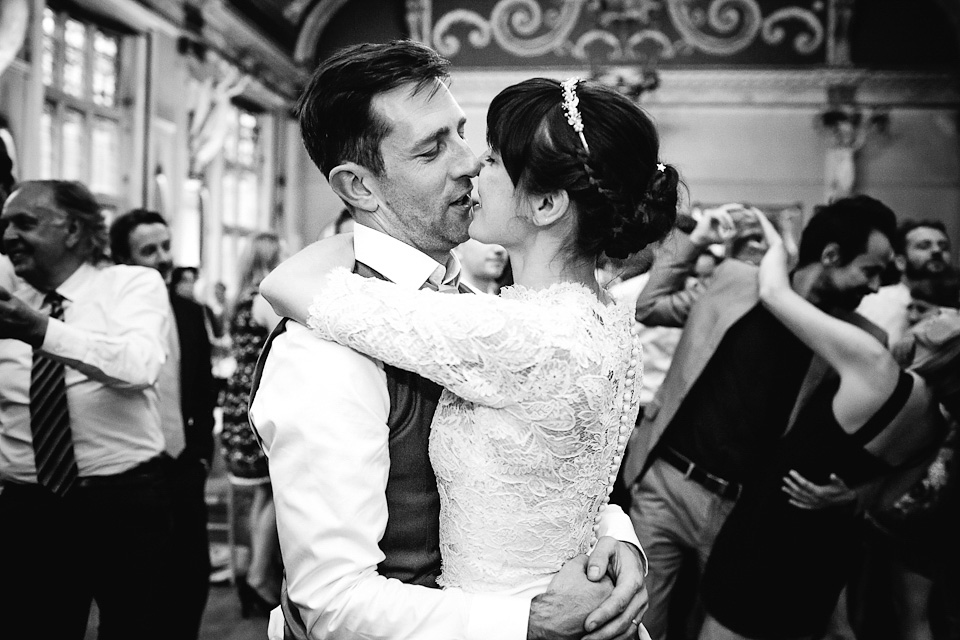 Words of Wedded Wisdom…
"Keep it simple and don't over think things – and learn how to delegate – everyone wants to help, so let them!"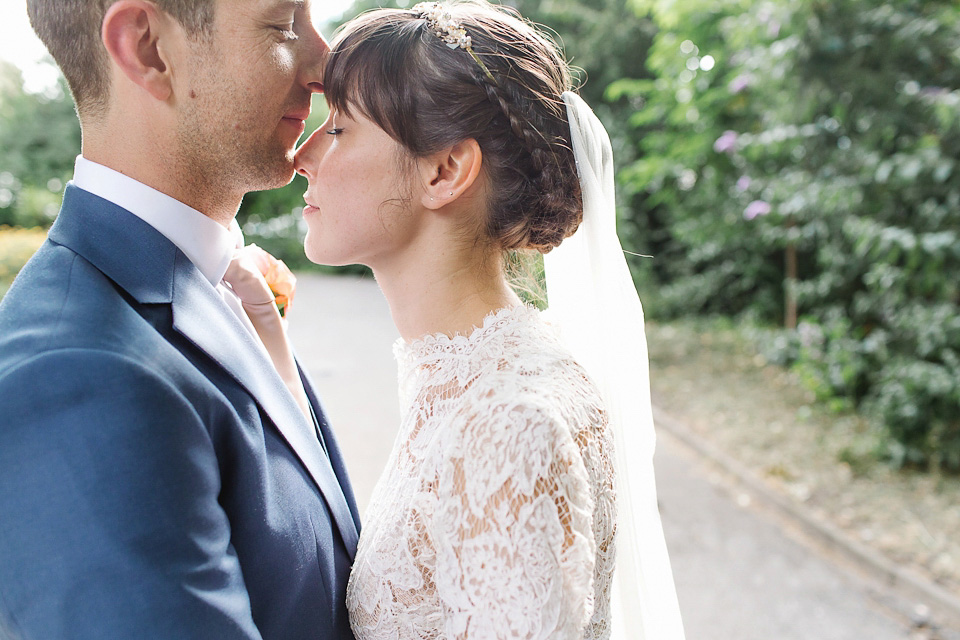 How charming and elegant, fun and stylish – the absolute epitome of Love My Dress bridal style.  Huge thanks Dominique and Jody for sharing your wedding day with our readers and immense thanks as always to the wonderful Debs Ivelja for sharing her most beautiful wedding photography.
So how many of you are committing this weekend to planning your own wedding – and what boxes have you ticked off the to-do list so far?
Love Annabel xx
Photographer – Debs Ivelja
Venue – The Old Finsbury Town Hall in Clerkenwell, London
Wedding Dress – The Little Shop, Montreal, Canada
Veil – DIY made by the bride's mum and sister
Headpiece – tiara from Ebay
Bride's Shoes – Ballet shoes via Anniel Moda
Grooms Suit – Reiss
Bridesmaid's Dresses – Asos + shoes via John Lewis and Dune
Flower girl Dresses – Marks & Spencer
Florist – Rebel Rebel
Cake – DIY, the bride, her mum and sisters
Entertainment –  Rabbit Foot Spasm Band
Rings – made by the bride via her own jewellery line Nagle & Sisters
Catering Company – Boulevard Events
Stationery – the bride