A very good morning to you all, and once again, a happy Friday.  Have any of you had snow?  Yorkshire has had its fair share of the pretty white stuff, along with breathtakingly cold winds, but also the brightest blue skies, and amazing fiery red morning sunrises.  This morning's wedding is also breath taking, but for very different reasons- it is genuinely one of the most beautiful weddings I have seen.  All weddings have something marvellous about them, but these images by Joseph Hall are so picture perfect it feels a little like we have accidentally wandered onto a film set.
A beautiful bride in Maggie Sottero, the cutest little bridesmaid, smiling faces and the most glorious outdoor setting, this gorgeous wedding has it all- so take a moment this bright February morning to yourself, dear readers, and sit back and enjoy love and happiness in la belle France….
Eve and Andrew married at Château de Cazenac in the Dordogne, in a pastel tinted, romantic outdoor ceremony, on the 5th of July last year- and what a setting!  As a fellow castle fan, I am in love.
"I really love soft pastel colours, and the 1920's, mixed in with some medieval castle feel.  We are not religious so we ruled out churches and I desperately wanted to get married outside too"
Photography Copyright (c) 2015,  Joseph Hall
The couple, who are both actors, first locked eyes across a London stage.
"We met appearing in 'The Mousetrap' in 2009 while playing husband and wife and thought 'hmm, this is nice!'.  We got engaged on Christmas Day in 2012"
Although their chosen venue was a medieval-style castle, Eve also wanted to bring a hint of the roaring twenties to the day.  She actually found her gorgeous 1920's style head piece before she found her dress, and went hunting for the perfect frock to match it.  I love the serendipity of the fact that the shop in which she found it was called 'Eve's Boutique'!  It was clearly meant to be.  To compliment the headpiece she combined it with a simple veil, with crystals along the edges, for that bit of extra sparkle.
After much searching, 'Emilina' by Maggie Sottero, won Eve's heart, and was bought on the same trip to Oz, while visiting her Mum.  I love its low lacy back and classic glamour.
"My Mum lives in Australia and wanted to do the dress thing together, so we flew out in January.  I wanted something elegant and simple and I think this was the only one in Brisbane which wasn't poofy!"
The couple's photographs are the work of the talented Joseph Hall, whose work we have seen on LMD a few times before– always stunning. Eve has nothing but praise;
"He was amazing!  We were only away from our guests for 15 minutes [having their couple photographs taken] and our photos were stunning.  He was so nice he felt like a guest, everyone loved him"
I especially love the photographs of the ceremony; you can just feel the happiness and it's such a special thing to have those moments captured forever.   I also truly adore the image of Eve and Andrew stood on the castle balcony in front of which they said their vows- a real Romeo and Juliet moment.
Eve chose to do her own makeup, while Emma Willet tamed her hair into the most gorgeous glossy waves.  She completed her ensemble with a classic; a spritz of Chanel no.5.
The day's wonderful floral arrangements were by florist Lisa Gatenby, an English florist who moved her business to France in 2011. The arrangements at the bottom of the aisle are particularly stunning, don't you think?  Positively bursting with roses, gypsophila and foliage.
Eve was lucky enough to have two Dads walking her down the aisle so she chose not to have a bouquet (due to not having a spare arm to hold it!)  The trio processed through the gardens and through the sheltered courtyard towards Andrew, to the piano music from 'Love Actually' – very romantic indeed.  In fact, Andrew's favourite part of the day was seeing his wife to be walk down the aisle, with the couple's dog, Roley, who sported his very own bow tie.
Eve's little bridesmaid wore a pretty dress from Debenhams , with jewelled sandals from Accessorize, and a wreath of gypsophila over her wavy hair.  The colloquial name for gyp is 'baby's breath' so it always seems so perfect for little ones especially – it's such a versatile and romantic flower, available almost all year round and works brilliantly either as filler or on its own.
Andrew wore a pale blue two piece suit from Next, which suits the French style beautifully, accessorised with a dark blue tie and spotted handkerchief, while the small pageboys were dressed in pale linen suits and champagne bow ties.
The couple personalised their outdoor ceremony with their own vows, and had two readings – 'I will be here' by Steven Curtis Chapman, which made everyone cry, and 'The Owl and Pussycat' by Edward Lear, to make everyone smile again!
'If in the morning when you wake,
If the sun does not appear,
I will be here.
If in the dark we lose sight of love,
Hold my hand and have no fear,
I will be here.
I will be here,
When you feel like being quiet,
When you need to speak your mind I will listen.
Through the winning, losing, and trying we'll be together,
And I will be here.
If in the morning when you wake,
If the future is unclear,
I will be here.
As sure as seasons were made for change,
Our lifetimes were made for years,
I will be here.
I will be here,
And you can cry on my shoulder,
When the mirror tells us we're older.
I will hold you, to watch you grow in beauty,
And tell you all the things you are to me.
We'll be together and I will be here.
I will be true to the promises I've made,
To you and to the one who gave you to me.
I will be here.'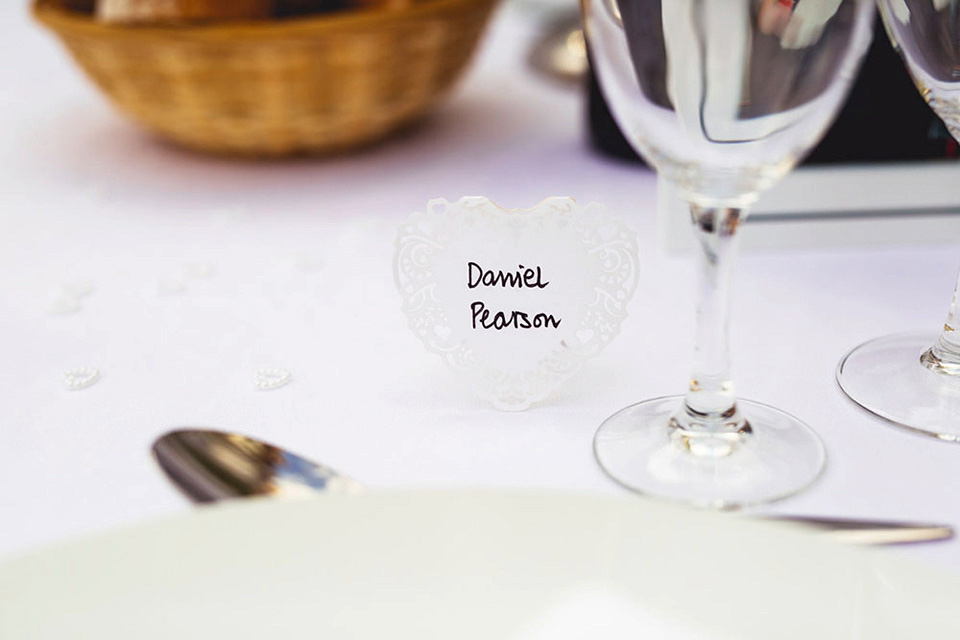 One of my absolute favourite parts of this wedding is the al fresco (or should that be à la fraiche?) wedding breakfast.  How fabulous is it to eat outdoors in the summer, with the sun warming your skin and the smell of the flowers and the lavender drifting past, and the sound of birds overhead and bees buzzing in the lavender bushes?  The pastel pompoms in the trees add to the magical feel and I love the almost tangible emotion Joseph has captured in these images, especially during the wedding speeches- smiles of happiness, tears of joy, howls of laughter- sometimes all at the same time!  We don't always get many opportunities to say what we really feel in day to day life, and weddings are one of the few chances we get to properly tell our friends, family, husbands and wives how much we love and appreciate them; it's wonderful to see these moments captured on camera- I never tire of seeing it.
"I loved the meal and the speeches.  I had relaxed by this point and eating outside was magical- the food was the best wedding food I have ever tasted.  My husband is a brilliant speech maker and it was perfect."
As the evening drew in, and the shadows grew long, Andrew, Eve and their guests chased away the darkness with hundreds of sparklers- their wedding favours to guests.  I adore sparklers these images of the couple and their guests twirling about and drawing pictures in the sky- just a bit magical.
Andrew and Eve chose 'Mister Blanc', a French band, to provide their evening entertainment, who were a great hit, both with the couple and their guests;
"They turned out to be awesome!"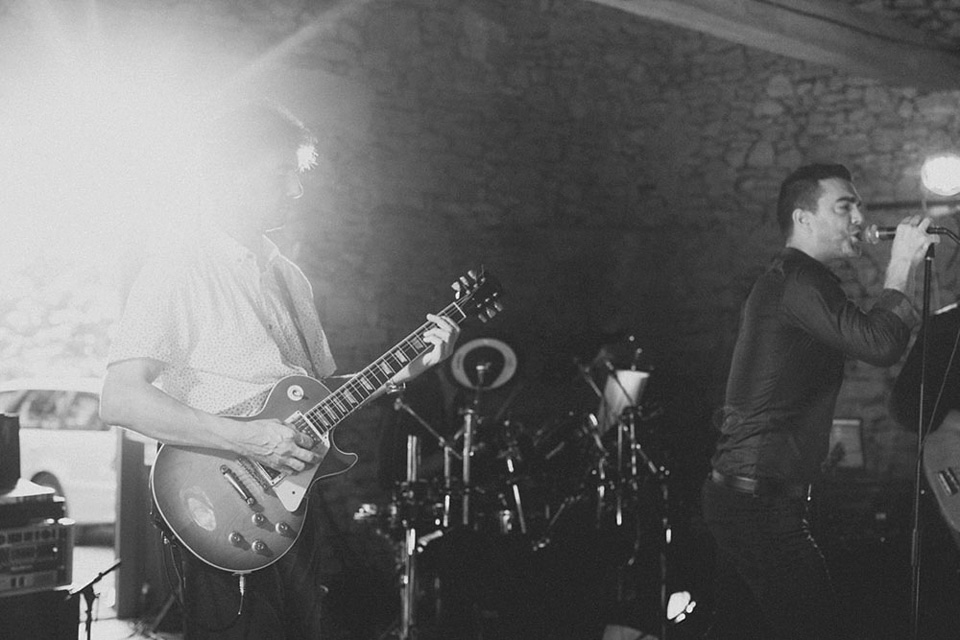 Certainly, everyone looks to be having a fabulous time on the dance floor.  I always enjoy seeing a couple relax and really let themselves go at the evening reception at their wedding – it's your party so dance your socks off!  The band also played the couple's first dance as husband and wife, which turned out beautifully, despite a small initial misunderstanding…
"We chose 'How long will I love you' [as their first dance track] but we didn't dance to it.  The band wanted to start and everyone expected us to do our dance.  We had asked the band to learn a song by The Luminers; 'I belong to you', and they started to play that song.  We had a moment of 'Oh well, I guess this is our wedding song then', but actually it was perfect, and now everyone says 'We heard your song the other day'.  Some things you just can't plan"
Words of Wedded Wisdom
"Be flexible.  Things will not go exactly to plan, but go with it and you might discover things which are better than your plans!"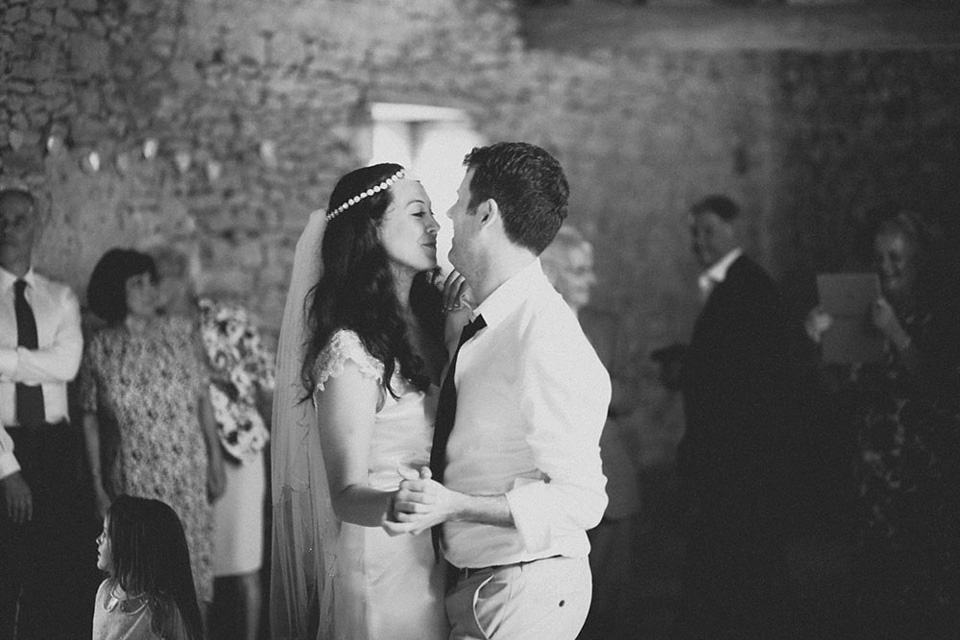 Some of the most clear cut advice I have heard, and so incredibly sensible!  Hard to do, but as Eve says, you never know what you might find along the way- it might just be the best thing that could have happened.
Many thanks to Joseph Hall Photography for these beautiful and evocative images- they certainly blocked out the cold for a while for me, and I hope they have inspired our lovely readers on this chilly February morning as well.
Are you having a destination wedding?  If you are thinking of a wedding enFrançais, Eve recommends 'Marry me in France' as a site you might like to look at, as well as Love My Dress of course!
Hope you have a lovely weekend- I'm off to brush up on my French…..
With love,
Shona x
Photographer – Joseph Hall
Venue – Château de Cazenac, France
Bride's dress – Maggie Sottero
Bride's Shoes – Rainbow Club
Bridal headwear – Headpiece from Eve Boutique, Brisbane
Bride's scent – Chanel no.5
Bride's accessories – Pearl earrings and matching bracelet, Debenhams , + a crystal bracelet as a gift from Andrew
Bridesmaid's dress- Debenhams
Bridesmaid Shoes- Accessorize
Bridal Hair – Emma Willet
Groom's suit – Next
Best Men and Groomsmen – Next
Florist – Lisa Gatenby
Catering – Karen Lacaud, no website
Rings – Bride, Hatton Garden, independent seller, Groom, Palladium Wedding Rings
Entertainment – Mister Blanc, no website
Stationery – Graphics Euro
Favours – eBay