Hello everyone, well, we're half way through the week already, which feels like quite an achievement, I can tell you.  Do you follow Love My Dress on Instagram? I visited the Alexander McQueen Retrospective, 'Savage Beauty' at the V&A museum on Monday and shared some images (naughty me, you're not supposed to take any) on Instagram – take a look here. It's an absolutely fascinating, sensory and somewhat emotional experience, and I urge you to visit before it closes in August if you can.
This morning's wedding takes us overseas to the beautiful seaside surround of Sorrento in Italy, where Mum of two Gemma and Sales Manager Simon tied the knot on 9th May last year at The Cloisters, followed by a reception at Don Pedro's Restaurant, both in Sorrento, Italy.  This is such a sweet, family wedding, and I particularly love how Gemma drew inspiration from the 1960's when choosing her gown and style.
"I really hadn't pictured every detail of a wedding before becoming engaged. I knew I wanted a tea-length style dress like my Nan had in the early 60's, but I didn't really want a whole wedding based on that era for fear of me getting totally carried away and my photos looking like a fancy dress party! Getting married in Sorrento made me think of having Lemon for my bridesmaids. All three are utterly beautiful I knew they could wear a really brave, bright colour as well as they did."
Photography Copyright (c) 2015, Modern Vintage Weddings Photography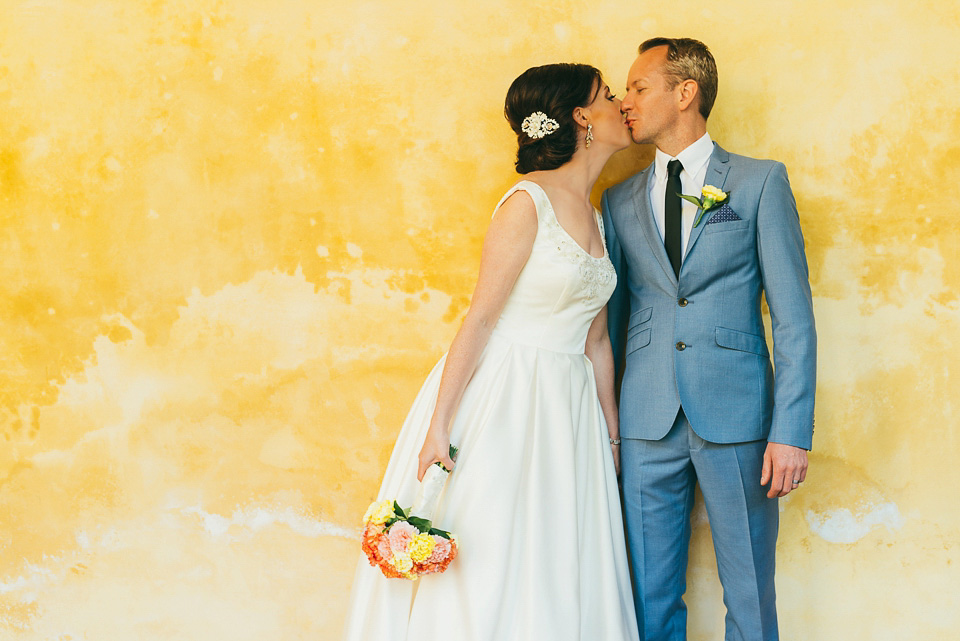 "I bought my dress from the Oleg Cassini range at David's Bridal in Stratford, London.  I actually paid two deposits on two other dresses before I saw my dress. I went to all the local shops and really wasn't excited by their tea length dresses. I wanted a 50/60's vibe but a fresh and modern dress. I was shopping with my mum and sisters trying dresses on and kind of ended up getting the complete opposite.
The first dress I 'bought' was a fishtail style and the second was a heavy embellished A-line. Both times in both shops I walked away after paying a holding deposit thinking they were indeed beautiful dresses but not really for me. I cancelled both the following days."
"In the end I went to David's Bridal with my daughter Ava, 3 years old at the time and shopped how I usually do, on my own. I saw my short Low-high dress within 5 minutes tried it on and absolutely had that feeling you get when you find the right dress, I didn't try anything else on. I just love how it had the same shape skirt as my Nan had but with the modern twist I was looking for. I felt like myself in it, comfortable and I couldn't wait then to wear it on my wedding day."
"We had David of Modern Vintage Weddings Photography shoot our wedding. I found him through Love My Dress. The photos I saw on the blog made it a very simple choice. I cannot say enough how absolutely thrilled we are with our photos. I get so emotional every time I look at them (which is a lot!). The natural way that David captured us and our family just simply enjoying our wedding day is like he froze the moments in time. I love the photographs of my Aunts and Sisters mid laugh and seeing how happy everyone was on the day.
David stayed with me all day, from getting ready until when I and Simon left for the night. And what great fun he was to have with us in Italy. Best choice I made when planning the wedding."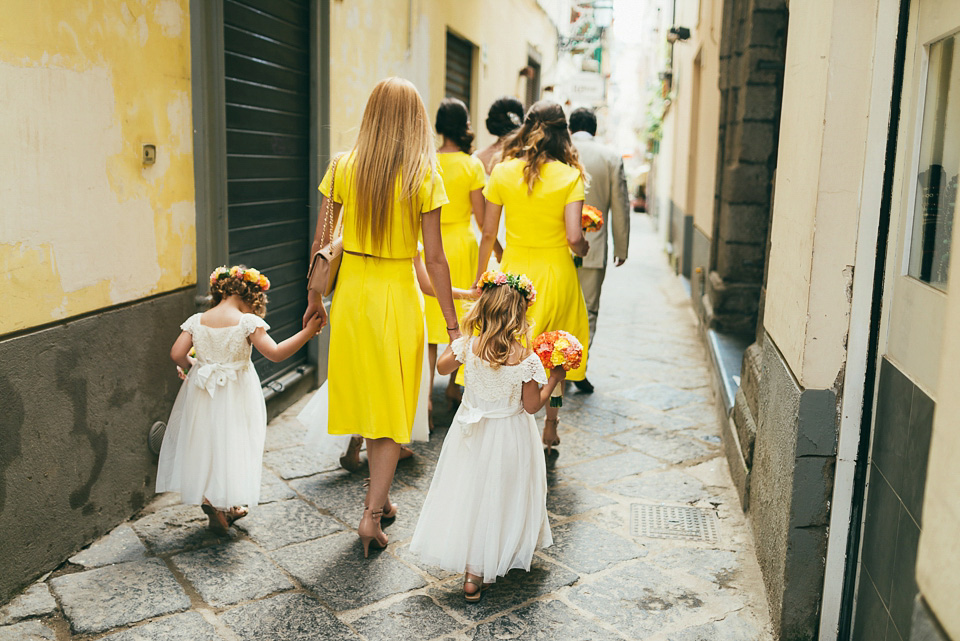 "We were set up on a blind date by my friend Emma who worked with Simon. It was the first time either of us had been on a blind date, we both say it's really not something that we would usually have done. But we did and we have been inseparable ever since. 18 months later to the day of that date our daughter was born and 2 years later our Son. It's been a pretty busy and full on relationship. We managed a weekend away in Rome without the children for my 30th birthday and Simon proposed with the most stunning ring in a private corner on a rooftop bar the evening of my birthday.
We got married exactly 51 weeks later, I knew I didn't want a lot of fuss over my wedding so we didn't need a lot of planning time. Just had to wait for the Summer to have our ideal outdoor ceremony."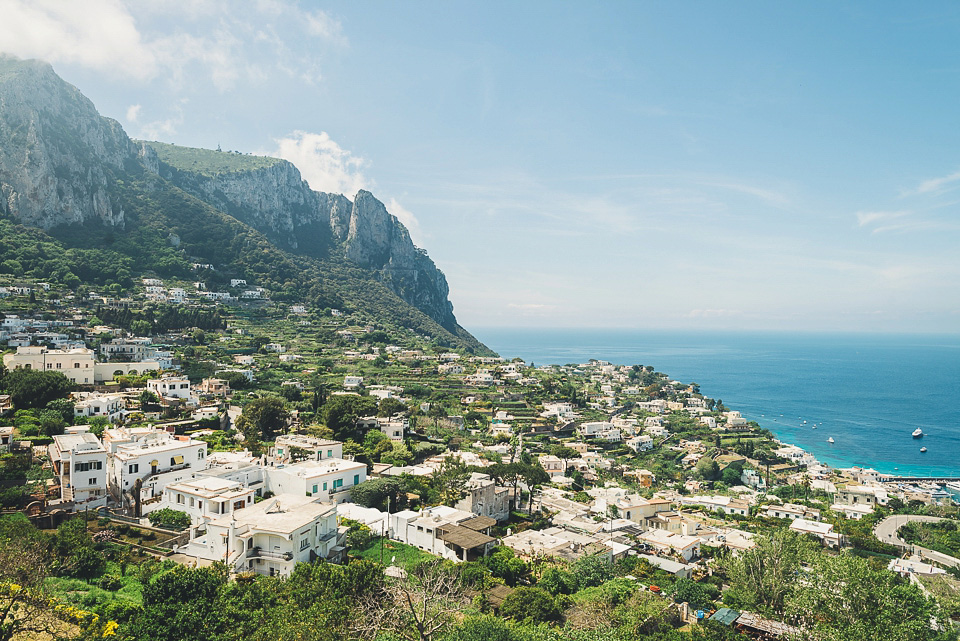 "Italy was always the wedding venue for me, however when it came to planning our wedding I did have a lot of reservations about having a wedding abroad. The legal organisation of getting married abroad suddenly seemed daunting. I worried about finding a reputable company to do all the legalities. However we did find great wedding planners called 'Dream Weddings in Italy', who ware based in Sorrento, through Love My Dress.
I had so many intentions of putting little handmade touches here and there for décor and my Pinterest wedding looked utterly breathtaking. In reality I didn't have a clue how I would transport all these ideas to Italy and having two little bears that didn't sleep through the night left me too exhausted every evening to start anything so in the end I just let the stunning surroundings work their magic."
"Another wedding I read on Love My Dress used the wedding planners we did, I figured I had 'proof' that the company were legitimate, and had done a good job too, so we went straight to them. It was like having a friend recommend someone they had used!"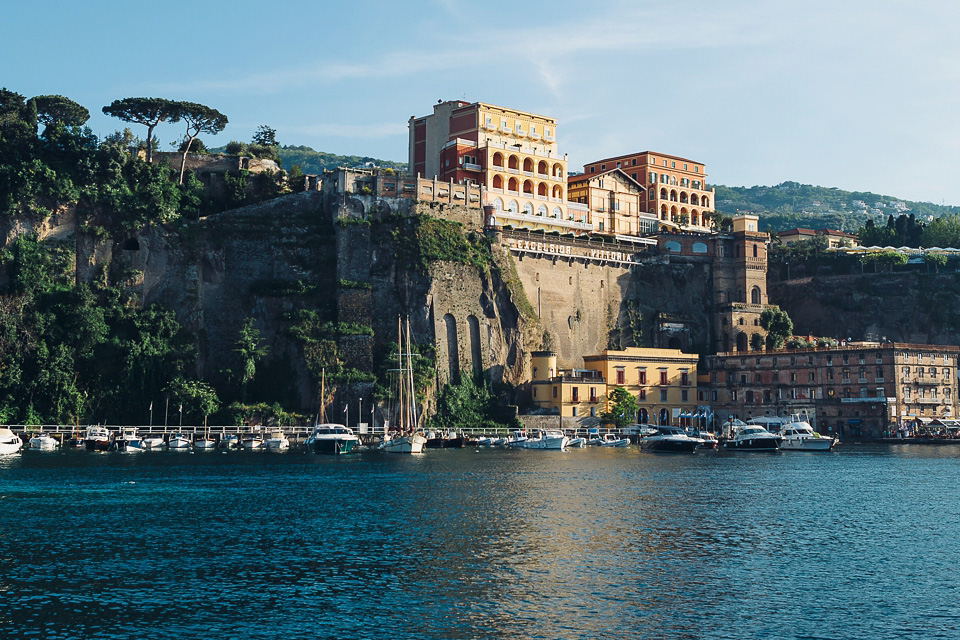 "Another thought that weighed on my mind was the family I wouldn't have at my wedding day because of the location. Namely my beautiful Nanny. She has Alzheimer's and my Granddad wasn't able to travel either. The thought of them not being there seemed wrong. We set aside the 'dream' and started to look for a plan B.
I was adamant our wedding was not going to cost ridiculous amounts, we have young children and had a pending house and country move the same year as our wedding so I wanted to get my priorities in order. Apart from getting married in Italy, I had never really dreamt about a wedding day in detail. I just wanted to marry the love of my life somewhere beautiful with amazing photos to show the grandchildren in many years to come."
"We looked locally around London and Essex at all the usual venues and there were some amazing places but they all were so expensive for the kind of formal wedding day I never pictured us having. Late August 2013 we had spent the whole day looking at venues in London and came home un-inspired. That evening I logged on to Love My Dress for my daily fix and there it was, a wedding in Sorrento at the Cloisters, Italy.  My absolute ideal place to get married.
I saw it as a sign and spoke to my Grandad the next day, he made me realise that my Nan wouldn't be at my whole wedding day even if I got married down the road. It would have all been too much for her, with the loud noises and crowds of people."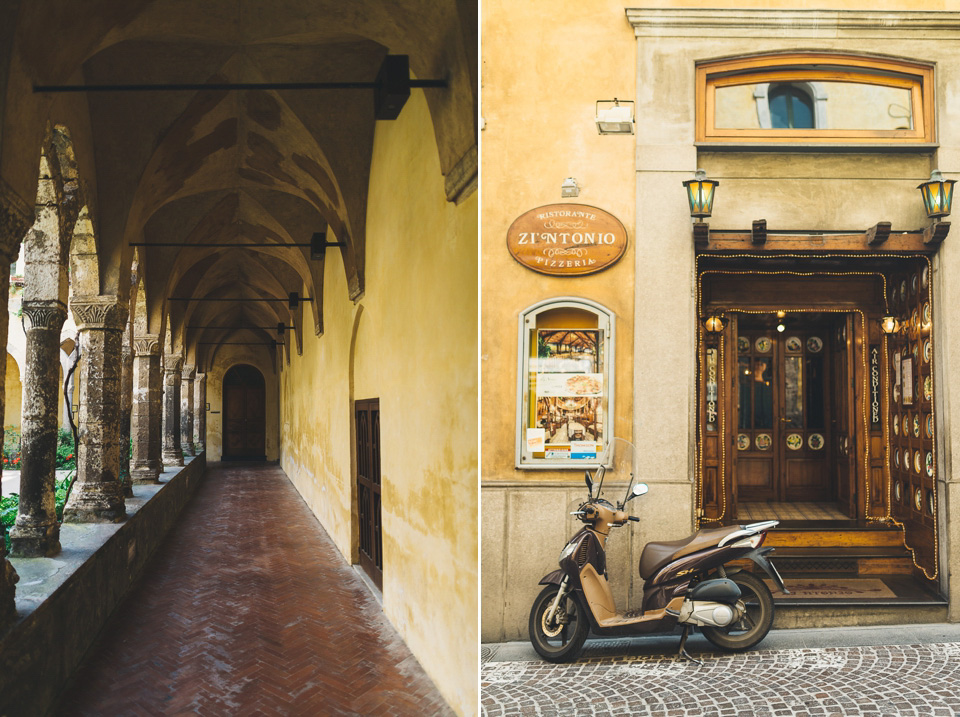 "Apart from the ceremony maybe, she wouldn't be there how I pictured it. We took the plunge and booked Italy. We were so lucky to have 40 members of our family and friends travel with us, so we had the family wedding in the beautiful Sorrento, with just a few special people missing."
"I had Gemma Sutton for my hair and make-up. I loved my hair so much it completed my dress perfectly. I felt comfortable all day with my make up too. So pleased I had Gemma there the morning of the wedding she is so calming and I felt I was in good hands.
I didn't wear a veil, I thought I might and tried a few different styles but the dress stood better without one."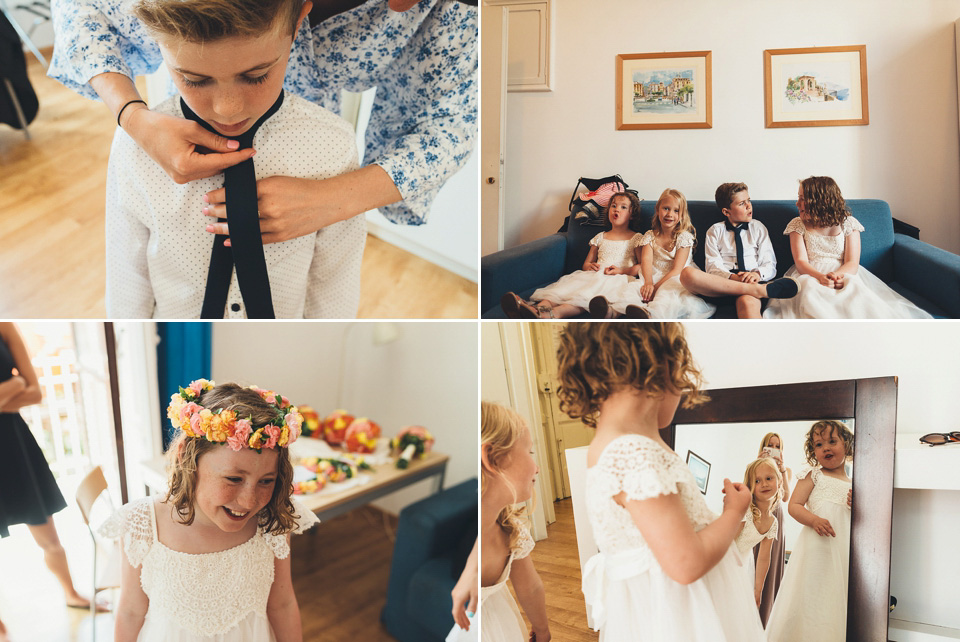 "I was so happy with my flowers for the wedding. Again not something I really put much thought in to. I just knew I wanted them colourful and not over the top price wise. Carnations were the cheapest choice with the most beautiful array of colours. I sent our wedding planners, Dream Weddings in Italy, an image from Pinterest of what I had in mind and when they turned up on the day I couldn't believe how stunning the colours were.
My little flower girls more or less stole the bridesmaid's bouquets, they had baskets of rose petals to hold at the ceremony but after that they wanted the big girl flowers. That's why in some photos one of my sisters doesn't have hers because Ava or Poppy wouldn't give them back!"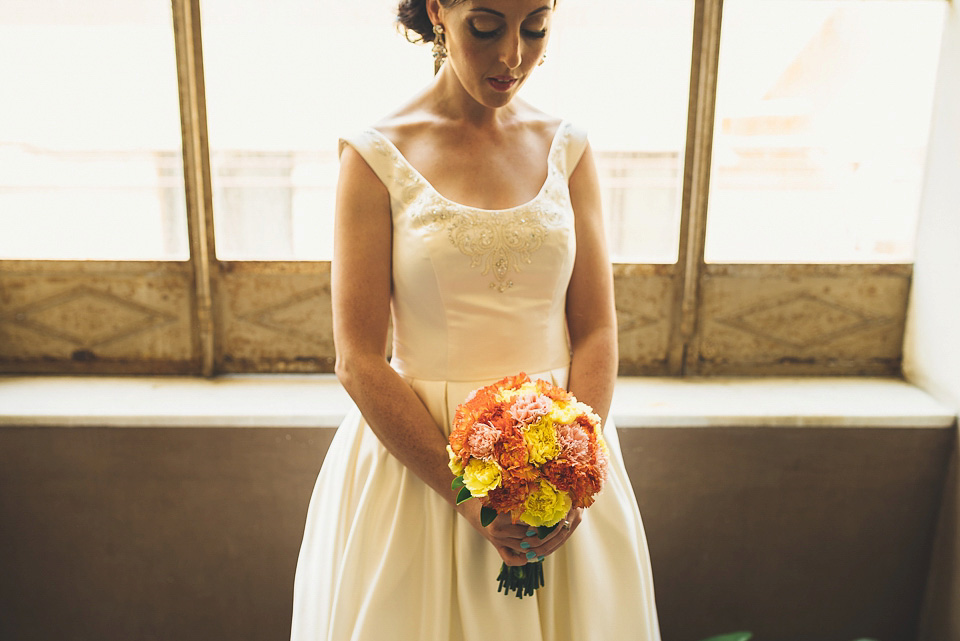 "The flowergirls had flower crowns made by the local florist in Sorrento, which was organised via our wedding planners."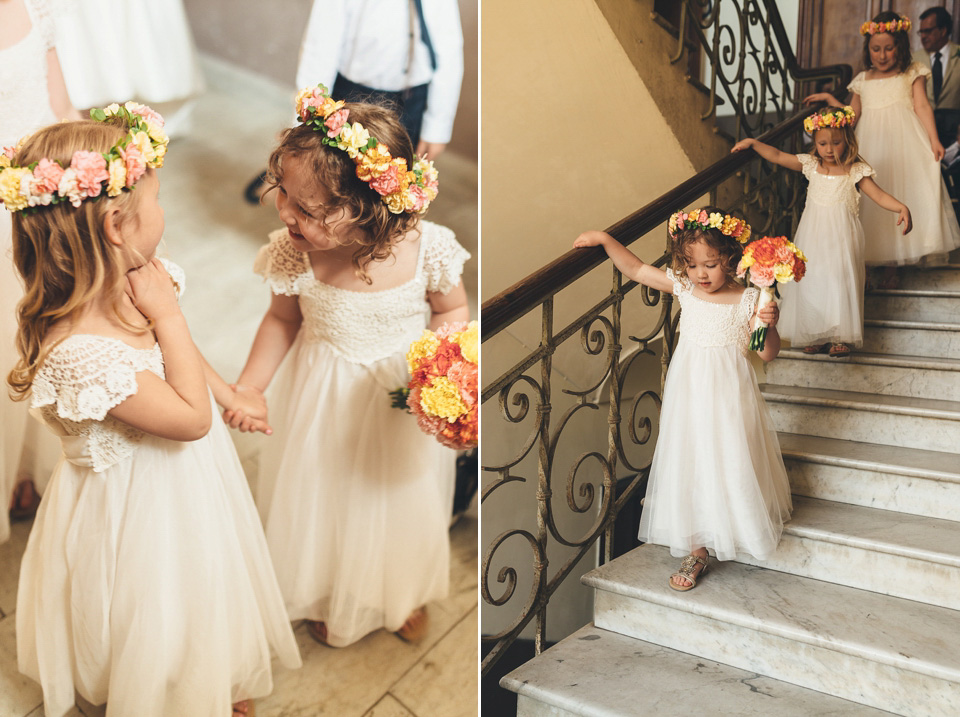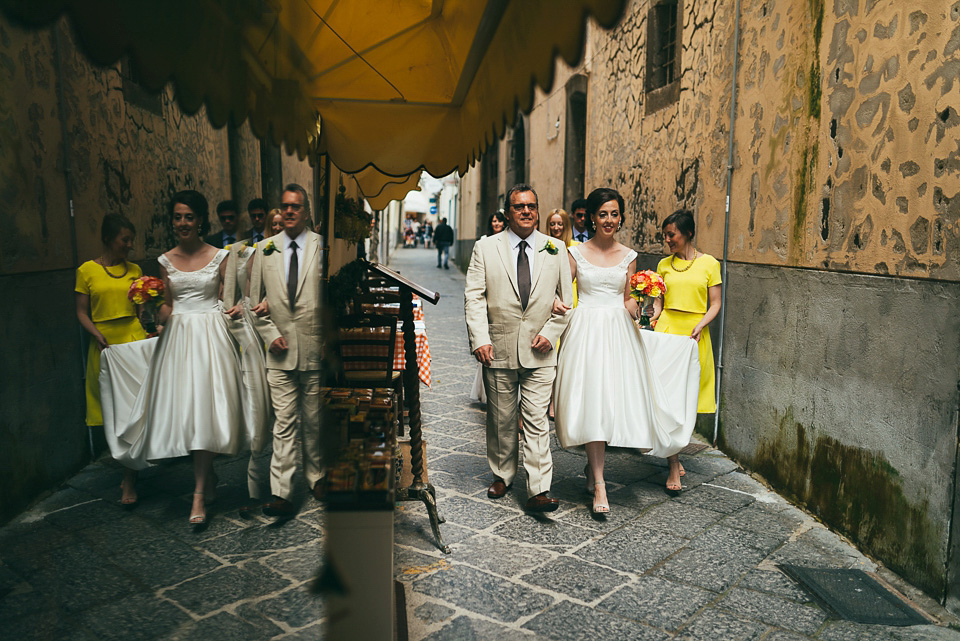 "The entire wedding party's outfits were from the High Street. It all came in under £1000 – flower girls, page boys, Simon's suit, all shoes, all accessories and including my dress! It wasn't an intentional thing to buy all the outfits from the high street. I had my bridesmaids try on traditional dresses but they seemed to formal for our wedding, I wanted the girls to be stylish and fun."
Readers, you can view the credits listed at the end of this feature to find out which high street stores the groom, bridesmaids, flowergirls and page boy were kitted out at.
"I walked from our apartment to the Cloisters, It was such fun going through the tiny cobbled streets of Sorrento in a wedding dress. Amazing photos from this part of our day too."
"My dad walked me down the aisle. We had a violinist play in The Cloisters. It made for such a romantic setting."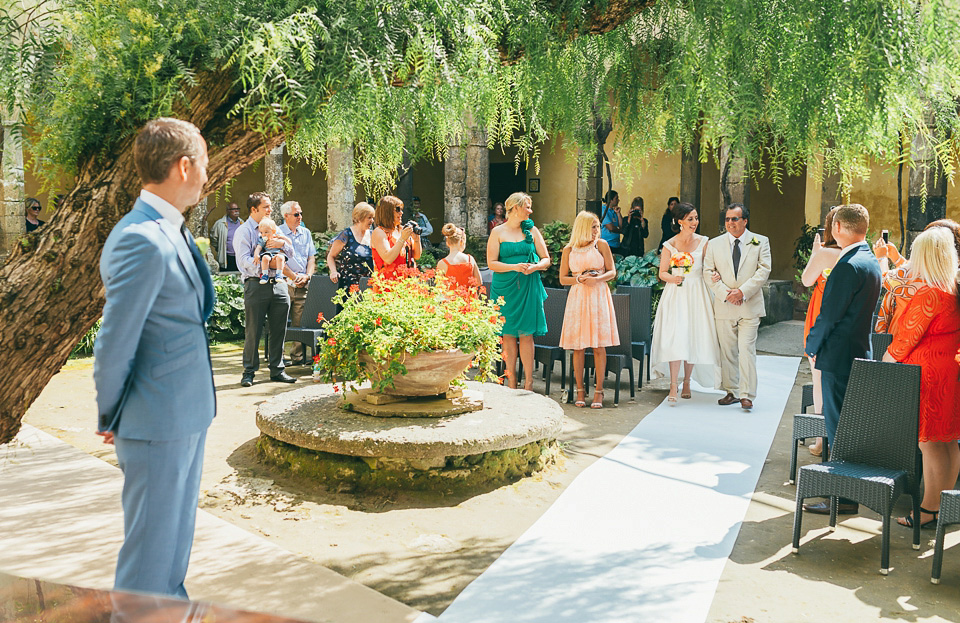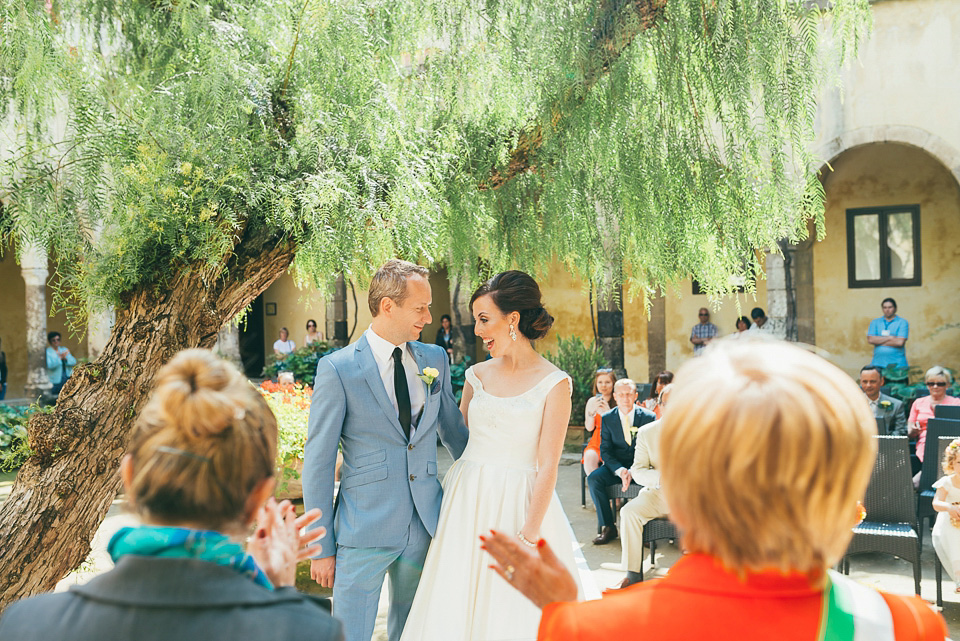 "We looked through a vast selection of vows but in the end I asked my Sisters who are talented writers to write ours for us. I figured we would be reading something a stranger wrote if we chose from the internet and nobody knows us and our relationship better than our family. They did a beautiful job and we heard each other's for the first time when we read them at the ceremony.
As for readings, we had 'love is a temporary Madness' from Captain Corelli's Mandolin – Louis de Bernieres.  My youngest Sister Amy read at our wedding. We asked her to choose the reading and I had tears in my eyes reading it for the first time. I felt it captured our relationship perfectly. We started our family quite soon after meeting. We had already made the biggest commitment to each other bringing children into the world. And just as the words say it is inconceivable that we should ever part."
"My wedding ring was made for me at Arlingtons & Co of Hatton Garden. Simon got my engagement ring there and they designed me a wedding ring to match.  Simons was from Ernest Jones, he didn't want to spend a lot on his because he said he'd probably loose it and he already has!"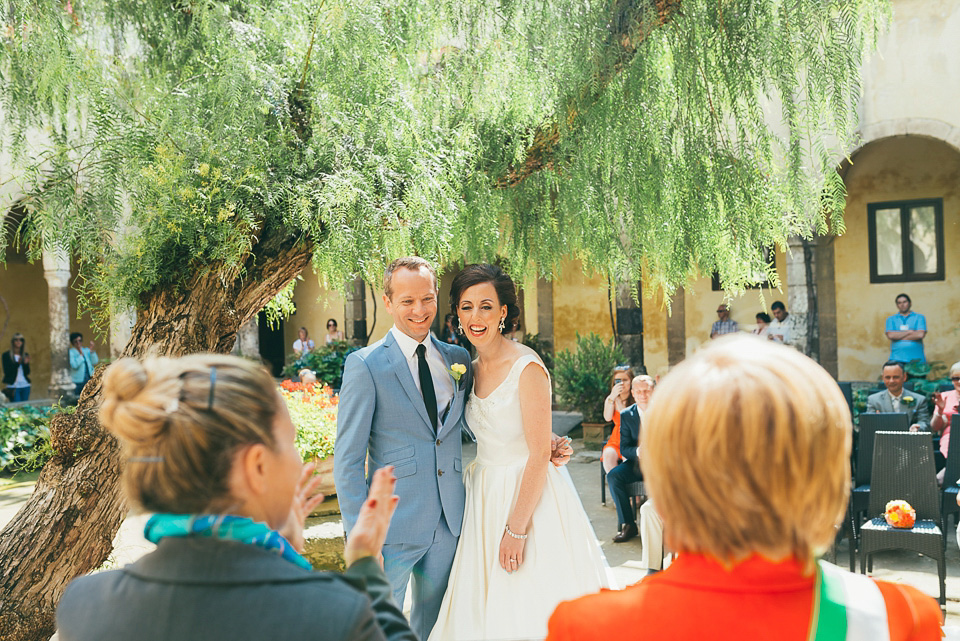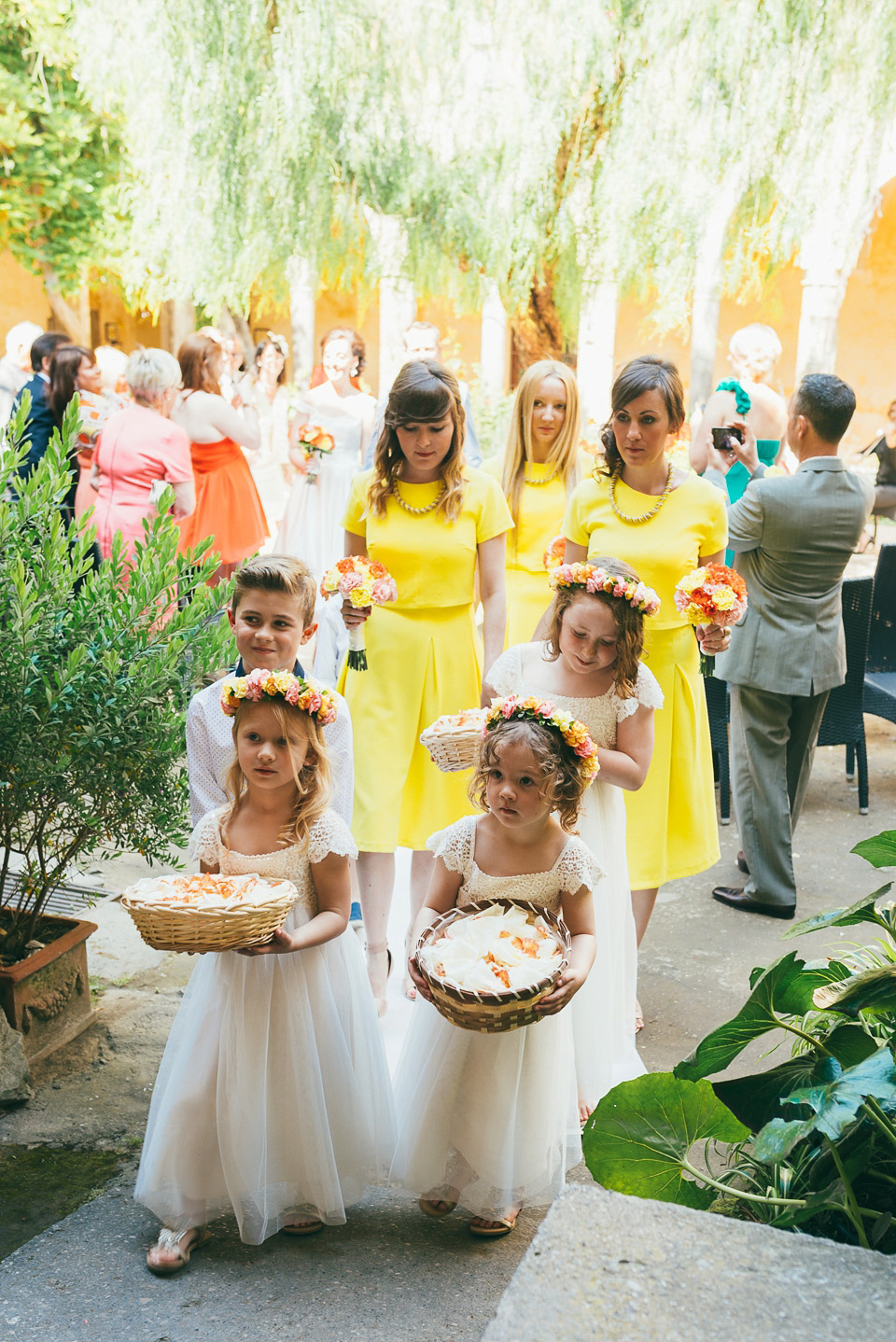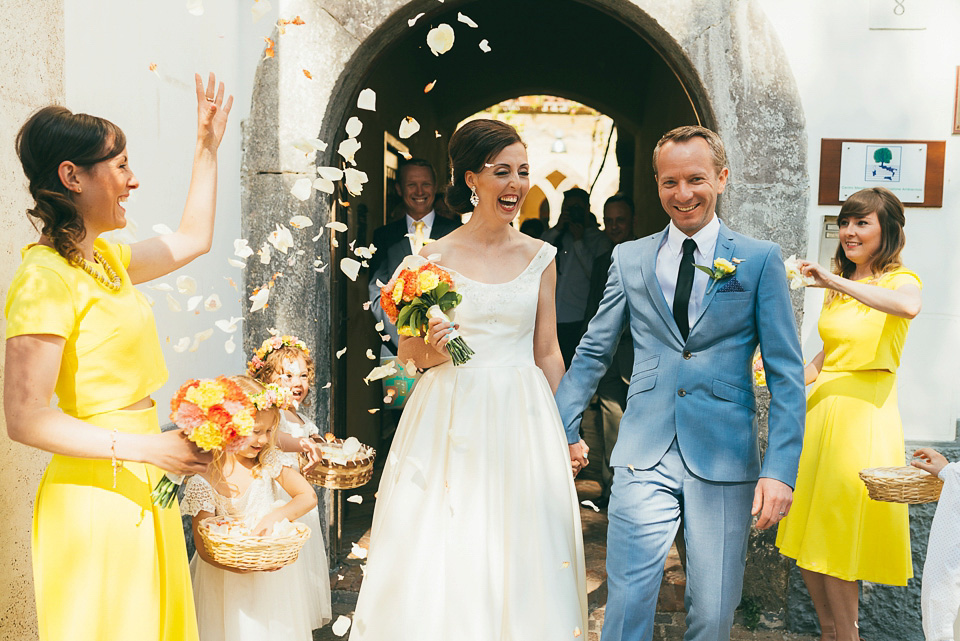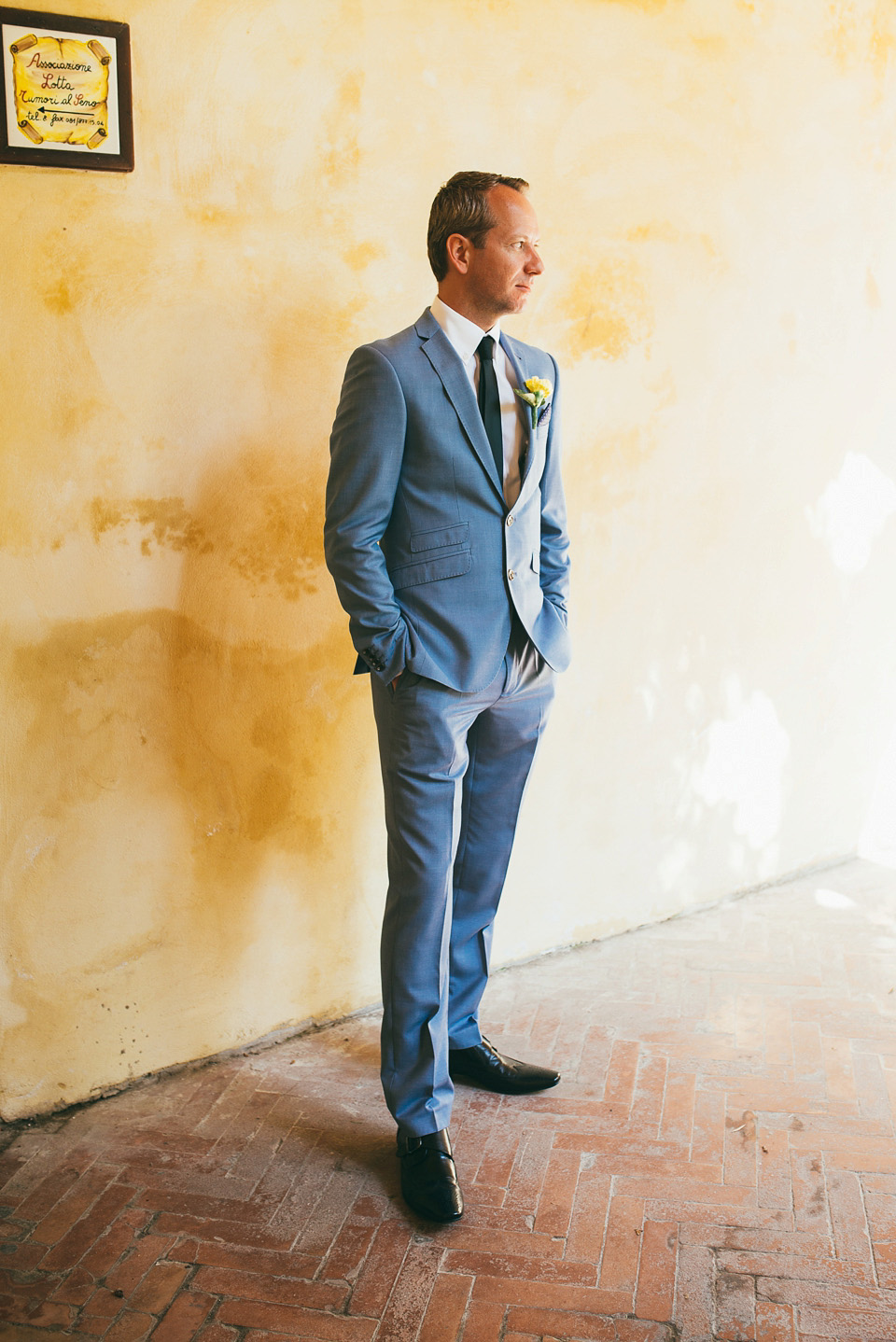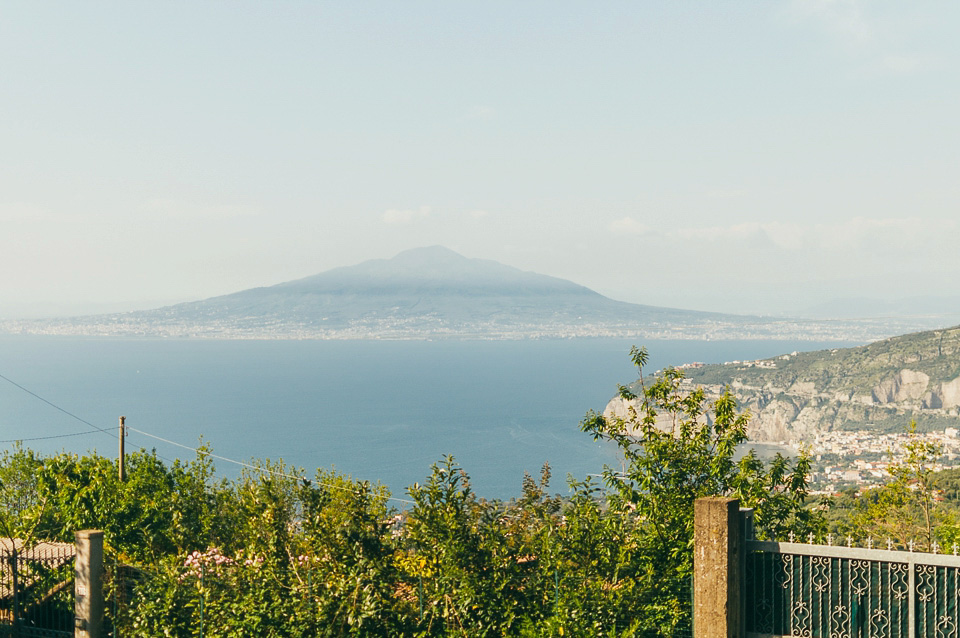 "Don Pedro Restaurant is a gem of a place. We really wanted a reception venue that was private and could cater for a great party the evening of our wedding day. Don Pedro's is more than just a venue. They helped us organise every small detail of our wedding day once we left the Ceremony at the Cloisters and they were such a wonderful family to have host our wedding reception."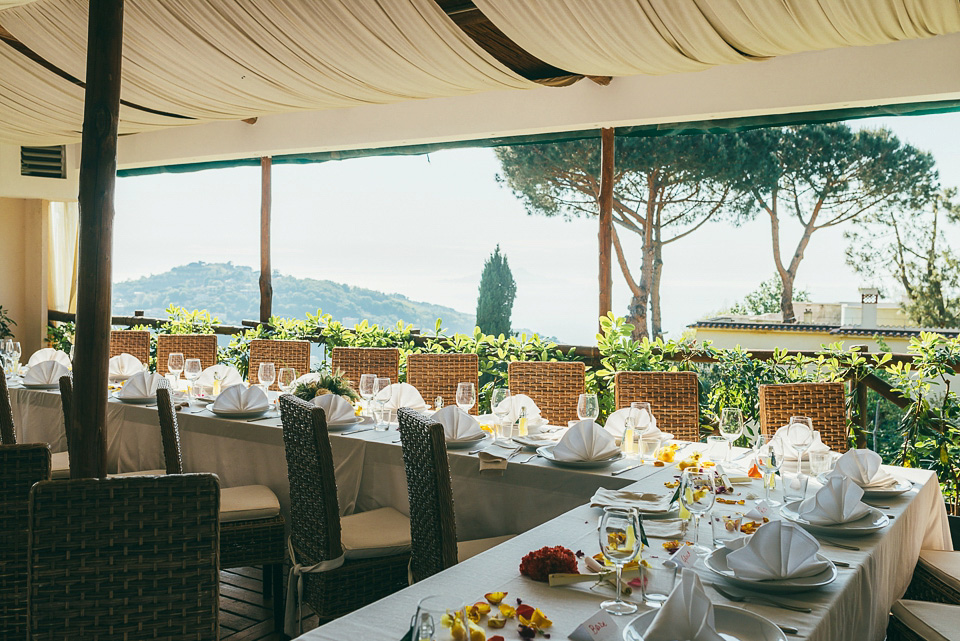 "When our guests arrived at the reception venue we had some live music from two men on guitars singing and dancing with our guests. They were booked through Don Pedro's and what a great choice we made booking them. Once we arrived after having a few photos taken with David, the atmosphere was amazing. They had everyone up dancing and singing with the canapés and processco flowing. We had an iPod for our entertainment at the party. My Sisters and Brother organised the playlist and we all danced til we went home."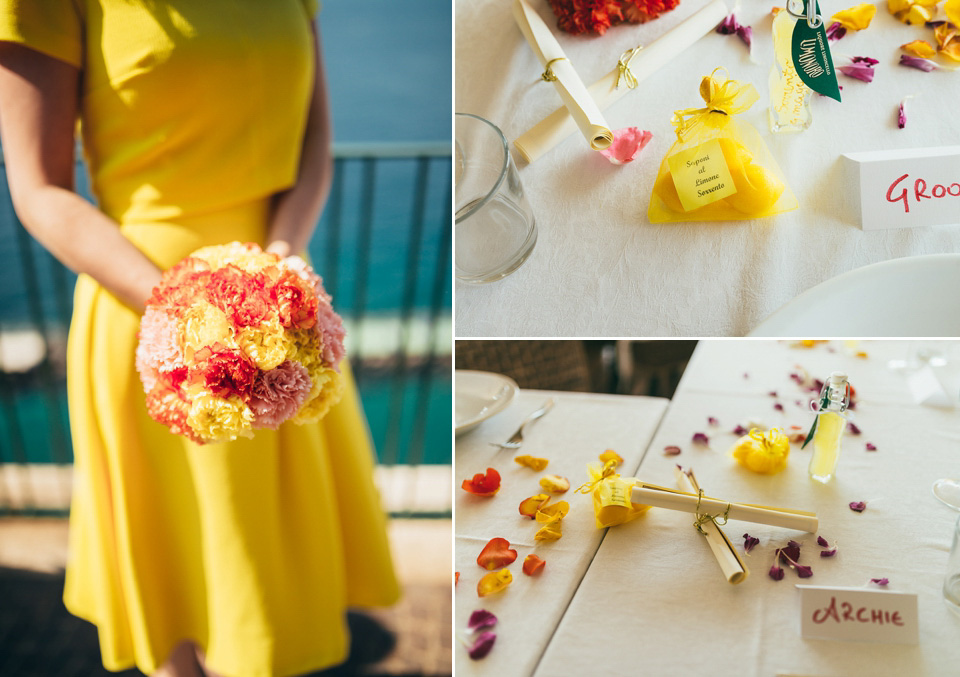 "For favours, we had lemon soaps and little bottles of lemoncillo which were provided and organised through Sorrento Sunland our wedding planners."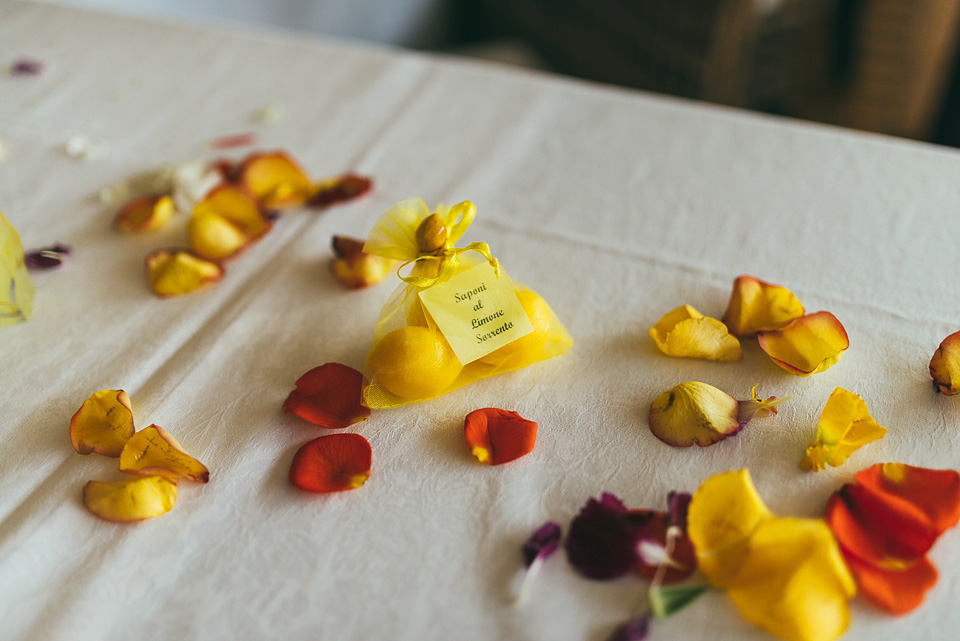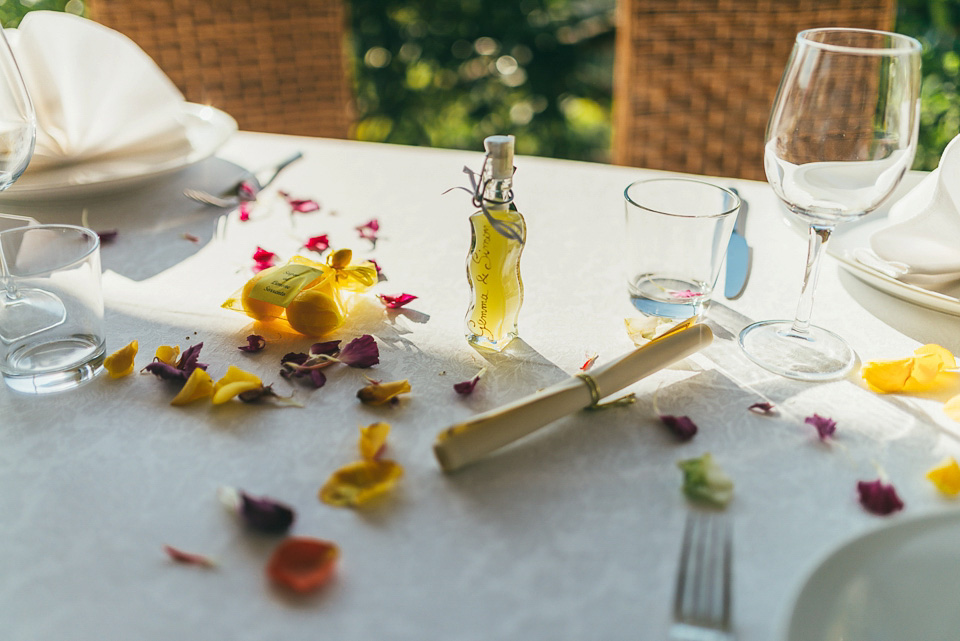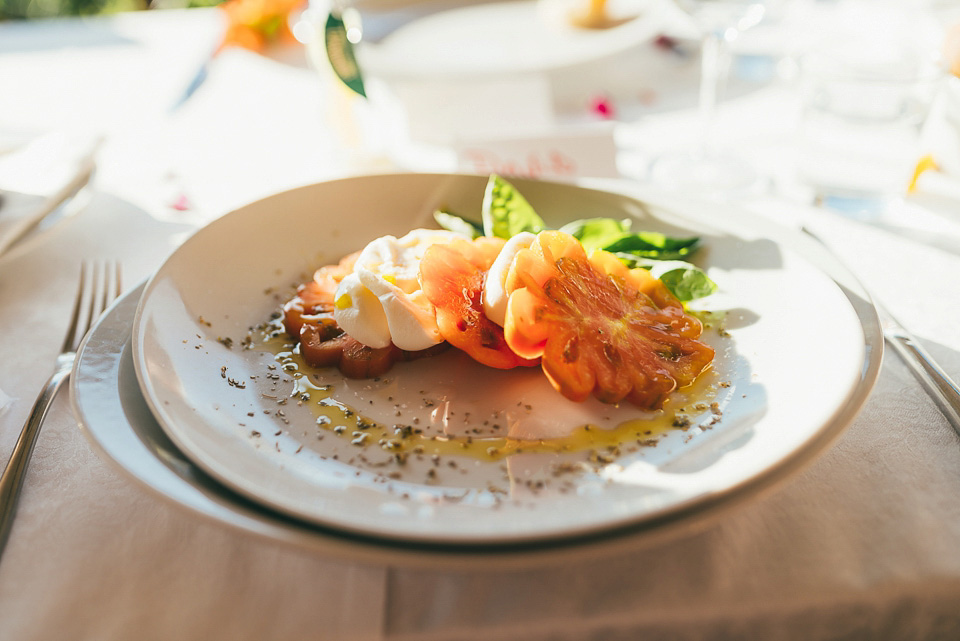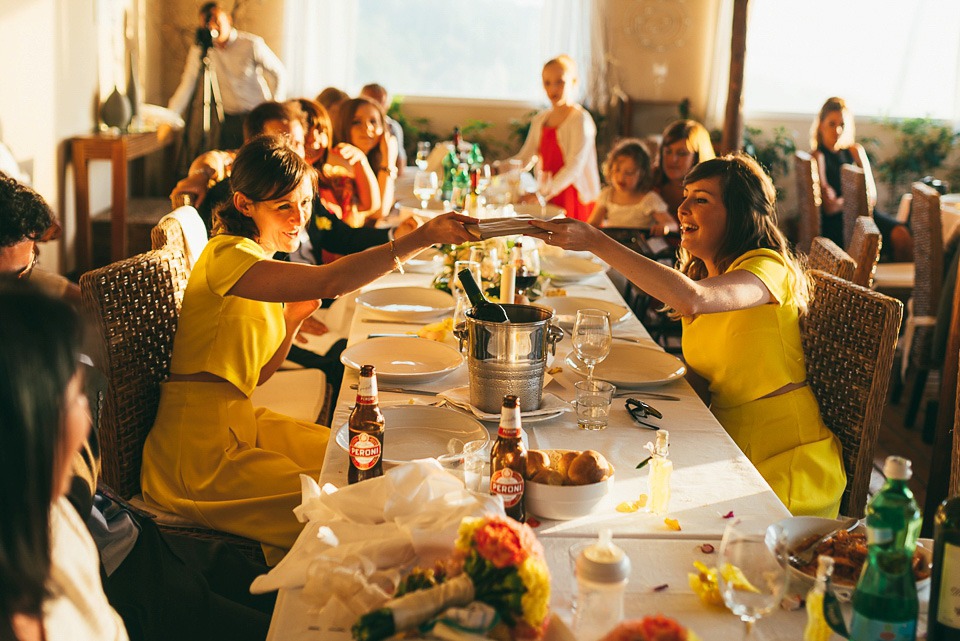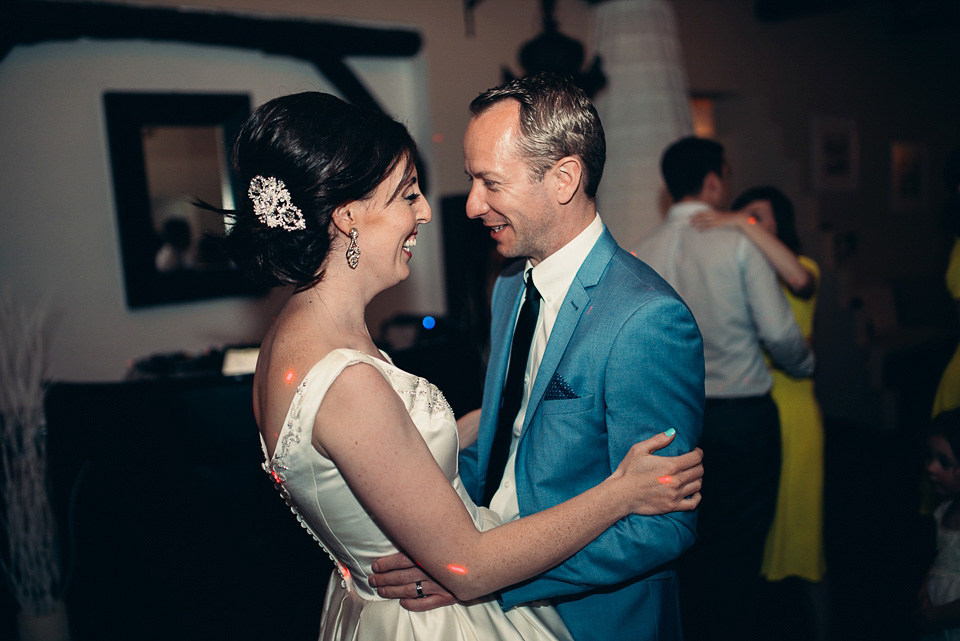 "The ceremony I can hardly remember it went passed in a daze. The Cloisters was so beautiful I do remember turning around and looking at our family and friends and thinking WOW how lucky am I.
I loved seeing Ava and our nieces Poppy and Amelia have such fun dancing the night away. They absolutely loved the party bit. The whole day had to be relaxed and comfortable for the children. It's no fun for them being told to be quiet and not be free to play etc.  Don Pedro's was perfect for this, they were secure in the grounds to run and play with a swing and playground area.
If I was really pressed to pick a favourite memory, it would be all the time Simon and I had to spend together on the day. I've been to many weddings where the bride and Groom seemed to hardly spend any time together being so busy talking to guests that they haven't seen for years etc."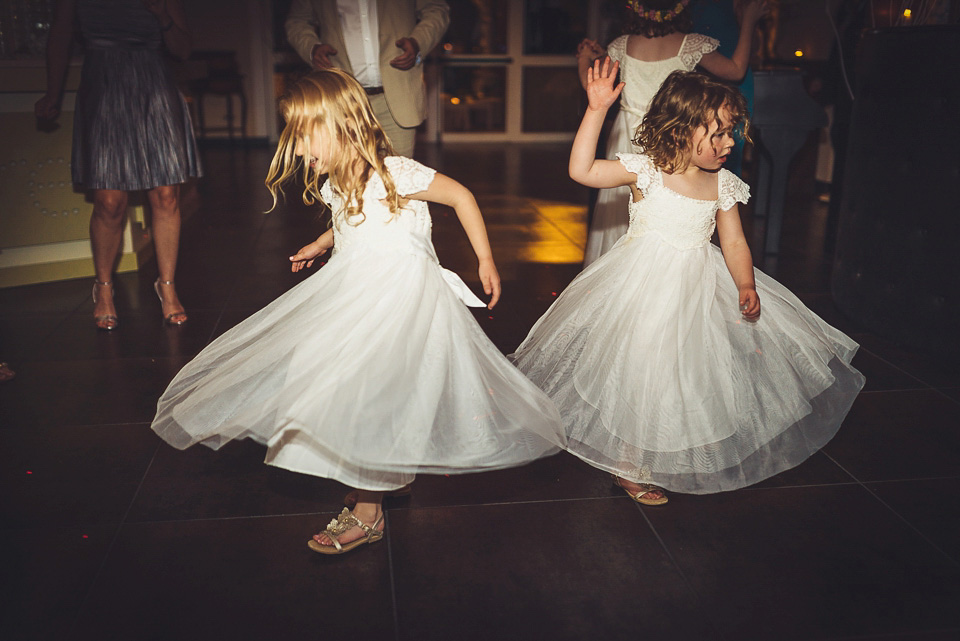 "Our cake was made for us by Don Pedro's restaurant. I was a traditional Italian Lemon wedding cake. And was delicious!"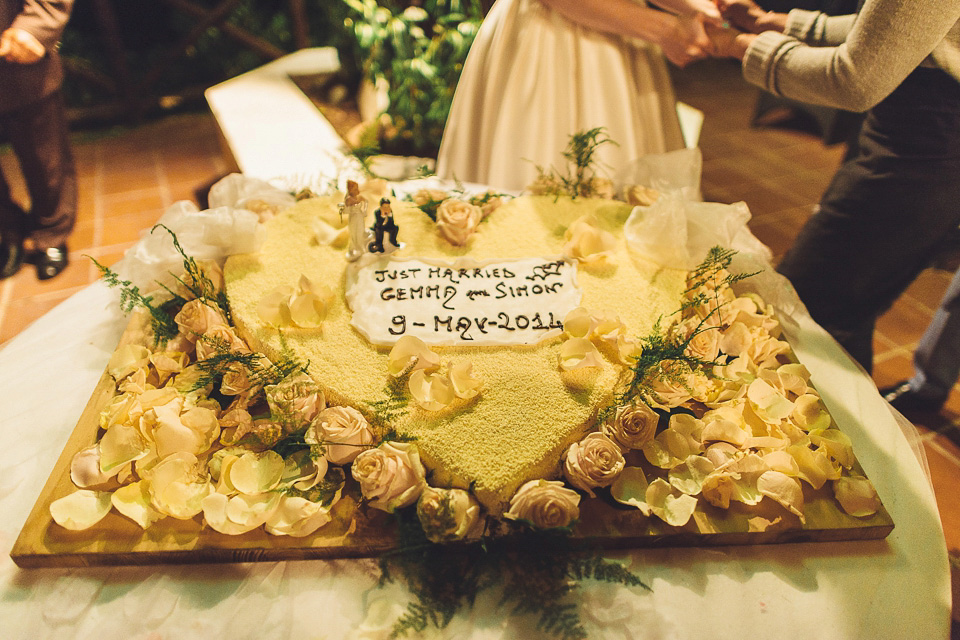 Words of Wedded Wisdom
"Your wedding day goes by in a flash. I would advise newlywed couples to stop and stare. I enjoyed rocking Archie to sleep for his nap and sitting down the give Ava cuddles in a quiet corner just having a bit of time to take it all in. I remember these moments so clearly.
I wish we had spent longer in Sorrento before the wedding day. We arrived on a Wednesday and got married on the Friday because we stayed on after the wedding to go for a little holiday with the children (I can't call it a honeymoon there was nothing Honeymoon-esq about holidaying with a 3 and 1 year old!) on the island of Ischia. We were busy on the Wednesday we arrived finalising details with the planners and the restaurant. Then the day before we did have a lovely day on a private beach with all our guests. But yes, I wish we had more time before the day to relax a bit more and settle the children in the apartment."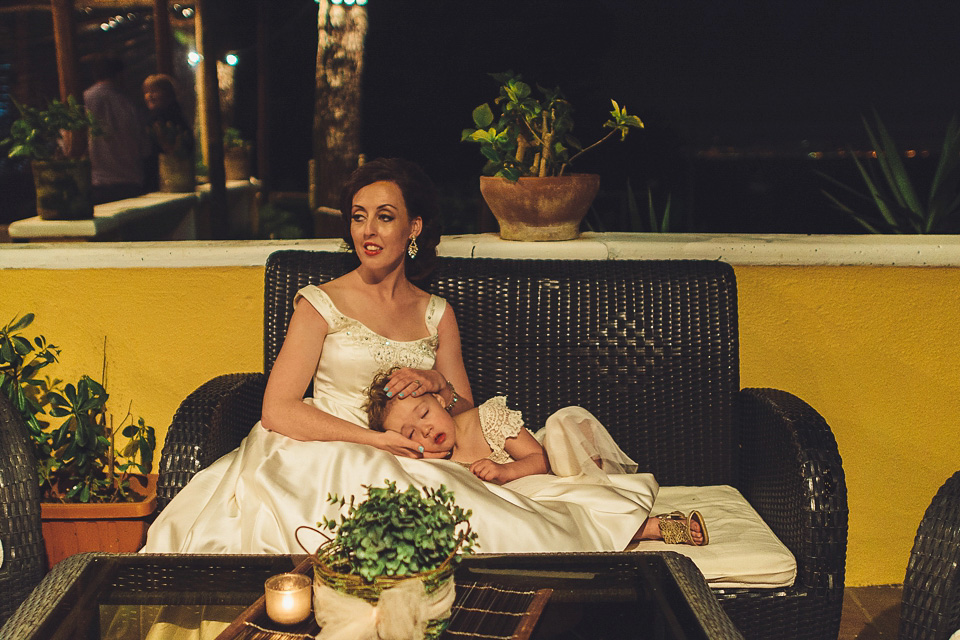 "I stopped buying wedding magazines once I found Love My Dress – it is just a wonderful read and became a trusted source for me to get my wedding planners, photographer and hair and make-up artist.
The real weddings on Love My Dress seemed to be just that, real. Ones that I could relate to and I loved seeing the variety. I really appreciated the fact that weddings with low budgets were celebrated just as well as the high expense ones. We didn't really have a budget in mind, we just knew we didn't want to spend too much. But photography became my biggest priority because I desperately wanted a set of beautiful wedding photos just like the all the ones I had seen on Love My Dress!"
What a lovely day, I am such a sucker for beautiful family weddings like this one. You can see more weddings in Italy here, as well as view more photography from Modern Vintage Weddings on Love My Dress too.  And if you are planning a wedding overseas, you might want to explore these destination weddings.
Have a lovely morning everyone,
Love Annabel xx
Photographer – Modern Vintage Weddings Photography
Planner/Stylist + flowers – Dream Weddings in Italy
Venue – The Cloisters + Don Pedro's Restaurant, Sorrento, Italy.
Wedding Dress – Oleg Cassini via David's Bridal
Headpiece, shoes, accessories – Next
Perfume – Extatic, by Balmain
Grooms Suit – Next
Bridesmaid's Dresses – Miss Selfridge + shoes/necklaces via New Look
Flower girl Dresses Monsoon- Estella Crochet Dress via
Page boy – Next
Cake + Catering – Don Pedro's Restaurant,
Rings – Arlingtons & Co + Ernest Jones
Hair + Makeup Stylist – Gemma Sutton