Two weeks ago now, I had the pleasure of spending the afternoon at the beautiful twobirds Bridesmaid boutique, located in the heart of London's Covent Garden.  For those of you unaware, twobirds Bridesmaid are the founders of one of the most versatile and indeed beautiful bridesmaids dresses out there – one dress that can be worn in over fifteen ways, and for those of you to whom provenance matters, every single gown is made in London.
I was attending the boutique to meet the team behind the brand and to get a sneak peak preview of a beautiful new collection of tulle, convertible dresses that are launching today.   The launch of this exquisite and wonderfully feminine collection marks 5 years in business for this multi-award winning brand, who I have had the pleasure of watching grow and prosper as we both set up our businesses at similar times.   I've long admired the integrity of the twobirds Bridesmaid (beautiful high quality fabrics, all made in England and a really great team to support and work with) – it is no wonder that the pioneers of the multiway wrap bridesmaid dress are once again leading the pack with an on-trend soft, romantic dress to complement the growing popularity of tulle in wedding dresses.
Photography Copyright (c) 2015, Naomi Kenton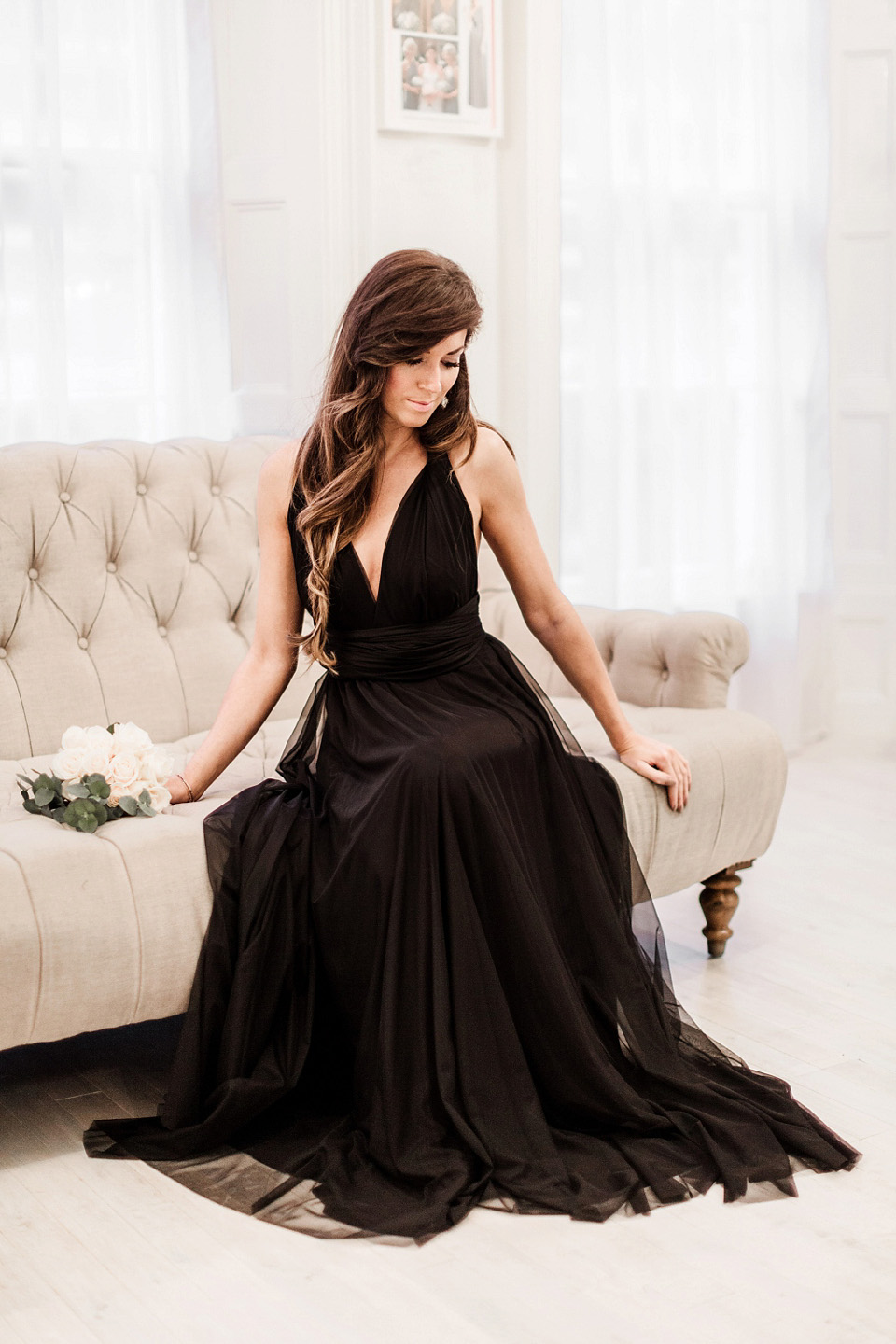 Historically, other brands have introduced multiway dresses in softer fabrics but these have been structured and sized which goes against the twobirds ethos of versatility and the new dresses retain the simple two size structure of the existing twobirds collections, covering UK sizes 4-20.
Launched in 2007 by New Yorker Ariane Goldman (who I interviewed back in 2011), twobirds Bridesmaid is one of the leading bridesmaids dress manufacturers both in the UK (find your nearest stockist) and worldwide. Their dresses have been worn by numerous celebrities including Lady Gaga and Mollie King.
Setting itself apart from the typical bridesmaid dress, twobirds Bridesmaid offers a collection of completely luxurious, timeless and here's the key thing – completely convertible gowns that are flattering for every style of figure and body shape.  These are dresses that have been designed to embrace the female form in all it's many wonderful shapes and sizes, maximising assets and minimising imperfections.
The versatility of a twobirds gown is quite genius; sleeves, or no sleeves, belt tie or no belt tie, asymmetric one-shoulder style or elegant cap sleeves – it's entirely up to the individual how she wants to wear the dress.  And there are many ways -indeed, twobirds have a whole page dedicated to the variety of flattering ways their gowns can be worn.
So how can you improve on something that is already quite brilliant? You can't is the answer.  You can, however, make something like it, only in a luxurious alternative material, and that is what the brand new tulle collection launching today is all about.  Up to now, all twobirds Bridesmaid dresses have been made from a really high quality, versatile, jersey fabric.  Responding to demand from brides however, this new collection has been created in luxurious, light and airy tulle.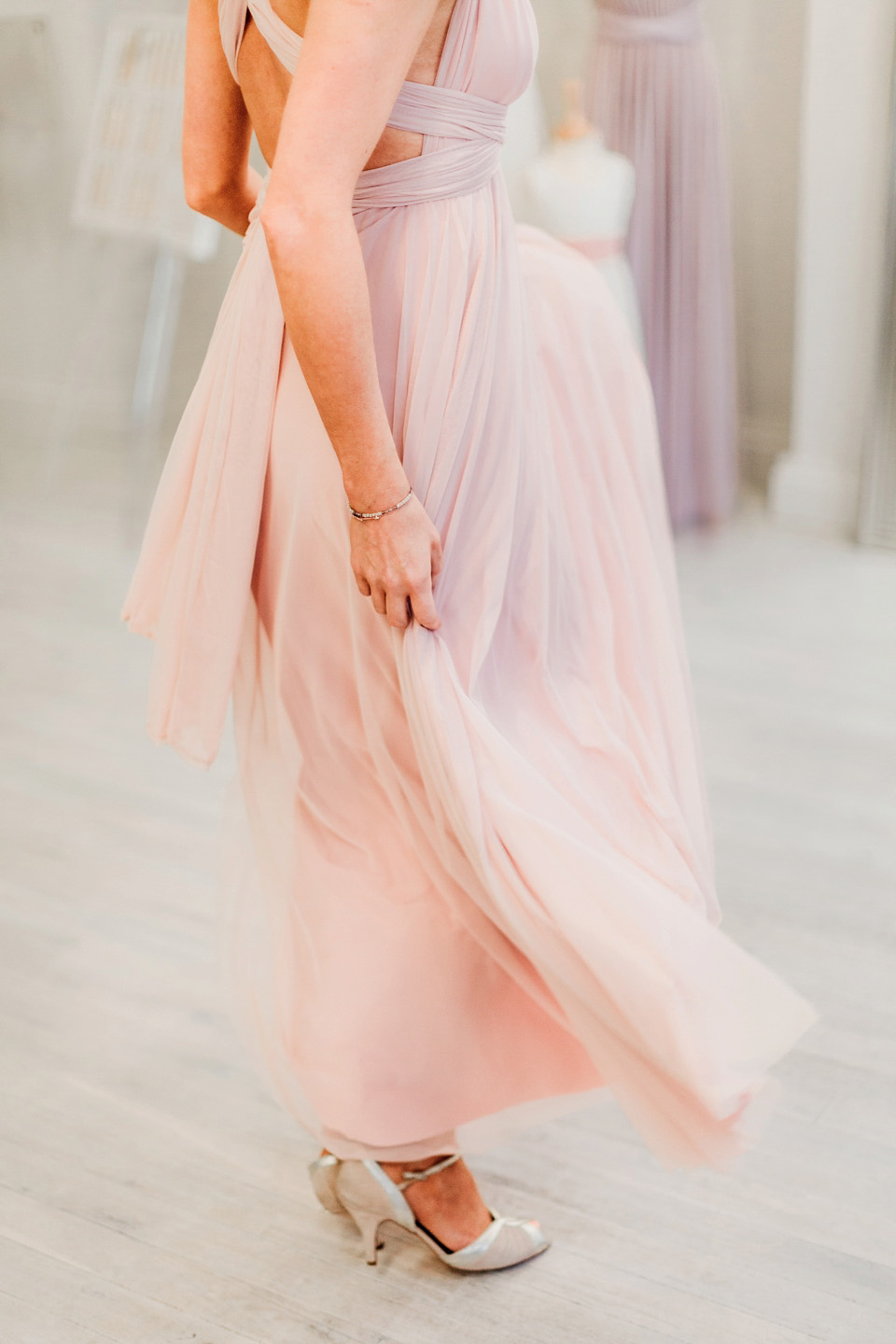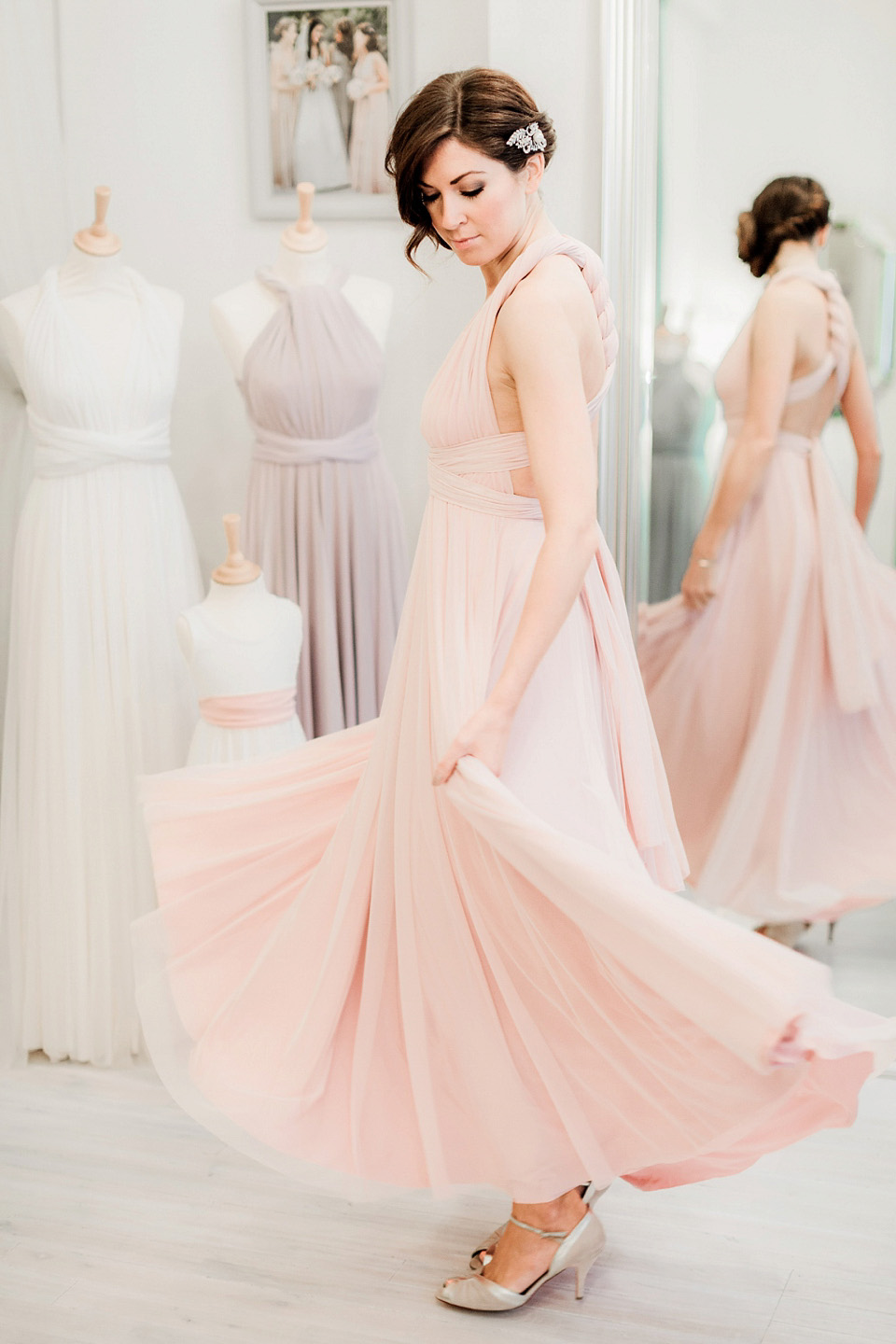 The new tulle dresses still offer the same level of versatility as the original jersey dresses – they are completely maternity friendly and can be tied in endless different styles to suit every body shape.
"I wanted to bring something fresh and exciting to our current jersey offering." says Arianne.  "The new tulle collection offers texture and fluidity while maintaining versatility."
I love how these beautiful images, taken by our resident photographer, Naomi Kenton, capture the essence of femininity and beautiful, fluid movement of the new tulle gowns by twobirds Bridesmaid.
It's also great to be able to provide our readers today with a glimpse inside the beautiful twobirds Bridesmaid boutique.  The boutique is located on the 1st floor of a shared building, just a stones throw away from the hub of Covent Garden.   The space is beautifully lit and welcoming; a plush sofa provides room for you to rest as the twobirds team take you through the dress collection.
The walls are awash with sweet twobirds inspired love quotations, and many framed images of bridesmaids wearing twobirds gowns.   A succession of dresses hanging gracefully in a rainbow of colour options stands nearby and a spacious changing area hidden behind concealing curtains in the most beautiful turquoise velvet occupies one corner.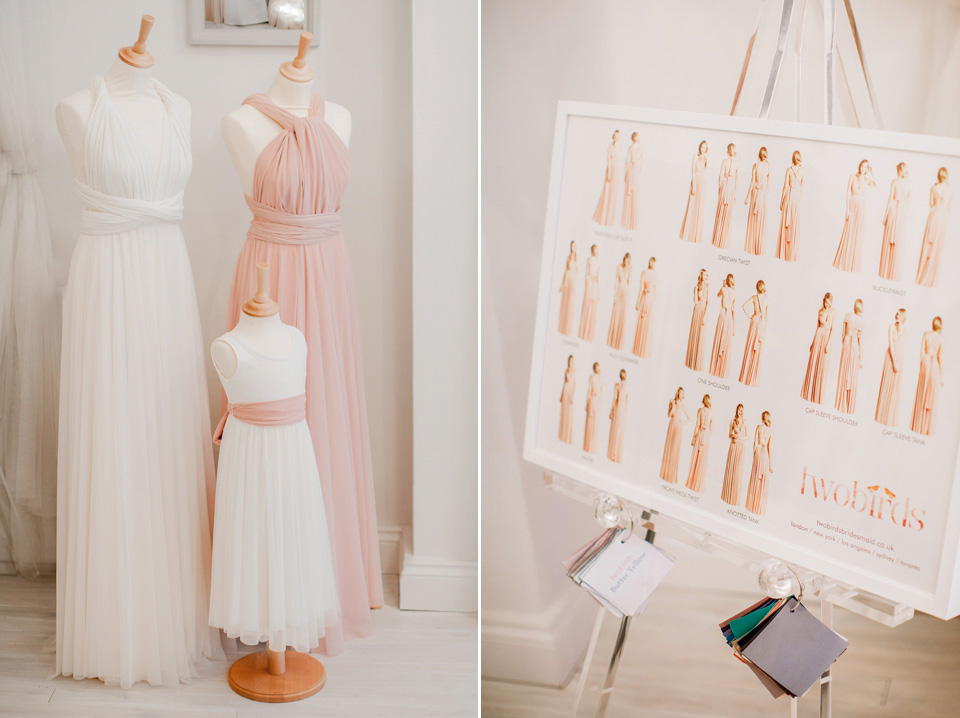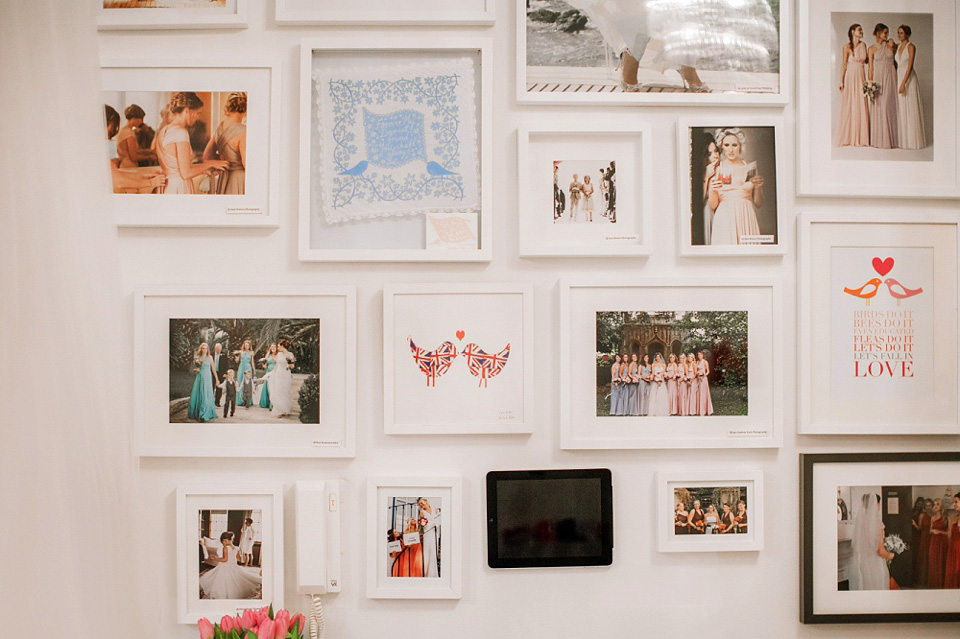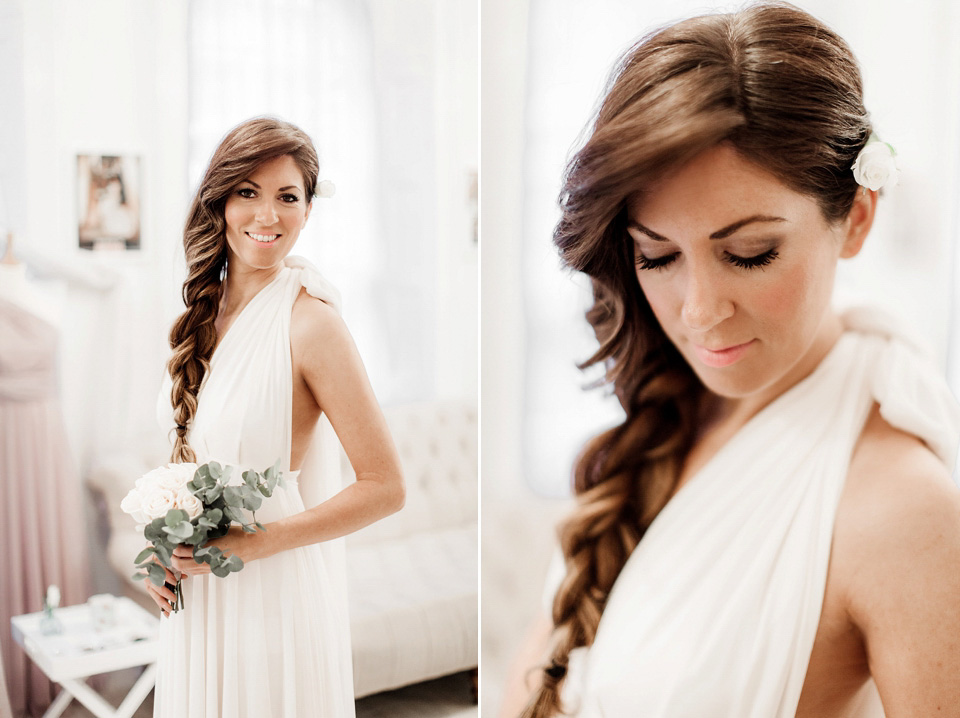 The UK twobirds team, all of whom are located in the offices above the boutique, are as delightful and charming as the boutique itself – expect a very warm and relaxed welcome, friendly smiles and few giggles, but expert, honest advice and lots of care and attention too – this is a team who perfected the art of customer service down to a 'T'.  I'll actually be introducing you to the team behind the brand in a separate post soon as I'm really keen to strip away some of the professional marketing and PR and introduce you to real people, names and faces and those lovely individuals who will be taking care of you when you purchase a twobirds gown.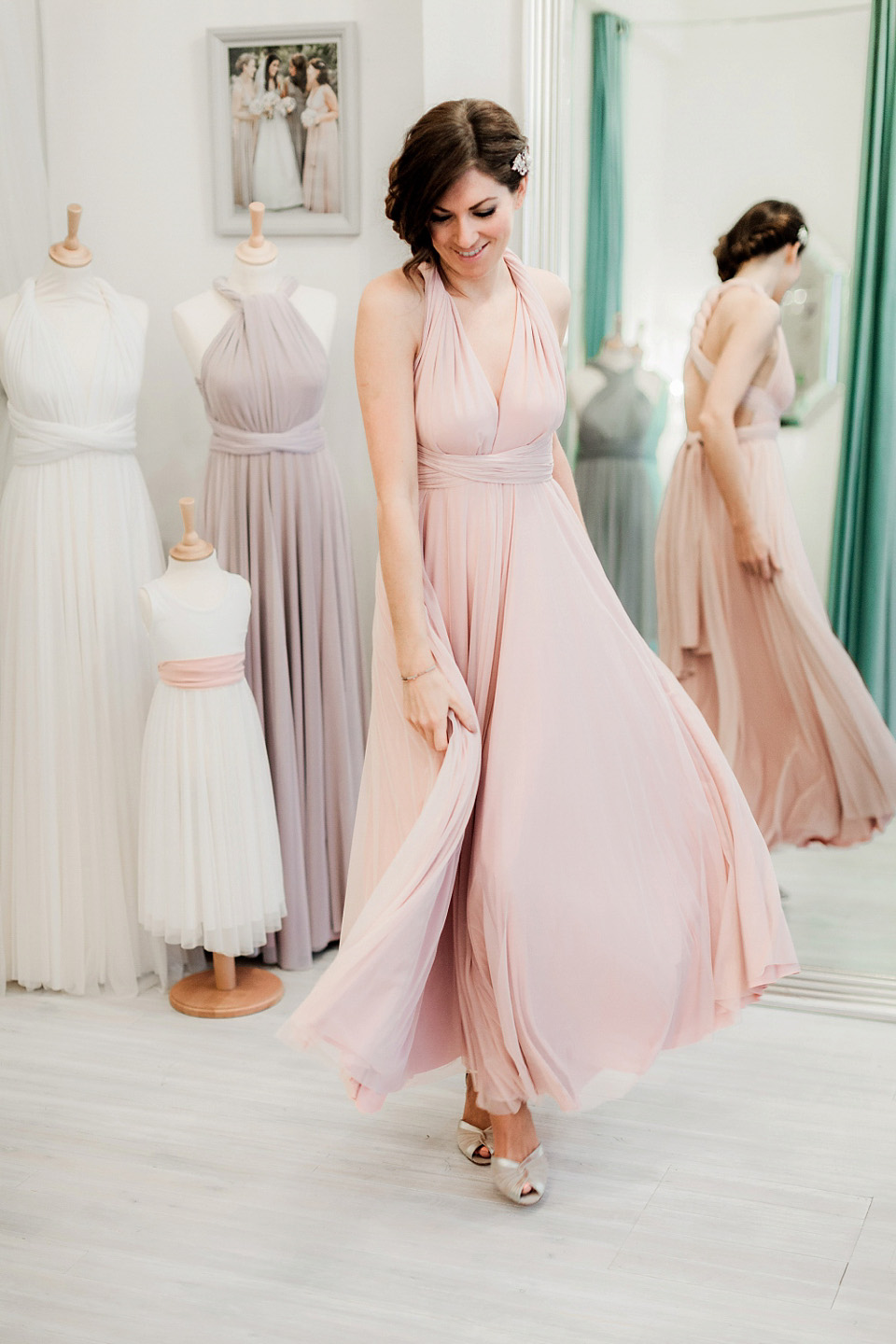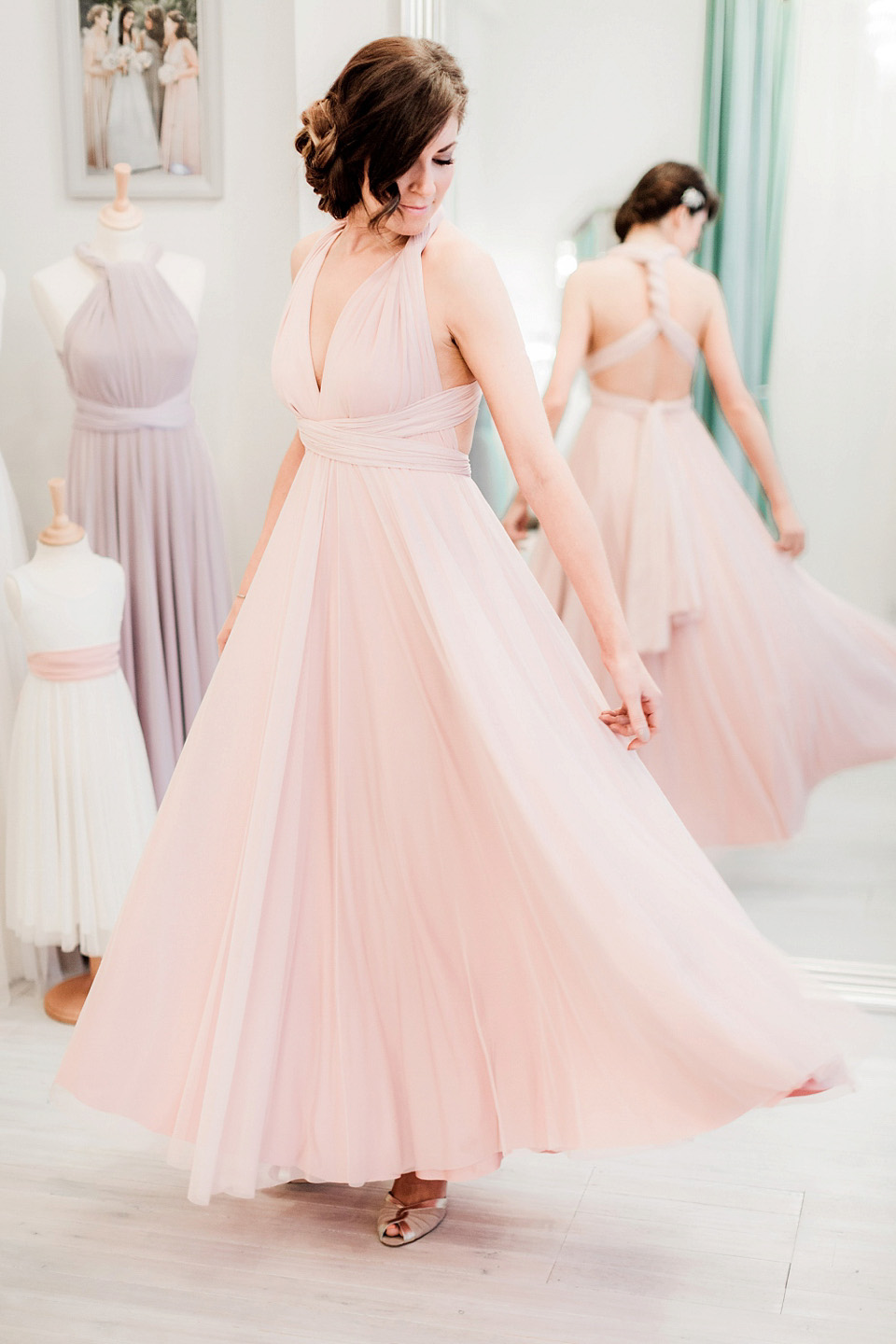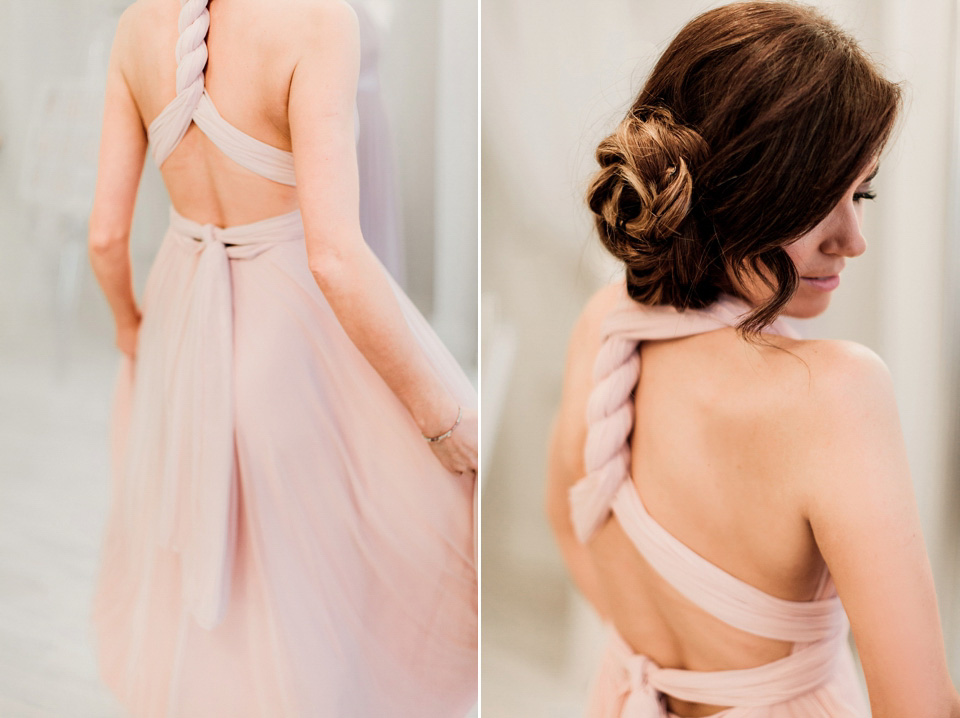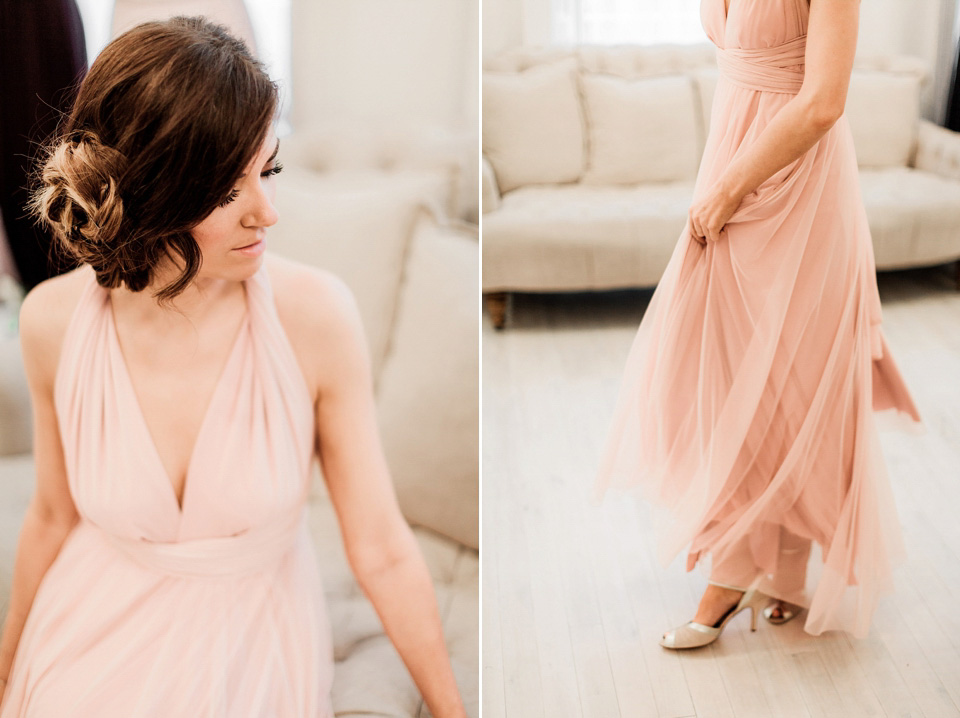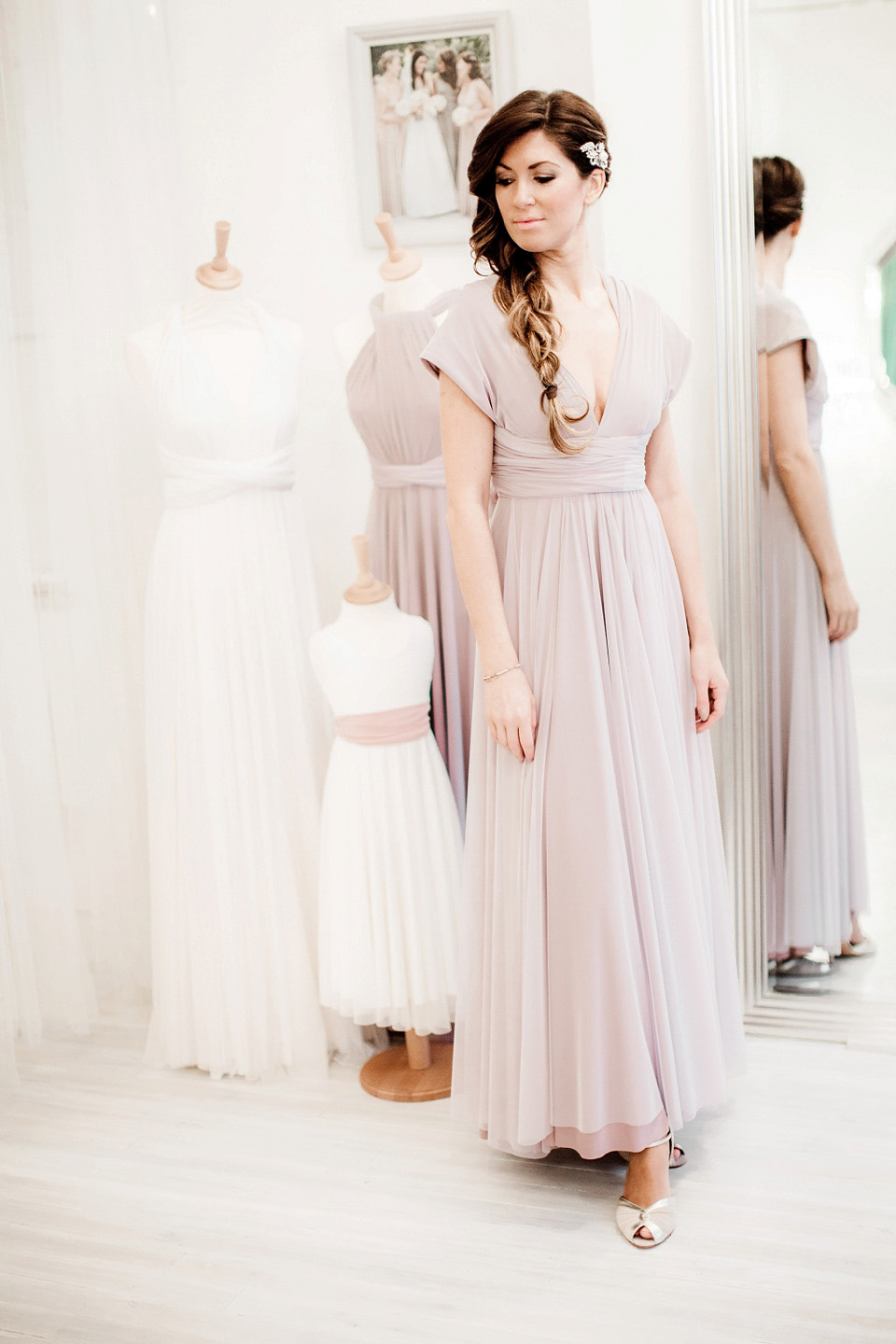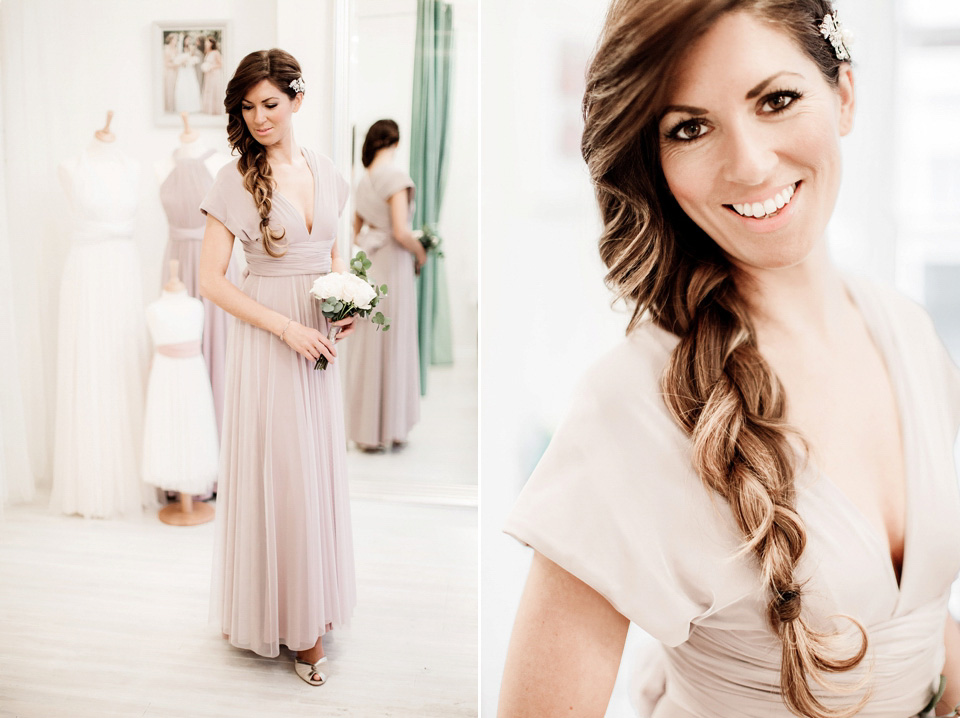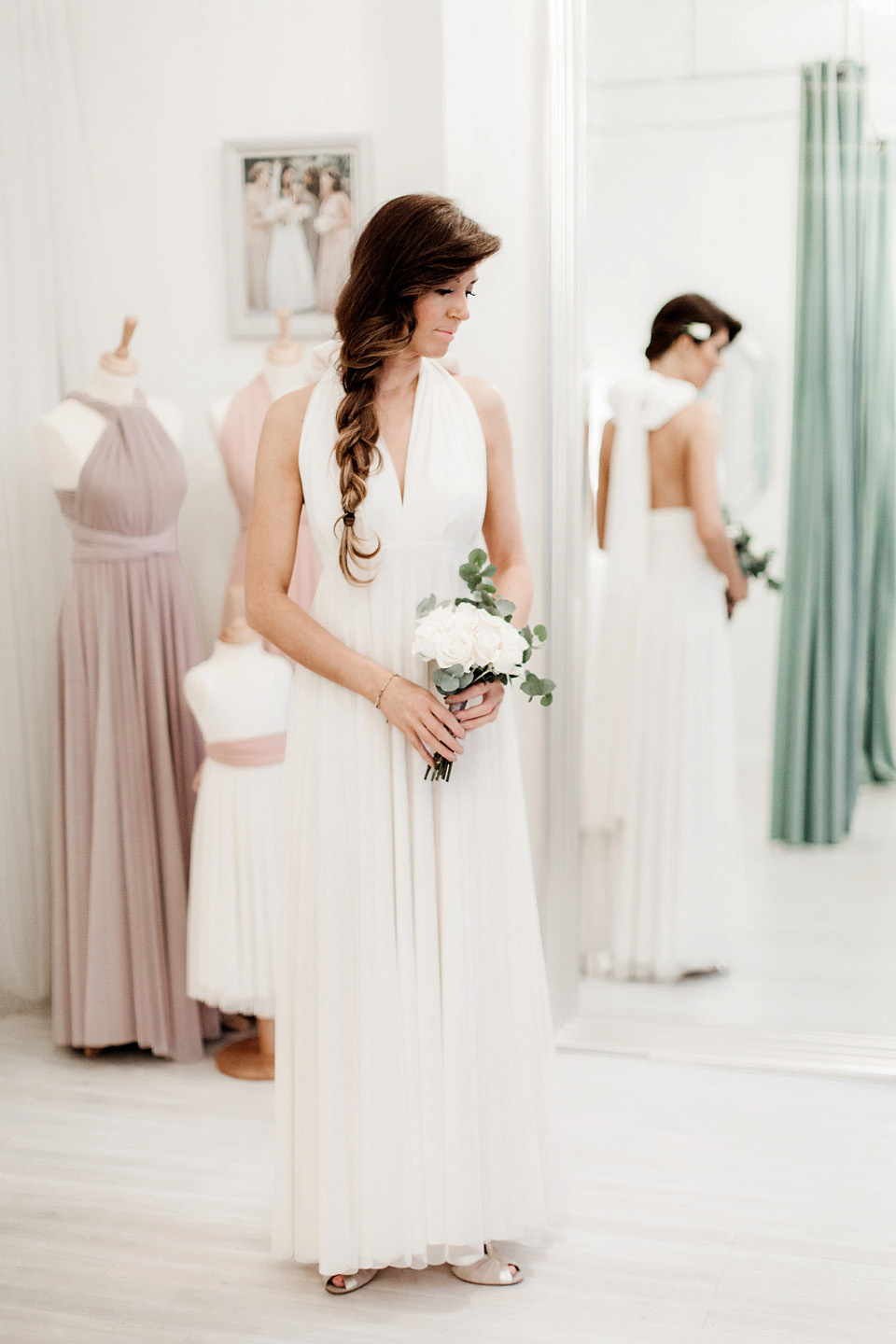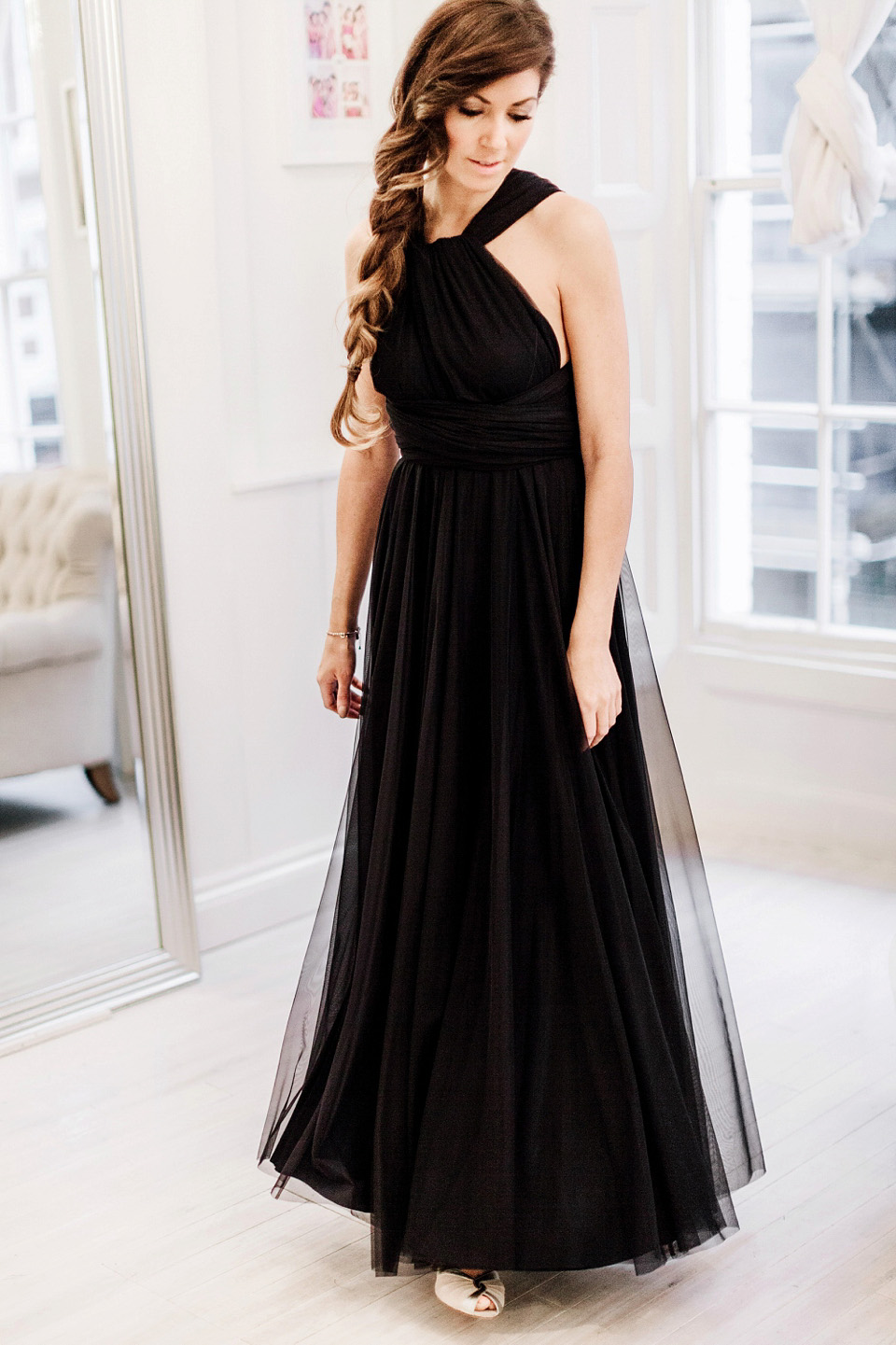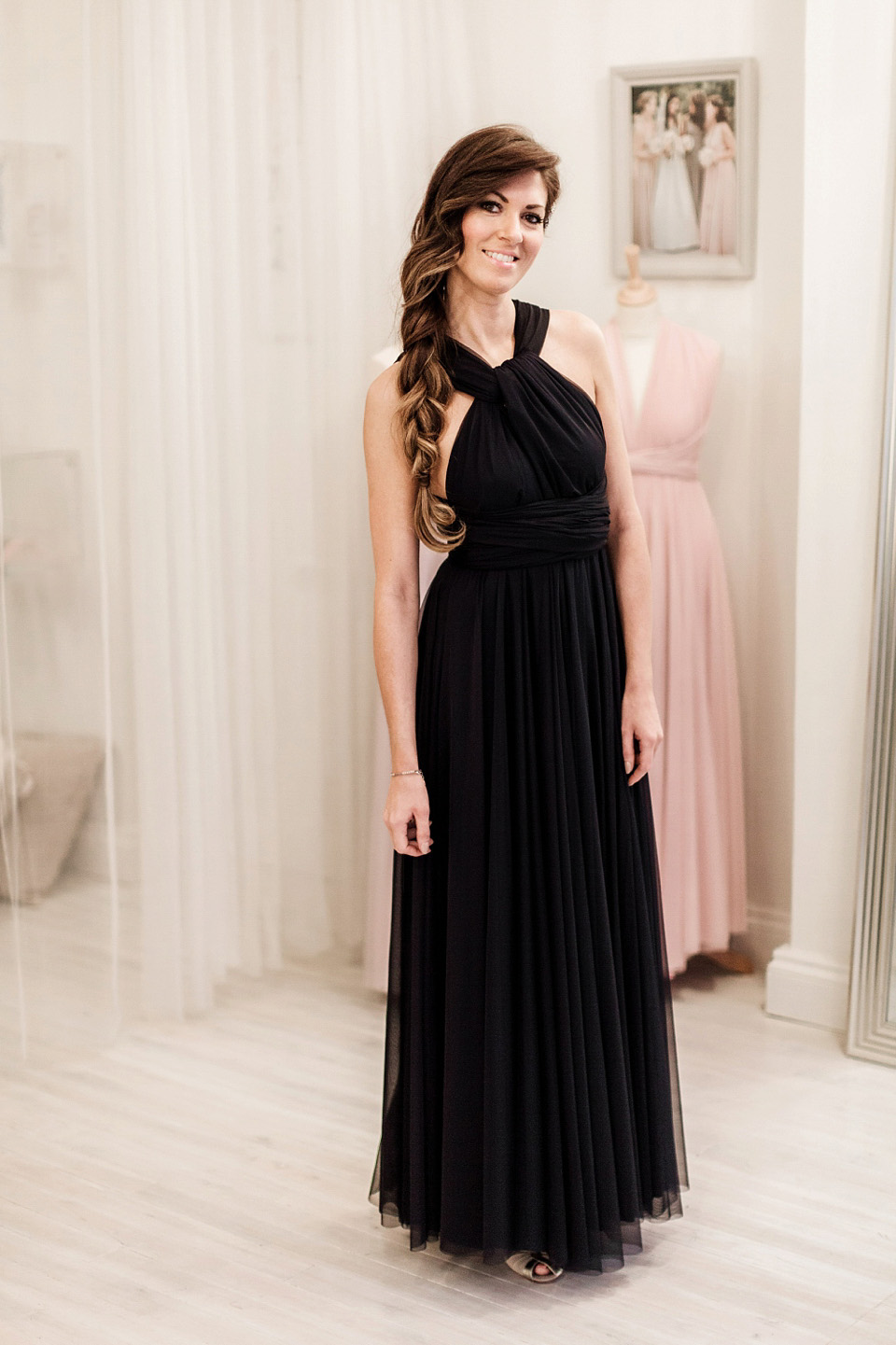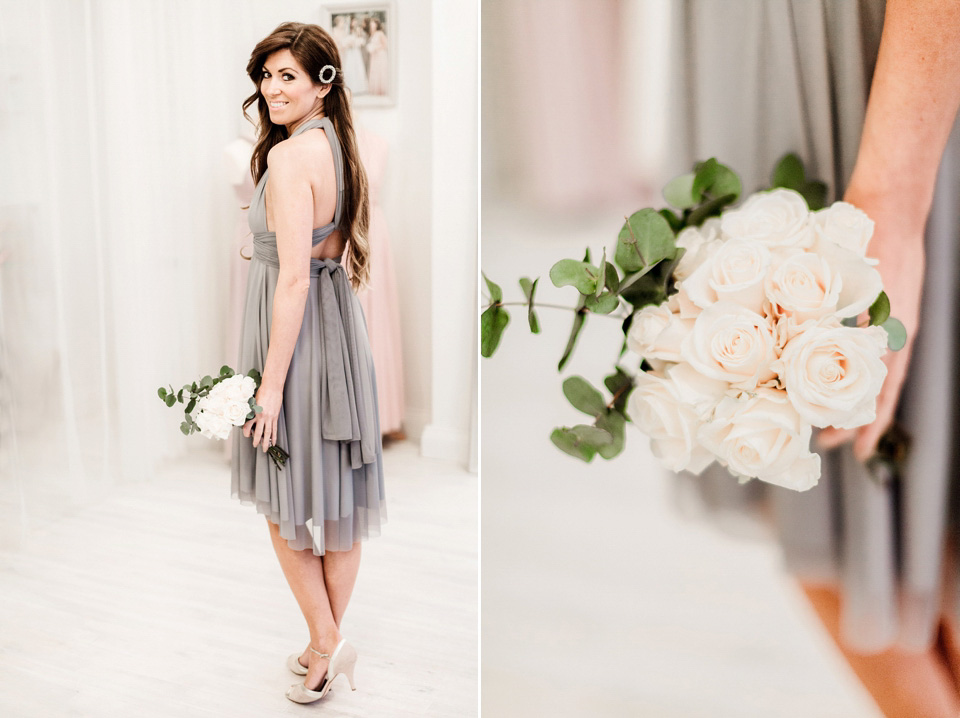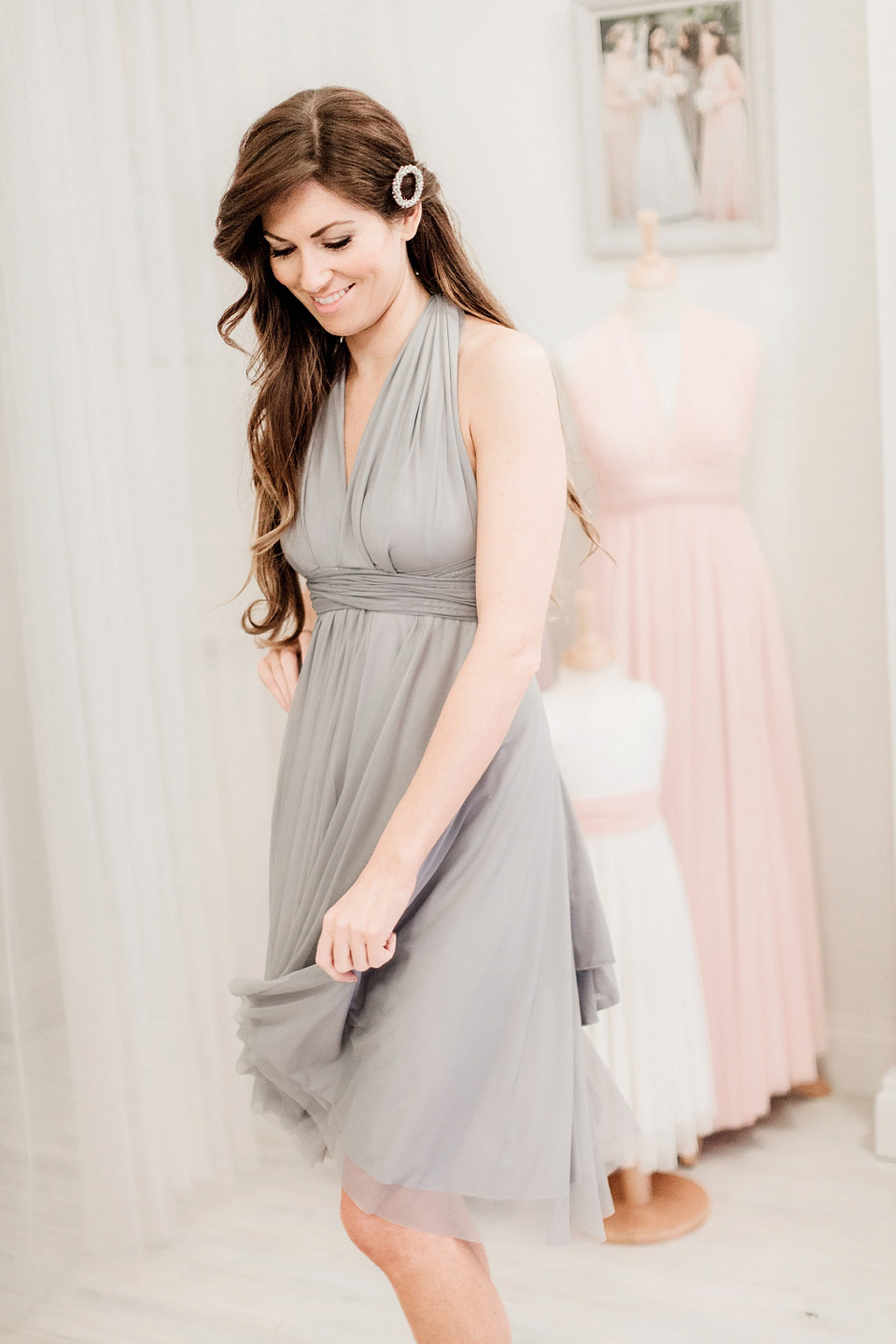 Our very own Tamryn has visited the twobirds boutique this morning to view and feel these beautiful new gowns up close and personal.  This is what she has to say…
"The new Tulle collection from twobirds simply oozes elegance and romance. The tulle over skirts add a delicate softness to the iconic multi-way gown design that is just beautiful. I am a huge fan of these gowns and absolutely adore the flexibility that they provide – simple sizing with a seemingly endless number of styling options give brides and maids the chance to wear the gown in a way that suits them best. Personally, I would love to wear the long length Tulle gown with a plunging v neck and cap sleeves but then again, why do I need to choose because I could change my look as often as I liked!"
"Let's talk about colours for a minute and there's no doubt that the pale hues look like they were made for these ethereal gowns but the deep midnight blue and rich jewels tone of the divine plum fabric also caught my eye so there's certainly a shade to suit everyone. Can I also mention the super sweet flower girl gowns for mini maids? Oh, they were absolute heaven and would be any little girl's dream. In short, the Tulle collection from twobirds is all kinds of fabulous and my unbridled love affair with tulle continues…"
I hope these lovely images have provided a flavour of the twobirds Bridesmaid brand and have encouraged you to consider these fabulous frocks as an option for your own wedding.
The new tulle collection by twobirds Bridesmaid is available in knee length and floor length styles and has a contemporary colour palette of nine shades: Black, Cream, Dove, Lilac, Midnight, Petal, Plum, Powder Blue and Seafoam. Flower girl dresses and matching bandeaus are also available. The collection can be viewed and tried on from the Covent Garden showroom and stockists throughout the UK from today, and prices range between £250 (for short) and £275 (for full length) and £145 for flowergirl gowns.
You can find out more about twobirds and their beautiful gowns by visiting the website at twobirdsbridesmaid.co.uk, and you can also connect with Twobirds via Instagram, Twitter and Facebook – telephone o207 836 3222 or email [email protected].
You can also take a look through the many weddings we have featured on Love My Dress where the bridemaids wore Twobirds.
Love Annabel x
This is a sponsored post.