I don't feel I even need to say this, because it's probably fairly obvious that I don't feature too many styled shoots – the few that I do feature just 'click' with me.  They might not have dress after dress, it might, like it was on this occasion, be the sublime styling ideas (that rose painted table plan below is so pretty!) and just a single, beautifully designed dress, that is full of elegant, ethereal appeal.  This particular shoot was sent in by London photographer Miss Gen Photography and I adore it.  Firstly, it showcases the work of a small group of creatives that is absolutely bursting at the seams with talent, and secondly, well, who doesn't love a touch of woodland wedding elegance?
I'd like to encourage you to visit the supplier websites listed at the end of this feature – take a moment to explore their products and services, and in so doing, you will be supporting some truly wonderful suppliers and artisan designers that make up our British wedding industry.  But most of all, I hope you will enjoy and be inspired by these beautiful photographs.
Photography Copyright (c) 2015, Miss Gen Photography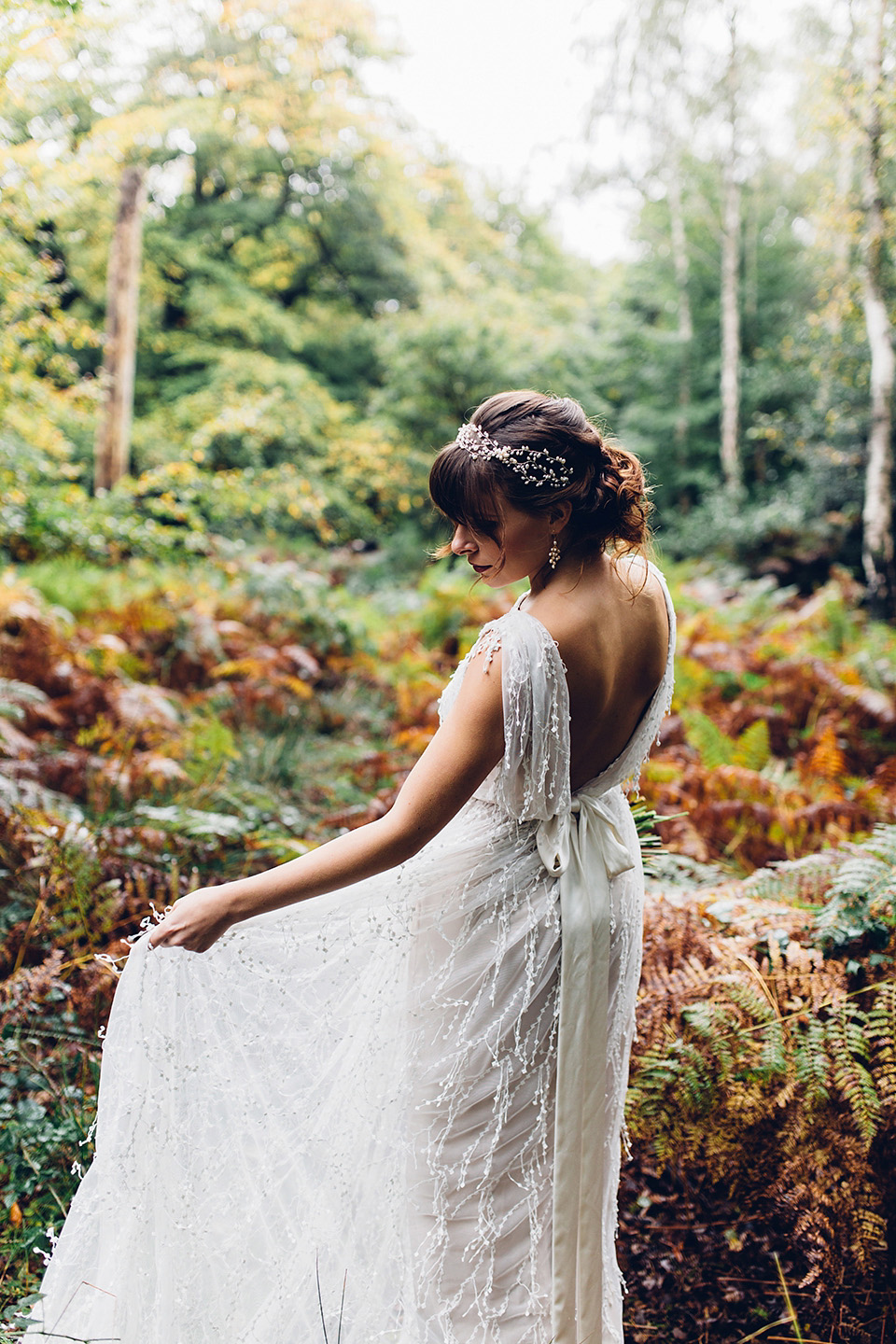 Photographer Genevieve of Miss Gen Photography says "Dress designer Faith Caton-Barber and I decided to create a romantic woodland engagement shoot to showcase some beautiful pieces from local UK designers in a stunning woodland setting in London. Faith's 'Florence' dress from her brand new label: She Walks In Beauty, was the focal point of the shoot. The centre-front split dress is made from champagne and ivory silk satin, with an embellished tulle overlay.  It is designed to be easy to wear and yet still flattering and truly special."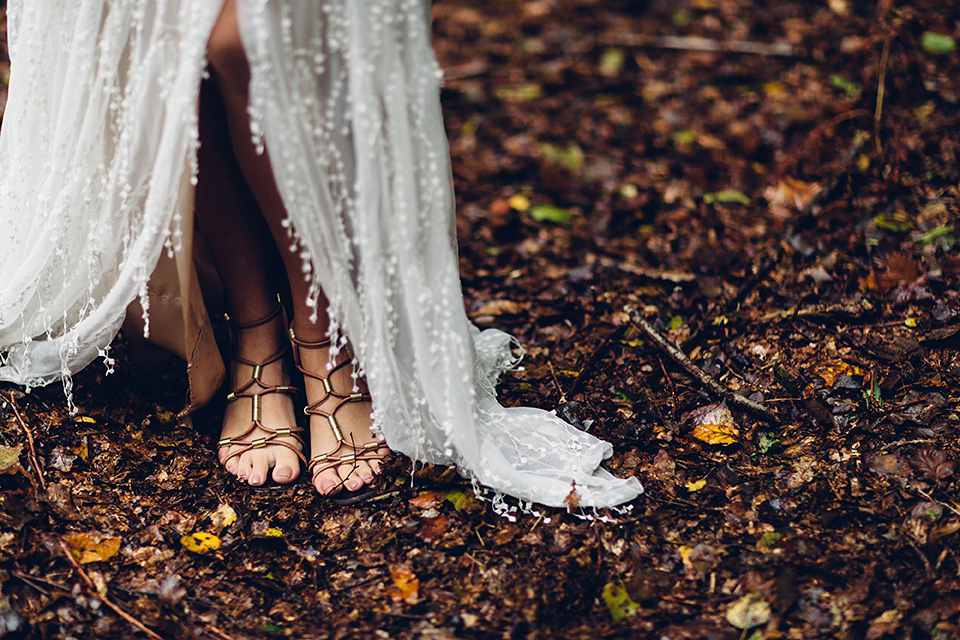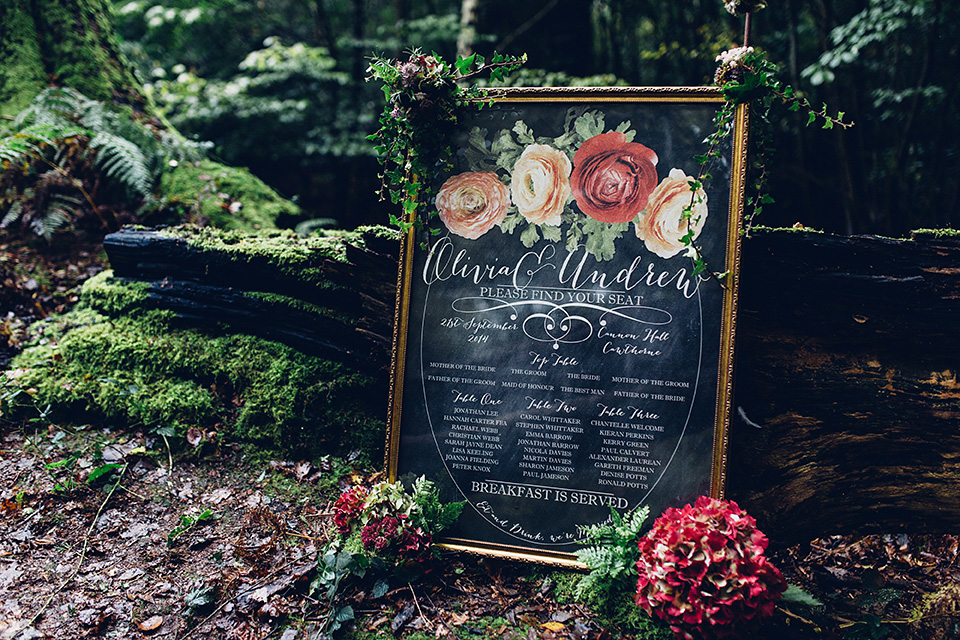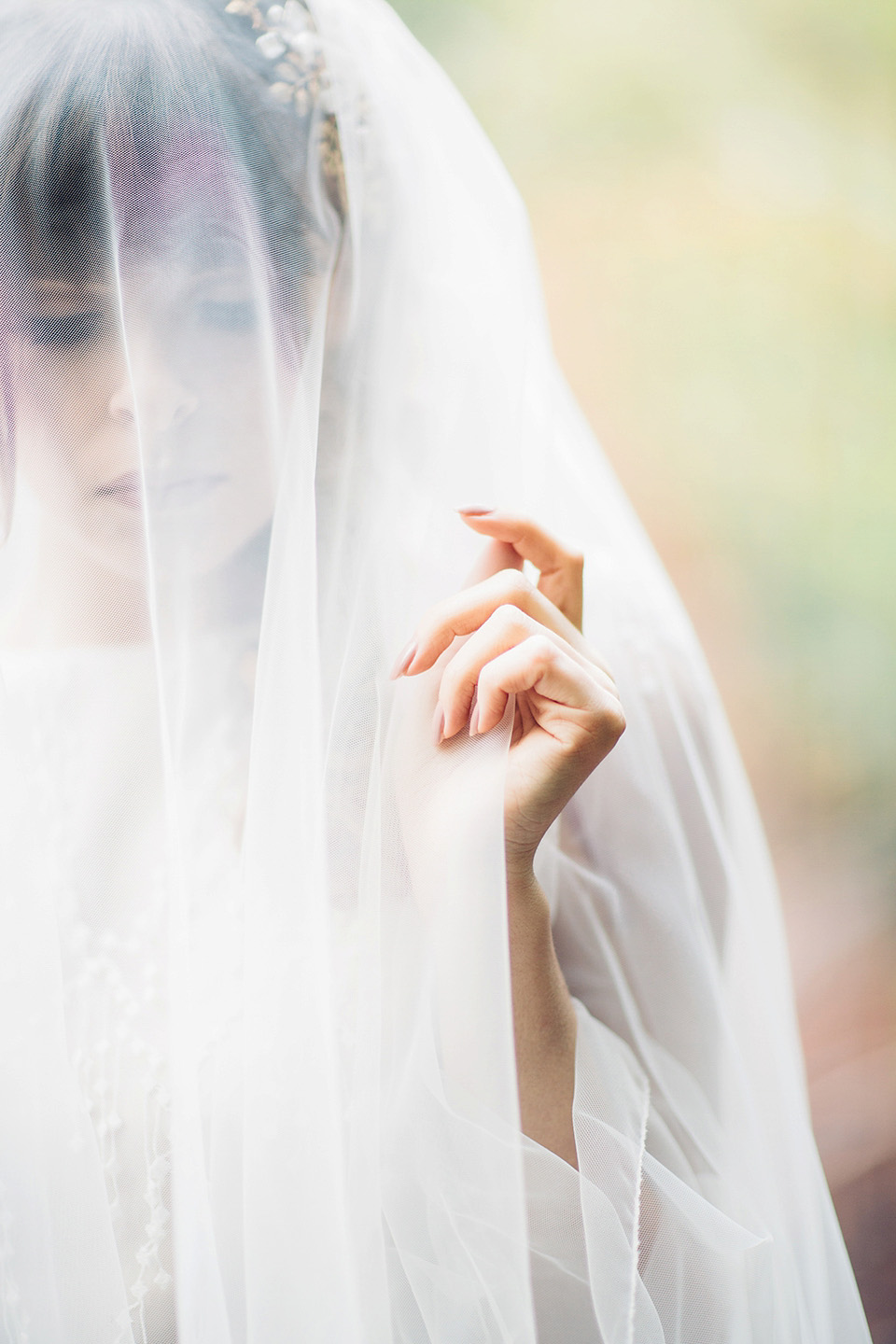 This shoot features some of bridal headpiece and accessory designer Kelly Spence's  most popular pieces and a handful of pieces from her 2014 Gilded Woodland Collection. This collection was the perfect choice for this beautiful forest shoot as it was inspired by sunny woodland walks and features golden autumnal leaves, spring blossoms and water droplet jewelled web strands.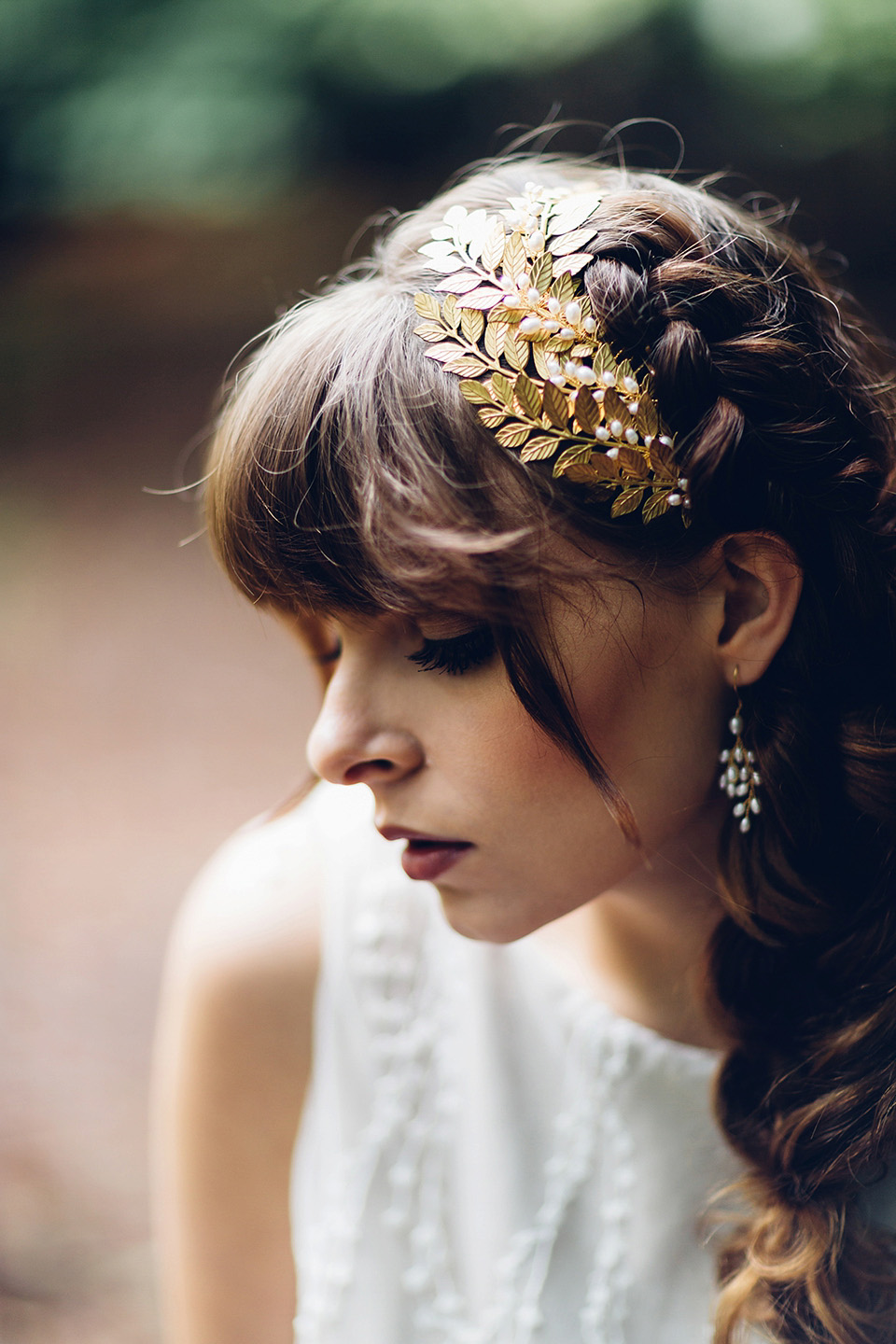 The dress used in this shoot is the 'Florence' gown by designer Faith Caton-Barber, from her brand new label 'She Walks in Beauty'.  The dress is paired in the image below with a crochet shawl created using British undyed wool, from a pattern by designer Erika Knight.
"When photographer Genevieve and I first had the idea for the shoot, I immediately knew this brand new design was perfect for the wild beauty of the forest: elegant, whimsical, with a touch of fun and very easy to wear.
I like to create dresses that enhance a woman's innate beauty, and make them feel wonderful from the inside out. I envisaged the shawl as something that the bride had made herself, or maybe it was something borrowed from her grandmother, something familiar and comforting to have with her on the day she begins her new life with her true love."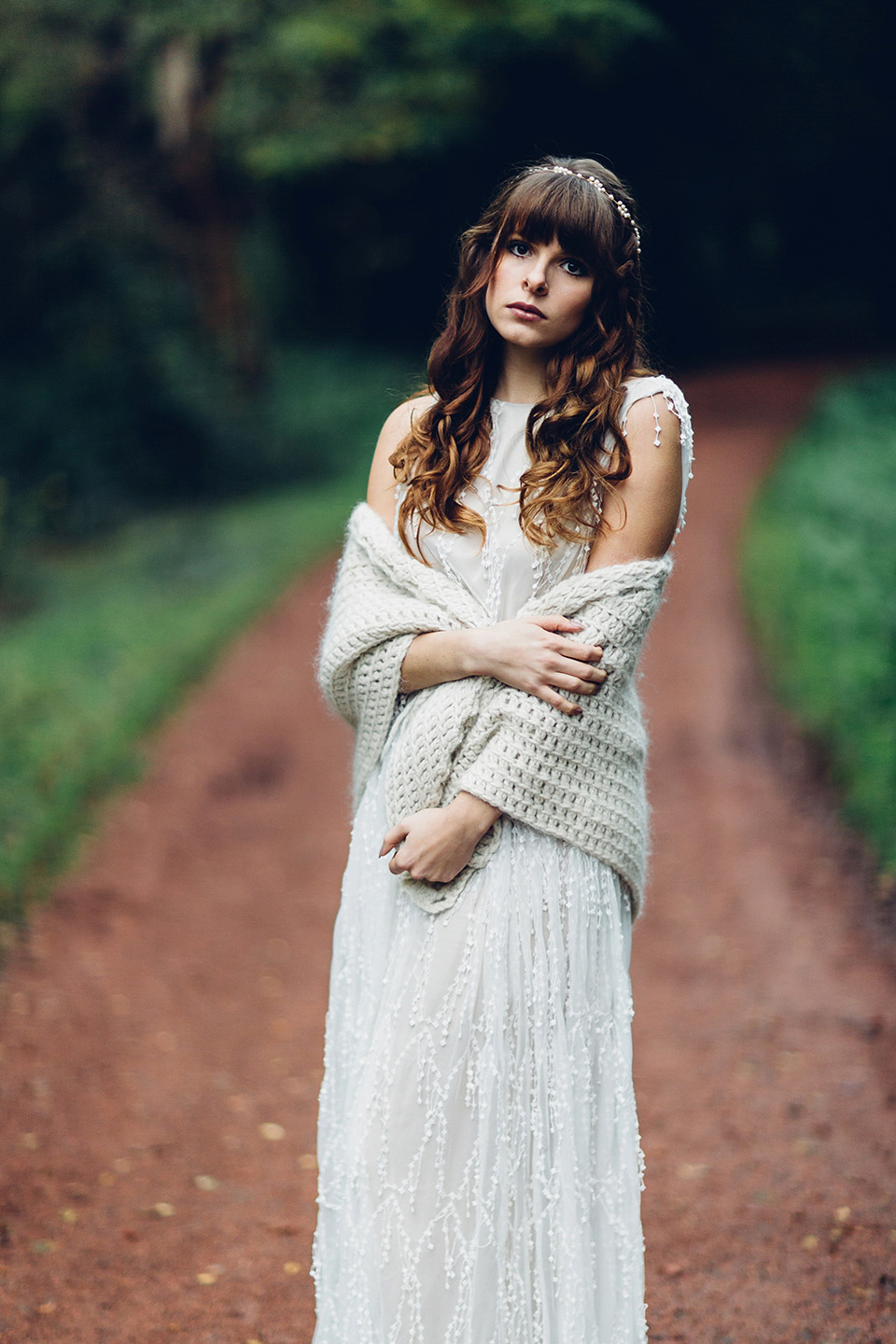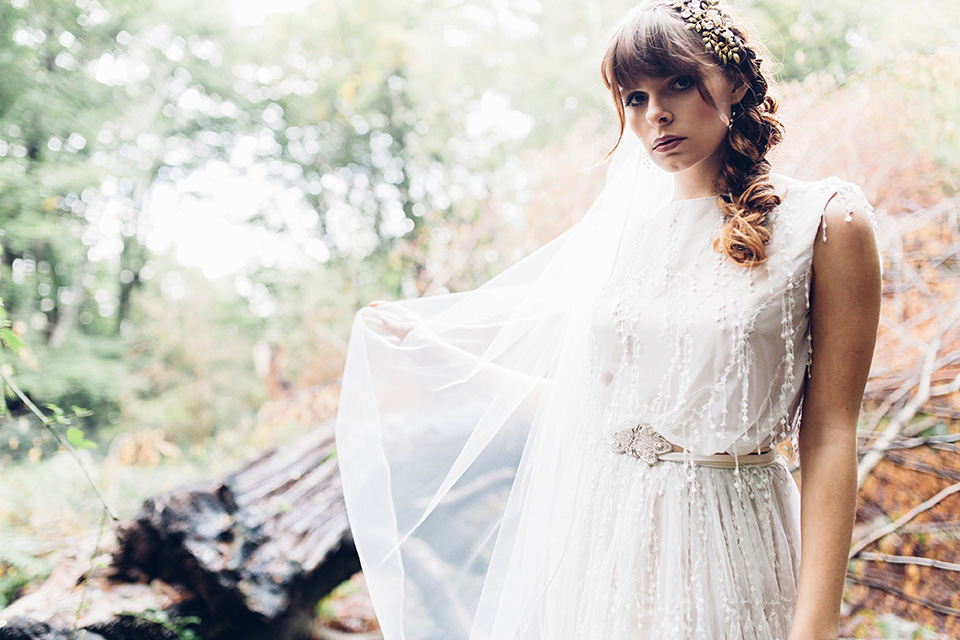 Carolyn of Gray Starling, who provided the absolute darling stationery for this shoot says "This particular design was created with woodland luxury in mind and it has a rustic feel with an ornate implication. Perfect for brides who require a more sophisticated look."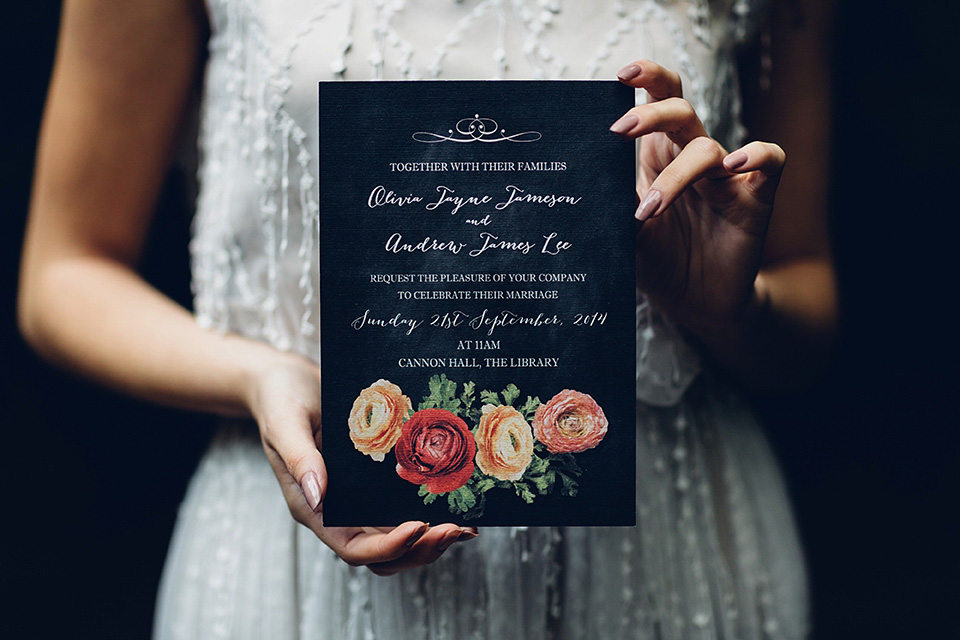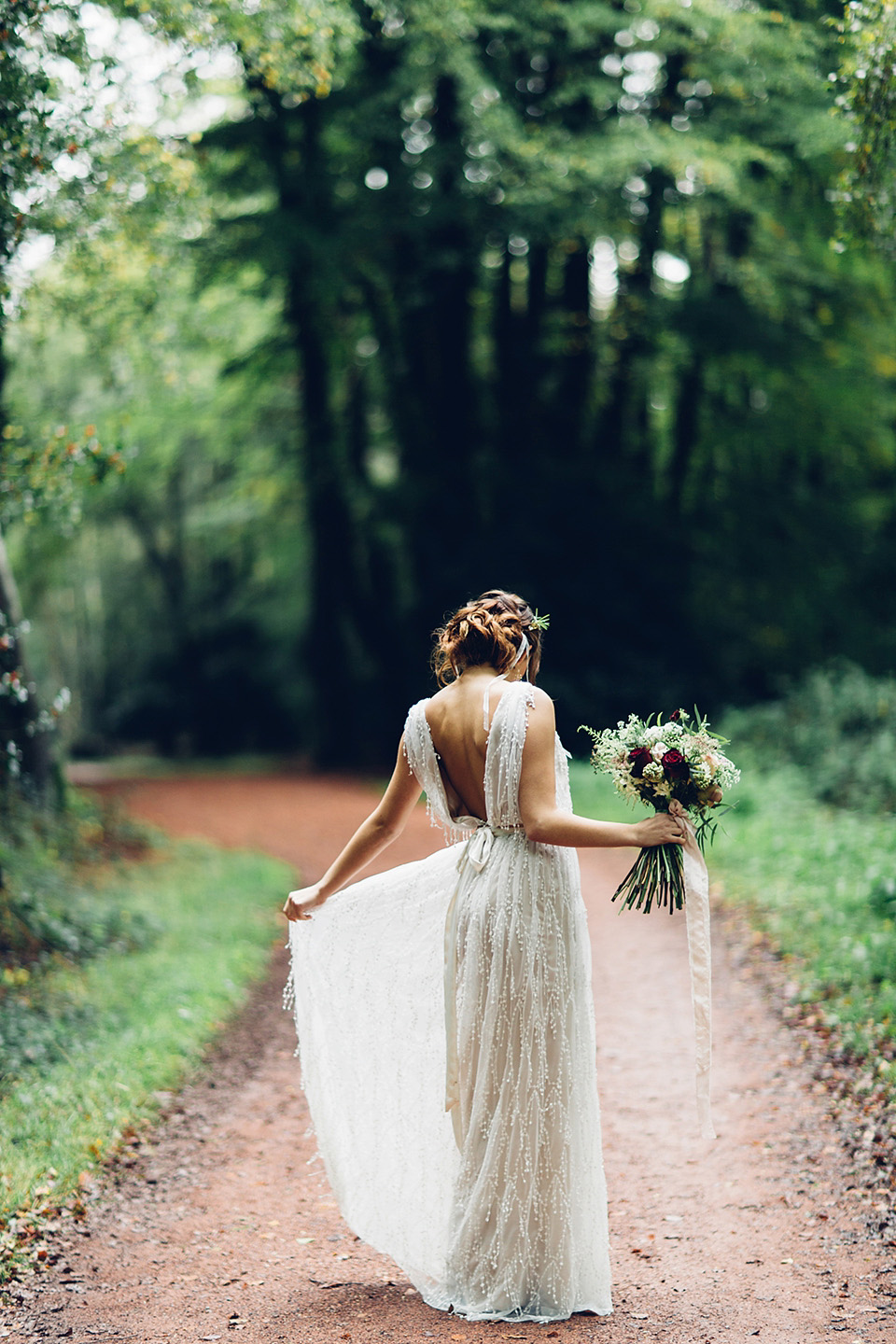 Sarah of The Flower Bird who provided all the beautiful florals for this shoot said "I was thrilled to invited to join the team for a woodland shoot to showcase an exquisite new dress from Faith. I love working outside, and where flowers always seem to be at their happiest! Genevieve had put together a mood board on pinterest, but apart from Faith mentioning gold and champagne (the colour!), I was given a completely free reign on the flower front."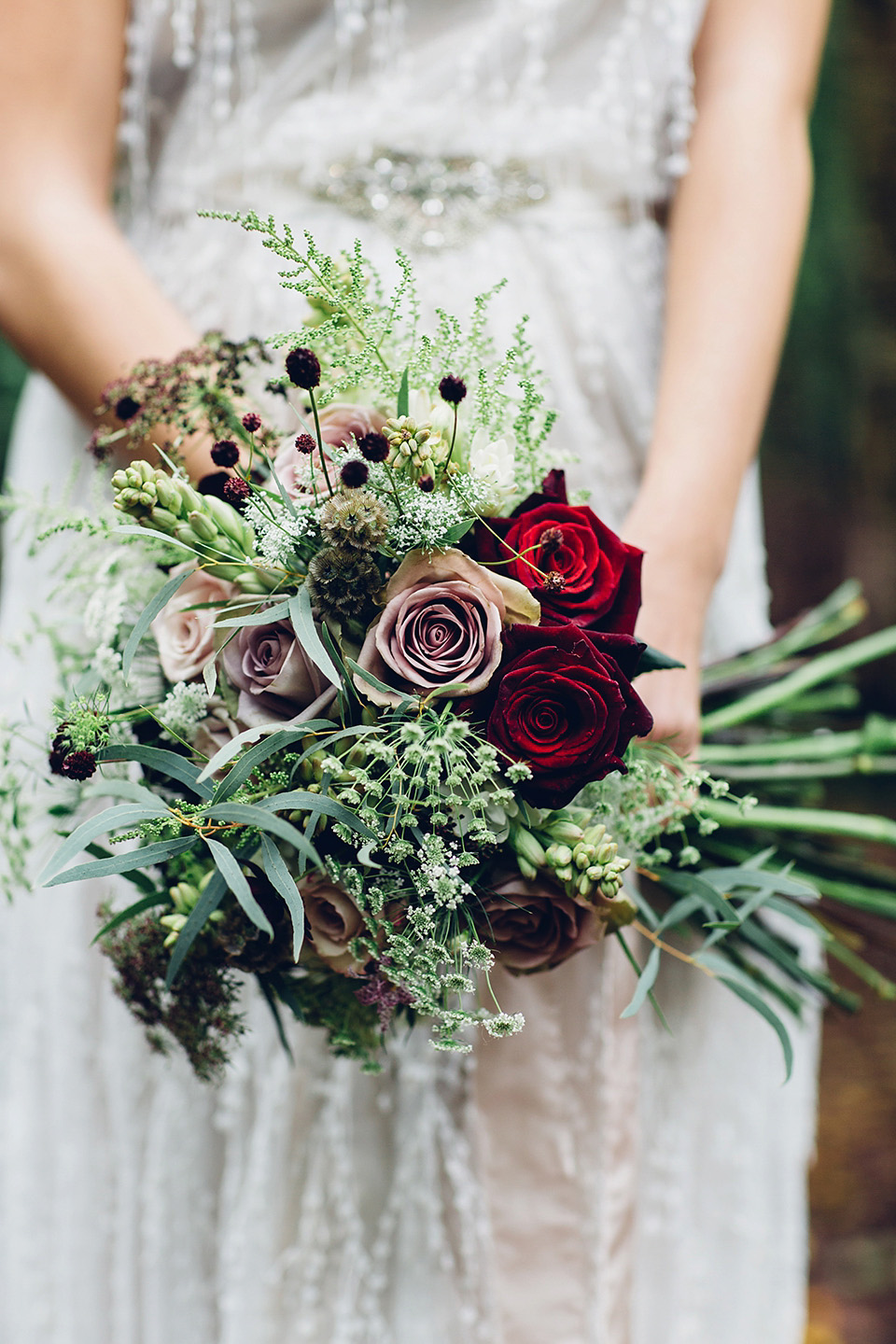 "Sometimes this can make it harder, where do you start? I knew I wanted to create something wild but pretty, elegant but natural and subtle and full of texture, but didn't have a fixed plan in my head. But as soon as I got to the market (New Covent Garden Flower Market), it turned out to be remarkably easy. Queen Anne's lace, one of my my favourite flowers for bridal work. I though the season may be over, but BloomfieldofLondon still had a few precious bunches."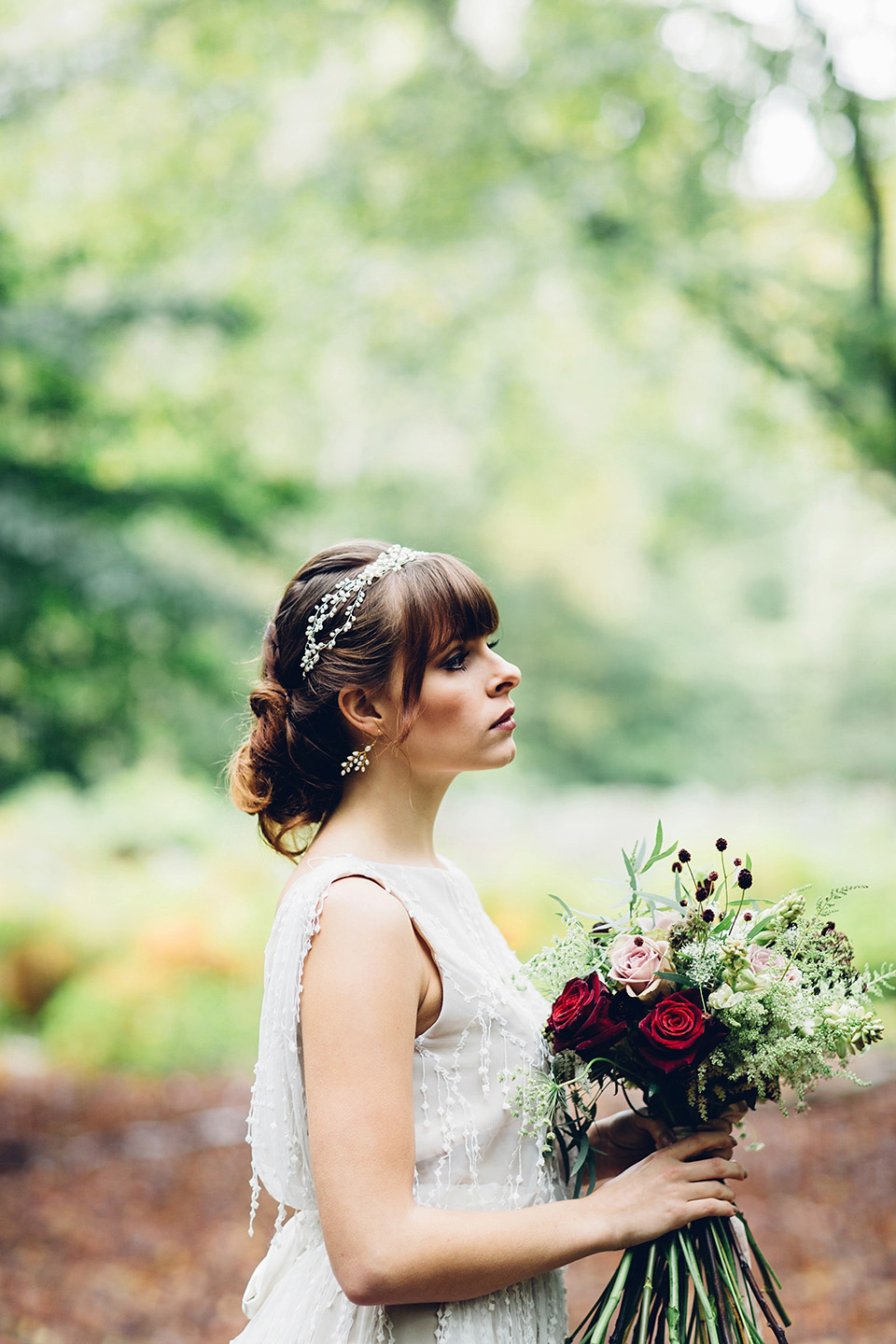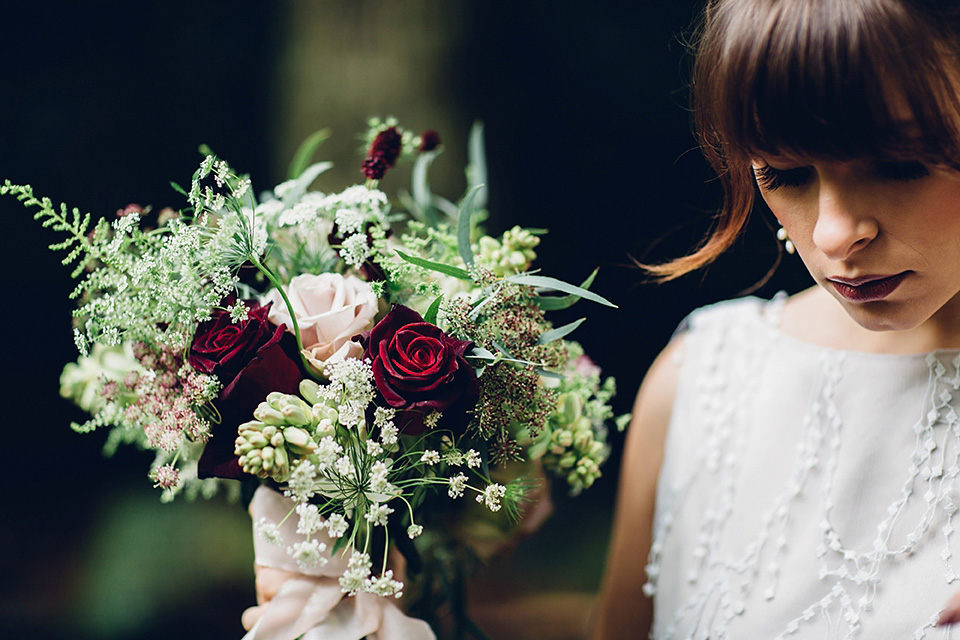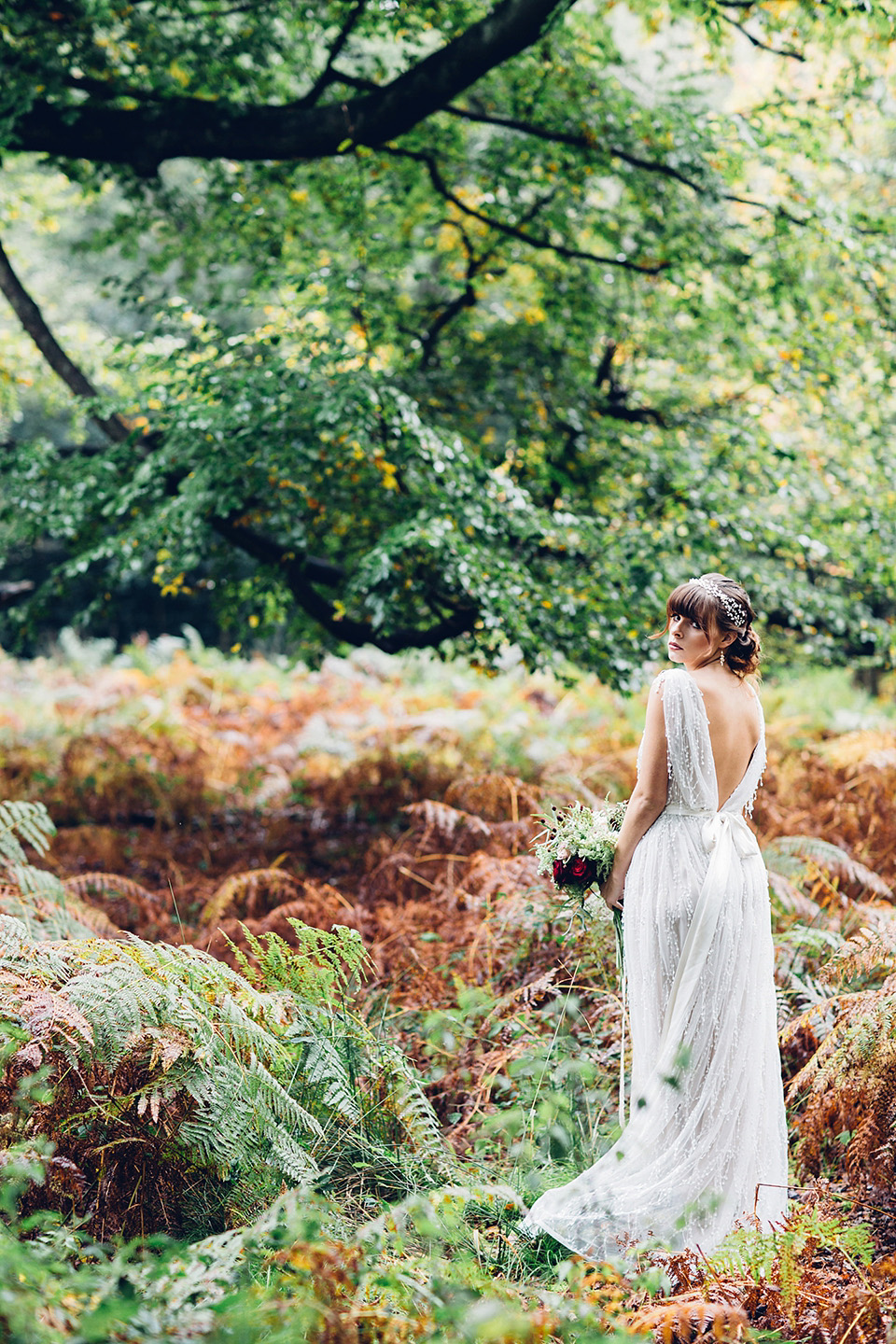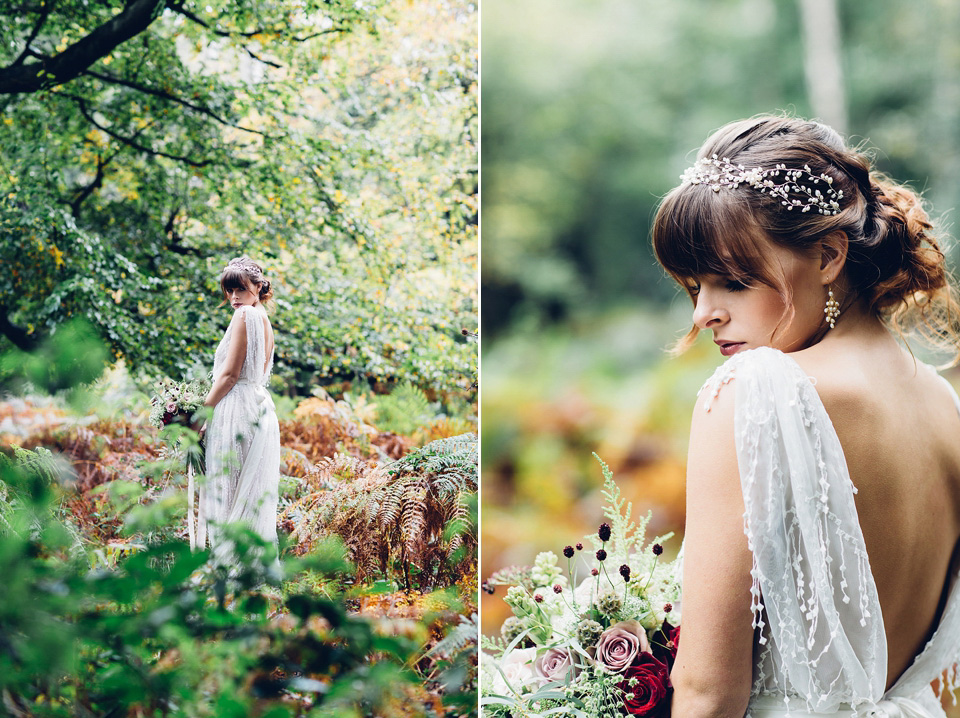 "It is so delicate, and feminine and a little goes such a long way. As if that wasn't enough to expect from such a wonderful flower, it's also amazingly robust and long lasting, as long as it is in water. And then I spotted the perfect little chocolate cosmos. after that, the choice was simple; a deep red velvety rose (Baccarra), to add a touch of depth and luxury and intrigue. After a visit to Dennis Edwards, I found elegant, neutral toned roses (Mentha, Sahara and Amnesia), incredibly fragrant tuberrose to introduce a hint of peach, and astilbe and scabious seedheads for texture and a natural look.
I made up another bouquet, purely a dome of a mix of roses as I rather liked the juxtaposition of something so simple yet sophisticated against the backdrop of the woods. I also gathered up lots of woodland goodies from Porters…moss, ferns, bark and fircones, for those little finishing touches.  And finally, my precious new silk ribbon from Frou Frou Chic had its first appearance  – perfect!"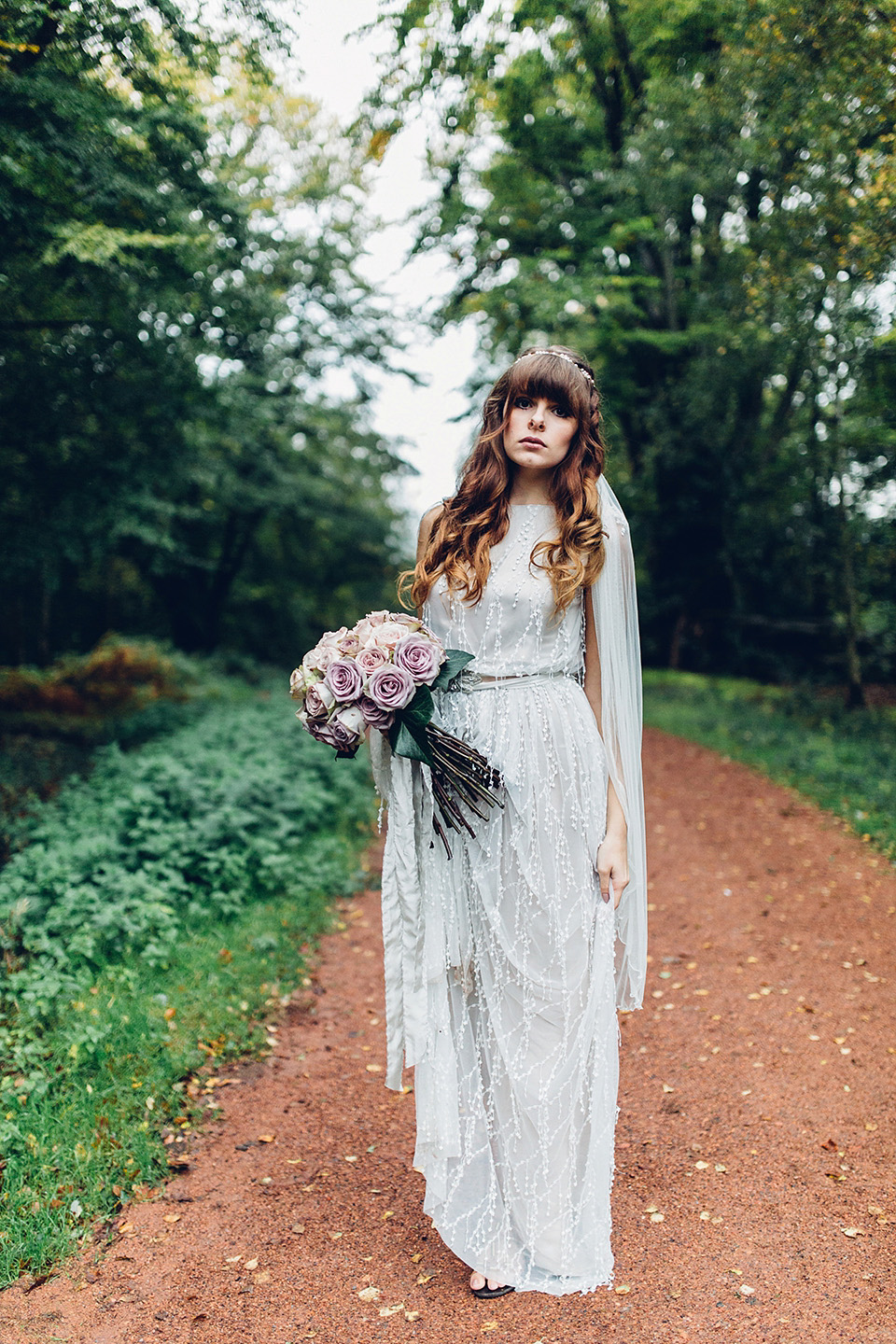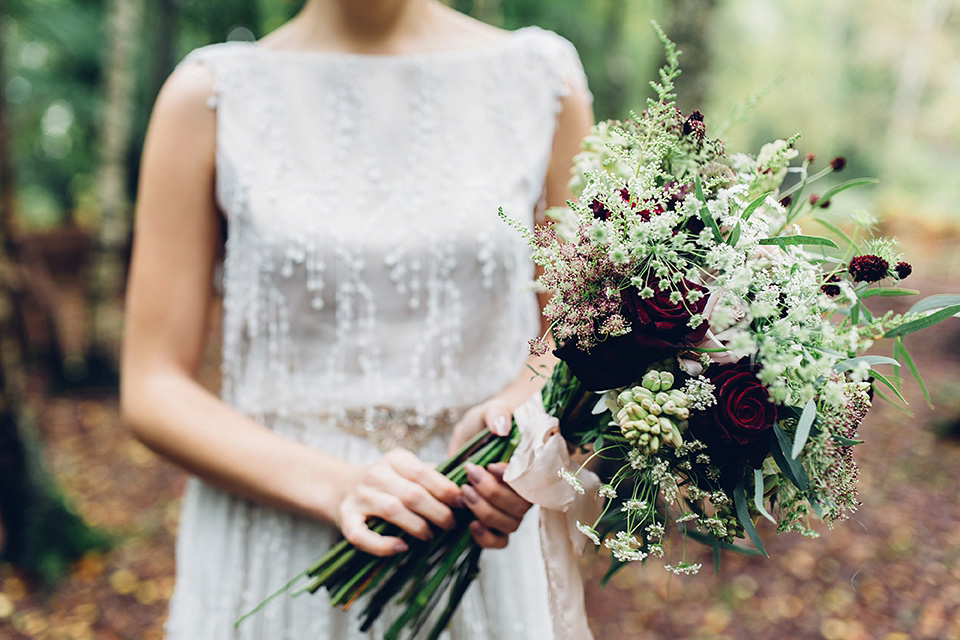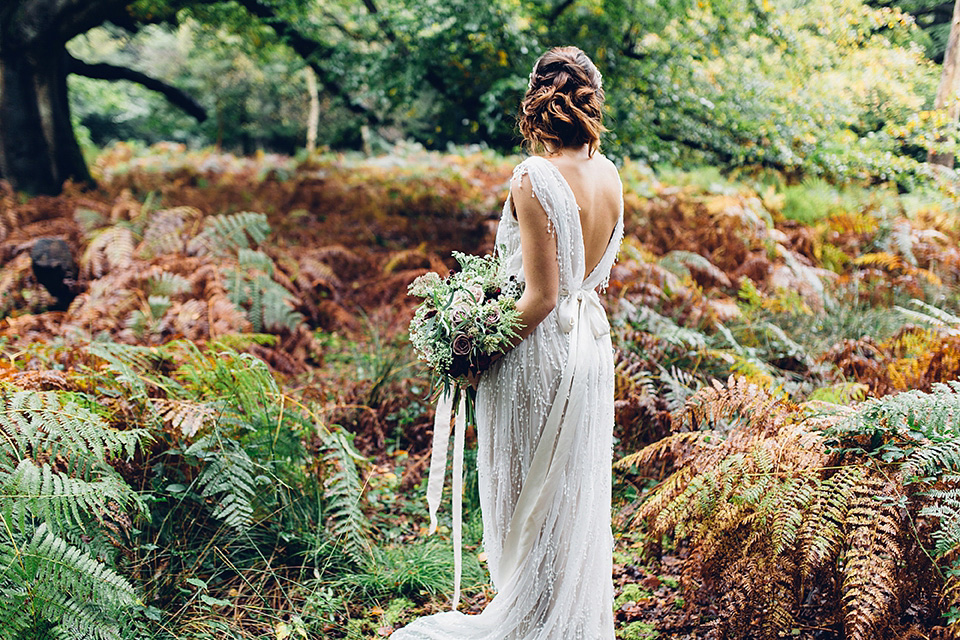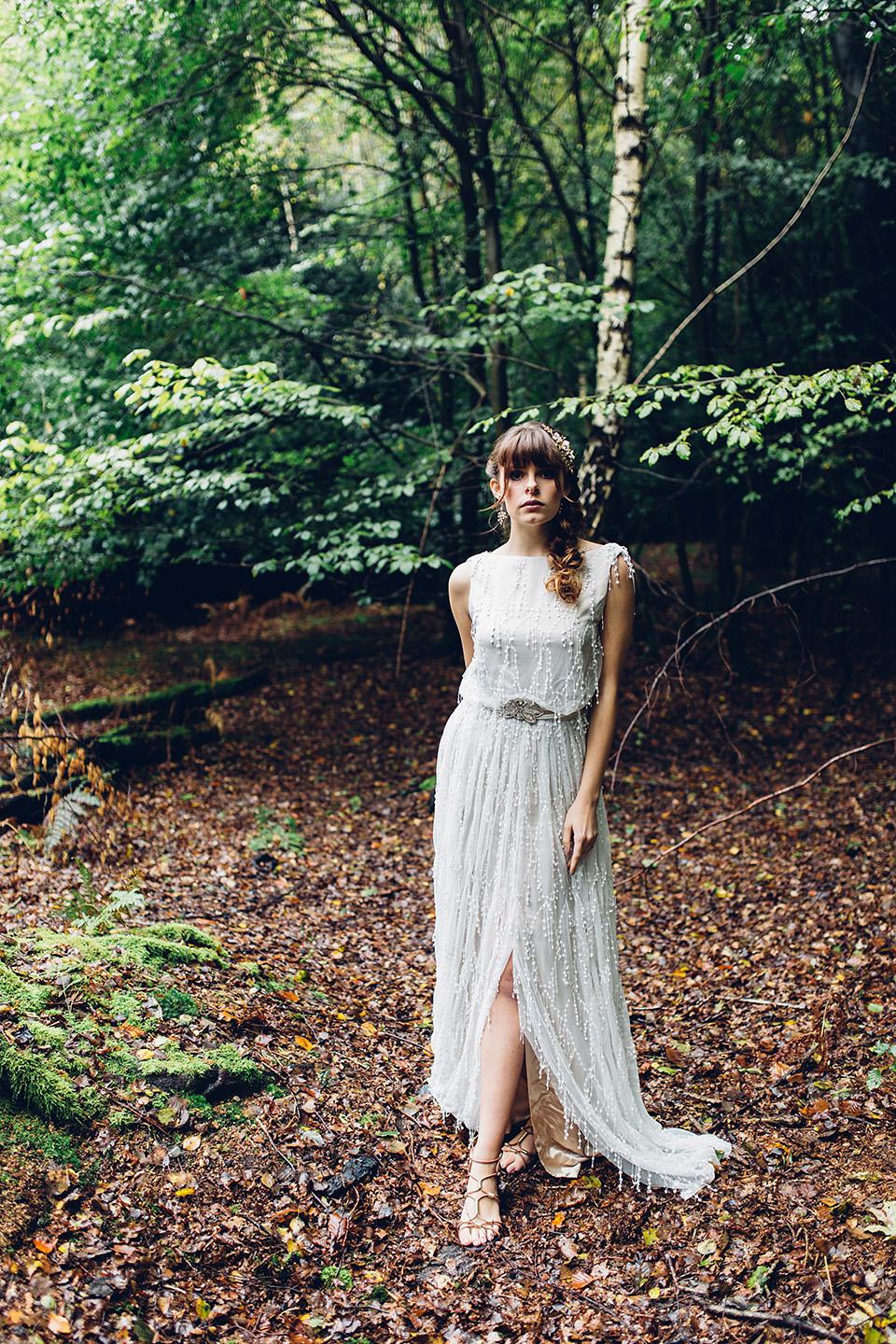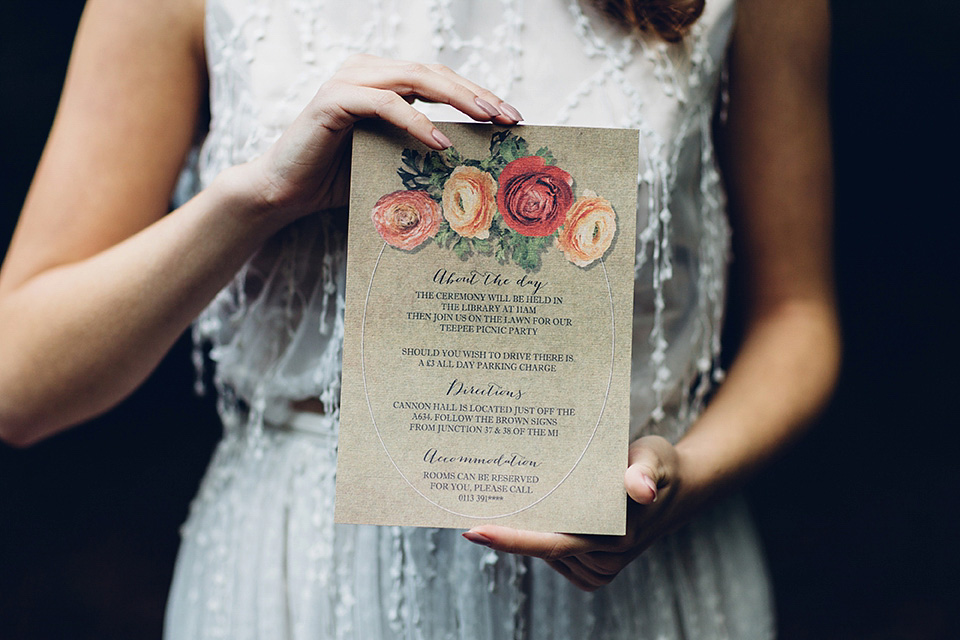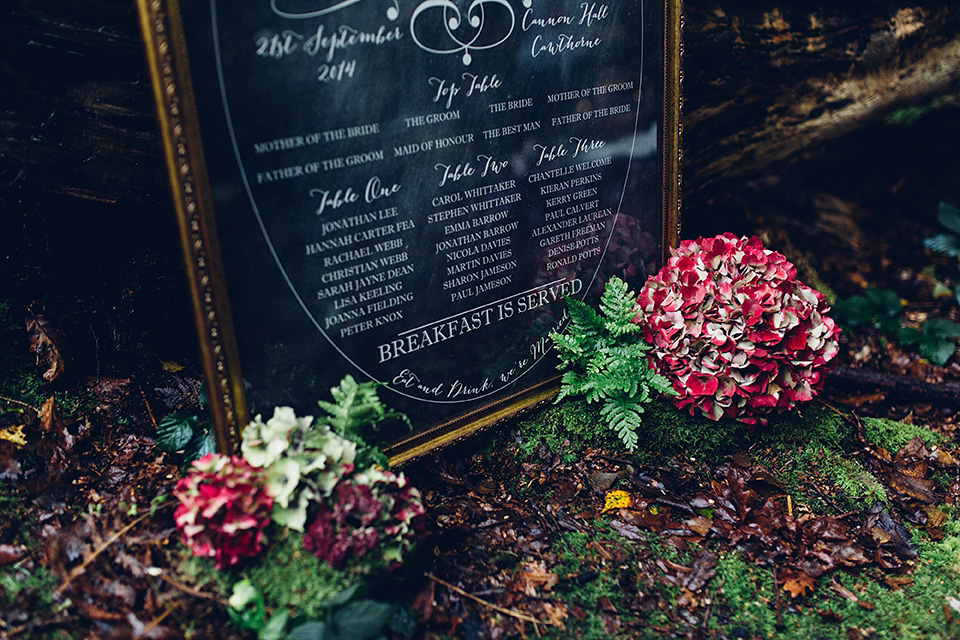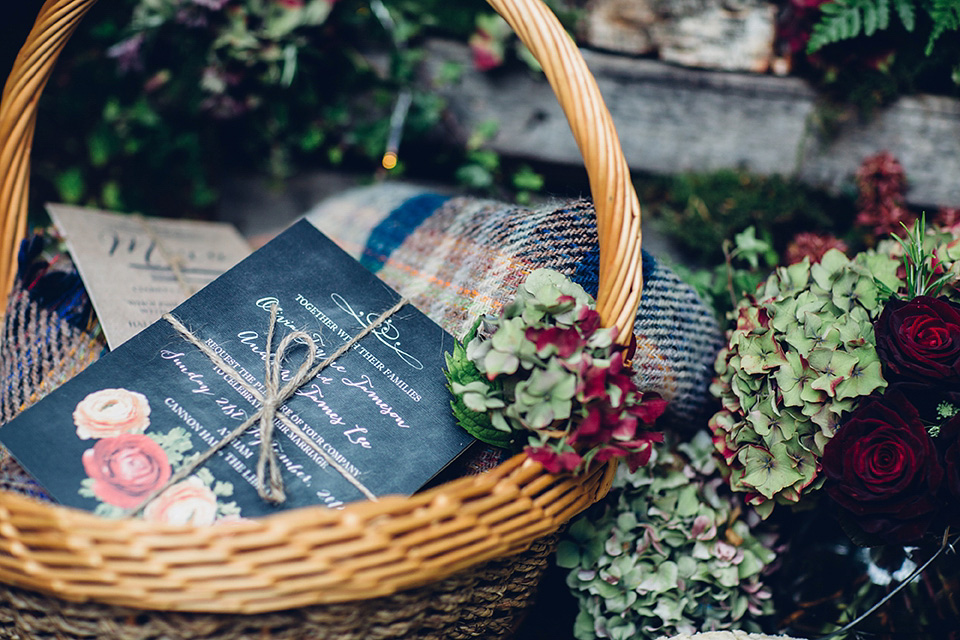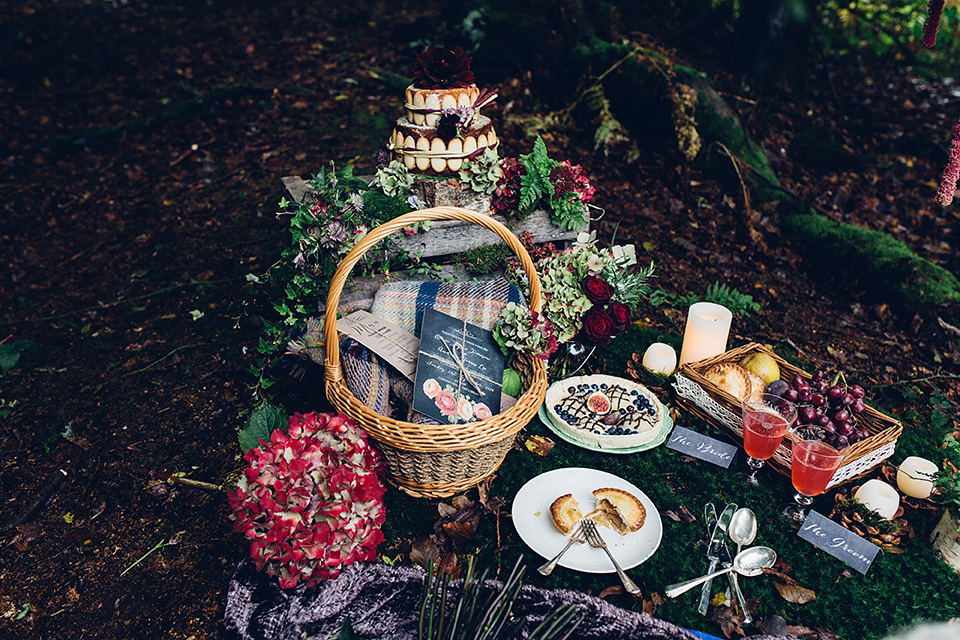 Lauren from French Made created some stunning woodland inspired cakes along with a sumptuous picnic of apple pies, autumnal fruits and a pear tart.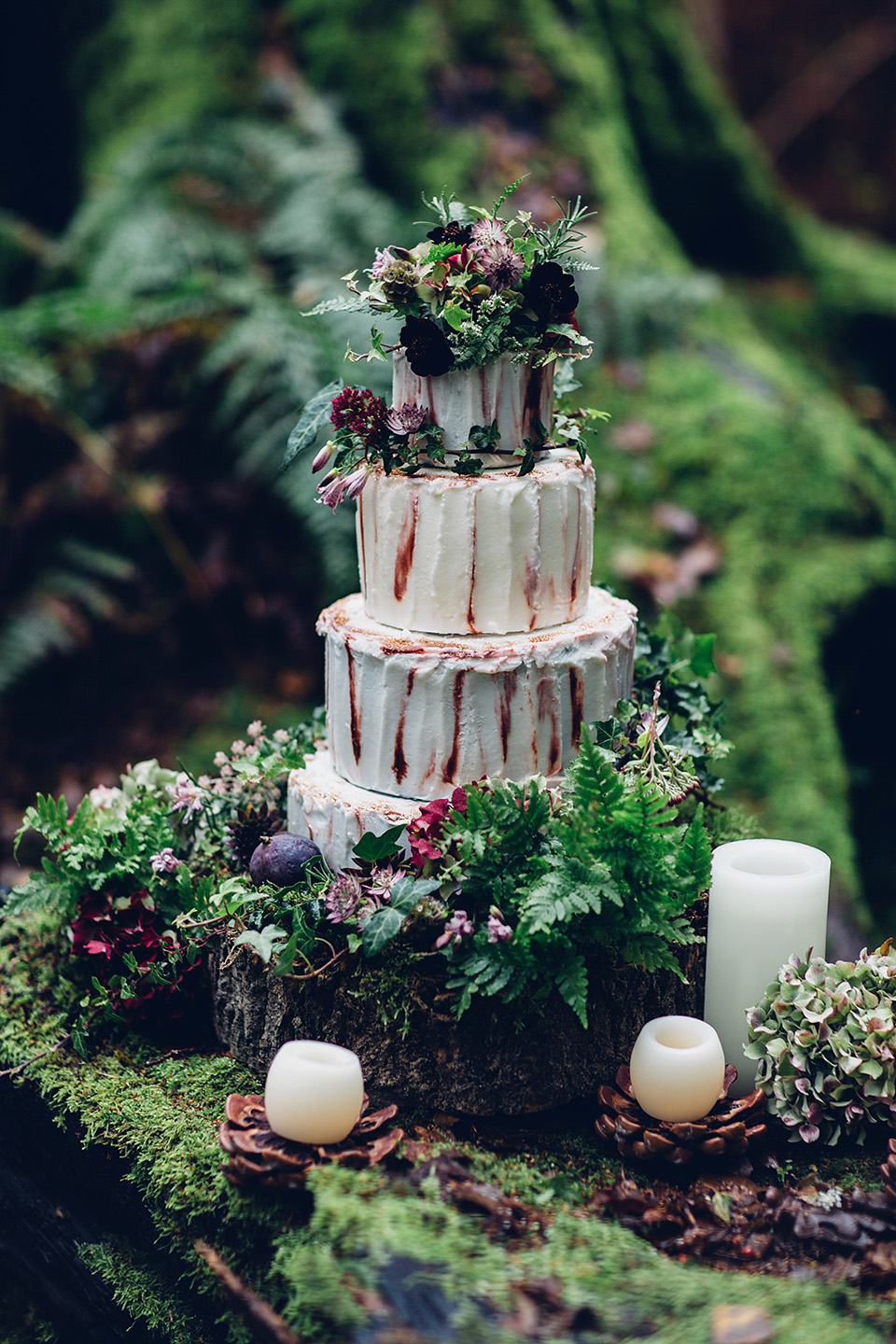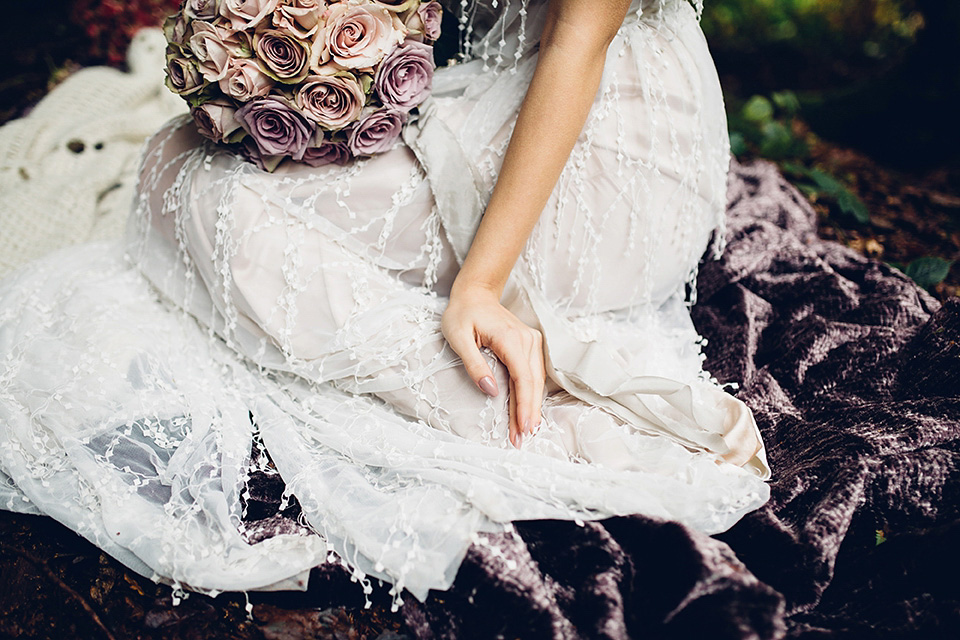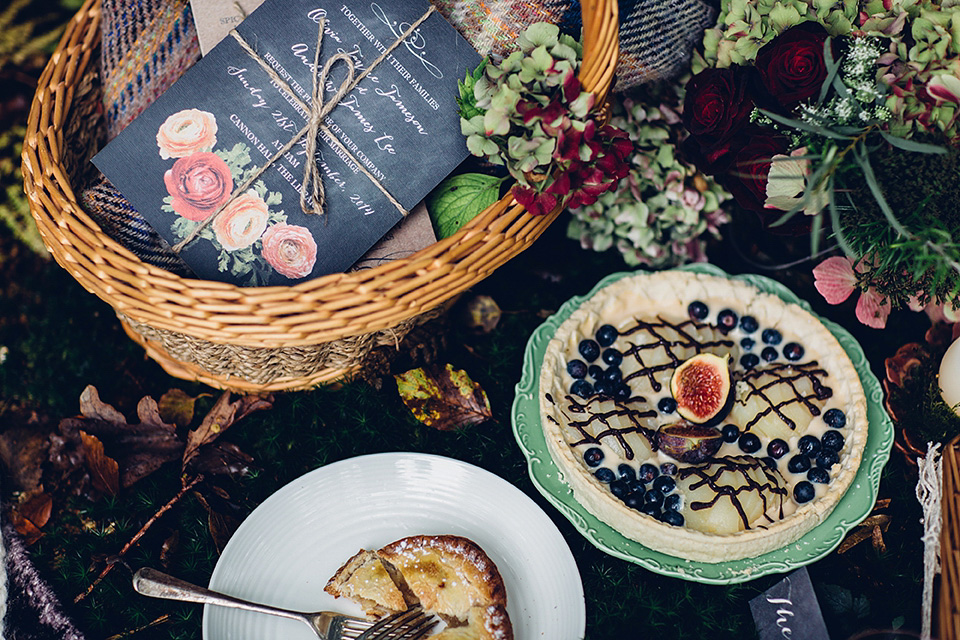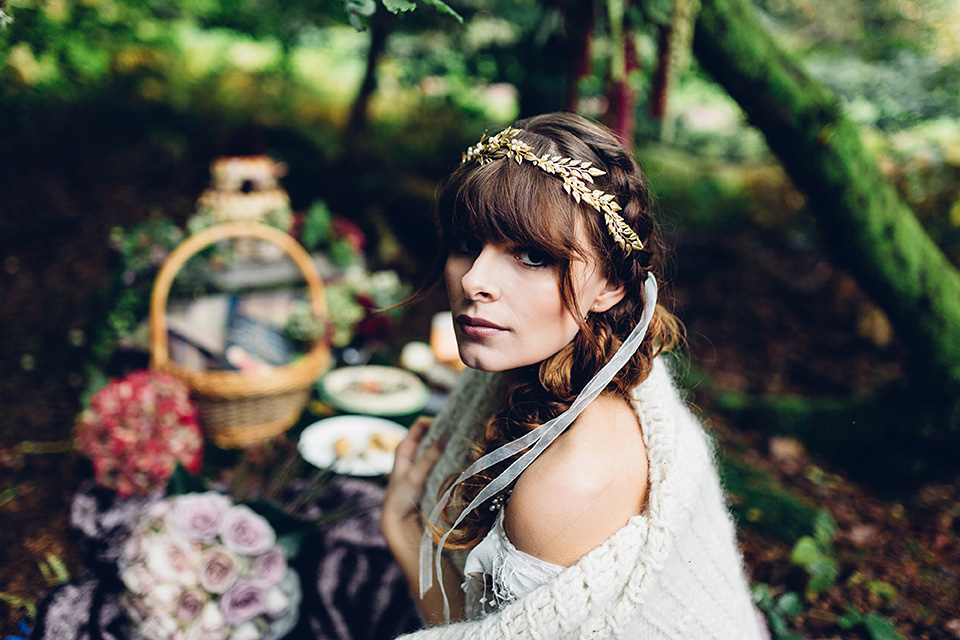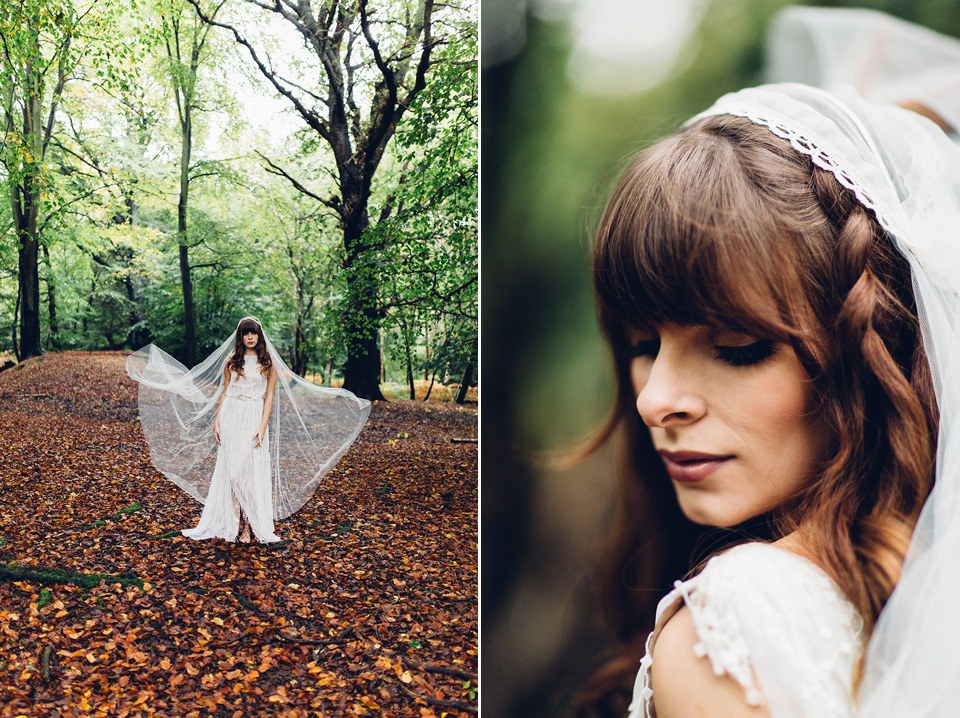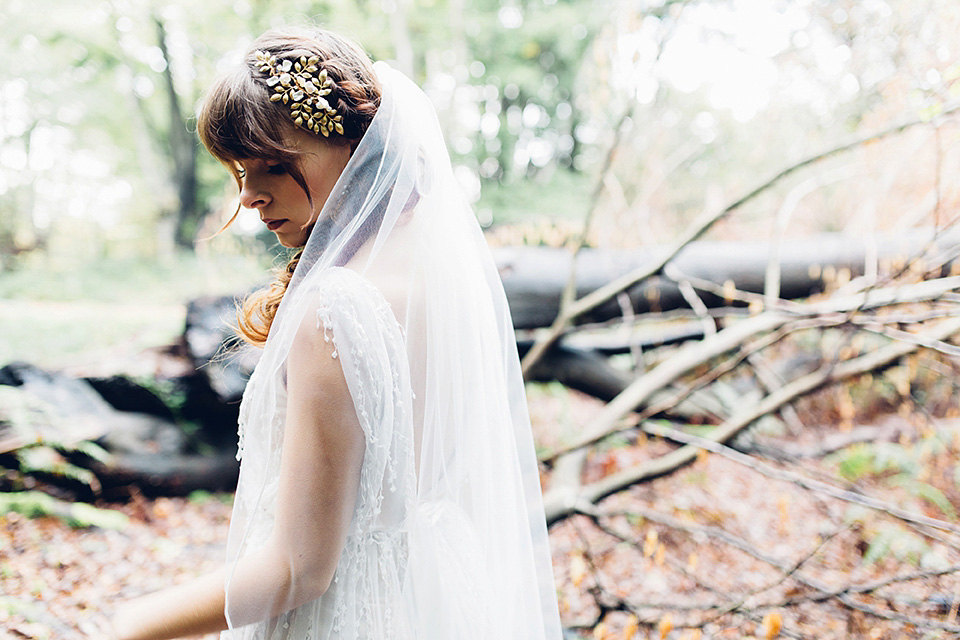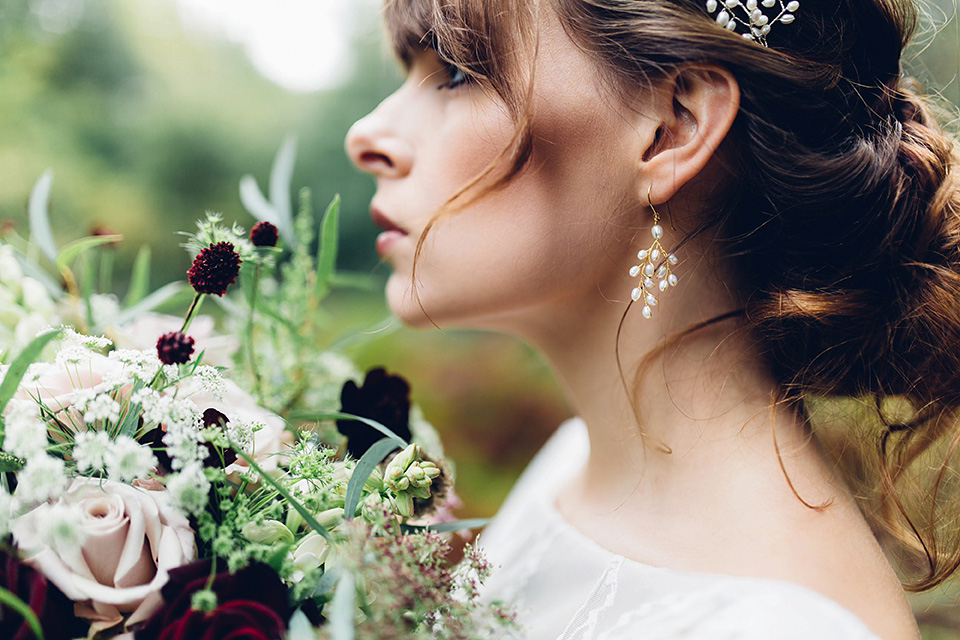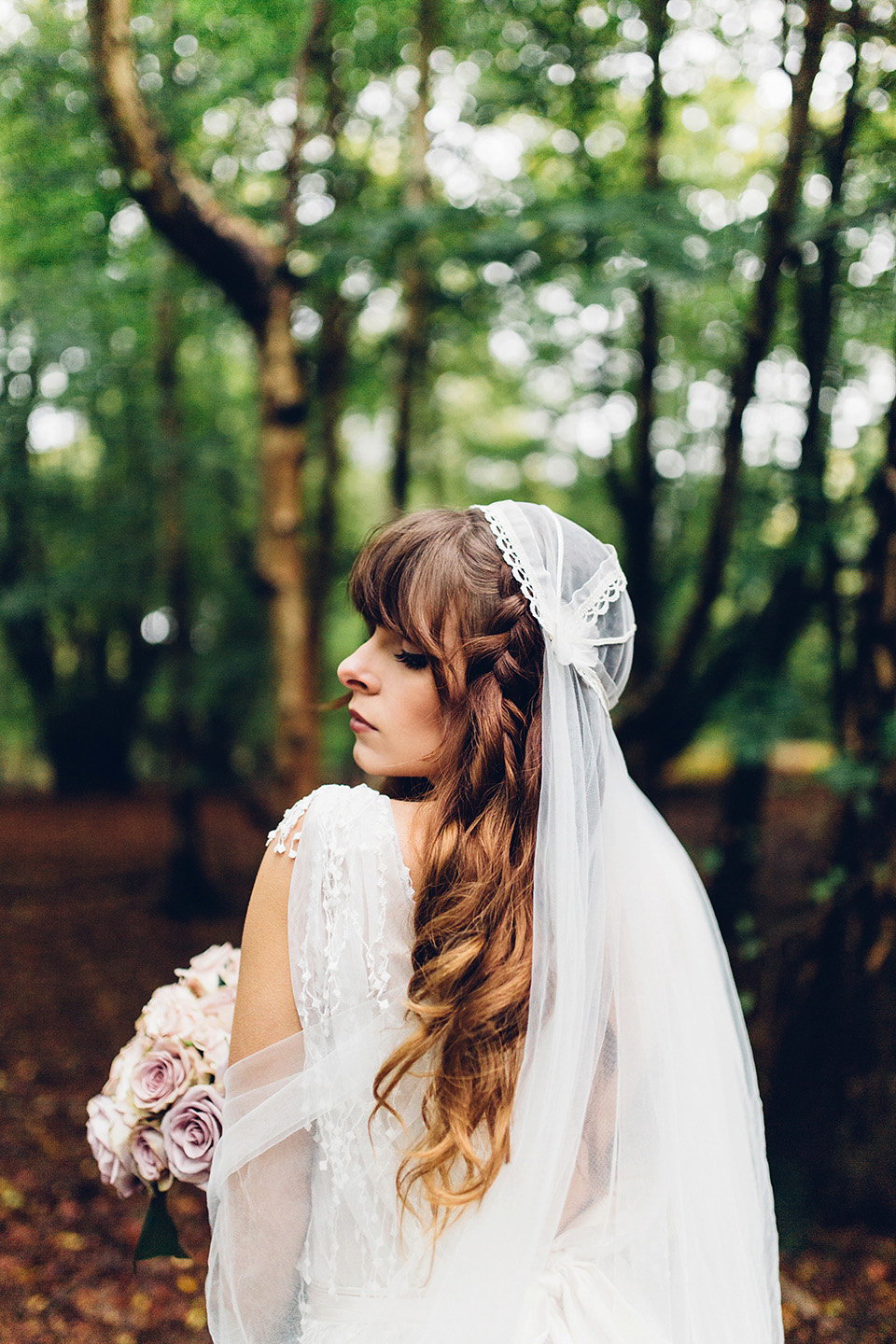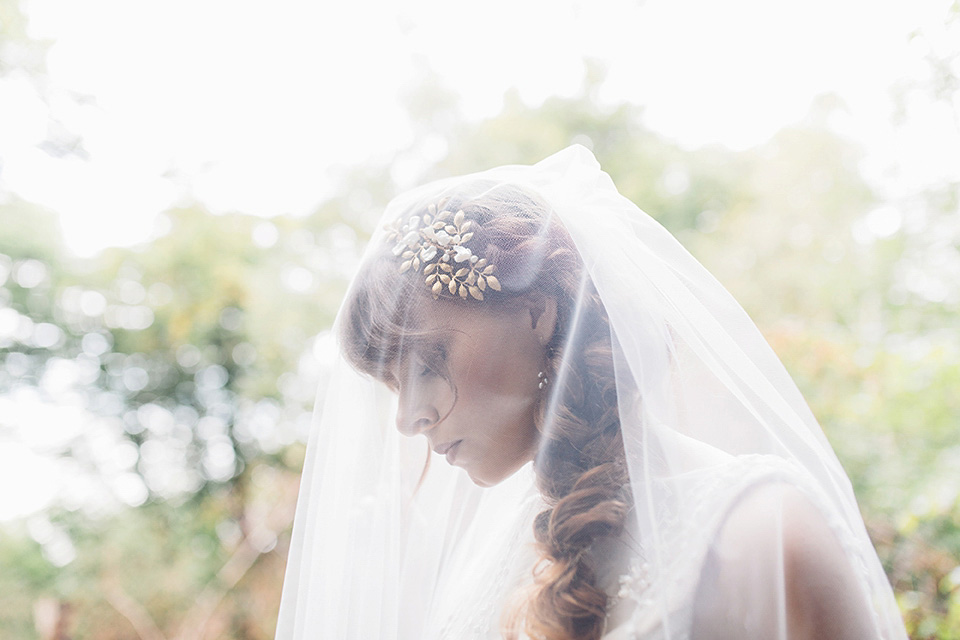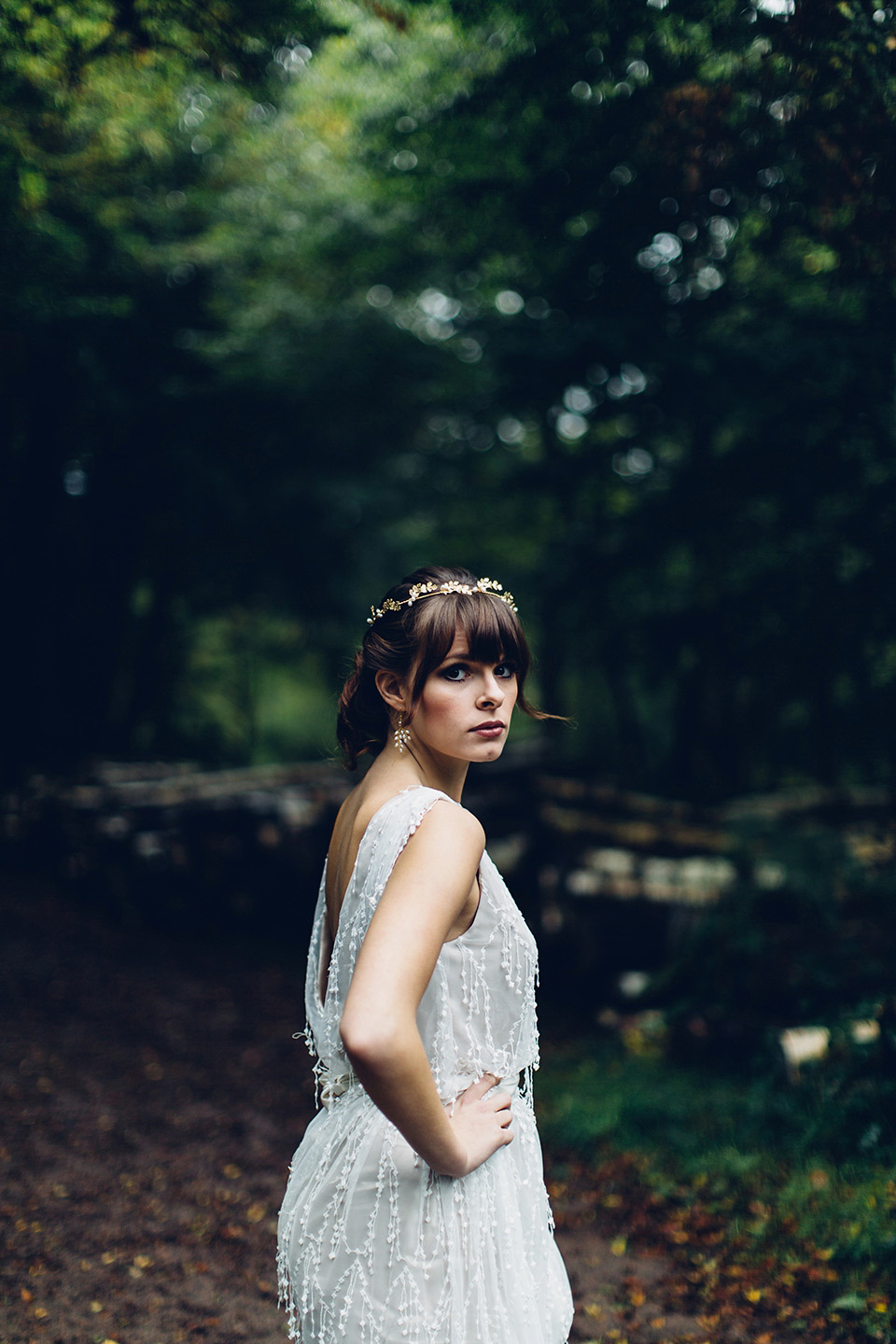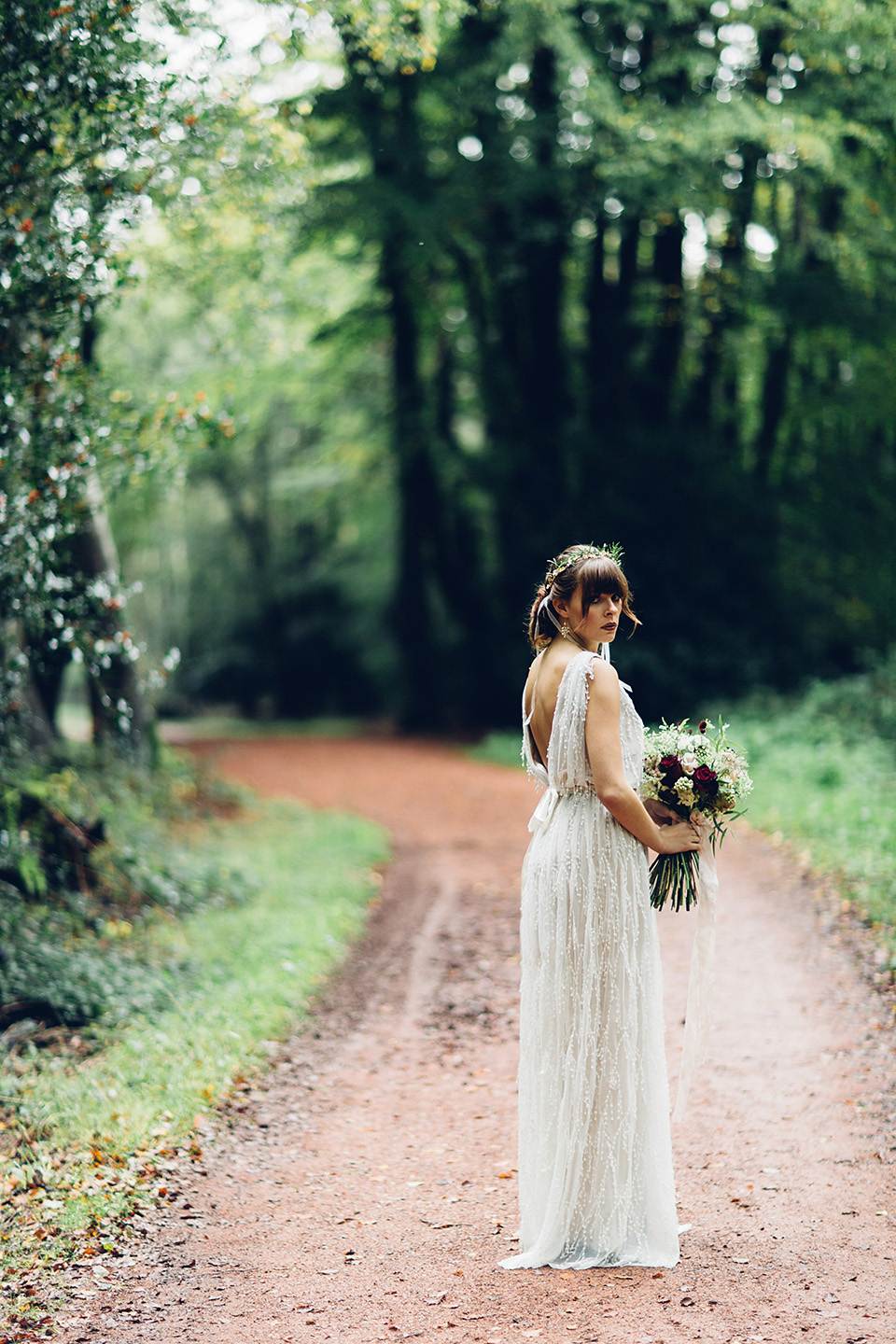 Huge thanks to the creative team below for entrusting Love My Dress to share these beautiful images, in particular, to talented image maker Miss Gen Photography, more from whom you can see here on Love My Dress.
I hope you're feeling inspired.
Love Annabel x
Photographer – Miss Gen Photography
Dresses – Faith Caton-Barber
Jewellery & Veils – Kelly Spence
Cakes – French Made
Hair & Makeup – Elle Au Naturel
Flowers – The Flower Bird
Stationery – Gray Starling
Model – Bethan Claire Reen
The accessories that Kelly Spence used in this shoot included:
Harvest Comb – A stunning comb of cascading golden leaves highlighted with budding tendrils of freshwater pearls.
Betulah May Clip – An extremely versatile accent piece of golden leaves and scattered freshwater pearl petals held in place with tiny invisible clips that hold securely anywhere on the head even on the finest of hair!
Cordelia Vine – Entwined fine strands of silver, blossoming with tiny buds of freshwater pearls in a soft vine that can be pinned into place or tied with organza ribbons
Delvine CIrclet – A youthful circlet of golden strands and freshwater pearls that ties at the back of the hair with wispy organza ribbons, one of our most popular designs this year.
Spring Morning Earrings – Über delicate 'branches' of gold studded with tiny freshwater pearls dangling from gold wires.
Charleston Veil – A 20s style veil edged in fine lace and gathered at the sides with a cluster of freshwater pearls.